How to Start a Fundraiser OnlineAre you a nonprofit looking for an easy way to start a fundraiser online?
A successful fundraiser requires both a good plan for reaching the right people and the right tools to make it happen seamlessly.
In this article, we'll walk you through all the steps needed to start a fundraiser online.
Ready? Let's jump right in!
Create Your Fundraising Form Now
How Do I Collect Money Electronically For a Fundraiser?
Many donors prefer online giving because of the convenient option of using a credit card. This makes it easier for your charitable organization to receive donations without keeping track of checks and cash.
To collect donations online, you'll need a form builder plugin to create your donation form. After you connect your payment gateway, all you need to do is embed it on your website. Make sure the page explains whom the fundraiser benefits and give information about your charitable organization!
How to Start a Fundraiser Online
Let's take a closer look at how to create an online fundraiser in WordPress.
Step 1: Set a Fundraising Goal
The first thing you need to do when starting a fundraiser is identify the specific cause you want to support.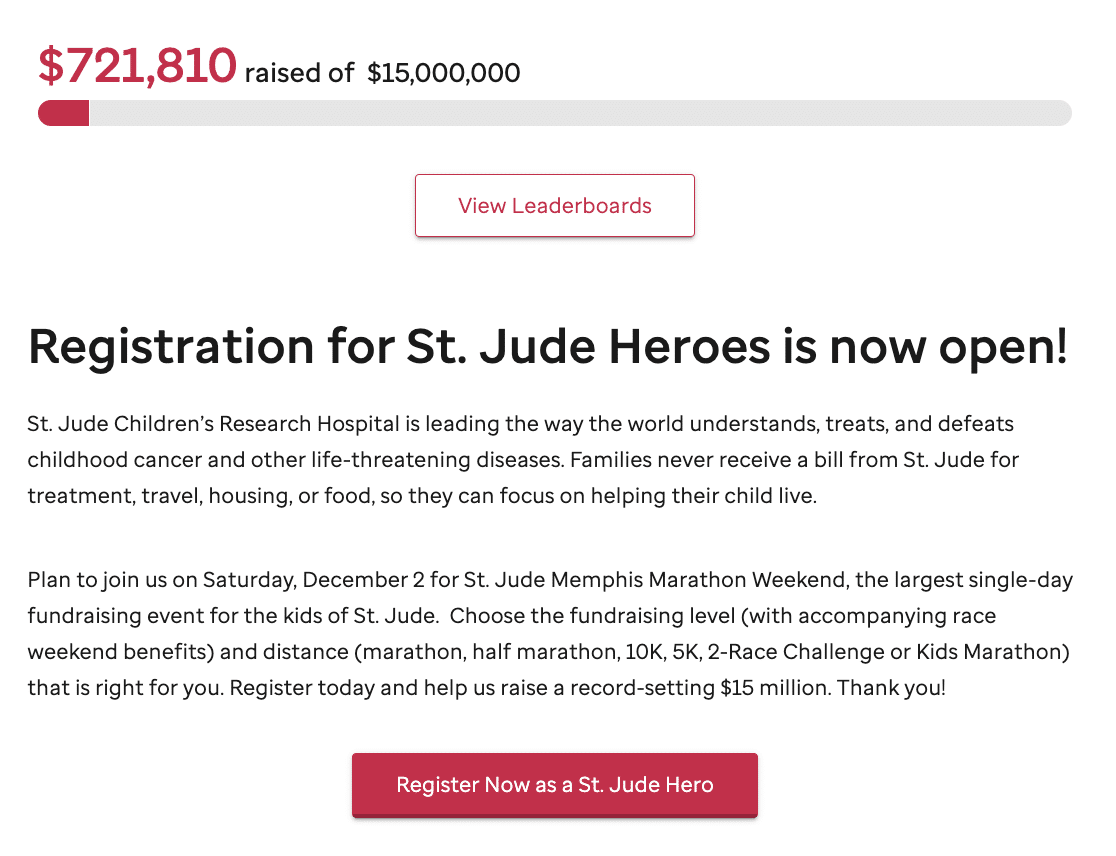 After determining a cause to support, you want to set a specific, measurable goal. This can be a monetary amount if you're raising funds for a charitable cause, but it can also be a numeric goal if you collect goods, such as school supplies or canned food.
Without a specific goal, you won't be able to measure your success. Plus, having a goal encourages people to participate because they can see how close you are to meeting it and know the part they played.
Step 2: Choose a Type of Fundraiser and Create a Plan
Once you know why you're fundraising and how much you want to raise, you'll need to choose which type of fundraiser is best for meeting your goal.
Some of the most popular fundraising ideas include:
Crowdfunding: This type of fundraiser is all about getting as many people as possible to donate money to your cause. You'll often see these types of fundraisers on social media through crowdfunding platforms like GoFundMe. They're highly shareable and usually rely on many small donations rather than a few large ones. If you go this route, be sure to compare platform fees.
Pledges: A pledge drive is typically a little more personal. You ask donors to pledge their support ahead of time. The dollar figure usually corresponds to another action. For example, if your school is holding a readathon, you might ask people to pledge $1 for every book you read over the course of the fundraiser. If you read 15 books, the donor contributes $15.
Fundraising Events: Another popular option is fundraising events. People pay to participate in the event, such as a 5K race or a talent show, and the money goes to helping your cause. These are effective fundraisers because donors get to participate more directly instead of just giving money or items. It's having fun for a good cause.
Sales: Selling food or items gives people something back in exchange for their support. Bake sales and t-shirt sales are some common options, but you can sell anything that makes sense for your cause. For example, if you're raising money for rainforest conservation, you might sell stickers with tropical plants and animals on them.
Auctions: Similar to sales, auctions are a great way to raise money because the donors get something in return. Often the items for the auction are donated by businesses and individuals in the community, then sold at a public event.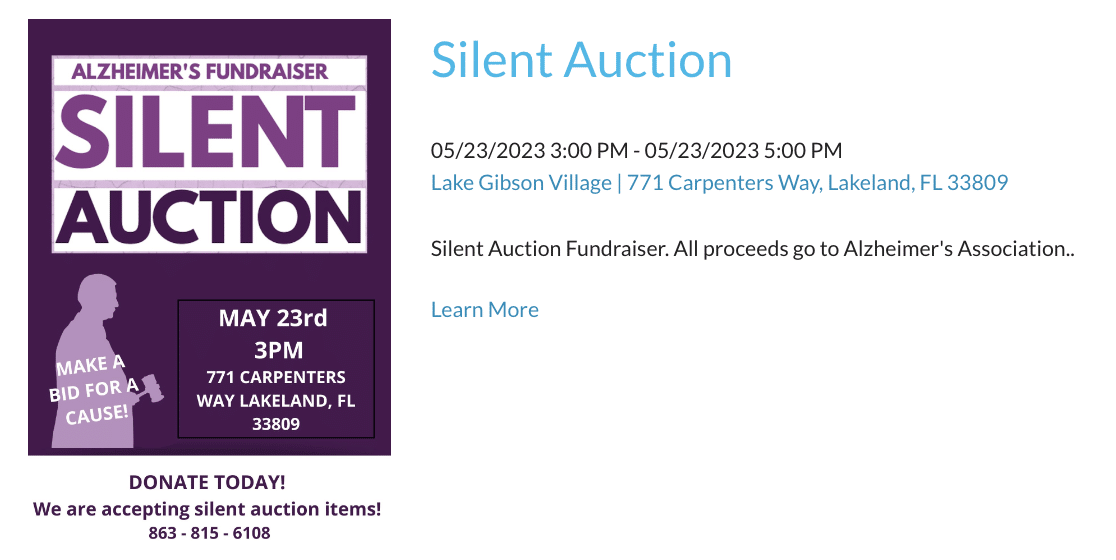 Which nonprofit fundraising strategy is best for you depends on your goals, the resources you have available, and your cause.
Once you've decided, you can start planning for your fundraiser, whether that means finding a venue for your event, sourcing auction items, or setting the dates for your pledge drive.
Step 3: Create a Fundraising Form on Your WordPress Site
No matter which type of fundraiser you decide to run, you'll likely need a form to put on your website. You can create an order form for sales, an event registration form, or even your own crowdfunding form.
WPForms is the best form builder plugin for WordPress and includes hundreds of customizable templates, including ones for fundraising. The drag-and-drop form builder makes it user-friendly, as well.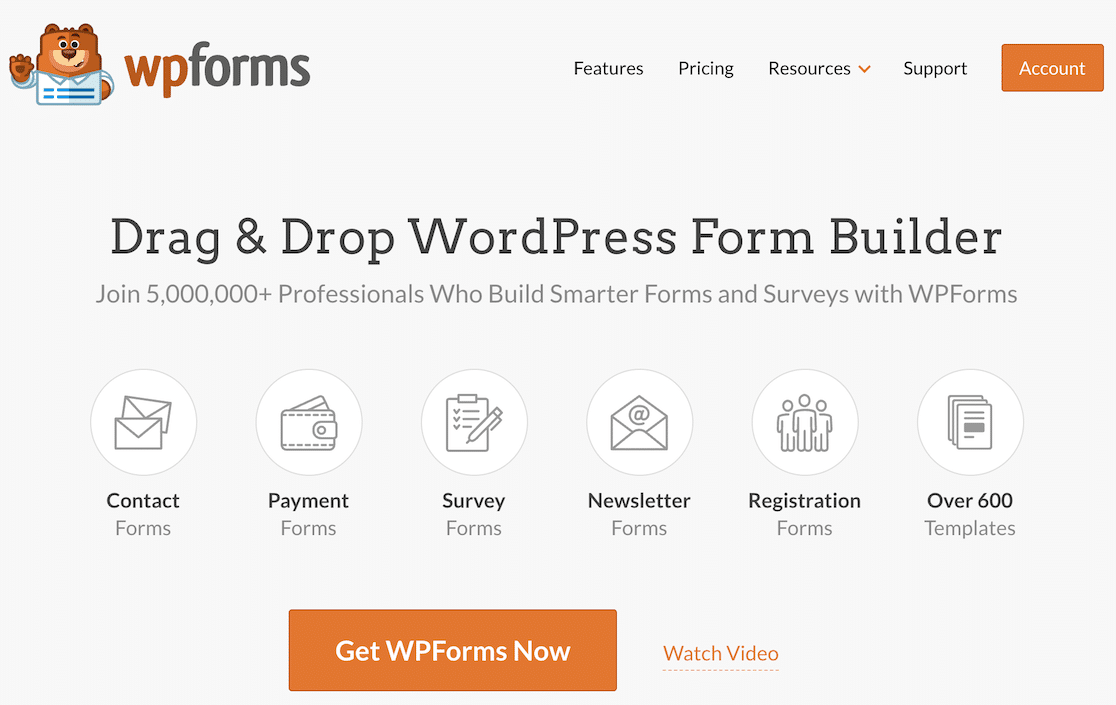 If you want to run a fundraiser campaign from your site, WPForms has all the features you need to get started with payment processing, including integrations with PayPal, Stripe, and Square to collect donations online.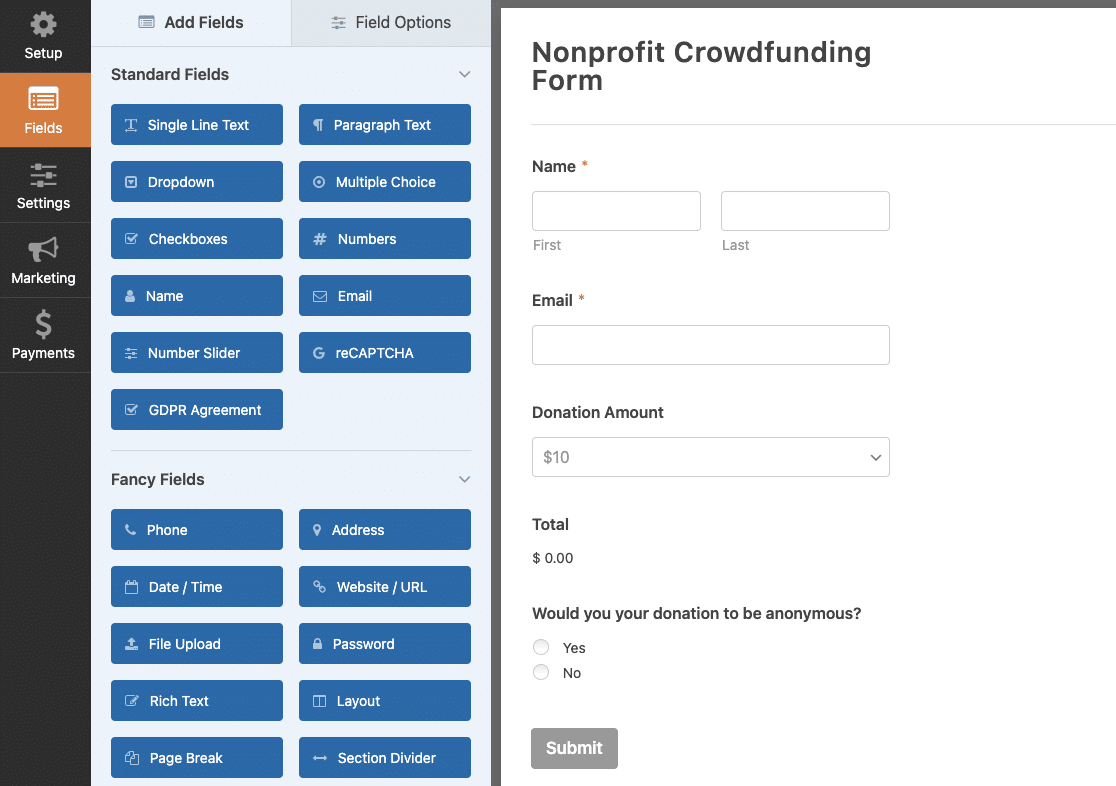 You can check out our tutorial on how to create a donation form for more details and examples on how to customize your fundraising form.
Not sure where to start? Check out these fully customizable templates that will help you organize your event end-to-end.
Once you're happy with how it looks, you can easily embed your form on a donation page or fundraising page on your website to publish it.
Step 4: Promote Your Fundraiser
Now that you have everything you need for your fundraiser to run smoothly, it's time to start promoting it to find potential donors and participants.
Email marketing is a great way to get the word out about your upcoming fundraiser. If you already have an email list, you can create a campaign to share details about your goal and how people can participate with a link to your fundraising form.
Social media is also a powerful tool for promoting fundraisers. The great thing about platforms like Facebook and Instagram is that other people can share your fundraising social media posts or crowdfunding campaign page with their own followers to spread the word more quickly.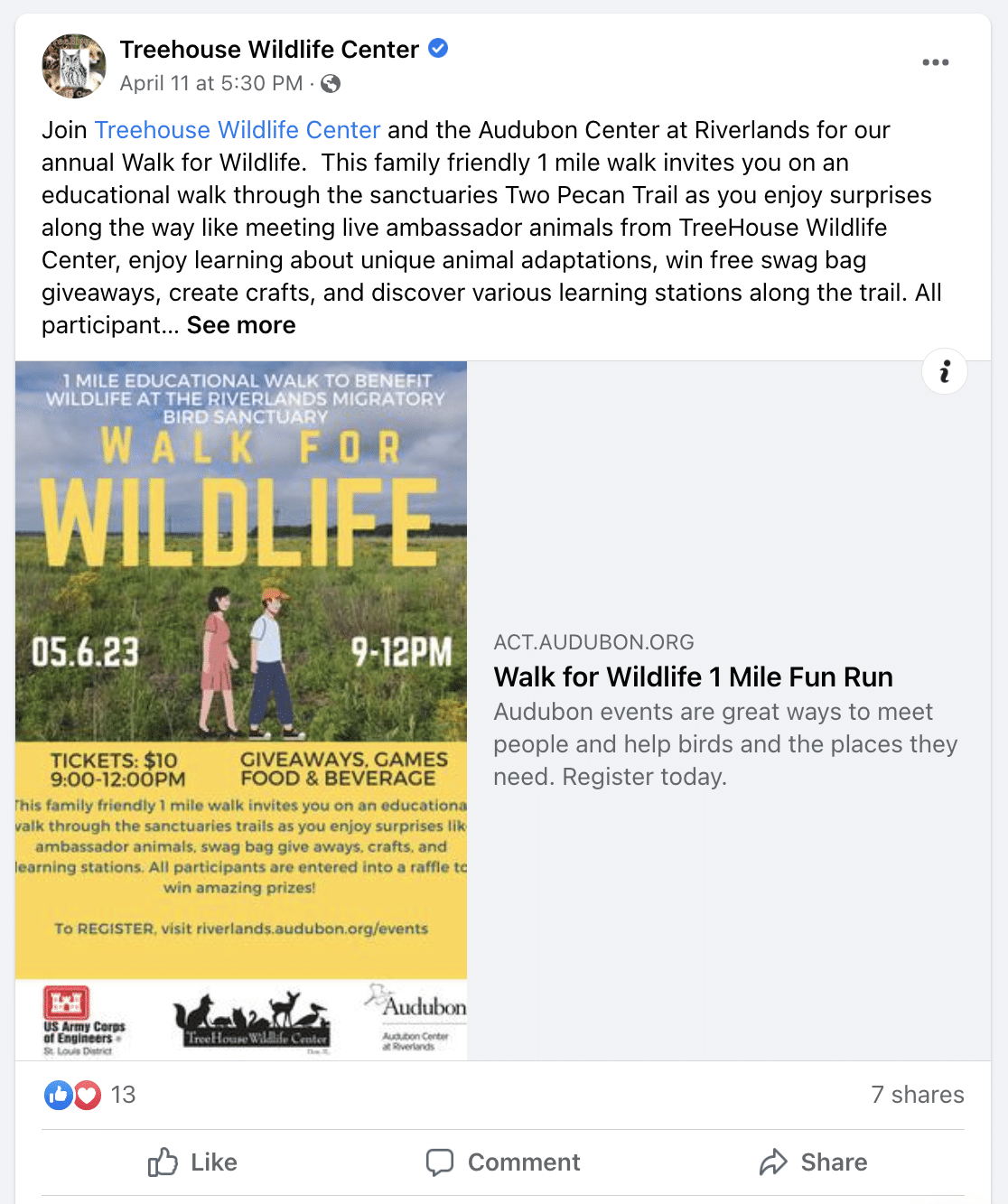 And don't underestimate the effectiveness of in-person marketing. Local businesses might be willing to display posters to promote your fundraiser. You can also pass out flyers or display them on community bulletin boards. People who see your fundraiser advertised in their community can also promote it by word of mouth to their family members and loved ones.
Finally, it's important to keep your donors informed on your progress toward your goal and the fundraiser's results, such as how much total money you raised or how many items were donated.
This helps keep them connected to your cause and also lets them join in the celebration of all the good work you've done. You couldn't have done it without them, so it's courteous to show how their contribution has impacted you.
Plus, if you're planning more fundraising campaigns in the future, staying in touch with former donors via email or social media can encourage them to contribute again.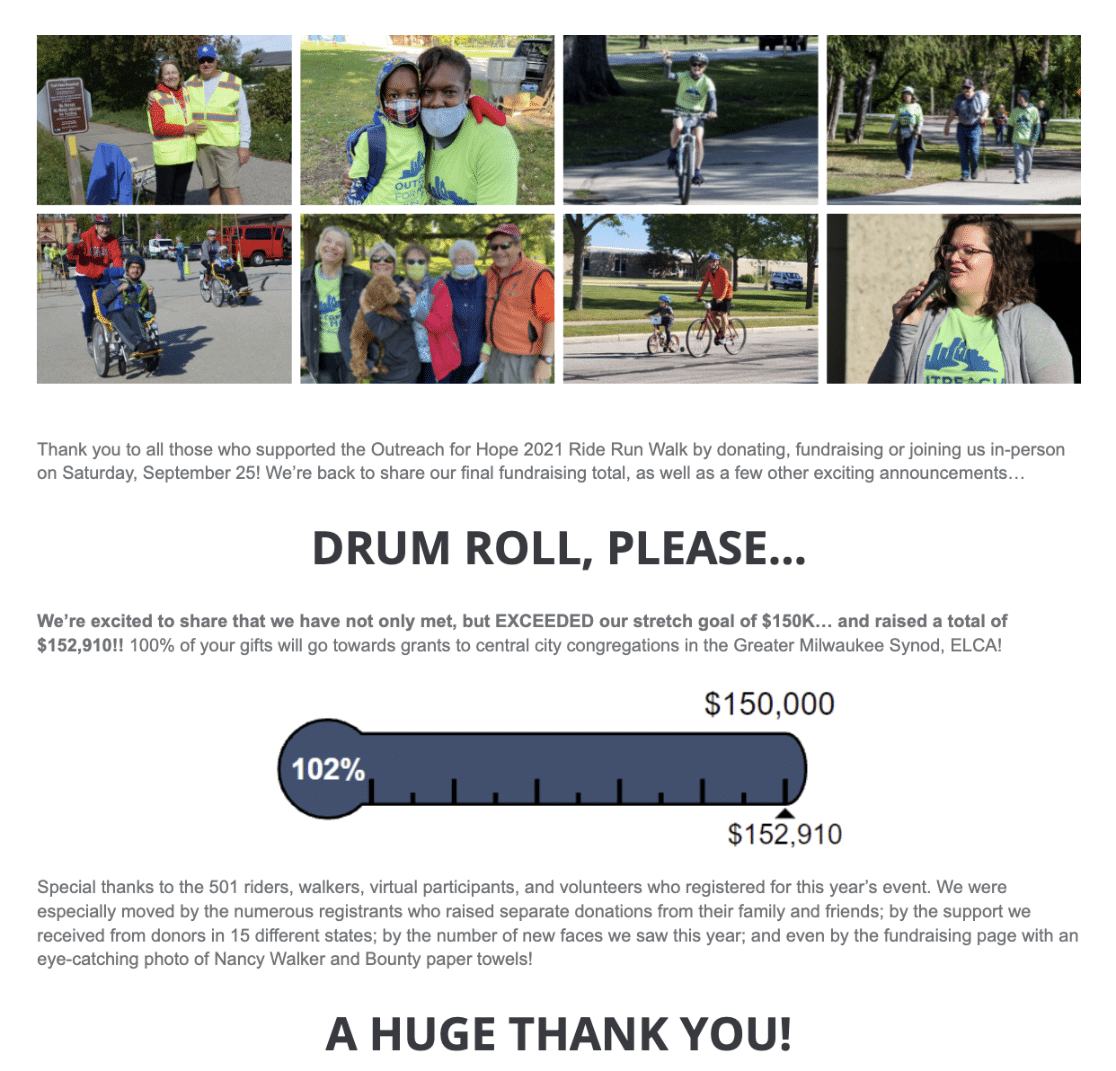 If you're building your fundraising form with WPForms, you can easily connect your form to your email marketing platform to create a segmented email list of donors. This makes it super simple to send out updates and the results of your fundraising efforts.
That's it! Now you know how to start a fundraiser online and what tools to use for a successful campaign.
Bonus: Grab Your Nonprofit Discount
Did you know WPForms offers special discounts for nonprofit organizations? Our most popular plan, WPForms Pro, costs only 75% of the normal pricing for nonprofit users. And WPForms Elite comes with a 66% discount for nonprofits.
To get started, just fill out the brief application form here. Once we confirm your nonprofit status, we'll send you a discount code that you can apply to get a WPForms license. Then you can go ahead and install WPForms on your site.
Next, Create an Email Subscription Form in WordPress
Lots of businesses use email subscription forms to turn leads into paying customers. Nonprofits can do the same. You can get started by following this simple guide to using email subscription forms in WordPress.
And if you're looking for a more comprehensive donation management solution for WordPress, we'd recommend WP Charitable. Learn why by reading our WP Charitable review!
Ready to start building WordPress forms? Get started today with the easiest WordPress form builder plugin. WPForms Pro includes lots of free templates and offers a 14-day money-back guarantee.
Create Your Fundraising Form Now
If this article helped you out, please follow us on Facebook and Twitter for more free WordPress tutorials and guides.