Are you a nonprofit looking for an easy way to start a fundraiser online?
A successful fundraiser requires both a good plan for reaching the right people, and the right tools to make this happen seamlessly.
In this article, we'll walk you through all the steps you'll need to start a fundraiser online.
Ready? Jump right in!
Create Your Fundraising Form Now
What Is the Best Way to Start a Fundraiser?
1. Set Clear Goals
To set up a fundraiser, you must have a clear set of goals that are specific about what you intend to achieve, how much you need to raise, and who your target donors are.
Being clear on these will help guide other decisions such as what platform to use, which is something we'll discuss in the next point.
2. Choose a Platform
Once you've decided what your goals are, you'll have to choose an online platform. There are lots of options such as GoFundMe, but using your own website will give you much more control over your fundraiser.
If you have a WordPress website, the easiest way to set up an online fundraiser would be by using WPForms.
WPForms is the leading WordPress form plugin and it provides lots of useful features to help you set up effective online fundraisers.
We'll explain how to use it in the next section.
3. Promote Your Fundraiser.
In addition to a plan and a suitable platform, you'll also need to promote your fundraiser. There are various options to consider including social media and search engine advertising, as well as online and offline public relations campaigns.
Think of the audience you're trying to attract and use the channels where you're most likely to find them.
These three steps are a crucial foundation but there's a little more to it. As promised, we'll dive a little deeper into using WPForms to set up an online fundraiser.
How to Start a Fundraiser Online
1. Install WPForms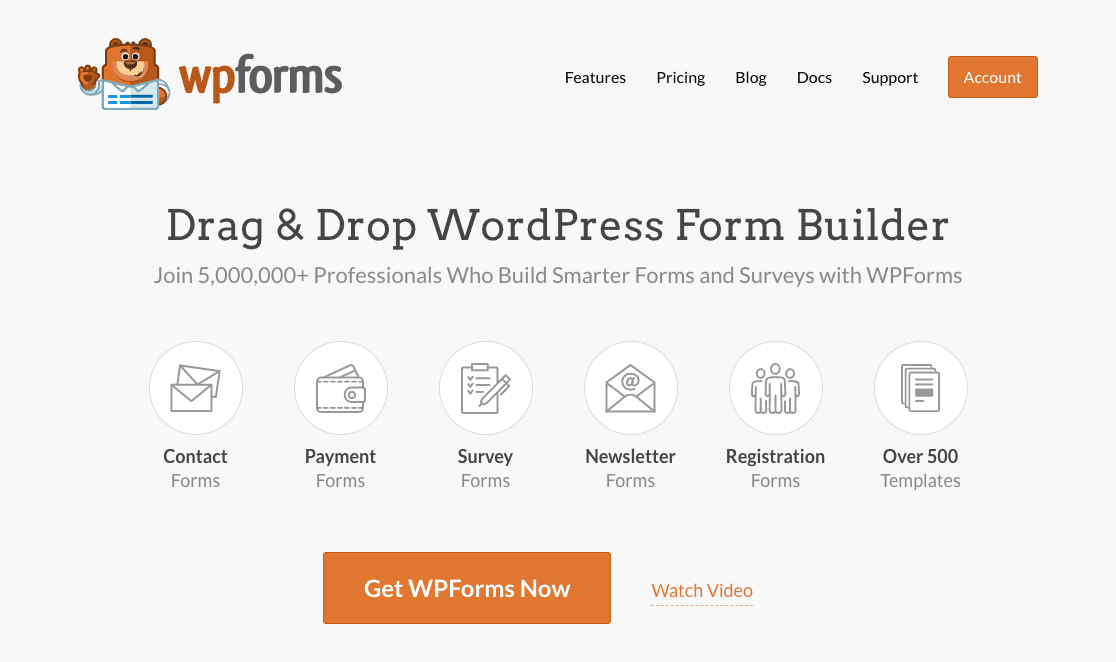 WPForms is the most beginner-friendly form plugin for WordPress. If you're looking to run a fundraiser campaign from your site, WPForms has all the features you need to get started.
WPForms offers special discounts for nonprofit organizations. Our most popular plan, WPForms Pro, costs only 75% off the normal pricing for nonprofit users. And WPForms Elite comes with a 66% discount for nonprofits.
To get started, just fill out the brief application form here. Once we confirm your nonprofit status, we'll send you a discount code that you can apply to get a WPForms license. Then you can go ahead and install WPForms on your site.
There are other ways to collect donations, such as by using a PayPal donate button or hosting your fundraiser on third-party sites like GoFundMe. But if you want to host a fundraiser from your own website, then WPForms is the best solution for this.
2. Choose a Template
Once you've installed WPForms on your website, it'll be time to build your first nonprofit form. WPForms has over 400 form templates, including fundraiser templates, that will get you started in no time.
To find WPForm templates, navigate to WPForms » Add New.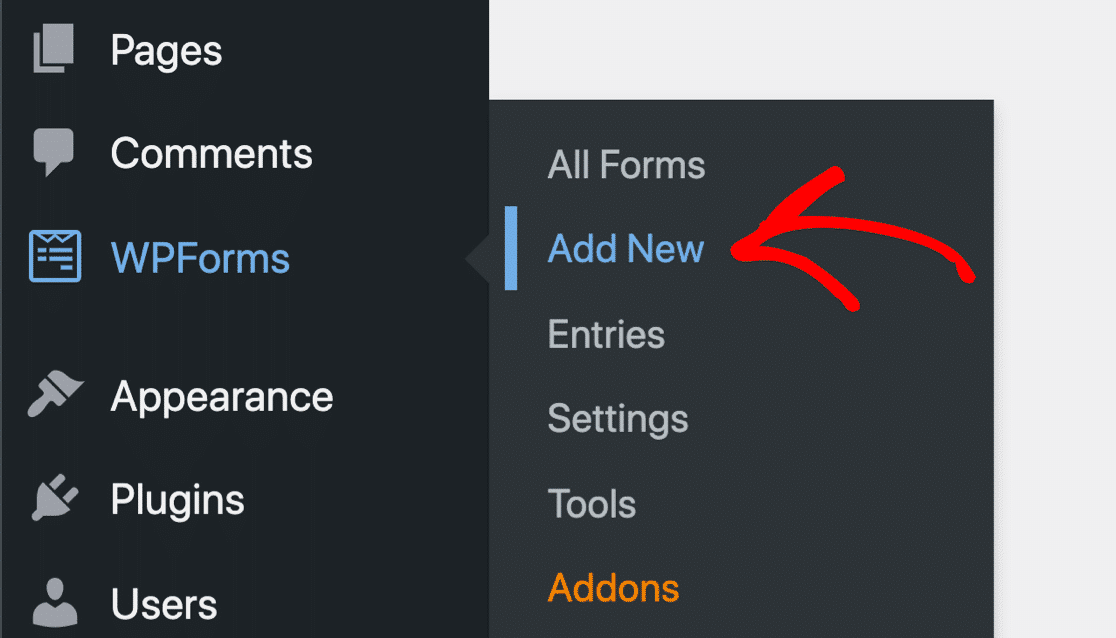 On this page, you'll be able to see all the form templates available. From the panel on the left, scroll down to Nonprofit to see all the templates designed for various nonprofit uses.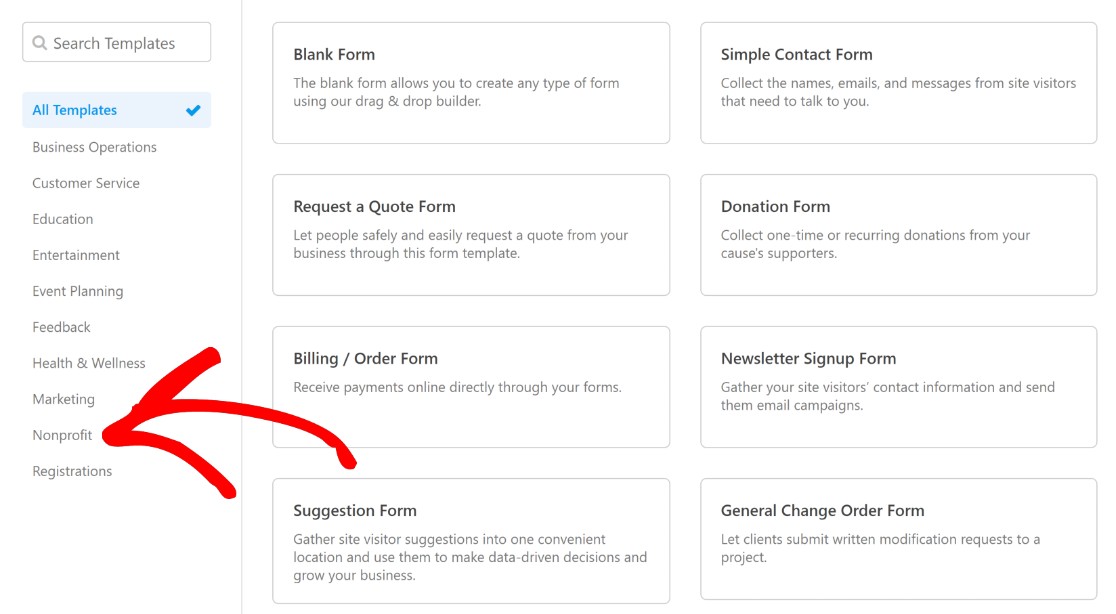 As you'll see, there'll be quite a few different templates that you can use for your fundraiser. Depending on what your goals are, any of these templates may be suitable:
For this tutorial, we're going with the Nonprofit Crowdfunding template.
Remember that all WPForms templates are 100% customizable so you can change anything you don't like using the simple drag and drop editor.
You can find the Nonprofit Crowdfunding template by simply searching for it using the search bar.

Click Use Template to open up the template in the form builder. Next, let's see how to customize this template.
3. Customize the Nonprofit Crowdfunding Template
The template comes with all the basic fields you'd expect for a fundraiser including Name, Email, and Donation Amount. There is also a field asking users if they'd like to donate anonymously or not.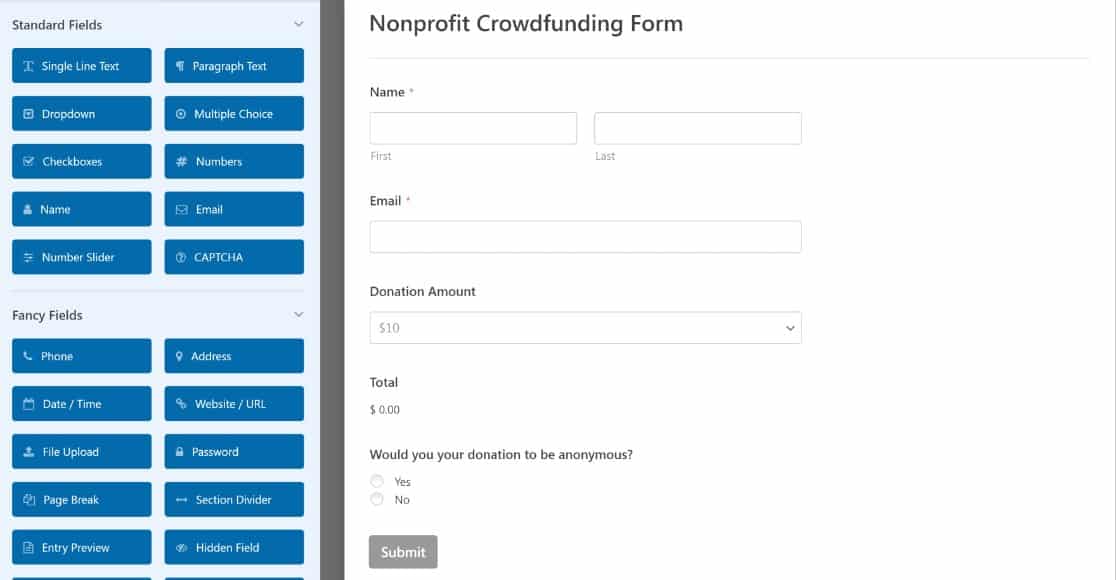 The first thing you might want to edit in this template are the choices for the Donation Amount field. To do that, click on the Donation Amount field.
Now, under Field Options on the left, you'll find the predefined choices of available items and their price values. You can change these options depending on the donation amounts you'd like to offer.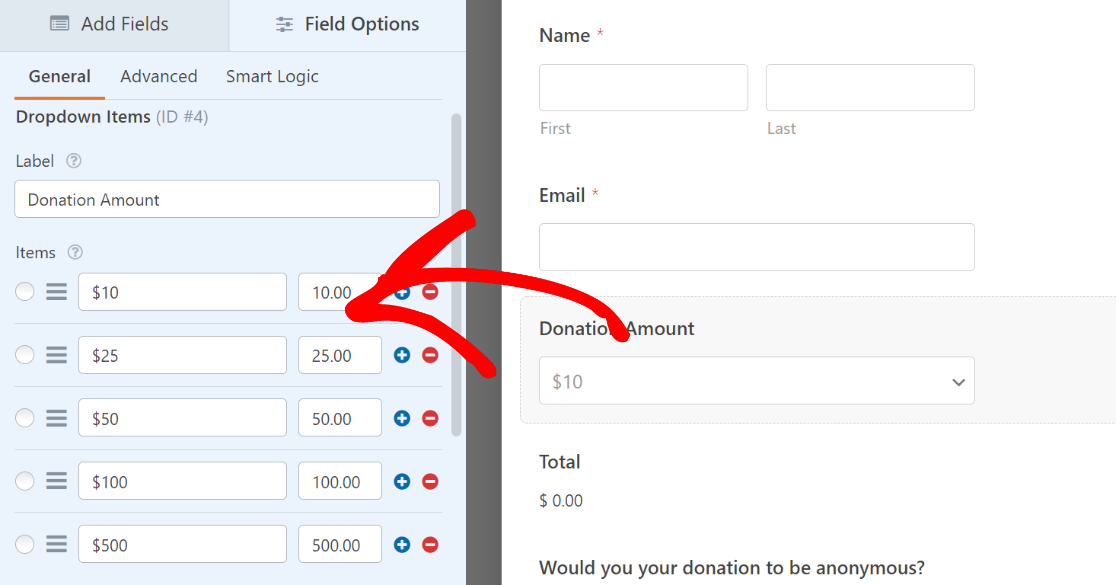 If you don't know how the Field Options for our Dropdown Items field work, here's a quick explainer:
The first field under the Items section of the Field Options represents the label of the item. The second field represents the price of that item. In this scenario, our items are actually donation amounts, so both fields have nearly identical inputs.
You may want to give your visitors the freedom to select any amount they'd like to donate rather than choosing from predefined options. In that case, you can use the Single Item payment field instead.

After including the Single Item field in your form, click on the field to open the Field Options. Scroll down the Field Options in the left-hand pane and select User Defined in the Item Type menu.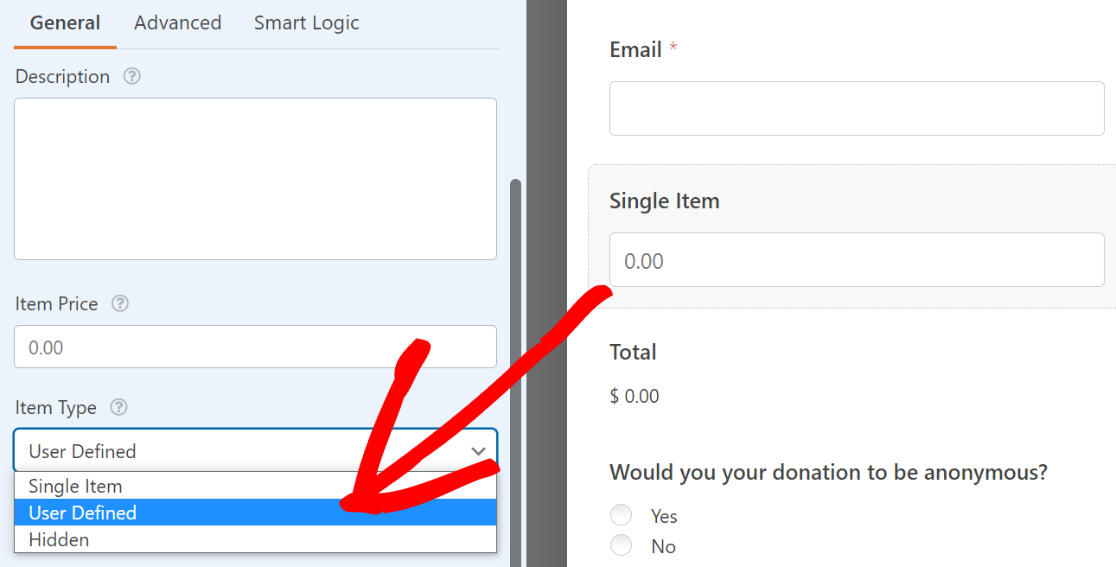 This will enable the user to input any amount in the Single Item field to donate. When the user submits the fundraising form, they will be charged exactly the same amount that they entered in the Single Item field.
4. Add a Payment Gateway to the Fundraising Form
In order to accept payments from your fundraising form, you must integrate WPForms with a payment gateway.
WPForms supports integrations with popular payment services such as Authorize.net, Square, Stripe, and PayPal Standard. Whichever one you choose, you'll have to activate its WPForms addon first.
For this guide, we'll use PayPal Standard.
To set it up, head over to the menu on the left-hand panel and click Payments.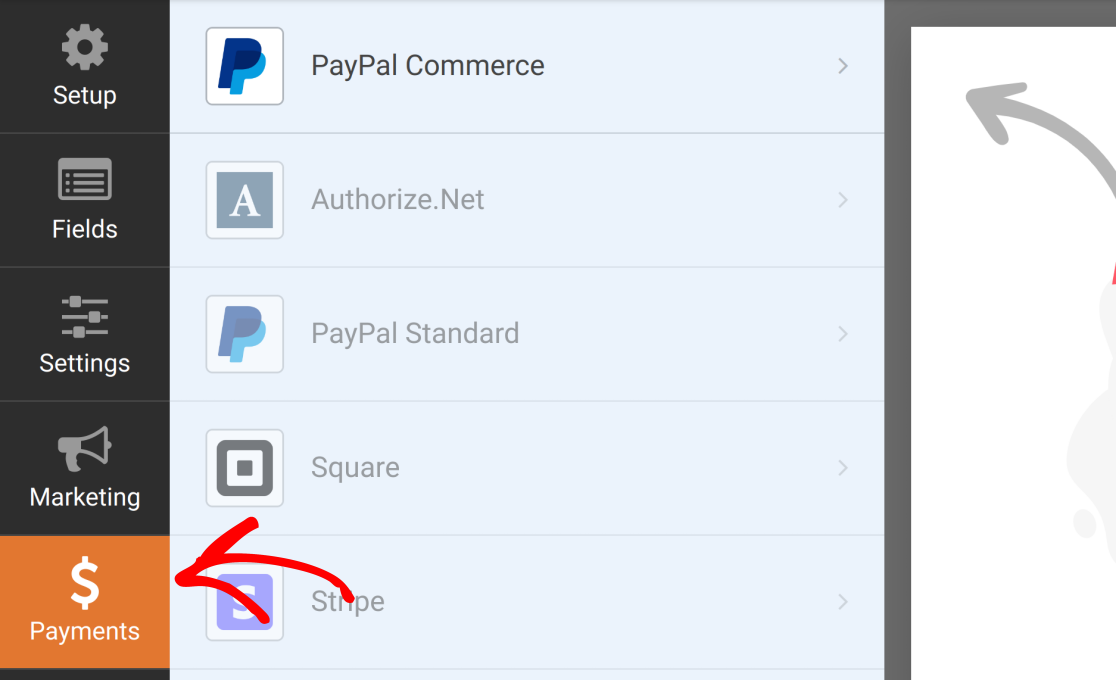 Next, choose PayPal Standard from the list of payment services. If you haven't already installed the PayPal Standard addon, you'll see a prompt asking you to install it first.
Click Yes, Install and Activate to proceed.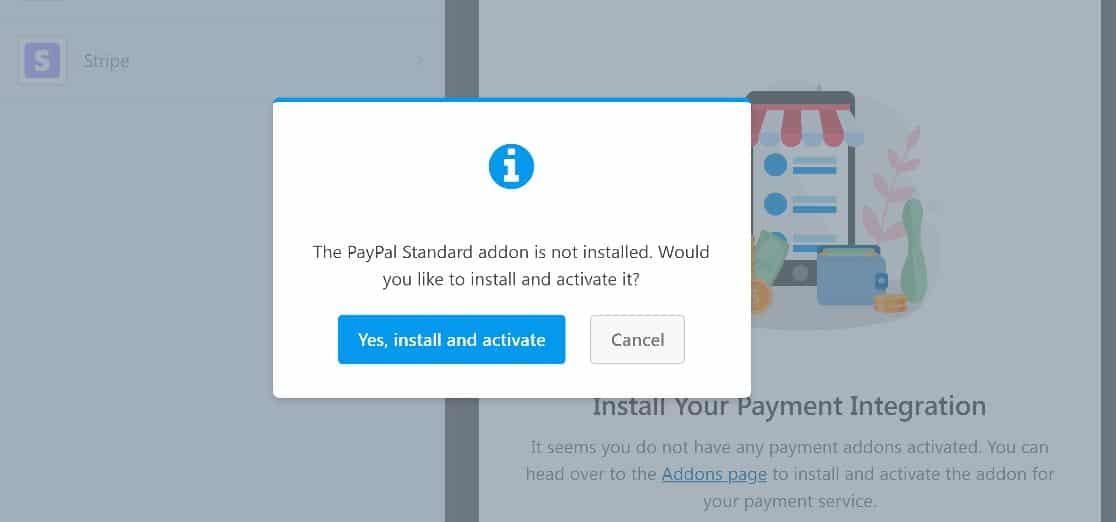 When the installation is finished (this typically takes just a few seconds), click Yes, Save and Refresh.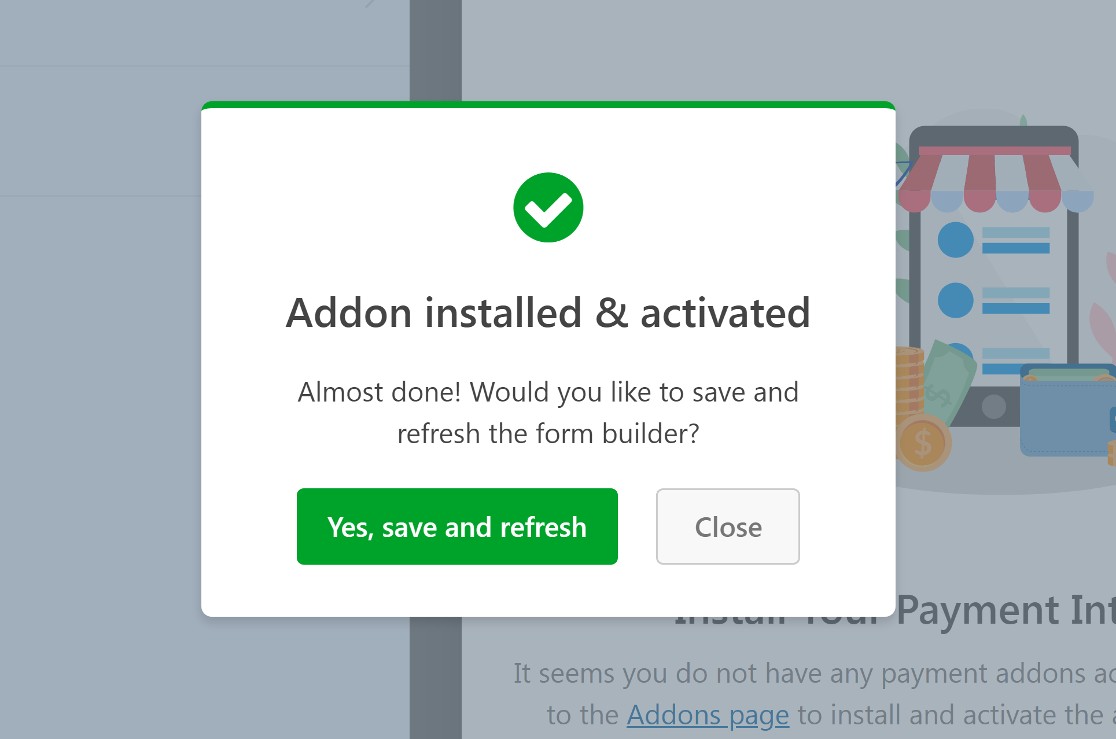 Now, you can select PayPal Standard from the Payments tab of the form builder and configure its settings.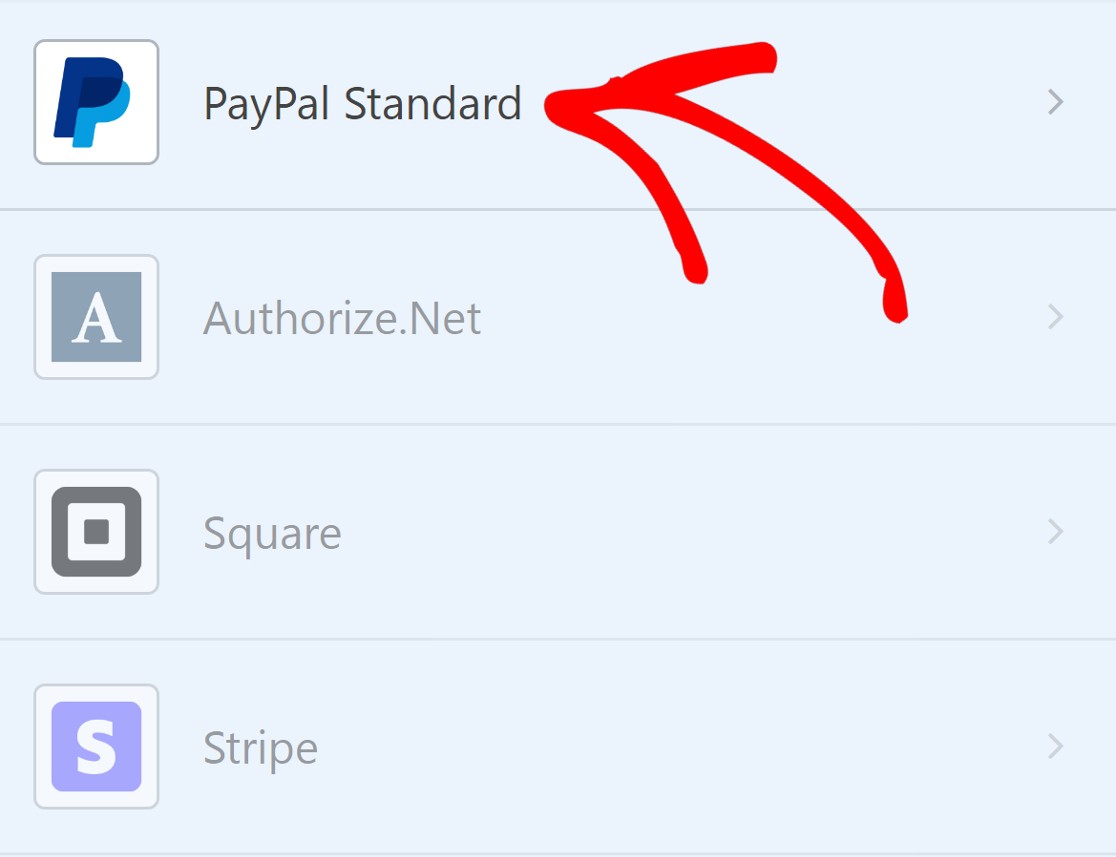 Next, click on Enable PayPal Standard Payments.

This will reveal the following PayPal Standard settings:
PayPal Email Address: Enter your PayPal account email address where you want to receive payments.
Mode: Toggle to choose Production to receive live payments or Test/Sandbox if you're only testing the payments first.
Payment Type: Toggle to choose between Products and Services, and Donation. For nonprofit use, you'll want to set this to Donation.
Cancel URL: Set a URL where users will be redirected to if they cancel a donation.
Shipping: Leave this option to Don't Ask for an Address if you're simply accepting donations.
Conditional Logic: You can set up rules to determine when a payment should be processed. If you'd like to give users the option to fill out a form without donating, you can easily define conditional logic for this scenario.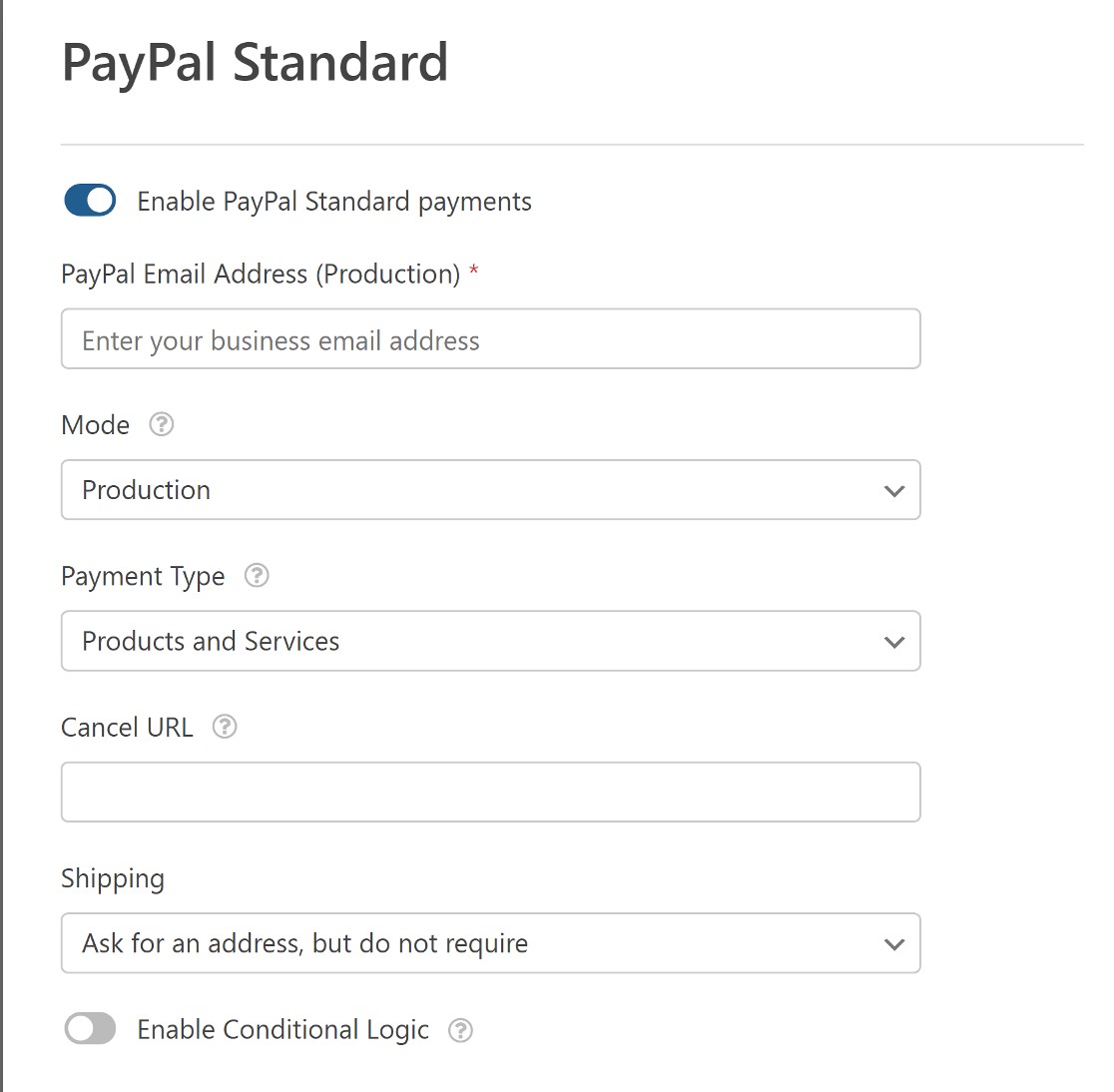 After configuring the settings, go ahead and click on Save. 

Great! We're almost done building your fundraising form.
5. Publish Your New Fundraising Form
Now that your Nonprofit Crowdfunding form is all set up, all that you have to do is add it to a page. If you already have a page set up for this fundraiser, you can easily add your new form to this page right away.
And if you don't, you'll be able to create a new page and embed your form in it all in a single step.
At the top right corner of your screen, right next to the Save button, click Embed.

You'll then be prompted to embed your form in a new page or an existing one. The process is nearly identical for both options so don't worry too much about which to choose.
For this guide, we'll assume you're setting up a new page for your fundraiser. We'll go ahead and click on Create New Page.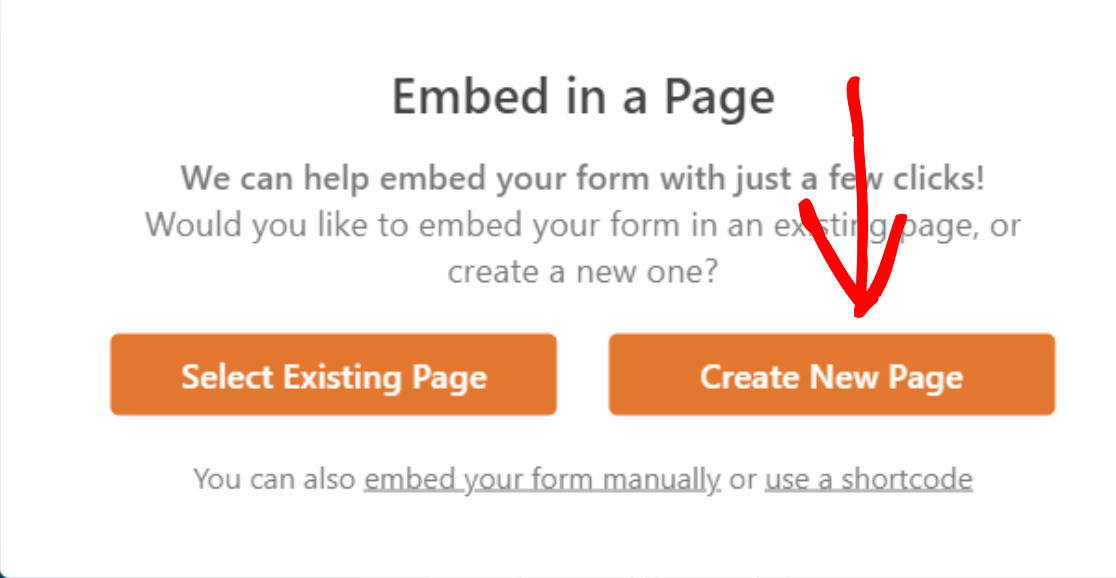 Next, give your new page a name.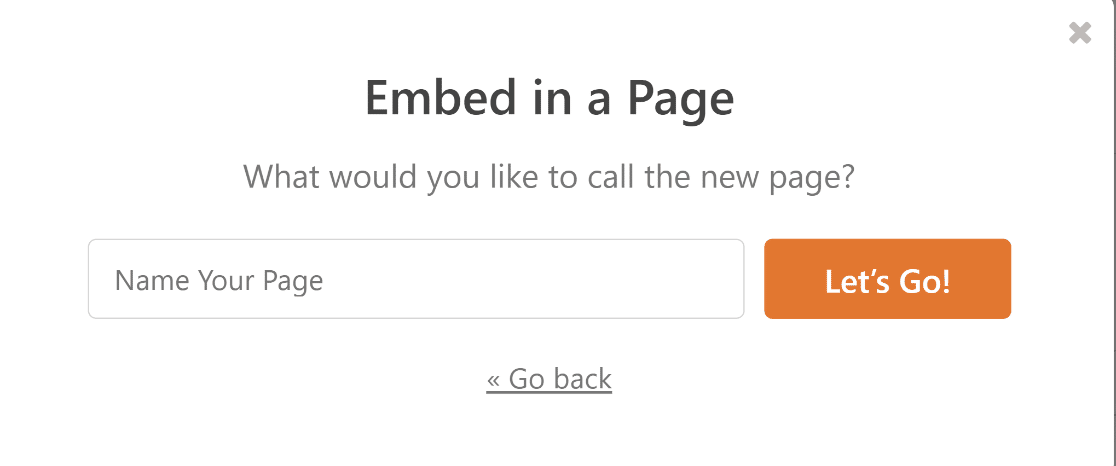 The new page will open up in editing mode with a block for your fundraising form already added to it. If you're happy with how the page looks, click Publish and that'll be it.
Once your form is published, you can go ahead and test it from the frontend of your site.
Depending on what theme you're using, the design might look a little different, but all the form fields should be present just as they were in the form builder.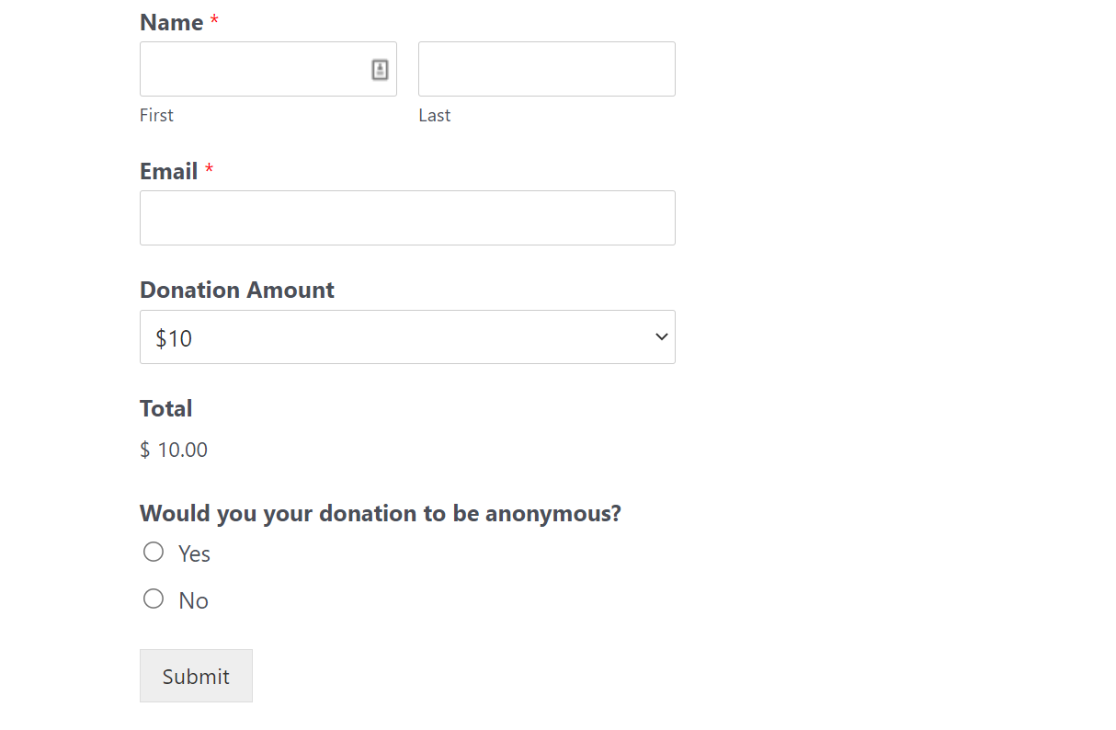 When a user submits this form, they'll be redirected to the PayPal checkout page to complete the donation.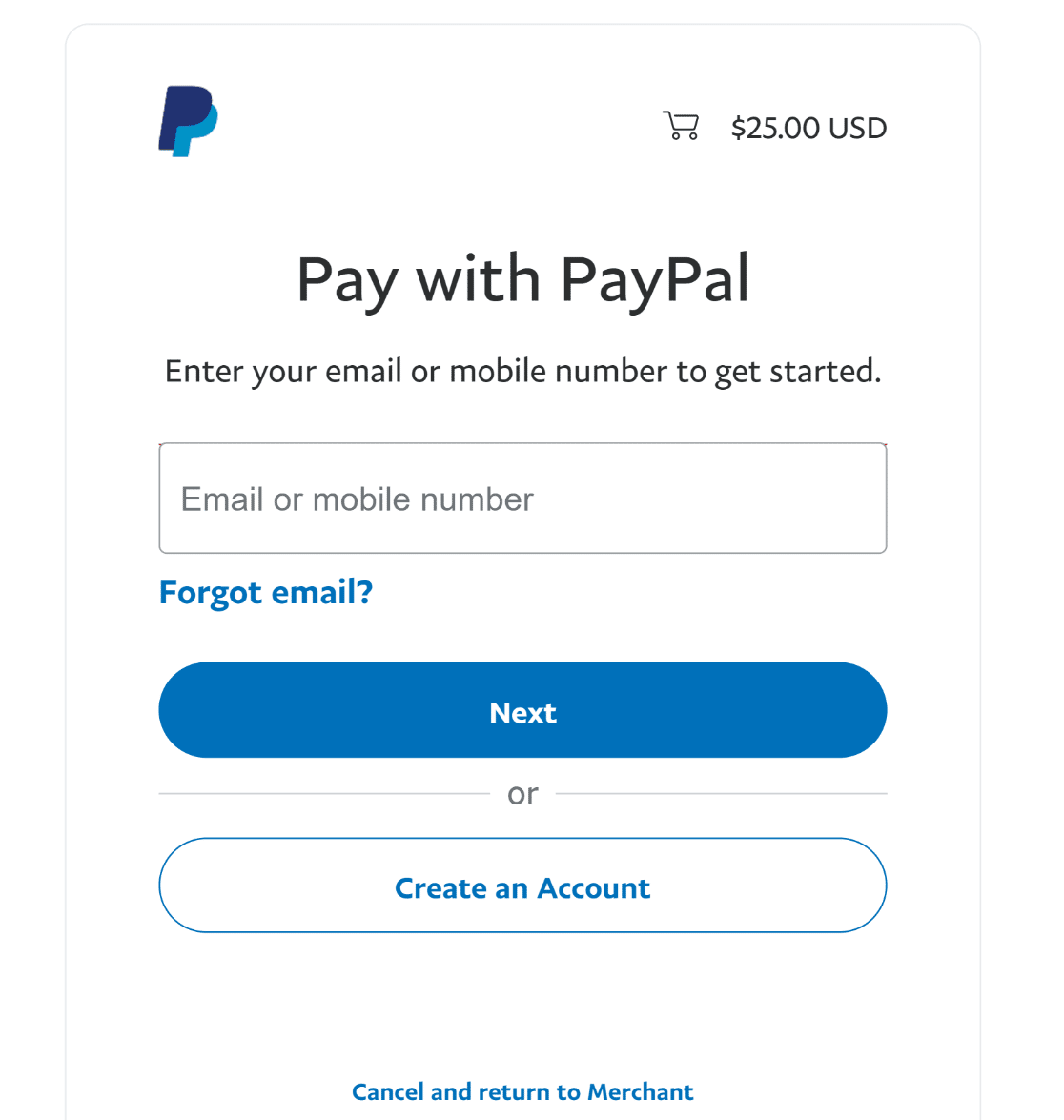 If you've followed all the steps, now you'll have a fully functional Nonprofit Fundraising Form to help you start your online fundraiser. Well done!
But before you wrap things up here, consider adding a CAPTCHA field to fight form spam. We particularly recommend using hCaptcha or WPForms Custom Captcha, as these are among the best alternatives to Google reCAPTCHA.
That's it! Now you know how to start a fundraiser online and what tools to use in the process.
Next, Create an Email Subscription Form in WordPress
Lots of businesses use email subscription forms to turn leads into paying customers. Nonprofits can do the same. You can get started by following this simple guide to using email subscription forms in WordPress.
And if you're looking for a more comprehensive donation management solution for WordPress, we'd recommend WP Charitable. Learn why by reading our WP Charitable review!
Ready to start building WordPress forms? Get started today with the easiest WordPress form builder plugin. WPForms Pro includes lots of free templates and offers a 14-day money-back guarantee.
Create Your Fundraising Form Now
If this article helped you out, please follow us on Facebook and Twitter for more free WordPress tutorials and guides.