Do you want to create a WordPress order form for your small business?
If you're selling products and services, adding an order form can make it easy for your customers to order from you online and make payments.
In this article, we'll show you how to create an online order form for small businesses in WordPress in a few easy steps.
Create Your WordPress Form Now
What Is An Order Form?
An order form allows customers to place orders and purchase an item from a company. Businesses use order forms to simplify the ordering process and collect requests for orders online. Some form builder tools allow you to connect your order form with a payment service so customers can immediately pay you online while placing an order.
How to Create an Online Order Form in WordPress
We've created a video that shows you how to create an order form in WordPress.
If you would prefer to read the instructions for how to create an online order form, we'll walk through the process in the steps below.
Let's jump into it.
Step 1: Install WPForms
Firstly, you're going to need a form builder plugin that enables you to easily create an order form.
WPForms is perfect for creating order forms, contact forms, and tons of other commonly used forms.
The best part is that you don't need a paid WPForms license to accept payments for your order forms. The Lite, Basic, and Plus licenses support Stripe integration (with 3% extra transactional fees) for accepting credit card payments in your forms. And with Stripe, you can even offer customers useful features like recurring payments and one-click checkout.
And if you want to remove the extra fees, you can upgrade to WPForms Pro and unlock a wealth of advanced features at the same time.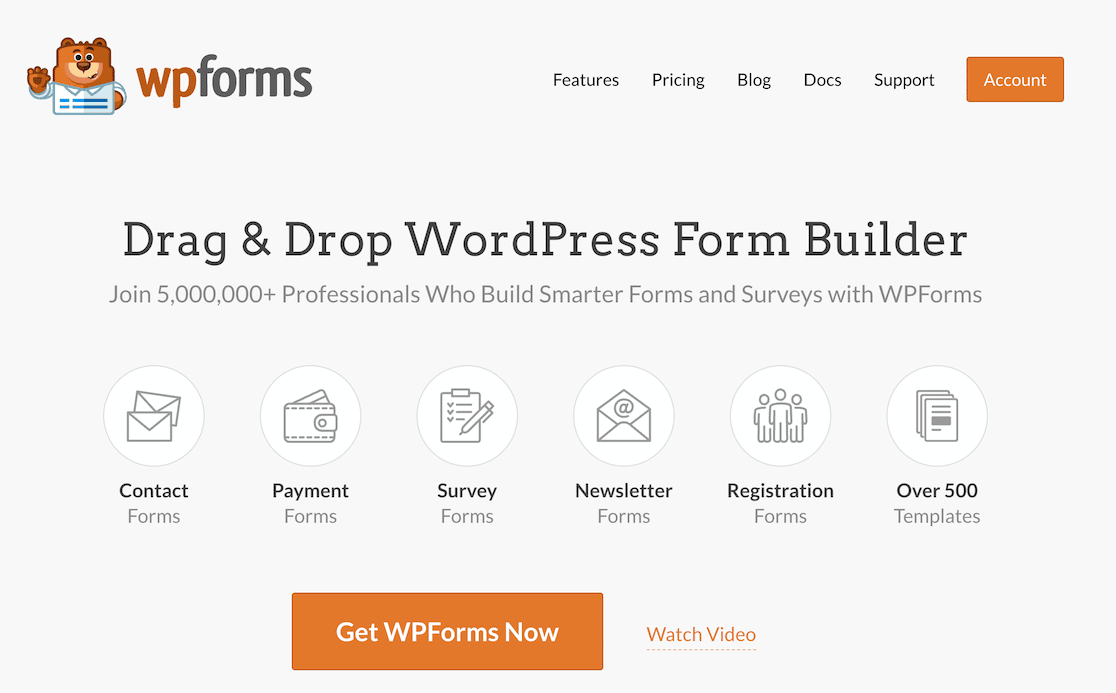 We'll use WPForms Pro for this tutorial (though you can still follow the same steps for WPForms Lite!)
Once you've purchased your plan, go ahead and install WPForms on your WordPress site.
Great! You can now immediately begin creating an order form and connect it with a payment gateway.
Step 2: Connect WPForms With Stripe
After you've installed and activated WPForms, it's time to integrate Stripe with your WordPress site so you can accept payments via your forms.
While you're inside your WordPress dashboard, go to WPForms » Settings.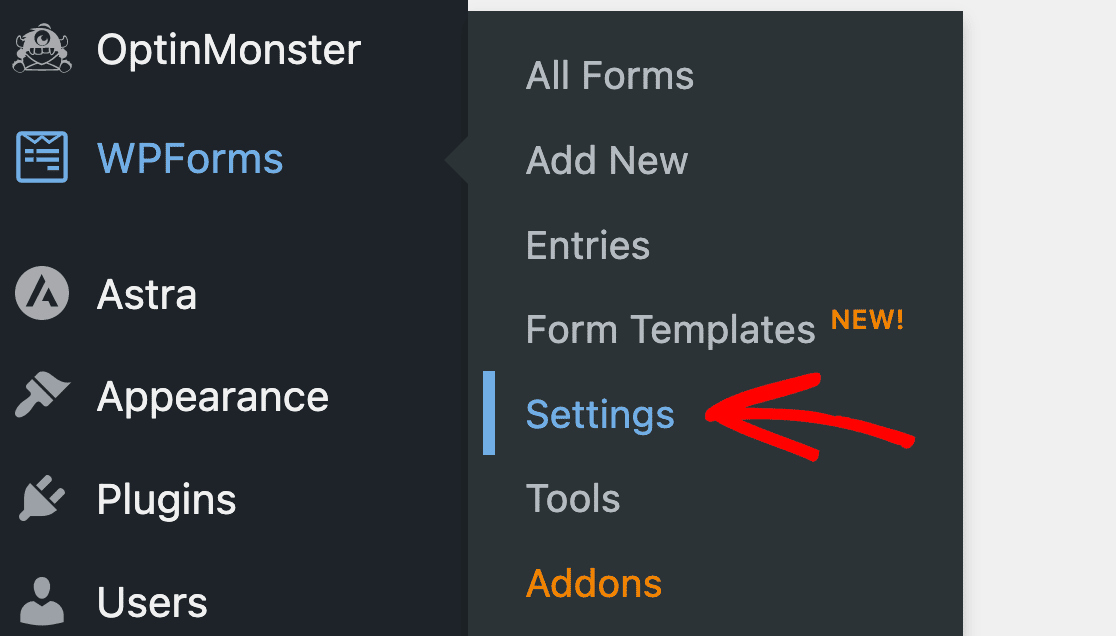 Next, click the Payments tab on the navigation bar.

If you scroll down, you should see a Connect With Stripe button here. Press the button to initiate your connection.

When you've done that, you'll be redirected to the Stripe login screen. Enter your login details, and that should be it.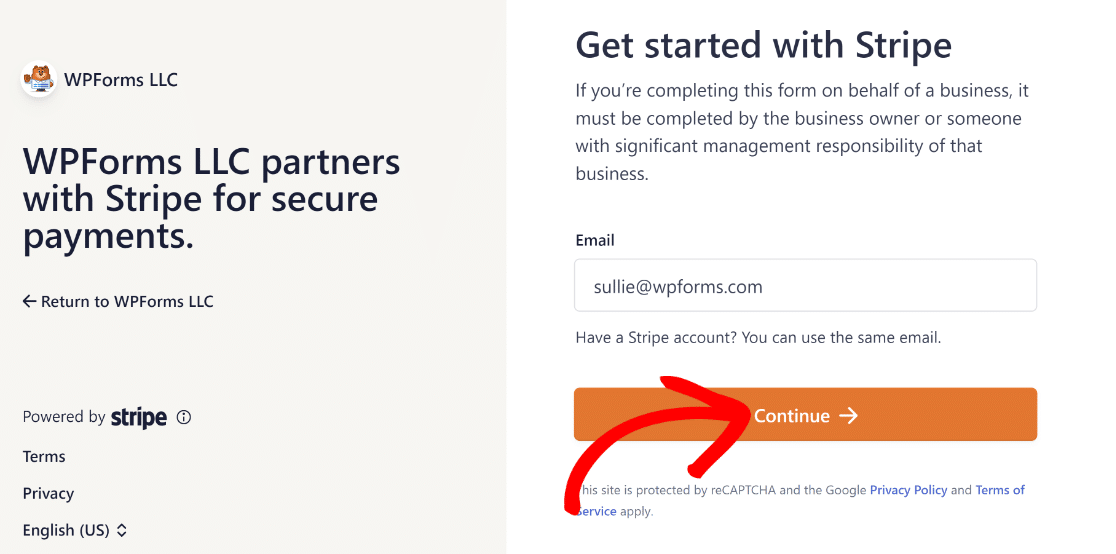 Come back to the Payments screen after logging in. Here, you can check the connection status to confirm if the integration with your Stripe account is successful.

Brilliant. You can now begin creating an order form using the drag and drop form builder.
Step 3: Load the Online Order Form Template
When WPForms Pro is installed on your site, go to WPForms » Add New from your WordPress dashboard to create a new form.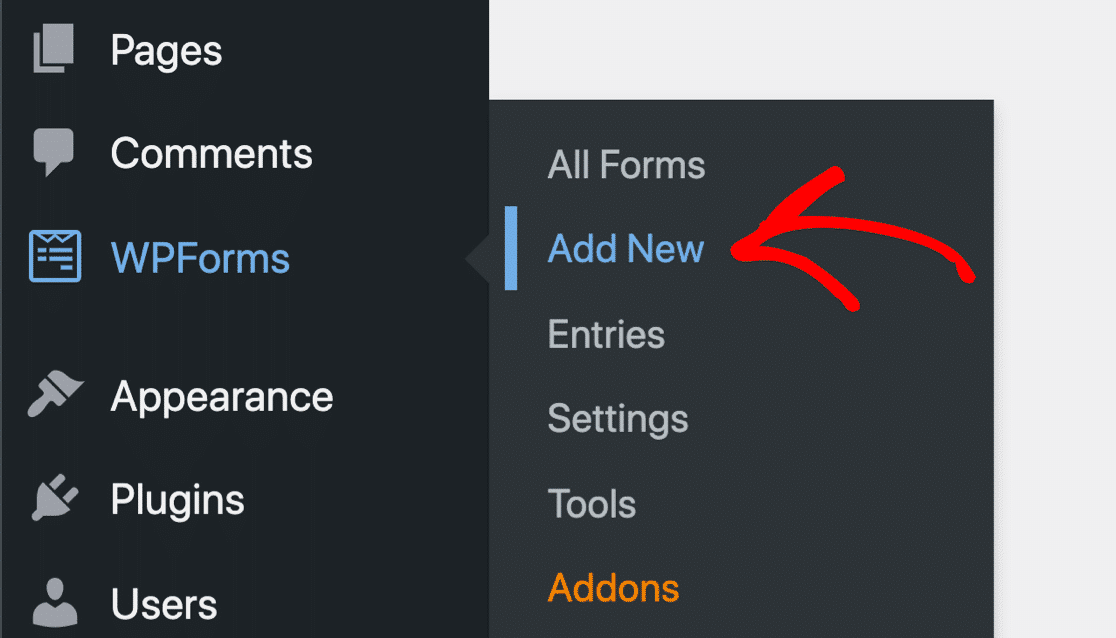 You'll now be able to select a ready-made order form template to add to your WordPress site. Start by naming your order form (you're free to give it any name you want).

Now, to make this task super easy and quick, we'll select select an order form template. WPForms has over 1000 templates for you to choose from.
We're going to use the simple order form template, which is perfect for small businesses. Search for "simple order form" and select the template to start loading it.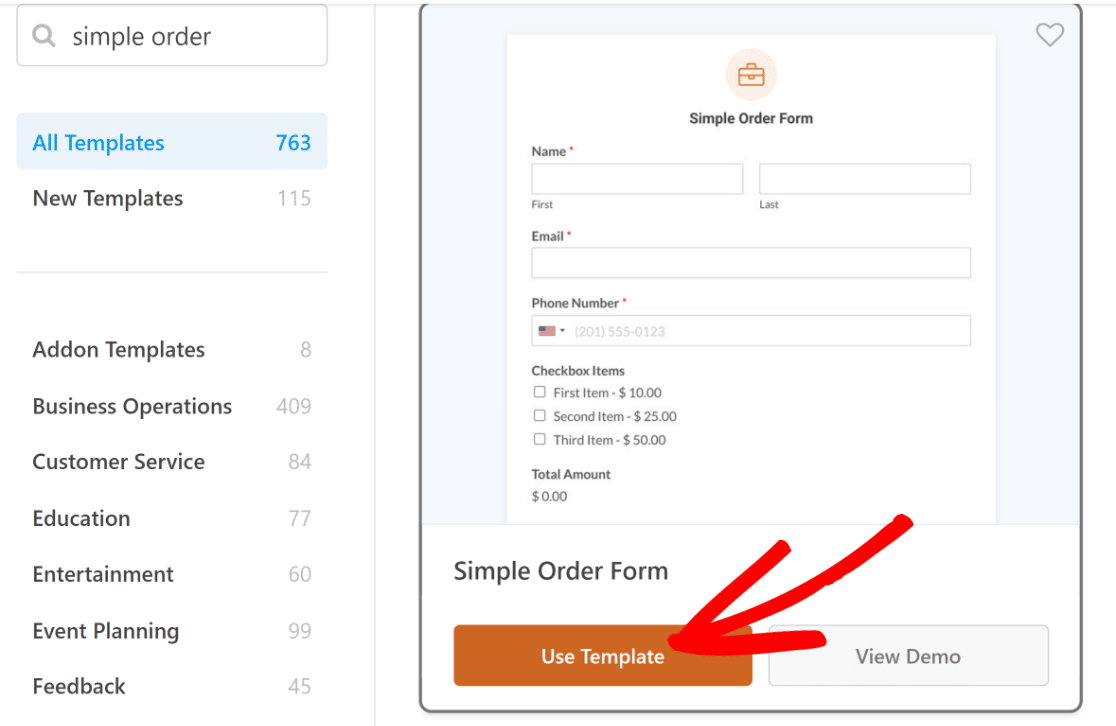 Note: This template is available on Pro and above plans. If you're a Basic or Plus user, you'll have to build it from scratch with the drag and drop form builder. If you're a Lite user, you won't be able to add the Address field for shipping. Instead, you can use multiple Single-Line Text fields to replicate an address field.
It will only take a few seconds to load the template. Once loaded, you'll see the form builder, where you can make any changes to the template if you need.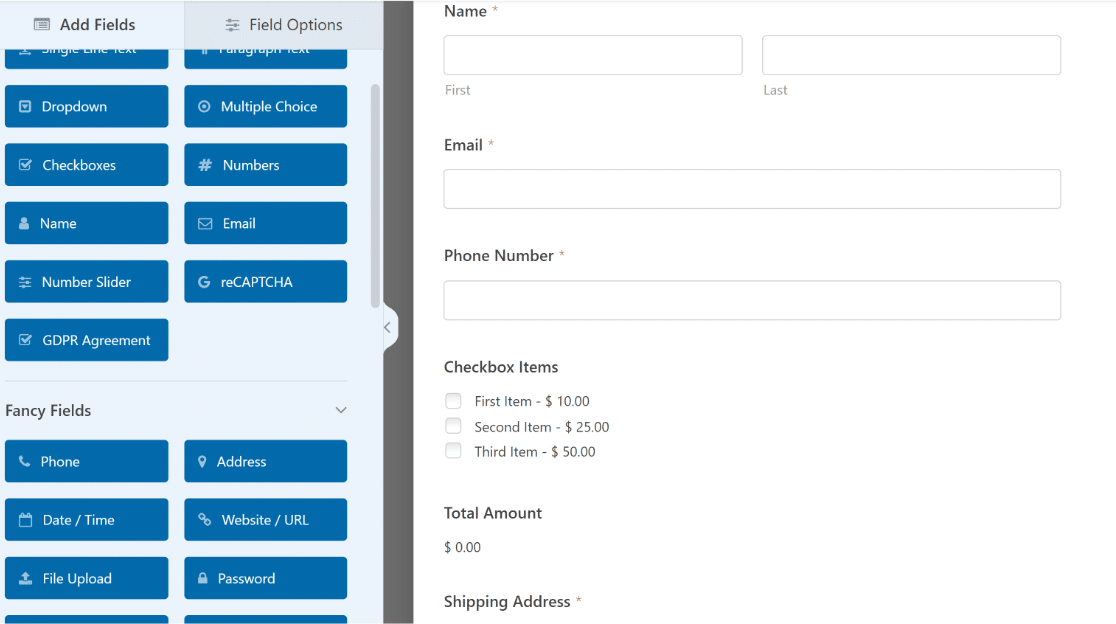 As you can see, this is the perfect online order form for small business.
It includes fields for collection basic information including shipping address, a field for selecting items to order, and the Stripe Credit Card field.
The more concise a form is, the easier it is for users to fill it out and attain their goals.
Let's customize some of the fields in this template so they can be even more helpful for customers.
Step 4: Customize the WordPress Order Form Fields
By default, the order form template has a Checkbox Items field that allows users to select one or more products from a list of choices.
To make the form specific to your products and services, you can add the actual names of your products and set a price for each.
Click the Checkbox Items field to open its Field Options.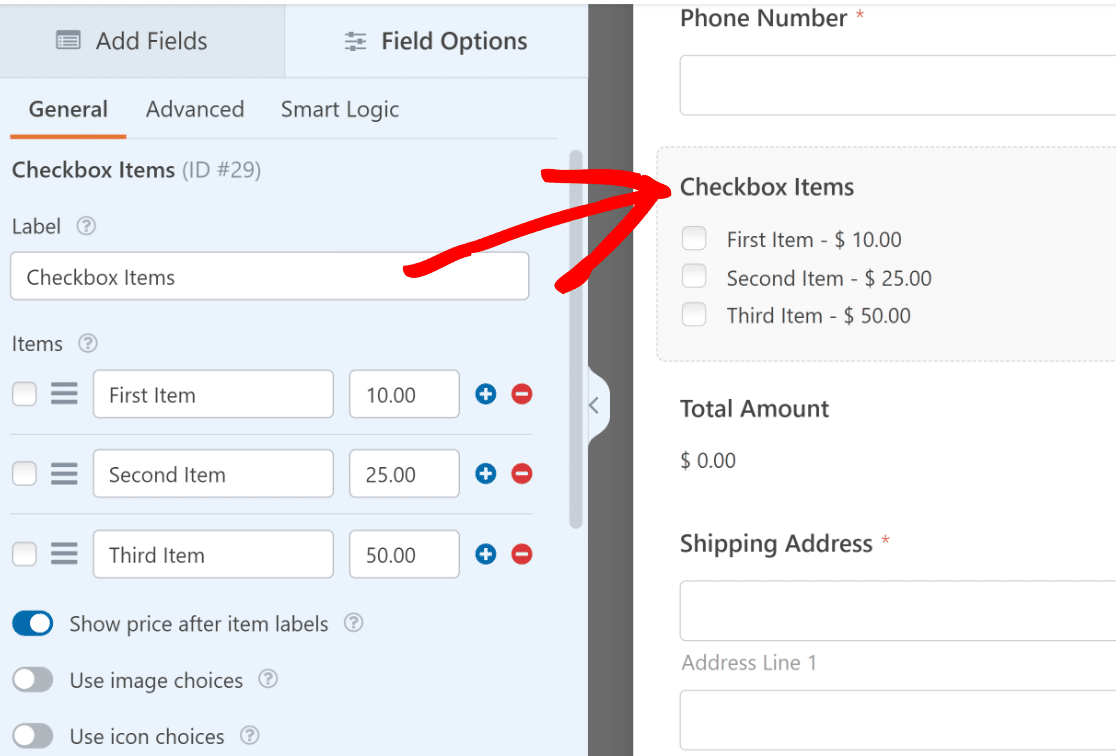 Here, you can change the label of the field and the names of the items to match your products.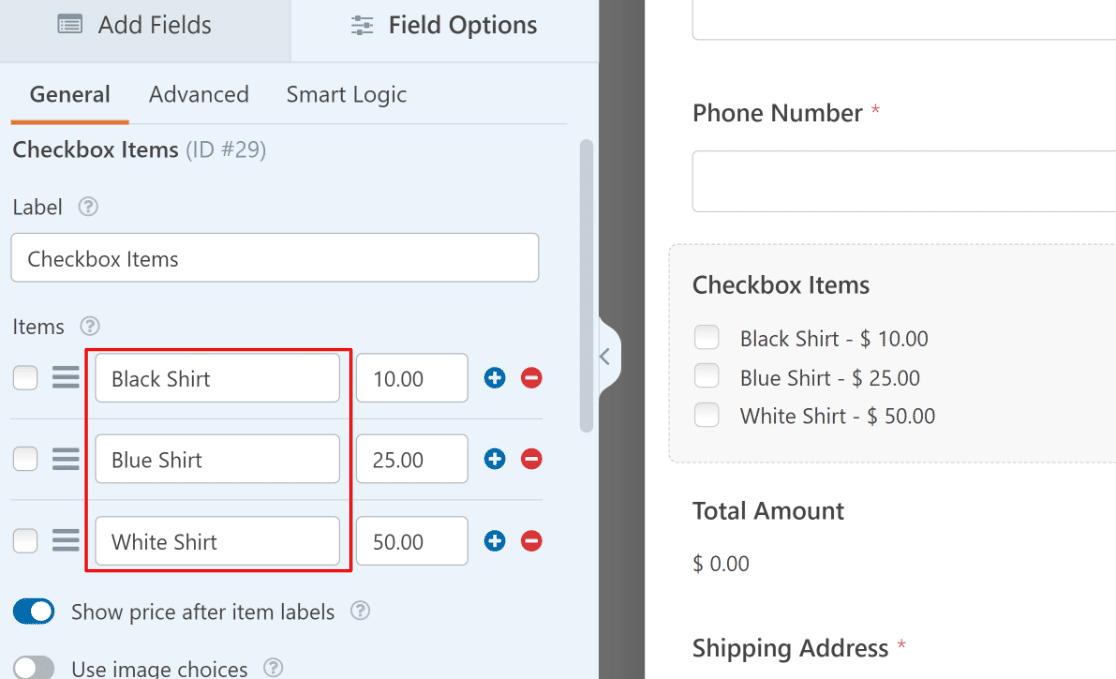 To change the price, simply enter a number in the column next to each item.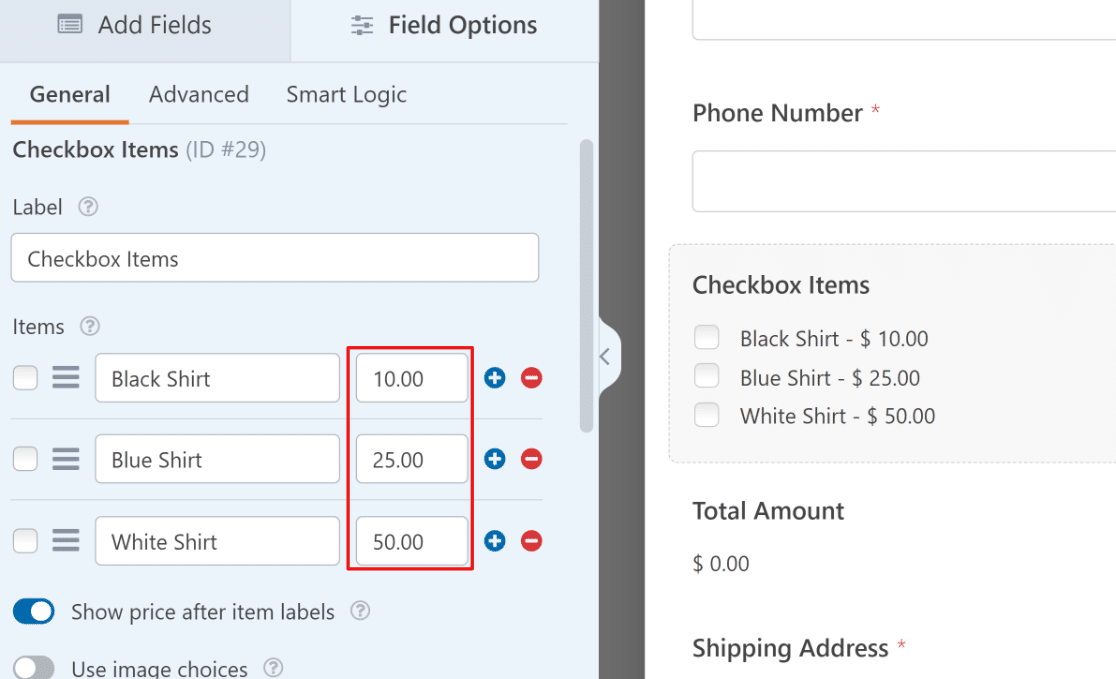 If you want to add more items to this field or delete an existing item, simply use the plus (+) and minus (-) buttons next to each item.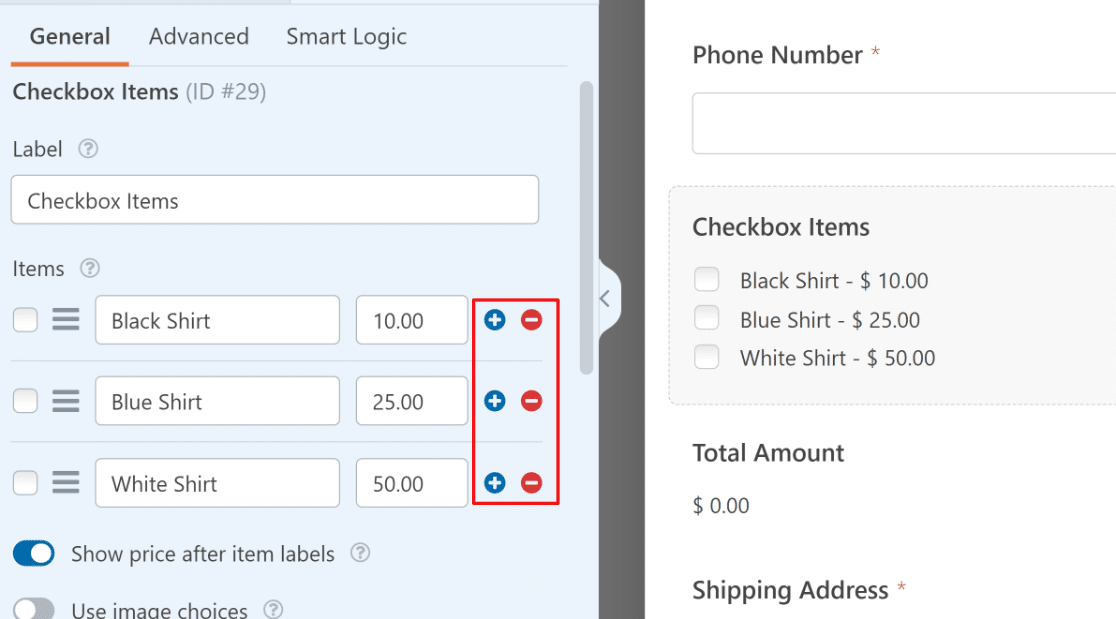 You can add an image for each choice so people can see what they're ordering.  Click on the Use image choices toggle to enable this feature.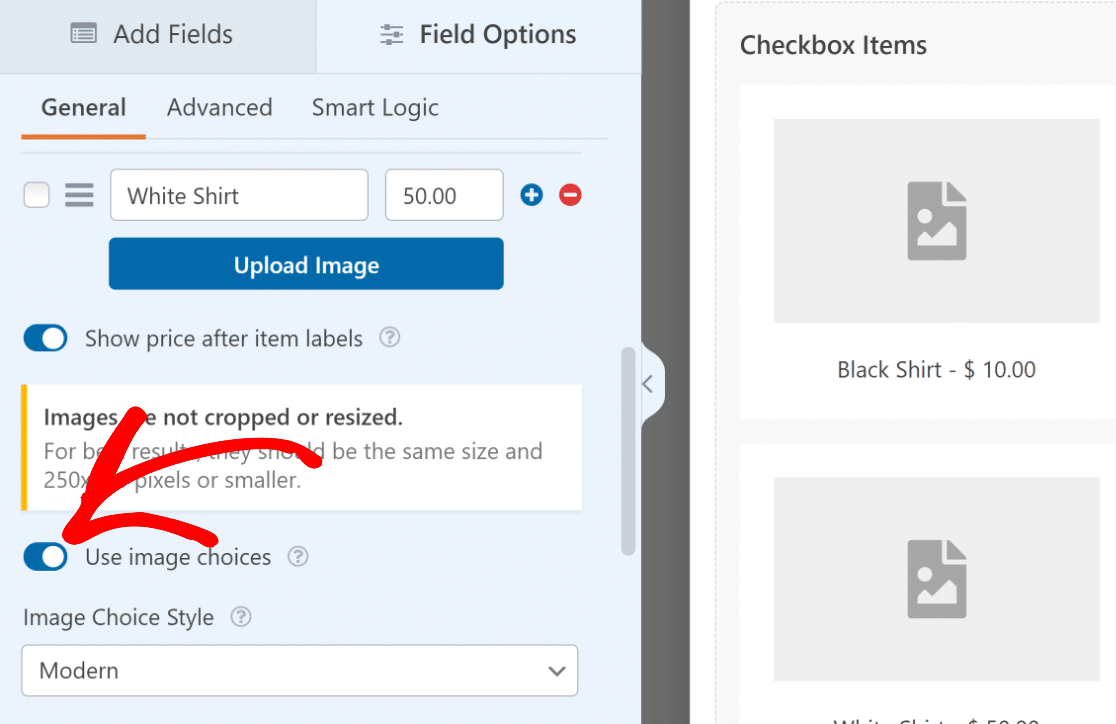 When enabled, this feature will reveal an image upload button for each product, which you can use to upload an image to go with your product on the order form.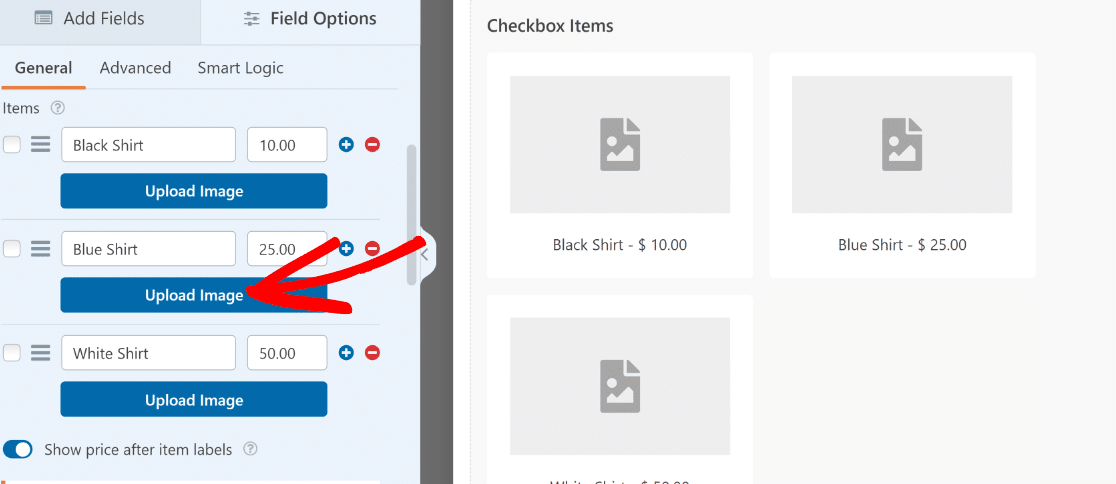 It's important to remember that the Checkbox Item field that's added by default in this template lets users select more than one items at a time.
If you want to restrict your users to select just one product at a time, you can use the Multiple Items fields instead.
Make sure to Save your changes when you're done customizing your WordPress order form.
Step 5: Enable Stripe Payments
Now that our form is ready, we just need to configure how we want Stripe to process payments with this order form.
On the form builder sidebar, click on Payments.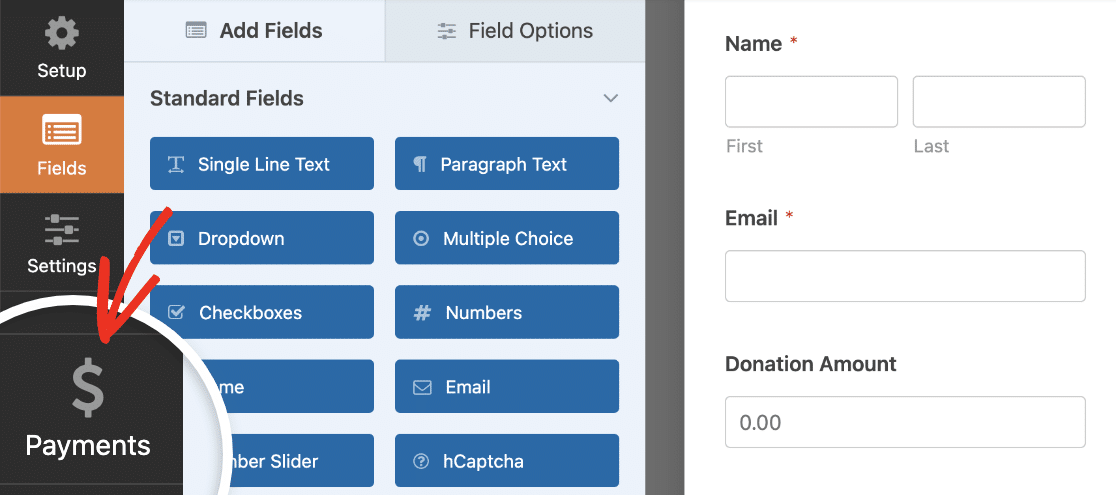 After that, click on Stripe on the list of payments.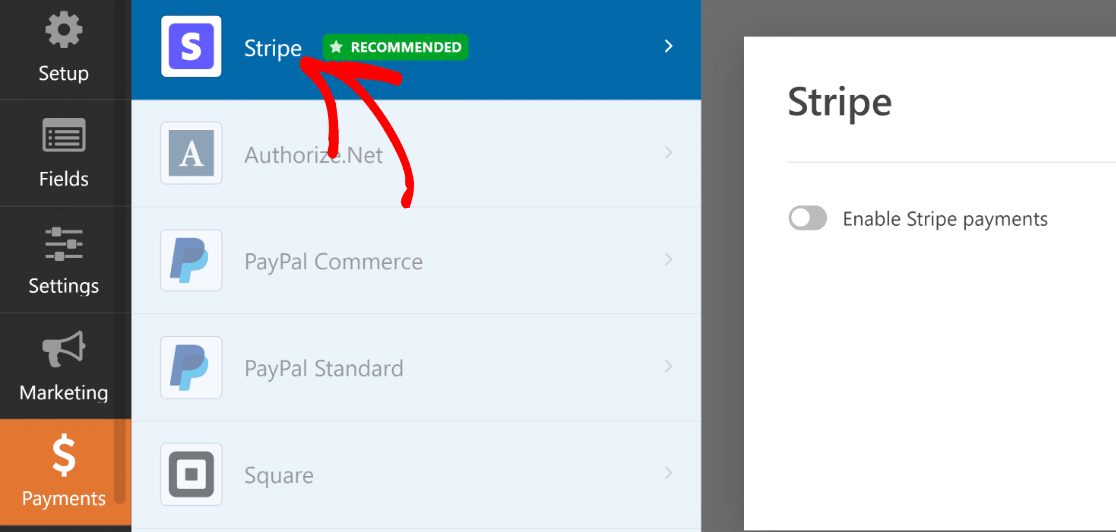 On the right-hand panel, click on the Enable Stripe Payments toggle switch.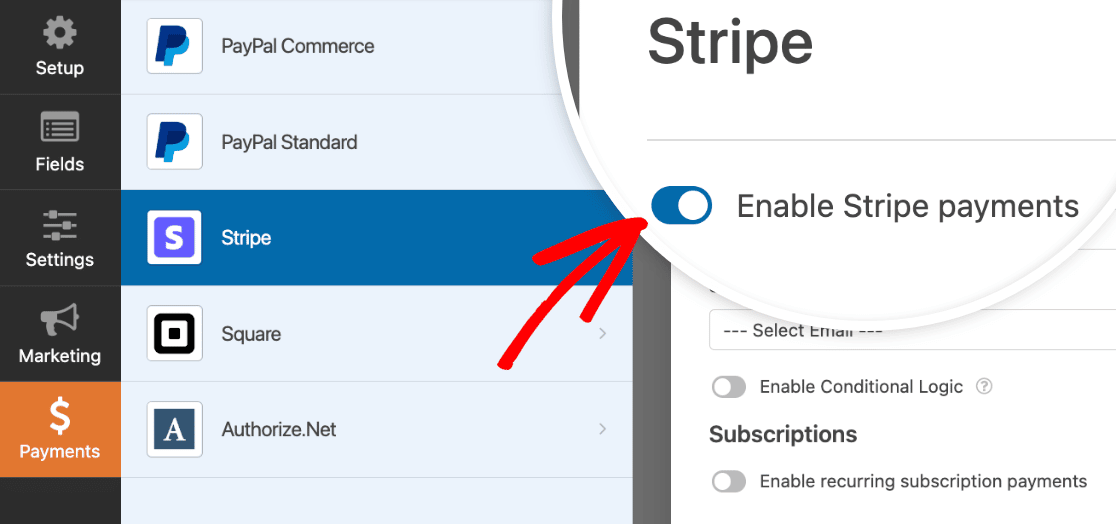 This will expand additional settings for Stripe.
These additional options allow yout to:
Enter a payment description
Select the customer email field to send a receipt from Stripe on form submission
Select the customer email field to add to your Stripe account for record-keeping
These settings are optional but recommended. When you're done with this step, make sure to press Save.
You're now ready to accept Stripe payments for your orders once this form is published.
Step 6: Customize Your Online Order Form Notifications
When a user submits an order form, WPForms will automatically send a notification to you (the admin).
You can customize this email so that it includes useful information that allows you to easily find order confirmation emails for each person that fills your form.
Start by clicking on the Settings tab in the Form Builder and then click Notifications.

If you'd like to send a copy of the order email to multiple members of the team, you can add their email addresses separated by commas within the  Send to Email Address field.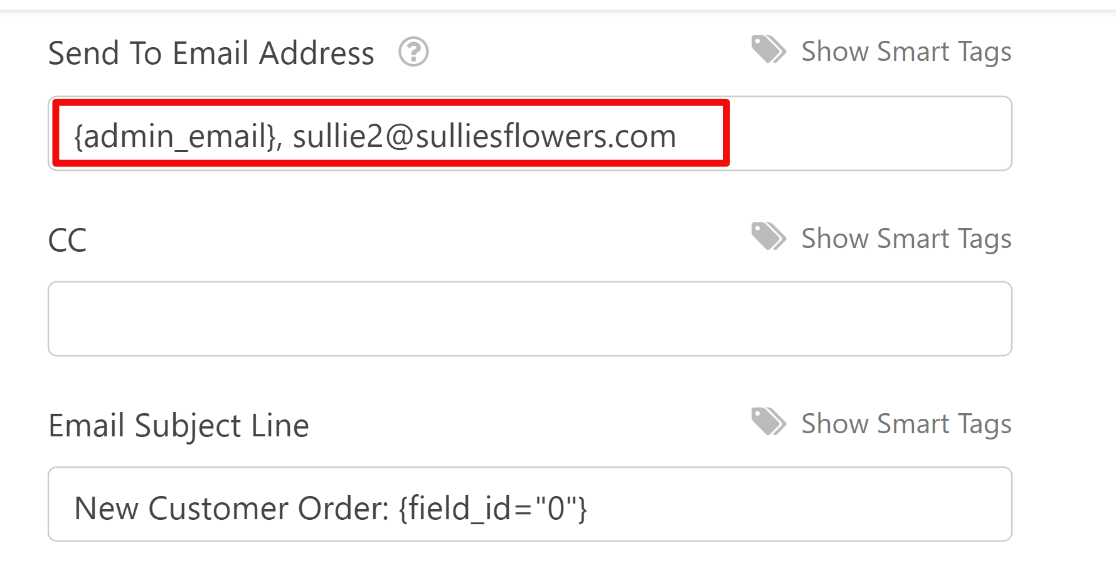 It's also a good idea to use Smart Tags in the subject line so that every order email doesn't look the same.
One easy way to do that is by adding the Name Smart Tag in the email subject. This means that each order email will have the name of the customer that filled the form.
You can add Smart Tags by clicking on Show Smart Tags.

This will open a list of available fields that you can use as a Smart Tag. In this example, we're going to use the Name field as our Smart Tag.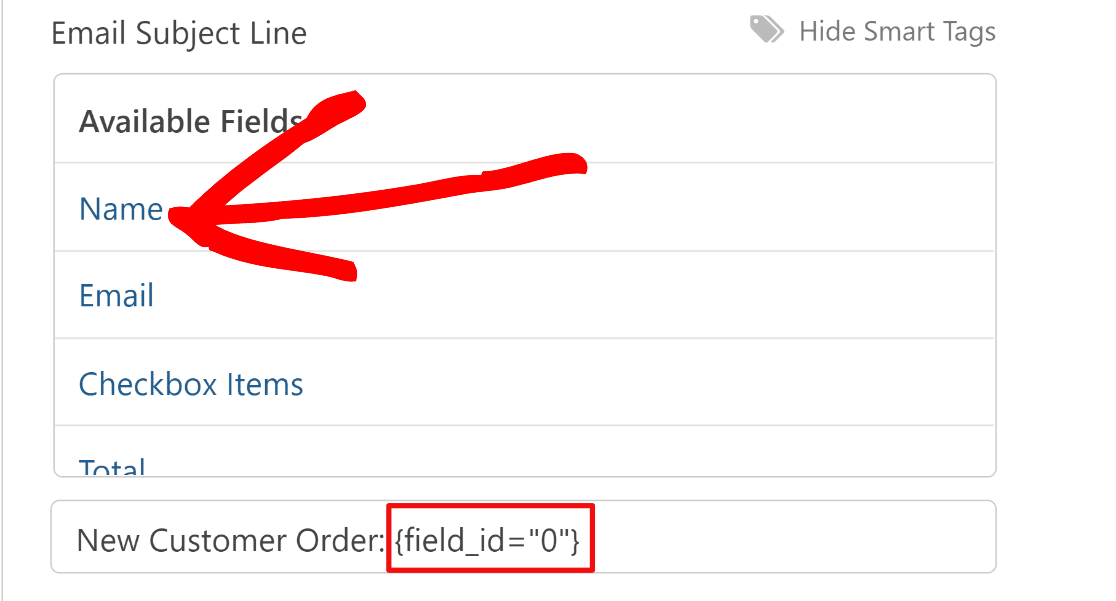 Now, every email notification you receive from this online order form will contain the name of the customer in the subject line. This is a great way of making it easier to track order emails by name.
In addition, if you use Smart Tags, you can even send a form notification to a customer to let them know their order has been received.
To set up a separate notification for customers, click on the Add New Notification button on the top-right.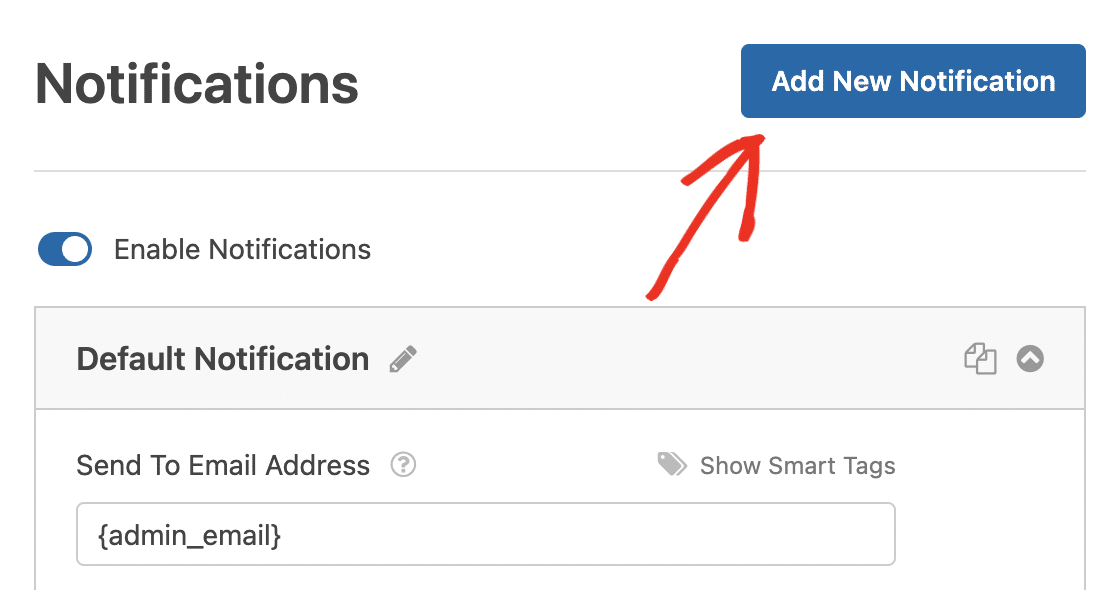 This will display a popup box where you'll need to name your notification to distinguish it from the default notification.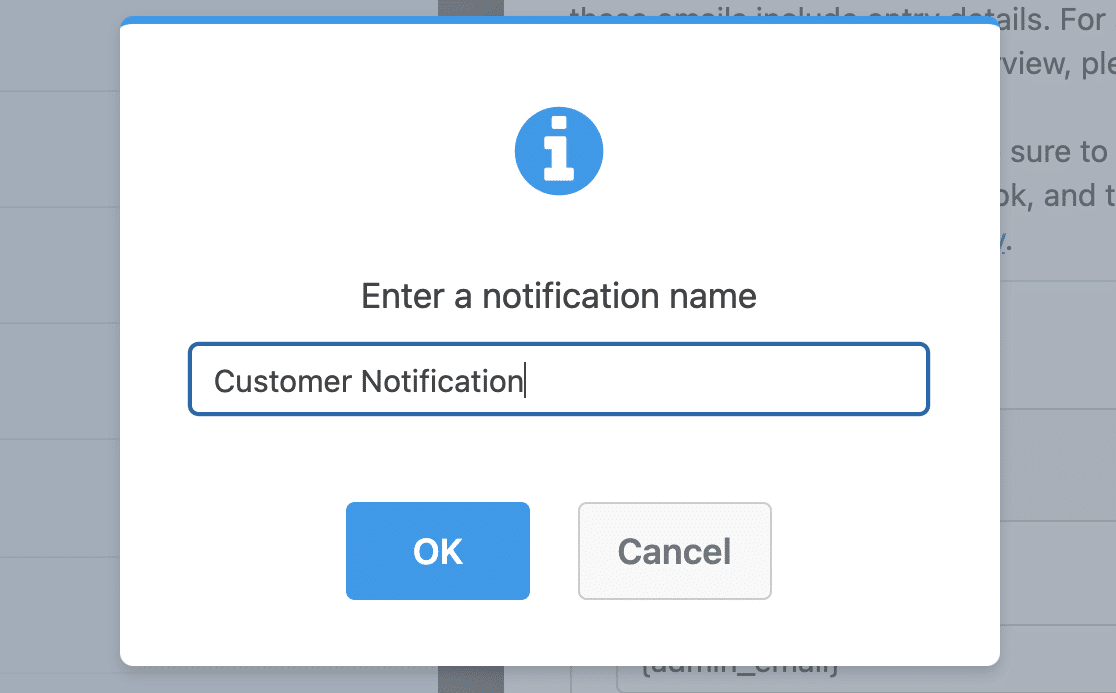 Then, use the Smart Tags to include the email address of the person that filled out the online order form in Send To Email Address field. Click Show Smart Tags in the Send To Email Address field.

Then, select the Smart Tag for the Email field. This will allow WPForms to retrieve the email address provided by the customer in the order form and send them the notification to this email address.

Similarly, you can customize all the different parts of your WordPress order form email notifications using plain text and Smart Tags as you see fit.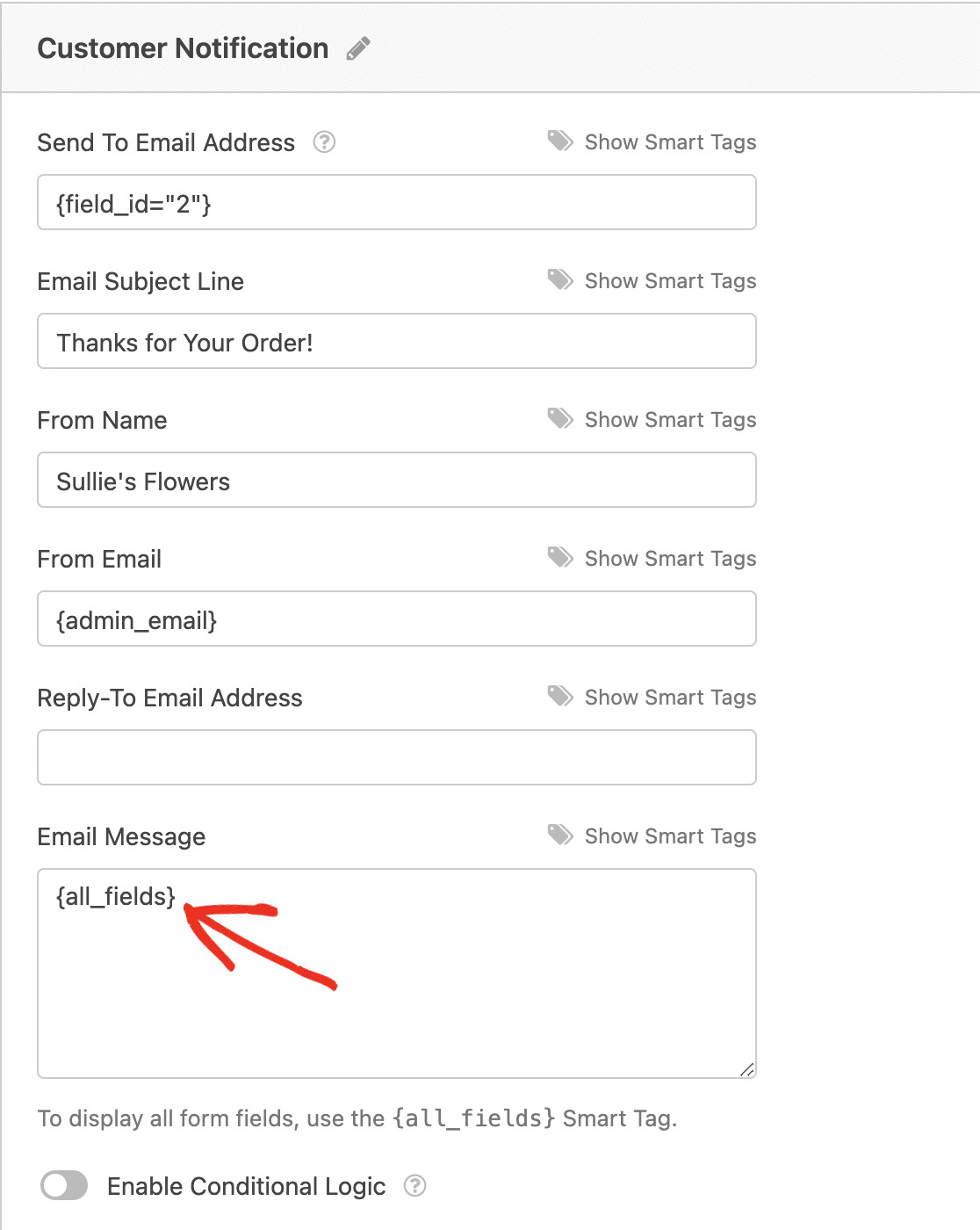 For more help with smart tags, check out this tutorial on how to use Smart Tags in WPForms.
Notifications in WPForms are extremely flexible. You might want to check out this guide on how to create multiple form notifications in WPForms.
Step 7: Configure Your Form Confirmations
Form confirmations are messages that display for customers once they submit an order form.
There are three confirmation types you can choose from:
Message
Show Page
Go to URL (Redirect)
Let's see how to set up a simple form confirmation in WPForms so you can customize the message users will see after submitting their orders.
First, click on the Confirmations tab in the Form Editor under Settings.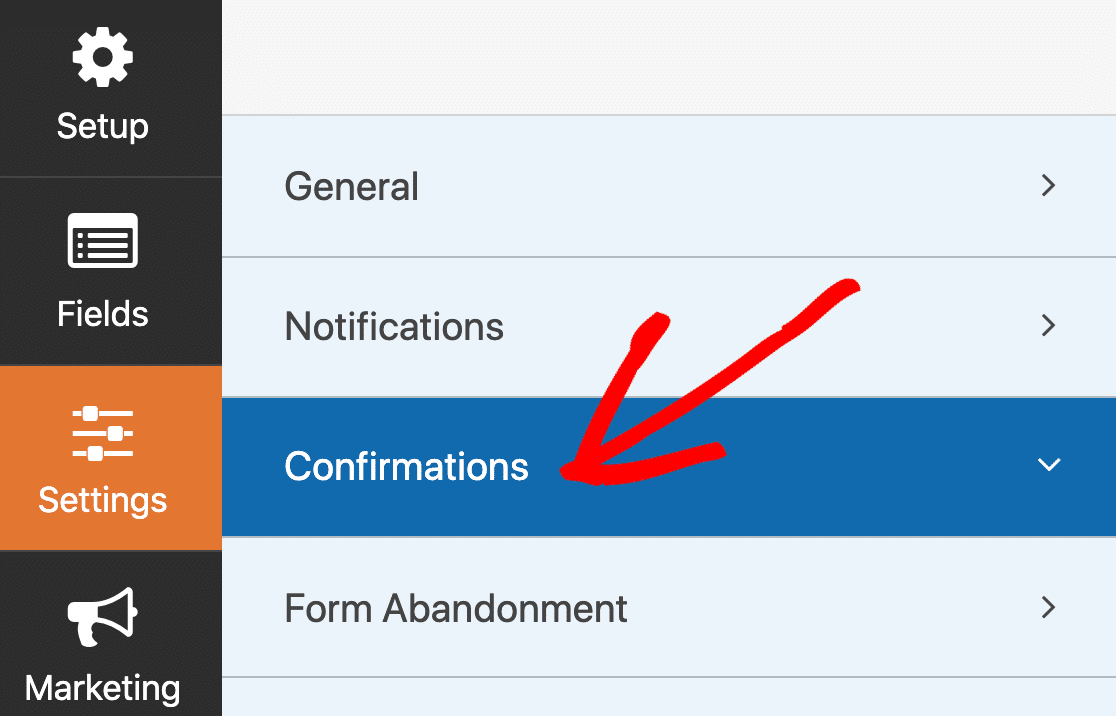 Next, select the type of confirmation you'd like to create. For this example, we'll select Message, which is the simplest way to display a confirmation.

Then, customize the confirmation message to your liking, and click Save when you're done.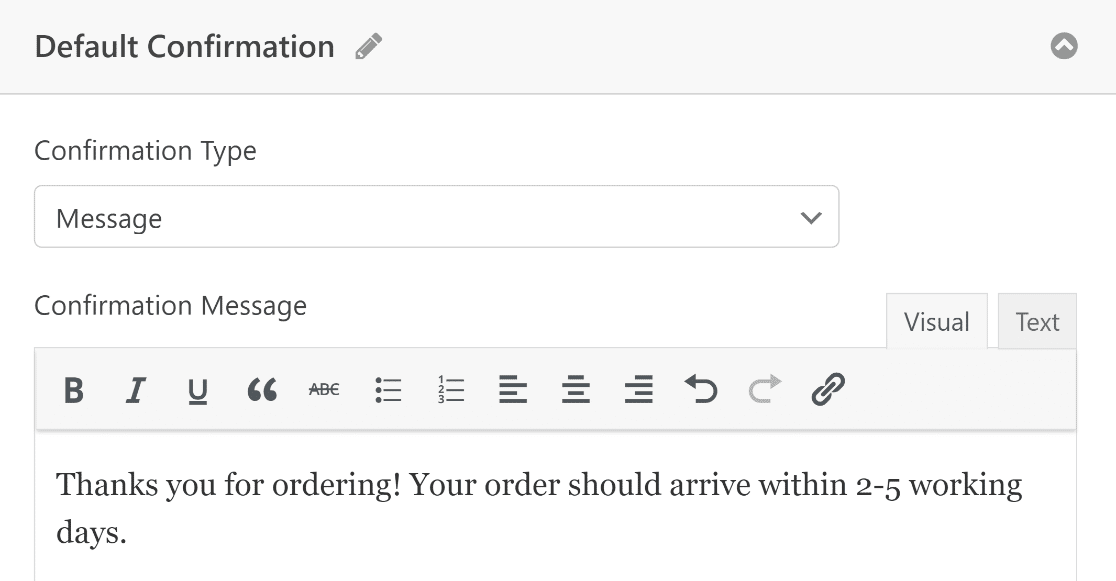 Excellent! We're almost finished.
Step 8: Add the Online Order Form to Your Site
WPForms makes it super easy to embed your order form on your WordPress site.
Click on the Embed button on the top.

To embed the WordPress order form in a new page, click Click New Page.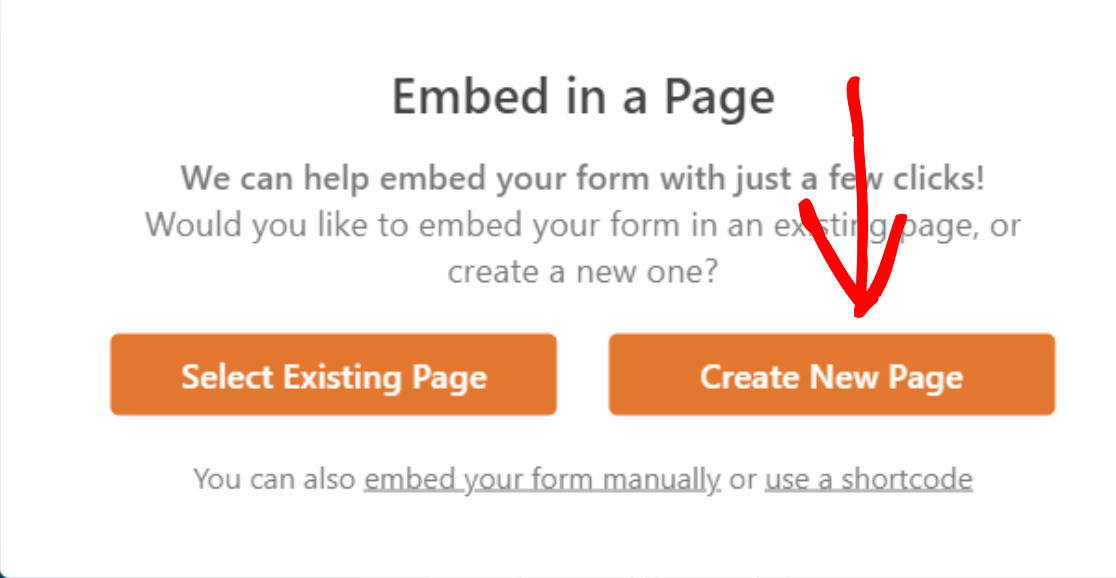 Now input a name for the new page and press Let's Go.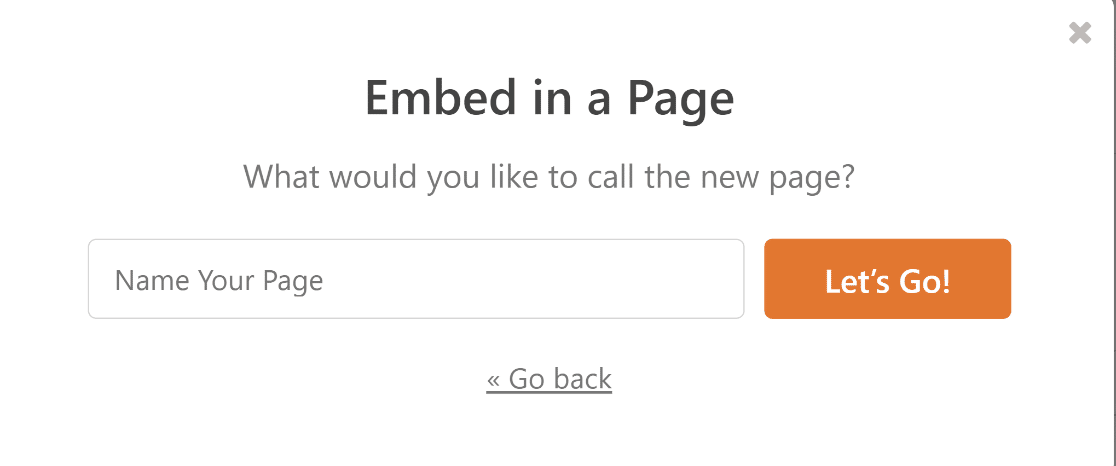 You'll now see your WordPress block editor with the block already added for the order form you just created within the page.
When you're ready to launch, click on the Publish button.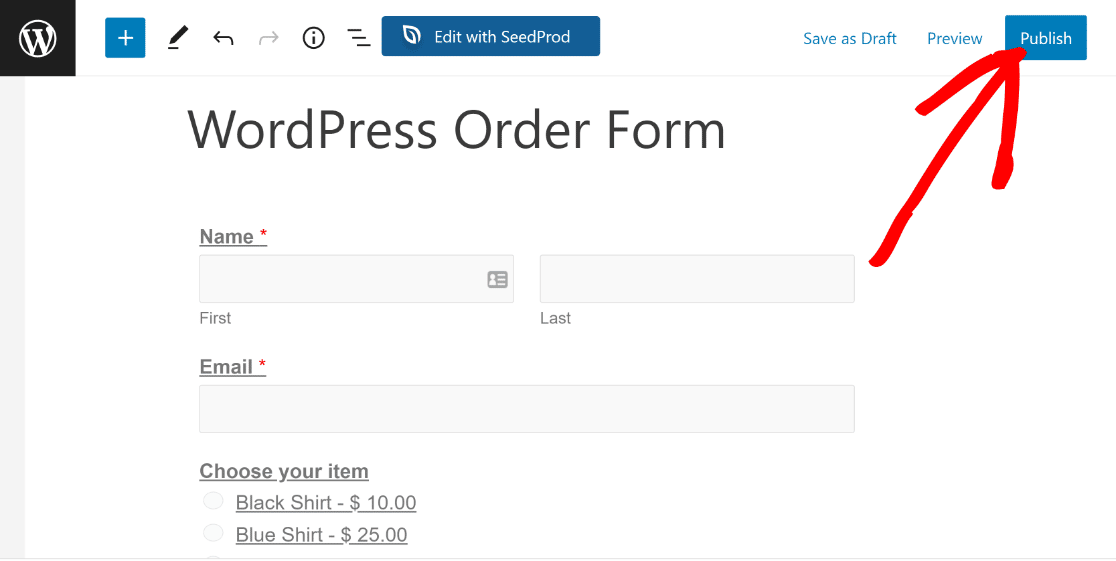 Now you can view your published order form live on your site. Notice when you select items on your form the price changes automatically.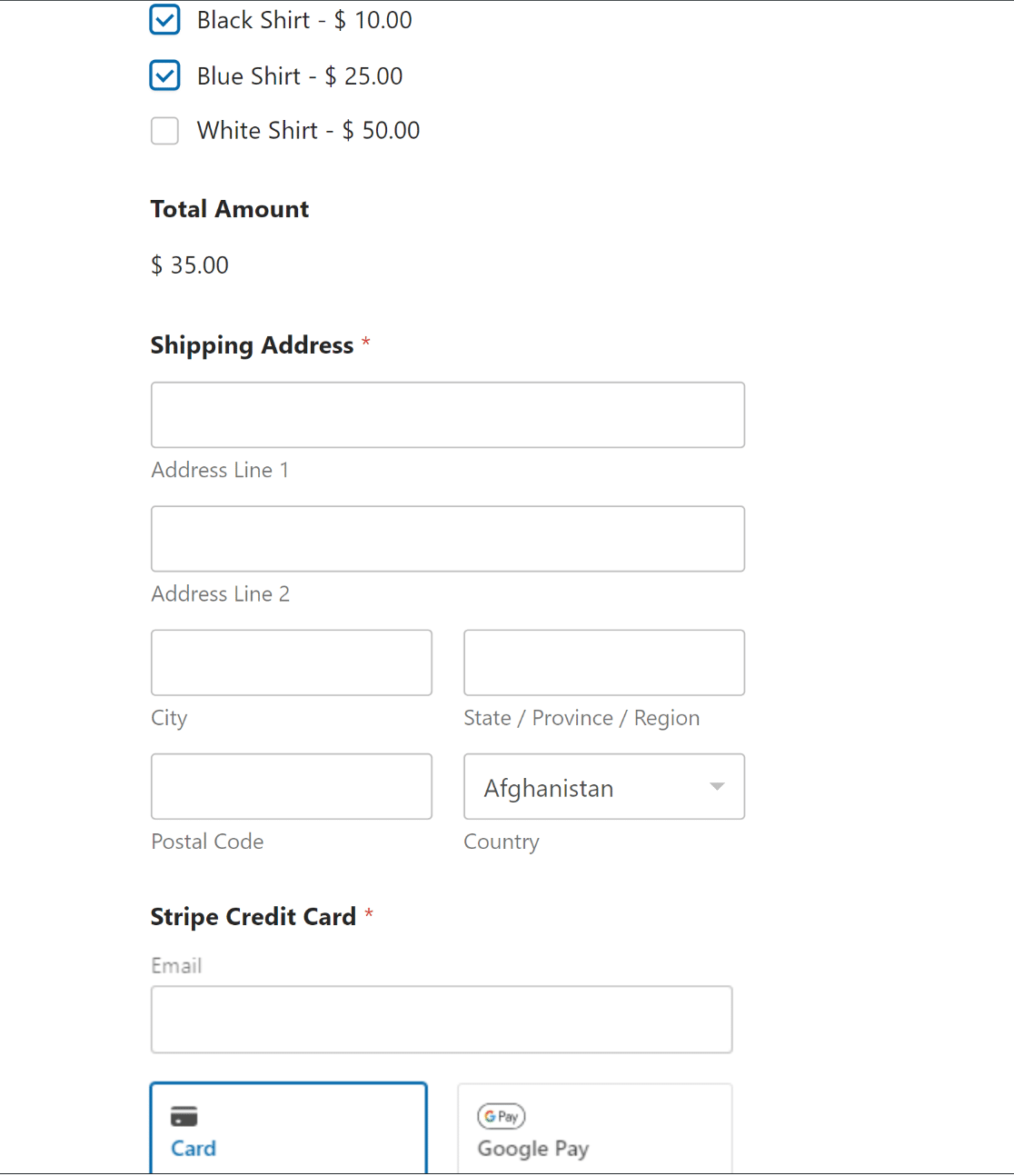 And there you have it! You now know how to create an order form in WordPress and accept online payments with it.
As an additional, optional step, you may want to keep users on your website even after they make an order, increasing their chances of making extra orders. Learn how to do this by redirecting users to another page on your website or another website after they submit a form.
If you're a nonprofit, you can follow similar steps as above to create a donation form for your nonprofit.
FAQs on Creating Online Order Forms
Here are some of the frequently asked questions concerning creating WordPress order forms:
How to Make a Dropdown Order Form on WordPress?
WPForms has a Dropdown field that you can include in your order form. To add the Dropdown field, simply click on it from the left hand pane in the form builder or drag and drop it where you need it on your form.
The dropdown menu provides the advantage of keeping your forms short and concise when there are a lot of options to choose from.
So if your list of available items is long, consider adding the Dropdown field to your form using WPForms' easy drag and drop form interface.
How Can You Track Data On an Order Form?
WPForms makes it easy to track your payment data from order forms. It has a dedicated Payments screen, and this is available in the FREE version as well as WPForms Pro.
Next, Make More Money from Your Website
Want to start making more money off your own website? You may want to check out our post on the best WordPress affiliate plugins.
Are your WordPress email settings configured the right way? Make sure to check out our guide on adjusting email settings in WordPress to make sure your outgoing emails are working properly.
Create Your WordPress Form Now
Don't wait to start building your online order form. Get started with the most powerful WordPress form plugin today. Looking for a free order form? WPForms Pro comes with a free online order form template and a 14-day money-back guarantee.
And don't forget, if you like this article, then please follow us on social media with Facebook and Twitter.