Trying to avoid long-term issues with your WordPress emails? WordPress is smart, but it's also known for disappearing emails if the default settings aren't manually adjusted correctly.
So in this post, we've put together an easy tutorial on how to configure your WordPress email settings to help you do it right.
Here's a table of contents if you'd like to skip ahead to the tutorial:
Why Default WordPress Email Settings Don't Work
By default, WordPress uses the PHP mail() function to send its emails. These are usually automated emails like registration confirmations, lost passwords, or form notifications that let you know when someone filled out your form.
But what's frustrating is WordPress is notorious for having disappearing emails. And the most common reason those emails go missing is that your WordPress hosting server is not properly configured to use the PHP mail() function.
So because WordPress is set to PHP, tons of email service providers like Gmail, Yahoo, etc, use tools to filter out email spam. And when your WordPress tries to send an email, it's common that it gets blocked by these email service providers. They think it's pretending to be something it's not, also known as a spoof email.
So your WordPress email never ends up in your visitor's inbox, and it might not even end up in their spam folder. This sticky situation is why everyone should use SMTP instead of PHP when setting up your WordPress email settings.
What SMTP Actually Is
SMTP stands for Simple Mail Transfer Protocol. It's a way to send emails over the internet, and it's the industry standard. If you want to set up your WordPress email settings the right way, you'll want to switch them to SMTP.
SMTP gives you way higher email deliverability rates than PHP, especially when you use the popular WP Mail SMTP plugin.
It's used by so many websites for a reason — it lets even non-technical people set up their WordPress email settings to use SMTP instead of the default PHP mail() function.
And, you can connect it with all kinds of email providers like:
And in this tutorial, we'll show you how to set up your WordPress email settings with SMTP.com. However, you can use any mailer you'd like. If you want to fix WooCommerce not sending emails, we recommend that you choose a provider specializing in transactional emails.
How to Configure Your WordPress Email Settings
If you're ready to set up your WordPress email settings the right way, let's go ahead and get started with this step-by-step guide.
1. Set Up Your SMTP.com Account
First, you'll need to create an account with SMTP.com. This account is going to connect to your WordPress site to get your email settings set up correctly.
If you already have an SMTP.com account, go ahead and log in. Or if you don't have an account yet, go ahead and create one now.

In this tutorial, we'll register for a new free trial. But the setup will be the same no matter which type of account you have.
If you're creating a new account with SMTP.com, you'll need to do a few additional steps after registering. These steps help prevent spammers from signing up, which is a part of how their service is so reliable.
So check your email inbox and then follow their activation link. Then, you'll also need to agree to their usage policy.
Next up, SMTP.com's team will review and approve your account (which may take up to 24 hours). This approval will most likely require you to provide additional details and clarification, so keep an eye on your inbox.
Alright, once your SMTP.com account is all set up, you'll be ready to continue the setup process.
2. Add the SPF Record to Your Site's DNS
Ok, the next step is an important one — authentication. This helps show email service providers that your emails are actually being sent from a real source.
SMTP.com uses an SPF record to help authenticate your emails, so you'll need to add this record to your site's DNS settings. Have more questions about DNS or feel unsure about what to do? Contact your site's hosting provider before making any changes.
Now, scroll to the top menu of your SMTP.com account. And navigate to Account » My Settings.

So next, under the General Settings, you should see an SPF record that looks like:
v=spf1 include:_spf.smtp.com ~all
You'll need to add this info to the DNS settings for your site. In your site's DNS settings you may also see a TTL (Time To Live) field for the record. If you're able to edit this, we recommend setting the TTL to 1 day (or 86400 seconds, depending on the units your DNS uses).
Keep in mind that a domain must only have 1 SPF record. If you already have an SPF record, you'll want to combine the new record with the old one. Don't worry: this is easier than you think! Check out this guide to merging multiple SPF records on your domain to learn the steps.
After the SPF record has been added, you can check if SMTP.com has been able to validate that record yet. To do this, click on the Deliverability tab in your SMTP.com account or just follow this link.
Near the bottom of that page, there's a section called SMTP.com SPF Record Domain Check. In the Domain field, enter your site's URL. Then, click the Validate button.

The validation result will show up in a red box near the top of the page. If SMTP.com was able to verify your SPF record successfully, it will display a "Pass" status in this box. Great job!

It's important to remember that DNS changes can sometimes take up to 48 hours to finish. So, you may need to check back on this later.
But no matter what your domain's SPF status is right now, you can move on to the next step.
3. Set Up WP Mail SMTP
Now that your SMTP.com account is ready to be used, we can head over to set up WP Mail SMTP in WordPress. If you haven't already, be sure to install and activate the WP Mail SMTP plugin.
Once WP Mail SMTP is installed and activated,  click on WP Mail SMTP » Settings in the left WordPress menu to see the plugin's settings.
Here are the details of each of this page's settings:
From Email
The From Email is the email address that all of your website's emails are going to be sent from. This should be a domain-specific email address.
If you have a business email address, it will look like [email protected].
If you'd like the From Email to be the same across your entire site, you can check the box labeled Force From Email.
This will save you the trouble of editing the email settings throughout your site (in all form emails, etc). We strongly recommend you check this box.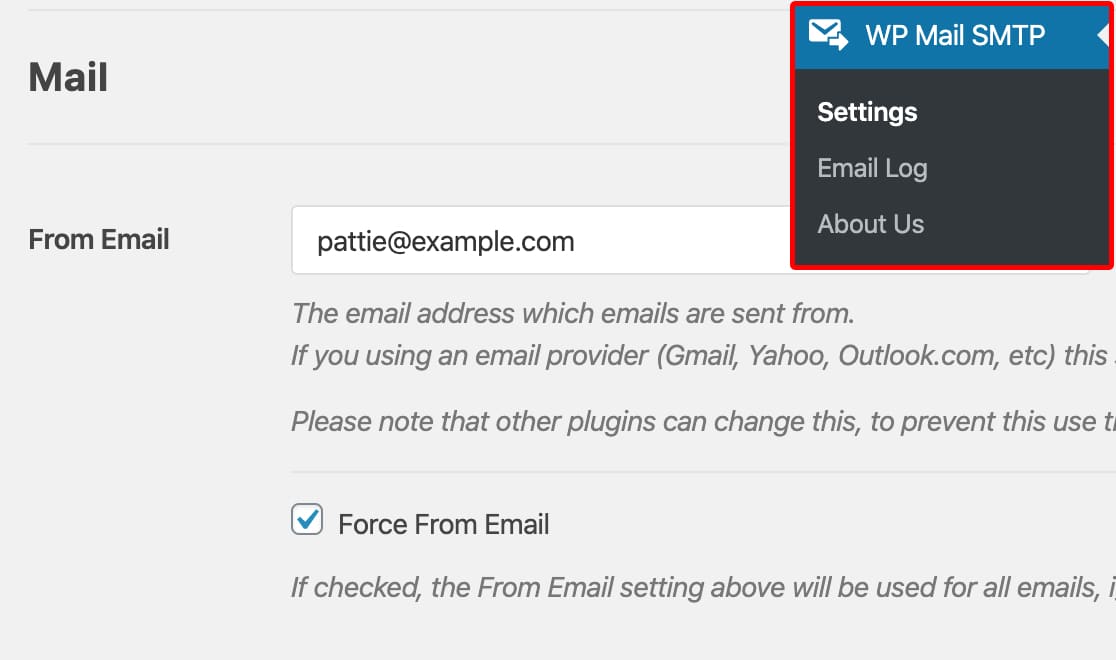 From Name
The From Name is set to the site name by default. But you can change this to any text you'd like.
You can also check the box next to Force From Name to apply this setting to all of your emails across your site.

Return Path
SMTP.com doesn't support the Return Path option, so go ahead and skip this setting.
WP Mail SMTP Mailer
Next, in the Mailer section, select the SMTP.com button.

Then you'll want to fill in the API Key and Sender Name from your SMTP.com account.
We'll show you exactly what to do in the sections below. Let's get started with the API Key.
API Key
To locate the API Key for your SMTP.com account, click on the Get API Key link (or follow this link).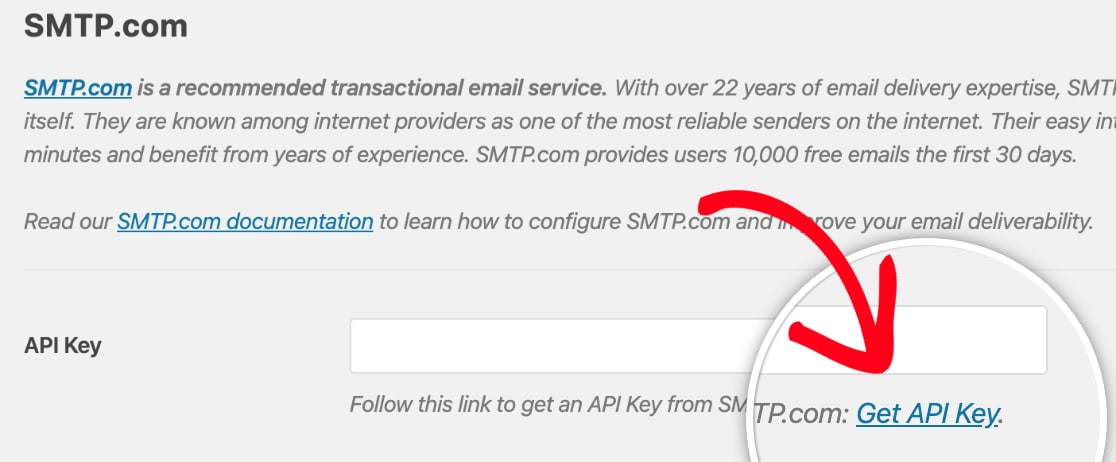 After clicking on that link, you should see the API page in your SMTP.com account. On this page, copy what you see in the Key column.

Now that you've copied this Key info, return to your WP Mail SMTP settings and paste it into the API Key area.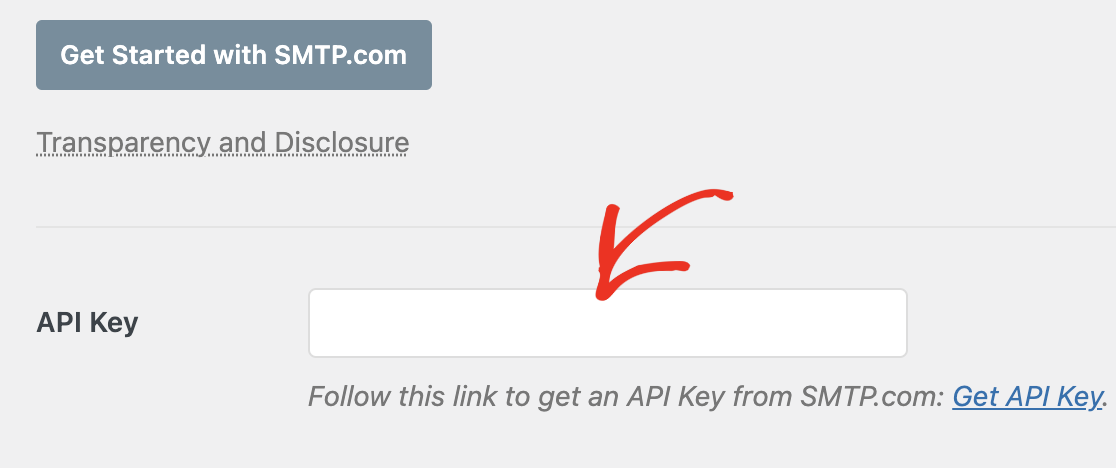 Sender Name
Now that your API Key has been added, we'll move down to the next field in WP Mail SMTP's settings. This is the Sender Name. To find the info needed for this field, you'll need to click on the Get Sender Name link.

This link should open the Senders page of your SMTP.com account. Here, you'll need to copy the details under the Name column.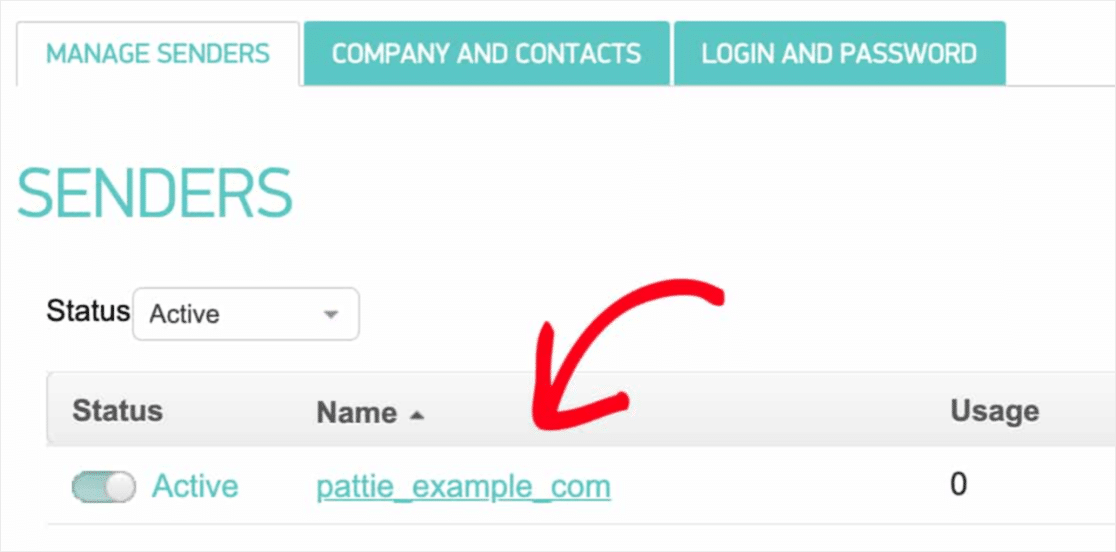 After copying the Name info, switch back over to your WP Mail SMTP settings tab. From here, paste it into the Sender Name field.
Now that all of the WP Mail SMTP settings have been filled in, click on the Save Settings button.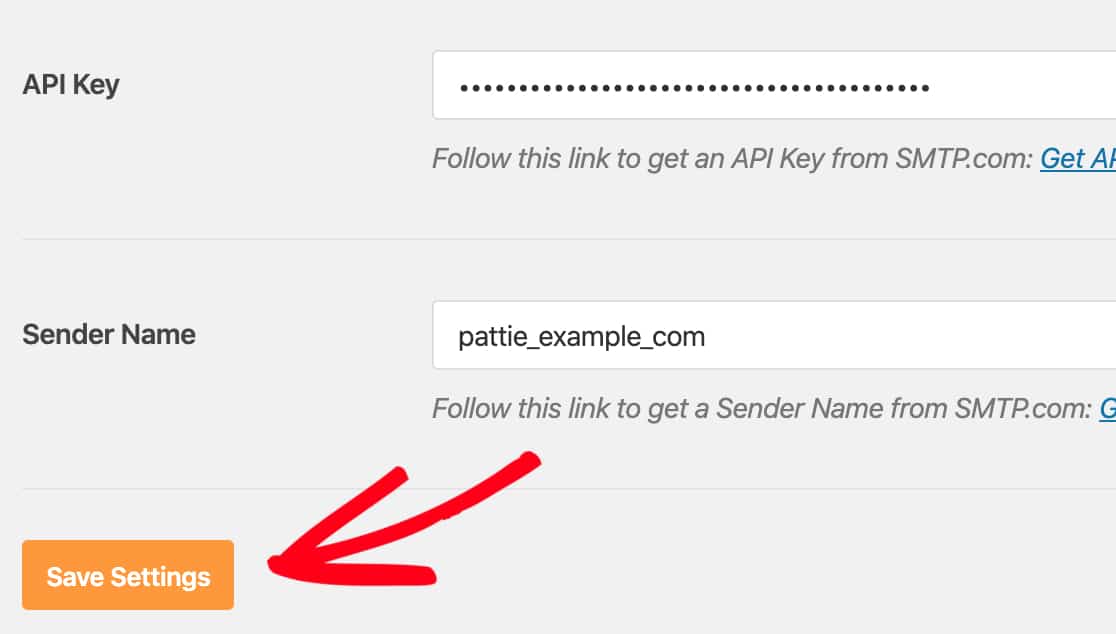 4. Send a Test Email
Remember Step #2 and how we were waiting to hear back about your SPF settings?
Well, before doing this next step, please check your SMTP.com Deliverability Settings to confirm that your site's SPF Status has been set to Pass.
Now that your SMTP.com and WP Mail SMTP settings are ready, let's send a test email. To do this, click on the Email Test tab in your site's WP Mail SMTP settings.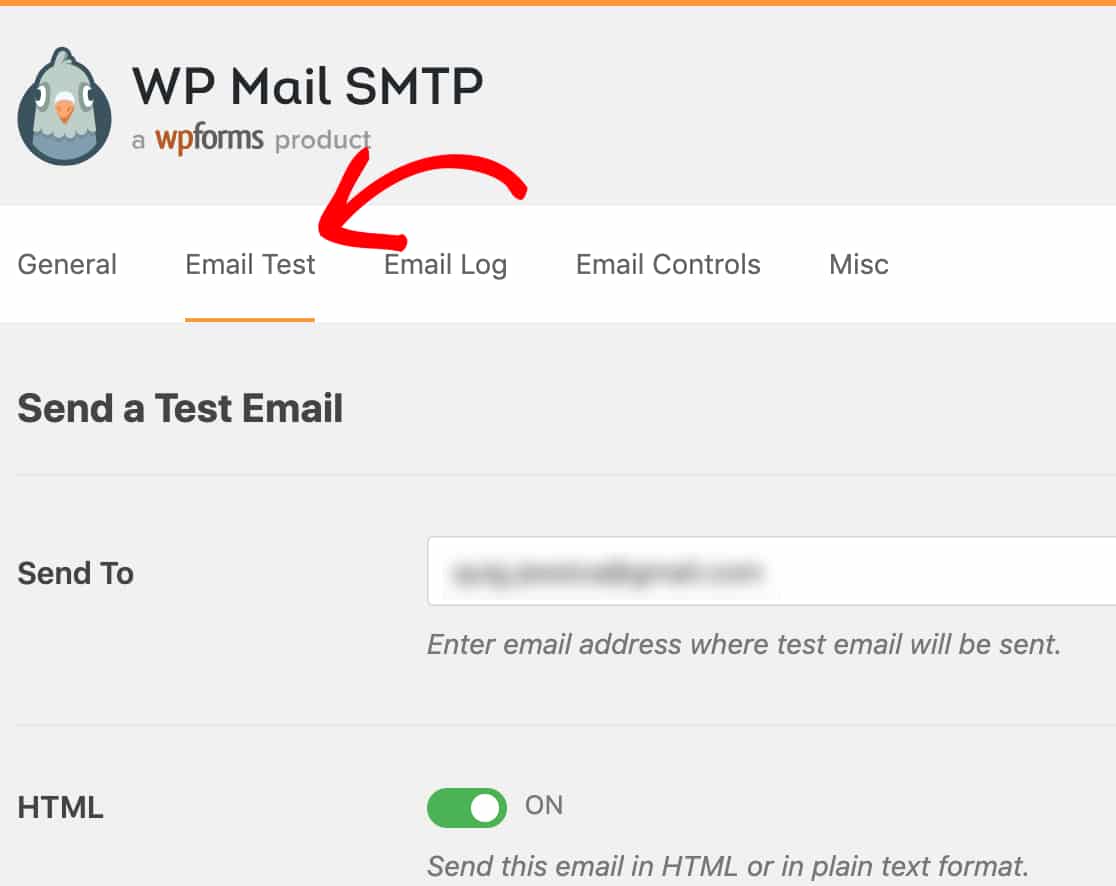 On this tab, you can enter any email accounts that you have access to in the Send To field. Then, click the Send Email button.
Once the email has processed, you'll most likely see a success message.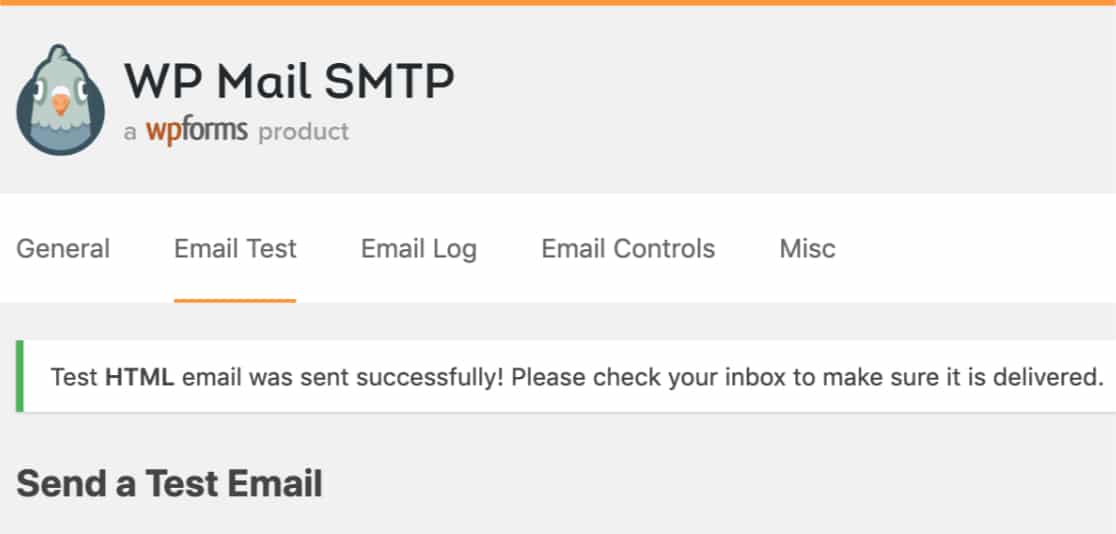 Next, check the inbox for that email address. You should receive the email for this test very soon.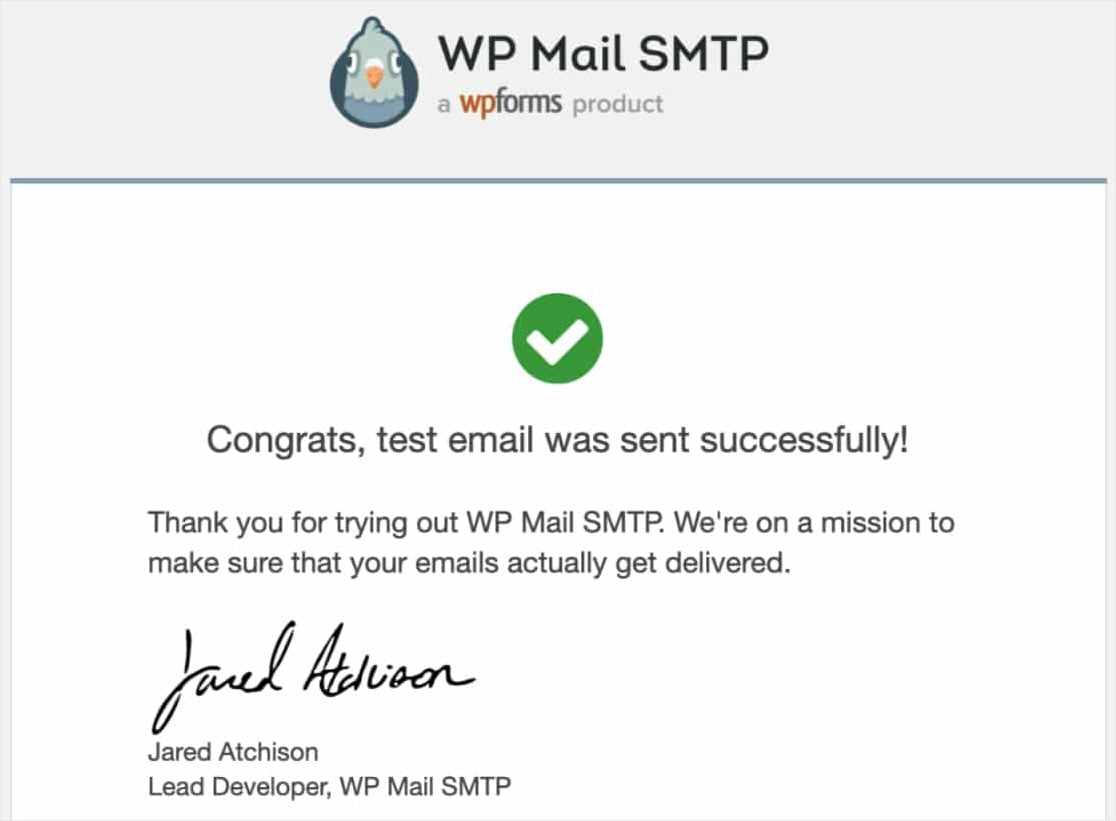 Ok finally, you'll need to confirm that this test email was properly sent through your SMTP.com account. So to do that, go ahead and click on this link to open your SMTP.com Deliverability Settings page.
And if the email was successfully sent through your SMTP.com account, you'll see a Pass status next to your domain.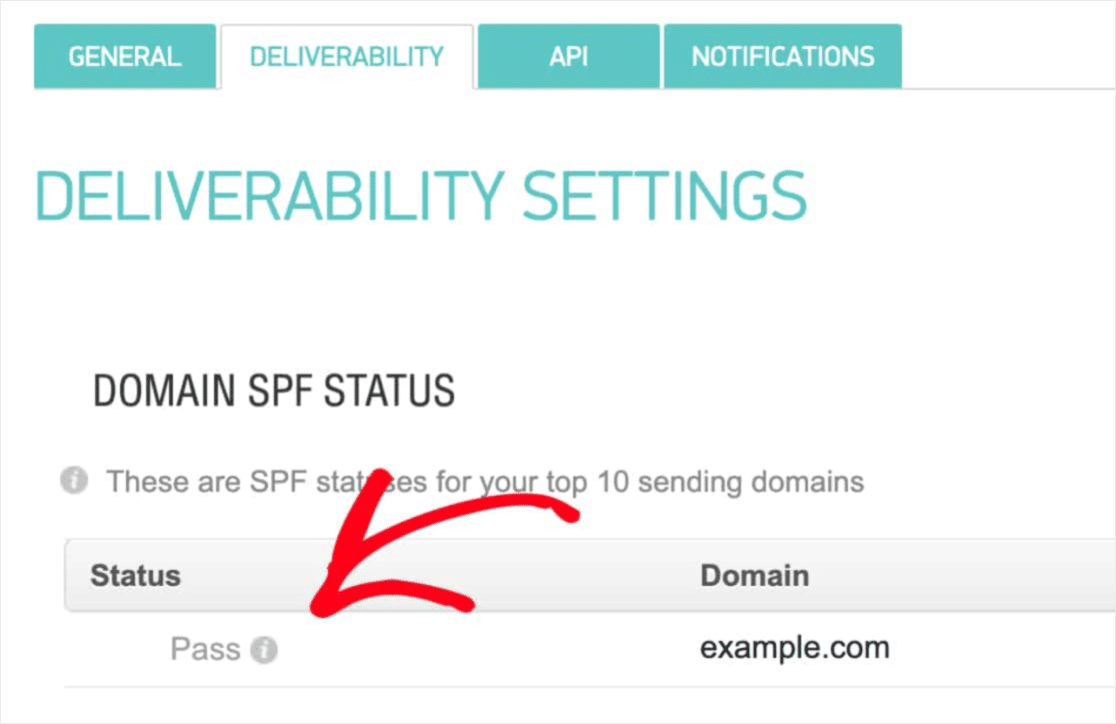 But if you don't see a Pass status, then review Steps 1-3 to confirm that everything was set up correctly.
Final Thoughts on WordPress Email Settings
And there it is! You now know how to configure your WordPress email settings correctly — using WP Mail SMTP. This can help to fix problems with Formidable Forms email notifications, or Ninja Forms not sending email.
Next, make sure to read our post on why you should always avoid WP Mail SMTP Pro nulled plugins.
So what are you waiting for? Take advantage of the 100% Money-Back Guarantee and get started with the world's most popular SMTP and PHP mailer plugin today.
And if you like this article, then please follow us on Facebook and Twitter for more free WordPress tutorials.