Are you looking for a SendLayer review to help you decide if this is the right option for you?
SendLayer is an affordable transactional SMTP email provider that's very easy to set up and ensures excellent deliverability.
But is this the right mailer for you?
In this SendLayer review, we'll take a close look at the main features of this mailer.
Which SMTP Mailer Is the Best?
We recommend as SendLayer as the best SMTP mailer available. It's affordable, easy to use, and has just the core set of features you'd need in a reliable transactional mailer.
Starting at only $5/month with a free trial and 14-day money-back guarantee, SendLayer is a great choice for websites seeking a reliable mailer.
SendLayer Review
We used SendLayer ourselves and reviewed its core features and pricing. Read on below to see why we recommend SendLayer so highly.
1. SendLayer Dashboard
SendLayer features a neat and uncluttered dashboard which is a pleasure to use. It gives you a quick overview of your email statistics as well as your account details, such as your plan and sending limits.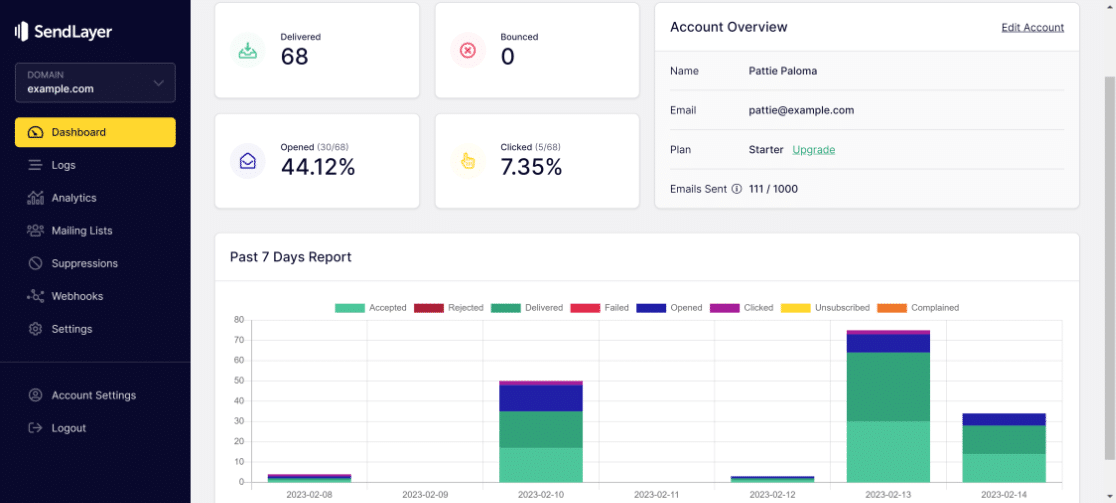 You can easily navigate to other features and settings in SendLayer from the sidebar menu. Overall, the SendLayer dashboard interface is streamlined and ensures a great user experience.
2. SMTP Email Relay
SendLayer lets users connect their websites and applications with SMTP to improve email deliverability.
Connecting any website or platform with the SendLayer SMTP Email Relay is really easy. SendLayer generates the necessary SMTP credentials for you, which you can use to add an SMTP connection to any platform.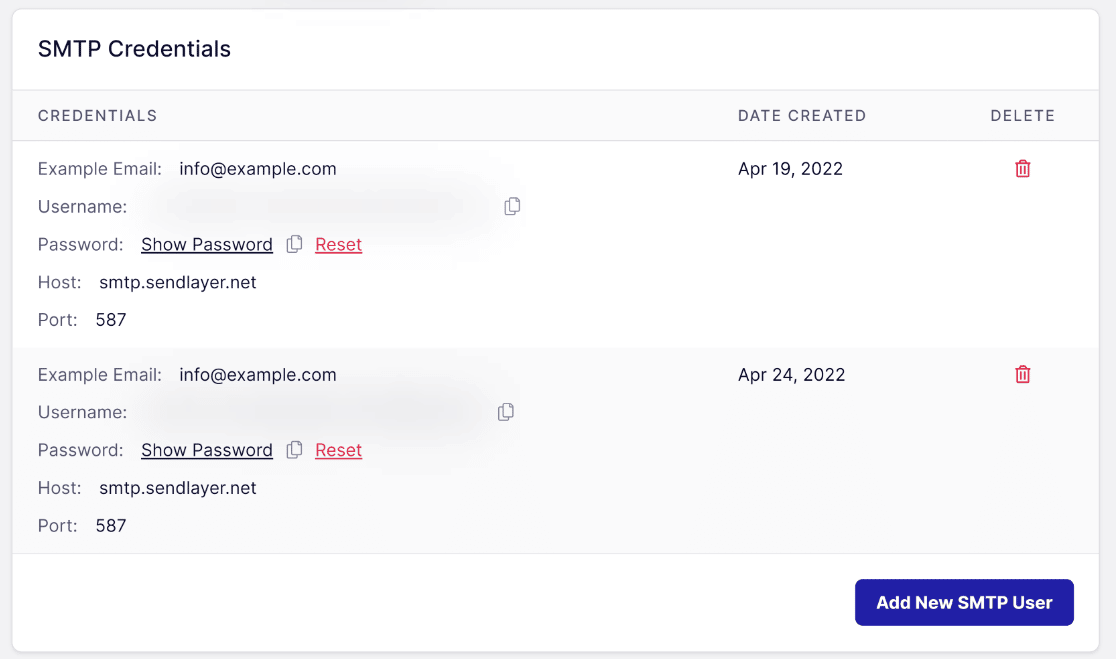 Quick and reliable email delivery is imperative for transactional email providers – and this SendLayer's major strength.
Emails sent via SendLayer's SMTP connection rarely ever get bounced. In our testing, SendLayer was extremely quick with sending transactional emails. We hardly ever had to wait longer than a few seconds to see an email sent via SendLayer land in our Gmail inbox.
We can safely say that SendLayer absolutely delivers on its promise of ensuring fast and reliable email delivery.
3. Email Logs
SendLayer maintains a log of every email that you've sent, even those that failed to deliver for any reason. This is incredibly useful because it allows you to see the success of your emails at a glance.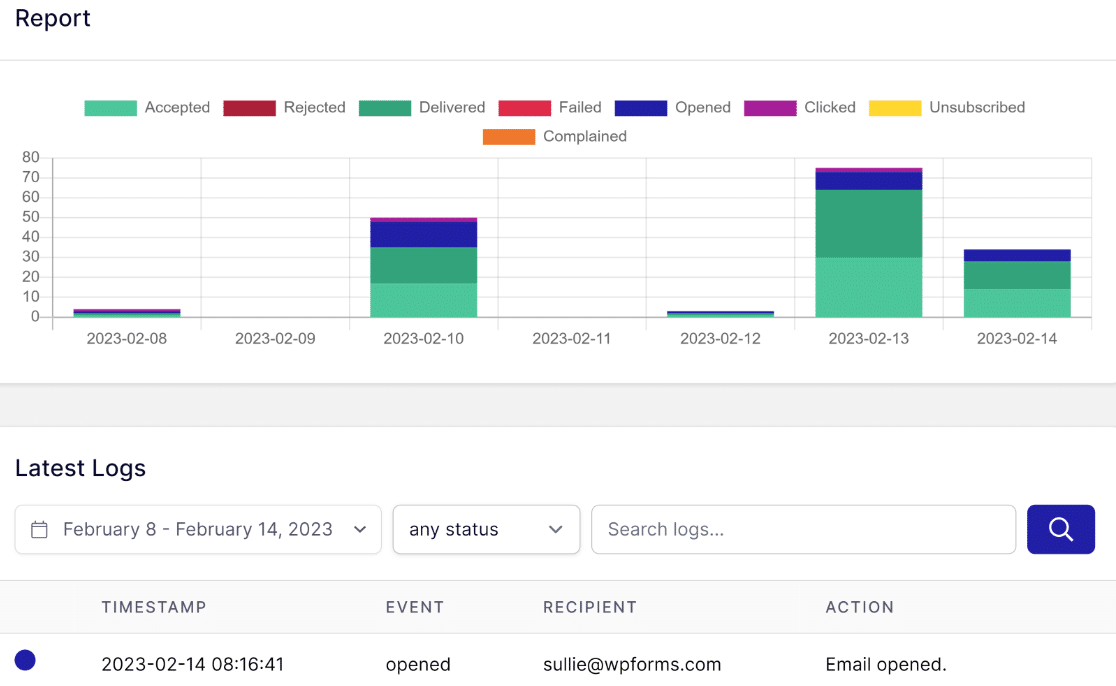 The Email Logs screen generates a graphical report about the statuses of the emails you've sent recently. Curious how many emails were sent successfully and how many failed to deliver? What about tracking unsubscribes and spam complaints?
The SendLayer Email Logs are incredibly detailed and show you a complete picture of how your emails are being treated exactly. With this information, you can quickly troubleshoot if your emails are failing. And you can also measure the open and clickthrough rates on the same screen.
Overall, SendLayer's email logging is one of the most comprehensive that we've tested among transactional mailers.
4. Email Analytics
Email analytics is a crucial component that informs most marketing strategies. With SendLayer, you get click and open rate tracking to measure just how well your emails are performing.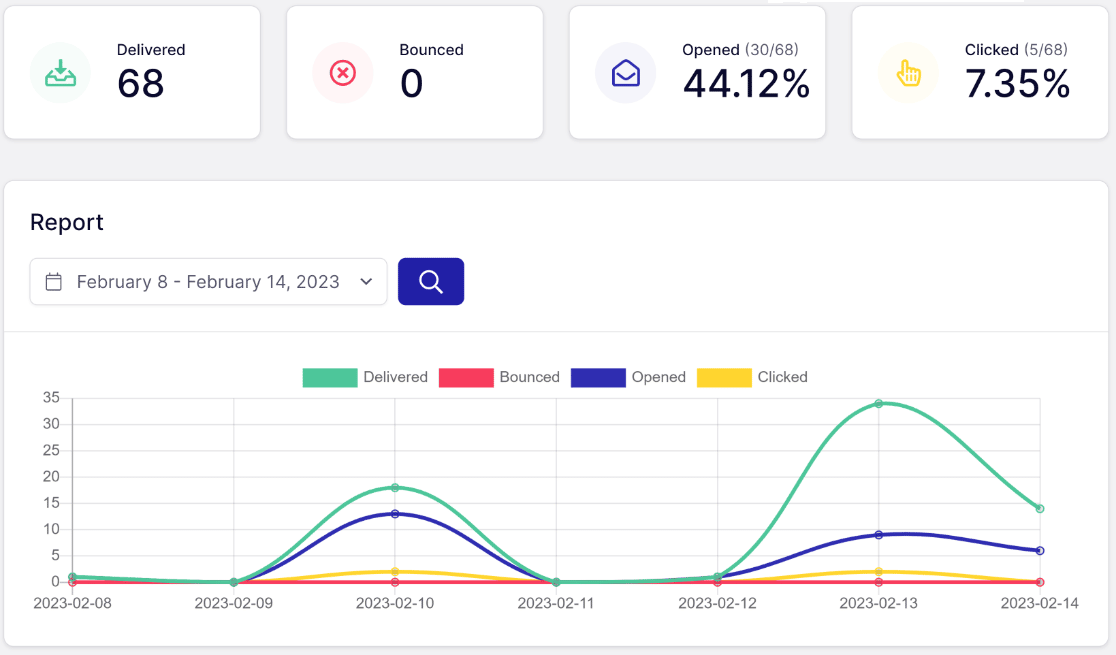 The Email Analytics section in your SendLayer dashboard shows a more simplified version of the email logs chart. Here, you can focus on the click and open statistics and compare your engagement levels.
Using SendLayer's Email Analytics is especially useful if you want to optimize your subject lines for maximum opens.
5. List Management
SendLayer allows you to create and manage your email list with minimal hassle. The process of creating new lists is super convenient. All you need to do is give your list a name, and that's it! SendLayer will automatically create a unique email address for your list. You can then add email addresses to your list using simple copy and paste.

As your list grows over time, you can easily update it and add more contacts to it. Meanwhile, SendLayer will automatically create a separate Suppression List for email addresses that have unsubscribed.
We really liked this feature because it prevents you from accidentally sending emails to customers that are no longer interested, which can harm your domain reputation.
6. Integrations
SendLayer stands out for the way it seamlessly integrates with website platforms and applications. It's one of the easiest mailers to integrate with WordPress when used with WP Mail SMTP. (Check out our full WP Mail SMTP review to see more screenshots.)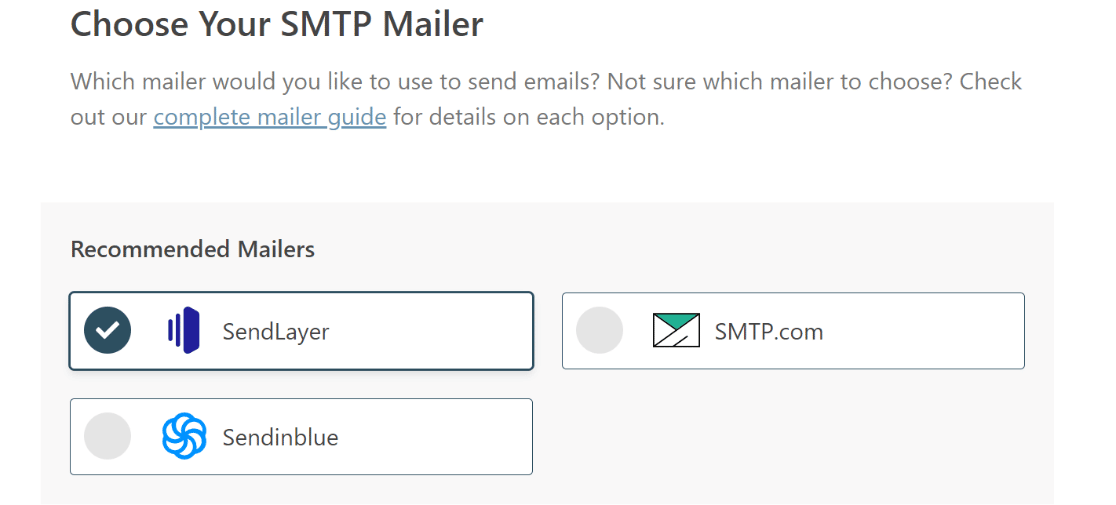 Other than that, SendLayer also integrates with Laravel, WooCommerce, Drupal, Joomla, Magento, and tons of others.
7. Domain Reputation Protection
Sender domain reputation is a vital component of email marketing, though it's often overlooked. Domain reputation can easily deteriorate if your emails are often bounced, marked as spam by users, or if they have low engagement rates.
SendLayer automatically creates a subdomain when you authorize your domain. This ensures that all your transactional emails are sent from a subdomain. Because the reputations of subdomains and root domains are separate, the use of the subdomain by SendLayer ensures that your root domain reputation remains protected.
While most other mailers also let you create subdomains, SendLayer simplifies the process considerably by making these default.
For this reason, we think SendLayer is one of the safest mailer services out there.
Pricing
SendLayer is one of the most affordable mailers on the market. It offers three different plans with different sending limits and days of log retention: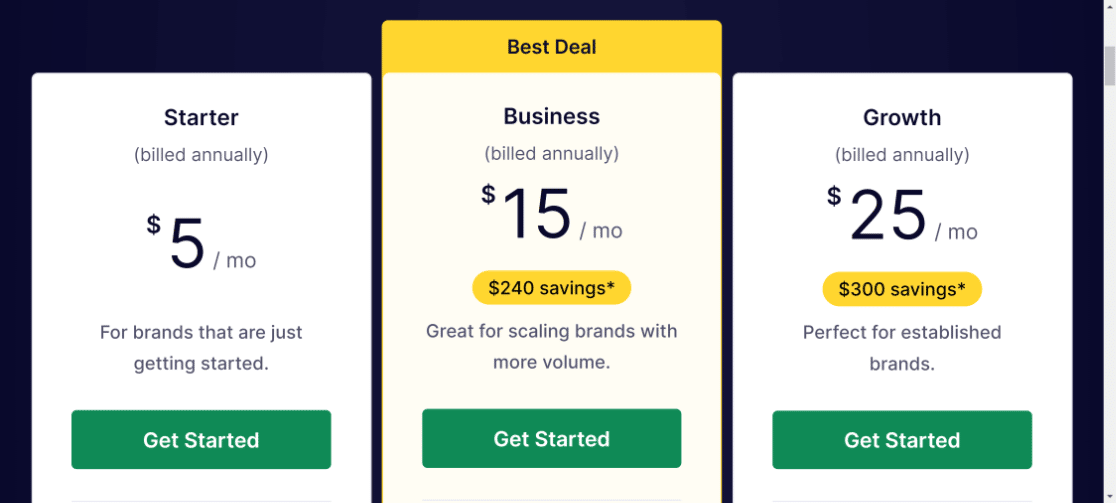 Starter ($5/month): Up to 1,000 emails a month with 3 days of log retention
Business ($15/month): Up to 5,000 emails a month with 15 days of log retention
Growth ($25/month): Up to 10,000 emails a month with 30 days of log retention
The best part is that SendLayer offers a free plan with a sending limit of up to 200 emails, so you can test it out to your heart's content.
For all paid plans, SendLayer gives you a 14-day money-back guarantee. If you aren't satisfied, you can reach customer support within 14 days and easily get a full refund!
Conclusion: Is SendLayer the Best SMTP Mailer?
After reviewing SendLayer's email deliverability, ease of use, various other features, and affordable,  we can safely say that it's the best-valued SMTP mailer on the market.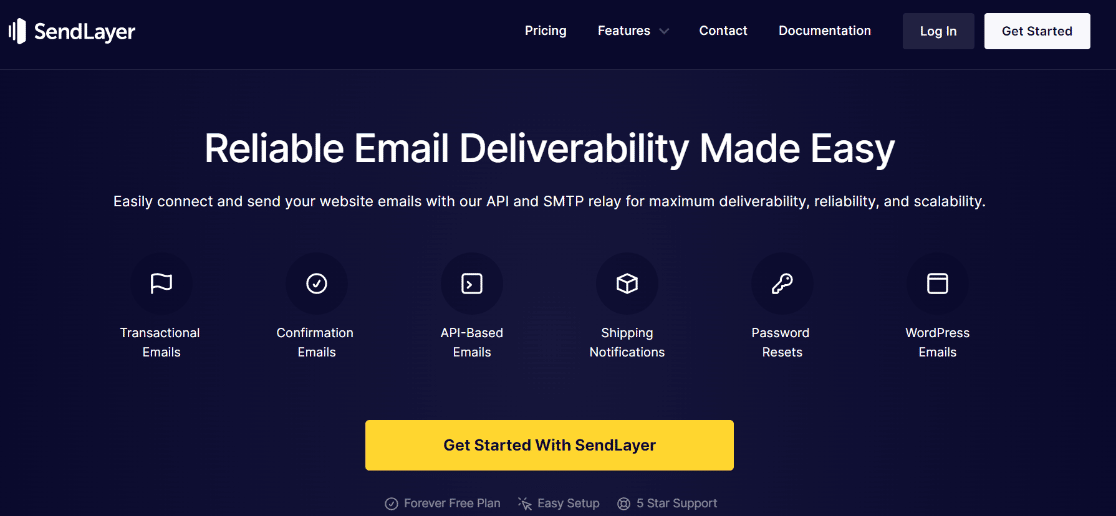 There aren't many SendLayer reviews out there yet, but in our experience, this will soon change.
While it's not designed for sending marketing emails, it's exceedingly effective with its core functionality – quick and fast email delivery of transactional emails, and outstanding ease of use.
Next, Fix WordPress Email Delivery Issues
Email failures are one of the most common issues faced by WordPress sites. But this can be easily fixed. Check out our detailed guide on fixing email delivery failures in WordPress for details.
Also, if you're looking for ways to improve customer experience, we recommend exploring some of the benefits of conversational marketing.
Create Your WordPress Form Now
Ready to build your form? Get started today with the easiest WordPress form builder plugin. WPForms Pro includes lots of free templates and offers a 14-day money-back guarantee.
If this article helped you out, please follow us on Facebook and Twitter for more free WordPress tutorials and guides.