Are you looking for the best WordPress SMTP plugins?
An SMTP plugin can fix email deliverability issues across your whole WordPress site.
Plus, the best SMTP plugins also include a bunch of extra features to help you manage your WordPress emails in a better way.
In this article, we will look at the best WordPress SMTP that you can use on your website.
Best WordPress SMTP Plugins
Here are the best WordPress SMTP plugins for WordPress: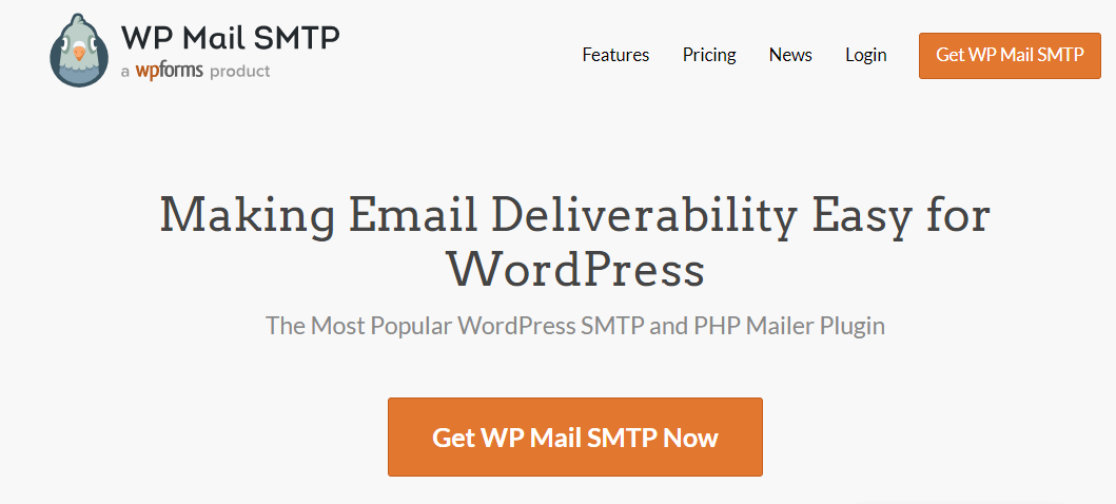 WP Mail SMTP is one of the best WordPress SMTP plugins, with over 6+ million active installations.
WP Mail SMTP solves your WordPress deliverability issues by providing an easy way to connect your site with top email service providers. In most cases, you'll only need your mailer account's API key to connect it with WP Mail SMTP.
Apart from fixing deliverability issues, WP Mail SMTP's paid version gives you advanced features and controls for your WordPress emails. One of these is email logging, which keeps track of all emails sent in your WordPress dashboard including any attachments those email notifications may contain.

Another super awesome feature is email tracking which allows you to see the open and click rates for all of your emails. This is great if you want to analyze how well different emails are performing.

WP Mail SMTP can also send you email failure notifications to a Slack channel, email address, or to your phone via SMS. If any email errors occur, you'll be instantly notified via your preferred channel so you can fix the problem ASAP.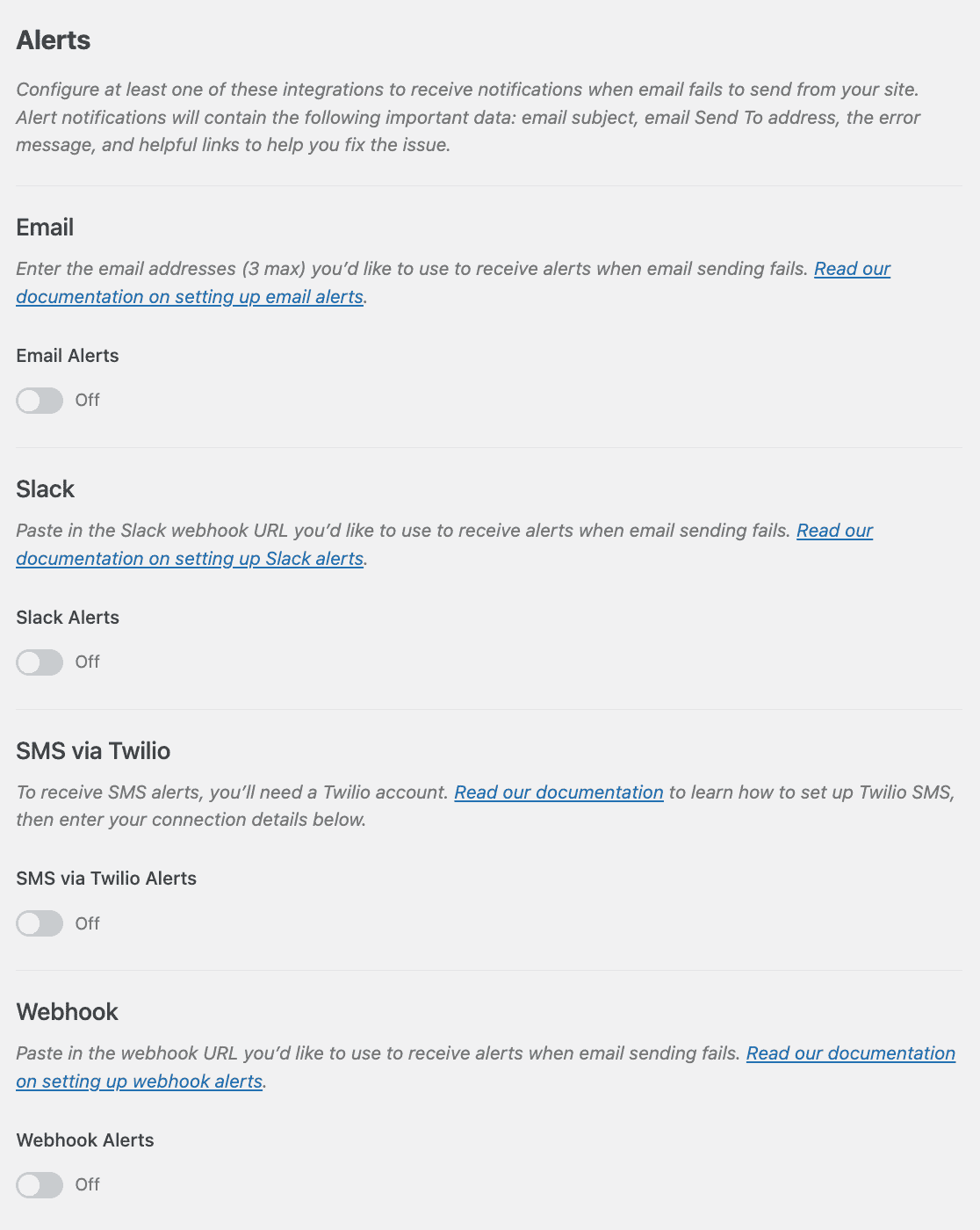 That's not all. With WP Mail SMTP, you can also control which default WordPress notifications you'd like to receive. You can enable or disable different types of WordPress notifications, allowing you to keep your inbox clean and free from unnecessary emails.
For businesses that can't afford to lose a single email, WP Mail SMTP plugin also has a super handy backup connections feature. You can connect an additional mailer to your site and use it as a backup in situations where email sending fails with your primary mailer.
The backup activates automatically, taking care of your emails without requiring you to do anything manually. We use this feature on our own site to make sure our emails are always sent without any issues.
WP Mail SMTP also has another super useful feature related to that called smart routing. Using this, you can integrate multiple mailers to your site and dedicate their use to specific kinds of emails only.
For instance, you can use SendLayer for WPForms notifications and Other SMTP for regular WordPress notifications, and so on.
Overall, WP Mail SMTP is the most full-featured WordPress SMTP plugin on the market.
Pricing: WP Mail SMTP paid plan starts at $49.00 per year.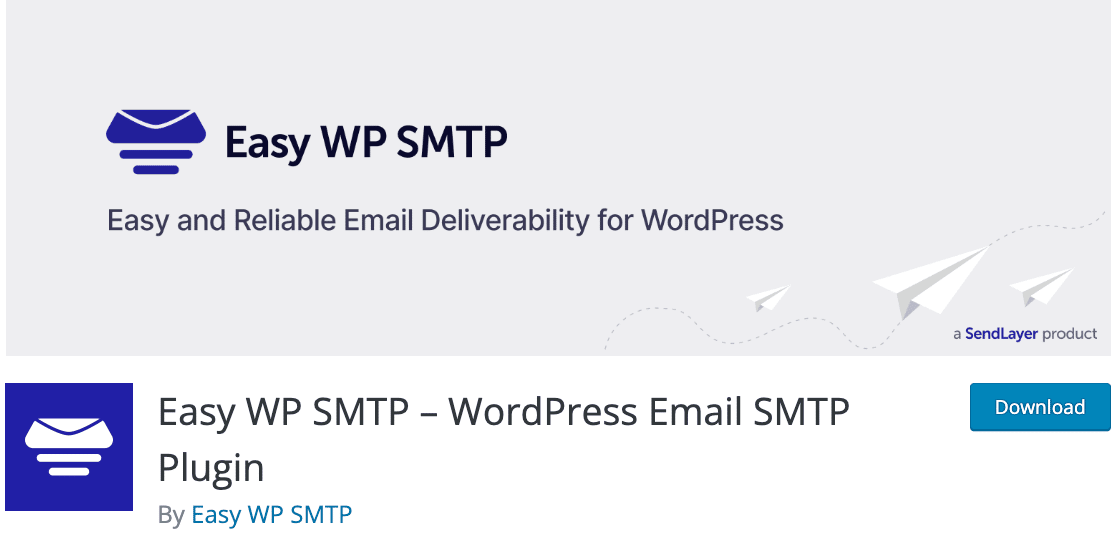 Easy WP SMTP is a simple and lightweight SMTP plugin that's one of the most reliable solutions for improving your email delivery in WordPress.
We had a great experience using Easy WP SMTP. During our testing, we found the setup as easy as using WP Mail SMTP. The setup wizard is very user-friendly and removes the pain of connecting your site with a transactional email provider.
You can connect generic SMTP providers, including Amazon SES and Outlook/Microsoft Office 365, as well as dedicated transactional mailers like SendLayer and SMTP.com. And if you're using email marketing services like Brevo (formerly Sendinblue), Easy WP SMTP offers native support for many other services like that too.
While the free version of Easy WP SMTP is good for connecting with some common mailing services to improve deliverability, it lacks several advanced features.
For instance, you'll need to upgrade to Easy WP SMTP Pro if you want to track open and click counts for your emails, log your emails, and view email reports in your WordPress admin dashboard.
Easy WP SMTP also has debug logging to help you identify the root cause of email problems and easily find a fix.
Although Easy WP SMTP doesn't have some of the advanced features of WP Mail SMTP (smart email routing, backup connections, etc.), it's an excellent choice for small businesses needing a simple solution for reliable WordPress email delivery.
Pricing: You can use Easy WP SMTP for free or upgrade starting at $49 per year.

WP Offload SES Lite is a decent SMTP plugin but it's fairly limited in that it only connects with Amazon SES.
Also, setting up the plugin for the first time is tricky and lacks the straightforward setup that you get with WP Mail SMTP.
The good thing is that WP Offload SES Lite includes some extra features like weekly email reports highlighting the delivery status of your sent emails. Plus, the premium version can also track open and click counts for sent emails.
But it doesn't include email failure notifications, which is a bit disappointing. Besides, if Amazon SES is not your mail server, you should get WP Mail SMTP because it supports plenty of mailing services other than Amazon SES>
Pricing: WP Offload SES Lite is free to use, but you will need to pay $80 per year to upgrade to WP Offload SES.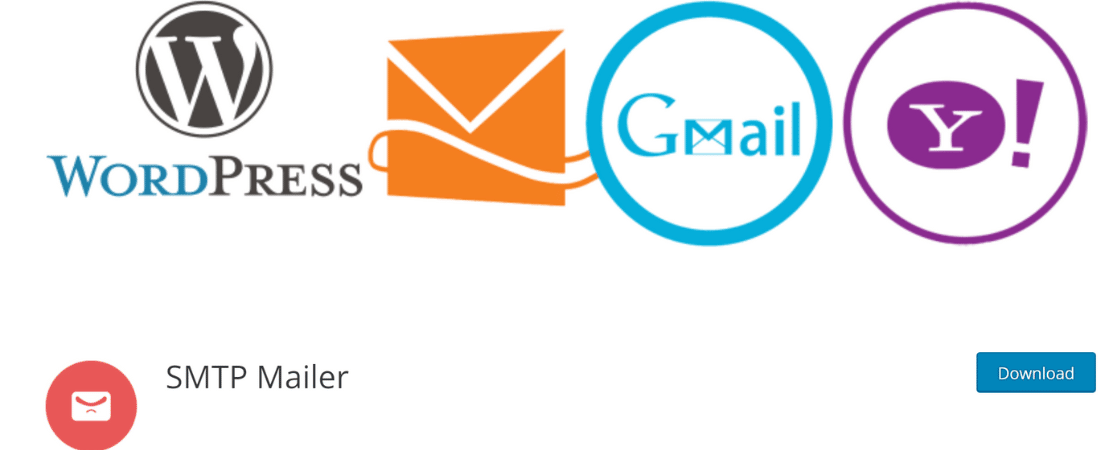 SMTP Mailer is a free WordPress plugin with a simple interface that allows you to connect with any SMTP server.
Some notable features of SMTP Mailer are:
You can send test email deliverability.
Enable/Disable SMTP authentication when you send emails.
Integrate with popular email services
Using SMTP Mailer isn't very easy. You need to manually connect SMTP Mailer with your mailer service by finding and entering details like the SMTP server name, SMTP port, and so on. This can be a little daunting for beginners.
Besides, SMTP Mailer has limited features. You can't track your emails or see a log of sent emails with complete details. WP Mail SMTP is a better choice if you want advanced features in your SMTP plugin.
Pricing: SMTP Mailer is free to use.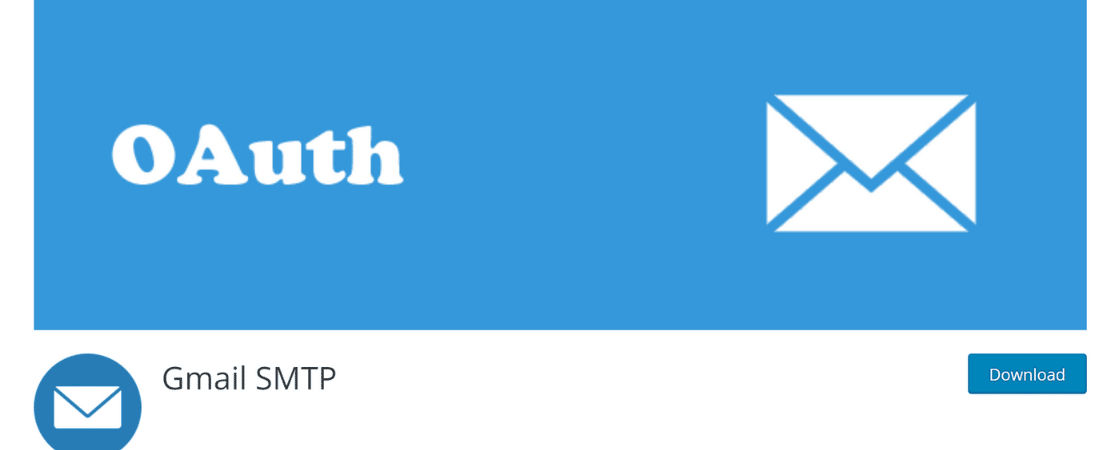 As the name suggests, Gmail SMTP is for you if your website uses Gmail as the  SMTP server.
You can opt for Gmail SMTP if you want to send WordPress emails using your Gmail account.
Some notable features of Gmail SMTP are:
It uses OAuth 2.0, a much more secure method for login than the traditional method.
Encrypted authentication when sending emails.
Send test emails to verify if everything is working correctly.
Gmail SMTP has limited functionality and is also trickier to set up than other options like WP Mail SMTP. Besides OAuth 2.0 and email testing, Gmail SMTP doesn't provide any other feature to make it standout as a WordPress SMTP plugin.
But if deliverability is all you're looking for and you're comfortable with its complicated setup process, GMail SMTP can get the job done for you.
That said, WP Mail SMTP is a much better option with more advanced features if you want to send emails from your Gmail account or any other mail server.
Pricing: Gmail SMTP is free to use.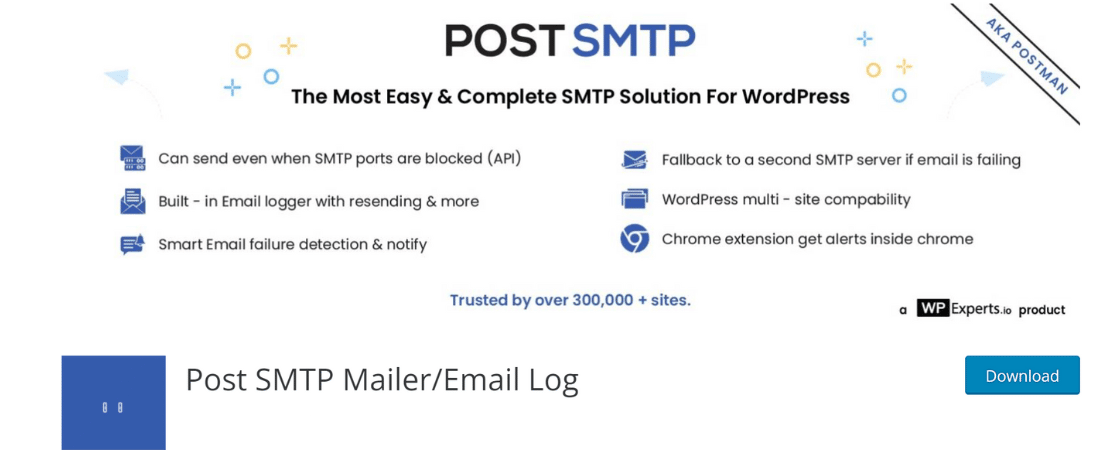 Post SMTP is a good WordPress plugin to boost your email deliverability rate. It is easy to set up Post SMTP because of its well-designed setup wizard.
Post SMTP connects with some popular mail services including Mailgun, Sendgrid, and Gmail.
Some notable features of Post SMTP are:
Diagnoses failed emails and resends them.
Built-in email logger to keep track of sent emails.
Since Post SMTP is a free plugin, you won't get any premium support. Also, you can't use Post SMTP without a third-party service provider.
Pricing: WP Mail SMTP is free to use.
With Mail Bank, you can improve and test your email deliverability by connecting the plugin with service providers including Gmail, Outlook, Yahoo, and more.
Some other features of Mail Bank are:
Detailed email logs to keep track of sent emails.
Email, push notification, or Slack notification for failed emails.
The Free version of Mail Bank offers only basic features, and premium plans are expensive for the provided services. Because of this, WP Mail SMTP stands as a better alternative to Mail Bank.
Pricing: Mail Bank paid plan starts at €29.99 per year.
Winner: Which SMTP Plugin Is the Best for WordPress?
After comparing the features of the above WordPress SMTP plugins, we can conclude that WP Mail SMTP  is a clear winner. It's way ahead of its competitors when it comes to ease of use and number of useful features.
What's more, Elite users get White Glove Setup which means the support team from WP Mail SMTP can configure the plugin for you if you don't want to do it yourself.
With additional features, including integrations with the most popular SMTP mailer services, detailed reporting and statistics, comprehensive email logs, and more, we recommend WP Mail SMTP for all websites.
And that's it! These are the best WordPress SMTP plugins. Now, you should be able to make an informed decision and pick the best WordPress SMTP plugin for your website.
If you're looking for a plugin primarily for logging your emails, you might also want to check out our recommendations for the best WordPress email log plugins.
Best WordPress SMTP Plugin FAQs
We often have visitors ask us questions relating to SMTP plugins. We've put together a few common questions and their answers below:
Why Do I Need an SMTP Plugin for WordPress?
An SMTP plugin is vital to have in WordPress. This is because the traditional method of email sending in WordPress lacks proper authentication, which leads to important outgoing emails from WordPress landing in the spam folder of recipients. But an SMTP plugin improves your WordPress deliverability, making sure your emails send without any problems, whether it's contact form notifications or eCommerce order receipts.
How Can I Troubleshoot Problems With My SMTP Plugin?
The best SMTP plugins like WP Mail SMTP and Easy WP SMTP come with debugging tools to help you troubleshoot email problems. So, if you're facing problems with your regular WordPress website or WooCommerce store in terms of email deliverability, you can check your debugging logs to identify the cause of the problem and take necessary steps to resolve it.
How Do You Use Email SMTP Plugin in WordPress?
To use an email SMTP plugin in WordPress, you need to install it first and connect it with a mailer service. Once you've configured your SMTP plugin, it will handle emails for your entire WordPress sites to make sure they're delivered in the recipients' inboxes every time.
Some SMTP plugins go the extra mile to offer a lot more than just a deliverability solution. We'll cover the best SMTP plugins in the next section.
Next, Track Customer Journey Without Google Analytics
Setting up Google Analytics can be complicated for many users, and the tool may be overwhelming for simpler usage for some sites.
If you are looking for alternative ways to follow the customer journey, check out this article on how to track the customer journey without Google Analytics.
Also, you may want to read our other roundups focused on different types of WordPress plugins that can improve your website:
Create Your WordPress Form Now
Ready to build your form? Get started today with the easiest WordPress form builder plugin. WPForms Pro includes lots of free templates and offers a 14-day money-back guarantee.
If this article helped you out, please follow us on Facebook and Twitter for more free WordPress tutorials and guides.