Looking for a comprehensive Easy WP SMTP review?
There are plenty of options out there when it comes to simplifying your email delivery, so how do you know which one is right for you?
Easy WP SMTP is a great option for anyone looking for a simple WordPress SMTP plugin to send emails from a WordPress site, including contact form and transactional emails. In this post, we'll review its key features to help you decide if it's a good fit for you.
Create Your WordPress Form Now
Easy WP SMTP Review: Is This the Easiest SMTP Plugin?
The Easy WP SMTP WordPress plugin has 600,000+ active installations as of this writing. We used it ourselves so that we could bring you an accurate representation of its functionality. Check out the core features of this SMTP service below.
1. Easy WP SMTP Setup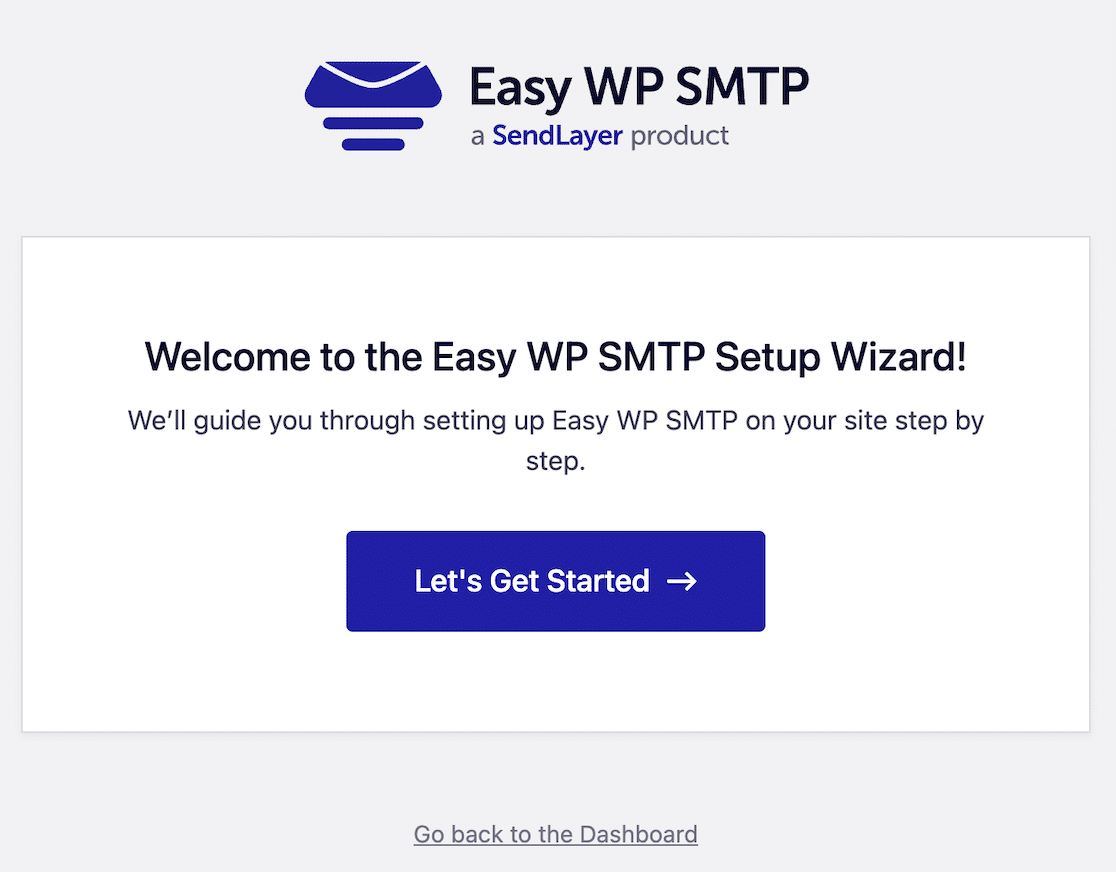 Who doesn't love a good setup wizard? After you sign up for an Easy WP SMTP account and download the plugin, a setup wizard will walk you through configuring your settings.
We found that pretty much everything was covered in the setup wizard, so let's take a closer look at what it entails.
First, you get the option to choose your SMTP mailer. This is the service that will actually send the emails, and Easy WP SMTP is compatible with all the top players in the industry.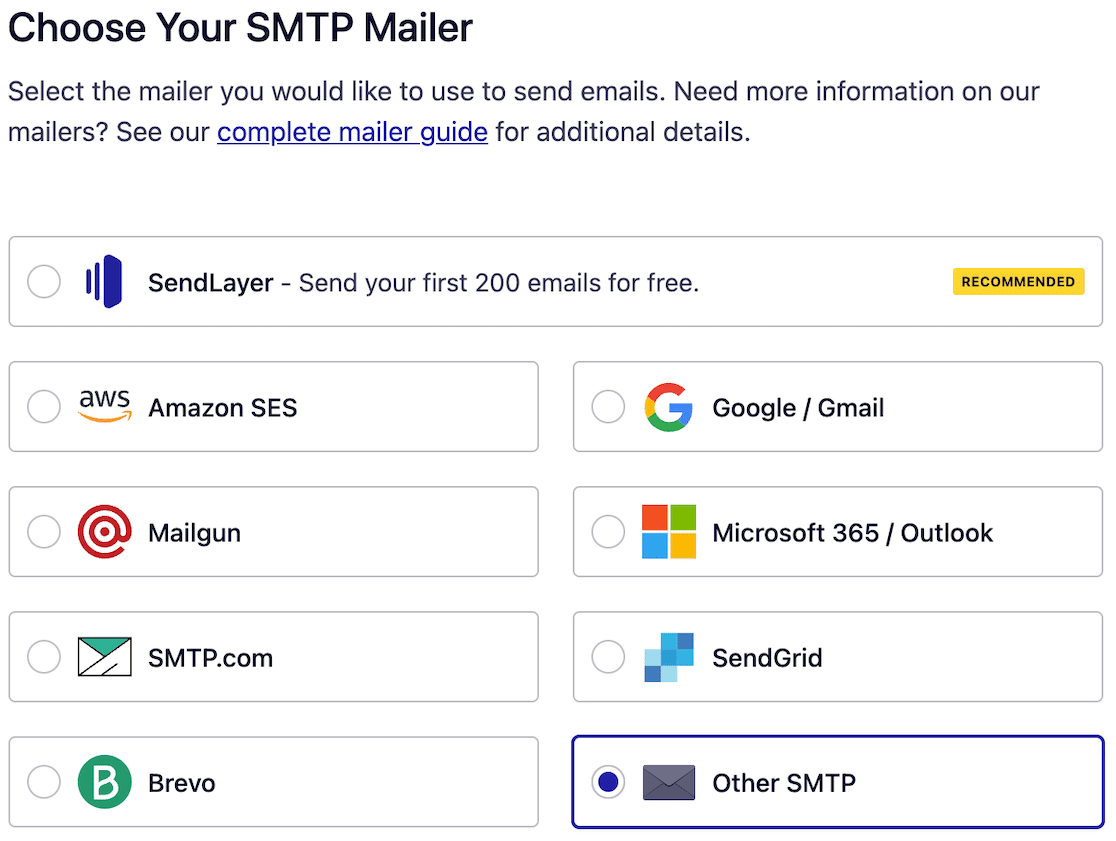 Absolute beginners might not know much about the mailers to be able to choose. To help you make the best decision about what you need, there's a complete mailer guide linked that gives more information.
Easy WP SMTP gives you options to use some of the top SMTP mailers, including Amazon SES, Gmail (offering an easy connection without the need to set up your own app), Mailgun, Microsoft Outlook, Brevo (formerly Sendinblue), SendGrid, SMTP.com, and more.
After selecting your mailer, the wizard guides you through the process of configuring the mailer settings.
Don't miss the linked documentation as you go through this step. It will help you understand the steps you're taking and why.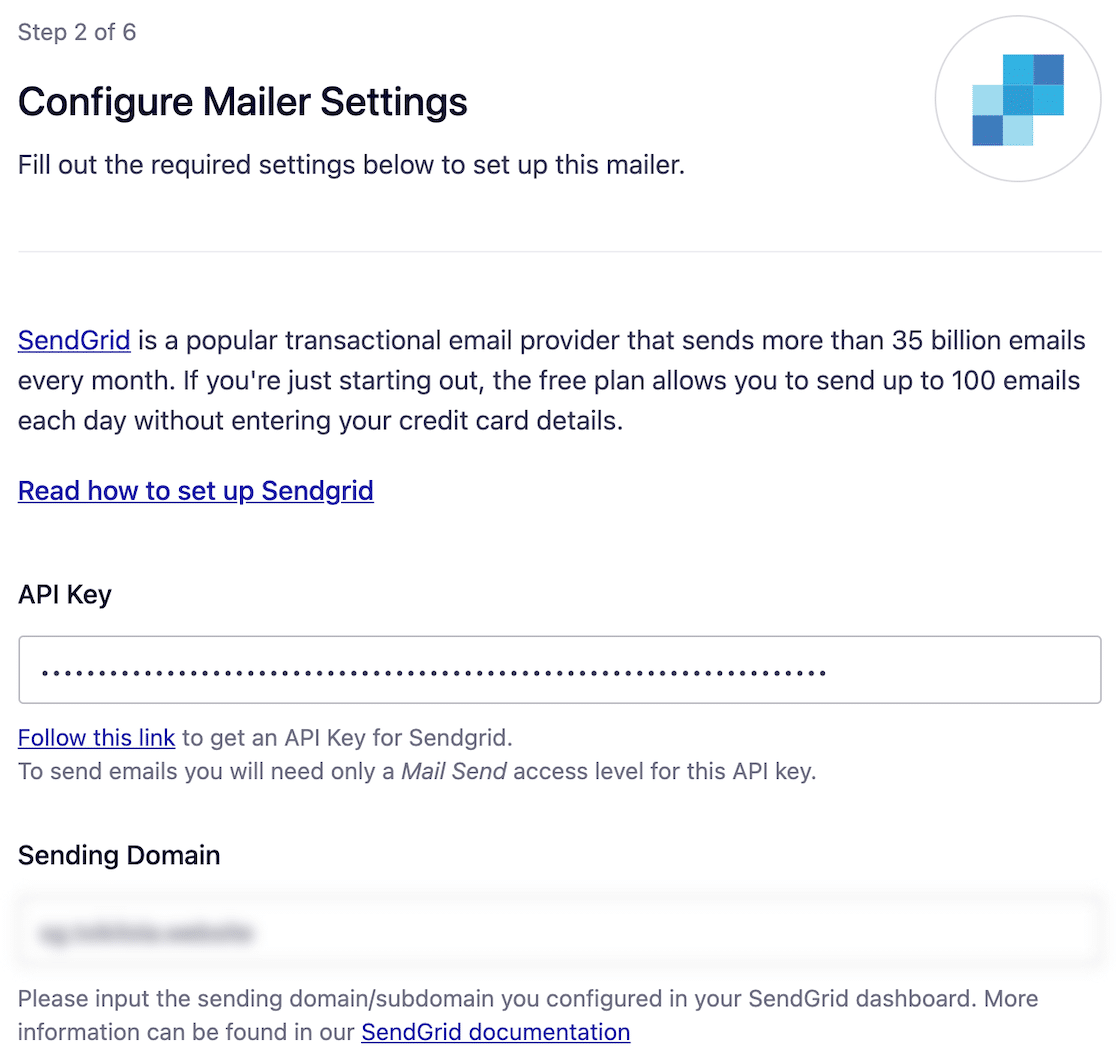 After configuring your mailer settings, including adding your API key, you'll go through enabling the email features you want to use and configuring email logs.
Finally, the setup wizard will check the mailer configuration. If everything checks out, you're golden. If it doesn't, though, it will walk you through the steps to troubleshoot the issue.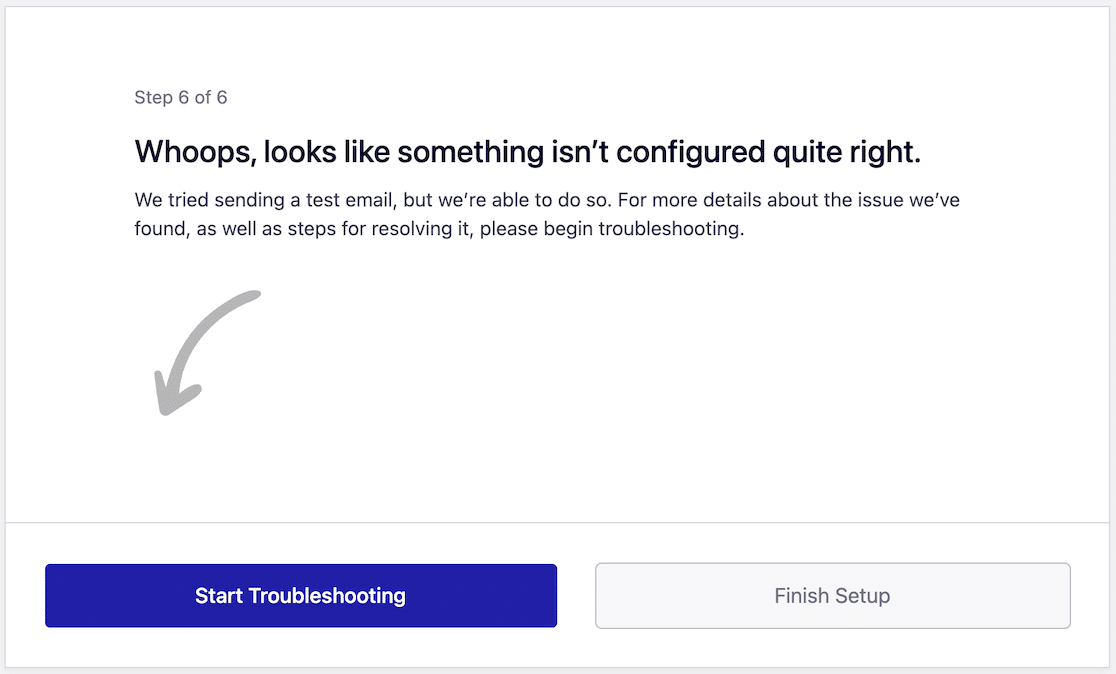 Overall Thoughts on Setup
SMTP configuration can be intimidating to people who don't fully understand what it is or why they need it. Easy WP SMTP makes setup easy with the setup wizard. Users who are new to SMTP will certainly benefit from how clear and easy it is to set up.
2. Email Reports Dashboard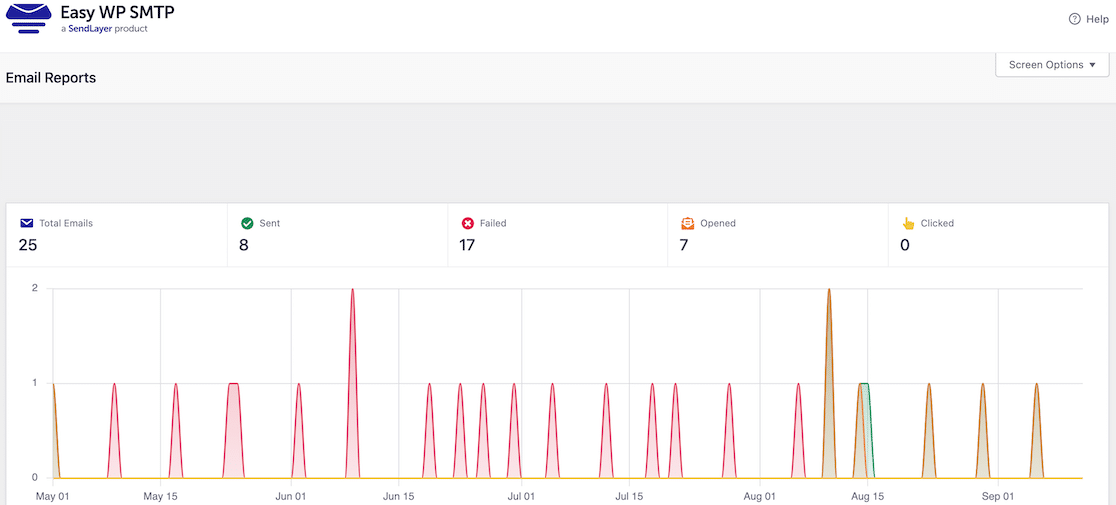 Easy WP SMTP offers a basic email reports dashboard so you can see your emails at a glance. You can set it to whatever date range you want to monitor for emails sent, emails failed, emails opened, links clicked, and more.
You can hover over any date to see specific information for that day.
Overall Thoughts on the Email Dashboard
While it might not have all the bells and whistles that other SMTP plugins feature on their dashboards, it sticks to Easy WP SMTP's commitment to simplicity. All the information you need is there, and it's easy to read.
3. Email Logs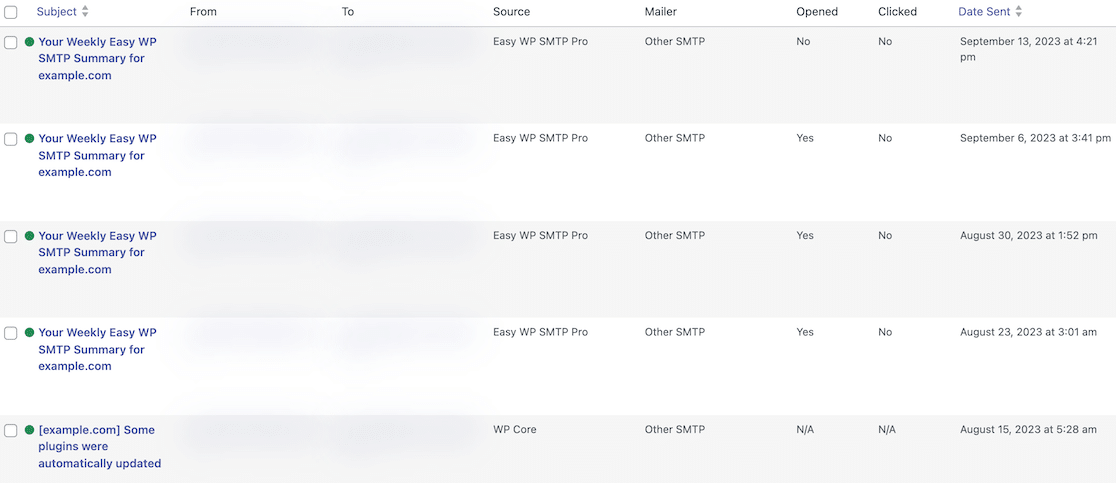 If you enable email logging, you can access the emails you've sent based on the settings you've configured.
Once again, there's nothing fancy here, but it has all the functionality you need. It looks very much like the backend of WordPress, which makes it intuitive for users.
You can click on any of the messages for a bit more info, such as the email ID or attachments.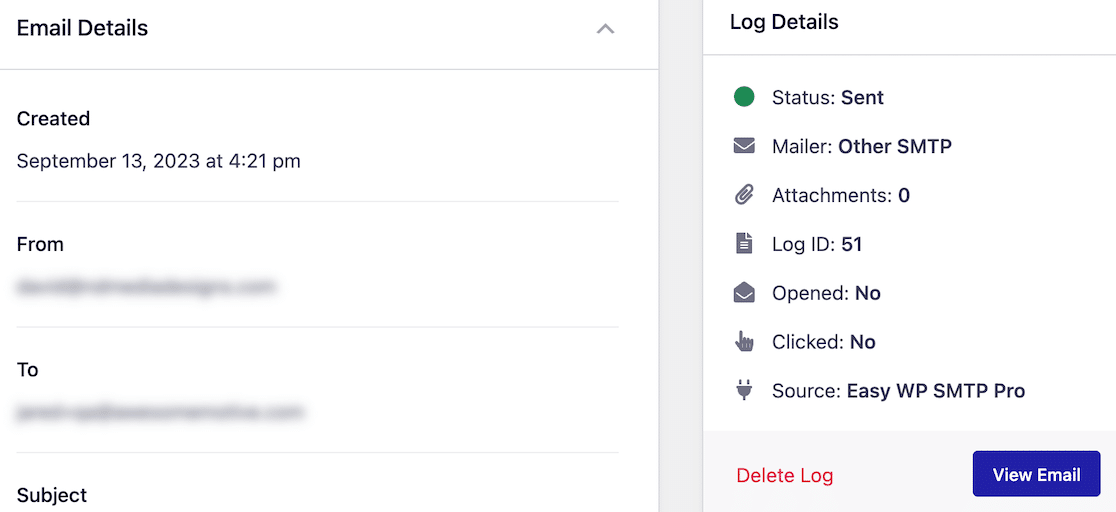 Additionally, from that same screen, you can print, export, or resend emails.
Overall Thoughts on the Email Logs
As we said before, although there's nothing fancy here, the email logs give you the functionality you need, especially if you're new to using SMTP. You'll find all the basic information. Remember that you can also customize what's included in your email logs by going into the Easy WP SMTP settings.
4. Tools
The last option you have in the Easy WP SMTP menu is Tools. While the email export and test email can also be found elsewhere, this is the only menu option where you can view scheduled actions and debug events.
Easy WP SMTP uses the Action Scheduler library. To put it simply, this means that you can schedule and process large-scale actions and tasks in the background. Doing so will ensure you don't slow your site down for your visitors.
The Tools option is also where you can view and configure debugging events to assist with resolving email send errors and issues.
There's an event log on this page. Click on any item to see more details about it.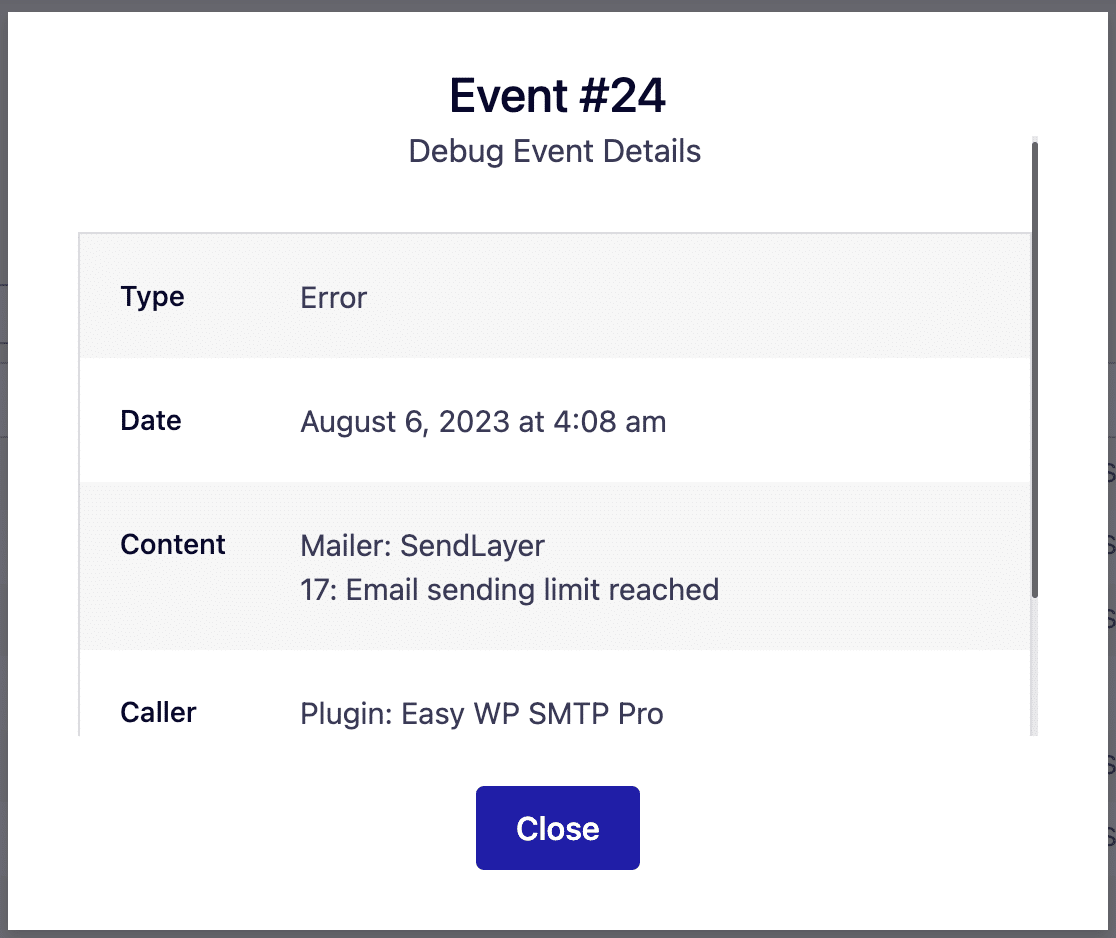 Overall Thoughts on Easy WP SMTP Tools
You have what you need to get started here. There aren't a lot of tools to configure, and the menu is a little bit repetitive, especially considering the same features are found elsewhere in the plugin.
But the simplicity makes it super beginner-friendly. You don't have to worry about getting bogged down in feature bloat or losing hours to configuring settings.
5. Price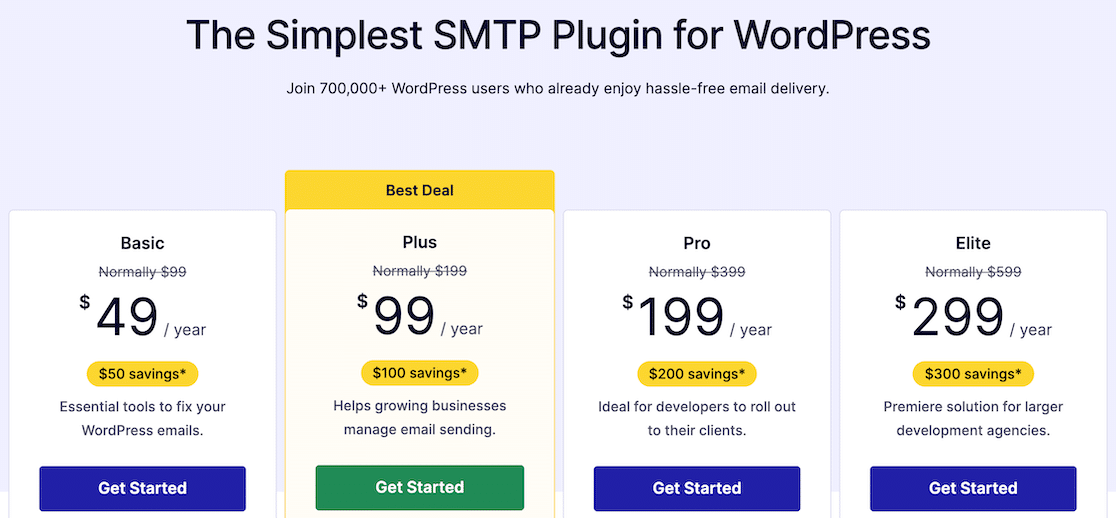 Easy WP SMTP's pricing is affordable. In fact, you can spend some time using the free version before you decide to buy. While it's a bit more limited, it's a good way to get a feel for the platform.
One of the things we really like about Easy WP SMTP's pricing structure is that once you pay for a premium plan, you get all the features. The only difference in the plans is how many sites you can use. The only exception is that the Elite plan also includes priority support.
Since plans bill annually, each plan includes one year of updates and support.
Easy WP SMTP: Overall Thoughts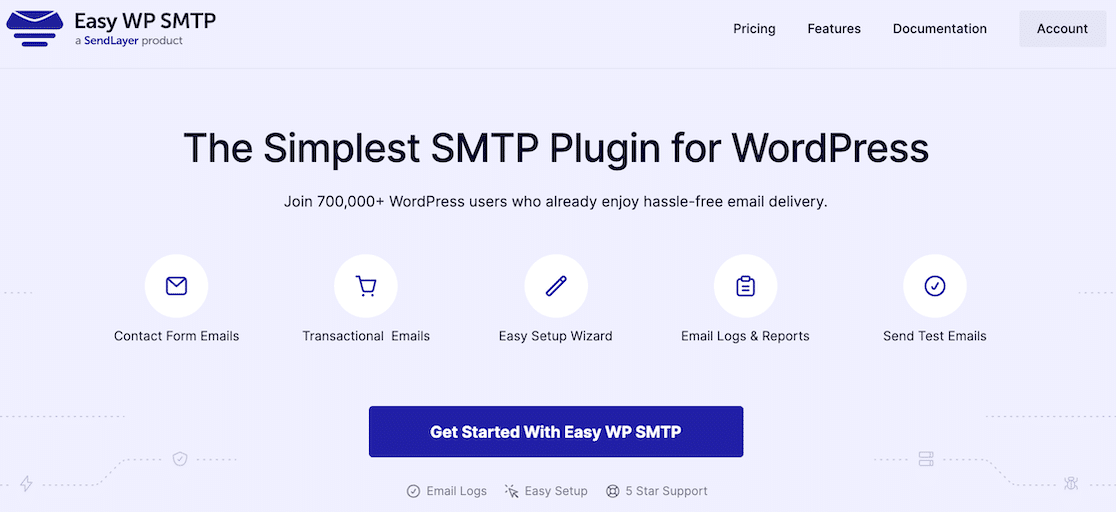 Aptly named, Easy WP SMTP is exactly what it claims to be: an easy SMTP plugin for WordPress. It's perfect for those who are just getting started with using SMTP to send emails from WordPress.
While features may be sparse and design may be simple, the plugin has all the functionality you need.
If you're a power user, you might consider something a little more robust, such as WP Mail SMTP. The new and average user will quickly adjust to and feel quite comfortable with Easy WP SMTP.
Easy WP SMTP is great for eCommerce sites, too, so you can easily and reliably get your invoices to customers.
FAQ
We reviewed the core plugin features, but if you still have questions about using SMTP, check out the FAQ below.
Why should I use an SMTP plugin?
An SMTP plugin like Easy WP SMTP improves email deliverability by sending emails through an SMTP server instead of using the PHP mail() function, which is native to WordPress. PHP mail() is known to have email deliverability issues, which is why SMTP is preferable.
Do I need to know any code to use Easy WP SMTP?
No, one of the best things about Easy WP SMTP is that you don't need to have any kind of coding knowledge. You can set it up easily using the setup wizard.
Why are my emails still going to spam after configuring Easy WP SMTP?
If you've configured your SMTP plugin and your outgoing emails are still going to the spam folder, go into your settings and locate the From address. Make sure it matches your SMTP domain. Also double-check your DNS, SPF and DKIM records.
Is Easy WP SMTP GDPR compliant?
Yes, Easy WP SMTP is GDPR compliant and does not store data that would violate those regulations.
What is the benefit to using a 3rd-party SMTP provider?
Emails will send more reliably when you use a 3rd-party SMTP. This is true, in part, because they offer better, stronger features than the default SMTP does.
Next, Learn How to Automatically Send a WordPress Order Form Receipt From Your Site
If you've got order forms on your site, don't lose time by manually generating and emailing receipts to your customers. Check out our guide to automatically sending WordPress order form receipts.
While you're at it, don't forget to check out some of our other reviews for tools that can help improve your WordPress website functionality:
Create Your WordPress Form Now
Ready to build your form? Get started today with the easiest WordPress form builder plugin. WPForms Pro includes lots of free templates and offers a 14-day money-back guarantee.
If this article helped you out, please follow us on Facebook and Twitter for more free WordPress tutorials and guides.