Are you looking for the best email log plugins for WordPress?
Email log plugins keep track of every email sent from your WordPress site. This can be useful for troubleshooting any problems with your WordPress emails or keeping copies for your records.
In this article, we'll look at some of the best email log plugins for WordPress so you can monitor the emails sent from your site easily.
How Do I Set Up Email Logs in WordPress?
You can log your emails sent from WordPress with an email logging plugin. This will let you monitor all outgoing emails sent from your site directly from your WordPress admin dashboard.
After you've installed and set up your email plugin, you'll need to turn on the email logging feature. You can find this in the settings of your email plugin. We have a detailed step-by-step guide explaining how to set up WordPress email logs in  WP Mail SMTP.
Email plugins with a logging feature will record the details of every email your site sends. This may include the status of each email (whether it was sent successfully or not), the date and time it was sent, the subject, the recipient, and some other additional details.
Plugins with advanced logging functionality will also allow you to track if a user opens your email or clicks links from it. So an email log plugin can be a valuable tool if you're running a WooCommerce site or any type of site that generates transactional emails.
Best Email Log Plugins for WordPress
If you need more details to decide on the best plugin, you can read our detailed overview below. Or use the links in the table above to jump right to the plugin you're interested in.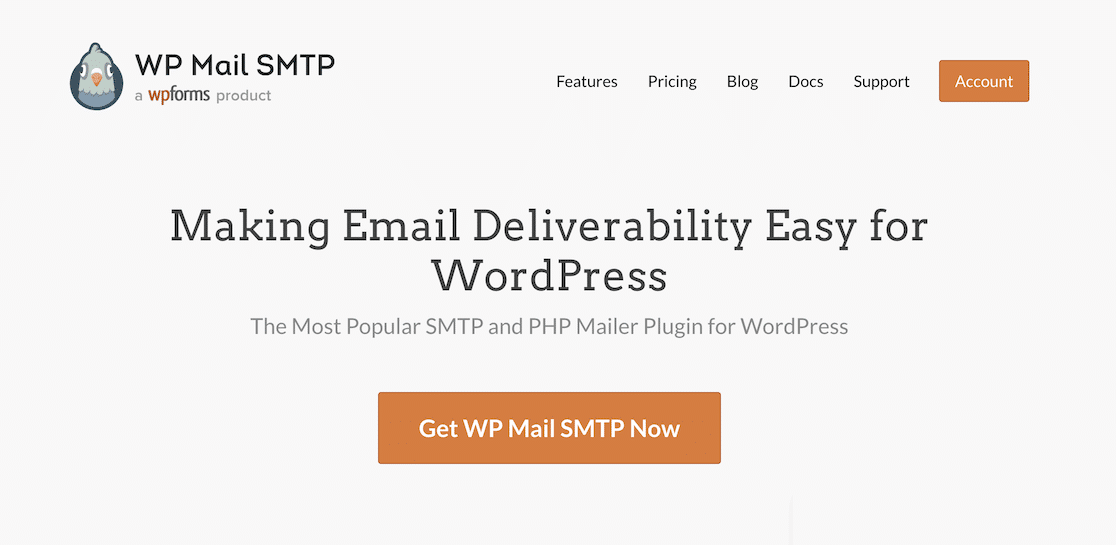 WP Mail SMTP is an excellent choice if you're looking for a plugin to manage your WordPress emails and ensure they get delivered. Not only is it one of the best email log plugins available, but it will also add authentication to your emails to make sure your messages are delivered to your email list instead of being marked as spam.
WP Mail SMTP Pro is one of the most popular email logging plugins for WordPress websites. We found it easy to set up and use so it's great for beginners, it supports all the most popular email and SMTP providers, and the log has a clean and well-laid-out interface that makes it a breeze to see the email details you need.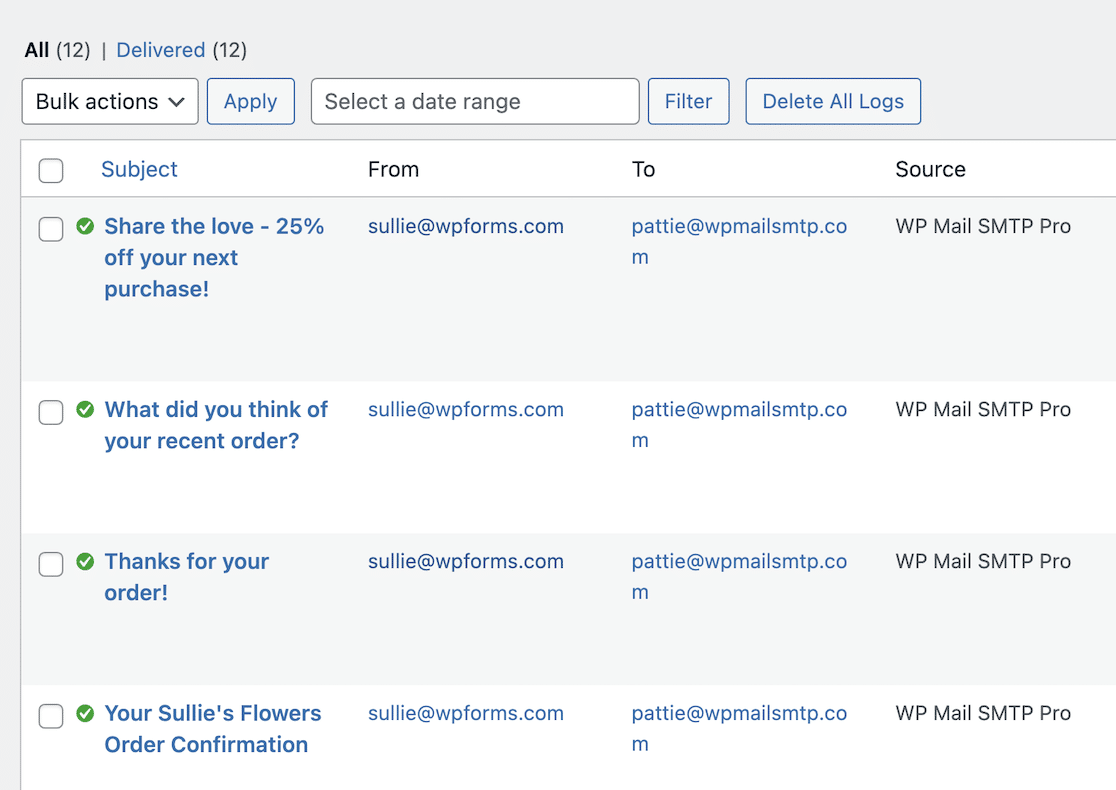 The email log screen is full of helpful information that will let you see the status of emails sent from your site at a glance. The log information includes the following:
Status: Red and green symbols indicate if an email was sent successfully or failed
Subject: The email subject line
From: The sender's email address
To: The recipient's email address
Source: The WordPress plugin that created the email
Mailer: The mailer service that was used to deliver the email
Date Sent: The date and time the email was sent
We also found the search feature very helpful on this plugin, as you can search by email address, subject, email content, error message, or source. This makes it quick to find specific emails.

If you activate tracking in the plugin features, you will see additional information that's useful for monitoring email marketing campaigns, including:
Opened: Shows if the email was opened by the recipient or not
Clicked: Shows if links were clicked in the email
We really like the reporting dashboard widget that gives you an overview of how many emails are being sent from your site each day, as well as the deliverability. This makes it quick to see any issues with your site emails as soon as you log in.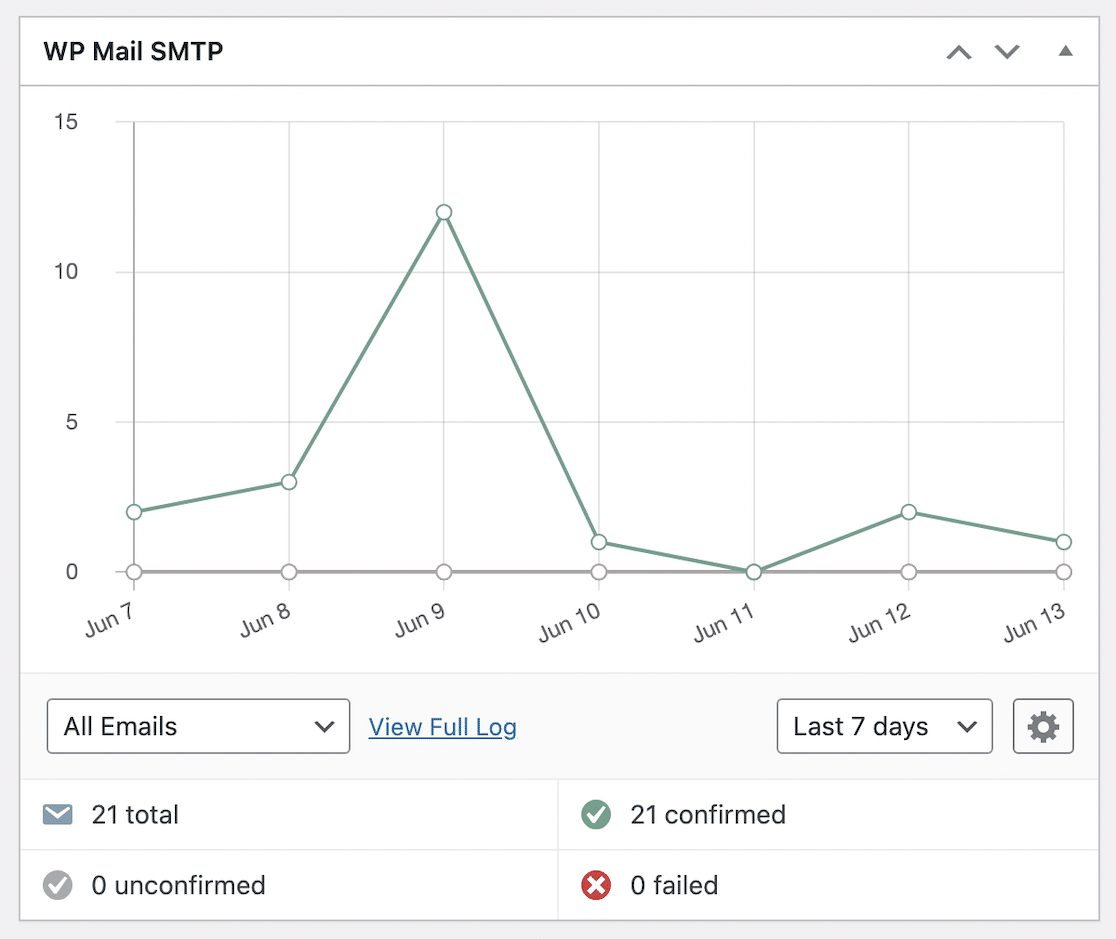 You can also click on each email to see additional information, including a full HTML preview of the actual email,  the number of attachments, headers, and other details that can be useful when troubleshooting problems.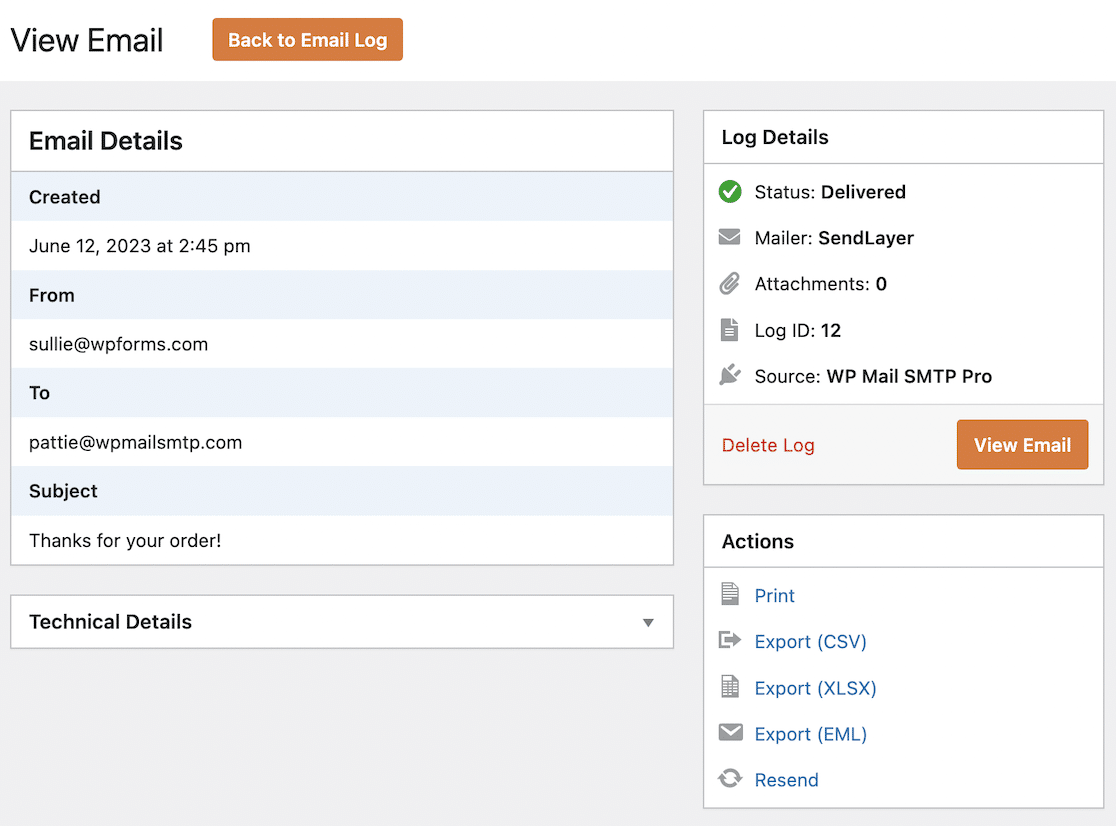 From this screen, you can resend the email to the original recipient or a new recipient and export all or part of your email log as CSV, XLSX, or EML.
Another really useful feature we liked on this plugin was the failure alerts option. If you're sending emails to notify users of contact form or signup form submissions, welcome messages, or other important transactional emails, you need to know immediately if your site emails stop working. This feature will send you a message by email or Slack if any of your emails fail so that you can debug the problem right away.
Standout Features
Email Reports: See statistics such as the percentage of emails delivered at a glance
Open & Click Tracking: Easily monitor the open and click-through rates of your WordPress emails to optimize your email marketing campaigns
Email Failure Alerts: Automation features mean you get notified when an email fails to send, so you don't need to keep checking your email logs
Log Search: Search emails by content, subject, or email address
Filter Logs: Filter emails by date range
Weekly Email Summaries: Get an automatic report on your email deliverability each week
Works With Several SMTP Services: Use a secure API to send email from SendLayer, Sendinblue, Mailgun, SendGrid, or your preferred mailer
Pricing
WP Mail SMTP paid plans start from $49 a year, including email logging, tracking, and alert features.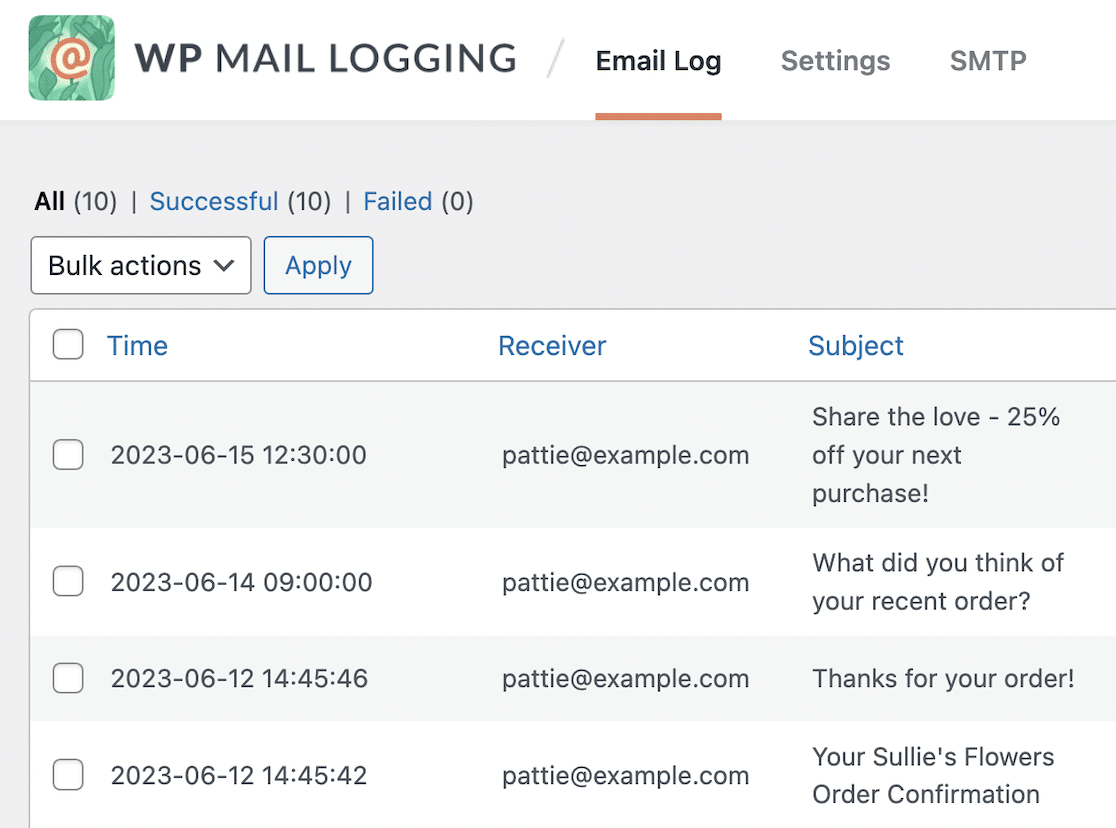 If you're looking for a simple WordPress email plugin to keep a record of emails sent from your site and catch any errors, WP Mail Logging might be worth a look.
The email log shows basic information, including the date and time each email was sent, the recipient's email address, the email's subject, attachments, and any error messages. We found it easy to browse, but it includes less information than WP Mail SMTP.  For example, there's no way to see the sender's email or the plugin that generated the email, which can be helpful for troubleshooting.
The search feature is also pretty basic and only searches the subject and content of the emails. There's no way to search for emails sent to a specific user, and while you can sort by date, you can't filter the display.
We were pleased to see one feature in this plugin that isn't included in some of the other free email log plugins: You can bulk resend emails from the log. This might come in handy if a lot of emails fail due to a temporary problem.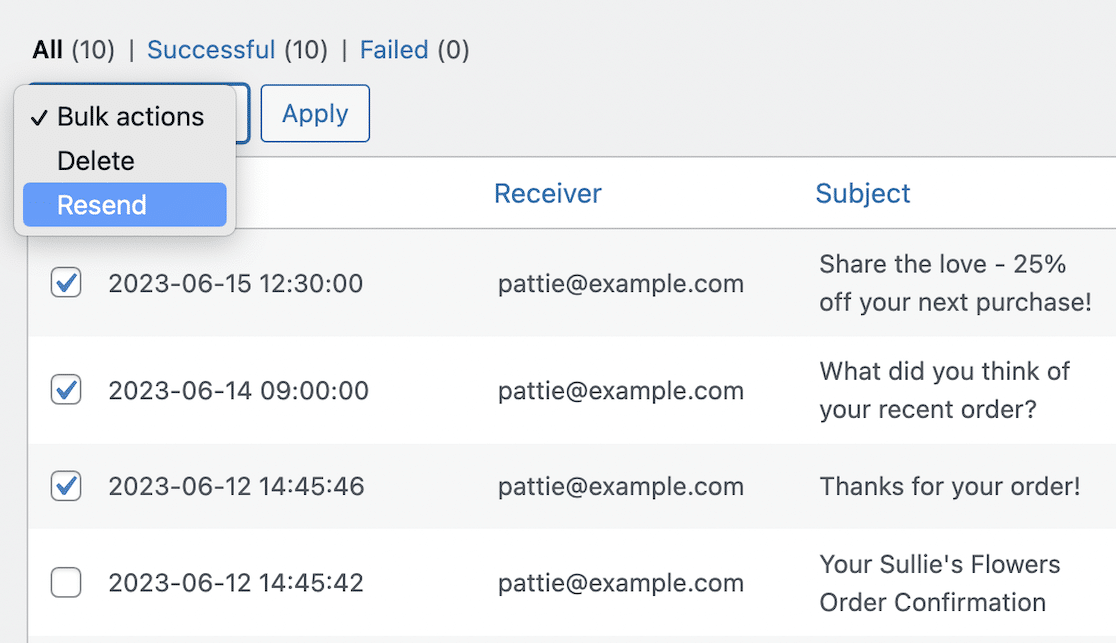 If you don't need the additional features offered by some other email log plugins and just want a simple log of sent emails, WP Mail Logging will do the job.
However, this plugin can only tell you if your emails have been sent. It has no tracking features, so you don't know if your emails are being opened, and it won't help you to solve deliverability issues. If you have an ecommerce site or any other type of site that relies on email to communicate with users, you'll probably want to opt for a more powerful plugin.
Standout Features
Lightweight plugin for those who need  basic email logging functionality
Pricing
WP Mail Logging is a free plugin.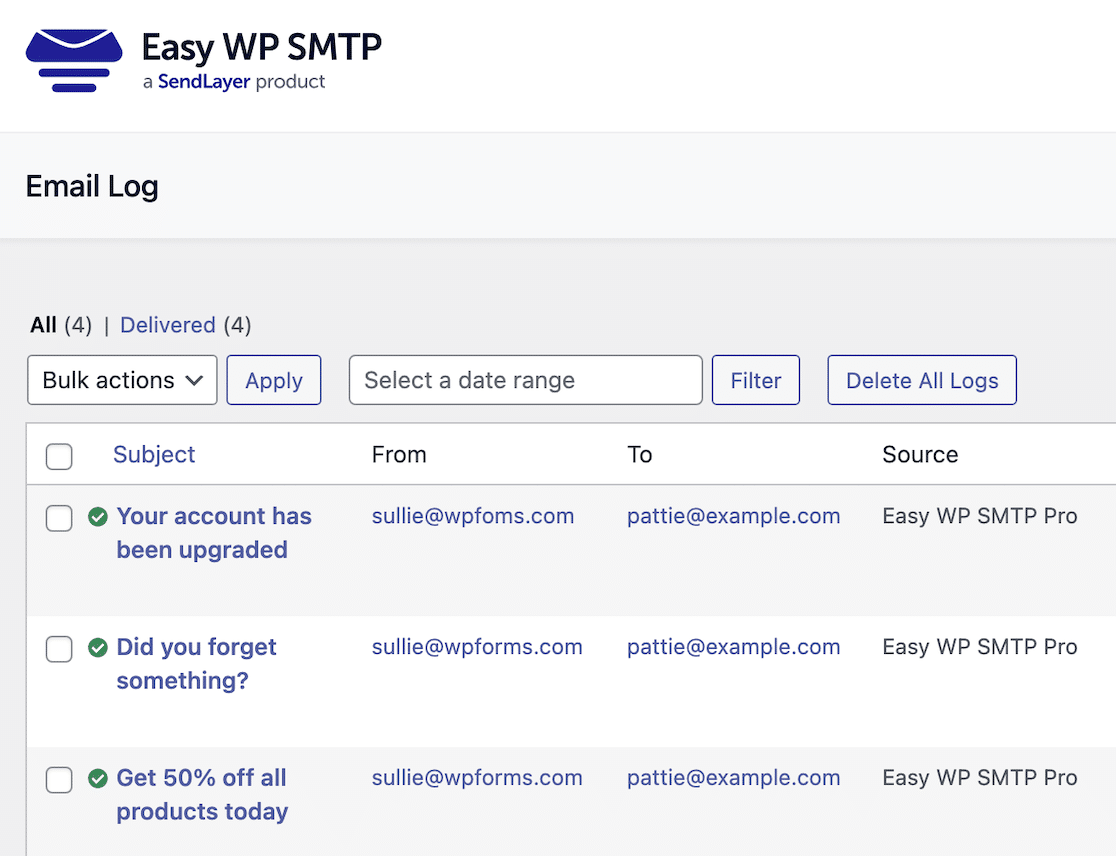 Easy WP SMTP is Sendlayer's WordPress SMTP and email log plugin (it works with other email service providers too). The free version of the plugin does not include any email logging features, but all the paid plans include email logging and reports.
We were impressed with the plugin's comprehensive and well-organized log layout, which makes for easy searching, sorting, and filtering.  The log displays all the details you might need, including the email subject, sender email, recipient email, the plugin that sent the email, the mailer service, the date and time the email was sent, and if the email was opened or links were clicked from it.
The search feature is less extensive than that offered by WP Mail SMTP, but you can search email addresses and subjects, and headers, as well as the content of the email.
We especially liked the email reporting feature, which uses color-coded graphs to display emails sent, opened, and clicked each day.
While this plugin offers functionality similar to WP Mail SMTP, its search funtion is less advanced. As an SMTP plugin, it also offers some advanced features like scheduled actions that can confuse non-technical users.
Standout Features
Resend Emails: Resend emails and attachments directly from the log
Print or Save Logs: Save email logs as PDF or export as CSV, XLSX, or EML
Email Tracking: Keep track of email opens and clicks so you don't need to use an external email marketing service like Mailchimp
Pricing
Easy WP SMTP Pro starts at $49 per year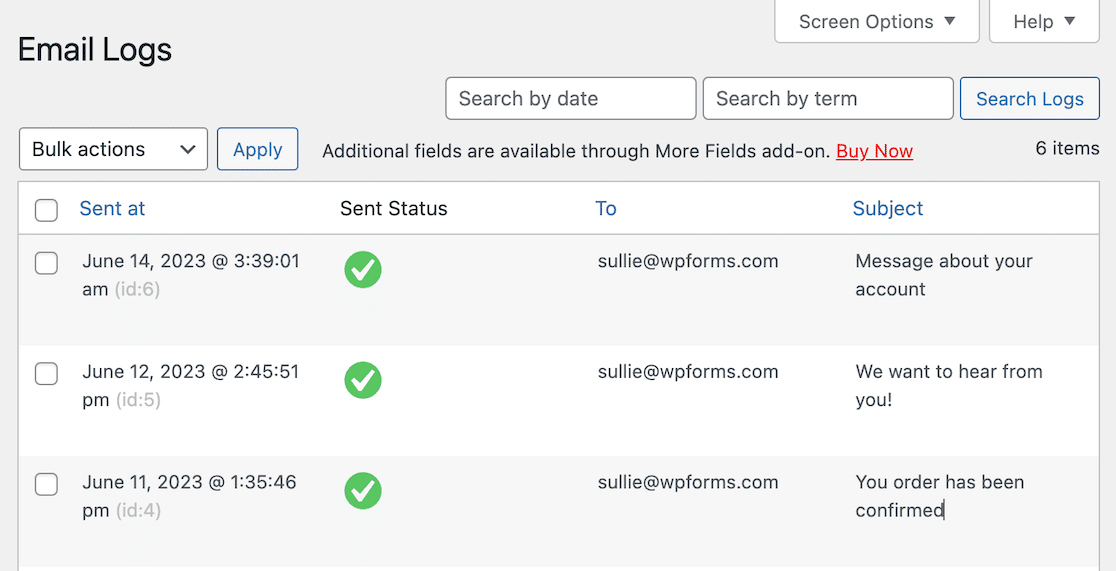 Email Log is a freemium plugin that offers basic email logging features. For more advanced capabilities, such as exporting email logs and resending emails from the log, you can upgrade the plugin with several premium add-ons.
With the standard plugin, the email log displays basic information about sent emails, including the date and time sent, the status (sent or failed), the recipient's email address, and the email's subject. You can also see a preview of each individual email.
Standout Features
With premium add-ons, you get access to useful features, including:
Additional Email Fields: Information including the sender email, CC, BCC, reply to email, and attachments
Resend Emails: Resend single or bulk emails  directly from the log
Forward Emails: Forward all emails sent from your site to another email address
Auto Delete & Export Logs: Export logs as a CSV or  automatically delete them on a set schedule
Pricing
The basic Email Log plugin is free.
There are currently five add-ons to add extra functionality to the plugin (More Fields, Resend Email, Forward Email, Auto Delete Logs, and Export Logs.) These add-ons are priced from $19 each, or you can buy a bundle of all five add-ons from $49 per year.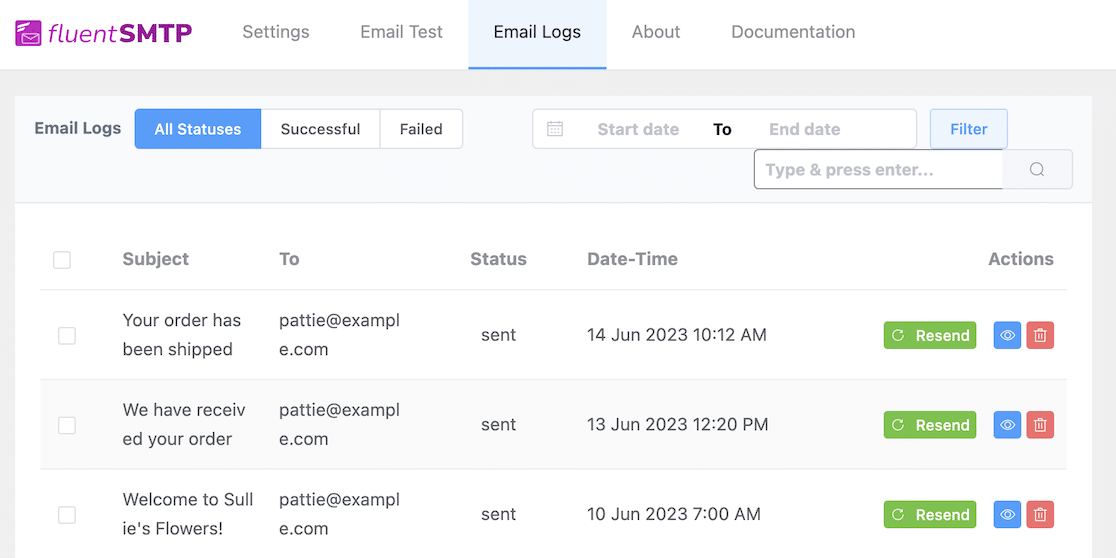 One final option to consider if you're looking for an SMTP plugin with email logging features is FluentSMTP.
We found the email log easy to navigate and use. Filters to display emails sent in a specific date range or only failed emails will come in useful for speeding up your workflow.
Another handy feature we liked about this plugin is that it will import settings from other SMTP plugins. This makes it a breeze to switch from another plugin (perhaps if you no longer need the advanced features of a premium option.)
For a free plugin, FluentSMTP is pretty generous with the features it offers. We thought the automatic reports it sends to your email were a nice bonus. However, it lacks tools such as customized log search and email tracking.
Standout Features
Automatic Notifications: Get failed email notifications and daily or weekly reports
Visual Reports: See a graph of your email statistics over time
Log Filtering: See only successful or failed emails or those sent during a set date range
Pricing
FluentSMTP is a free plugin.
Check & Log Email is a simple plugin that lets you send test emails from your WordPress site and logs all emails that your site generates for auditing or other purposes.
This plugin has no advanced features, just a basic log that records the subject, sender, and recipient email addresses, date and time, and the status of emails sent from your site. In fact, the interface is the same as the Email Log plugin, only without an upgrade option.
The log includes basic search functionality so you can find emails by text search or date, but there's no export feature or any other advanced functionality. While the email certainly lives up to its name, we can't say we were wowed! Some of the other free plugins offer more features.
Pricing
Check & Log Email is a free plugin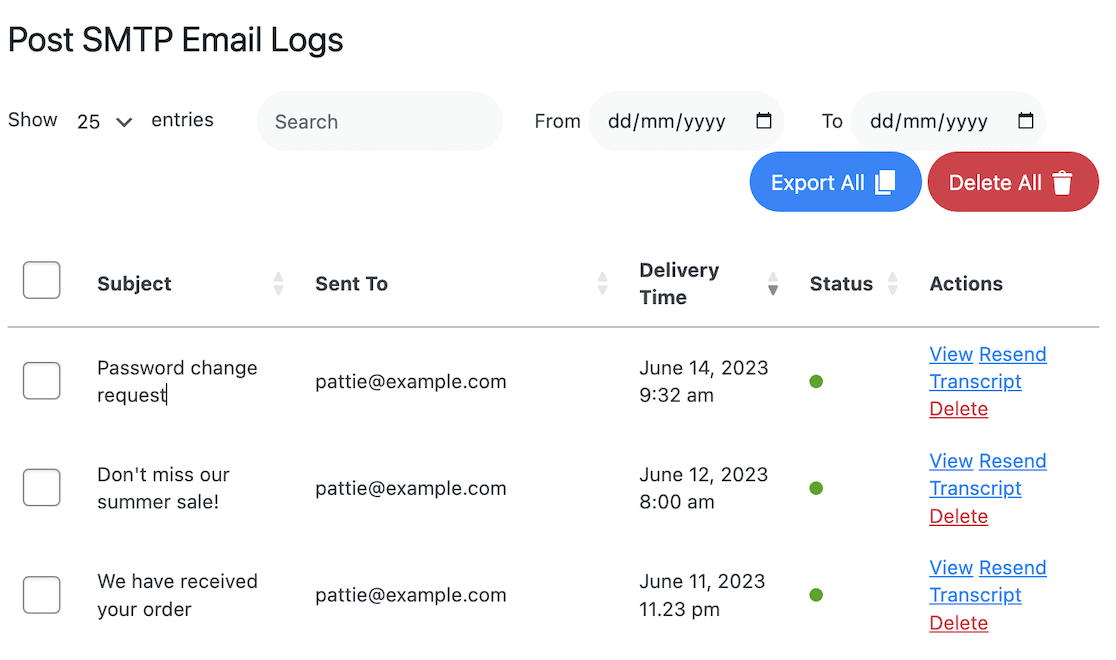 Post SMTP Mailer is primarily an SMTP plugin to improve mail deliverability. It also includes an email logging feature. The plugin lets you see all emails sent from your site and the cause of any failed emails.
The email logs in this plugin display email information including subject, recipient email, delivery date and time, and status. Although the information is clear, the interface isn't as easy on the eye as some of the other plugins.
While this plugin comes with a setup wizard to help you configure all your settings, we found the interface is not as intuitive or easy to use as other options. The advanced settings can be confusing if you just want a basic email log.
Standout Features
Automatic Failure Notification: Get notifications to email, Slack, Pushover, or SMS if you have an email sending issue
Email Log Search & Filter: Find emails by subject or recipient or filter by date
Reporting & Tracking: Get automatic reports and statistics to track how many emails are delivered, failed, and opened.
Pricing
The basic version of the plugin is free. If you need the email tracking and reporting feature, you'll need to upgrade to a premium version from $39 a year. Additional add-ons are also available for integrations with Office 365, Amazon SES, and Zoho mail, as well as SMS notifications via Twilio.
Which Email Log Plugin for WordPress Is the Best?
Considering features, ease of use, and value for money, WP Mail SMTP is the clear winner. The email logs in this plugin are easy to work with and include more information than other plugins.
The advanced tracking and reports, email failure alerts, and search and filtering options make this plugin one of the most fully featured in our list. Plus, as it's one of the best WordPress SMTP plugins out there, you won't need to worry about your emails ending up in the spam folder.
FAQs
We often get questions from readers about WordPress email plugins and logs. Here are some quick answers to a few of the most commonly asked questions:
What features should I look for in an email log plugin?
When choosing an email log plugin, make sure it's easy to see if any of your emails have failed. Several plugins implement a red or green indicator icon to make this clearer. A link to resend emails directly from the log is also helpful if any have failed.
You may want to find a particular email your site has sent or all emails sent within a specific time period. So log search and filter functions can come in very handy.
Standard logging plugins will only tell you if an email has been sent correctly, but not what happens once it leaves. To get better insight into your email deliverability, look for a plugin that offers tracking and reports.
Does WordPress have a log file?
WordPress has several log activity files, which it uses to keep track of user behavior, PHP errors, connections to the server, and other information. But for email logging, you'll need to install a plugin such as one of the options in this list.
These email log plugins make it easy to see the emails sent from your site right on your WordPress dashboard. Rather than downloading a log file, you can view your email log within WordPress. Some plugins also allow you to download all or part of your email log as a CSV or other kind of file.
Does WordPress connect to Gmail?
You can connect your WordPress to the Gmail SMTP servers with an SMTP plugin like WP Mail SMTP. You can do this by selecting Gmail as your mailer when you set up the plugin.
Next, How to Set Up WordPress Email Logs
After you've chosen the best email log plugin for your WordPress site, you'll need to install it and set it up. See our guide on how to set up WordPress email logs with the WP Mail SMTP plugin.
We also rounded up some useful plugins that you can review:
Ready to build your form? Get started today with the easiest WordPress form builder plugin. WPForms Pro includes lots of free templates and offers a 14-day money-back guarantee.
If this article helped you out, please follow us on Facebook and Twitter for more free WordPress tutorials and guides.