Are you wondering what the best contact form plugins for Elementor are?
Contact forms are an essential part of every website. The problem is, not all form plugins work well with page builders like Elementor.
And some that do integrate well with it are too limited in functionality to be practical for your website.
We've tested dozens of form plugins and reviewed their overall functionality when used together with Elementor. We'll list the best Elementor form builders performing best during our hands-on testing.
Best Contact Form Plugins for Elementor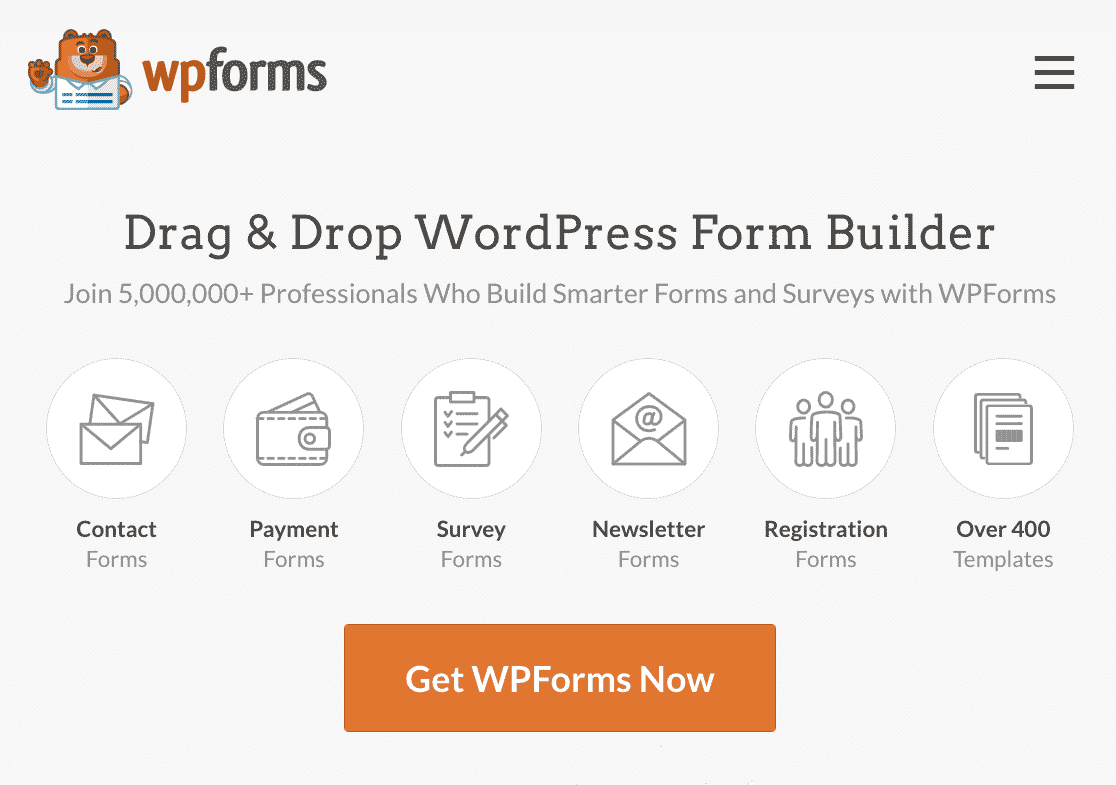 WPForms is not only one of the best plugins for adding forms in Elementor, but one of the best WordPress contact form plugins around.
With 6+ million active installations and 12+ thousand 5-star reviews on WordPress.org, you can see the proof for yourself.
WPForms offers a user-friendly, visual drag-and-drop interface while providing useful advanced features for simple or advanced  forms.
There are a lot of advantages to using WPForms for your form building needs over Elementor Forms.
For example, WPForms offers an easy workaround for saving Elementor Form entries in Google Sheets. By default, this can only be done by using Zapier in Elementor Forms, which adds more configuration steps and becomes pricey too.
Apart from that, you can create custom layouts without writing a single line of code using the unique WPForms Layout field. Or build multi-step forms that look gorgeous and minimize form fatigue.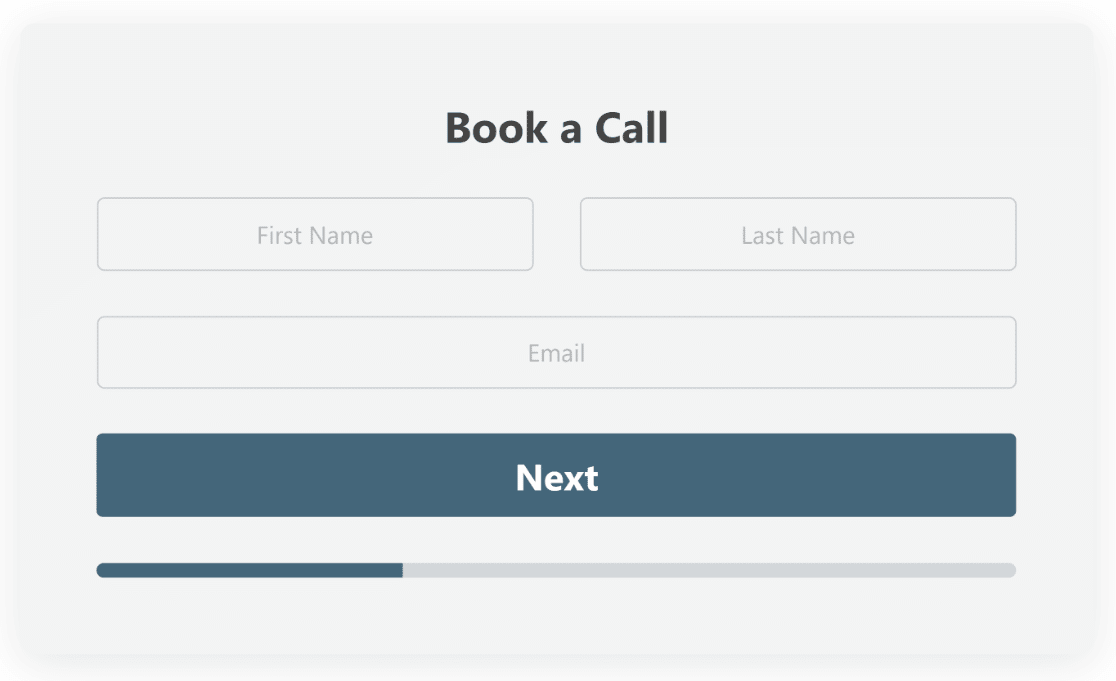 And if you're using WPForms with Elementor, you'll find that these 2 plugins integrate seamlessly. You just need to have both plugins installed and the integration occurs automatically. Even the free version of WPForms itnegrates with Elementor without any extra costs.
The WPForms widget In Elementor allows you to add a WPForms form to pages you're building in Elementor.
The best thing about using WPForms to create your forms in Elementor is that you can take advantage of the massive library of 1000+ WordPress form templates to get a head start.
The Simple Contact Form template is usually a good choice. But there are lots of specialized templates for all types of forms that can help you grow your business, including user registration forms and order forms.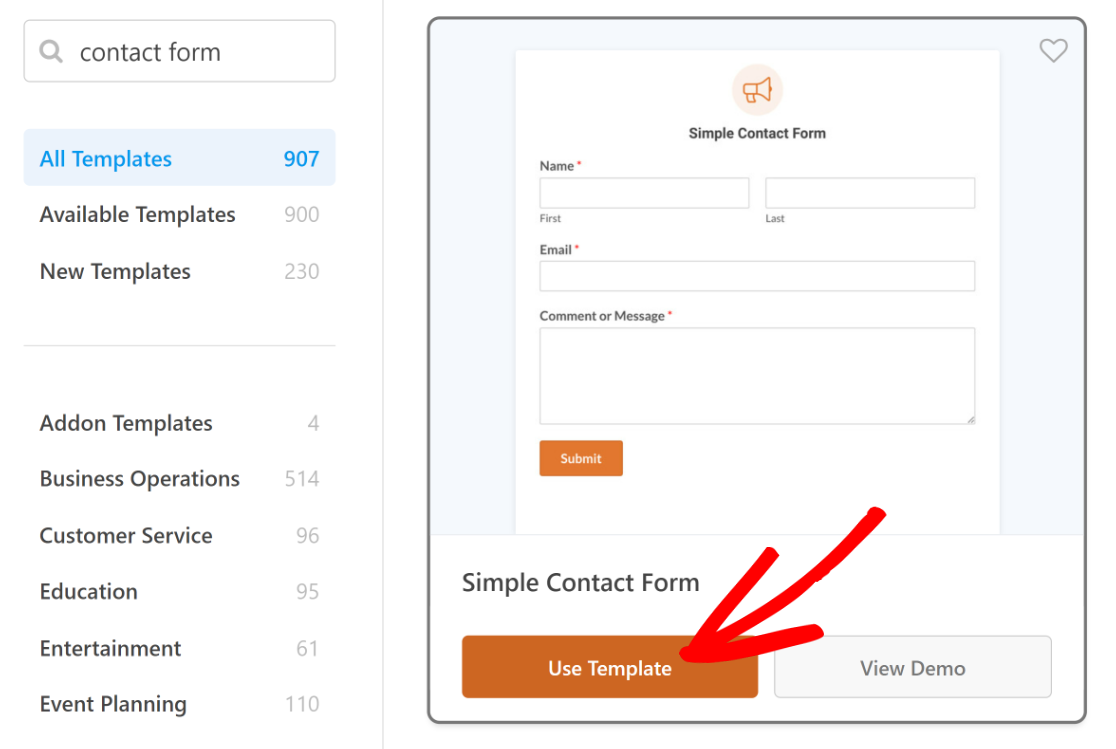 Embedding your WPForms form into an Elementor page is also quite easy. Simply open up the Elementor page where you'd like to embed your new form and look for the WPForms widget from the widget menu.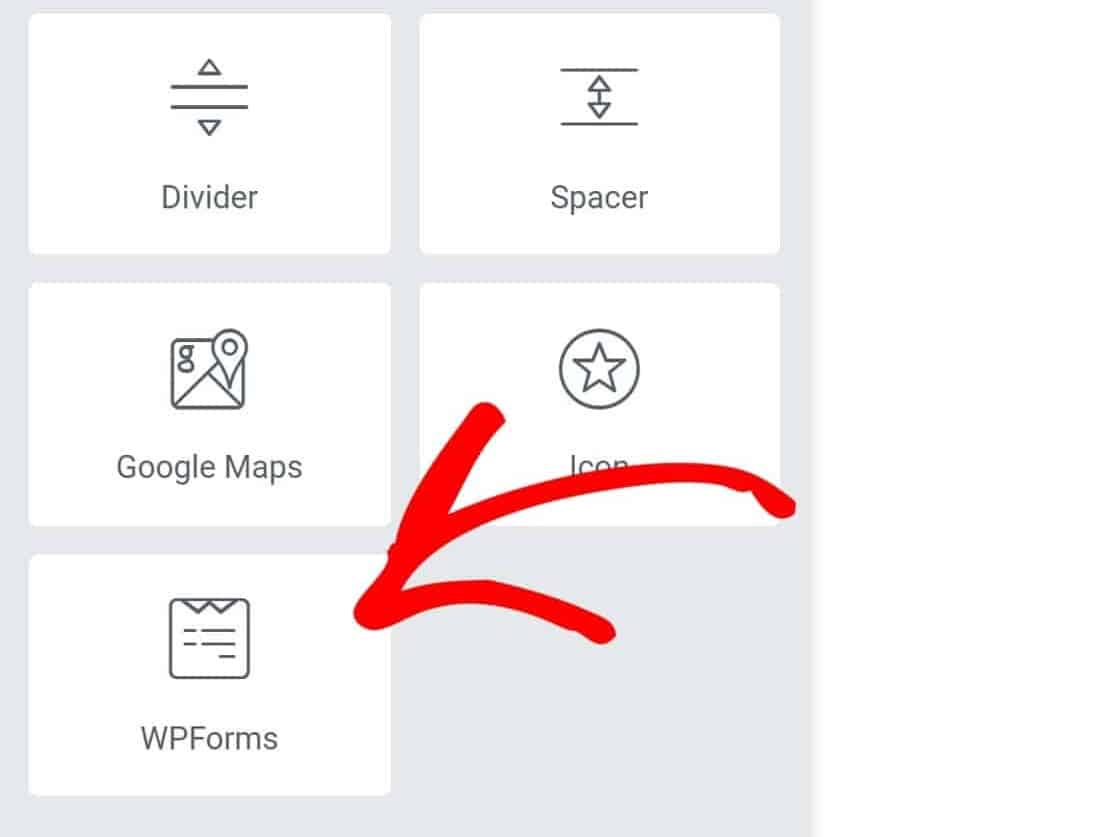 With the WPForms block, you can add any form to any part of your landing page.
That's not all. You can even customize the design of your form using the WPForms widget in Elementor. These style customization options work for all field types, labels, and buttons without requiring you to touch a single line of HTML or CSS code.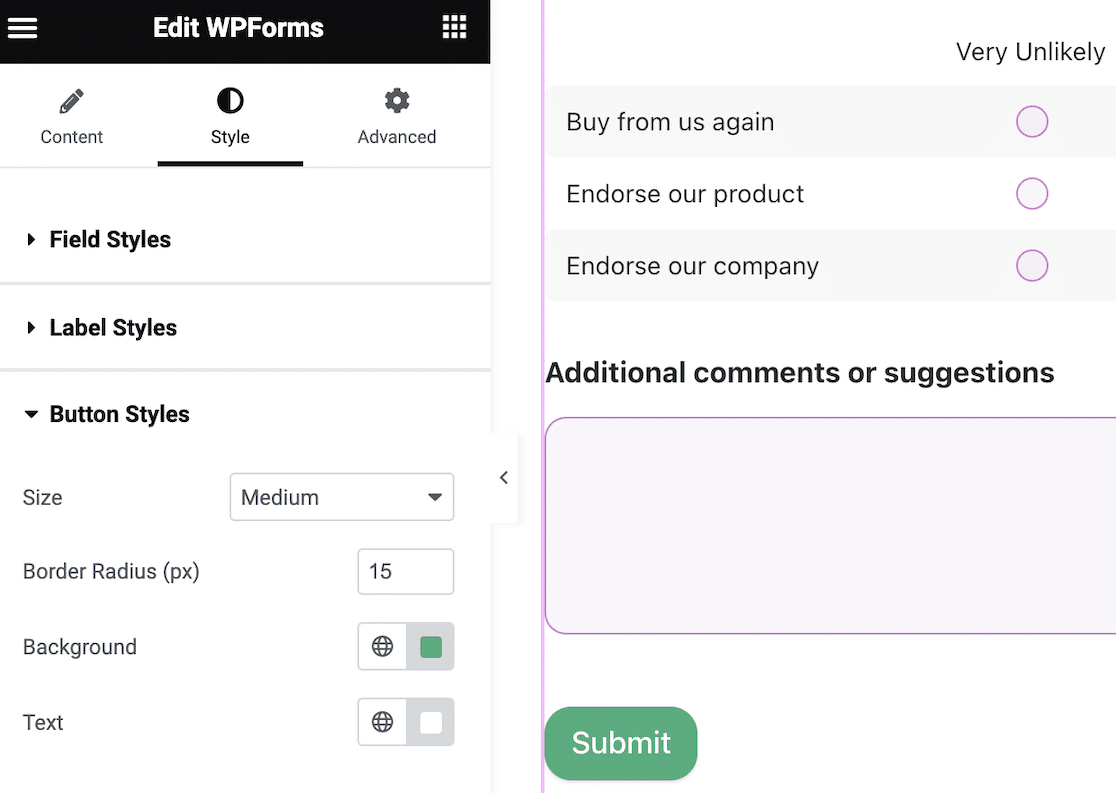 We think WPForms offers the best balance of user-friendliness and a range of advanced features that give you great flexibility when you need to include a form in a landing page.
If you want to see how Elementor Forms compares with WPForms, we have an in-depth comparison guide on this topic.
WPForms Features:
User-friendly interface that's ideal for simple forms as well as complex forms
Smart conditional logic
Frontend user file uploads
Payment forms with Stripe, PayPal, Authorize.Net, and Square integrations
Manage form submissions in the WordPress dashboard
Advanced payment gateways for eCommerce forms
Email marketing and CRM integrations, including HubSpot, Mailchimp and Constant Contact
Form revisions
Automatic email notifications upon form submisison
Multiple geolocation integrations
Spam prevention with Google reCAPTCHA, Custom Captcha. Akismet, hCaptcha, and more.
Pricing: WPForms starts at $49.50 for the Basic plan. The free version, WPForms Lite, lets you try the plugin out before you buy.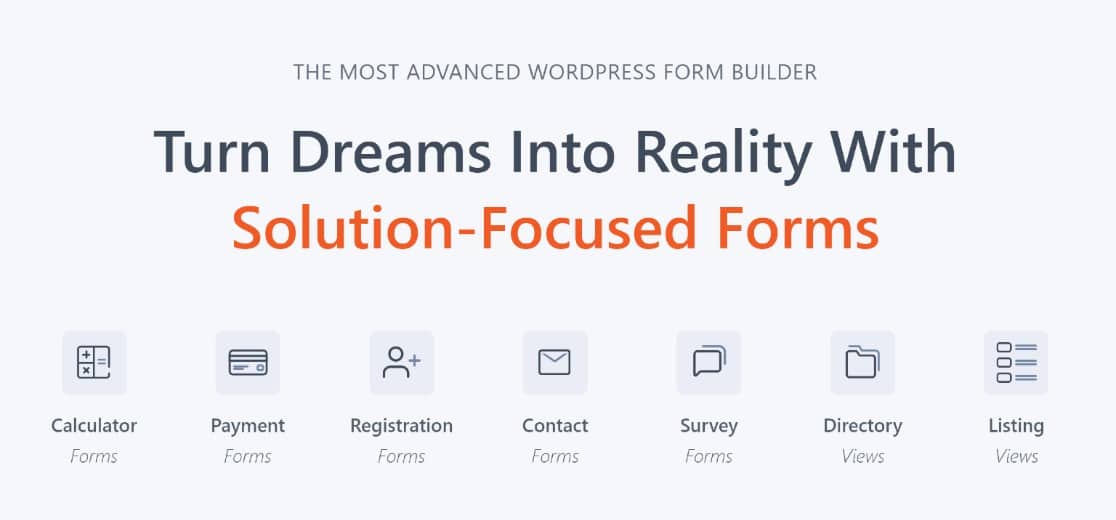 Formidable Forms is a popular WordPress form builder plugin that combines well with Elementor. With Formidable Forms, all you'll have to do is create a custom form, then add a form widget to an Elementor page, just as we did with WPForms.
Formidable Forms form builder is easy to use and comes with lots of pre-built form templates. It supports all the fields you'll ever need in an online form, including checkboxes, radio fields, contact information fields, and lots more.
We were delighted to find the AI field that uses a ChatGPT integration to generate an AI response based on given prompts directly from your form. Using this functionality along with Elementor is a powerful combination that can be used in all sorts of creative ways. For instance, you can even create a chatbot with the AI field.
Formidable Forms is an excellent Elementor form builder to consider if you're looking for a well-rounded plugin for building basic forms or more advanced ones using a beginner-friendly drag and drop builder.
Features:
Flexible form styling
Get Responses
Payments integrations
Advanced calculation fields
Polls and surveys
Easily extendable with powerful integrations
Pricing: Formidable forms start at $39.50 for the Basic plan.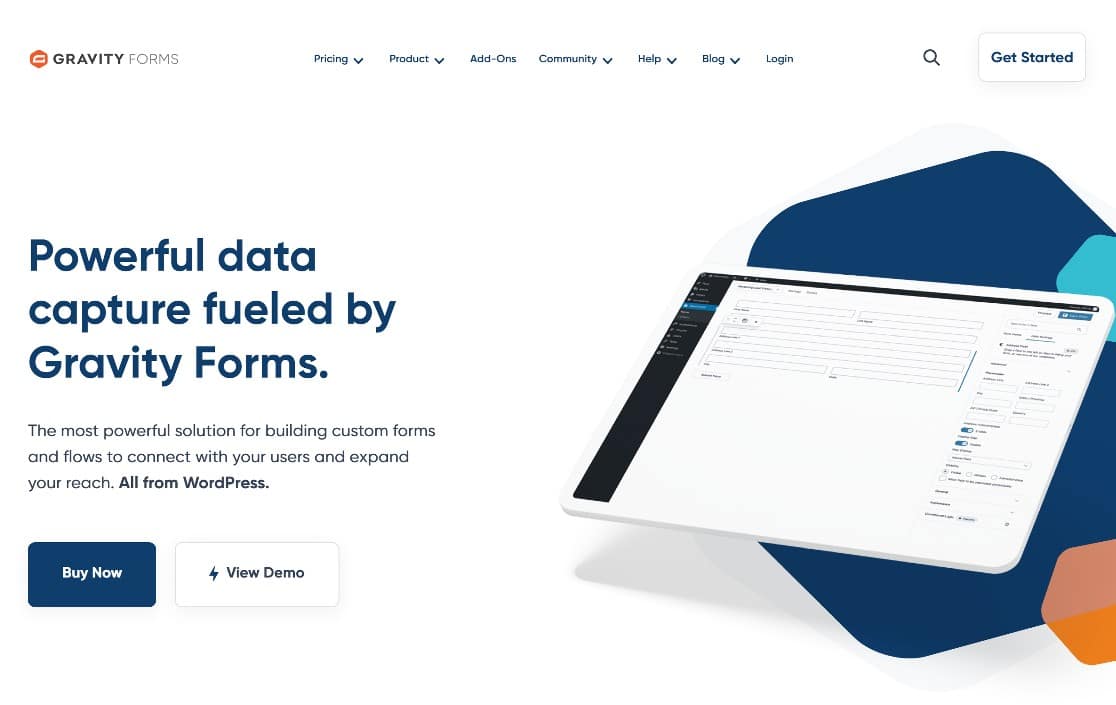 Gravity Forms is another popular WordPress form builder that you can use with Elementor. Unfortunately, Gravity Forms doesn't integrate automatically with Elementor – you'll need an extra plugin to make this work.
As a result, using Gravity Forms with Elementor requires extra configuration, which isn't ideal — especially when you have more user-friendly options like WPForms.
However, Gravity Forms is a feature-rich form builder that offers a great variety of useful features. We've got a detailed Gravity Forms vs Formidable Forms vs WPForms comparison with more details on how Gravity Forms stacks up.
Features:
Drag and drop form builder
Form import
Custom CSS
Foreign language support
File uploads
Partial entries
Pricing: Gravity Forms only offers a premium version, which starts at $59 per year for the Basic License.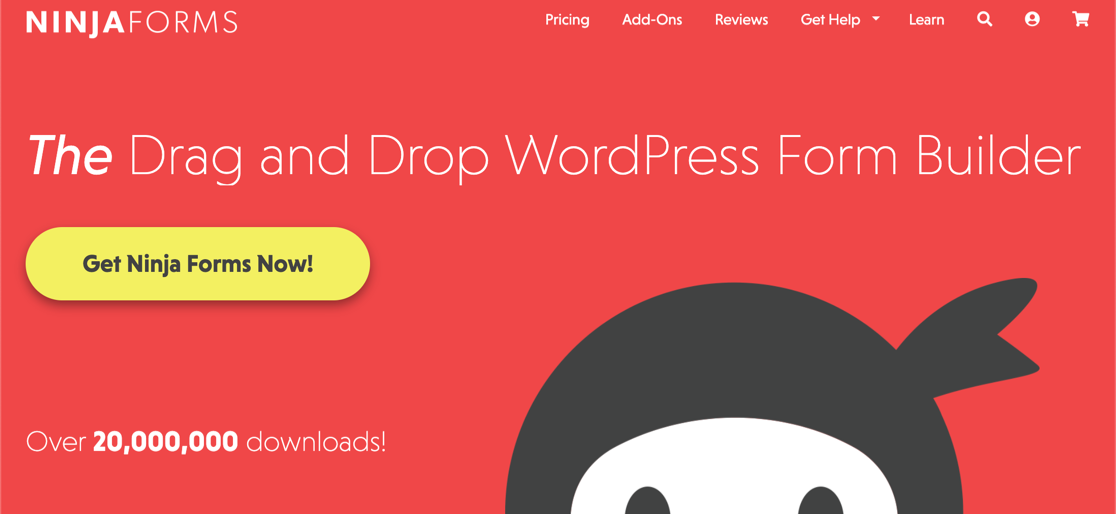 Ninja Forms is one of the top WordPress page builders for Elementor, and it offers an easy way to build powerful forms, surveys, and quizzes using its visual form builder.
Unlike Gravity Forms, you'll find a native Ninja Forms widget in Elementor, so it's straightforward to add Ninja Forms form to your Elementor pages. You can also add forms using the Ninja Forms shortcode.
Considering using Ninja Forms? Check out our Ninja Forms vs WPForms comparison to learn about the major differences between the two.
Features
Anti-spam protection
Multi-page forms
Conditional forms
File upload fields
Multiple payment integrations
Multiple marketing integrations
Pricing: The Pro version of Ninja Forms starts at $49 per year. You can try the free plugin first to decide if it's the right Elementor form builder for you.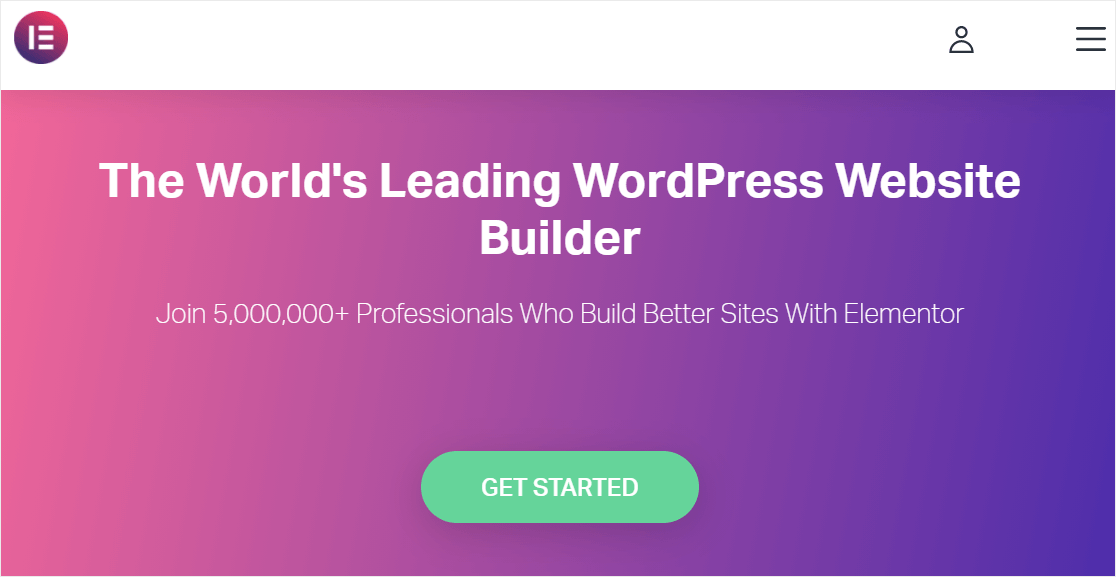 Elementor offers its own native Elementor form widget. But compared to the best form builder plugins, Elementor Forms are a little limited.
For example, when we tested Elementor Forms, we were disappointed to see that it doesn't include features like conversational forms, conditional logic, integrated payment fields, and other features. There are no built-in form templates either.
These are all important features that help you to build forms that are easy to use and convert well.
In addition, we noticed that Elementor Forms has just 20+ form fields which is quite low when compared to 30+ with WPForms.
For a more detailed comparison, see Elementor Forms vs WPForms.
Features:
Comes built-in with Elementor Pro
A broad range of native styling options
Pricing: Elementor forms are free to use with all Elementor paid versions, which start at $49 for the Essential Plan. 
Which Is the Best Contact Form Plugin for Elementor?
After extensively testing and reviewing the top contact forms for Elementor, we can safely say that WPForms is your best choice.
WPForms is incredibly beginner-friendly and  offers tons of useful features that support business growth, including, for example:
Advanced payment gateways – You can choose from a number of payment options including Stripe, Authorize.Net, and PayPal Commerce.
Geolocation features – You can leverage features such as discovering your users' geolocation data (once they opt in) and automatically completing their address.
User Journey Mapping – You can follow the journey users take from the moment they land on your WordPress site, allowing you to understand user behavior and optimize your website and processes.
Form Layout Field – It's easy to make multi-column forms without writing a single line of code using the WPForms Layout field. You can even add multiple Layout fields with a different number of columns in each one.
Form Revisions – You'll save time by being able to roll back your changes if you edit your form and make a mistake.
And that's it for our guide to the top contact form plugins for Elementor!
Best Form Plugins for Elementor FAQs
Do you have more questions about the way forms work in Elementor? Here are some of the ones we get asked most often.
How Do I Add a Contact Form in Elementor?
There are several ways to add a contact form in Elementor. Elementor Pro has a native contact form feature that makes it seamless to add forms to WordPress. But Elementor's native forms are not as powerful as the paid versions of some dedicated WordPress form plugins.
For example, leading WordPress contact form builders like WPForms Pro offer a range of powerful features such as anti-spam tools, powerful analytics tools, advanced addons and integrations, and so much more.
Which Form Plugin Works With Elementor?
WPForms works perfectly with Elementor.
It has built-in styling controls that make it easy to make your form look like the rest of your site. And, as we mentioned, it has an Elementor widget.
Don't forget: you can make Elementor forms completely FREE with WPForms Lite.
Can I Add a Honeypot to Elementor Forms?
Yes. If you use WPForms to create your Elementor forms, you benefit from multiple tools and integrations to stop contact form spam, including reCAPTCHA alternatives that won't annoy your visitors.
How Do I Integrate an Elementor Form With a Google Sheet?
The easiest way to integrate an Elementor Form is to use WPForms with the Google Sheets addon. This is a native and completely no-code integration, so you don't need any third-party apps to establish a connection between your forms and Google Sheets. Once set up, you can then use the WPForms widget in Elementor to embed your form that automatically sends submissions to your spreadsheet.
This is much more difficult to achieve using Elementor Forms because you'll need a third-party app (Zapier) in order to send your form submissions to Google Sheets automatically.
Next,  Check Out the Best PayPal Plugins
Looking to use PayPal on your WordPress website?
Check out our list of the best PayPal plugins for WordPress, to see the different ways to integrate PayPal with your WordPress website. And here's how to create a WordPress registration page with PayPal enabled, which is a great way to generate new income streams from your site.
For some more visual form builders for WordPress forms, take a look at our guide to the best no-code form builders for WordPress.
If you want to get the most out of your site, we recommend checking out our roundups on other useful WordPress plugins:
Create Your WordPress Form Now
Ready to build your form? Get started today with the easiest WordPress form builder plugin. WPForms Pro includes lots of free templates and offers a 14-day money-back guarantee.
And if you found this article useful, make sure to follow us on Facebook and Twitter for more from the blog.