Are you searching for the best PayPal plugins for WordPress to easily accept payments online?
PayPal makes payments fast and efficient for businesses and customers alike. If you're selling any products or services – or even if just raising funds for your nonprofit – you should consider enabling PayPal payments on your site.
We've put together a list of the best PayPal plugins for WordPress that allow you to take payments from your site without a hassle.
PayPal WordPress Plugin Overview
| Plugin | License Level Requirement | Price |
| --- | --- | --- |
| WPForms | Pro+ | $199.50/year |
| Easy Digital Downloads | Extended Pass+ | $139.65/year |
| MemberPress | Any | $179/year |
| Formidable Forms | Business+ | $199.50/year |
| WooCommerce | May Require Paid Extension | Free |
| WordPress Simple Shopping Cart | ❌ | Free |
| WP Express Checkout | ❌ | Free |
| Accept Donations With PayPal | ❌ | $29.99/year |
| Quick PayPal Payments | ❌ | $14.99/year |
| Payment Button for PayPal | ❌ | Free |
| Seamless Donations | ❌ | Free |
When Should You Use a PayPal Plugin in WordPress?
PayPal is the most popular online payment gateway, good for all kinds of transactions, including donations as well as online purchases. With the right plugins, you can easily connect your PayPal account to your website and start taking payments immediately.
Best PayPal Plugins for WordPress
Here are our top recommended PayPal plugins for WordPress: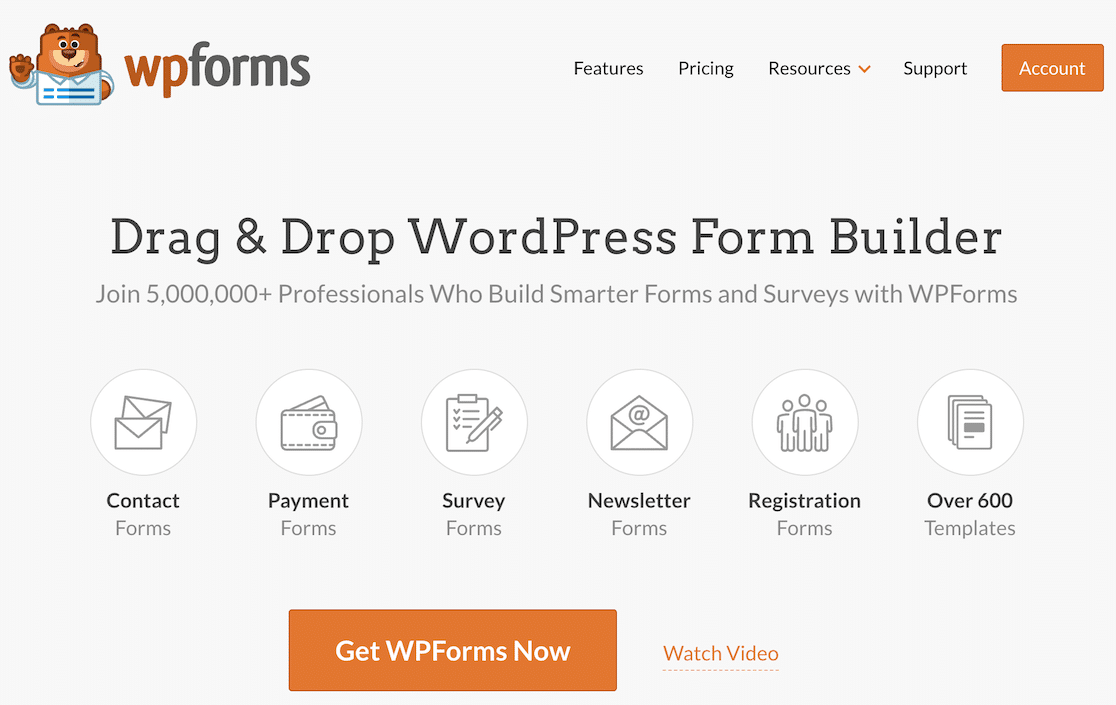 WPForms is more than just the top-rated form builder for WordPress. It also includes tons of useful extra features, including forms that support PayPal payments.
The drag and drop interface allows easy form customization. You can easily add a PayPal checkout field to your form and choose from over 1000+ template to create a form. These templates let you create any kind of form. You can create payment forms to accept online orders, run a fundraiser campaign, and achieve a variety of other goals as well.
WPForms Pro supports both PayPal Standard and PayPal Commerce integrations. Both options work really well for adding PayPal support to your site, but PayPal Commerce offers some useful extra features too.
Once you install the PayPal Commerce addon, you'll just need to enter the login details of your PayPal business account in WPForms' Payment settings to complete the integration.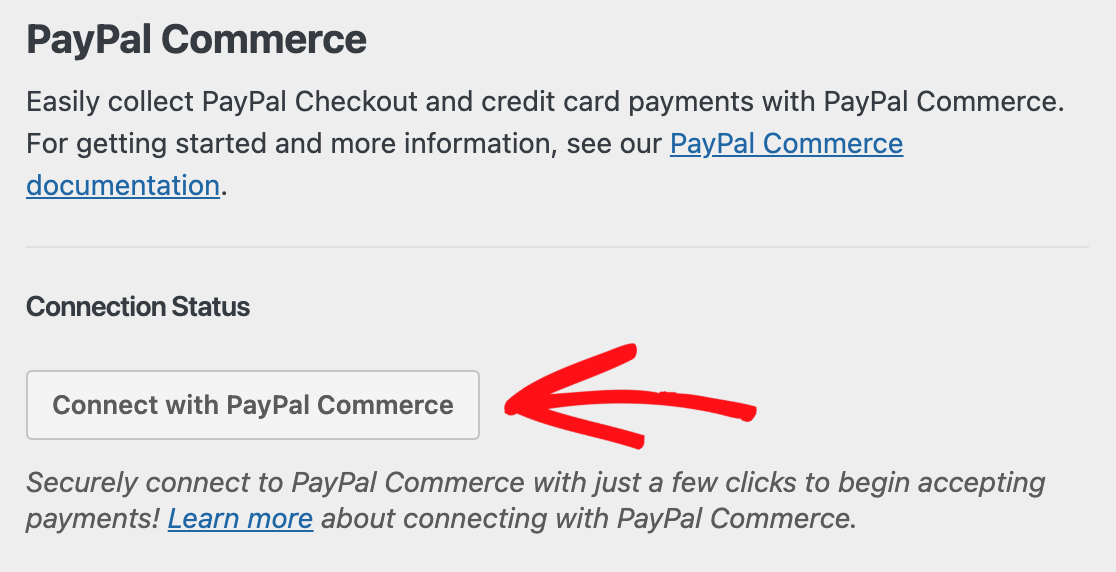 One of our favorite aspects of PayPal Commerce is that it supports both credit card (or debit card) and PayPal payment options. And WPForms makes it incredibly easy to configure both kinds of payments with a click of your mouse directly from the form builder screen.
What's more, you can choose one-time payments or recurring subscription payments as well. These options give you the flexibility to use a suitable payment mode that matches your business' pricing model.
The PayPal Commerce field even includes a PayPal checkout button, which replaces the standard form submit button. And you can easily customize the shape and choose from multiple predefined color themes for the PayPal branded checkout button!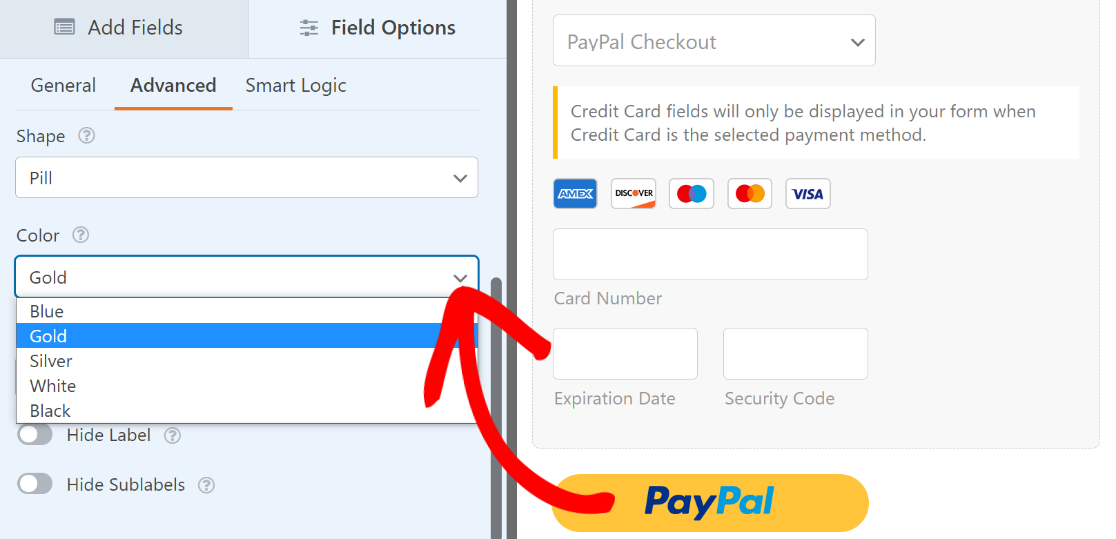 Apart from PayPal, WPForms also supports top payment gateways like Stripe, Square, and Authorize.Net. In fact, you can access the Stripe integration in all versions of WPForms, including Lite.
Overall, WPForms is the most beginner-friendly solution that works great as a PayPal plugin for your WordPress website. If you need something that works great both for credit card payments and PayPal, WPForms is the ideal choice.
Pricing: The PayPal Commerce addon is included in WPForms Pro and above plans, starting from $199.5/year.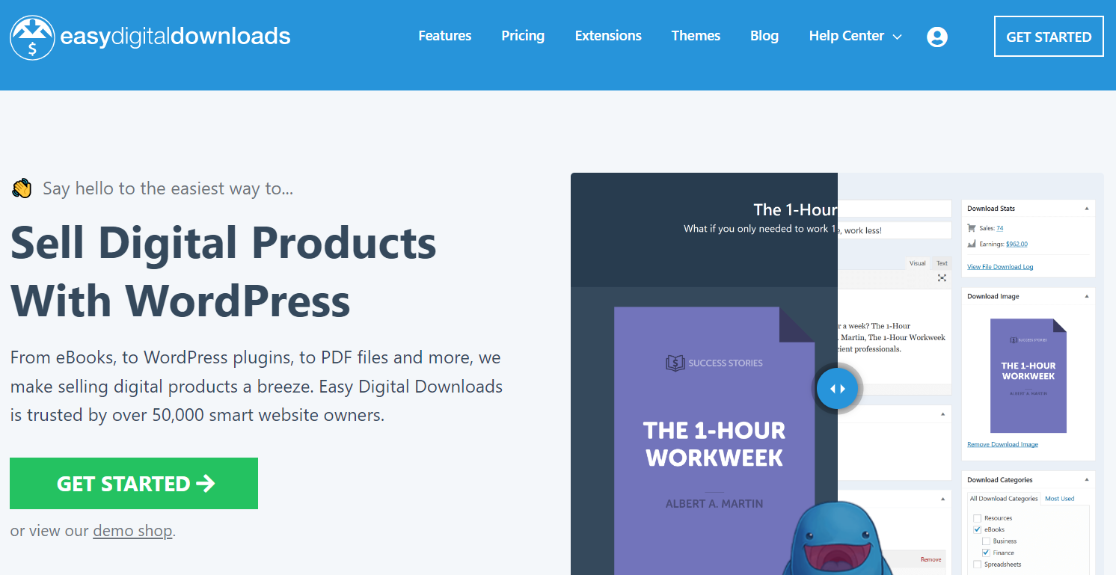 Easy Digital Downloads (EDD) is another one of your favorite WordPress PayPal plugins that specializes in digital downloads.  While it's essentially an eCommerce plugin, it also includes an excellent PayPal integration to support online payments for digital orders.
EDD makes it really straightforward to set up your online store to sell products like digital art, podcasts, eBooks, and other digital goods.
The plugin offers all the features you need to manage a digital store with full-fledged customer management tools. And when it comes to payments, EDD makes payment gateway integrations for PayPal, Stripe, Apple Pay, Google Pay, and others incredibly easy.
For digital products, PayPal is the service that a great majority of customers prefer to pay with. And EDD's PayPal integration works perfectly for big and small digital stores. For this reason, it's one of the best WordPress PayPal plugins you can have.
EDD also comes with comprehensive tracking and reports that allow you to view download statistics by date. You can gather valuable insights from these reports and make better conversion optimization decisions.
Pricing: EDD includes PayPal support in Extended Pass and above plans, starting from $139.65/year.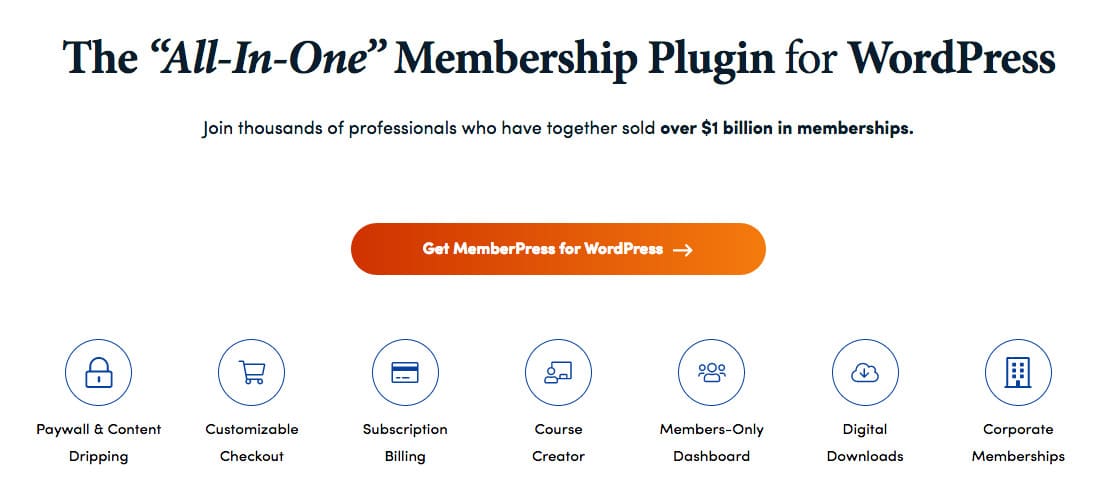 MemberPress is one of the most popular membership plugins for WordPress. It's widely used by WordPress sites selling membership-based content such as academic courses. You can set up different membership levels and restrict parts of your content so that only members with the right level have access.
MemberPress offers easy built-in integration for PayPal, requiring just your API username and password to enable full PayPal payments. We found the setup process incredibly straightforward.
Even if you've never set up PayPal on a WordPress site before, you should have no issues configuring it with MemberPress
If you're building a membership website, MemberPress is the best way to add PayPal payments to your site and easily collect payments.
Pricing: All MemberPress plans support PayPal integration with a starting cost of $179/year.
Alternative: MemberMouse.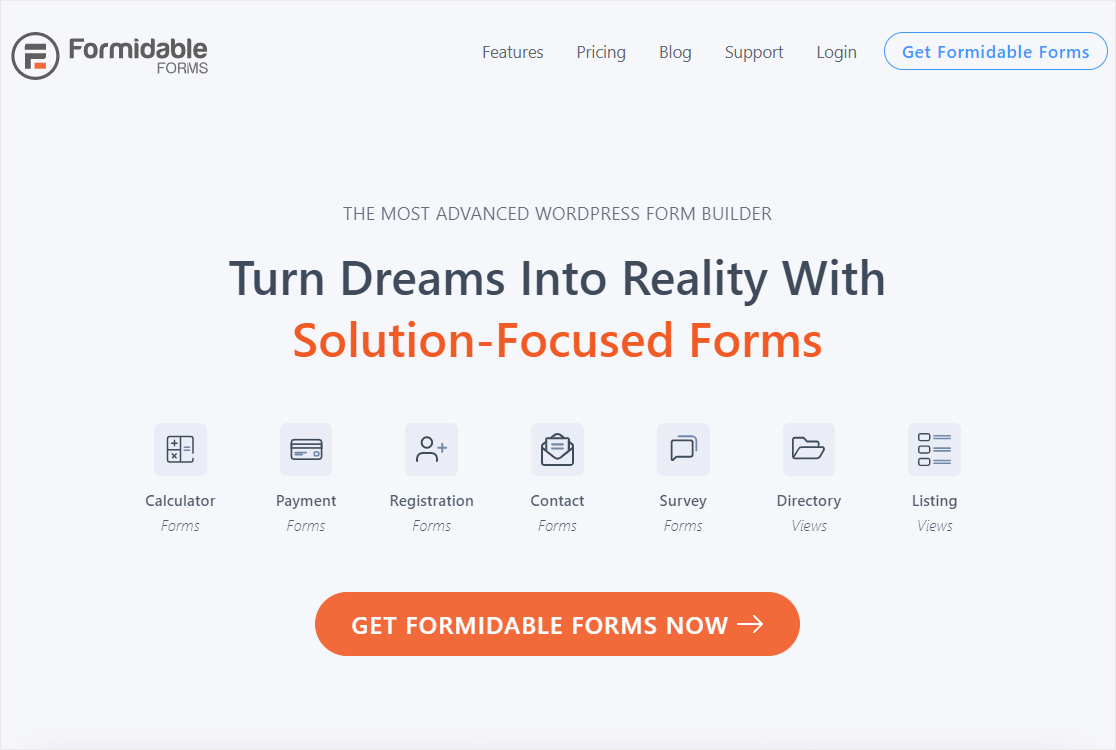 Formidable Forms is a powerful contact form plugin that offers top-notch features for building advanced forms. It includes a drag and drop interface similar to WPForms, but lets you add more complex functions to your forms, such as calculator fields.
Formidable Forms allows you to connect with PayPal using an addon. With PayPal connected to your forms, you can easily accept payments for orders, donations, and other purposes.
Formidable Forms has very useful form templates that are geared towards more technical industries. For instance, mortgage, car payment, and paycheck calculation forms are some of its most popular templates.
If you're a business that requires complex forms with the ability to accept PayPal payments, Formidable Forms is an excellent choice.
Pricing: Formidable Forms offers PayPal addon with the Business plan, starting at $199.5/year.
WooCommerce is the most popular eCommerce plugin for WordPress. It offers a PayPal integration so you can sell products from your eCommerce store and take payments via PayPal checkout.
WooCommerce is a great tool for all kinds of eCommerce stores. It works well for both physical and digital products (though it's often simpler to use Easy Digital Downloads if you only sell digital goods). You can also enable payment processors other than PayPal with WooCommerce.
Pricing: WooCommerce is free, but some features are only available as paid extensions.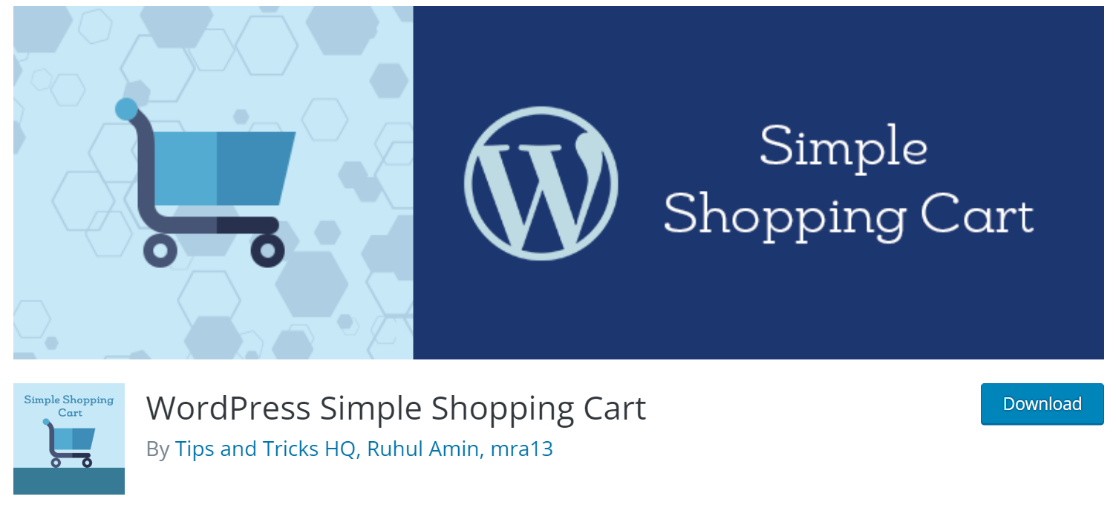 As the name implies, Simple Shopping Cart offers one of the simplest ways you can include an "add to cart" feature on your website.
Simple Shopping Cart works wonders as a PayPal WordPress plugin for sites that don't have a large inventory of products and only want to sell a few specific items.  With it, you can easily create a PayPal button and add it to any page on your site using a shortcode.
The PayPal buttons directly take visitors to the PayPal checkout page, where they can provide their details and complete the transaction.
Pricing: WordPress Simple Shopping Cart is a free plugin.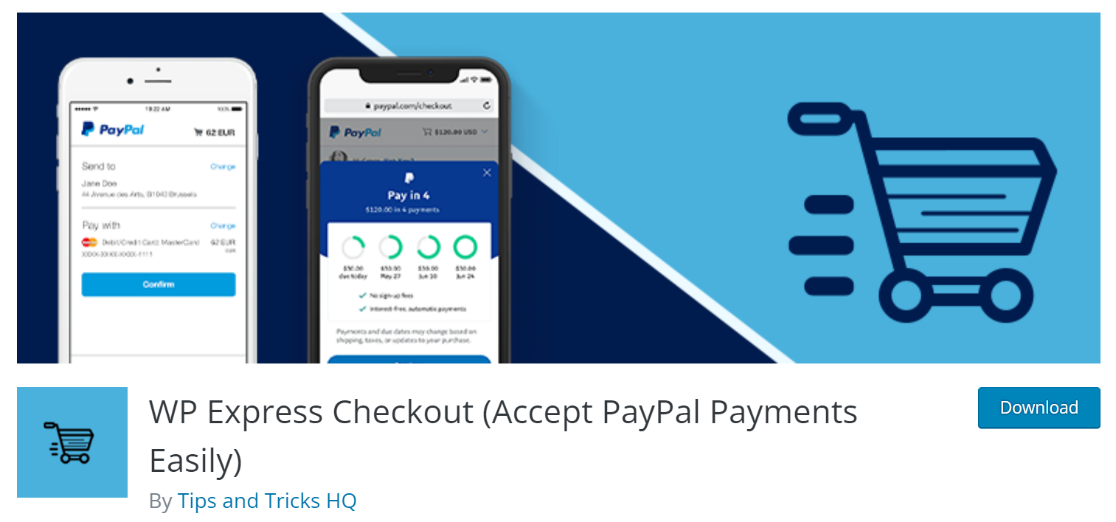 WP Express Checkout stands out because it lets you create a custom PayPal button for your site and also allows your customers to complete the checkout process in a popup window.
This means that customers never have to leave your website to make complete a PayPal transaction. Moreover, it allows users to choose either credit or PayPal as their payment method.
These features are also found in WPForms' PayPal Commerce addon, with the difference that WPForms is a full-fledged form builder that offers flexible ways to accept payments. In contrast, WP Express Checkout only adds a simple checkout option to your site.
Pricing: Free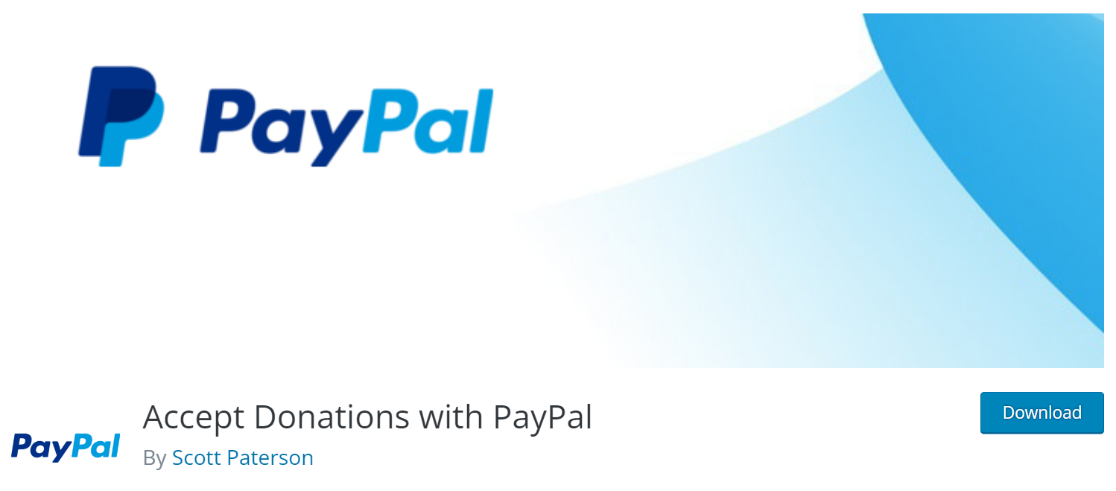 Accept Donations With PayPal allows you to add a PayPal donation button to your WordPress site. It's a dedicated PayPal plugin that's very useful if you're collecting donations online.
You can use shortcodes to choose from different donate button styles and add these to any page, widget, or sidebar of your website. Plus, this plugin allows you to track the entire history of donations on your website, which is one very convenient feature.
Pressing the donate button redirects visitors to the PayPal page, where they can donate via PayPal or credit card per their preference.
 Pricing: PayPal Donation Pro starts at $39.99

Quick PayPal Payments (QPP) is a great option for WordPress sites that want to quickly add a PayPal payment form on their site.
It's not a full-fledged plugin like WPForms that lets you create a huge variety of different forms with flexible payment methods, but it gets the job done for websites with simpler requirements.
You can customize your payment form quite extensively with QPP. For instance, it's possible to add images and custom fields and edit the text for each part of the payment form. Unfortunately, you can't add more than one payment form with this plugin, which is a major limitation.
Pricing: QPP starts at $14.99/year.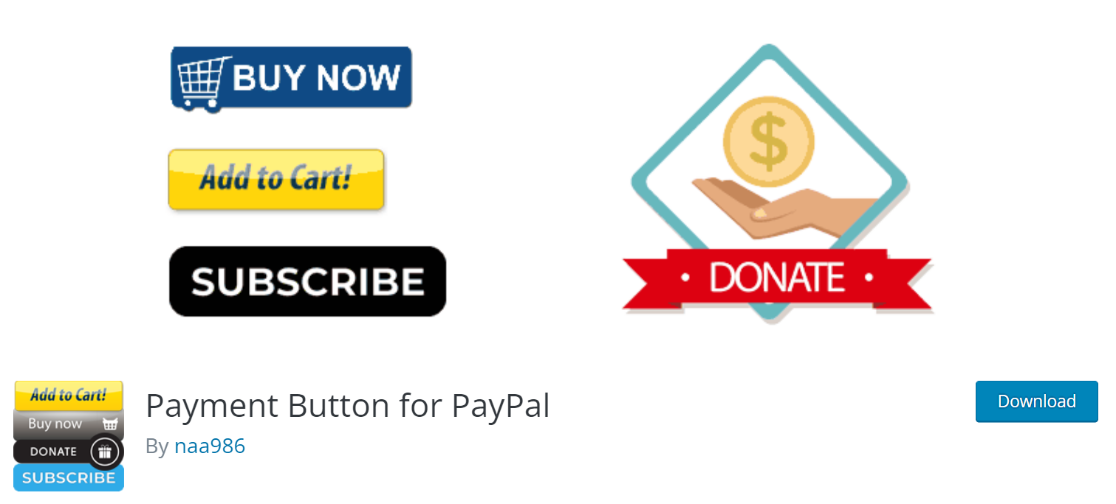 Payment Button for PayPal is a lightweight plugin that allows you to create common kinds of PayPal checkout buttons for different purposes. For instance, you can generate cart, donate, buy now, and subscription buttons that lead visitors to the PayPal checkout page.
Although it's a simple plugin, it offers an impressive number of options. It can be easily switched to the testing mode, so you can make sure your site is properly configured to process PayPal transactions. What's more, it even supports both one-off and recurring payments.
Pricing: Free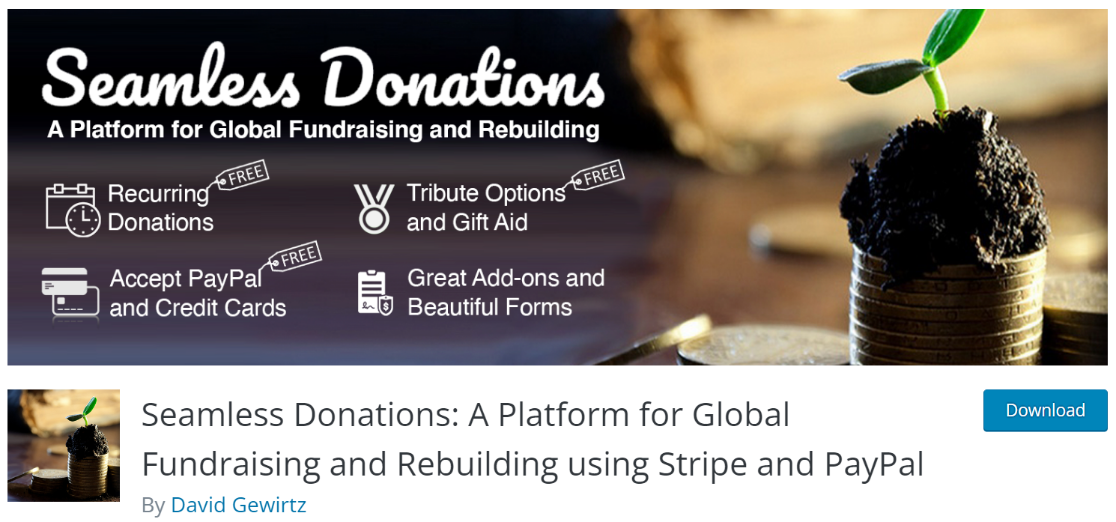 Seamless Donations lets you create customized donation forms and collect donations using PayPal and Stripe.
It's a fairly basic plugin because you can only create forms for donations and fundraising with it. But building appealing donation forms is very easy with this plugin. You can even allow your customers the option to make a one-time or recurring donation with PayPal.
Seamless Donations keeps a record of the donations you've collected as well as your contributors in your dashboard, which is a nice touch.
However, it lacks the flexibility of WPForms, which lets you create any type of form. Plus, embedding your form is a lot faster and more straightforward with WPForms.
FAQs on Best PayPal Plugins for WordPress
Still have more questions about using PayPal on your WordPress site? The questions (and their answers) below may offer additional insights.
How Much Does PayPal Take Per Purchase?
PayPal fees vary depending on the type of payment and currency. For merchants, the processing fee per transaction for PayPal checkout is 3.49% + a fixed fee that depends on the currency. For standard debit cards and credit card payments, the fee is 2.99% + the fixed fee. The fixed fee in dollars is 0.49 USD.
Do I Need a PayPal Business Account for WordPress?
No, it's not necessary to use a PayPal Business for WordPress. You can use your personal PayPal account to accept payments in WordPress. However, some WordPress solutions require you to have a PayPal Business account. For instance, you need a PayPal Business account if you're accepting payments for your WooCommerce store. Similarly, PayPal Commerce also requires a Business account to work, but you can still use PayPal Standard with your personal account.
Next, Control Content Access On Your Site
If you'd like to add access restrictions to your forms or any other part of your content, you can easily do so without any code. See our guide on locking content in WordPress for details.
Also, you might want to check out our top recommendations for Paperform alternatives. And, for optimizing productivity, here's our guide to the top Zapier alternatives.
For more ways to collect payments for your online business, we recommend seeing the following roundups:
Create Your WordPress Form Now
Ready to build your form? Get started today with the easiest WordPress form builder plugin. WPForms Pro includes lots of free templates and offers a 14-day money-back guarantee.
If this article helped you out, please follow us on Facebook and Twitter for more free WordPress tutorials and guides.