Do you want to compare Stripe vs. Square to determine the best payment solution for your business?
Stripe and Square are both trustworthy and reliable payment gateways. In this post, we'll compare and contrast the most important points to help you easily determine which is right for you based on your business needs.
Create Your WordPress Form Now
Are Stripe and Square Similar?
Stripe and Square are similar in that they're both well-regarded payment solutions for businesses of any size. Whether you're just starting out with a small business or your business has grown, both have suitable solutions. Both can accept online payments for eCommerce stores. Both have a point of sale or POS system for in-person purchases.
As you'll see below, their primary differences are in the plans offered, which can sometimes affect the fees, and in the available hardware.
Stripe vs. Square: Choosing Your Perfect Payment Solution
In each section below, we'll compare Stripe and Square to see how they stack up in each category.
Cost
When it comes to cost, the most notable difference between Stripe and Square is the difference in plans.
Stripe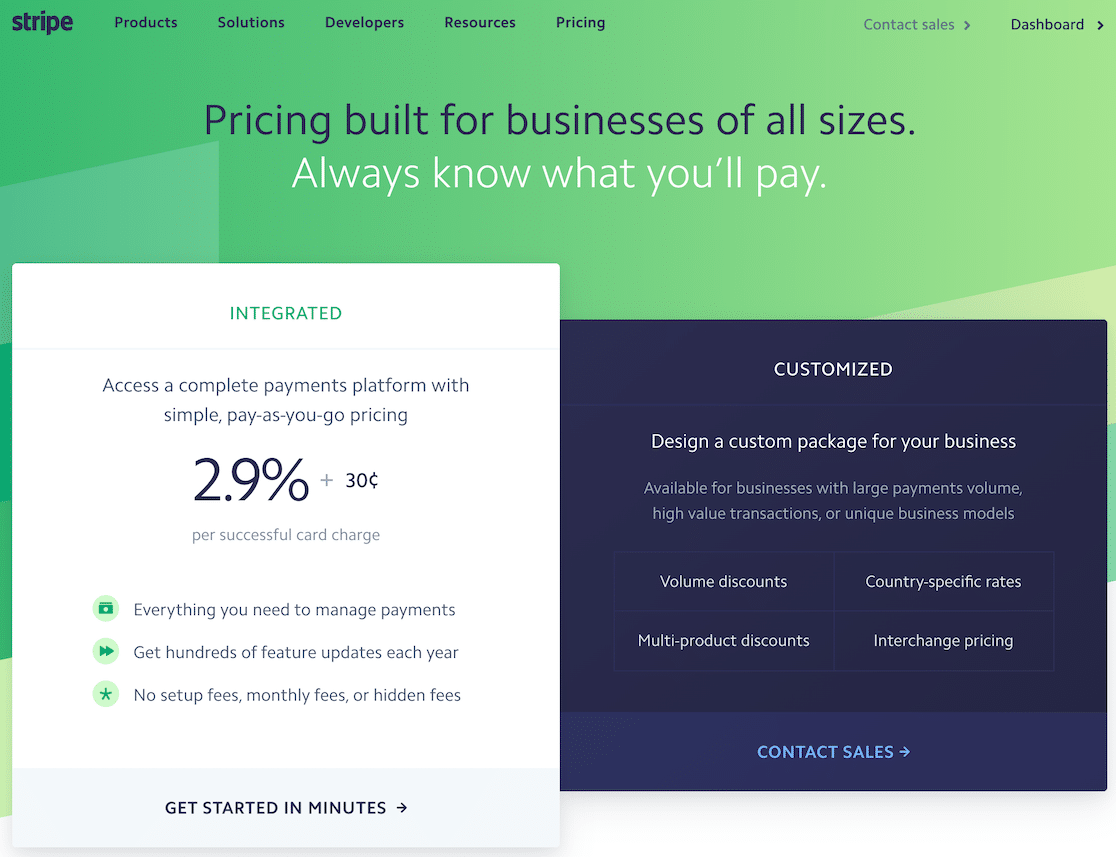 Stripe offers pay-as-you-go pricing, meaning you're not locked into a plan or pricing. You won't need to worry about setup fees, hidden fees, or monthly fees.
The costs you'll incur will mostly come from transaction fees. The standard fee per transaction is 2.9% + 30¢. If you have to enter the credit card number into Stripe manually, however, the fee increases to 3.4% + 30¢.
View a current list of Stripe's pricing and fees.
Square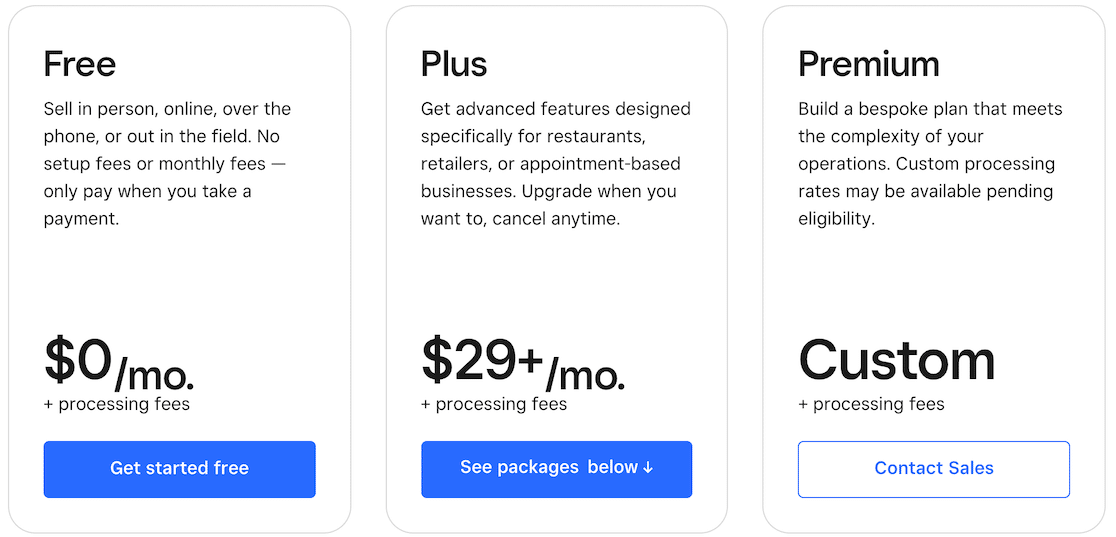 Square's costs depend on your plan. Like Stripe, there's a free plan. For $29 a month, you can sign up for the Plus plan, which offers advanced features for restaurants, retailers, and appointment-based businesses.
Square also has a Premium plan that allows you to create your own custom plan.
In all cases, there will be processing fees. Here are a few examples of what you can expect to pay for those:
In-person Transactions: 2.6% + 10¢
Online Transactions: 2.9% + 30¢
Manual Entry: 3.5% + 15¢
View a current list of Square's pricing and fees.
Fraud Protection
Stripe and Square both use machine learning to help protect against fraud. Both are PCI-compliant, as well.
Stripe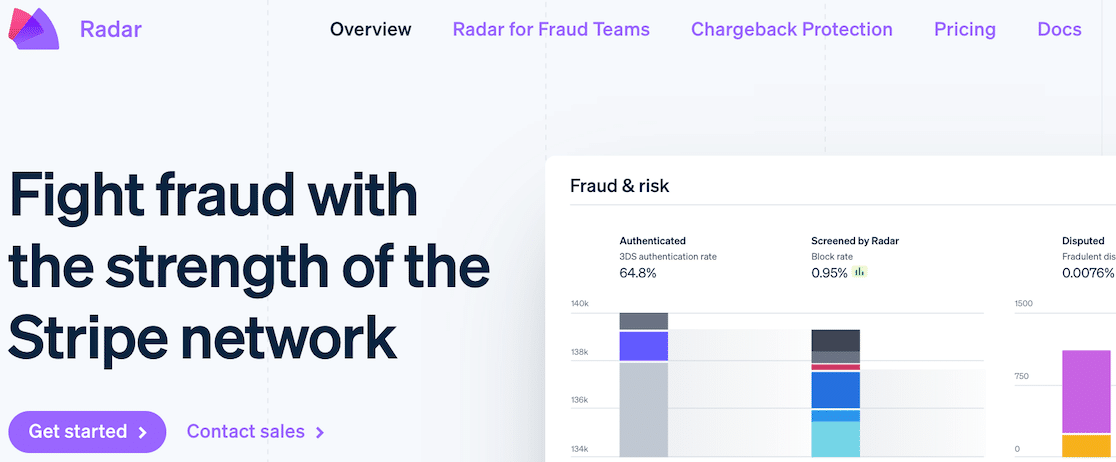 Stripe's fraud protection is known as Radar. It's machine learning that's always adapting. There's a 5¢ fee per screened transaction, but it's waived for accounts with the standard 2.9% + 30¢ fee pricing.
The best part is that you don't need to know any code.
Radar is built into Stripe, so there's no need to download or enable anything. It's all seamless. It uses hundreds of billions of data points to train the AI.
Square
Square also uses machine learning to detect fraud trends. Their team reaches out to merchants if it detects anything unusual. Square will also manage disputes for you.
Chargebacks and Refunds
Chargebacks and refunds happen sometimes, so you want a payment processor that will help you work through the process in the most seamless way possible. Stripe and Square both offer support.
Stripe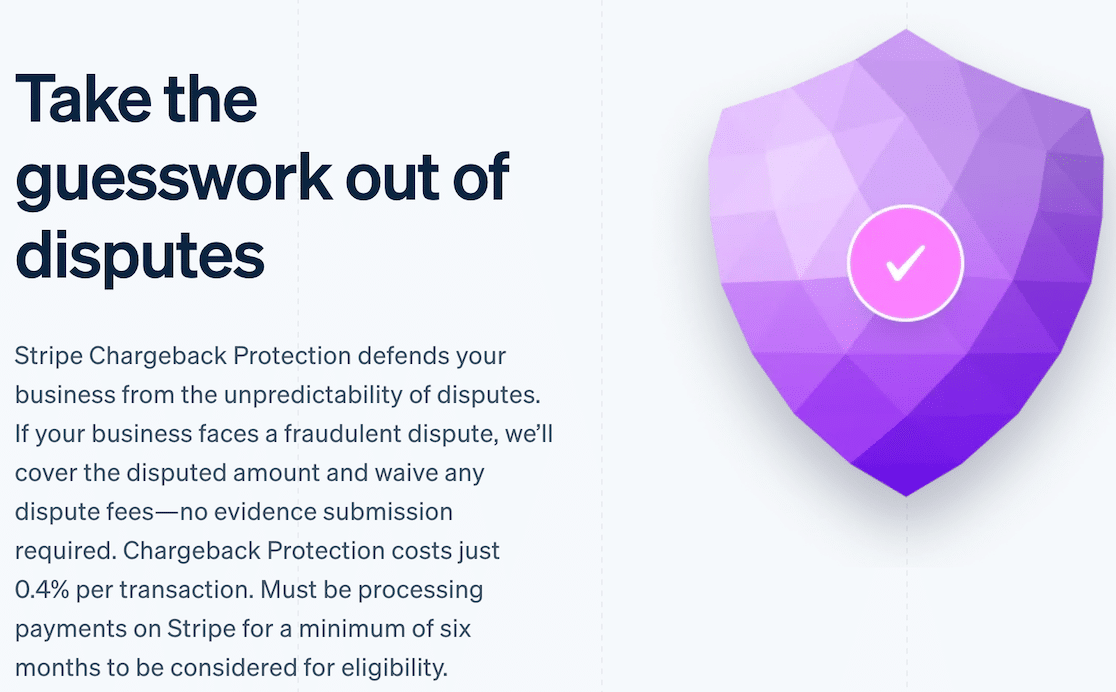 Stripe will help you with chargebacks, but there are a few catches. First, you must be processing payments on Stripe for a minimum of 6 months to be eligible for Stripe Chargeback Protection.
Stripe will also charge a $15 chargeback fee.
Other fees may apply depending on your Stripe plan and fee schedule. While refunds can be issued in part or full, the original payment processing fee isn't returned.
That said, if a fraudulent dispute arises, Stripe will cover the amount and waive any dispute fees.
Square
In contrast to Stripe, Square does not charge a dispute fee when chargebacks occur. Only the normal transaction fees apply.
The process is pretty simple. If a customer disputes a charge, Square will notify you, the merchant. You can determine how you'd like to proceed. You can either accept the dispute charge, or you can challenge it.
A challenge requires you to send documentation. It's important to note that payment processors aren't the ones who make the final determinations in disputes. If a bank or credit card company rules in your favor, the original transaction will stand. If not,  you'll be responsible for paying the processing fee.
Customer Support
Reliable customer support is a must-have. Both Stripe and Square offer comparable levels of support for you.
Stripe

A self-serve resource page on Stripe's site allows you to answer your question or resolve your issue quickly on your own. When you enter a search term, you'll get relevant help articles that can walk you through your issue.
If you can't find what you're looking for there, you can contact support by phone, email, or chat. This support is available to all Stripe customers 24/7.
Additionally, Stripe offers Growth, Premium, and Enterprise support plans. When you purchase one of these plans, you get additional guidance. Depending on your plan, this could include prioritized ticket routing, critical issue escalation, and real-time incident monitoring.
Square

Like Stripe, Square allows you to access a repository of documents and content that will help answer your questions. If that doesn't work, you also have other options.
There's a seller community that you can join to ask questions and learn from others.
You can also reach out to the support team via phone or live chat, Monday through Friday, 6 a.m. to 6 p.m. PST.
Availability
When it comes to availability, Stripe is available in more countries than Square. Let's take a look.
Stripe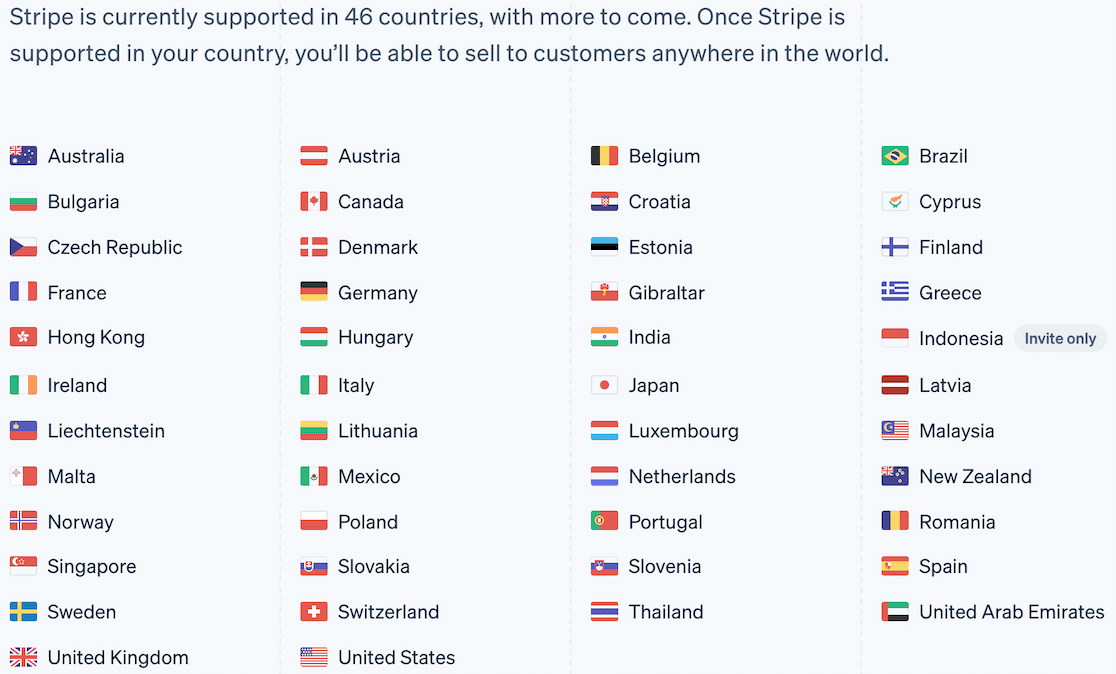 As of this writing, Stripe is available in 46 countries worldwide. That's great news for business owners.
Note that it must be available in your country before you can use it. Once it's available in your country, you can sell internationally to any other country worldwide, regardless of whether Stripe is available there.
Square
Square's availability is much more limited, with only 8 countries on its list.
Canada
Australia
Japan
UK
Republic of Ireland
France
Spain
US
It's worth noting that Square availability in the US does not extend to US territories such as Puerto Rico, Guam, the US Virgin Islands, American Samoa, and the Northern Mariana Islands.
Square also doesn't let you make or accept card transactions outside the country where you activated your account. This means that if you set up your account in France and try to accept a transaction from another country, Square won't process it.
Payouts
For both processors, payouts vary by country.
Stripe
Stripe's payout speed is generally 2-3 days but can be up to 7 in some countries.
The payout schedule is daily by default, but you can change it to weekly, monthly, or manual schedules. A daily payout just means that you will receive funds every day, but they'll be based on your payout speed. For example, the funds you receive today might be the funds you earned 2 or 3 days ago.
These payouts are free. If you require instant payouts for same-day funds, there is a 1% fee.
Square
Standard transfers are 1-2 business days after a transaction. When you sign up for Square, you're enrolled in the standard transfer schedule by default, but you can change to a custom schedule if you like. You can also opt to have funds transferred to a Square card.
If you need to access your money faster, you have a few options.
First, there's the instant transaction using a debit card from your linked bank account. This is available 24/7, but there is a 1.75% fee per transfer.
Then there are same-day transfers, in which qualifying funds are available at the close of the business day. These also come with a 1.75% fee per transfer.
Finally, if the standard payout schedule doesn't work for you, there's always the option of creating a manual schedule, as well.
Data Portability & Migration
What happens if you want to move to another payment processor or even just between accounts?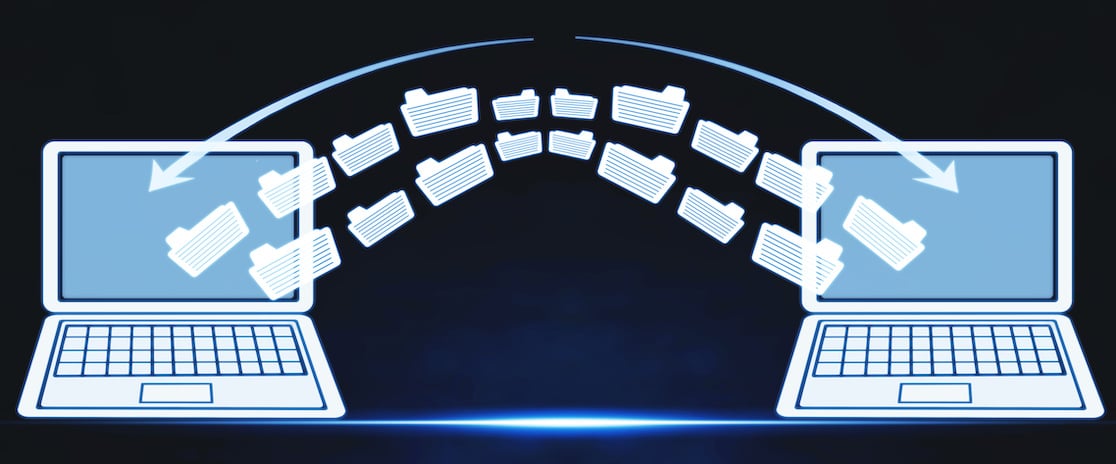 Stripe
Stripe will help you to securely move to a new payment processor or between Stripe accounts. If the idea of migration stresses you out, fear not. Stripe securely handles the whole process for you.
Square
Square helps you migrate your credit card data in a secure, PCI-compliant way. You can initiate other data transfers through your Square dashboard or access them with your new payment processor via Square APIs.
Online Invoicing
Need to access online invoicing? If this is integral to your business, check out how Stripe and Square compare.
Stripe
Stripe offers online invoicing with no fixed fees or setup costs involved. The only cost you'll incur is your Stripe payment pricing. On the Stripe Starter plan, you'll pay 0.4% per invoice. On Stripe Plus, it's 0.5%.
There are more features with the Plus plan, including automatic collections, auto-reconciliation, and quotes.
Square
Square offers online invoicing as part of its free plan. You can also upgrade to the Plus plan, which is geared more toward growing businesses with more complex needs, for $20 a month.
Square's invoicing fees are 3.3% + 30¢ for cards. If you use ACH payments for bank transfers, it's 1% with a minimum of $1 per transaction.
Hardware & Card Readers
Whether it's a full POS with a register and cash drawer or a simple card reader, having the right hardware is important to your business.
Stripe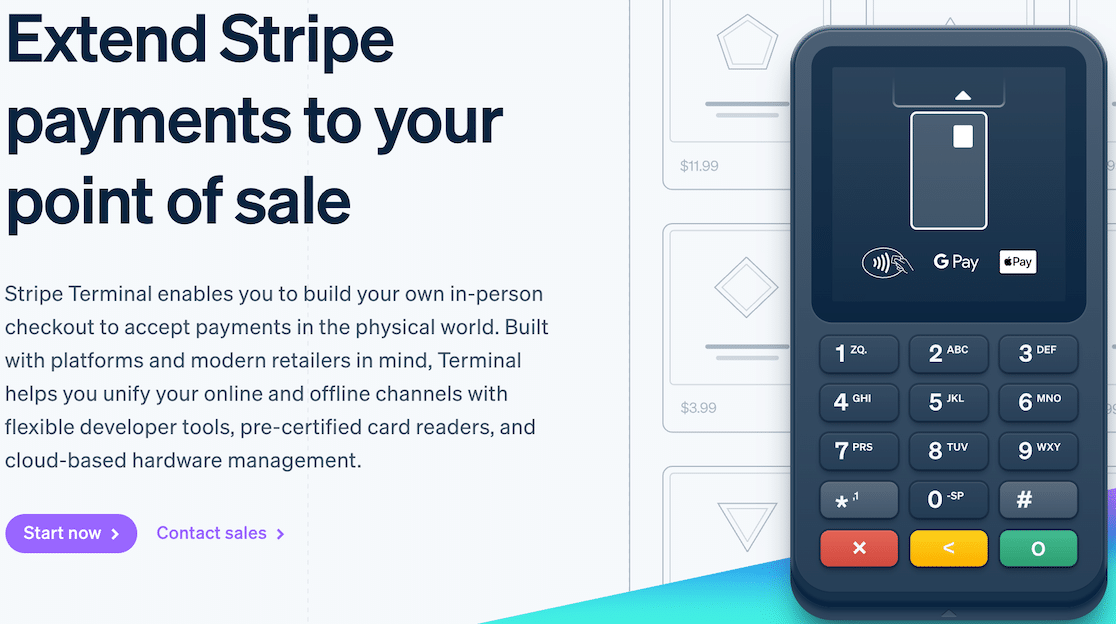 Stripe Terminal devices are  credit card readers with end-to-end encryption, designed to be used for tap or swipe payments. They range in price from $59 for a simple Stripe reader to $349 for a more complete POS system that can also be used as a handheld device.
To reduce costs, you can use your Apple or Android phone to accept contactless payments via the Stripe app.
In addition to standard fees, there is a 10¢ fee per authorization, as well as a 5¢ fee per transaction for point-to-point encryption.
Square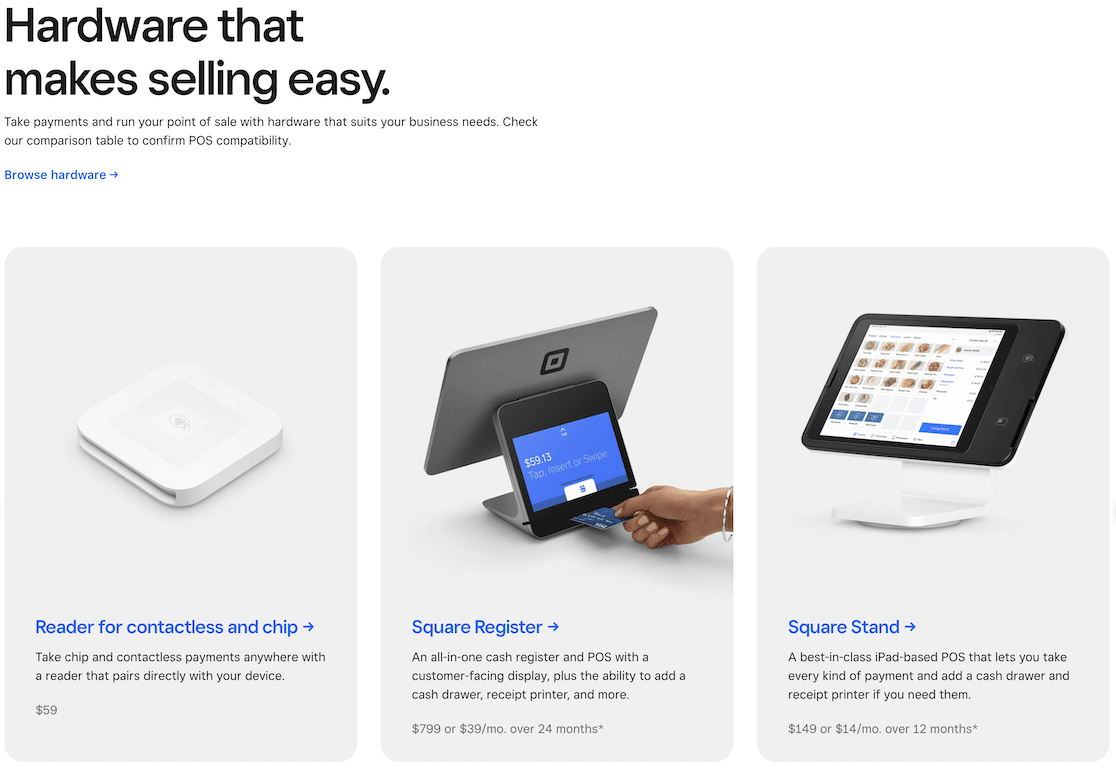 Whether you need a simple card reader or a register, Square has a hardware solution. In fact, you've likely seen or used a Square POS system recently.
With products that include the tried-and-true Square reader for magstripe swipes to mobile payments to a fully integrated point-of-sale system, Square offers a greater range of hardware than Stripe. The best one for you will depend on your business, as Square offers solutions specifically for restaurants, retail, and appointment-based businesses.
As costs go, there's a free plan for getting started. It gives you access to the basics, such as the Square app for POS. Processing rates apply at 2.9% + 10¢ for in-person payments and 2.9% + 30¢ online.
Growing businesses can upgrade to a Plus account for $60 a month. The Plus account gives you access to more advanced inventory tools and reports. It also gives you a discounted in-person transaction fee at 2.5% + 10¢. Online transactions remain at 2.9% + 30¢.
If you need to scale beyond that, Square will work with you to create a custom plan.
A basic Square Reader for contactless payments costs $59 as of this writing. A Square Terminal is $299, and if you choose the fully integrated Square register, that will cost you $799. Square also has accessories you can connect, such as printers, cash drawers, scanners, iPad stands, and more.
Integration With WPForms
The great news for WPForms users is that you can use either of these payment processors to collect payments or donations online through your WordPress forms!
Stripe

Stripe payments are available to all WPForms users, including those using WPForms Lite.
That means all WPForms users have access to some powerful features when it comes to accepting payments. Great news for small business owners!
When you connect to Stripe using WPForms, your customers can also pay via Apple Pay or Google Pay. They will only see these payment methods if they are logged in to their accounts on a device that supports Google Pay or Apple Pay.
When that mode of payment is available, users will see the option, like in the below example with Google Pay.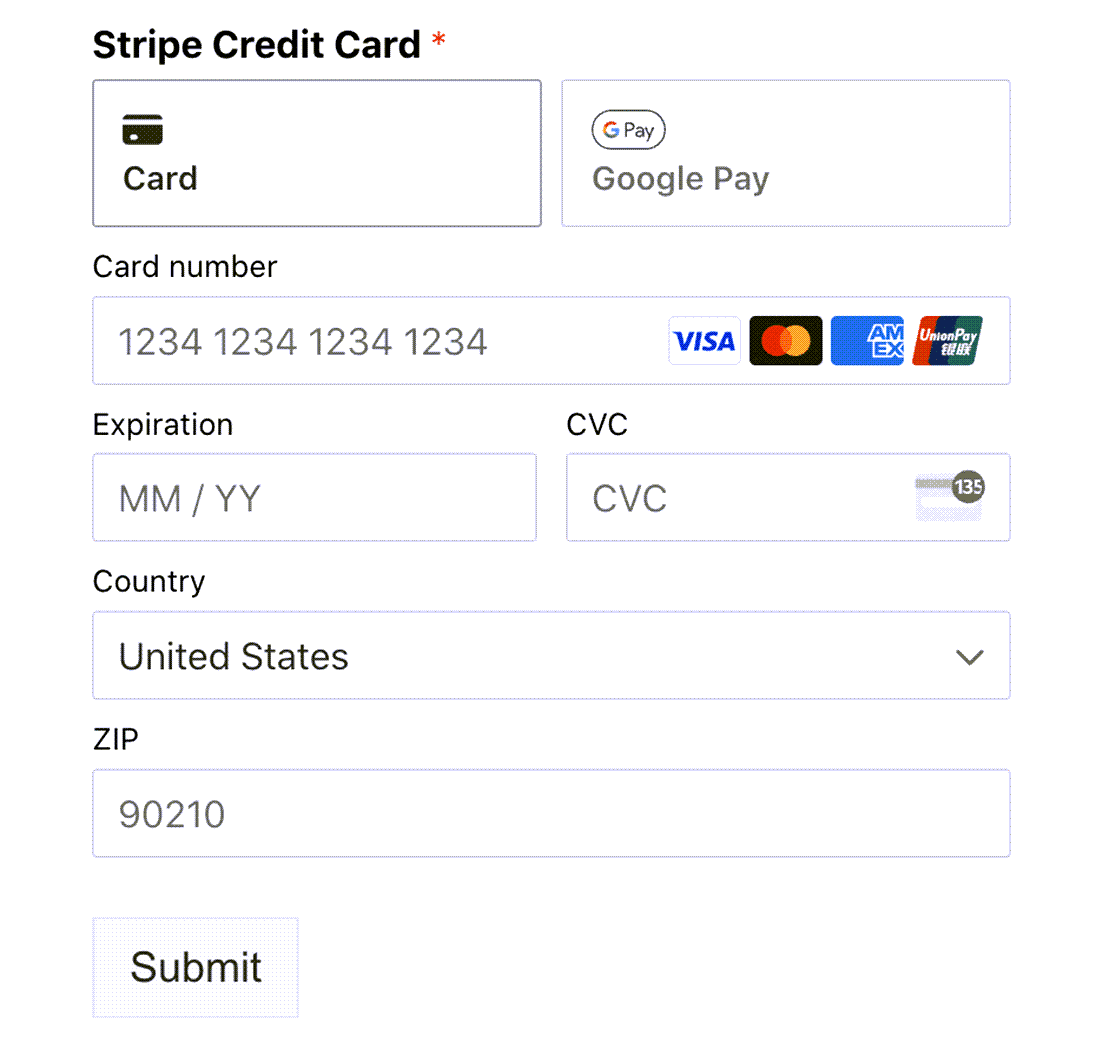 Another useful feature with Stripe is the ability for buyers to check out faster using Link.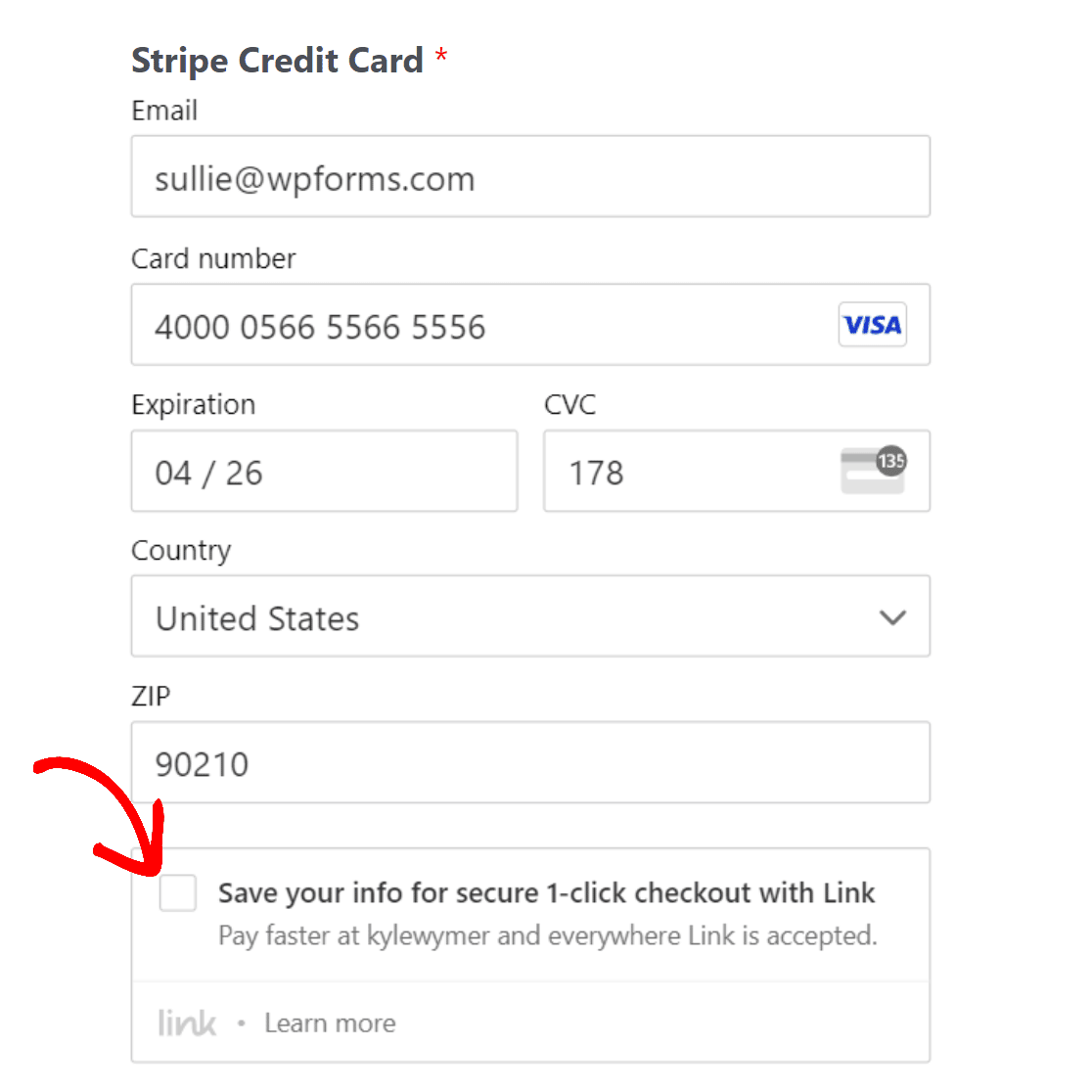 After the initial setup, users will only need their email addresses to make payments. Link will store their payment information for secure 1-click checkout.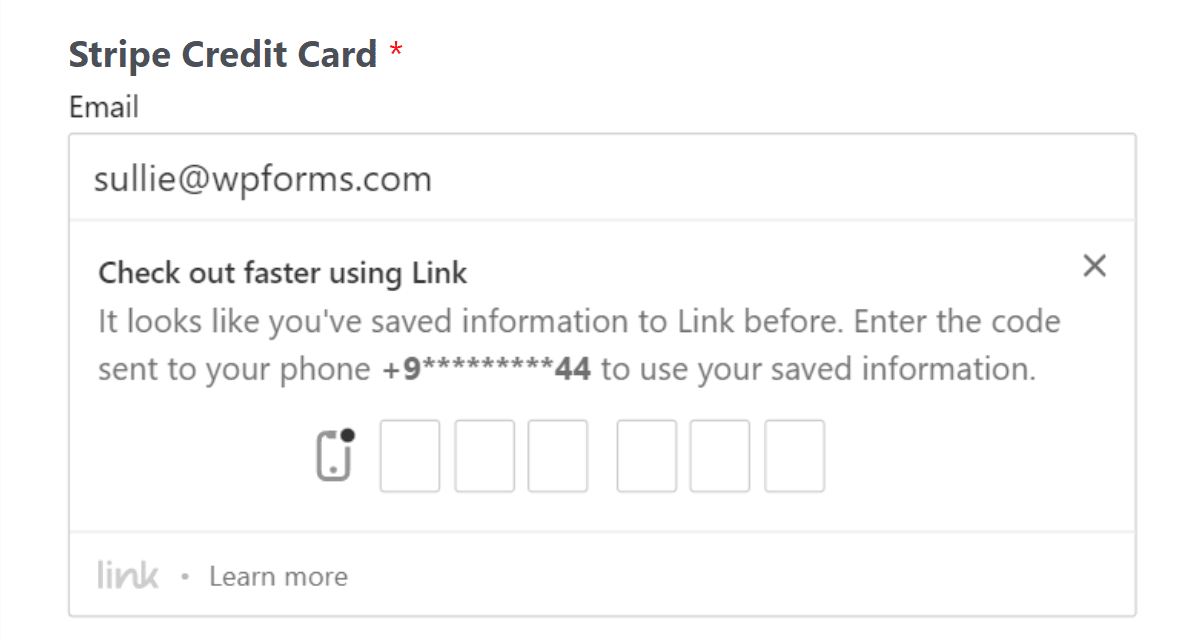 There is a 3% fee in addition to the normal Stripe fees per transaction.
Need to cut costs? If you upgrade to WPForms Pro, the 3% fee is waived and only normal Stripe transaction fees apply. As an added perk, you'll also be able to use conditional logic for Stripe payments when you install the Stripe Pro addon, which comes with your WPForms Pro account.
By upgrading, you'll save money in the long run and get access to tons of other great features and added functionality that Pro users enjoy.
Square

You can easily integrate your Square account with WPForms using the Square addon. When you install the addon and connect your Square account to WPForms, you can quickly and easily collect Square payments, donations, and more.
Note that you will need a WPForms Pro account to use the Square addon.
Which Is Best For You?
Stripe and Square are both wonderful payment platforms that will help you take your payment processing to the next level, whether you're an online store or brick-and-mortar business. As you've seen here, both have powerful features and ways for you to grow. Both have virtual terminals and hardware. The best one for you really depends on your business, but either lets you take
Next, Find Out Where Your Data Goes
Ever wonder where your WPForms data goes? Wonder no more! Check out this beginner's guide to what happens after a user fills out a form.
And if you're looking for a backup plugin to help protect your WordPress website, we've got you covered. Check out the 10 best WordPress backup plugins for a mix of paid and free solutions to keep your site safe and sound.
We've also got a Stripe vs. PayPal comparison if you want to compare the two platforms.
Create Your WordPress Form Now
Ready to build your form? Get started today with the easiest WordPress form builder plugin. WPForms Pro includes lots of free templates and offers a 14-day money-back guarantee.
If this article helped you out, please follow us on Facebook and Twitter for more free WordPress tutorials and guides.