Looking for a sure-shot way to shield your WordPress website from unanticipated disasters? Backup plugins are the answer to this crucial need.
A WordPress backup solution is your website's insurance against hacking, server crashes, human errors, and more. Having a backup that you can access with a single click means having a fully restored website in just a few minutes.
In this guide, we'll dive into the world of backup plugins for WordPress. By the end, you should have a clear understanding of the plugin that will most adequately fit your website's specific needs.
10 Best Backup Plugins for WordPress
The first line of defense for your website's security and stability begins with a good backup plugin. To assist you, we've curated a list of the 10 best WordPress backup plugins worth exploring: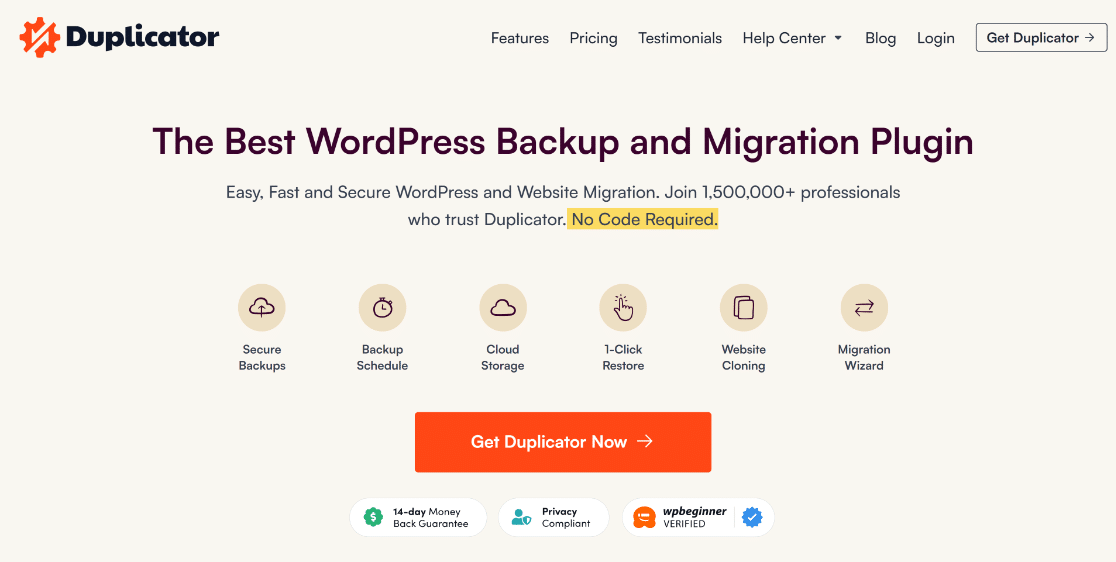 WordPress.org Rating: 4.9/5
Active Installs: 1+ Million
Duplicator is the best solution for backing up, migrating, and cloning your WordPress sites to ensure the safety of your online presence.
The plugin excels at bundling, staging, and cloning WordPress sites, making it a life-saver for WordPress administrators and freelancers.
Our Experience
We found Duplicator to be incredibly efficient and user-friendly when migrating and backing up our WordPress sites.
The step-by-step wizard makes it easy for less experienced WordPress users to manage complex tasks without any hindrances.
Compared to other plugins, we also found Duplicator to be incredibly fast, with migrations and backups completed in record time.
The plugin also flawlessly handles the transfer of large sites efficiently, maintaining its reliability to make it our top pick among backup plugins.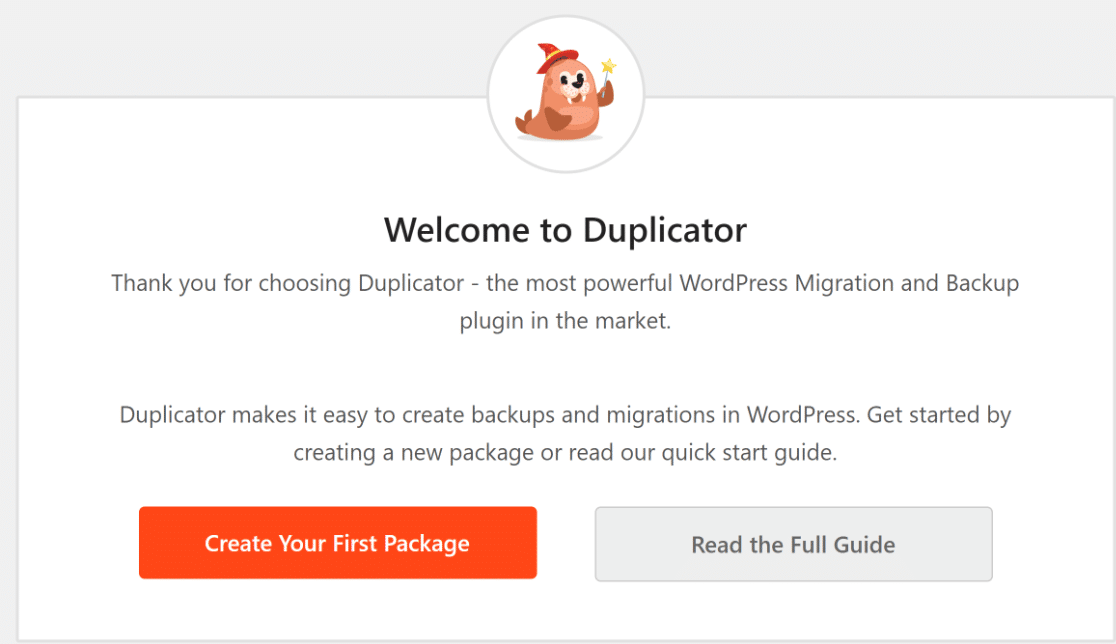 What We Liked
One of the things that stands out the most about Duplicator is its simplicity; it doesn't overcomplicate the process of migrating and backing up a site.
The plugin's wide array of features is a major plus as well, which includes its capacity to create recovery points on Amazon S3, Microsoft OneDrive, Google Drive, and more for 1-click backup file restorations.
It also allows for both full site and partial backup archives, enabling users to choose exactly what they wish to secure.
Also, it's not limited to just backup and migration; it's a powerful tool for developers who want to pull live sites to local hosts for testing and validation.
Pricing and Plans
Duplicator offers a free version with basic features, suitable for small-scale needs. For advanced functionalities and premium support, they offer Pro versions starting at $69/year.
The Pro versions are highly affordable considering the features offered, such as scheduled backups, cloud storage to popular services like Dropbox, Google Drive, and Amazon S3, email notifications, and professional support.
Verdict
After extensive testing and analysis, Duplicator emerges as the top choice for WordPress backup solutions.
Its blend of functionality, ease of use, and affordability make it the best plugin for WordPress backups among its competitors.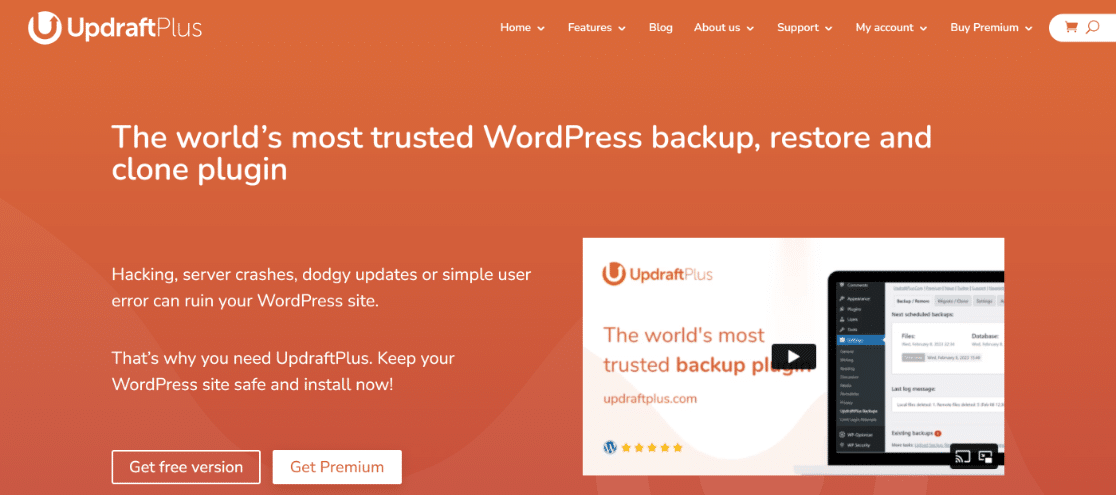 WordPress.org Rating: 4.8/5
Active Installs: 3+ Million
UpdraftPlus is another popular backup plugin known for its reliability, ease of use, and comprehensive set of features.
The plugin allows users to back up and restore data in a few clicks and use multiple storage options like Google Drive, Dropbox, Rackspace Cloud, and more.
Our Experience
Our interaction with Updraft was overwhelmingly positive. It was incredibly easy to install, configure, and set up for backups.
It even has an incremental backup feature, which saves storage space by only backing up changes since the last full backup.
You can also use backup scheduling to periodically back up your site. Depending on how big your site is, you can choose to have daily backups, weekly, or even monthly for your blog or WooCommerce site.
We were also impressed by the "restore" feature that allowed us to recover only specific elements of our site rather than everything.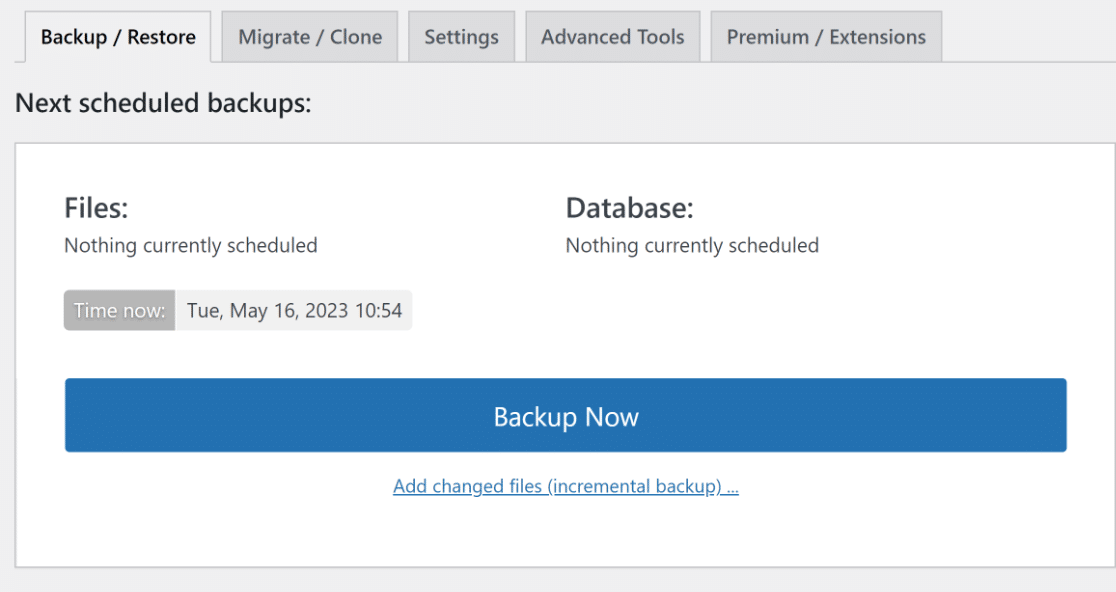 What We Liked
The simplicity and user-friendliness were the standout features for us. From installation to backup management, everything was smooth sailing.
The plugin's performance was also quite impressive. Backing up and restoring sites was instantaneous and error-free for the most part. You can back up your files on command and download website backups directly from your WordPress dashboard.
Site managers and web developers will find great value in the plugin and its direct site cloning and migration features as well.
Pricing and Plans
It offers both a free and paid version that starts at $70 per year for those needing premium features and options like unlimited backups.
Verdict
Second to Duplicator, based on its feature set and our experience, UpdraftPlus makes an excellent choice for your WordPress backup needs.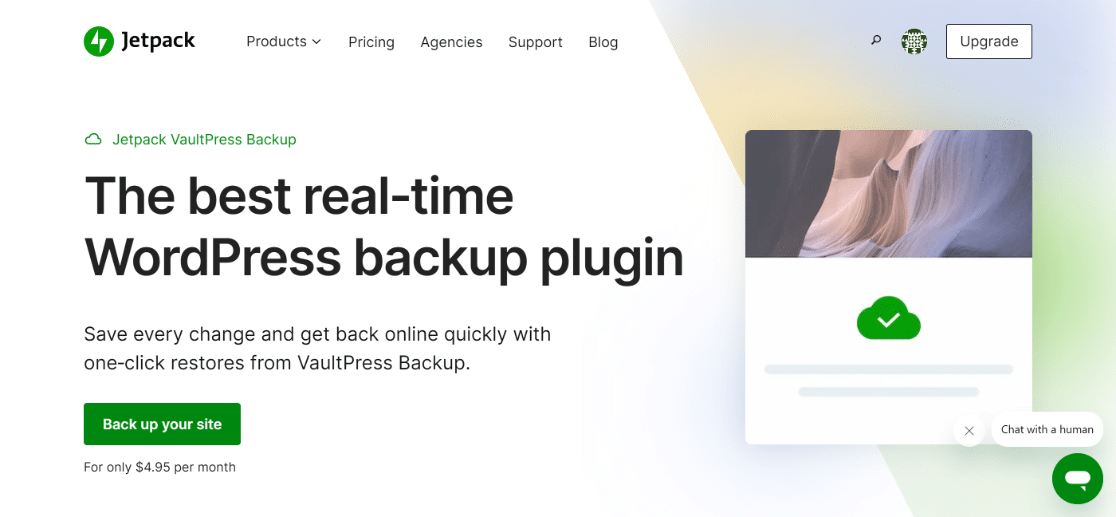 WordPress.org Rating: 4.5/5
Active Installs: 3,000+
Now part of Jetpack, the VaultPress plugin is a real-time security scanning and backup service, designed by Automattic (the company that runs WordPress.com).
With VaultPress, you get real-time syncing for all your dashboard settings, revisions, media files, comments, and posts, simplifying the backup process.
Our Experience
Our journey with VaultPress was quite straightforward and simple. The setup was easy, and the plugin created backups in no time.
It's truly an all-rounder in website maintenance, as you have options to enable automatic backups, scheduled backups, and real-time syncing.
Moreover, the ability to restore the website at previous recovery points was also incredibly useful, as it made dealing with unforeseen issues a breeze.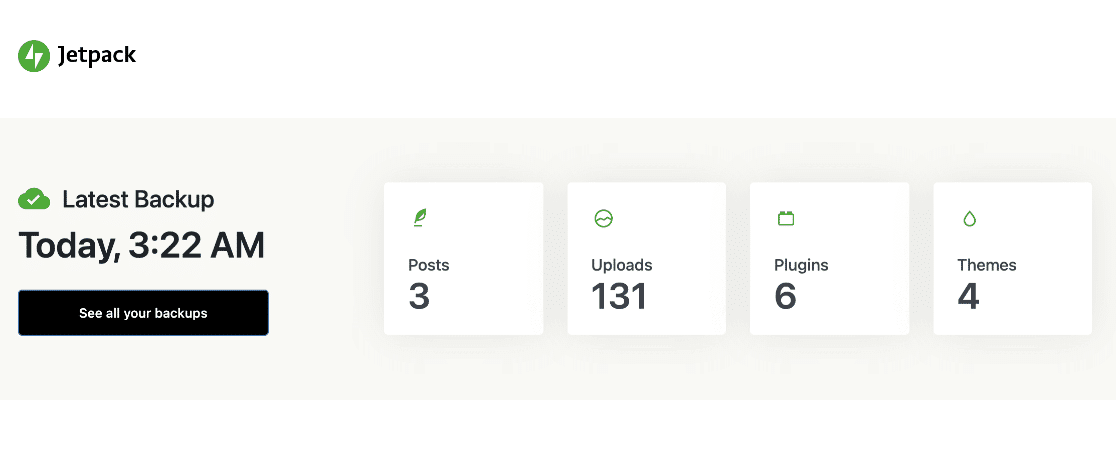 What We Liked
VaultPress shines brightly due to its efficiency and simplicity. Its automated security scans and real-time backups help ensure your website's safety.
Their stellar customer support is another aspect that stands out, turning potentially stressful situations into manageable ones.
In addition, VaultPress can be a real lifesaver in case of mishaps, thanks to its ability to archive your content and revert to previous versions.
Pricing and Plans
There are two different pricing plans based on your needs. The VaultPress Backup plan costs $4.95 per month (billed yearly).
Meanwhile, the more advanced Security plan costs $9.95 per month for the first year (also billed yearly).
Verdict
VaultPress stands as an efficient and reliable backup solution, thanks to its blend of excellent support, robust features, and ease of use.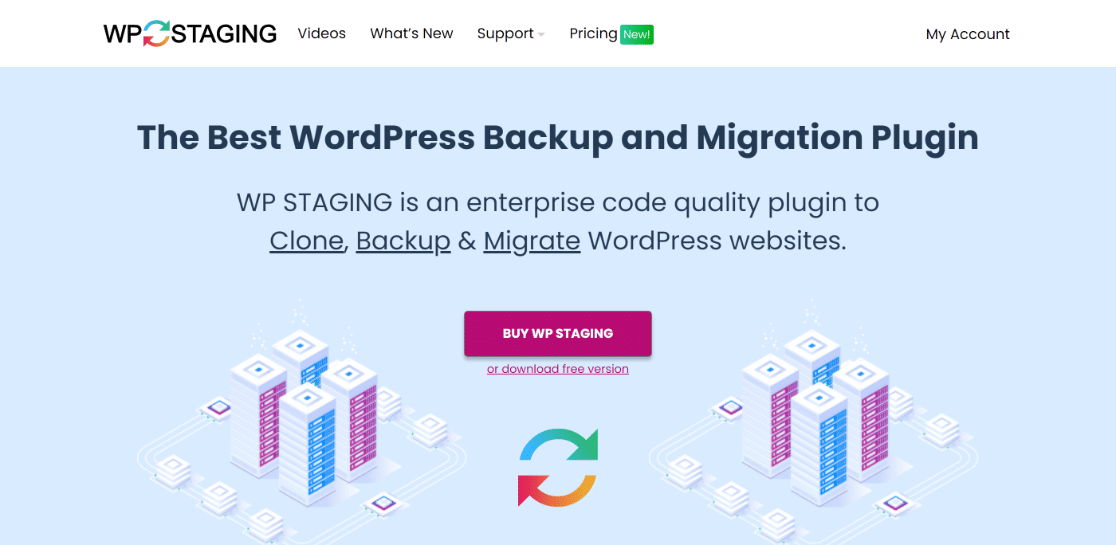 WordPress.org Rating: 5/5
Active Installs: 70,000+
Designed to create staging sites for updates, testing, and developments, WP Staging doubles as a reliable migration, cloning, and backup plugin!
It stands out for its one-click cloning feature, which creates a complete backup copy of your WordPress website in a matter of minutes.
Our Experience
We found the WP Staging plugin as being impressively reliable and efficient. The interface is intuitive and the process well-guided!
The best part of all: the plugin's performance remained consistent even when backing up large websites, showing no noticeable slowdowns.
We also appreciated WP Staging's ability to choose specific parts of sites to clone, which allows for flexibility in our testing process.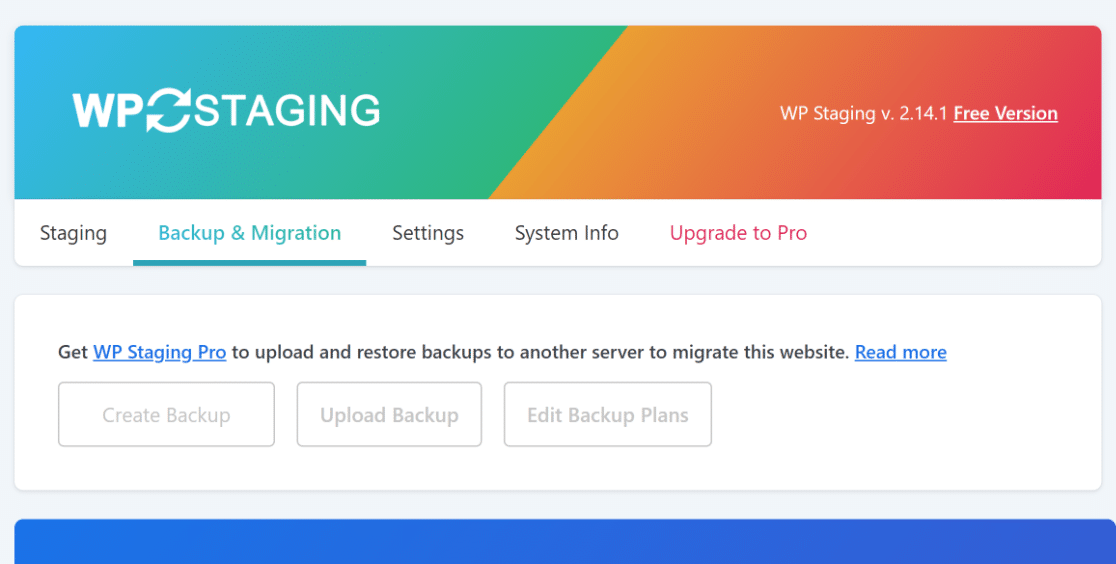 What We Liked
The effectiveness and simplicity of WP Staging is its most appealing aspect. You can create scheduled or manual backups in the blink of an eye.
We were also impressed by the plugin's ability to convert a multisite network into a single site, showing its great flexibility in terms of functionality.
The support team is also quite responsive and actively helps in solving nearly every issue we encountered, hence its popularity.
Pricing and Plans
WP Staging offers a free plan with basic functionality and paid plans for more advanced features, starting at a reasonable € 89/year, billed yearly!
Verdict
Our comprehensive testing of WP Staging shows that it is a reasonably efficient and dependable plugin for low-maintenance websites.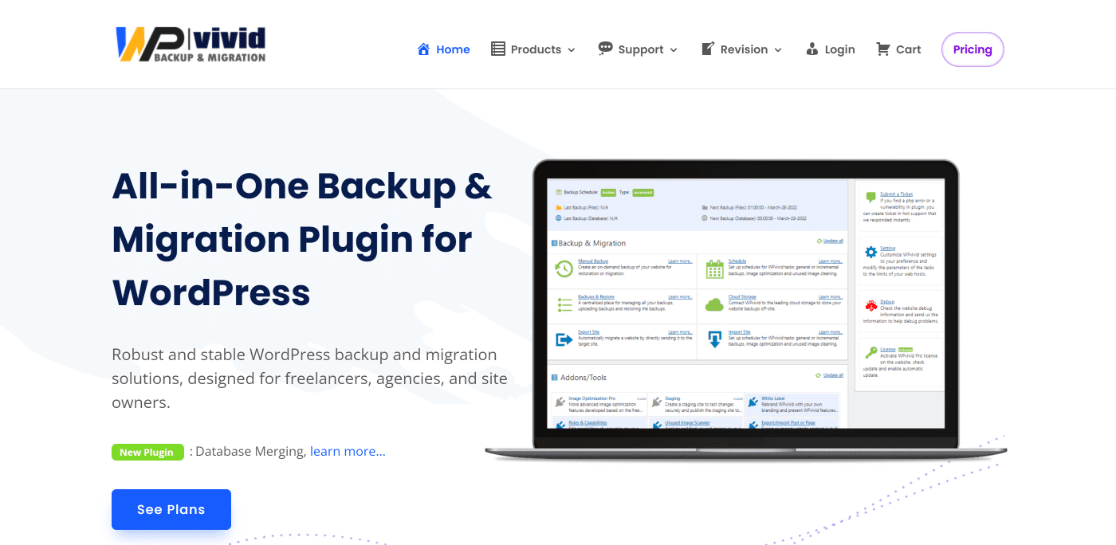 WordPress.org Rating: 4.9/5
Active Installs: 300,000+
WPvivid is another comprehensive backup and migration plugin that is designed to safeguard your WordPress website.
With WPvivid, you can easily automate backups and store them in a remote storage location for later restoring your website in a few clicks.
Our Experience
We found WPvivid to be highly user-friendly even for those who are not very technically savvy. Scheduling backups is a breeze due to its intuitive interface.
In our use of the plugin, we also found it very impressive in cloning and migrating websites, moving entire sites without major hiccups.
Backups were completed quickly, and the process never impacted the website's performance, giving the plugin a significant edge over others.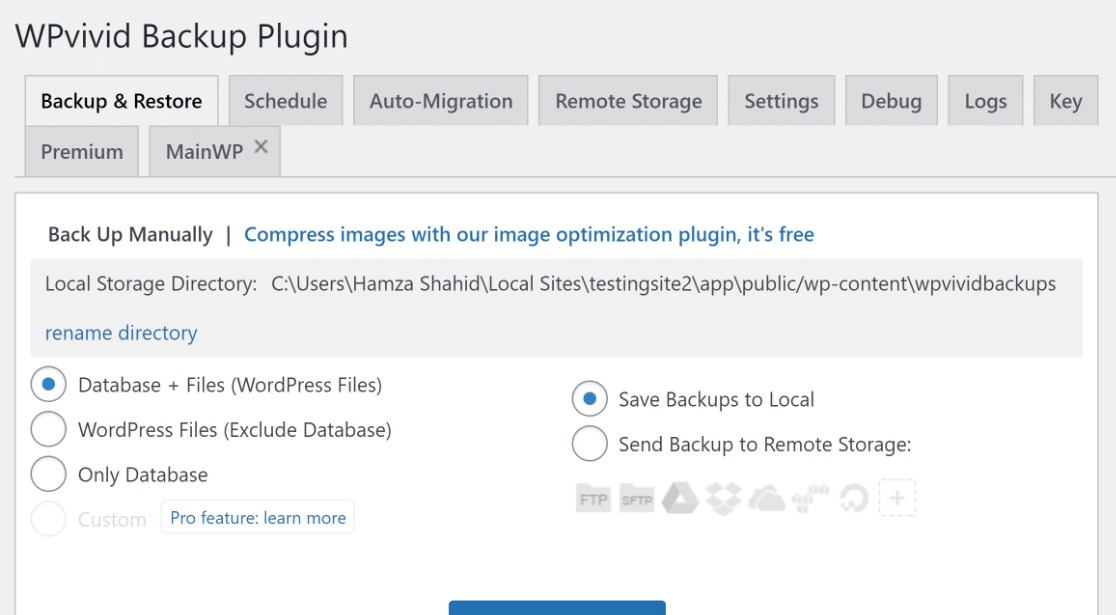 What We Liked
The feature set of WPvivid deserves some appreciation. Not only could we back up and migrate websites, but also stage and restore them.
Creating a copy of the live website for testing purposes is particularly useful, coupled with its high success rate in backup restoration and creation.
The plugin also supports numerous cloud storage options like Amazon S3, Google Drive, and Dropbox, ensuring you have ample choices for secure storage. WIth offsite storage, you can prevent your WordPress installation from becoming bloated with backups and slowing down.
Pricing and Plans
The pricing for WPvivid starts at $29 per year with plans going all the way up to $149 per year for more advanced features and functionalities.
Verdict
With its user-friendly interface and rich feature set, WPvivid is definitely a good choice for small WordPress site owners looking for quick backups.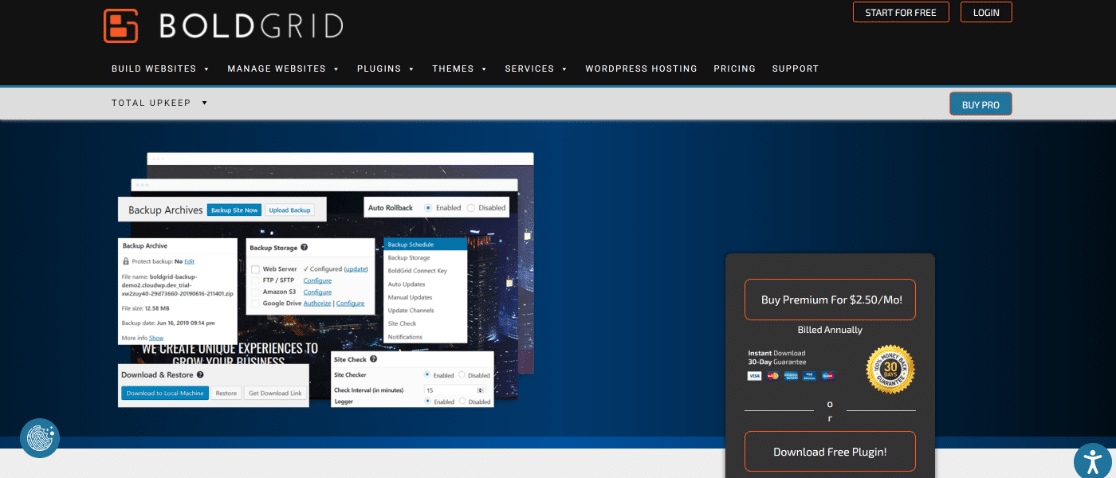 WordPress.org Rating: 4.8/5
Active Installs: 80,000+
Total Upkeep is another WordPress maintenance and backup plugin that safeguards your website's data and optimizes its performance.
The plugin is famous for its seamless scheduled backups that give you control over when and how often your backups occur.
Our Experience
Total Upkeep proved to be an efficient and reliable backup solution in our testing. The site restoration is simple, ensuring hassle-free recovery in case of any mishaps.
In terms of support, the Boldgrid team behind Total Upkeep proved to be quite responsive. They guided us through some of the more complex features.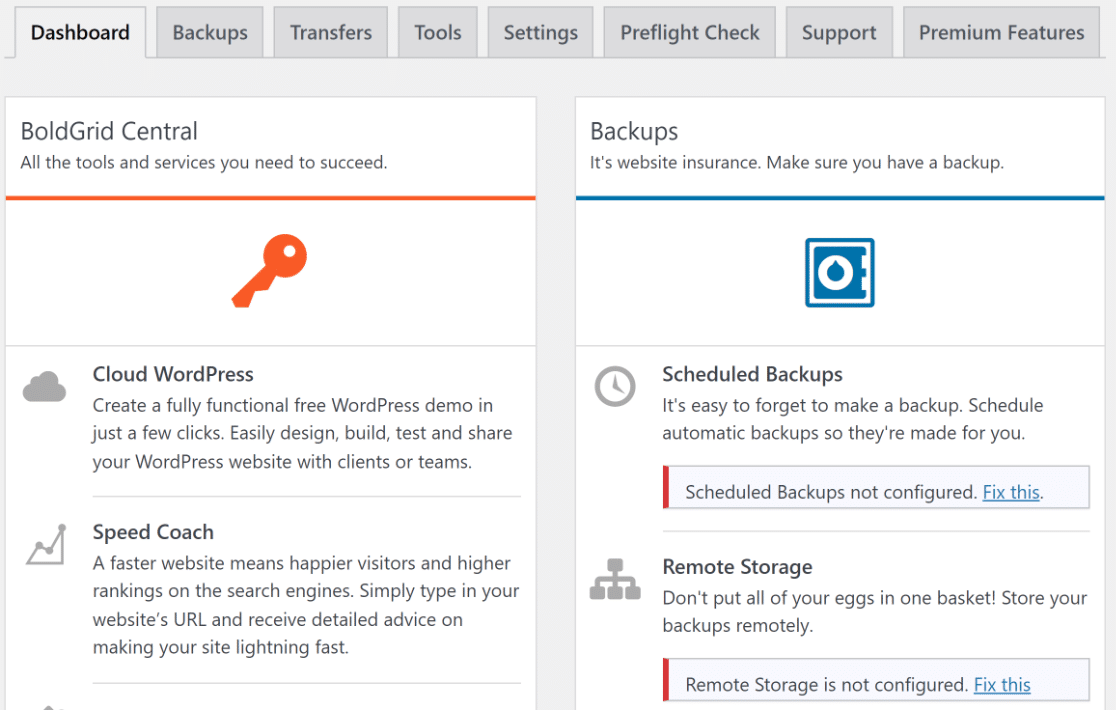 What We Liked
We found Total Upkeep's disaster recovery scripts to be its standout feature. These scripts are a safety net for restoring your site in case unforeseen errors.
The ability to also store backups in multiple locations, including the cloud, gave us additional peace of mind.
Pricing and Plans
The plugin offers a free version with basic backup features. For more comprehensive coverage, they offer a premium package at $30 per year.
Verdict
If budget is a concern, opting for Total Upkeep by Boldgrid is a good choice to make due to its reliability and comprehensive coverage.
WordPress.org Rating: 4.4/5
Active Installs: 700,000+
With a large user base and good WordPress.org rating, BackWPup has proven its effectiveness in securing website data.
It also supports multisite installations and backup storage on platforms like Dropbox, Google Drive, and FTP servers.
Our Experience
During our testing, the backup process was quite seamless and smooth, allowing you to schedule and create backups without any errors.
We also appreciated the ability to customize backup settings and choose from multiple remote storage destinations to ensure dependability.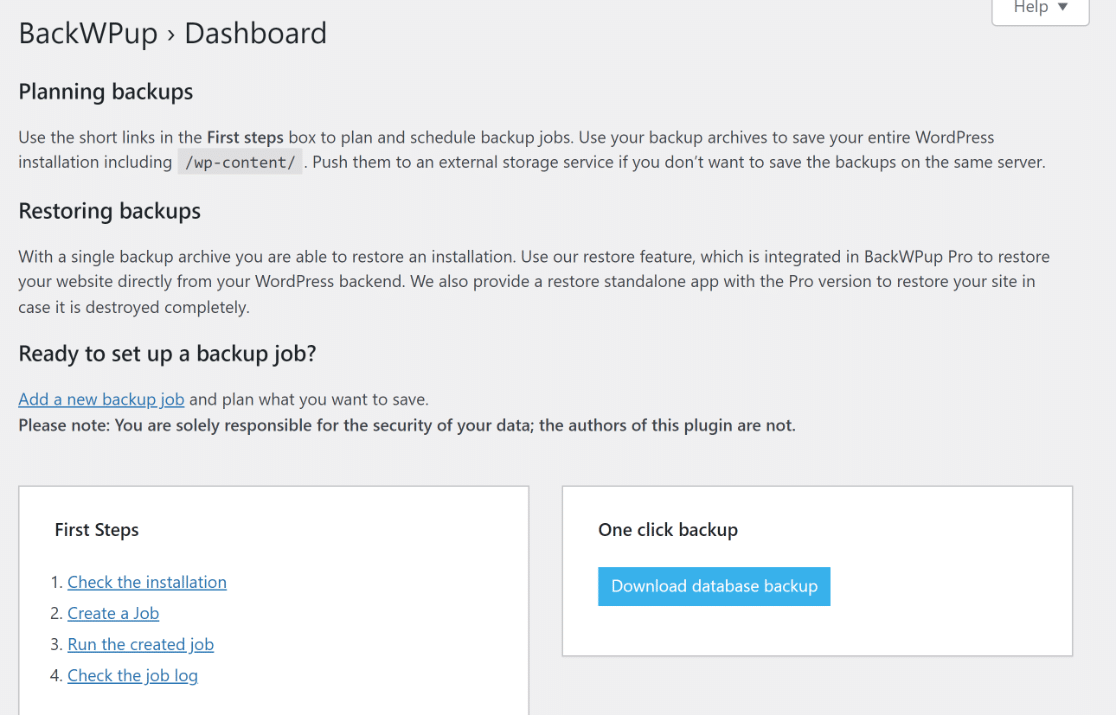 What We Liked
The plugin offers WordPress users plenty of backup options including selective backups for specific folders and files, full site backups, and database backups.
There isn't much manual intervention required, too, due to the ability to schedule automatic backups at regular intervals.
Pricing and Plans
BackWPup offers a free and premium version that will set you behind €99.00, which can be quite expensive for many, but it's a good option nevertheless.
Verdict
The free version is quite remarkable for those who aren't looking to spend money on a backup plugin due to budget restraints.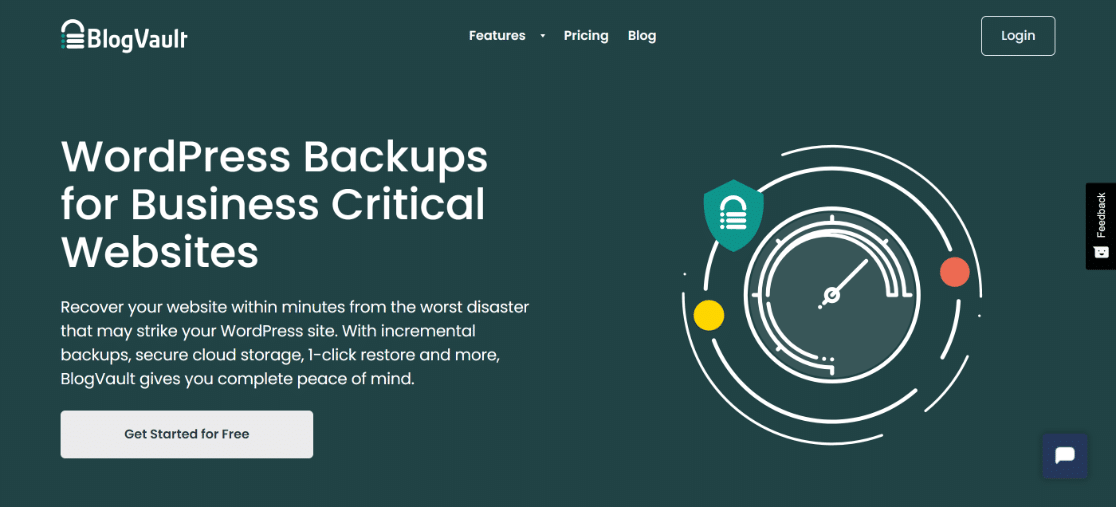 WordPress.org Rating: 4.3/5
Active Installs: 100,000+
BlogVault is a simple and easy-to-use backup plugin that simplifies the real-time backup process with a range of features.
It is a reliable choice for most website owners looking for something light and relatively simple for performing backups quickly.
Our Experience
During our testing, we found BlogVault to be an exceptional backup solution. Its intuitive interface allowed us to effortlessly schedule automated backups.
The plugin's incremental backup feature efficiently captured only the changes made since the last backup, minimizing server load and optimizing storage space.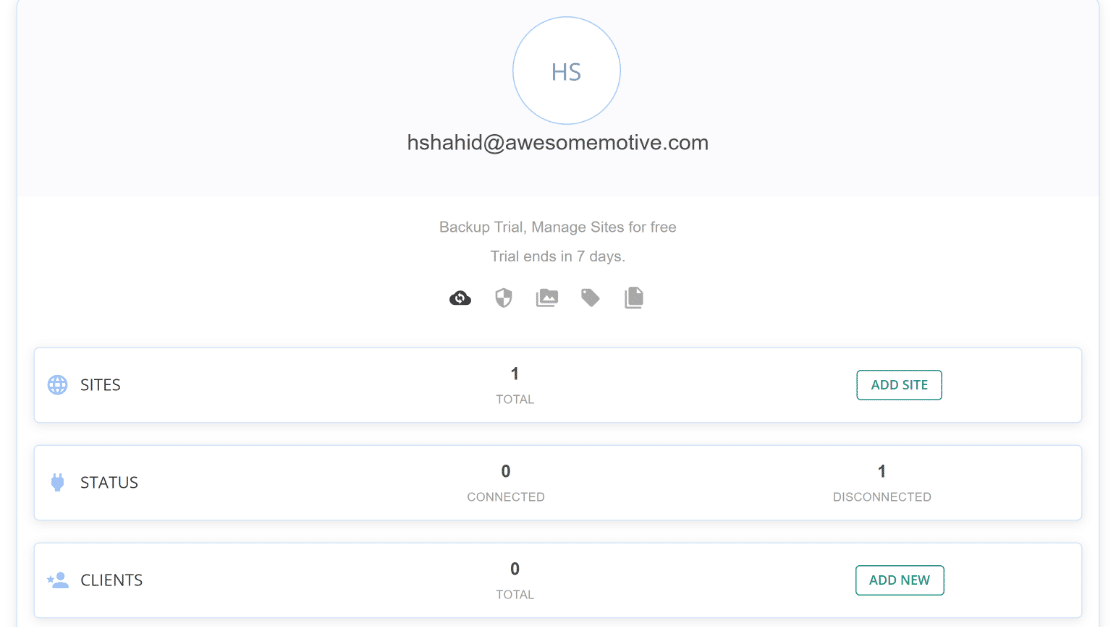 What We Liked
One of the standout features of BlogVault is its comprehensive security measures. The plugin performs malware scans and detects any vulnerabilities.
Additionally, BlogVault's built-in staging environment allowed us to test and make changes to our website safely before deploying them to the live site.
Pricing and Plans
BlogVault offers a free plan in addition to a different range of pricing plans tailored to different website needs. The basic one starts at $89 per year.
Verdict
BlogVault is a highly recommended incremental backup plugin for WordPress users of all levels, but its free plan is quite limited.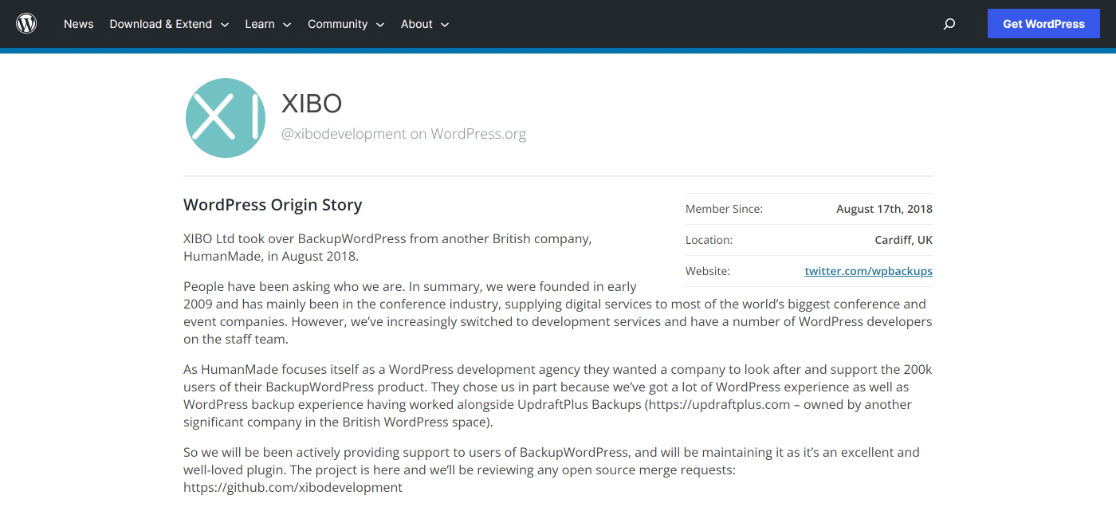 WordPress.org Rating: 4.7/5
Active Installs: 100,000+
BackUpWordPress is another good tool for safeguarding your website by performing regular backups and assistance during site migrations.
You can use it to schedule automatic backups and even choose specific databases of your site to include/exclude in your backups.
Our Experience
During our testing, BackUpWordPress was easy to set up and schedule backups with, requiring minimal configuration.
The interface was also quite user-friendly and while performing automatic backups, there were no performance degradations.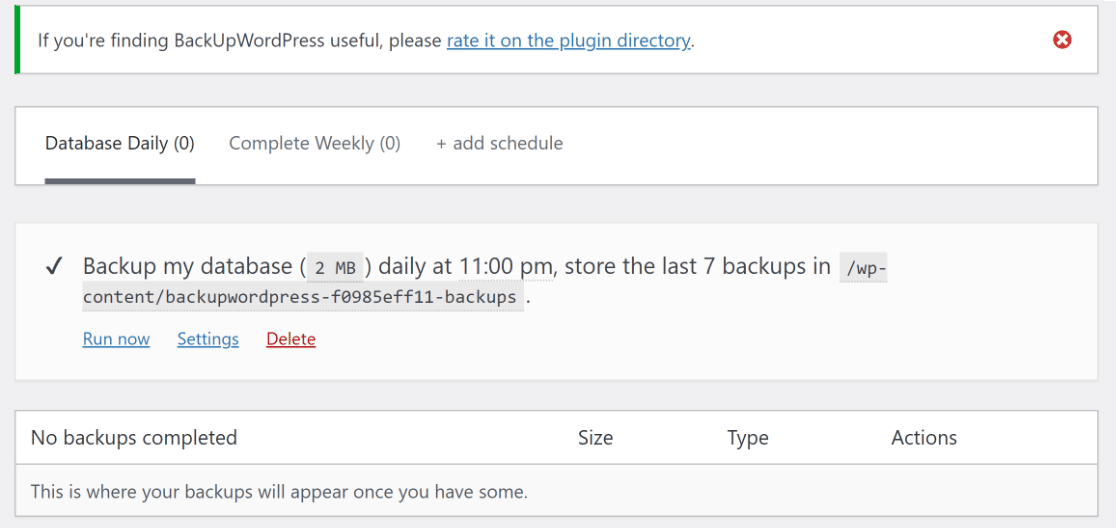 What We Liked
The plugin's flexibility in choosing specific folders and databases for backups allowed us to tailor the backup process to our exact needs.
We also appreciated the multiple storage options, enabling us to securely store backups on our server, email them, or utilize popular cloud storage services.
Pricing and Plans
BackUpWordPress is a completely free plugin that you can download from the official WordPress.org plugin repository.
Verdict
For a free plugin, BackUpWordPress is quite impressive, to say the least, as it safeguards your website data with its reliable features.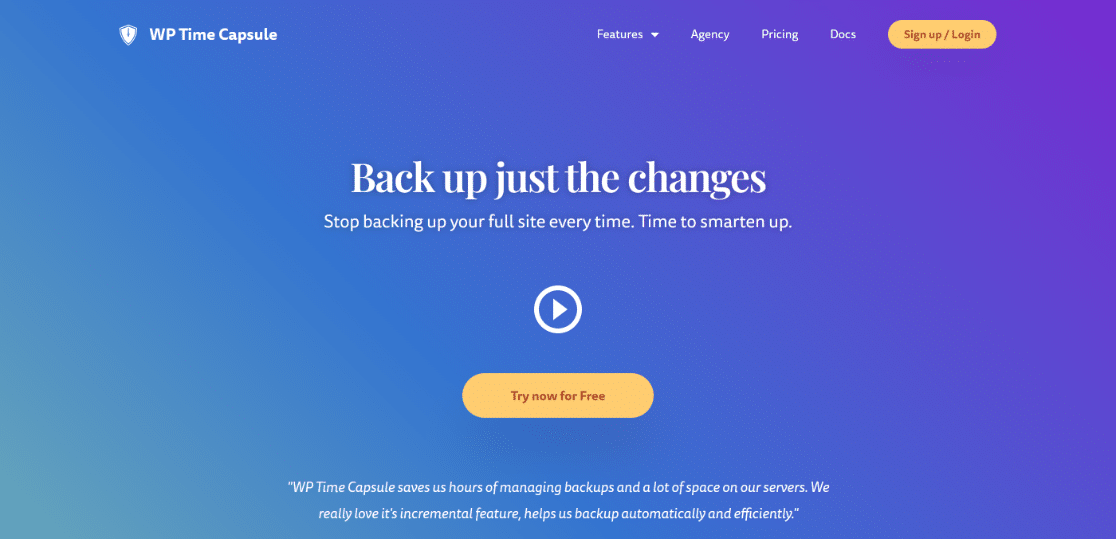 WordPress.org Rating: 4.1/5
Active Installs: 20,000+
WP Time Capsule is a reliable backup plugin that offers seamless website protection with its intuitive features.
With its incremental backup technology, WP Time Capsule reduces the load on your server and saves storage space.
Our Experience
During our testing, WP Time Capsule impressed us with its user-friendly interface and straightforward setup.
We found the incremental backup feature particularly useful as it significantly reduced backup time and storage requirements.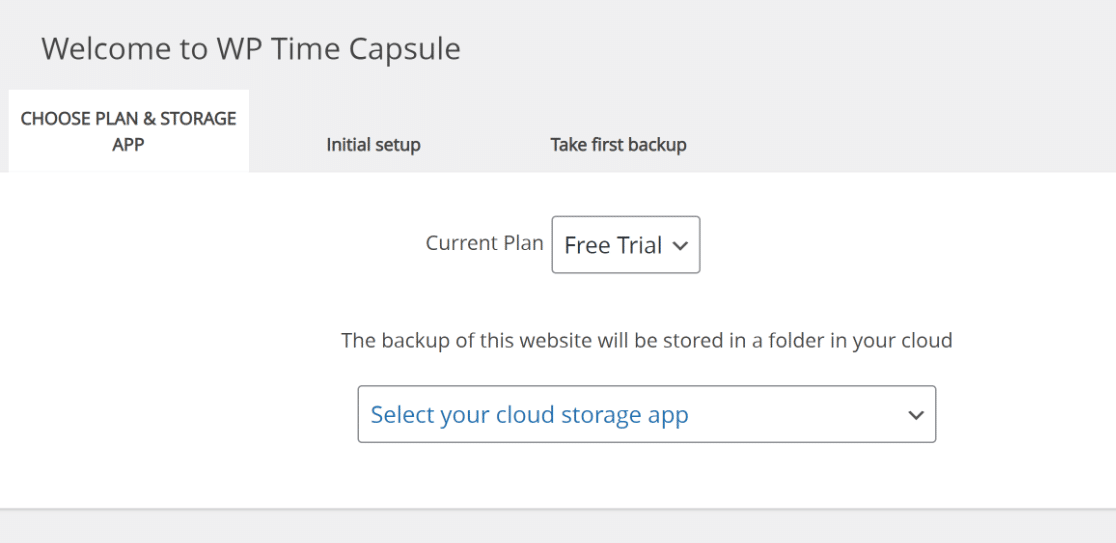 What We Liked
The plugin offers seamless website migration and a one-click restore feature, making it convenient for users to switch hosts or recover their websites quickly.
It also supports many cloud storage providers for easy backing up of your WordPress files like AWS S3, Google Drive, and Dropbox.
Pricing and Plans
WP Time Capsule offers flexible pricing options, including a free version with limited features and premium plans starting at $49/year for a single website.
Verdict
If you're looking for a free backup solution, WP Time Capsule should suffice. For paid options, we'd recommend any of the above plugins!
Which Is the Best Backup Plugin for WordPress?
We can confidently say that Duplicator stands as the best backup plugin for WordPress, due to its simplicity, user-friendliness, and advanced capabilities.
Unlike many other backup solutions, Duplicator excels in its versatility, offering not just backup capabilities but also a full suite of migration and cloning options.
Many backup plugins can appear complex, especially to WordPress beginners, but Duplicator's interface is clean, intuitive, and guide-oriented.
This makes the process of creating, scheduling, and restoring backups a breeze, whether you're a seasoned developer or a novice site owner.
So, if you're looking for a dependable, easy-to-use, and feature-packed backup solution for your WordPress site, look no further than Duplicator!
Best Backup Plugins FAQs
What's the Benefit of Using Backup Plugins?
When it comes to WordPress site management, backup plugins are not just essential; they are indispensable, and that too for several reasons:
Quick Recovery: Even something as trivial as errors in code can result in your site crashing. With a backup plugin, you can restore your site to its former glory, maintaining user experience and minimizing downtime.
Data Protection: With a proper backup, you can retain new content and valuable data, caused by cyber threats or technical hiccups. A backup plugin mitigates all losses by creating regular copies of your site's data.
Website Migration: It isn't uncommon to migrate your website to a new domain and web host. Having a complete backup of your WordPress site ensures a significantly smoother process, minus any potential data loss during the transition.
Cybersecurity: Threats like ransomware attacks, hacking attempts, and malware infiltration can devastate a site owner. A backup plugin acts as a critical line of defense by offering a safe fallback of your data.
Peace of Mind: Knowing there is an untouched backup version of your site brings great comfort. As a result, you can confidently experiment with new elements, updates, and adjustments, without the fear of breaking your site.
How Often Should I Backup My WordPress Site?
You should back up your WordPress once a day. However, you can also choose a less frequent backup schedule if you're a smaller site and you don't make changes that often. If you have the ability to back up files in cloud storage, then we recommend daily backups because offsite storage doesn't take up space on your WordPress site. That means you can afford daily backups without any repercussions.
What Is the Best Way to Store My Backups?
In most cases, cloud storage is the best way to store your backups. It's easily accessible and secure. Plus, there's no risk of corruption due to wear and tear that often leads to data loss in physical hard drives. If you want to be extra cautious, you can also use a combination of local and cloud storage.
Can I Rely on My Hosting Provider's Backup Solution?
We don't recommend relying on the backup services offered by your web host. That's because you'll be giving up a lot of control because you can't choose the frequency of backups or retention period of backup archives, or configure other settings per your preference. Plus, if your web host server goes down for any reason, you risk losing your backup files.
While having some backup is always better than no backup at all, it's better to pick a backup solution that's separate from your web host to retain more control and minimize risk.
Next, Check Out the Best WordPress Maintenance Tools
Now that you're aware of the best backup plugin for WordPress, it's time to dive a little deeper into the tools to explore other aspects of your site management to help you manage and run your business better!
You can also read our other roundups on different WordPress plugins we love using:
Also, if you're simply looking for a plugin to create forms that assist in acquiring leads.  Get started today with WPForms Pro which includes lots of free templates and offers a 14-day money-back guarantee.
Create Your WordPress Form Now
If this article helped you out, please follow us on Facebook and Twitter for more free WordPress tutorials and guides.