Looking for a list of affiliate plugins to skyrocket your online sales?
Having an affiliate program lets you expose your brand and products to other people's audiences — creating an endless lead source.
In this article, we've done the research and narrowed down the very best WordPress affiliate plugins for you.
Here's a table of contents if you want to jump ahead to the best WordPress affiliate plugins:
Can I Use WordPress for Affiliate Marketing?
Yes, not only can you use WordPress for affiliate marketing, it's one of the easiest ways to do it. And it's easy to set up WordPress link tracking so you can see which affiliate links are performing well.
WordPress is flexible enough for you to use whatever plugins you like to create a plan for managing your affiliate program in a way that works best for you.
However, this only applies to WordPress.org sites. WordPress.com isn't a good idea for affiliate marketing because it has serious restrictions on plugins you can add. To learn more about the differences, check out our comparison guide on WordPress.com vs WordPress.org.
Now, let's chat about what to look for in a good WordPress affiliate plugin.
How to Choose the Best WordPress Affiliate Plugin
When you're choosing which affiliate plugins to use on your WordPress site, think of the big picture. Especially if you're serious about making money online and your lead generation strategy.
Remember to consider your goals and don't just focus on a single feature or a low price point.
And here's why: Yes, you could always switch to something more robust and feature-packed down the road as your business grows.
However, it might be a challenge to switch systems once you have a bunch of happy affiliates promoting your product. Many of them are busy business owners as well, so a change could disrupt their promotion of your product. You want to make sure you're keeping your affiliates satisfied and that you establish a good relationship with them.
So be picky with the affiliate plugin you choose and look for tools that help you:
Easily add affiliate links to your posts and pages
Add, save, and manage affiliate links in your WordPress dashboard
Make it easy to use for both you and your affiliates so you can build a loyal following
Track your highest performing affiliate campaigns
Build shareable referral links for outside of your website, like on social media or even podcasting
So now that you have an idea of what to look for (and what we looked for when we put this list together) let's go ahead and check out the best WordPress affiliate plugins to help you grow your business online.
The Best WordPress Affiliate Plugins
Trying to start and manage an affiliate program on your own can be complicated and time-consuming. Luckily, there are tons of tools to help you. Here are our picks for the best WordPress plugins to help you run a successful affiliate marketing program.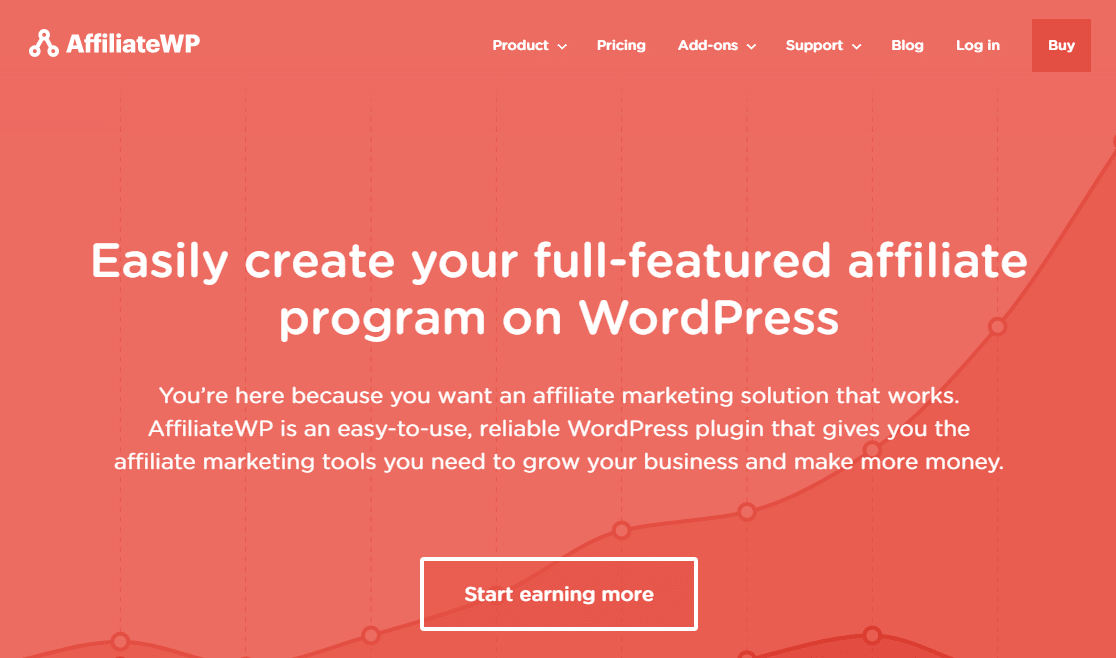 AffiliateWP is the best plugin for creating a full-featured affiliate program on WordPress. With AffiliateWP, you can have an unlimited number of affiliates and unlimited creatives for faster, more effective promotion of your website, product, or service.
It also comes with reliable, advanced affiliate and referral tracking that allows you to do things like track referrals to your WordPress forms or set up a pay per lead affiliate program in WordPress. For more details, take a look at our in-depth AffiliateWP review.
Features:
Integrations — Seamlessly connect to tons of tools, including WPForms, the best contact form plugin in the world.
Affiliate Management — Opt to approve requests manually or automatically to allow simple affiliate registration. This saves you time and lets people continue into the affiliate area right away.
Real-Time Reporting — Stay on top of your affiliate campaigns with at-a-glance reporting and graphs in real-time.
Link Generator — Affiliates can generate their own referral links using the built-in referral link generator.
Payouts Service — Easily pay your affiliates directly to their bank accounts or debit cards in a few clicks.
Cost: Starts at $149/year
Click here to get started with AffiliateWP today!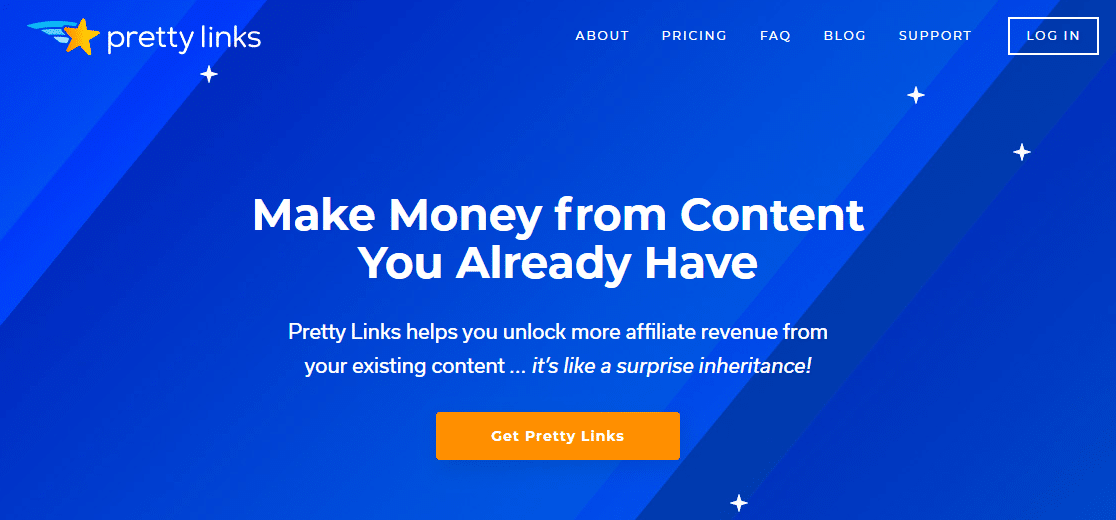 It's no surprise that the wildly popular Pretty Links made our list of the best WordPress affiliate plugins. It turns those long and ugly affiliate links into something much easier to remember, so your links can make bigger impressions on your visitors. It lets you add links to your posts in just minutes.
Features:
Easy to Use — Simply the most beginner-friendly WordPress referral plugin out there.
Flexible — It's compatible with the best responsive WordPress themes.
Analytics — Includes built-in performance metrics so you can keep track of what's happening with your links.
Pretty Bar — A cool tool that lets you brand and advertises your links.
Automation — Speed up your marketing automation with an auto-linking feature that adds specific affiliate links to certain keywords automatically.
Supports Redirects — Lets you manage server-side redirects and 404s
Cost: Starts at $79/year
Click here to get started with Pretty Links today!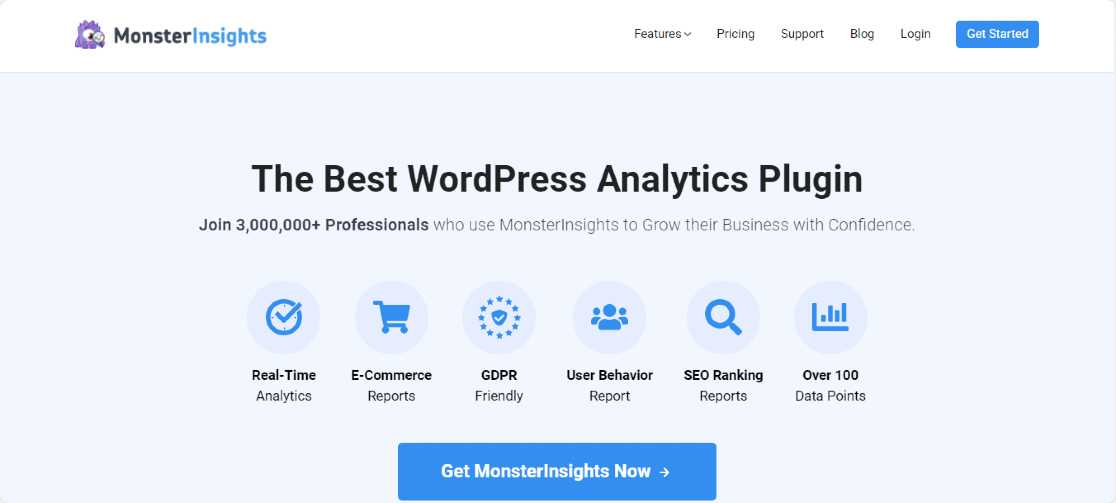 No matter how you're making money from your website, your business needs Google Analytics. And the easiest way for affiliate marketers to add it is to use MonsterInsights. It's on our list of the best affiliate WordPress plugins because it's got an affiliate link tracking feature as well as in-depth reports on how all your affiliate campaigns are doing.
Features:
Compatibility — Easily link your MonsterInsights account to other affiliate plugins.
In-Depth Reports — See your highest earning pages and most profitable traffic sources.
Easy to Use — The dashboard is easy to understand even for those who aren't trained in Google Analytics.
Powerful Support — A raved-about support team is there to help you when you need it.
Cost: Starts at $99.50/year with the pro version priced at $199.50/year
Click here to get started with MonsterInsights today!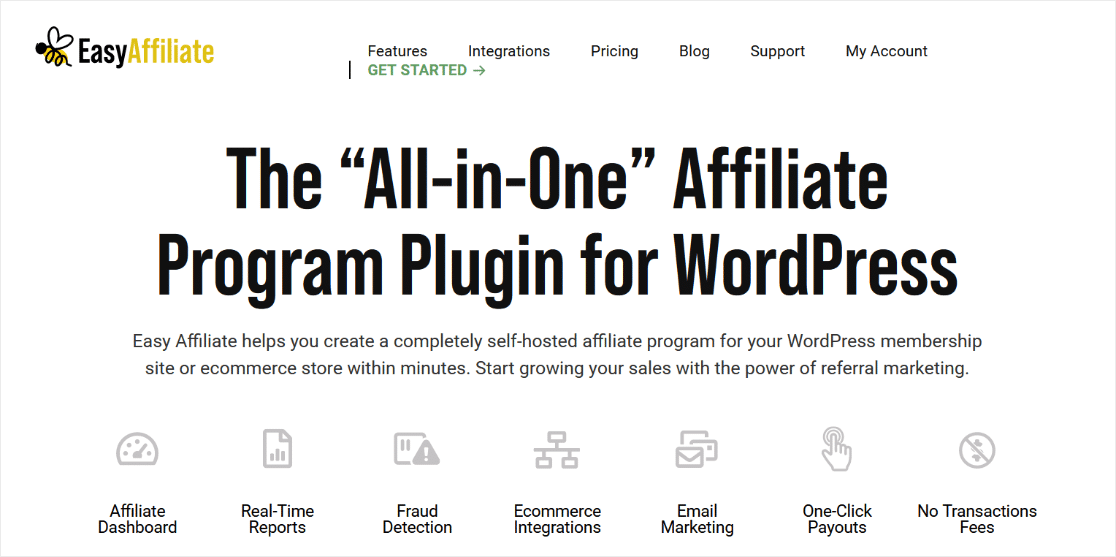 Easy Affiliate is a fantastic plugin from the same parent company that makes Pretty Links and MemberPress. These platforms work perfectly when combined and can be used to build an in-depth affiliate program with shortened, easy-to-remember affiliate links and referral programs.
Features:
Beginner-Friendly — An easy-to-use dashboard that lets you track outbound links.
Instant Setup — Just install the plugin, and within minutes, you can build a fully functioning affiliate program for your WordPress website.
Charts — Customizable performance graphs, so you get the best out of data visualization and see things like clicks, sales, and payments.
Shopping Cart Integration —Manage and view one-time and recurring payments from places like PayPal, Authorize.net, and more.
Cost: Starts at $99.50/year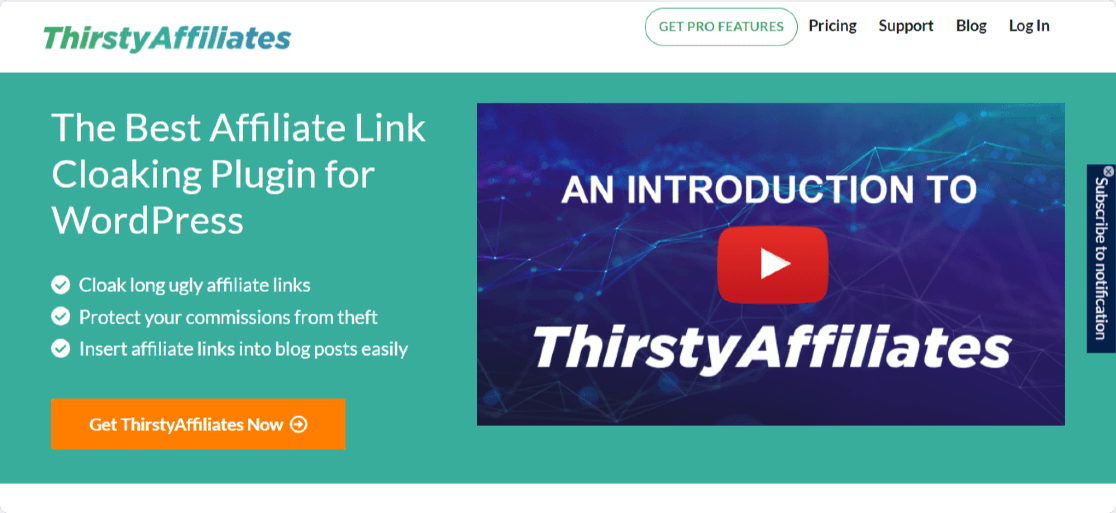 If you're looking for a powerful solution to managing your affiliates, Thirsty Affiliates is a great pick. It lets you easily cloak your long links and make them look great. This affiliate plugin is popular for a good reason.
Features:
Reports — See statistics on your referral link clicks and campaigns.
Organization — Use categories to organize your links and stay on top of your affiliate campaigns.
Images — Lets you add banners and photos to your links or link images.
Easy Replacement — The robust affiliate management system lets you find and replace links easily from your ThirstyAffiliates panel.
Automation — Replaces assigned keywords with links automatically.
Cost: Starts at $49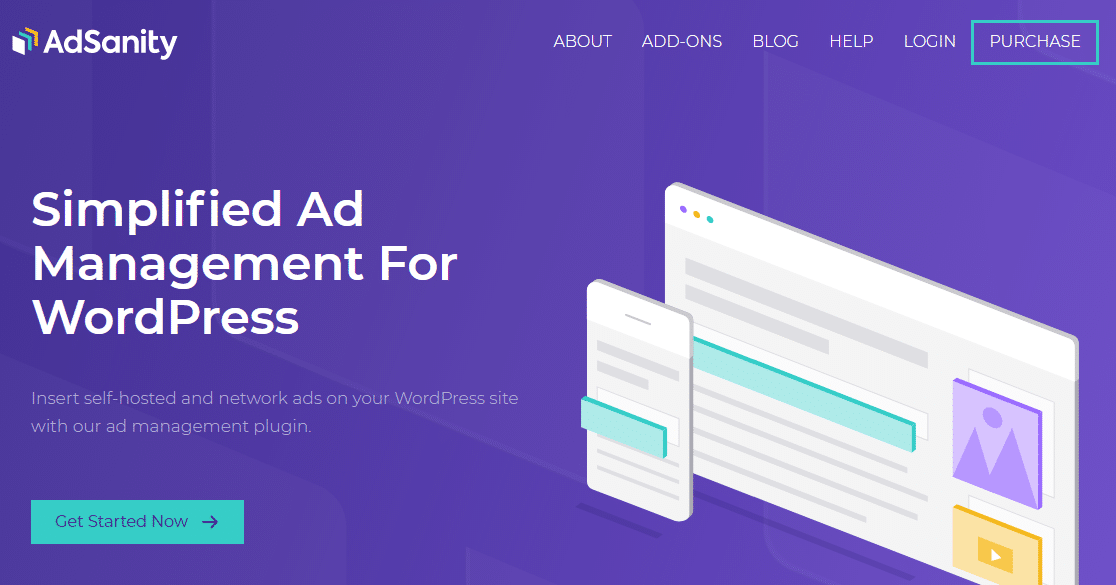 AdSanity is an incredibly intuitive affiliate marketing tool for WordPress. Not only does it have tons of helpful features, but it's also really easy to use and is incredibly lightweight if you're looking to keep your site fast.
Features:
Beginner-Friendly — AdSanity lets you manage affiliate campaigns and ads right on your WordPress dashboard, making it super easy to use.
Flexibility — Insert your own or your partner's affiliate banners into widgets, sidebars, posts, and more.
Ad Block Detection  —  Automatically let your visitors know that in order to enjoy your content, they'll need to disable their ad blockers.
Cost: Starts at $49/year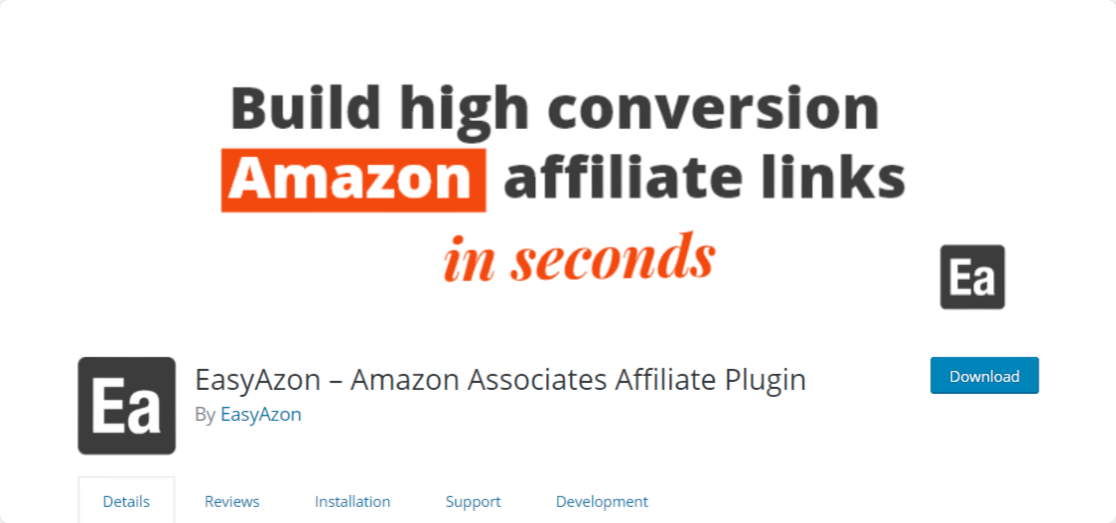 EasyAzon is one of the best WordPress affiliate plugins to use if you're making money through Amazon. It lets you add your Amazon affiliate links within your blog posts easily, without ever needing to visit Amazon's site.
Features:
Visual CTAs — Use their Amazon.com buy buttons on your site.
Link Management — Cloak links automatically to make them shorter and look more professional.
Affiliate Image Links — Promote the right products and content through images.
Geolocation — Use the link locator to find where your visitors are coming from.
Cost: Free
Ultimate Affiliate Pro is a good option to consider if you're looking for a WordPress affiliate management plugin with premium features, but your budget isn't big enough yet for a plugin with a recurring cost.
Features:
Integrations — Use Ultimate Affiliate Pro with WooCommerce, Stripe, PayPal, EasyDigitalDownloads, BuddyPress, and more.
Support — Features a support center, robust online documentation, and video tutorials.
Custom Currency — Add your own currency if yours isn't available. This is great if you want to use a less popular currency.
Cost: $69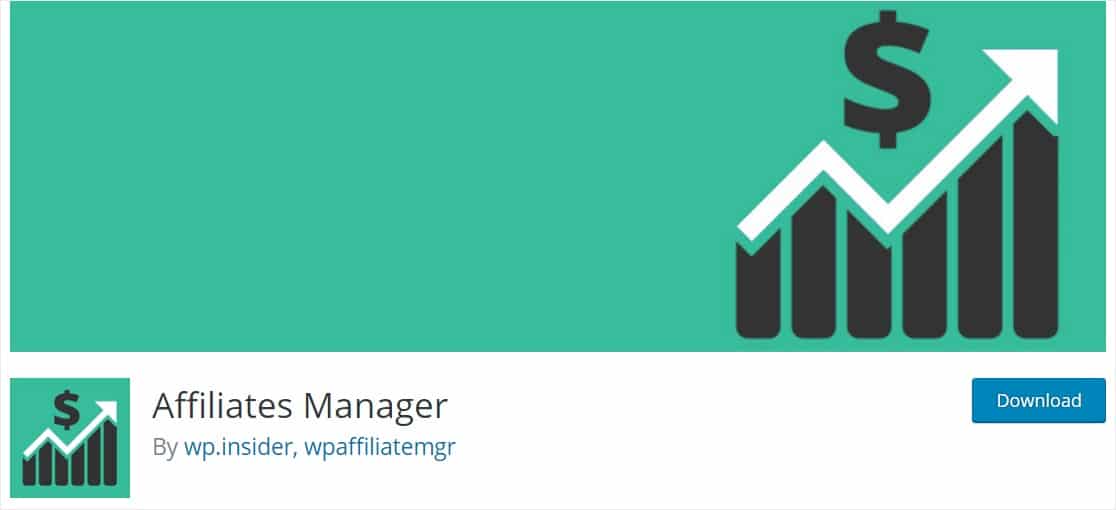 Asking yourself how do I create an affiliate program on WordPress for free? Affiliates Manager is a great place to start if you're trying to make money off referrals to your WordPress website.
Features:
Easy to Use — Manage, track and pay your affiliate partners right on your WordPress site.
Affiliate Portal — Let users sign up to find your info and promote your product or services.
Real-Time Tracking — You and your affiliates can track sales and referral clicks from your account, all in real-time.
Cost: Free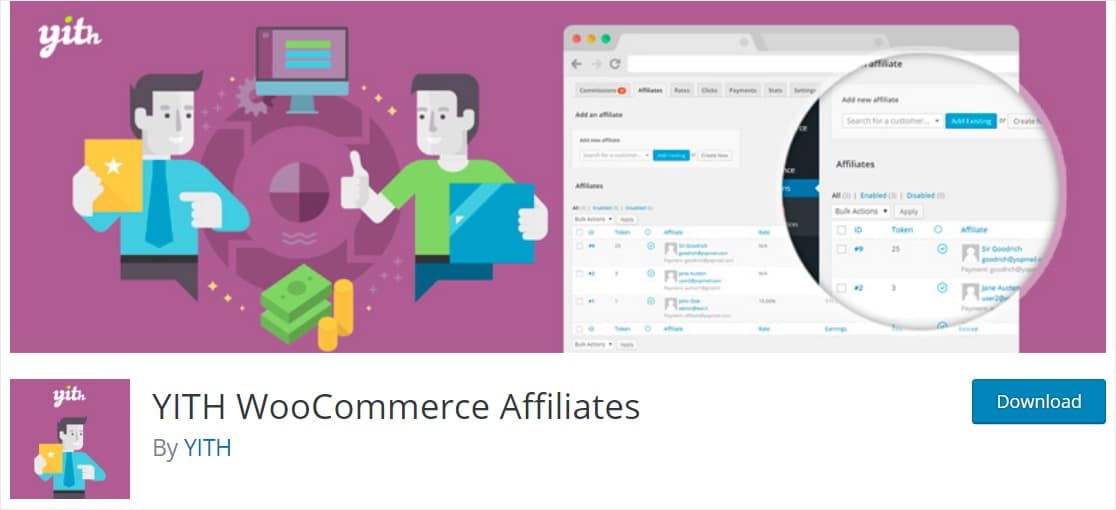 YITH WooCommerce Affiliates is known by a lot of people as the best free WordPress plugin for affiliate marketing if you're looking for an eCommerce plugin. This WordPress affiliate store plugin lets WooCommerce shop owners create affiliate profiles and customize commissions.
Features:
Adjustable Cookies — Store Refer IDs in the user's cookies and change the length of this customizable storage time.
Affiliate Dashboard — Affiliates receive their own dashboard to view their commissions and progress.
Prorated Commissions — Automatically calculates refunds and affiliate commissions based on those refunds.
Cost: Free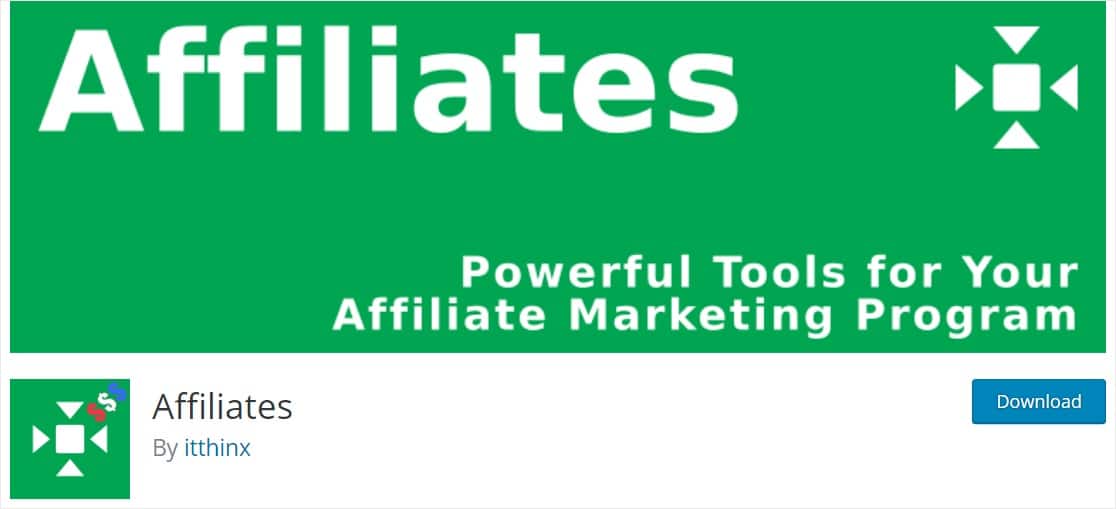 Affiliates By itthinx is a fantastic choice if you're looking for a WordPress affiliate and referral plugin free download. It lets you add affiliate links to your website in just minutes. And it also gives you the option to see your progress with reports.
Features:
Real-Time Reporting — An intuitive dashboard uses graphs to keep track of your affiliates' success.
Easy to Use — Build your affiliate area and dashboard with blocks and shortcodes, so it looks exactly the way you want.
Integrations — Works seamlessly with popular tools like WooCommerce, BuddyPress, Events Manager, and more.
Cost: Free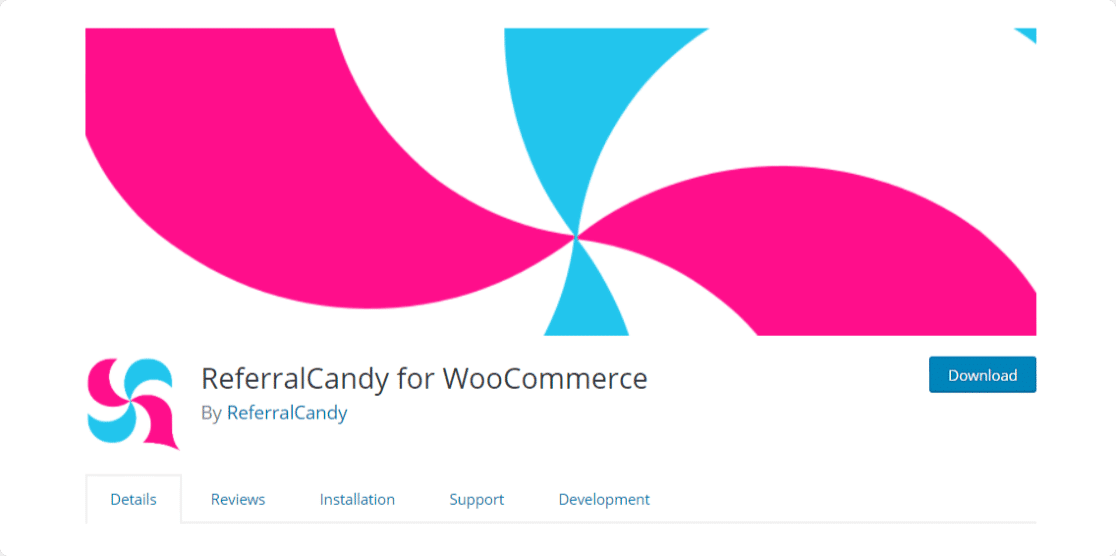 ReferralCandy for WooCommerce is technically free to download. However, you'll need to sign up at their site for a paid plan to get the full perks of the plugin.
Features:
Support When You Need It — ReferralCandy offers 24/7 Live Chat support so you can get help at any time.
Unlimited Affiliates — No caps on how many customers you can have.
Easy to Use — Get insight into your affiliate campaigns with dashboard and data reporting.
Cost: Free to download and paid plans start at $49/month
Next, Get More Essential WordPress Plugins
And there it is. Hopefully, this list helped you find the best WordPress affiliate plugin for your unique needs.
Create Your WordPress Form Now
If you like this article, then please follow us on Facebook and Twitter for more updates from our blog.