Looking for the best banner plugin for WordPress? Whether you want to showcase a sale, collect leads, display ads, or disclose the use of cookies, there's a banner plugin out there for you.
We tested some of the most popular banner plugins to determine which are the best. In this post, we'll take you through our findings.
Let's go!
Create Your WordPress Form Now
How Do You Add a Banner to WordPress?
A banner is a tool that lets you display attention-grabbing messages, sales, or terms on your website. You can also use it to collect leads or display ads. The easiest way to add a banner to your WordPress site is to use a plugin.
There are a lot of good plugins out there. Choosing the best one for your site depends on what your goals are and what kind of banner you're trying to create.
Best Banner Plugins for WordPress
As we reviewed some of the best WordPress banner plugins, it was important to us to look at a variety of plugins with different strengths and functionality. Read on to check out our list of favorites.
Best Banner Plugins for WordPress
1. OptinMonster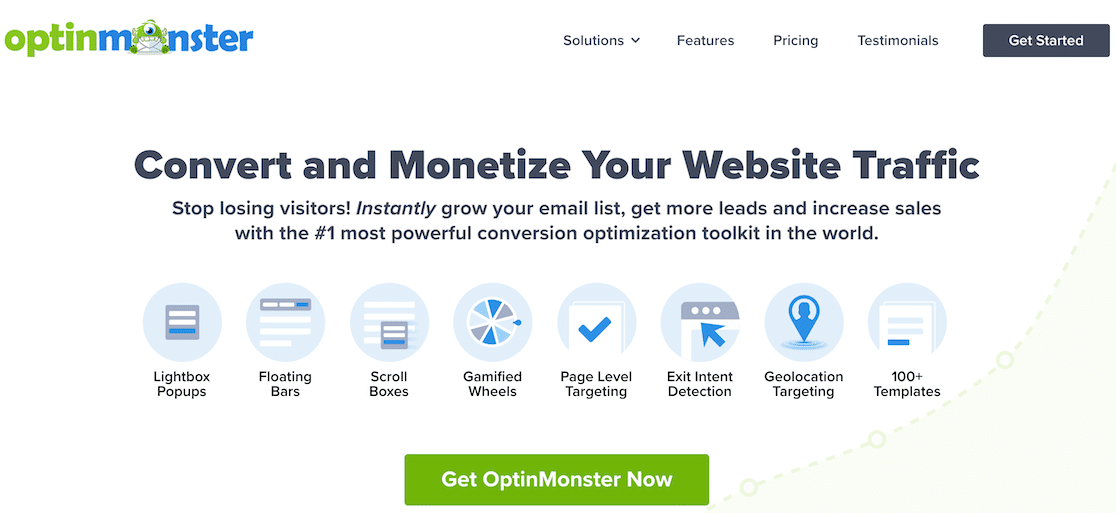 OptinMonster lets you create floating bars and other types of banners and popup notifications to convert traffic. The no-code drag-and-drop builder makes banner management a breeze.
To make it even easier, there are dozens of customizable templates to match your WordPress website or add a pop.
Unlike a lot of other banner plugins, OptinMonster lets you build your banner using block elements like text, video, image, countdown timers, and custom HTML. With a dynamic banner, you're sure to catch visitors' attention.
If you want to really maximize conversion rates, you have to know when and where to display your banners. Configure the custom target rules to make sure it's always the best time and place for your site visitors.

We found that OptinMonster installation was easy and straightforward. The clean, user-friendly interface was easy to work with to help us set up exactly what we wanted in a banner. It's great for beginners.
Cost
OptinMonster starts at $9/month, billed annually.
2. TrustPulse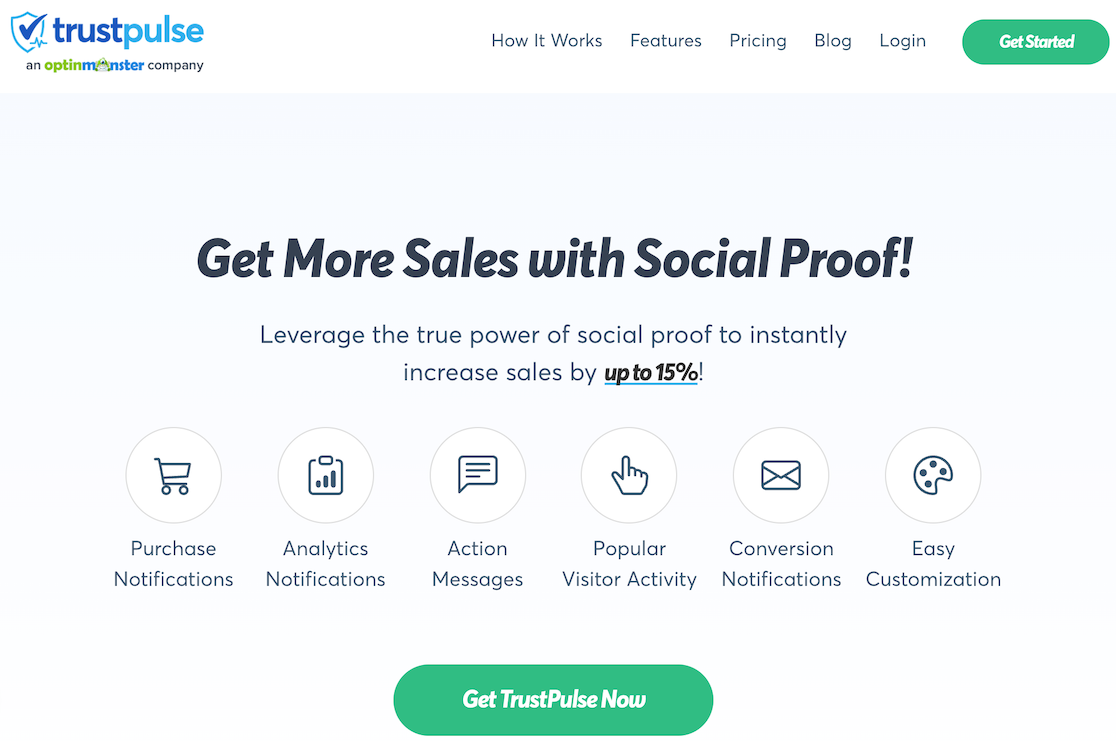 Rather than creating a banner in the traditional sense, you can use TrustPulse to create social proof notifications.
Social proof notifications are alerts that slide in on the screen to let users know that other people are buying products on the site. The idea is that knowing others are buying the products increases trust. Increased trust leads to more conversions.
TrustPulse tracks events like purchases, registrations, optins, and more, in real time.  Then it displays an alert letting your site visitors know that someone just made a conversion on that event.

We like that you can choose to display a name or something else. For example, you can configure settings just to say, "Someone just purchased…."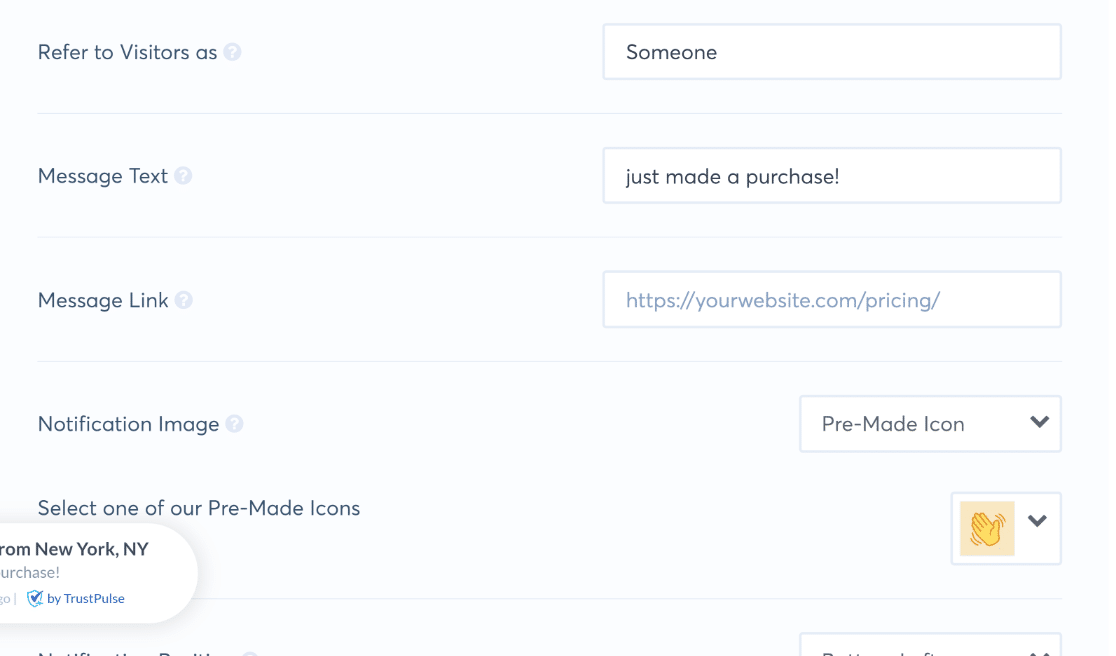 TrustPulse also allows you to set advanced targeting rules to always reach the right people. You can also customize your notifications to match your site.
After you have everything in place, you can access analytics to help you measure your success.
The best part is that there's no coding skill required. It's so easy that you can be fully set up in 5 minutes.
Cost
TrustPulse starts at $5/month with a 14-day money-back guarantee.
3. My Sticky Menu

My Sticky Menu lets you make your header or menu sticky. You can also create a welcome bar for promotions, announcements, and more.
We had an easy time installing the plugin and getting started. The UI is modern, intuitive, and simple to use, and the user experience is great. Once you're in, it's a breeze to set up and customize your simple banner with background colors, buttons, fonts, and sizes.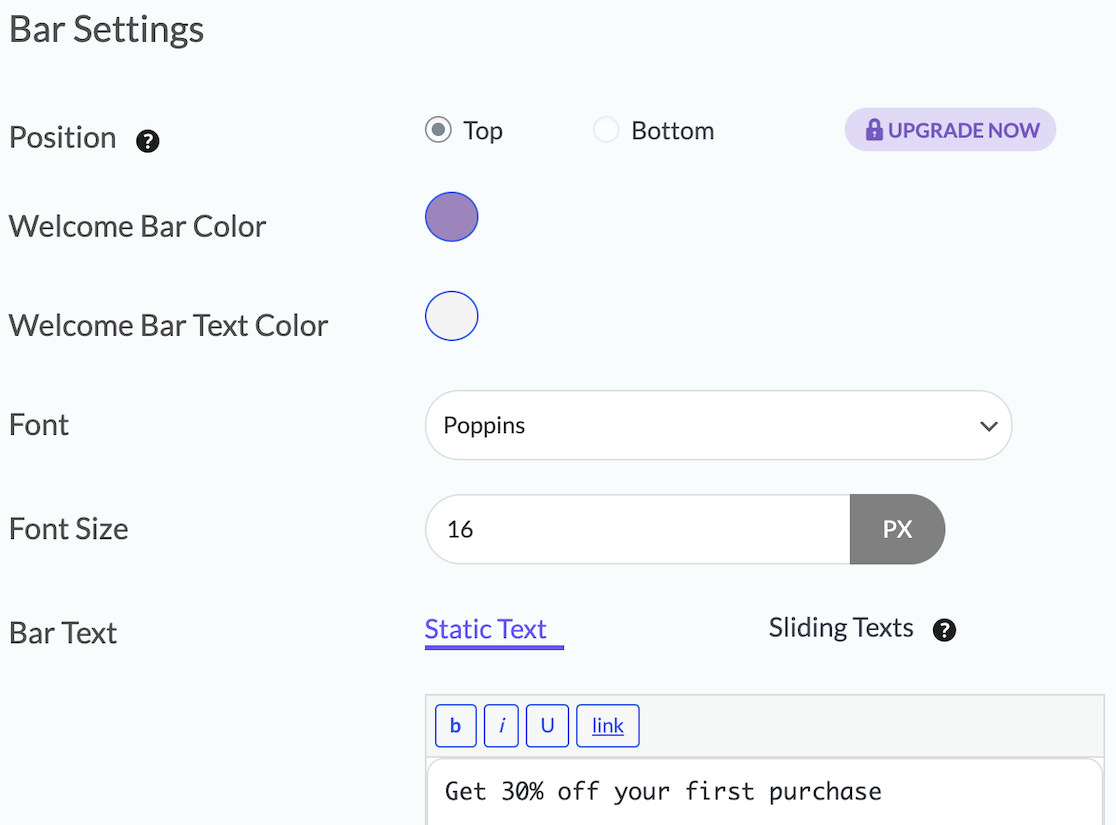 The free plugin gives you lots of customization options for your banner. As you make changes, you can preview them right next to the settings.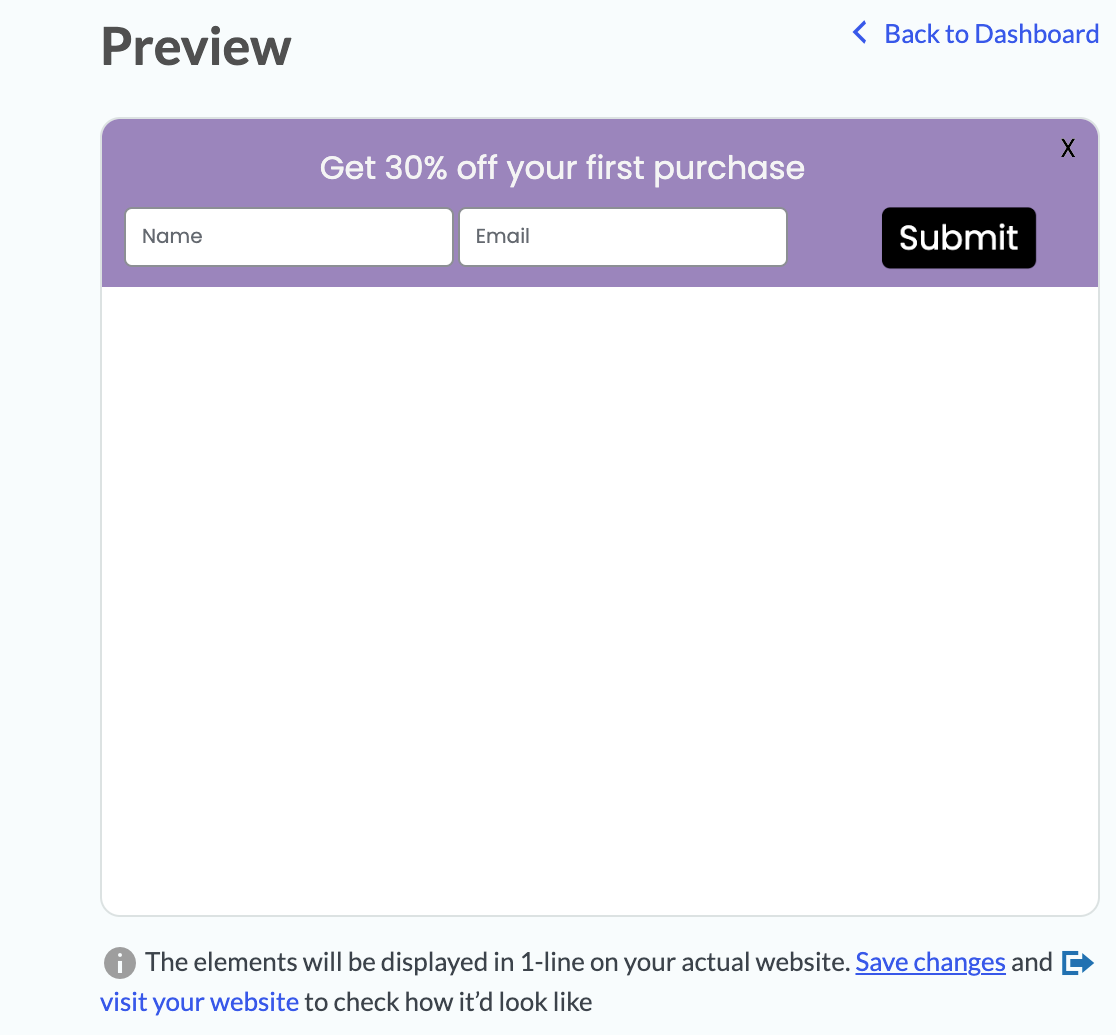 One of the features that we really like is that you can add a contact form to your banner. This form is a name and either an email or phone number. It's a great way to boost conversions while growing your email list.
There are a lot of features available to users on the free plan, but you can unlock even more features when you upgrade, including multi-bar notifications, countdown timers, discount coupons, and more.
Cost
If you want to upgrade from the free version, the premium version starts at $39/month, billed annually.
4. Hello Bar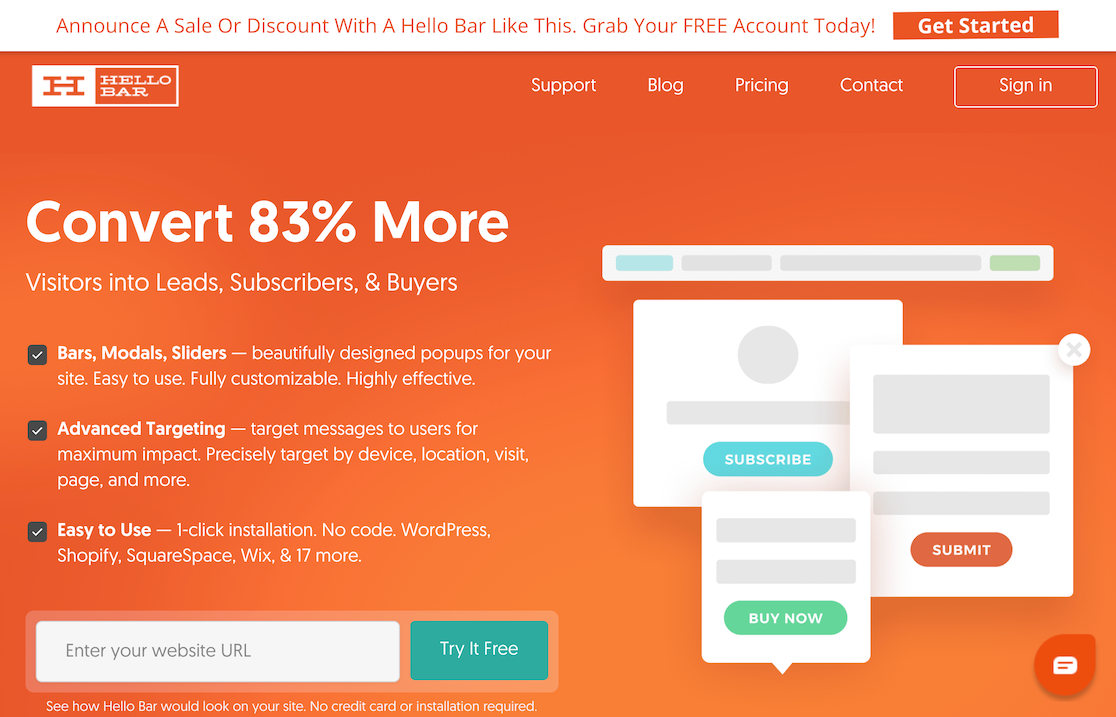 Hello Bar is another popular option for creating custom banners, sliders, modals, alerts, and page takeovers to increase conversions and grow your email list.
Setup is as easy as 1 click. If you're brand new to marketing, you can get access to a dedicated marketing expert who will help ensure your copy converts.
Hello Bar is user-friendly. You don't need to know any code to use it.
Cost
There's a free limited starter plan. After that, premium plans start at $24/month, billed annually.
5. Announcer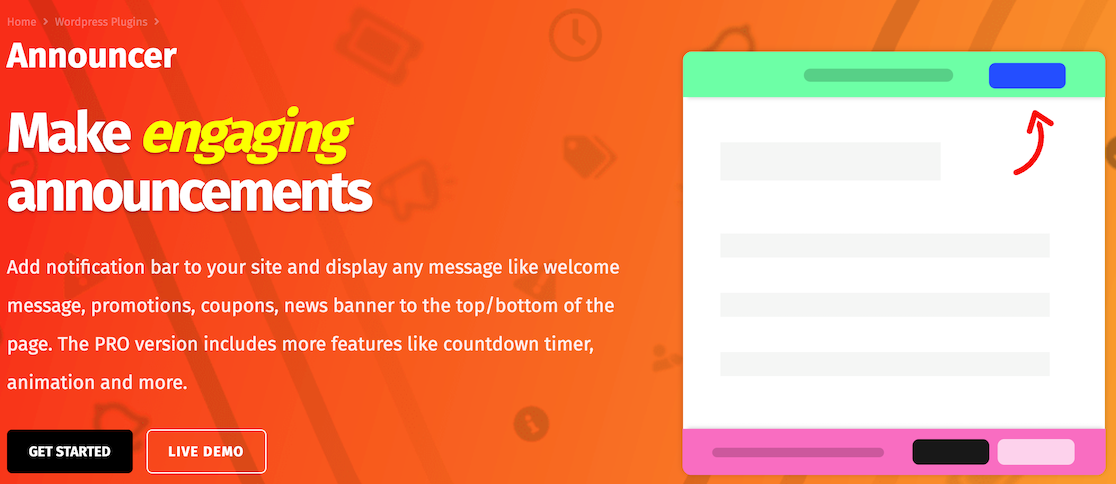 Easily turn your banners into CTAs with Announcer. Use it to create display banners to accept cookies, view privacy policies, subscribe, and much more.
A nice feature in Announcer is the ability to stack multiple notifications. While it can be eye-catching, we do advise using it sparingly, however, so it doesn't become distracting to your site visitors.
There's a lot you can do with this plugin, even on the free plan:
Schedule banners for specific times
Use cookies to re-display or hide banners users have already seen
Set up conditional rules
Add animations
Set visitor conditions for display
When you create your banners, you can include forms, images, or shortcode. Customize your announcement with multiple layouts so it looks exactly how you want it to appear to your website visitors.
Announcer is easy to use. There is no coding skill required.
Cost
There is a free plan. The premium plan to access pro features starts at $25/year.
6. AdRotate

What makes AdRotate a little different from others on this list is that it's an ad management plugin geared specifically toward ad banners. It works with Google AdSense ads, Amazon ads, and other affiliate ad platforms.
Ad creation is easy. If you don't have an ad of your own created, you can use the built-in ad generator to create one. No coding skills are required. You can preview your ad banners while you're editing.
To add banners to your site, you can use the plugin's WordPress block editor functionality in Gutenberg. Alternatively, use shortcodes to add banners to your content, widget, blocks, page builders, sidebars, and more. It's also possible to set up post injection.
Decide whether you want to rotate banner ads as a carousel per page load or every few seconds, and choose the schedule you want.
Cost
AdRotate has a limited free plan. The premium version will run you about $45/month.
7. WPFront Notification Bar

Similar to others on this list, WPFront Notification Bar lets you create a new banner to display at the top of your website or at the bottom.
Choose whether you want to display a message alone or a message with a button. The button can open a URL or execute JavaScript.
There are several ways to customize your notification bar:
Determine whether you want it to be sticky or display on scroll
Customize colors to match your site
Set your start and end dates
Hide the bar for those viewing on smaller screens and devices
Cost
There's a limited free version. Pro version plans start at $89/year.
FAQ
Do Banner Plugins Affect Website Performance or Page Loading Speed?
It depends. A good banner plugin will be coded well and won't weigh your site down. Because they're typically optimized for performance, their impact on site speed is minimal. That said, you should always do your research before you install a plugin. Make sure you download from a reputable developer and read reviews.
Can I Create Custom Call-to-Action Buttons Within My Banners Using a Plugin?
Yes, many banner plugins allow you to create custom call-to-action buttons to appear on your banners. It's important to research before you download something. Always read the documentation just to be sure that you're getting a plugin with that functionality.
Next, Check Out Other Plugins to Improve Your Site Functionality
If you're looking for the perfect plugins for your website to help you boost site functionality, check out these guides:
Create Your WordPress Form Now
Ready to build your form? Get started today with the easiest WordPress form builder plugin. WPForms Pro includes lots of free templates and offers a 14-day money-back guarantee.
If this article helped you out, please follow us on Facebook and Twitter for more free WordPress tutorials and guides.