Are you considering using AffiliateWP to manage your affiliate program in WordPress? We've put together a thorough AffiliateWP review to help you decide if it's the plugin you need.
There are lots of affiliate marketing plugins for WordPress websites but they aren't all equal in quality. Most are complex to set up and use, or simply too expensive for startups and small business owners.
So how does AffiliateWP compare? In this AffiliateWP review, we'll evaluate the features, ease of use, support, and pricing that you can expect with this plugin.
What is AffiliateWP?
AffiliateWP is one of the best affiliate marketing plugins for WordPress.
The plugin allows you to onboard affiliates, track the referrals they send to you, and process their payouts.
Without the right plugin to help, all this can be a hassle. Fortunately, AffiliateWP does it all with an easy-to-follow workflow.
Now, let's explore how it all works!
Affiliate WP Review: Is This the Best WordPress Affiliate Plugin?
In the next few sections, we'll explore all that AffiliateWP has to offer by looking at its features, ease of use, support, and pricing.
Jump right in!
AffiliateWP Features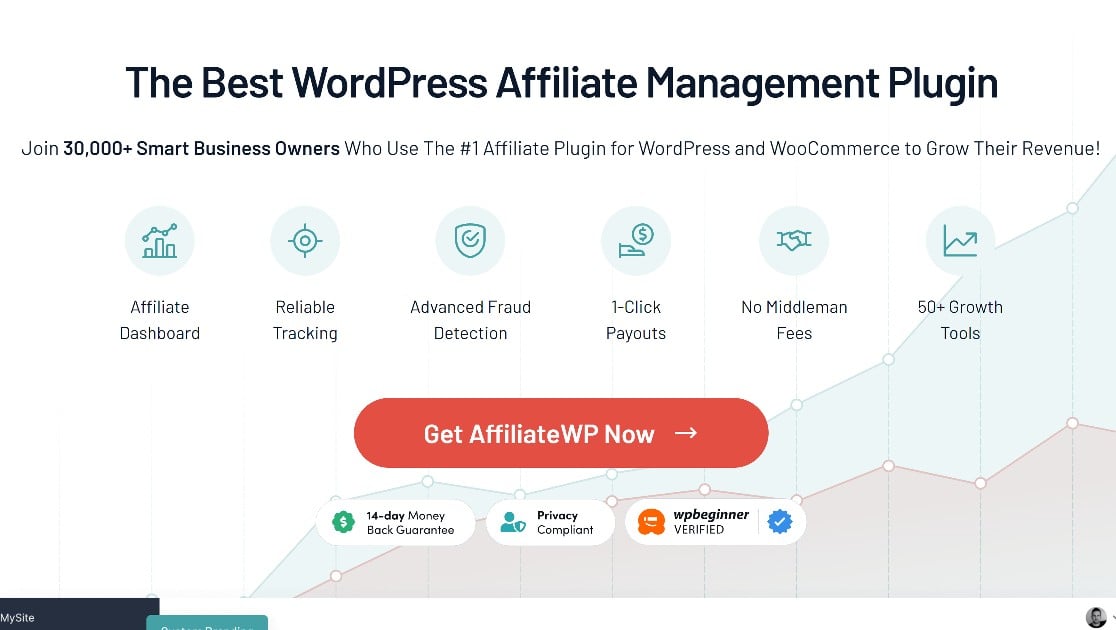 AffiliateWP contains all the features you'll need to manage your affiliate program from your WordPress site.
AffiliateWP Integrations
One of the standout features of AffiliateWP is that it offers native integrations with plenty of other plugins.
It's extremely important for affiliate marketing plugins to integrate well with popular plugins that might be used to sell anything.
WooCommerce might be the integration that first comes to mind since it makes it easy to sell products online. But AffiliateWP offers powerful integrations with many more plugins and services.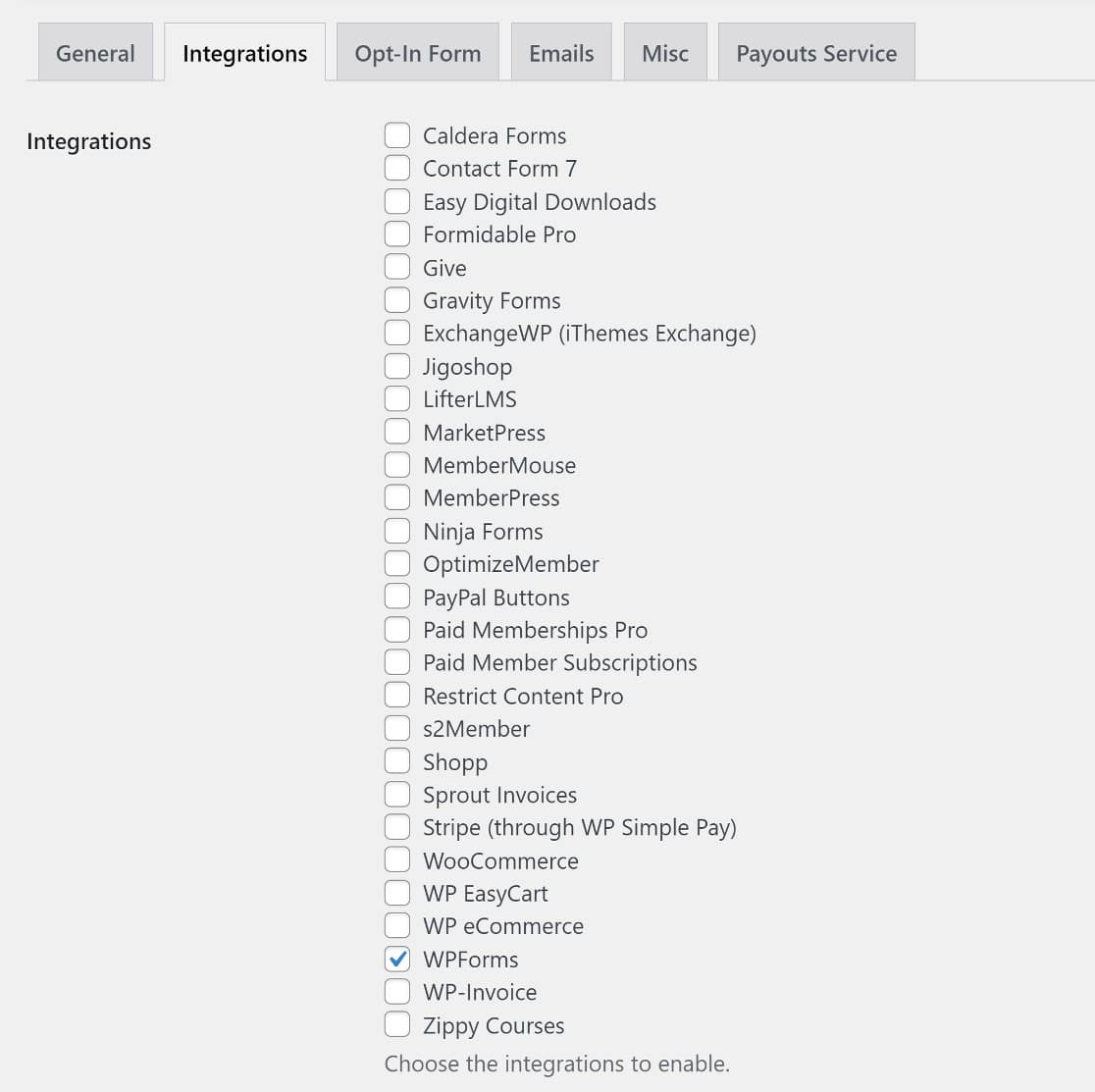 Some of these include:
WPForms –  You can integrate AffiliateWP with WPForms to seamlessly track referrals to your forms. WPForms allows you to sell products and collect payments using WordPress forms which is perfect for an affiliate marketing system. But that's not all, you can also use AffiliateWP with WPForms to generate leads, grow email list, and even conduct surveys.
MemberPress – You can use MemberPress to create a membership website such as an online learning platform with courses or other online community. You can attract more members to your site if you have affiliates to send you the targeted traffic, something that's easily possible with AffiliateWP.
Easy Digital Downloads (EDD)-  This plugin offers the simplest solution for selling digital products on WordPress websites. If you primarily sell downloadable products such as ebooks, using EDD along with AffiliateWP is an excellent combination for pulling referral traffic to your site and making more sales.
Some of the other plugins AffiliateWP integrates with include PayPal, Formidable Forms, and more.
Affiliate Management & Referral Tracking
Sometimes affiliate management plugins use complex layouts to manage affiliates or require offsite affiliate management.
With AffiliateWP, you can see detailed statistics of each affiliate, allowing you to monitor the total earnings, the number of referrals sent, and total visits customers have made through a particular affiliate.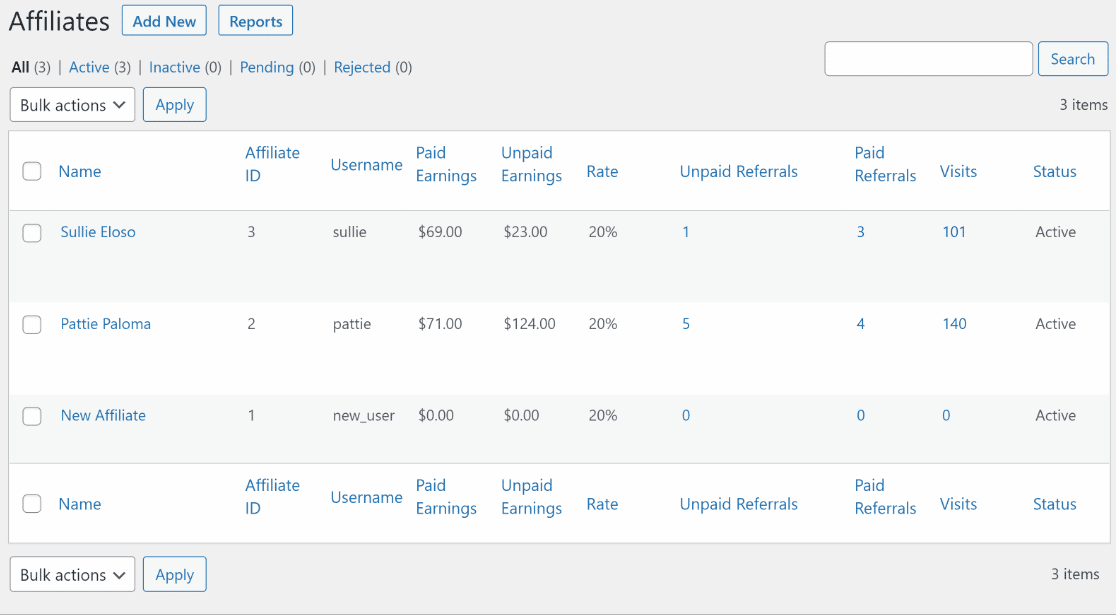 And if you want to see details of each referral an affiliate has sent your way, AffiliateWP's referral tracking dashboard shows you everything you need.

You can choose to accept a referral and proceed to pay your affiliates on a per referral basis. If you wish, you can also reject a referral and AffiliateWP will no longer take that particular referral into account when calculating commissions for your affiliates.
These are powerful features that give you complete control over your affiliate program and allow you to track referrals with as much detail as you'd like.
And the best thing is that you don't have to leave your WordPress site to manage anything concerning your affiliates.
1-Click Payouts
The success of your affiliate program hugely depends on how motivated your affiliates are. If they're not getting paid on time or they're experiencing frustrating obstacles before receiving their commissions, they might leave your program entirely.
Thankfully, AffiliateWP has a powerful system in place for paying your affiliates effortlessly and on time. AffiliateWP comes with a payout processing feature directly integrated into it. This service is called Payouts Service, and it charges you a nominal service fee for transferring affiliate earnings directly to their bank accounts.
Payouts Service uses Stripe as the payment processor, and it's really easy to get started. You just have to get a Payouts Service plan that works for you and connect it with your AffiliateWP installation.
Once you've successfully connected with Payouts Service, you can pay your affiliates in various ways including:
Payouts by referrals
Payouts by affiliates
Mass payouts for all affiliates
The flexibility in paying your affiliates is incredible. While the easiest way to transfer commissions to your affiliates is to pay all of them at the same time with a single click, it's great to have the ability to also make payments on a per affiliate or per referral basis.
Payments usually take between 3-7 days to arrive in your affiliate's bank account within the US and about 14 days outside the US.
Smart Commission Rules
AffiliateWP gives you the full freedom to structure referral rates for your affiliates just the way you like.
You can choose to pay a percentage-based commission, which works well if you're selling products. Or if you want, you'll also have the option of paying a flat fee which would allow you to do things like set up a pay per lead affiliate marketing program.
AffiliateWP also allows you to bypass global referral rate settings and set individual referral rates for some or all of your affiliates. That's not all. Some integrations like EDD and WooCommerce support per-product affiliate rates, which is excellent if you have a separate affiliate commission for each product you're selling.
All of these settings are really simple to work with and give you an excellent variety of options when it comes to managing commissions for your affiliates.
Reporting & Analytics
No review of AffiliateWP would be complete without showcasing its powerful reporting feature. Like most other functions, there are a lot of ways you can view reports and focus on particular details you need.
The main dashboard of AffiliateWP is basically an overview page that shows you a broad summary of how your affiliate program is going. At a glance, it shows your total paid and unpaid earnings, recent referrals, the most valuable affiliates in your program, and more.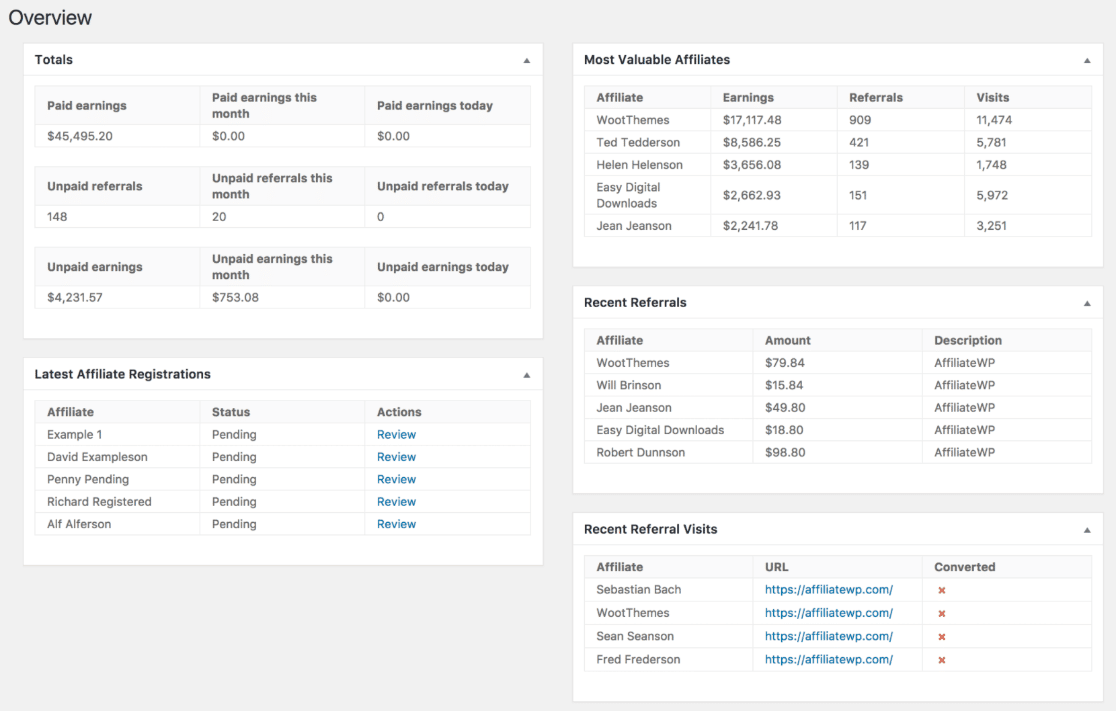 The Reports menu displays statistical data in more detail. It lets you see filter your earnings by date and affiliates and displays a chart showing the trend of your referral data.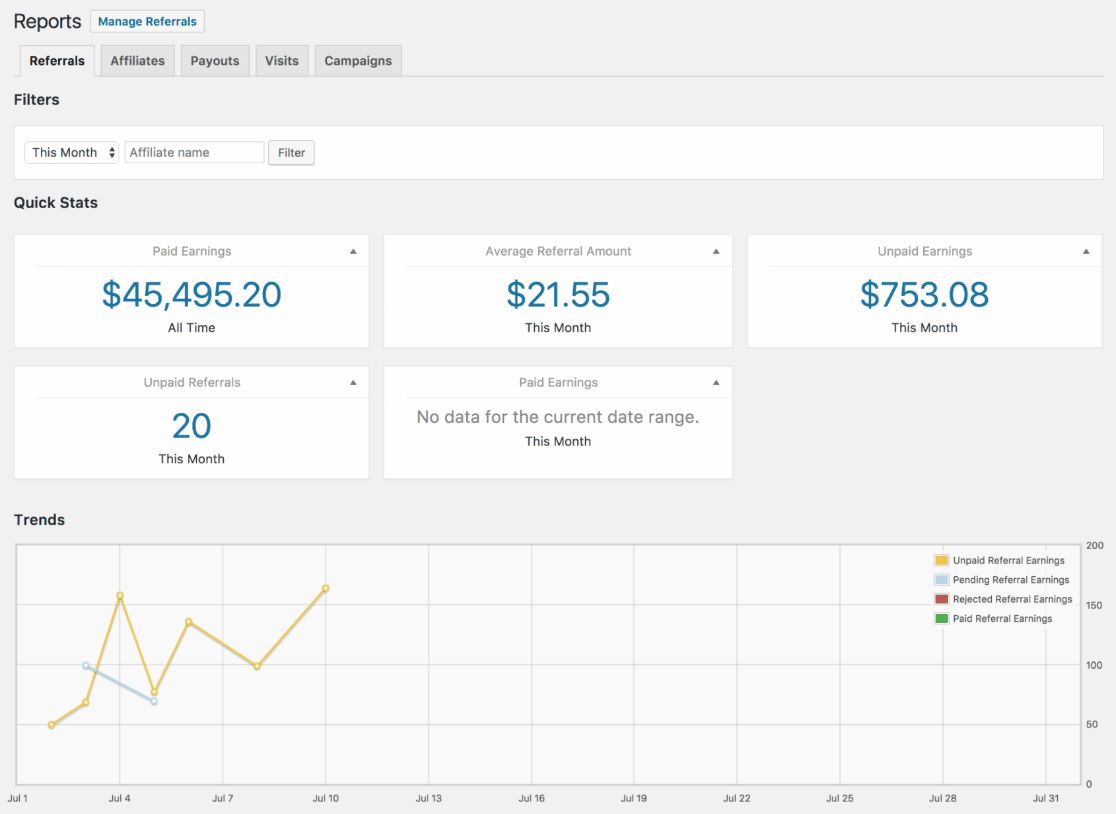 You can use the tab buttons to view reports for different metrics concerning your affiliate program including payouts, visits, referrals, affiliates, and campaigns.
For instance, the Visits report measures conversions from referrals. This way, you can effortlessly evaluate if your affiliate program is running per your expectations. If not, you can use this data to make informed decisions for changing your affiliate strategy and improve your conversion rate.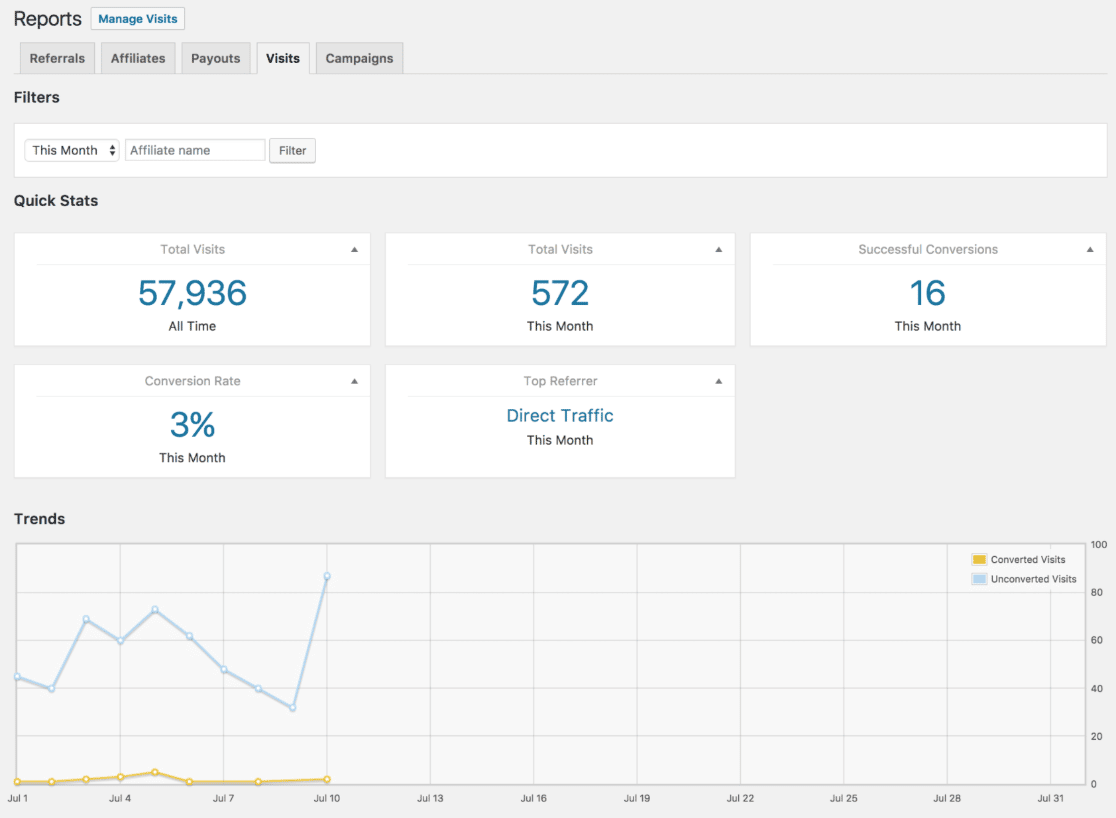 The Reporting feature is a huge help when you want to measure the performance of your affiliate marketing. It gives you all the visibility you need to make sure you stay on top of everything there is to know about your affiliate program.
Addons
AffiliateWP offers various addons that make the plugin all the more useful. Many of these addons are free including:
Signup Bonus addon enables you to offer bonuses for new affiliates. This is a great way to attract a good number of interested affiliates to help promote your products and business.
The Leaderboard addon includes functionality for creating a table listing your top affiliates ordered by referrals, earnings, or visits. You can use this to encourage your affiliate members to work harder and bring more referrals to you and climb to the top of the table.
Affiliate Product Rates addon integrates with WooCommerce and Easy Digital Downloads to support per-product referral rates on a per-affiliate level. For each product, you can decide the amount of commission a specific affiliate should get for it.
Other than that, AffiliateWP also has some powerful paid addons:
Tiered Affiliate Rates
Pushover Notifications
Lifetime Commissions
Recurring Referrals
And more.
For a full list, you can see this AffiliateWP addon page.
AffiliateWP Ease of Use
Ease of use is another way AffiliateWP stands out. Everything from setting up the plugin to registering new Affiliates, and even issuing payments is designed to be as straightforward as possible.
The setup process can be completed through the setup wizard that takes just 2-3 minutes to work through.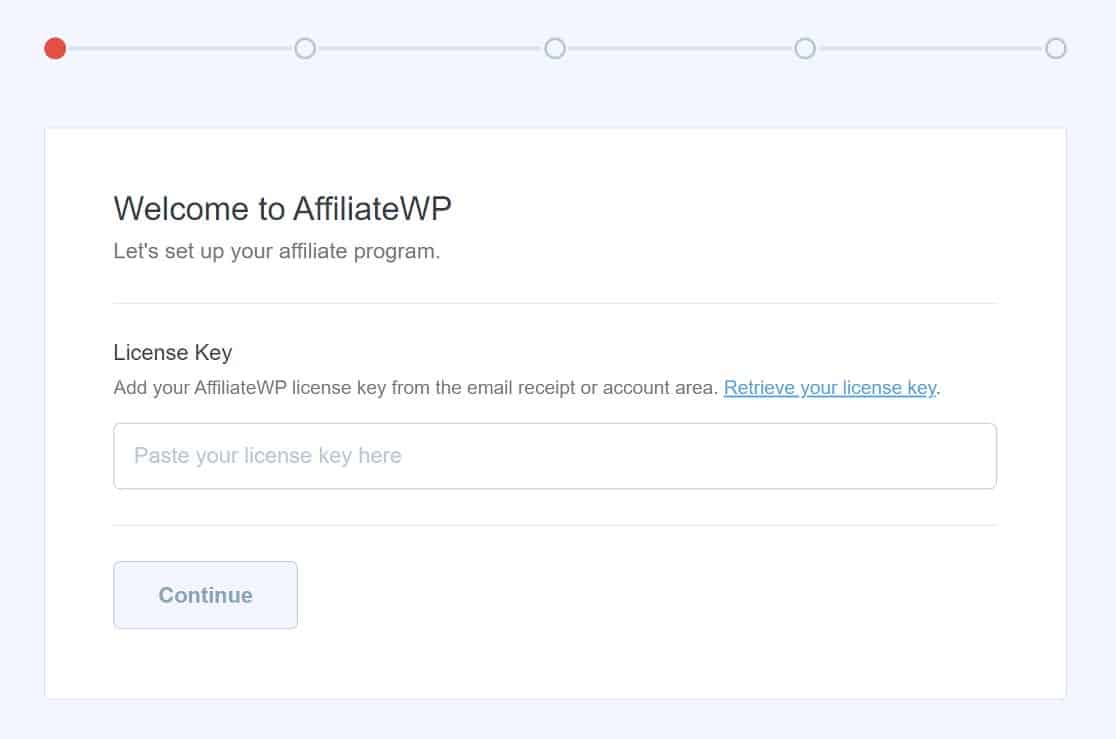 For affiliates, AffiliateWP comes with a dedicated Affiliate Area on the frontend of your website. This is where your affiliates can sign up and log in to manage their accounts.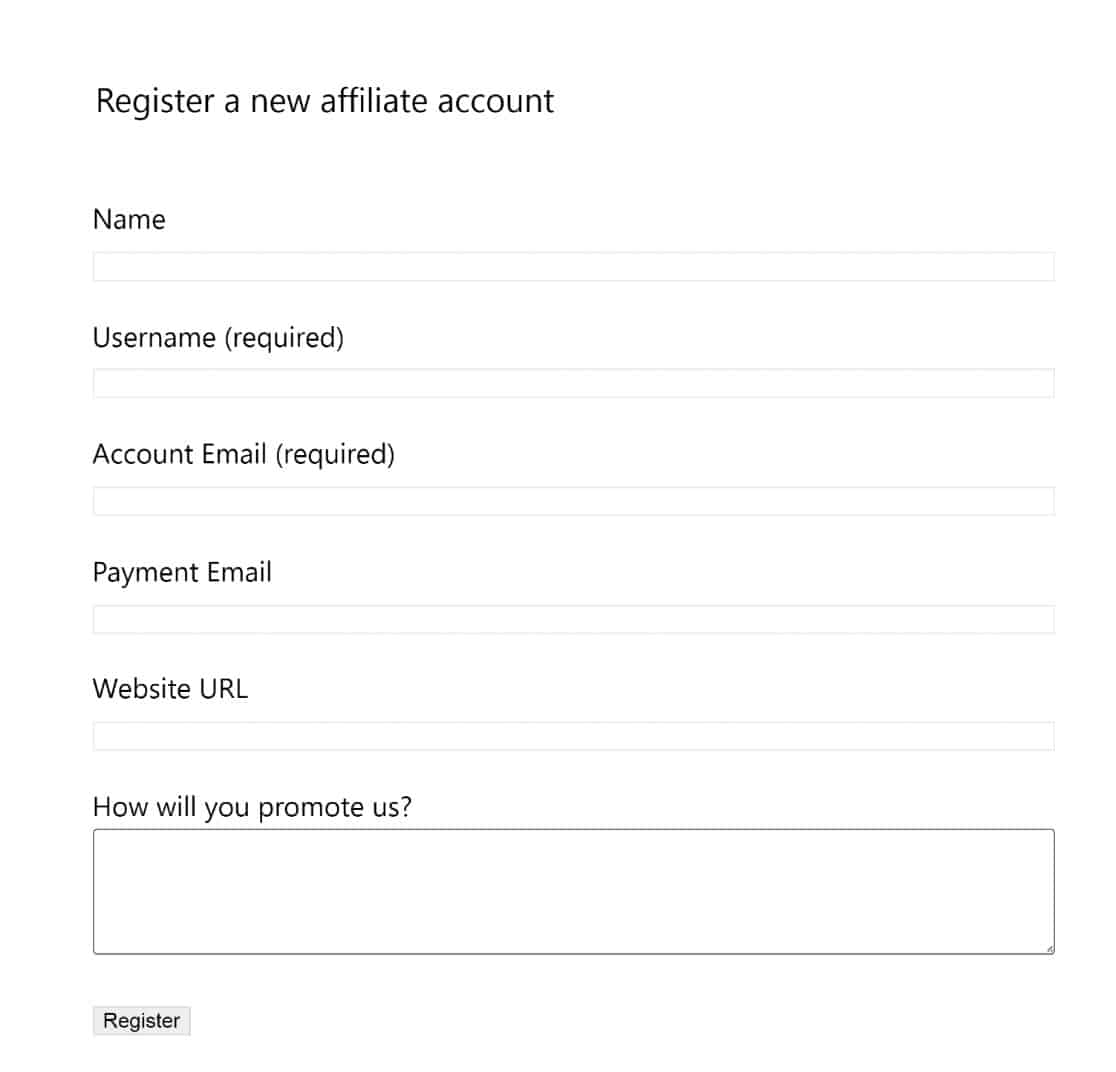 They'll be able to generate their own referral links from this page, and the entire process takes just a few minutes.
AffiliateWP Support
With WordPress affiliate management, things can get technical and, understandably, you might need some help from time to time.
So what options does AffiliateWP offer? The first place to get started when seeking support, is with documentation.
If you have more technical questions that can't be answered using the available documentation, you can then reach out to AffiliateWP support for more personalized help.
Existing customers can submit a support ticket while prospective customers can complete a form to ask pre-sales or general questions.
AffiliateWP Pricing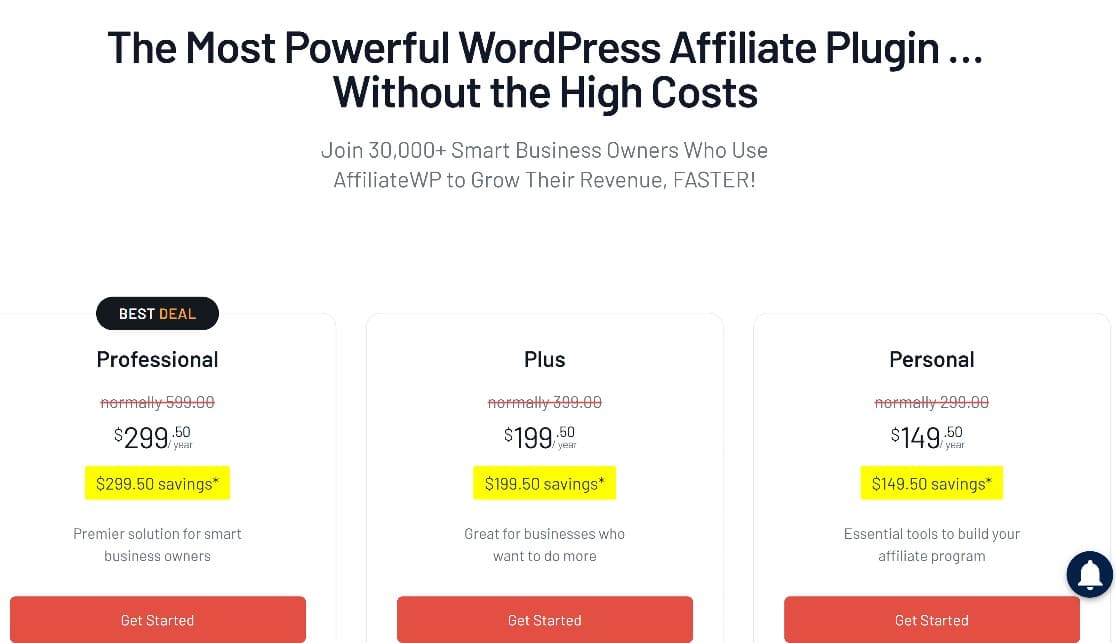 AffiliateWP does not have a free version, but its paid plans are affordably-priced, starting at a competitive $149 annually. Considering the range of features available, this is great value for money.
Plus, all AffiliateWP plans come with a 14-day money-back guarantee, so you can try it risk-free.
AffiliateWP Review — Is It the Right Choice?
AffiliateWP is easily the best plugin for WordPress sites looking to promote their business with affiliate marketing.
Here's a quick recap. AffiliateWP's strongest features include:
Seamless integration with numerous WordPress plugins, making it possible for you to track referrals across multiple areas of your site.
An intuitive dashboard that allows you to see your earning statistics and manage affiliates at a glance.
A powerful payouts system that supports 1-click payouts to affiliates.
Smart commission rules allow you to set different types of referral rates, apply the same rates globally, or use a separate rate per affiliate depending on your preferred strategy.
Powerful addons to enhance your affiliate marketing with tactics like signup bonuses, an affiliate leaderboard, per-product referral rate, tiered affiliate commissions, and a lot more.
And all of these capabilities are available in an easy-to-use package at very affordable price points.
Here's the bottom line: if you were wondering if AffiliateWP is the best WordPress affiliate marketing plugin, then our answer is yes. AffiliateWP is a one-stop solution for affiliate management in WordPress!
And that wraps it up for our AffiliateWP review!
Next, Track The Customer Journey Without Google Analytics
Tracking the customer journey from the moment they land on your website from a referral source, to the moment they take some action like buying a product or signing up for a newsletter, can provide you with valuable insights on customer behavior.
Setting up Google Analytics is one great way to get this data but this can be complex. Here's how to track the customer journey without using Google Analytics instead.
Create Your WordPress Form Now
Ready to use AffiliateWP in WordPress? Get started today with the easiest WordPress form builder plugin. WPForms Pro includes many features and addons and offers a 14-day money-back guarantee.
If this article helped you, please follow us on Facebook and Twitter for more free WordPress tutorials and guides.