Starting a blog and wondering what's the best blogging platform?
It can be a tricky choice since it's a big decision and there are a lot of unique options out there.
We've tested several of the best blogging platforms for beginners, which we'll cover in this post to make it easy to pick what works best for you.
| | Price | Best for |
| --- | --- | --- |
| WordPress.org | Free (but you'll need web hosting, available for as little as $2.75/month) | Best overall blogging platform |
| Web.com | $9.99+/month | Budget-conscious bloggers |
| HubSpot CMS | $23+/month | Marketing-minded bloggers |
| Gator Website Builder by HostGator | $3.46+/month | Non-technical bloggers who want a simple solution |
| WordPress.com | Free or $4+/month to remove ads and get your own domain | Small blogs with minimal monetization |
| Squarespace | $16+/month | Design-focused sites |
| Blogger | Free | Hobby bloggers who aren't looking to expand or monetize |
| Weebly | Free or $6+/month for custom branding | Best Wix alternative |
| Tumblr | Free | Microblogging |
| Medium | Free | Best blogging platform for writers |
| Ghost | $9+/month | Minimalist bloggers |
How to Choose the Best Blogging Platform
Before diving into our list of the best blog sites, it's important to make sure you know what you're looking for in a blogging platform.
Ask yourself these 3 questions about blogging platforms:
Ease of use: If you're new to blogging or even just thinking about starting your own blog, you may not be very technical yet (or may not ever be). So, you want to look for a blogging platform that's easy to get started with.
Supported plugins and tools: As your new blog grows, you'll want to change the look of your site and add new advanced features to support your growing audience.
Affordability: There are plenty of reasonably priced options out there. Whether you're running a personal blog or a business, you can find options for any budget range.
So now that you have a better idea about exactly how to choose the best blogging platform to build your blog, let's take a look at our picks for the best blogging platforms for beginners.
Best Blogging Platforms Compared
After extensive testing and comparing the features, functionalities, and ease of use of the most popular blogging platforms, here are the best ones that have made it into our list:
WordPress is our favorite blogging platform for a variety of reasons.
Above all, WordPress offers the most extensive range of features and functions for customization and managing different aspects of your blog. With over 55k unique plugins offering advanced capabilities, there's hardly anything you can't do with WordPress.
If you want to build customized contact forms, you can use the WPForms plugins for that. Similarly, plugins like OptinMonster enable you to run advanced marketing campaigns within your WordPress blog.
While reviewing and testing different platforms for this post, we found WordPress.org less user-friendly than other options like HubSpot. However, this is only if you're directly trying to customize your WordPress site using its built-in tools.
Managing a WordPress blog becomes a lot easier when you use plugins. Most plugins are no-code and come with beginner-friendly graphical interfaces that anybody can use.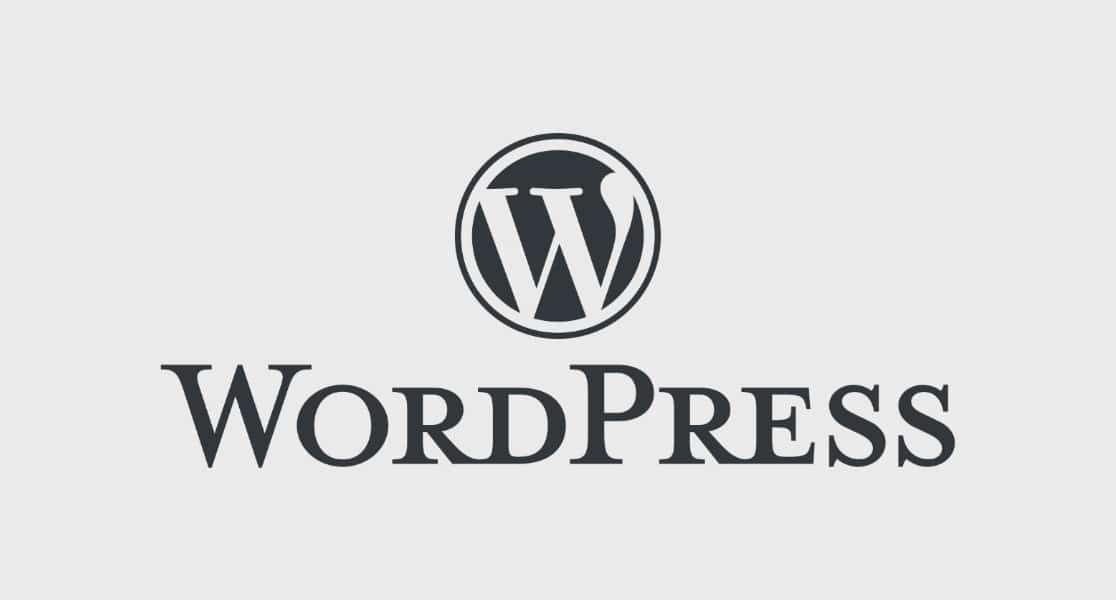 For example, building fully customized landing pages can be complicated in WordPress if you're not using the proper plugins. But with a plugin like SeedProd, you can create landing pages with advanced layouts even if you've never designed a landing page before.
This makes WordPress much more powerful than any other blogging platform.
Many blogging newbies confuse WordPress.org with WordPress.com. Basically, WordPress.com is a hosted platform, while WordPress.org requires you to set up your own hosting. Check out our post on WordPress.org vs WordPress.com for a great comparison of WordPress platforms.
Overall, WordPress.org is the best choice if you want full control over your blog and nearly limitless customization options. While WordPress.org is a free platform, you'll still need a WordPress hosting provider to take your blog live. We've found that Bluehost is by far the best WordPress hosting to get started with WordPress.org.
Pros:
Complete control over your blog — You can build a basic blog or an advanced eCommerce site using the same WordPress Content Management System (CMS). You'll also have your own domain name, which you can usually get from your hosting provider.
Massive library of themes — You can use drag-and-drop site builder themes like Divi, Astra, or OceanWP to easily make your WordPress site look exactly the way you want it, choose from thousands of blog templates, and create a custom login form to improve your branding.
Extensive plugin support — With over 55k plugins (most of them free), WordPress has the largest number of plugins that can enhance your website and offer super useful functions for running your blog or business online.
Easy optimization for search — WordPress is the most SEO-friendly blogging platform with an excellent range of WordPress SEO plugins.
Automation and integrations — WordPress readily integrates with third-party apps and platforms, and lets you set up automation between apps to simplify your workflow.
Community — WordPress has the most closely-knit ecosystem consisting of active independent developers. Although there's no direct customer support for WordPress itself, you can find tons of details on forums online.
Cons:
Not always beginner-friendly — Can have a slight learning curve for non-technical people.
Doesn't handle security — You'll need to manage your own backups and security (like with a security plugin like Sucuri).
Cost:
Free. You'll need to pay to have a custom domain name for around $14.99 per year + hosting for around $9.99 per month.
Get started with WordPress.org today.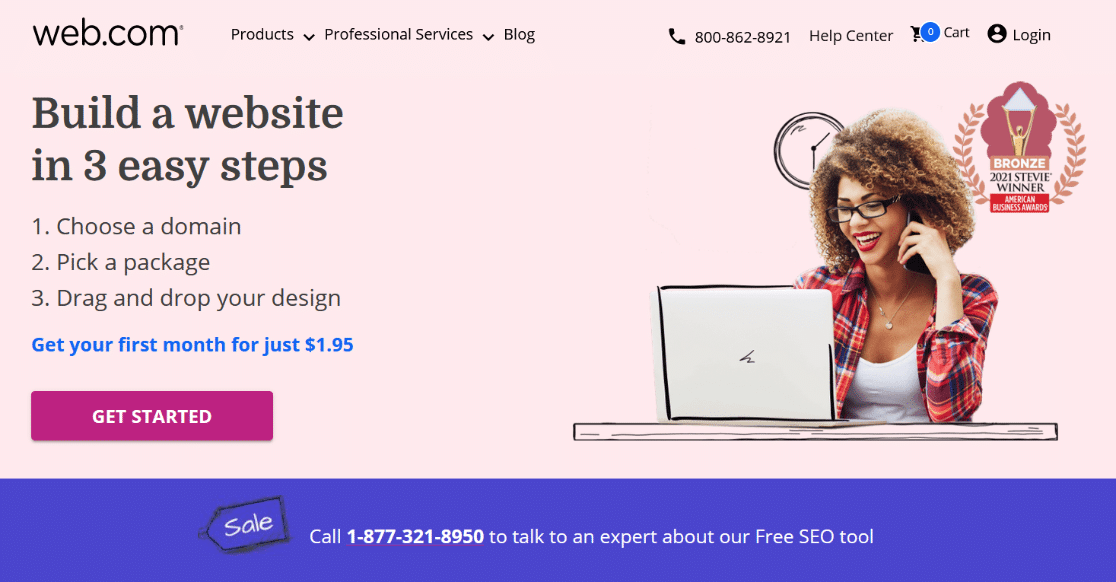 If you want to quickly create a blog on a budget, Web.com is the easiest website builder we've found at the lowest price. It's also one of the original and most popular blogging platforms with over 3 million happy customers since 1999.
When testing this platform, I thought that the blogging functionality on Web.com isn't nearly as robust as it is on WordPress.org. You can drag and drop elements into the page builder, but customizing anything is a challenge.
On top of that, image editing is limited to resizing only. Many of the customization features require an additional purchase so the total cost can become quite high to replicate the same functionality you could get on WordPress.org.
Pros:
Easy to use — A user-friendly drag-and-drop website builder to create your blog.
Beautiful design options — Tons of professionally designed website templates and access to thousands of stock images.
No page limits — You can add unlimited pages to your site.
Freebies — Comes with a free domain name, business email address, website analytics, SEO tools, and more.
Cons:
Lacks some functionality — Blogging functionality is limited compared to WordPress.org.
Limited eCommerce — If you want to add an online store to your blog, you're limited to 50 products.
Cost:
The starter website plan starts at only $9.99 per month if you purchase an annual plan.
Get started with Web.com today.

If you want to run your blog like a business,  HubSpot CMS is one of our favorite blogging platforms for this. HubSpot CMS natively integrates with the HubSpot CRM to manage leads and customers as well as support your email marketing efforts. Plus, it comes with a ton of built-in features that are designed for content optimization.
But HubSpot CMS lacks the flexibility and advanced capabilities that you get with WP.org.
Trying to create a web form is a good example of this. We found that there were some inherent limitations on forms within the HubSpot form builder, including limited fields and layout options, and there was no way to use a third-party plugin.
But in WordPress, you get full-fledged form builders like the WPForms plugin to create a form with all the functionality you need. This kind of additional functionality is why we still rank WordPress ahead of HubSpot CMS.
Pros:
Easy to use — Intuitive drag and drop builder to create a blog in no time.
Built-in SEO — Generates SEO recommendations as you write.
Multi-language — Language switcher module so your visitors can read your content in their preferred language.
Freebies — Comes with HubSpot's free CRM and all of HubSpot's free marketing, sales, service, and operations tools.
Security — Handles 24/7 security monitoring and threat detection.
Cons:
No free version — HubSpot CMS does not have a free version and pricing can be steep depending on your needs.
No built-in eCommerce — You'll need third-party plugins and integrations to add an online store to your blog.
Cost:
HubSpot CMS pricing starts at $23 per month with an annual plan.
Get started with HubSpot CMS  today.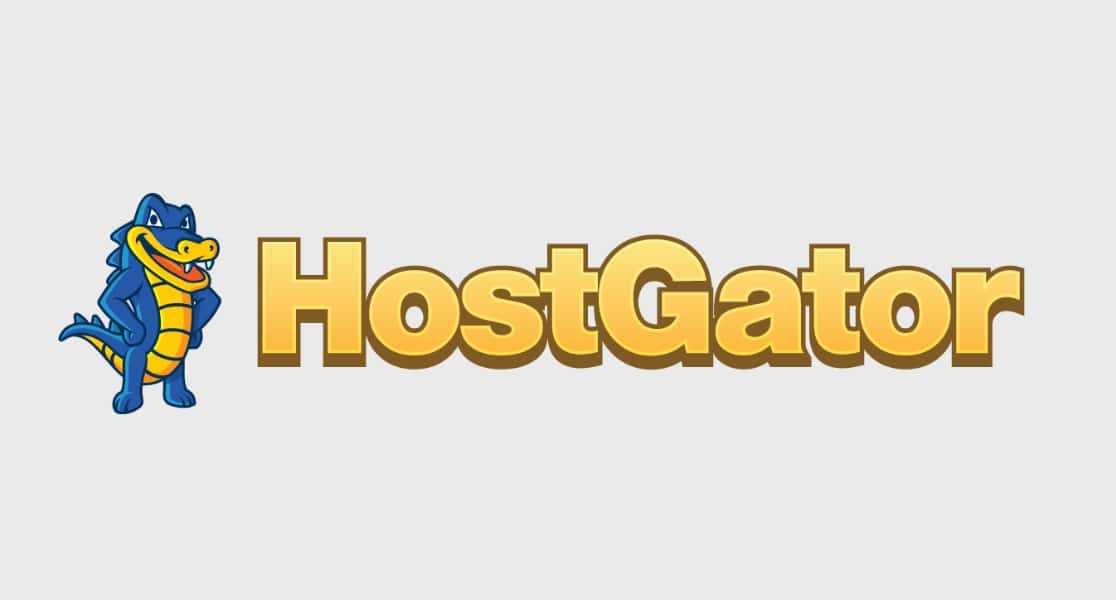 Gator Website Builder by HostGator is another one of the best choices for blog platforms, and it's one of our favorites among the platforms we tested because it's insanely simple and easy to use. It's also a hosting service, so everything happens in one place.
Although it's a great choice for those who are just getting started, it doesn't quite match up to WordPress.org. Whereas you have thousands of plugin options on WordPress, you're quite limited with Gator Website Builder when it comes to improving site flexibility and functionality.
Gator Website Builder would be great for someone building a personal site or something basic for personal use. For a more robust business or organizational site, though, we still recommend WordPress.
Pros:
Simple setup — Even non-technical people can set up a site in minutes.
Awesome user interface — Use a drag-and-drop editor and builder to customize the way your blog and site look.
eCommerce compatibility — Add an online store and sell things from your blog easily.
Freebies — Paid plans include a free domain and SSL certificate.
Security — Backups, security, and performance are all handled for you.
Cons:
Limited extensions — Not as many apps and extensions can be used.
eCommerce cost — You'll need to pay for a more costly plan to add a store to your blog.
Cost:
Gator Website Builder pricing starts at $3.46 per month.
Get started with Gator Website Builder today.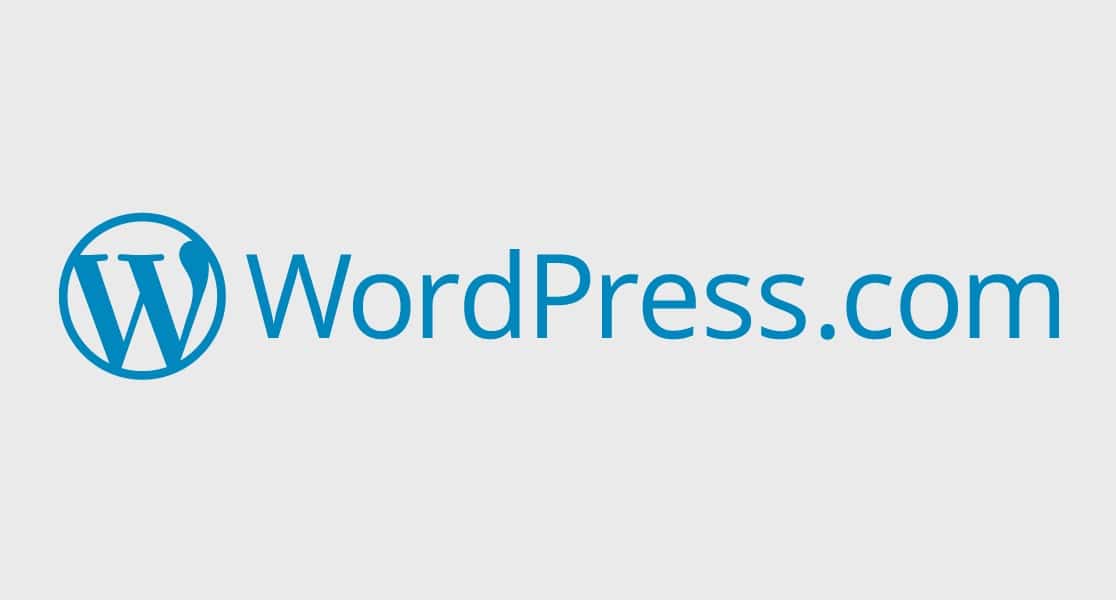 WordPress.com is easy to set up and offers basic blog services for free. We've found that it's good for giving you an intro to WordPress, but it gives you very limited control over what you can do with your website. This could be a huge issue for small business owners. It's one of the free platforms on our list that's often confused with the much more flexible WordPress.org.
Pros:
Easy — No setup required so you can start in minutes.
Free — You can use it at no cost if you don't mind have a website name that looks like: example.wordpress.com.
Security — Backups and security are handled for you.
Cons:
Can't make money on ads — Your free site will have their ads on it and you can't make money with them with networks like Google Adsense.
Lack of ownership — You don't own your blog and your account can be suspended if they choose to do so if you violate their terms.
Limited options — You won't be able to use custom WordPress themes and WordPress plugins on your website.
Cost:
There is a free plan, but if you'd like to remove WordPress ads and branding and get your own domain, which we recommend, it's $4 per month (billed annually).
Get started with WordPress.com today.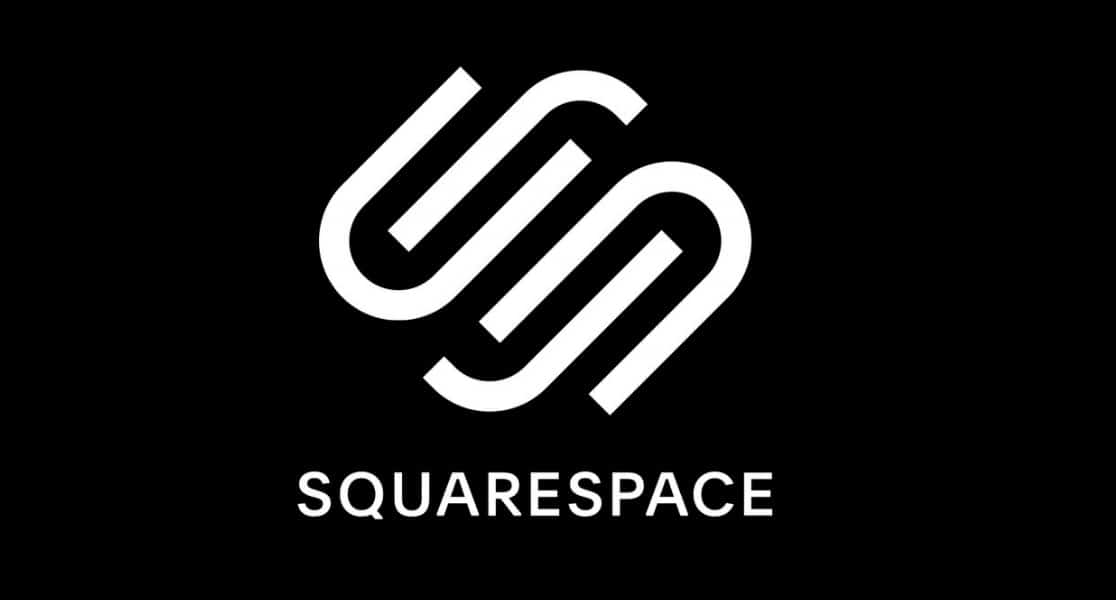 Squarespace is a blogging platform that helps you build beautiful websites but excludes the use of any 3rd-party apps or extensions. It was one of the best we tested in terms of adding a store to your site, but it's quite limited in other ways.
Pros:
Ease of use — Simple and easy to use for people who aren't very technical.
Gorgeous templates — Offers some stunning and professionally designed blog templates so your website looks fantastic without much work.
eCommerce ready — Ability to add a store to your site.
Ads — Now lets you use Google AdSense.
Plan Variety — Whatever your business plan size, Squarespace helps websites big and small.
Cons:
Limited apps — No 3rd-party apps or extensions are allowed.
Limited marketing — Not many marketing tools are offered.
Cost:
Squarespace plans billed annually start at $16 per month for personal sites.
Get started with Squarespace today.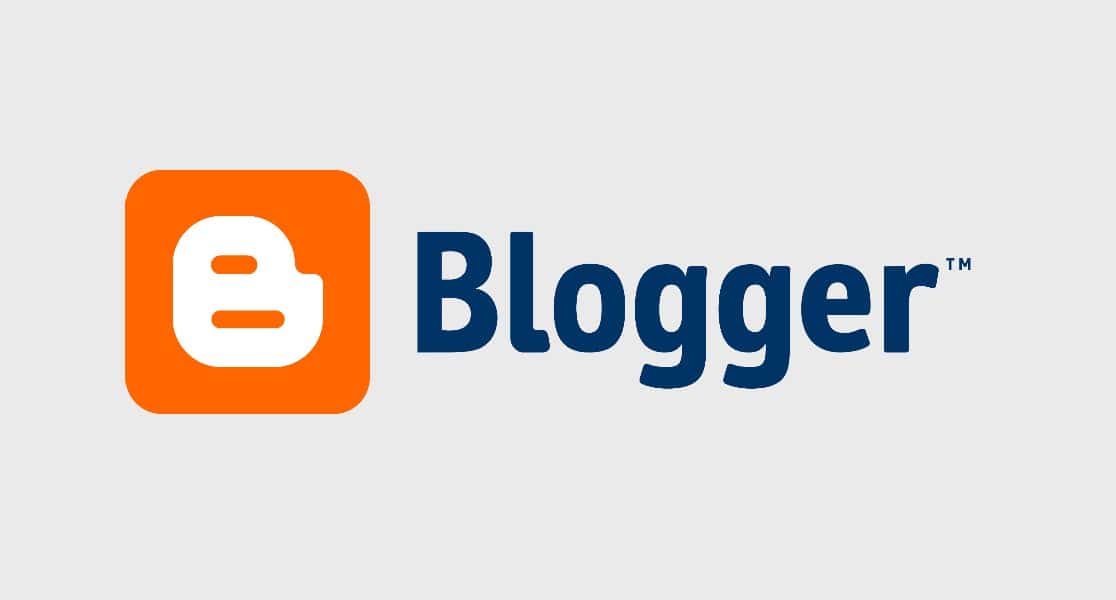 Blogger is one of the oldest blog platforms around and requires a Google account to get started. We found that it's simple to get started and get your blog online, but it may have some major deal-breakers for those looking to grow their site.
Pros:
Simple to start — Easily set up and create a blog without paying for anything.
Backed by Google — The technology giant owns the platform so it's secure and reliable.
Cons:
Dated — The platform doesn't receive updates often.
Design — The options for customization and design are extremely limited.
Limited features — You can't really grow your blog with the limited basic blogging tools that are provided.
Cost:
Free.
Get started with Blogger today.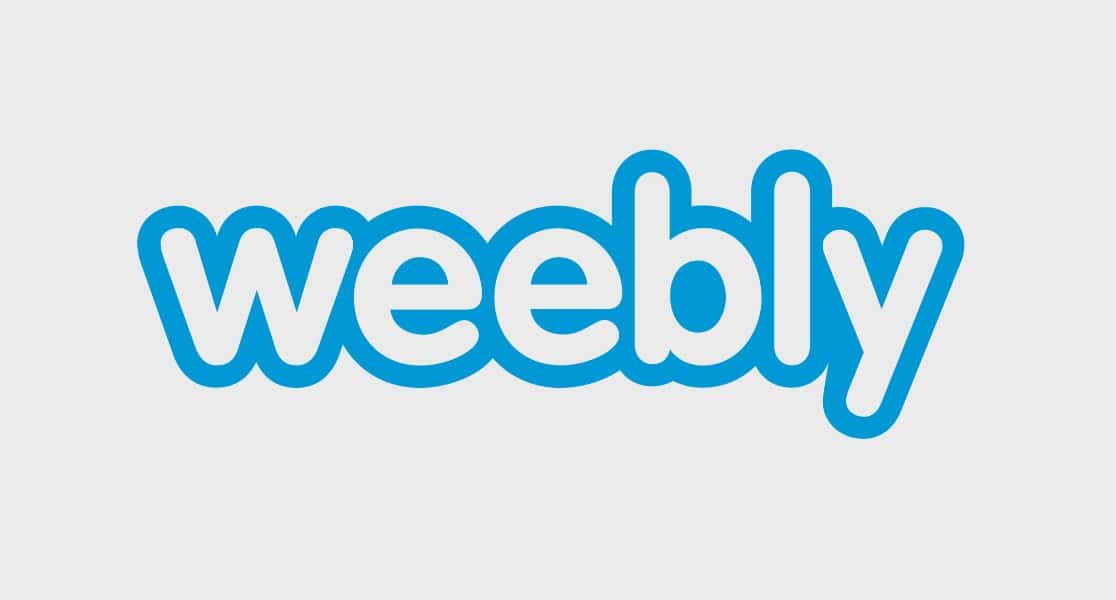 Weebly is a well-known blogging platform with a drag-and-drop builder. We've found that it's a solid alternative to Wix or Google's Blogspot.com, but like them, it may lack the extensive features some bloggers are looking for, such as plugins, abundant design options, and increased functionality. You won't find these on Weebly.
Pros:
Cons:
Export issues — In our experience, it's incredibly hard to export your website to another platform if you choose to do so.
Limited integrations — Not many choices for 3rd-party services.
Lacks features — Limited built-in features to customize your website's functions.
Cost:
Free. But to use Weebly with a custom domain you'll need to pay $6 per month or $12 per month to remove their branded ads and get more advanced site stats and password protection.
Get started with Weebly today.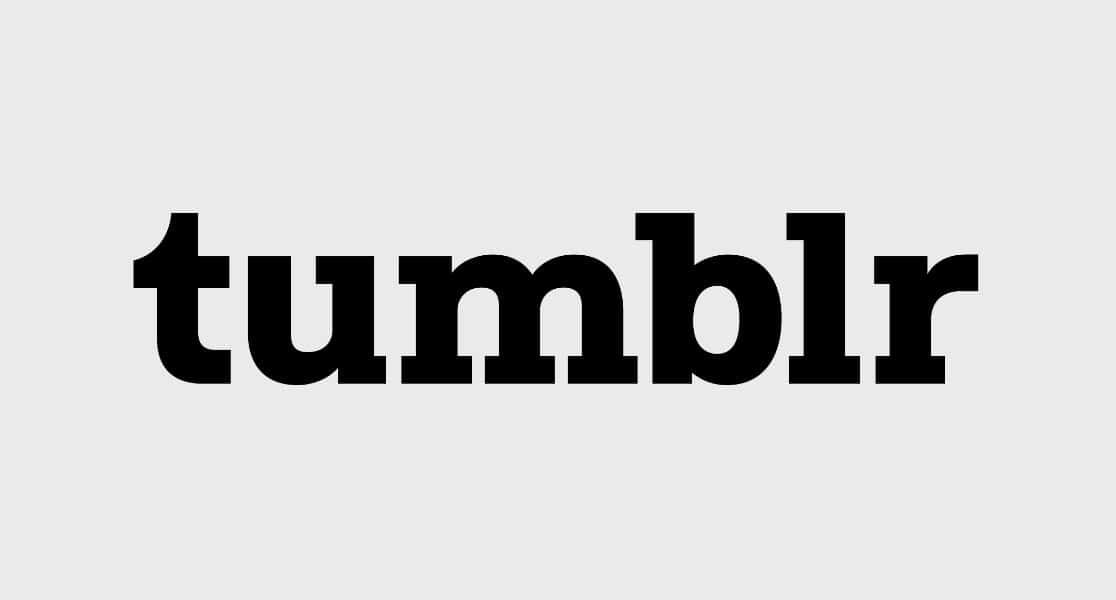 Tumblr is among the most popular of all microblogging platforms. We've found that it's one of the easiest blogging sites to use, although it is limited in what you can do with it.
Pros:
Ease of use — Super simple blogging platform to start and manage content with.
Customization — Extensive ability to adjust your blog.
Social media integration — Easily connect a social network to your blog.
Cons:
Limited features — Very few options to add functions to your blog.
Theme control — You can't adjust the formatting of your site, similar to WordPress.com.
Export issues — We found that it's incredibly hard to export your website to another platform if you choose to do so.
Cost:
Free.
Get started with Tumblr today.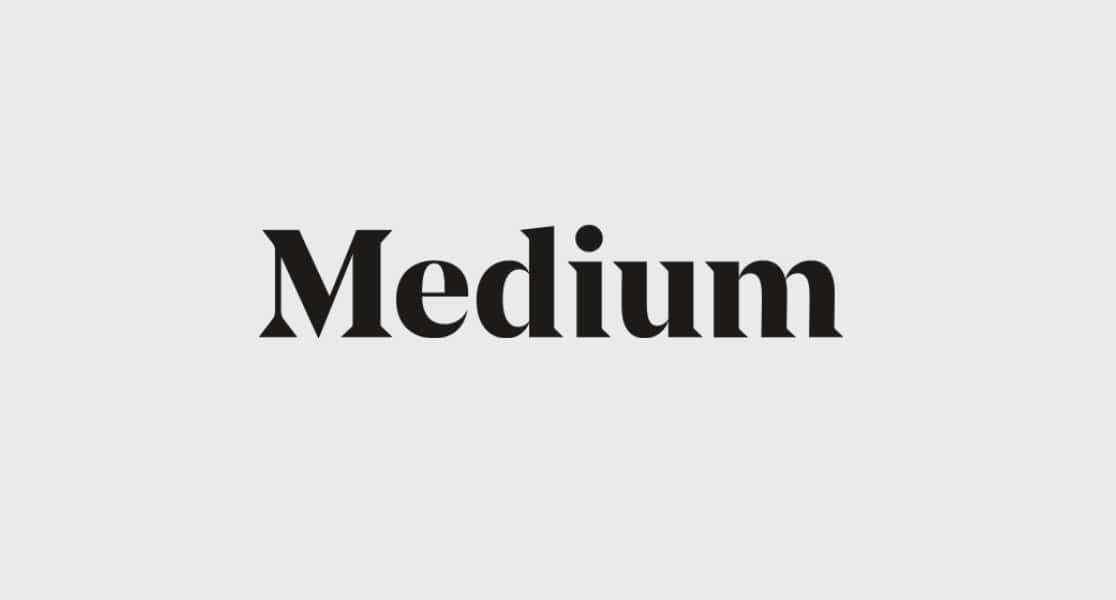 Medium is an online publishing platform that lets you import your content from anywhere on the web. This is a huge content publishing platform. We love the built-in audience when writing on Medium.
However, we've also found that if you're looking for the best blogging platform to make money, you'll want to go with another option since there are limited opportunities to monetize your blog with Medium.
Pros:
Ease of use — There's barely any setup required for this blogging site.
Reporting — Offers a powerful reporting tool so you can learn more about your readers and how they're engaging with your posts.
Focus on writing — It's a content-first type of platform, so you can write and they handle the design.
Medium Partner Program — Once you've published at least 1 story and have a minimum of 100 followers, you can join the partner program and earn money for engagement on your content.
Cons:
Fewer monetization opportunities — While the partner program is nice, you don't have the option to add an eCommerce store, run ads, or publish content from 3rd-party sponsors.
Content control — You have limited control over your content.
Limited features — Very few options to customize your site.
Cost:
Free.
Get started with Medium today.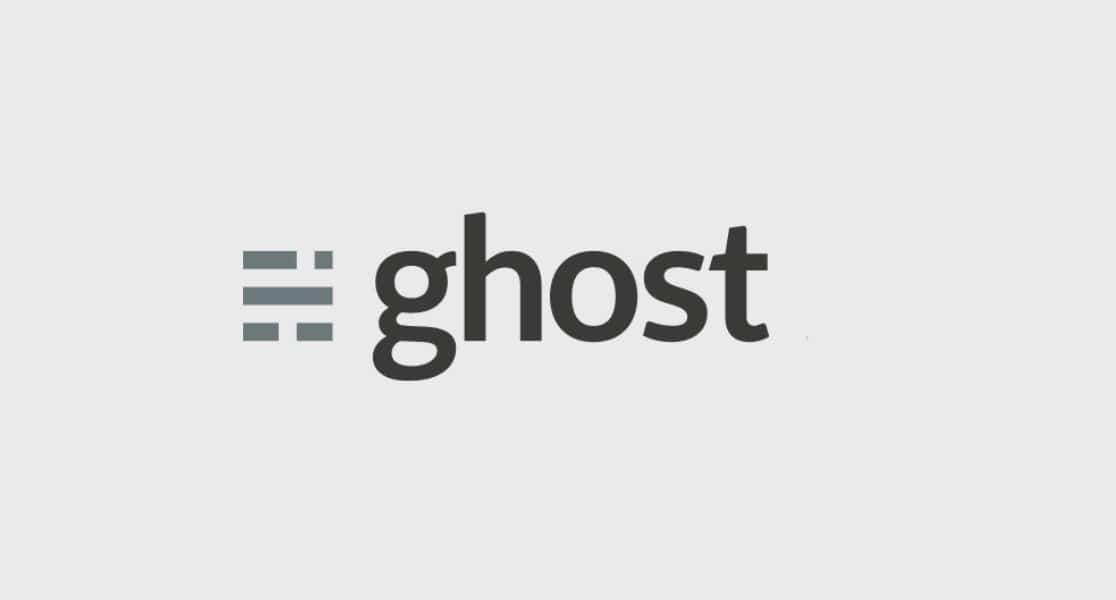 Ghost is a minimalist and open-source blogging platform for website building. In our experience, it was easy to use but it lacks the ability to use many 3rd-party plugins that would give a site greater functionality.
To get custom integrations and connect others with Zapier, it will run you at least $25 per month on an annual plan, making it pretty steep, price-wise, compared to some of the similar platforms we tested.
Pros:
Simple to use — A clean and modern interface keeps things easy for users.
No setup — If you opt for the hosted version, setup is instant.
Built-in SEO — The platform comes with SEO tools to help you rank high in search engine results.
Cons:
Limited customization — You can't use most paid and free themes or plugins.
Branded domain — Unless you buy a custom domain from a 3rd-party domain registrar, your personal blog will be a Ghost subdomain ending with ghost.io.
Cost: 
Self-hosting requires a custom domain for around $14.99 per year + web hosting for around $7.99 per month.
The hosted version starts at $29 per month for 2 users and up to 100,000 page views.
Get started with Ghost today.
Final Verdict: The Best All-Around Blogging Platform
After reviewing and testing more than 10 of the top blogging platforms for this post, we found that WordPress.org is the best overall platform.
Not only is WordPress a powerhouse when it comes to building a site and managing content, but we love how much control you can exercise over your website.
The open-source nature means that it's constantly evolving and it's easy to find community support whenever you need it. You can install various plugins to improve functionality and user experience to ensure you get the site you want.
WordPress also has low startup costs and allows you to expand your website as your brand grows. You can use your blog to promote your business or online store, host your podcast, and much more if you use WordPress.
As we tested WordPress.org, the biggest drawback we encountered was that you have to manage your own security. Additionally, some may find that it's not as beginner-friendly as some of the other platforms we reviewed here but these complaints are easily resolved once you add some essential plugins to your site.
And that's it! Hopefully, this list helped you decide which of the best blogging platforms is the right one for you and your blog.
Next, Learn About Website Costs
Since you're at the beginning of your blogging journey, make sure to take a look at our article on how much does a website really cost so there are no surprises about what you're in for!
Also, don't forget to read up on the best WordPress themes for small businesses for design ideas for your next site.
Ready to build your form? Get started today with the easiest WordPress form builder plugin. WPForms Pro includes lots of free templates and offers a 14-day money-back guarantee.
If this article helped you out, please follow us on Facebook and Twitter for more free WordPress tutorials and guides.