Are you looking to build a website and wondering how much does a website cost? There are a lot of factors that add up to the cost of making and running a website.
In this post, we'll break down the costs associated with websites so you can plan your budget more precisely.
How Much Does It Cost to Build a Website?
Before you can calculate how much it costs to build a WordPress website (the best Content Management System to build your site on), you're going to need to figure out what you need to create your site.
Here's a quick breakdown of the costs of the essentials tools and services you'll need for your new website:
| | |
| --- | --- |
| Domain Name (e.g., wpforms.com, sulliesflowers.com, example.com) | $9–$15+ per year |
| Website Builder (e.g., WordPress, Weebly, Wix, Squarespace, Shopify) | $0–$192+ per year |
| Web Hosting (depends on which website builder you choose) | $30–$1,700+ per year |
| Website Theme or Template (your website's design) | $0–$50+ |
| Plugins, Apps, or Addons (adds functionality to your website) | $0–$100+ (price range varies widely) |
| Website Maintenance (e.g., software updates, backups, security checks, speed optimization) | $0–$79+ per month |
Let's look at each of these costs in more detail.
Domain Name ($9–$15+ per year)
Your domain name is the URL (or website address) that visitors type into their browsers to reach your website (e.g. wpforms.com). Every website on the internet has a unique domain name, and registering your domain name costs money.
The cost of the domain name varies depending on factors like the length of the name, uniqueness, and domain extension (e.g. .com, .net, .org, .co, and more). A good estimate for your domain cost is somewhere between $9 and $15 per year.
However, some hosting services like Bluehost bundle the domain name with hosting, so you can get your domain name for free for the first year. This decreases your upfront costs so you can get started for less.
Website Builder ($0–$192+ per year)
Most websites today are built using Content Management Systems (CMS). A CMS greatly simplifies the process of making websites and reduces the development time needed, so even complete beginners can build DIY websites.
A CMS or website builder also makes it easy for anyone to make a DIY website, so you don't have to hire a web design agency or freelancer to create a professional-looking site.
The most popular CMS is WordPress, which has the added advantage of being completely free to use. Moreover, WordPress gives you outstanding flexibility and comes with thousands of plugins that add functionality and greater convenience.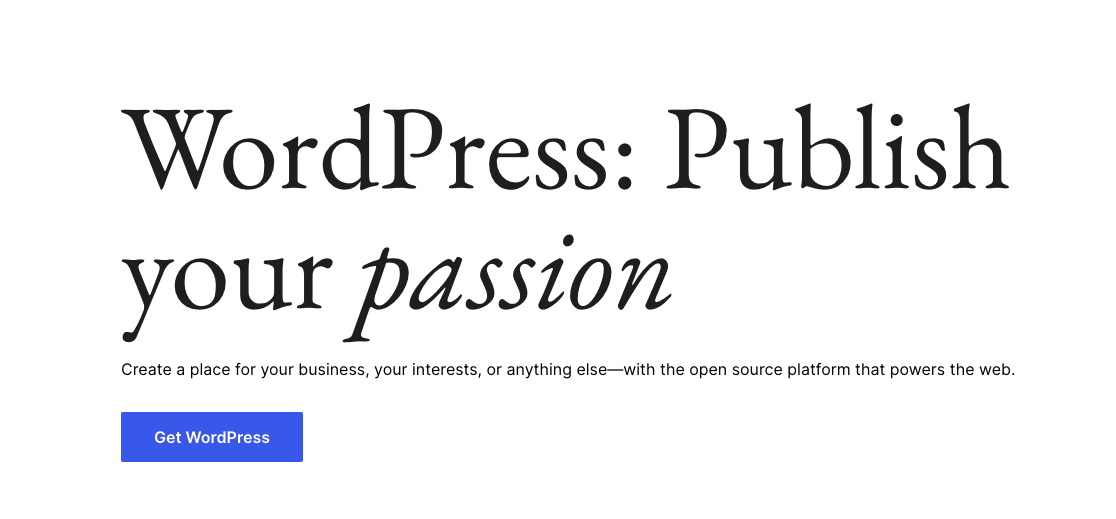 This is why we recommend setting up a website using WordPress.
However, you can also use paid website builders like Wix and Squarespace for regular websites and Shopify and BigCommerce for eCommerce websites. The basic plans of Wix and Squarespace start from $192 per year, while Shopify and BigCommerce start from $360 a year.
Web Hosting ($30–$1,700+ per year)
Web hosting services provide the necessary services and infrastructure needed for your website to be accessible to users on the web. All websites are hosted on servers (special computers designed for this very purpose).
When a user types your domain name into the browser or clicks on your website's URL, the browser communicates with the server your site is hosted on. Then, it fetches your webpage and all of its contents to be displayed on the user's device.
Website hosting costs vary greatly depending on the type of hosting, the amount of storage, and other services you're getting from your web host. Typically, you can get your website hosted for $30 per year at the minimum and more than $1,700 per year at the highest.
Types of Hosting
There are many different types of web hosting available. Here's a quick rundown of the most popular:
Shared Hosting: This is the cheapest kind of hosting because multiple websites share the same server resources in a shared hosting environment. It's a good option for small websites.
Managed Hosting: This type of hosting includes website maintenance services like updates, backups, advanced security solutions, and more. Managed hosting can be expensive, but it may help you save time on tasks needed to keep your website running. Check out our comparison of shared vs managed hosting for help choosing the best option for your website.
WordPress Hosting:  All types of hosting services allow you to use WordPress but WordPress Hosting offers additional benefits like automatic updates, built-in security checks, and regular site backups. It's similar to managed hosting, but can be more affordable.
Virtual Private Server (VPS) Hosting: An upgrade to shared hosting, VPS hosting splits one physical server into several virtual machines. Each website is hosted on a virtual server, so the sharing of resources is not as extensive as in a traditional shared hosting system.
Dedicated Hosting: The most expensive and reliable type of hosting. Dedicated hosting is mainly used by large businesses that need their own dedicated physical server without anyone else sharing its resources.
Cloud Hosting: Cloud hosting also has a shared hosting environment, but the difference is that resources are scalable. This gives you more flexibility so your site doesn't experience downtime even if traffic surges beyond normal levels for your site.
What type of hosting you use has a major impact on how much it costs to make your own website. This is one of the biggest costs of running a website, and you will have to renew your hosting every year.
Website Theme or Template ($0–$50+)
One of the main ways website builders make it easy to design a website is by offering pre-made themes or templates. These ready-to-go designs let you get your website up and running fast. Plus, you can usually customize them to make your website's design more unique.
Most website builders, including WordPress, offer a mix of free and paid themes. The average cost of a premium theme is around $50, but they can be much more than that depending on the one you choose.
If you'd like to compare the cost of some of the best WordPress themes, check out our other posts:
Plugins, Apps, or Addons ($0–$100+)
Most website builders will let you add advanced functionality to your site by purchasing extensions. Depending on the website builder you're using, these may be called plugins, apps, or addons.
One of the things that makes WordPress the best tool for website building is that it offers tons of free plugins. Plus, many of the premium paid plugins are still pretty affordable.
Here are our top WordPress plugins:
Free WordPress Plugins
WordPress Page Builder Plugins
WordPress Digital Marketing Plugins
For more ways to grow your business, check out our roundup of small business marketing ideas.
WordPress Security Plugins
Sucuri: This security plugin has one of the most effective web application firewalls to protect your site against hackers, DDoS attacks, blacklist warnings, brute force attacks, malware threats, and more.
BackupBuddy: Create backups of your site right in the WordPress dashboard, store files in safe, offsite locations, and restore your site with just a few clicks if need be.
This is just a list to get you started with site creation. You can add many plugins to your site depending on your needs. Just remember, for every premium plugin you add, the cost of building your site increases.
Website Maintenance ($0–$79+ per month)
A lot of work can go into setting up a website. However, after you launch your site, you still have to maintain it.
There are several important website maintenance tasks that you'll have to take care of, including:
Running software updates so your site always has the latest features and security protocols
Creating regular backups of your website so you can restore it if something goes wrong
Reviewing your website's security so you can prevent malware and data breaches
Optimizing your site's speed so that it doesn't take too long to load
Monitoring your website's analytics so you know who is visiting your site
Fixing errors so that your site's visitors can access your site and find what they need
The easiest way to save on website maintenance costs is to take care of these tasks yourself. There are several WordPress plugins you can use to make your website more low maintenance and easier to keep up.
However, maintaining your website on your own still takes time. That's why some people choose to pay for a website maintenance service instead, especially if they're busy small business owners or if they have multiple websites.
Hiring a website maintenance professional can be a big factor in how much a website costs per month. For instance, WP Buffs offers WordPress management services starting at $79 per month.
Another way to save on maintenance costs is to choose a managed hosting plan or a WordPress hosting plan that includes maintenance services like updates and backups.
How Much Does It Cost to Build a Small Business Website?
Now that we've looked at all the factors that impact the cost of building a website, let's talk about how much it might cost to build a small business website.
Building a small website doesn't cost a lot of money because you typically don't need too many paid plugins and extra tools to support it.
If you choose WordPress as your website builder and get shared hosting and a domain name from a provider like Bluehost, you can have your website up and running for as low as $30 per year.
We've struck up a WordPress hosting deal with Bluehost to offer website owners a free domain name, free SSL certificate for added security, and over 60% off on web hosting services.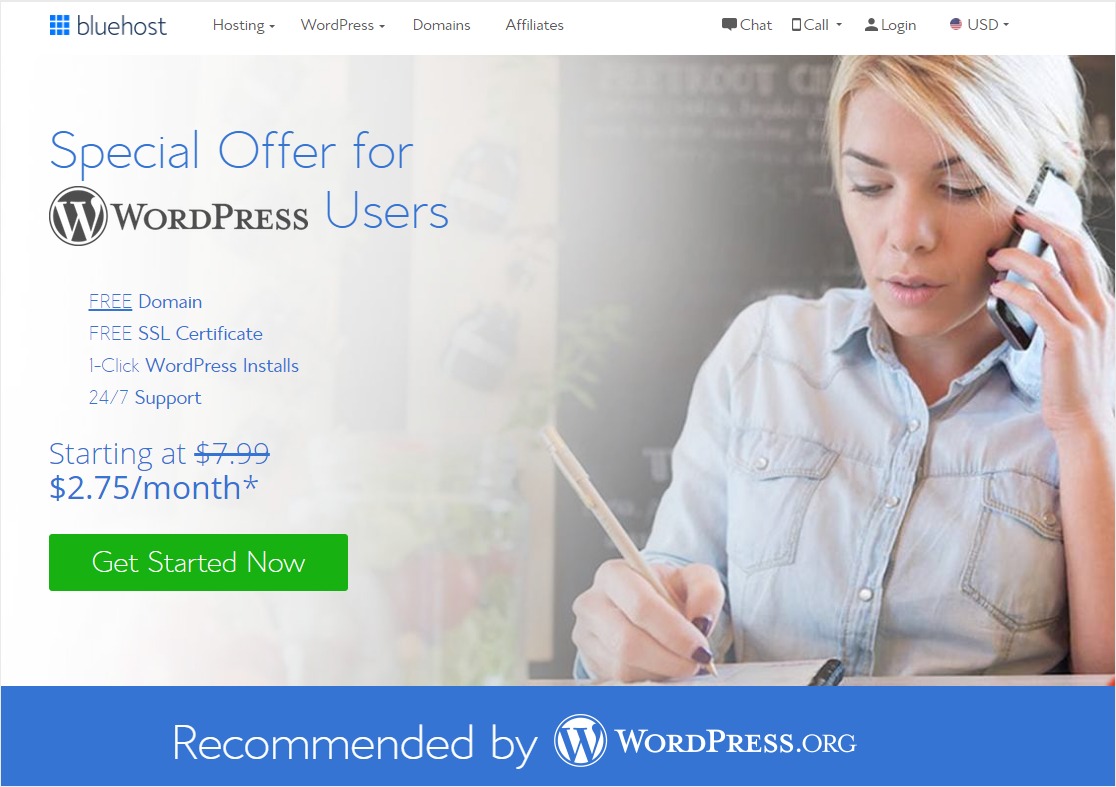 Bluehost is an officially recommended hosting provider by WordPress.org. It's one of the best options when it comes to web hosting. It's been with the WordPress community since 2005 and is one of the largest hosting companies in the entire world.
With things like 1-click WordPress installations, 24/7 customer support, website maintenance, and reliable site performance, Bluehost is a great option for those on a budget looking to start a website.
After you've secured a domain name and web hosting, you'll need to ramp up the design and functionality of your site. Luckily, you can do this using free WordPress themes and the best free WordPress plugins.
How Much Does It Cost to Build an eCommerce Website or Online Store?
Building an eCommerce store is easier and more economical than starting a physical store, but it's more expensive than a basic website. This is because eCommerce sites typically require a large storage capacity to host all the products you have to offer and higher site traffic demands a bigger investment in better hosting solutions.
There are multiple excellent options when it comes to hosting platforms for eCommerce. Shopify and BigCommerce are two of the best paid eCommerce hosting solutions. But these don't provide the same level of flexibility that WordPress has.
On the other hand, you can build your eCommerce store with WordPress using the WooCommerce plugin. This is one of the most popular free solutions for building an online WordPress store.
Another excellent option is to use the Easy Digital Downloads (EDD) plugin to run your WordPress eCommerce store. EDD is the best choice if your online store sells digital products like PDFs, digital audio clips, software products, eBooks, and the like.
Finally, to start an online store, you'll need a domain name and web hosting, just like any other type of website. That's why we recommend using the Bluehost WooCommerce plan when starting out.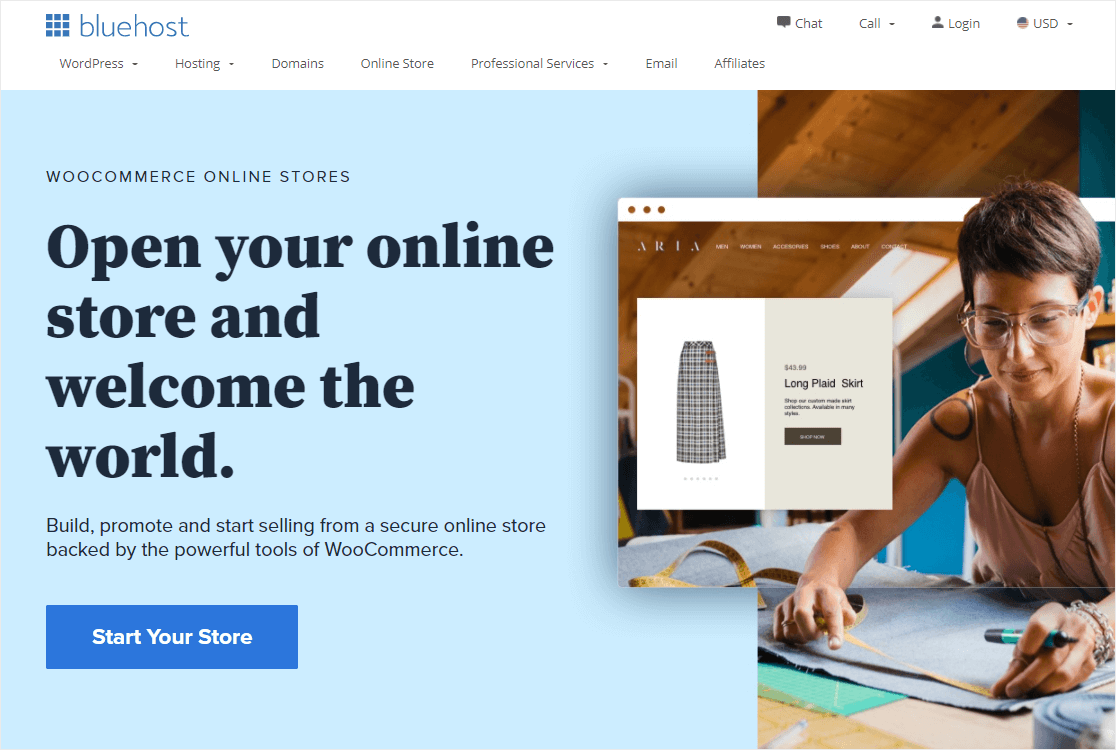 The Bluehost WooCommerce plan comes packed with the features you'll need to get your online shop up and running, such as:
Free domain name
Automatic WooCommerce installation
Free SLL certificate
Unmetered bandwidth so your site can scale uninterrupted
Free dedicated IP address
Dedicated support 24/7
You can expect to spend about $190 per year to launch your eCommerce store, which is quite affordable. But as your store grows, your costs will also likely increase as you'll need additional tools and plugins to assist with your administrative tasks and marketing goals.
There are tons of excellent plugins for WooCommerce and WooCommerce themes that can extend the functionality of your site and give your store a beautiful appearance.
If you want more help with this, check out our full guide on how to start an online store.
How Much Does It Cost to Build a WordPress Website?
WordPress websites can cost as little as $30 per year, or as much as $1,000+ per year. It all depends on the size of your site and what you're using it for.
A larger site can cost a fair bit more due to the higher costs associated with more premium designs (paid themes), storage and functionality (web hosting plan), and advanced functionality (premium plugins).
To start, you might consider investing in a more powerful hosting provider such as SiteGround.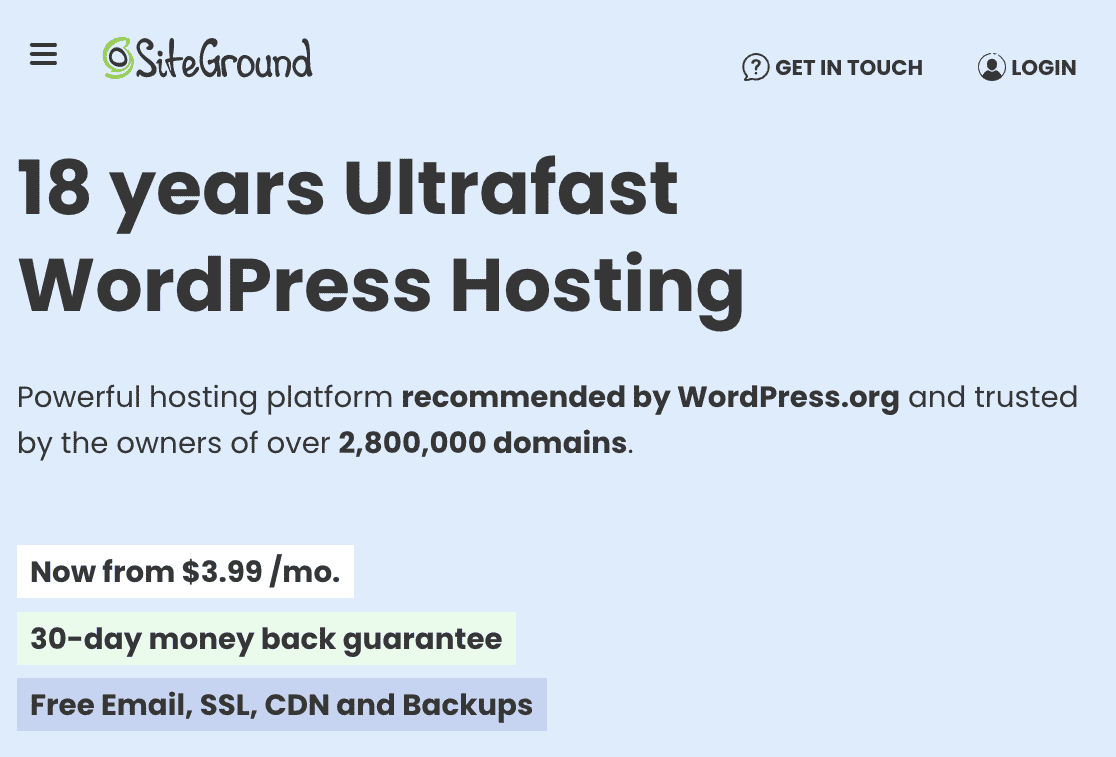 You can use our SiteGround coupon to get 60% off to purchase the Go Geek plan at a reasonable price and enjoy things like free backup restores, improved speed and performance, 1-click staging, and the ability to handle 100,000 site visitors a month.
This will help you save on how much it costs to keep a website running, as many of your maintenance tasks will be taken care of for you.
You might also want to purchase a premium WordPress theme that has extra built-in features, a more professional appearance, and priority support. We also recommend investing in premium plugins to take your site to the next level.
In the end, building an advanced WordPress website can cost you anywhere between $200 and $1,000 per year, and more if you've got lots of extra plugins, tools, and services.
How Much Does It Cost to Have a Website Built for You?
Even though you can save a lot of money building your own website, you might still like to know how much does it cost to have a custom website made for you.
After all, when you pay for professional web design and development, you save yourself a lot of time and effort. However, that luxury doesn't come cheap.
A freelance web developer might charge anywhere between $20–$100+ per hour to build your website. It's not uncommon to spend $1,000+ on website development costs for even a simple website.
For a more advanced site or eCommerce functionality, the cost to have a professional website made for you increases drastically. Plus, you'll still have ongoing annual costs for your domain, web hosting, and maintenance.
How to Not Overpay When Building a Site
If you're not careful, it's very easy to spend needlessly and overpay when first launching your website.
Here are a few helpful tips to bear in mind to make sure you don't overspend:
Unless you're absolutely sure, always choose the smaller pricing plans when purchasing any tool or plugin. You can always upgrade your plan later if it's not meeting your requirements.
Many plugins have overlapping features. Sometimes, a plugin might have an addon that offers the same functionality as a completely separate and more expensive plugin. Make sure to compare product features before buying a new one.
Keep an eye out for discounts and coupons to save more when purchasing WordPress themes and plugins.
And there you have it! You now know the answer to how much a website really costs, regardless of your goals.
Next, Explore Marketing Ideas for Small Businesses
If you're looking for ways to promote your website once it launches, check out this roundup of marketing ideas for small businesses.
Also, check out this list of student survey question examples to make run more effective class surveys.
And if you're looking to switch from Linktree for improving your link bio page, see our list of Linktree alternatives.
Create Your WordPress Form Now
Ready to build your form? Get started today with the easiest WordPress form builder plugin. WPForms Pro includes lots of free templates and offers a 14-day money-back guarantee.
If this article helped you out, please follow us on Facebook and Twitter for more free WordPress tutorials and guides.