Are you wondering whether you should use shared hosting or managed WordPress hosting for your website? This is a question that keeps coming to us every now and then. So we decided to come up with this article to solve the shared vs managed WordPress hosting debate and also explain both of them in plain English.
Shared vs Managed WordPress Hosting
The 2 most important things that you need when you start a website are a domain name and a web hosting account.
While the domain name is the address of your website, a web host is a place where your website files are located.
So when someone types your site URL in the address bar of their web browser, your website files are fetched from the web hosting account. And then, people can see your live website in their browser.
Now, there are different types of hosting services available in the market including shared, managed WordPress hosting, and even dedicated hosting service. But which one is suitable for your needs?
Also, what's the difference between shared and managed WordPress hosting? Let's try to understand each of them in simple words.
What Is Shared Hosting?
Shared hosting is a web hosting solution where your site shares the resources of a single web server with a number of websites. And the main advantage of using such a service is they're available at an affordable rate.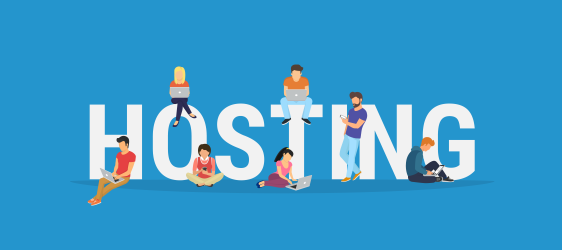 Since multiple websites use a shared server, such companies can offer hosting services at a cheaper rate as compared to managed hosting. So you can expect shared hosting plans to be as low as $2.75 per month.
Anyone who's planning to start a website should consider using shared hosting to keep their expenses down. Also, low traffic websites, personal sites, bloggers, and small businesses should use this type of hosting service.
But before we discuss the pros and cons of shared hosting, let's talk about managed WordPress hosting.
What Is Managed WordPress Hosting?
Managed WordPress hosting is a type of hosting service that provides the most powerful technologies for your WordPress site to make sure your website is both secure and fast.
Such companies take care of the hosting related issues like backups, security checks, updating WordPress, and much more. They also provide premium customer service and solve your problems as quickly as possible.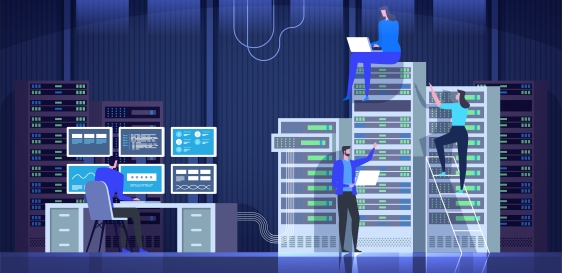 Basically, a managed host wants you to concentrate on your business while they take care of the technical aspects for you.
However, you should note that these services are expensive when compared to shared hosts. In most cases, a managed WordPress hosting plan starts at around $16.95 per month.
Hence, we recommend managed hosting only to high traffic websites or someone who's not confident with the technical aspects involved.
Pros and Cons of Shared Hosting
Now that we know what shared hosting is, let's take a look at the pros and cons of shared hosting service.
Pros of Shared Hosting:
Cost: One of the biggest advantages of using a shared hosting service is it's cheaper and can be purchased at a price as low as $2.75 per month.
cPanel: Most companies offer cPanel which makes it easy to manage your website, domains, emails, and more.
Email Accounts: You'll get professional email service for free. That means you can set up a business email like [email protected] without spending an extra penny.
Cons of Shared Hosting:
Slow response time: Your website may load slowly due to slow server response time when compared to a managed WordPress host.
Downtime: You may face frequent downtimes with some shared hosting companies.
Not suitable for high-traffic sites: Shared hosts are mostly suitable for startups, small businesses, personal sites, or anyone that doesn't receive tons of traffic.
Pros and Cons of Managed WordPress Hosting
Now let's check out the advantages and disadvantages of using managed WordPress hosting.
Pros of Managed WordPress hosting:
Daily Backups: Your website files are always safe as managed hosts backup your site and database daily. They also allow you to restore your site if you want to.
Fast and Secure: A managed WordPress host offers the latest technologies to make sure your site is fast. They also take care of the security of your WordPress site so that it's safe from hackers and malware.
Core Updates: They take care of the core WordPress updates and thus, helps you to secure your site. Some companies even go the extra mile by updating your themes and plugins automatically.
Support: Managed WordPress hosts offer premium support to their customers. Their staff is knowledgeable about WordPress and you can easily reach them in case of any problem.
Cons of Managed WordPress hosting:
Expensive: One of the biggest disadvantages of using a managed WordPress hosting service is it's very expensive when compared to a shared host.
Limitations on Certain Plugins: These services focus on making your WordPress site optimized for speed. In other words, they don't allow you to use specific plugins that may slow down your site.
Only WordPress Sites Allowed: While shared hosting allows you to host any website you want including simple HTML pages, managed hosting companies only allow you to host WordPress sites on their servers.
Best Shared Hosting Providers
After explaining the pros and cons of both the types of hosting, we hope your confusion between shared vs managed WordPress hosting is solved now.
So let's take a look at some of the best shared hosting services in the market.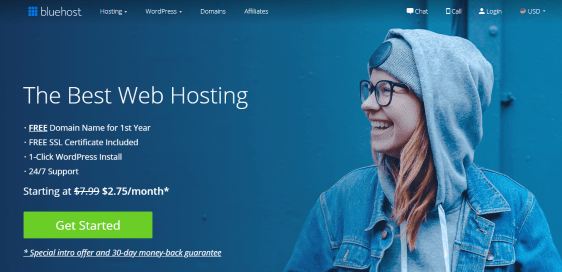 Bluehost is one of the most popular shared hosting service providers and is suitable for small businesses, personal sites, and bloggers. It's also one of the few hosting companies that's recommended by WordPress.org.
Unlike most hosting companies, Bluehost offers a free domain for the first year with all their plans. So you can save $14.99 which is the cost of purchasing a domain.
It also offers some amazing features like free Let's Encrypt SSL (Secure Sockets Layer), a one-click WordPress installation tool, free business email service, daily automatic backups, and much more. And you can control everything starting from your domain name to your website files from the cPanel.
To enhance the functionality of your site, you can use optional addons like CDN (Content Delivery Network), domain privacy, and unique IP address. You can also use SiteLock to defend your site against hackers and malware.
Price: $2.75 per month and comes with a free domain.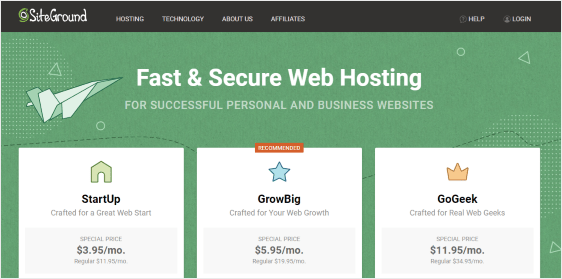 SiteGround is one of the best shared hosting service providers in the market. And just like Bluehost, it's also recommended by WordPress.org.
With SiteGround, you can expect your sites to be fast and secure since they use modern technologies and the best data centers. They also provide static caching and free CDN, plus they run on SSD drives.
Some of the other features of SiteGround hosting are:
Free SSL certificates with all of their plans.
Create unlimited professional email accounts.
24/7 support for solving your problems.
SiteGround also offers free site transfer service with GrowBig or higher plans. So you don't have to worry about the technical stuff as their experts will handle it.
Price: Starting at $3.95 per month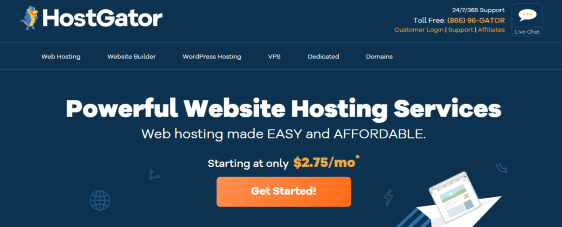 HostGator is another popular shared web host and is perfect for anyone who's just starting out.
It comes with cPanel so that you can easily manage your domains, website files, database, and more. You can also install WordPress from your cPanel with a single click to start your website.
HostGator offers free site migration with all their hosting plans. Meaning you can bring your already existing websites over to their hosting easily. They also provide free SSL, unlimited FTP accounts, unlimited email accounts, and much more.
The pricing of HostGator shared hosting starts at $2.75 per month and comes with a 45-day money back guarantee. You can also purchase addons like site backup and restore, domain privacy, G Suite, and SiteLock website security to take your site to the next level.
Price: Starting at $2.75 per month.
Best Managed WordPress Hosting Providers
If you're planning to use managed WordPress hosting, then this section will help you to decide the best one for your website.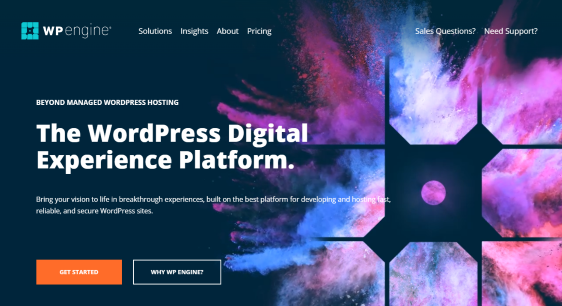 WP Engine is one of the best managed WordPress hosting providers. It's known for its fast, reliable, and secure service.
It comes with features like free CDN, daily automated backups, free Let's Encrypt SSL, automatic caching, and one-click staging tool (a way to test changes to your website in a production mode) with all their plans.
WP Engine also handles the core WordPress updates, offers premium support, and provides free site migration at no additional cost.
Last but not least, you can get 35+ StudioPress themes with WP Engine for free.
And thanks to our partnership with StudioPress, you can install WPForms along with themes like Revolution Pro and Monochrome Pro in a single click. Isn't that cool?
Price: Starting at $35 per month.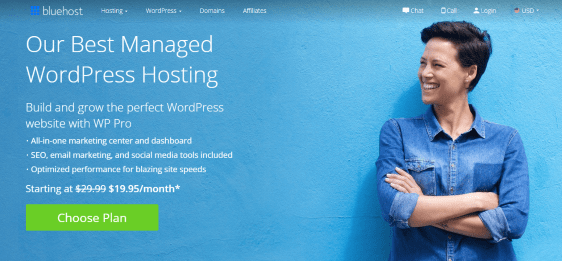 Bluehost's managed WordPress hosting service, WP Pro, is different from their shared hosting service we discussed earlier.
Your WordPress sites will load faster when hosted with WP Pro as their servers are built with SSD drives and a set number of users are allocated per server to optimize load time.
Some of the features of Bluehost WP Pro are:
Daily scheduled backups to secure your website.
Host unlimited WordPress sites with every plan.
Staging environment to test your site before making it live.
CDN and multi-level caching to improve site speed.
Bluehost also offers a free domain to its WP Pro customers. However, their managed hosting service is expensive and their pricing starts from $19.95 per month.
Price: $19.95 per month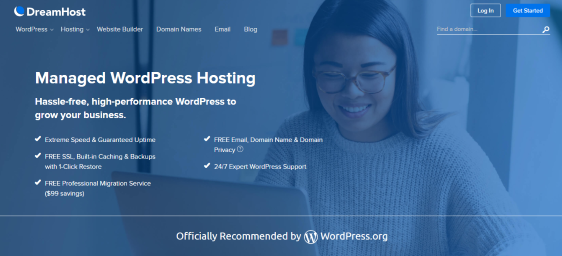 DreamPress is a fast, secure, and reliable managed WordPress hosting service by DreamHost. In case you don't know, DreamHost is one of the oldest web hosting companies and is also recommended by WordPress.org.
Let's take a look at some of the features of DreamPress:
Free domain name with privacy protection.
Daily backups and one-click restore option.
Free Let's Encrypt SSL certificates.
Built-in caching system to speed up your website.
Apart from the above features, they provide professional website migration service with all their plans at no extra cost. Also, you can reach out to their expert WordPress support team at any time of the day.
Price: Starting at $16.95 per month.
Shared or Managed WordPress Hosting – Which One is Suitable For You?
So the final question in this shared vs managed WordPress hosting debate is: Which one is suitable for you?
Well, if you're just starting a website, you should probably use a shared hosting service. We recommend small businesses, personal sites, startups, and bloggers to avoid managed WordPress hosting. The cost of purchasing a managed WordPress hosting service can be too much at the initial stages of any business.
So it's always recommended to use companies like Bluehost or SiteGround to start your website.
On the other hand, managed WordPress hosting is suitable for those who have a high traffic website. With the technologies offered, you can expect your site to be fast and secure.
On top of that, you won't have to worry about things like backups, updates, and security since it's maintained by your service providers.
And if you're looking for suggestions for managed hosting, we highly recommend WP Engine to you for your WordPress website.
In Conclusion
We hope this article helped you to figure out the differences between shared vs managed WordPress hosting.
If you're wondering what expenses are involved to start a website, then check out our beginner's guide on how much does a website really cost in 2019.
And don't forget to follow us on Facebook and Twitter to get updates from our blog. Also, if you've got any questions, please feel free to leave a comment below.