Are you looking for the fastest web hosting services?
Site speed is vital in delivering a seamless user experience. Whether you're a business owner or blogger, finding a reliable hosting provider that combines speed, performance, and support can break or make your website's success.
This post will take a look at some of the fastest web hosting services to help you determine which is best for you.
Create Your WordPress Form Now
In a hurry? Check out this table for a quick overview of the fastest web hosting services covered in our hosting review. They all include fast loading speeds, 99.9% uptime, and 24/7 support availability.
Does Hosting Impact Site Speed?
Yes, your web host can certainly impact your site speed. Slow speeds can lead to frustrated users, poor engagement, and loss of revenue, among other things. For your site's long-term health, it's in your best interest to choose a web host that will take care of speed optimization.
Fastest Web Hosting Services
We looked at some of the fastest web hosts to compile information for this post.
Let's jump in!
1. Hostinger – High-Quality Service at Competitive Prices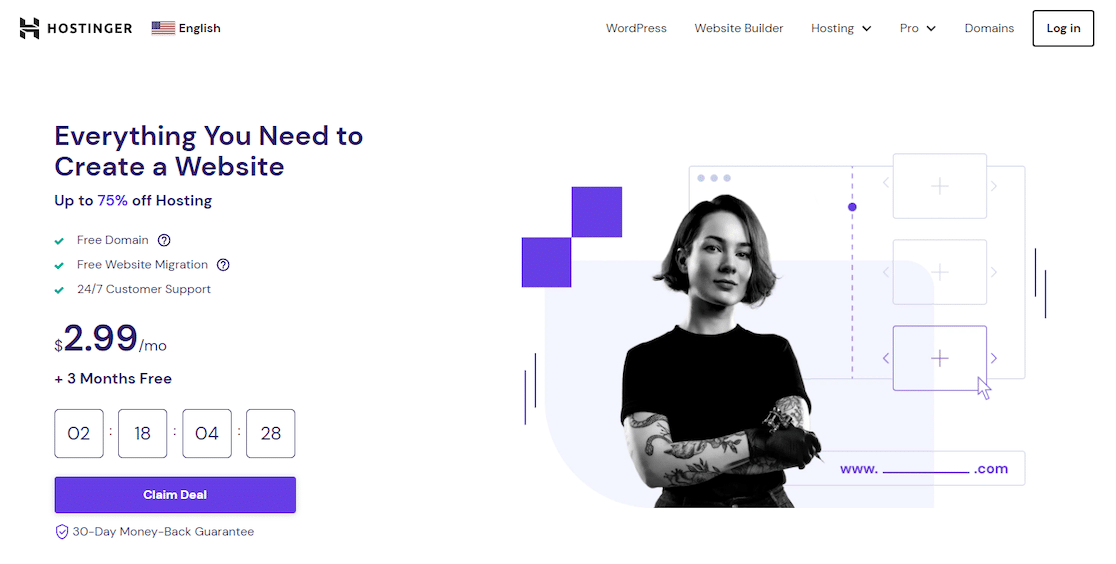 Hostinger offers a comprehensive range of hosting services to cater to different requirements. Whether you need shared, cloud, VPS (Virtual Private Server), or managed WordPress hosting solutions, Hostinger's got it covered.
Using Hostinger's custom-built hPanel, beginners can seamlessly manage their hosting accounts. This includes handling your website, domain, email, and even WordPress tasks from one dashboard.
We found the security offerings top-notch. The web host includes free lifetime SSL certificates in all plans to protect your website and help build trust with your visitors.
Additionally, it offers a website builder powered by AI that can generate a fully-functional website in just a few minutes. It's a pretty neat feature.
With its solid reputation for outstanding performance, Hostinger offers one of the fastest web hosting solutions out there. This is due to its multiple performance optimization features. These include Hostinger CDN (Content Delivery Network), LiteSpeed Web Servers (LSWS), and caching tools.
Furthermore, you can choose from multiple data centers, including the US, Singapore, the Netherlands, the UK, and India, to minimize latency.
They run regular server maintenance to ensure excellent performance. And with a 99.9% uptime guarantee and lightning-fast loading times, your website will run smoothly.
Hostinger's Server Response Time

Customer Support
Hostinger prioritizes customer satisfaction and offers a 24/7 email ticket system and live chat support to promptly address queries or issues. It has an extensive knowledge base, Hostinger Tutorials, and the Hostinger Academy YouTube channel, empowering you with self-help resources to navigate your hosting journey.
Cost
Hostinger's pricing is budget-friendly, starting at $1.99 per month for entry-level hosting plans.
While the initial prices are attractive, there might be slight price increases upon renewal. However, considering the features you get, Hostinger remains an excellent choice for fast hosting.
Pros
Affordable, user-friendly interface
Outstanding performance
30-day money-back guarantee
Cons
The renewal rate is higher than the initial rate
2. Cloudways – Affordability and Flexibility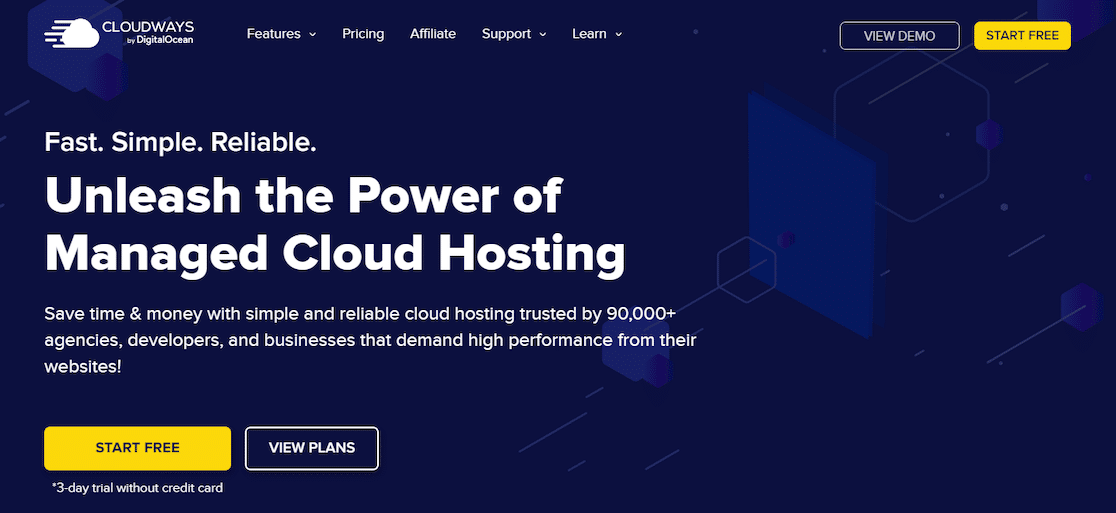 Cloudways stands out as a managed cloud hosting platform that allows users to choose from multiple underlying cloud platforms, including Digital Ocean, Amazon Web Services, and Google Cloud. This enables website owners to tailor their hosting environment to their needs.
It also offers valuable features, including free SSL certificates, free migration, and a dedicated firewall, enhancing website security and performance.
Cloudways delivers excellent speed and performance thanks to its advanced cache and CDN. These technologies ensure good website loading times and efficient content delivery to users worldwide.
Cloudways' Server Response Time

Customer Support
Cloudways prioritizes customer satisfaction with 24/7 support via live chat, a ticketing system, and optional phone support. Its responsive support team is readily available to assist with any hosting-related queries or technical issues.
Cost
Unlike the other web hosting companies in this list, Cloudways adopts a pay-as-you-go pricing model, offering cost-effectiveness for smaller websites or projects.
The entry-level hosting plan starts at $14 per month, making it an accessible option for those seeking reliable cloud hosting services. However, for larger sites, the pricing can add up.
Pros
High-speed performance
Flexibility in choosing the underlying server
Scalable
Cons
The platform might be complicated for beginners
3. SiteGround – Great Customer Support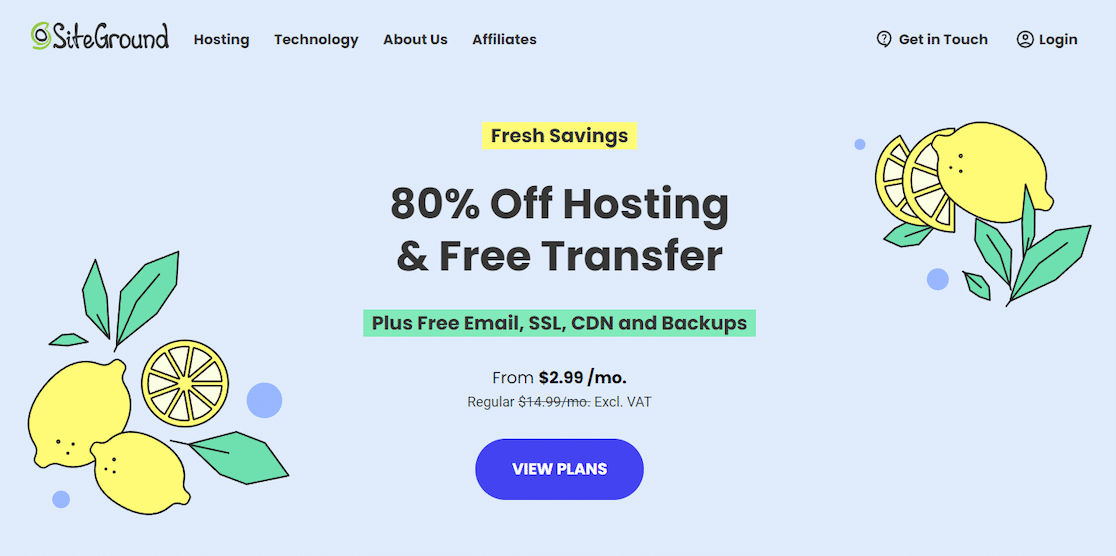 SiteGround stands out with its diverse hosting options, offering shared, cloud, and dedicated hosting. It provides valuable features, including free daily backups, free SSL certificates, and a free CDN to enhance website performance and security.
SiteGround also delivers high-performance web hosting services, boasting impressive uptime and fast loading times. Its advanced speed technologies contribute significantly to excellent website performance.
SiteGround's Server Response Time

Customer Support
Users can get the help they need when they need it. The customer support team is available 24/7 through various channels such as phone, live chat, and tickets.
Cost
While SiteGround's pricing might be higher than other web hosts, its plans are feature-packed and designed to cater to various website needs. The entry-level hosting plan is $2.99 monthly, offering a strong value proposition.
Pros
Great performance
Robust security
Excellent customer service
Cons
Higher pricing and storage limits
4. A2 Hosting – Fast Page Load Times With Turbo Servers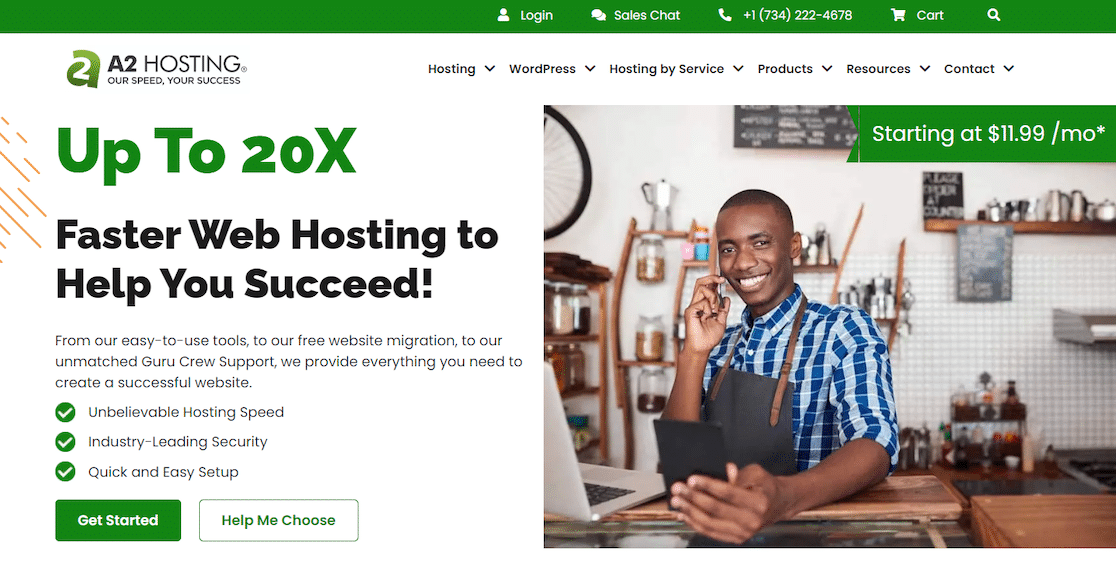 A2 Hosting impresses with its diverse hosting options, including shared, VPS, dedicated, and reseller. It provides essential features like free site migration, SSL certificates, and an anytime money-back guarantee, ensuring customer satisfaction.
The company's Turbo Servers are designed to offer fast website loading times. These servers are part of their Turbo hosting plans and are built to provide a significant speed boost compared to regular web hosting plans.
A2 Hosting's Server Response Time

Customer Support
Regarding customer support, this web host offers 24/7 phone, live chat, and email service. This ensures that users receive quick assistance whenever they need it.
Cost
This provider offers a variety of plans, starting at $2.99 per month, to accommodate various budgets. Its higher-tiered plans that come with premium features are also at a competitive price point.
Pros
High-speed performance
Free website migration
Eco-friendliness – the web hosting company is recycling its older servers
Cons
High-performance plans can be pricey, and there can be limitations on cheaper plans
5. Bluehost – Seamless Integration for WordPress Sites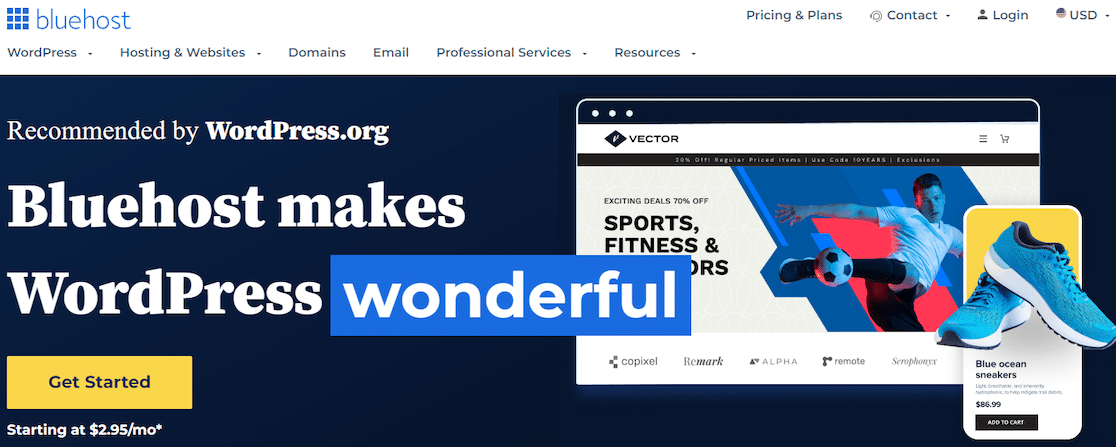 Bluehost offers a comprehensive range of hosting services, including shared, VPS, dedicated, and managed WordPress hosting. It provides free features such as a free domain for the first year and a free SSL certificate.
Their WordPress hosting solution is optimized for seamless integration with the platform. This is why Bluehost is one of the ideal choices for WordPress users.
In terms of performance, Bluehost delivers reliable loading times and solid uptime, contributing to a smooth user experience for website visitors. Its performance optimization tools include caching, CDN integration, and image compression.
Bluehost Server Response Time

Customer Support
When it comes to support, Bluehost ensures round-the-clock service via live chat and phone. It also has an extensive knowledge base, enabling users to solve their issues on their own.
Cost
Bluehost offers affordable plans, but costs can add up with additional services and renewals. The starter plan is $2.95 monthly, which is an attractive option for bloggers or small business owners.
Pros
Good performance
User-friendly for beginners
Robust security features
Free domain policy for one year
Cons
Add-ons and high renewal rates can increase cost
6. InMotion Hosting – Wide Range of Hosting Packages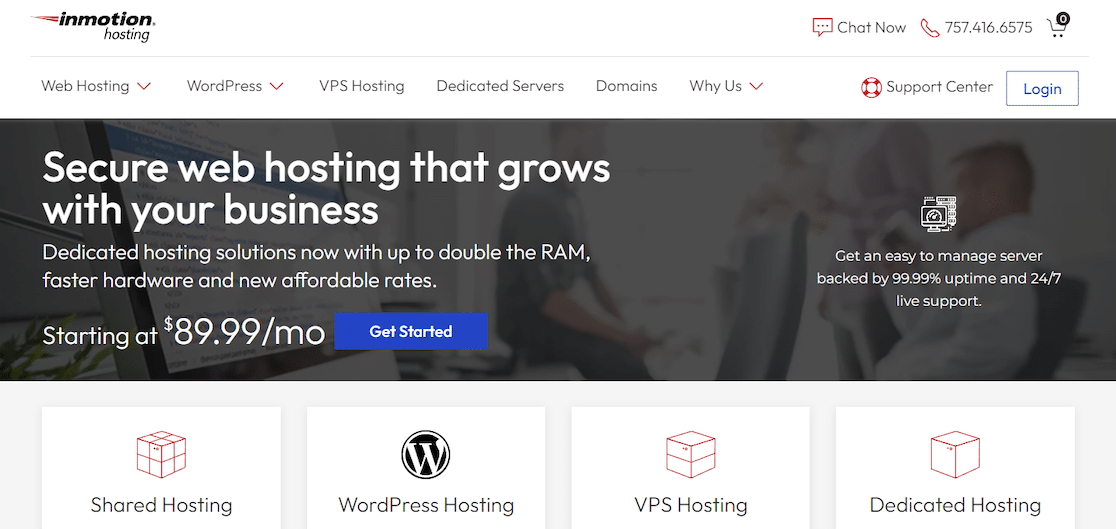 InMotion Hosting offers various hosting solutions, encompassing shared, VPS, dedicated, and managed WordPress hosting. Its plans include valuable features such as free website migration, free SSL certificates, and a security suite for enhanced protection.
To ensure a fast-loading page, InMotion Hosting utilizes SSD storage and advanced server technology. The hosting platform achieved an impressive average response time, leading to excellent load time and a better user experience.
InMotion Hosting's Server Response Time

Customer Support
InMotion Hosting offers 24/7/365 customer service, ensuring assistance is available whenever needed. Support channels include live chat, email, phone, an extensive knowledge base, tutorials, and a community forum.
Cost
InMotion Hosting's pricing is competitive, offering reasonably priced plans that provide value for money. However, note that the plans may be relatively higher than some competitors. The starter website hosting plan is priced at $2.99 per month.
Pros
Good performance
Free website migration
A 90-day money-back guarantee if you make a purchase for at least 6 months
Cons
Plans might be pricier than some competitors
The setup process can be slow
7. Kinsta – High Uptime With Top-Tier Performance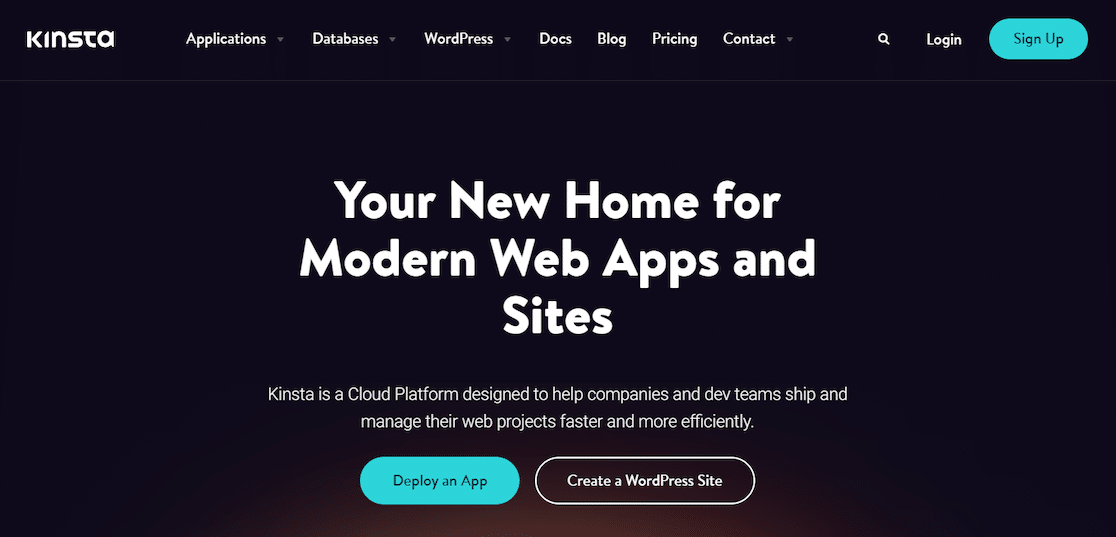 Kinsta is a premium managed WordPress hosting company offering comprehensive features such as daily backups, free site migrations, and a user-friendly dashboard for effortless management.
Powered by the Google Cloud Platform, Kinsta delivers top-tier performance with fast loading times and strong uptime, ensuring a seamless website experience. Its infrastructure and technology guarantee a seamless website experience for your visitors.
Kinsta's Server Response Time

Customer Support
Kinsta takes customer support seriously, providing 24/7 assistance through live chat and tickets. Its comprehensive knowledge base further empowers users with helpful resources to resolve queries and technical issues.
Cost
Kinsta's pricing is higher than average. Prices start at $35 per month, tailored to meet the demands of website owners looking for exceptional performance and reliability.
Pros
Excellent speed and performance
Robust security
Great customer support
Cons
Higher pricing
Its hosting services are suited mainly for WordPress websites
Why Speed Is Crucial When Choosing From Web Hosting Providers
When selecting web hosting providers, speed plays a crucial role for various reasons. Besides boosting your overall online performance, a fast website offers the following benefits:
User experience. Faster websites provide a better user experience. Pages that load quickly improve user engagement, keeping visitors on your site longer.
SEO ranking. Page load time is among Google's ranking factors. Faster websites are more likely to rank higher, driving more organic traffic to your site.
Conversion rates. Speed affects your bottom line directly. Slow websites can frustrate users, leading to higher bounce rates and fewer conversions. On the other hand, faster websites lead to better user satisfaction and increased conversions.
Mobile experience. Speed becomes even more critical with the ever-increasing use of mobile devices for web browsing. Mobile users often have slower internet connections, making a fast web host essential to delivering a good mobile user experience.
Evaluation Criteria for the Fastest Web Hosting Companies
When evaluating the fastest web hosts, here are several critical factors to check:
Server response time. SRT is the time the web host's server takes to start sending data in response to a request. Lower response times indicate faster hosting.
Load time. It refers to the total time it takes for a web page to fully load. Faster web hosts will typically deliver shorter load times.
Uptime. While not directly related to speed, uptime is crucial as it denotes the host's reliability. The bigger uptime, the longer your website is accessible.
Network infrastructure. A host's network infrastructure, including free CDN integration and data center locations, can significantly impact the speed.
Hardware. Using solid-state drives (SSDs) and the latest server hardware can help ensure fast delivery of your website data.
Scalability. A good host should be able to maintain your site speed once your website grows.
Performance under load. Evaluate a web hosting provider's speed when multiple users access your website – a good web host must maintain its performance even under heavy load.
Customer reviews and testimonials. Feedback from other users often provides insight into real-world performance.
However, while speed can highly improve your user experience, it should be balanced with other hosting requirements like cost, security, and support. You can also look at the allocated resources, including RAM, storage space, and bandwidth.
Our Picks
Throughout this guide, we've explored the importance of speed in web hosting, the factors influencing it, and how various providers stack up.
Ultimately, Hostinger and Cloudways are our top picks for reliable and fast web hosting.
Hostinger is one of the fastest web hosting providers, offering reasonable pricing and quality customer support with multiple channels. Meanwhile, Cloudways offers flexibility, as it hosts clients' websites on the cloud and uses the pay-as-you-go system.
At the end of the day, your decision should be based on your own requirements. So, pick the provider that helps you stay a step ahead.
FAQ About the Fastest Web Hosting Providers
To wrap it up, let's look at some of the most frequently asked questions about the fastest web hosting services and providers.
What is web hosting?
Web hosting is a service that allows you to post a website or web page onto the internet. A web host, or a web hosting provider, provides the technology and services necessary to view the website or web page online.
Why is the speed of a web hosting service important?
Hosting speed significantly impacts the user experience. Faster load times lead to better user engagement, conversion, and bounce rates. Speed is also a ranking factor for popular search engines like Google, affecting your site's visibility and SEO.
What factors affect the speed of a web host?
Several factors can affect web hosting speed, including server location, server configuration, resources like RAM and CPU, bandwidth allocation, type of storage (HDD vs. SSD), and performance-enhancing tools like caching and CDN (Content Delivery Network).
How can I test the speed of my web hosting?
There are several online tools to test the speed of your web hosting provider. These include GTmetrix, Pingdom, and Google PageSpeed Insights. These tools can give you insights about your page speed and suggestions for improving it.
Does faster web hosting mean better SEO for my website?
Yes, faster web hosting providers can lead to better SEO. Speed is a ranking factor in Google's algorithm, meaning faster sites have a better chance of ranking higher in search results. Also, a faster site provides a better user experience, leading to longer site visits and higher engagement.
What is a good server response time for a web host?
Google says a good server response time is 200 ms (milliseconds) or less. However, this can depend on many factors, including the server's resources, traffic, and the complexity of your site.
Can the location of the web host's server impact my website's speed?
Yes, the server's physical location can impact your website's speed. The further away the server is from the user, the longer it takes for data to travel, which can slow down your site. That's why you should look for a web hosting provider with a global data center network.
What is CDN, and how does it improve web hosting speed?
A CDN, short for Content Delivery Network, refers to a network of servers distributed worldwide. When a visitor lands on your site, the CDN delivers your site's static content from the server closest to them, reducing the distance it takes for the data to travel and improving speed.
How do SSDs contribute to a faster web host?
SSDs, or Solid State Drives, store data on flash memory rather than spinning disks as HDDs (Hard Disk Drives) do. This results in much faster data access times, improving the overall performance of the web hosting solution.
What other factors should I consider besides speed when choosing the fastest web hosting service?
Besides speed, you should consider the hosting provider's reliability, uptime guarantee, security measures, scalability, customer support, pricing, backup options, and whether they offer additional features, such as email hosting, a free domain name, and a free SSL certificate.
Create Your WordPress Form Now
Ready to build your form? Get started today with the easiest WordPress form builder plugin. WPForms Pro includes lots of free templates and offers a 14-day money-back guarantee.
If this article helped you out, please follow us on Facebook and Twitter for more free WordPress tutorials and guides.