Are you looking for a Linktree alternative to easily include links to your social media profiles?
Linktree is a great tool for placing links to your other social media handles from Instagram, Tiktok, LinkedIn, or any other platform. However, it isn't perfect.
We've compiled a list of the best Linktree alternatives that offer great link placement features within your social media bios.
Is There a Better Option Than Linktree?
Linktree is a social media management and marketing tool. You can use it to create a mini landing page to include in your profile on your social media accounts. This makes it easy to share multiple links, even on platforms that limit the number of links you can add to your bio.
There are some limitations in Linktree that might push some users towards other options. For instance, Linktree doesn't let you create a custom domain for your link page. All Linktree profiles start with "link.tree" as part of their URL, which isn't optimal for your branding.
Linktree and other multi-link tools are also not ideal if you want to grow your main website. It's better to redirect traffic to your own website and link to your social media handles from a custom landing page rather than using third-party tools like Linktree.
Linktree Alternatives: Quick Overview
Here's a brief side-by-side comparison of the bio link tools we'll explore in this post:
Features
Price
SeedProd
Full-featured landing page builder
Drag-and-drop page builder
Branded URL at your domain
$39.50+ / year
Taplink
Payment integrations
eCommerce product embeds
Advanced design customization
Social media tracking
$3+ / month
Tap.Bio
Card-style bio link landing page
Social media tracking
$3+ / month
Lnk.Bio
Music and video embeds
Unlimited links
Engagement reports
$0.99+ / month
Shorby
Messenger integration
Feed elements such as YouTube channels, Shopify categories, and Apple podcasts
$12+ / month
Bio.fm
GIF embeds
Bio link surveys and polls
Customizable themes
$5+ / month
Linkin.Bio
Shoppable Instagram links
5 links per post
Google Analytics and UTM tracking
$8+ / month
Everlinks
Rich text editor
Link scheduling
Video and image embeds
$7+ / month
Campsite.bio
Bio link brand customization
CRM integrations
Detailed reporting
$7+ / month
Linkpop
Shoppable links
Easy setup
Free with Shopify subscription
Smashballoon
Social media feed plugin for WordPress
Embed social media feeds on your website
Free or $49+ / year
The Best Linktree Alternatives Compared
Use the links below for easy navigation to top alternatives to Linktree:
Let's begin.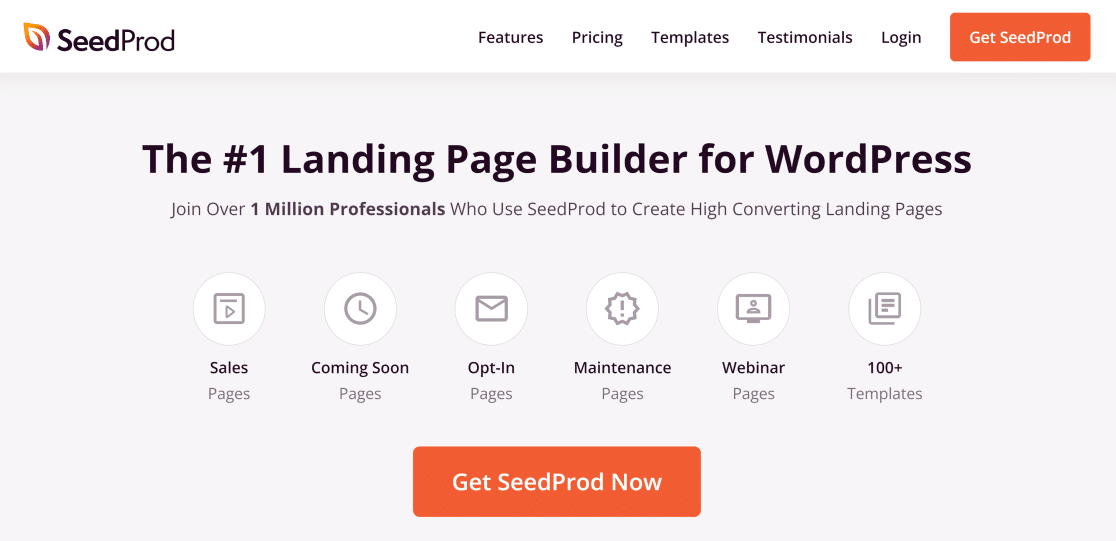 SeedProd is a WordPress landing page builder plugin that allows you to create and customize pages on your site. Unlike other tools on this list, you can use SeedProd to create a landing page on your website with all your social links featured much in the same way as Linktree.
The coolest part? You'll get the opportunity to use your own website at your own preferred custom URL as your single link on your Instagram bio. This way, any user that clicks on your link in your Instagram bio will be redirected to your main site, rather than that of a third-party tool.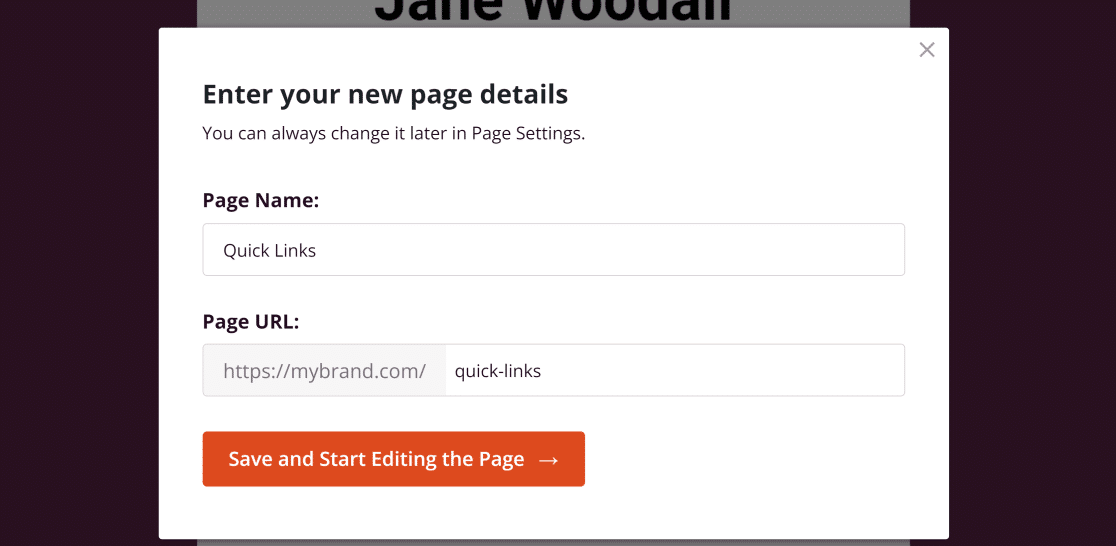 What's more, SeedProd is a comprehensive landing page tool for WordPress and gives you far more advanced customization options than Linktree. The easy drag and drop page builder feature lets you completely edit the background, buttons, text, colors, icons, and images.
And you can easily add action buttons with links to your social media pages, newsletter subscription, and downloads, making it a great alternative to Leadpages or Milkshake.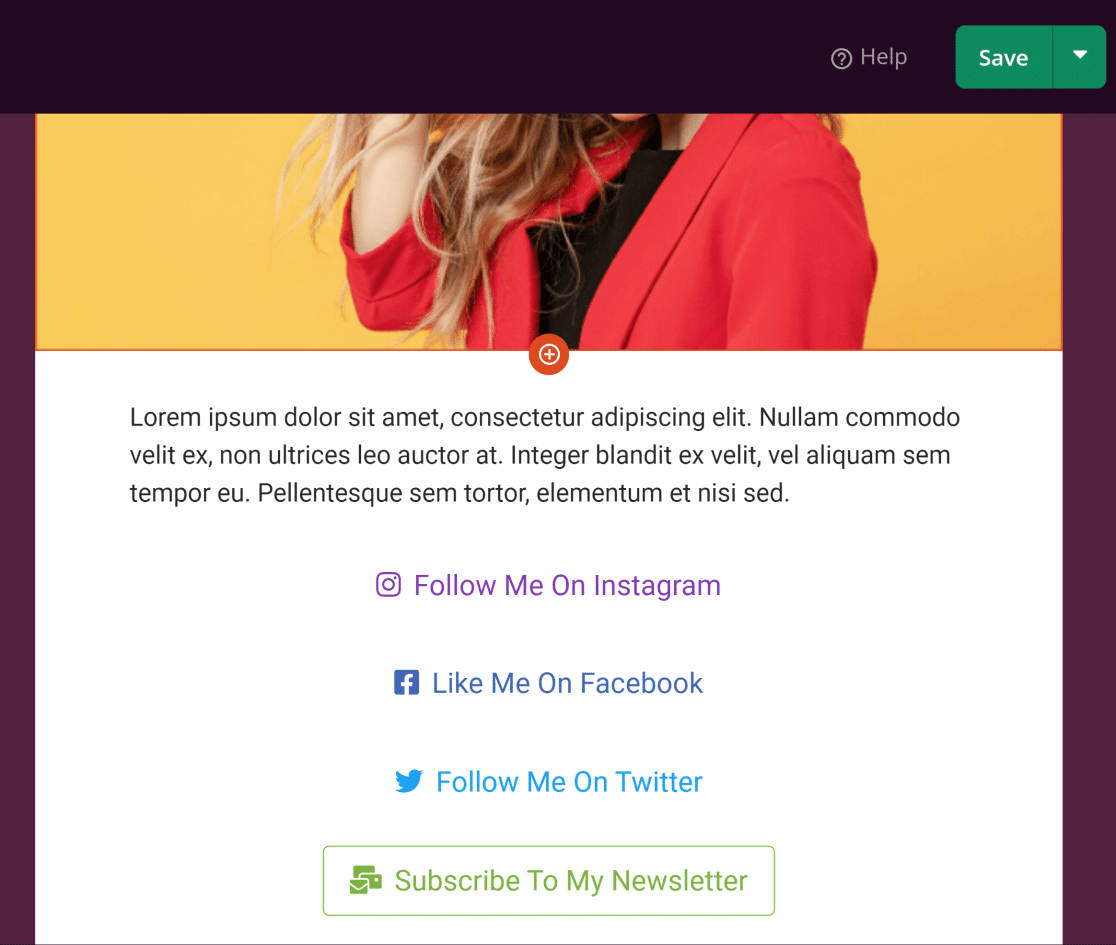 Plus, SeedProd even has a Personal Links template that's specifically designed for link in bio landing pages. With this template, you can create the perfect Instagram bio link within a few minutes!
Another limitation with Linktree is that you can't embed a contact form on your link page. This, of course, is easily handled with SeedProd because it has a contact form block that you can add to your page. This gives users a quick way to reach you without going through unnecessary extra steps.
Thanks to these capabilities, SeedProd not only allows you to have complete control over your URL, design, and branding, but it also helps you drive traffic to your website while promoting other profiles you have on the web.
If you pair it with RafflePress, you can use SeedProd to run social media contests, making it a great ShortStack alternative.
Finally, since SeedProd builds your link page on your WordPress site, you can take advantage of WordPress analytics plugins to track your visitors. For instance, with tools like MonsterInsights, you get analytics data to measure link clicks and page views in a more comprehensive way than possible with Linktree.
Features:
Pre-built template for Personal Links page allows quick landing page creation for your social media links
Allows you to create a link in bio page at your branded domain URL
Super easy drag and drop builder enables quick page creation and customization
On-site link in bio landing page creation (no external platforms needed)
Lets you add a contact form on your link page
A complete landing page and theme building solution for WordPress-powered sites.
You can see this tutorial on creating a link in bio page with SeedProd to learn how to fully utilize its capabilities to make your multi-link page.
Pricing: SeedProd is a freemium plugin. The pro version starts at $39.50/year and comes with extra features to build the ideal landing page for your profiles promotions.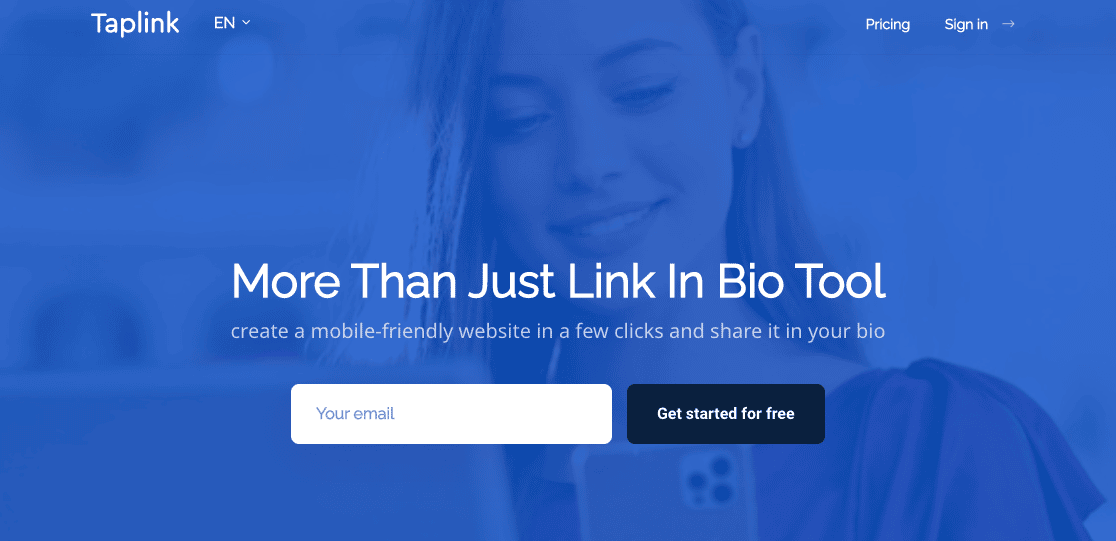 Taplink (formerly ContactInBio) is a popular free Linktree alternative. It is very similar to Linktree in that it lets you host a link in bio page using Taplink as your third-party platform.
However, it has tons of great features and supports many different kinds of elements that you can add to your link in bio page.
For instance, Taplink allows you to add videos, images, image carousels, and payment links to your landing page. This is great for social media influencers that want to include their video content and music, and also receive payments right from their link in profile page.
It also allows you to add your store products on your landing page, which means customers can buy products within your link page.
Features:
Supports Messenger links on your landing page, allowing users to connect with you through WhatsApp, Messenger, Skype, and other apps
Direct payment links via Stripe, PayPal, and other popular gateways
Embed your eCommerce store products directly on your link page
Integrates with Google Analytics and Facebook pixel for audience tracking and retargeting
Far more advanced design customization options than Linktree.
Pricing: Taplink has a free plan, but the more advanced features are available in paid plans starting at $3/mo.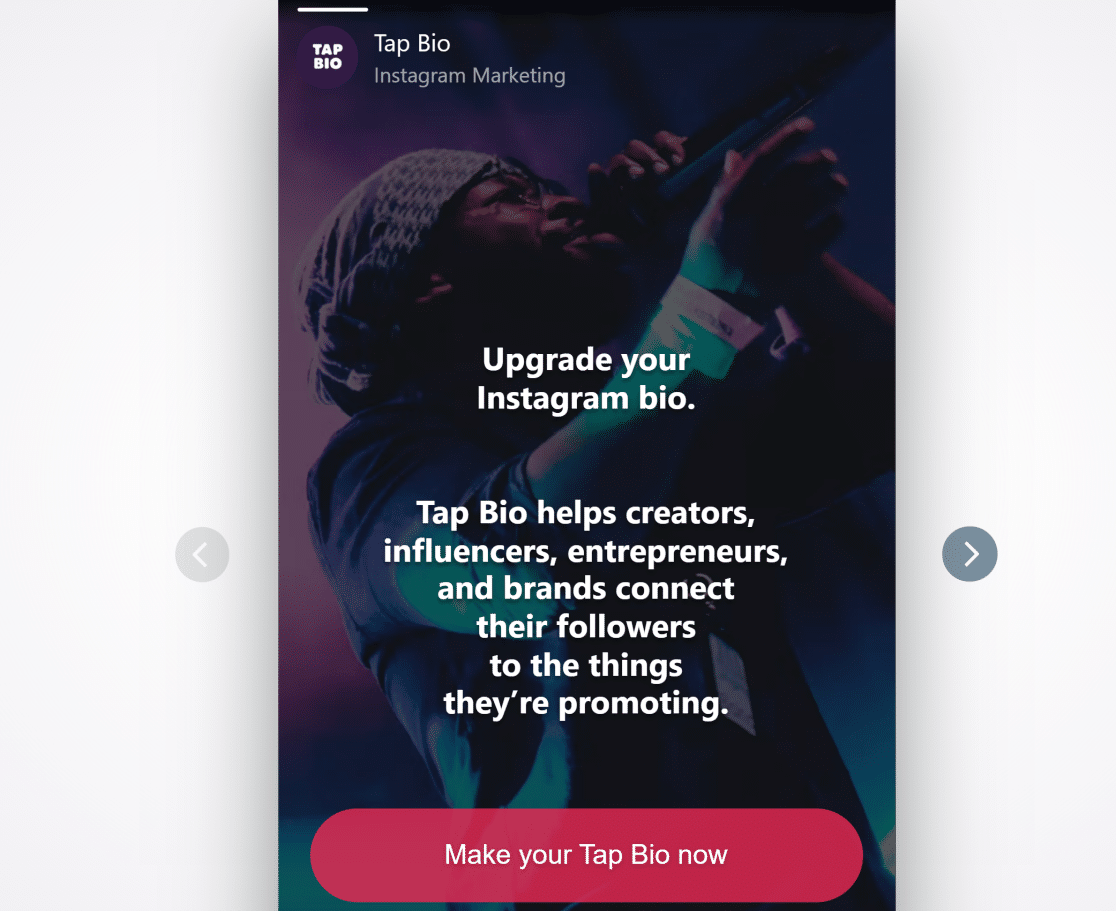 Tap.Bio lets you create profile cards to display your social links and other elements for your Instagram link in profile.
What makes Tap.Bio different from Linktree and its alternatives is that it doesn't have a vertical scroll on its micro landing page. Instead, it shows a single page that can be swiped left or right to access different sections of your card.
This allows for a neat, uncluttered design where you can include your social media links in one section, and embed other elements like YouTube videos and email collection forms in other sections
Unfortunately, Tap.Bio is very limited when it comes to customizations since you can't change your text font, color, or size.
And for your theme, you can only add a background image. So it's more of a basic solution for influencers that want a very simple and streamlined link in bio tool for their Instagram account.
Features:
Good distraction-free interface that supports separate cards for different linking scenarios
Integrates with Google Analytics and Facebook Pixel to measure user interactions.
Pricing: The Tap.Bio free version only allows one card. You can unlock more cards and analytics features with the Pro plan starting at $3/month.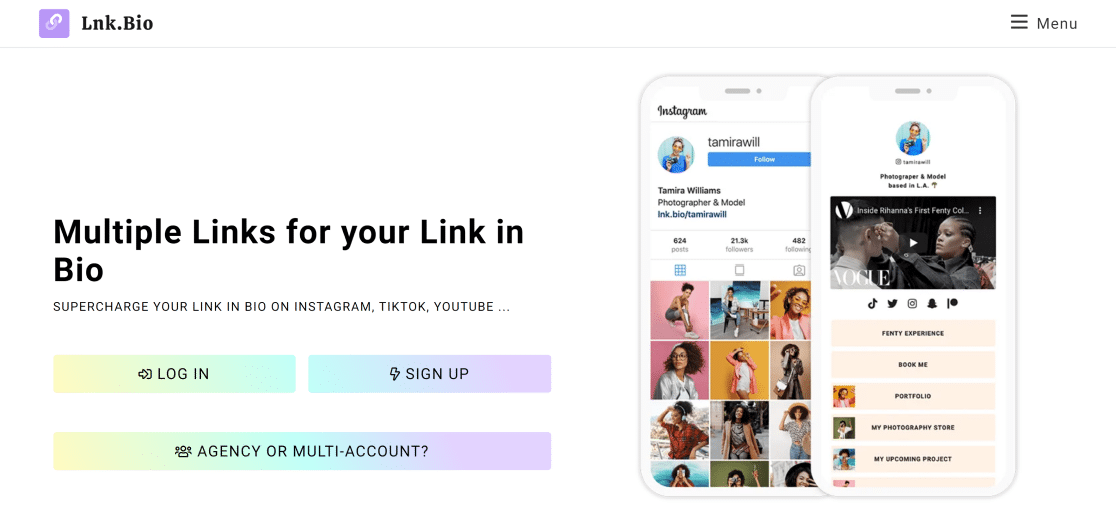 Lnk.Bio is another of the best alternatives to Linktree. This app lets you add as many links as you want on your link in bio landing page. So if you're an influencer with lots of social media profiles and content distributed across different platforms, Lnk.Bio is a good choice for you.
Most tools on this list require a separate login and password to signup. But Lnk.Bio uses the official Instagram API, so you don't need a separate account for it.
It also supports music and video embeds on your bio page. The paid account of Lnk.Bio unlocks customization features like different layouts, colors and fonts, and scheduling options.
Features:
Hassle-free and signup process requiring no separate login creation
Lets you embed music and videos on your bio page
Supports unlimited links on all plans
Provides engagement reports and integrates with external pixels.
Pricing: The Lnk.Bio free plan allows unlimited links, but you can unlock Pro features starting at $0.99/mo.
Shorby is a bio link tool that provides a mix of most features available with other tools. With Shorby, you can customize your landing page feed using content from different social networks and even your WordPress posts.
It also allows you to link to your Messenger apps like WhatsApp, Viber, Telegram, Facebook Messenger, email, and also your phone number. This is great if you want to let your followers contact you instantly through your link in profile page.
Other than that, Shorby also provides decent customization options with a drag and drop interface for editing your buttons, links, thumbnails. and themes. It also comes with Google Analytics and Facebook Pixel integration.
Features:
Messenger integration is great for influencers that want their visitors to directly connect with them
Good variety of feed elements to choose from including your YouTube channel, Shopify categories, Apple podcasts, and social networking links.
Pricing: Shorby doesn't have a free version. The pro version starts at $12/mo.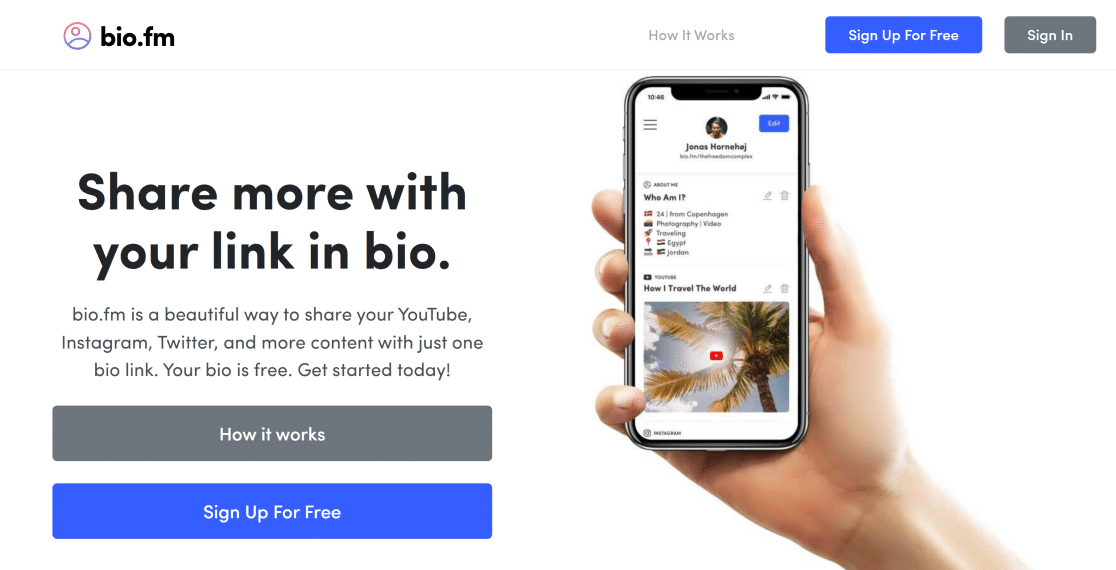 Bio.fm is one of the more advanced Linktree alternatives on this list. Essentially, Bio.fm is a content aggregator tool designed to curate your feeds from different social media platforms like Instagram, Twitter, YouTube, Facebook, and Spotify.
But it goes beyond standard linking because you can also add survey polls, optin forms for email collection, and even embed GIFs.
If you have a large footprint on the web, having many different active social profiles, Bio.fm can be a good option. However, it may not be the simplest option for emerging influencers and small businesses.
Features:
Enables you to embed GIFs and survey polls to your bio page
Provides customizable themes
Pricing: Bio.fm is a freemium tool. You can access a lot more features with the pro version starting from $5/month.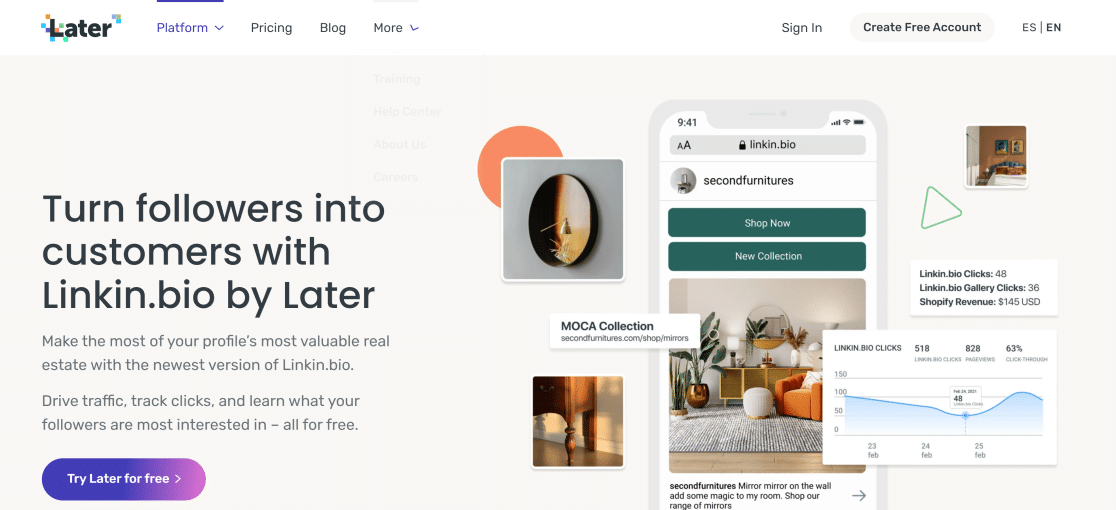 Linkin.bio is a very useful link-sharing tool if you're using your Instagram posts to sell your products. When you set up Linkin.bio, it reproduces your main Instagram feed on your bio link landing page.
Each Instagram post on this feed can be tagged with a custom URL, which can lead directly to your product page. This is great for eCommerce stores looking to create an effective Instagram marketing funnel.
Besides, Linkin.bio also gives you the basic social media platform linking functionality if you just want to grow followers on your different profiles.
Features:
Lets you convert your Instagram posts into shoppable custom links
Allows up to 5 custom links to each Instagram post
Integrates with Google Analytics and UTM tracking.
Pricing: There's a free plan for smaller influencers, but the business plans start at $8/mo.

Everlinks is a simpler alternative to Linktree. It's easy to set up and provides several useful features to make your bio link management quick and efficient.
Everlinks lets you add YouTube videos to your bio page and an unlimited number of links. It also provides some cool capabilities like link animations that enable you to draw more attention to your most important links.
Features: 
Enables you to add text with a rich text editor
Allows link scheduling so that certain links only show up at a certain time or day
Supports videos and images on your bio page.
Pricing: EverLinks has an unlimited free plan with restricted features. Paid plans start at $7/month.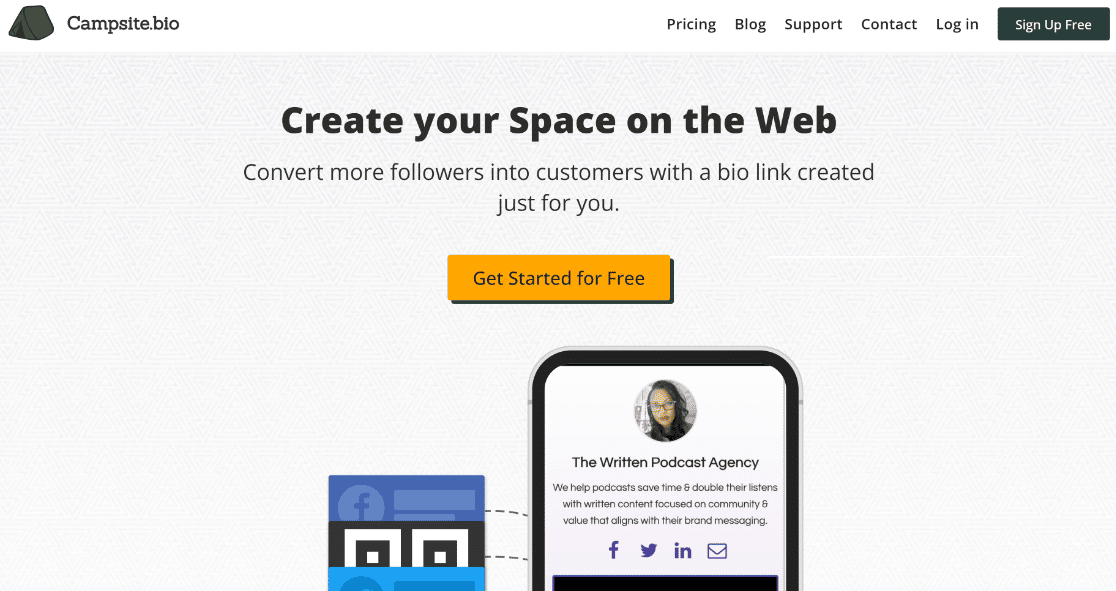 Campsite.bio is quite similar to Linktree but it goes the extra mile in giving you some additional customization flexibility for your micro landing page.
One of the highlights of Camspite.bio is that it lets you add images to your link buttons. Customization options are also a lot more extensive on Campsite.bio. It's also a great tool for customizing your bio page branding by changing color schemes, icons, and fonts.
Features:
Tons of customization options for your bio page branding
Integrations with popular CRM and email marketing platforms, including Mailchimp
Detailed reporting for link statistics and insights.
Pricing: Campsite.bio offers both free and paid plans. You get a lot of valuable features in paid plans starting at $7/month.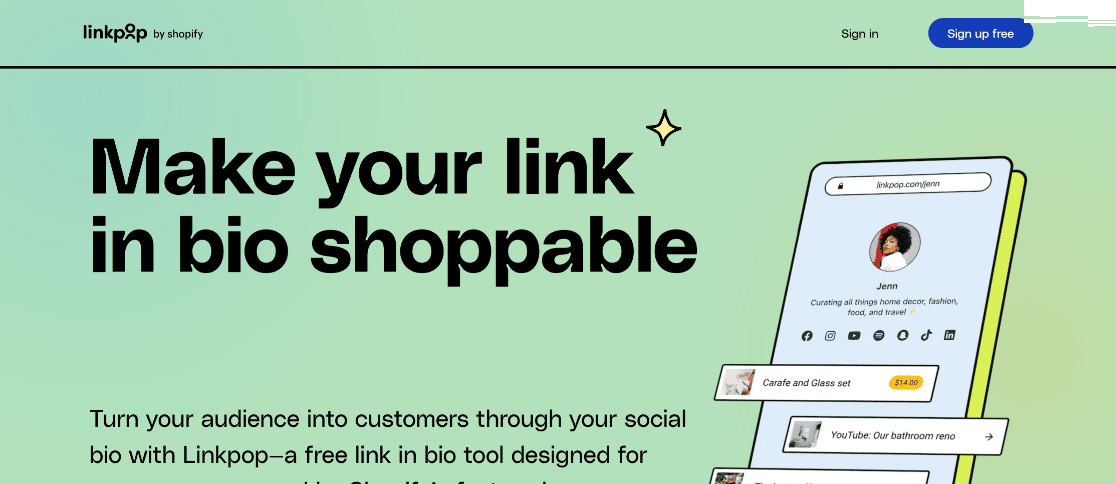 Linkpop is a bio tool mainly designed for eCommerce stores. It integrates with Shopify, giving you the ability to monetize your bio link page with order links for your products.
Linkpop also comes with decent analytics features, allowing you to measure your links by unique visits, clicks, and clicks per visit.
Features:
Lets you add shoppable links within your bio page
Super easy to setup
Pricing: Linkpop is completely free of cost. But you'll need a Shopify subscription in order to add shoppable links to your bio page.

Smash Balloon works slightly differently from the rest of the tools on this list. It's a WordPress plugin that lets you add your social media feeds from Instagram, Twitter, and Facebook to your site.
Smash Balloon syncs your website with your Instagram feed, so that any new content that you add to your Instagram profile is automatically updated on your WordPress site at the same time! This is great if you're a blogger and your site regularly attracts visitors that can then discover your Instagram content through your site.
What makes Smash Balloon stand out is that it reverses the flow of discovery for your online properties. With bio link tools, you're able to promote your other social media profiles and website. But with Smash Balloon, you can use your website as the main platform promoting your Instagram, Twitter, and other social feeds.
And with its excellent customization functionalities and user-friendly interface, you get to utilize your website for cross-promoting your entire social media presence.
Pricing: Smash Balloon has both free and paid plans. The pro version starts at $49/year.
Which Linktree Alternative Is the Best?
There are some really good Linktree alternatives available on the market. If you have a WordPress site and want an easy DIY solution that gives you complete control over your bio link page design, then SeedProd is the best alternative for Linktree.
With SeedProd, you get to create a custom URL that completely matches your brand or business name, which is something that no other link in bio tool allows.
Plus, it allows you to use your main website to link to your other pages, promote products, and collect email leads, rather than creating a landing page on a third-party link bio tool. This helps you grow traffic to your main site while promoting your links at the same time.
However, if you don't have a website or simply don't want to feature links on your site, you might want to try Taplink, which is another good option.
And that's it! You can now compare Linktree alternatives and pick the best one for your needs.
FAQs
Do Linktree alternatives let you customize your links?
Yes, most Linktree alternatives will allow you to customize your links, including colors, fonts, and other elements that will help you match your branding.
Can I customize my URL or landing page domain with Linktree alternatives?
Yes, many Linktree alternatives allow you to customize your URL or landing page domain to personalize your page. It's always a good idea to research alternatives first to be sure they have this functionality.
Do any Linktree alternatives include deep linking capabilities?
Yes, there are alternatives that allow this, including Lnk.Bio and Shorby. Both will allow you to link users to specific content or sections within a mobile app. It's always best to research to find out if an alternative includes this functionality, specifically.
What's the best way to choose a Linktree alternative?
May Linktree alternatives offer a free trial or demo. After you evaluate your needs, find the tools that fit your requirements and test them out. This will help you get a feel for which user experience you like best.
Do any Linktree alternatives support eCommerce features?
You can use tools like Bio.fm and Shorby for eCommerce integrations. These aren't the only tools, however, so make sure you research and test whatever matches your criteria so you know you're getting the best tool for your needs.
Next, Improve Conversions With Landing Page Tips
If you're struggling to convert visitors to paid customers, you might want to apply these landing page best practices to get better results.
Also, check out these Instagram giveaway tips to improve user engagement across your site and brand profiles. And if you're looking for ways to integrate your website with TikTok, here's our roundup of the best TikTok plugins for WordPress.
Create Your WordPress Form Now
Ready to build your form? Get started today with the easiest WordPress form builder plugin. WPForms Pro includes lots of free templates and offers a 14-day money-back guarantee.
If this article helped you out, please follow us on Facebook and Twitter for more free WordPress tutorials and guides.