Do you want to learn how to run an Instagram giveaway and ensure a successful campaign?
Instagram giveaways allow you to promote your brand, boost customer engagement, and acquire new subscribers.
In this article, we'll discuss 9 important tips that can help you run an impactful Instagram giveaway.
To make it easier for you to read through this post, we've added quick links to different sections of the content:
What Are Instagram Giveaways and How Do They Work
Instagram giveaways are a marketing strategy where brands pick a number of winners to gift a prize to. Normally, giveaways enforce certain rules that users must follow in order to participate.
These rules may require users to perform certain actions that can be beneficial for the brand such as following an Instagram handle, sharing the giveaway contest with friends, liking posts, leaving comments, etc.
How Does Running an Instagram Giveaway Help?
Instagram giveaways provide awesome benefits for your business. Depending on your goal, an Instagram giveaway can helo you:
Promote brand awareness and recognition
Gain more social media followers
Draw higher website traffic
The best thing about giveaways is that they're fun. This is why giveaways normally produce very high user engagement which naturally helps to raise your brand awareness.
While giveaways allow you to reach new audiences, they also help your existing customers trust you more since you're giving away valuable prizes for free.
Tips for Running an Instagram Giveaway
Here are some time-tested tips for running a successful Instagram giveaway contest. For faster reading, we've created quick links for jumping to different sections within this post:
Let's dive right into it.
1. Set Clear and Specific Goals
The first and most important characteristic of successful giveaways is that they're centered around clear goals that align with your overall marketing strategy.
Also, your goals should be specific and measurable, preferably something that you can easily track. If you set vague goals, you won't be able to see if your giveaway produced the results you were aiming for.
Giveaways are very powerful and give you a lot of flexibility when it comes to deciding your goals. Commonly, businesses use giveaways for the following goals:
Increase the number of followers for your Instagram profile
Grow your email list and get more newsletter subscribers
Redirect traffic to a particular page or blog post on your website
Collect user reviews, testimonials, and other forms of user-generated content
Improve your Instagram engagement metrics with higher likes and comments
Promote your business, new products, and website
and more.
In most cases, it's advisable to focus on a single goal. It can be overwhelming to track multiple goals and you also run the risk of confusing your audience if the giveaway rules aren't simple and straightforward.
2. Align Entry Criteria With Your Goal
The entry criteria simply determine the actions you want your users to perform in order to be eligible to win the giveaway.
When you've decided the goal that you want to target, it's very easy to create the entry criteria.
For example, if you're mainly interested in boosting user engagement on your social media profile, it wouldn't make sense to ask people to subscribe to your email list.
So, make sure there's consistency between your goals and entry rules in order to get the best results from your giveaway campaign.
Here are some common entry criteria that relate to different specific goals:
Ask people to follow your Instagram profile if you want to increase your follower count
Request people to click a link to a webpage where you want to have higher traffic
Get people to tag their friends on one of your Instagram posts to boost brand awareness
Ask people to subscribe to your newsletter if you want to capture email leads.
These are just some of the ways you can create entry criteria that match your strategic goals.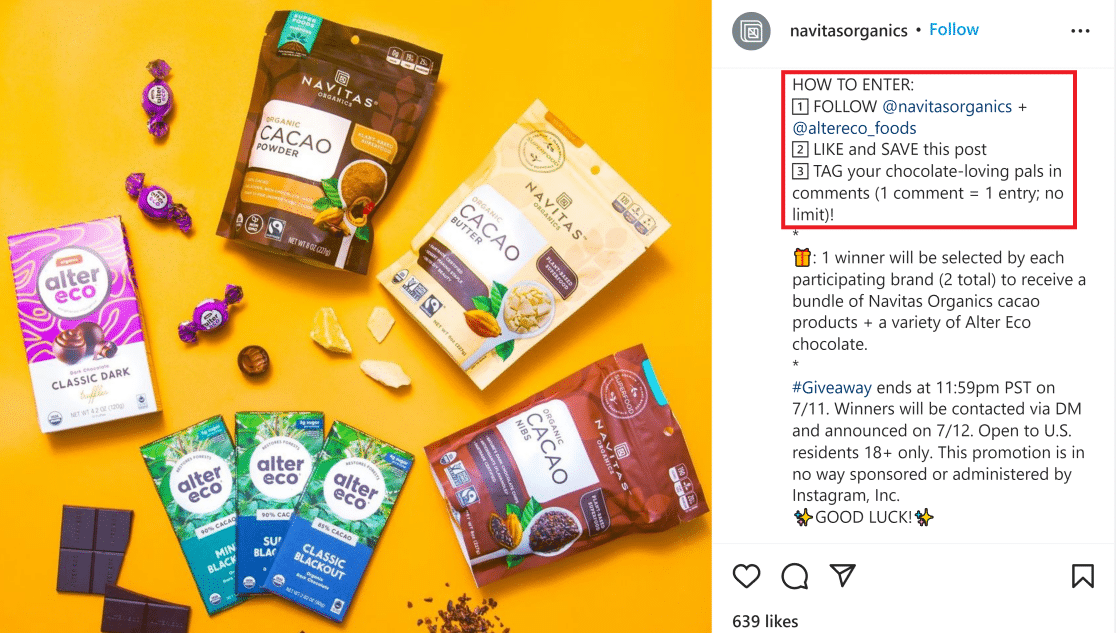 In the example above, Navitas Organics clearly specifies the entry rules for their campaign using a numbered list. It's also clear from these rules that their goal is to increase their follower count and widen their audience reach.
Now that you've done the groundwork for your awesome Instagram giveaway contest, let's move onto the part that your customers are going to be the most interested in.
3. Pick a Relevant Prize for Your Giveaway Winners
Giveaways are exciting because they give your audience an opportunity to win something they'd really like to have.
There are a lot of options you can choose from when it comes to deciding on a giveaway prize. And much of it depends on the goals that you've set for your giveaway campaign.
For example, if you're trying to boost product awareness for a new product you're launching, you can choose the giveaway prize as your product itself.
Simon and Schuster simply picked stuff that book lovers would like for their prize: a tote bag, a bookmark, and a book. For a bookstore, the prize makes perfect sense.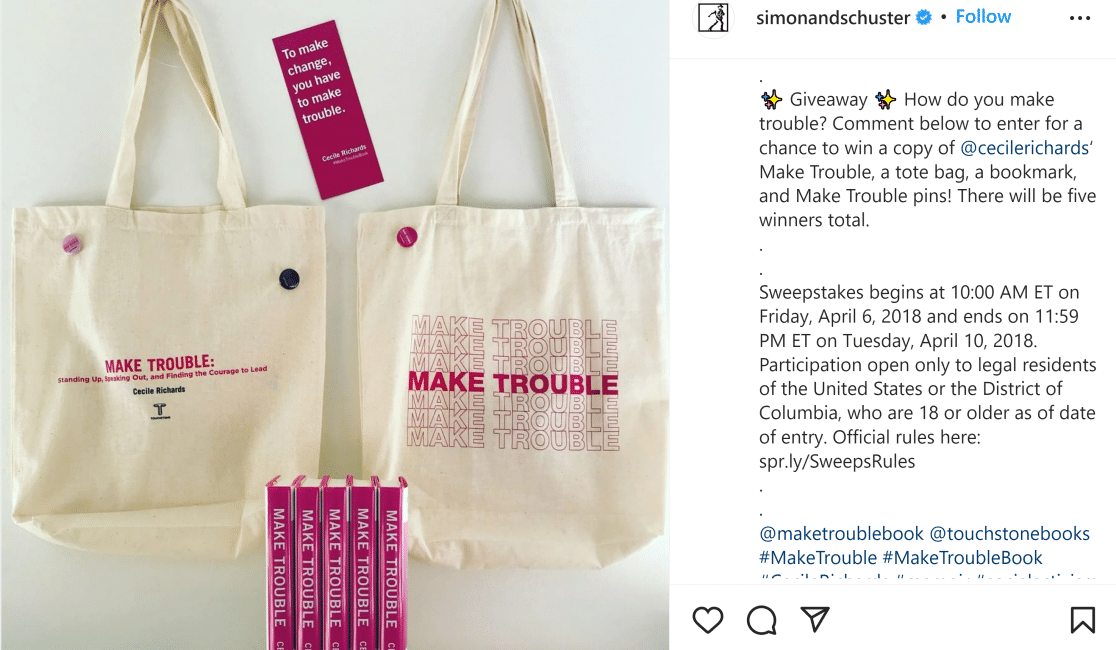 Another way of thinking about the prize is to analyze your audience. If you're an eCommerce store, take a look at the category of products that are the most popular among your audience. This is a great way of picking a price that is relevant to your audience and is certain to create excitement.
4. Keep It Short, Simple, and Follow Promotional Rules
People have short attention spans. Most users follow hundreds and thousands of different profiles on social media, so there is a lot of content to consume.
If your giveaway rules are long and confusing, users may lose interest before they can enter the contest. Instead, keep the rules simple and straightforward. Also, try not to require your users to perform too many actions to enter the contest.
For instance, you can ask people to follow your profile, like the post, and perhaps tag a friend in the comments. This is one of the simplest sets of giveaway instructions. Any additional requirements and you run the risk of turning quite a few potential users away.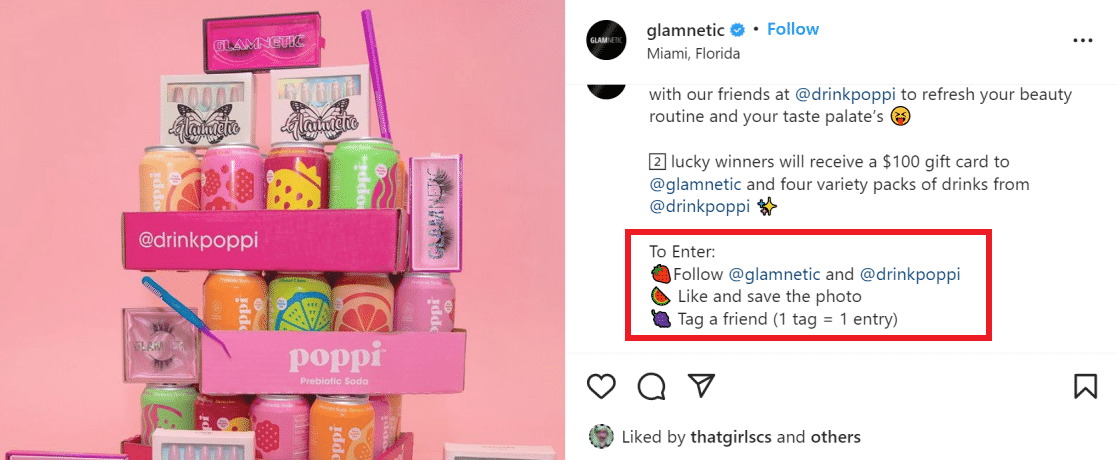 Glamnetic's giveaway post above is a great example of keeping giveaway rules concise and simple.
Another important thing to remember is that Instagram has a set of promotional guidelines that it expects all profiles to abide by. Make sure you've read these rules and don't violate any principle mentioned within.
5. Short Contest Durations Convert Best
It might seem that the longer you let a contest run, the more people will be able to join and help you with your marketing goals. But this is rarely true.
One giveaway best practice is to use a time limit and make it visible for your users at all times. This produces a sense of urgency which urges users to enter the contest at the earliest for fear of missing out on the prize.
You can post a countdown timer on your Instagram story to produce this effect. But Instagram is a limited platform in terms of what you can do. This is where your main website comes into play.
If you have a WordPress website, you can use plugins like RafflePress to not only create full giveaway contests but also use effects like countdown timers on your site.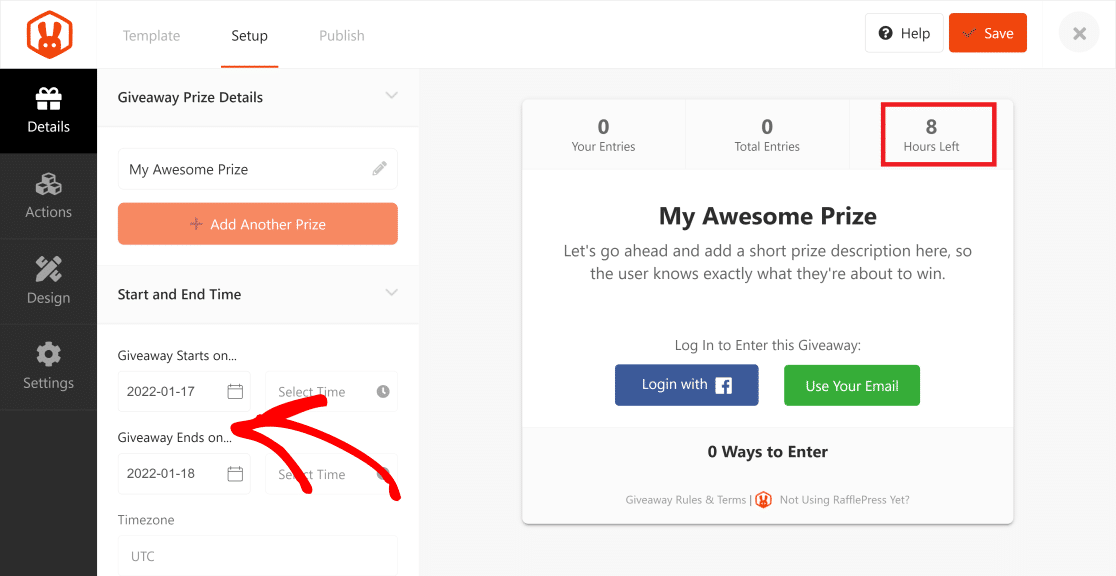 Besides, it's always a great idea to promote your Instagram giveaway across your different social profiles as well as your main website.
So, even if you're running the giveaway on Instagram, you can still use your main website to promote the contest and direct users to your Instagram profile to enter the contest.
Speaking of promotions…
6. Promote Wide and Big
If you're running an Instagram giveaway, it's not enough to simply announce the giveaway on your Instagram page. To reach audiences far and wide, you should utilize all social channels and websites available for your brand.
This means promoting the contest on your Facebook and Twitter and also announcing it on your website for those visitors that primarily reach you via your site.
The easiest way to promote your Instagram giveaway on your website is to integrate your Instagram feed with your WordPress site. And it's very simple to do this. All you need is a WordPress plugin called Smash Balloon.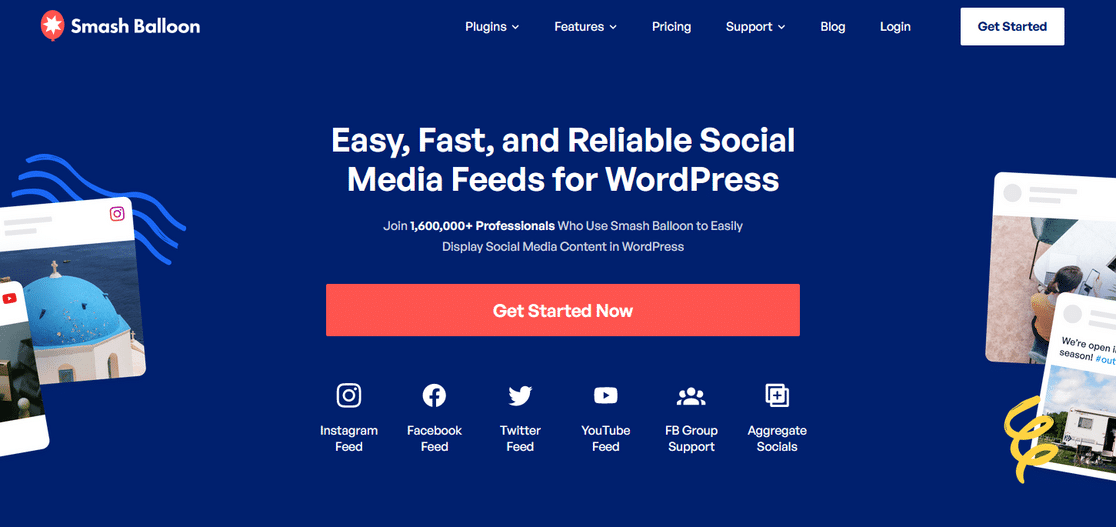 Smash Balloon connects your Instagram feed to your website, so your site visitors can always stay in touch with your latest Instagram content. The plugin also comes with excellent features that allow you to add social proof elements in the form of likes, shares, and comments. This enables you to boost engagement levels for your social content as well as your site.
Hashtags add another effective way of promoting your giveaway on Instagram. Hashtags are searchable on Instagram, so there's a very good chance that new users might come across your giveaway by search if you're using relevant hashtags.
You don't even have to think too hard about hashtags. In most cases, simple hashtags like the ones below are all you'll need to improve your giveaway's discoverability:
#giveaway
#giveawayalert
#giveawaycontest
#giveawaytime
#win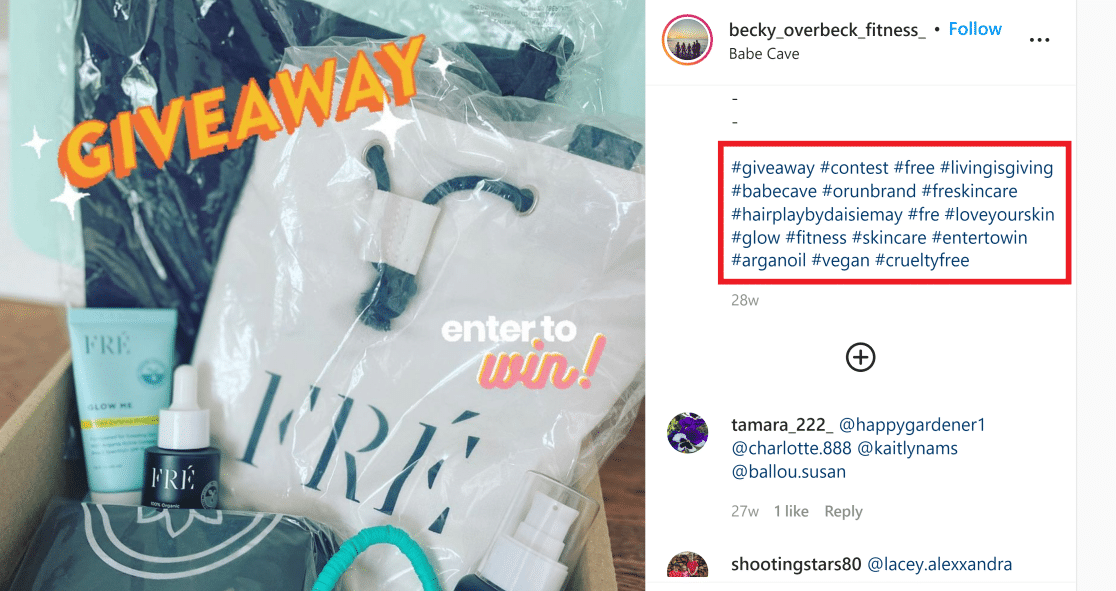 You can also use hashtags to build brand awareness using branded hashtags. For instance, if your business name is "example", you may use the hashtag "#examplegiveaway".
8. Pick a Random Giveaway Winner
When the contest time has run out, it's time to pick a winner. Make sure that the winner is someone who has followed the giveaway rules and performed the action you wanted them to.
It can be difficult to keep track of all the users that may have participated in your contest manually. A much more efficient method is to use the WordPress plugin RafflePress, which can draw a winner for you automatically.
If you used RafflePress to create your Instagram giveaway, then it will automatically keep track of all the entrants and randomly pick a winner for you from the available pool of entrants.
However, there is a limitation. RafflePress won't be able to count those contest entrants that directly reached your Instagram giveaway post and performed the required actions without going through the giveaway widget you set up using RafflePress.
So if you want to make sure every user that entered the contest is counted, copy the list of all eligible users and paste it in a random picker to get your winner. When you have a name, make sure that they followed all the entry rules and prepare to have their prize delivered.
One thing you should never forget is to announce the winner publicly. This is important because it lets everyone see that your Instagram giveaway contest was a legitimate one with an actual winner. It also encourages users to participate in your next giveaway for a second chance.
9. Measure Your Giveaway Results
When the giveaway has reached its conclusion, it's time to measure the results so you can see if you've actually met the goals you were targeting. There are different ways of measuring the results depending on the nature of your goals.
For example, if your primary goal was to gain more Instagram followers, then an easy trick is to take a screenshot of your follower count before announcing the giveaway. Then, compare the number of new followers you've gained during the contest duration.
This method also works for tracking the growth in your email list. Simply find the difference between the number of subscribers you have now versus the count before the giveaway began.
But what if your goal was to redirect traffic to a webpage via Instagram? For this, you can use analytics plugins for WordPress. The best and simplest such plugin is MonsterInsights.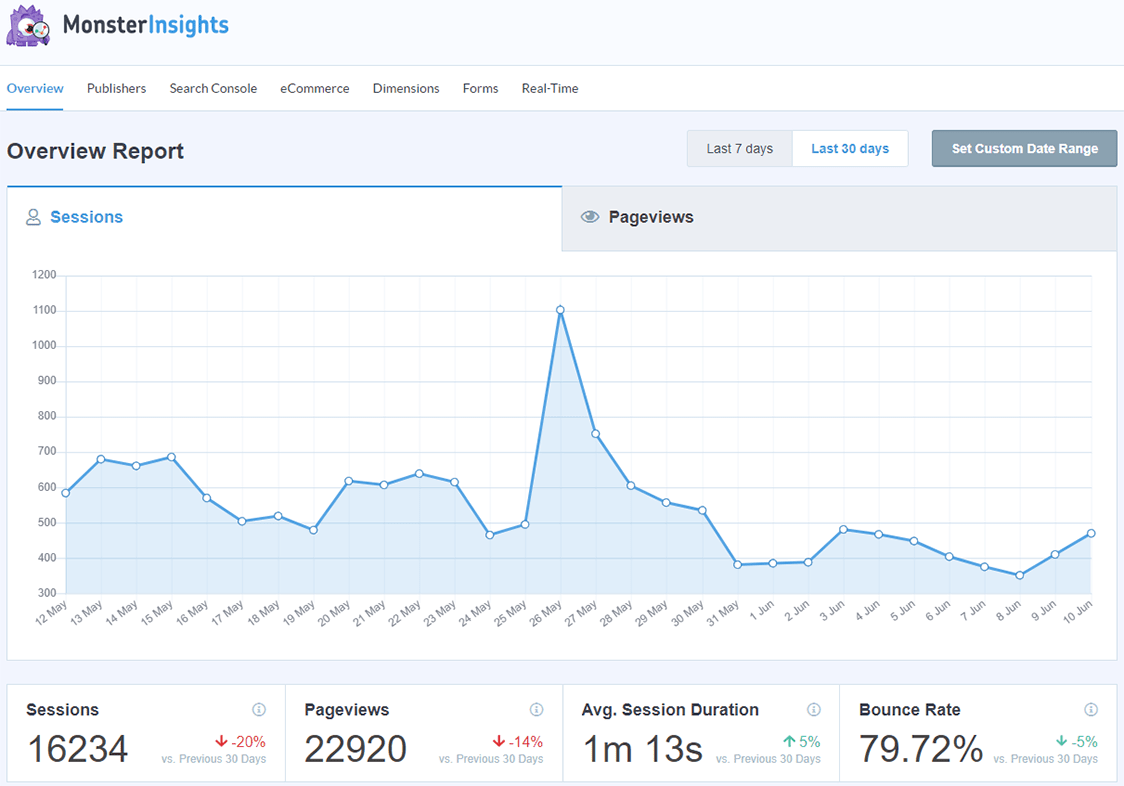 This plugin allows you to track the traffic your giveaway page has generated and also see the referral source of the traffic. So if you wanted to redirect Instagram users to a certain post on your site, you can simply check the referral source to determine the traffic that's reached your page from the giveaway contest.
And that's it! You now have a good understanding of how to run an Instagram giveaway to set your business up for continued growth.
Next, Improve Your Email Capture Capabilities
Do you want to capture more email leads and build your mailing list? Check out our article on the top email capture tools for WordPress.
Ready to build your form? Get started today with the easiest WordPress form builder plugin. WPForms Pro includes lots of free templates and offers a 14-day money-back guarantee.
Create Your WordPress Form Now
If this article helped you out, please follow us on Facebook and Twitter for more free WordPress tutorials and guides.