Are you wondering what the best TikTok plugins for WordPress are?
TikTok is the fastest growing social media platform, which makes the TikTok audience an excellent marketing prospect.
As a result, it's a smart idea to integrate TikTok with your WordPress site for cross-promotions.
In this article, we've put together a list of the best TikTok plugins for WordPress that can enable you to multiply your followers and on-site traffic in no time.
How Do I Add a TikTok Feed to WordPress?
To add a TikTok feed to WordPress, you'll need a WordPress plugin that supports this function, like TikTok Feed.
You might also find it interesting to learn that there's a lot more that you can do with TikTok in WordPress. For example, you can share some WordPress content, such as contests and giveaways on TikTok, or acquire leads from your TikTok account using a TikTok-themed landing page.
Learn all about this next!
The Best TikTok Plugins for WordPress

Rafflepress is the top TikTok plugin for WordPress for creating and hosting contests and giveaways.
If you're looking to take advantage of TikTok's huge popularity, launching a giveaway from your WordPress site is an excellent idea. The plugin allows you to create viral giveaways with entry options like following your TikTok profile or viewing a TikTok post.
What's more, it's super easy to implement. RafflePress allows you to build beautiful giveaway templates using its drag and drop builder.
You can also choose from its collection of pre-designed giveaway templates that make it easy for you to fill in a few details like the prize, duration of the giveaway, giveaway rules, and so on. Using these features, you can incentivize more people to join the contest while helping you to grow your TikTok account faster.
Once your contests are live, users will have numerous ways to enter them. For example, if you're trying to grow your social media accounts, you can have your users enter contests by following your accounts or sharing a giveaway on their profile.
And if you're building an email list, you can enter users into contests when they subscribe to your email newsletter.
Pricing: RafflePress offers an unlimited free trial, with full licenses starting at $39.50 annually.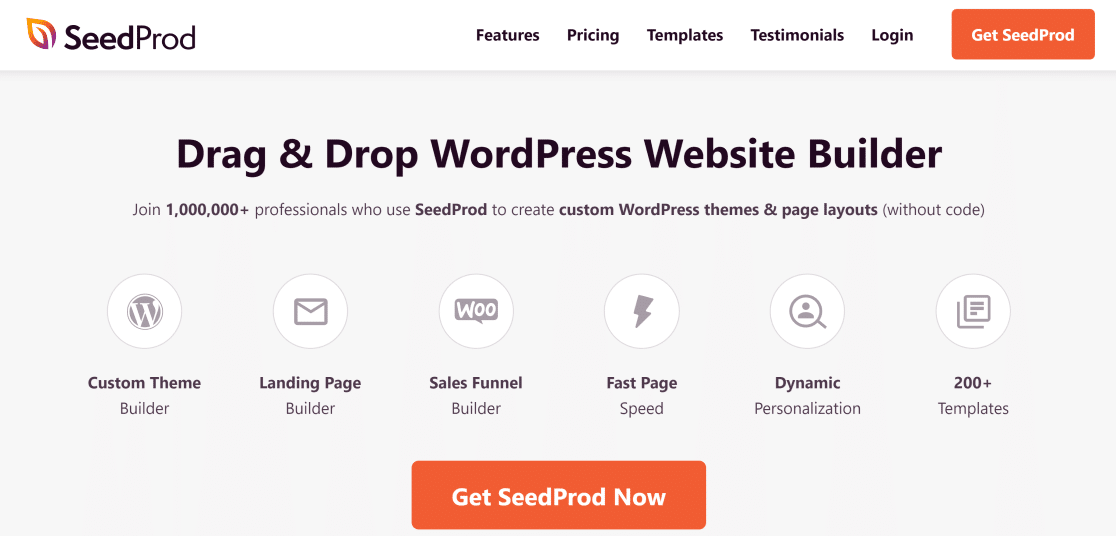 Looking to create beautiful TikTok landing pages in WordPress? SeedProd is the best way to do this, and you can use it to drive leads to your website from TikTok accounts!
SeedProd offers tons of landing page templates that you can easily customize to showcase your best TikTok content on your WordPress site.
Using the video embed block, you can add your TikTok video content and easily gain more followers by adding a customized TikTok follow button.
The best thing about creating a TikTok-themed landing page on your WordPress is that it works like a two-way street. On the one hand, it allows your site visitors to discover your TikTok profile. On the other hand, you can also add a link to this page from your TikTok profile so your TikTok followers can discover your site and other social links you may have.
To learn more about SeedProd, here's our complete SeedProd review.
Pricing: SeedProd starts at $39.50 per year.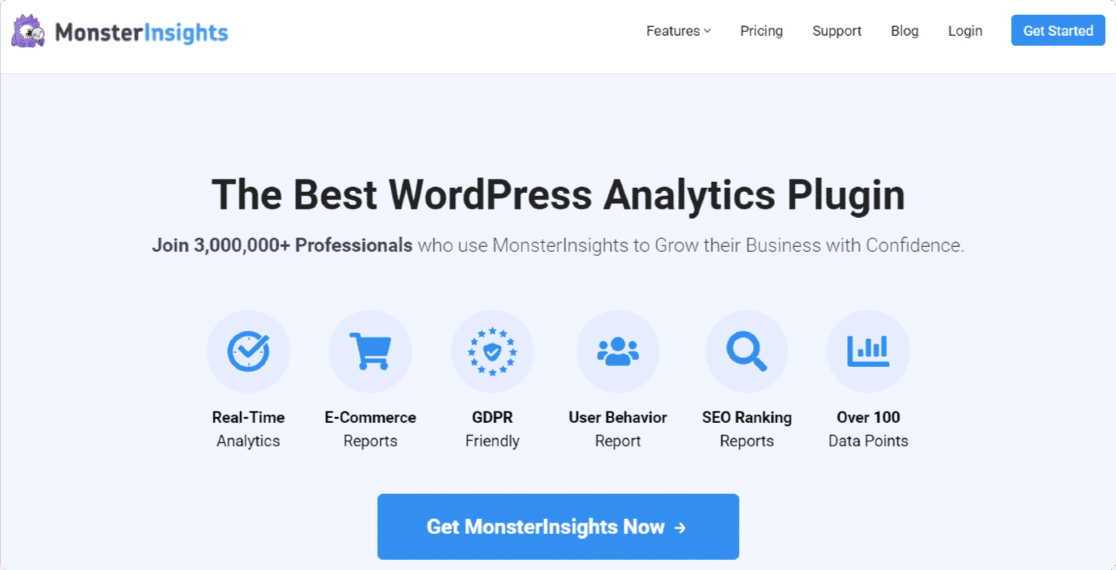 MonsterInsights is the most powerful WordPress plugin for integrating Google Analytics into WordPress and is one of the best plugins for WordPress site management.
MonsterInsights allows you to see which sources your site visitors are coming from. This is great if you want to measure site traffic from TikTok and get Google Analytics data inside your WordPress dashboard. The plugin is compatible with the old Google Analytics version as well as GA4, so it's extremely flexible.
The best thing about MonsterInsights is that it greatly simplifies the process of viewing useful Google Analytics reports and insights. So if you want to keep track of your TikTok referral traffic over a period of time, MonsterInsights is the best available solution.
With the main Google Analytics platform, finding the data you need can be a bit complicated. But MonsterInsights keeps important pieces of information like the number of site visitors and your traffic sources at the forefront for easy measurement.
Pricing: MonsterInsights has a free version, with paid licenses starting at $99.50.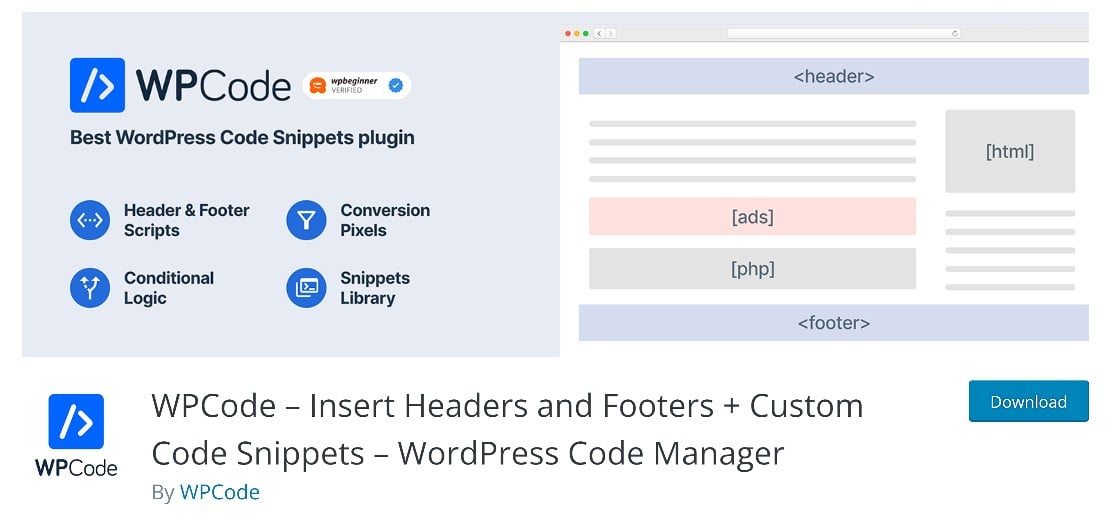 Are you running targeted ads and want to track specific user activity events from TikTok? Then you might want to use WPCode. WPCode is the best WordPress plugin for adding code snippets to a WordPress website.
Using WPCode, you can add a TikTok pixel to your WordPress site. A TikTok pixel is simply a piece of code that lets you track user activity like link clicks, ad views, subscriptions, and so on. It's a good way to monitor highly specific events that you may want to keep track of for better optimization of your TikTok content and CTAs to your WordPress site links.
WPCode makes it really easy to add tracking pixel to your WordPress site. And the best thing is that it uses advanced code validation to make sure you don't accidentally break your site while adding custom pixel codes to your site.
WPCode Pricing: WPCode is free to use.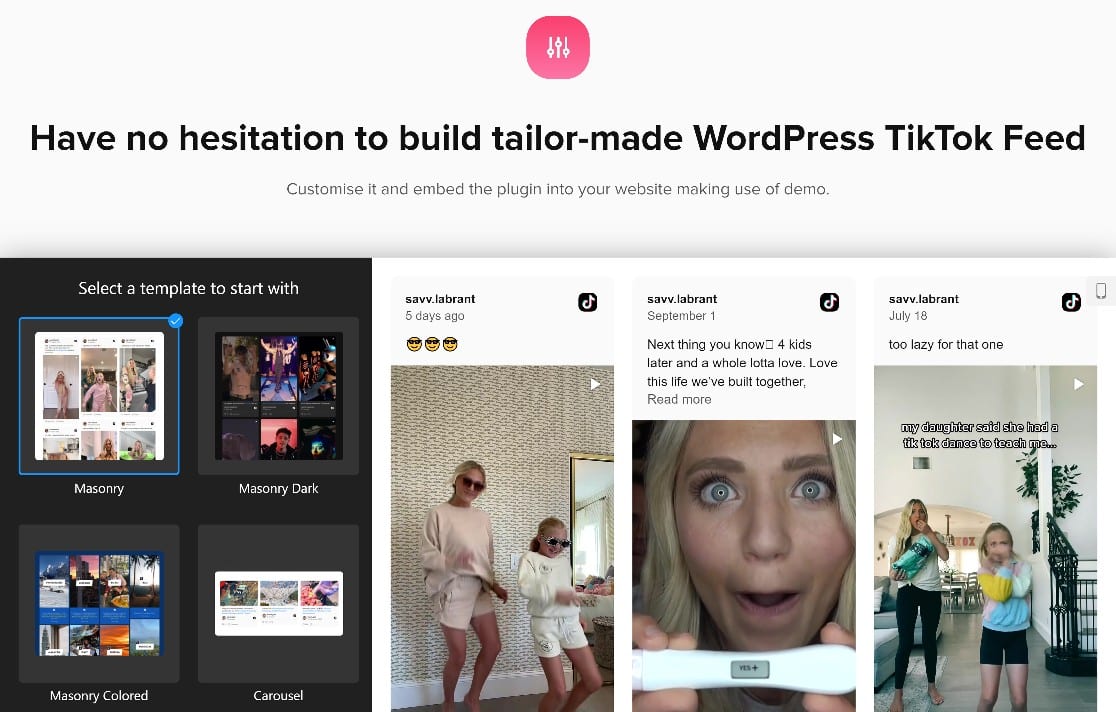 TikTok Feed is a very useful plugin for adding a TikTok feed to your WordPress website.
TikTok Feed works a little differently from the other tools on this list, as you'll have to create an account on Elfsight, create a widget, and generate a code snippet to get started.
TikTok Feed enables you to build a highly personalized feed using content from your TikTok profile. You can easily curate the TikTok content you'd like to be displayed to your WordPress site.
It also has several feed templates so you can showcase your TikTok content in the layout that works the best for your WordPress site.
You can integrate the code into your website by pasting it directly into your theme using the WordPress Theme Editor, an HTML widget, or simply using a plugin like WPCode.
TikTok Feed Pricing: You can get started with the free plan for one website. Paid plains start at $5 monthly.
And that's it!
We've shared 5 of the best TikTok plugins for WordPress. Go ahead and try them out!
Next, Try The Top WordPress Social Media Plugins
In addition to the TikTok plugins we've just discussed, there are a few more WordPress plugins that can help with your social media. Take a look at our roundup of the top social media plugins for WordPress.
Create Your WordPress Form Now
Ready to build your form? Get started today with the easiest WordPress form builder plugin. WPForms Pro includes lots of free templates and offers a 14-day money-back guarantee.
If this article helped you out, please follow us on Facebook and Twitter for more free WordPress tutorials and guides