Looking for a detailed SeedProd Review?
If you want to create a landing page for your WordPress website but are not sure which landing page builder plugin is the right choice, we've got you covered.
Many people claim that SeedProd is the best WordPress landing page plugin. But is that really true?
In this SeedProd review, we'll show you why we think SeedProd is the best choice for making high-converting landing pages.
How Does SeedProd Work?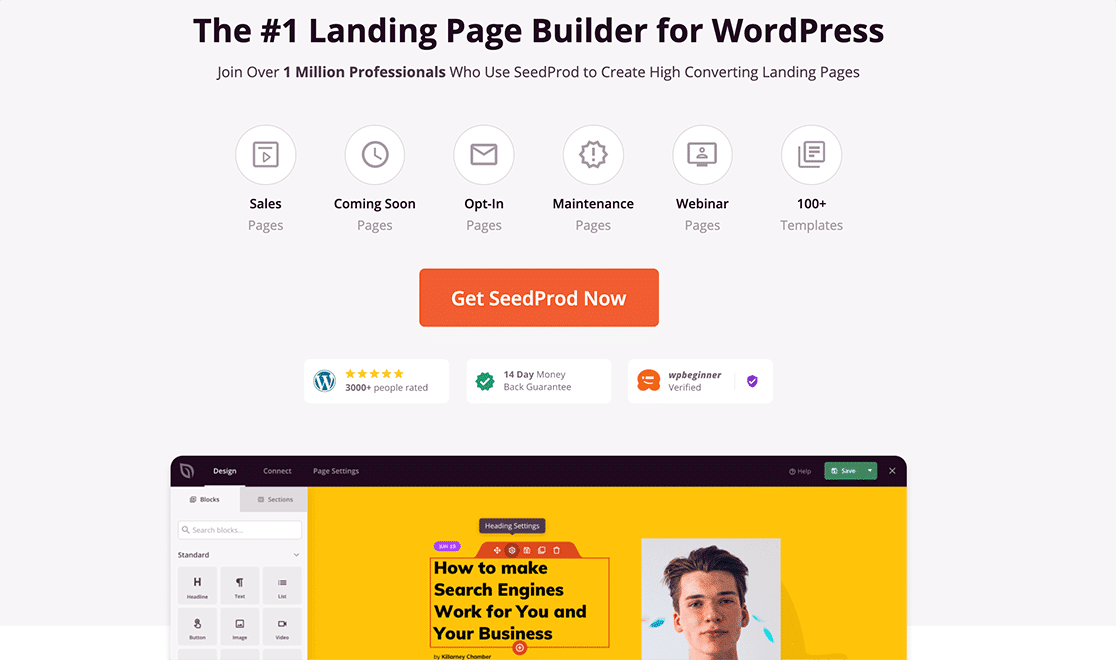 SeedProd is a plugin for WordPress that lets you create successful landing pages for your website.
To use it, you'll need to:
Once the plugin is installed, you can easily create landing pages yourself with the drag and drop builder. From there, you can access tons of great features that help you generate more leads and sales.
Given how easy it is to use and its wide variety of beginner-friendly features, we think SeedProd is a must-have for all website owners serious about growing their business.
So if you're asking yourself, "do I need SeedProd?" let's look at all the things that make it worth the investment.
SeedProd Review: Why It's the Best Drag and Drop Page Builder for WordPress
It's easy to think you don't need a page builder plugin when it's entirely possible to make WordPress pages without one. The problem is, the default WordPress pages lack the functionality required to generate leads for your business.
Since making money from your website is the main reason you pay to keep it online, the tools you use should also help you increase your revenue. And that is exactly what SeedProd does.
With that in mind, let's go ahead and look at what makes SeedProd the best choice for your business.
There are tons of super-useful features to cover in this SeedProd review. So feel free to click any of the links below to jump to the section you need:
1. Drag and Drop Visual Page Builder
SeedProd's drag and drop page builder makes it easy for anyone to create great-looking landing pages without any coding knowledge.
All you have to do is, drag any block from the left side of the screen to your page preview on the right. From there, you'll see the changes you make in real-time.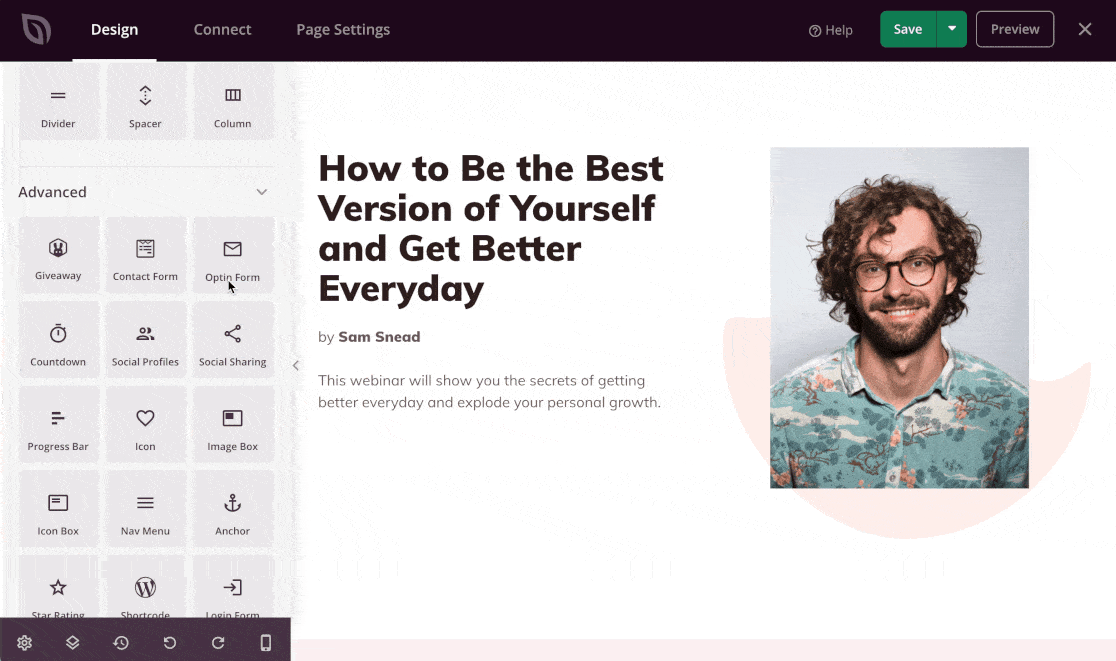 Given how easy the visual page builder is to use, even beginners can make stunning landing pages with zero fuss.
2. Landing Page Templates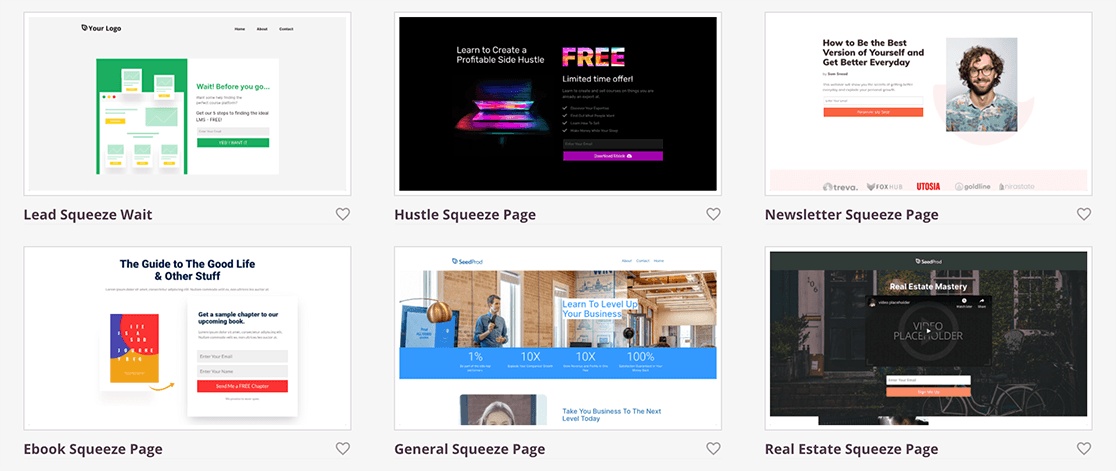 Another feature that makes SeedProd a fantastic landing page solution is its library of flexible landing page templates.
You can use these templates to make landing pages for any niche or goal, including:
And each template is fully customizable in the drag and drop builder, making it super-easy to get things looking the way you want. Plus, more templates are added regularly, giving you tons of fabulous designs to choose from.
3. Easy Customization Options
A good landing page plugin should make it easy to customize pages yourself without hiring a developer. And this is another area where SeedProd excels.
The code-free customization options use point and click functionality to tweak every part of your page instantly.
An excellent example of this is SeedProd's block templates. Many landing page blocks – which are the elements that make up your page – have several ready-made designs.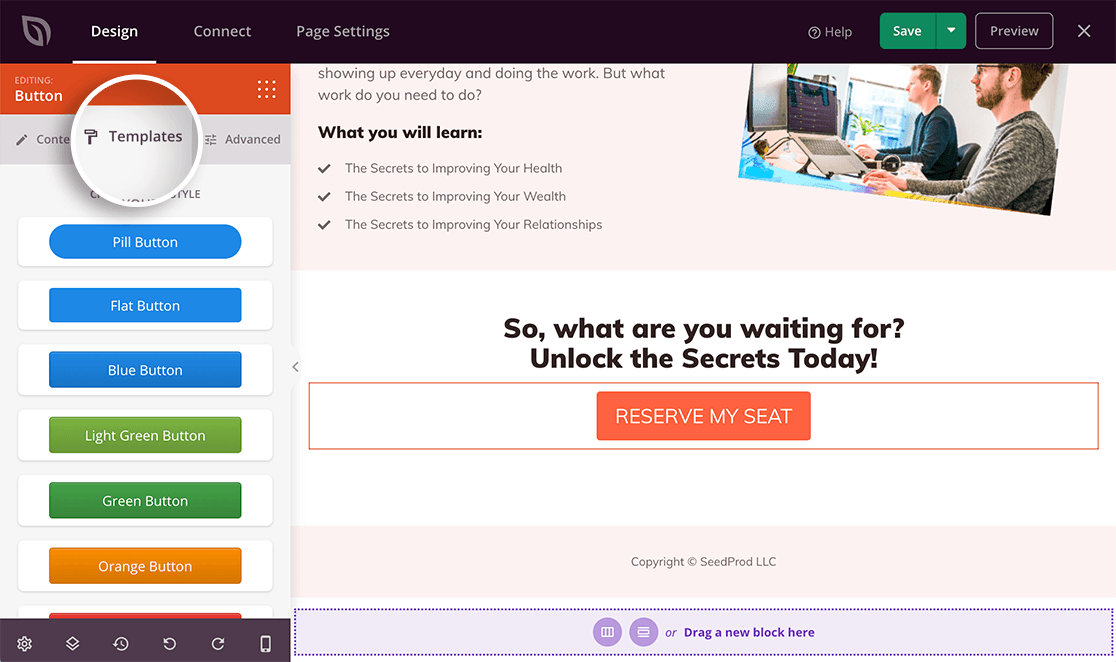 So just click a block, select the Templates tab and choose a style you like. That style is then added to your page instantly.
4. Font Themes and Color Palettes
To make customizing your landing page even easier, SeedProd's designers have done a ton of the hard work for you.
Instead of forcing you to pick colors and fonts manually for each page element, they've made whole color palettes and font themes you can apply to your entire page instantly.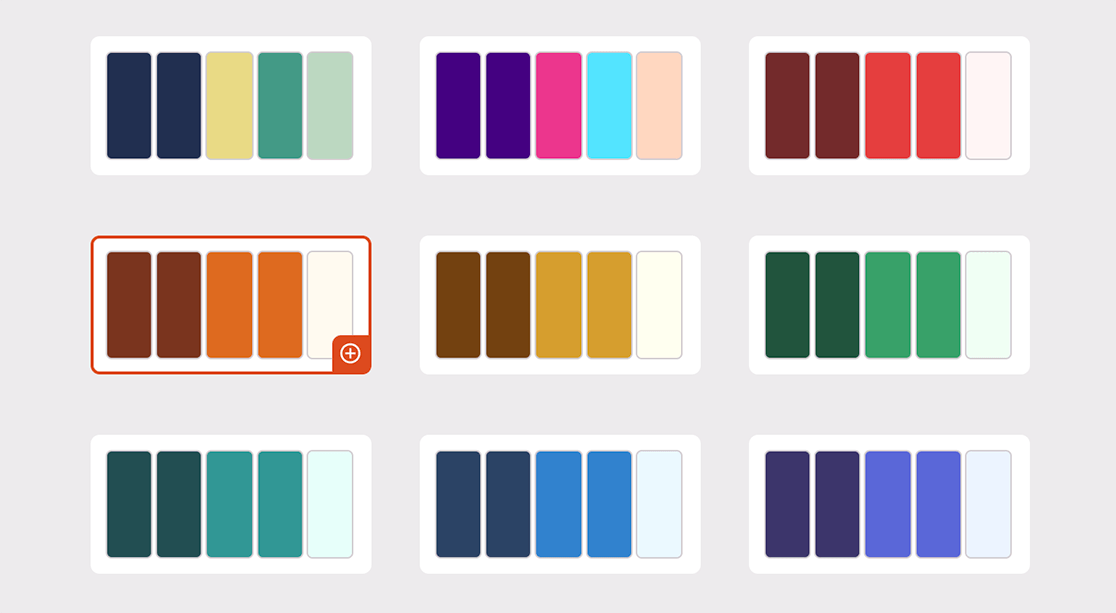 So there's no more guess-work on which colors or fonts work well together. Just click one you like, and your page is transformed right before your eyes.
5. Advanced Page Blocks
Every website owner wants more leads and sales. But boosting your revenue isn't always straightforward.
With SeedProd's Advanced landing page blocks, the process is much easier. Each block is designed explicitly to generate leads.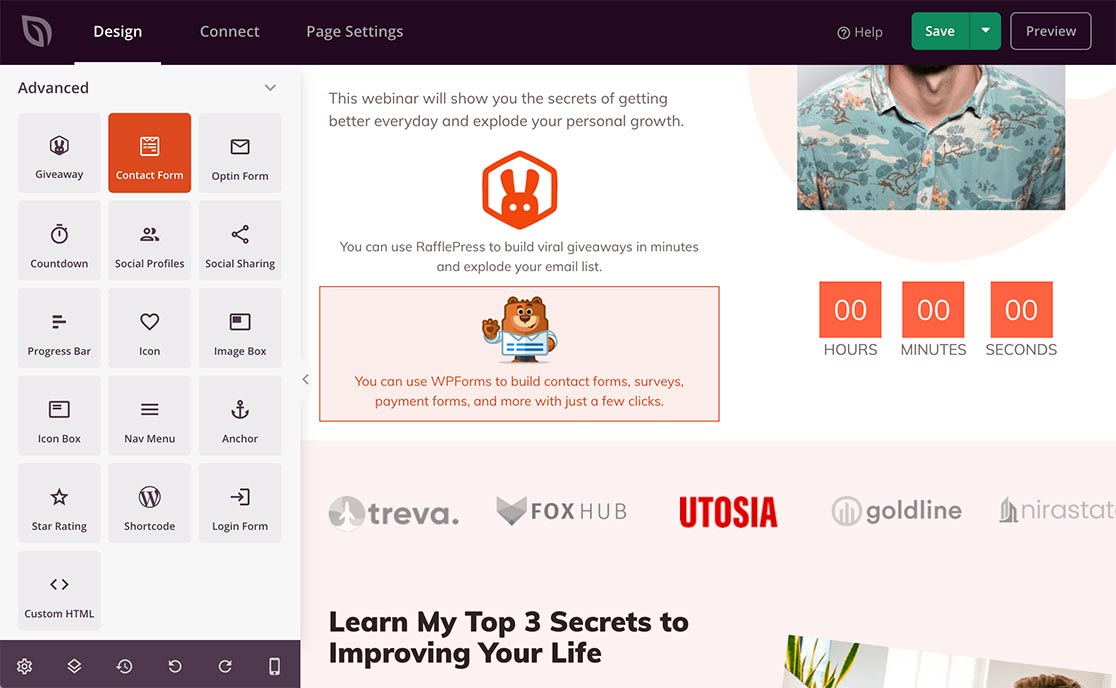 Plus, there's none of the fluff that distracts website visitors from your main goal: converting!
For instance, you can add:
RafflePress giveaways
WPForms contact forms
Optin forms
WordPress login forms
Countdown timers
Star ratings
Call-to-action buttons
Progress bars
And more
And all it takes is a quick drag and drop to add these features to your page.
6. WooCommerce Blocks
In addition to those lead-generating advanced blocks, SeedProd also offers custom WooCommerce blocks.
So, if you have an online store, you can quickly create product-focused landing pages and boost your sales.
You can even create custom cart pages and checkout pages with SeedProd, no need to hire a developer.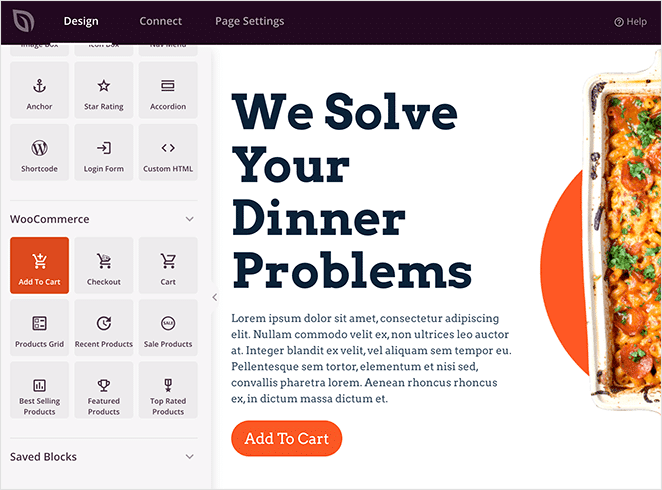 You can use WooCommerce blocks like:
Add to cart button
Checkout
Cart
Products grid
Recent products
Sale products
Best selling products
Featured products
Top-rated products
7. Landing Page Sections
Some landing pages need more functionality than what's included in a template. You might want to add a FAQ area to answer questions or an extra call-to-action (CTA) area to remind users to claim your offer.
Typically, you'd need to create these areas block-by-block manually. But with SeedProd's page sections, you won't have to.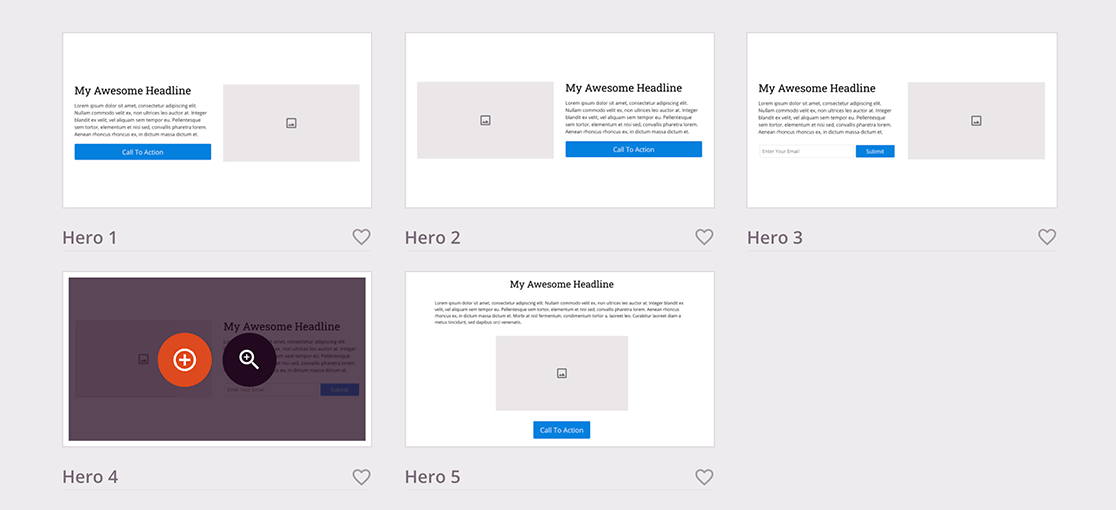 Instead, you can choose from various ready-made page sections and add them with a single click. Then they're just as easy to customize as any other page block.
8. Undo, Redo, Save and Reuse
Chances are you'll try a landing page style or block and won't like the results. Usually, this would mean starting your design all over again.
Luckily, SeedProd has both undo and redo options, so you can roll back a change without losing your progress.
What's more, you can save any customized block or template and reuse them on any page you like. So if you want to keep a consistent look across landing pages on your website, you can.
Besides, SeedProd lets you add WPForms block to your landing page. And WPForms itself has a native rollback feature called Form Revisions. For more information, see how to undo changes in WordPress.
9. 1-Click Page Modes
Another excellent SeedProd feature is its built-in page modes. These are individual landing pages you can instantly enable on your site with a single click.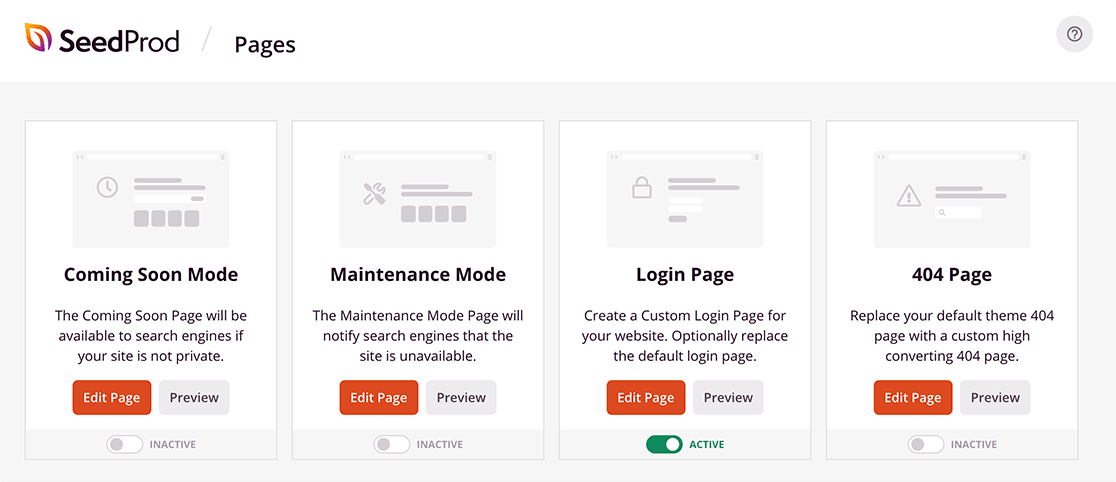 Ok, since this is an in-depth SeedProd review, let's go ahead and take a look at each landing page mode in more detail.
Coming Soon Mode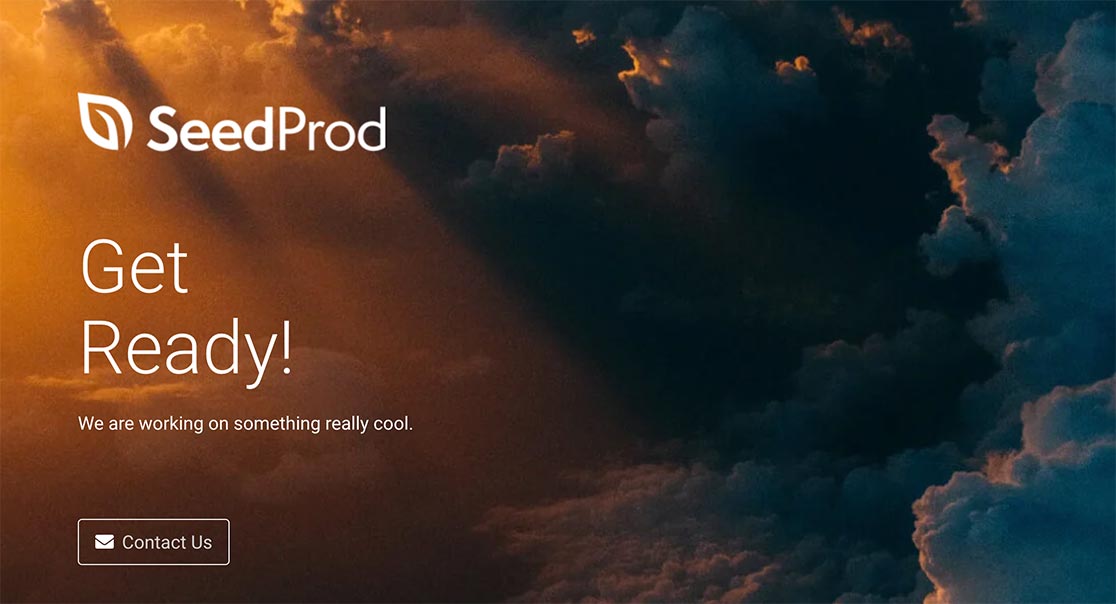 With the coming soon mode, you can instantly enable a coming soon page on your WordPress website. It allows you to show a user-friendly message saying your site is under construction and available soon.
You can show a coming soon page when designing your new website and want to hide your incomplete site from the public. Plus, it's a great way to give your new site a head-start in search engine rankings.
Maintenance Mode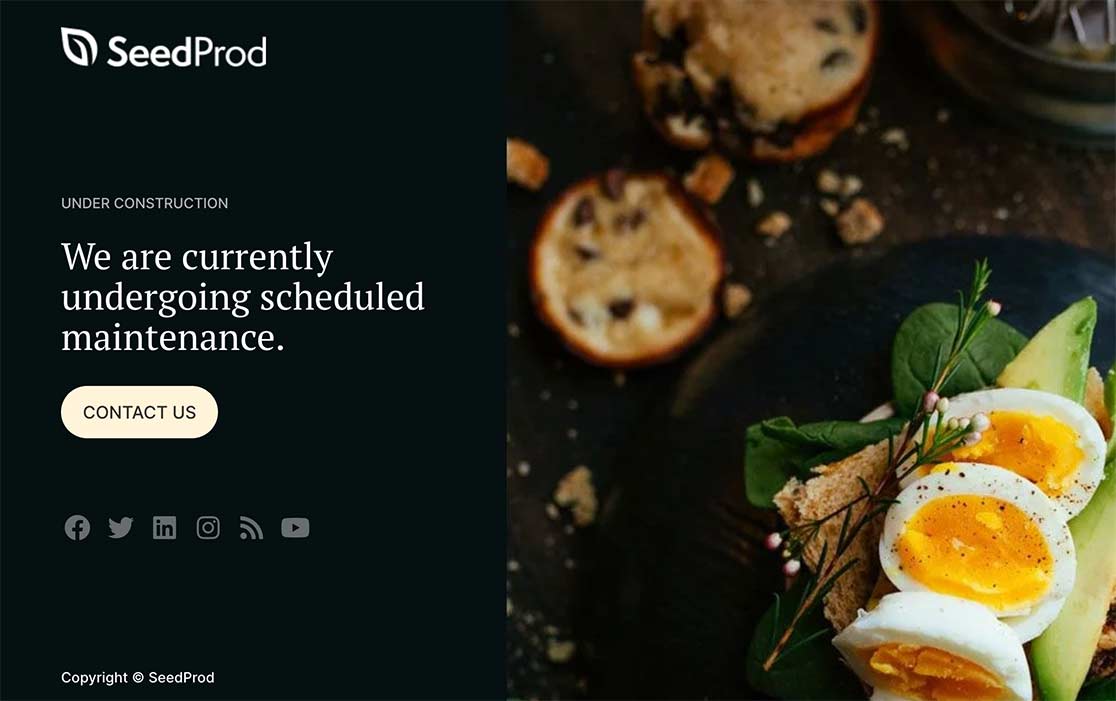 Instead of downloading a separate maintenance mode plugin, you can use SeedProd's maintenance mode to show a message to your visitors. This reassures them that your site is temporarily down for maintenance and provides a time-frame for when you'll be back.
404 Page Mode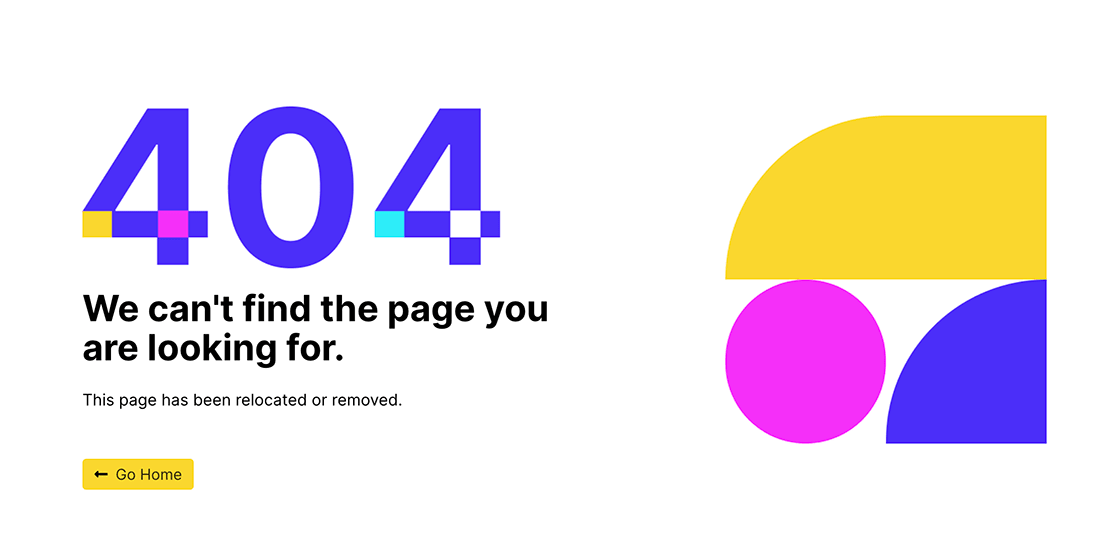 The built-in 404 page mode lets you automatically show an "error not found" page to WordPress users. Typically the page shows up when users visit a broken link or page.
In SeedProd, you can customize this page to redirect users to other areas on your website. As a result, it'll keep people on your site longer and reduce your website bounce rate.
Login Page Mode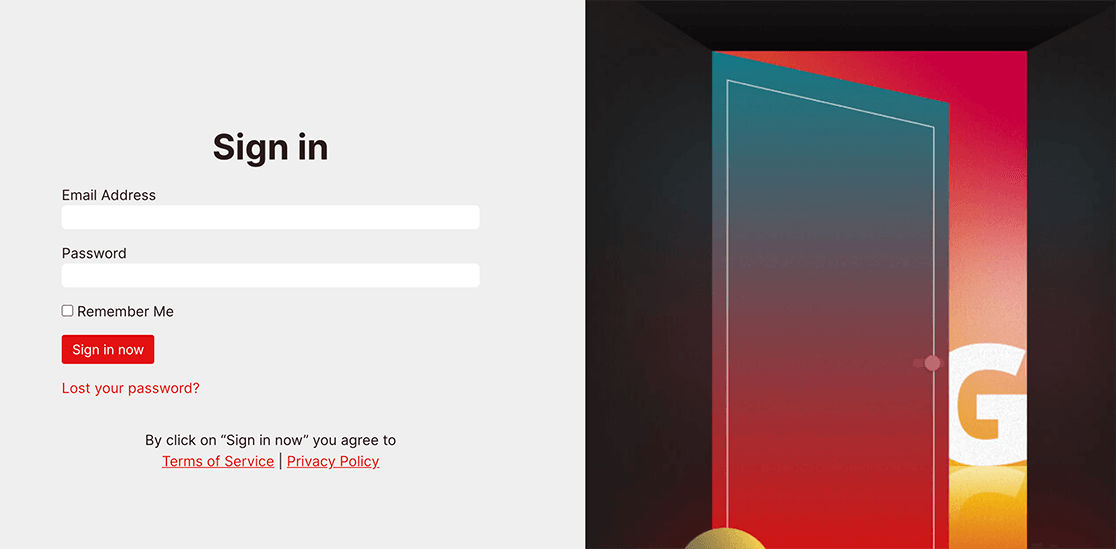 The default WordPress login page doesn't look that great. It's just a simple login form with WordPress branding and doesn't give a great first impression.
So with SeedProd's Login Page mode, you can create custom login pages complete with your business branding and a much more welcoming design. You can even add extra page blocks to cross-promote your products and services right on the login screen.
All of SeedProd's page modes are fully customizable in the front-end page builder. And the best thing is you won't need individual WordPress plugins to access these features (or any of the features in this SeedProd review, in fact).
10. Access Controls
During your website's growth, you might want to prevent visitors from accessing specific pages on your site. For instance, you could be designing a website for a client and want to hide it from the public.
But what if you want to give that client a sneak peek at your design progress? With Access Controls, you can.
SeedProd has various settings for its coming soon and maintenance modes that allow you to lock pages while granting access to specific users.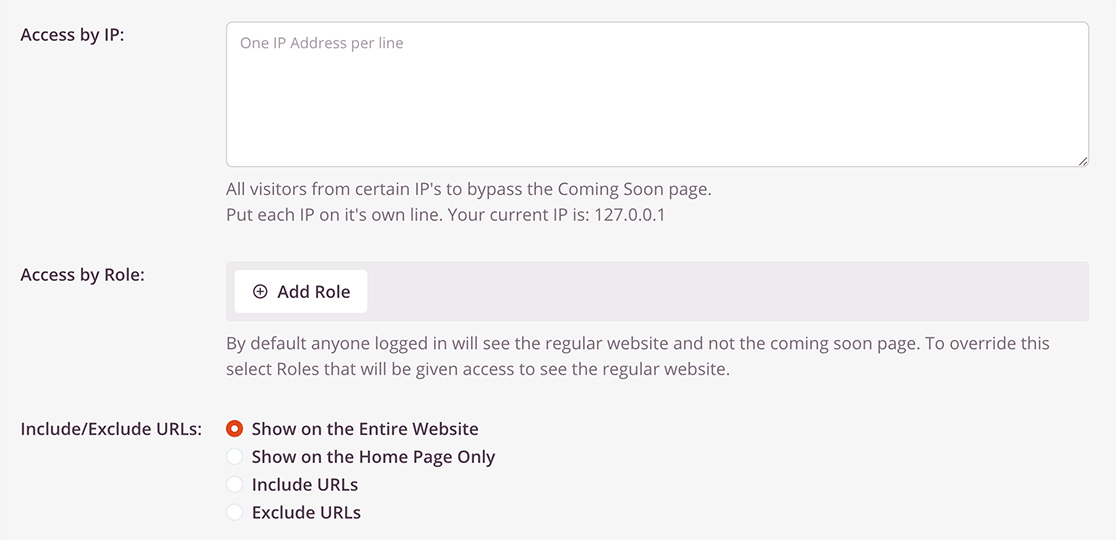 You can…
Use the bypass link to make a special link that ignores your coming soon page when clicked.
Grant access to your website based on the WordPress user role.
Include or exclude which pages should show your coming soon or maintenance notice.
Allow access to your site based on the visitor's IP address.
As a result, you can control who can and can't see the messy, under construction process of your website.
11. Domain Mapping
Ever wanted to give your landing pages a completely different domain name than your existing website?
For instance, you might want to make a course on your regular website (mysite.com) but give it a unique URL like (bestcourse.com).
With SeedProd's domain mapping feature, you can create landing pages on your WordPress site and give them any domain you like, as long as you own it.
Just make your page, enter the domain you want to point it to, and hit publish.

So as a result, you can create multiple microsites without the hassle of installing WordPress on every domain name.
12. Email Marketing Integrations
If you're using your landing page to grow your email list while collecting valuable business leads, you'll need to connect it to your email marketing provider.
The good news is, SeedProd integrates with all the popular email marketing services to make managing your list easier.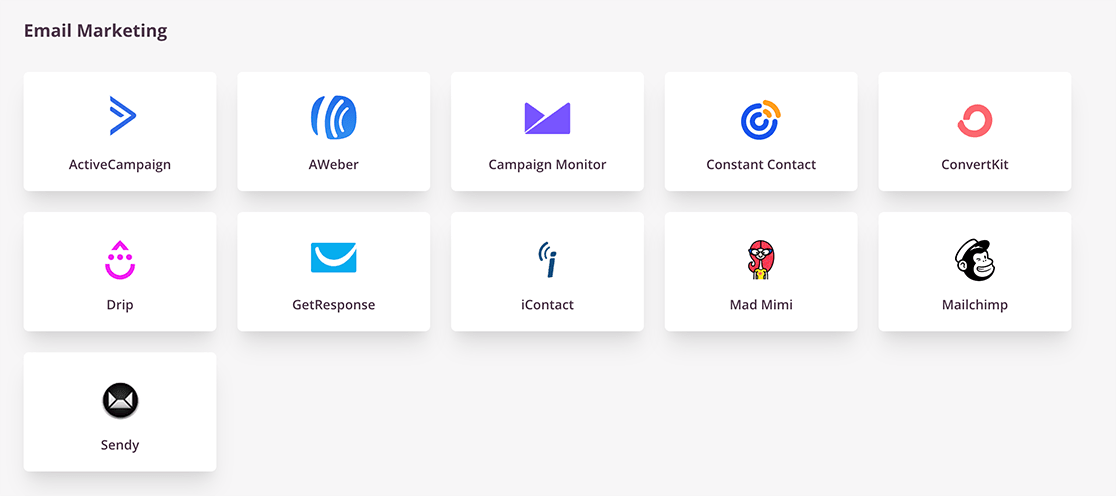 You can link your page to:
Constant Contact
ActiveCampaign
AWeber
Campaign Monitor
Convert Kit
Drip
GetResponse
And more
Don't have an email marketing provider? No problem!
The details of anyone that signs up on your landing page are automatically recorded in SeedProd. Just head to SeedProd's Subscriber Overview page to see your new subscribers.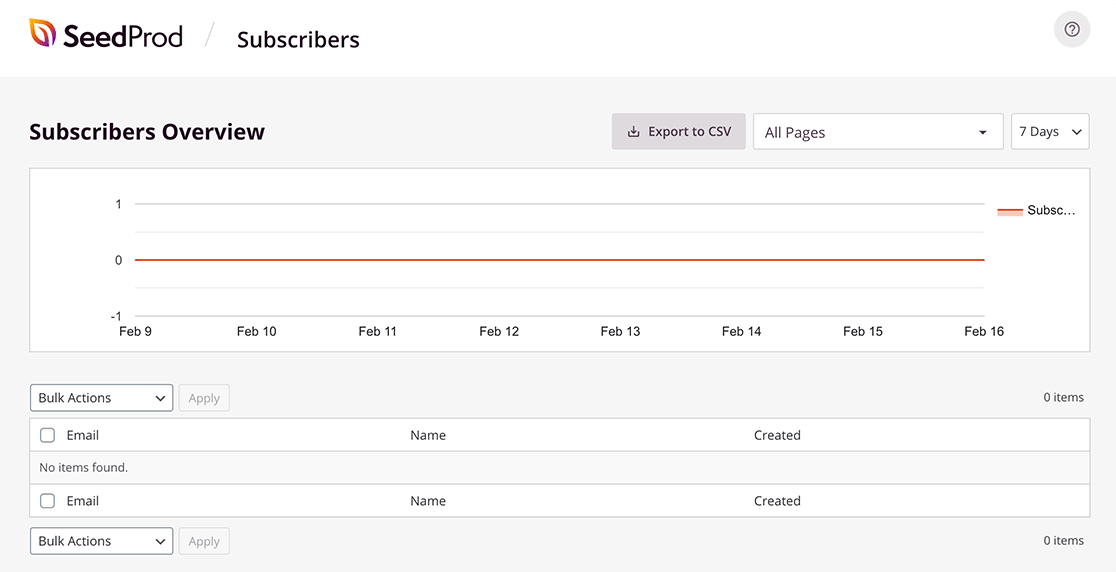 Then, if you want to export your list to an email service later, you can export it as a CSV file.
13. Works With Any WordPress Theme
The problem with many website builders is you have to configure complicated settings to get your page looking right.
For instance, your WordPress theme might need a full-width page template to show your landing pages correctly.
You won't have that problem with SeedProd because it works independently from your WordPress theme. As such, it works seamlessly with whatever theme you use without breaking your website.
14. Mobile Preview
Mobile devices have fast become the most popular medium for browsing the internet. So it makes sense to ensure your landing pages look and function well no matter the screen size.
To help with this, SeedProd offers a live mobile preview mode. This allows you to see your landing page on mobile as your visitors would. You can then tweak things until it looks perfect across all devices.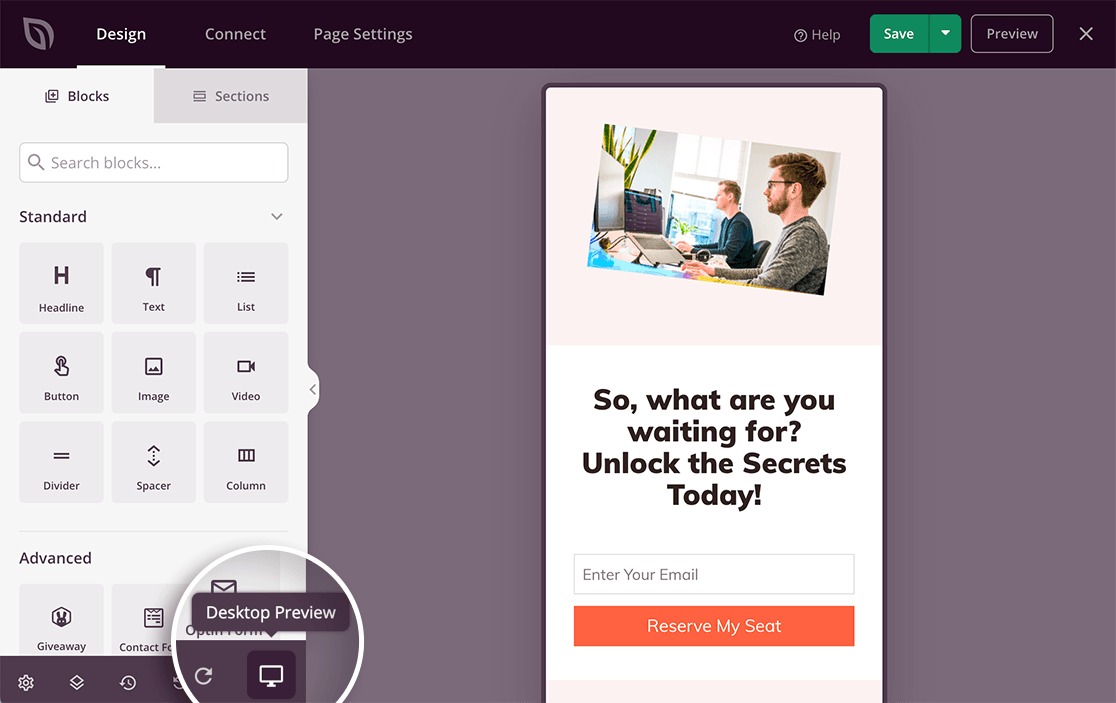 And don't worry about losing your changes. When you click Save, your settings are stored automatically on both desktop and mobile views.
15. Lightning Fast and Light-weight
So you might think after reading this SeedProd review that all of these powerful features make the plugin slow and sluggish. But the truth is, it's the fastest landing page builder on the market.
And it doesn't have any of the unnecessary features you'd expect from other page builders, focusing instead on the lead-generating tools that matter. This means there's none of the fluff you won't use and all of the things essential for a successful landing page.
On top of this, it won't slow down your website, achieving some of the top page speeds of all WordPress page builders. Just take a look at this Elementor vs Divi vs SeedProd comparison to see how SeedProd comes out on top.
How Much Does SeedProd Cost?
Given all the fantastic features you get with SeedProd, it's surprising to learn how affordable it is.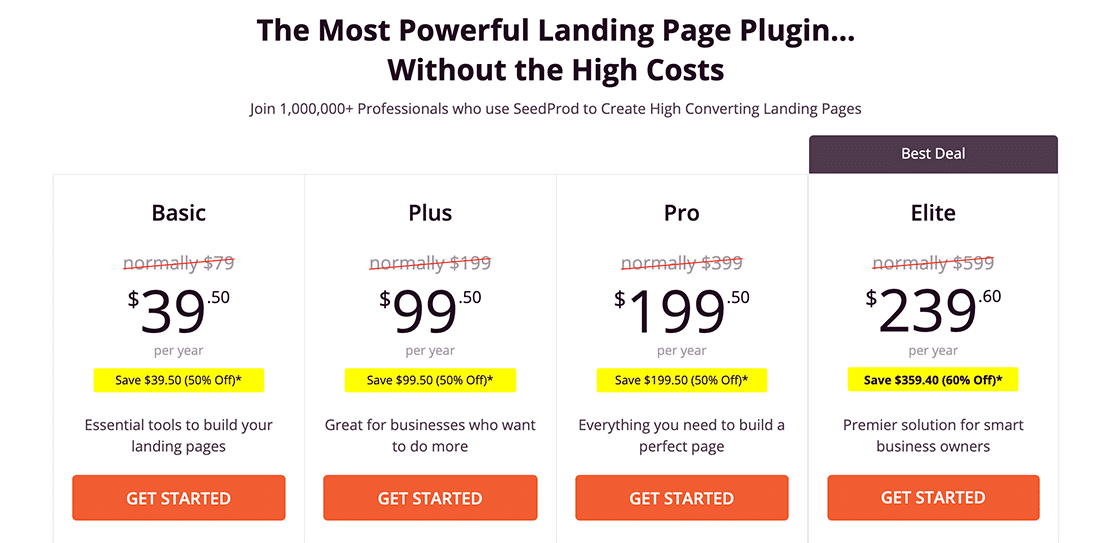 SeedProd's pricing plans are:
Basic – $39.50 per year
Plus – $99.50 per year
Pro – $100.50 per year
Elite – $239.60 per year
And, it also has a free version with everything you need to build a functional landing page. So this makes it an excellent option for website owners on a tight budget.
That said, we recommend the pro version, SeedProd Pro, to access all of the best tools and features.
Next, Find the Best WordPress Plugins for Your Business
In this article, we've given SeedProd a thorough review and can say that, yes, without a doubt, SeedProd is the best WordPress landing page builder. It's easy to use, affordable, fast and has all the features you need to create high-converting landing pages in WordPress.
So if you aren't already using it, we suggest you get started with SeedProd Pro today.
There you have it!
We hope this article helped you decide if SeedProd is the best landing page plugin for you. If you like fantastic money-making plugins like SeedProd, you might also want to check out our roundup of the best WordPress plugins to grow your business.
And if this article helped you out, please follow us on Facebook and Twitter for more free WordPress tutorials and guides.