Want to grow your WordPress website without spending tons of cash?
A good plugin has the power to help you skyrocket the success of your business online.
But the WordPress plugin directory is stuffed with almost 60,000 plugins, so this guide has narrowed down the best free WordPress plugins for your website.
In this post, we've summarized the top "must-have" WordPress plugins and their main features. Most on this list are free!
Best Free WordPress Plugins
Here are our top picks:
When it comes to the best free WordPress plugins, WPForms Lite offers the most value. We're absolutely sure of that because we know our plugin better than anybody else (obviously).
The free version of WPForms currently has 6 active installations  12 5-star reviews.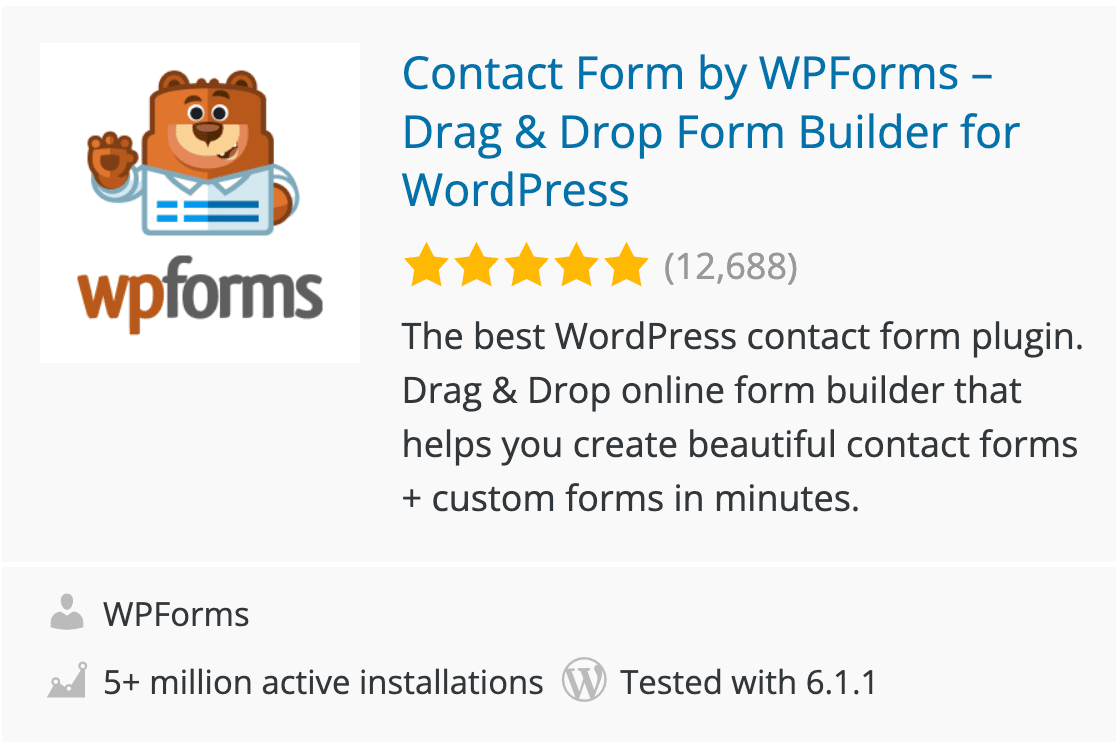 With WPForms Lite, creating custom WordPress forms is as easy as it gets. You get a visual drag and drop interface that you can use to add fields to your forms, configure field settings, and continuously be able to see a live preview of your form.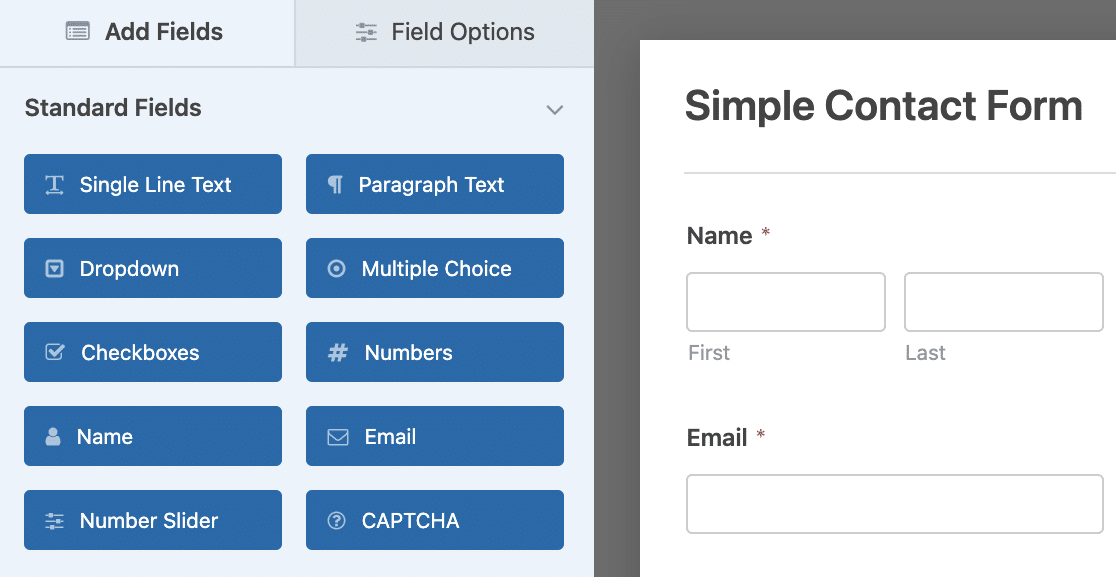 We're one of the few contact form plugins that offer an extensive library of ready-made form templates. Even Lite users can access form templates for free.
If you want to unlock 1,200+ additional templates for business operations and various other categories, you can upgrade to WPForms Pro.
Whether you want to build modern interactive forms or go for a more classic style, WPForms has got you covered. That's because WPForms gives you form style customizations in the Lite version.
You don't need any coding knowledge to create visually stunning forms by changing colors and styles of field labels, borders, error messages, and buttons.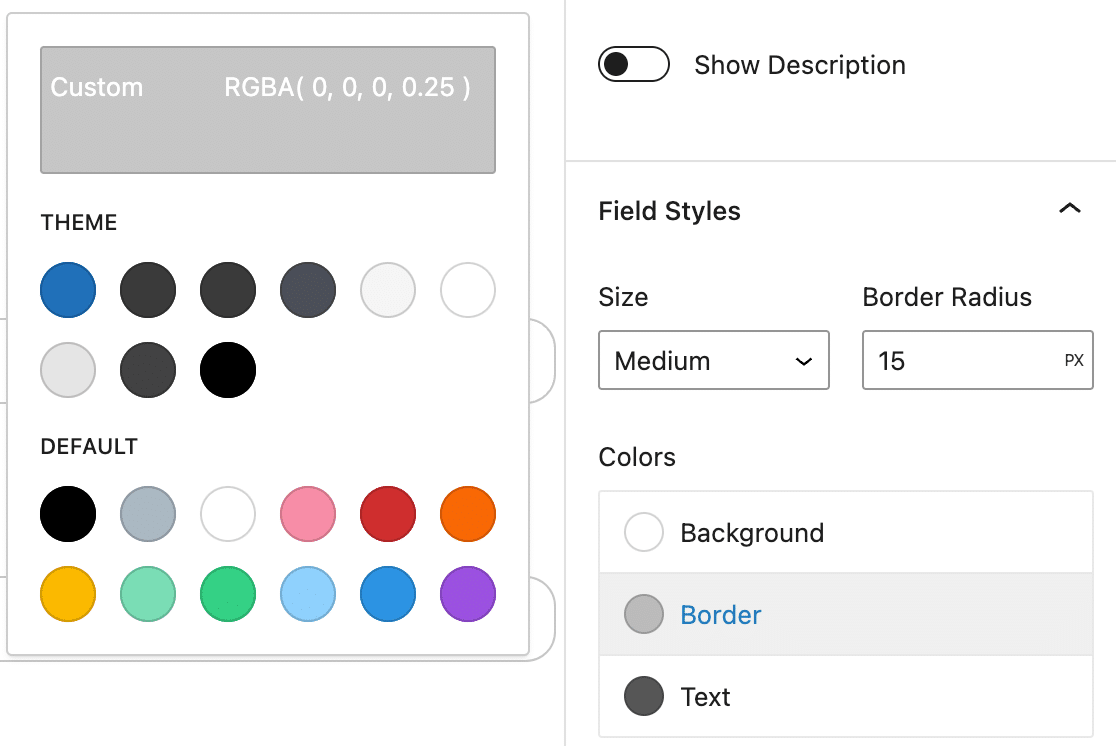 On top of that, WPForms Lite integrates with Stripe, so you can collect online payments with your forms. You can use this integration to collect one-time payments or even recurring subscriptions.
Payment forms are usually a paid feature in most other form builders, but WPForms Lite brings it to you in the free version so you can sell products or collect funds for online donations.
Note that there's an additional 3% processing fee on top of Stripe's regular fees per transaction. But you have the option to remove the 3% transaction fee by upgrading to WPForms Pro.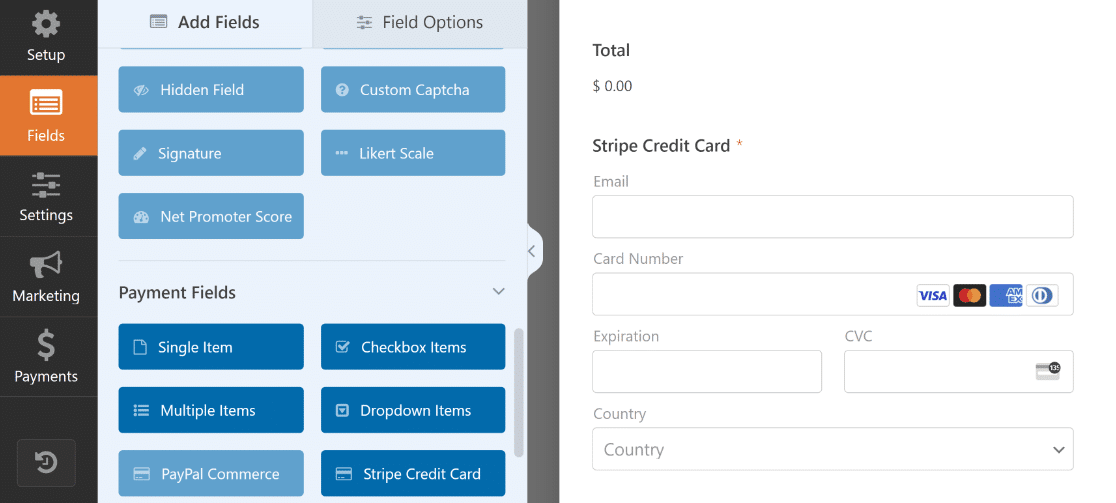 The plugin also sends you a notification every time a new entry is submitted by your users. At the same time, the Lite Connect feature backs up your form entries.
If you choose to upgrade to a paid plan later, you can retrieve all of your entries so they can be accessed directly from your WordPress dashboard.
Overall, WPForms Lite is one of the most versatile and value-driven WordPress plugins available for free. As soon as you set up your WordPress site, WPForms should be the #1 plugin on your list.
Features:
Pre-built Free Templates — A library of many free WordPress form templates complete with the form fields you need
Payment Forms — Connect with Stripe to build payment forms for orders, donations, subscriptions, and more
Form Revisions — Undo changes and save different versions of each form
Easy Embed Tool — Directly embed your forms into any WordPress page without code
Free Entry Backups — Store your form entries in the cloud for free, then unlock them when you upgrade to the paid version of WPForms and access entry management features.
Powerful Anti-Spam Options — Keep your forms spam free with hcaptcha, reCAPTCHA, Akismet, and other tools
Form Tags — Organize your forms for easy management with tags.
When you need more advanced features to support your growing business, you can upgrade to WPForms Pro, which unlocks:
Hundreds of Pro Templates  — Get more templates, including job application form, file upload form, user registration forms, and more.
Entry Management — Access complete entries right within your WordPress dashboard
Lead Forms — Generate more leads with beautifully designed multi-step lead forms
Conversational Forms — Create distraction-free conversational forms that boost engagement
Conditional Logic — Build dynamic forms that show certain fields by enabling smart conditional logic
Surveys and Polls — Conduct surveys, collect feedback, and run polls to learn more about your customers
Marketing Integrations and Automation — Connect your form with marketing platforms like AWeber, HubSpot, Mailchimp, and more.
How Much Does WPForms Lite Cost?
WPForms Lite is free of cost. WPForms Pro starts at only $199.50 and offers excellent value for money with a 14-day money-back guarantee.
In addition to the Pro awesome templates and addons, it's one of the best geolocation plugins for WordPress.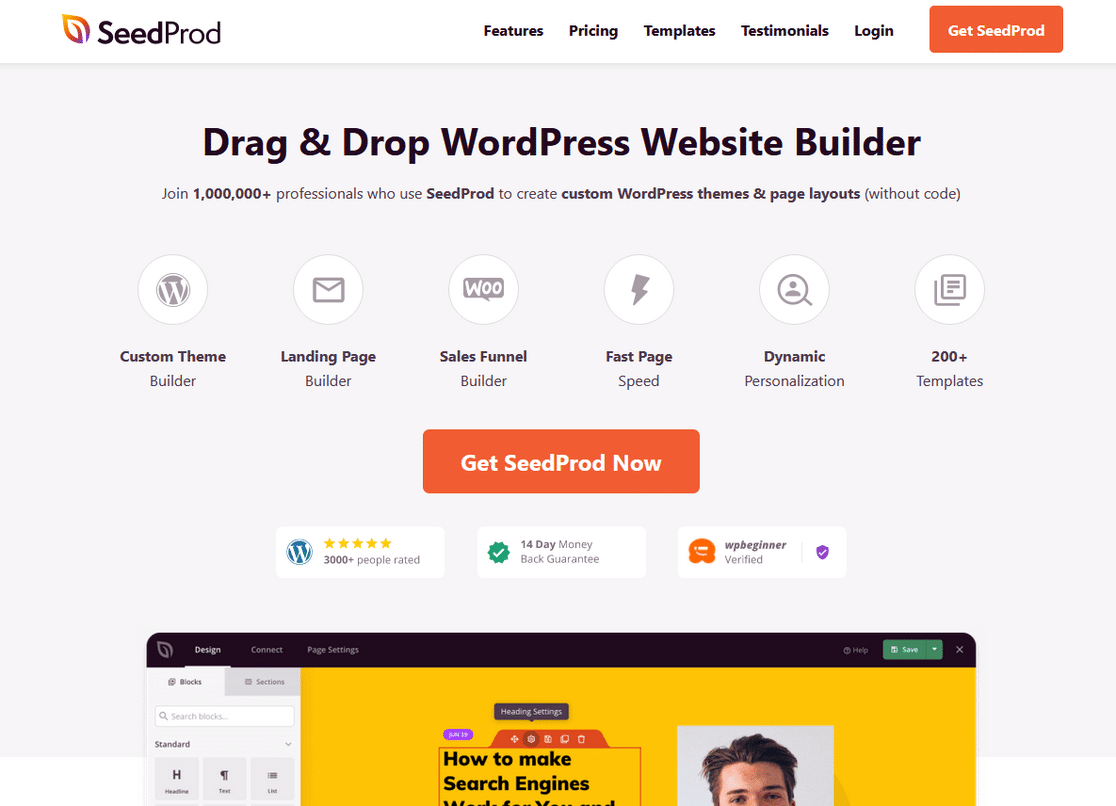 SeedProd is the most powerful WordPress landing page plugin there is. It makes it a breeze to design and customize your website's landing pages. And it's raved about on WordPress.org, boasting thousands of 5-star reviews.
The free version of SeedProd comes with all the basic features you need to build a customized Maintenance Mode or Coming Soon page. You also get a few templates for free to enable you to set up a maintenance page in no time.
Apart from that, you also create sales landing pages with SeedProd. We're huge fans of the drag and drop page builder, which lets you edit any part of your page design with complete freedom.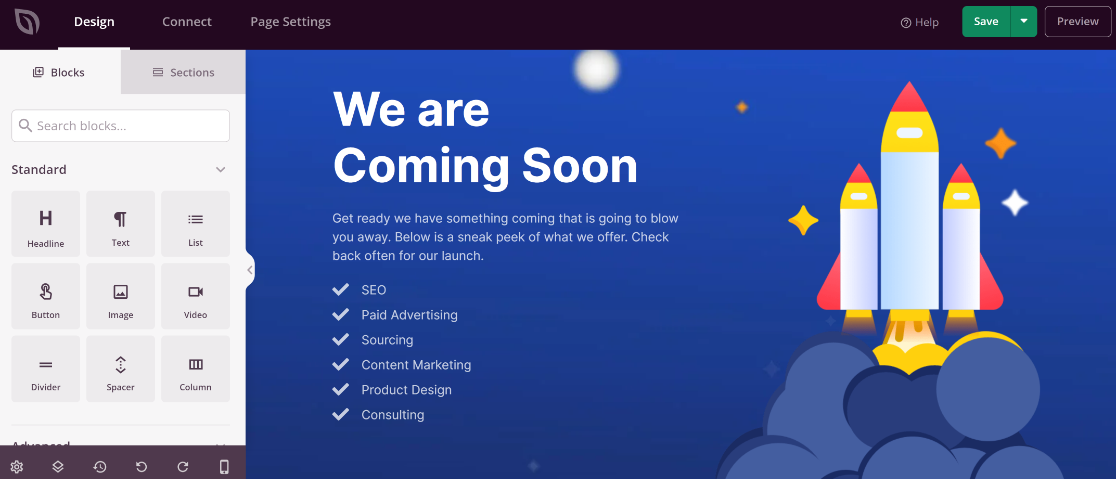 The best part is that you can even embed forms built with WPForms Lite on any part of your page while editing in SeedProd. This integration happens automatically – you just need to have both WPForms Lite and SeedProd installed, and that's it!
SeedProd is even better when you upgrade to Pro. In the Pro version, you can also create 404 pages and custom registration and login pages.
We really like this feature because creating custom login pages is important for brands that want to stand out and avoid using the default WordPress login page design.
Overall, SeedProd is one of the best WordPress plugins you can get for free.
Do you want to see how SeedProd works before diving in? We used it to make a WordPress coming soon page. Check out the tutorial to see the full process.
Alternative: Thrive Architect.
Features:
Easy to Use — A visual builder and tons of landing page templates make building your website's pages extremely simple, even for beginners.
Coming Soon Pages — Rank early in search engine results with awesome coming soon page and maintenance mode features.
Integrations — Connects with tons of other top WordPress plugins to make building and maintaining your landing pages easy and successful.
Want to learn more? Check out our full SeedProd review.
How Much Does SeedProd Cost?
SeedProd has a completely free version. You can upgrade to paid plans starting at $39.50/year.
Click here to get started with SeedProd!

The awesome All in One SEO (AIOSEO) plugin gives you complete control over your WordPress SEO.
More than 2 million websites already use it to optimize their posts, pages, and WooCommerce products. It's the best Yoast SEO and Jetpack alternative with tons of unique functionalities.
In the free version of AIOSEO, you get the on-page analysis and site audit tools. We found these super helpful for identifying potential SEO issues on your site and fixing them before they start affecting your rankings.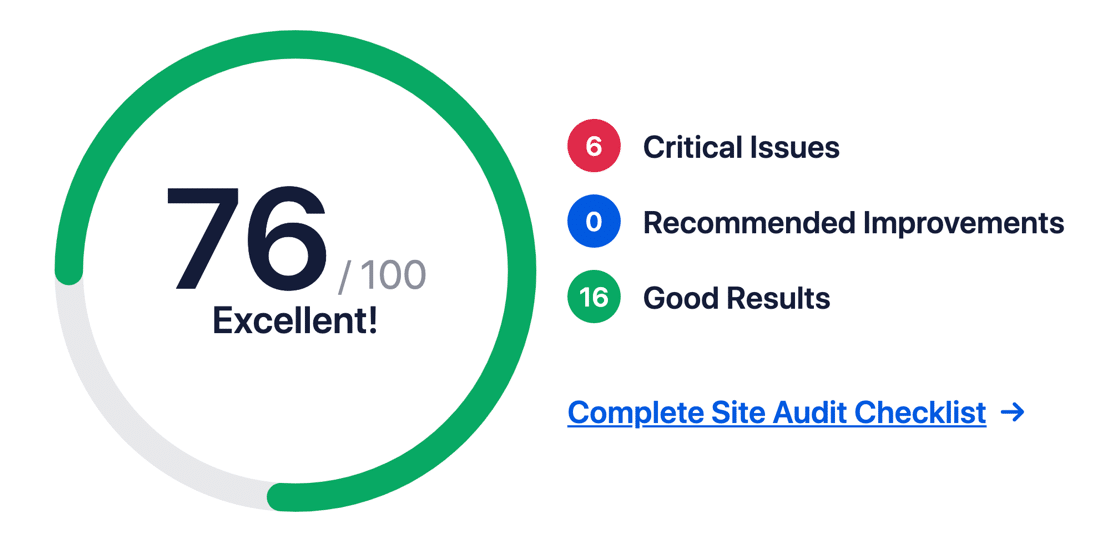 AIOSEO also enables you to write optimized meta titles and descriptions. It displays a character count and shows a live preview so you can get an idea of how your title and description will appear on search engine results.
We also like the readability analysis tool. It gives you helpful advice for ensuring that your article is properly structured, with each heading having an appropriate length for maximum readability.
We like that the plugin generates a flesh readability score too. This gives you a way to measure how readable your content is so you can connect with your audience optimally.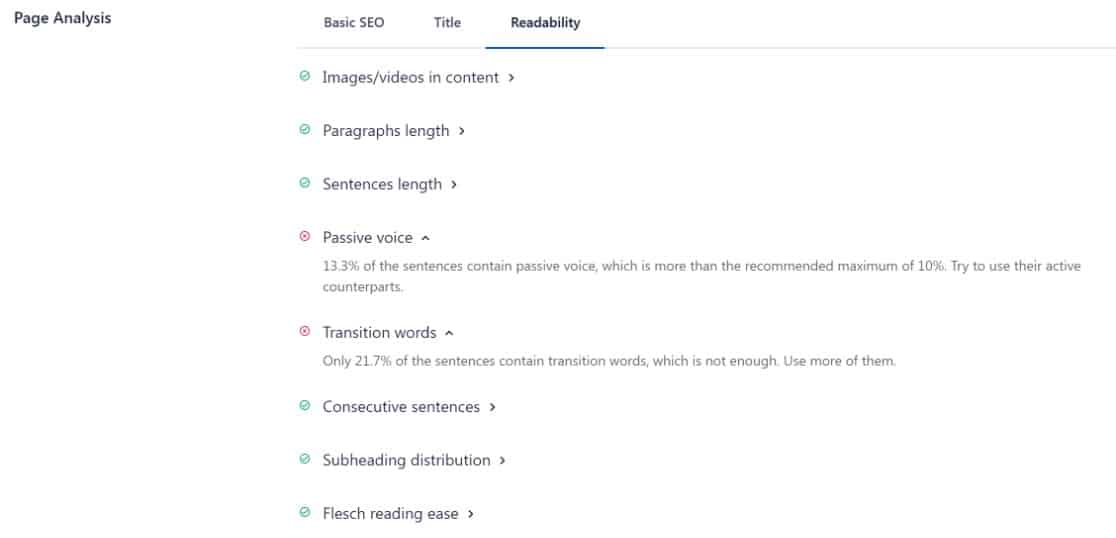 AIOSEO also has an exceptional Pro version as well. One of the paid features includes Link Assistant, a powerful tool that reports the internal linking stats for your site. Other than that, it integrates with ChatGPT to generate clickworthy headlines for your posts within the WordPress editor.
And we're also huge fans of the search statistics that bring keyword tracking and other Search Console metrics to your WordPress dashboard.
We recommend AIOSEO as one of the best free WordPress plugins for growing your site organically.
Features:
Automatic Meta Tags — Automatically generate meta tags, then write your own meta titles and meta descriptions when you want to.
Additional Keyphrases — Discover and rank for additional keyphrases in a single click with AIOSEO's Semrush integration.
WooCommerce SEO — Optimize product listings and category pages with full SEO integration for your eCommerce store.
Schema.org Markup — Easily optimize different post types with the correct schema markup, which helps search engines understand the contents of your pages.
Smart XML Sitemaps — AIOSEO automatically generates and allows you to customize your WordPress sitemaps. The plugin even notifies Google and Bing when you make changes.
Read our All in One SEO review to see these features in action, or click here to get started with the free version of AIOSEO today.
How Much Does All in One SEO Pack Cost?
Free. The paid version starts at $49.60/year.

MonsterInsights Lite gives you a simple way to connect your WordPress website to your Google Analytics account. It's ideal for beginners who don't want to set up Google Analytics manually.
But that's not all. MonsterInsights brings your analytics data to your WordPress site. That means you can access basic visitor metrics and reports from your WordPress backend without having to visit Google Analytics.
In the free version, MonsterInsights allows you to view visitor demographics to understand your audience better and even track outbound links and downloads on your site.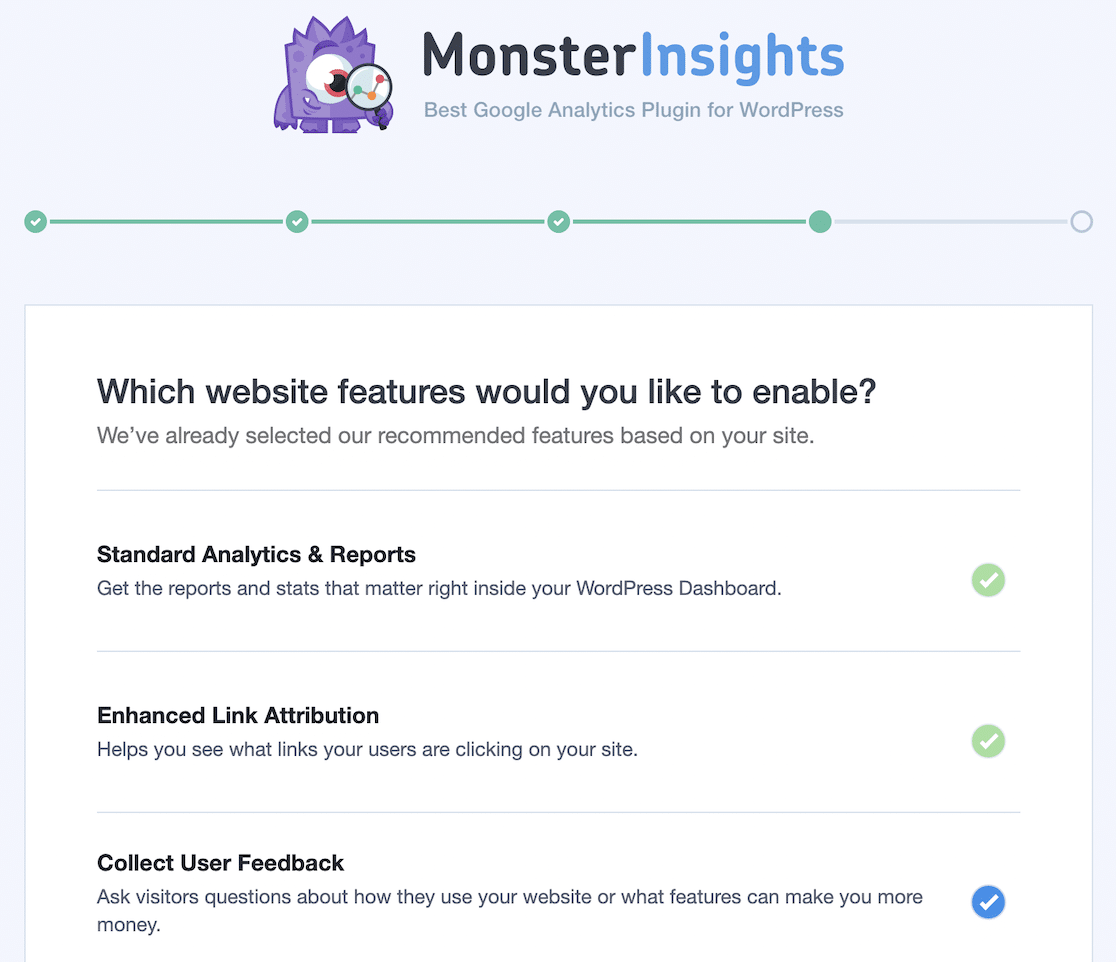 We use MonsterInsights on our websites to track analytics easily right within our website.
Even as experienced marketers, we think that the convenience of having MosnterInsights pull only the most useful reports trumps having to log into Google Analytics to find meaningful information.
Another feature that caught our eye in the free version is Site Notes. This feature enables you to add annotations to track changes in your site metrics after you make edits to any part of your site. It's super helpful if you want to measure the impact your changes are having on your traffic.
But if you want to take your website analytics to the next level, you can upgrade to MonsterInsights Pro. The Pro version brings you even more helpful data, such as a list of your top-performing pages, eCommerce conversions, and more.
Features:
Dashboard Reports — See real-time stats in an easy-to-read report found right in the dashboard of your WordPress site.
Universal Tracking — Your stats are never skewed thanks to the universal tracking system that's in place. In other words, if your site visitors switch from a mobile device to a desktop, you'll still get accurate data counts.
Robust Pro Features — The premium version lets you track eCommerce stats, traffic sources, ad campaigns, referral sales, form submissions, and more.
How Much Does MonsterInsights Lite Cost?
Free.
To enjoy all the features, click here to get started with the premium version of MonsterInsights today!

If you're having problems with WordPress not sending emails, you'll need the best WordPress transaction emails plugin WP Mail SMTP to help you out.
This free plugin helps reconfigure the wp_mail() PHP function to use SMTP, which is a much more reliable method of email delivery compared to PHP. In other words, it makes sure any WordPress emails that are supposed to send out from your WordPress site are delivered to the recipient's inbox as they should.
WP Mail SMTP integrates with various top-rated mail providers like SendLayer, Postmark, Brevo (formerly known as Sendinblue), and more.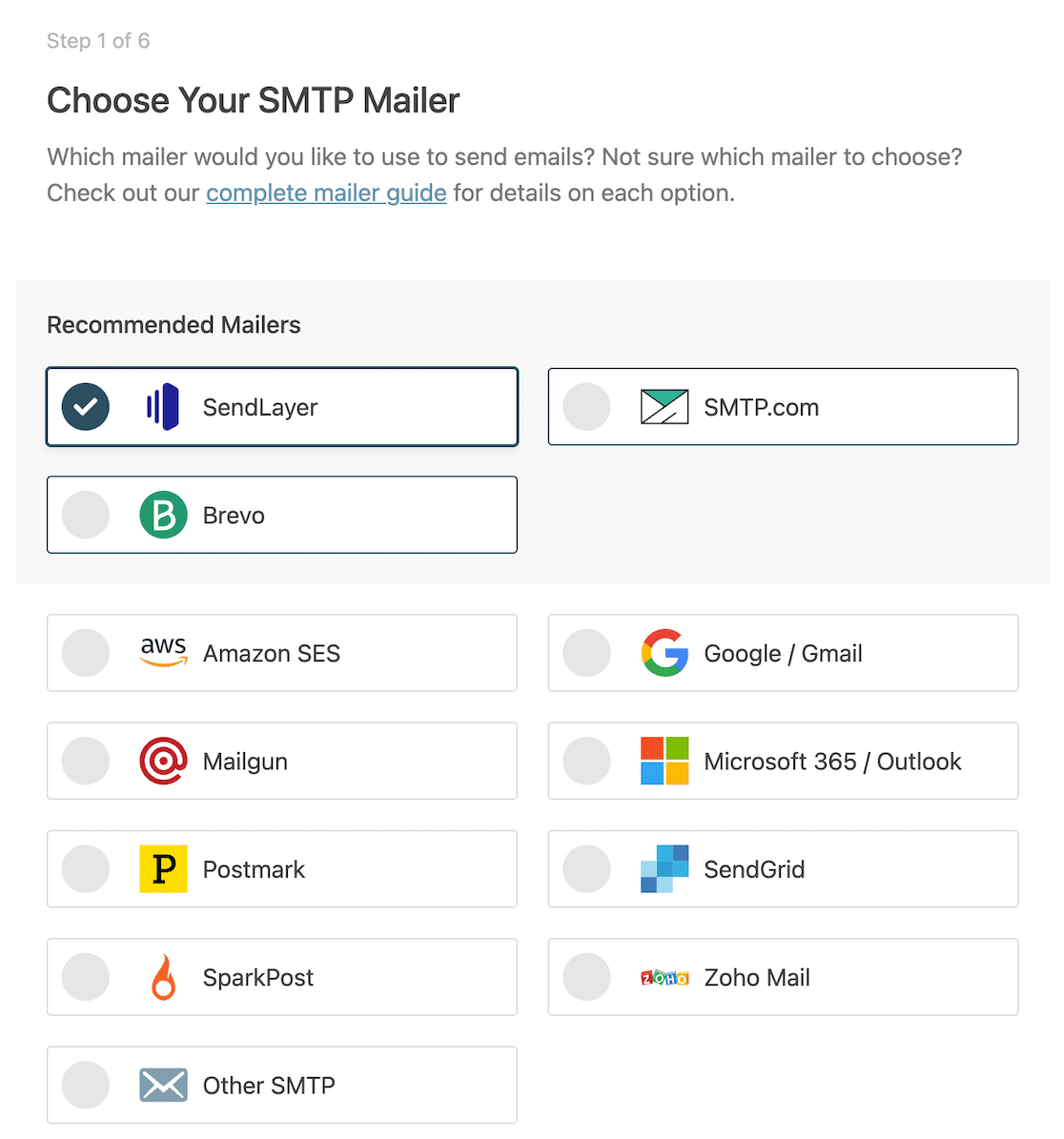 The Pro version of the plugin gives you additional functionalities like setting up multiple mailers and having a backup connection in case your primary mailer is down. You can also set up smart email routing to send different types of WordPress emails through different mailers.
You can even control which WordPress notifications you want to receive in your mail. And if you want to receive alerts when something goes wrong with your emails, you can set up email, SMS, and even Slack alert notifications.
Features:
Improves Email Deliverability— WP Mail SMTP fixes your email deliverability by reconfiguring WordPress to use a proper SMTP provider when sending emails (and it works).
Multiple Integrations — Choose from the top SMTP providers, including SendLayer, and connect your site with help from the easy-to-use Setup Wizard.
Sender Detail Configuration — You can easily change your WordPress email sender details with WP Mail SMTP.
White Glove Setup  — The paid Elite version includes the team setting it all up for you.
How Much Does WP Mail SMTP Cost?
Free. You can upgrade to paid plans starting at
Click here to get started with WP Mail SMTP today.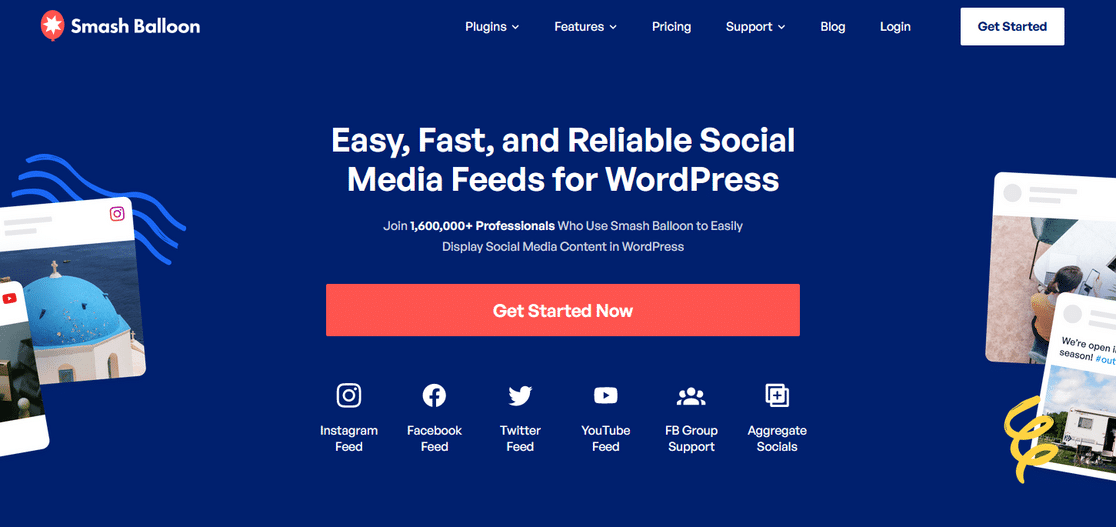 Smash Balloon is a collection of multiple social media feed plugins. These are:
As the name implies, each plugins works for different social media feeds, allowing you to display your Instagram, Facebook, Twitter, and YouTube feeds on your WordPress site.
These plugins make it extremely easy to display your social media content on your site because it updates automatically every time you add something to your social profile.
While there are some limitations in the free Smash Balloon plugins, you still get enough flexibility to customize your feed display. For instance, you can even try the dark theme for your Twitter feeds without upgrading to Pro.

Of course, if you upgrade to Pro, you get even more customization options. Plus, you can even use a curated social wall that pulls feeds from all of your different social profiles and combines them into a single wall on your WordPress site.
Features:
oEmbed Functionality — Embed Facebook and Instagram posts direclty in WordPress posts by simply pasting their URLs
Responsive — Looks great on all devices, so you can increase social engagement between yourself, customers, and fans.
Learn more about the plugin in our Smash Balloon review.
How Much Does Smash Balloon Cost?
All Smash Balloon plugins have a free plan. You can upgrade each individual Smash Balloon plugin to Pro starting at $49/year or get the All Access Bundle starting at $299/year.
Click here to get started with Smash Balloon today!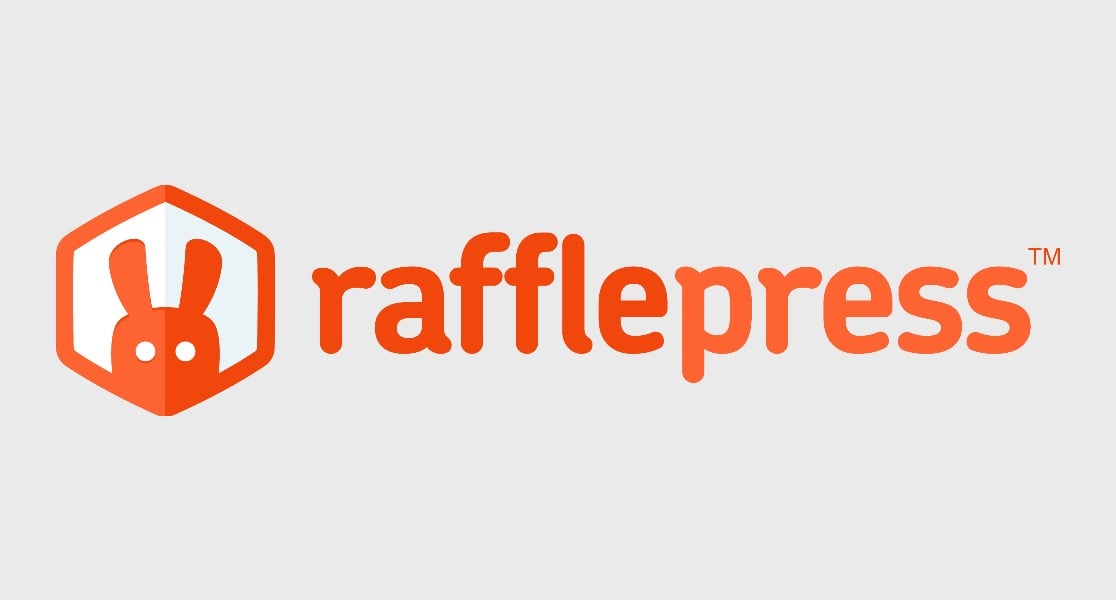 RafflePress is a fantastic giveaway plugin that lets you host online contests and grow your website traffic and follower count on your social media platforms.
During testing, it was an absolute pleasure to use RafflePress. Even in the free version, RafflePress supports various ways your visitors can enter your giveaway contest and benefit your growth.
For instance, you ask people to follow you on Twitter, visit your Facebook or Instagram page, or even visit a custom URL.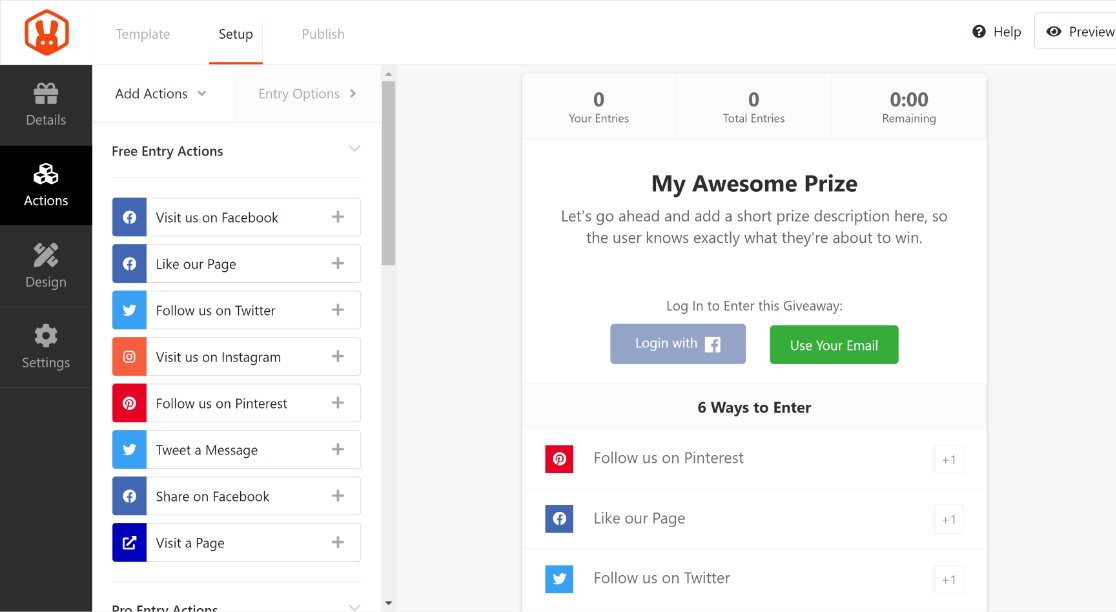 If you upgrade to Pro, you get even more options. For instance, you can use pre-made giveaway templates designed to help with growing different social media networks. You can also use social media logins to enable people to enter your giveaway faster.
The paid version also unlocks lots of new entry options. You can let people enter your giveaway by asking them to follow you on TikTok, LinkedIn, watch YouTube video, join your newsletter, and tons more. We really like the design customization options available in the Pro version as well.
Overall, RafflePress is a fantastic giveaway plugin that you really need to have if you want to grow your social media following using a free WordPress plugin.
If you'd like to see some screenshots before diving in, we've written a detailed RafflePress review with all the info.
Features:
Easy to Use — The interface is simple and modern, and you can use a drag and drop giveaway builder to make successful giveaways in just minutes.
Lead Generation — Get more entries by using distraction-free landing pages for giveaway
How Much Does RafflePress Cost?
There's a free version and a premium version that starts at $49/year.
Click here to get started with the free version of RafflePress today.
PushEngage is a fantastic SaaS tool for websites that helps you increase sales through browser push notifications.
You can personalize the instant notifications that go out to users, who then follow the notification back to your site, even if they're currently browsing somewhere else.
The tool makes it easy to design your popup box to allow visitors to opt in and receive notifications from you.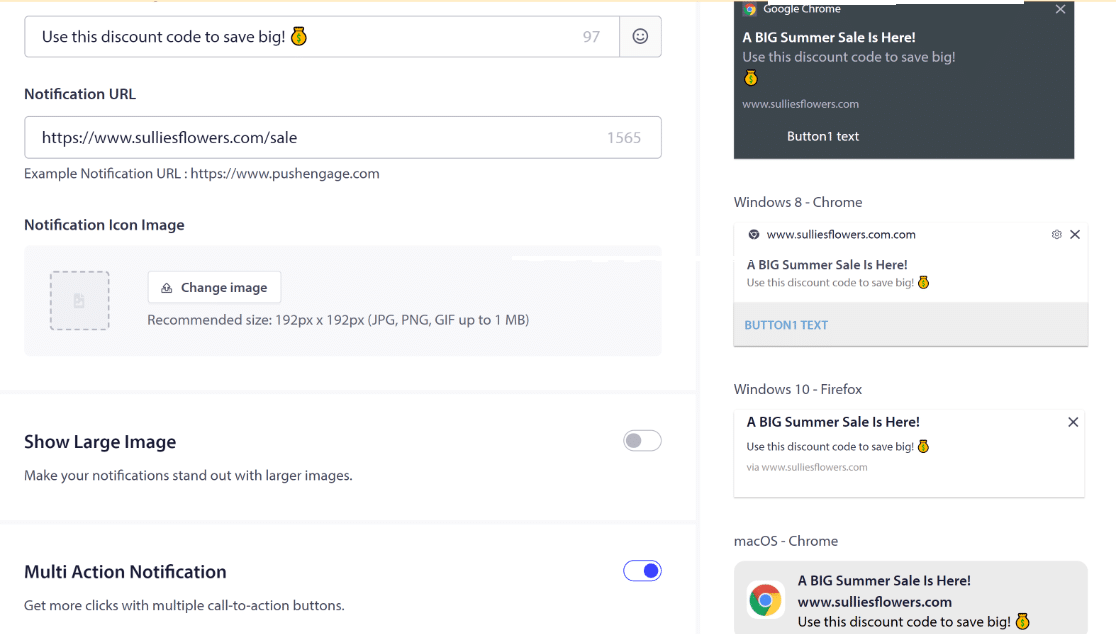 We also admire this tool for its more advanced features, like creating drip browser notification campaigns to nurture your leads and boost customer loyalty.
Features:
Reduces Cart Abandonment — Auto-trigger cart abandonment notifications
Insightful Analytics — Track your goals and see how your push campaigns are performing
Drip Notifications — Create drip campaigns and a series of notifications
Display Rules — Set up notifications to go out based on actions that your customers perform for true personalization
How Much Does PushEngage Cost?
PushEngage has a free version with a campaign limit and a paid plan with lots of premium features and unlimited campaigns starting at $9/month.
Click here to get started with PushEngage today!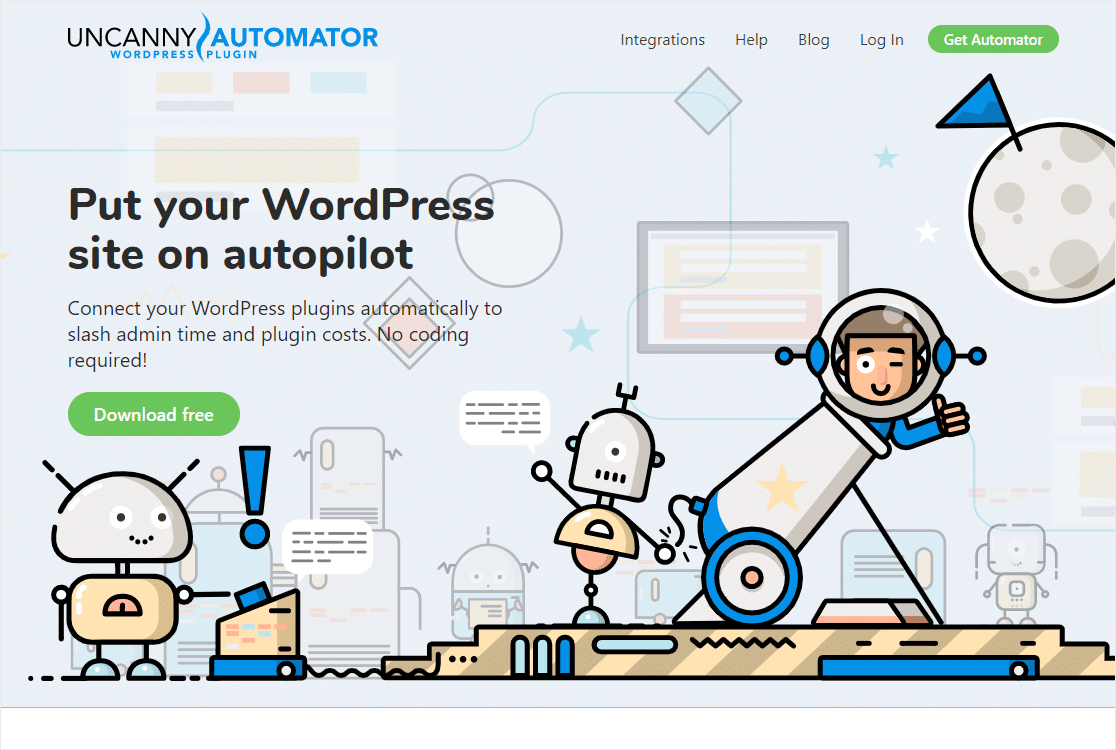 Uncanny Automator is the most powerful WordPress automation plugin out there. It makes it simple to connect things together on your WordPress website to automate repetitive tasks.
There are tons of imaginative ways to use Uncanny Automator. You can even use it to connect your WordPress site with ChatGPT and leverage AI to handle some aspects of your site.
For instance, we used Uncanny Automator to send AI-generated form notifications when a form made by WPForms is submitted by users.
The best part is that Uncanny Automator supports many kinds of integrations for free (with certain usage limits). So if you want to make your website run smarter, we strongly recommend using Uncanny Automator.
Alternative: Thrive Automator.
Features:
Advnaced Automation Flows — Customize automation flows with form submissions, lead generation, course signup, autocompletion, and more.
Powerful free version — The free version integrates with tons of programs and includes dozens of actions and triggers.
Translation friendly — Tested with a variety of translation plugins, offering help if you run into any translation issues.
Easy to Use — Absolutely no coding required.
How Much Does Uncanny Automator Cost?
There's a free version and paid plans start at $149.
Click here to get started with Uncanny Automator now!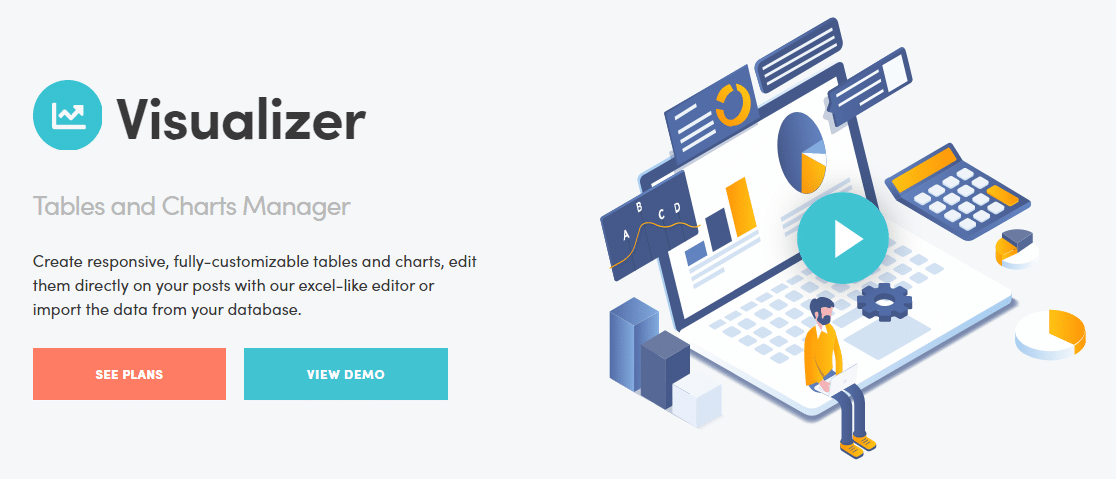 If you're looking for a plugin that's great for data visualization, Visualizer will be perfect for you. Visualizer helps you generate beautiful different kinds of charts and interactive tables and insert them into your WordPress post without any code.
We were delighted to see that Visualizer supports various types of charts for free including pie, bar, and line charts. You can import data to generate your charts from using a CSV file.
And if you upgrade, you can even generate charts directly from your WordPress database or enter the data manually.
Features:
Different Chart Types — Offers multiple chart types like pie charts, line charts, bar charts, and more
WordPress Block for Embedding — Easily embed charts anywhere in your post with Visualizer's WordPress block
Data Synchronize — Easily import and synchronize existing data from CSVs, Google Sheets, or your WordPress database to generate charts that change dynamically.
How Much Does Visualizer Cost?
Visualizer is available for free. But you can unlock more chart types and data import methods with the Pro version starting at $99/year.

There's a pretty easy answer if you're asking what are the best WordPress plugins and you want to sell products online. It's WooCommerce, the most popular eCommerce platform for online stores powered by WordPress.
With WooCommerce, you can sell anything you want. It gives you the flexibility to add your products with different kinds of product variations to make it easy for customers to shop exactly what they need from your store.
The plugin also allows you to set your shipping methods. You get different shipping options, such as free shipping or flat-rate shipping, or local pickup, which is more than enough for small businesses.
WooCommerce also integrates with tons of popular payment gateways, including Stripe, PayPal, and Stripe. You're only charged a specific fee set by your chosen payment provider per transaction.
In short, WooCommere gives you everything you'll need to create and manage your online store for free. The best part is that you even get various extensions for free. For instance, you can collect and display Trustpilot reviews using an extension designed exclusively for that purpose.
Of course, many of the more advanced and sales boosting extensions are paid only. You can get dedicated paid extensions for adding gift cards, offer coupons, apply per product shipping rates and more.
Features:
Lots of Free Features — Build a complete online store with the free WooCommerce plugin and its extensions
How Much Does WooCommerce Cost?
The base WooCommerce plugin is entirely free. However, many WooCommerce extensions are paid-only.

Wholesale Suite is a suite of three plugins that make it easy to add wholesale features to your WooCommerce website. It's widely used by B2B vendors to create a separate user role category for wholesale customers.
You can set up your online store to appear different for your wholesale customers by showing them different pricing and even disable certain features like coupons that only B2C customers should have access to.
With the free version, you can add wholesale pricing to your product pages for bulk buyers.
And if you upgrade to the pro plan, you have access to additional features. For example, you can create responsive AJAX wholesale order forms, which are great for creating wholesale catalogs that allow users to search for products and filter products by category.
You can also create wholesale lead forms in the paid version to sign up new whole sale customers and get access to advanced user approval systems that fit your needs.
Features:
Set Wholesale Prices — Add wholesale rates with the click of a button, while still displaying regular prices to your retail customers.
How Much Does Wholesale Suite Cost?
Each plugin starts at $49.50/year. You can get the bundle of all three plugins starting at $148.50/year.
Click here to get started with Wholesale Suite!

Coupons are an excellent way to drive more sales on your eCommerce site, and the Advanced Coupons plugin makes managing your discounts a breeze. You can set up Buy One Get One (BOGO) and other kinds of deals and automatically apply them to qualifying orders.
This plugin also lets you set up your own rewards program to help build lasting relationships with your customers. We like this plugin for its flexibility – you can define coupon rules to prevent accidental usage.
It has other really handy features, too like prefilling WooCommerce coupons with a URL, which we were delighted to see available in the free version.
Features:
BOGO Coupon Builder — Create custom Buy One Get One deals with an easy-to-use coupon builder.
Cart Conditions — Automatically apply coupons to orders that meet your requirements.
Role Restrictions — Restrict coupon usage by user role.
How Much Does Advanced Coupons Cost?
There is a generous free version of Advanced Coupons with many useful features available. Advanced Coupons Premium starts at $59.50/year. The plugin bundle that includes the Advanced Gift Cards and Loyalty Program addons is $119/year.
Click here to get started with Advanced Coupons!

Another one of the best free WordPress plugins is a caching plugin called W3 Total Cache.
This plugin uses cacheing and CDNs to improve your site speed and minimize load times for visitors. It also compresses image files to reduce their size and enable servers to load your site faster.
It's an incredibly useful plugin because site speed is one of the most important SEO ranking factors.
Alternatives: WP Super Cache
Features:
Speeds Up Your Site — Serve compressed and cached files to site visitors, reducing the load time on your server and improving overall site speed.
Save Bandwidth — W3 Total Cache saves you bandwidth and minifies HTML, JavaScript, CSS, and feeds.
How Much Does W3 Total Cache Cost?
Free.

Pretty Links is one of the best WordPress affiliate plugins. This plugin simply cloaks your affiliate links by using redirections and letting you use a custom link that matches your domain instead.
It's an excellent way to not only make it easy for you to track your affiliate links but it also serves to make your links more trustworthy as compared to standard affiliate links that have many random characters in them.
With shorter links that clearly indicate what your users are clicking on, you're a lot more likely to see more users clicking on your affiliate links, boosting your referral sales and growing your business.
Features:
Boost Affiliate SalesMarketing Organization — The better your affiliate links look, the more your URLs are clicked and shared.
Tracking — Pretty Links tracks each hit on a URL you create and gives you a full report on where the hit came from, the browser, the operating system, and the host.
How Much Does Pretty Links Cost?
Pretty Links offers its core functionalities for free. You can unlock advanced features like auto-linking and redirection methods by upgrading to Pro starting at $99.50/year.

Images tend to take up the majority of your website's page weight. And, without image optimization (for speed and performance) your loading times will suffer.
Smush is the best WordPress image optimization plugin. It takes the hassle out of optimizing your site's images by doing it automatically for you anytime you upload a new image to your Media Library.
Features:
Automated Optimization —Resize, optimize, and compress all of your images automatically.
No Quality Loss — Does it all without sacrificing image quality, so your website performs at optimal speeds and continues to rank high in search results.
Uses Their Servers —Smush servers do the work, not yours, reducing the additional strain and resource use.
How Much Does Smush Cost?
Free.

Better Click to Tweet gives you a chance to create tweetable content for your site visitors to tweet out.
It gives you a WordPress block that allows you to add click to quote boxes in your WordPress posts. Then, on the frontend of your site, users will see your quote and have the chance to click on it to tweet it to all their own Twitter followers.
This is an excellent way to bring your content in front of new audiences and allow your visitors to do your marketing for you on social media.
Features:
Promote Your Content — A great way to promote your content and brand to a broader audience in a simple way.
Engage Readers — Turn a passive audience into fans by encouraging brand engagement.
Get More Followers — Set up the tweets to tag your brand and watch the followers pour in as people share your content.
How Much Does Better Click to Tweet Cost?
The core plugin functionality

Envira Gallery is the best WordPress gallery plugin. It's a free plugin that's both user-friendly and powerful.
You'll want to make sure to grab this plugin if you're displaying lots of images on your website. You can add metadata, deeplinks, and pagination to your galleries for easier site navigation and a better user experience.
Features:
Easy to Use — Create responsive photo and video galleries with ease using the drag and drop photo gallery builder that lets you upload your images, rearrange them how you want, and publish them to your site within minutes.
Integrations with eCommerce — Sell on the popular WooCommerce platform as a way to make more money online and share photos using the social sharing integrations.
How Much Does Envira Gallery Cost?
There are both free and paid versions available. You can use Envira Gallery Pro for more advanced features.

Do you want to give your site visitors a way to view and print PDFs of your site's content? If so, you should look into using PrintFriendly's free WordPress plugin called Print, PDF, Email.
Features:
Make Content Easy to Share/Download — Users can view content in PDF form, print content in user-friendly formats, and even share content via email.
Won't Waste Space — Your site's content is not stored on your servers. Instead, it's permanently deleted after your user has time to download the file.
Custom Branding — You can brand your printed content and PDFs with copyright information, customize the buttons, and include custom headers and footers.
How Much Does Print, PDF, Email by PrintFriendly Cost?
It's completely free, but the plugin displays ads. You can remove ads by purchasing a subscription for $40/year.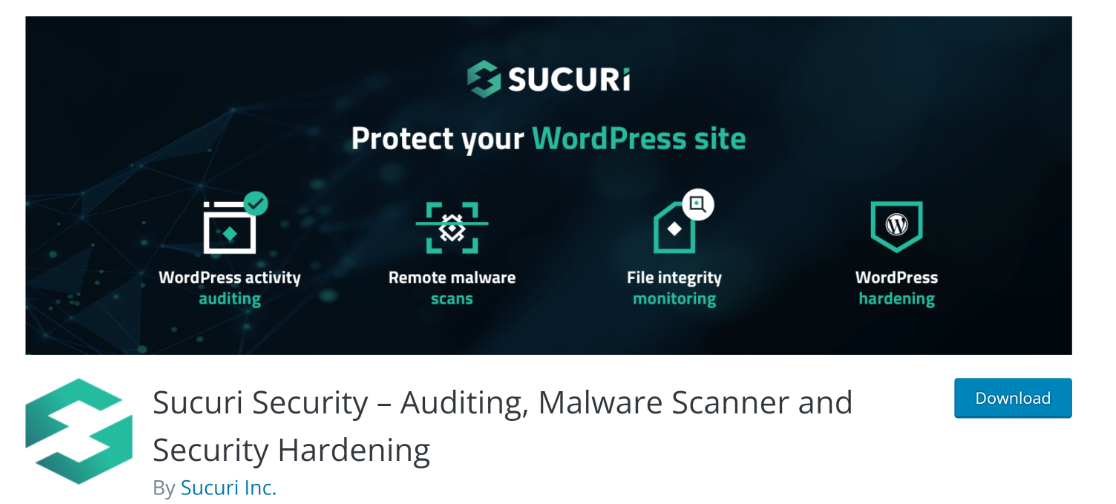 Sucuri is an industry leader when it comes to all matters related to website security. With its robust and helpful features, it's easily the best WordPress security plugin in the market.
It scans your WordPress installation to check if any core files were modified by a possible hacking attempt. You can restore or delete files that come up in the scan results.
Sucuri also lets you add a firewall on your WordPress website to protect your website from hackers and malware infections.
Features:
Protects Your Site — Activity audits, remote malware scanning, firewall, blacklist monitoring, security notifications, and post-hack security actions so it doesn't happen again (if it ever does).
Lightning-fast — Sucuri does its best to keep its feature-packed security plugin lightweight so it doesn't slow down your site's resources and loading time.
Monitoring — Has advanced features that check for DDoS attacks, malware threats, brute force attacks, and even XSS attacks so you can rest assured your site's data is safe.
How Much Does Sucuri Cost?
The Sucuri plugin is free. But Sucuri also offers online malware removal services for websites starting at $199.99/year.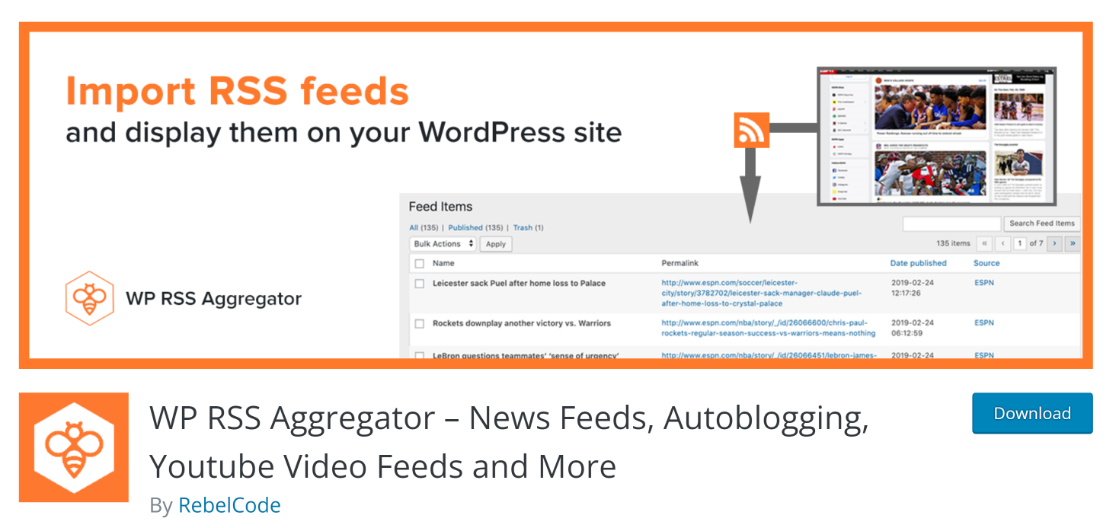 If you're looking for the best WordPress autoblog plugin, you'll want to check out the WP RSS Aggregator plugin. An Autoblog, or an automated blog, is a website that automatically pulls content from other websites using RSS feeds.
You can pull things like WordPress blog posts, job listings, podcasts, and YouTube videos from places like news sites and display fresh content on your site, all automatically.
Features:
Display Content Feeds — Display feed of your publications across the web in a single area on your site
How Much Does WP RSS Aggregator Cost?
It's a free plugin, but it offers a premium version with extensions to help you with things like keyword filtering so you can customize your feed to your audience starting at $79/year.

The speed of your website is crucial to the user experience and your Google search rankings. With Lazy Load by WP Rocket, your site's images will only load when they become visible to site visitors rather than loading your media all at once.
This makes your website load faster, improving the user experience considerably even if you have a great number of image files on your page.
This free WordPress plugin works on thumbnails, post content, avatars, and iFrame images.
Features:
Improves Speed — Reduces the number of HTTP requests that are made and improves your WordPress page load times, with CDN support.
Lightweight — The plugin itself is super lightweight so it doesn't affect your site's speed and performance either.
How Much Does Lazy Load Cost?
Free.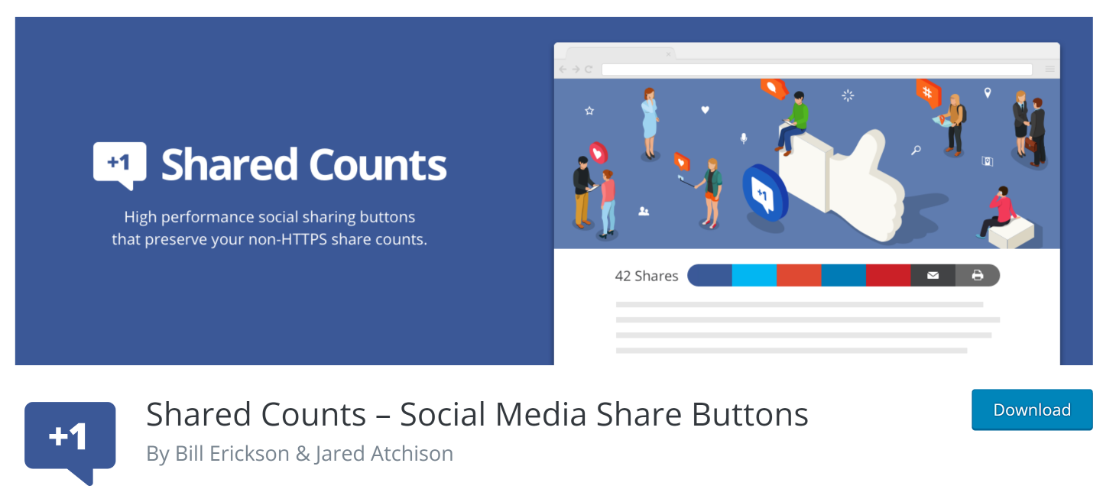 Shared Counts is a fantastic social sharing button that lets you use a simple shortcode to insert social share buttons either before or after post content. It's a must-have on any blog that wants to cash in on a viral post.
Features:
Supports Major Social Media Platforms — Tracks share counts for a ton of social media platforms like Facebook, Pinterest, LinkedIn, and Twitter.
GDPR Compliant — Unlike other social sharing tools, Social Counts doesn't use cookies, tracking scripts, or store user data.
How Much Does Shared Counts Cost?
Free.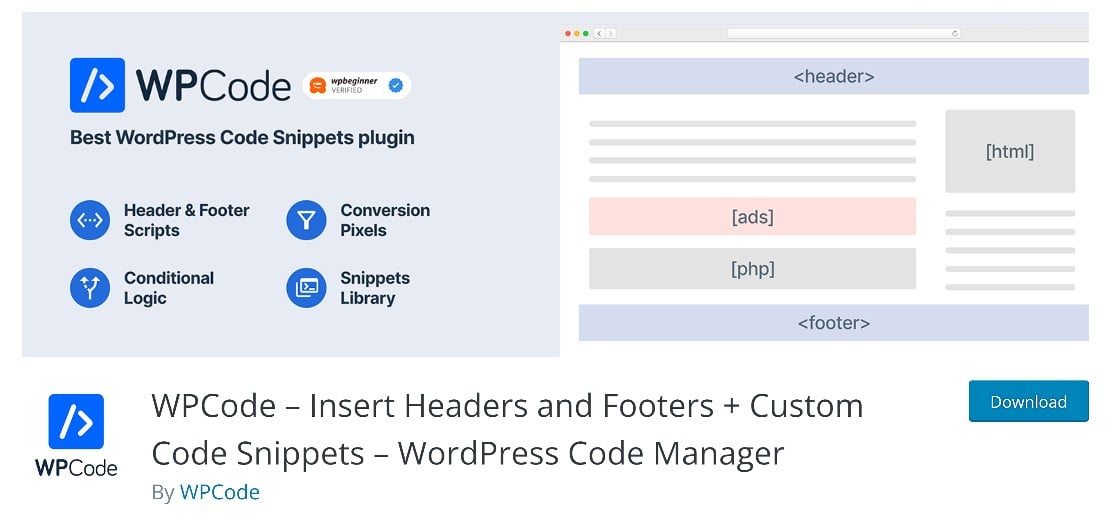 If you want to add code snippets to your WordPress website without having to mess with your site's functions.php file or worry about breaking your site, WPCode is the best solution.
WPCode simplifies adding snippets to any part of your WordPress site, including footers and headers. You can insert any custom code you want directly from your dashboard rather than directly editing your functions.php file.
Features:
Add New Code Snippets Easily — This plugin works out of the box, and you won't lose your snippets if you change WordPress themes.
Conditional Logic — Create rules on when to show snippets, such as only when a user is logged in or only on certain pages.
How Much Does WPCode Cost?
It offers basic features for free. You can get paid plans starting at $49/year.

If you want an easy way to display an author profile at the end of your website's posts, consider using the Simple Author Box plugin.
Features:
Writer Profiles — Show a mobile-friendly author name, gravatar, and description so site visitors can get to know who's writing your killer content.
Social Icons — Add some of the 30+ social icons to your site so visitors can easily visit the social media profiles of authors they want to connect with and follow.
Customization — Customize the author box to match your website's design.
How Much Does Simple Author Box Cost?
The base plugin is free. Pro plans start at $39/year.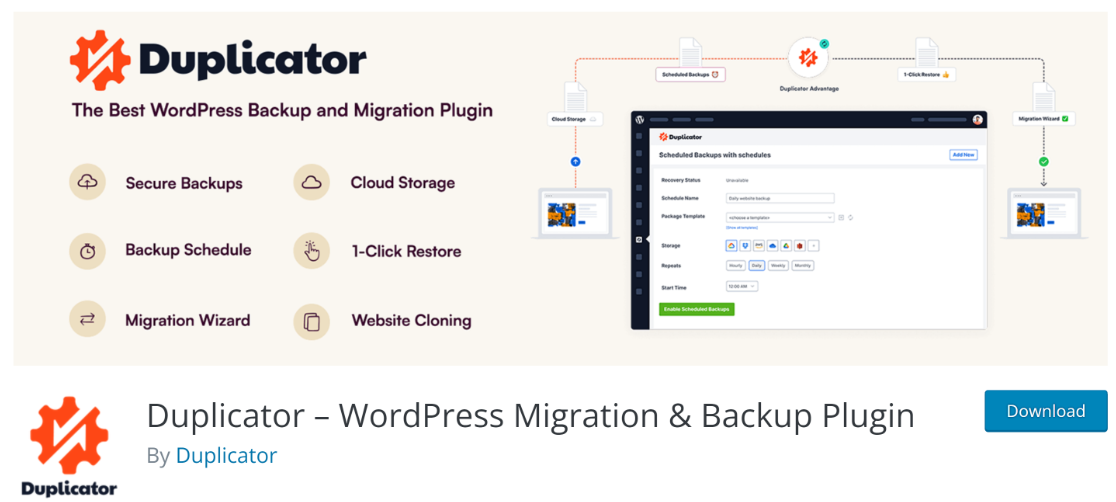 Duplicator is the best for moving your WordPress website from one location to another can be very difficult, even for those with experience. Luckily, Duplicator makes migrating, copying, moving, or cloning a site from one location to another super simple.
Not to mention, this free plugin acts as a backup solution too. You can easily duplicate a live or staged site for use elsewhere, which streamlines site development, especially for those who create multiple sites for clients.
Features:
No Downtime — Duplicator boasts zero downtime while you move, migrate, or clone a WordPress site between domains or hosts. Learn more about its features, read our Duplicator Pro review.
How Much Does Duplicator Cost?
This plugin offers a free plan as well as several paid plans starting at $40.50/year.

Many WordPress themes come with built-in custom shortcodes to extend the design and functionality of your website. But sometimes, you want something that just isn't there. Enter the best WordPress shortcodes plugin Shortcodes Ultimate.
This plugin gives you control over how your website looks. You can access a comprehensive list of visual and functional shortcodes that can be used in the post editor, text widgets, and even template files.
We had a great experience using this plugin to customize shortcodes to meet our expectations before adding it to our test sites..
These features make Shortcodes Ultimate one of the best WordPress plugins for design.
Features:
Customizable — Create tabs, buttons, boxes, sliders, and so much more with the one-click shortcode generator preview panel.
Multilingual — Translates into 9 languages.
How Much Does Shortcodes Ultimate Cost?
Free.

Broken Link Checker actively monitors your website for broken links and immediately notifies you if it finds any so you can fix them.
Internal and external links get broken from time to time. Having broken links on your website is not only bad for SEO but also hurts the user experience.
This tool is one of the best WordPress plugins for blogs because you're probably producing lots of content on your blog that may have broken links eventually.
Features:
Automated Scans — Checks your posts, pages, comments, and blog posts. One of the best WordPress plugins for blogs since content-heavy sites can contain a lot of links.
Control Search Engine Behavior — Prevent search engines from following broken links.
Inline URL Editing — Quickly edit and fix broken links from the link monitoring dashboard so you don't have to track down every link that needs fixing.
Granular Link Scanning Controls — Choose which posts types and statuses the plugin should check for broken links.
How Much Does Broken Link Checker Cost?
You can use Broken Link Checker for free, or upgrade to a premium plan starting at $4.99 per month.

If your WordPress theme doesn't come with the Google Fonts you want, you can always use the Easy Google Fonts plugin. With it, you take control of your website's typography.
This free plugin integrates with your WordPress Customizer, so accessing the 600+ fonts is easy to do.
We were impressed b this plugin because it lets create your own font controls and rules and automatically pull in stylesheets, all without any coding or editing of the main stylesheet.
So when your theme updates, you don't lose your custom work.
Features:
Preview Changes — See your font changes in real-time.
How Much Does Easy Google Fonts Cost?
Free.

There are plenty of free SSL certificates available, but moving your entire site to HTTPS to avoid the "Not Secure" warnings Google is adding to all non-secure websites can be tough if you're not sure what you're doing.
The good news is you can use the best WordPress SSL plugin, Really Simple SSL, for free. It handles everything that comes with migrating your site to HTTPS. I
Features:
Automatic Redirection — This 1-click solution redirects and updates all old URLs to reflect the change to a secure site.
Won't Slow You Down — It's a super lightweight plugin.
How Much Does Really Simple SSL Cost?
Free.

Autoptimize works great with your caching solution to speed up your site. It optimizes your site's HTML, CSS, and JavaScript code.
The plugin also helps handles minifying, which means it removes any unnecessary characters from your site's code. Plus, it uses concatenation to combine multiple separate files into one.
Using this plugin, you can help your site's speed increase dramatically, which in turn helps with SEO, driving traffic to your site, and boosting conversions and sales.
Features:
Automatic Optimization — O
Condenses —
How Much Does Autoptimize Cost?
It's a free plugin that also offers a paid subscription with premium support starting at $79/year.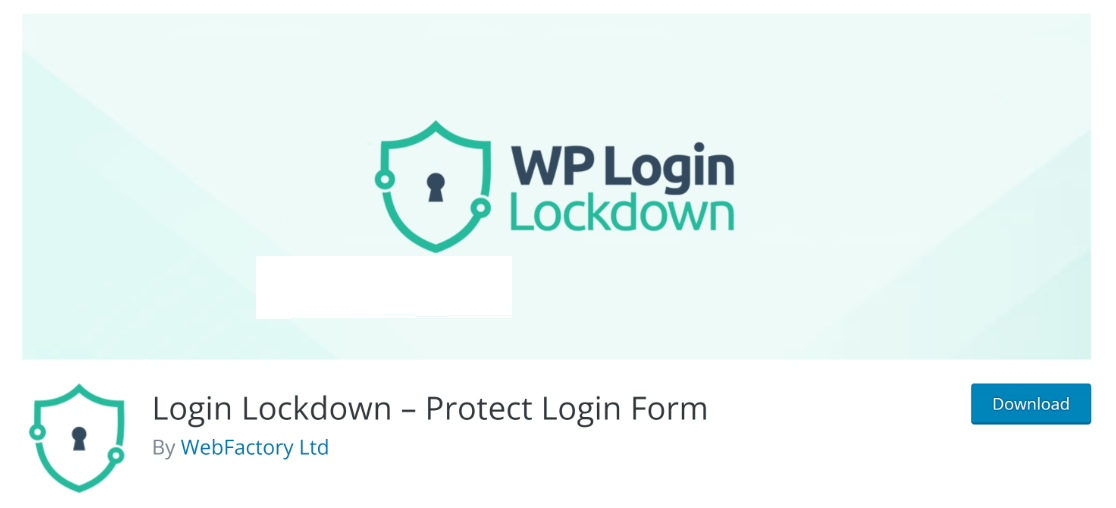 Login Lockdown is one of the best WordPress login plugins that greatly improves your site's security. Essentially, this plugin limits the number of login attempts a user can make while trying to log into your site.
It records the IP address and timestamp of every failed login attempt. The plugin automatically locks a user out of your website for a certain time duration after they've made incorrect login attempts a specified number of times in a specified duration.
We like that you can modify these options and select the allowed number of attempts made in a duration and the lockout time for users.
Features:
Customizable Lockout Settings — Change the maximum login attempts a user can make and the logout time length easily within your WordPress settings.
How Much Does Login Lockdown Cost?
It offers both free and paid versions. You can get a lifetime paid account starting at $89.

Another one of the best free WordPress plugins is WordPress Importer. If you find yourself needing to import content from a WordPress export file, such as demo content for a new WordPress theme, WordPress Importer is the way to go.
This free tool will import posts, pages, custom post types, comments, custom fields, categories, tags, and even authors.
It's one of the best site import plugins we've tested or WordPress, thanks to its easy importer function.
Features:
Easy to Use — All you have to do is run the importer, upload the files you want to import, and click Import.
How Much Does WordPress Importer Cost?
Free.

Like the name of the plugin, Disable Comments lets you turn off commenting for your whole website.
This plugin is really helpful because comment spamming is a common problem that many websites face.
What makes this plugin so useful is that it gives you a lot of control over which post types you want to disable comments for.
You can even disable comments by type. In addition, you can also get rid of comment-related items on your WordPress dashboard, in widgets, and in the Admin Menu and Admin Bar.
Features:
Works on Fields — Remove all comment-related fields from edit and quick-edit screens.
Multi-site Compatible — Works across multiple sites.
How Much Does Disable Comments Cost?
Free.

The easy-to-use WP-Optimize helps optimize your WordPress website for speed and performance by cleaning up the "insides" of your website, so we included it on this list of the best free WordPress plugins.
This means using cache to load pages faster, reduce file size of images and media with compression, and cleaning junk accumulated in your WordPress database.
WP-Optimize is highly effective for reducing the strain on your server with its various optimization techniques and increase your site's speed.
Features:
Total Site Cleanup — Get rid of spam comments, pingbacks/trackbacks, and any other stale data that's sitting around.
Flexible Control — Schedule automatic clean-ups, control which optimizations you run, and even trigger an automatic site backup if you use the UpdraftPlus backup solution.
How Much Does WP-Optimize Cost?
Free.

Your content marketing strategy is the key to consistently publishing valuable content for your site visitors. And one of the best ways to organize your website's content is using the top WordPress editorial plugin, Editorial Calendar.
With this plugin, you can make sure posts are getting published on time so your website is continually churning out articles that will drive traffic, boost conversions, and increase sales.
Features:
Visual Calendar — See all posts and when they're scheduled to go live.
Modern Organization — Drag and drop posts to reorganize due dates on the calendar, quick edit post title, content, and publish times, and even manage posts for multiple authors.
How Much Does Editorial Calendar Cost?
Free

Need to redirect some URLs on your site? Redirection, the best WordPress redirection plugin, is a good choice since it rakes in over 1 million active installs. No matter how many URLs you need to change, this free plugin can help, all without having any technical knowledge.
Features:
Redirect Types — You can easily control 301 redirects, track 404 errors on your site, and make sure the user experience on your website is exceptional.
Multiple Redirect Options — Redirect based on login status, browser, referrer, cookies settings, IP address, and more.
Redirection Management — Manage the redirects from the backend of your site so you know how many are happening at any given time.
Page Audits — With Redirection you can also see which posts and pages aren't loading right so you can fix them right away, preventing site visitor frustration.
How Much Does Redirection Cost?
Free.

After having used WordPress for some time, you may discover that sometimes it doesn't have the built-in flexibility you need to create specific functions. Luckily, with a free WordPress plugin like Advanced Custom Fields, you can do just that.
It supports 30 different types of custom fields for practically any part of your website, including posts, WordPress users, media, comments, and custom pages.
Features:
Great Docs— Although it has a simple interface, the plugin can be a little tricky when you're first using it, so they include lots of documentation to help you get started.
How Much Does Advanced Custom Fields Cost?
Free.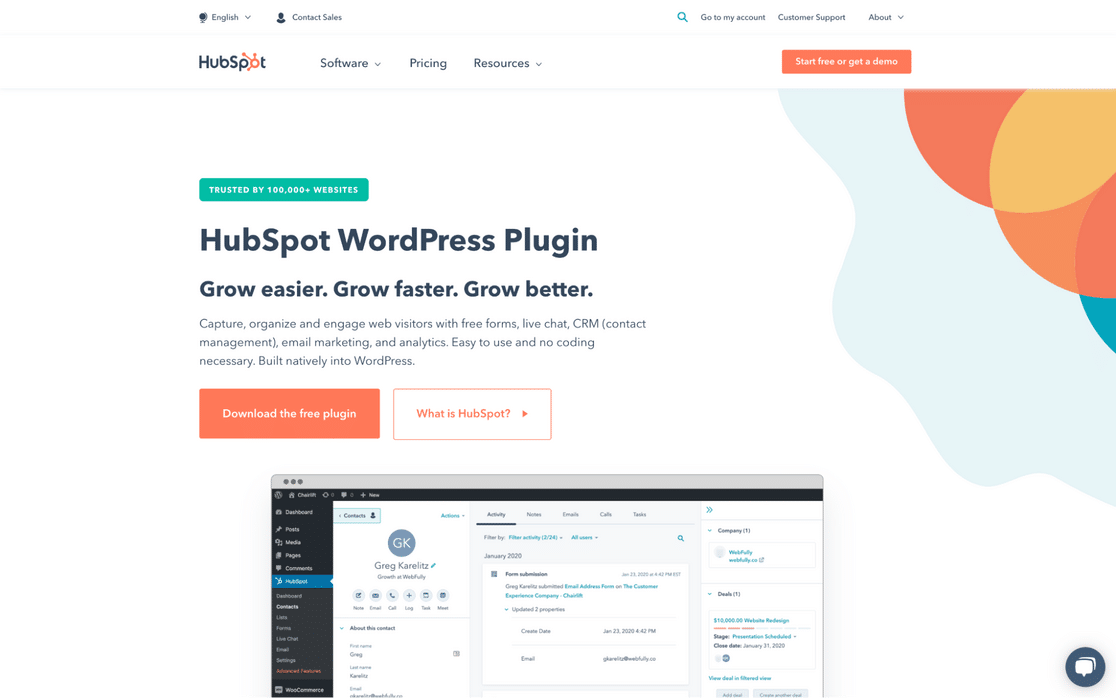 HubSpot is the best free WordPress CRM on the market. It's a great way to manage your contacts, segment them into lists, and see every interaction they've had with your website.
Also included in the plugin are a variety of key marketing features like live chat, forms, analytics, and email marketing.
Features:
Easy to Use — Adding CRM, live chat, forms, and HubSpot's other powerful marketing features to your website is easy and requires no coding.
Automatic Syncing — Your forms and live chat submissions automatically sync with HubSpot's CRM showing a contact page's views, live chat conversations, form submissions, and more, all in one place.
Integrations — HubSpot integrates with 850+ other tools including many WordPress plugins.
How Much Does HubSpot Cost?
HubSpot's WordPress plugin and its features (CRM, forms, live chat, email marketing, and analytics) are free to use for up to 5 users. Paid tiers of HubSpot start at $18/month.

Have you ever wanted to replace an image in your Media Library without having to delete the old image, rename the new file, and upload it to your site? The good news is, you can do just that with Enable Media Replace.
Features:
Easy to Use — With this cool WordPress plugin, all you have to do is either replace the old file with a new one.
Fast — The plugin is incredibly lightweight
How Much Does Enable Media Replace Cost?
Free.

UpdratfPlus performs automatic backups of your WordPress site to safeguard you from the damaging effects of hacking, server crash, or website malfunction.
The plugin makes backup restoration a quick and painless process. So if anything bad happens to your website, you can restore it at any point and keep your business running as usual
.And it's on our list because it's simply the best WordPress backup plugin around.
Features:
Automated Backups — Schedule an automatic WordPress backup of your website's files and WordPress database.
Cloud Storage — Store your backups in a cloud service such as Dropbox, Google Drive, or Amazon S3.
Email Notifications — Get an email when a backup completes. (Check out how to fix UpdraftPlus not sending email if you're having any issues with these alerts.)
How Much Does UpdraftPlus Cost?
The base version is free. The premium plugin unlocks various additional features like more cloud backup options starting from $70/year.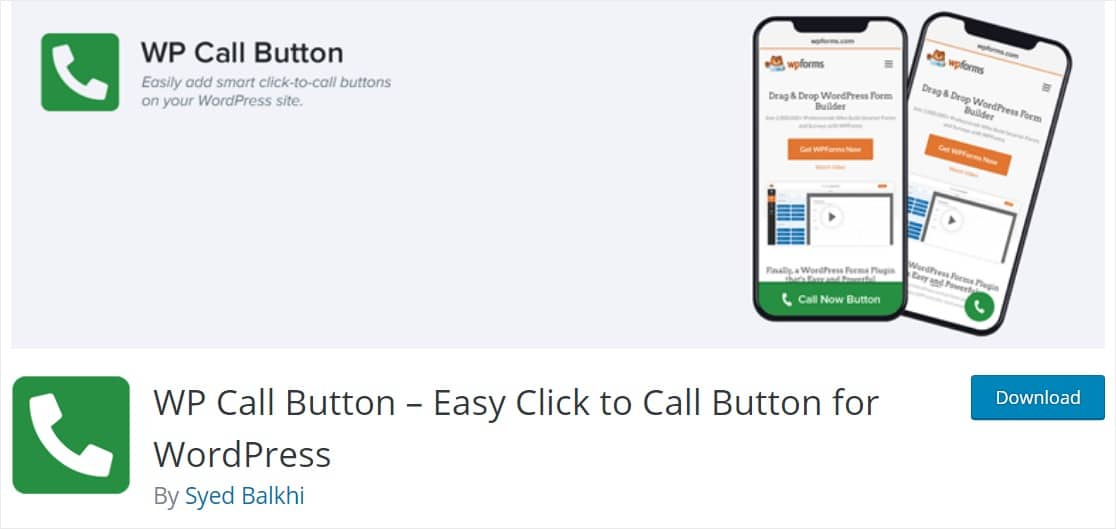 WP Call Button is one of the best free WordPress plugins because it lets you easily add a  Click to Call button to your WordPress site. It's a great way to get more leads and close deals fast. Some people still prefer to speak to someone on the phone, so it's great to give them the option.
Features:
100% Responsive — Mobile-friendly and looks great on any device.
Simple — You can easily add a great-looking call now button without having to know any code.
Lightweight — Optimized for speed and SEO.
How Much Does WP Call Button Cost?
Free.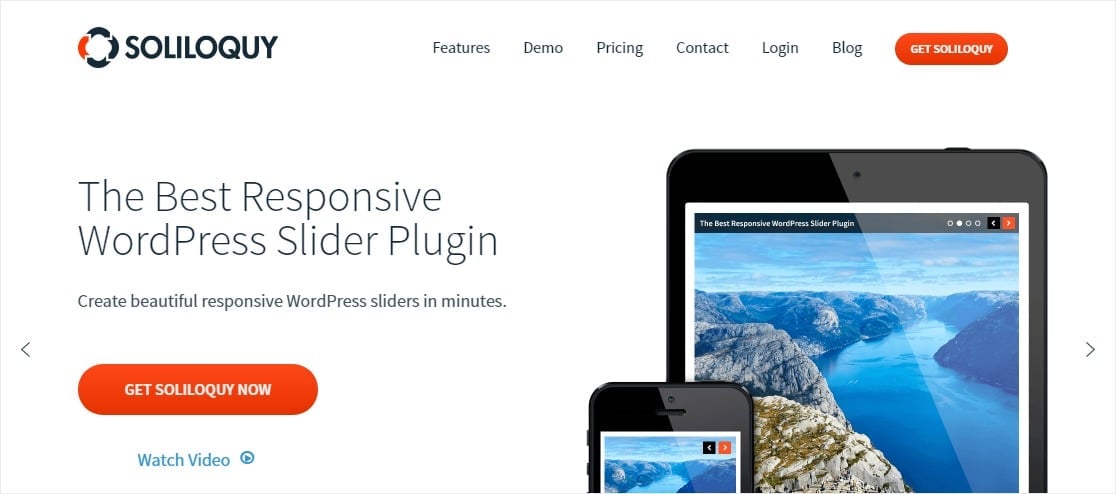 Because it's so powerful and smart, Soliloquy is the best WordPress slider plugin around. This awesome plugin lets you make beautiful sliders that tell the story of your website and business without writing a line of code.
Features:
Easy to Use — It's got a drag and drop builder for easy setup.
Pre-built Templates — You won't have to start from scratch with their pre-built sliders.
Integration with eCommerce — Works great with WooCommerce so you can add it to your online store.
How Much Does Soliloquy Cost?
Soliloquy has a free version and the premium plans start at $17/year.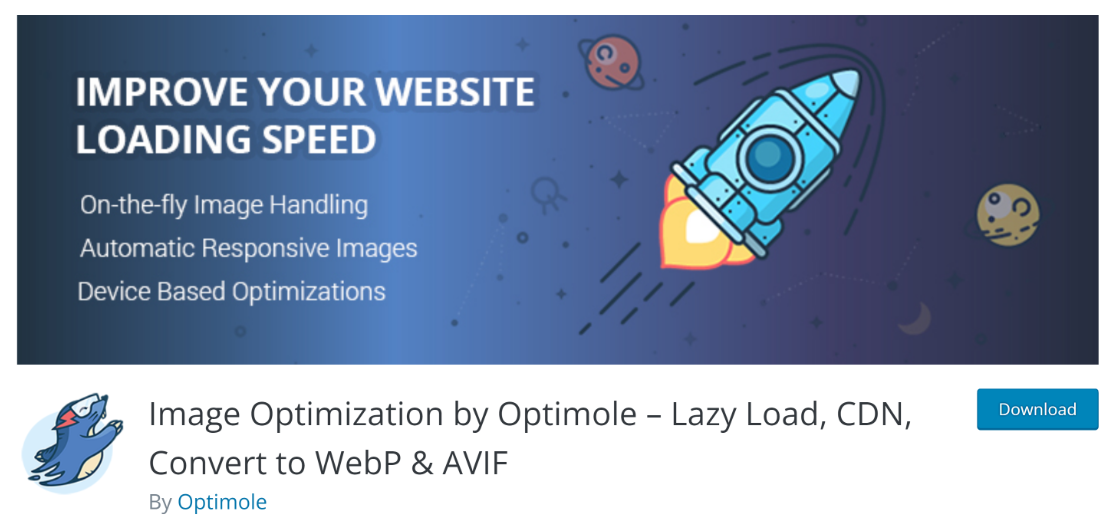 Optimole is a popular WordPress plugin that can automatically compress images automatically right when you first upload them.
It's a popular choice for image optimization plugins since it's so convenient to use. It's a cloud-based service, so it doesn't put unnecessary strain on your web server. This can be especially helpful if you're trying to speed up your site.
Features:
Lazy Loading— uses lazy loading to display images when the user scrolls to them, and not before.
Watermarks — Ability to add custom watermarks to your photos to protect your content.
How Much Does Optimole Cost?
There's a limited free version and paid plans start at $19/month.
Bonus: Paid WordPress Plugins Worth Trying
The plugins and tools we've listed above are some of the best we've tested when it comes to free options.
But as your website grows, you may want to look into more advanced tools to support and accelerate your growth even further.
We've listed some of our favorite paid tools for ambitious WordPress websites that want to position themselves strongly within their industry.

OptinMonster is one of the most powerful lead gen tools available on the market. Unlike most tools on this list, OptinMonster isn't exactly a WordPress plugin, but it's a SaaS platform that integrates perfectly with WordPress sites.
We rate this tool highly because of its excellent versatility. You can create any kind of marketing campaign, from gamified spin wheels to special offer popups that appear when your visitor tries to exit your page without completing a purchase.

It comes with a user-friendly campaign builder that allows you to customize any component of your lead generation campaign. That means changing the style and color of your CTAs, text, layout, and more without writing a single line of code.

That's not all. This tool comes with a treasure chest of valuable features to grow your business online including WordPress countdown timers, notification bars, and 2-step options to maximize conversions.
It also doubles as WordPress popup plugin to help you capture more leads and grow your email list. It's simply a must-have for small business owners, bloggers, and any website.
Alternative: Thrive Leads.
Features:
Exit-Intent Technology — Turn site visitors who were headed to abandon your site into email subscribers instead.
MonsterLinks™ 2-Step Optins — Convert any link or image into an optin form and boost conversions by 785%.
Geo-Location Targeting — Get more leads by personalizing campaigns based on your visitor's location.
Easy to Use — The drag and drop builder lets you make visually stunning forms in just a few clicks.
How Much Does OptinMonster Cost?
Plans start at $9/month (billed annually).
Click here to get started with OptinMonster today!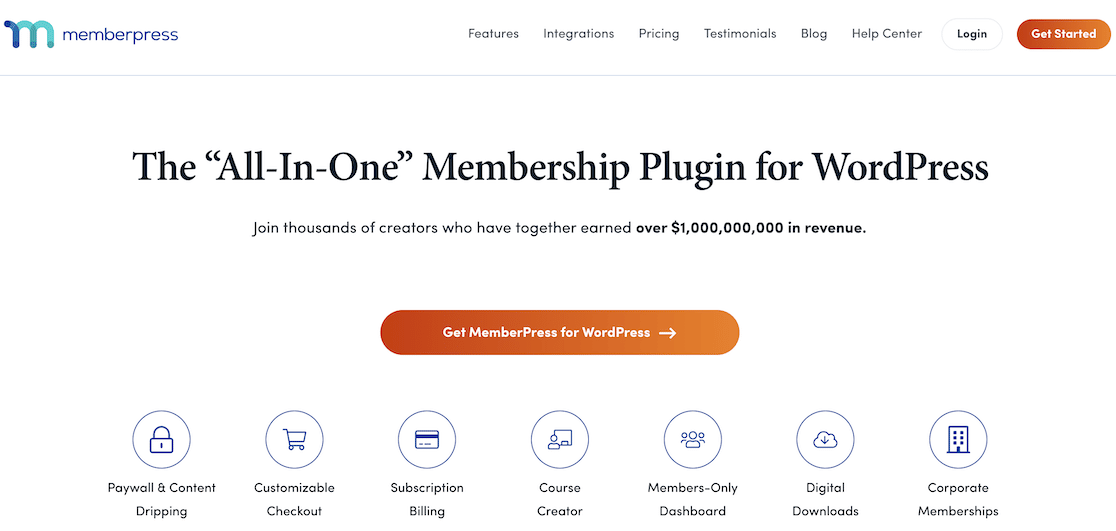 MemberPress is the best WordPress membership plugin to use if you're going to build your own membership site.
It lets you easily limit access to specific content on your site to only paying members. You can earn money by leveraging gated content or running a subscription-only online community.
One of our favorite features of MemberPress is its Courses addon. This enables you to turn your website into an exceedingly professional-looking learning management system by creating and selling online courses.
MemberPress also integrates with Uncanny Automator to offer tons of useful automation capabilities, allowing you to keep your membership or course website running with minima supervision.
Alternative: Thrive Apprentice, MemberMouse.
Features:
Payment Gateways — You can easily accept payments with Stripe, PayPal, and Authorize.Net so you can accept multiple types of payments from members for your subscription billing.
Easy Setup — All you have to do to start is install the plugin, configure the payment gateways, add a product, and invite people.
Multiple Integrations — MemberPress integrates with tons of different tools from podcasting with Blubrry,  to Amazon Web Services, and of course the most popular email marketing services like Drip, ConvertKit, Mailchimp, GetResponse, AWeber, and Constant Contact. You can even use BuddyPress to manage your forums, encouraging your members to engage with and help out one another on your site.
Course Builder — With the built-in MemberPress Courses addon, you can easily create, manage, and sell online courses.
Affiliate Program — Launch an affiliate program for your brand and website to get the word out to others while rewarding your network of die-hard fans.
How Much Does MemberPress Cost?
Pricing for MemberPress starts at $179.50/year.
Click here to get started with MemberPress now!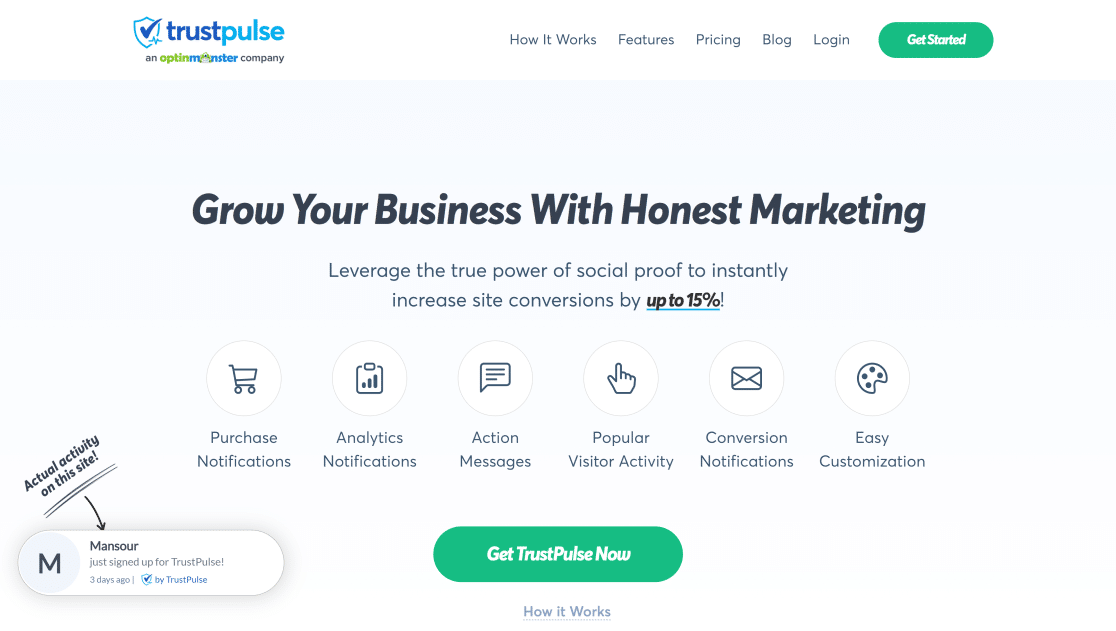 TrustPulse leverages FOMO (Fear Of Missing Out) to help drive more conversions and sales on websites through social proof.
This tool shows notifications of real-time activities being performed by other visitors on your site, such as product purchases, newsletter signups, and more.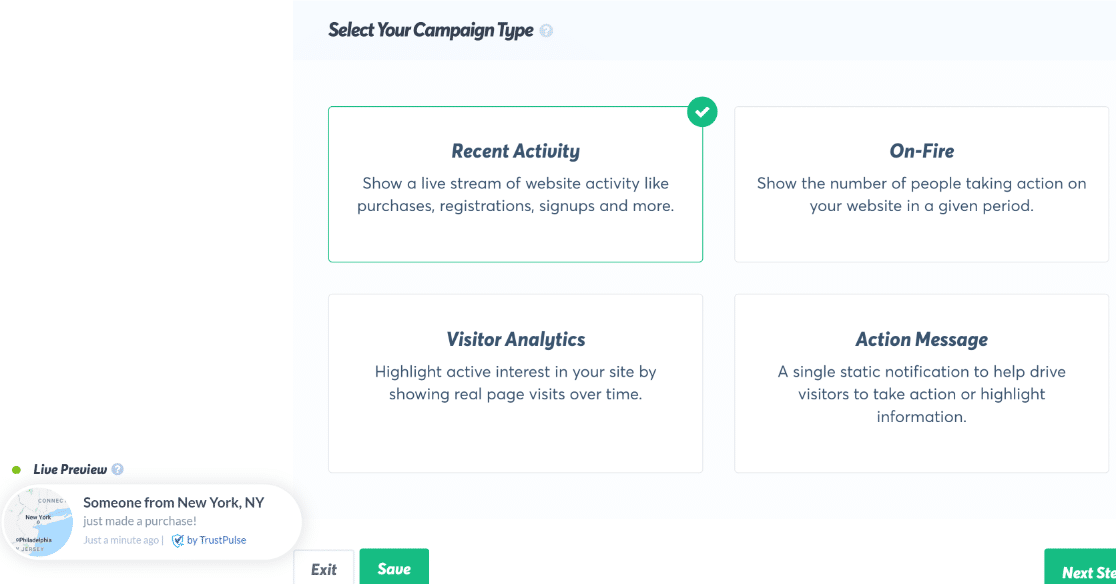 These notifications serve as social proof, persuading visitors to turn into loyal customers on your site.
Social proof is a psychological and social phenomenon where people rely on actions and feedback of other people to decide what to do.
And you should definitely be using social proof on your site, especially if you have an eCommerce store like WooCommerce.
Features:
Visual Builder — Comes with an easy-to-use social proof notification builder that lets you build WordPress FOMO popups that are proven to convert visitors.
Simple Customization — It's easy to customize things like colors, messages, and images, so you can brand your notifications to look like your site.
Multiple Campaign Types — Show a live stream of recent activity, visitor analytics, customized action messages, or the number of people taking specific action on your site.
See more details in our full TrustPulse review.
How Much Does TrustPulse Cost?
TrustPulse pricing starts at $5/month.
Click here to get started with TrustPulse today!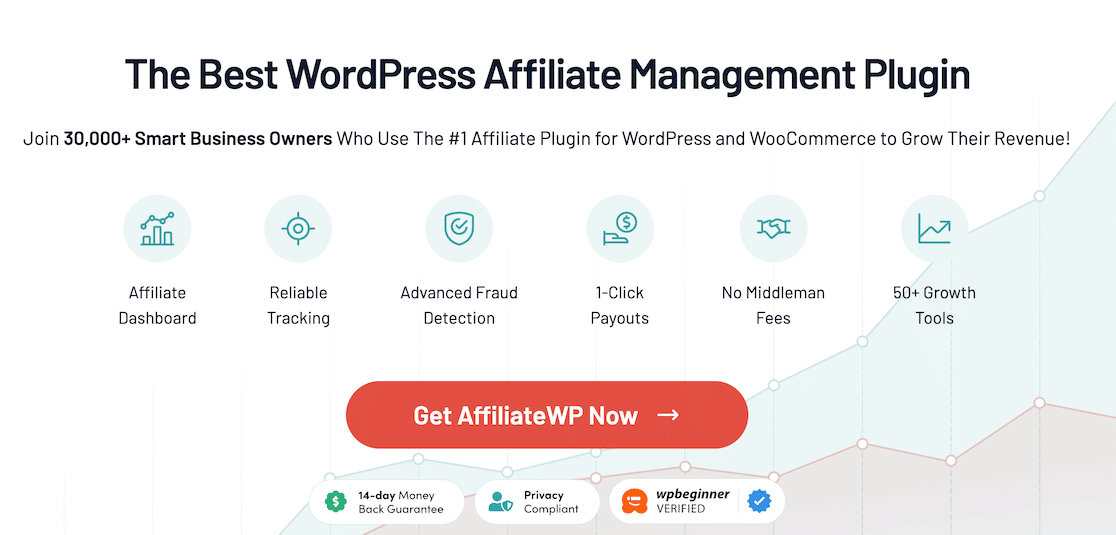 AffiliateWP is the best affiliate program plugin for WordPress. We've done a full AffiliateWP review to show why this is true.
With just a few clicks, you can set up a full-featured affiliate program for your eCommerce store or membership site. I
t also comes with advanced affiliate and referral tracking that seamlessly integrates into your WordPress site, allowing you to do things like tracking referrals to your WordPress forms.
Features:
Affiliate Dashboard — Built-in affiliate dashboard where affiliates can monitor their stats, download their links and banners, track payments, and more.
Affiliate Approval— Affiliate registrations can be moderated by admins or automatically accepted.
Integrated Payouts — Pay your affiliates directly to their bank accounts or debit cards in a few clicks.
Powerful Admin — View real-time reports including transactions, overall stats, clicks coming in, top affiliates, and more.
How Much Does AffiliateWP Cost?
AffiliateWP starts at $149.50/year.
Click here to get started with AffiliateWP today!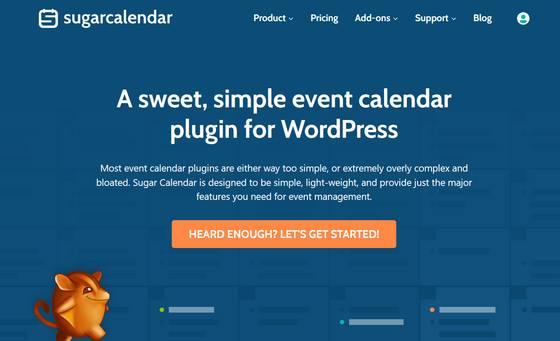 Sugar Calendar, the best WordPress event calendar plugin, makes creating and managing a frontend calendar for your site visitors super simple.
It works right out of the box and only takes a few configurations to match your site's unique needs. This plugin will easily become one of the best WordPress widgets on your site.
Features:
Integrations with Popular Calendar Apps — Syncs with Google Calendar,  iCal, and others.
Easy Widget Embeds — Add a calendar widget to your site and display upcoming events.
How Much Does Sugar Calendar Cost?
Paid plans start at $49/year.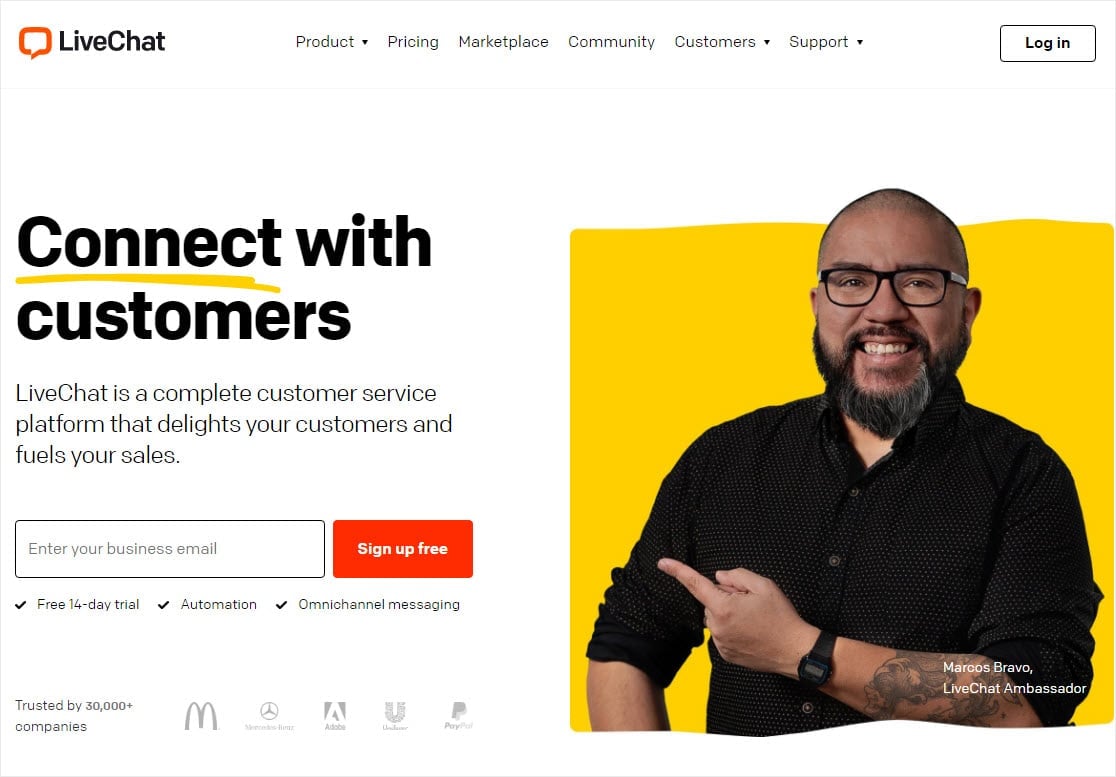 LiveChat is one of the best live chat tools out there. It's definitely the most well-known, and for good reason. If you're thinking about getting into Conversational Marketing, this tool is a fantastic pick.
Features:
Easy WordPress Integration — They offer a beautifully designed live chat support app to add a chat box to your WordPress website.
Chat Feedback — Find out where to improve by adding evaluation surveys before and after the chat session.
Marketing Automation — LiveChat integrates with tons of other tools including email marketing services and other marketing automation software.
How Much Does LiveChat Cost?
LiveChat starts at $20/month per user (billed annually).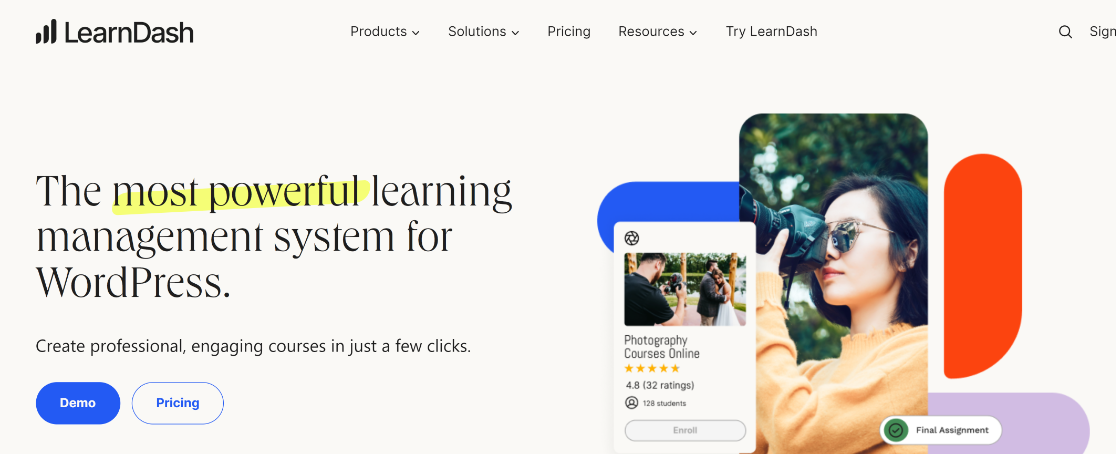 LearnDash is an LMS plugin that can help you make money from online courses, and it's not only one of the best free WordPress plugins out there, but it's also one of the best LMS plugins for WordPress.
Features:
Easy to Use — It comes with a visual drag and drop course builder that lets you build multi-level courses and then add lessons, assignments, and quizzes.
User Rewards — It awards certificates to students for completing courses.
Timers — Uses a timer to prevent people from skipping lessons.
Monetization Options — One of the coolest parts of LearnDash is how it has lots of monetization options including a one-time purchase, a recurring membership, and course bundles.
Payment Support — Supports multiple payment gateways like Stripe and PayPal.
How Much Does LearnDash Cost?
LearnDash starts at $159.
And there you have it! Now you know the best free WordPress plugins for your website. We hope this list helps you make improvements to your site and achieve your business goals.
FAQs on Best Free WordPress Plugins
If you have more questions about finding the best WordPress plugins for your site, we've listed some of the commonly asked questions below:
Is It Bad to Have Too Many Plugins in WordPress?
Yes, having too many plugins on your WordPress site can reduce your site speed. However, you can still safely install many plugins on your site without any problems as long as you're using good quality plugins.
For more information, see our post how many plugins are too many.
Is WordPress Free Forever?
Yes, the self-hosted WordPress platform is free forever. But remember that you'll still need to purchase a domain name for your website and web hosting in order to publish your site on the internet so visitors can access it.
Do Professionals Use Plugins?
Yes, professionals and experts rely heavily on WordPress plugins to manage many aspects of their business, including sales, marketing, administration, customer support, and more. The WPForms website itself is powered by WordPress and we use many plugins like SeedProd, All in One SEO, MonsterInsights, Thirsty Affiliates, and more to make our operations easier to manage.
What Features Make Up a Good WordPress Plugin?
The best WordPress plugins offer regular updates and reliable support with helpful documentation. They're also easy for site users to navigate, provide customization options, and are lightweight enough to prevent slowdowns.
How Do I Know if a Premium Plugin is Worth the Cost?
Always read the documentation to find out which additional features you can access with the premium version. It's also helpful to read reviews to discover what others like and dislike about the plugin. You also want to make sure you will get timely updates and support.
Next, Check Out Other Top WordPress Plugins
WordPress has an amazing directory of useful plugins. Take a look at some of our other roundups discussing our favorite WordPress plugins for different functional categories:
We've also listed some free and paid GDPR plugins that you should install.
And if you're looking for plugins for membership sites, be sure to check out our post on the best WordPress membership plugins compared. We also explain why you should never install the WPForms Pro nulled plugin.
So, what are you waiting for? Get started with the most powerful WordPress forms plugin today.
And don't forget, if you like this article, then please follow us on Facebook and Twitter.