Have you considered how vital it is to have a backup of your WordPress site if something goes wrong? If so, this Duplicator Pro review is for you.
Duplicator Pro is a plugin that offers dedicated functionalities to back up and restore a WordPress website to its former glory in no time.
In this post, we'll look at some of Duplicator's key features to help you decide if it's the right backup plugin for you.
What is Duplicator Pro?
The Duplicator plugin has one job — to make backup and migration as seamless as possible for your WordPress site.
It is built and maintained by the same team responsible for some of the biggest names in WordPress, like WP Mail SMTP, MonsterInsights, OptinMonster, and WPBeginner.
Duplicator offers a free version with basic functionalities for backup and migration, perfect for small businesses and websites on a budget.
A Pro version also offers numerous advanced features like smart migration tools, scheduled automated backups, and cloud storage integrations.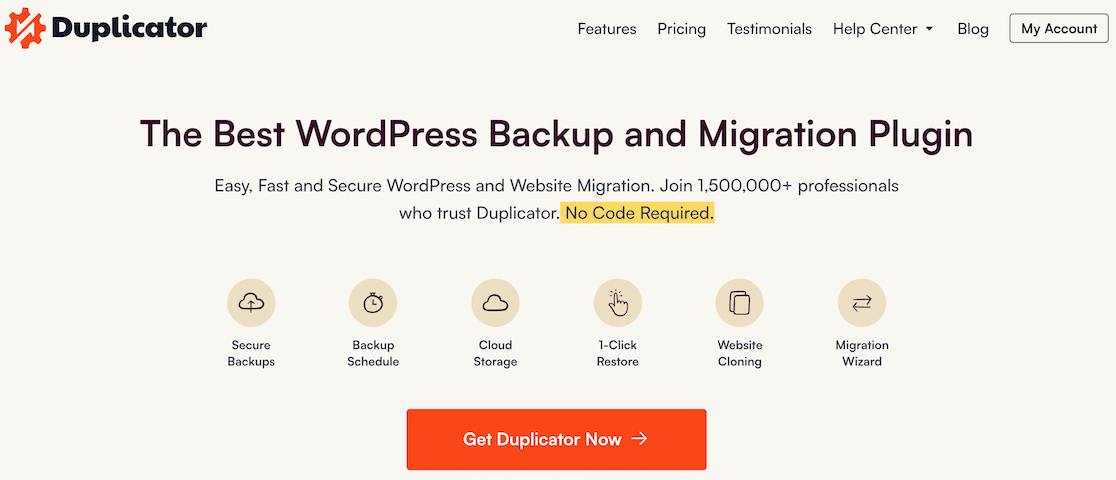 Duplicator Pro Review: Is It Right For You?
We put Duplicator through our own testing and went over its most important features. Keep reading to find out why we think you should get it.
Our Favorite Features of Duplicator
Navigating through Duplicator Pro, it becomes apparent that the plugin boasts numerous impressive features. Here are some of our top favorite features:
Full Site Backups
The first thing you'll appreciate about Duplicator Pro is its uncomplicated yet practical approach to full site backups.
Unlike some plugins that leave you tangled in a web of complex settings, Duplicator Pro streamlines the process into a few easy clicks.
Our hands-on experience revealed how swiftly it creates a backup of your WordPress site—files, databases, themes, and plugins—in one neat package.
It's like taking a snapshot of your website at a specific moment, ready to be restored whenever needed.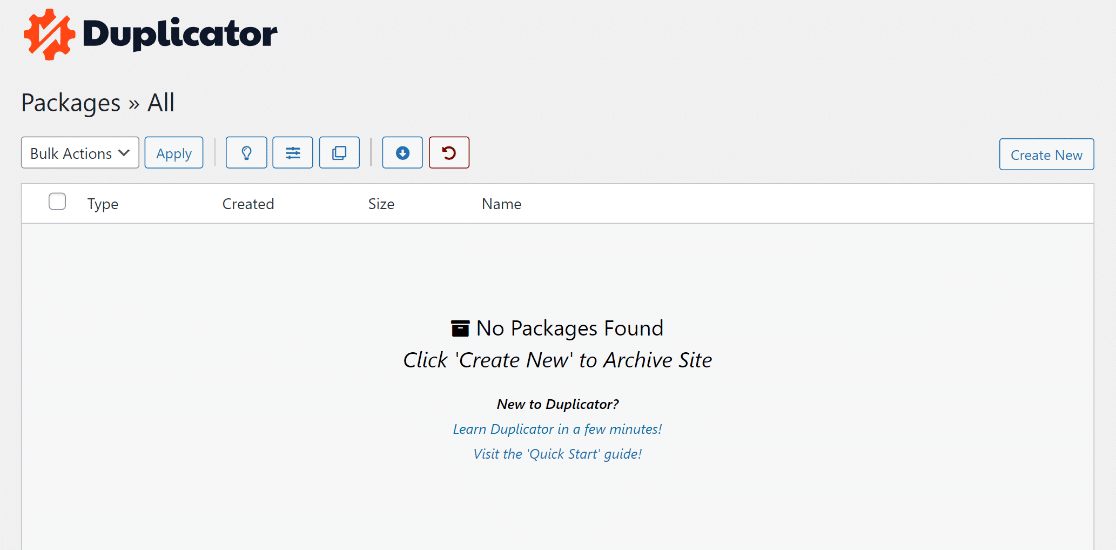 Scheduled Backups
If you're like most website owners, remembering to back up your site manually is probably not on top of your to-do list.
That's where Duplicator Pro's scheduled backups come into play. This feature is a true game-changer, especially for those juggling multiple tasks.
We put it to the test ourselves, scheduling daily backups for a week, and the plugin each day, like clockwork, backed up our site into a tidy package.
While the idea of scheduled backups isn't unique to Duplicator Pro, the simplicity and reliability of its system stand out.
Depending on your needs, you can customize these backups to occur hourly, daily, weekly, or even monthly.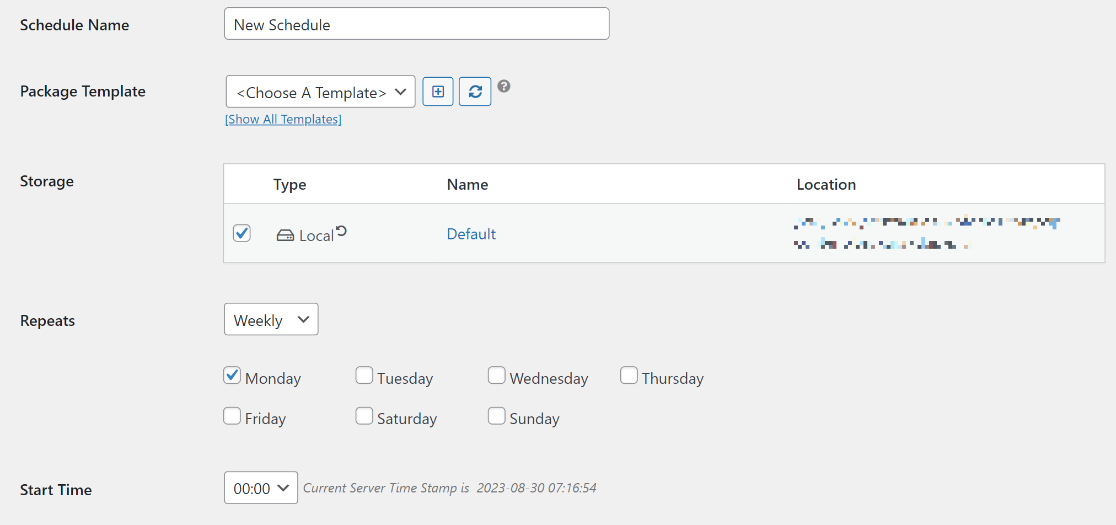 Customizable Backups
We all have unique needs when it comes to our websites, and a one-size-fits-all backup might not cut it.
Enter Duplicator Pro's customizable WordPress backups. This is a feature that allows you to be selective, specifying exactly what you want (or don't want) to include in your backup.
Essentially, you get to tailor your backup to suit the precise needs of your WordPress site. This flexibility is a standout feature that you'll appreciate, especially if you manage multiple websites with varying backup requirements.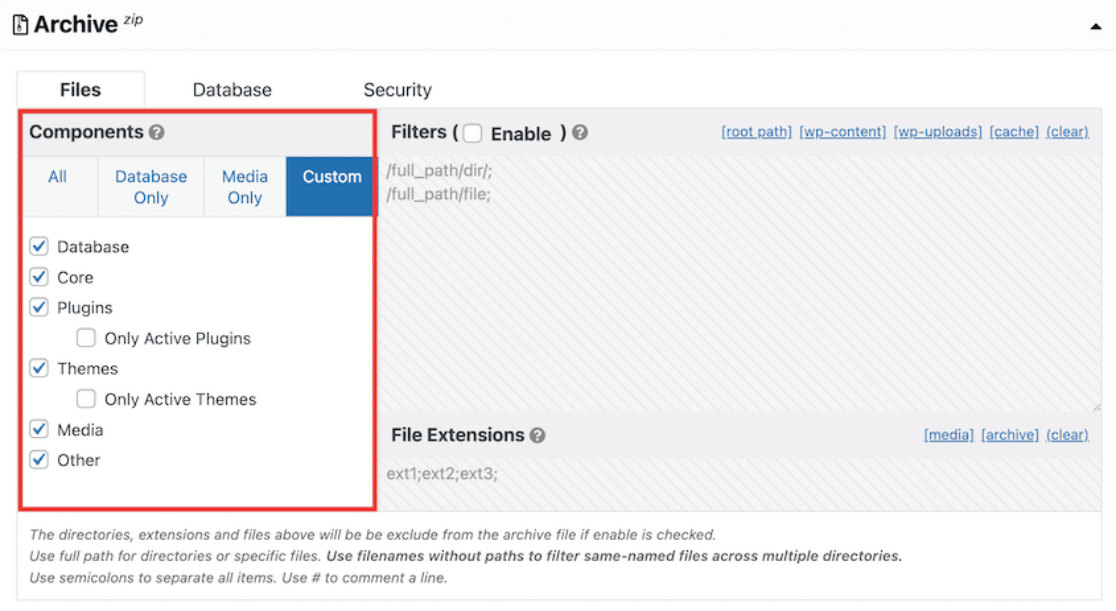 Best Storage Options
One of the standout features of Duplicator Pro is its flexibility in storage options. While some backup solutions restrict you to local storage, Duplicator Pro broadens the horizon.
When we dived into the settings, we were pleased to find multiple storage options that allow for seamless backups.
Beyond just storing backups on your local server, you can opt to save them to popular cloud services like Google Drive, Dropbox, and Amazon S3. This opens up a world of possibilities for safekeeping your site's data.
From our hands-on testing, configuring these cloud storage options was a breeze. It took just a few minutes to link our Google Drive account and set it as the default storage option for our scheduled backups.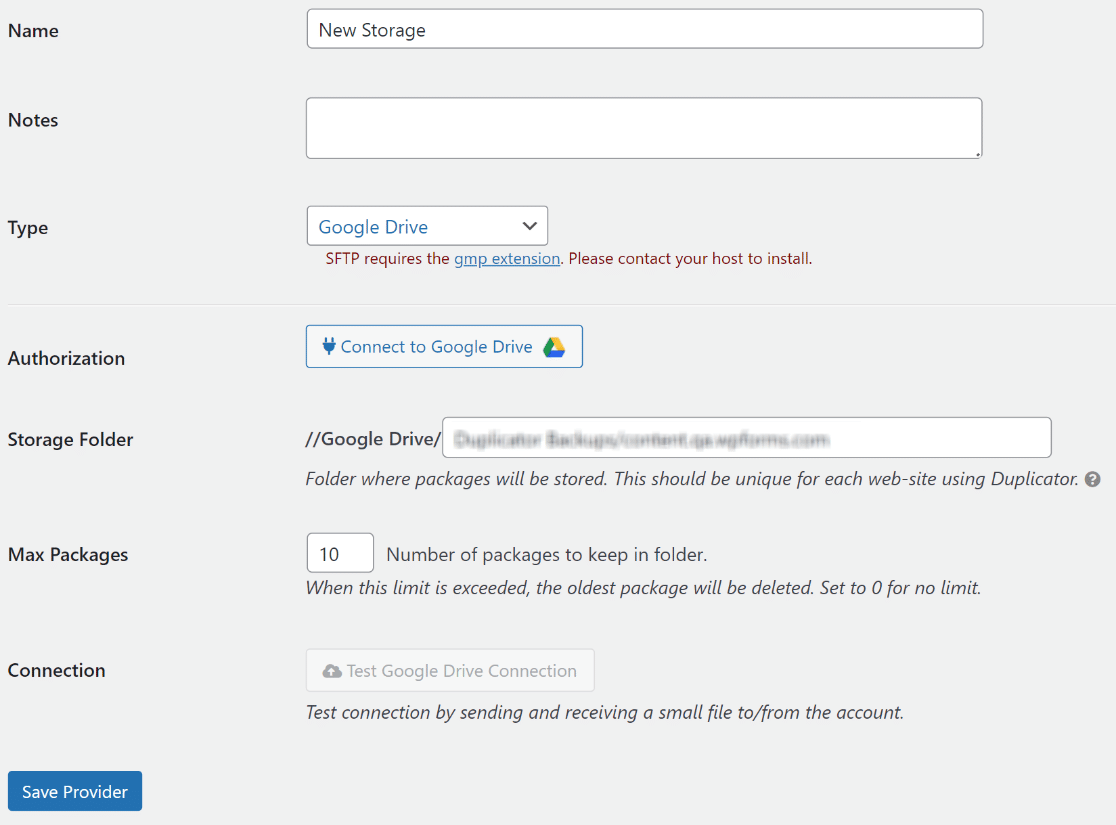 Easy Restoration
In a few clicks, you can restore your website back to its original state as if nothing had ever happened, thanks to Duplicator Pro's ability to store recovery points.
You simply select the backup you want to restore from, and Duplicator Pro handles the rest with minimal downtime.
We especially liked that we could restore specific parts of our site—be it just the database or particular WordPress files and folders.
This level of granularity in control is often missing in other backup solutions we've tried, and that's why Duplicator Pro stands as a solid safety net.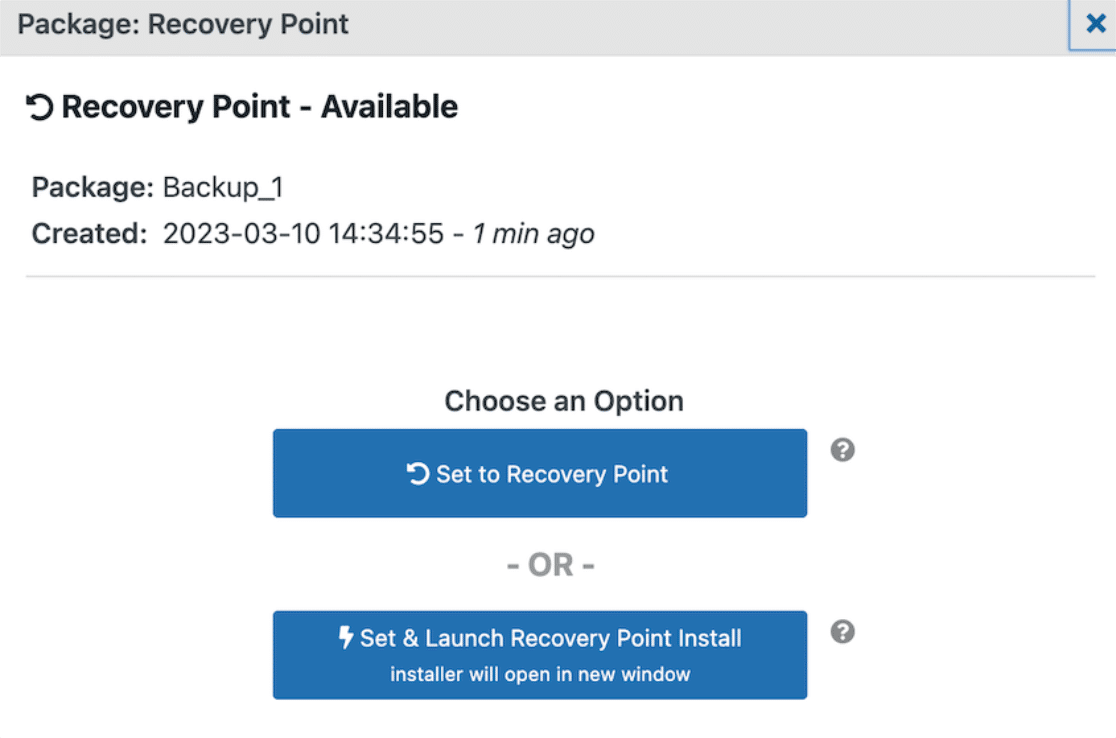 Smart Migration
If you've ever tried migrating a WordPress website manually, you know it can be a headache-inducing task. We've been there, too, slogging through SQL databases and wrestling with FTP programs.
Our firsthand experience showed us that Duplicator Pro simplifies the migration process to the point where it almost feels like a walk in the park.
You select what you want to move—entire site, just the database, or certain files—and it packages it for you, eliminating the typical hiccups we've encountered with manual migrations.
We particularly liked how the plugin caters to various migration scenarios and even lets you directly transfer packages from server to server at lightning fast speeds.

Multisite and Large Site Support
Managing a WordPress Multisite network or a hefty website can be a daunting task, especially when it comes to backups and migrations.
Enter Duplicator Pro, equipped with features that make managing complex multisite and subsite architectures seem effortless.
We went hands-on and tested it with a Multisite setup, and the results were genuinely impressive.
Not only did Duplicator Pro accurately backup all the sites in our network, but it also managed to keep the entire process remarkably uncomplicated.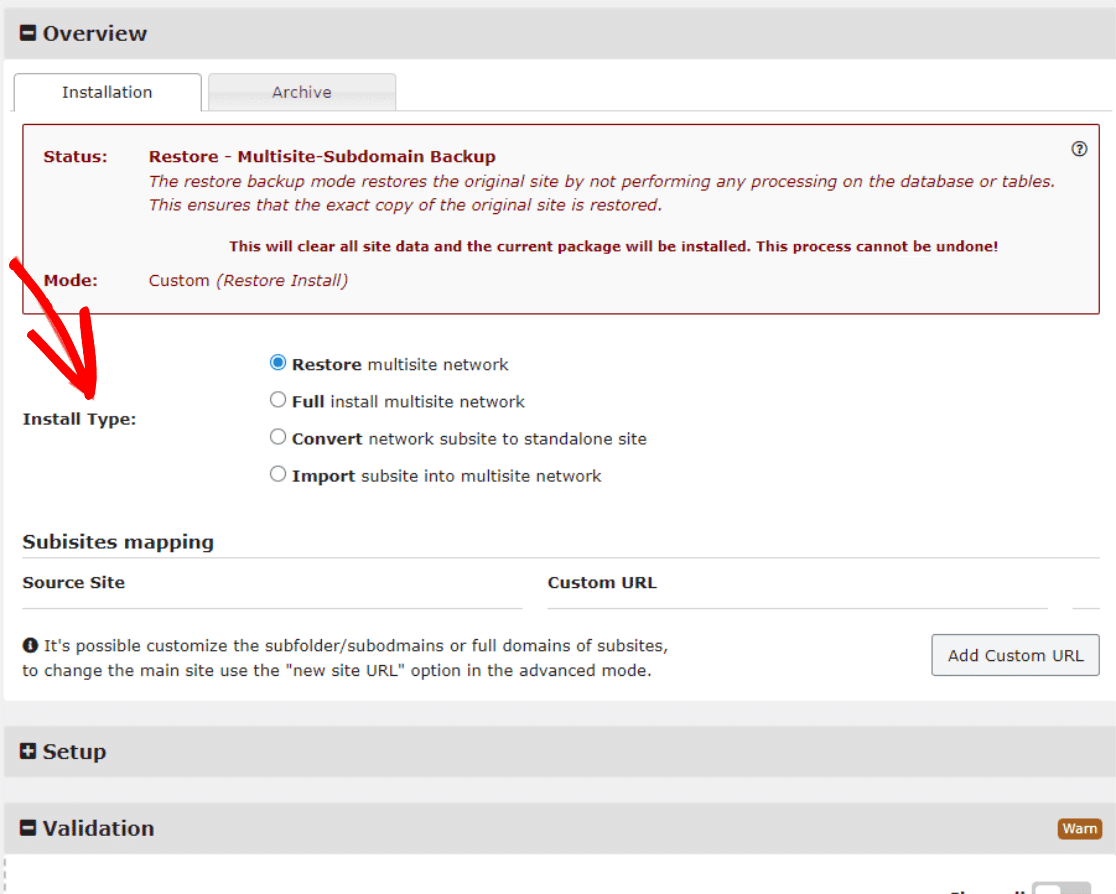 Email Notifications
Trust us, you don't want to be in the dark about your website backups, and Email Notifications from Duplicator Pro ensure you're always in the know.
During our hands-on tests for WordPress migrations and backups, we found the email notifications to be both prompt and informative.
The moment a scheduled backup was completed or if there was any hiccup, an email alert landed in our inbox, providing immediate status updates.
This information is invaluable because it saves you the trouble of manually checking if the backups were performed correctly.
What are the Drawbacks of Duplicator?
While Duplicator excels in many areas, no plugin is without its weak points. One notable drawback that we found during our extensive testing is the absence of real-time backups.
Don't get us wrong, its scheduled backups feature is a lifesaver for most scenarios. You can set it to run daily, weekly, or monthly backups, and it does that without a hitch.
This gap in real-time backup capabilities isn't a deal-breaker for everyone, but it's worth considering based on your specific needs.
Also, it's important to remember that Duplicator Pro does require some technical knowledge to navigate, despite being incredibly easy to use.
If you're new to creating backups and migrations, then it's always a good idea to seek additional help with the Duplicator resources section.
How to Back Up a Site with Duplicator
To back up your website, you will need to create a backup package. To do this, visit Duplicator » Packages and click on the Create New button.
The Duplicator plugin will open up the Package creation wizard and scan your site to see if it can safely back it up.
Give your WordPress backup a name and proceed by clicking the Next button. Be sure to review any notices before hitting Build.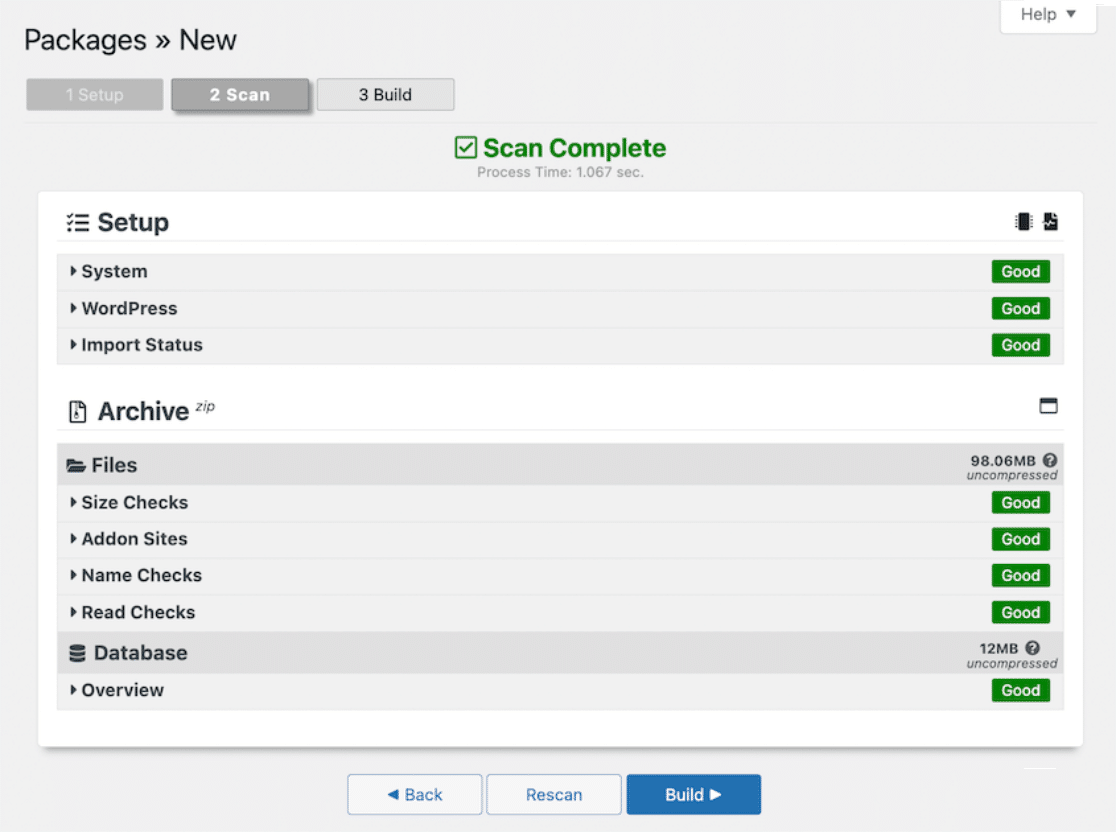 After this, the backup you just created will be visible in the Packages section. To save it, click on Download » Both Files.

How to Migrate a Site with Duplicator
To migrate a site with Duplicator Pro, you'll need to build a package of the original site. The process will be the same as creating a backup shown in the previous section.
Once done, you can proceed by installing WordPress on your new host. After that, install Duplicator and Import the backup of the old site.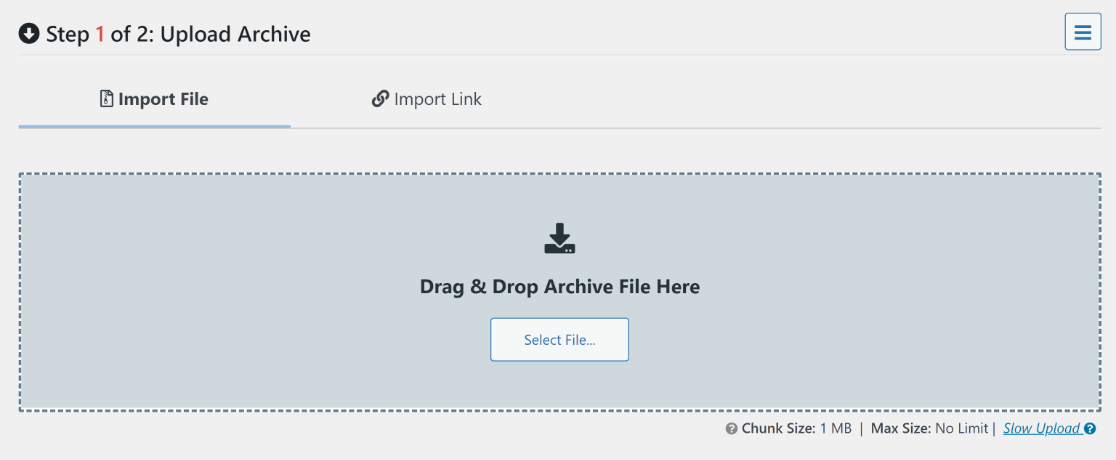 After it has been imported, you will receive some more information regarding the package. If everything is good to go, hit the Continue button.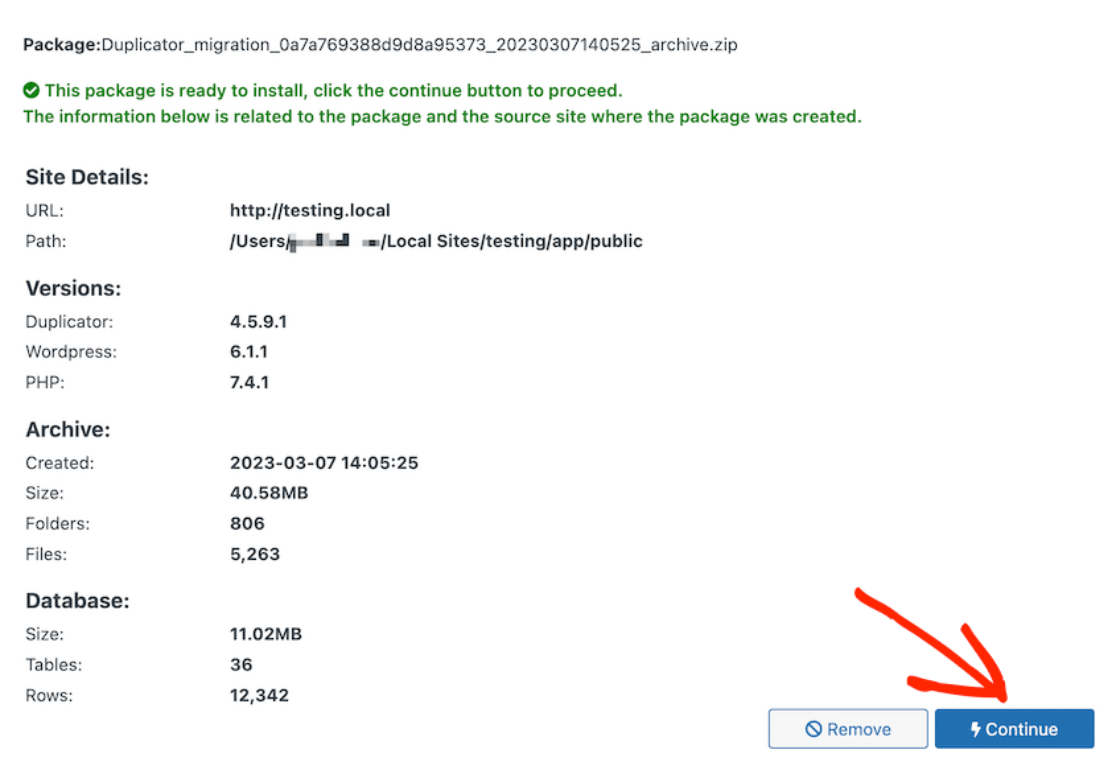 After that, click on the Launch Installer button, and in the Duplicator migration wizard, make sure the Install Type is set to Full install single site.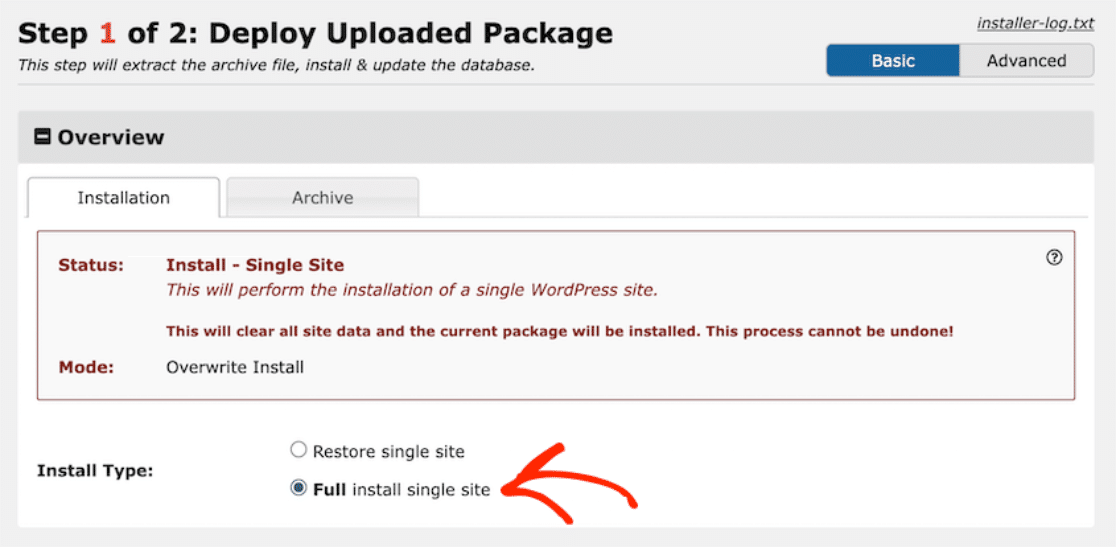 At the bottom, click on Validate. Then, accept the terms and notices and continue. Finally, confirm the installation in the pop-up window by hitting the Ok button.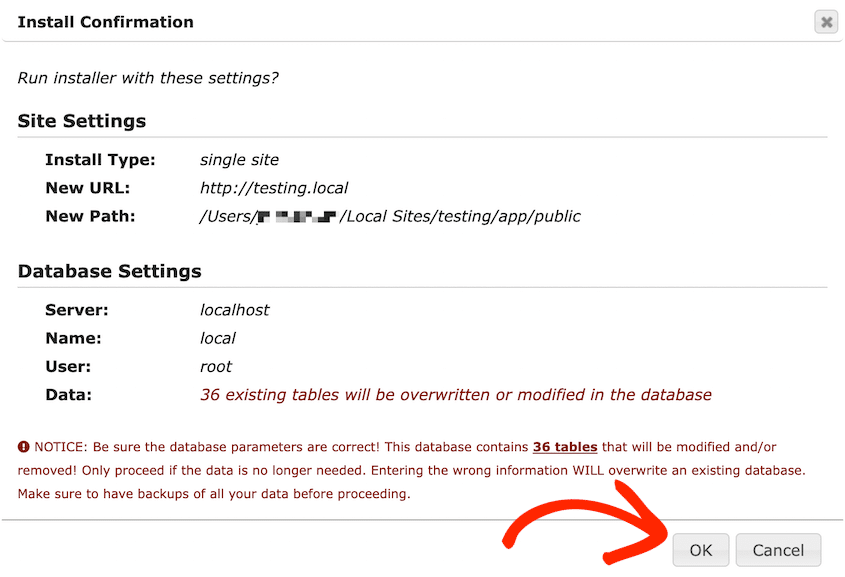 If you're using Duplicator Lite, the installation files and archive must be transferred to the new root directory through an FTP client.

Create a database on your new host, and then go to https://your-domain/installer.php to launch the Duplicator installer.
In the Setup section, enter the details of your new database under Action. After that, proceed with the setup as usual.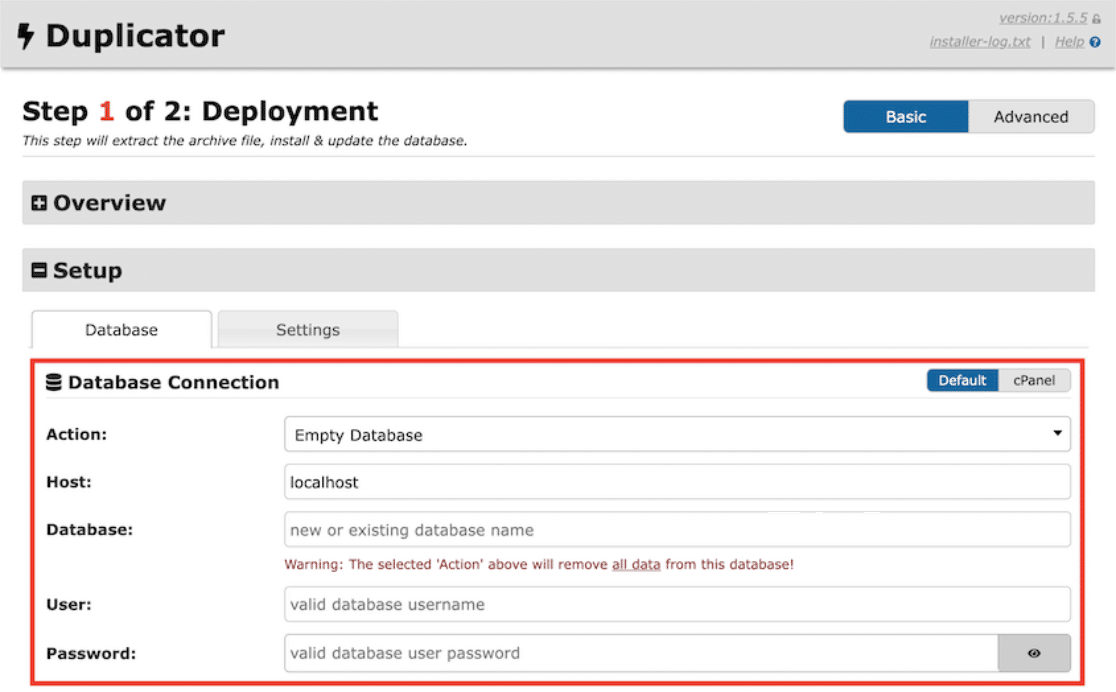 Duplicator Pricing and Packages
When considering any plugin or tool, evaluating its pricing structure and determining whether the investment aligns with your budget is crucial.
Difference Between Duplicator Lite and Duplicator Pro
Duplicator Pro is the enhanced variant of the well-regarded Duplicator Lite plugin. While the Lite version is quite handy for basic backup and migration tasks, Duplicator Pro raises the bar with its many advanced features, such as:
Customized backups
Backup recovery points
Scheduled backups
Easy-to-use installer
Server-to-server imports
Large site and multisite support
Developer hooks
Email notifications
And more!
In summary, Duplicator Lite offers a cost-effective yet versatile set of tools for simple backups and migrations. Duplicator Pro is the go-to option for those requiring a comprehensive toolkit for professional website maintenance.
Duplicator Pricing: Is It Worth the Investment?
Let's take a closer look at the pricing tiers and assess whether Duplicator Pro is worth the investment. You basically have four pricing plans: Basic, Plus, Pro, and Elite.
Personal Plan: While it may have some limitations compared to higher-tier plans, it offers great value for those starting out, priced at an affordable rate of $49.50/year.
Plus Plan: With additional features like hourly scheduling, installer branding, and regenerate SALTS, the Plus plan is a step up for $99.50/year.
Professional Plan: Includes all the features from the lower-tier plans, plus powerful extras like up to 20+ sites support at $199.50/year.
Elite Plan: Ideal for businesses running multiple websites relying on advanced customization options and dedicated support. It costs around $299.50/year.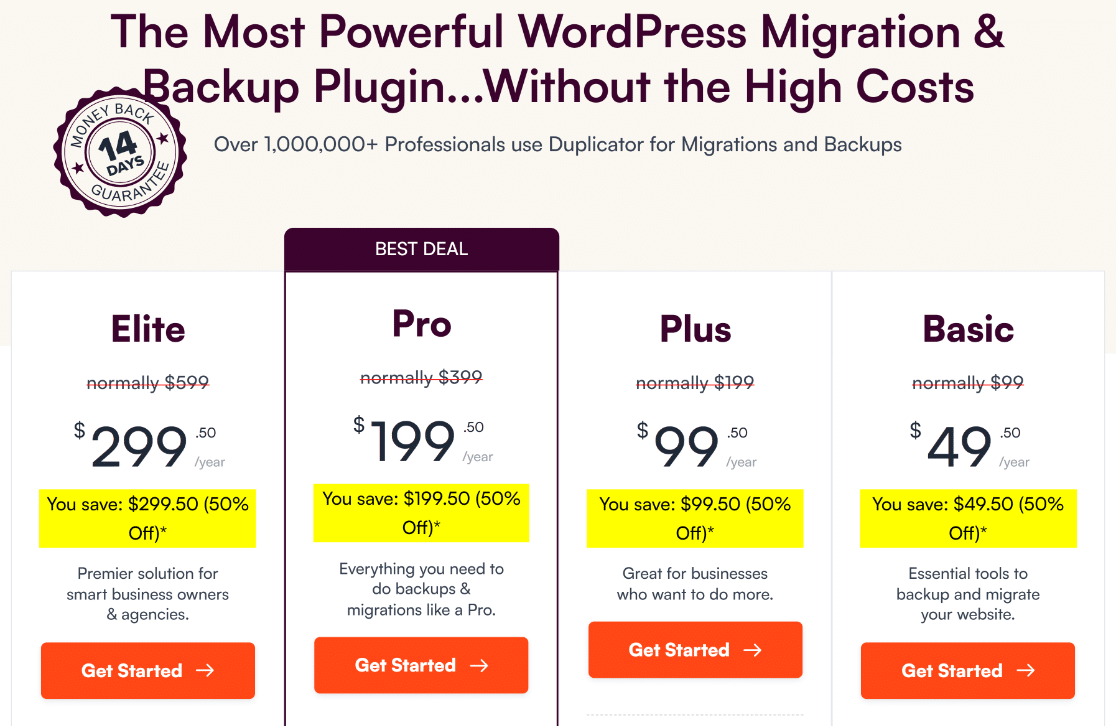 Verdict: Is Duplicator the Best Backup Plugin?
After putting Duplicator through its paces, we're confident in our verdict: it stands tall as one of the best backup and migration plugins.
Why? The plugin makes it possible for every WordPress user to create backup copies of their website for free in a few simple steps.
In addition, if you upgrade to the pro edition, you will receive expert assistance from an accommodating team that is always ready to assist you with backing up, migrating, and restoring your website.
FAQs about Duplicator
Backup plugins like Duplicator are a popular topic of interest among our readers. Here are answers to some common questions about it.
What is the size limit for Duplicator?
For both the Pro and Lite versions of Duplicator, there are no size limits imposed by the plugin. However, depending on the server you're using, and if you have a very large website, there can still be some theoretical limitations due to how ZIP archives work. To overcome these limitations, you can use DubArchive.
What are the requirements to use Duplicator?
Duplicator Pro and Lite are both compatible with most WordPress hosting environments and even managed hosts like WP Engine and GoDaddy, but it's still essential to meet the following requirements:
WordPress 4.0+
Duplicator Lite: PHP 5.3.8+, Duplicator Pro: PHP 5.6.20+
MySQL 5.0+, MariaDB 10.0+
Web Servers: Apache, LiteSpeed, Nginx, Lighttpd, IIS, WebServerX
What is the alternative to Duplicator?
When it comes to safeguarding your data and seamlessly transitioning your website, Duplicator stands as our top choice. Nevertheless, diversifying your options is a wise approach, so we recommend UpdraftPlus and BackupBuddy.
UpdraftPlus: The WordPress plugin shines with manual and scheduled backup options, encompassing your entire website. Enjoy the added advantage of incremental backups stored across multiple remote locations with the premium version.
BackupBuddy: This plugin's ability to detect and mend common issues is a distinct advantage for site maintenance. Additionally, its Stash feature optimizes server resources while preserving your backups.
In this dynamic landscape of website management tools, exploring these backup plugins empowers you with a broader perspective and equips you to make an informed choice that aligns perfectly with your needs.
Next, Check Out These Plugins for WordPress Maintenance Tasks
If you're looking for other solutions like Duplicator that remove the complexity from the equation for most website maintenance tasks, it's a good idea to have a look at these WordPress maintenance plugins.
Planning to take your WordPress functionality to a whole new level? This may also be an excellent opportunity to check out our guide on adding AI to your website to automate and enhance normal business processes on your WordPress website.
Create Your WordPress Form Now
Ready to build your form? Get started today with the easiest WordPress form builder plugin. WPForms Pro includes lots of free templates and offers a 14-day money-back guarantee.
If this article helped you out, please follow us on Facebook and Twitter for more free WordPress tutorials and guides.