Looking for the best WordPress maintenance services to protect and maintain your site?
WordPress site maintenance is a critical part of being a site owner, but what happens if you just don't know where to start or don't have the bandwidth?
Fortunately, there are services you can use to streamline your maintenance activities. In this post, we'll take a look at several of those options to help you find which is best for you.
What Do WordPress Maintenance Services Do?
WordPress maintenance services provide website backups, security, WordPress and plugin updates, and expert support. Though offerings can differ by service, these are core features you need and will want to have in your maintenance service provider.
TL;DR – Best WordPress Maintenance Services Overview
Running short on time? Here's a quick overview of the plugins we reviewed. Use the table of contents below to skip directly to any section.
| Plugin | Free Version? | Starting Cost |
| --- | --- | --- |
| Duplicator | ✅ | $49.50/year |
| WP Buffs | ❌ | $66/month billed annually |
| GoWP | ❌ | $39/month/site |
| FixRunner | ❌ | $49/month billed annually |
| WP Maintainer | ❌ | $99/month |
| Maintainn | ❌ | $990/year |
| Siterack | ❌ | $5/month |
Best WordPress Maintenance Services
Now let's take a look at some of the best WordPress maintenance services out there to find out which one is right for you.
1. Duplicator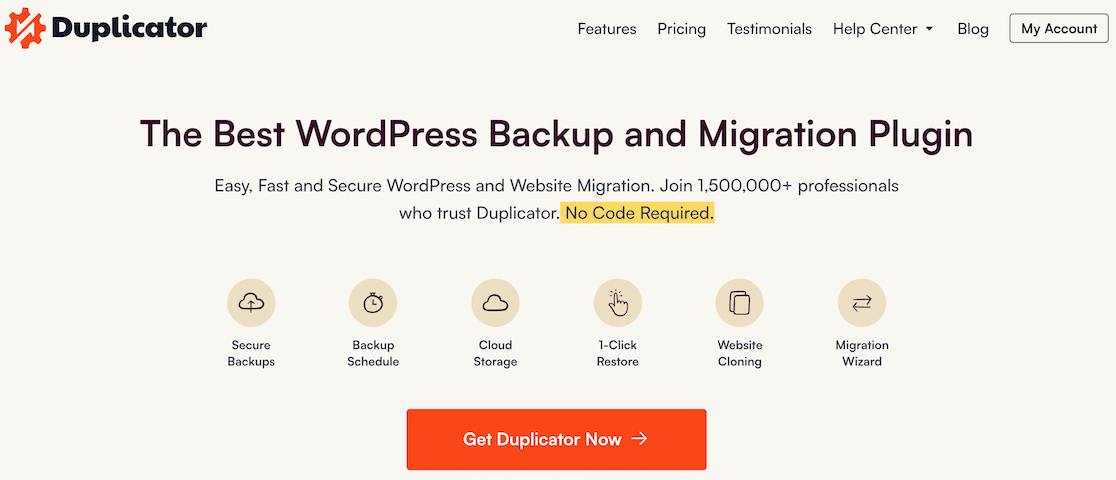 Topping our list is Duplicator. If the idea of setting up WordPress maintenance makes you break out in a cold sweat, fear not. Duplicator is user-friendly, customizable, and you don't need to know any code to use it.
One of the features we loved most was the simple automatic backup scheduling. Regular backups are so important, but they're often something we easily forget about until it's too late.
If something happens to your site and you need to restore a backup to get things back in order, you don't want to be without one. You also don't want one that's really old. With this feature, you'll never have to worry.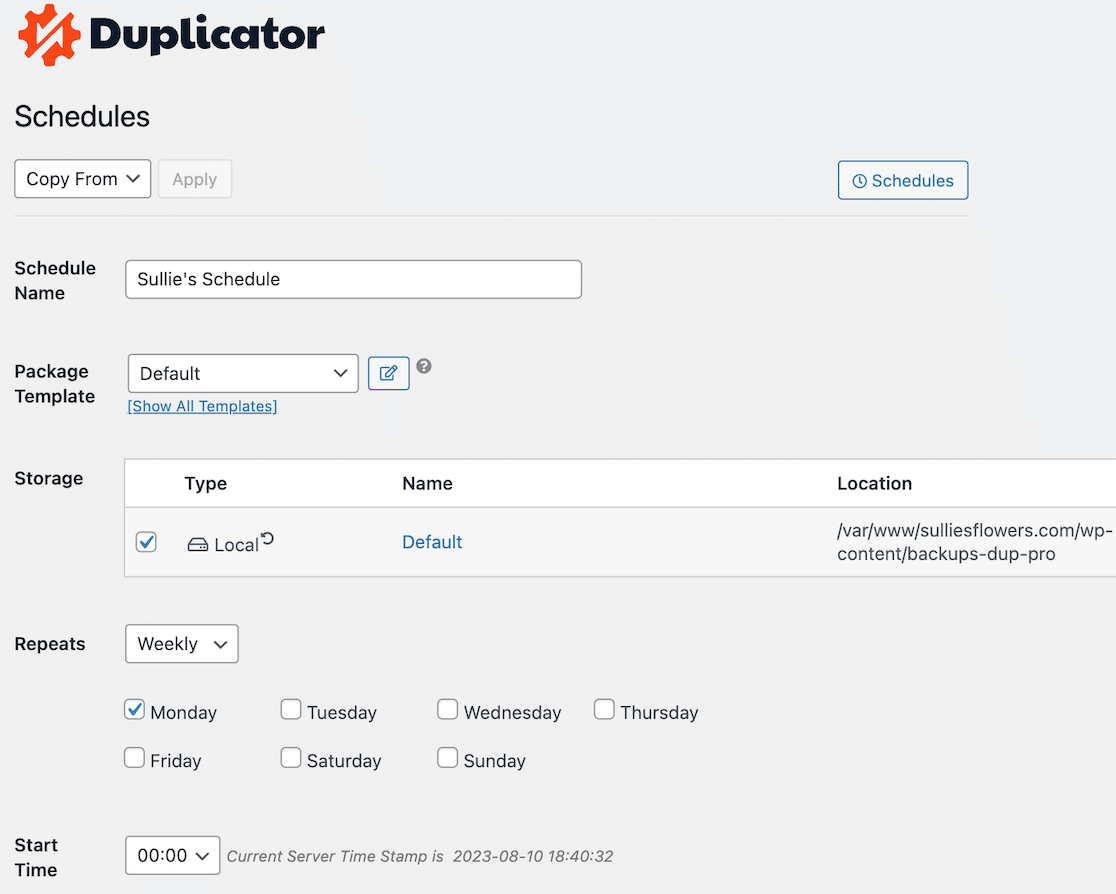 It took us only seconds to create a weekly schedule for an automatic backup. That's super easy for the peace of mind it brings.
One of the most unique features you'll find with Duplicator is empty site support. Empty site support means that Duplicator can start with a totally empty site,  install WordPress there for you, and configure it all with minimal effort on your part.
That's a great option if you're setting up a WordPress site from scratch.
More than 1.5 million users trust Duplicator, and with good reason! There's a lot of functionality in this plugin.
Other Features We Loved:
Easy site migration lets you drag and drop a backup to the new site
Zero downtime migration
One-click backup recovery
Cloud backup storage
Archive encryption
Email alerts for any issues that come up so you can give it quick attention
Multisite support
Cost
There is a free version of Duplicator. Paid licenses begin at $49.50/year.
To learn more about the plugin, read our detailed Duplicator Pro review.
2. WP Buffs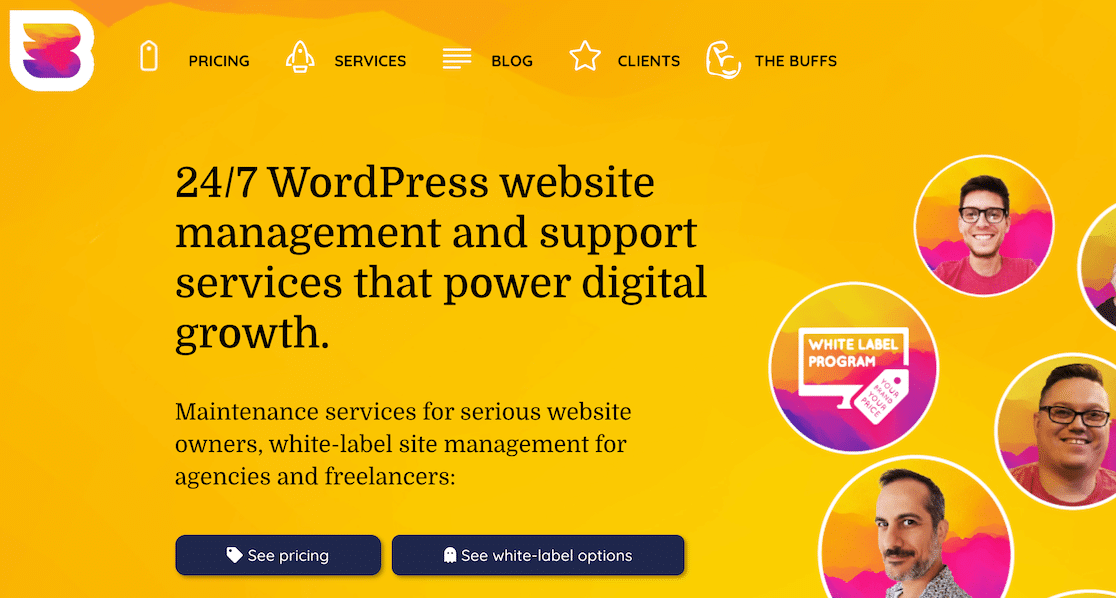 WP Buffs is a solid option for anyone with a WordPress site. If you need help managing your own site, their service options cover everything you need. Even better, if you're a freelancer or an agency managing client sites, WP Buffs offers white-label management.
We found 24/7 support services were a feature we didn't even know we wanted until we had it. Especially if you're building a site on the side, you never know when you'll find yourself working in the middle of the night.
But what's more, the 24/7 support means that no matter where you are in the world and no matter what time it is, you can get the help you need, when you need it.
Other Features We Loved: 
24/7 uptime monitoring
Cloud backups
Malware cleanups
Malware removal
Speed optimization
Support for membership, eCommerce, and custom development sites
All plans include premium plugins at no additional cost
Cost
Pricing plans for WP Buffs starts at $66/month when billed annually
3. GoWP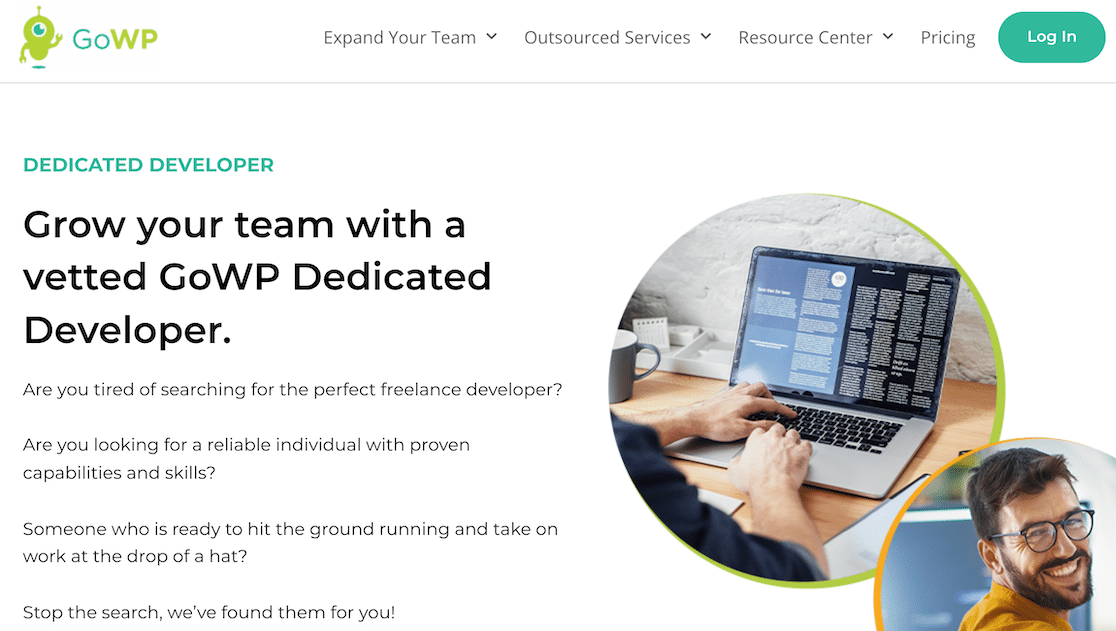 If you're looking for an end-to-end service that will really supplement your team, GoWP's got you covered. In addition to basic WordPress maintenance, you can pay for a dedicated member of their team to work as your developer, VA, designer, or copywriter.
Outsourced offerings include WordPress maintenance, content writing, content edits and tweaks, and landing page builds. We like the range this service covers, not only in what they offer but in cost, as well.
For the purposes of this review, we looked specifically at what the maintenance plan included.
Key Features:
Regular WordPress updates for core and plugins
Visual Validator ensures updates won't negatively impact your site
Daily scans and other proactive measures to keep your site secure
Daily off-site backups
Dashboard for you to view all the updates and regular maintenance activities they run each day
Monthly reports to your clients
Cost
The maintenance plan on its own runs $39/month per site.
4. FixRunner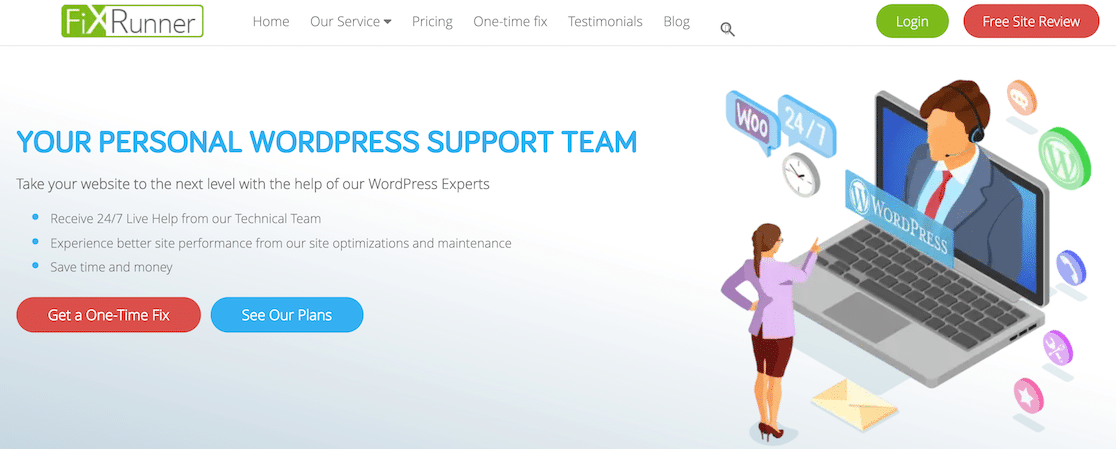 FixRunner has plans for maintaining both small and large websites. This means your enterprise website is never shortchanged, and your small website is never overpriced to cover features you won't need.
Features are similar but there are some key differences depending on whether you're a small site or a large one. For instances, you'll get more cloud backups per day as a larger site, and you'll receive priority support.
One thing to note is that support is not unlimited. On the least expensive plan for small sites, you get 90 minutes total of support time per month. On the most expensive plan for large sites, you get 12 hours of total support time per month.
FixRunner has great features, but it's a good idea to anticipate if and how much support you might require when you select your plan.
Key Features:
WordPress core, plugin, and theme updates
WordPress support via email, chat, and phone for small sites
Zoom/screen share support for large sites
Support for eCommerce shops
Security scans
Uptime monitoring
Cloud backups
Optional 1-click staging website
Cost
Plans begin at $49/month, billed annually. FixRunner offers monthly, quarterly, and yearly plans, with yearly being the best deals.
5. WP Maintainer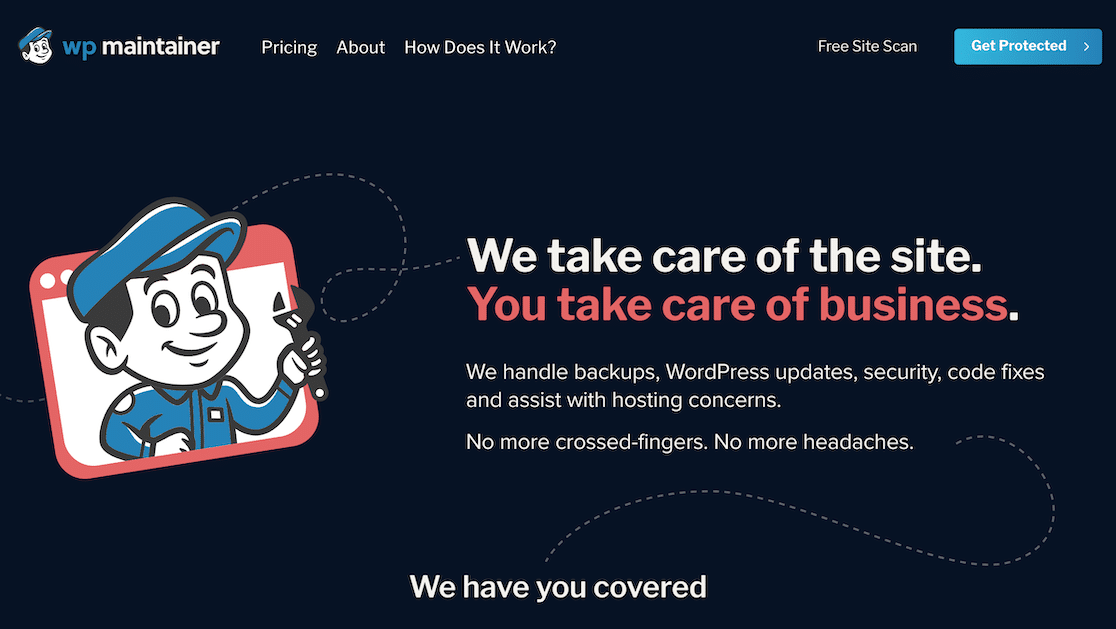 WP Maintainer will help take all the stress out of your WordPress website maintenance. After you sign up for an account, they'll work to onboard you so you can securely hand over everything they need to maintain your site.
We found that the services and pricing were really straightforward. There's a core package that takes care of pretty much everything, but if there are any issues that require on-demand or emergency support, it's billed by the hour. They won't do anything without your permission first, so you don't end up with surprise charges.
There are also addons you can include in your package if you want performance optimization or to add a firewall.
Key Features:
WordPress core updates
Plugin updates
Sucuri security monitoring and cleanup
Scheduled site backups
Image optimization (addon)
Minify files (addon)
Managed Web Application Firewall to block malicious traffic (addon)
CDN to improve speed by up to 80% (addon)
IP blocking/blacklist (addon)
Cost
WP Maintainer's core package costs $99/month.
6. Maintainn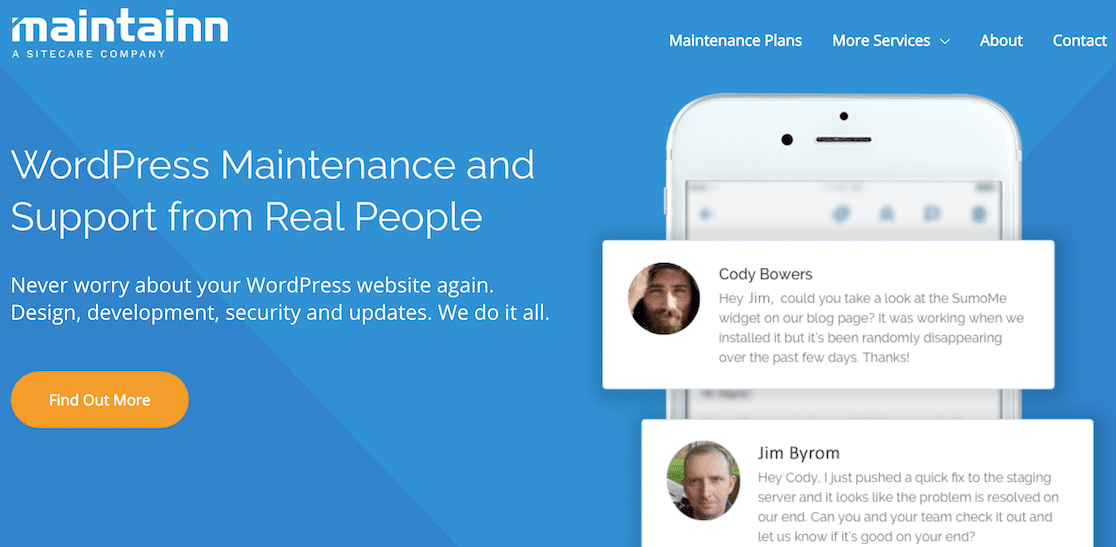 Maintainn, a Sitecare company, can also offer its customers a range of digital marketing services, making it a valuable multi-tool. We found that it really shines when it comes to maintenance and support.
After you select a plan, Maintainn will give you an intake form to fill out. This will help them understand your site setup and how they can help, and it will also give them the details they need to access your site for maintenance.
It's worth noting that, apart from the standard features that most maintenance tools include, Maintainn doesn't offer a lot of extra features on its least expensive plan (which is $990/year). To access features like uptime monitoring and eCommerce support, you will need to upgrade.
Key Features:
Weekly updates
24/7 security monitoring
Secure offsite backups
WordPress core, theme, and plugin updates
Staging updates
Uptime monitoring
eCommerce support
Cost
Pricing for Maintainn starts at $990/year.
7. Siterack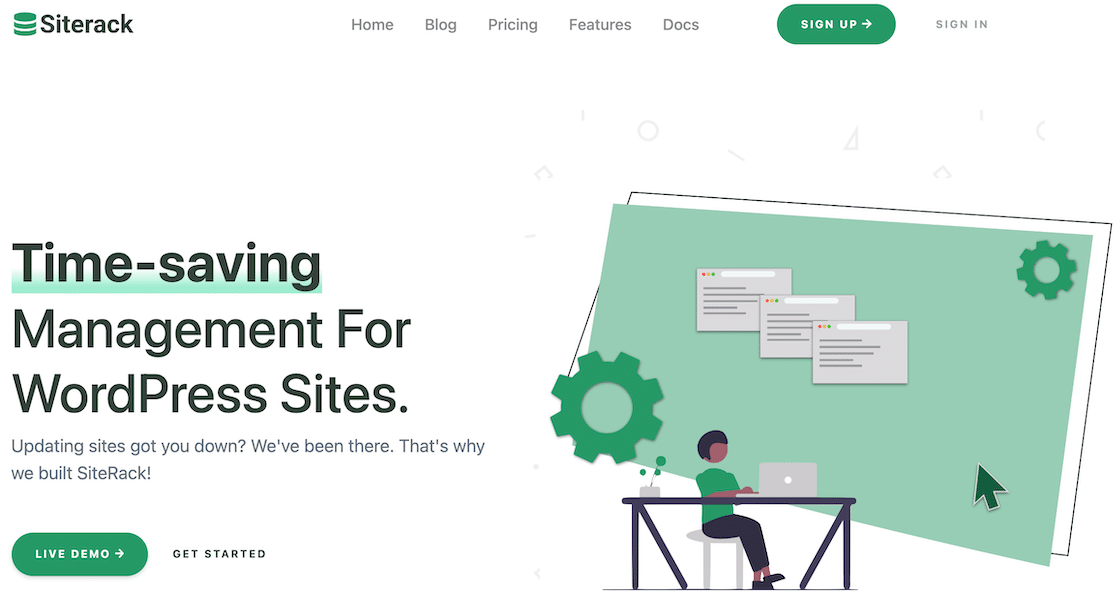 Siterack offers affordable website maintenance services whether you manage a single site or 100 of them.
There's a really handy sliding scale feature on their website that lets you say how many sites you manage. They'll show you what you would pay at that number of sites, and then, based on what you charge your customers, it will give you an estimate of what you can expect to earn with this service.
Our favorite part is that every plan includes the same features. You don't have to pay more just to get access to something specific that you need. The only difference in the plans is in how many sites you have.
Key Features:
Daily cloud backups
Uptime monitoring
WordPress core, theme, and plugin updates
Single-click restorations
AI error detection
Dual-method malware scans
Site health and performance reports
Monthly billing with no contracts
Cost
Pricing for Siterack starts at $5/month.
FAQ
What Does a WordPress Maintenance Service Typically Include?
Basic maintenance services should provide WordPress core, theme, and plugin updates, as well as security checks and daily backups. These are core features of any good maintenance service. Beyond that, speed optimization and uptime monitoring are also a plus.
Why Is WordPress Security Important?
WordPress security is important because old and outdated versions of WordPress installs make your site vulnerable to malicious attacks. Regular WordPress maintenance keeps you safe from malware and hackers so that you don't become the easy target of an attack.
Should You Update WordPress Plugins Automatically or Manually?
Some site owners like to update WordPress plugins manually so they have more control over them, but it's completely fine to set up automatic updates, too. Automatic updates will run in the background to make sure your plugins are always current and not a security risk.
What Is the Benefit of Speed Optimization?
Speed optimization improves user experience, SEO rankings, and conversion rates. The longer it takes your site to load, the more likely it is that a potential customer will go elsewhere. That matter of additional seconds is critical, which is why it's important to optimize for speed.
What Is Uptime Monitoring?
When WordPress maintenance services say they monitor uptime, it means they are continually checking that your site is live. Should your site go down, you'll receive an alert so that you can quickly address the issues causing the outage and get your site back up to minimize traffic loss.
Next, Learn More About WordPress Site Maintenance
Interested to learn more about the importance of WordPress site maintenance? Check out some of our other articles on the topic to keep your site safe and running at optimal speed.
Ready to build your form? Get started today with the easiest WordPress form builder plugin. WPForms Pro includes lots of free templates and offers a 14-day money-back guarantee.
If this article helped you out, please follow us on Facebook and Twitter for more free WordPress tutorials and guides.