Are you looking for an SMTP plugin for your WordPress website? If so, this WP Mail SMTP review is for you.
WP Mail SMTP is an SMTP mailer plugin for WordPress. It improves deliverability by making sure your emails are properly authenticated and sent through 3rd parties so that they don't get stuck in spam filters.
In this post, we'll look at some of WP Mail SMTP's key features to help you decide if it's the right mailer plugin for you.
What Is the Default SMTP for WordPress?
By default, WordPress uses PHP and has no native SMTP settings. Unfortunately, PHP can be unreliable, which is what leads people to use SMTP.
If you want to configure SMTP on your site, you need to install a plugin like WP Mail SMTP.
WP Mail SMTP Review: Is It Right For You?
Now let's look at WP Mail SMTP's core features to help you decide if it's right for you.
SMTP Mailer Integrations
The core feature of WP Mail SMTP is that it effectively fixes your deliverability by connecting your WordPress site with reliable mailers.
WP Mail SMTP offers native integrations with top transactional SMTP mailers like SendLayer, SMTP.com, Brevo (formerly Sendinblue), Postmark, and more.
What we like the most is how easy WP Mail SMTP makes it to connect your WordPress site with your preferred mailer service. The setup wizard guides you through the whole process so you can integrate with a mailer quickly yourself.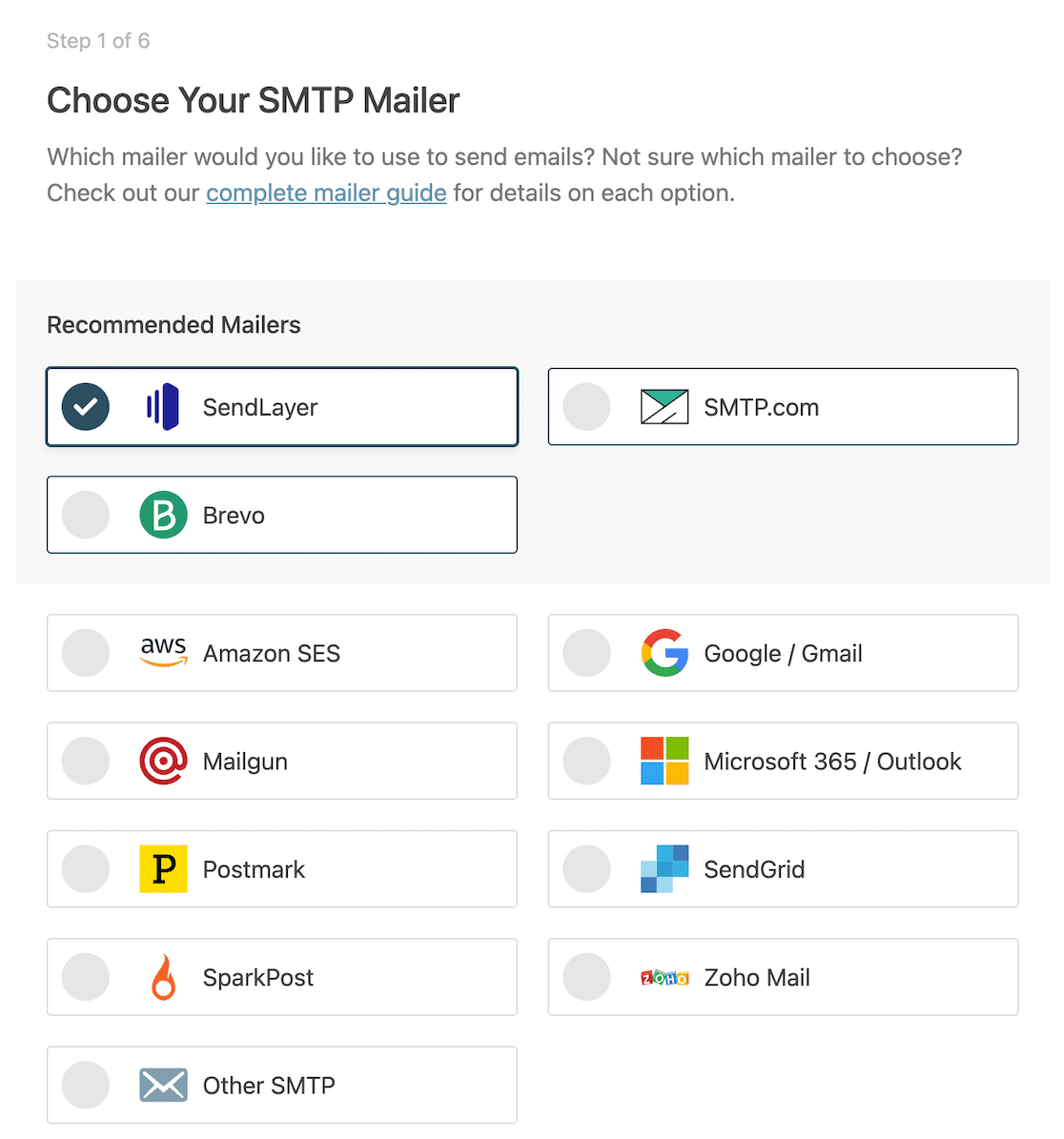 For most mailers, all you need is your API key and authorized domain name. WP Mail SMTP takes care of the rest.
WP Mail SMTP is the go-to plugin for fixing your WordPress email issues with the help of its many third-party mailer integrations.
But while this plugin started as a solution SMTP integrations, it has now evolved into a much more comprehensive tool for managing and monitoring your emails.
Next, we'll discuss the extra features that make WP Mail SMTP such a crucial plugin to have for any WordPress site.
Email Logs, Reports, and Tracking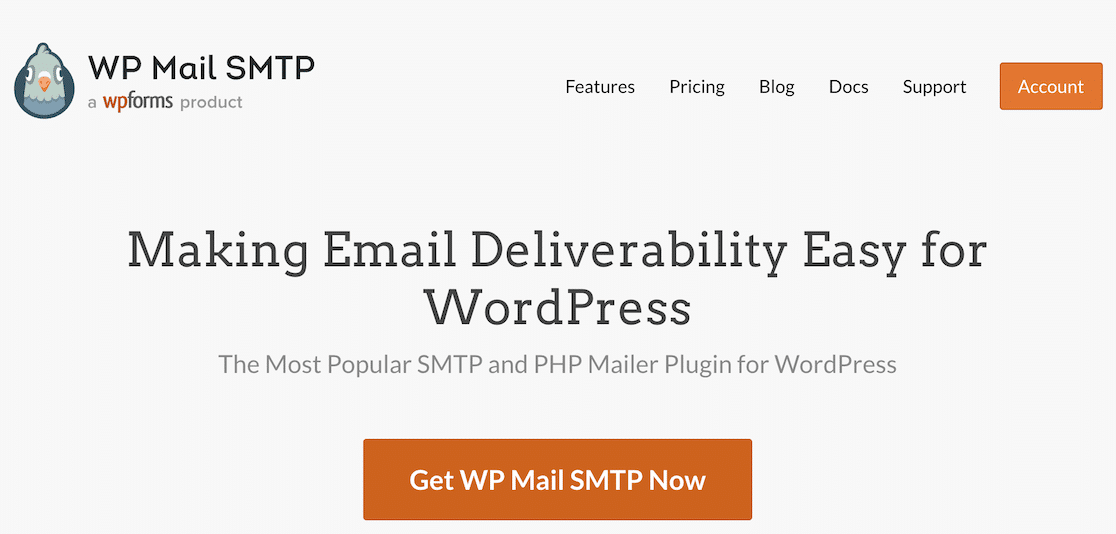 If you're looking for an SMTP plugin, it's probably safe to say that you want something that will give you access to logs, reports, and tracking. After all, these are the kinds of metrics that help businesses grow.
Let's look at what WP Mail SMTP offers in each of these areas.
Email Logs
When you enable email logs in your WP Mail SMTP settings, you can save details about all the emails you send from your site.
This option is available in the WP Mail SMTP settings under the Email Log tab.

Enabling the log will create a record for each email that includes information such as the email status, recipient email addresses, mailer used, email source, and other technical details.
Additionally, when the log is enabled, you get other options, such as the ability to save attachments and track opens and clicks.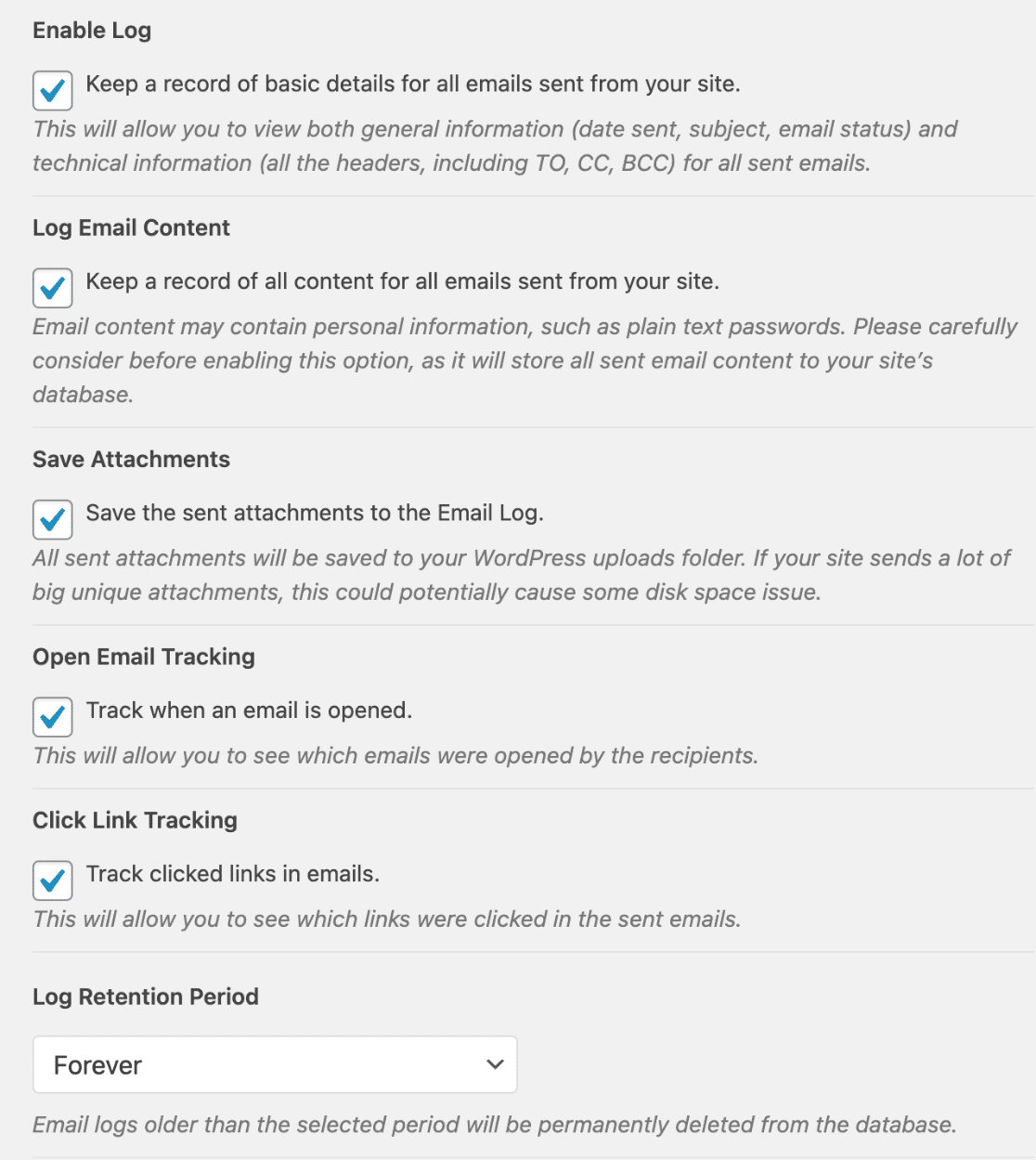 Email Reports
If you like to have charts and graphs to display tracking and deliverability statistics visually, you'll love the email reports feature.
To access them, you just need to click on Email Reports in the WP Mail SMTP menu in WordPress.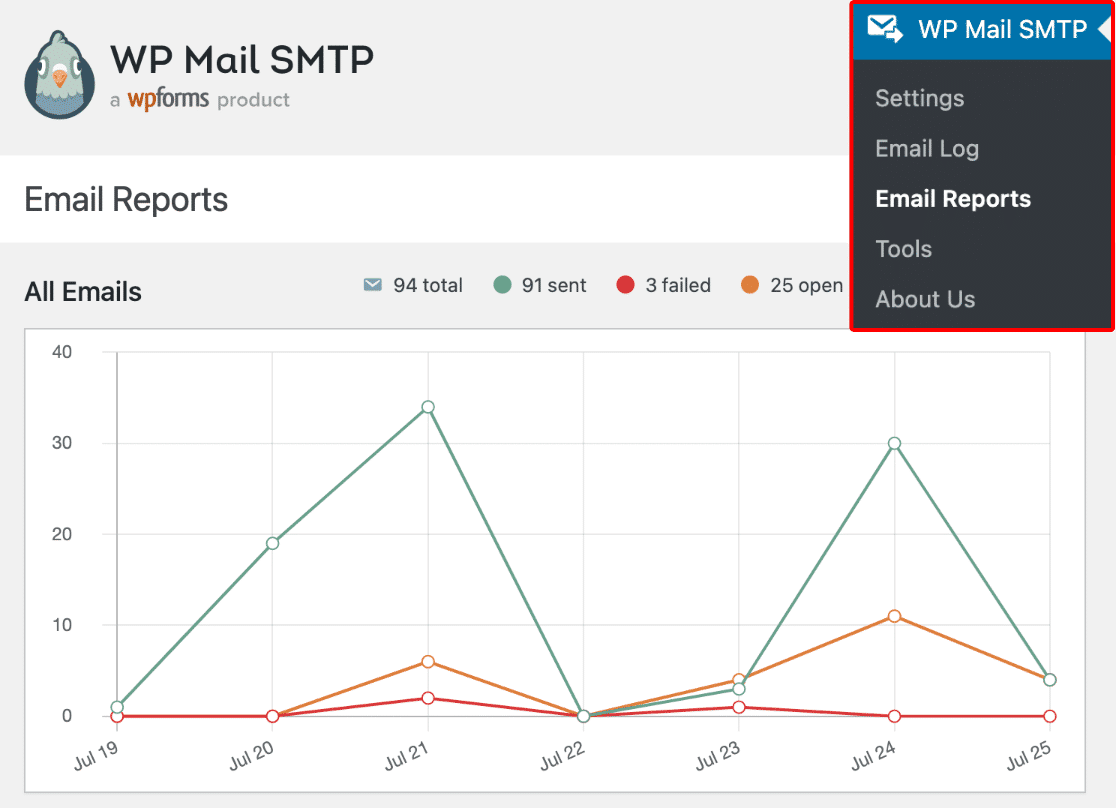 There's also a table with data for each email you've sent through WordPress.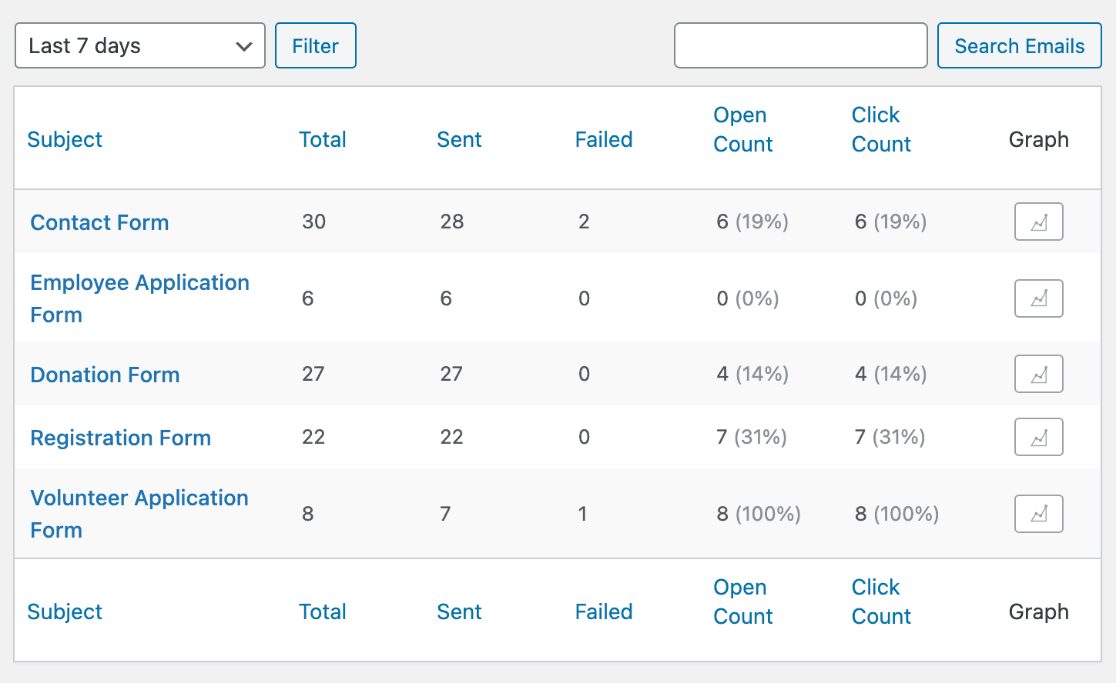 If you click the graph icons in the last column, you can view graphs for each email individually, as well. Below is an individual graph for the registration form email.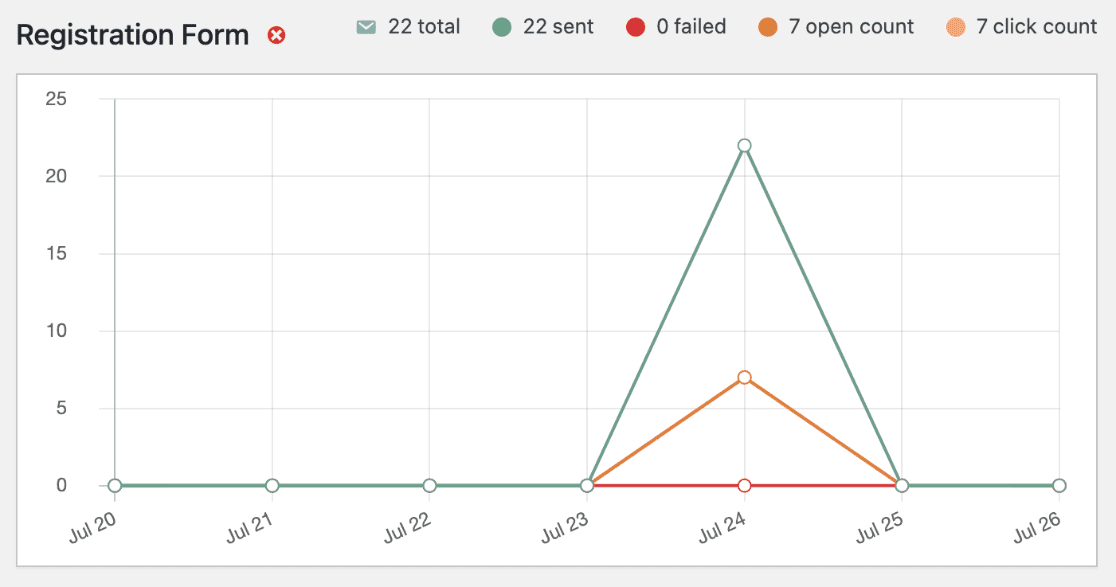 As you'd imagine, you can filter the reports pretty easily. The filters include 7-, 14-, and 30-day ranges, but you can also set a custom range to find the information you need.
If you like to get an overview right to your email, there are weekly summary reports available. If you decide you don't want to receive them, you can simply disable the option.
Open & Click Tracking
Open tracking and click tracking are popular features that help you determine how well your emails are doing.
If you're not familiar with what these features do, open tracking allows you to see if a recipient has opened the email you sent.
Click tracking lets you know if the recipient clicked links in your email.
Backup Connections, Failure Alerts, and Smart Routing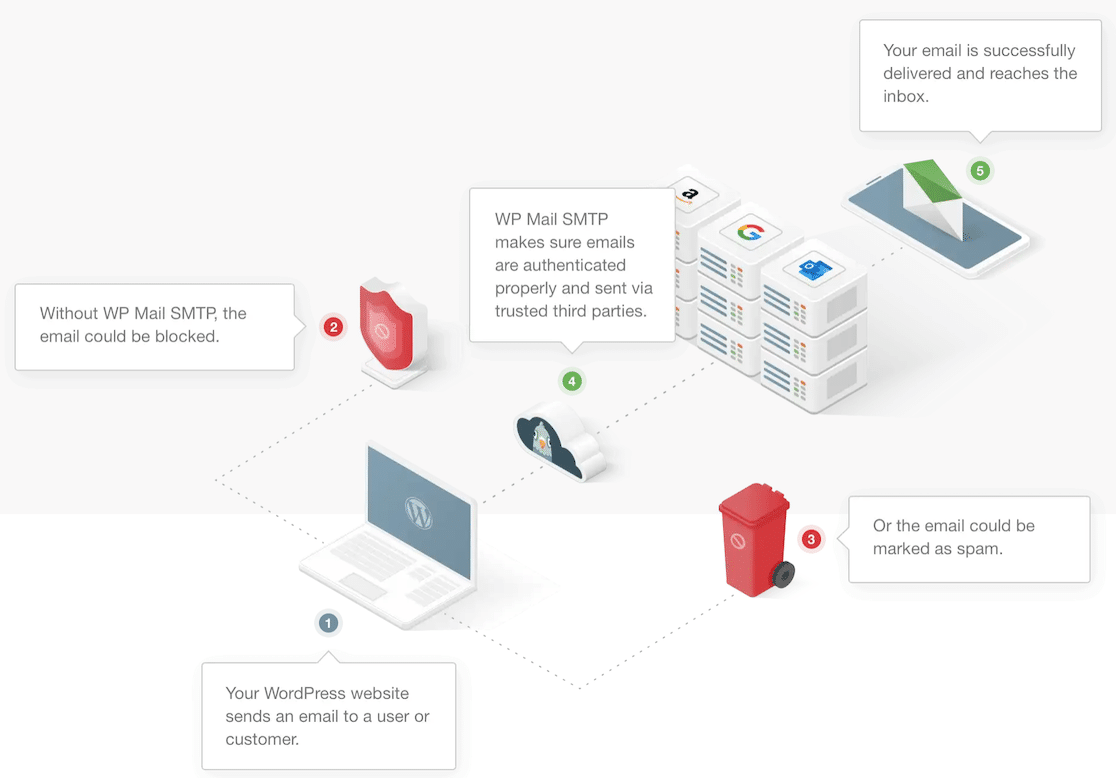 Beyond data that helps you understand how your emails are performing, it's also wise to minimize the potential for site issues. After all, site issues can mean missed emails and lost business.
Let's look at what WP Mail SMTP offers.
Backup Connections
If your primary connection fails or experiences outages, your emails won't be sent. That can be bad news for your business.
To lower the chances of that happening, WP Mail SMTP allows you to add backup connections. In the event that your primary connection experiences an outage, the backup will still send your email.
To set this up, go to the Additional Connections tab in the WP Mail SMTP settings.
From here, setting up a backup connection is just as easy as setting up the primary was. It's quick and easy, and you'll be up and running within minutes.
Failure Alerts
With WP Mail SMTP, you can set up alerts so you'll know right away if your emails stop working. This can help you detect and solve failures quickly.
To set it up, go to the Alerts tab in the WP Mail SMTP settings options.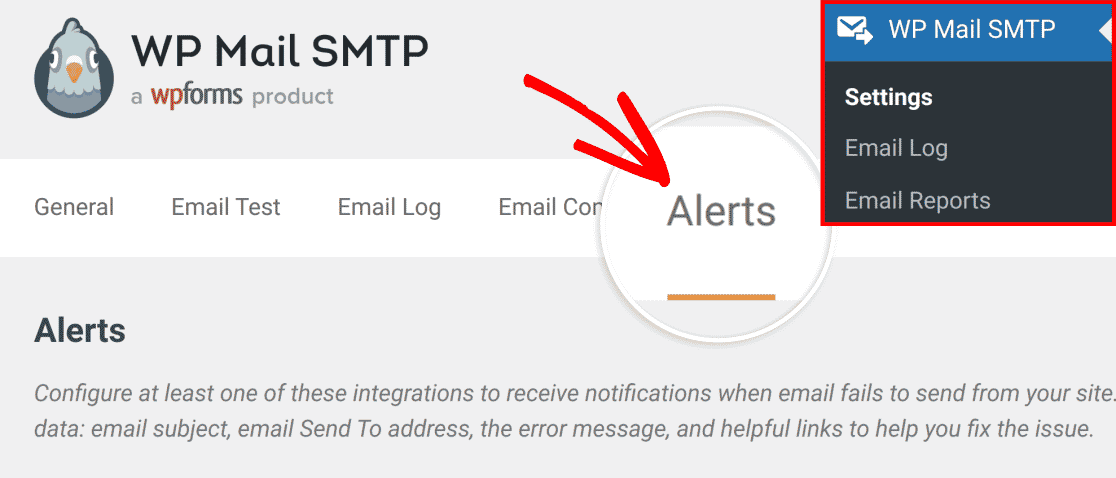 You can then configure your settings to send alerts via email (for up to 3 addresses), Slack, SMS via Twilio, or custom webhooks.
As we mentioned at the beginning of this post, PHP has known security issues. For that reason, web hosts often turn off PHP mail function, which is a major reason for switching to SMTP.
PHP is the default in WordPress, however. So if you don't change that to SMTP and the host blocks PHP, your emails won't deliver.
It's important to note that errors can still occur if you use SMTP, especially if you haven't properly authenticated your email. If you use WP Mail SMTP's setup wizard, it will walk you through the whole authentication process.
Smart Routing
Smart Routing is a WP Mail SMTP feature that allows you to apply conditional logic to your mailers. If you want to send certain messages through one provider and other messages through another provider, Smart Routing makes that possible.
To use it, you must have a secondary connection set up as described earlier in this post. Once your secondary connection is set up, you can enable Smart Routing and set the conditions you want on the subject, message, sender, recipient, and more.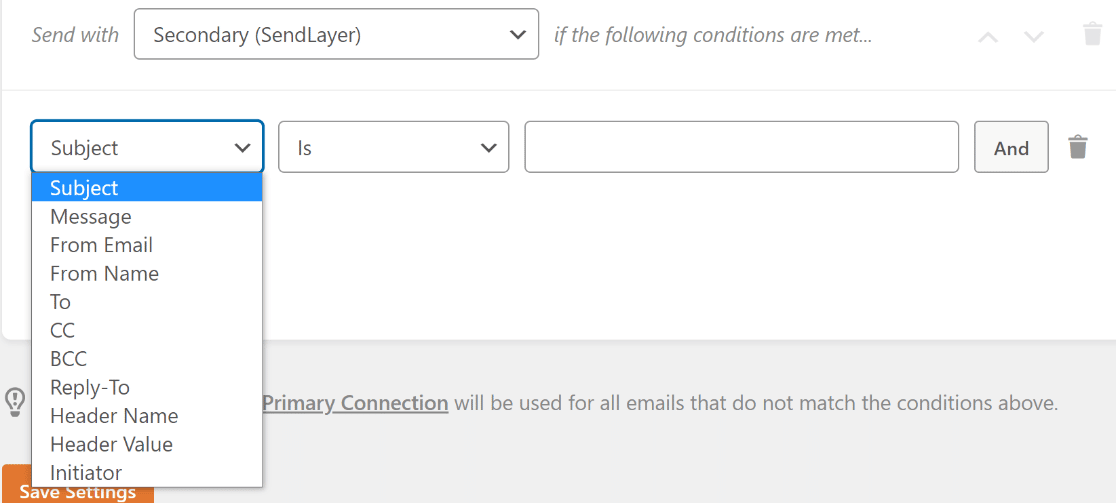 If you use conditional logic with WPForms, you'll notice this is similar but just applied to email.
White Glove Setup
If you want expert help with setup, the WP Mail SMTP team offers White Glove Setup service. If you opt for this, they'll help you install and configure your plugin.
Note that to use this service, you must hold an Elite license.
You can easily apply from within your account page. The link appears on the same page as your license key, provided you have an Elite license.

From there, you fill out a form to let the WP Mail SMTP team know all the details required to complete the setup.
Price
There is a limited free version of WP Mail SMTP. It's a good way to try it out and get a feel for how to use it.
If you want more mailer options, it's worth upgrading to the pro version.
Pricing begins at $49 per year.
Next, Learn How To Fix Contact Form Emails Going to Spam
If your contact form emails are going to spam, learn how to prevent it and ensure messages are delivered directly to inboxes.
Don't forget about adding security to your forms! WPForms supports hCaptcha and reCAPTCHA, as well as Cloudflare Turnstile and custom Captcha.
Create Your WordPress Form Now
Ready to build your form? Get started today with the easiest WordPress form builder plugin. WPForms Pro includes lots of free templates and offers a 14-day money-back guarantee.
If this article helped you out, please follow us on Facebook and Twitter for more free WordPress tutorials and guides.