Are you trying to keep your website safe from malicious hackers and bots?
Using a security tool on your WordPress site is super important to having a successful business online.
In this post, we've rounded up the very best WordPress security plugins to protect your website.
Best WordPress Security Plugins Compared
Before we dive into the details, here's a quick side-by-side comparison of the top security plugins for WordPress.
Let's take a peek at this list of popular WordPress security plugins:
8 Best WordPress Security Plugins to Protect Your Site
So which security plugin offers the best WordPress protection and is best for you? We've reviewed the most popular WordPress security solutions and narrowed down this list of 8 plugins based on their features, user ratings, and pricing.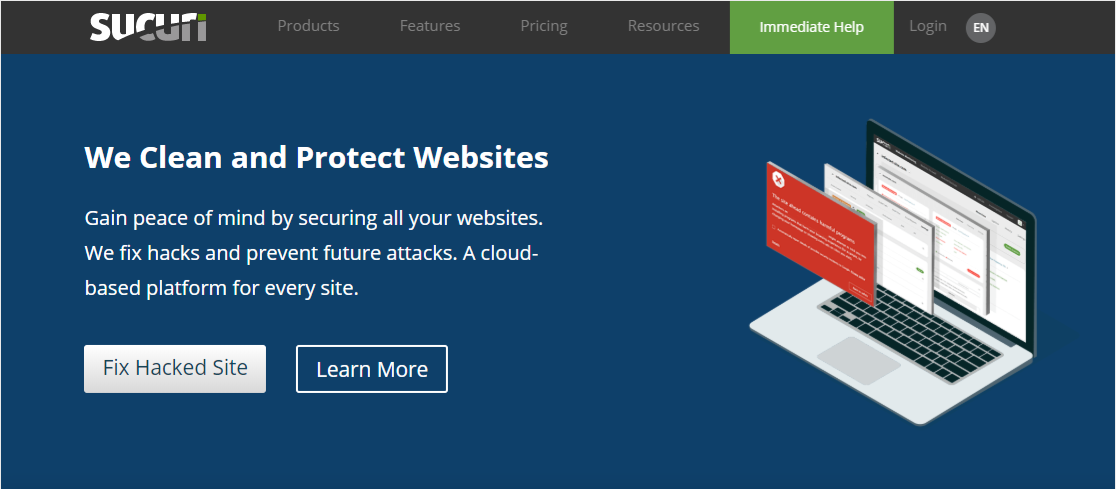 The best free WordPress security plugin available today is Sucuri. The all-in-one security solution is wildly popular for good reason.
Although Sucuri is a great free WordPress security plugin for websites, the pro version is actually the real must-have for every website owner.
Features:
Sucuri will clean up your WordPress site at no additional cost if it's infected with malware.
Easy setup in your WordPress dashboard.
Web Application Firewall (WAF) protection helps you block brute force login and DDoS attacks from accessing your WordPress site.
Lets you conduct file integrity monitoring and malware scanning (and of course malware removal). This makes Sucuri a great MalCare alternative.
Effective security hardening.
Keeps track of everything that happens on your site, including file changes, last logins, and failed login attempts.
Some plans offer advanced DDoS protection.
Can reduce server load time and improve your site's performance by blocking malicious traffic.
Serves static content from their own CDN servers.
Protects your WordPress website against SQL Injections, XSS, and all known attacks.
Cost:
There's a free version of Sucuri and the Pro version is $299/year.
Click here to get started with Sucuri today.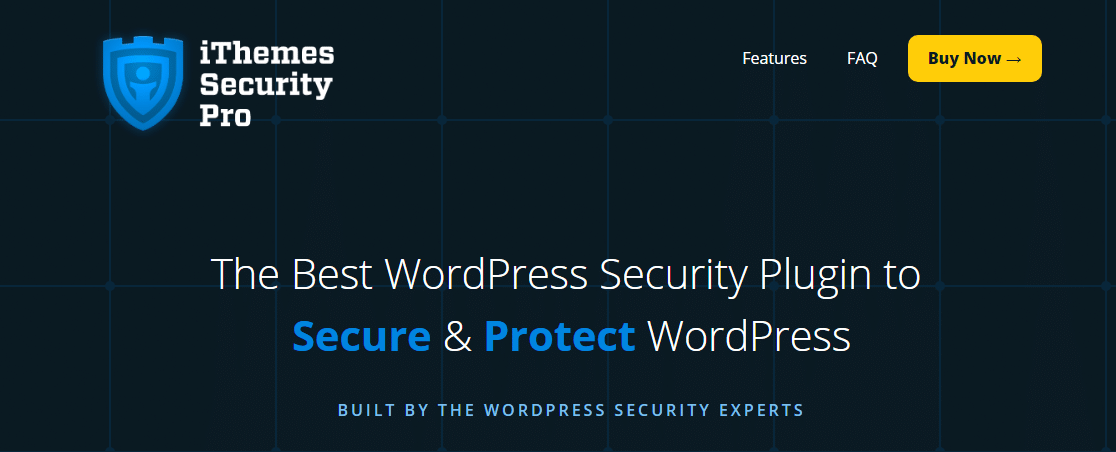 If you're a WordPress user, you might be familiar with the team that created iThemes Security Pro since they also built the popular BackupBuddy plugin and other great themes and plugins. All of their tools offer an easy-to-use interface for brute force security protection and other security measures.
Features:
Two-factor authentication for an extra layer of security
Powerful password enforcement
404 detection and plugin scans
Scheduled WordPress backups
Locks out any suspicious IP that scans for vulnerabilities on your site so they can't gain access
Sends email alerts to notify you of any recent file updates on your site that may be malicious
Ability to limit login attempts
Protects WordPress plugins and themes
Although there's no website firewall protection or malware scan, they do use Sucuri's Sitecheck malware scanner
Cost:
iThemes Security Pro pricing starts at $80/year.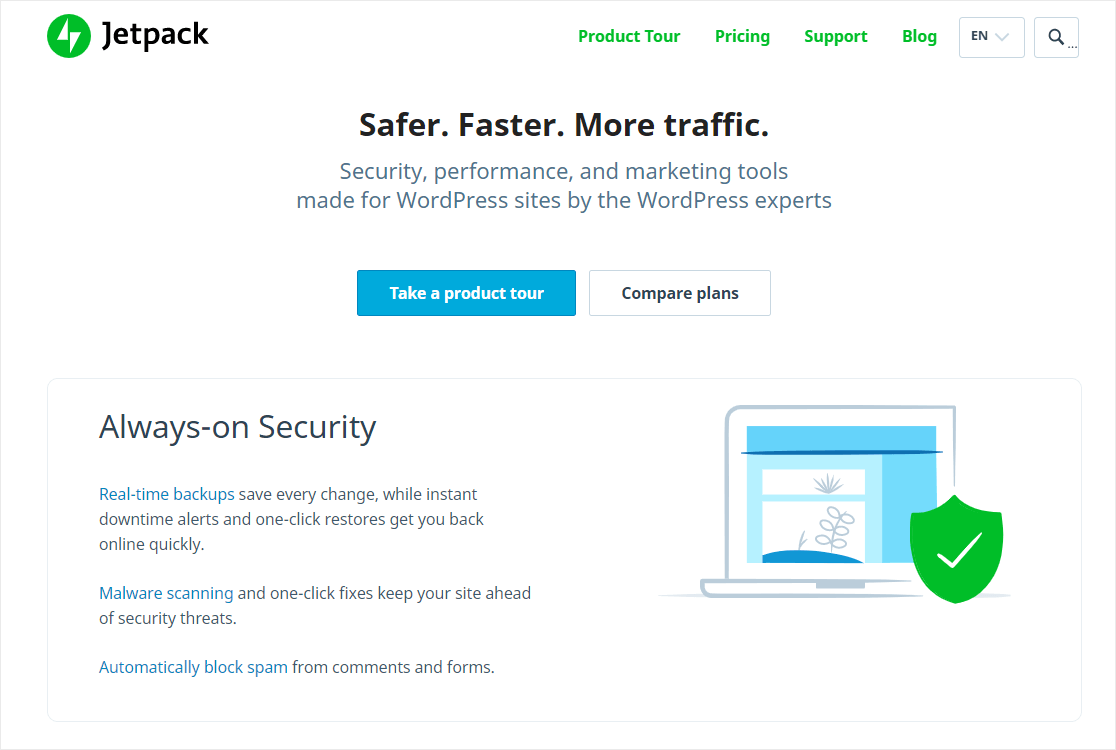 Another popular all-in-one solution on our list for the best WordPress protection plugins is Jetpack. This well-known plugin lets you easily scan your WordPress files for security vulnerabilities and has over 5 million active installs.
Features:
Real-time backups save every change you make to your website
1-click restore to get your site back online quickly
Activity log tells you exactly which action (or person) broke your site
Decentralized security scanning keeps your site safe from security threats
Offers anti-spam protection by automatically blocks spam in blog post comments
Alerts you via email the moment it detects that your WordPress site is down
Brute force protection defends your site against login attacks and harmful malware
Includes website design features and automated marketing tools
Keeps your WordPress plugins automatically updated and lets you know if you're using the latest version of WordPress
Cost:
The free version of Jetpack includes basic WordPress security features. The Security plan starts at $10.95/month billed annually. There's also a Scan addon that starts at $4.95/month, also billed yearly.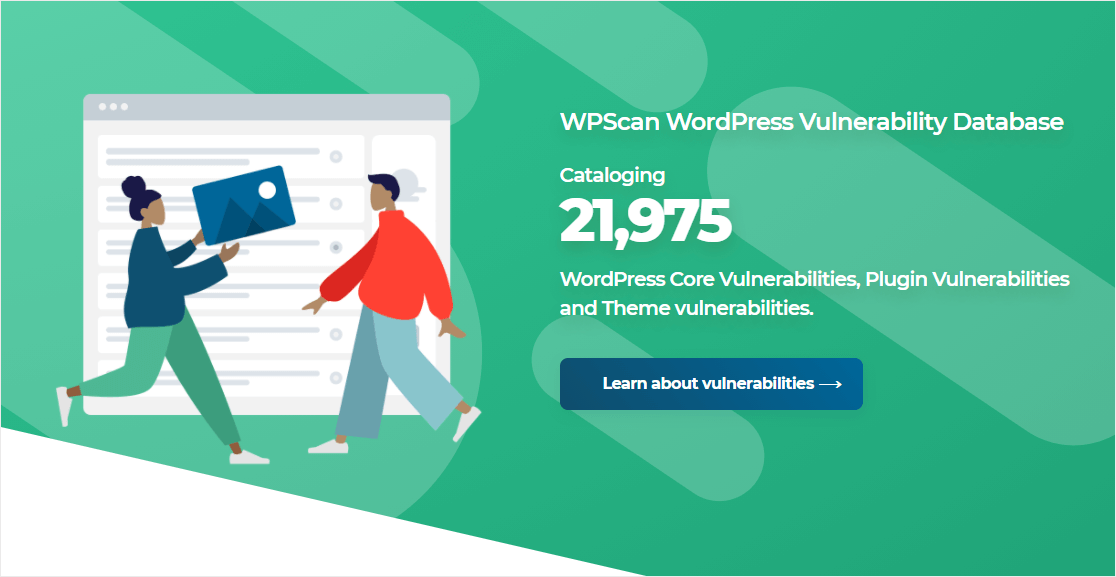 Another great solution for WordPress website security is WPScan. This user-friendly tool has been around since 2012 and can keep your website safe and secure on the backend. It works by cataloging tons of different known threats and reports the important ones to you, so you can avoid unwanted security issues.
Features:
Open-source tool with unique functionality that can be used to scan remote WordPress installations to pinpoint security issues
Their database of vulnerabilities is updated daily by community members and dedicated WordPress security specialists
Daily automated scans to look for malicious code
Email notifications
Helps by auditing a database of known issues with things that will impact you like WordPress plugins, WordPress core, and WordPress themes.
Cost:
There's a free version of the plugin that's great for most websites. If you've got a big site and use a lot of plugins the paid version of WPScan would be best for you and starts at around $2.31/month.

Wordfence is a WordPress security plugin that has some amazing advanced features to protect your WordPress site. You can use the basic version without spending a cent.
Features:
Basic version is free to use for as many sites as you need
Monitors visits and hack attempts in real time including origin, their IP address, the time of day, and time spent on your site
Tracks and alerts you about breached password usage so you can create a new strong password immediately
Protects from brute force attacks by limiting failed login attempts
Has customizable email alerts
Pro version lets you monitor all sites from a central dashboard
Cost:
The Wordfence security plugin is available as a free or paid plugin. The paid version is priced from $99/yr.

BulletProof Security is a WordPress security plugin that doesn't look all that cool, but gets you some basic site security features for free, so it's worth being on the list.
Features:
A somewhat easy-to-use setup wizard
Malware scanning and firewalls
Database backups
Login protection
Email notifications with security logs when a user gets locked out from failed login attempts
Idle session logouts
Cost:
BulletProof Security is free.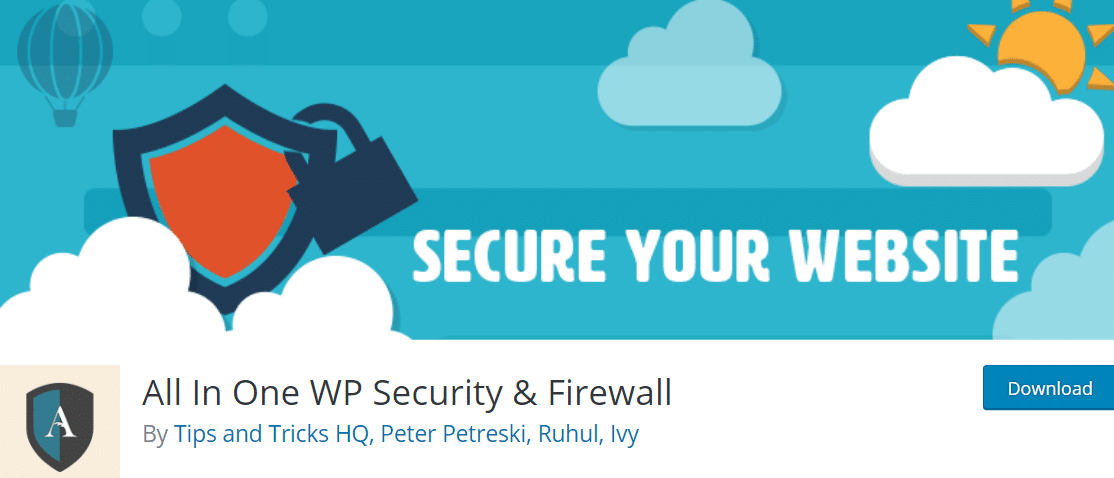 It's easy (and free) to use All In One WP Security & Firewall to apply most WordPress best practices for security to your small business website. But the tool is pretty basic and not as beginner-friendly as the more well-known solutions.
Features:
Scanning for malicious patterns
IP filtering to block specific people and geographical locations
Login lockdowns after failed login attempts
View a list of locked out users to unlock individuals in just a few clicks
A password strength tool to allow you to generate appropriately strong passwords
User account monitoring
A website-level firewall (but does lack a DNS-level firewall)
Lets you manually blacklist suspicious IP addresses
Cost:
All In One WP Security & Firewall is free.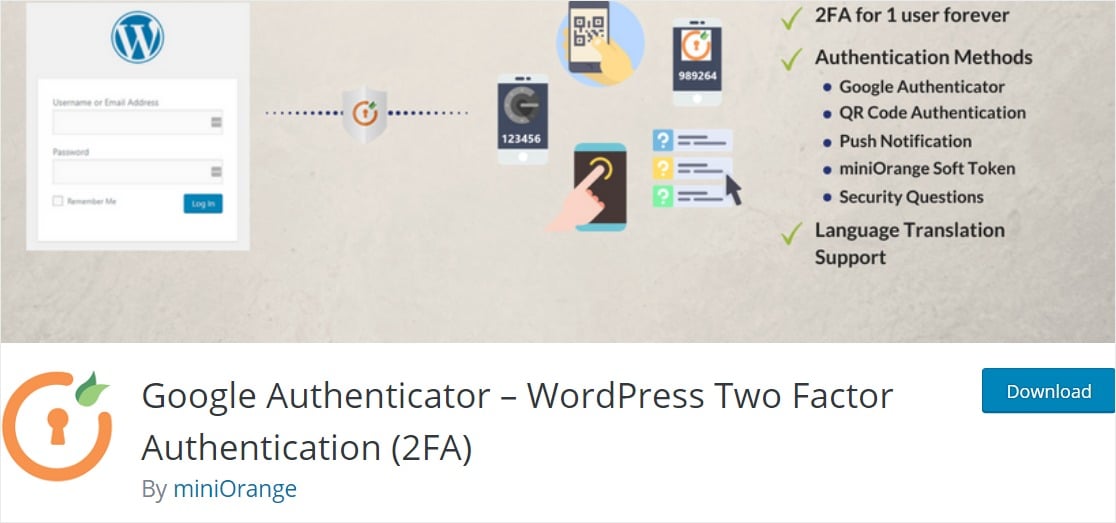 Setting up two-factor authentication for extra login security is a really good idea to keep your website secure. Google Authenticator lets you do just that. And it's on our list since most security plugins don't include this.
Features:
Adds an extra layer of security to your login
Has a simple interface and is moderately easy-to-use
Lets you pick which type of two-factor authentication you want to use
Offers shortcodes so you can do things like use it on custom login pages
Cost:
Free.
What Is the Best WordPress Security Plugin?
If you're looking for a WordPress security plugin that has it all, the answer's fairly obvious which you should choose.
Our pick for the very best goes to Sucuri Security, without a doubt. It comes with all the features you'll need to protect your website, instead of just a few.
This includes website scanning, DNS-level firewalls (not just website), and their own cloud-based server and CDN network.
If you haven't already, we recommend that you get started with Sucuri as soon as possible. The Premium version isn't free, but having a secure website's going to save you a ton of potential costs and headaches in the event of a breach (Not to mention, peace of mind).
Do I Need a WordPress Security Plugin?
WordPress security plugins are recommended for all sites.
The average website is attacked 44 times every day. If any of those attacks are successful, they could seriously hurt your business online. WordPress security plugins can protect you from these threats, making them a worthwhile investment.
Some of the negative things that can happen with a security breach include:
Online criminals can steal the data belonging to you and your customers
Private data from your business and your customers could be exposed
Your website content can be completely deleted
Your site could distribute malware to your visitors hurting your brand and SEO rankings
Fixing your hacked WordPress site can be a complicated and costly process
All of these reasons make having a WordPress security plugin installed on your site incredibly important.
How to Choose a WordPress Security Plugin
When it comes to choosing a WordPress security plugin (or multiple security plugins) there are several things to keep in mind:
Avoid redundancies. Don't install 2 or more plugins that do the same thing. Adding a bunch of extra plugins to your WordPress site can cause a variety of problems, including slow loading times. Your web host might offer security features, too, so check that you haven't already paid for malware scanning or other protections before you install a security plugin.
Know what level of protection you need. For a small blog, a basic all-in-one security plugin will work great. But if you have a larger site that stores lots of user information, you'll want to have additional protection against potential breaches, such as 2FA.
Consider your budget. Depending on your needs, picking a few security plugins with specific functions might be more cost effective than an all-in-one solution. Make sure to pay attention to the features listed so you know what you're paying for and get the most bang for your buck.
Next, Make Your Site GDPR Compliant
And that's it. Hopefully, this list of the best WordPress security plugins helped give you the info you need to find the best security tool for you.
Security is important to be legally compliant with the GDPR. This list of WordPress GDPR plugins includes some helpful tools to log user activity on your site. Additionally, here's a list of the best Jetpack alternatives to consider.
You may also really like our post with some awesome proven strategies for creating secure WordPress contact forms and our anti-spam protection tutorials.
And in case you're not aware of the security risk of using hacked plugins, we've also created an article on why you must avoid WPForms Pro nulled.
And if you like this article, then please follow us on Facebook and Twitter for more updates from our blog.