Want to build your small business website yourself in just a few clicks with the best website builder for small business?
These days, there are lots of beginner-friendly website builders that can help you save money by not hiring someone to make a website for you.
In this guide, we've put together the very best website creation platforms for small businesses and their features so you can find the best website builder for you.
The Best Website Builders for Small Business
Best Flexible Website Builder for Small Business: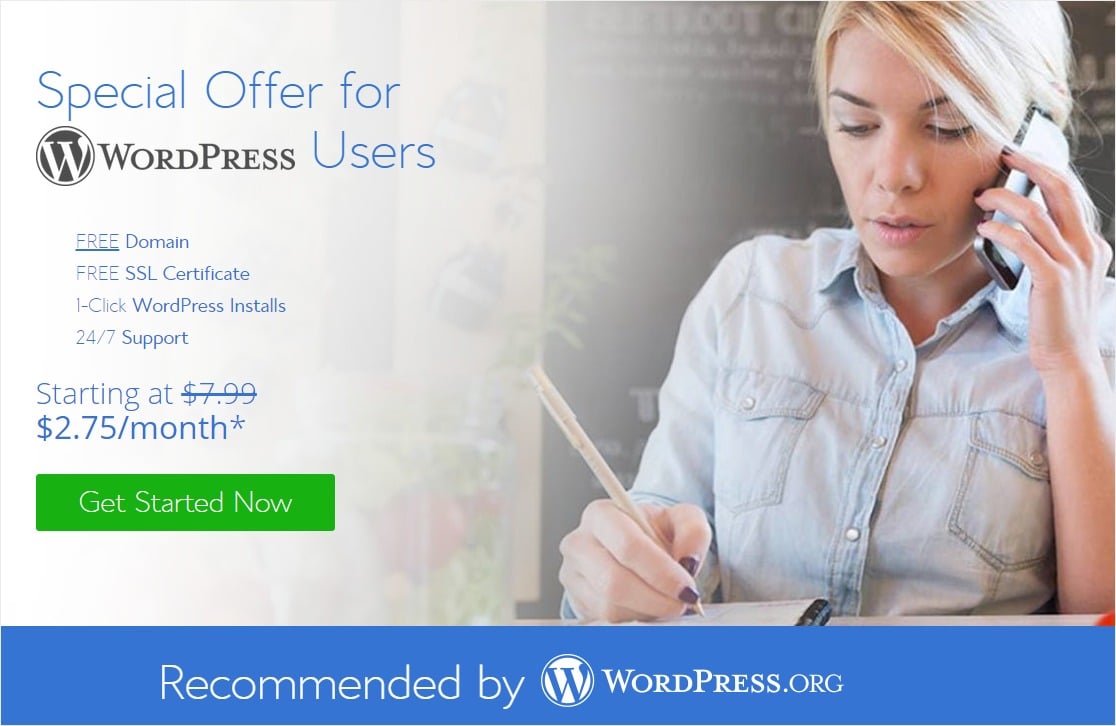 The most popular website builder in the world is WordPress.org. The platform powers over 40% of the entire internet.
WordPress.org self-hosted with Bluehost is a Content Management System (CMS) that's flexible and super easy to use. Most people agree that it's the best free website builder for small business websites.
Also, make sure you're clear on the differences between WordPress.com vs WordPress.org.
If you're using WordPress.org, creating a website is super easy because you can use the fantastic drag and drop website builders out there like SeedProd, Elementor, or Beaver Builder to make your site look professionally designed.
You can also use one of the best WordPress themes for small business or the best WordPress minimalist themes to make your site look like you had a web designer's help. And the SEO features are mind-blowing.
Pros:
It's open-source which means it's available on most web hosting platforms, including Bluehost
You can easily hide your WordPress site until it's ready
WordPress.org has drag and drop web builder compatibility
1,000s of WordPress plugins are available to give your site more functions, optimization, and features for ultimate customization (like custom contact forms using WPForms)
Used and loved by major brands and influential bloggers
Easily take credit cards and make money online with an eCommerce store with Square and other popular payment gateways
Comes with powerful SEO tools and marketing tools
It's easy to add Google Analytics to the WordPress dashboard
The choice of most professional website builders
Cons:
Unless you have managed WordPress hosting, you're in charge of maintaining your website (backups, security, updates, and more), which might not be part of your business plan
Setting up a website can be a little time-consuming but there are lots of WordPress for beginners resources and tutorials out there
Website design can be tricky if you're trying to do things outside of your theme
Pricing:
WordPress.org on its own is free. But you need to install it somewhere, so you'll need to get your domain name and hosting — we recommend Bluehost.
You can get started for just $2.75/month which includes a free custom domain.
Click here to get started with WordPress on Bluehost.
Easiest Website Builder with the Lowest Price: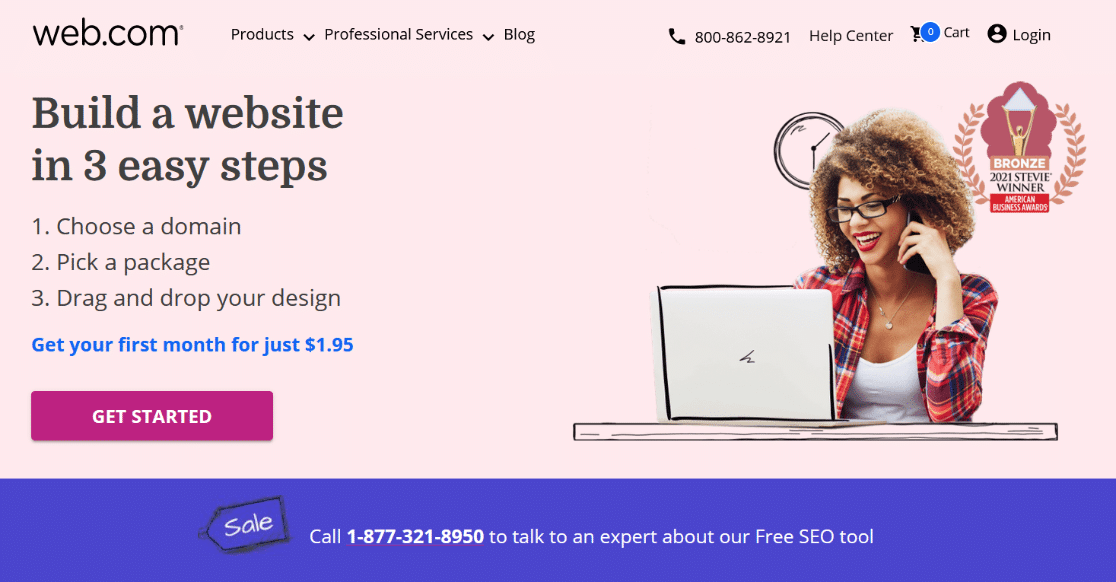 Web.com is one of the most popular website builders for small businesses. Since 1999, Web.com has helped over 3 million customers easily build a website at a very affordable price.
Pros:
Intuitive drag and drop website builder with features like photo galleries, social media buttons, testimonial sliders, and more
Professionally designed website templates that you can customize in a couple of clicks
Access to thousands of stock images
Ability to add unlimited web pages to your site
eCommerce tools to set up an online store
Fast website loading times
Comes with a free domain name, business email address, SEO tools, website analytics, and more
Cons:
The eCommerce plan only allows you to add 50 products. This is plenty for most small businesses, but it's a drawback for those wanting to build a larger online store.
Switching to a different platform in the future would be difficult since Web.com is a proprietary website builder.
Pricing:
Web.com's basic website plan starts at only $1.95/month.
Click here to get started with Web.com today.
Best Landing Page Builder for WordPress: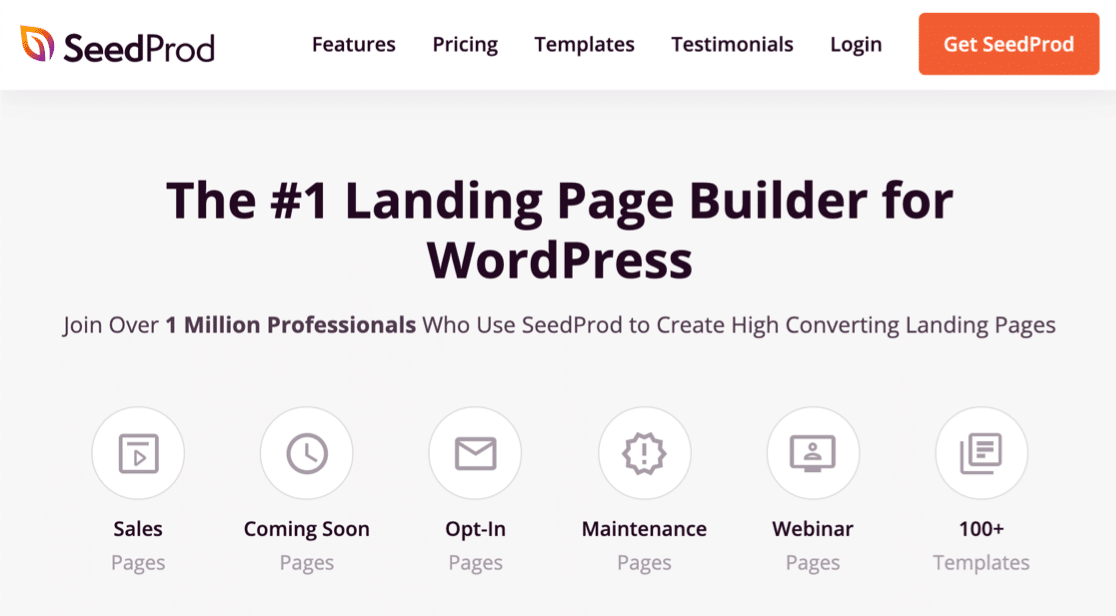 Do you want an easy way to make landing pages in WordPress? SeedProd lets you make landing pages quickly and easily, without writing any code. Check out our full SeedProd review to see how easy it is to build your own custom layouts.
Pros:
Make landing pages, form pages, coming soon pages, and more
Easily customize your website's 404 page
100+ templates with new designs added all the time
20+ drag and drop blocks you can place anywhere on your pages
2+ million stock photos you can use in your landing page designs
Super-fast loading times, so it won't slow down your website.
Cons:
The Pro version isn't free because it includes so many templates and royalty-free photos.
The free version doesn't have premium customer support. You can still get help on the WordPress plugin forum.
Pricing:
There's a free version of SeedProd, and the Pro plan starts at $79/yr.
Click here to get started with SeedProd Landing Page Pro today.
Best Website Builder with Marketing Automation: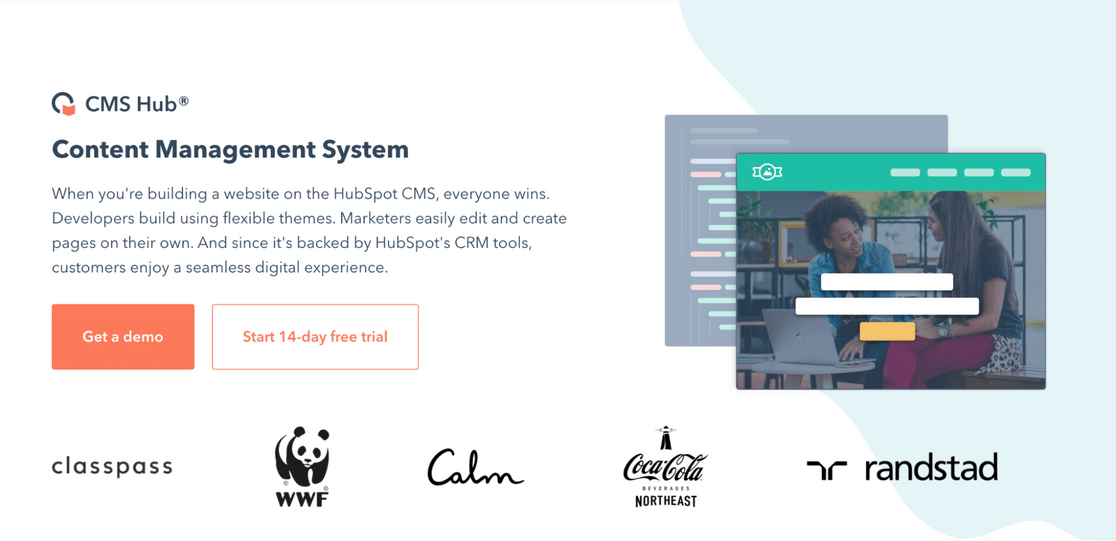 HubSpot Website Builder is a powerful site builder for marketers and small businesses. Along with the drag and drop builder, it comes with HubSpot's CRM and marketing automation tools. With these tools, you can create an optimized and personalized website experience for each visitor.
Pros:
Easy drag and drop editor to create custom site pages
Pre-built website templates that are optimized for conversions
Adaptive testing to monitor up to 5 different versions of a web page and serve the best performing option
Personalize website content based on location, source, device, language, or any detail stored in the HubSpot CRM
Comes with features like SEO tools, detailed analytics, email marketing, live chat software, multi-language content support, and more
Cons:
There is no free version (but CMS Hub does have a trial available)
It may be difficult to move your current site to CMS Hub, depending on your current website builder
Pricing:
The pricing plans start at $25/month.
Perfect for Quickly Setting up an Ecommerce Site: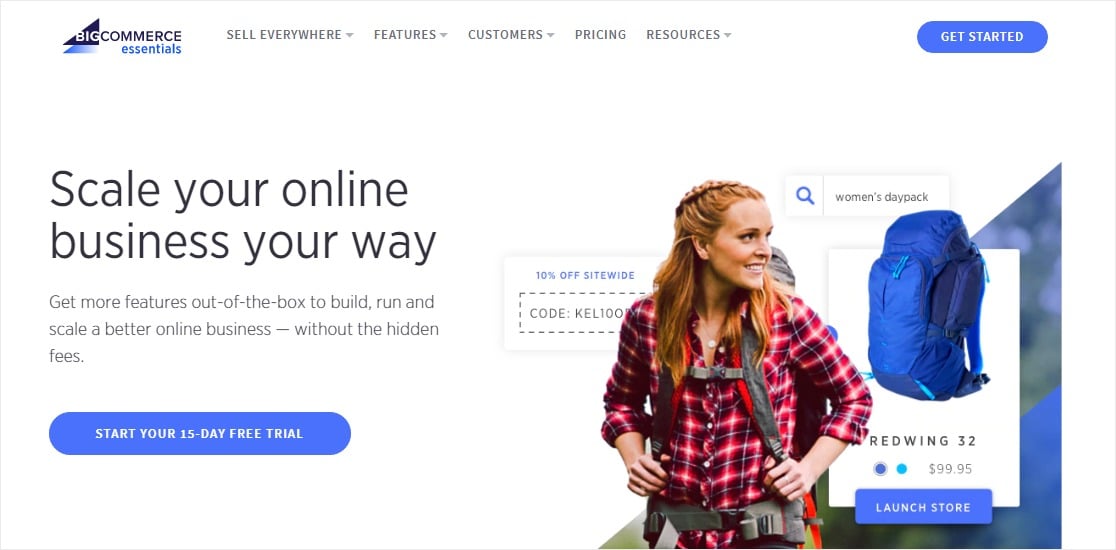 Many people know BigCommerce as the best eCommerce website builder for small business since it's the eCommerce website builder behind websites like Ben & Jerry's, CamelBak, Skullcandy, and other well-known online stores. They know their stuff about eCommerce and they've made a product to help people build, manage, and grow an online store without knowing a line of HTML code.
Pros:
You don't have to know how to do the technical side of things when you build a website
Easily build and design your own eCommerce store with beautiful templates
Keep credit cards and financial info safe with protection from hackers and DDoS attacks
Customize your store by adding advanced features with BigCommerce apps including reviews, shipping tools, and more
Offers 24/7 chat, email, and phone customer support which is incredibly helpful for small business owners and employees
Cons:
You can't install any 3rd-party extensions outside of the ones offered by Constant Contact
It's not free and you'll need to upgrade for additional features like stored credit cards
Pricing:
Pricing plans start at $29.95/month.
Great for Launching an eCommerce Website with Multiple Options: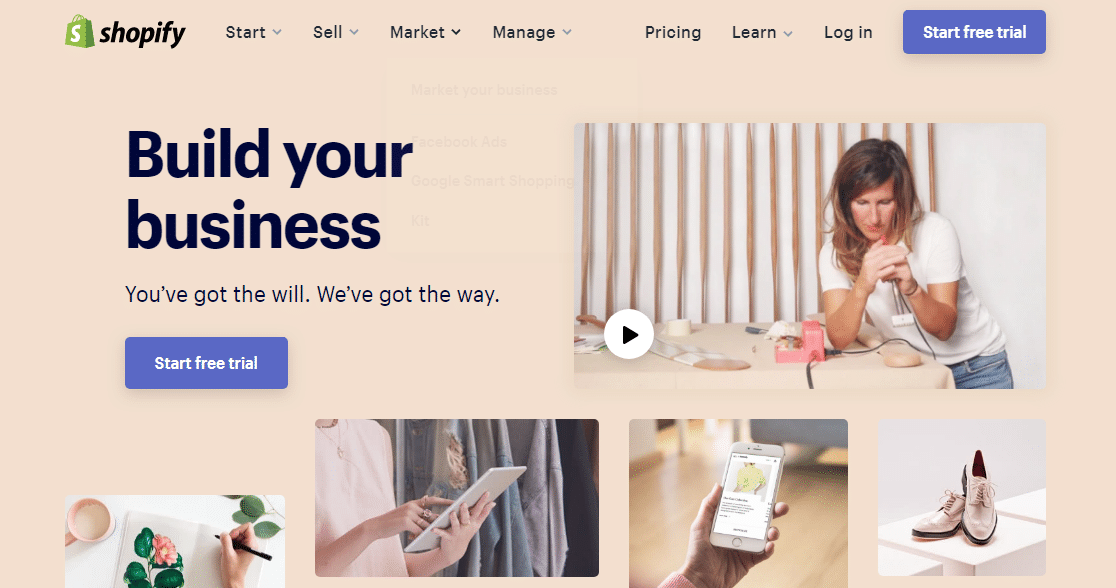 Curious which eCommerce website builder is best for you? Shopify is one of the best and well-known eCommerce platforms made especially for online stores and eCommerce small business websites. It powers over 500,000 businesses and more than $40 billion of products have been sold through this powerful site builder platform.
Pros:
Since it's an all-in-one managed solution, you don't have to worry about updating software or backups
Offers 100s of stunning pre-built designs to give your online store a professional look
The drag and drop website builder is intuitive and easy to use even for beginners
Shopify offers an in-store POS so you can sell products on location as well as your eCommerce store
Offers extra add-ons for your site in the Shopify app store
Cons:
If you use an external payment gateway, Shopify charges transaction fees like .5 to 2% per transaction
It's difficult to move your site away from Shopify
The pricing is higher than most other website builders which might be an issue for many small business owners
Pricing:
Shopify's basic plan starts at $29/month.
Fastest for Creating a Simple Small Business Website: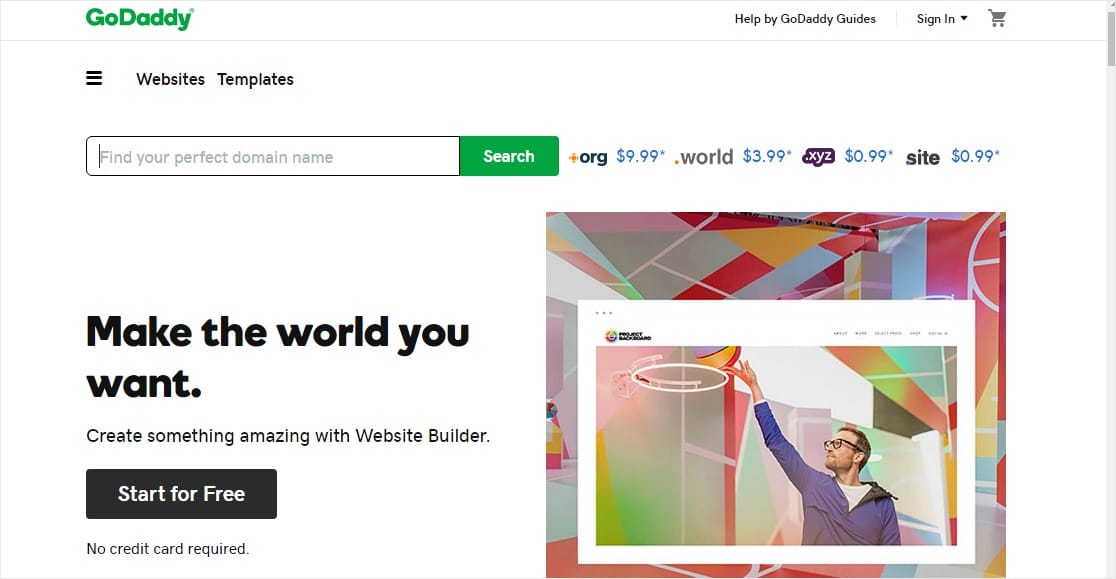 GoDaddy Website Builder comes from one of the most well-known domain name and hosting service providers in the world. Of course, this simple online website builder includes GoDaddy hosting. It's a good bet if you want a simple website that's easy to create and doesn't need to have lots of content on it.
Pros:
Has an easy to use drag and drop website builder
Works on smaller screens like tablets and mobile phones
A Getty Photography integrated image library for you to use on your site
Cons:
Has a limited set of features and fewer design and customization options
It's difficult to move your site away from GoDaddy Website Builder
Pricing:
GoDaddy Website Builder has business plans that start at $9.99/month.
Best Simple Website Builder: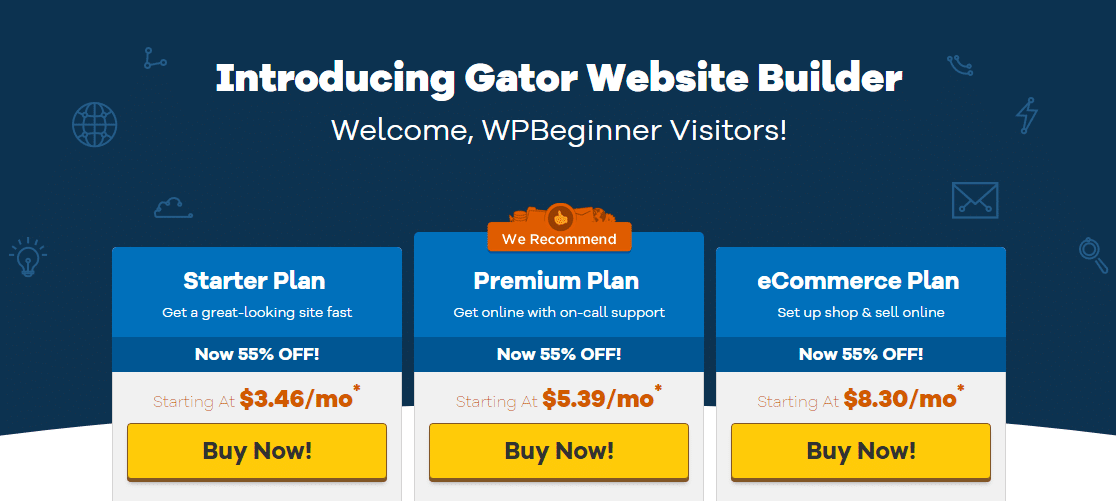 Another builder created by a hosting company is Gator Website Builder, made by HostGator. It's another popular tool for small businesses to use to build a website.
Pros:
Drag and drop builder is incredibly easy to use to add images, video, Google maps, and more to your site
Tons of professionally designed themes to pick from so your site looks fantastic
The already low price even includes a custom domain name, SSL certificate, and hosting which makes it one of the most cost-effective site builders on our list
Cons:
The limited features make it not ideal for eCommerce stores or websites that want more than a simple online presence
Pricing:
Wondering what is the best and cheapest website builder? If you want a basic website, Gator Website Builder could be a good choice for you because it starts at only $3.46/month.
Great for Quickly Creating a Membership Website: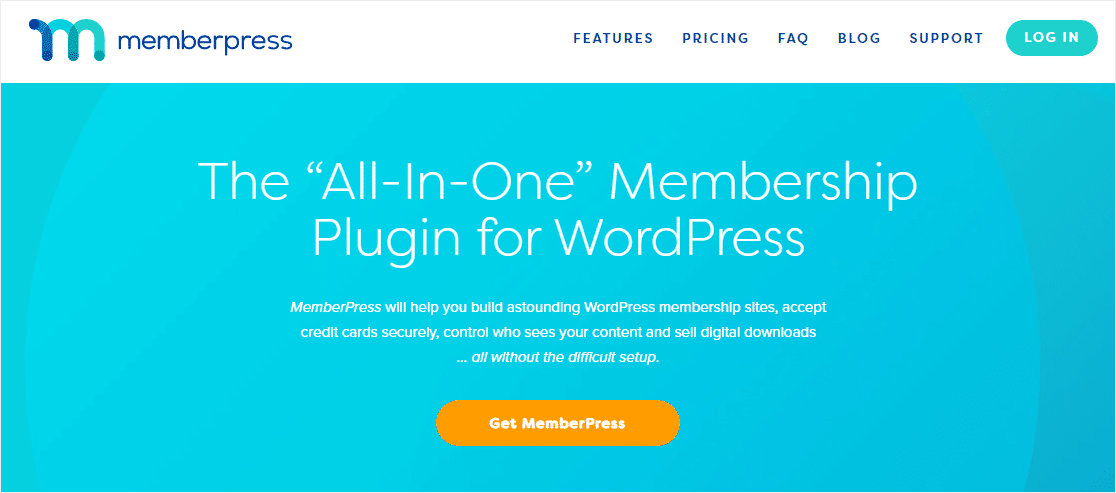 MemberPress is a great site builder for small businesses and it's actually a plugin that you'll need a self-hosted WordPress.org website to use. This is the route you'll want to take if you want to set up a membership website easily.
Pros:
You can accept payments for memberships, sell digital downloads, and control who sees all of your site's content
Integrates with payment gateways like Authorize.net, Stripe, and PayPal
Build a business online with recurring subscription revenue
Set up a membership website in just minutes with no coding
Create online course with the visual drag and drop editor
Integrates with email marketing services to help grow your email list
Cons:
Like many 3rd-party plugins, it works with WordPress.org so you'll need to take care of software updates and backups yourself
Pricing:
MemberPress pricing starts at $149/year.
Good Value for Your Money: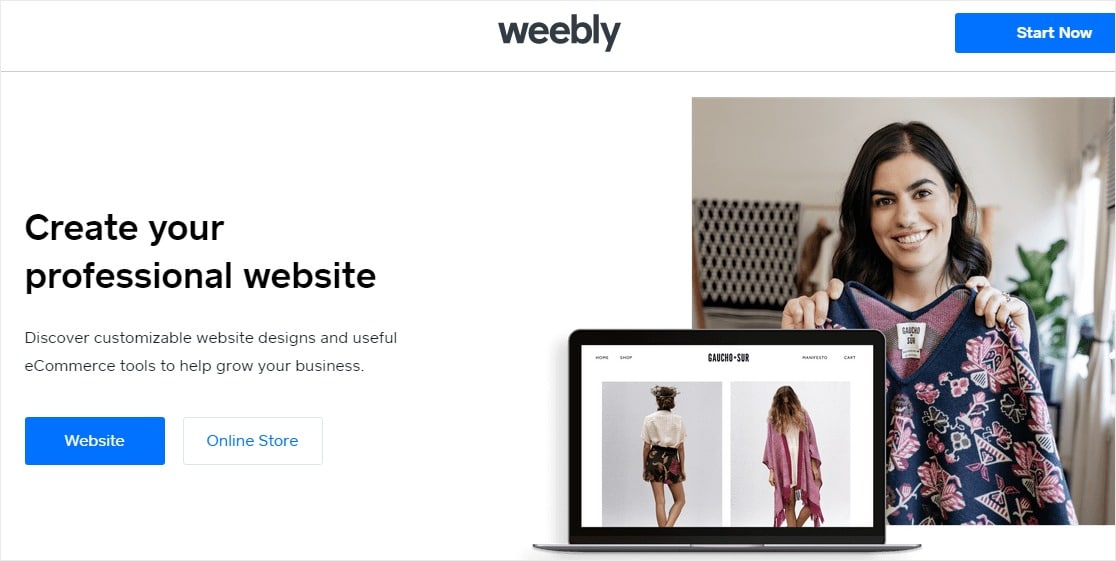 Weebly website builder is listed among the best free website builder for small business often since you can get started for free. And while it's hard to argue with that price tag keep in mind that similar to platforms like Wix — with Weebly you get what you pay for.
Pros:
Start building a website right away with the easy drag and drop builder tool if you need a simple online presence
Ability to see website stats
Offers pre-designed layouts to help customize your site
Cons:
There's no free domain name here since you'll need a premium plan to remove the Weebly subdomain from your URL (which can make your site look unprofessional)
Pricing:
The Weebly Starter plan starts at $8/month and has a free trial
Site Builder with Fantastic Automated Backup:

BoldGrid is a unique and new type of website builder software that's built on top of WordPress.org. It's offered as a standalone WordPress plugin as well as a fully hosted website builder suite. It's one of the best website platforms for small business since it has very few cons.
Pros:
Build a website quickly without a web developer with a professional design from their theme collection
Access the benefits of WordPress.org since it's built on top of the platform
Drag and drop interface site builder to customize and change fonts, colors, layouts and more
WooCommerce ready
WordPress.org backups are handled through BoldGrid
Very affordable so great for new small business owners
Cons:
You'll need WordPress.org to use BoldGrid
Pricing:
The basic plan is free and premium plans start at only $20/year.
Best Template Designs, but Lacks Flexibility: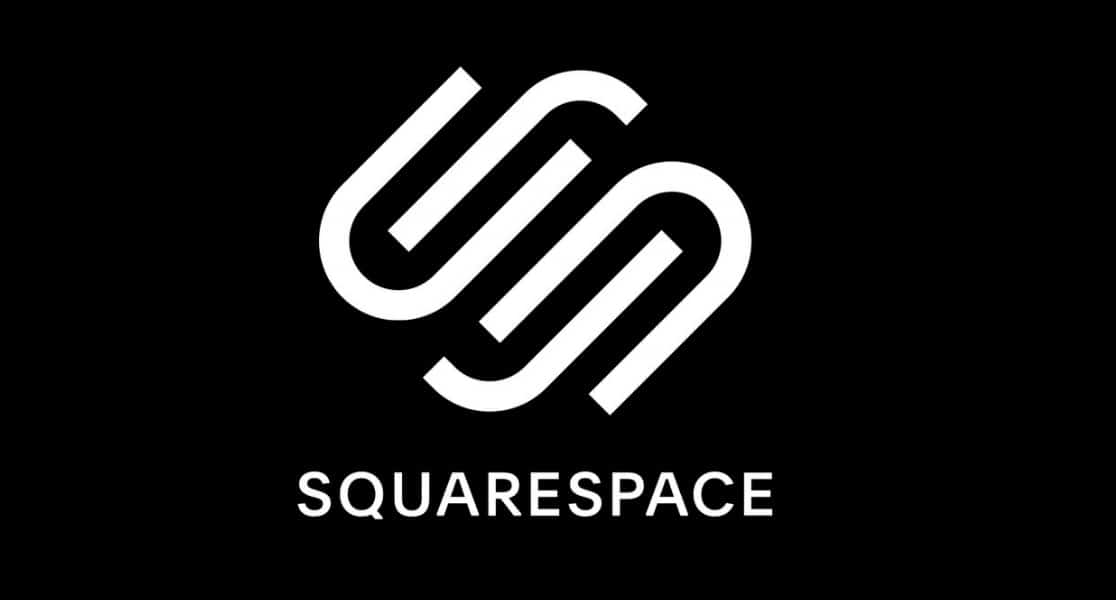 Squarespace is considered by some to be the best business website builder that's also very well-known for its sleek and cool designs. It's an OK choice if you want a simple website that looks professionally designed with a little learning curve.
Pros:
It's very easy to use to make a high-quality looking site with their drag and drop builder
Great social media integration
They take care of hosting and it includes a custom domain
Not only do they have tons of templates, but you can also use more than one on the same website to make it have a really unique web design
Offers eCommerce features if you'd like to add an online store to your site
Basic paid plan starts off with unlimited storage and bandwidth
Cons:
You can't access most 3rd-party applications which can be a huge barrier to growing your business online
They have limited payment gateways you can accept money through
Pricing:
Squarespace starts at $12/month. If you'd like an eCommerce site, it starts at $26/month.
What's the Best Website Builder for Small Business?
Our picks for the best website platform for small business are self-hosted WordPress.org, Web.com, and SeedProd Landing Page Pro.
All of these solutions offer access to or their own drag and drop builder making them very user-friendly. On top of that, they're super affordable so they're perfect for a small business owner's budget.
If you want the best of the best in websites and online marketing capabilities, you'll want to go with WordPress.org.
Alternatively, if you're looking to build a simple business website in no time, Web.com is the right site builder for you.
And if you're looking for an easy solution to build landing pages and coming soon pages quickly, SeedProd is our other suggestion. It's great if you want to make page layouts without code that you can quickly use for optin forms and marketing campaigns.
FAQ
Here are some answers to the most frequently asked questions we get about website builders.
How to Choose a Website Builder
Here are some quick tips and questions to ask yourself to help you choose the right small business website builder for you:
Consider Your Needs — Do you need lots of media space for photos? An online store? How technical are you? All of these questions will help you decide which type of builder will work best for you.
Define Your Budget — Can you afford to remove the watermark on a website with a free plan? Do you need to save money by getting a website builder that also provides hosting? How much you can afford is going to be a huge deciding factor in which website builder to choose.
Research Themes — If you want a custom small business theme that lets you do things like podcasting, blogging, or more, you'll want to pick a website builder with lots of flexibility.
3rd-Party Integrations — A lot of small business website builders don't let you use apps and plugins that can expand the functionality of your website to meet your needs.
If flexibility, control, and customization are highly important to you, WordPress.org is the most popular small website builder for a reason because it allows full control.
Which Is the Easiest Small Business Website Builder?
Every website builder on this list is made for ease-of-use. Some are easier to use than others. And with some, the more features they offer the more complicated they become to use.
For complete beginners, check out GoDaddy Website Builder as a good choice. It has a great visual editor that makes it an easy website builder for small businesses to use.
Which Is the Cheapest Small Business Website Builder?
Some people don't want to spend any money and are looking for a free website builder. If that's the case, Weebly may be a good route. It's free to use forever if you don't mind their branded watermark on your site and domain name.
Keep in mind, not having your own domain name and having a branded watermark can look unprofessional. But this could be a good way to get a site up and running if you don't have the budget. However, transferring your website to a more popular and flexible website builder can be difficult, so choose wisely.
If this bothers you, it might be worth going with a paid plan from Web.com. It starts at only $1.95/month so it's perfect for small business owners on a budget.
Which Is the Best eCommerce Website Builder for Small Business?
Want the best website platform for small business online stores?
If you're looking for creative control and don't want to go with WordPress.org, the best eCommerce website builder is Squarespace. They have beautiful templates created by professional web designers. Plus, it has the ability to add an online store.
For the best all-around eCommerce website builder, you'll want to take a peek at Shopify. The online shop builder is incredibly easy to use, they offer great support, and have 100+ professional and amazing eCommerce website templates.
Which Small Business Website Builder Has the Best Templates?
The best small website builder as far as templates is WordPress.org.
If you have a WordPress.org website, you can choose from 1,000s of website themes that can have your site up and running in minutes. There are so many out there, that we've put together lists of the top WordPress themes:
And if you're looking for eCommerce store templates, Shopify has you covered with some great options. Squarespace templates are beautiful, but they could use more, especially for online stores.
Which Small Business Website Builder Is Best on Mobile?
While all builders on this list are responsive, WordPress.org and Constant Contact Website Builder work exceptionally great on mobile devices.
How Long Will It Take Me to Build My Own Small Business Website?
If you're building your own website, it can take anywhere between one day and a couple of months. This depends on how complicated your website is, your experience level, and how much time you put into it each day.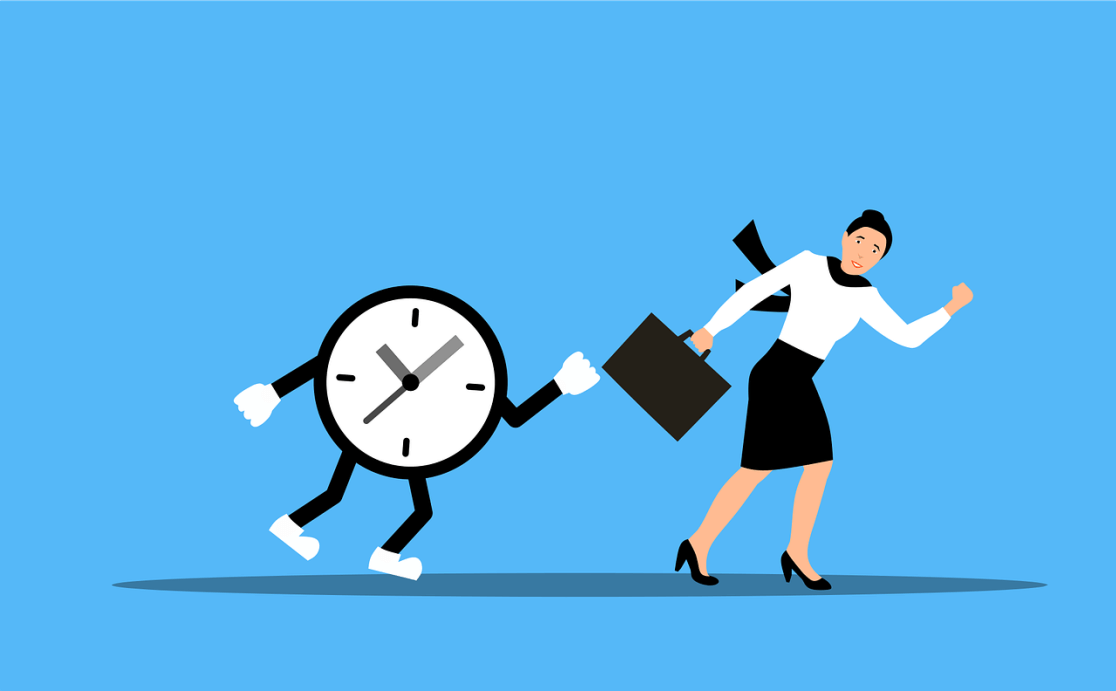 While you're working on your website, we recommend using the plugin SeedProd if you're using WordPress.org. It's a coming soon plugin that lets you start ranking in search engines and build excitement for your brand once you have your domain name by building a coming soon page in WordPress.
And that's it! You now know the best website builders for small businesses. Hopefully, this post helped you find the right solution for you from the builder on this list.
Next, Reduce Cart Abandonment Rates
Make sure you check out our post on ways to reduce shopping cart abandonment if you're just getting started with your business online. Making a request a call back form is also a great way to get more leads.
Also, don't forget to learn about how much a website costs so you can plan your budget accordingly.
Ready to build your form? Get started today with the easiest WordPress form builder plugin. WPForms Pro includes lots of free templates and offers a 14-day money-back guarantee.
If this article helped you out, please follow us on Facebook and Twitter for more free WordPress tutorials and guides.