Are you looking for lead generation plugins for WordPress?
With the right lead generation tools, you can capture details from customers so you can market your services to them in the future.
In this article, we'll show you the best WordPress lead generation plugins to grow your email list and give your marketing campaigns a boost.
What Is Lead Generation?
Lead generation is a term used in digital marketing. It's the process of turning website visitors into potential customers.
A lead could be someone who downloaded an ebook, or they might have reached out to your sales team for a quotation. Depending on the way you qualify leads, you might follow up with these 2 groups of people in different ways.
In all cases, WordPress lead generation plugins can help you to move your website visitors towards a sale. For best results, you'll want a combination of plugins to attract and capture these different types of leads.
Best WordPress Lead Generation Plugins
1. WPForms – Best Form Builder Plugin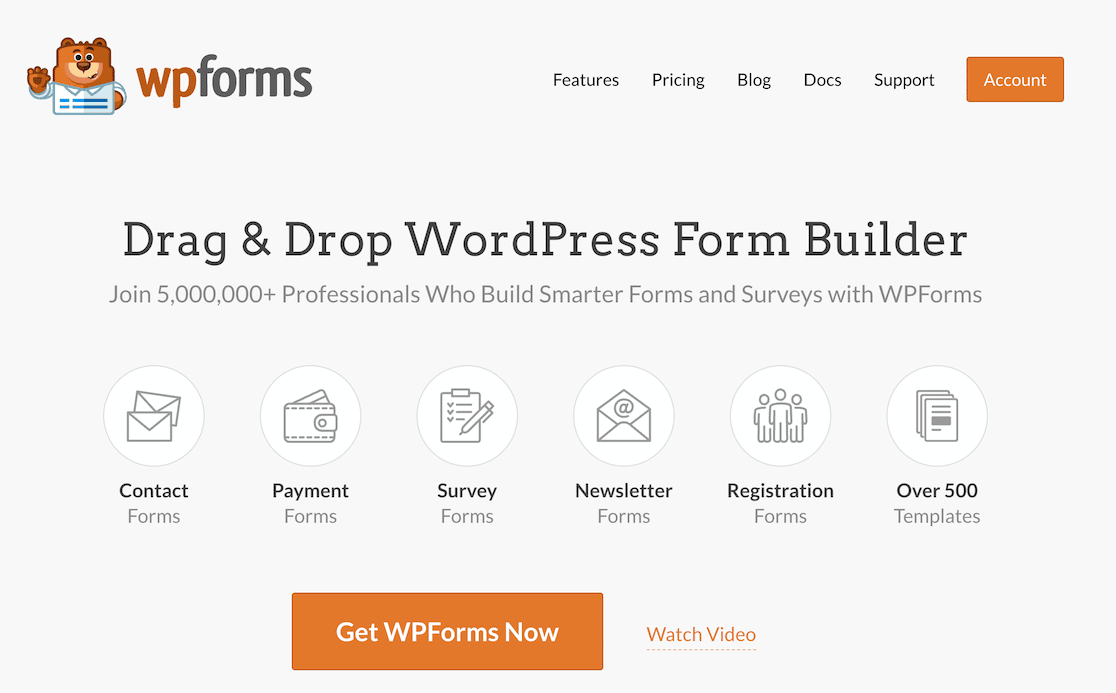 WPForms is the best contact form builder plugin. It's an awesome WordPress lead generation plugin because you can easily integrate all of your favorite marketing services with your WordPress forms.
For example, the free version of WPForms integrates with Constant Contact, so you can easily create newsletter signup forms to grow your email list.
With WPForms Pro, you can install addons for your favorite email marketing tools and CRMs such as:
You can also use Zapier to make lead capture forms and send the entries to Zoho CRM, Mautic, or SendFox.
With WPForms, you can grow your email list in 2 ways:
Create a signup form specifically to build your email list, or
Add an email signup checkbox to your regular contact forms, so you can add your visitors to your list automatically.
Making forms is simple because the drag and drop form builder opens in a fullscreen window. You can easily drag fields onto your forms and move them around to create your perfect form.

The Lead Forms addon helps you build optimized lead generation forms that walk users through the process step by step to boost conversions.
Best of all, you can embed your lead generation form anywhere on your WordPress site including your posts, pages, sidebar widgets, and footers. There's an embed wizard in the plugin, but you can also embed forms using shortcodes.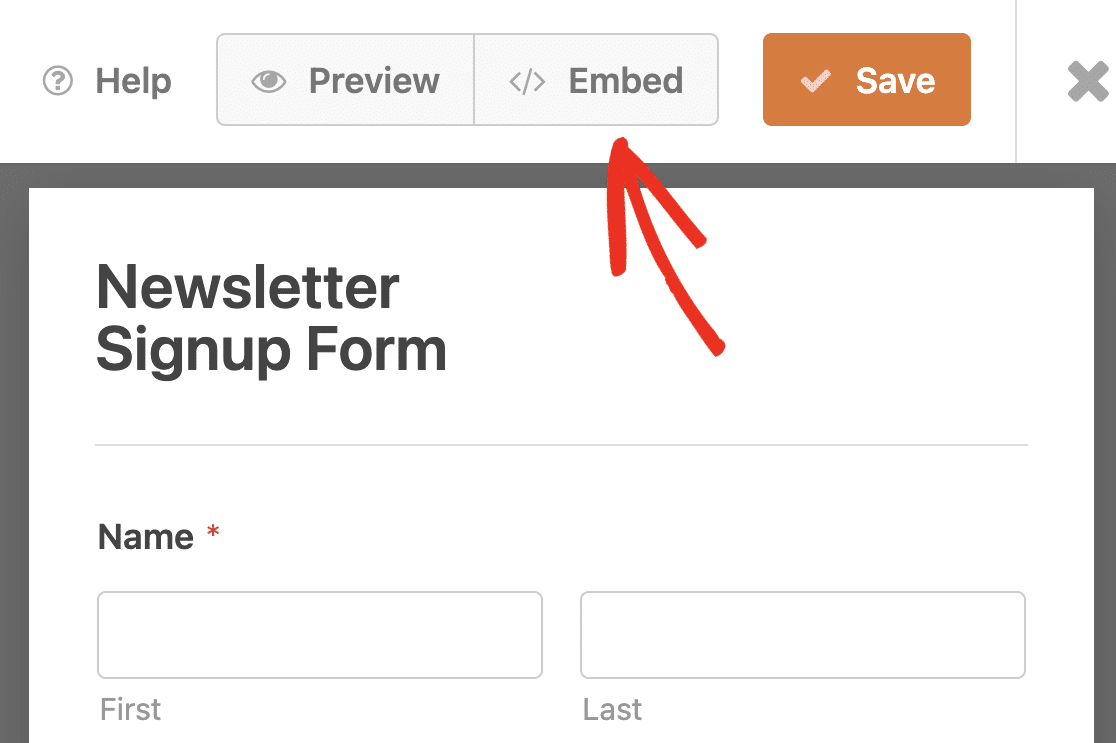 WPForms also has integrations with Elementor and Divi.
With WPForms, the possibilities are endless. You're not limited to just creating newsletter signup forms. You can create:
If you're looking for an awesome WordPress lead generation plugin, WPForms lets you get all of the customer information you need to grow your business.
Pricing: The best free contact form plugin, WPForms Lite, is 100% free forever. The paid version starts at $49.5/yr.
Create Your WordPress Form Now
OptinMonster is the best lead generation software and the best WordPress popup plugin in the market.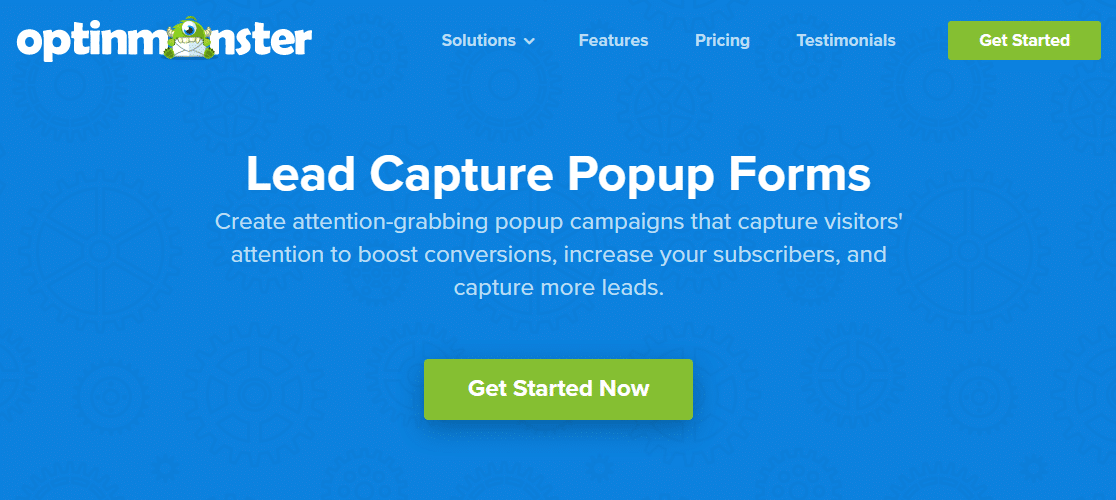 OptinMonster allows you to create beautiful optin forms that are optimized for the highest conversion rates. Integration with your favorite email marketing tools such as AWeber, Mailchimp, InfusionSoft, GetResponse, and Constant Contact is a breeze.
OptinMonster is totally platform-independent. You can use it on any site to build:
Floating bars
Slide-ins
Welcome mat popups
Sidebar forms
…and more.
It also has a WordPress lead generation plugin that you can install to quickly deploy campaigns on your site. The OptinMonster plugin works with WPForms so you can easily embed your lead generation form in a popup.
You can see a full list of OptinMonster features here. Let's pick out a few favorites:
Exit-intent technology: You can prompt your website visitors to subscribe to your list at the precise moment they are about to leave your website.
A/B testing: You can test all elements of your forms such as headlines, copy, button colors, and even different designs to see what works best to boost conversions.
Page level targeting: You can build a segmented email list with targeted messages on specific pages or categories.
Built-in Analytics: With its built-in analytics tool, you can see which optins are performing the best.
OptinMonster is a powerful lead generation tool and a great investment for any business website. Check out our detailed OptinMonster review.
Pricing: OptinMonster is priced from $14/mo.
3. PushEngage – Best Push Notification Plugin
Sometimes a lead will visit your site before they're ready to buy. But with browser push notifications, you can get those leads to come back to your website which gives you another shot at converting them.
PushEngage has an awesome WordPress lead generation plugin that makes it easy to run popup campaigns on your site.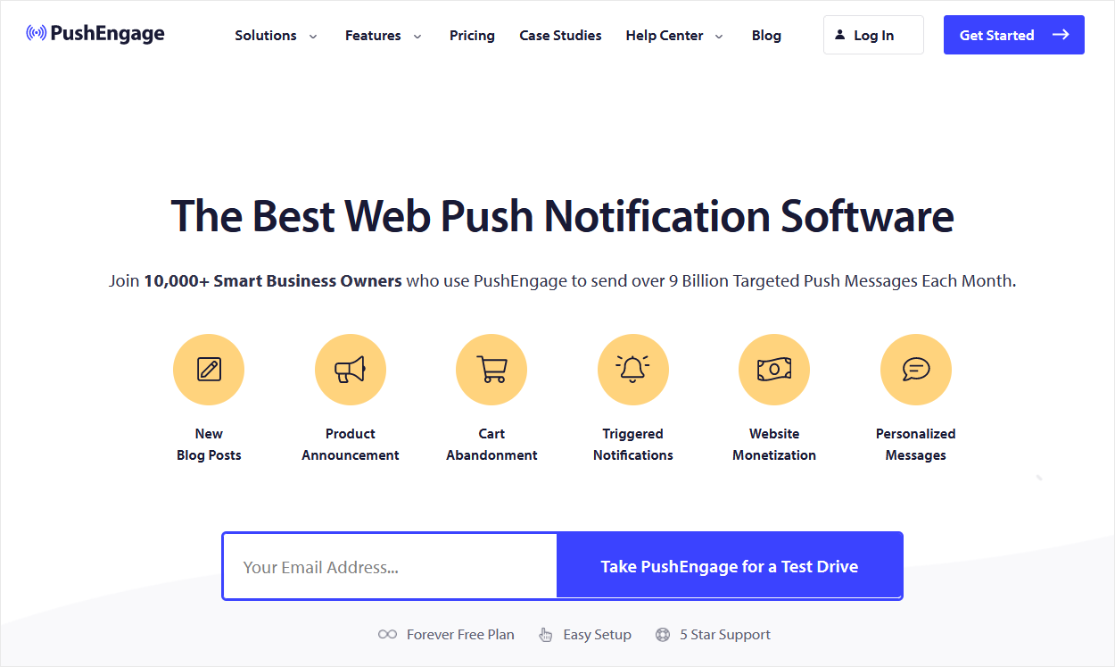 You can easily set up push notifications based on different actions on your site, like publishing a new blog post. When the subscriber sees the notification, they can click to see the update right away.
It's a great way to get your leads back to your website so you have multiple chances to convert them. And as you learn more about the power of browser push notifications, you'll figure out tons of ways to get more leads with PushEngage.
For example, you can also use PushEngage to send abandoned cart notifications if someone visits your store without checking out.
Are you worried about using too many lead generation popups? Don't worry. With PushEngage, your visitors can choose if they want to optin, so you don't have to worry about sending notifications to people who don't want them.
The basic plan is free and the plugin walks you through installing PushEngage in WordPress.
Pricing: PushEngage has a 100% free plan for up to 2,500 subscribers and 120 push notifications per month. Paid plans are priced from $29/mo.
4. All in One SEO – Best Content Optimization Plugin
To build an email list, you need traffic. And to get traffic, you need a site that's optimized so that it shows up in organic search results.
The All in One SEO plugin lets you easily optimize every page on your website. It helps to get the best possible position for your keywords in search results by looking at every component of every page.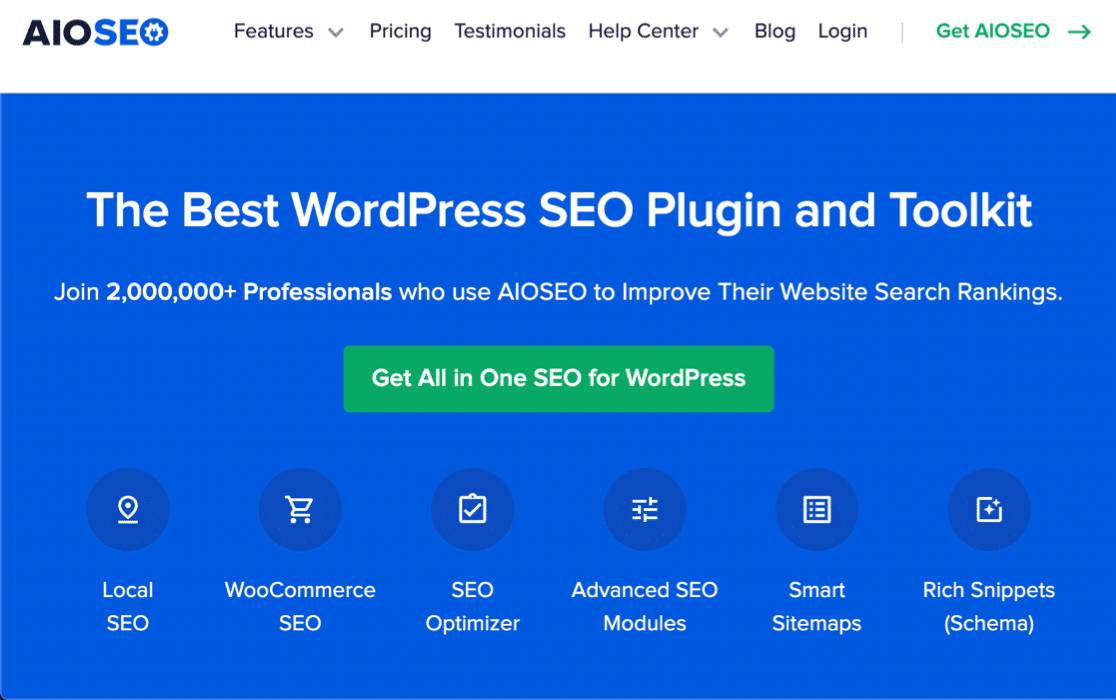 With All in One SEO, you can add keywords and meta descriptions to help search engines understand exactly what your site's about. They can drive valuable visitors who have a great chance of converting into leads. That's why we included it in our list of WordPress lead generation plugins.
The great thing about All in One SEO is that it's easy for beginners to set up. You can have it automatically generate optimized titles, alt tags, and more.
As your site grows, the plugin also has tons of advanced features to help you optimize and tweak every part of your site. We love the TruSEO on-page checker that helps you to optimize content in real time.
The more relevant traffic you get, the better your chances of converting those visitors into leads. All in One SEO is an awesome way to get your content in front of the right people.
Pricing: All in One SEO is priced from $99/yr.
5. MonsterInsights – Best Lead Magnet Tracking Plugin
MonsterInsights is the best analytics plugin for WordPress. It pulls together all kinds of useful information from services like Google Analytics and Google Search Console. Then it compiles the data into clear and actionable reports that anyone can understand.
MonsterInsights also has modules for WooCommerce store tracking and GDPR compliance.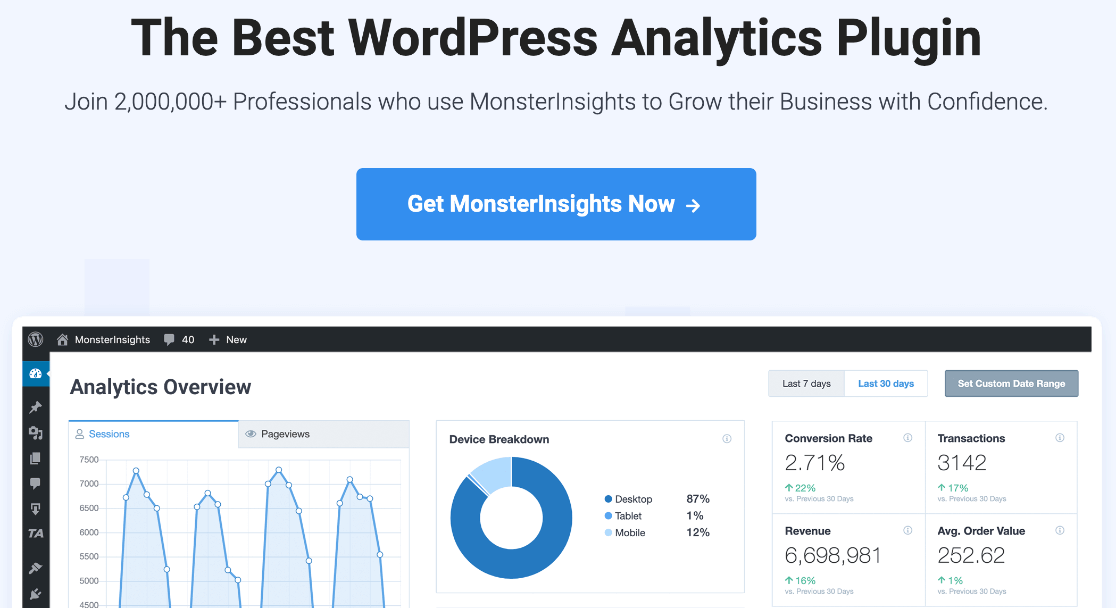 You can easily see track performance across your entire site in different ways without writing any code. MonsterInsights shows you:
Over time, you get a super clear picture of how your site is growing and which content is attracting the most valuable visitors.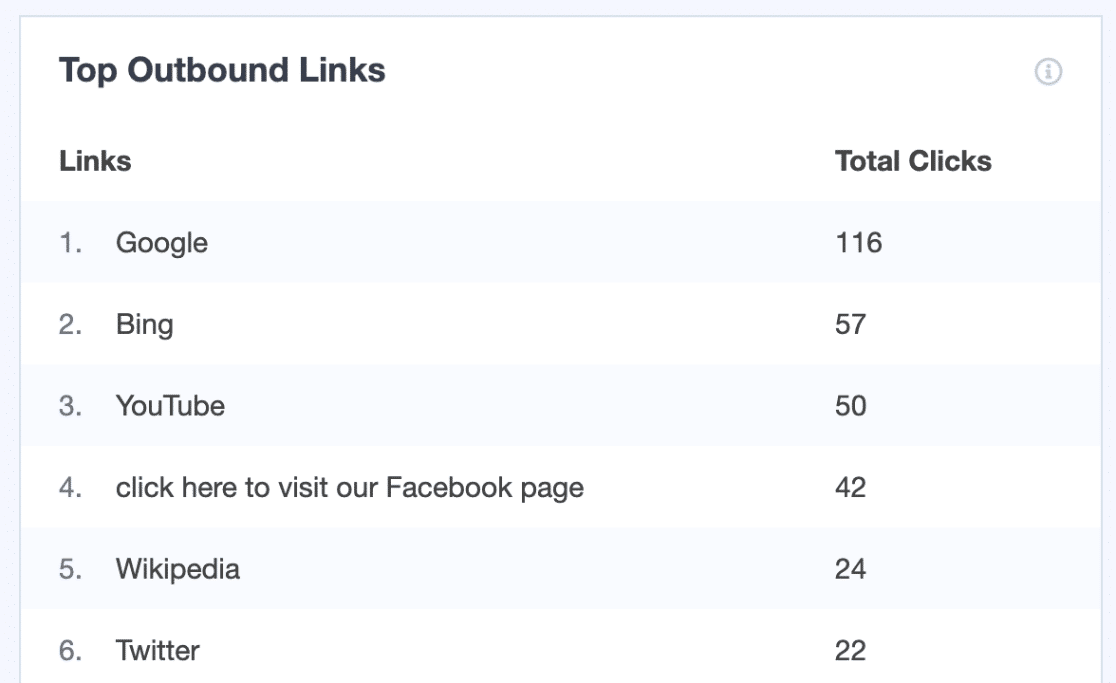 One of our favorite features in MonsterInsights is the file download tracking report. This tool lets you easily track the performance of lead magnets like ebooks. There's no setup and no scripts to write. MonsterInsights recognizes common downloadable files and automatically keeps track of them.
With this WordPress lead generation plugin, you can easily see which assets are being downloaded the most and which ones need more work to boost their performance.
And here's the best news: if you use WPForms to create your forms, MonsterInsights will also track your form conversions automatically. Read more in our full MonsterInsights review.
Pricing: There's a free version of MonsterInsights. Paid licenses are priced from $199/yr.
6. SeedProd – Best Landing Page Plugin
Marketers know that landing pages are super important when you're trying to get more leads from your website. But it's tough to create a truly distraction-free WordPress page without making major changes to your theme.
That's why you need SeedProd.
SeedProd is the best landing page builder plugin for WordPress. Its awesome drag and drop builder lets you build any kind of landing page and publish it instantly with a couple of clicks.
The plugin has tons of functionality. It comes with templates, blocks, and sections that you can customize easily to suit your lead magnet or campaign. You can also easily embed different forms you've made in WPForms.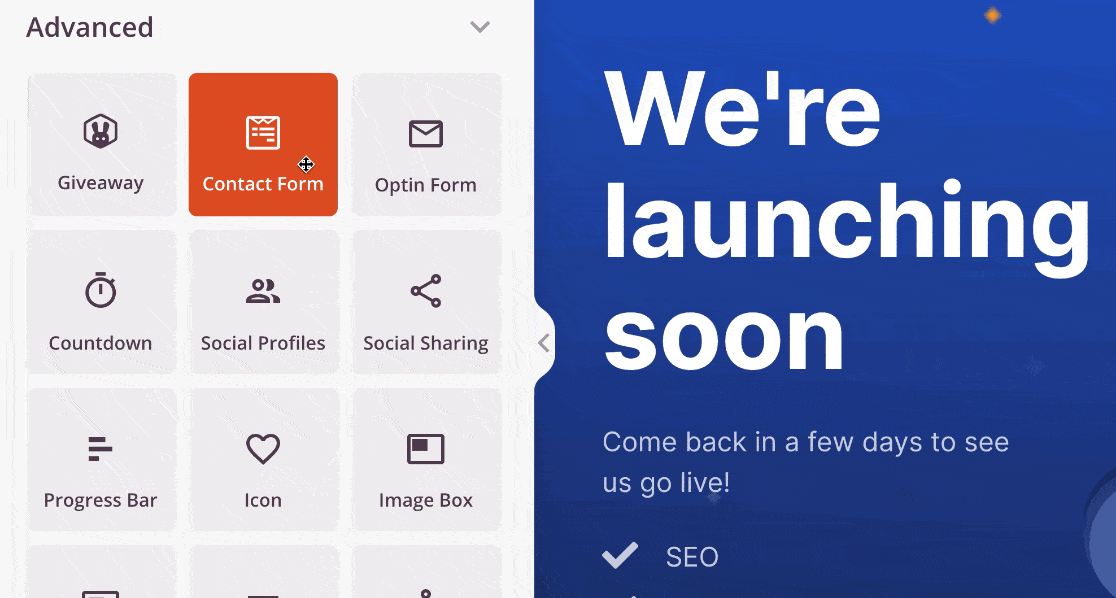 We love making landing pages with SeedProd because it's super versatile. You can use it to:
If you're looking for WordPress lead generation tools, SeedProd is a must. It automatically hides the WordPress header and footer on your lead capture form so that you can guide website visitors to a totally distraction-free environment.
Want to learn more? Check out more info and screenshots in our full SeedProd review.
Pricing: There's a free version of SeedProd on the WordPress plugin repository. Paid licenses are priced from $79/yr.
7. TrustPulse – Best Notification Bar Plugin
TrustPulse shows notifications to your visitors as they browse your website.
These notifications create a sense of urgency and encourage your visitor to take action.
For example, TrustPulse can automatically show a notification when:
A visitor signs up for a subscription
Someone checks out on your store
A product in your online store is getting tons of traffic.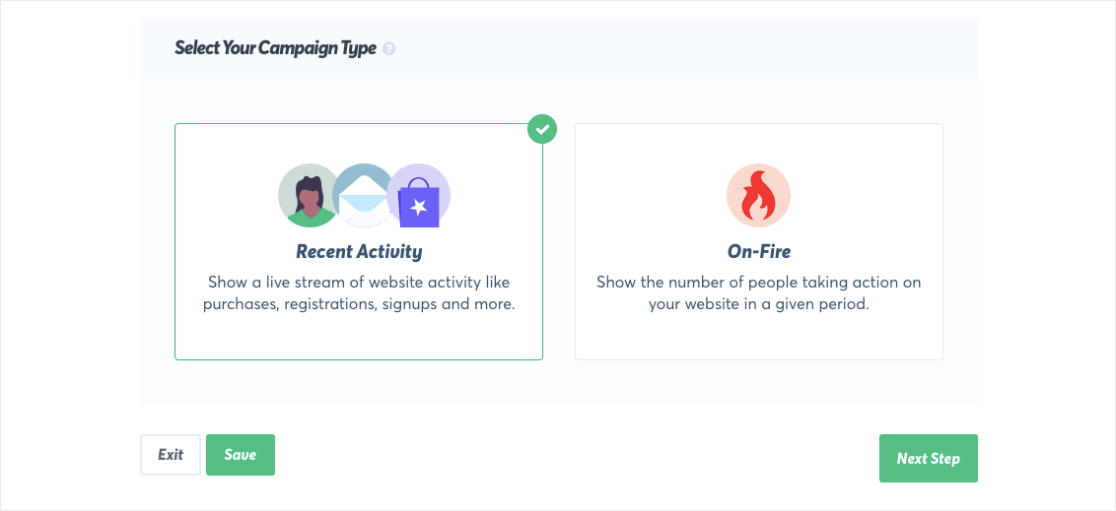 You can choose where the notifications show up for maximum impact. For example, you might want to show someone an 'On-Fire' notification as they browse your blog. That popup could turn a casual visitor into a customer.
TrustPulse is also super flexible. Uou can customize the notifications to show a map of the customer's location, or a picture of the product that's just been purchased.

TrustPulse works with many popular eCommerce platforms and integrates easily with WooCommerce.
Pricing: TrustPulse is priced from $9/mo.
8. HubSpot – All-in-One Marketing Plugin
Do you want access to a variety of lead generation tools right from your WordPress dashboard? Then, HubSpot is the right plugin for you.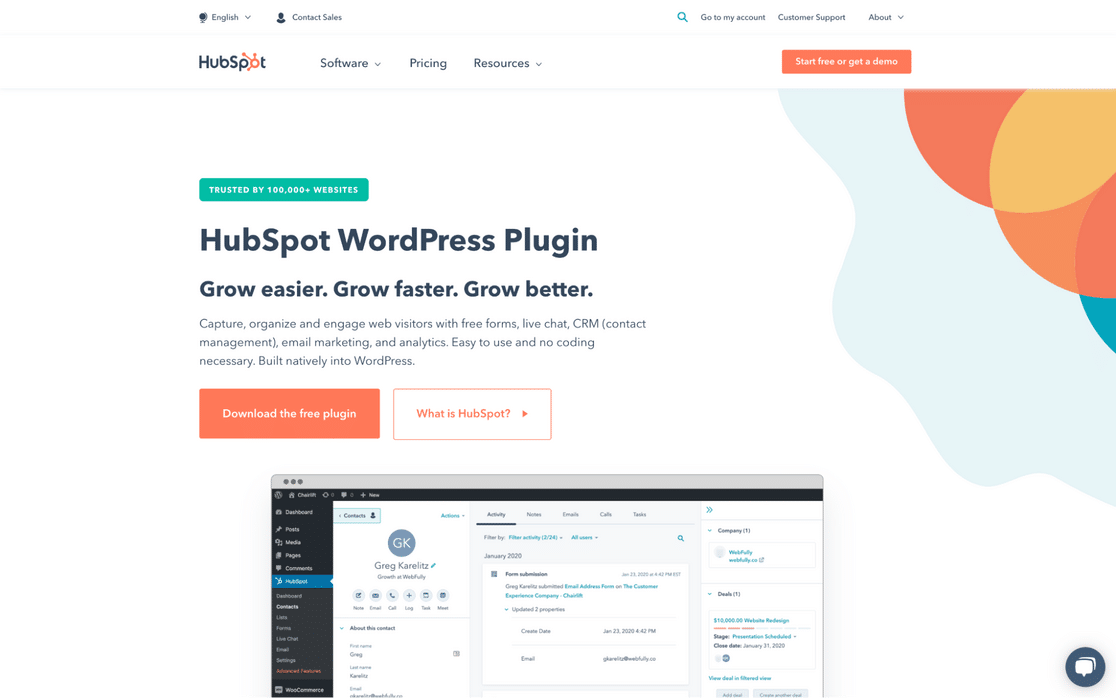 HubSpot for WordPress comes with an easy-to-use form builder. You can create form types like embedded form, standalone page, pop-up box, dropdown banner, and slide-in boxes.
In addition to the drag and drop form builder, HubSpot comes with other tools like email marketing and live chat.
Plus, the plugin includes HubSpot's well-known CRM so that you can manage your contacts, segment them into lists, and see every interaction they've had with your website.
It integrates with WPForms as well so you can automatically send contacts from WordPress to the HubSpot CRM.
Pricing: HubSpot for WordPress is free. Paid plans are available starting from $50/mo. 
9. LiveChat – Customer Service Plugin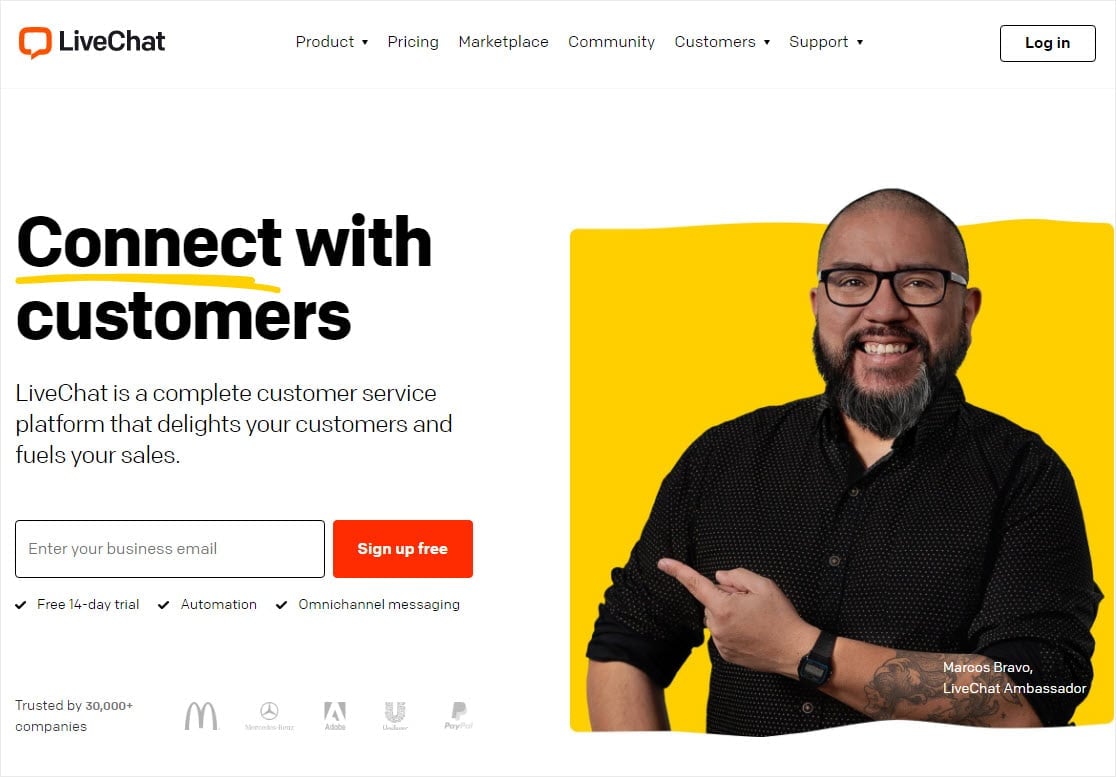 If you're attracting the right audience to your site and you're not seeing many conversions, you need to find out why. One of the best ways to figure it out is by asking your potential leads and customers about what keeps them from subscribing.
If you're looking for live chat support software for WordPress websites, you might want to consider installing LiveChat. It's an awesome WordPress lead generation plugin that lets you talk to your visitors in real time.
LiveChat also integrates with popular email marketing tools so you can connect with them and grow your email list. You and your agents can easily chat to customers on mobile, desktop, or tablet.
Pricing: LiveChat is priced from $16/mo for 1 agent.
10. RafflePress – Best Viral Sharing Plugin
Contests and giveaways are an exciting way to get more leads and build your email marketing list. Not only do contests attract tons of traffic, but they also increase FOMO – the 'fear of missing out'.
RafflePress is the best giveaway plugin for WordPress. It lets you easily create custom contests that promote viral sharing and encourage visitors to refer a friend.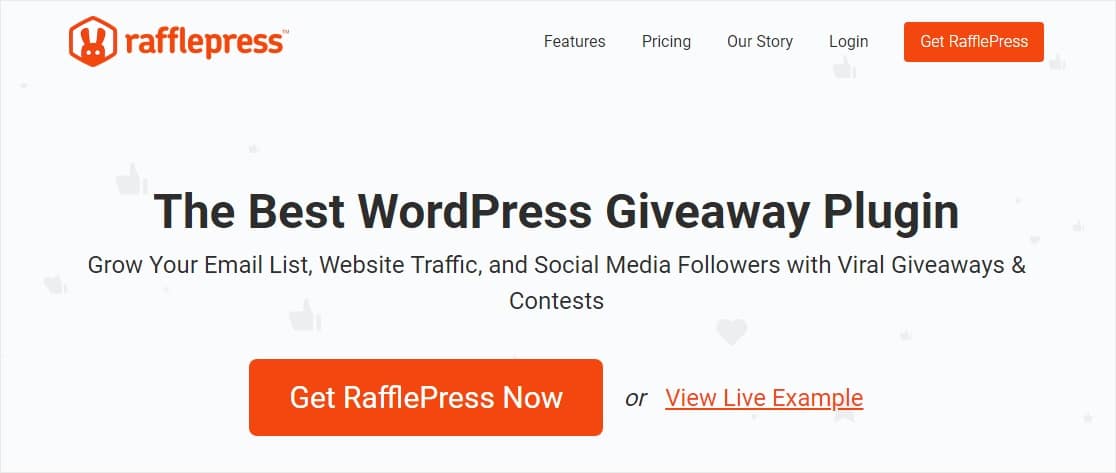 RafflePress comes with beautiful contest page templates that you can customize with your own images and branding. The drag and drop builder lets you quickly add your own text, buttons, and more.
You can quickly connect the giveaway to your email marketing service and reward customers with contest entries when they sign up. It's an awesome WordPress lead generation plugin because it does all of the hard work for you.
It's also easy to use RafflePress to get more social media followers. For example, you could give your visitors 2 extra entries when they follow you on Facebook, or one bonus entry for tweeting details of your contest. RafflePress lets you put recurring rewards on these incentives so that people can share details over and over to get more entries.
And of course, you can put a picture of your competition prize right on the landing page to increase that all-important FOMO.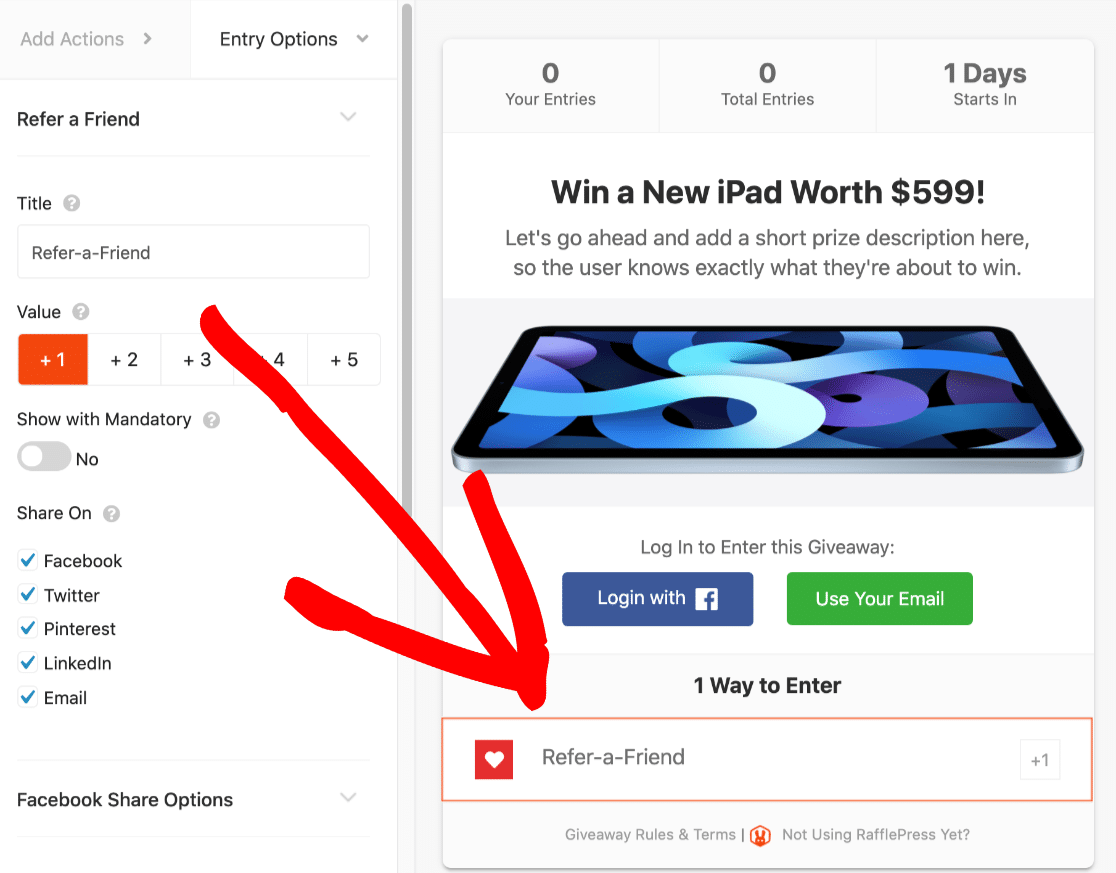 Running a contest with RafflePress is an easy way to build up your social following and get more leads, even if you're a small business that's just starting out. That's why it's one of our favorite lead generation plugins.
Pricing: There's a free version of RafflePress on the WordPress plugin repository. Paid licenses are priced from $49/yr.
11. MailPoet – Easy Email Marketing Plugin
Which email marketing service should you use for your website? There are tons of options for basic newsletters are fully automated drip email campaigns.
MailPoet is a little different. It's an email marketing plugin for WordPress that lets you get subscribers easily and then send different types of newsletters from the WordPress dashboard.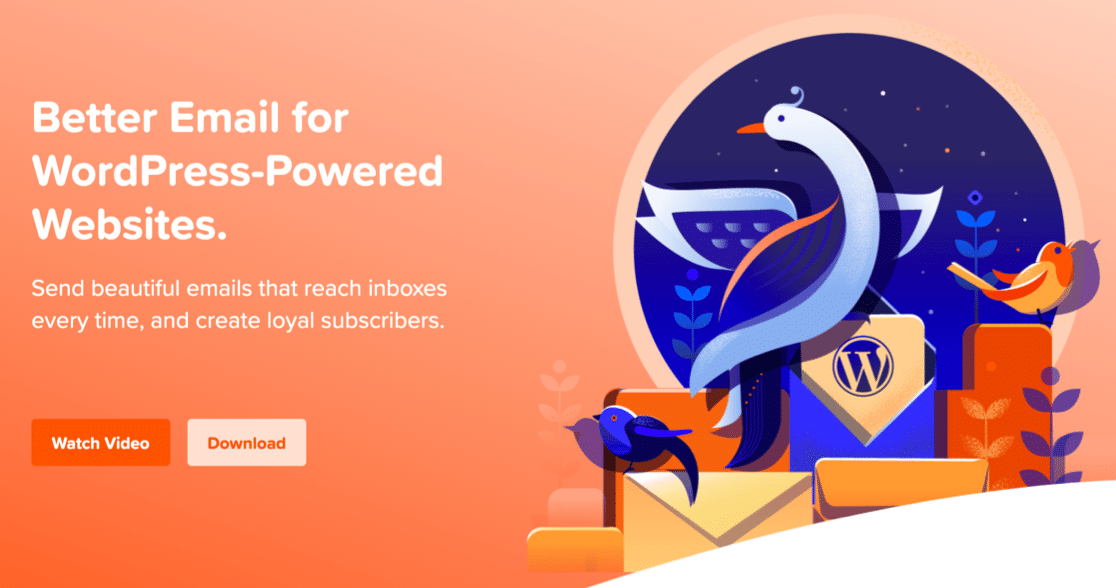 You can easily get MailPoet subscribers using WPForms. Integrating your contact forms and order forms with your email marketing list means you can collect subscribers without using separate forms.

After that, you can make custom newsletters to send to your subscribers. MailPoet also lets you automatically notify subscribers when you publish a new blog post.
That's an awesome way to turn your leads into regular readers who are engaged with your content long-term.

And if you've decided to start an online store with WooCommerce, MailPoet can automatically send followup emails to encourage your customers to repurchase.

Integrating different types of WordPress forms with MailPoet is a great way to get leads and keep them coming back for more.
Next, Don't Forget Mobile Lead Generation
Did you know that 70% of online time is mobile browsing? If you want to get more leads, you need to consider your mobile visitors.
For some pro tips, check out this guide to getting more leads on mobile.
Ready to build your lead generation form? Get started today with the easiest WordPress form builder plugin. WPForms Pro includes 500+ free form templates and offers a 14-day money-back guarantee.
If this article helped you out, please follow us on Facebook and Twitter for more free WordPress tutorials and guides.