Looking for exit-intent popup examples to inspire your own for your WordPress site?
Exit-intent popups are insanely effective ways to boost the success of your website by grabbing visitors' attention before they leave.
So we've put together this list of our favorite exit-intent examples from across the web for you to check out.
What Is Exit-Intent?
Exit-intent is when visitor behavior indicates they are about the leave a webpage. If you use a software or plugin that detects this, it can react accordingly.
What this means is that if you're using something like OptinMonster's Exit-Intent® technology, you can decide what happens when someone is about to leave your webpage.

For example, say someone is on your pricing page and moves their mouse toward their browser bar to navigate away before they've made a purchase. You can set things up so that a popup is shown at this time.
That way, you can offer a discount to try and win their business since you know they're already interested. Or, invite them to chat with a support agent to get their questions answered.
Plus, it's a fantastic way to grow your email list and gather email addresses. They have super high conversion rates.
So now that you know how useful exit-intent popups are in WordPress, let's take a look at some examples.
Exit-Intent Popup Examples for WordPress
Here are some fantastic examples of exit-intent popups for your WordPress website and some tactics that we're used with the popup.
1.Yes/No Form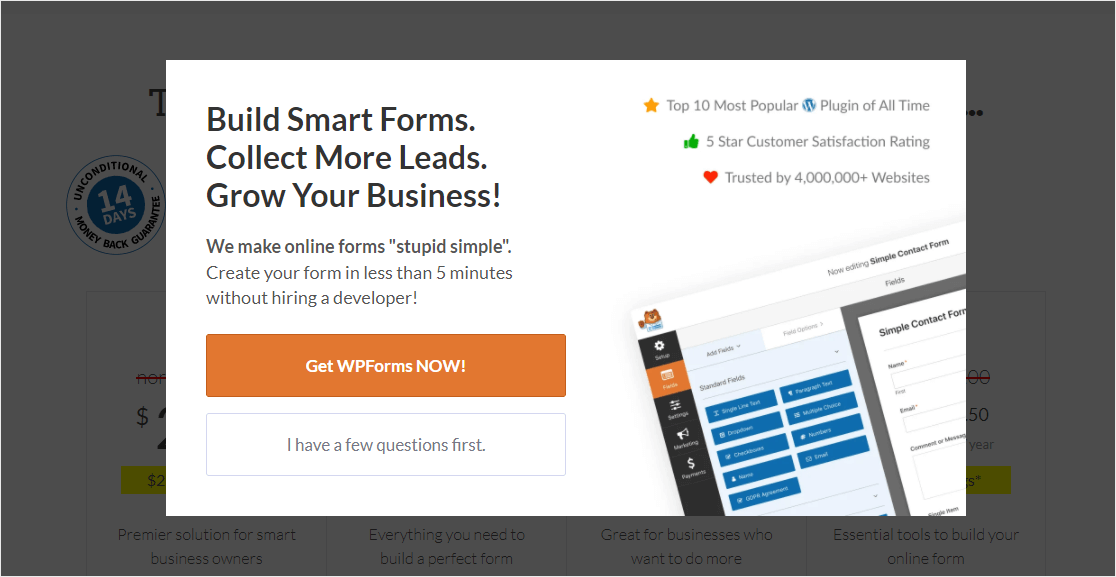 We use a Yes/No style exit-intent popup on our pricing page. In this case, we like to encourage anyone who isn't ready to buy to reach out to our support team. Feel free to use this style on your exit-intent popups as well!
2. Celebrity Appeal

In this exit-intent popup example, GQ uses a familiar face (known for being stylish) to advertise a lead magnet about good style and grooming tips.
Although this magazine probably had the rights to use this image of this famous actor.
3. Fullscreen Exit-Intent

Want a tip on reducing cart abandonment and increasing sales? Look no further than this exit-intent popup in WordPress.
And it's fullscreen so visitors surely won't miss it.
4. Negative CTA

This exit intent popup uses something called a Negative CTA as copy for the 'no thanks' button.
Also, what's cool about this exit-intent example in WordPress is that clicking Yes takes you to a special landing page that displays the benefit of downloading the training guide.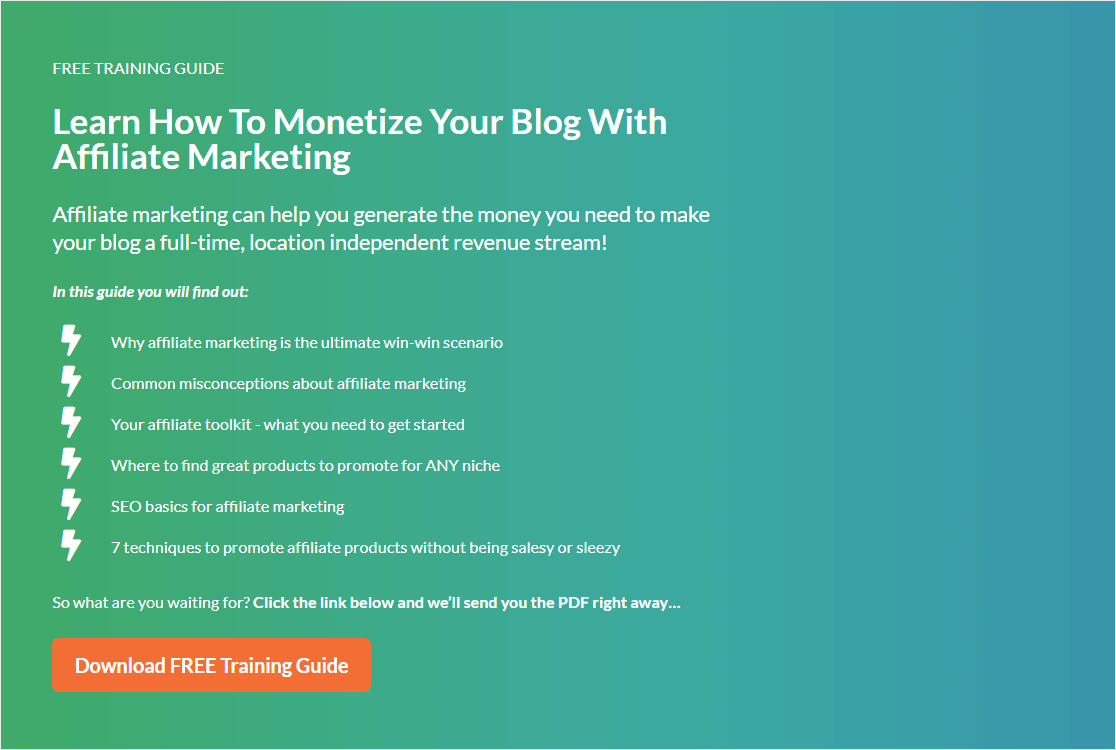 5. Social Proof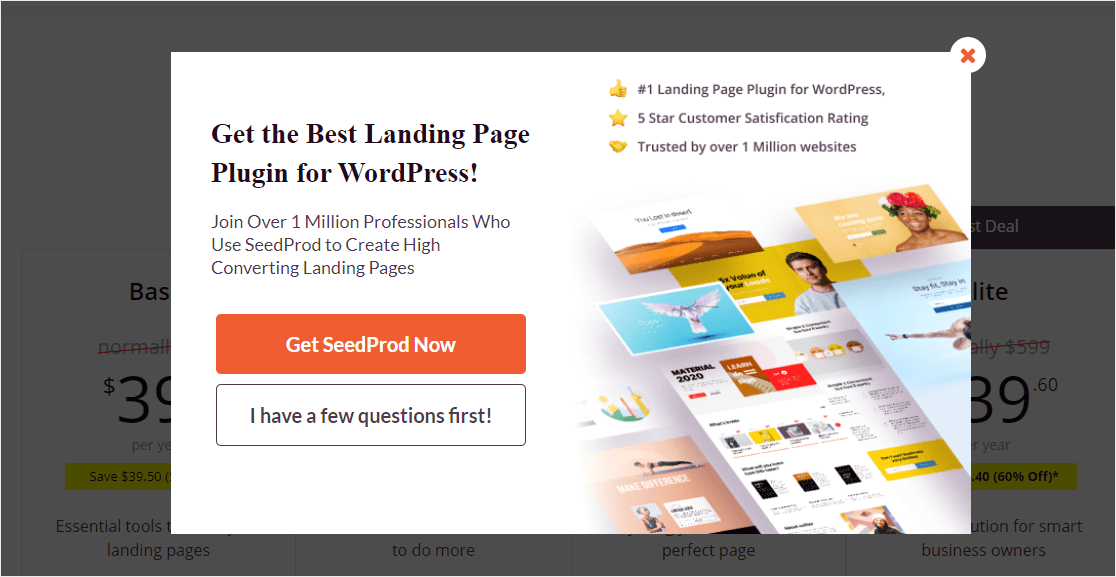 In this example, you can see landing page builder SeedProd has an exit-intent popup on their pricing page. It uses social proof by showing how many people use the product.
It does a great job of listing benefits on the side and also showing the tool in action with bold images.
6. Distraction-Free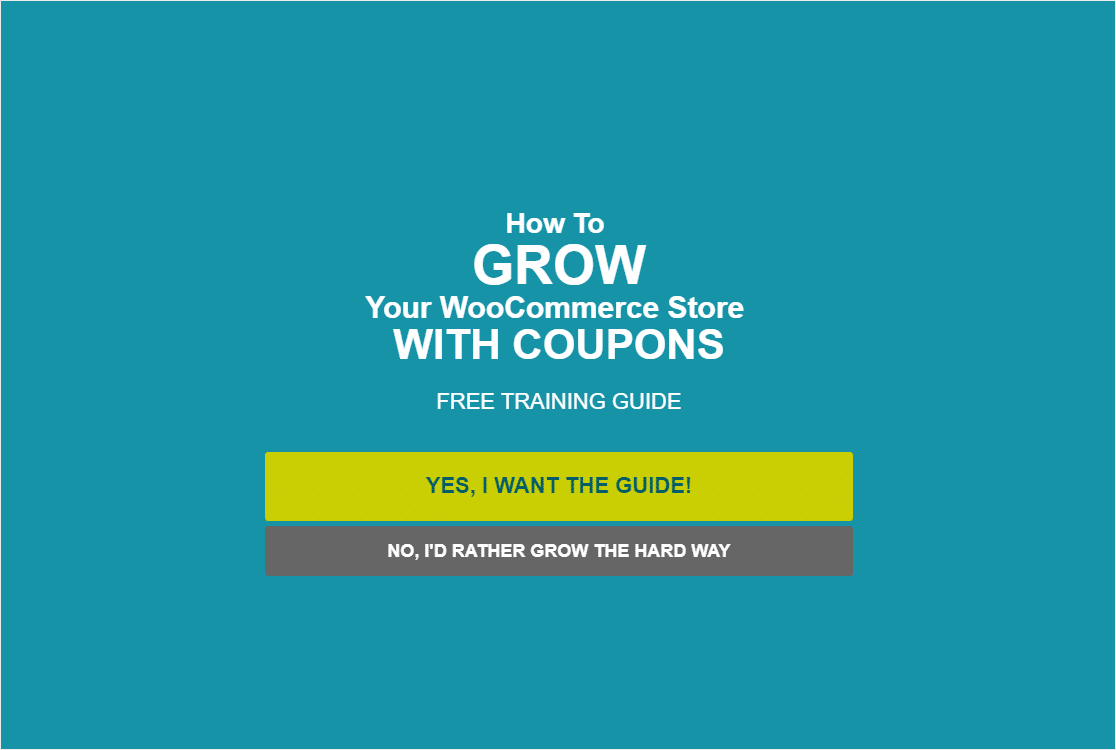 This WordPress website's exit-intent popup example is direct and to the point. They use Yes/No options and negative CTA on the 'no thanks' button.
7. Demo Offer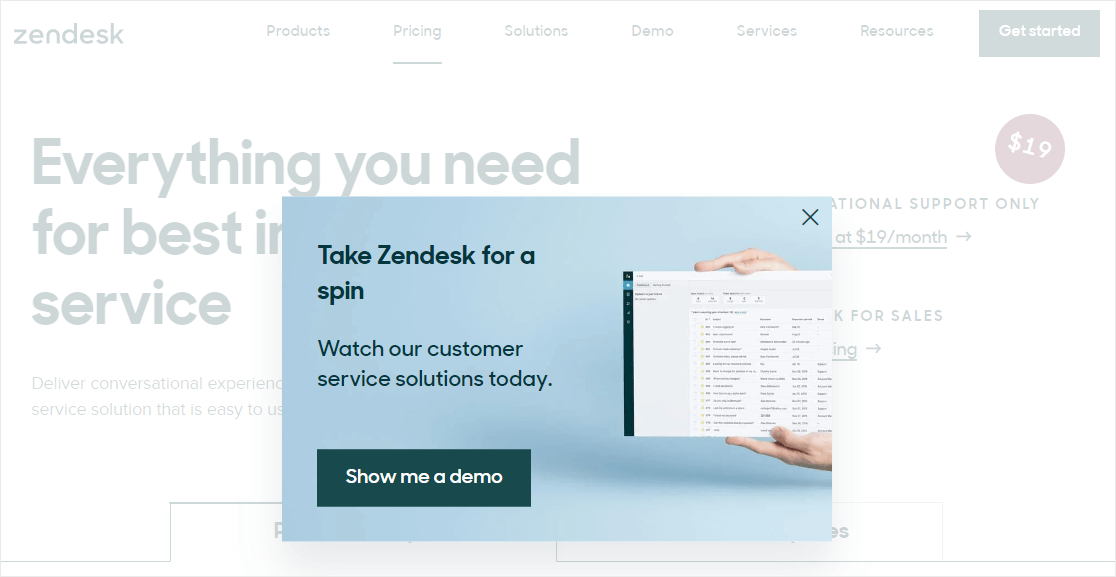 Do you have a software tool you're selling? You can use exit-intent popups to offer your demo like in this awesome example.
8. Overlay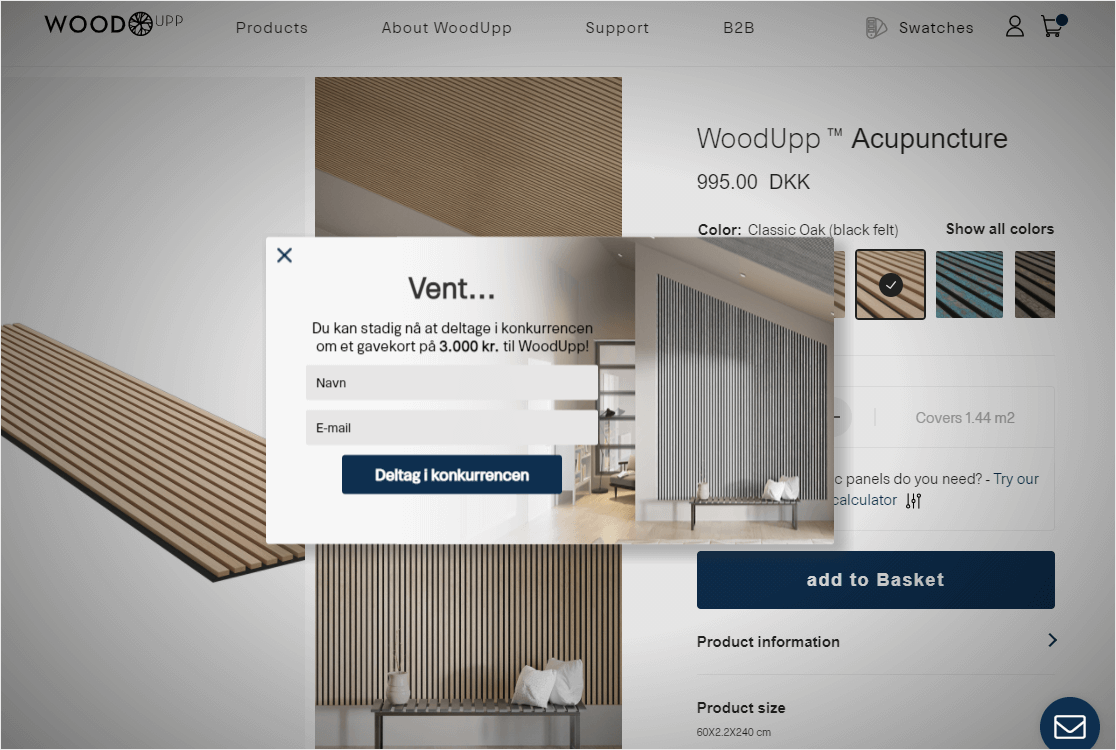 If someone is already on your product page, it's a safe bet that they're pretty interested in what you're selling.
In this example, the company uses exit-intent popups to offer a discount when someone goes to leave the shop before buying.
9. Segmented

Here's an exit-intent popup example in WordPress that segments a list. They do this by having people enter their city on the form.
That way, they know exactly which type of content to send them and which content won't be relevant.
10. Coupon Code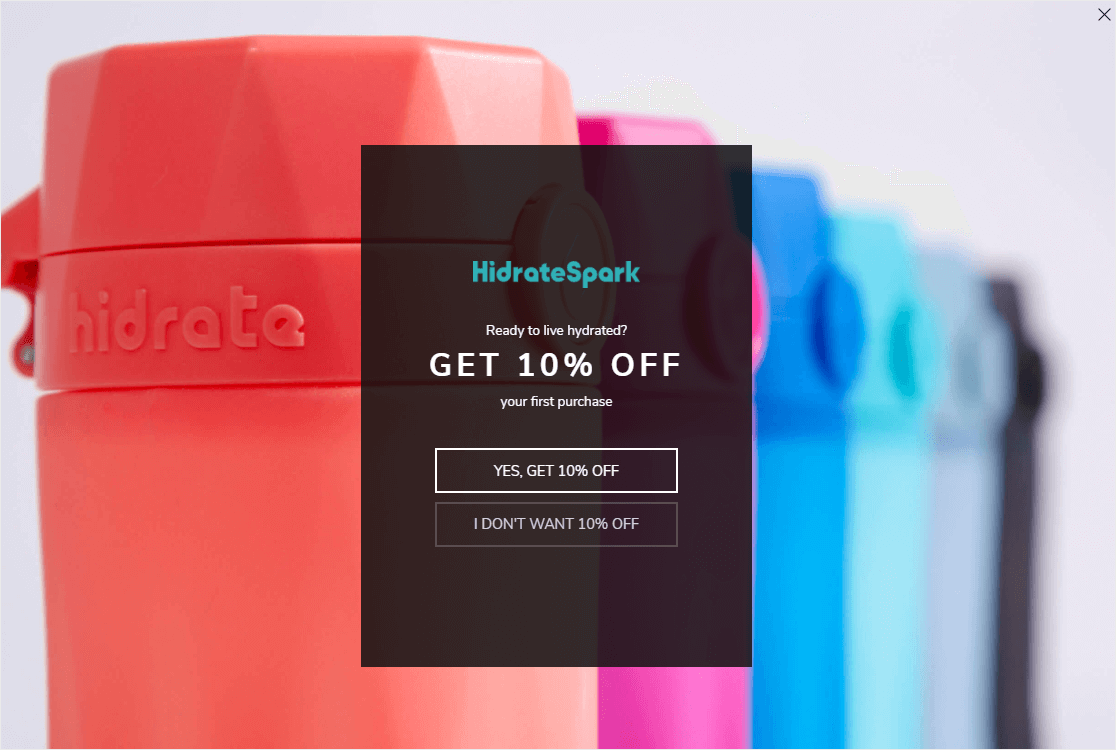 This website's fullscreen exit-intent popup is bold and dramatic and offers a coupon code and a Yes/No option with a negative CTA button.
So this popup probably converts pretty well for the company.
11. Countdown Timer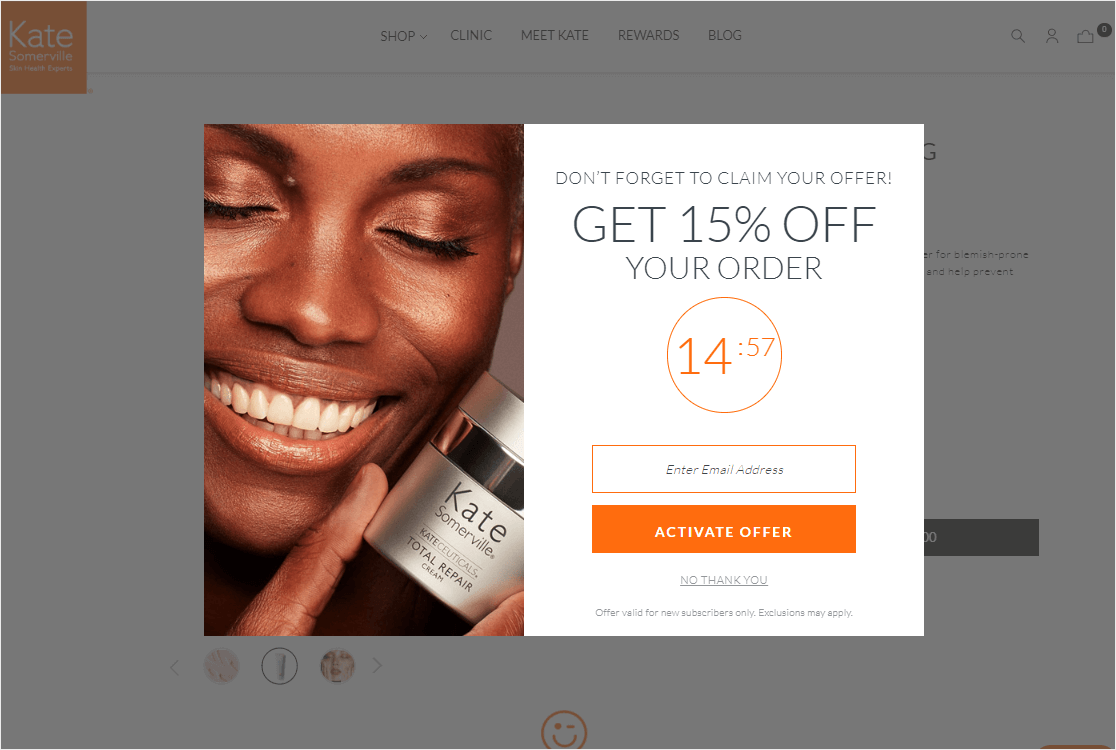 In this visually stunning exit-intent popup, visitors are shown a countdown timer to create FOMO (Fear of Missing Out) and encourage them to give their email address instead of just leaving and vanishing without a trace.
12. Use of Personal Image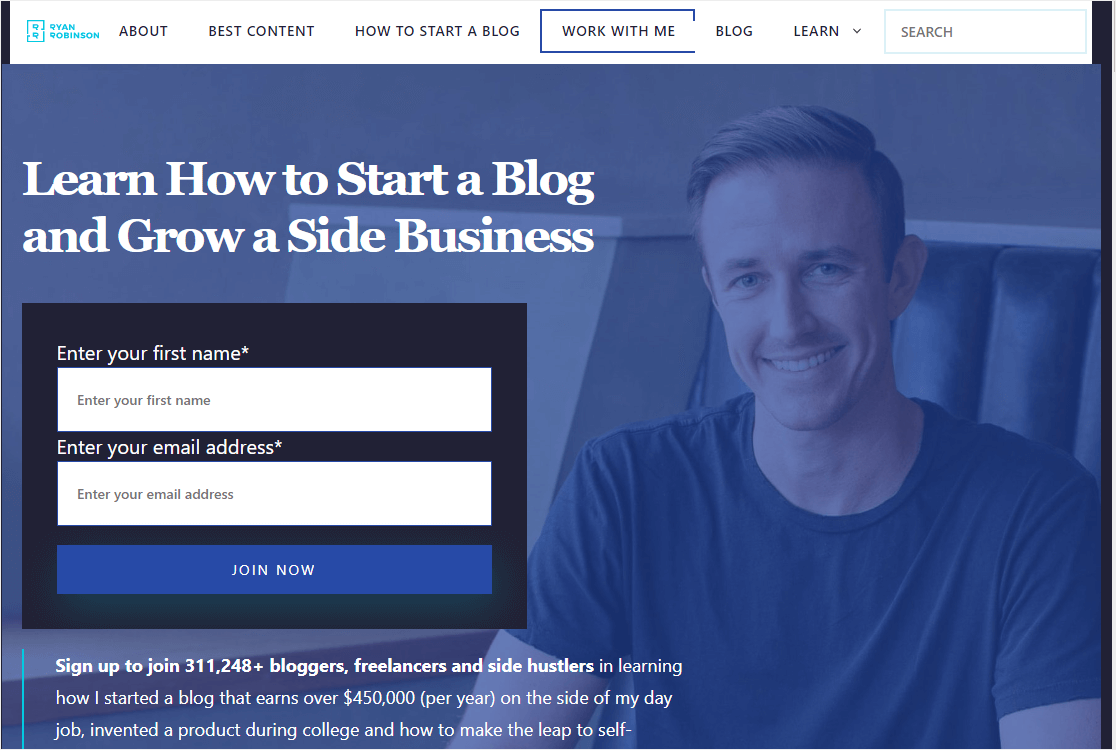 This exit-intent example popped up and made us feel quite welcome because the creator added a picture of themselves to it.
Using an image is a great way to really personalize the entire popup and make people re-think their intent to leave your site.
13. Simple Blog Subscribe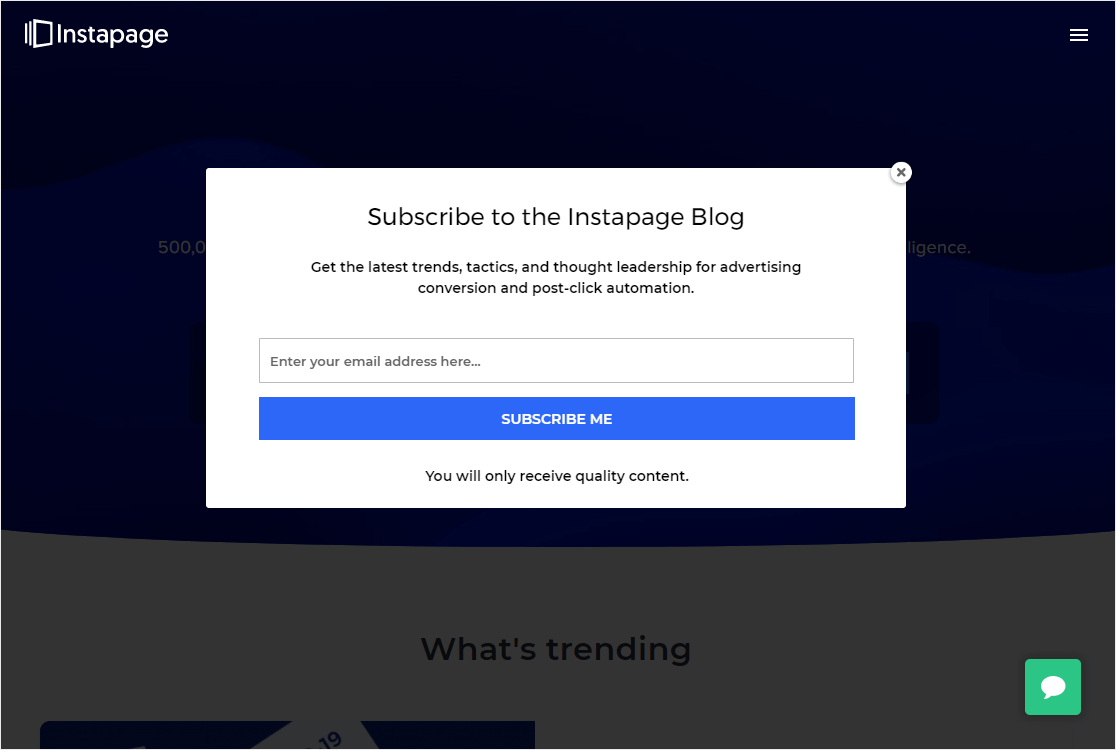 Another example of a good exit-intent popup is one that invites you to subscribe to the blog.
Sometimes, it doesn't have to always be a newsletter that people want to sign up for. You know they're on your blog now, so why not invite them back (via new email posts) in the future.
14. Brochure Opt-In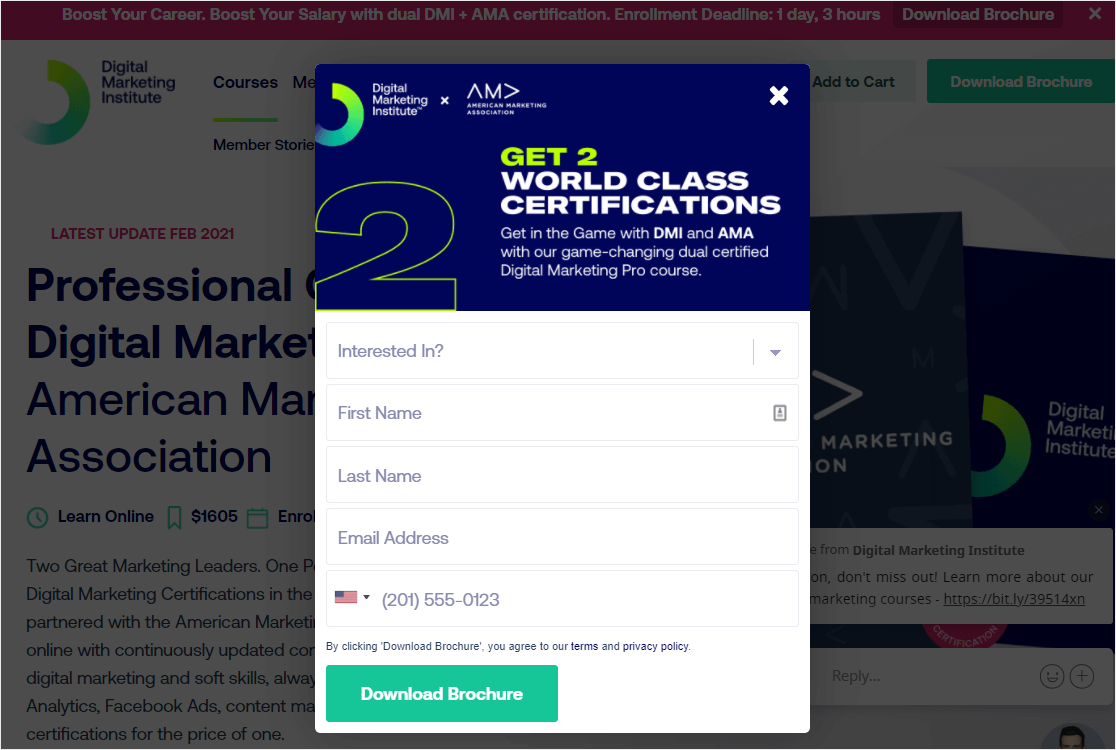 Instead of just letting you exit the website without returning, Digital Marketing Institute smartly offers a brochure about the certifications they teach online.
It's a smart way to get the contact info of people who would be interested in this.
15. Statistics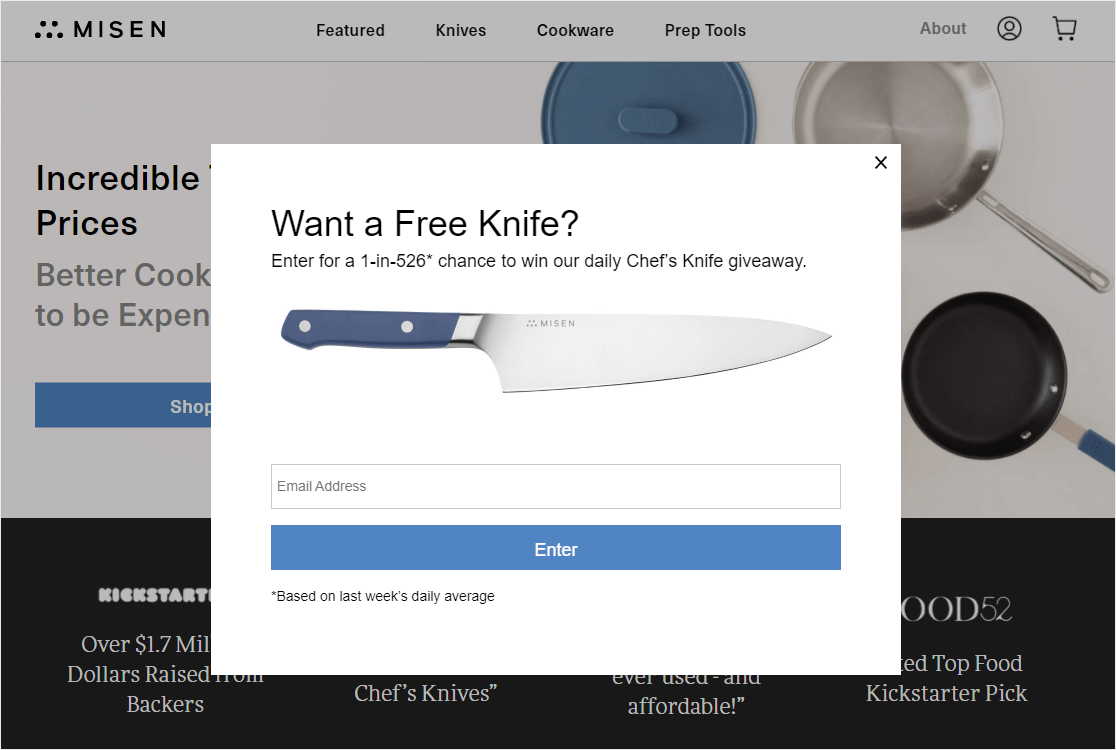 See how this exit-intent example shows the odds of winning right on the popup?
This is a good idea to get people to sign up instead of closing out of your website forever.
16. Super Detailed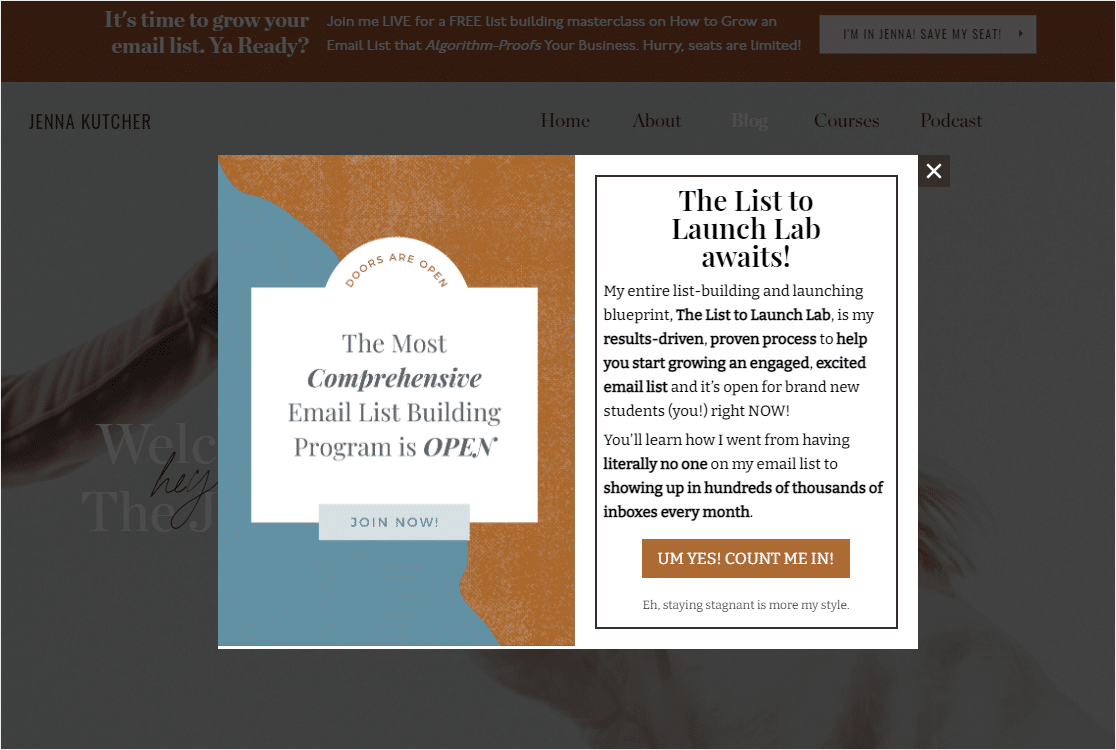 Lead generation isn't always black and white.
So just because it's best practice to leave your exit-intent popup concise, doesn't mean everyone does. In this example, digital marketer Jenna Kutcher gives a lot of details about a course as you're exiting the site.
17. Physical Direction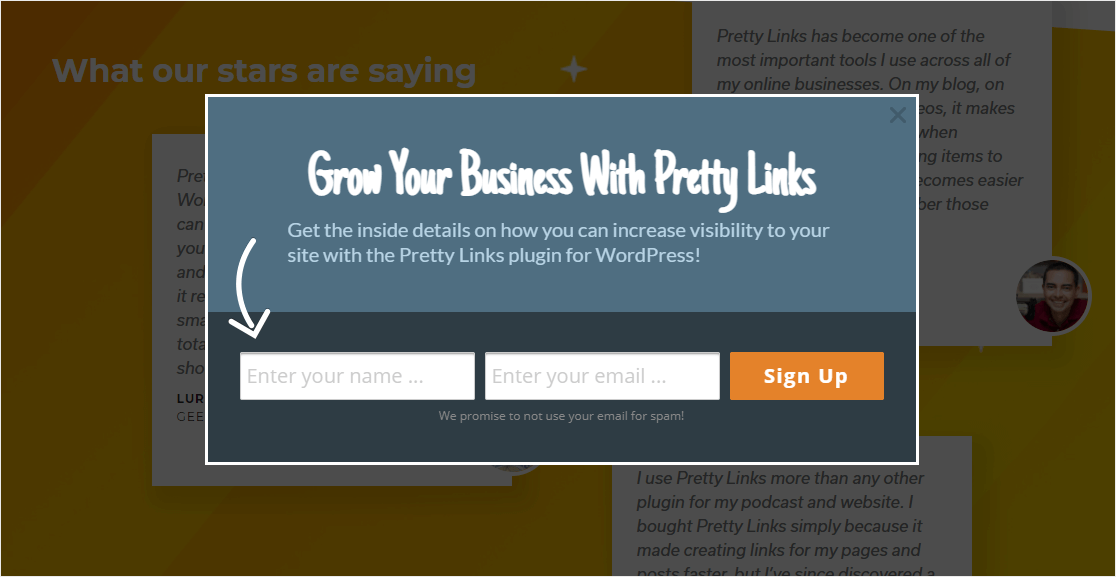 In this WordPress popup exit-intent example, Pretty Links is using an arrow to literally direct people to the form fields.
While this seems like something small, it's actually a psychologically impactful way to direct people to do what you want to do (versus leaving your site like they were just about to do).
18. Free ebook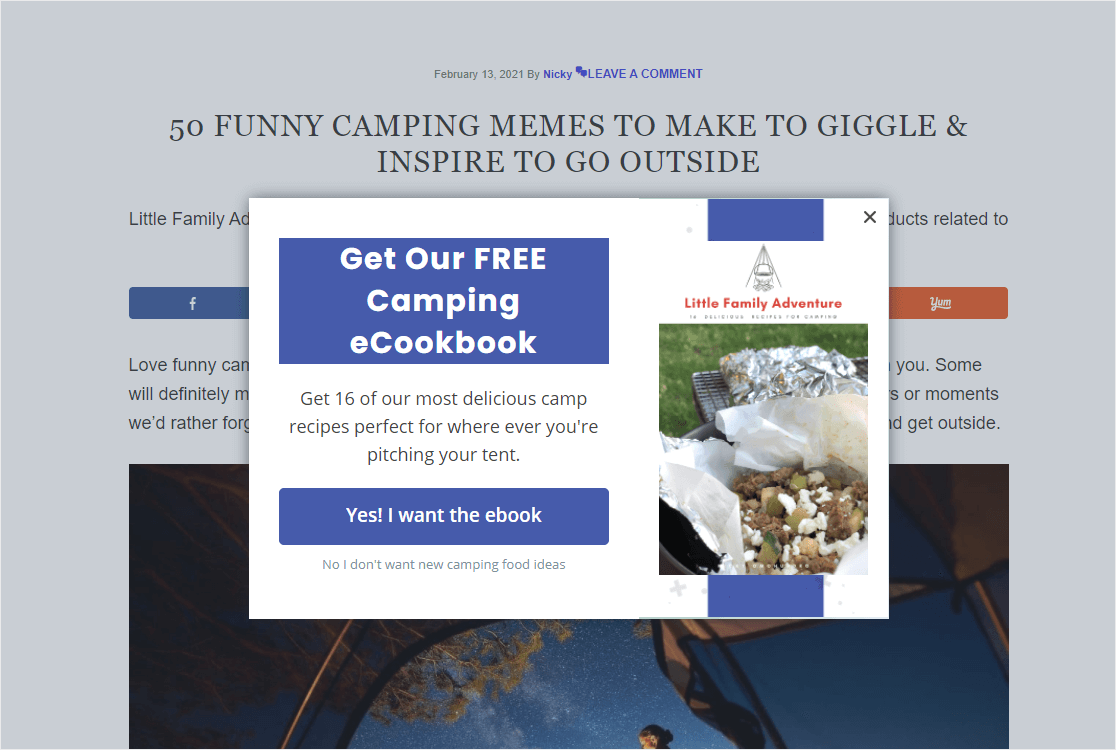 This personal blog uses exit popups to offer a free ebook on their opt-in form. And it's a targeted campaign as well since the offer for the free camping cookbook is strategically placed on a blog post about camping.
This helps increase conversions since you know your readers are already interested in a particular topic.
19. Giveaway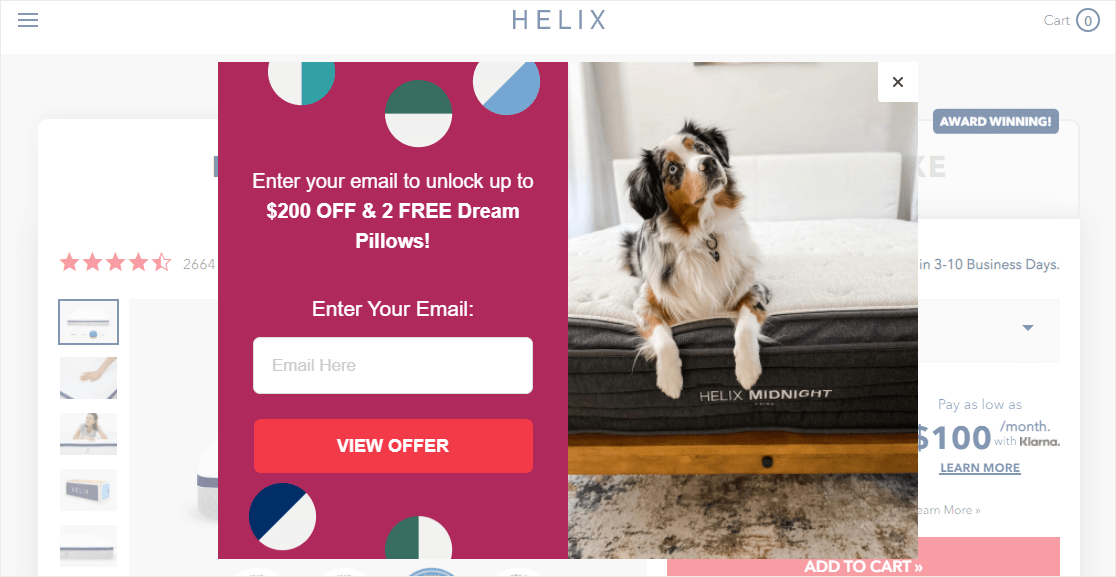 This exit-intent example shows the use of a giveaway type of popup. Although not an actual contest, this copy implies you'll get 2 free pillows for giving them your email address.
20. Checklist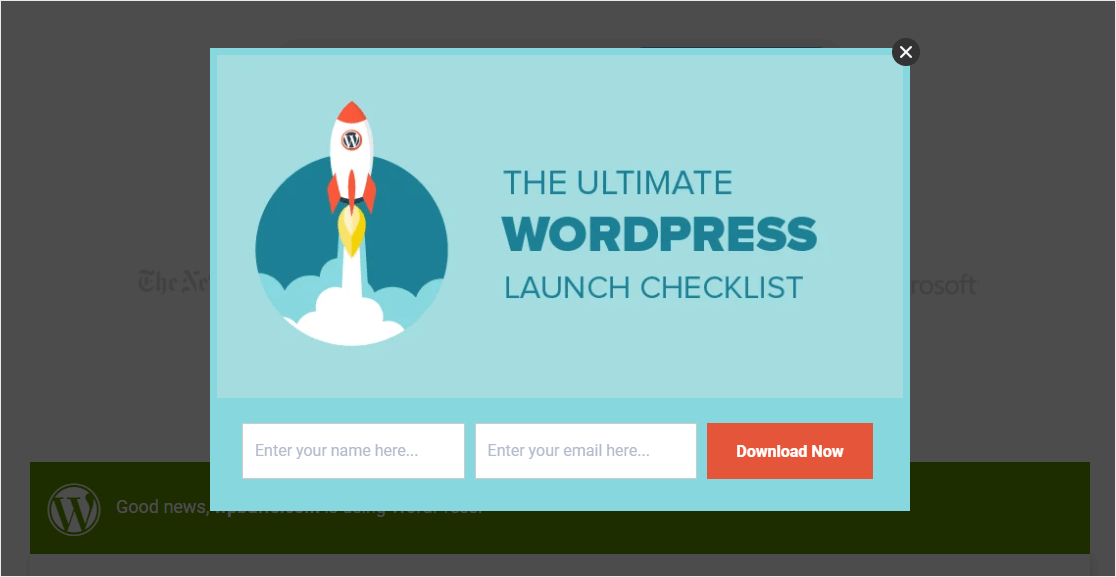 The IsItWP website keeps its exit-intent popup super to the point. On your way out,  just give them your name and email address, and you'll get a checklist to launch your website.
21. Ultimate Guide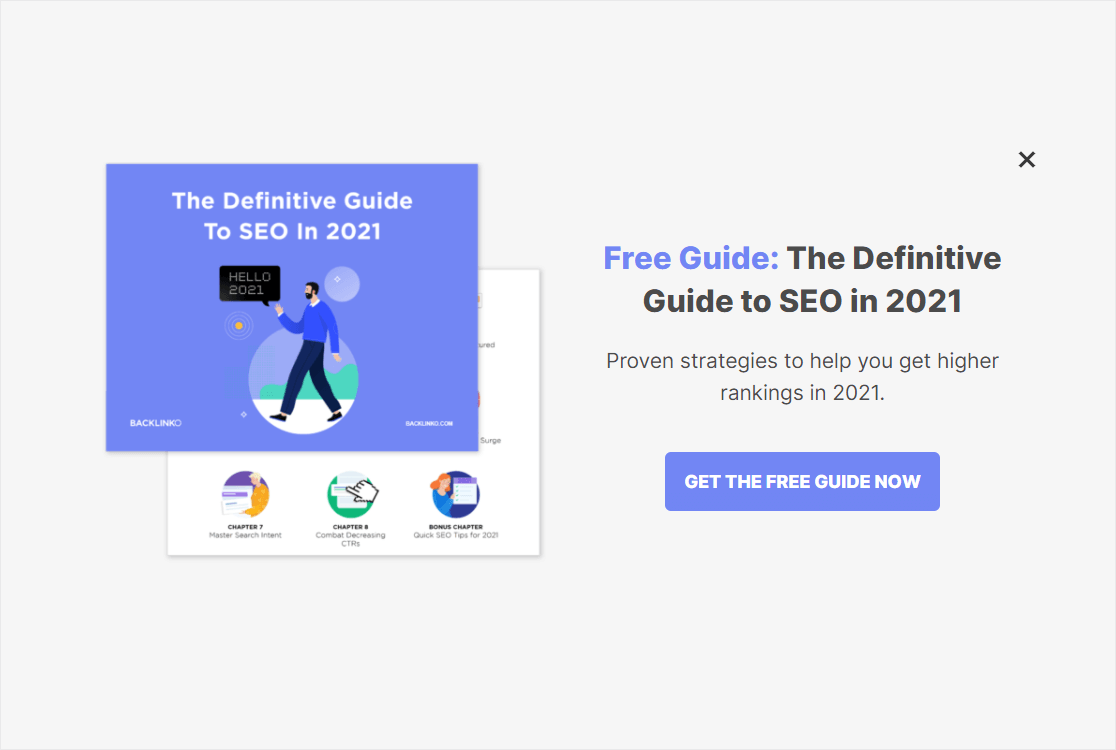 Backlinko offers an ultimate guide for free in this exit-intent popup example for WordPress. It's easy to create a great lead magnet like this by turning a really thorough blog post into an ultimate guide.
22. Clever Copy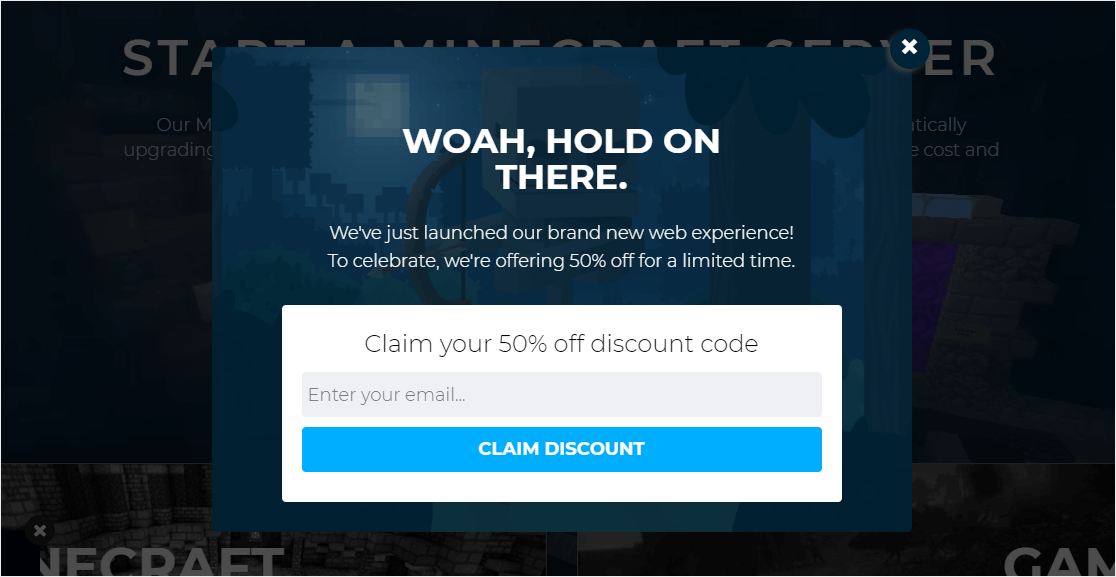 In this exit-intent popup example, the copy is quite clever. It points out that they could sense you were leaving by saying 'woah, hold on there' and then offering a killer discount.
23. Timely Event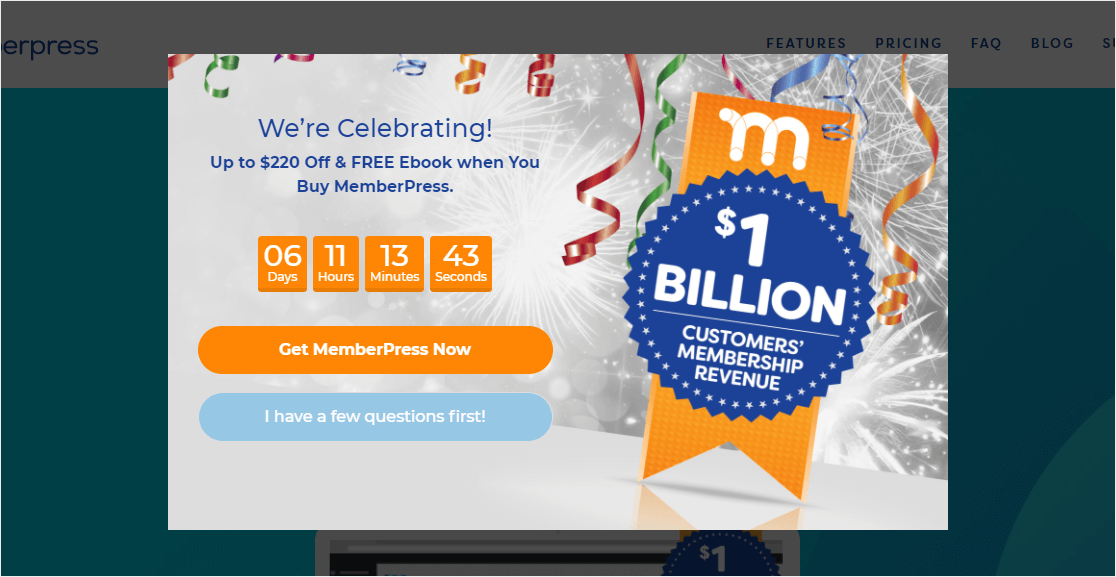 At the time of this screenshot, MemberPress was celebrating a big milestone. So, they turned this event into a customized popup and used it in their exit-intent marketing campaign.
24. Product Page Coupon Offer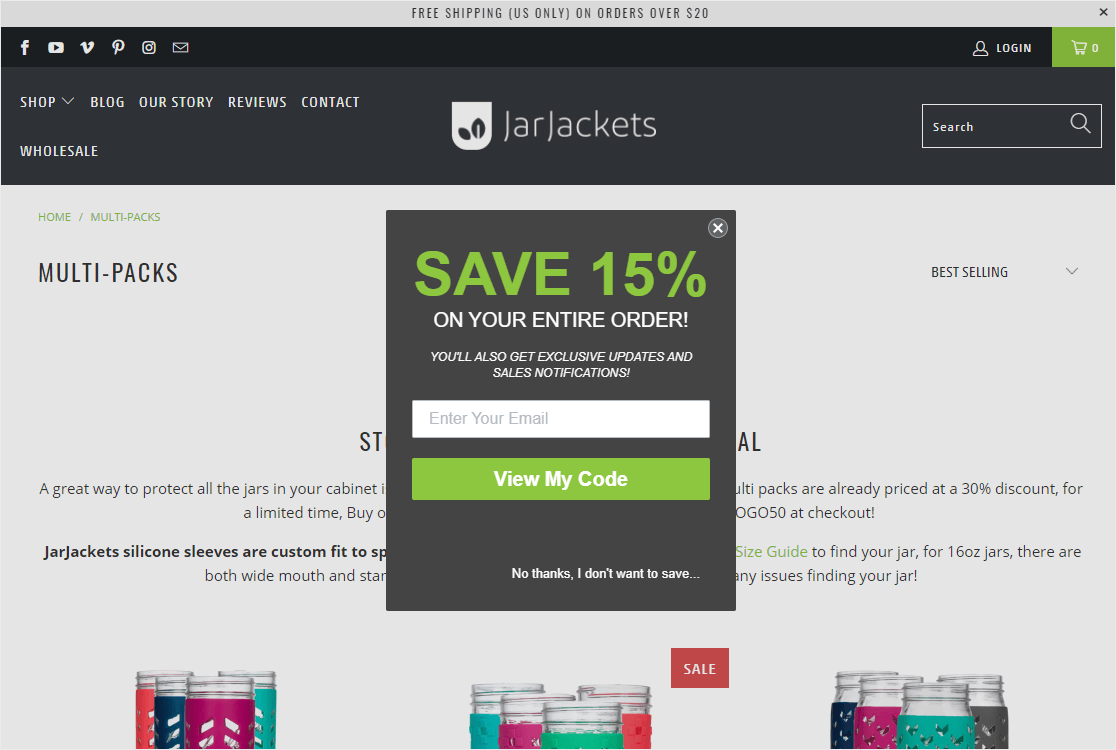 In this exit-intent popup example, you'll see this WordPress site decided to include this coupon code offer right on their product page. It's smart to offer something like this in your eCommerce shop.
25. Surprise Factor
In this exit-intent popup example, you can see that the copy is addressing that the visitor was about to leave the site by asking 'Not ready to sign up today?'.
It's a clever way to get an email address from someone without pressuring them too much.
26. Sign-In Prompt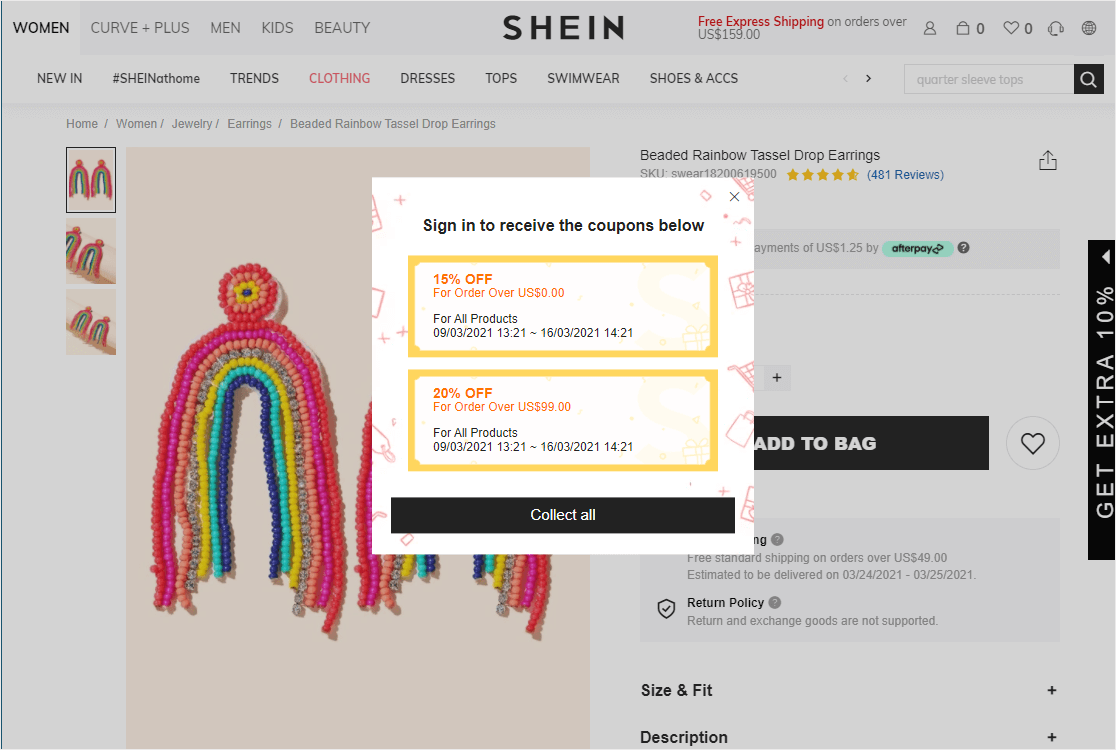 This retail website uses a great tactic. In this exit-intent popup example, you'll see they are asking people to sign in to their accounts. This encourages people to join others and sign in.
Plus, they use smart verbiage like 'collect all' for their submit button copy, too.
27. Lightbox Style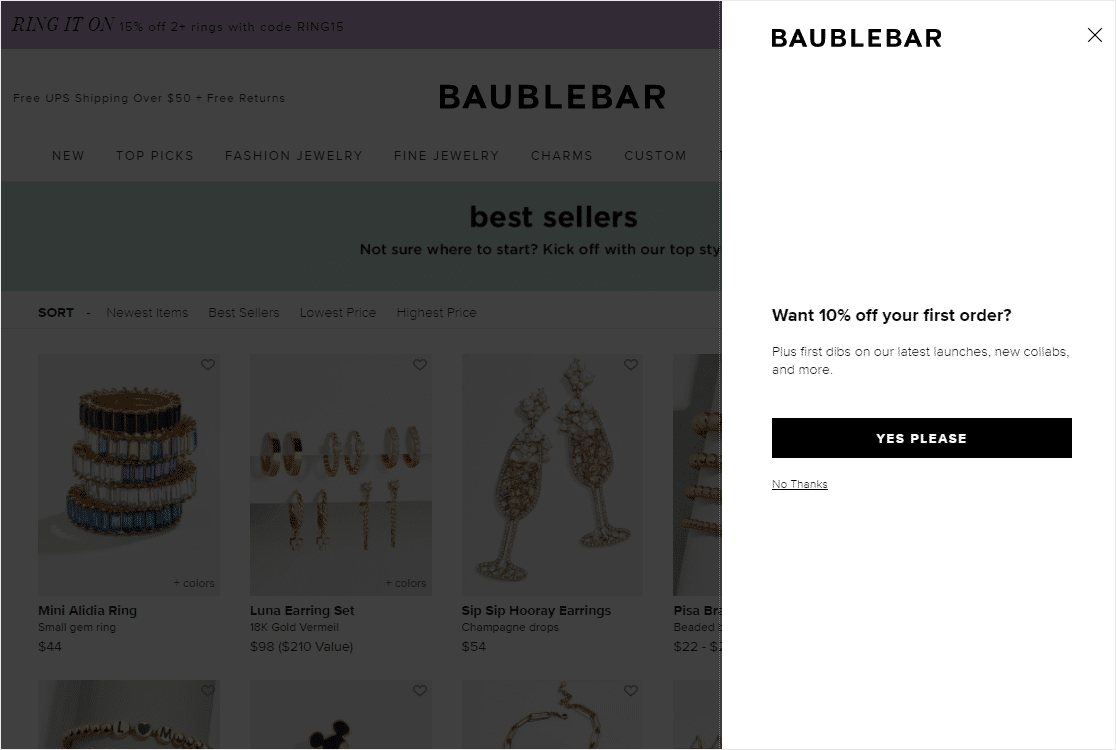 This exit-intent popup example uses lightbox style. Meaning, a dim overlay on the rest of the website helps your visitors focus on your call to action. In this case, it's offering a coupon in exchange for an email address.
28. Feedback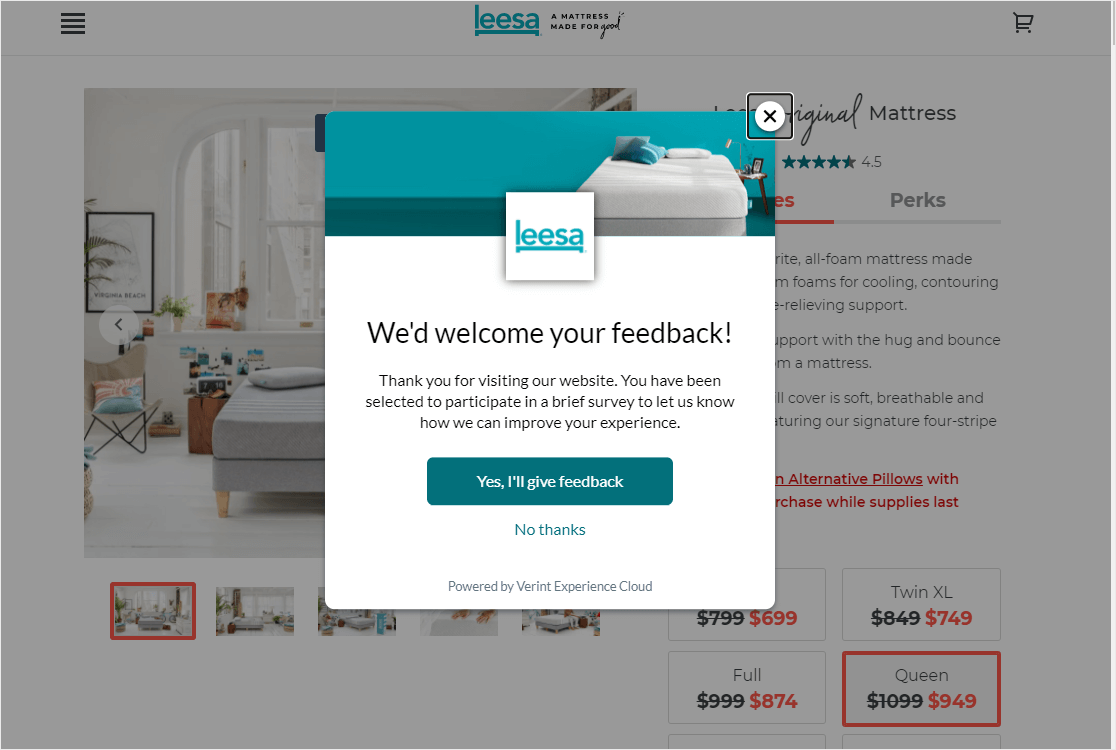 The mattress company website has found a smart way to use survey forms. They use their exit-intent popup as a chance to invite people to fill out feedback forms.
29. Questionnaire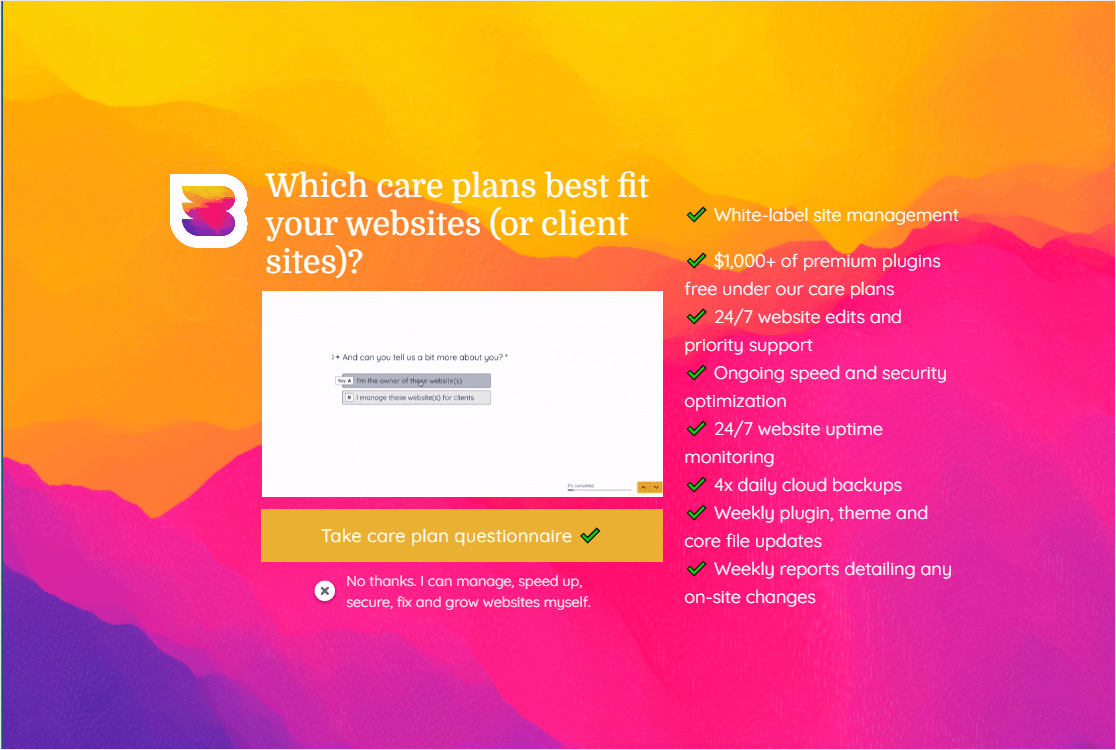 This colorful fullscreen exit-intent popup example asks the visitor if they'd like to take a quiz to learn more about their products. There's also a sidebar on this fullscreen popup that lists benefits.
And, the 'no thanks, I can manage, speed up, secure, fix and grow websites myself.' button uses a negative CTA.
30. Apply Promo Code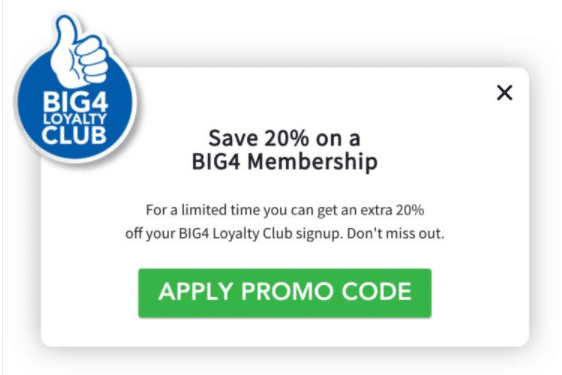 This exit-intent popup example uses a great tactic of offering to instantly apply a discount to a purchase.
It's really easy to add a coupon code field to your forms so that you can do this, too.
Final Thoughts on Exit-Intent Popup Examples
So there you have it. We hope this list of exit-intent popup examples helps inspire you to build one that really helps your website convert. We think OptinMonster is the best tool on the market to do this with their signature Exit-Intent® technology.
Love how effective popups are? Check out our tutorial on how to create a popup feedback form in WordPress if you want to supercharge your digital marketing with surveys.
And if you liked this post, give us a follow us on Twitter and Facebook for more from our blog.