Looking for the best lightbox plugin for your WordPress website?
If you want to display images, video, contact forms, or newsletter optins in a gorgeous, modern way, a lightbox is a fantastic way to go.
And it's easy to set up a lightbox and transform the look and feel of your site. In this guide, we've compared the best WordPress lightbox plugins available to help you choose the right one for you.
What Is a Lightbox Plugin?
A lightbox plugin can easily help you make your images, forms, and more look very cool by creating a lightbox gallery or a box with a lightbox effect.
A lightbox gallery is a modern and professional way to display images on your website.
You've probably seen them before. It's a popup, modal, or overlay that shows your images or media files on top of the web page. Most of them focus on the image and darken out the rest of the page.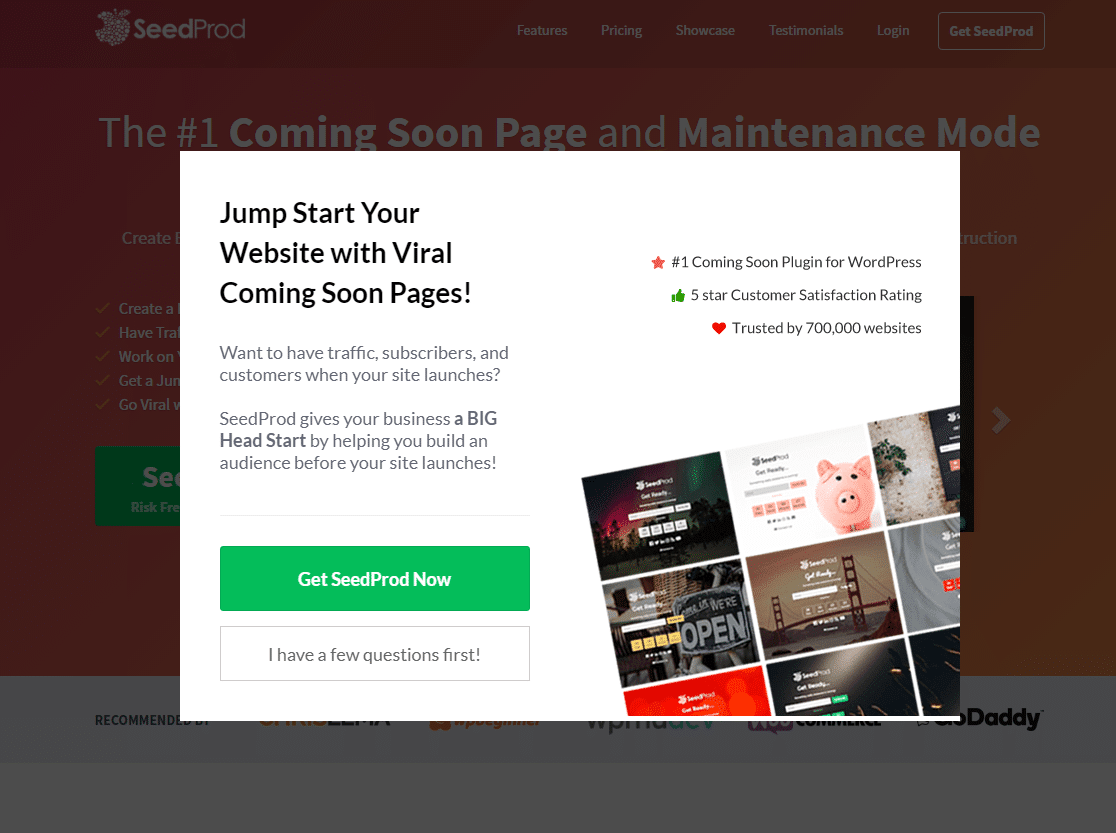 You can use lightboxes as a gallery to show multiple items, or just as a lightbox to display a single item like a simple contact form or newsletter signup to help grow your email list.
So now that you know what a lightbox is, let's move on to how to get one on your website.
How Do I Create a Lightbox in WordPress?
The simplest way to create a lightbox in WordPress is to use a plugin. A plugin will let you add a lightbox without needing to be very technical and add any code to your website. A plugin is simply the easiest and most effective way to add a lightbox to WordPress
There are a lot of plugins to choose from, so let's compare the best lightbox plugins out there so you can find the one that's right for you.
The Best WordPress Lightbox Plugins
We searched all over to find the very best lightbox plugins available for WordPress today. Check out this list: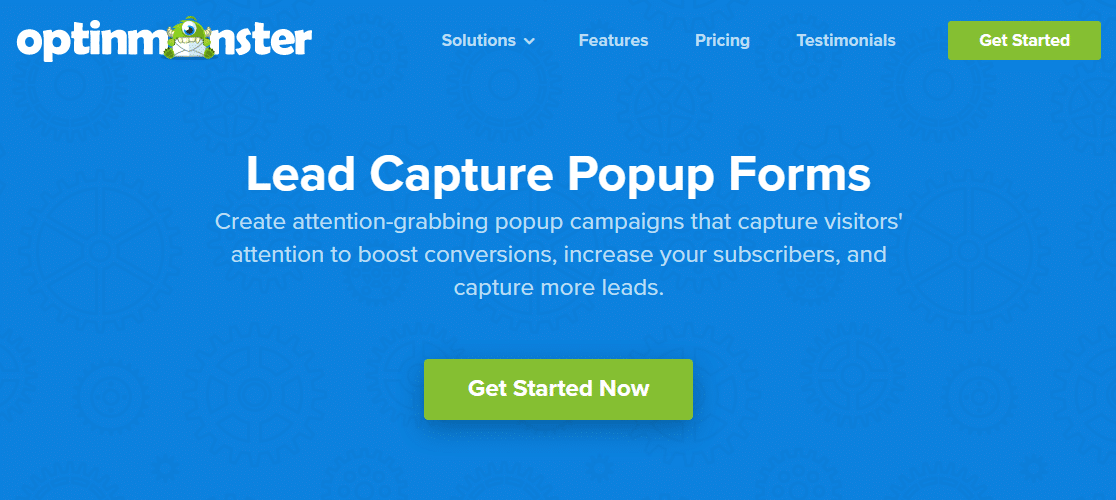 OptinMonster is the most powerful lead generation tool in the world, and that's why it's so exciting they offer lightbox popups. Not only can you use their lightbox feature, you can use their entire suite of other tools to effectively get way more leads and customers from your website.
Features:
Share specific messages to specific people in your lightbox
Decide when you want the lightbox to show up
No distractions since everything fades into the background
Use one of the many proven-to-convert templates or build your lightbox popup from scratch
Exit-Intent® Technology that detects when visitors are about to leave your site and triggers the lightbox to appear
Cost: Pricing starts at $9/mo (billed annually).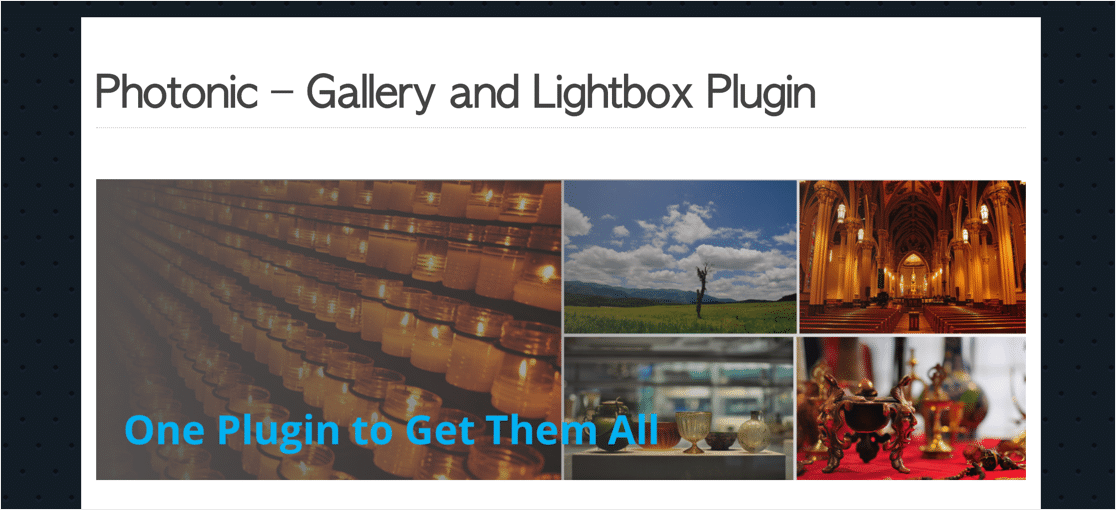 Photonic Gallery and Lightbox lets you easily integrate your WordPress gallery with photo hosting services.
Photonic comes with more than 10 lightbox styles and integrates with other lightbox plugins too. You can also use Photonic to load images from the Media Library in a lightbox so that your whole site looks consistent.
Features:
Embed photos from Flickr, SmugMug, Zenfolio, and Instagram
Compatible with the WordPress block editor
Privacy controls and password protection
Compatible with the gallery shortcode in the Classic editor.
Cost: Free.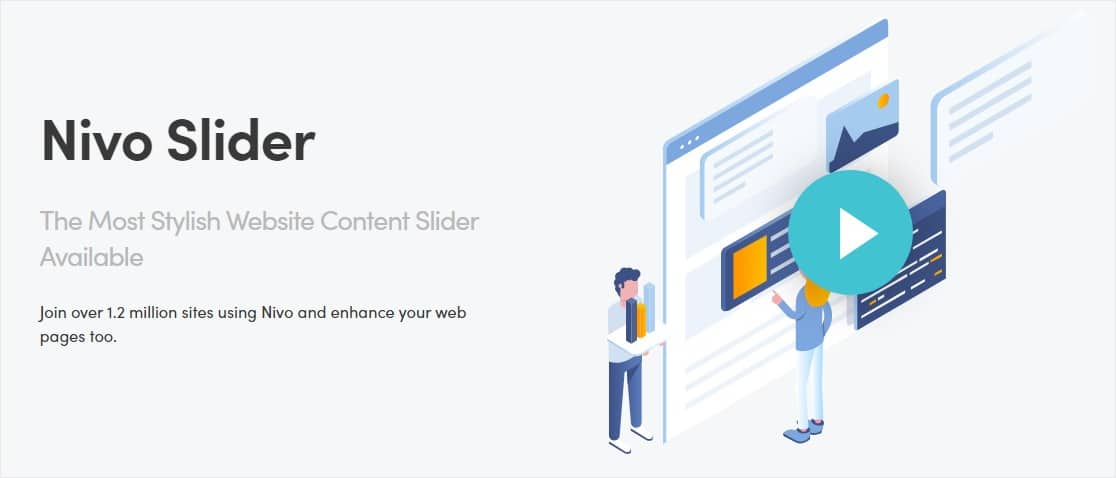 Nivo Slider is an excellent choice for your WordPress lightbox because it lets you create gorgeous image lightbox slideshows in sliders. You can use them in your image galleries on your WordPress post or pages, and works seamlessly with many WordPress themes for small business.
Features:
Insert into your site by using shortcodes
Pick from different styles to match your site's branding
Use sliders as widgets
Used by over a million websites
Build unlimited lightboxes in sliders to display on your site
Automatic cropping
Cost: Free.

Simple Lightbox is one of the best WordPress lightbox plugins around. It's free and well-loved by many because it offers quick and easy lightbox style galleries for people's pages and posts.
Features:
Tons of customization options
Mobile-friendly and responsive
Adjust the settings of your WordPress lightbox to match your site's branding
Add-ons that extend the functionality of the plugin
Lightbox animations
Cost: Free.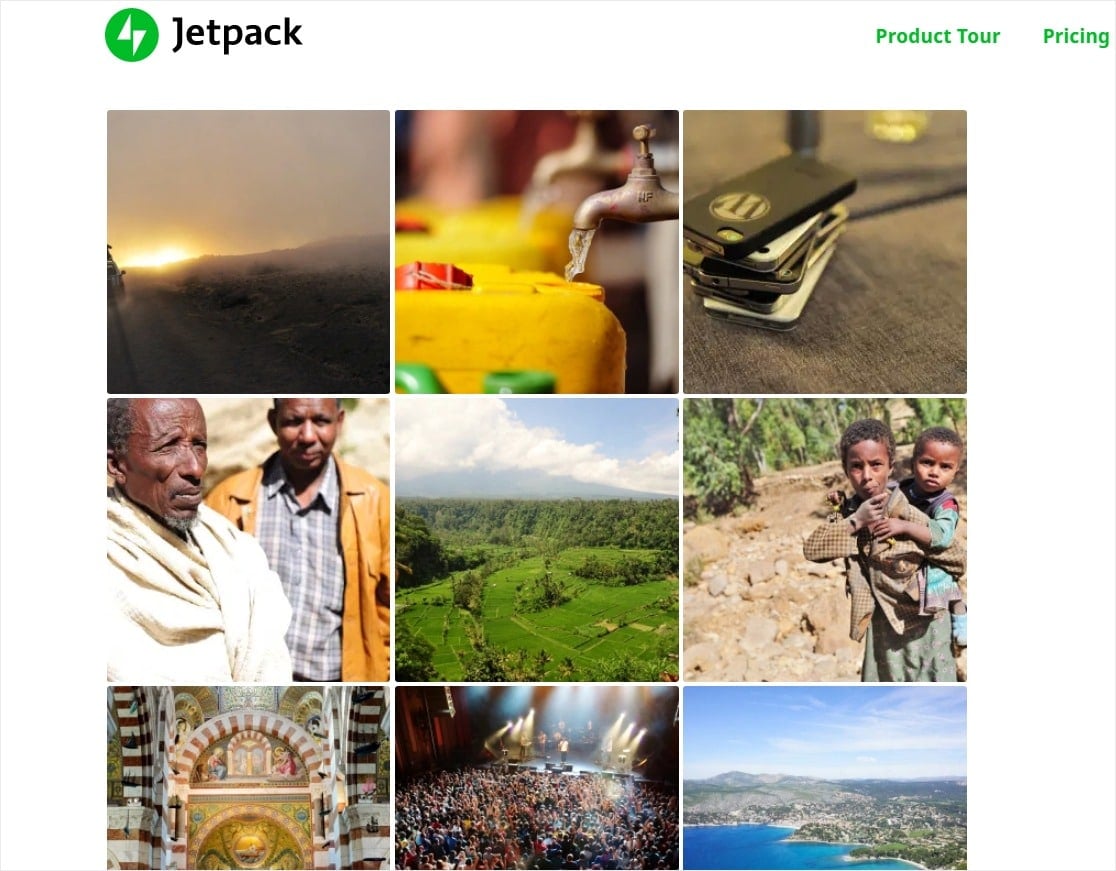 If you're already using Jetpack, you can try Carousel by Jetpack as your WordPress lightbox tool. It simply turns the default WordPress gallery you may have in a post or page into a fullscreen browsing experience.
Features:
Tiled gallery option lets you display images in a mosaic
Can include comments
Option to display image metadata in lightbox
Unfortunately, there are limited options for background colors so you can just pick between white or black
Cost: Starts at $4.95 per month.

NextGen Gallery by Imagely is a very popular WordPress plugin that lets you build an awesome WordPress lightbox. The lightbox feature comes as part of a very robust plugin that work great for photographers wanting to sell their work online, and if you're looking for a WordPress lightbox gallery with thumbnails.
Features:
Multiple galleries available such at video, thumbnail, mosaic, blog style, and tiled gallery
Automatic print fulfillment to sell online
Extremely customizable with tons of options
Image commenting
Image social sharing
Cost: Starts at $79.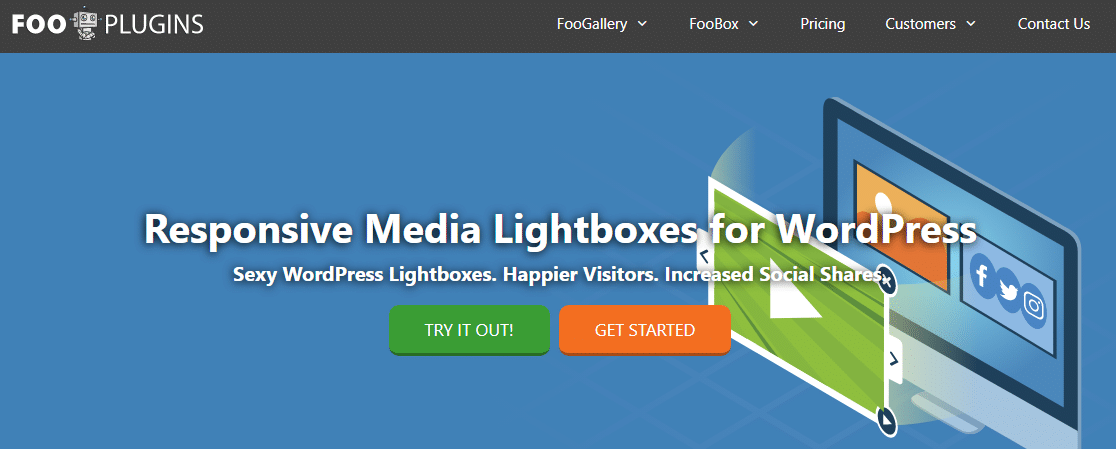 Foobox is one of the best WordPress lightbox tools on our list that helps engage visitors with its interactive and impressive lightboxes. It's special because it's got a modern look, too.
Features:
Social-friendly display of media files for extra sharing with social icons
Responsive lightboxes look great on all devices
Supports videos, YouTube and Vimeo as well
HTML content (numbered lists, bulleted lists, tables, and more) can trigger a lightbox to open
WooCommerce compatible so you can show your products in a lightbox and easily add live sales notifications for WooCommerce to your site
Cost: There's a great free version and paid versions start at $59/year.
WP Video Lightbox is another free WordPress lightbox plugin that people love. It lets you not only display images in your lightbox, but videos as well. And for a free plugin, it's incredibly beginner-friendly.
Features:
Customizable lightboxes for videos or images
Display Flash, YouTube, and Vimeo files
Control things like opacity and animation speed
Easy to use
Cost: Free.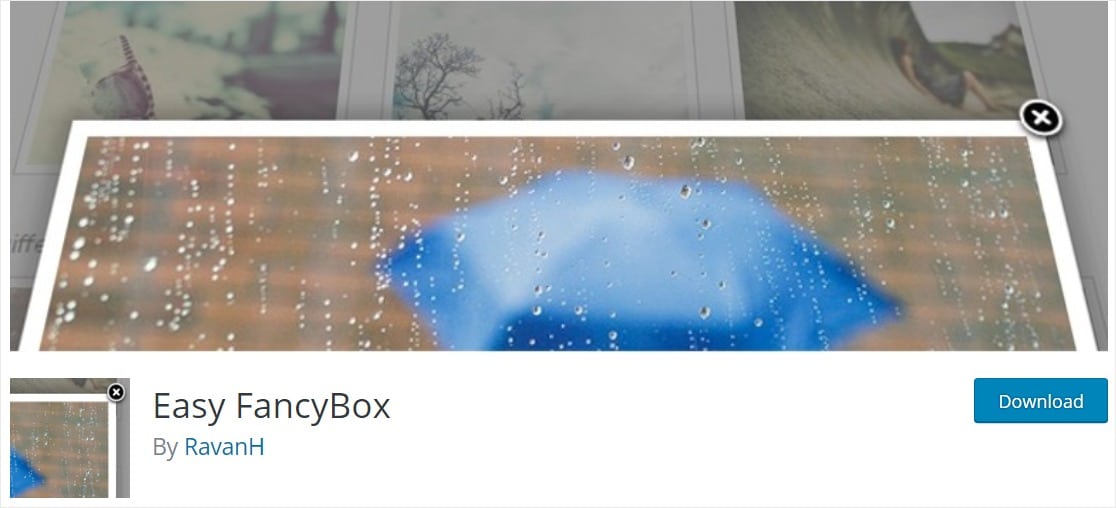 Easy FancyBox is awesome because it's just that — easy. It's simple and doesn't have a lot of unnecessary extras, it just lets you build WordPress lightboxes without all the fluff.
Features:
Link your images and photo galleries to the plugin
The lightbox will automatically engage with galleries/photos
Supports YouTube, Vimeo, Dailymotion, and Flash movies
Lets you pick from different types of lightboxes
Cost: Free.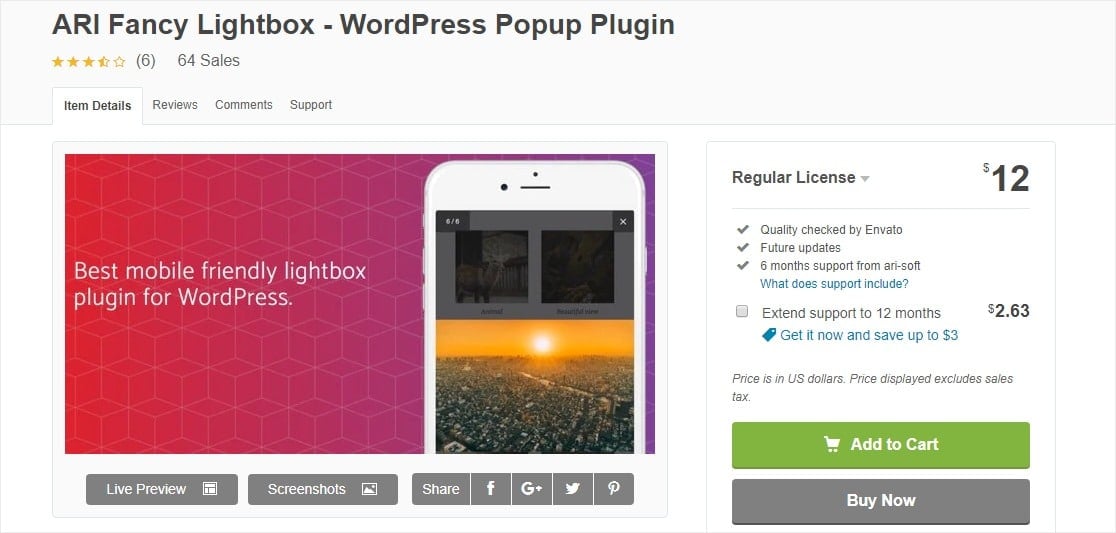 ARI Fancy Lightbox is a great WordPress lightbox plugin that's popular for it's social features. It's also got a ton of other great customization options making it a solid choice on our list of the best WordPress lightbox plugins, especially if you've been looking for something with a WordPress lightbox shortcode.
Features:
Mobile responsive so it looks awesome on all devices
Web pages and custom HTML can also be displayed in the lightbox
Social and viral features like sharing buttons
Uses shortcodes to open your lightbox right when the page loads
Easy to install and no manual coding
Cost: $12.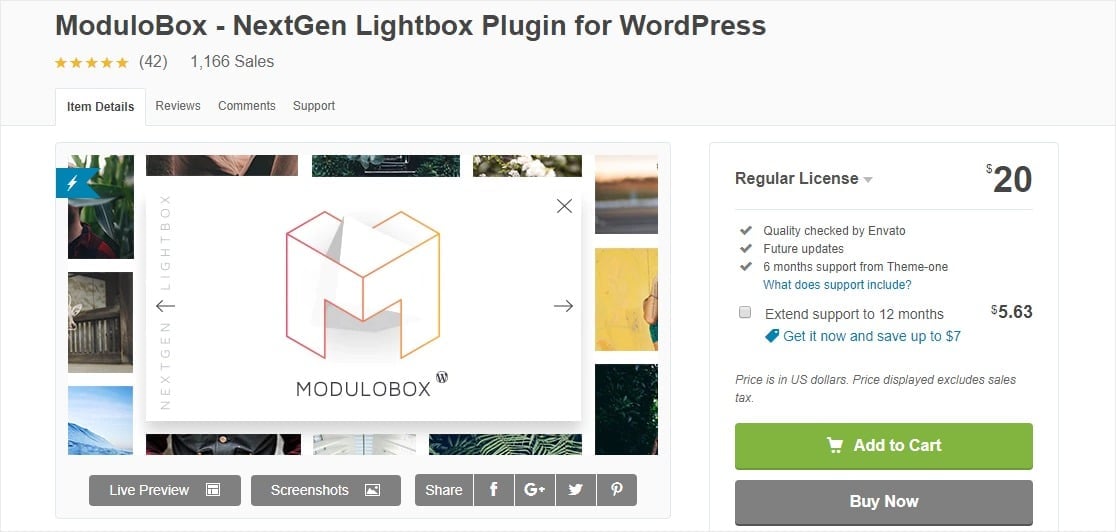 ModuloBox is a powerful plugin that lets you create efficient WordPress lightboxes. It's also incredibly customizable so you can do a ton of different things with your lightboxes.
Features:
Lightbox galleries and popups are completely responsive and look awesome on any device
Social sharing options to get even more visitors to your site
Infinite scrolling option
Use different modes like slideshow or fullscreen
Smooth animations and resizing options
Cost: $20.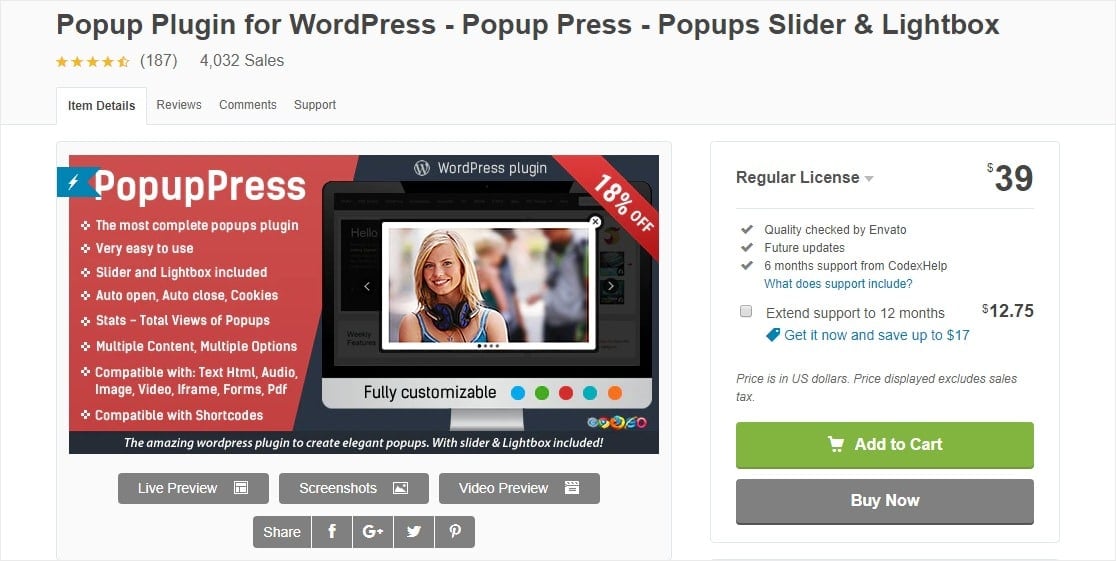 If you're looking for a ton of features in your WordPress lightbox plugin, look no further than the Popup Press plugin. There are tons of options you can do with your lightboxes with this tool, but you'll need to pay for it since it's a premium plugin.
Features:
Receive dedicated support for your questions
Set up an option for your lightbox to auto-open and auto-close
Keep track of your lightbox views with statistics
Can display multiple types of media files
Easy to use
Cost: $39.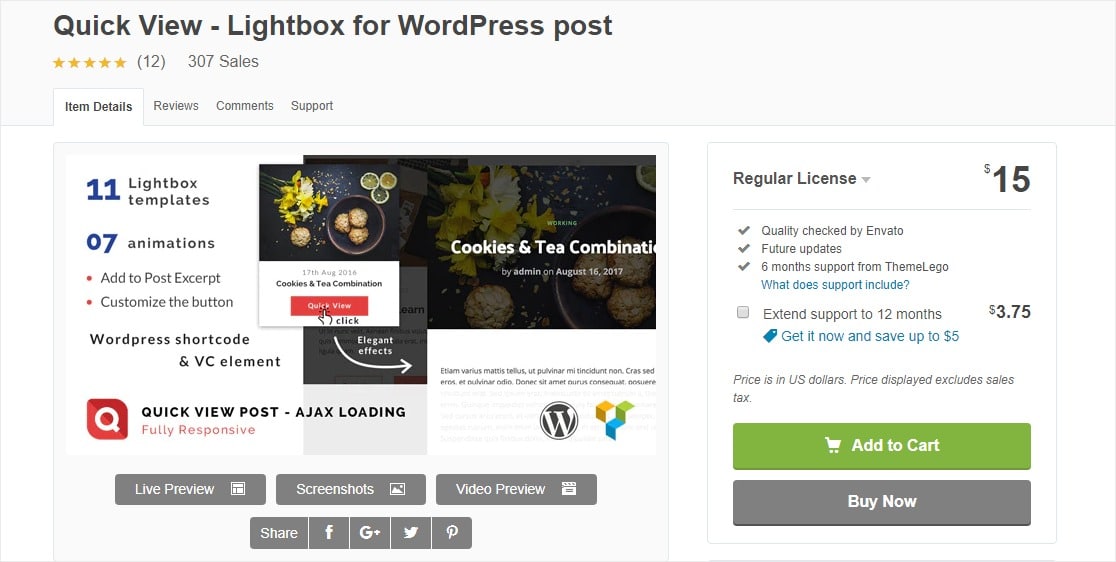 Quick View is an AJAX-friendly plugin that lets you easily put content into a lightbox on your posts or pages. It's also got some amazing visual animations and effects.
Features:
Choose from 11 different lightbox templates to get up and running quickly
One-click installation
Custom CSS selector lets you match your lightbox to your brand
Choose from 4 different lightbox sizes
Compatible with WordPress shortcodes
Cost: $15.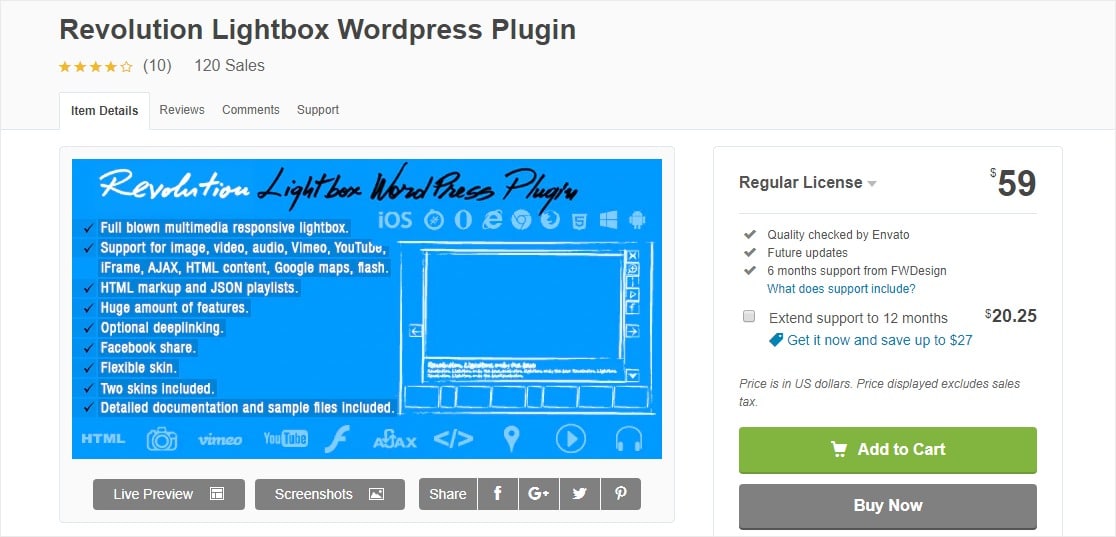 Revolution Lightbox WordPress Plugin is another visually stunning lightbox plugin. It's premium as well, so you'll get a lot of features if you buy this tool.
Features:
Responsive lightboxes will look great on all devices
Easy to use
Completely customizable
Choose from 2 different skins on your lightboxes
Use stunning visual effects
Support for multiple file types
Cost: $59.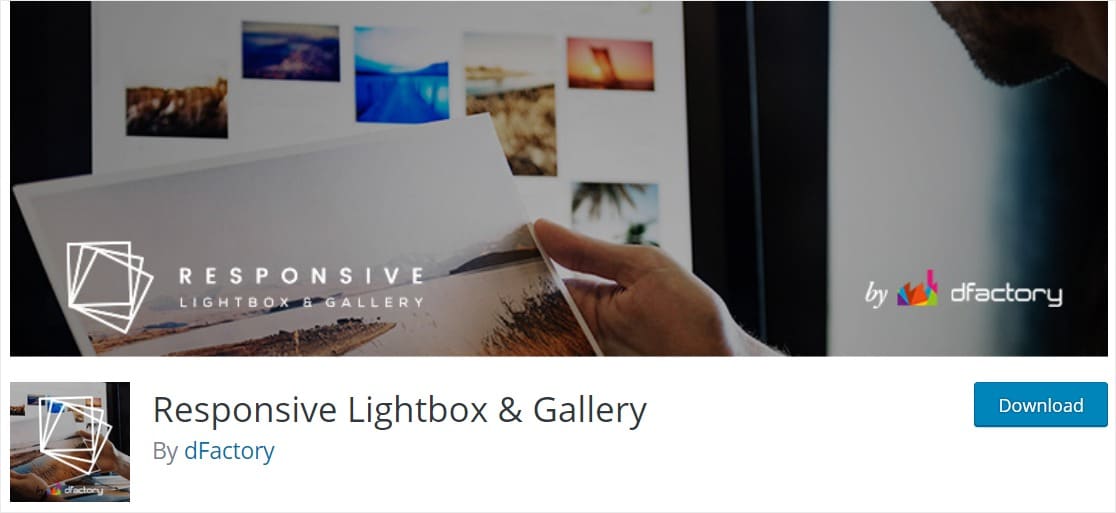 The Responsive Lightbox & Gallery plugin is being used by a lot of people who have rated it very well on WordPress.org. That's probably because it's extremely user-friendly and makes building your WordPress lightbox super easy.
Features:
Very easy to use
Responsive
Lets you display single images as a gallery
Display things like the image's title, description, caption, description, or alt text
Cost: Free with available paid extensions.
Next, Make Your WordPress Site GDPR Compliant
And that's our list! You now know the best WordPress lightbox plugins on the market today. Next, find out which WordPress GDPR plugins you need for your site.
You might also be interested in reading our post on how to create a file upload widget in WordPress. You can enable AI file uploads to accept Adobe Illustrator files on your forms.
Got your lightbox plugin all set up? Go ahead and get started with the most powerful WordPress forms plugin today. WPForms Pro includes unlimited free forms you can easily insert into your lightbox and offers a 14-day, money-back guarantee.
And if you like this article, then please follow us on Facebook and Twitter for more updates from our blog.