Do you want to boost your online sales easily?
You can do it by showing a notification to your visitors telling people about all the real-time sales happening on your site.
So in this guide, we've put together step-by-step instructions on how to create a live sales notification for WooCommerce.
Why Use TrustPulse for Live Sales Notifications?
In this tutorial, we'll be using the TrustPulse software.
That's because TrustPulse is the golden standard when it comes to live sales notifications for WooCommerce. Plus, it's the best app for using FOMO (Fear Of Missing Out) and social proof to grow your business online.
Here are some of the other reasons people use TrustPulse as their live sales notification popup tool:
Create urgency in your visitors, boosting sales, upsells, and cross sells
Uses the psychological and social phenomenon of social proof where people rely on actions and feedback of other people to decide what to do
Works perfectly with WooCommerce and other eCommerce stores like Shopify for online store owners
Comes with an easy-to-use visual builder that lets you build WordPress FOMO popups that are proven to convert visitors
It's easy to customize things like colors, message, and images, so you can brand your live sales notifications to look like your site
Show more than just a recent sales popup with recent activity of purchases (like a live sales feed), registrations, email signups, etc
'On-fire' campaigns that shows how many people took action on your site during a specific time period.
Find out more about these awesome features in our TrustPulse review.
So now that you've got a good idea why TrustPulse is the way to go for your live sales notification, let's take a look at exactly how to set them up on your WooCommerce site.
How to Create Live Sales Notifications for WooCommerce
Here's how to set up live sales notifications for WooCommerce (or any WordPress site).
Step 1: Sign Up for TrustPulse
TrustPulse, a live sales notification WordPress plugin and tool, has both a free plan and a paid plan. And it's compatible with the most popular WordPress plugins.
For this tutorial, we used the TrustPulse paid plan. But you can use either, and the process is the same starting with step 2.
To sign up for TrustPulse, click here and select Get Started Now.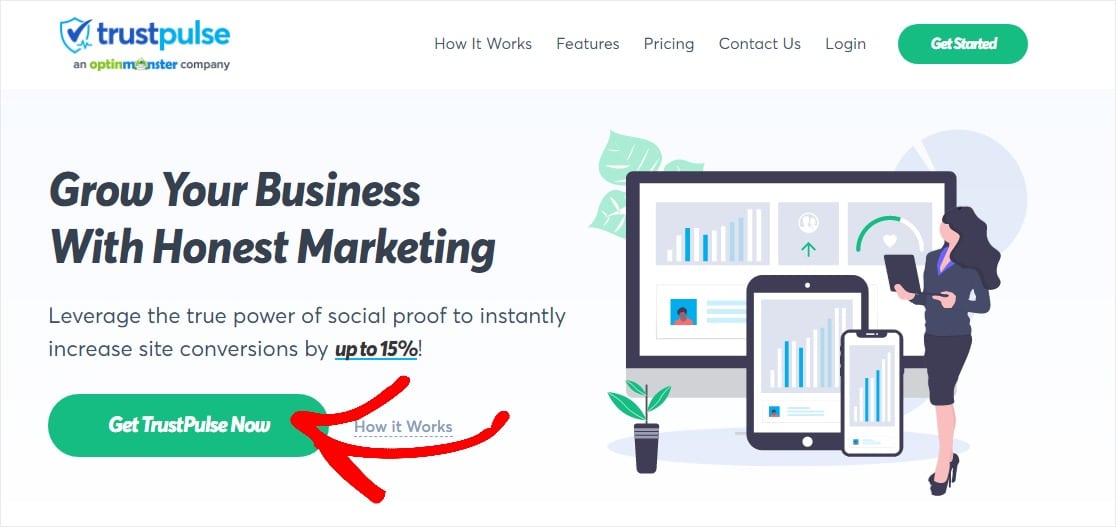 On the next page, select which plan you'd like and click on Get Started under that plan.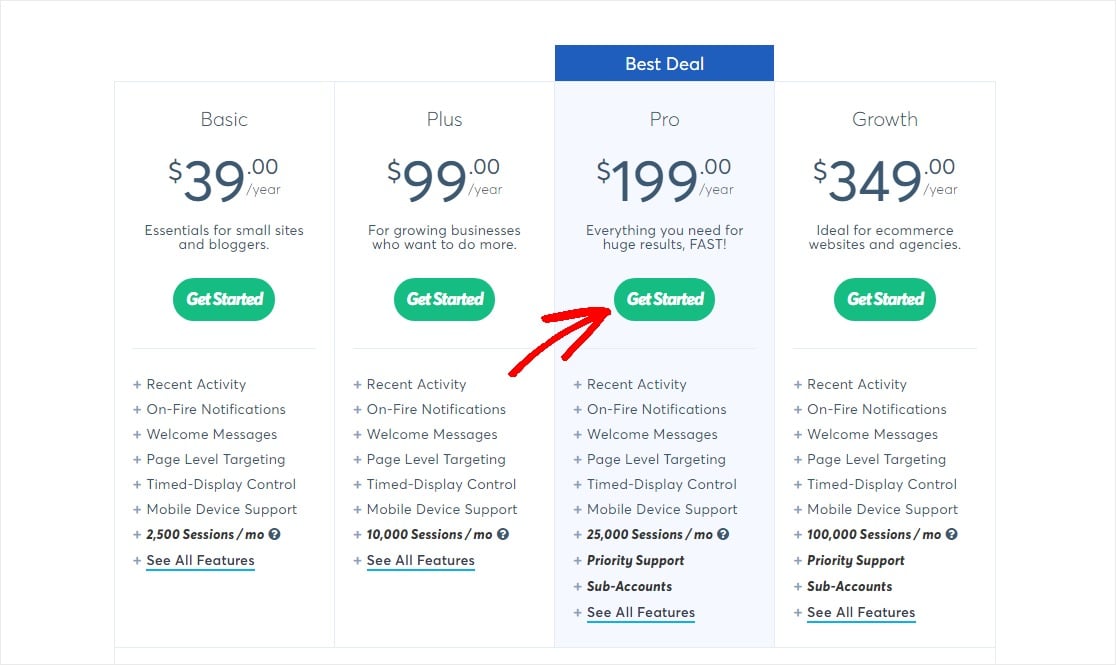 Next, fill out your account info and click on Get Started Now with TrustPulse. You're one step closer to using TrustPulse as your WooCommerce live sales notifications plugin!
Fill out the payment info and click on the Pay button.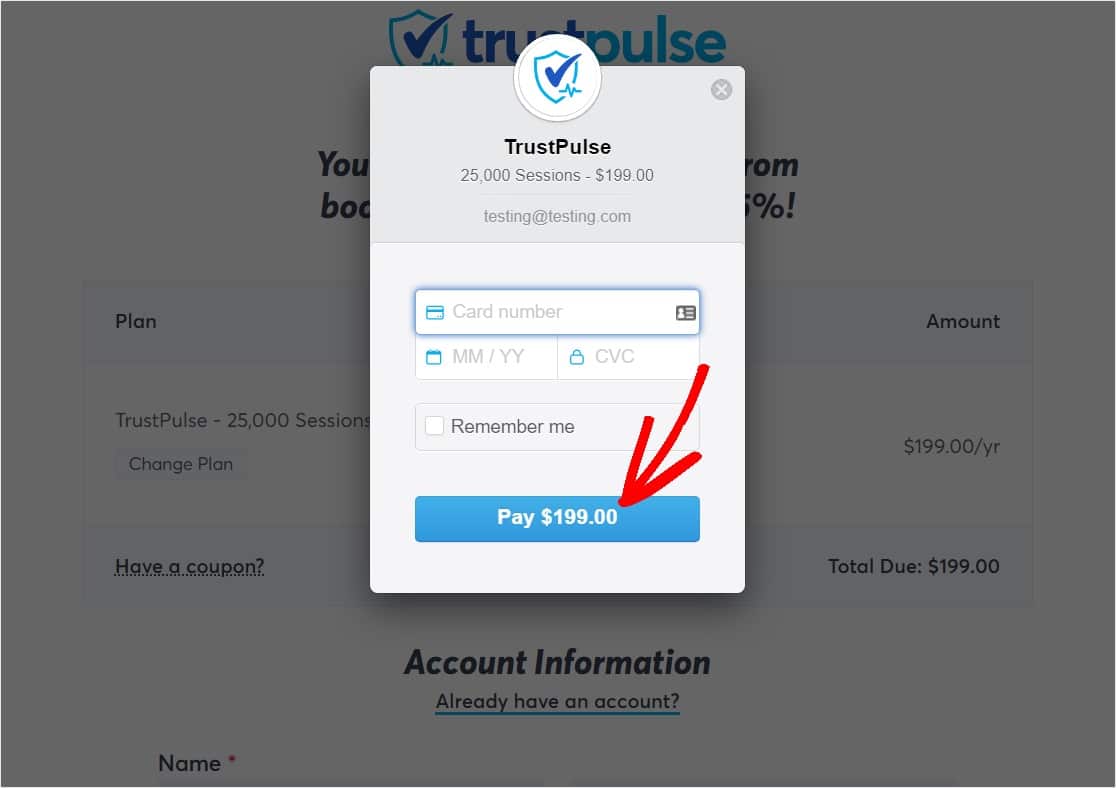 Congrats, you're all signed up for TrustPulse. Time to make your live sales notification.
Step 2: Add Your Website
Once you've signed up for TrustPulse, you'll be asked to enter your site's Name and Domain name.
You can name your site whatever you'd like, but you'll need to enter the actual domain name such as http://www.example.com.
Once you fill out these details, click on Save Site.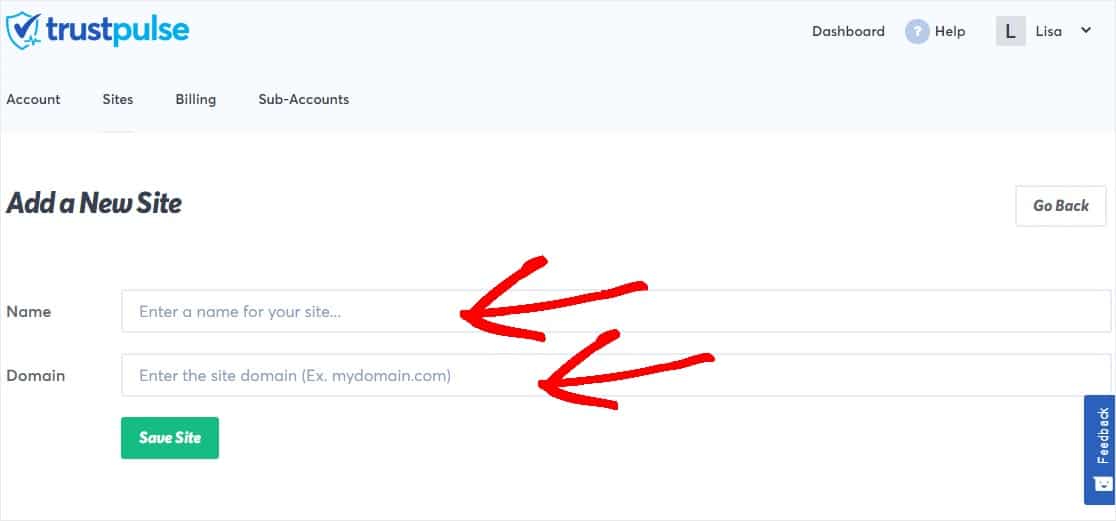 Step 3: Create Your Live Sales Notification Campaign
On the next page, you'll be prompted to create your first campaign. Click on the Create Campaign button in the top right corner to get started.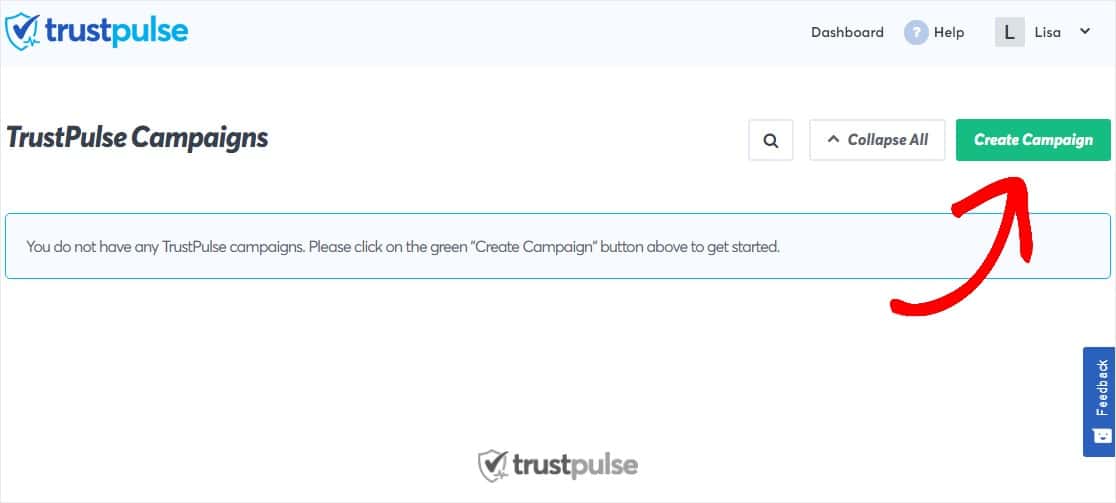 On the first campaign creation page, name your campaign whatever you'd like, like Live Sale Notification.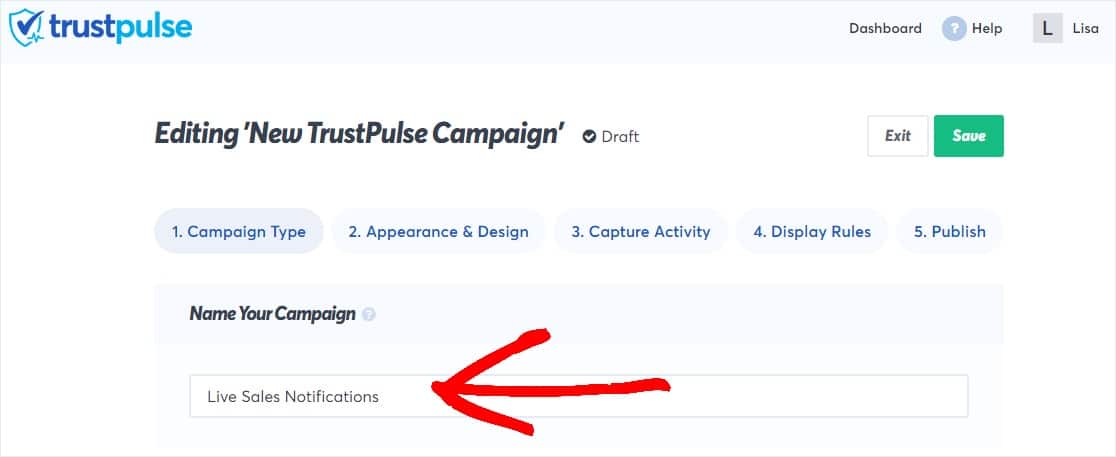 Scroll down and confirm that Recent Activity is highlighted under Select Your Campaign Type, then click on Next Step.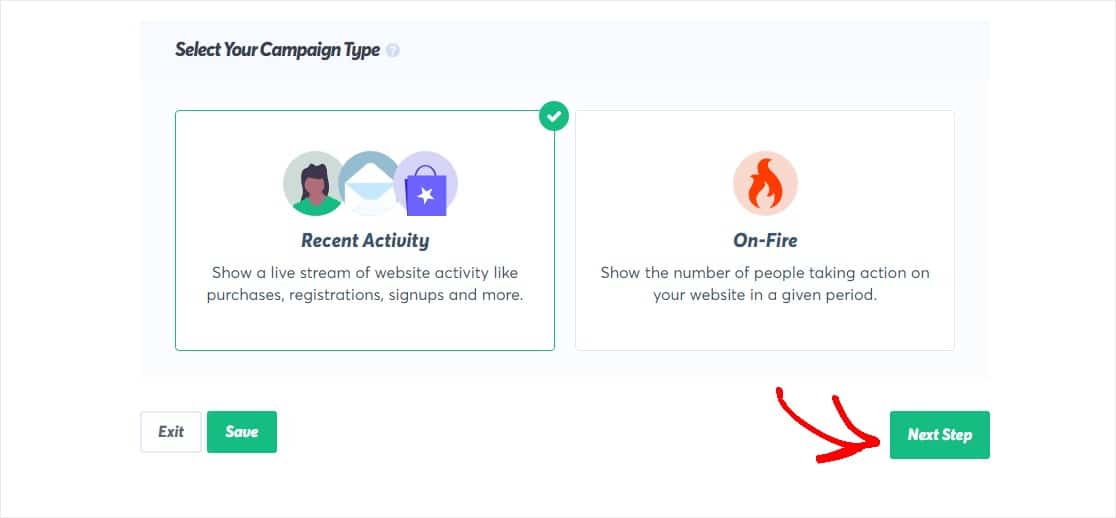 And if you're curious about what's happening on your WooCommerce site? You can check out this post on how to enable WooCommerce conversion tracking.
Step 3: Customize the Appearance
TrustPulse lets you customize your campaigns easily. So you can change the way your live sales notifications look. You'll even see a live preview on the screen as you change it.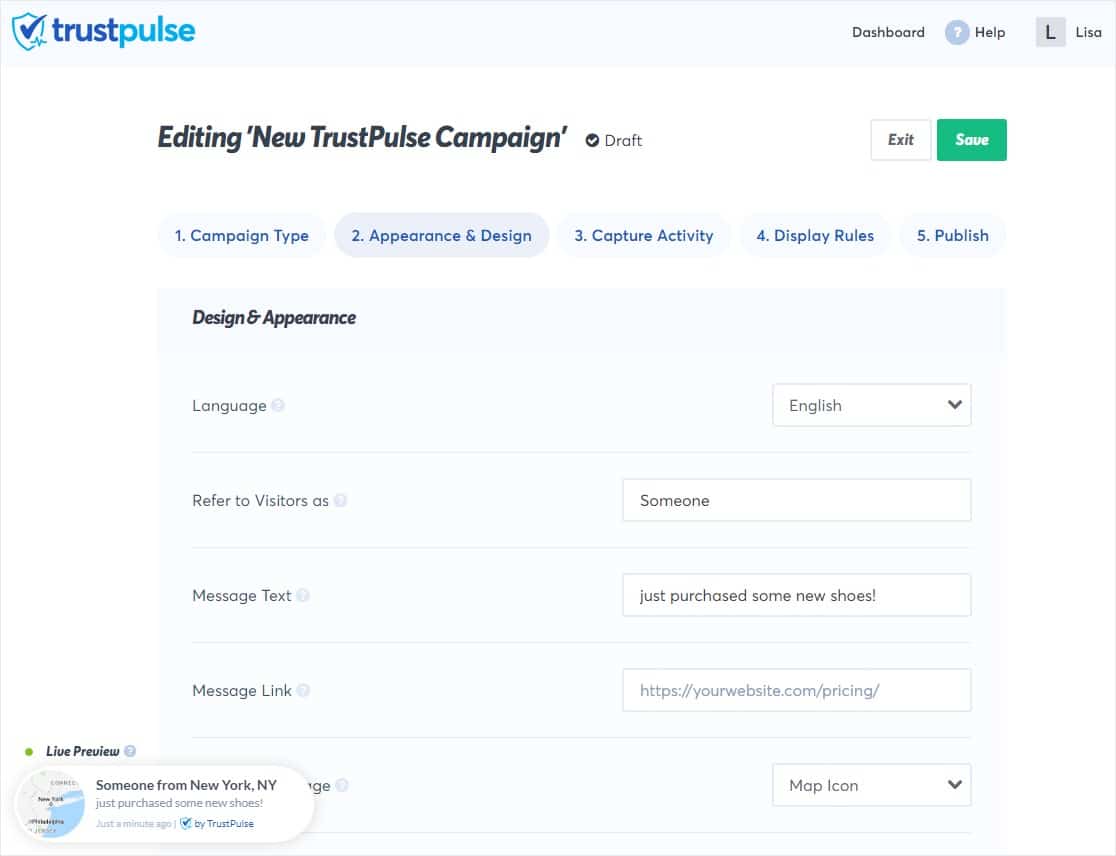 Feel free to adjust the:
Language — What language visitors will see on your live sales notifications.
Refer to Visitors as — What you'll call visitors in your notifications.
Message Text — The note a visitor will see on the action just taken.
Message Link — Where clicking the notification will take someone.
Notification Image — Choose between different icons like a map, user avatar, pre-made, or create custom images.
Notification Position — Where on your website you want the notification to display.
Notification Corner Style — The style of the edges of your notifications.
Notification Size — How large you want your notification to be.
Animation — Pick between impressive animations like Slide in Vertically, Slide in Horizontally, or Fade In.
Display a Default Notification — Decide if you want to load a default widget with pre-supplied info for when there are no live notifications.
You can expand the advanced settings area if you'd like to adjust the background color, drop shadow, border, and more. Easily matching your small business' branding to your live sales notification.
Adjust these settings to your liking and click Next Step when you're ready to move on.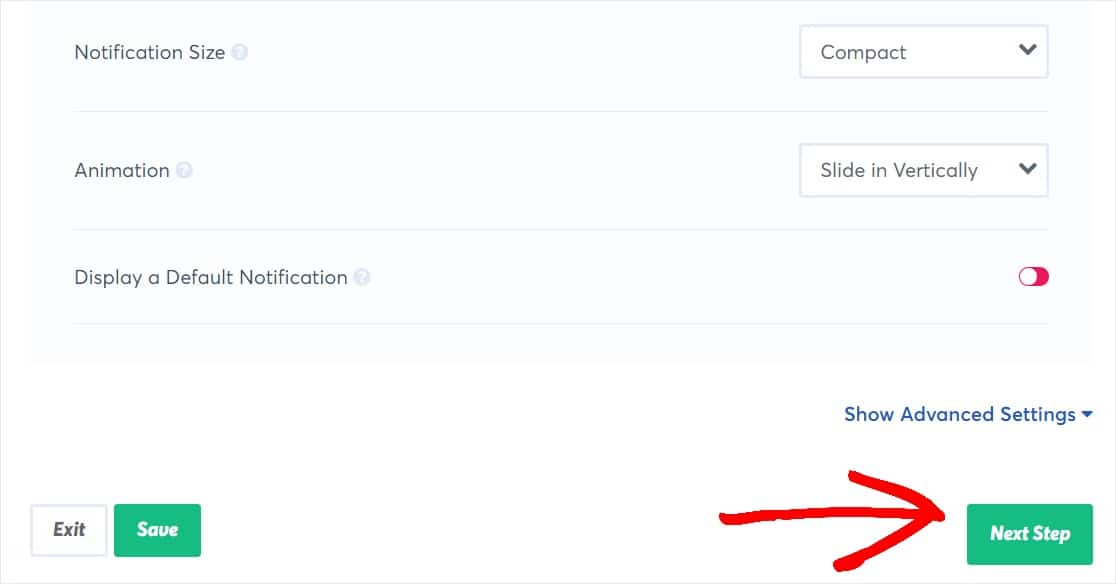 Step 4: Set Up Activity Capturing
In order to display your live sales notification, you'll need to let TrustPulse capture activity from your site that it can display.
On this next page, you can choose between 2 ways of capturing site activity:
AutoMagic — Automatically tracks and records user activity and submissions on your WordPress WooCommerce website.
Zapier — A separate tool that lets you capture visitor interactions from over 2,000 web apps.
For this tutorial, we'll select AutoMagic. That's because it's easy to use and works well if you're a beginner. But if you already have a Zapier account set up, that could be a great option as well.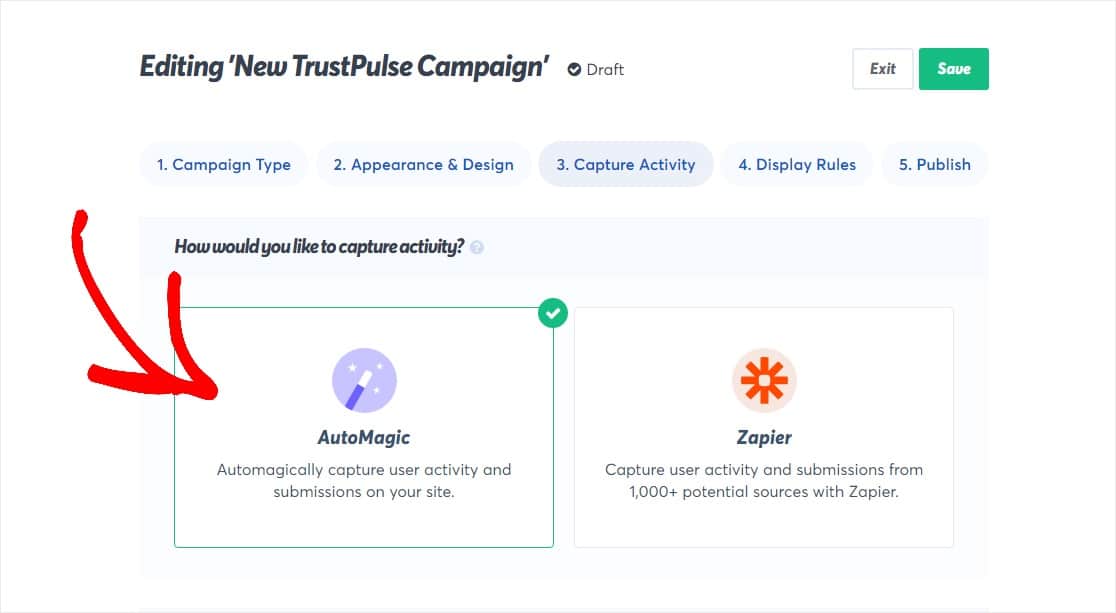 Next, scroll down to see more options for your AutoMagic setting. The first section asks 'What website activity should we watch for?'
In the drop down, you can select specific places you want to track for website activity like from:
Exact URLs
URLs containing specific text
URLs matching a regular expression
Any page
Any page, except URLs containing specific text
Any page, except these exact URLs
TrustPulse is very flexible, so you can set this up however you'd like. If you want to keep it simple, just pick Exact URLs (like a checkout page or product page) and enter the URLs you want to track. Or simply click Any Page.
When you're done, click on Next Step.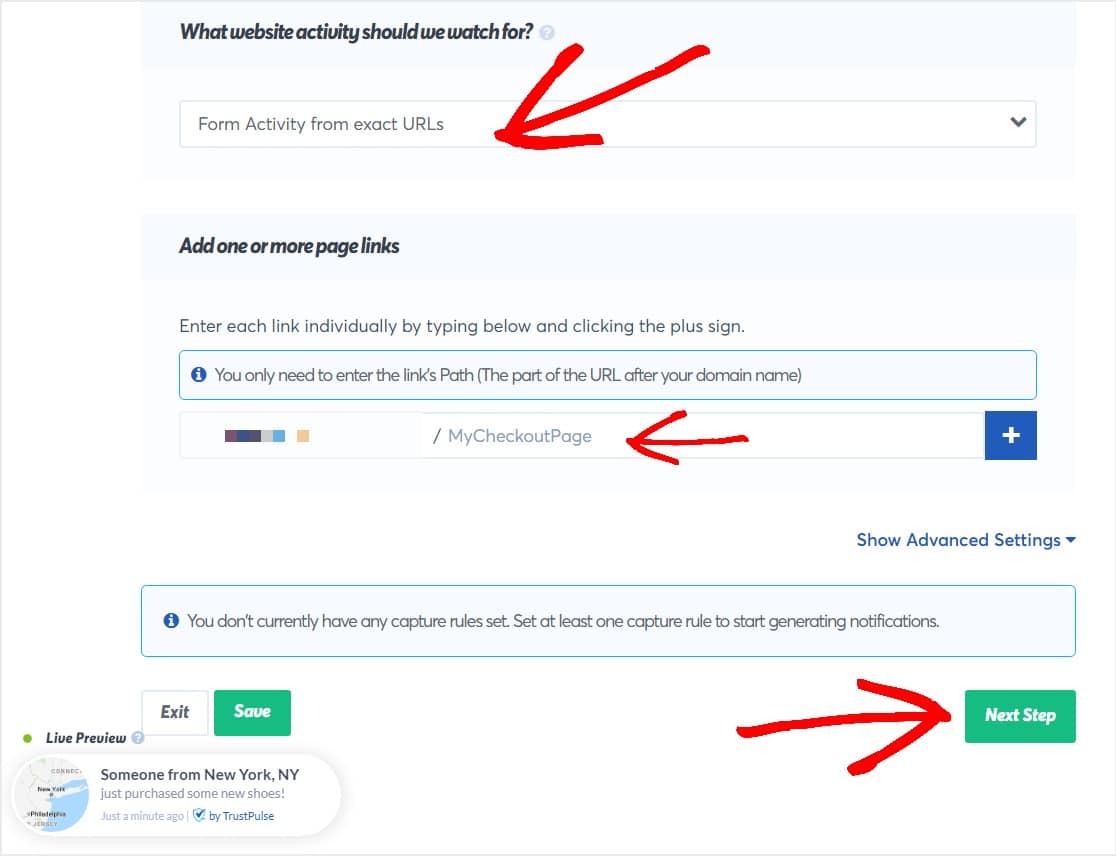 Step 5: Set Up Display Rules
Next, you want to give your live sales notification some rules as to where and how it will show up and display orders to your visitors.
First, pick where you want these notifications displayed from the dropdown.

You can choose between displaying on:
Any page
Exact URLs
URLs containing specific text
URLs matching a regular expression
Any page, except URLs containing specific text
Any page, except these exact URLs
You can also adjust the settings for:
Delay — Choose how many seconds of a delay time to wait before showing your 1st notification to a visitor.
Display Duration — Pick the amount of time you want each notification shown.
Delay Between Notifications — Set how long between each notification.
Load Notifications on Mobile — Pick if you want live sales notifications shown to mobile visitors on their mobile devices.
Loop Notifications — Decide if you want all the notifications to loop through again if a visitor has seen them all.
The default settings are a good place to start with this, or choose your own. Once you're done, click on Next Step.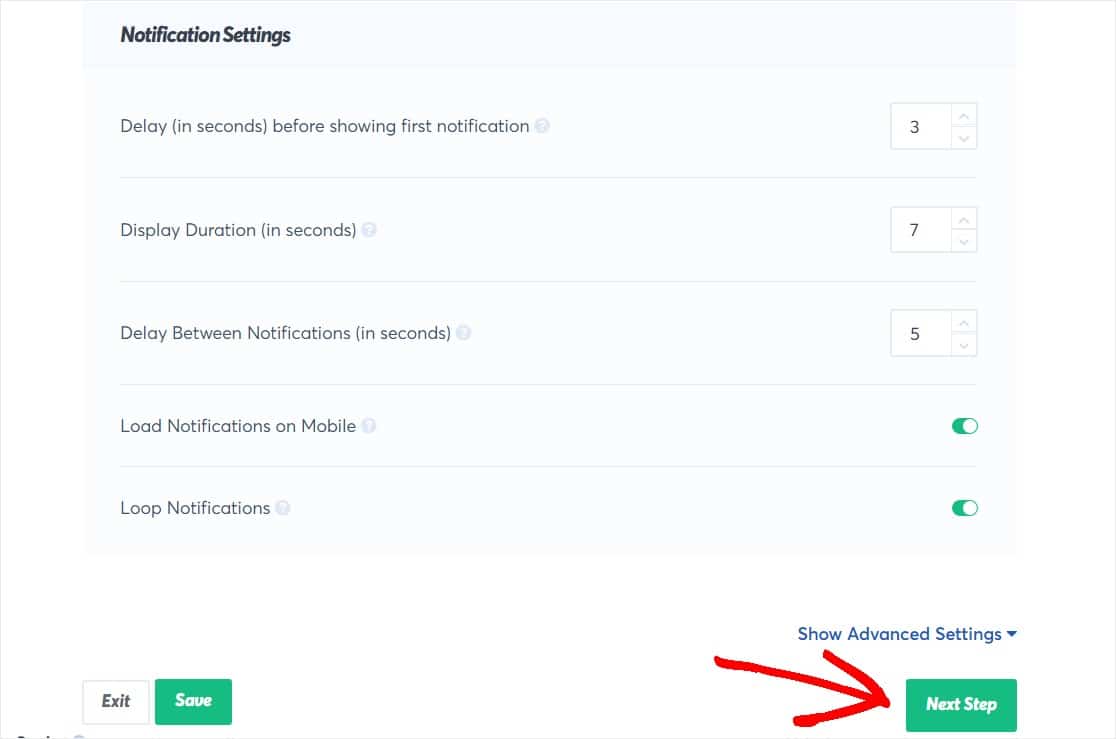 Step 6: Publish Your Live Sales Notification
You're almost there! The last step is to publish your live sales notification to your WooCommerce site.
Because TrustPulse automatically connects to your website, you can publish your campaign by simply clicking on the Launch your TrustPulse campaign button.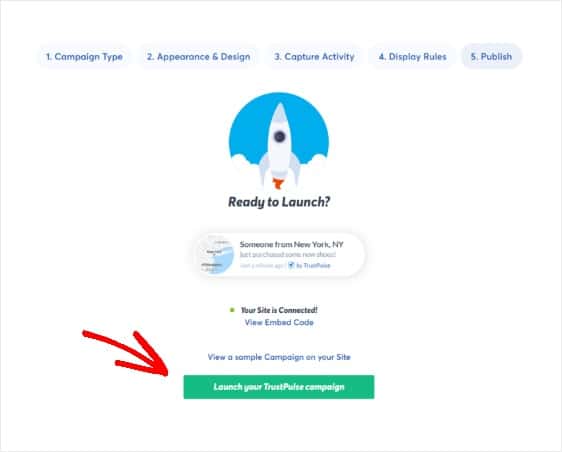 Alternatively, you may need or want to insert the embed code provided by TrustPulse to add your live sales notification anywhere on your WooCommerce site.
And that's it! Now your customers can see live notifications when other customers purchase items from your store. Next, think about using PushEngage to set up browser notifications that let your customers easily recover their abandoned cart.
Final Thoughts
And that wraps it up. You now know how to successfully create a live sales notification for WooCommerce.
Want to see who's coming to your WooCommerce site? You should head over to our tutorial on how to use Google Analytics in WordPress.
To make your contact form more useful, you can auto populate fields with the name of your products. You can also receive SMS notifications for your contact form so that you don't miss any customer inquiries.
And if you enjoyed this post, make sure to follow us on Facebook and Twitter for more free WordPress tutorials.