Looking for a great plugin that will help you easily run a survey on your WordPress website?
Running surveys on your website is an effective way to find out how your customers are feeling, so you can make improvements to your business.
In this article, we've listed the very best WordPress survey plugins out there and everything you need to know about them.
Why Use a WordPress Survey Plugin?
A good WordPress survey plugin enables you to collect user feedback and helps you understand what your customers expect from you.
For example, you could conduct an NPS survey at the end of a customer service experience form to learn well you're serving your customers. On top of that, survey form plugins provide a ton of added benefits like:
CRM Compatibility — Some plugins can easily integrate with your CRM software, making the organization super simple.
Engagement — Asking your visitors to participate in your survey is a great way to create a memorable experience about your brand.
Data Visualization — A good survey plugin will give you the opportunity to view your results visually and create brilliant survey reports.
Easy to Use — The cool thing about survey plugins is that many of them are very beginner-friendly, including most of the ones on this list.
Exportable — Many survey plugins let you export your data, which makes it easy to save it, present it in a report, or share important findings with your team.
Now that you have a better idea of why you may want to use a survey plugin for WordPress, let's take a deeper look at the best ones out there.
Best Survey Plugins for WordPress
We wanted to make sure you had the best options to pick from, so we did a lot of research to find this entire list of WordPress survey and questionnaire plugins.
Here are our picks for the best survey plugins for your WordPress website: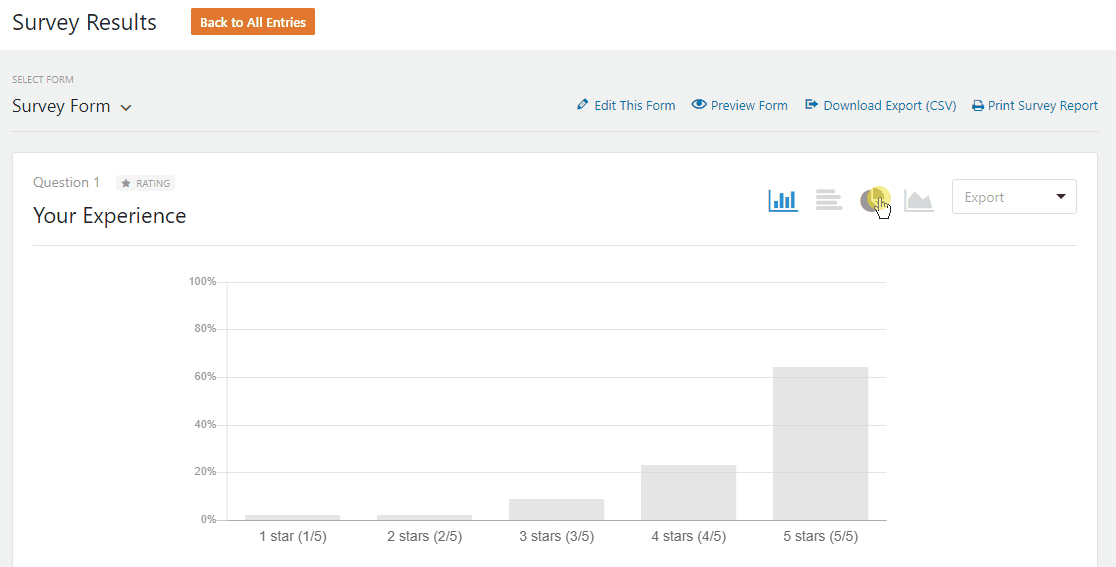 WPForms is the best WordPress survey plugin with the easiest survey form creation process. The plugin comes with a dedicated Survey and Polls addon, enabling you to create engaging surveys that your website visitors will love to fill out.
You can build any type of survey using WPForms using its drag and drop form builder. There are various pre-built survey templates available from its library of over 1000+ form templates.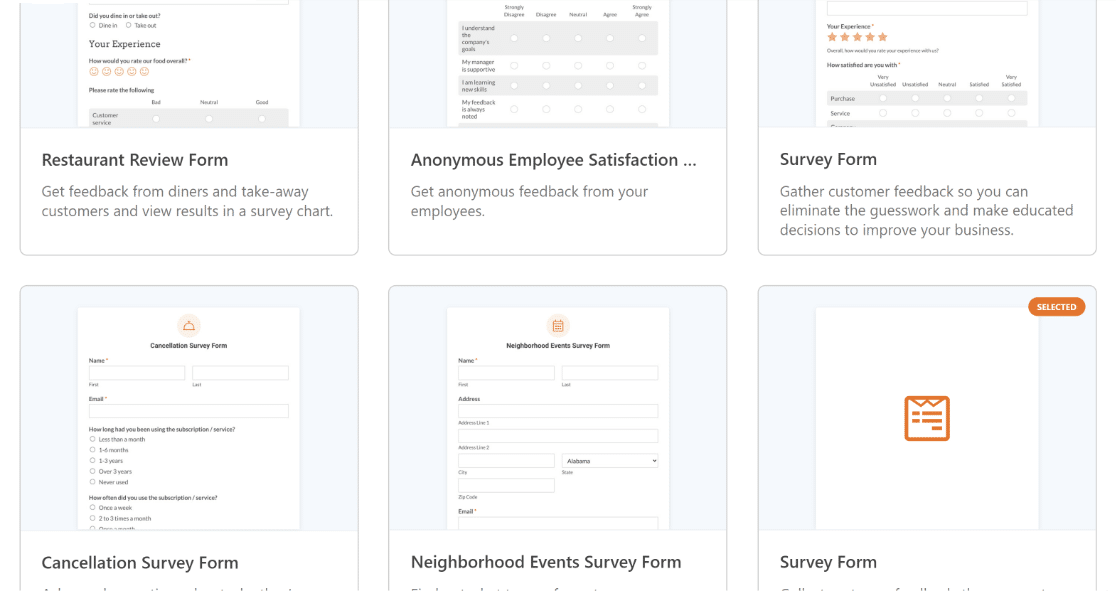 So whether you want a customer satisfaction survey form or a review form, WPForms has got you covered!
You can freely customize these templates by adding more fields or customizing existing ones. For instance, you can add Likert Scales, NPS, checkboxes, star ratings, and more to collect relevant data for your survey.
And with each field, WPForms supports a variety of customization options. This way, you retain full control over the appearance and functionality of your survey forms.

It also includes a fantastic survey reporting feature, which makes it a joy to see the results of your survey responses in visual charts right from your dashboard. Plus, you can analyze each entry further by viewing complete responses individually.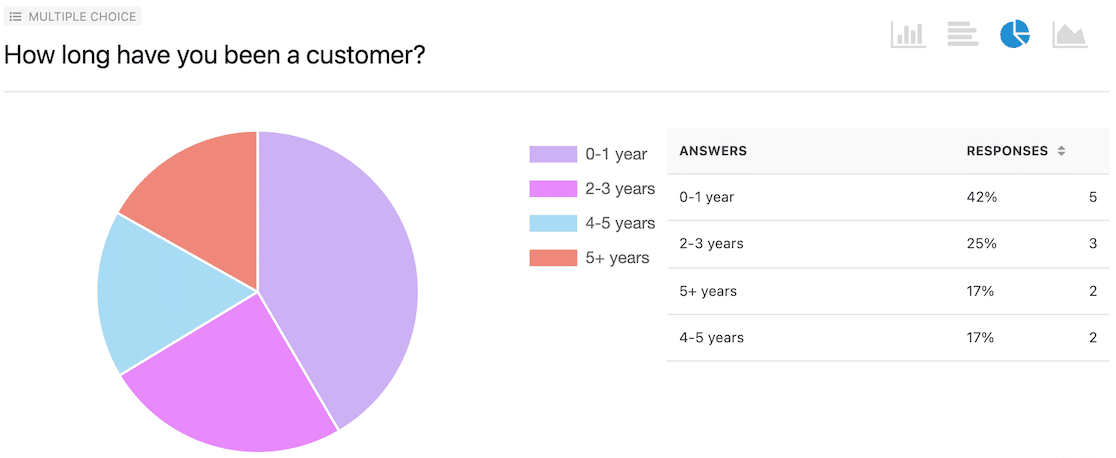 Apart from that WPForms gives you no-code styling options to change the appearance of your survey or contact forms. Even if you're a beginner, you can easily change the label, field, and button styles and colors to match your branding without applying any CSS.
WPForms also includes tons of advanced features for creating fully customized WordPress forms.
Features:
Easy to Use — WPForms is the easiest to use form building plugin on the market, and makes adding many types of surveys quick and simple with a drag-and-drop builder. You can even use it as a WordPress poll plugin.
Unlimited Users — If you compare WPForms to other survey tools, you'll notice that most of them charge per user. WPForms lets you add unlimited users under 1 license. Check out the difference in our SurveyMonkey vs SurveyGizmo vs WPForms comparison.
Customizable — The robust features of WPForms let you add multiple fields to your forms for different functions. Easily include survey fields like text fields, dropdown fields, checkbox lists, radio buttons, star ratings, and more.
Multiple Functions — WPForms lets you make all types of forms including recurring payment forms, donation forms, order forms, HubSpot lead capture forms, and more.
Visually appealing — The survey reporting dashboard is beautiful and offers multiple chart types, including lines, pie charts, and bar graphs, all accessible from your WordPress dashboard.
Conditional Logic — The smart Conditional Logic feature lets you hide or show questions based on respondent's previous answers, keeping your survey clutter-free and modern.
Integrations — Connect your survey forms with Google Sheets to backup responses outside of your site or connect with marketing platforms like Mailchimp and payment gateways like Stripe
Conversational Forms — You can set up your forms to provide a great user experience by showing one question or field at a time.
Overall, WPForms is the most user-friendly WordPress questionnaire plugin on the market.
 Cost: WPForms Pro starts at $199.50/year.
Alternatives: Other WordPress form plugins similar to WPForms include Gravity Forms and Ninja Forms. While both of these options allow you to build survey forms, they only offer a handful of form templates and lack some advanced spam filters that you can find in WPForms.
Get the Best WordPress Survey Maker Now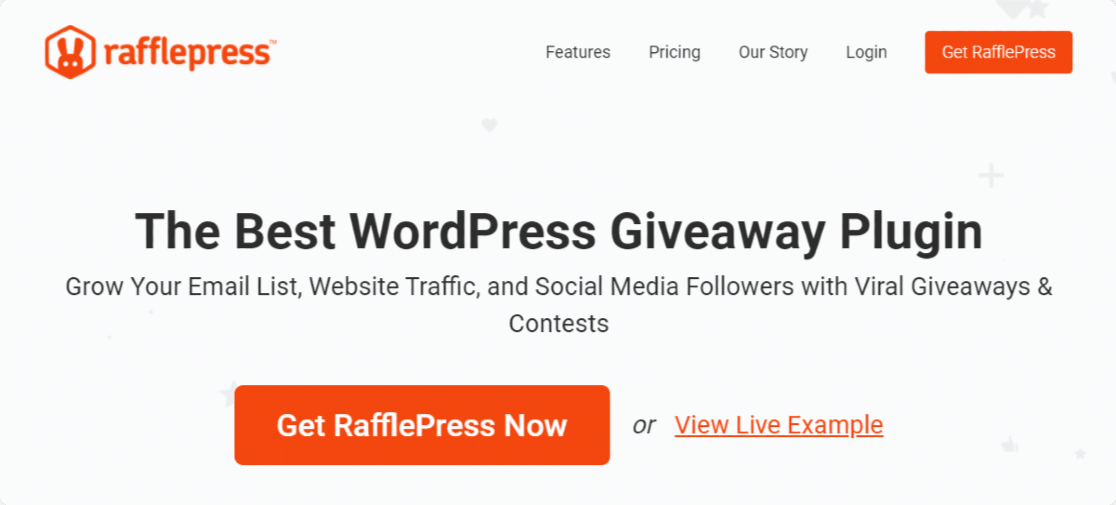 RafflePress is more than just a groundbreaking giveaway plugin. It's a simple and effective tool for conducting surveys and boosting your online growth while hosting a giveaway on your WordPress site.
RafflePress gives allows you to add a variety of ways for visitors to enter your giveaway. One of these ways is to ask a survey or poll question and encourage visitors to answer in order to make their entry.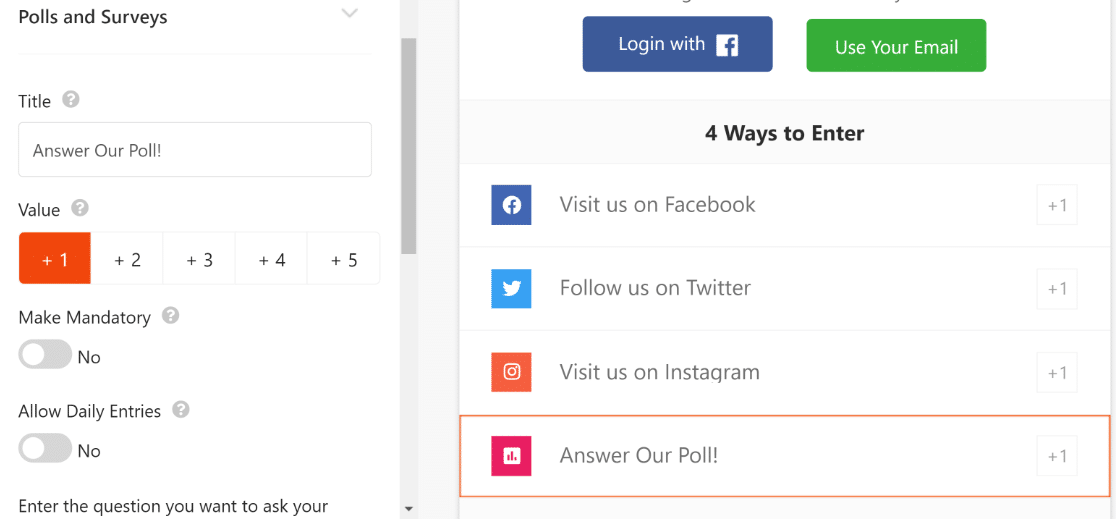 We love this feature because RafflePress naturally gives visitors a powerful incentive to answer questions with an interactive survey
If you normally struggle to get a decent amount of responses to your surveys, adding a poll to your giveaway or contest is an excellent way to boost survey participation.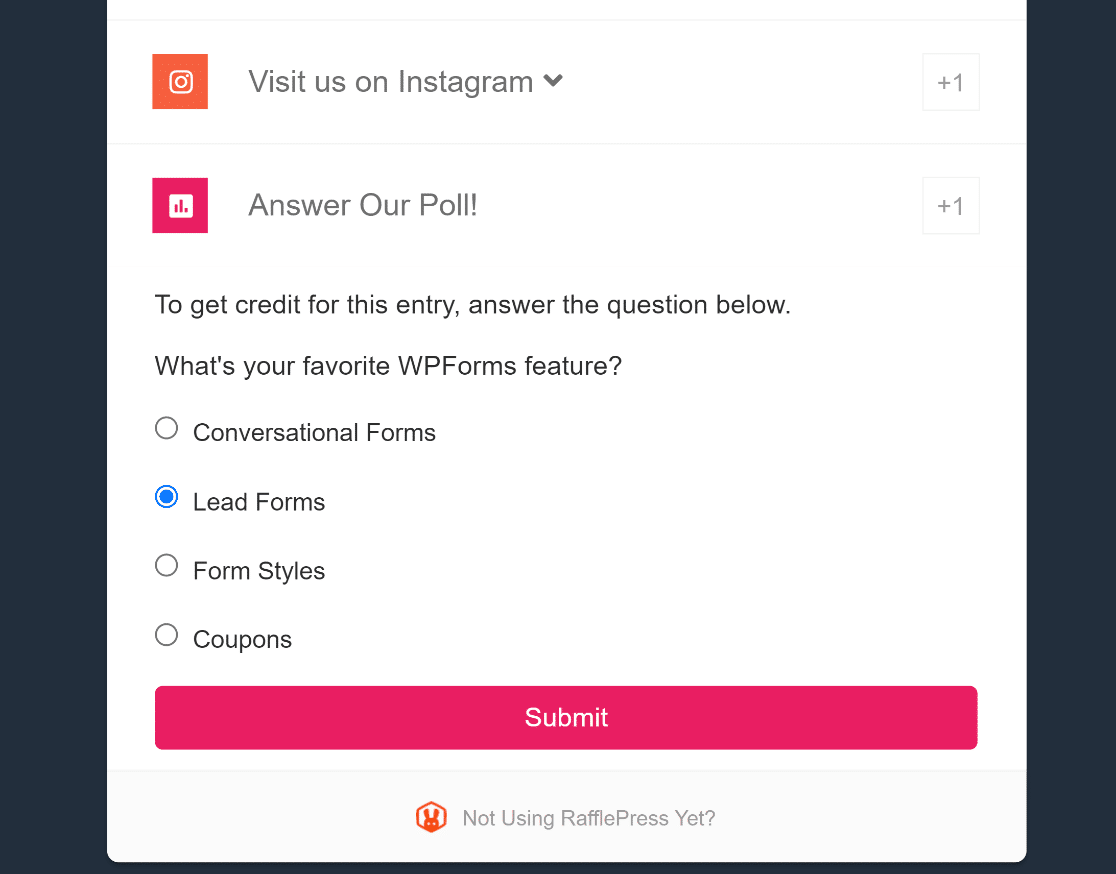 The plugins generates a chart to display the results of your poll and surveys, allowing you to gain valuable insights from participants of the contest.
The data visualization displays color-coded choices, which we think is an excellent touch for making survey results easy to understand.

Overall, RafflePress is a super effective WordPress survey plugin that makes survey-filling an exciting activity for your visitors.
Features:
Engagement Increaser — The giveaway system paired with the polls encourages tons of engagement on your site by giving visitors extra entries when they complete your survey or poll.
Data Visualization — The reporting interface displays the results clearly and is very straightforward and easy to understand and read.
Easy to Use — Anyone, even non-technical people, can easily use RafflePress for both the giveaway feature and the Surveys and Polls function.
Email Marketing Integration — Connects to lots of email marketing services to help you grow your email list and get more subscribers to poll.
Cost: RafflePress starts at $39.95/year.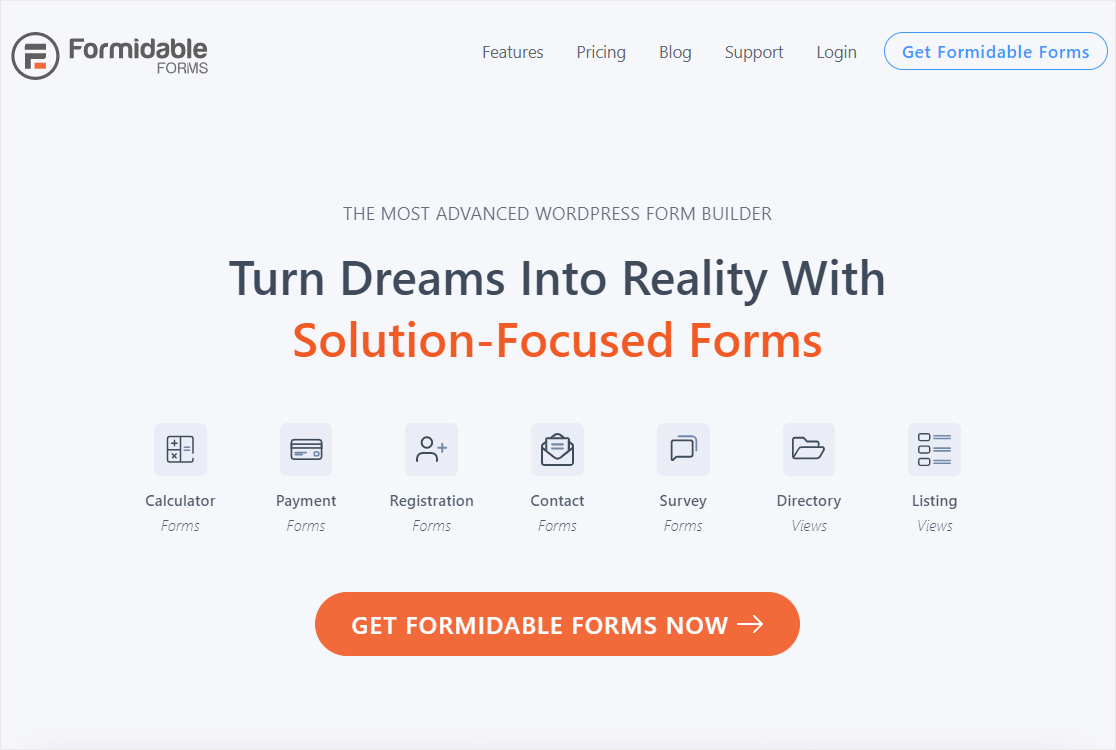 Formidable Forms is an advanced survey builder for WordPress. You can use this plugin to create complex calculator forms, registration forms, payment forms, and much more.
When it comes to surveys, Formidable Forms gives you the ability to create different kinds of surveys and run WordPress questionnaires. You need the Surveys and Polls addon in order to access Survey fields like Likert Scale, NPS, and more.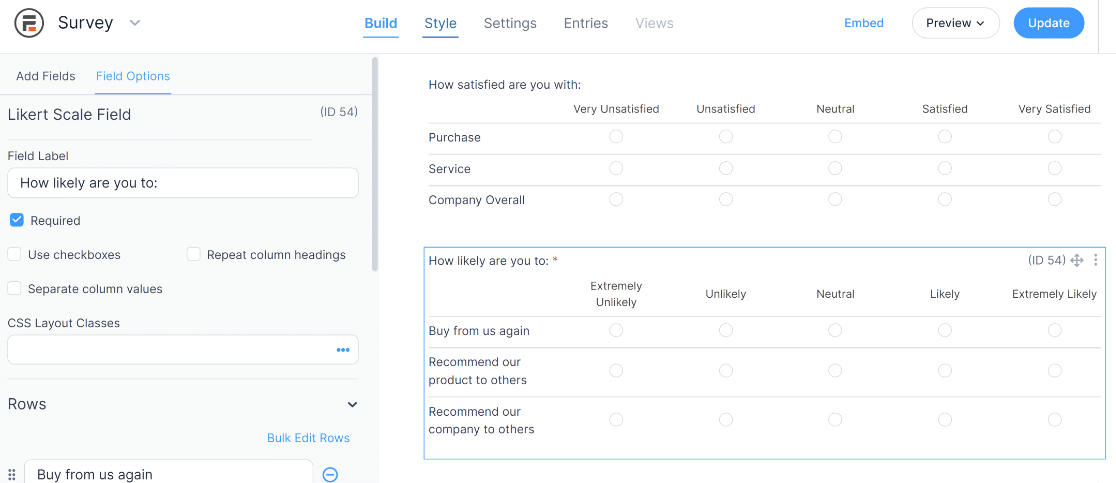 Like WPForms, Formidable Forms also comes with hundreds of form templates so you can get started instantly without building one from scratch yourself.
The drag and drop interface makes it easy to customize any part of your form. You can different types of survey fields, customize their options and choices, and make changes to their design as well.
We're big fans of Formidable Forms' advanced form styling features. You get a variety of ready-made style themes that you can import with the click of a button.
Or if you like adjusting everything manually, this plugin lets you customize the design of almost every element of your survey form fields to give them a more appealing look.
Formidable Forms also produces visual reports to summarize your survey responses.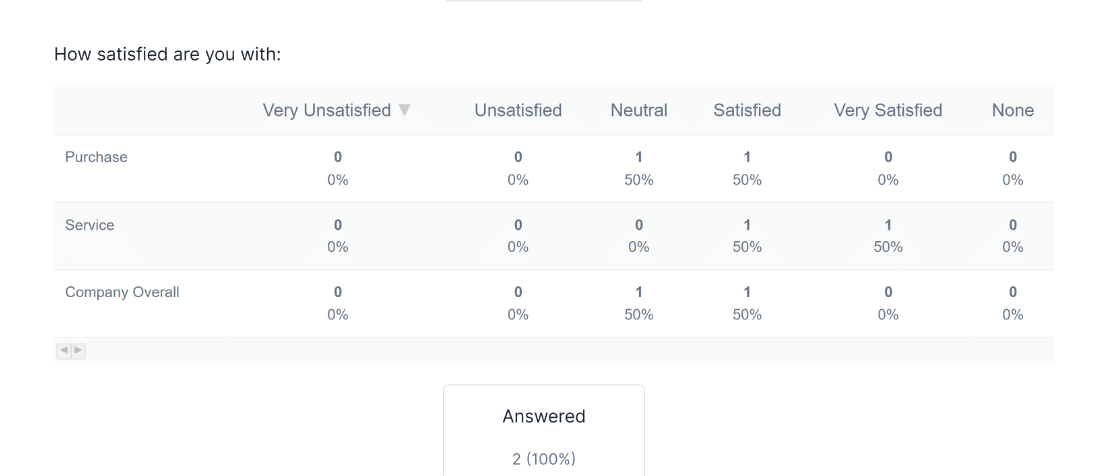 In fact, you can also create custom graphs and even embed them to a WordPress post, but it requires working with some shortcodes which can be slightly complicated for beginners.
Features:
Display Data — Turn your survey and poll results into user-generated content like reports, graphs, charts, user-submitted posts and pages, and more.
Easy to Use — Creating complex forms is simple by using the drag-and-drop builder and form templates.
Smart Question Branching — Smart conditional logic to show or hide survey questions based on previous answers.
Multi-Page Polls — Improve conversions by splitting long surveys into multiple pages and displaying a progress bar.
Cost: Formidable Forms starts at $39.50/year.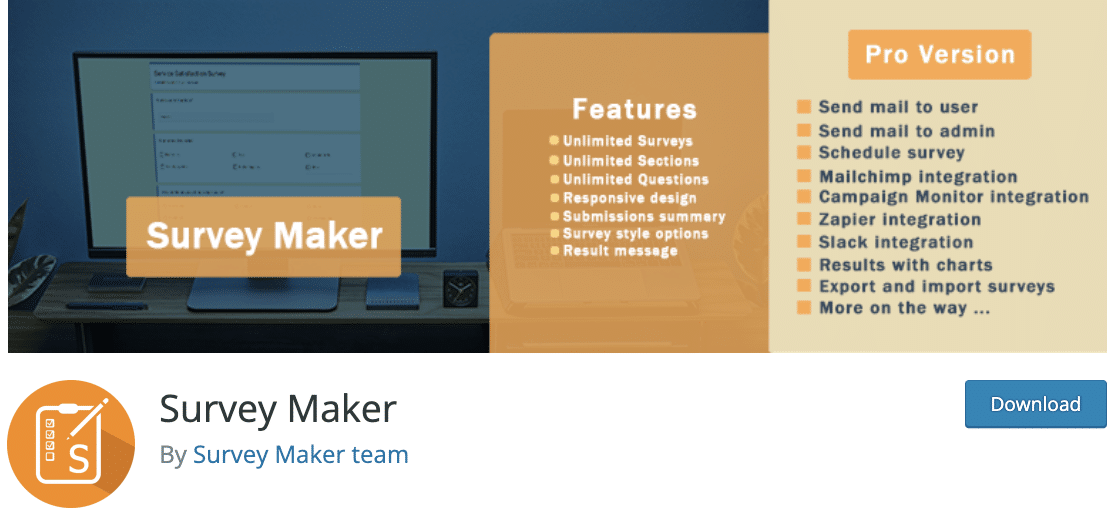 Designed specifically with surveys in mind, Survey Maker is an excellent WordPress questionnaire plugin that lets you build questionnaires with multiple question types. It requires no code, and you can easily embed your surveys in posts or pages using shortcodes.
You can also check out Poll Maker and Quiz Maker by the same developer.
Features: 
Multiple Question Types — Add open-ended questions where users can write their own answers, or let them choose options from multiple choice, checkboxes, dropdown, or Yes/No fields.
Real-Time Reporting — See results from your surveys as users submit their answers.
Multi-Step Surveys — Show all your questions on a single page, or break them up into separate steps.
Unlimited Submissions — Accept submissions from as many users as you need to.
Advanced Styling Options — Choose from pre-built themes or customize the look of your survey and its Start Page to match your branding or WordPress theme.
Cost: There's a free version and a premium version with more question types and other features. The premium version starts at $39 (one-time payment).

Crowdsignal, previously known as Polldaddy, is a popular plugin for WordPress that helps with surveys and polls. Unlike the others on this list, it's a WordPress.com product, so in order to use it, you'll need to create a WordPress.com account to get the plugin API.
Features:
Reporting — Easily gather survey results when you generate easy-to-read reports.
Simple — Use a drag-and-drop builder to create cool WordPress surveys.
Variety of Questions — Crowdsignal lets you ask different kinds of questions including text, multiple choice, and Likert scales.
Shareable — Once you've created your WordPress survey, you can easily place it on your website, in an email, or on your social media accounts to gather information.
Cost: Crowdsignal has a limited free version and a premium version that starts at $180/year.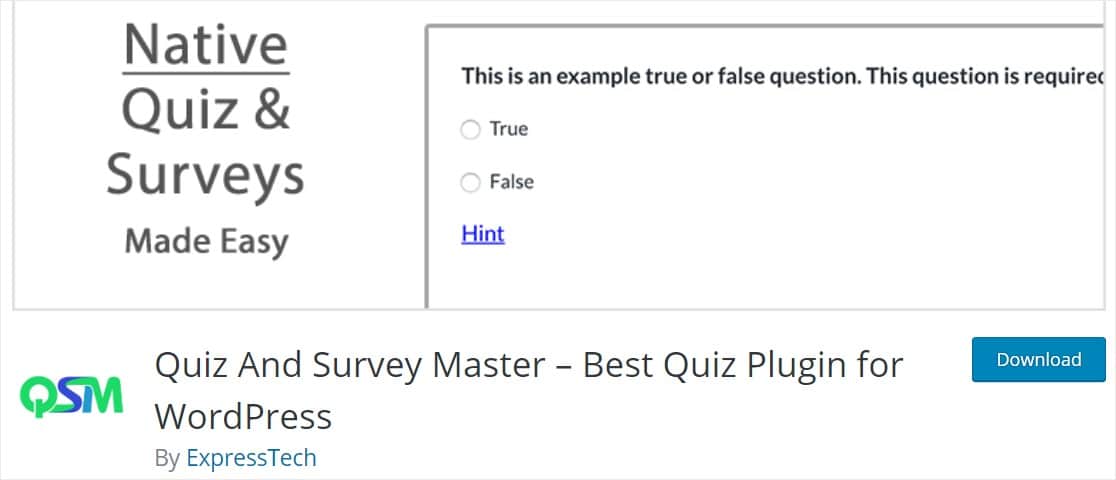 Quiz and Survey Master was created to do just that — help you master creating quizzes and surveys on your WordPress website. And even though the interface isn't very beginner-friendly, if you're up to learning it there are a lot of helpful features.
Features:
Quizzes — Lets you create WordPress quizzes with leaderboards, scores, and interactive answers.
Email Notifications — You can set up the plugin to email users after they complete the survey to thank them or even redirect them to another page on your website and keep them around.
Multi-Step Surveys — Allows you to create multi-step survey forms to keep your users engaged.
Reporting — Only available in the premium version, but is offered.
Cost: Quiz and Survey Master has a free plan. For unlimited survey entries and responses, you'll need the premium plan which starts at $99/year.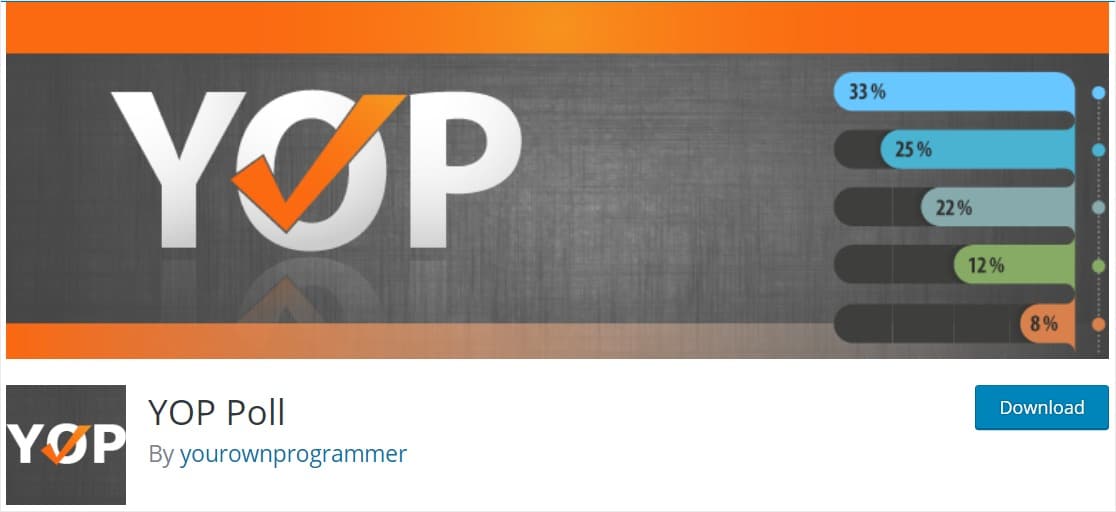 YOP Poll will help you make simple surveys and polls for your WordPress website to gather visitor feedback and opinions. Poll scheduling lets you create polls for the future then set it and forget it.
Features:
Easy to Use — The polls you make can be edited extremely easily, and you can even clone your polls to use them again. Great if you had a poll that was particularly successful that you want to get more information by running again.
Multiple Polls — You can run multiple polls at the same time on your website.
Easy to Add — Easily add your surveys and polls to your WordPress site by using either shortcodes or widgets.
Automated Scheduling — Tap into the power of marketing automation by using the poll scheduling feature. It lets you schedule polls so they can start and change one after another.
Customization — You can change the color of your polls to several different options for variety and to better match your site branding.
Cost: YOP Poll is open-source and free.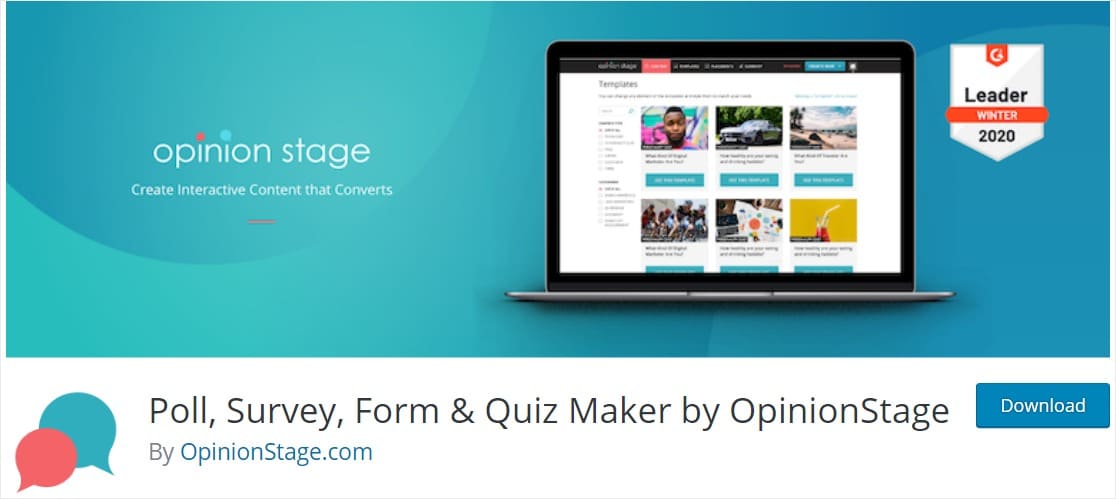 This Opinion Stage WordPress plugin offers a flexible interface for creating different kinds of survey forms, polls, and quizzes on your WordPress site. It comes with very useful survey and quiz templates having interactive layouts, which help engage your users. Opinion Stage is a good choice for fun stuff like personality quizzes and trivia
Features:
Engaging Content — Easily add images and videos to your surveys to up the wow factor.
Easy to Use — Very user-friendly to create polls
Use Everywhere — Add your polls to multiple places on your site like sidebars, posts, and pages.
Multiple Question Types — Ask single or multiple selections, open-ended questions, and more.
Collect Leads — Easily grow your email list by adding a CTA button to your surveys.
Cost: Social Polls by OpinionStage is free.
And there you have it! Hopefully, this post helped you find the best WordPress survey plugin that meets your website's needs and helps you succeed at growing your business online.
Which Survey Plugin Is the Best?
After rigorously testing each plugin on this list, we can confidently assert that WPForms is the most powerful survey plugin for WordPress.
It offers outstanding ease of use with its ready-made survey templates and intuitive user interface. You can customize any element of your survey form using drag and drop actions.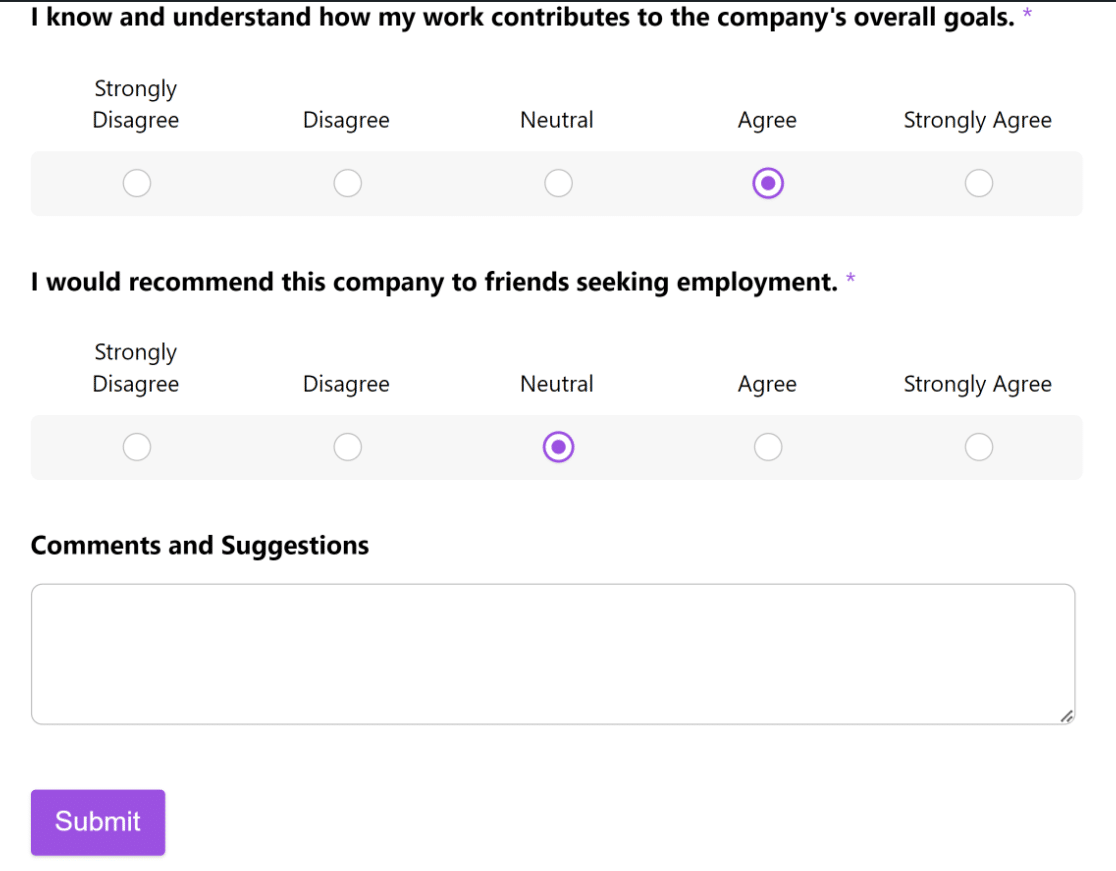 For more advanced functionalities, WPForms gives you features like conditional logic to display certain fields only when respondents match your set conditions. Plus, you get powerful styling features to create stunning surveys that your users will enjoy filling out.
Get the Best WordPress Survey Maker Now
FAQs on WordPress Survey Plugins
Here are a few commonly asked questions we receive concerning survey plugins for WordPress.
Does WordPress Have a Survey Tool?
WordPress has no built-in survey tool, but you can build WordPress surveys using plugins like WPForms. Apart from creating survey forms, WPForms also displays survey results using visual charts right within your WordPress dashboard.
Does SurveyMonkey Work With WordPress?
Surveys built using SurveyMonkey can be embedded in WordPress using HTML codes. However, you can't access the SurveyMonkey form builder from your WordPress, so you'll have to create all your forms separately from the SurveyMonkey site.
If you're looking for a WordPress-specific survey builder, try WPForms. This WordPress plugin enables you to build forms right from your WordPress dashboard and also embed them directly to any page without needing any code.
Next, Make Sure Your Surveys Are GDPR Compliant
Be sure to check out our list of essential GDPR plugins, and our tips on what to do and not to do when creating your online survey.
You can also check out these questionnaire examples, and some tips on writing a summary of your survey results.
And if you'd like to check out more roundups like this, you can see our other recommended plugins for simplifying your business tasks:
So what are you waiting for? Get started with the most powerful WordPress survey builder today. WPForms Pro includes multiple free online survey form templates and offers a 14-day money-back guarantee.
And if you like this article, then please follow us on Facebook and Twitter for more updates from our blog.