Want to learn how to increase survey response rates on your WordPress forms? Asking people to fill out your survey form is a great way to learn how well known your brand is, whether customers will buy your products, if customers are satisfied with your company, and so much more.
In this article, we'll show you some of the best strategies to increase survey response rates so you can make better business decisions based on what your actual customers want.
1. Remove the Text Box
When you create a survey form in WordPress using WPForms, you have the option to add any of the following field types:
Single Line Text
Paragraph Text
Dropdowns
Checkboxes
Multiple Choices
However, depending on the type of survey form you have, you might want to think about making things as simple as possible. And, this means getting rid of any survey questions that require a written answer.
People are busy and don't want to waste time typing in answers on your survey form, such as the ones seen here on the Hilton Hotel Service Experience survey form.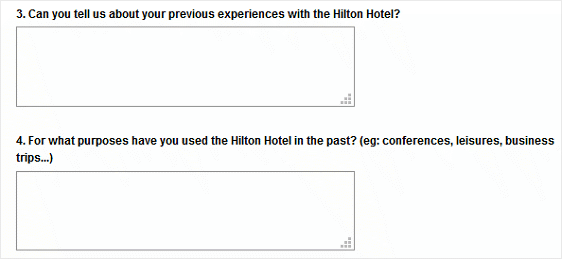 Make things easy by giving people simple multiple choice answers they can quickly choose from and watch your survey response rates increase.
And if you have to create a form with text boxes, at least create a multi-part form to help avoid form fatigue.
2. Keep it Short
We've talked about keeping your WordPress forms short in order to boost conversions. And, the same is true for survey forms.
Vovici, a survey software company, did a study on survey abandonment rates and found that the shorter a survey is, the higher the response rate is.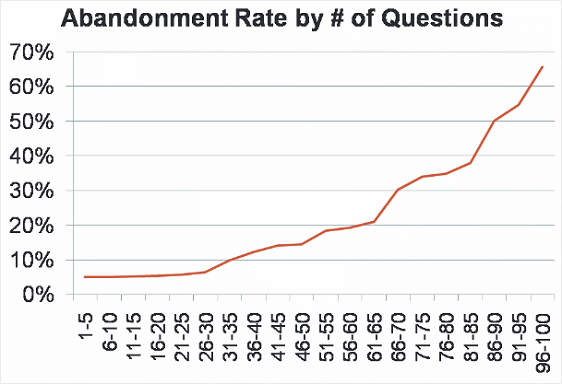 They also offer the following tips for preventing form abandonment:
Only ask questions that will help you achieve the goal of your survey
Only ask the most important questions
Never ask a question that you or your team can't address
In addition, use smart conditional logic to show or hide survey questions based on the user's responses. This way your survey is only as long as it needs to be.
3. Add Images
People are visual by nature. That's why adding images to your surveys may make it easier for people to complete your survey and click "Submit."
Here are some ways you can use images in your survey questions to help build your business:
Ask people which company logo they prefer
Have people select which food item looks the most appetizing
Let people decide which mascot your company will use at local events
Display a product in different colors or sizes and let customers choose which they like the best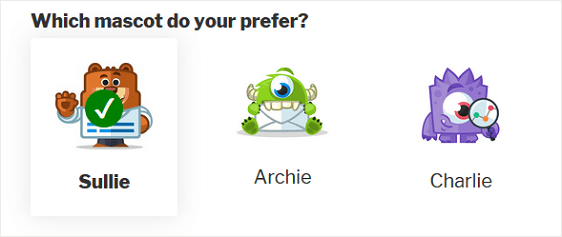 Ultimately, the options for adding images to your survey questions are endless.
If the question you're asking is particularly difficult, complement the image with some text explanation. If not, simply leave the survey question with simple image answers and watch people respond.
4. Make it Multilingual
If you have a strong international customer base and want to find out how well your business is performing, create survey forms in more than one language so everyone has an opportunity to fill it out.
Don't think there's a need to translate your WordPress forms?
Check out these statistics regarding buying behavior, which can apply to form submissions as well:
Only 18% of people will buy a product from a website in a foreign language
45% of people never use a language other than their own when online
44% of European internet users feel they're missing out on important information because many web pages are not in a language they understand
Taking advantage of every opportunity to find out what your customer like and want to see more of is important, especially when you have a global brand.
Offering survey forms in different languages may be what you need to set yourself apart from the competition.
5. Run a Contest
People may be more apt to complete a survey about your business if they know they have a chance of winning something. So, create a contest survey form and give people a reason to click "Sumbit."
The great thing about using WPForms when running a contest is that there are several built-in permissions and access controls so your site doesn't become overwhelmed with survey responses.
Sure, you want to have a sizable amount so you can accurately analyze the data and make real changes to improve your business. But when you add in the aspect of running a contest, you risk getting flooded with too many submissions and too much data.
With WPForms you can:
Require a Password. This is great for getting people on your email list involved. For instance, provide a link to your survey, complete with the password, so they can submit an entry to your contest after filling your form out.
Schedule the Contest. Set a start and end date for your contest survey form.
Limit Entries. Limit the number of form entries you'll allow so you don't collect too many.
Restrict Users. Only allow those that are logged into your site to fill out your survey form.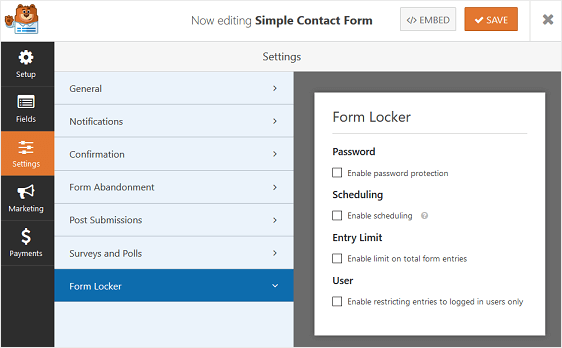 In addition to these access controls, WPForms will let you limit the number of entries an individual can submit.
This way the same person doesn't continue to take the survey over and over to get more entries into your contest. If this happens, your results will be skewed and making improvements to your business will be nearly impossible.
6. Inform the Customer
If you really want to increase survey response rates, let people know exactly what the survey is about and why you're asking them to fill it out. And don't forget to tell them how their feedback will be used.
Can they expect to hear from you after the survey regarding their answers?
Will they be able to access their answers after submitting the form?
Is there an incentive for filling out the survey?
What is the exact purpose for conducting the survey?
Answering questions like these on your survey form, like Telstra.com does, will help encourage site visitors to fill out your form.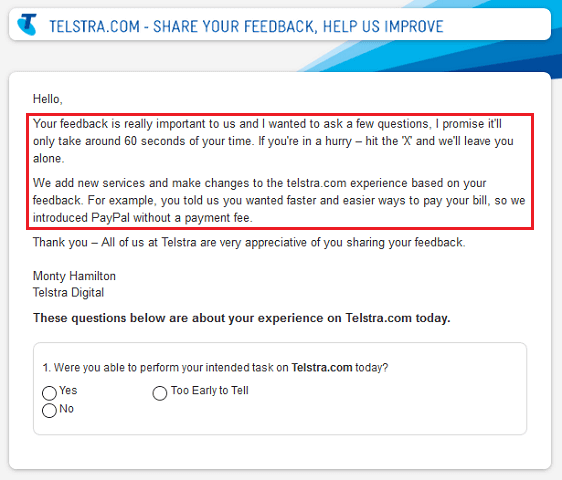 Notice how they tell people about how long the survey will take to finish. Plus, they add what the feedback will be used for and an example of how previous feedback was used to improve the user experience.
If people feel their feedback is important, they'll be more likely to submit the form. That, and knowing it will only take a little bit of time to finish.
7. Offer Anonymity
You might consider making your online survey forms anonymous in order to increase survey response rates.
After all, site visitors are more likely to answer honestly if they know they don't have to disclose their names. And, you want the most honest responses possible so you can take action to improve your business and bottom line.
Sometimes, people don't want to give up their personal information, even if it's just a name. Not to mention, there will be those people who feel you are only after an email address so you can fill inboxes with what they consider spam.
Creating an online form that eliminates the need to enter a fake name or email puts site visitors at ease from the very beginning. This in turn will help boost the number of survey entries you receive.
8. Offer an Incentive
Giving people a reason to fill out your survey by offering an incentive is a great way to boost your survey response rate.
In fact, according to PeoplePulse, survey response rates jump an extra 10-15% when an incentive is added, no matter how minor the reward.
Here are some of the best incentives you can offer:
Monetary. Cash, checks, or gift cards all work. However, cash is the winner if you want the highest survey responses.
Samples. If you have the right kind of audience, sometimes giving away a sample product or service is a better idea.
Coupons or Discounts. People love a good deal and are more likely to complete your survey form if they know they're getting free shipping on a purchase or a coupon to use on their next visit.
Charitable Donations. Your target audience may be more willing to submit a survey form if they know you'll be donating to a charity.
Host a Giveaway. Another great incentive is to enter people that fill out your survey into a drawing, raffle, or free giveaway.
If you're worried that people will only fill out your survey for the incentive, don't worry. It's been shown that 94% of people still give honest answers, even if they just want the reward.
9. Use a Progress Bar
If you know your online survey is going to be on the longer side, make it easy for people to gauge how long the survey will take to finish.
There's nothing worse than starting a survey and after a few answers realizing the survey is going to take a long time to finish. By then, the site visitor feels invested, since some of the questions have already been answered.
However, the frustration that the survey is going to take a long time may set in, resulting in rushed answers that may not be as truthful, or may be harsher, than if they knew from the beginning it was a long survey.
To fix this, first start by telling site visitors upfront how long you expect the survey to take.
From there, offer a WordPress Multi-step form that includes a progress bar so people can visibly see how far they've come and how much there is left to go, like Netflix has done with their customer satisfaction survey.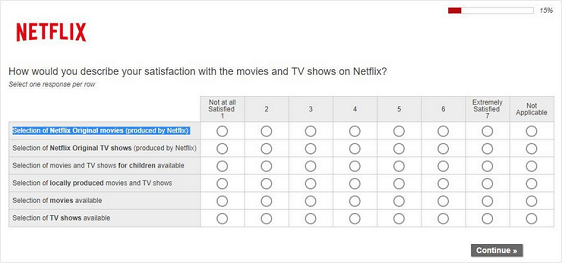 Adding a progress bar, or at least giving people a head's up on the length of the survey shows respect for your site visitors' time. People will appreciate this and it will help boost your response rates.
Plus, adding a progress bar makes people feel more committed to finish, and gives them a sense of accomplishment as they complete the survey.
Did you notice that Netflix also used a matrix question? That really helps to make the page as compact as possible.
And there you have it! Some of the best ways to increase survey response rates so you can start collecting valuable feedback from your site visitors and improve your business based on their concerns, needs, and wants.
If you're looking for another way to quickly get feedback from your site visitors, that doesn't require a ton of in-depth questions, take a look at how to create a poll form in WordPress. You could also make a request a call back form to make it easy for people to reach out for help.
And don't forget, if you like this article, then please follow us on Facebook and Twitter.