Do you want to use the best lead generation tools for your website?
Growing your email list is the most important action you can take to grow your business.
After all, you can't have paying customers unless you consistently capture leads and nurture them with targeted follow-ups.
But you need powerful tools with automation capabilities if you want to capture leads at scale.
In this post, we'll share our favorite lead generation tools that can enable you to drive business growth.
Best Lead Generation Tools
We've thoroughly tested all of the tools on our list ourselves and loved them for reasons that we'll go into detail below. We'll also talk about the aspects that we didn't like about these lead gen tools.
Use the quick links below to jump to a specific section.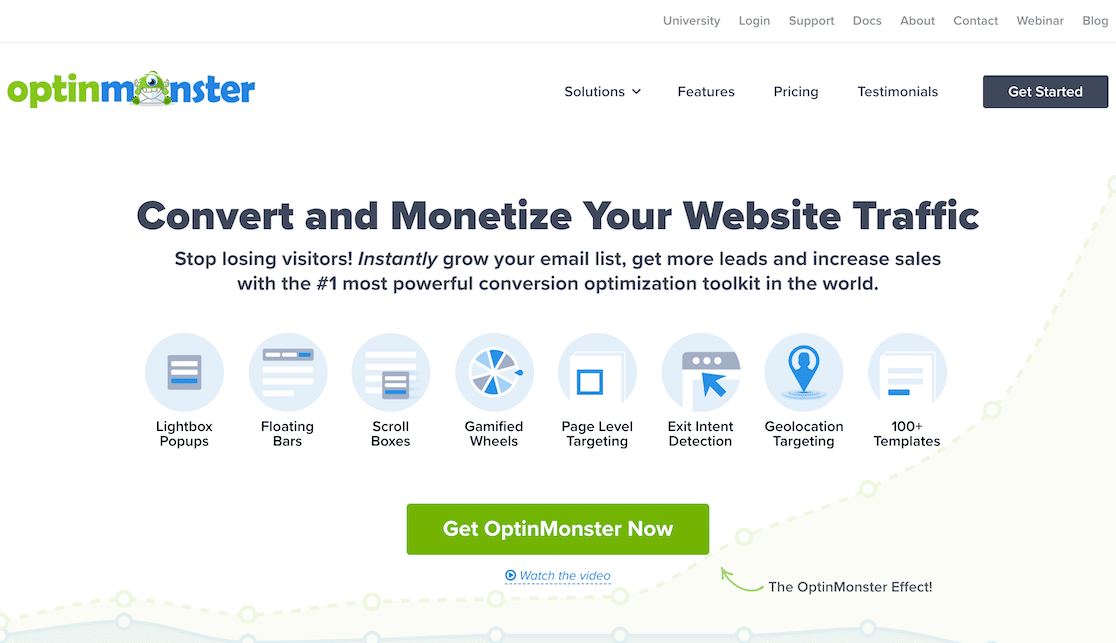 OptinMonster tops the list of our favorite lead generation tools. Essentially, OptinMonster is a SaaS lead generation platform and conversion optimization tool with many features designed to help you capture leads and create customized campaigns effortlessly.
We love that OptinMonster gives you different types of campaigns including popups, floating bars, fullscreen mats, gamified wheels, and more.

When you select a campaign type and your preferred template, OptinMonster takes you to its visual editor where you can make changes.
During testing, using the OptinMonster visual editor was definitely our favorite part.
OptinMonster gives you various useful blocks like icons, buttons, and countdown timers that you can easily insert using drag and drop controls.
It only took us less than 5 minutes to change the color of the CTA and add additional effects like shadows around the CTA button.

While the excellent templates you get only require you to make minimal changes to match your specific campaign, it's nice to have the ability to go even deeper with customizations depending on your design philosophy.
We're also huge fans of the targeting options included in OptinMonster.
Want to display a popup only after 1 minute of user inactivity? Just use the appropriate if-then selections, and you can easily create your desired display rule.
You have full control over how you want to display your lead generation campaign based on on-site behavior, device type, and more.

OptinMonster also takes the pain out of publishing your campaigns. For popular platforms like WordPress and Shopify, you just need the OptinMonster plugin to embed your campaign without any code.
Lastly, OptinMonster makes it easy to monitor the performance of each campaign. It displays conversion stats to help you further optimize your campaigns for the best results.
And if you really want to make the most of your campaigns, you can use the built-in split testing tool.
While the split test feature is not super advanced, we found it really simple to use and mighty effective in taking the guesswork out of choosing the best-performing variant for our lead collection campaign.
Features:
Maximize conversion potential – Various templates and campaign types to suit your specific industry for the best conversion results
Powerful targeting features – Use ExitIntent technology to display campaigns before a visitor closes your page or try tons of other advanced targeting options
High customizability – Use templates as-is or make thorough changes to every element of a template to add your personal touch
Analyze performance – Easy visualization allows you to monitor conversion stats for your campaigns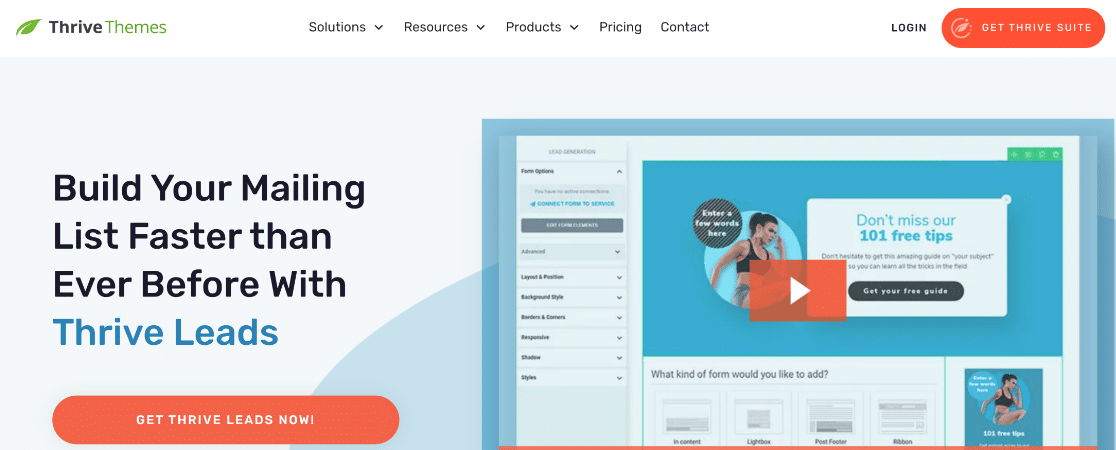 Thrive Leads is a lead generation plugin for WordPress, and it offers some of the coolest features you'll find in any tool.
Like OptinMonster, Thrive Leads enables you to build different kinds of campaigns including lightboxes, post footers, ribbons, slide-ins, widgets, and more.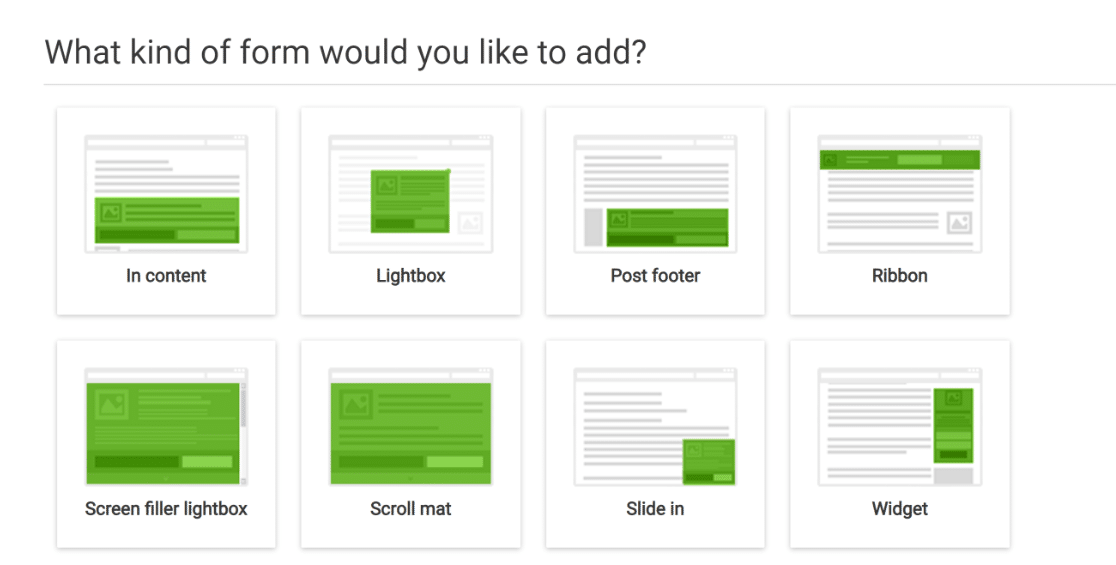 One major convenience in Thrive Leads is the ability to create a Leads Group. This features enables you to set up multiple optin forms at the same time and configure trigger rules for each.
Of course, you wouldn't want multiple optin forms within the same page triggering simultaneously because that would hurt the user experience.
But Thrive Leads enables you to set up different triggers for each form based on user behavior.

So you could have your primary lightbox form appear instantly upon page load but use a footer form to kick in when website visitors scroll to the bottom.
This is a fantastic functionality that we found super helpful during testing.
On top of that, Thrive Leads also enables you to test your forms against each other.
If you have multiple forms created for the same Lead Group, you can have Thrive Leads perform an A/B test and pick a winner automatically based on your set goals.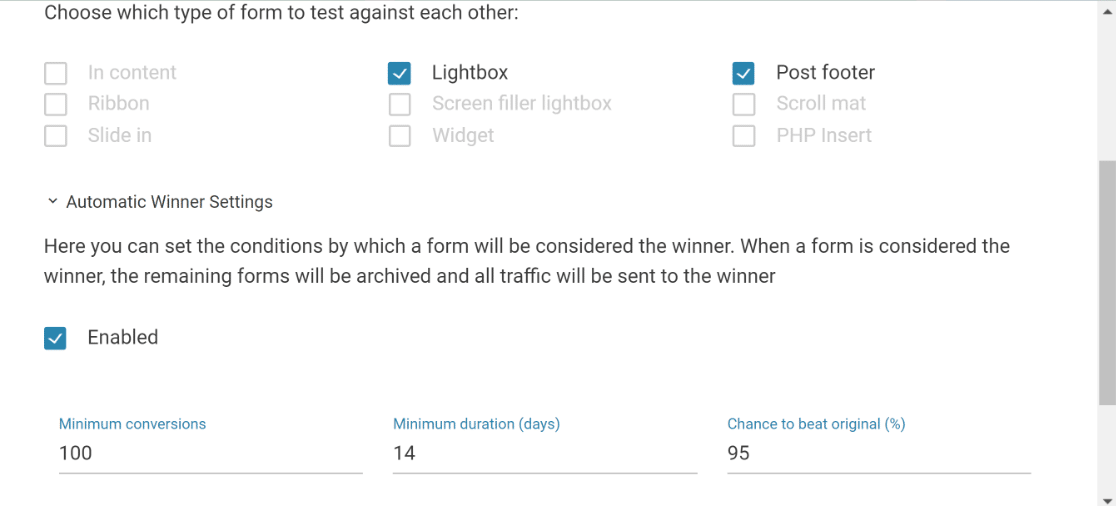 We particularly appreciate one feature that's pretty unique in Thrive Leads – one-click signup links.
This feature allows you to generate a link that your subscribers can click to sign up for a webinar or other event instantly.
It saves subscribers on your list from signing up again for something else, like a webinar, because you already have their information from a previous form they filled out.
We rate Thrive Leads highly because it has features like these that are designed to maximize your lead conversion potential.
Features:
Advanced lead generation campaigns – With Lead Groups, you can create multiple optin forms and set unique display rules for each
Powerful A/B testing – Run A/B tests between different forms in your Lead Group and automatically pick a winner based on performance
One-click signups – Remove extra hoops by letting subscribers sign up via a link within an email rather than using forms to sign existing subscribers again for something new
Visual editor – Easy form customization options with a visual campaign editor.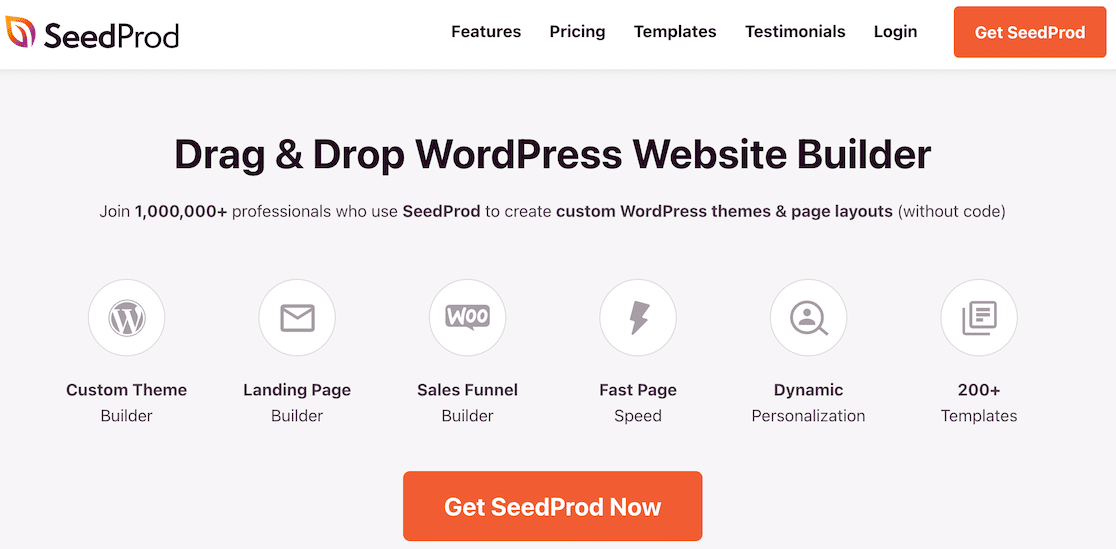 SeedProd is a WordPress landing page builder specializing in coming soon and maintenance mode pages.
This plugin makes it so high on our list because it's excellent for creating landing pages optimized for capturing leads.
As a drag and drop page builder, working with SeedProd is incredibly easy. The plugin gives you the flexibility to edit any element of your page.
We really liked the range of pre-built templates that are perfect for various kinds of campaigns and industries.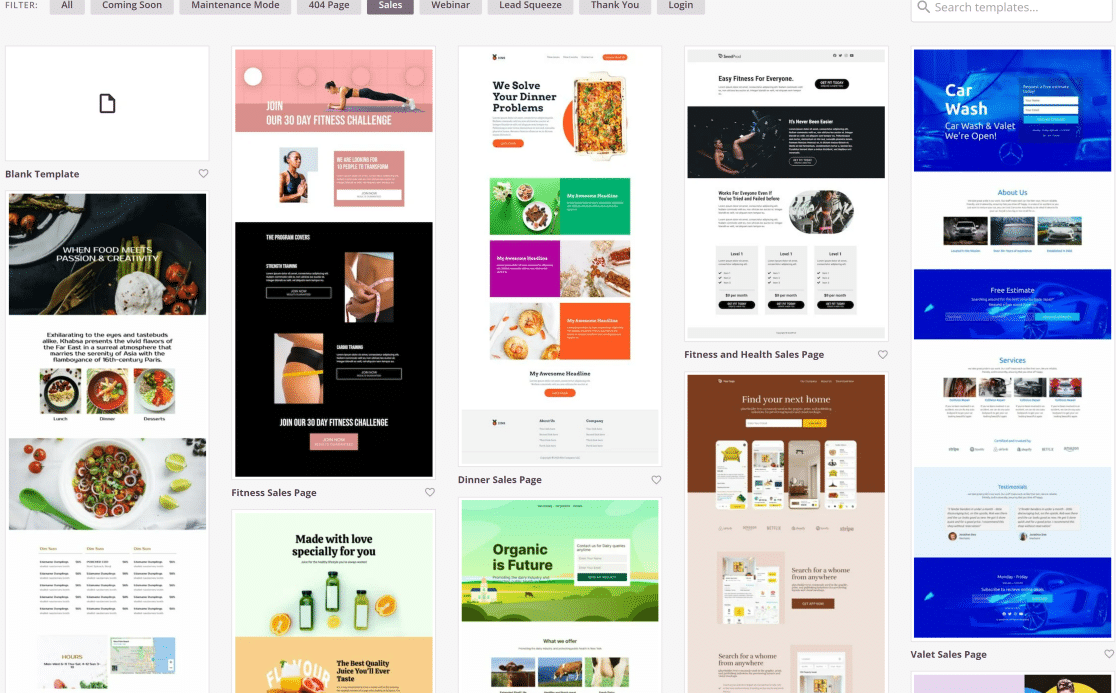 One of the coolest features is that SeedProd lets your lead generation campaign running while your site is under maintenance or even before you've launched a new site.
That's because you can still add an optin form to your maintenance page and keep collecting leads even when your site is down.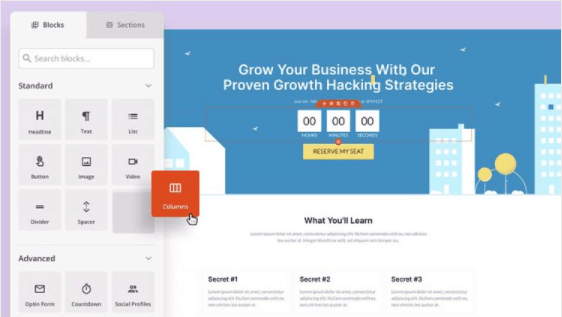 SeedProd integrates with popular email marketing service providers like Constant Contact, ConvertKit, Drip, ActiveCampaign, and more.
With these integrations, you can automatically send any new leads you capture from your page to your mailing list.
Overall, we were impressed by the ease of use and range of features available in SeedProd.
If you want visually appealing landing pages on your site that convert, SeedProd is the perfect plugin for the job.
Features:
Ready-made page templates – Get a library of 150+ page templates designed to capture leads
Drag and drop page builder – Customize your landing pages, add styles, and change colors to draw and engage leads
Coming soon mode – Use a coming soon or maintenance page for your website while collecting leads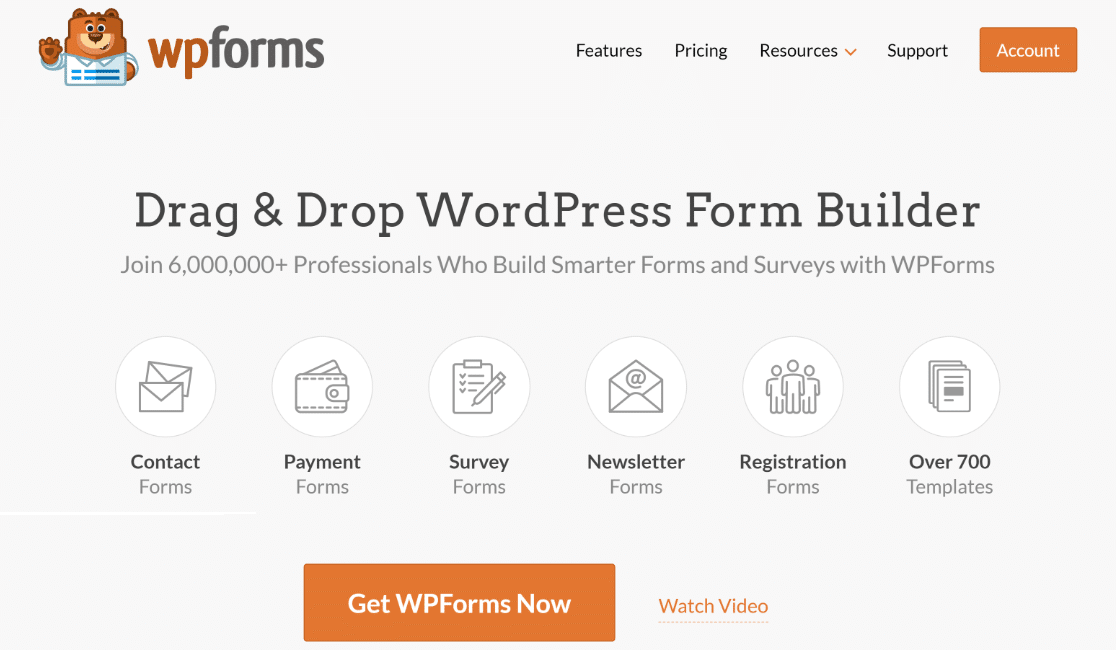 WPForms is the top-rated contact form plugin for WordPress. But there are several reasons why it also fits as a lead generation tool for an online business.
The plugin has several features focused on maximizing conversions and reducing form abandonment. These translate extremely well for lead generation.
For example, the Lead Forms addon enables you to create highly focused, distraction-free forms that display only one question at a time.
This is designed intentionally to make the form environment more streamlined and engagement to boost submissions.
You can style your lead capture forms using simple toggle buttons to make them stand out more.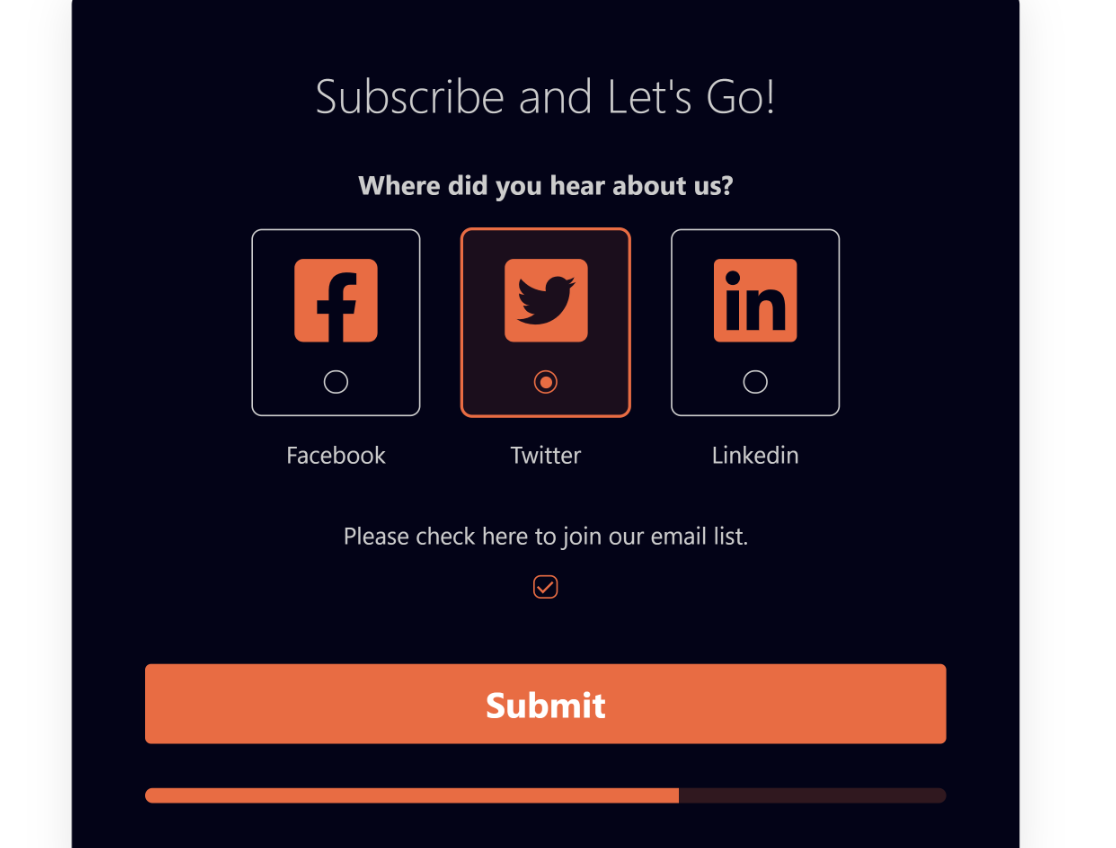 It's important to keep your email list clean and free from fake emails. Using WPForms' validations and spam prevention, you can maintain a clean mailing list that includes only interested subscribers that engage actively with your newsletter.
While WPForms isn't a dedicated lead generation tool like OptinMonster or Thrive Leads, it has tons of advanced features of its own.
For instance, it comes with form field validations and email confirmations to ensure that you're collecting accurate information from your leads.
Finally, WPForms integrates with various email marketing tools so you can send your captured leads to your marketing platform and start sending emails immediately.
Features:
Drag and drop form builder – Create any kind of form in a few minutes using the no-code drag and drop visual builder
Multi-page lead forms – Remove form fatigue by splitting your questions into multiple form pages to capture more leads
No-code styling options – Customize the appearance of your forms without CSS (available in the free plan as well as paid).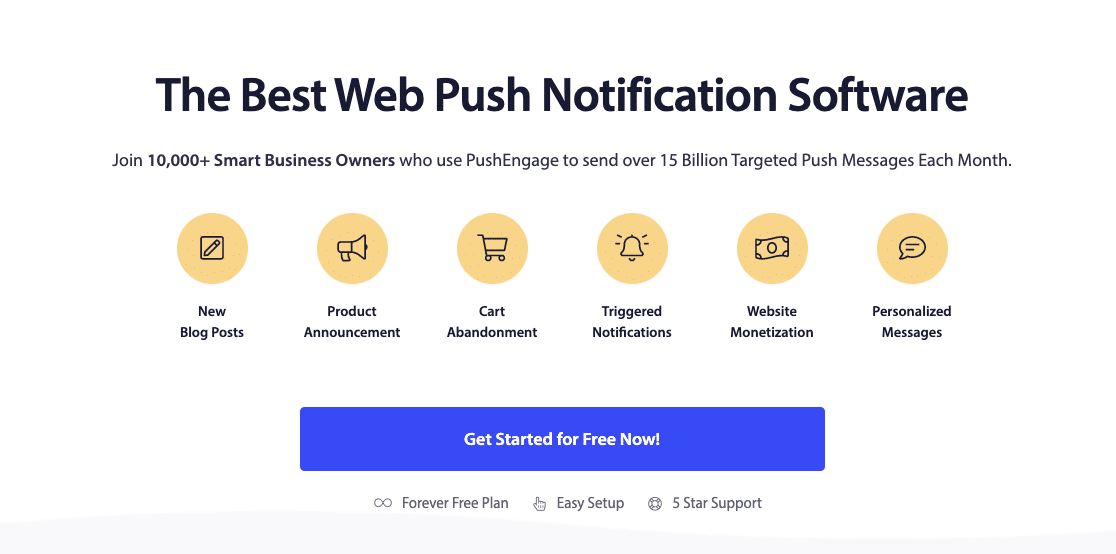 PushEngage is a fantastic tool that complements your traditional lead generation strategies with push notifications.
In the past few years, push notifications have become increasingly common. That's because they're highly effective in generating leads without requiring users to fill out a form.
And PushEngage gives you all the features you need to design and send well-crafted browser notifications.
You're free to edit the title and text of the notification and even add emojis to it. Plus, you can select a notification icon (it's good practice to use your website/brand logo for this).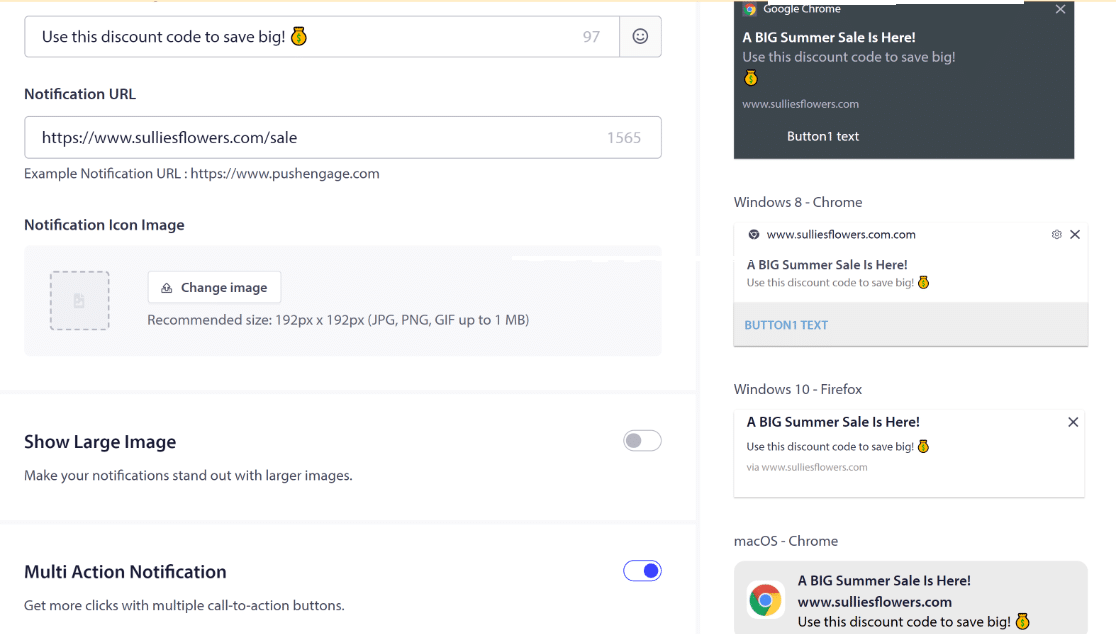 PushEngage also allows you to customize subscription popups for collecting leads. We found it super convenient to have live previews of how a popup would appear in different operating systems and browsers.
This allows for more precise customization as you can see the changes happen in real-time.

We also like the fact that PushEnage comes with targeting rules which let you control when the subscription popups should appear in a browser.
You can make the subscription modal appear only for visitors from specific locations and confine the modal to specific pages.
Besides, PushEngage has an impressive range of other advanced features, such as a drip campaign for welcome notifications, triggered campaigns to recover cart abandoning users, and more.
Overall, PushEngage is a powerful asset for adding a new dimension to your lead generation game by leveraging browser notifications.
Features:
Popup styles – Choose from popular subscription modal styles to offer a smooth user experience
Live preview – View the design of your push notifications while customizing them in real-time
Triggered campaigns – Send notifications only when a visitor performs certain actions such as abandoning a cart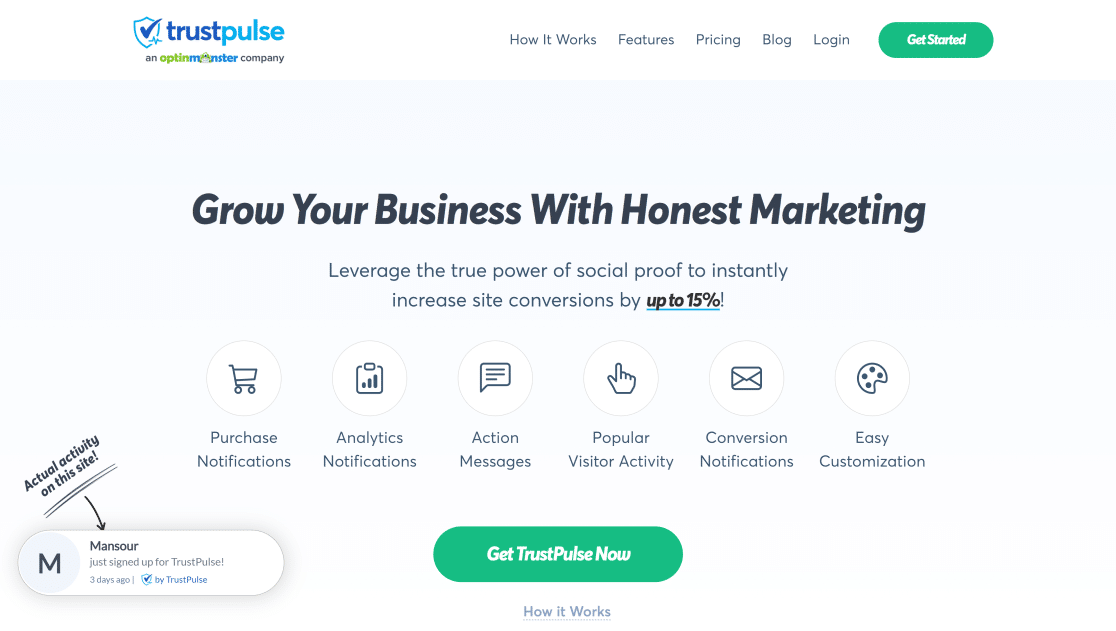 TrustPulse is a tool that smart marketers use to take their inbound lead collection tactics to the next level.
Essentially, TrustPusle taps into consumer psychology by leveraging a simple idea – a customer is more likely to complete an action if others around them are doing the same.
TrustPulse uses this fact to achieve great results. It accurately displays real-time notifications of user activity, which frequently causes your target audience to buy a product others recently bought, subscribe to your newsletter, view a certain page, and more.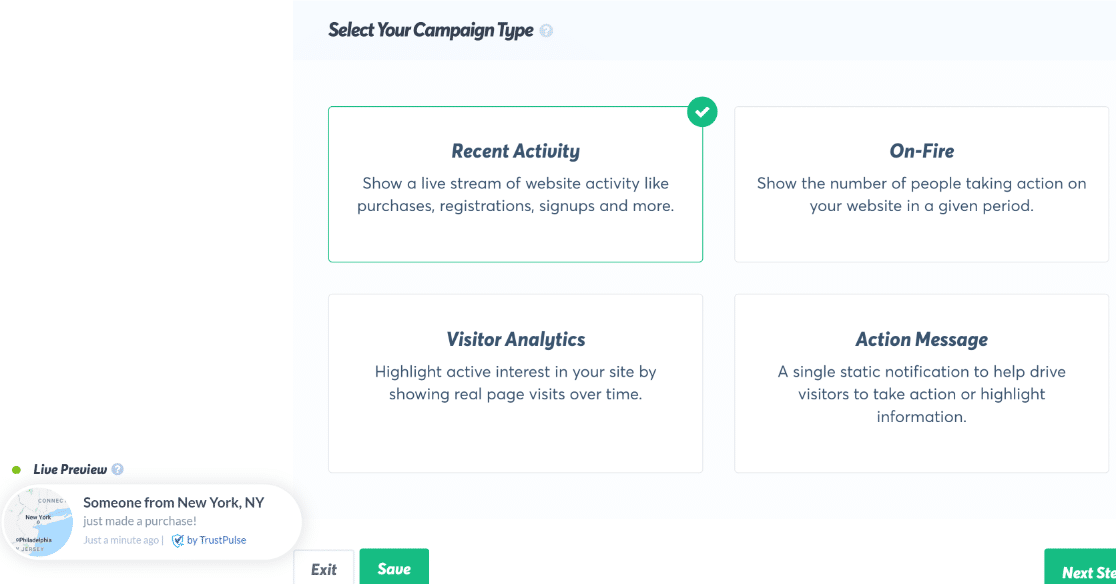 We're huge fans of this tool mainly because of the ease with which we were able to set up activity notifications.
The integration with WordPress is particularly easy – you don't need to insert any code if you just install the plugin.
If you want to give that extra push to your lead generation campaigns to improve conversion rates, we strongly recommend using TrustPulse. It also comes with fairly cheap pricing options.
Features:
Real-time activity notifications – Apply social proof by displaying user activity notifications to encourage purchases
Easy integration – No code needed to integrate TrustPulse with WordPress
Different campaign types – Display recent activity, visitor analytics, or a custom action message.

Affiliate marketing is a proven strategy for collecting leads through referrals. AfilliateWP is the best plugin for managing your affiliates within your site if you want extra growth with the help of referrals.
With AffiliateWP, you can create affiliate links to track referrals, set commissions for each affiliate, and easily pay out commissions with the click of a button.
We were delighted that AffiliateWP natively integrates with other popular WordPress plugins like WPForms and WooCommerce.
That means you can get referral leads to your product pages or signup forms and grow your email list plus sales without any effort of your own.
Overall, we think AffiliateWP is a worthwhile investment if you're looking into affiliate marketing as a way to supplement your regular lead collecting strategy.
Features:
Affiliate portal – Create a convenient management area in WordPress for affiliates to view their referral earnings and generate unique referral links
One-click payouts – Pay commissions to your affiliates via PayPal with a single click
Affiliate forms – Integration with WPForms allows referral traffic to forms to be easily tracked

FunnelKit is a versatile WordPress plugin that lets you craft high-converting funnels for your visitors and customers.
When used correctly, funnels are highly effective at capturing emails from new visitors and upselling to existing customers.
With FunnelKit, the best part is that FunnelKit simplifies the funnel creation process outstandingly to capture quality leads.
The plugin includes templates for different types of funnels, including checkout, sales, and lead generation.
We loved using these templates to create compelling lead generation funnels that are optimized for the best results.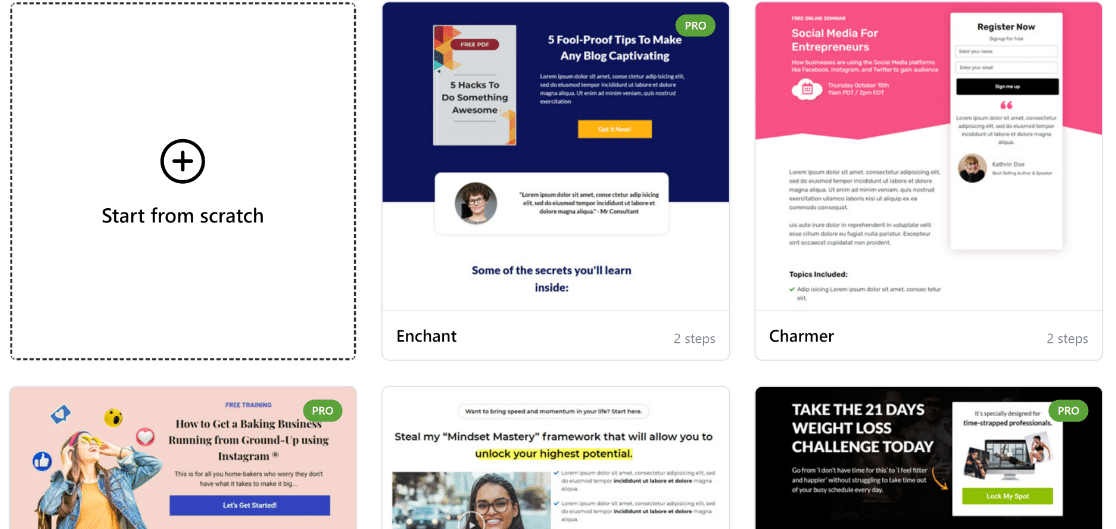 If you want, you can include an extra offer in your confirmation page after a visitor has submitted the optin form.
This is great for getting them to perform an extra step to help your brand, such as following your official Facebook page.
FunnelKit works with popular page builders like Divi and Elementor to let you customize any element of your optin page.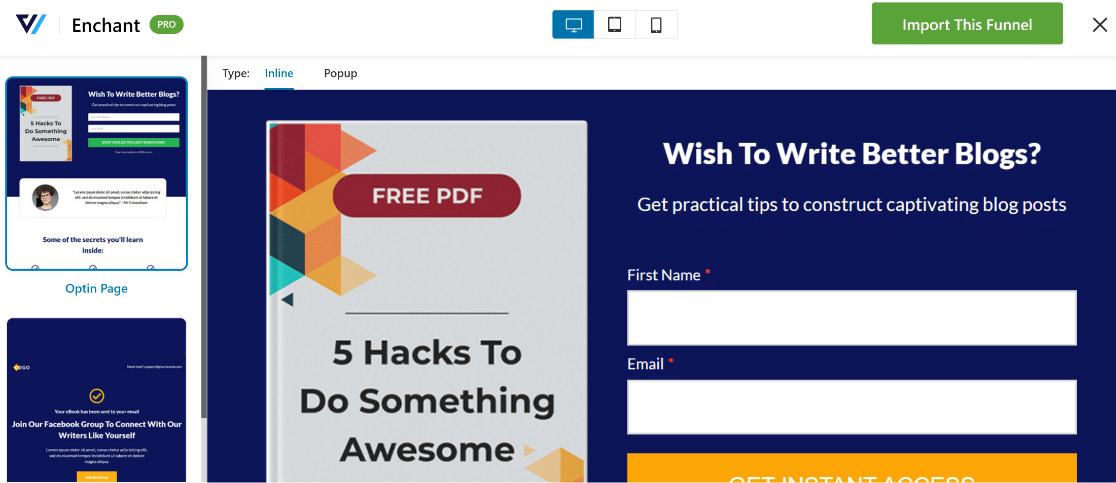 That's not all. FunnelKit also has one of the best A/B test tools. We were pleased to see the advanced options it includes for managing your A/B tests.
For instance, you can adjust the traffic distribution for the test before running it or even while it's running. You can also pause or resume a test at any time.
So if you're looking to create data-based funnels with the best performance in terms of lead collection, FunnelKit is your go-to plugin.
Features:
Ready-made funnel templates – Build effective lead funnels in no time using ready-made templates
Advanced A/B testing – Test your funnels and automatically pick the best-performing one to collect more leads
Powerful automations – Excellent automation tools let you create simplified workflows for lead gen.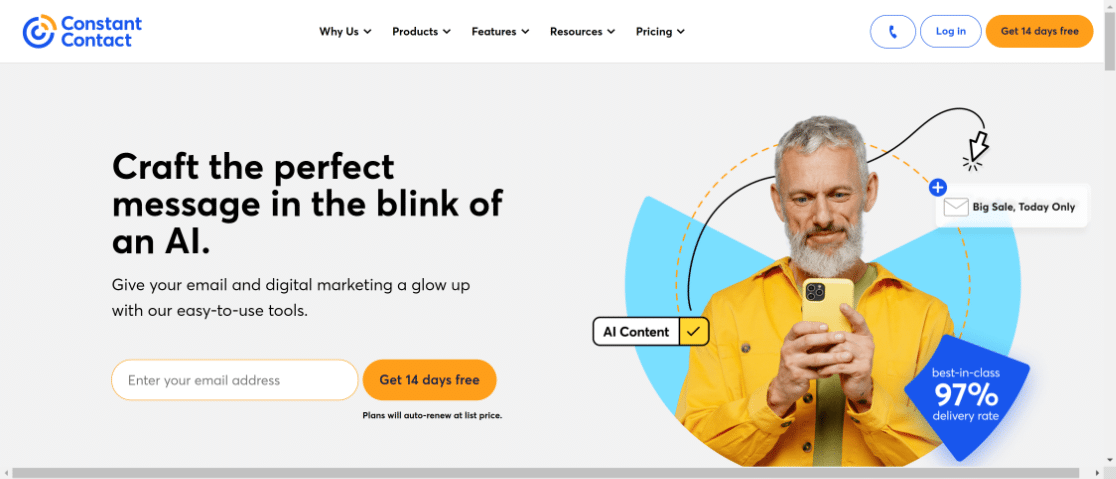 Constant Contact is a popular email marketing platform that offers powerful features for nurturing your leads and turning them into paying customers.
The tool covers all the basic features you can expect in a good marketing tool. It includes a drag and drop editor for creating newsletters and offers well-designed email templates to give a dramatically more exciting look to your emails.
We were particularly impressed by the AI capabilities included in Constant Contact. It generates compelling headlines for your emails to improve clickthrough rates and can also completely write the message too.
While we still needed to make a few edits ourselves, the AI-generated copy was still pretty good.
Other than that, Constant Contact also comes with tools for SMS and social media marketing to ensure your lead nurturing strategies cover all channels comprehensively.
Features:
User-friendly interface – Visual builder lets you design appealing newsletter campaigns
AI automation – Generate the subject line and text of your emails with a high-quality built-in AI tool
Email list management – Manage your subscribers and create audience segments to improve targeting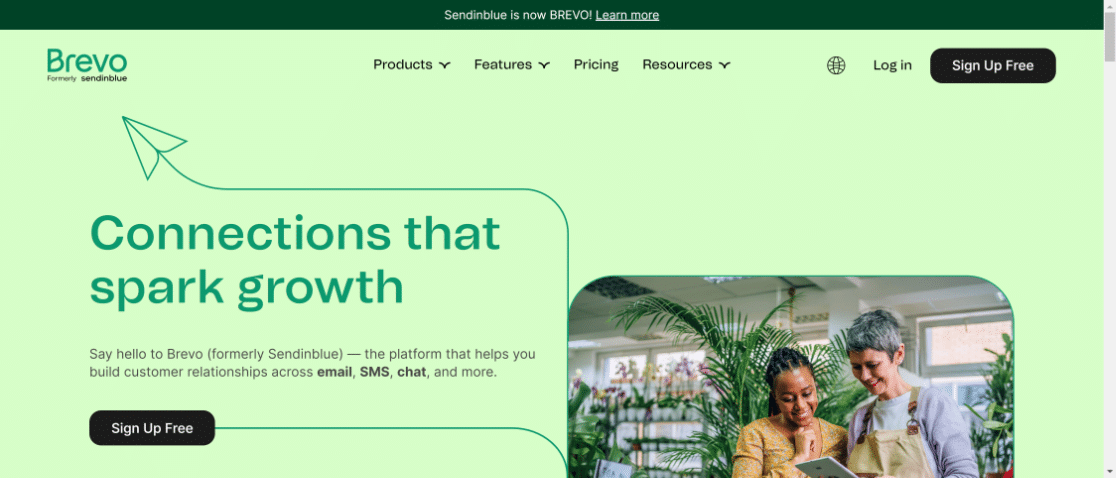 Brevo (formerly known as Sendinblue) offers a suite of digital marketing tools to help you convert more leads.
It includes many of the same features as Constant Contact, such as a visual email builder, customizable email templates, and list management features.
We like how clean the interface is, which enables you to quickly build your email campaign using a visual editor. And the analytics features are superb. You can use heatmaps to see where your visitors are clicking, allowing you to optimize your CTAs.
We also like the A/B test features in Brevo. You're able to control the size of your test groups, the element to test, the duration of the test, and how to pick a winner.
Apart from that, Brevo also includes a massive variety of extra features. For example, you get live chat and chatbot tools, WhatsApp campaigns, SMS marketing, Facebook ads, and more.
Even though it's slightly disappointing that Brevo doesn't offer AI assistance for email writing (like Constant Contact), it's still an excellent tool both for collecting new subscribers and nurturing existing leads.
Features:
Comprehensive range of marketing tools – Supports WhatsApp campaigns, SMS, Facebook, and more
A/B testing – Test variations of your emails on a test group to find which variation engages and converts more.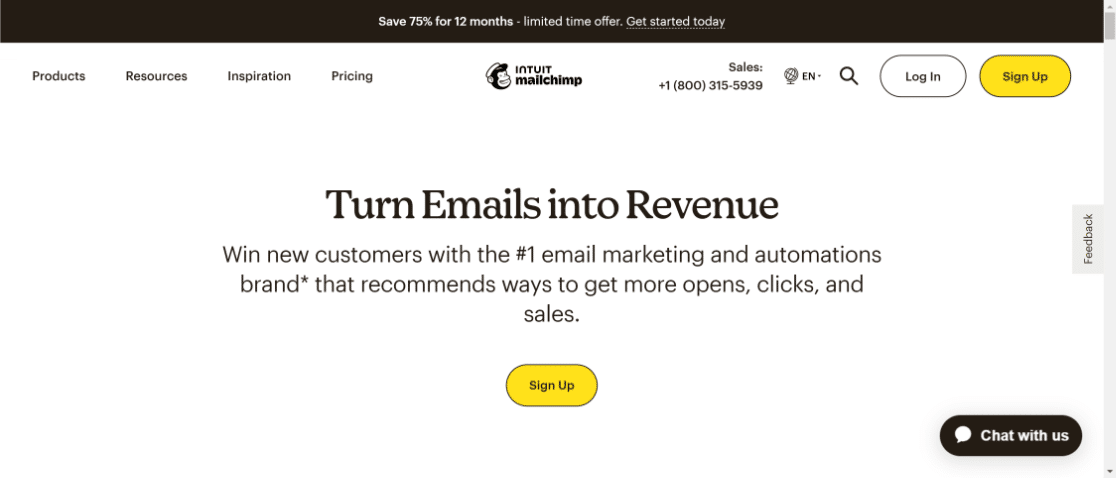 Mailchimp is another fantastic email marketing tool that uses AI to assist your campaign strategies.
While Mailchimp includes several tools to handle different aspects of marketing, it's the email marketing features that we mainly rate this tool for,
The email builder gives you an impressive variety of pre-made layouts that elevate the design of your newsletters.
We really like AI-driven features in the email builder. It gives you real-time suggestions to improve your copy. You can even generate complete email content for your next campaign using its AI capabilities.
Not only is this a huge time saver, but it's also perfect when you need ideas and inspiration to keep your email marketing fresh and engaging.
Features:
AI-driven email marketing – Create email content and get suggestions for improvement from built-in AI assistant
Good ease of use – Whether you want to create emails from scratch or use templates along with AI-generated text, all features are very easy to use.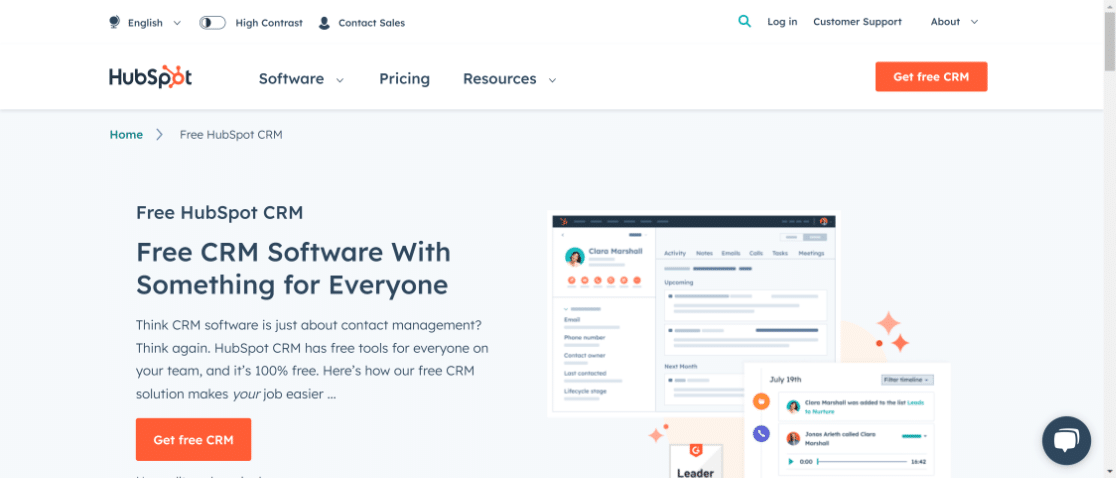 HubSpot is an all-in-one CRM (Customer Relationship Management) and marketing platform that's used by many successful companies as their main lead generation software and for creating sales funnels.
What we like the most about HubSpot is its ease of use. CRM tools are often challenging to use, but HubSpot is one of the rare ones that maintain the perfect balance between usability and range of features.
You can achieve a lot using HubSpot, from creating optin forms to sending spectacularly designed emails.
We recommend HubSpot for businesses that are looking for a single all-around tool that combines CRM with other aspects of email and digital marketing.
Features:
Very easy to use – The HubSpot interface is designed for simplicity and has a smaller learning curve than other CRM tools
Good tracking and analytics – HubSpot generates easy to understand analytics reports to help you measure campaign performance.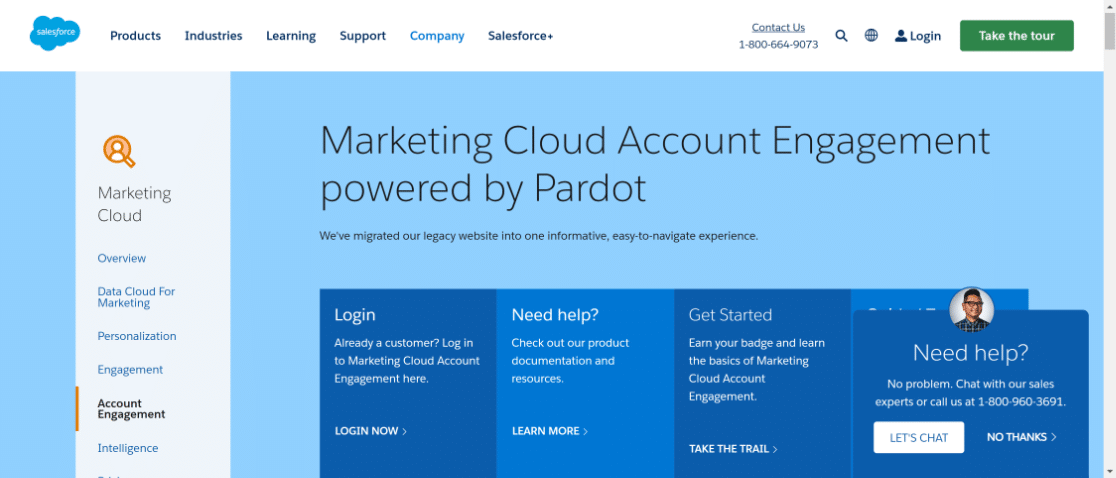 Salesforce Pardot is one of the biggest CRM tools on the market. It's equipped with advanced marketing automation features that enable you to prospect and qualify sales leads.
You'll get some of the most flexible automation features in Pardot. You can create unlimited automation branches using various triggers and rules.
These help you define an automation sequence that can be as simple or advanced as you need for your sales or lead funnel.
Pardot also has one of the slickest user interfaces that we've tested. For a tool as advanced as this, it's amazing that Pardot has managed to keep it remarkably user-friendly.
We also appreciate the email testing functionality in Pardot, which reveals how your emails will look in popular clients once you've set up your template.
It also lets you run a spam test to ensure your spam score remains low and your emails send successfully.
The drawback is that Pardot is fairly cost-prohibitive for small businesses. HubSpot is a better option if you're looking for a more affordable alternative.
Features:
 Clean interface – A neat and uncluttered dashboard makes it easy to access different features without hassle
Advanced automation sequences – Create branching sequences to automate lead capture and nurturing tasks
Intercom enables businesses to enhance their customer support with chatbots and a strong live chat system.
Using personalized and automated live chat messaging, you can engage site visitors, capture leads, and convert them into customers.
It also gives you a central inbox for your team to foster improved collaboration and empower you to answer queries in the shortest possible time.
We recommend Intercom if you want to modernize your lead generation by leveraging chatbots and smart live chats.
Features:
Capture leads with live chat – Create smart live chats that convert leads in an engaging and conversational way
Good personalization options – Automatically tailor your live chat message to your visitors for an improved likelihood of conversions.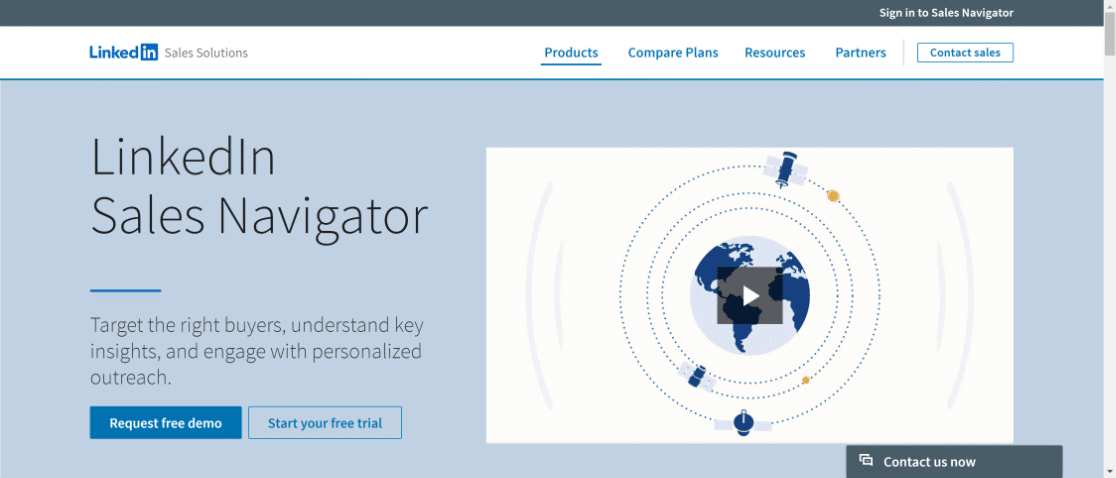 Before you can start targeting your audience with lead funnels and optin forms, you first need to find relevant prospects for your business. LinkedIn Sales Navigator enables you to do just that.
Lead prospecting is a vital component of your overall marketing strategy.
LinkedIn Sales Navigator gives you access to the relevant buyers than the largest professional networking site.
Using Linkedin Sales Navigator, you can access the massive LinkedIn database of potential customers.
The tool also unlocks InMail messages, allowing you to direct message prospects without first connecting with them.
On top of that, it gives you lead recommendations tailored to your specific industry. This is a great feature that makes lead prospecting faster and more convenient.
Plus, you can perform customized lead searches to find the ideal prospects matching your criteria.
Features:
Huge database of prospects – Gain access to LinkedIn's database of prospects to find the ideal leads for your business
CRM integrations – Automatically send qualified leads to your CRM platform with easy integrations.

Pipedrive is one of the most intuitive CRM tools for managing both inbound and outbound leads and sales.
With a straightforward user interface and sales-driven visualizations, this is perfect for sales teams looking for a simpler CRM solution.
Pipedrive's core function is to let you create visual pipelines representing the various stages of your sales process.
For each stage, you can schedule a sales activity such as phone calling your leads or sending them an email.
As your web forms and chatbots collect more leads, they're automatically added to your custom sales pipeline.
This makes it extremely convenient to track the complete progress and sales lifecycle for each lead, empowering your sales team to close more deals.
Overall, we're extremely impressed with the visual pipeline style of lead management in Pipedrive.
Features:
User-friendly interface – The sleek and clean interface offers outstanding visibility into your complete sales workflow
Scheduled sales activites – Build a pipeline customized to match your sales workflow and schedule activities for lead nurturing.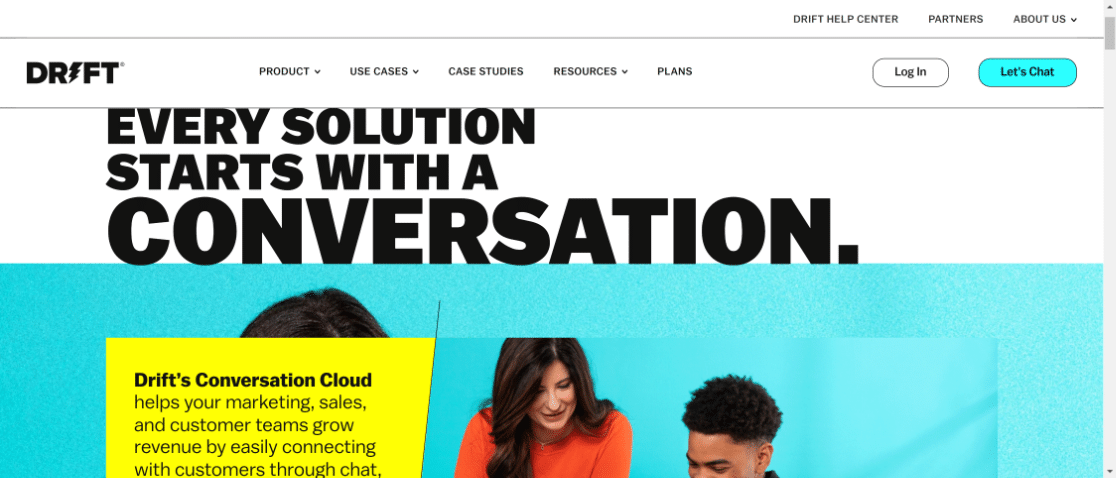 Drift is a chatbot builder that can be used effectively for lead generation.
Like some of the other tools on this list, Drift's live chat features are heavily AI-driven.
Unlike traditional signup forms, Drift allows your customers to interact with your business via an engaging live chat.
The chat has excellent flexibility and gives visitors the ability to perform meaningful actions like scheduling a call with your team directly.
Although this tool doesn't give you super-advanced AI capabilities for your chatbots, the benefit is that it's really easy to use.
Even if you've never built a chatbot before, you should have no problem using the chatbot builder in Drift and start collecting qualified leads via chat.
Features:
Qualified leads – Drift gives you the tools to focus on qualified leads only matching your specific criteria
Chat widget for signups – Instead of forms, Drift lets you create landing pages with embedded chat widgets to enable lead signups in a conversational manner.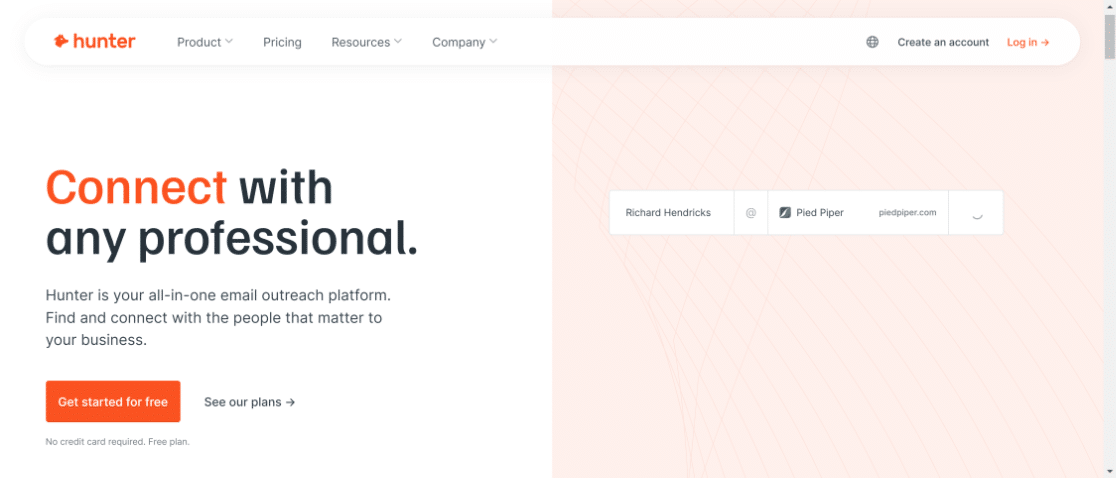 Hunter.io is a super handy email outreach tool that lets you find qualified leads connected to a specific domain.
You just need to enter a domain name or even a person's name in the search box, and Hunter will find the perfect match for you, bringing a valid email address and other contact information in the results.
It's especially useful if you're a B2B organization looking for leads from a specific company relevant to you.
For every search, Hunter displays a confidence rating to indicate how likely the email is likely to be correct.
We did a lot of testing, and it's safe to say Hunter is one of the most accurate outreach tools that we've used.
Features:
Verified email searches – Perform a batch validity check for professional emails
Browser extensions – Find emails on the go with the browser and Google Sheets extensions.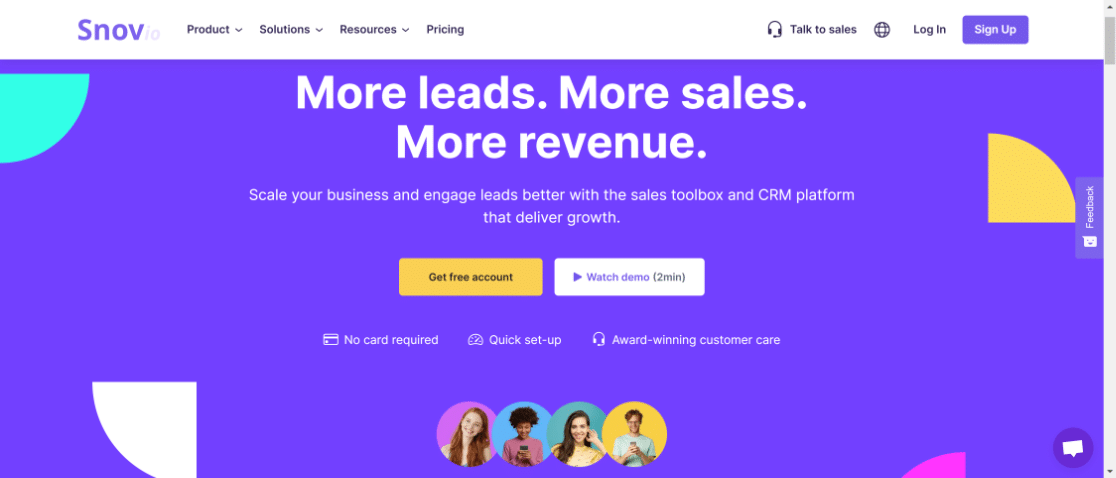 Snov.io provides a collection of email tools to help you find leads based on your ideal customer profile, verify emails, and run email warmup campaigns.
This software brings you access to a massive database of leads from LinkedIn, Google, and company websites, which you can use to send cold emails for outbound lead prospecting.
It gives you useful filters to refine your search, so you can find the ideal leads in the B2B space for your business.
We really like that Snov.io gives you reputation management features to ensure your email marketing campaigns are optimally effective.
The tool has an AI-powered email warmup feature that optimizes email deliverability for your new domain automatically.
Features:
Email outreach – Find professional emails and initiate cold outreach campaigns from the same platform
Domain reputation management – Maintain high deliverability rates with email warmups to improve your reputation progressively

Hello Bar allows you to create notification bars for the purposes of lead generation and sales.
In fact, the tool lets you build more than just notification bars. You can also create popup notifications, sliders, page takeovers, alert boxes, and more.
One of the features we found very useful is the ability to ask leading questions in your notification.
These can be used to create a 2-step optin notification that initiates by asking a question and then proceeding to an offer for capturing emails.
We also like that Hello Bar matches the styling of your website automatically. However, it gives you the flexibility to style your notification campaign with a convenient visual editor.
Hello Bar also includes A/B testing so you can automatically find the best type of notification campaign that converts more for you.
Features:
Various notification templates – Choose one that suits your vision or test multiple different types with A/B testing
Conversational optin– Create 2-step optins with conversational style notification modals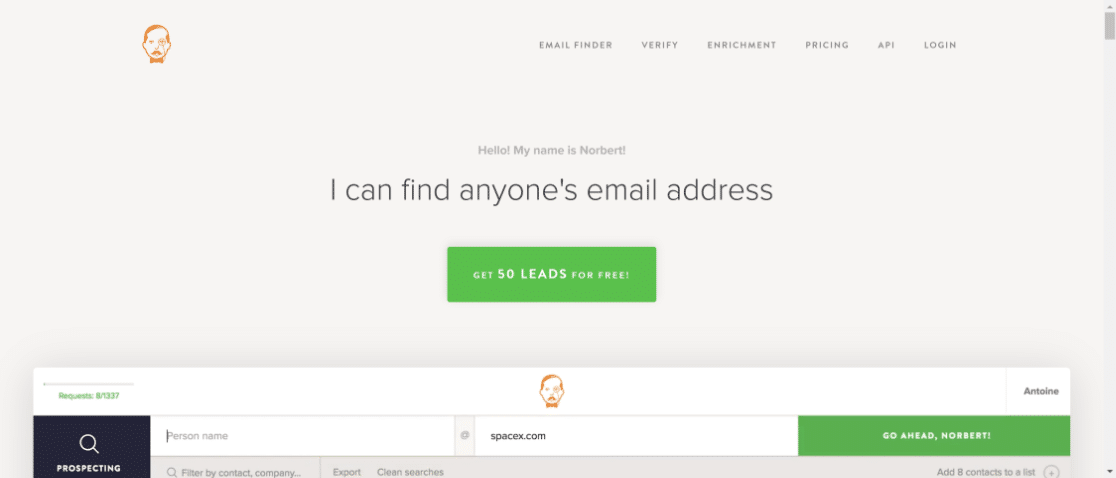 Voila Norbert is another email finder tool that can be very useful for b2b lead generation.
It essentially works in the same way as Hunter.io – you can find email addresses connected to any specifc company domain.
Voila Norbert also integrates with popular CRM tools, so you can instantly add qualified lists to your mailing lists without needing to do it manually.
Features:
Lead prospecting with verification – Find qualified leads and verify the validity of email addresses before outreach.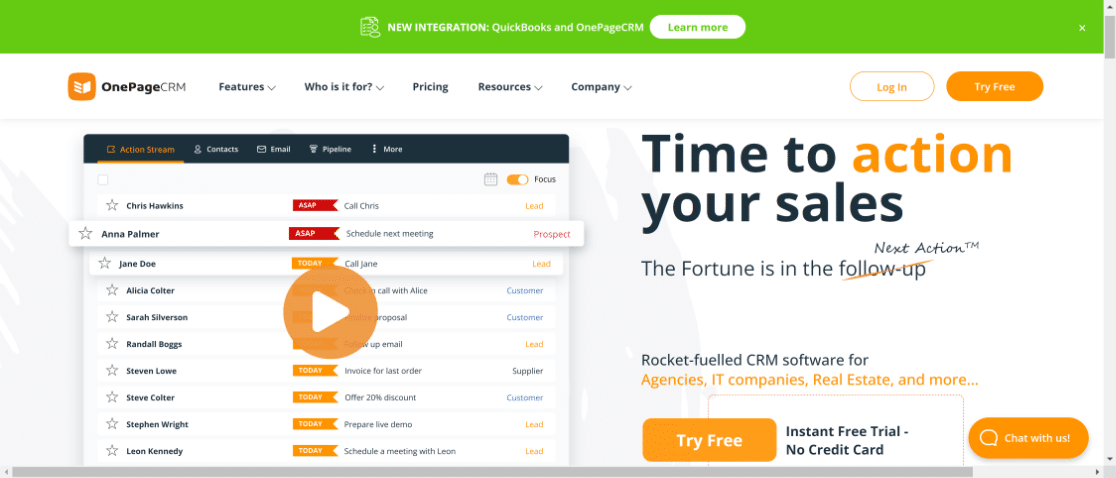 OnePageCRM is a CRM tool that's designed to boost productivity and minimize distractions for your sales team.
The tool incorporates the "next action sales method", which is all about staying on top of your priorities one step at a time.
It forces you to think about the next action you should complete when you check off one item from your list, so you can revisit it with a clear direction later on.
We found this a helpful way of managing a sales pipeline. It includes a Focus mode that hides all tasks other than the one you need to complete to day. This way, the tool prevents you from becoming overwhelmed.
Features:
Action-focused pipelines – Prioritize tasks and stay focused on a single task at a time with its focused pipelines.
FAQs
Here are a few common questions we're asked by subscribers looking for lead generation tool recommendations:
What Methods or Tools Should We Use to Generate Leads?
Lead generation is really easy with tools like OptinMonster, Thrive Leads, and PushEngage. These tools enable you to build lead generation campaigns with ready-made templates, so there's very little effort involved on your part. You can even create multiple variations of your campaign and use A/B testing to find the best performing campaign that brings the most leads for your business.
Next, Improve Other Business Operations With the Right Tools
If you're serious about competing in your industry and making your business easier to manage, we strongly recommend checking out these guides to discover the best WordPress plugins for different areas of your business:
Create Your WordPress Form Now
Ready to build your form? Get started today with the easiest WordPress form builder plugin. WPForms Pro includes lots of free templates and offers a 14-day money-back guarantee.
If this article helped you out, please follow us on Facebook and Twitter for more free WordPress tutorials and guides.