Want some design inspiration to get more conversions on your site?
Your forms can convert like crazy if you follow the psychological and design tactics that the forms on this list do.
In this post, we've searched the web and found some excellent lead generation forms examples to help increase your form conversion rates.
What Is a Lead Generation Form?
Asking yourself what is a lead form? A lead generation form is a web form meant for capturing emails and other information of potential customers. The most common types of lead generation forms include contact forms, registration forms, and simple newsletter signup forms.
You can recreate most lead forms using the WPForms Lead Forms addon. It lets you create a form with a conversational layout that can be embedded anywhere on your WordPress site. If you like the appearance and functionality of multi-step forms, the Lead Forms addon will give you both, all packaged in an optimized layout that helps to prevent form abandonment.
How Do You Optimize Lead Generation?
You'll see a few themes of effective tactics on this list of lead generation form examples.
Many of these examples use a combination of some of these simple form optimization tricks:
Use a compelling call to action button
Offer a discount
Optimize your pre-existing content as a lead magnet
Create distraction-free landing pages
Make multi-step forms if you have a long form
Try gamified discount wheel popups
Let's take a look at some examples of how brands are using these and other lead generation forms tricks next.
Lead Generation Form Examples
To help you navigate the different niches of businesses online, here's a list of the brands on our list of lead generation examples on forms.
Check out these fantastic lead generation form examples and their tactics that you may want to start using on your own forms.
1. Back to the Roots

The Back to the Roots website has some great lead generation form examples, including this very wise use of a chatbot.
Key Tactics:
The ManyChat integration through Facebook Messenger shows the user already "logged-in" — giving the sense of trust and reliability
A slide-in scroll box optin that doesn't disrupt the user experience
Call to action copy "Tell me more" is actionable and written in 1st-person.
2. Chamaileon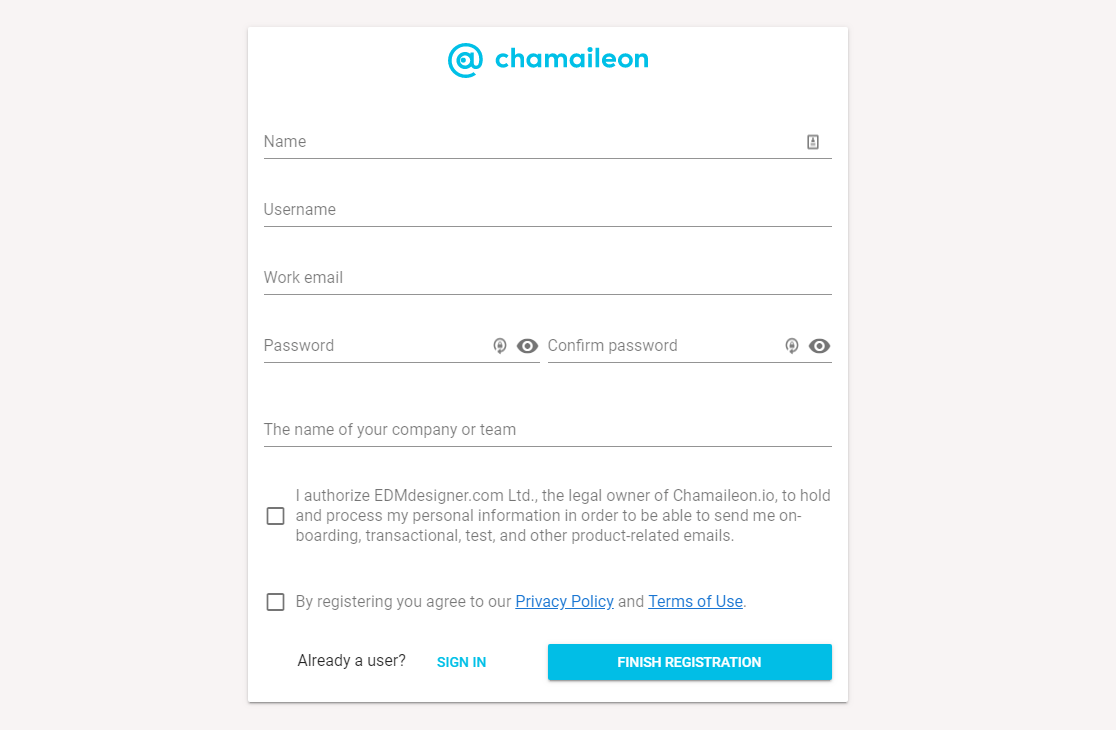 This form from Chamaileon is straight to the point with no distractions and a simple, effective design.
Key Tactics:
3. SnackNation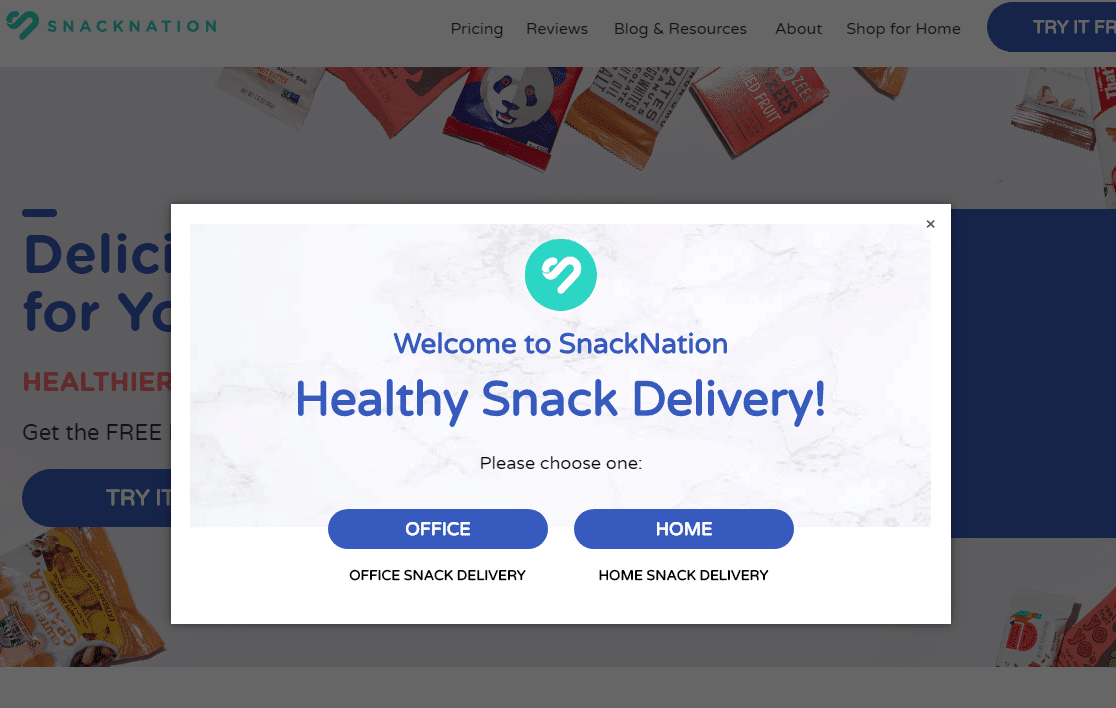 SnackNation does an excellent job in this example of using effective yes/no forms to get visitors to click something and personalize their sales journey themselves.
Key Tactics:
Personalized questions to identify the type of lead and send them to a page/form based on their needs
Offers limited options for easier completion, including no "submit" button
4. Yumi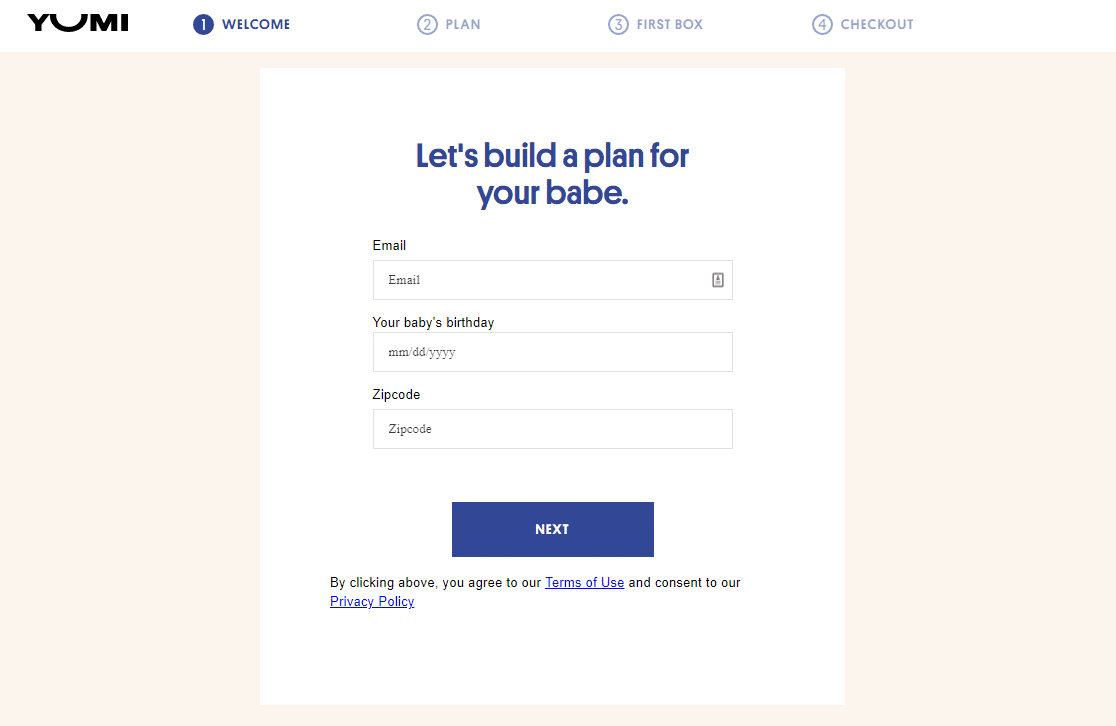 This straightforward multiple step lead form has a contemporary, sleek design to match the brand and help boost conversions, on top of other tactics.
Key Tactics:
5. Expat.com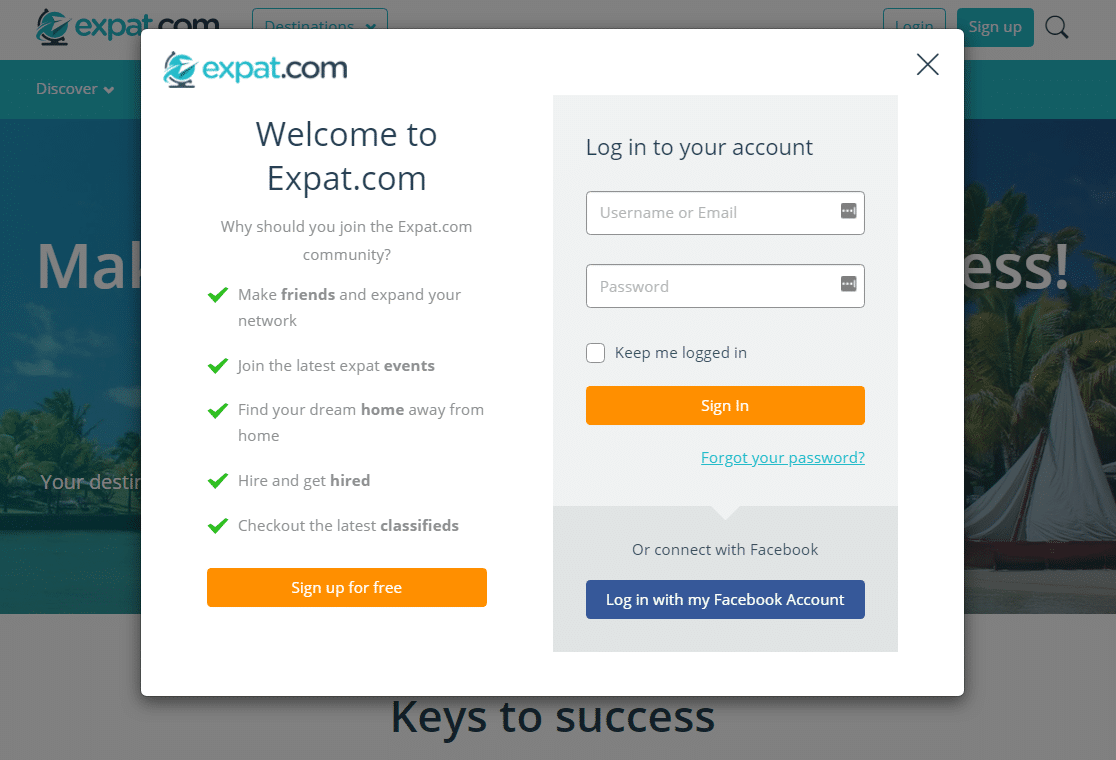 What makes Expat.com's lead generation form so impressive? The list of bulleted benefits on this split style form helps give visitors the best reasons to convert without taking up too much space.
Key Tactics:
List of benefits that lead the eye to a call to action button
Bright colors for the CTA buttons
6. Daily Harvest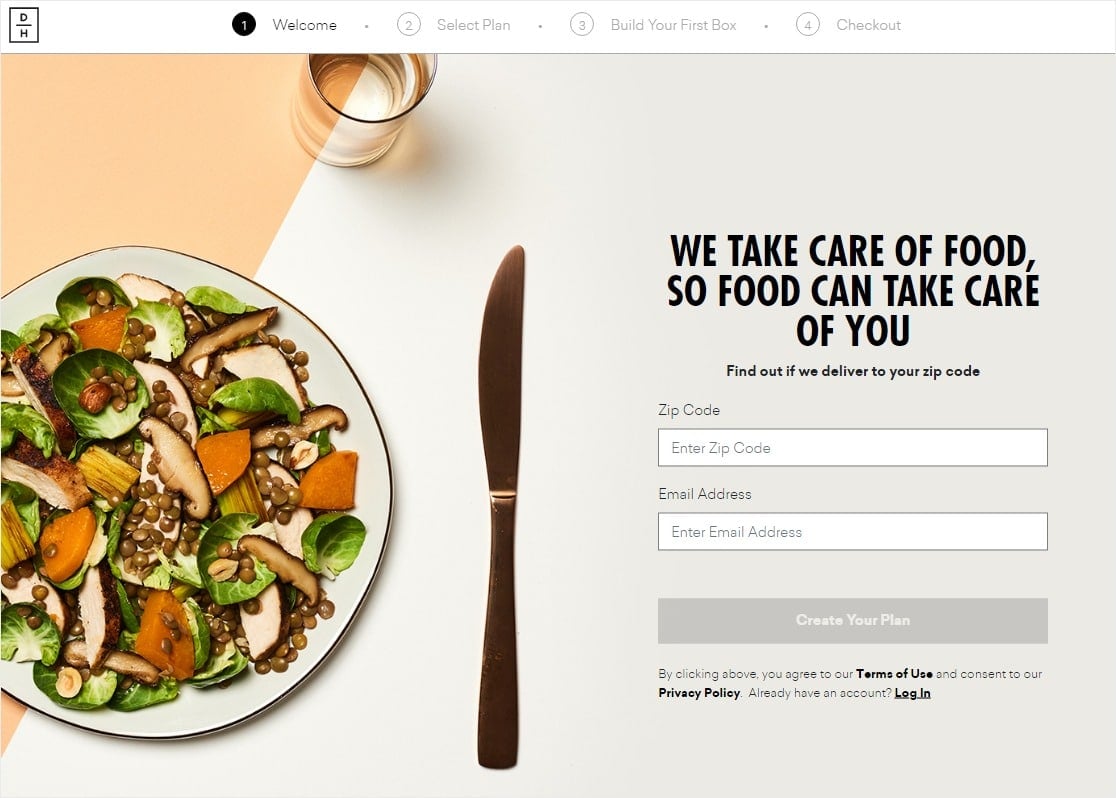 What is a lead generation page and how do you create a lead generation page? Take a look at this Daily Harvest example of a lead generation page with lots of smart conversion tactics, then read our post on how to create a dedicated form landing page in WordPress
Key Tactics:
Distraction-free form page
Stunning hi-res visual
7. Yumble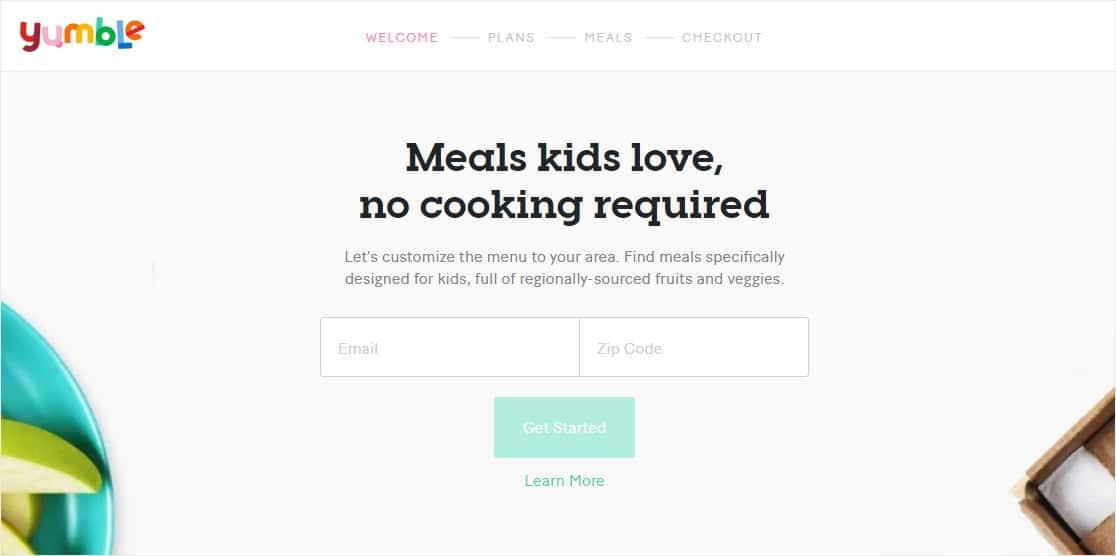 Yumble does a great job keeping their lead generation form focused on conversions and the user experience, all at the same time.
Key Tactics:
A multi-page form for their long form
Distraction-free full-page design
8. Entrepreneurs On Fire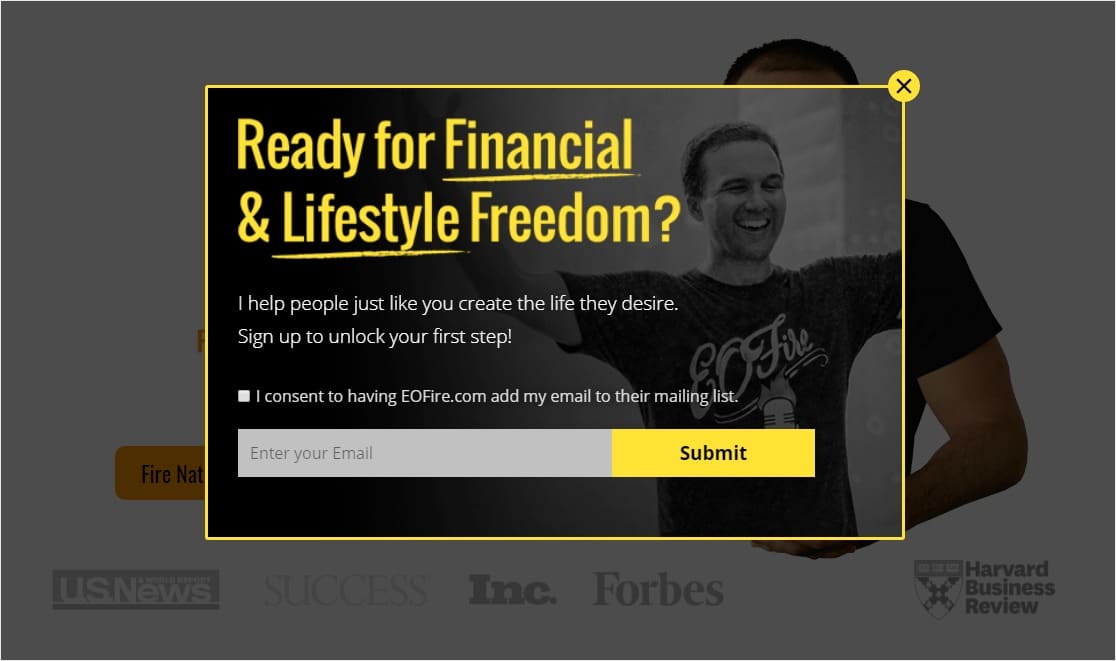 This confirmation checkbox above the email field is a great tactic to get better conversions.
Key Tactics:
Adds a confirmation checkbox to help get higher quality leads by confirming consent in the form instead of in their inbox
Uses bold colors
9. MikeLardi.com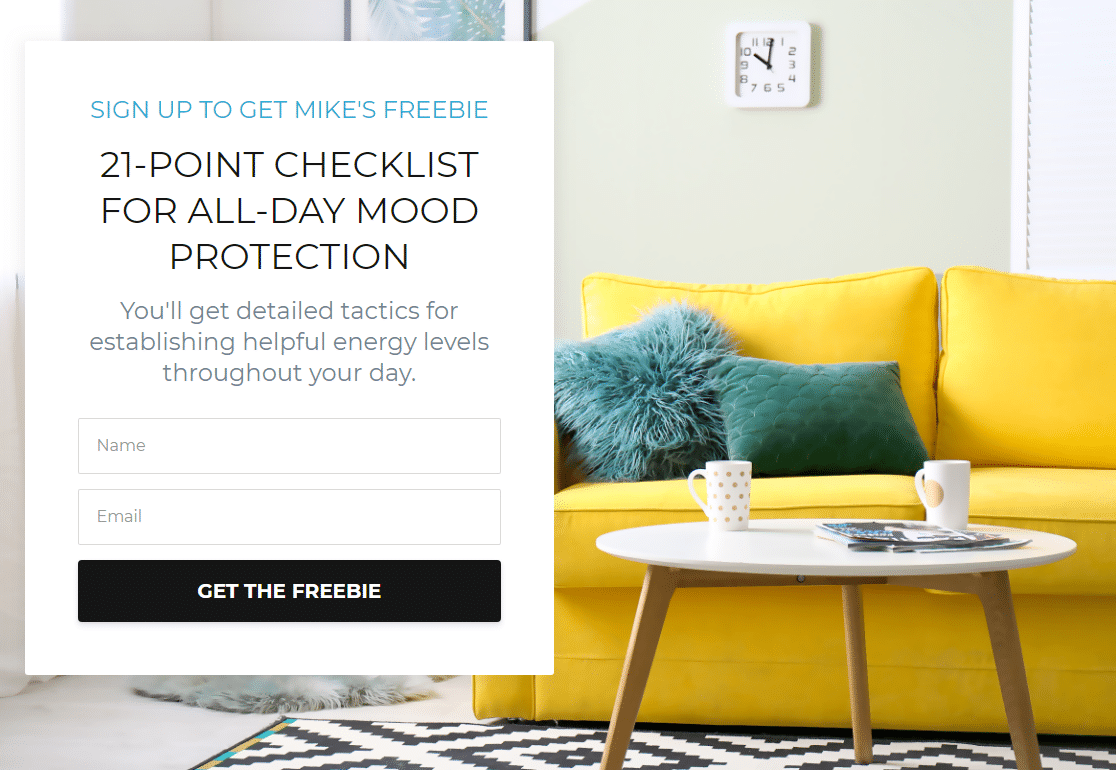 Key Tactics:
10. Basepaws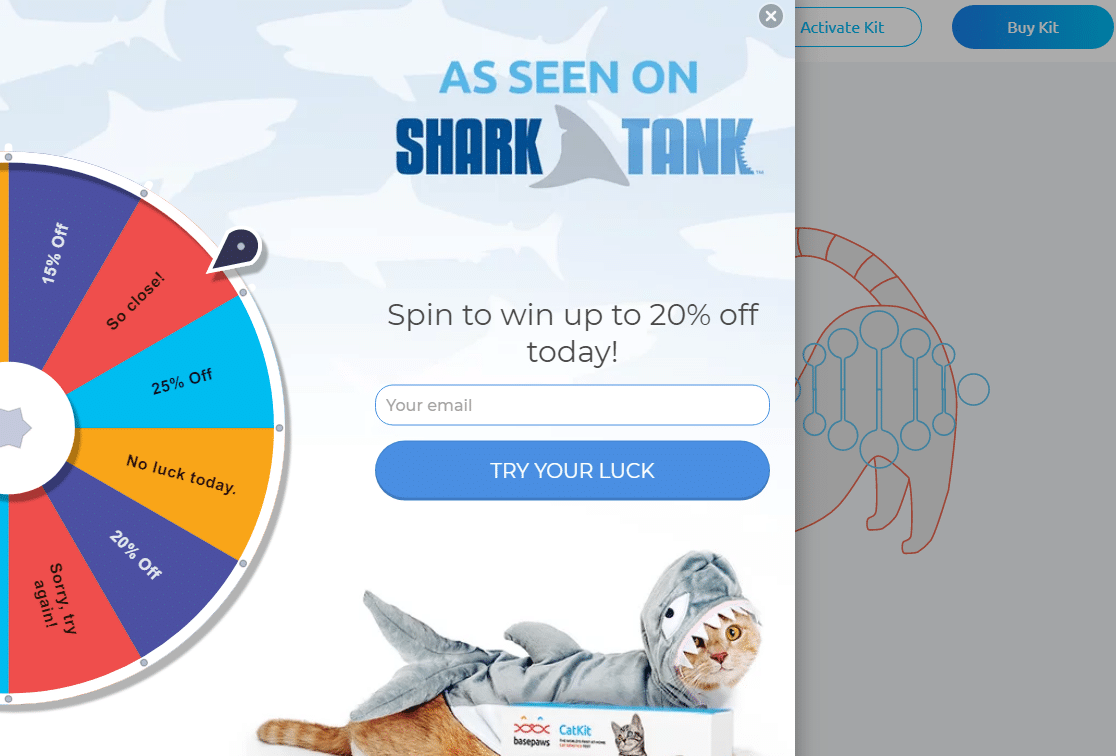 Basepaws made sure to include a mention of their Shark Tank appearance right away on their lead generation form, using social proof on top of a few other tactics for getting more conversions.
Key Tactics:
Exit intent style form triggers as user is exiting the page but before they leave
Spin-to-win coupon wheel for a fun user experience and high conversions
11. LinkedIn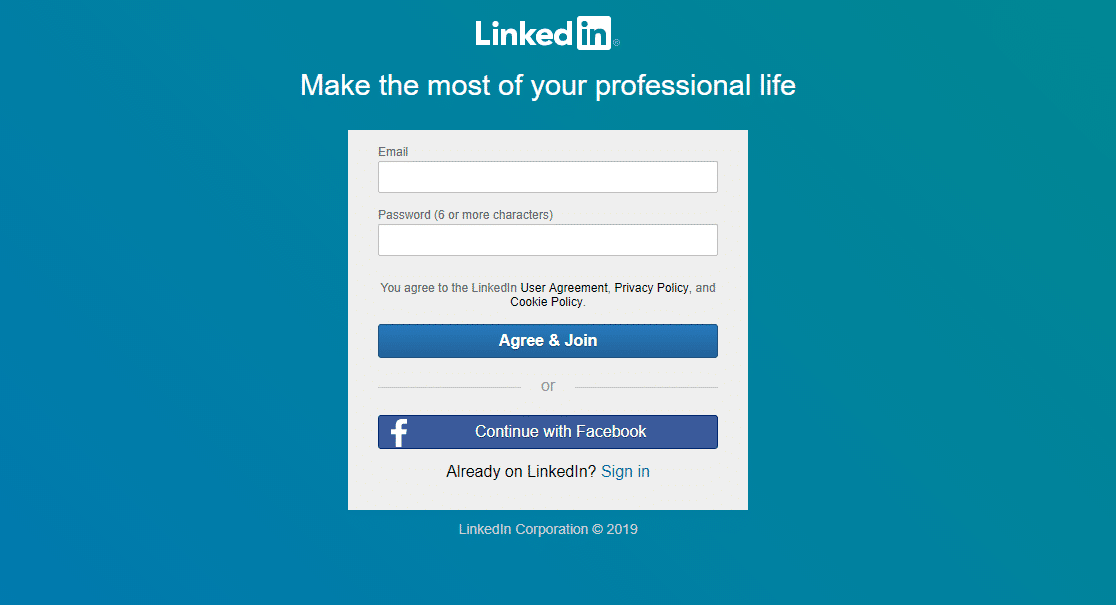 Most of the content people want to see on LinkedIn is gated content that requires you to sign up, so this lead generation form is the first thing many website users see unless they're registered.
Key Tactics:
Distraction-free landing page
Social media integration for easy registration
Branded colors create trust in the page since they're recognizable
Encourages visitors to share their business email address
12. Shark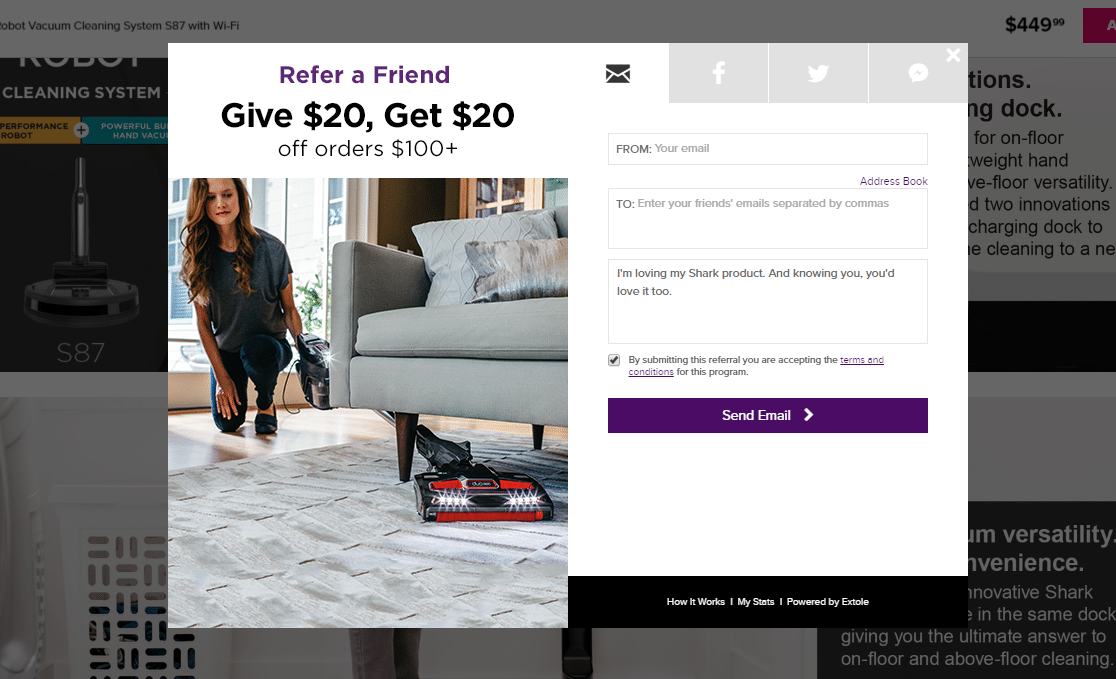 Shark's lead generation form example shows how a refer-a-friend form is a brilliant way to explode your conversions by getting more than one email address per form.
Key Tactics:
Uses social proof to gather not one but 2 leads at once
Adds a comment box form field to create the idea the user is sending a personal message to a friend
13. Netflix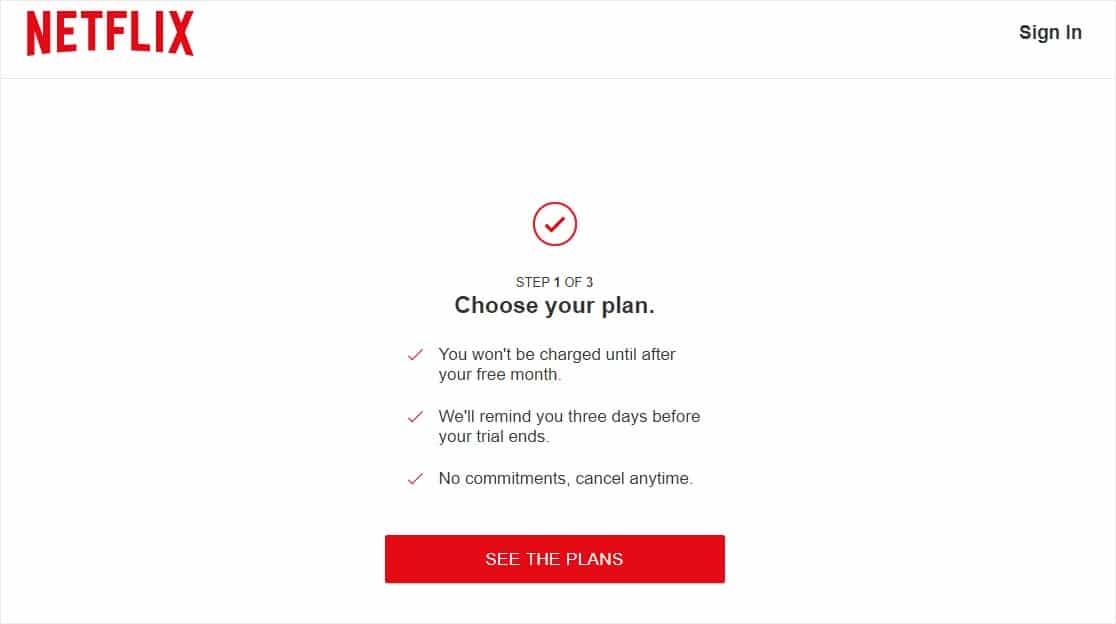 Netflix's lead generation form is straightforward, clean, and distraction-free for maximum conversions.
Key Tactics:
Clear and direct form submission button catches the eye immediately
Multi-step form to break up a long form
Actionable copy in the call to action button
14. Peloton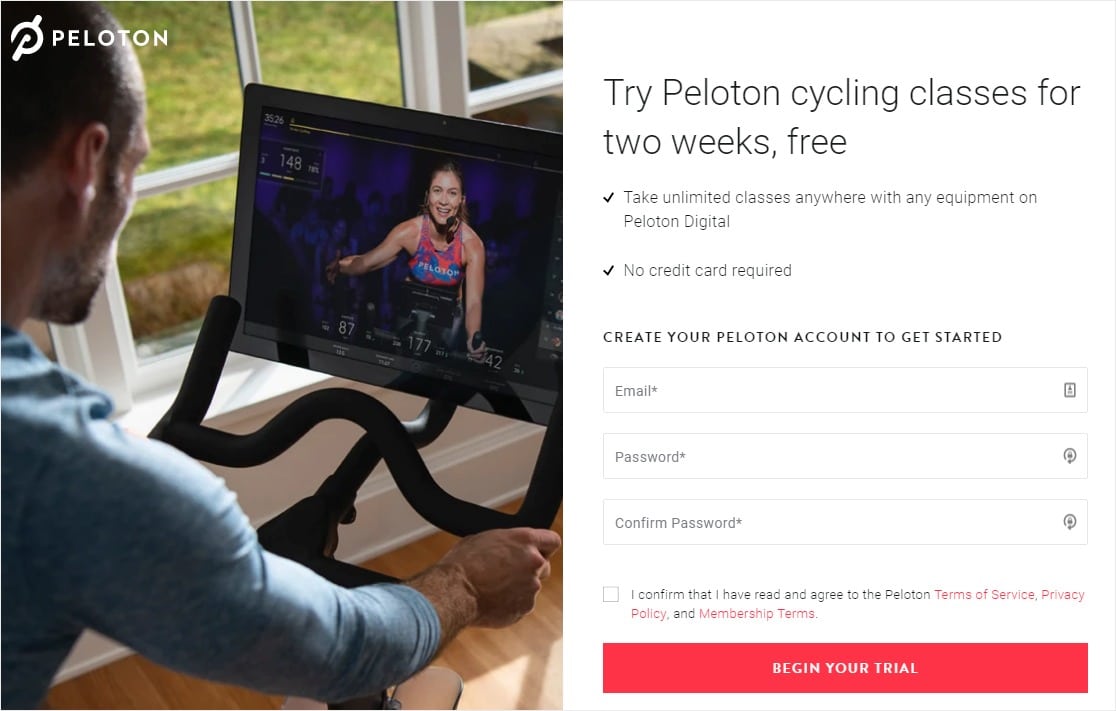 Peloton uses a very popular marketing strategy in this lead generation form — the free trial.
Key Tactics:
15. OkCupid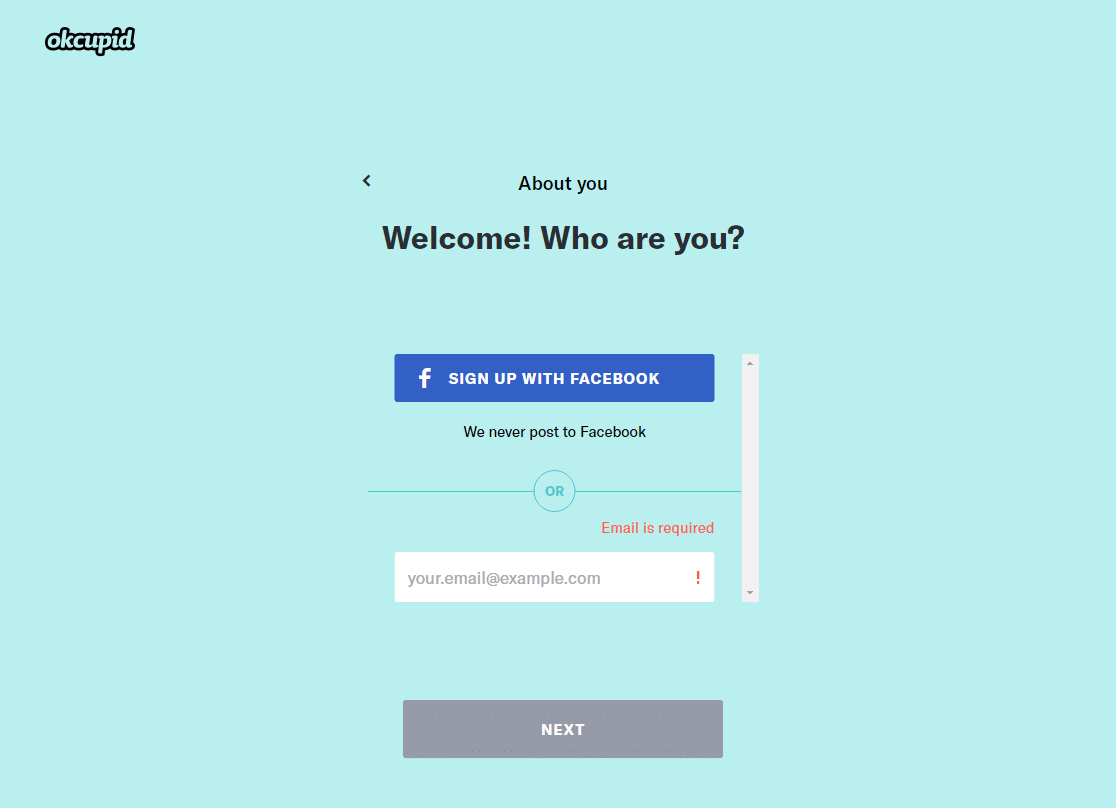 OkCupid continues the use of the very popular tactic of distraction-free form pages, on top of some other tricks.
Key Tactics:
Fullscreen landing page to keep potential customers focused
Strategic psychological use of the color blue to create trust
16. Social Media Examiner

In this example, Social Media Examiner's lead generation form hits a lot of the right tactics to get people to convert into subscribers in exchange for an in-depth report.
Key Tactics:
Social proof to show how many people have already signed up
Bold call to action button helps with email marketing
17. Simple Habit

Because this product is an app, Simple Habit gets right to what they need to do to get their website visitors to convert — download their app.
Key Tactics:
Only 1 form field asking for phone number on this especially mobile-friendly form
A clear call to action written in 1st person and a colorful button
Social proof by displaying awards/recognition on the form
18. Marie Forleo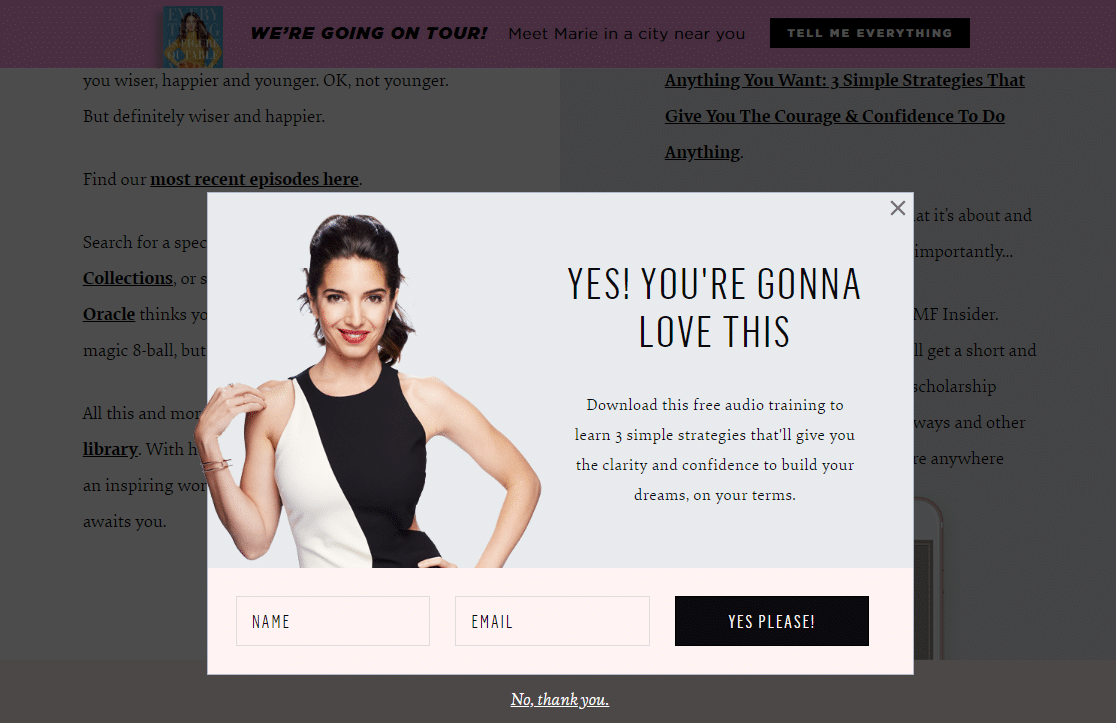 To get her visitor's email address, this lightbox style popup lead generation form uses a minimalist design, which matches the overall theme of the entire site.
Key Tactics:
Asks for just name and email address so the user doesn't get overwhelmed
Offers a strong lead magnet to gain trust with the visitor while also capturing email
19. Bulk.ly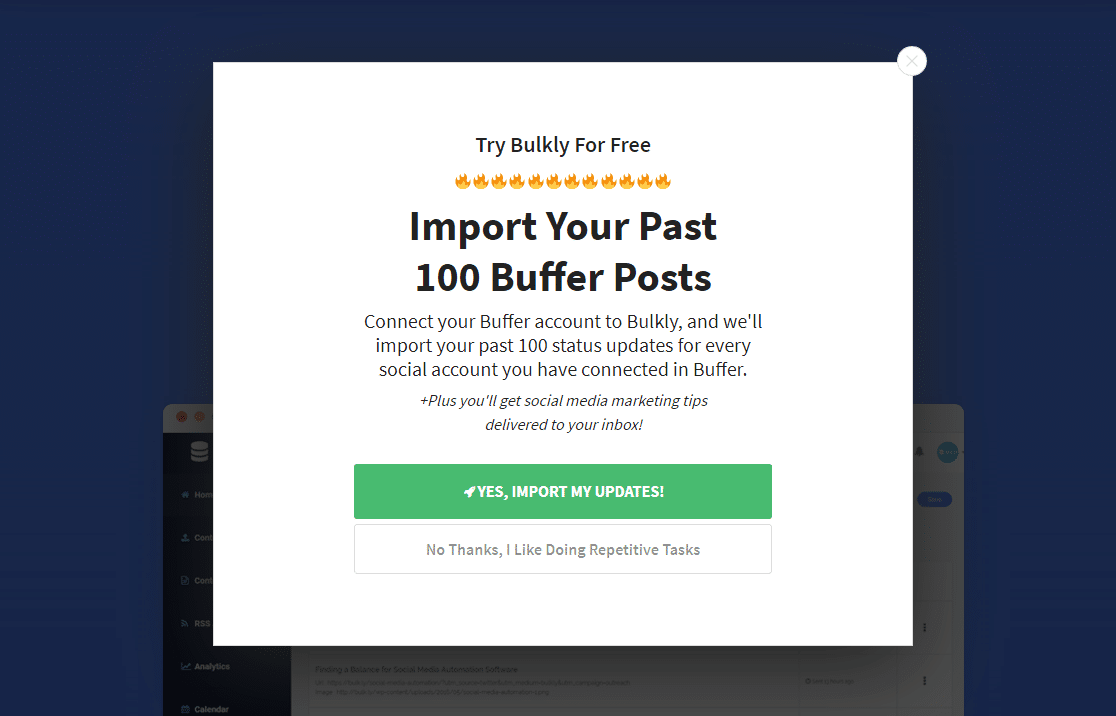 Where do your eyes land when you look at the above image? In this lead generation form example, Bulk.ly made sure that the submit button was the most noticeable part of this popup with bright colors and compelling copy.
Key Tactics:
Offers an excellent incentive that's targeted at their customer's needs
Uses a yes/no button tactic along with a psychological use of color on the button they want users to select
20. Modsy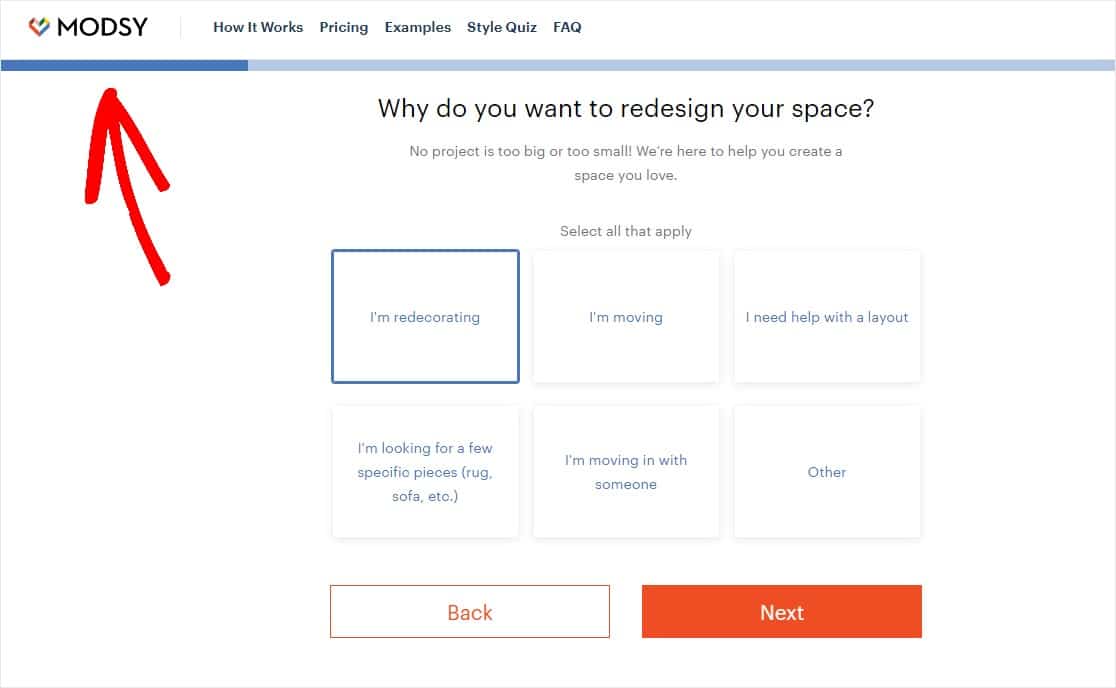 Modsy knows a smart way to ask for a lot of data and personal information but still get conversions is to break a long form up into steps.
Key Tactics:
Multi-part form displays breadcrumbs to create a better user experience when filling out a long form
Asks for personal information for a targeted experience
21. Neil Strauss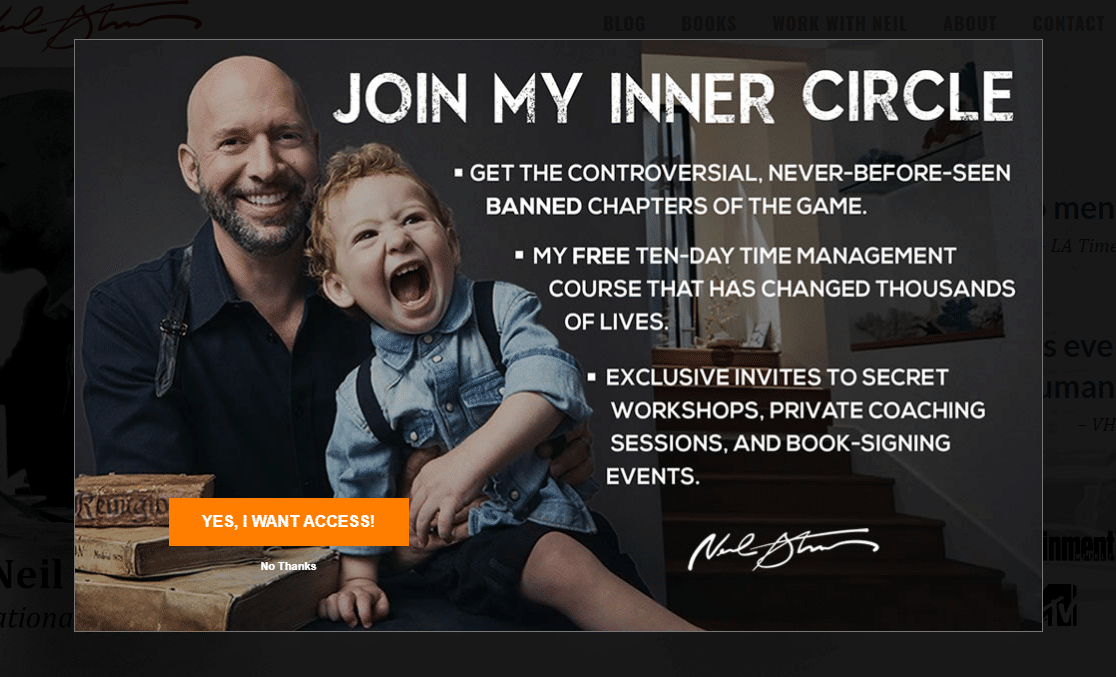 Author and entrepreneur Neil Strauss' website uses a few tried-and-true lead conversion tactics to promote his email list.
Key Tactics:
Bright call to action button on a fantastic lead magnet
Displays benefits for signing up and includes power words like "controversial" to spark emotion
Fullscreen popup to remove any distractions
22. Medium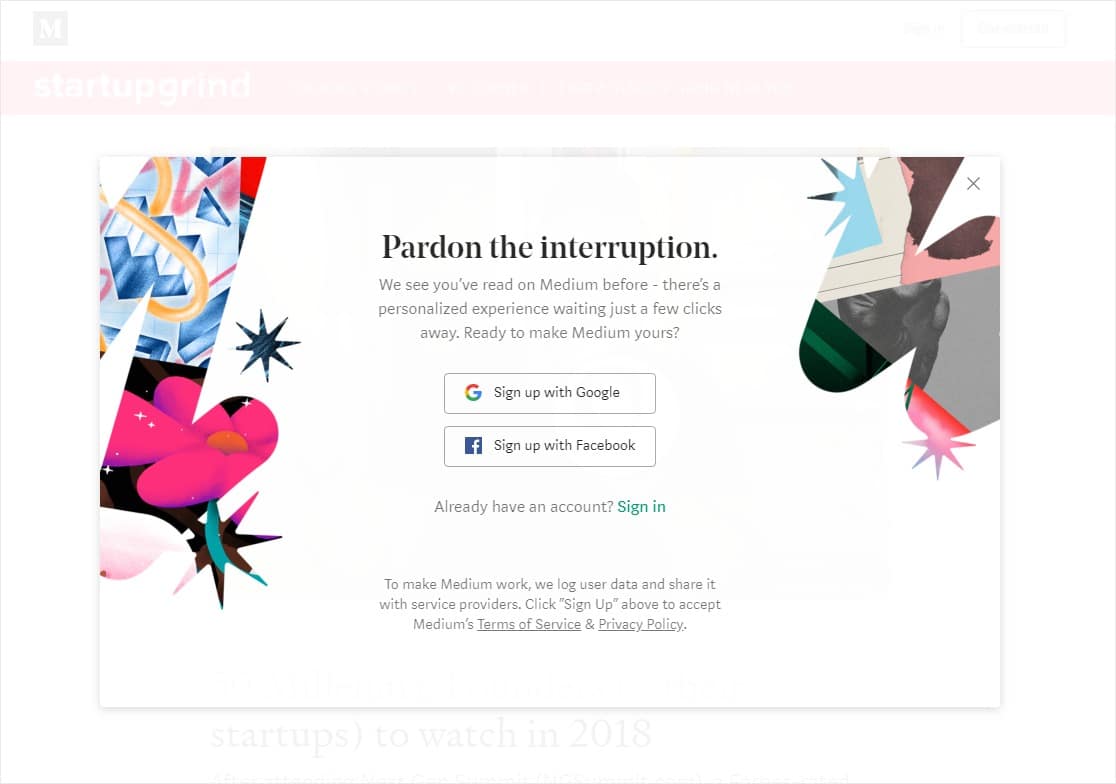 Medium very wisely targets visitors based on their browser cookies and display a custom campaign for returning visitors.
Key Tactics:
Uses browser cookies as a way to customize the message to returning or new website visitors
23. Cracku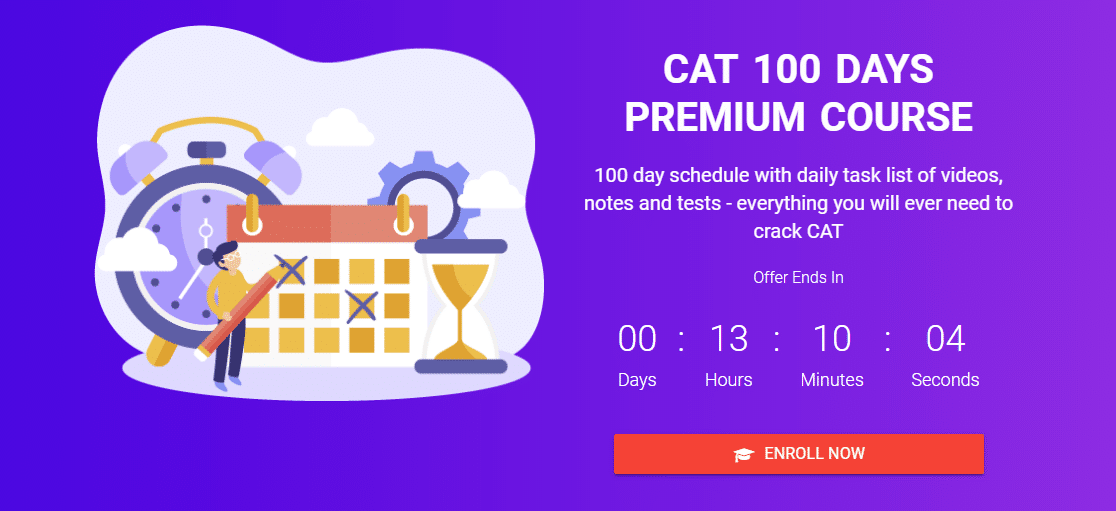 On top of using a bunch of color psychology, this lead generation form from Cracku creates a sense of urgency to drive conversions and sales.
Key Tactics:
Countdown timers are known to skyrocket form conversion rates
Call to action button color draws the eye and user to click
What Are the Best Lead Generation Tools?
There are a lot of high-quality products out there, but only some are the best lead generation tools.
Based on ease-of-use and flexibility, WPForms and OptinMonster are our 2 picks.
They offer easy ways to set up most of the lead generation form tactics in the examples above. On top of that, they integrate with all the best CRM and email marketing services so they make it incredibly easy to capture and manage your leads (so you can start making more money online).
Plus, both products offer a 100% money back guarantee.
Next, Build Lead Forms With WPForms
And there you have it. Hopefully, these lead generation form examples gave you some great ideas on tactics you can try to increase your own conversion rates.
You can build optimized lead generation forms with the WPForms Lead Forms addon. Take it for a spin and see what you can create!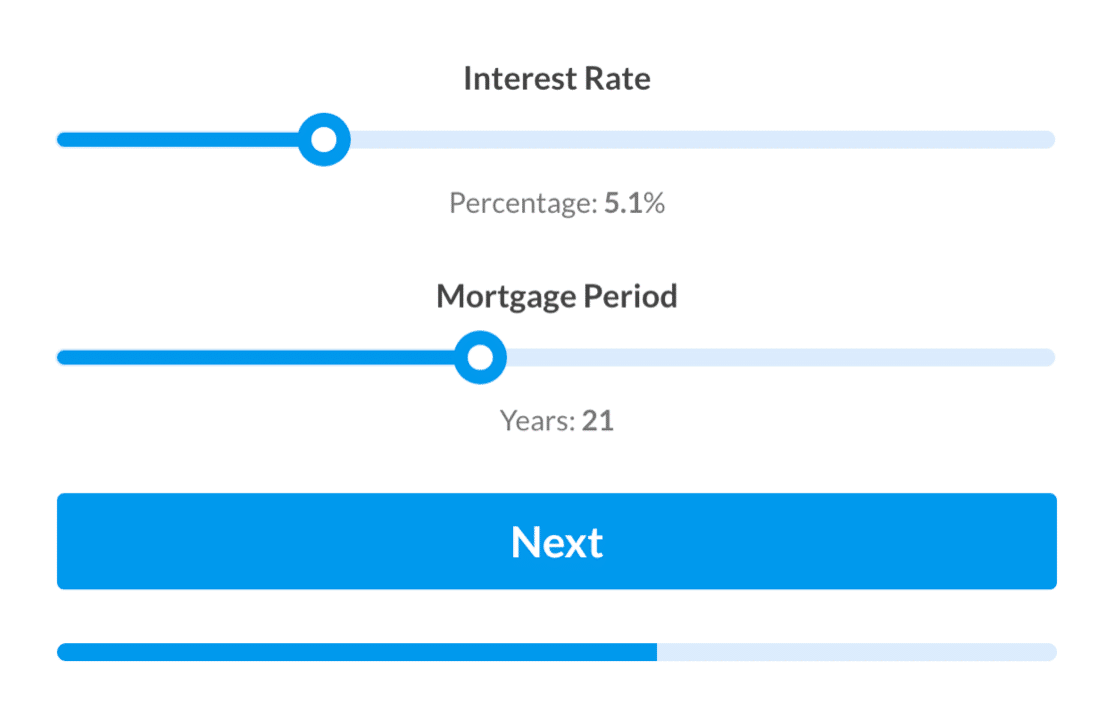 Create Your WordPress Lead Form Now
Ready to build your form? Get started today with the easiest WordPress form builder plugin. WPForms Pro includes lots of free templates and offers a 14-day money-back guarantee.
If this article helped you out, please follow us on Facebook and Twitter for more free WordPress tutorials and guides.