Do you want to grow your email list with a lead magnet?
Offering a lead magnet like a free ebook in exchange for your visitors' email addresses is a great strategy to get your email list to skyrocket in size.
So in this guide, we'll show you everything you need to know to set up a lead magnet option form in WordPress, using the WPForms plugin.
Here's a table of contents if you'd like to jump ahead:
What Are Lead Magnets?
Lead magnets or optin offers are incentives you offer to your website visitors in exchange for their email addresses. The goal is to convert interested visitors into subscribers, so you can grow your list.
Usually, lead magnets are downloadable resources like an ebook, report, workbook, whitepaper, etc.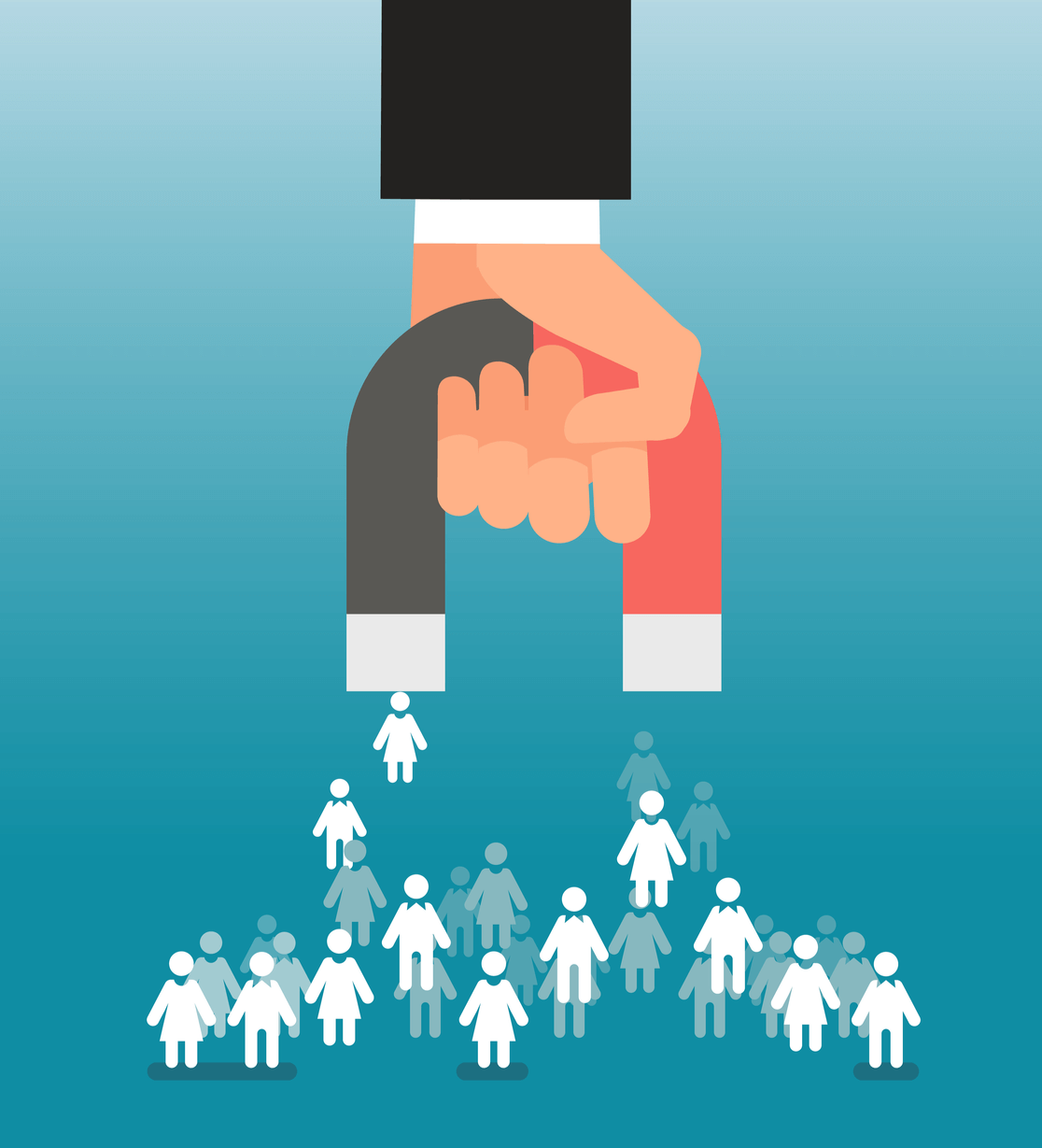 Offering a lead magnet for email subscriptions is an effective and proven way to encourage your visitors to submit their email addresses. In fact, it's one of the most popular ways to grow an email marketing list.
How to Create a Lead Magnet Optin Form
Follow these simple steps to make your own lead magnet optin form on WordPress.
Step 1: Build Your Lead Magnet
Before we get started building your lead magnet optin form, you'll have to decide on what lead magnet you're going to offer to your subscribers. It could be a PDF ebook or any other digital resource.
For more lead magnet ideas, check out this post with 69 irresistible lead magnet ideas.
Step 2: Upload Your Lead Magnet to WordPress
Once you've decided on what you're doing for a lead magnet, simply create it and upload it to your WordPress website. You can upload your lead magnet just like you upload an image through the Media Library by visiting Media » Add New.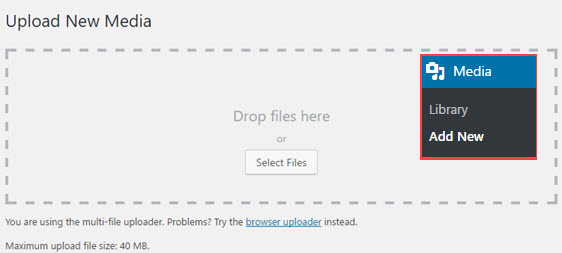 Alternatively, you can upload it to a cloud storage service like Google Drive or Dropbox.
Since you're offering this digital resource in exchange for an email address, you'll want to block search engines from finding it. This is called 'no indexing' and we'll show you how to do it next.
Step 3: Hide Your Lead Magnet From Google
Asking yourself how do I hide my lead magnet from Google?
You can hide your uploaded lead magnet from search engines easily. We recommend using the AIOSEO plugin.
Not only is it the best SEO plugin for WordPress, but the free version gives you instant access to hide your webpages from Google and other search engines.

For more details, you can read how to hide a page from Google.
Step 4: Load the Newsletter Signup Form Template
Now that you have your lead magnet on your website, it's time to start getting people to it. To do that, you'll need a lead magnet option form.
To do this, install and activate the WPForms plugin. You can learn how to install a plugin here.
You usually don't need a ton of info from people on your lead magnet optin form. In fact, keeping it short and sweet can help reduce form abandonment. So let's use a Newsletter Signup Form template.
From your WordPress Dashboard, head to WPForms » Add New, then name your form and select the Newsletter Signup Form template.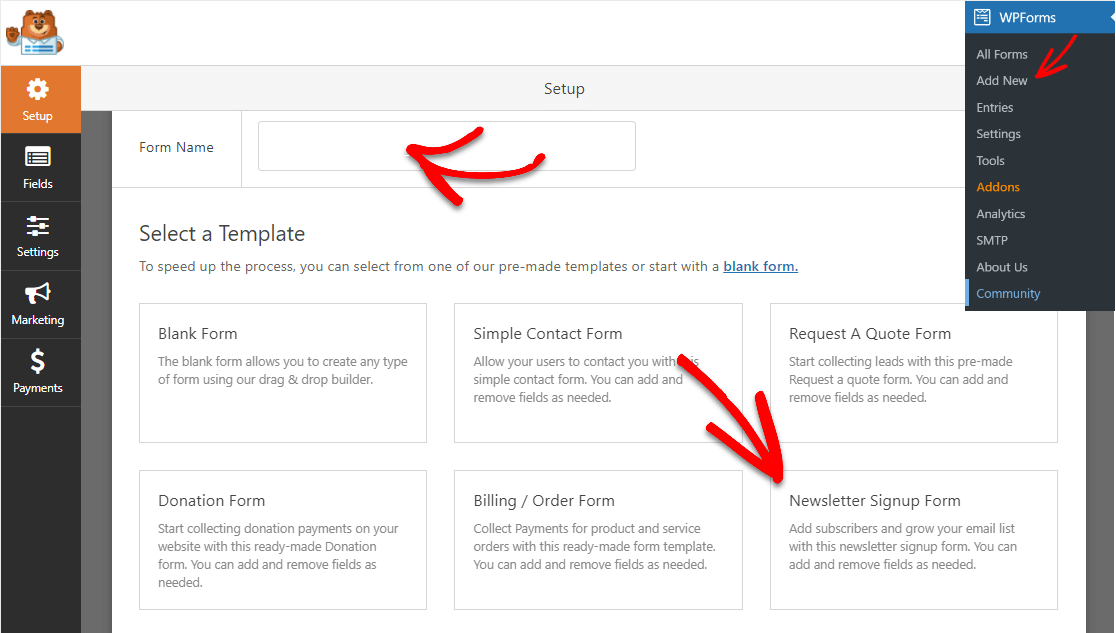 Once it loads, you can easily customize your form using the drag-and-drop builder and add or remove any fields based on your website's needs.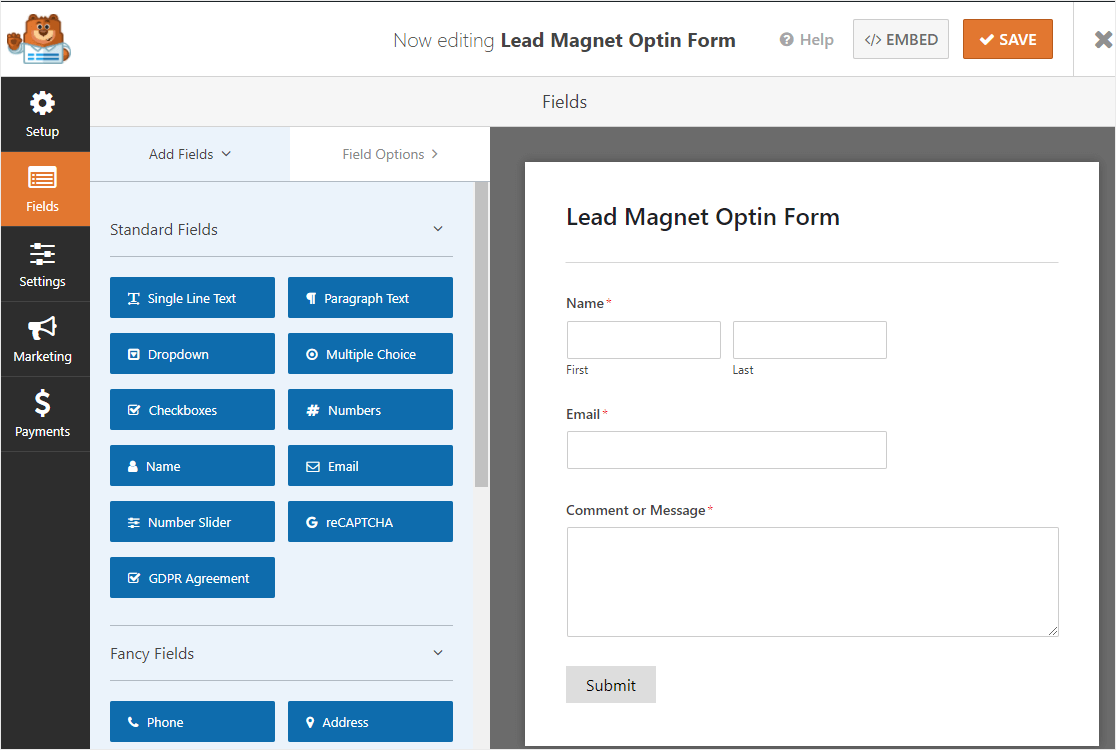 But let's keep it the way it is for this example since we're building a lead magnet form and need to be brief.
Step 5: Configure Lead Magnet Optin Form Settings
Now, let's configure some settings. To start, go to Settings » General.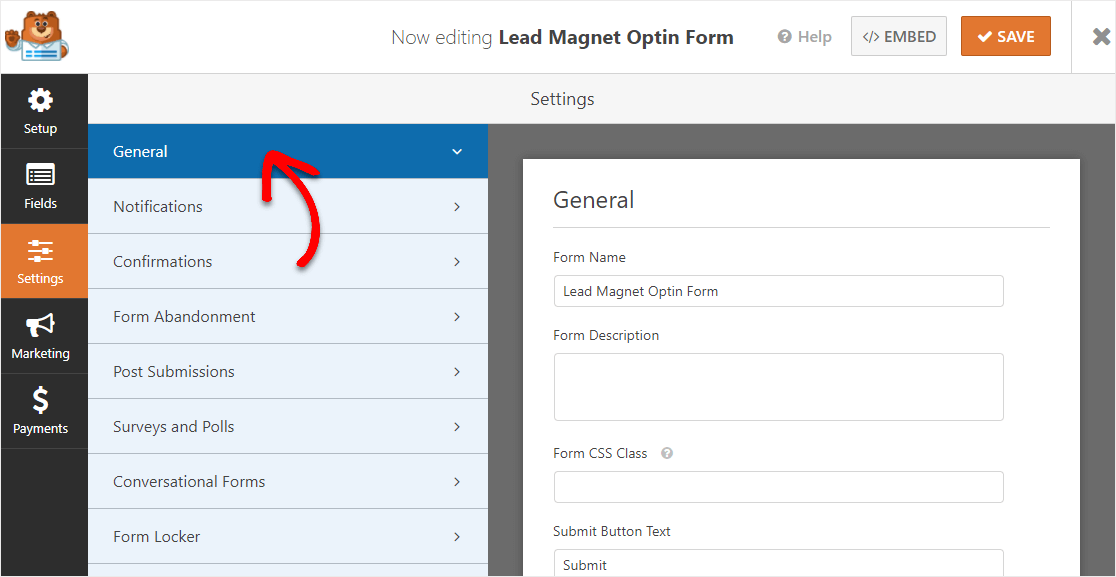 Here you can configure the following:
Form Name — Change the name of your form here if you'd like.
Form Description — Give your form a description.
Submit Button Text — Customize the copy on the submit button.
Spam Prevention — Stop contact form spam with the anti-spam feature, hCaptcha, or Google reCAPTCHA. The anti-spam feature is automatically enabled on all new forms that you create with WPForms.
AJAX Forms — Enable AJAX settings with no page reload.
GDPR Enhancements — You can disable the storing of entry information and user details, such as IP addresses and user agents, in an effort to comply with GDPR requirements. In addition, check out our step-by-step instructions on how to add a GDPR agreement field to your simple contact form.
When you're done, click Save. Way to go, you're making excellent progress.
Step 6: Customize Your Optin Form Notifications
Notifications let you know when someone has filled out your form on your website. Hopefully, you'll be getting a lot of these through this form.
It's on by default, so you may want to consider adjusting these settings if you don't want to be emailed every single time someone fills out your lead magnet form.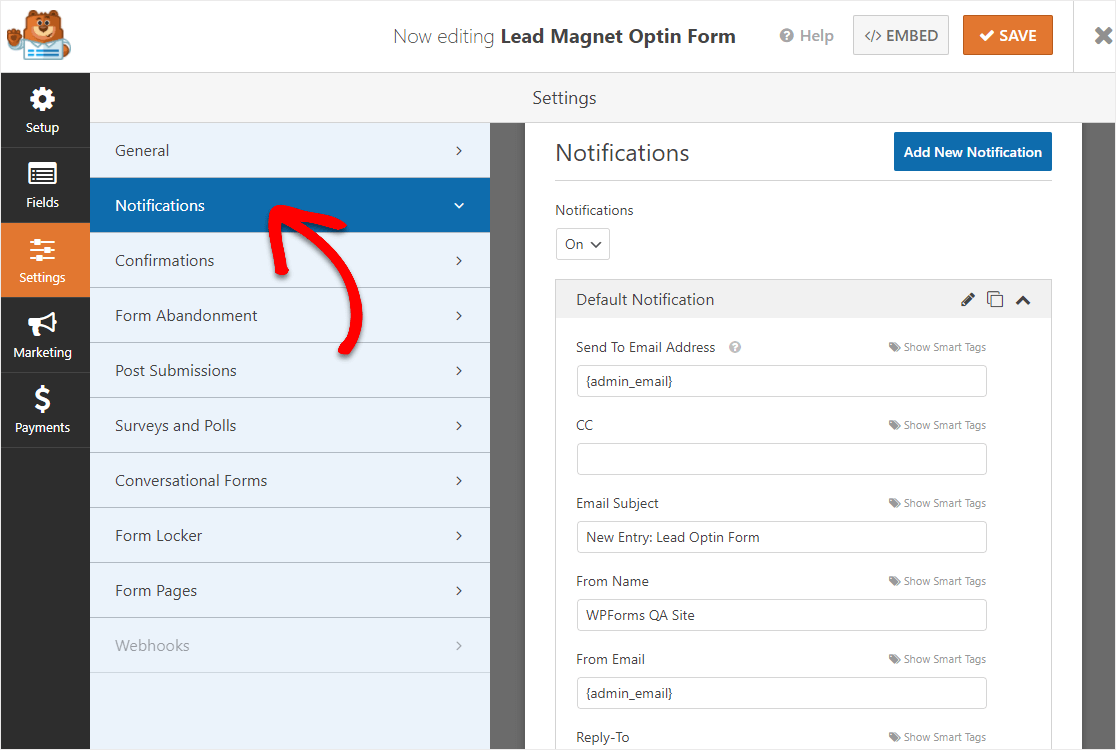 If you use the Smart Tags feature, you can also email notifications to the rest of your team when you receive a new sign-up.
However, if you need some guidance with this step, then you can check out our handy documentation on how to set up form notifications in WordPress.
And you can also notify more than just one person when a form's submitted.
So for example, you can send a notification to:
Yourself
The person who signed up your lead magnet
Your virtual assistant
And others
For help, just see our easy step-by-step tutorial on how to send multiple form notifications in WordPress.
And if branding is essential to you, you can include your logo, so all your email correspondence looks consistent. For help with this, check out this guide on adding a custom header to your email template.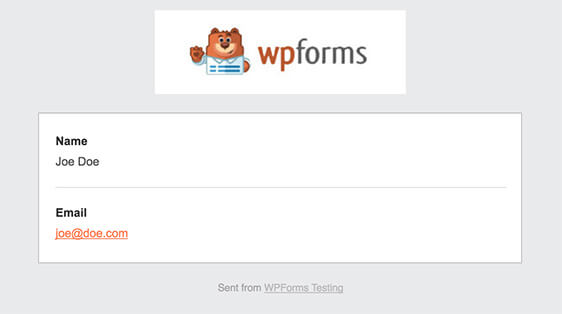 Step 7: Configure Optin Form Confirmations
A confirmation message is what those who give you their email address will see once they hit submit. This is where we'll add a link to the page our lead magnet is on.
There are 3 confirmation types in WPForms:
Message: This is the default type of confirmation used in WPForms. It's just a simple customized message letting visitors know their registration is being processed. You can reword this however you want to. If you're unsure where to begin, look at some of these great success messages that show appreciation for sign-ups.
Show Page: This option will take people to a specific page on your site that you've created. Check out our tutorial on redirecting your visitor to a thank you page if you need some help. Also, you'll also want to head over to our article on creating effective Thank You pages.
Go to URL (Redirect): This confirmation option sends those who have registered to a page on an entirely different website.
So in this example, we'll set up a customized message that will include a link to the lead magnet's page on your site.
To begin, click on the Confirmation tab in the Form Editor under Settings.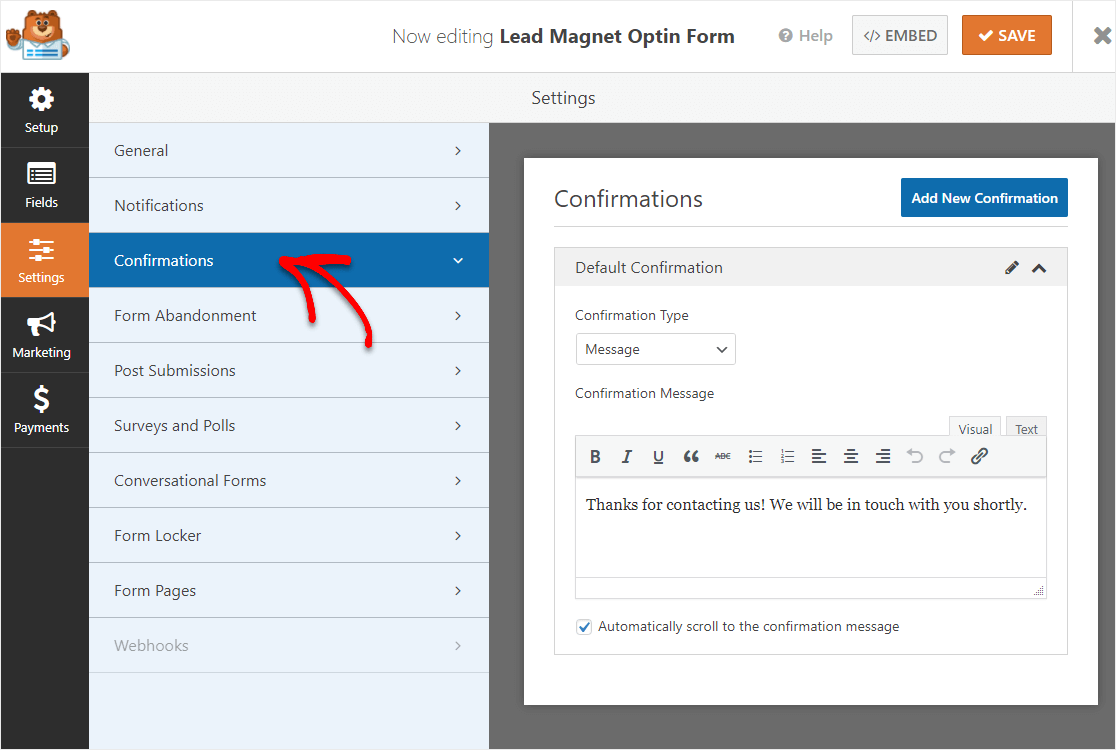 Then, change the message to say something like "Thanks for subscribing. Access your free ebook here." Make sure to hyperlink the text to your lead magnet's webpage.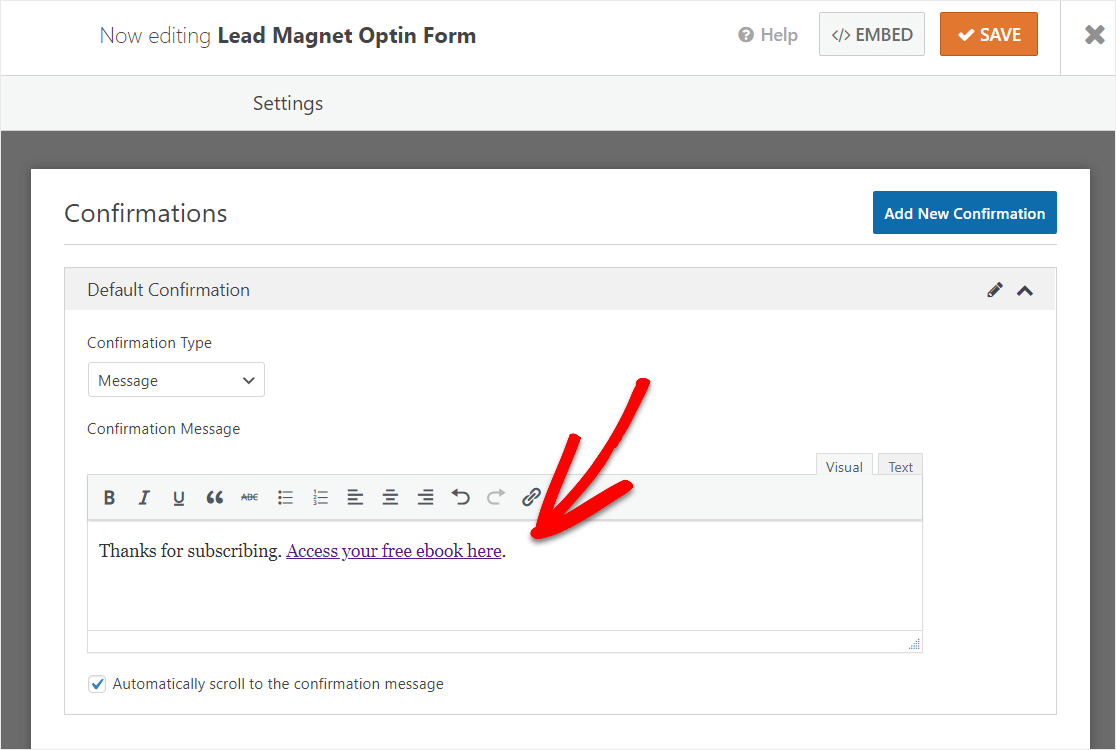 So once you're done writing the confirmation, be sure to click Save.
Now, whenever someone fills out your form, they'll see a link to your lead magnet. It really is that simple!
For help with other confirmation types, see our documentation on setting up form confirmations.
Now, here's the last step.
Step 8: Add Your Form to Your WordPress Website
Now that your lead magnet optin form has been created, it's time to bring that baby to life on the web so you can start watching the leads roll in from your website.
Start by clicking on the Embed button at the top of the form builder.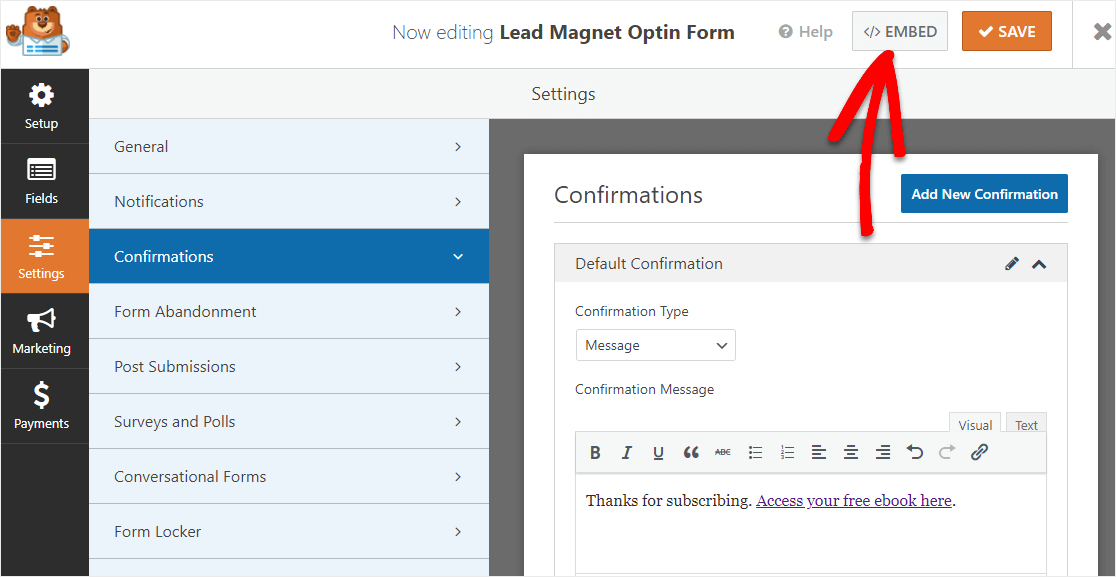 And then when the Embed in a Page notification pops up, go ahead and click on Create New Page.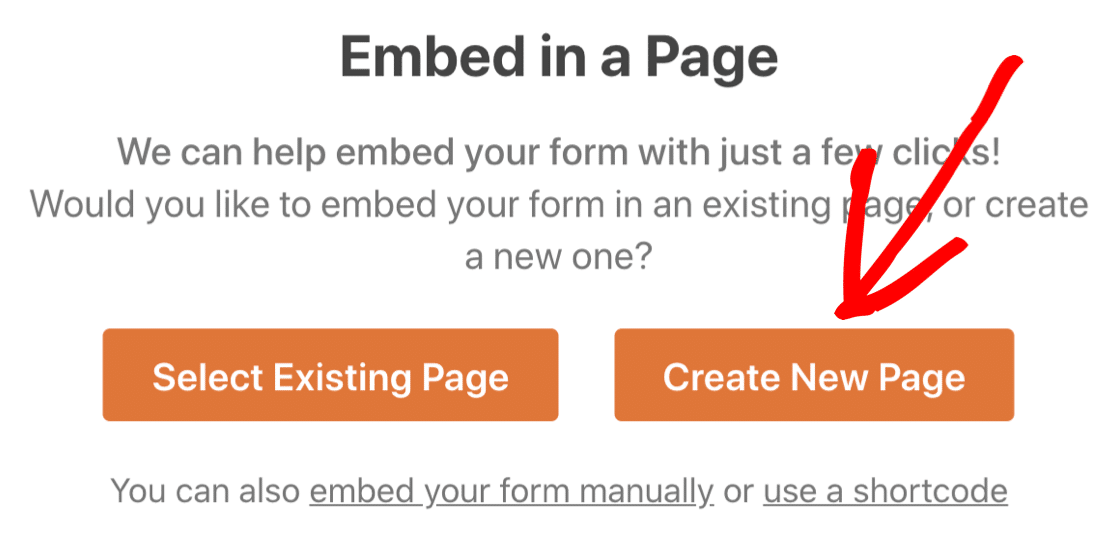 Next, WPForms will ask you to name your page. Type the title for the page you want into the box and click Let's Go!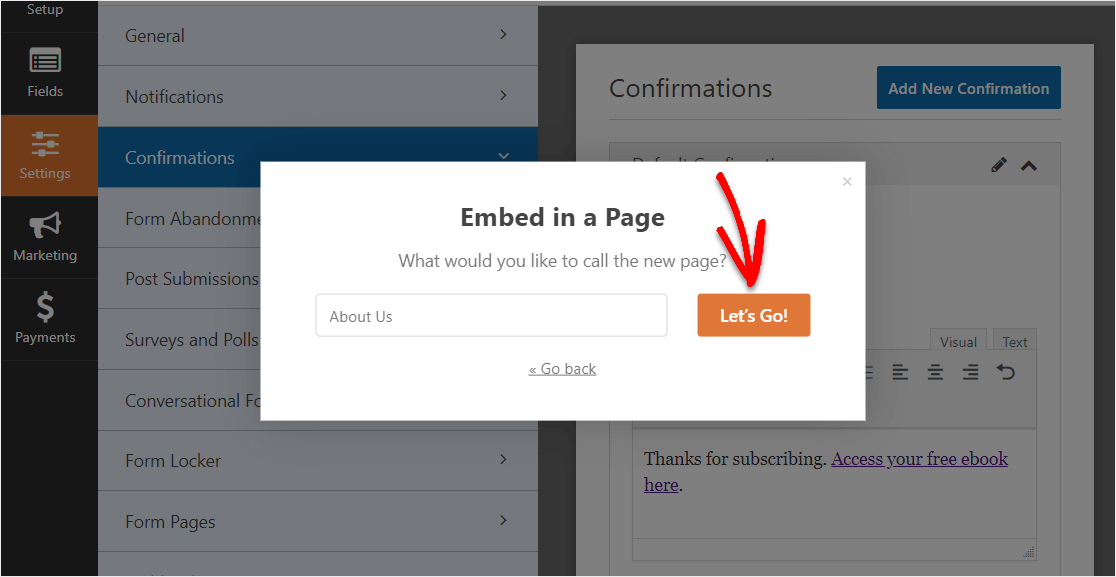 Here, WPForms will open up a new page for your lead magnet optin form.
So now you'll want to add some details to this page. Also, write a bit about inviting people to sign up for your lead magnet.
When you're ready, go ahead and click Publish at the top to publish the form on your site.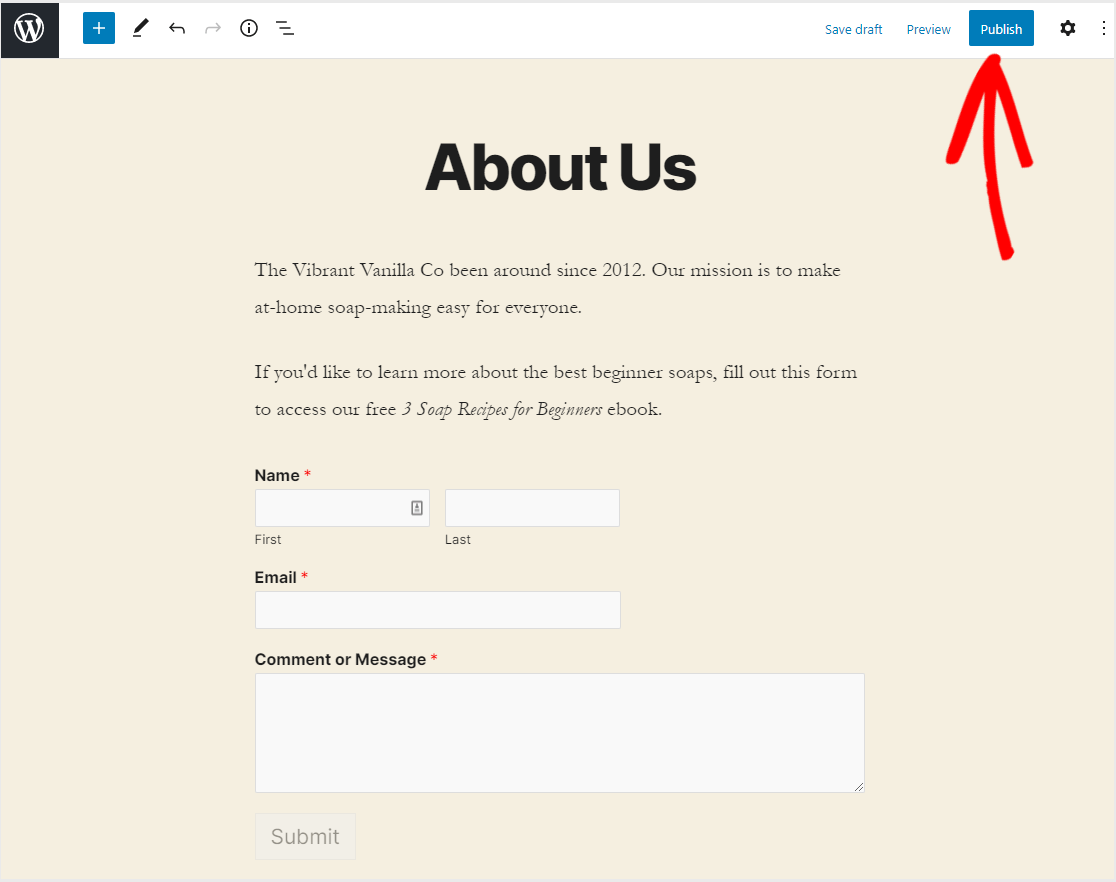 And here's what our finished page with a lead magnet optin form looks like.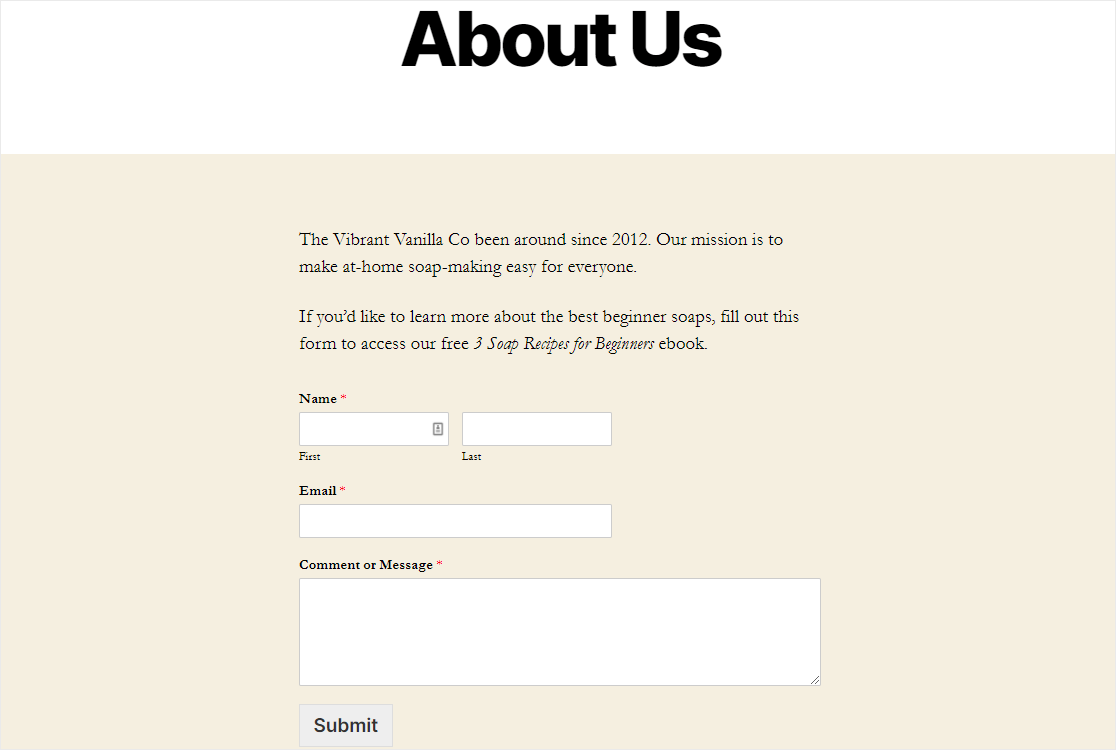 And there you have it! You now know how to make your own lead magnet optin form with a WordPress plugin.
Another fantastic idea is to place your lead magnet optin form in a popup that shows up on multiple pages.
Step 9: Charge for Your Lead Magnet (Optional)
A lot of you have reached out asking how you can have someone pay for a lead magnet.
Traditionally, lead magnets are offered for free so that you can build trust with your audience and sell to them later.
If you want to make money from your content, a membership website would be a great option for you to look into.
However, if you would like to charge people to access this particular digital download, we've also written a  guide on how to sell digital downloads. You'll need to enable a payment tool like the Stripe addon to do this optional step.
Final Thoughts on Lead Magnet Optin Forms
That's it! We hope this guide helped you to easily create a simple lead magnet optin form in WordPress.
And if you like this article, you might also want to read our guide on stopping form spam so you can keep your email list as high quality as possible.
What are you waiting for? Get started with the most powerful WordPress forms plugin today. Go for WPForms Pro which comes with awesome integrations including payment options like Square, PayPal, and Stripe.
If you like this article, then please follow us on Facebook and Twitter for more free WordPress tutorials.