Are you looking for the best WPForms alternatives?
While WPForms ranks in the top 10 most popular WordPress plugins, it might not be the right fit for your site right now.
In this post, we'll look at some of the best alternatives to WPForms.
Create Your WordPress Form Now
Is There a Free Alternative to WPForms?
Yes, there is a free alternative to WPForms, and it's WPForms Lite!
It makes it easy to create unlimited forms and access ready-made templates right in the form builder. It also has some of the same features as WPForms Pro.
Best WPForms Alternatives
In this post, we look in-depth at the best WPForms alternatives. If you're in a hurry,  check out this handy chart below to help you compare your options. As you can see, WPForms Lite is the best alternative to WPForms, followed by Formidable Forms, WP Simple Pay, WP Charitable, Hubspot Forms, Typeform, and Google Forms.
We'll break it down in more detail. Click on any of the tools to jump down and read more.
| | Drag & Drop Builder | Conversational Forms | Conditional Logic | Pricing (Starts at) |
| --- | --- | --- | --- | --- |
| | ✅ | ✅ | ✅ | $39.50/yr |
| 1. WPForms Lite | ✅ | ❌ | ❌ | Free |
| | ✅ | ✅ | ✅ | $39.50/yr |
| | ❌ | ❌ | ❌ | $49.50/yr |
| | ❌ | ❌ | ❌ | $119/yr |
| | ✅ | ❌ | ✅ | Free |
| 6. Typeform | ✅ | ✅ | ✅ | $290/yr |
| 7. Google Forms | ❌ | ❌ | ✅ | Free |
Let's jump into it.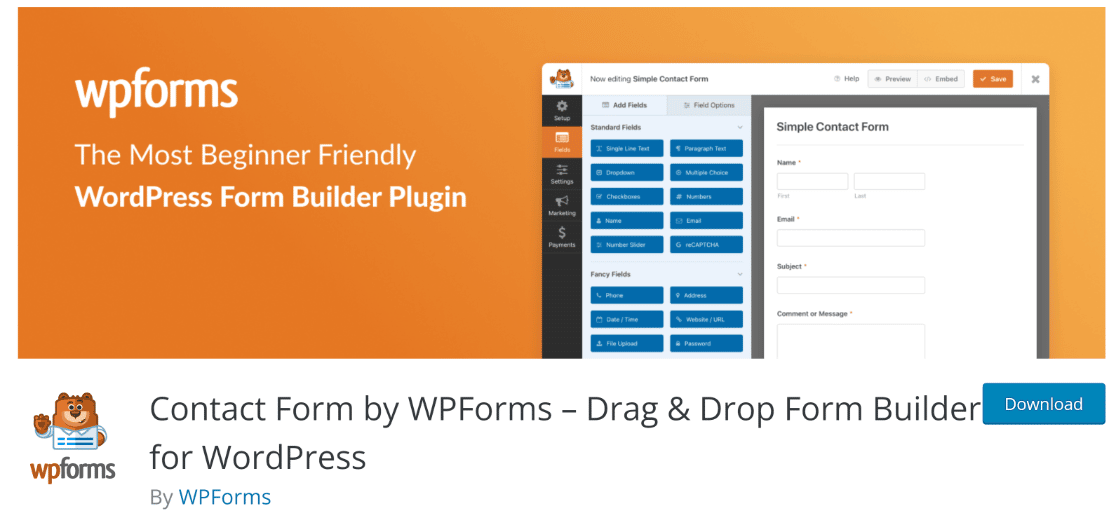 If you don't want to pay for WPForms Pro, you can still get many essential features with WPForms Lite entirely for free.
WPForms Lite tops the list of WordPress contact forms because it's incredibly powerful despite being free to use.
It includes the same beginner-friendly drag and drop interface as the paid version to enable you to build forms effortlessly. And you get access to many of the same essential form fields as well.
For example, the following fields are available in both versions of WPForms:
| | WPForms Lite | WPForms Pro |
| --- | --- | --- |
| Name | ✓ | ✓ |
| Email | ✓ | ✓ |
| Text | ✓ | ✓ |
| Number | ✓ | ✓ |
| Number Slider | ✓ | ✓ |
| Dropdown | ✓ | ✓ |
| Multiple Choice | ✓ | ✓ |
| Checkbox | ✓ | ✓ |
| Spam Protection (reCAPTCHA/hCaptcha) | ✓ | ✓ |
| GDPR Agreement | ✓ | ✓ |
These fields give you enough flexibility to create any basic form that a small business will likely need.
In addition, you also get Form Revisions with WPForms Lite, which automatically saves revisions of your forms so you can revert back to a previous version at any time.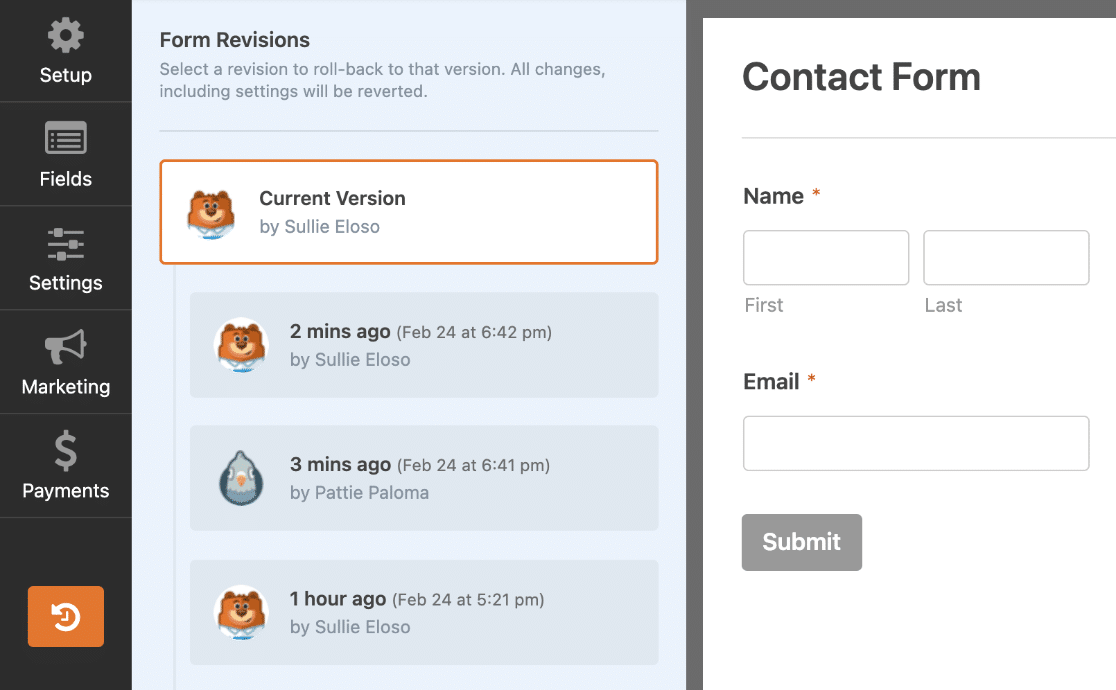 To ensure that your forms remain secure from spam, WPForms Lite fully supports various spam prevention techniques for contact forms. These include reCAPTCHA/hCaptcha and anti-spam tokens. However, custom captcha is only available in WPForms Pro.
Although most marketing integrations are only available in WPForms Pro, you still get a native integration with Constant Contact in WPForms Lite. This way, you can setup an easy automation to send contacts from your WordPress forms to Constant Contact.
The best thing about WPForms Lite is that there are no limitations in terms of the number of forms you can create or the responses you can receive.
Still, there are some limitations in features. This is to be expected because WPForms Lite is only a free version. For instance, you can't upload files from forms to Google Drive from your with WPForms Lite. Plus, advanced functionalities like survey forms, payment fields, user journey tracking, and user registration forms are only available once you upgrade to WPForms Pro.
But if you only need to make simple contact forms for your site, WPForms Lite is the second best option to WPForms Pro.
Pricing: WPForms Lite is a completely free WordPress forms plugin.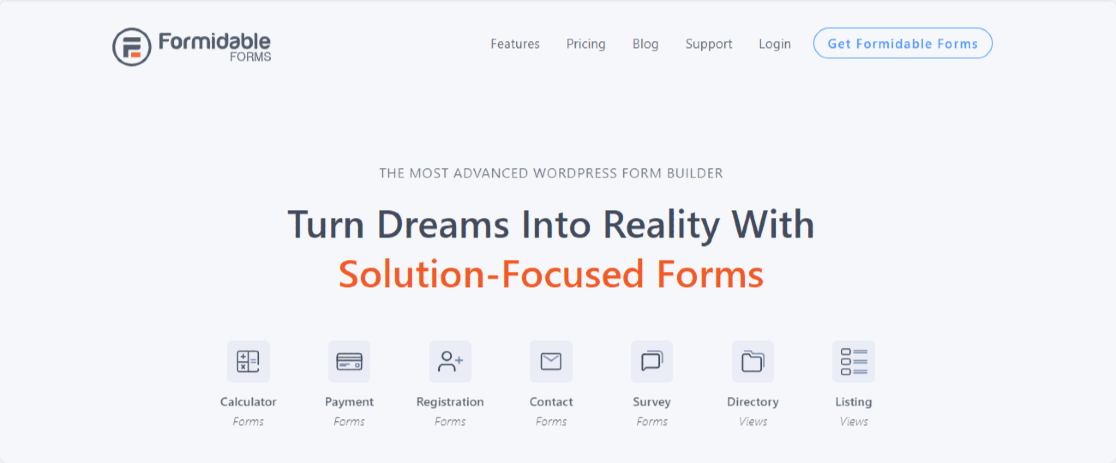 Formidable Forms is the best alternative to WPForms if you're looking to create advanced forms with complex functionalities.
There are many similarities between WPForms and Formidable Forms. For example, both form plugins use a clean and user-friendly drag and drop form builder for creating forms. Both are also on our list of the top no-code form builders for WordPress.
But where WPForms specializes in form features for small business with simpler needs, Formidable Forms' features tend to favor businesses requiring complex forms with advanced features.
Formidable Forms gives you the ability to create calculation forms. This is very useful for businesses operating in the finance or real-estate industry.
Ready-made templates for mortgage, car payment, and paycheck calculations (along with many others) make Formidable Forms really stand out.
Alternatives: Ninja Forms, Gravity Forms, and Contact Form 7 are good alternatives but they have different strengths and weaknesses. See this comparison of top WordPress form builders to see how these form builders compare.
Pricing: Formidable Forms is a freemium plugin with paid plans starting at $39.59 per year.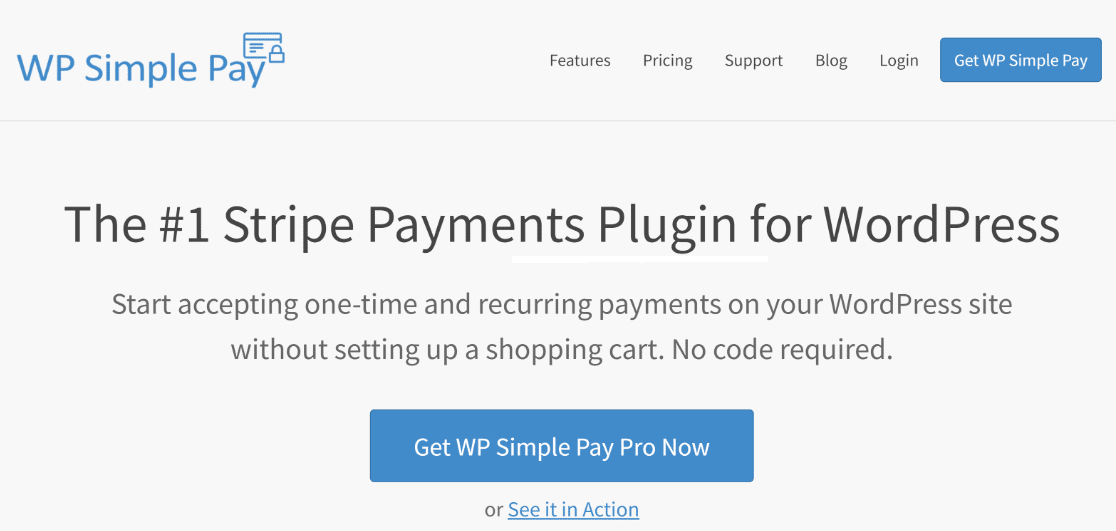 WP Simple Pay is the simplest solution for processing payments on your WordPress site.
The plugin gives you full control over the payment options you'd like to offer to your customers. WP Simple Pay is excellent for:
One-time payments
Recurring payments (subscriptions and installments)
Mixed payment options
And more.
Although WPForms also lets you create payment forms, WP Simple Pay provides more flexibility in the ways you can accept payments. This is because the plugin is specially designed as a standalone Stripe payment plugin for WordPress rather than a full-fledged form builder.
WP Simple Pay lets you choose from 3 different display types for your Stripe payment form. You can embed the payment form on your WordPress website, set up an overlay form, or simply redirect to the fully-hosted Stripe checkout page.
For payment collection, WP Simple Pay supports pretty much every major payment gateway including credit cards, Apple Pay, Google Pay, Alipay, and more.
Overall, WP Simple Pay is the best alternative to WPForms if you need to add WordPress order forms to your site.
Pricing: WP Simple Pay has a free version but it comes with several limitations. Paid versions offer fantastic flexibility and extra features starting at $49.50 per year.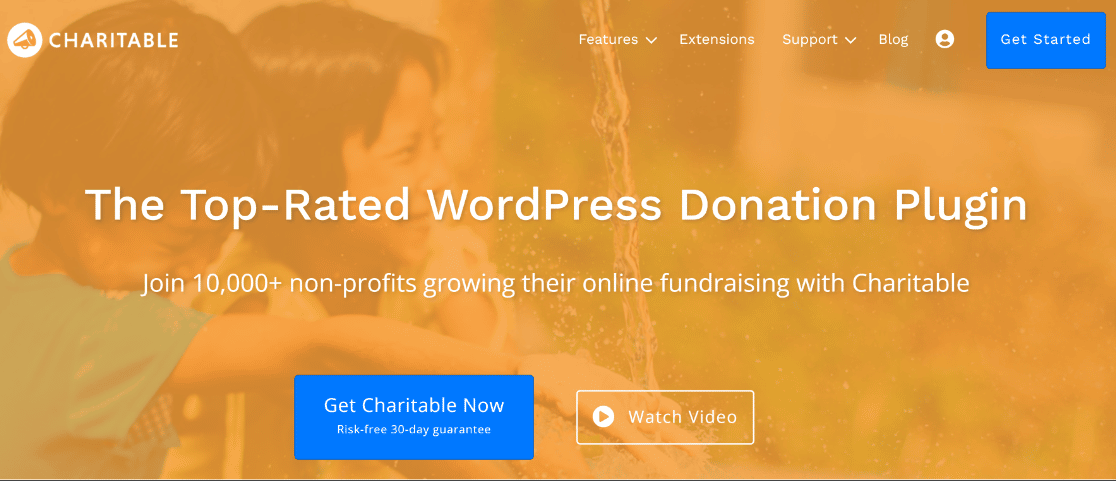 There aren't enough tools out there that are affordable and well-featured enough to support the fundraising activities of non-profits. WP Charitable is a rare exception.
WP Charitable is the best WordPress plugin for creating nonprofit donation forms and fundraising campaigns. Unlike most fundraising platforms, WP Charitable doesn't charge any transaction fees and gives you the complete flexibility to customize your donation pages.
The free version of WP Charitable supports offline payments and PayPal donations. With the paid version, you can add more payment gateways like Stripe and Authorize.net.
The plugin works right out of the box to let you create fundraising campaigns and add important elements like donation goal and the end date.
It bears mention here that WPForms itself is a great plugin for non-profits and includes several pre-built donation form templates. We also offer special discounts on our Pro and Elite plans for nonprofit organizations.
But if you need a single standalone plugin to manage your fundraising campaigns within your WordPress site, WP Charitable is the best WPForms alternative. Take a look at our complete WP Charitable review for more details.
Pricing: WP Charitable offers both free and paid plans. The paid version provides various extra features like recurring donations and peer-to-peer fundraising starting at $119 per year.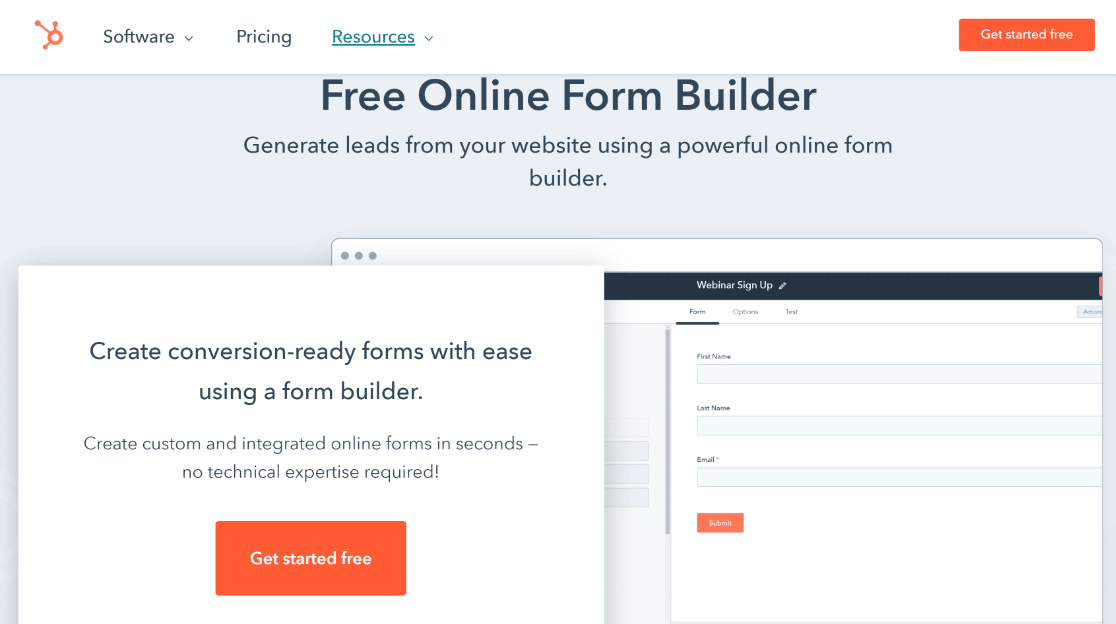 HubSpot Forms is another free alternative to WPForms that may work well for basic-level users.
HubSpot uses a drag and drop interface similar to WPForms, but it's not as user-friendly as WPForms is. There are only a few form fields that you can add and the built-in templates are even fewer (only 5 basic form templates).
Moreover, it's slightly annoying that changing field settings pops out a side menu, which gets in the way of a smooth user experience.
As a result, you can't make complex forms like surveys or forms with flexible payment processing options. Besides, embedding isn't as straightforward as it is with WPForms because HubSpot requires you to add shortcodes to embed forms in your pages.
With the paid plan, you get more form styling options and the HubSpot branding is removed. Beyond that, HubSpot's paid plans don't really offer form-specific features.
Pricing: HubSpot Forms is available for free with paid plans starting at $540 per year.

Typeform is an online form builder, unlike WPForms which is designed specifically for WordPress.
This form builder is mainly known for its Conversational Forms feature. You can create highly interactive and visually appealing forms with Typeforms. It also has a decent amount of templates for creating different kinds of surveys, quizzes, and feedback forms.
Although it's a good alternative to Conversational Forms in WPForms, there are a few drawbacks to Typeform.
One of the main issues is that Typeform is considerably more expensive. The high cost can be prohibitive for small businesses and entrepreneurs.
What's more, there are several functionalities native to WPForms which are missing in Typeform despite its higher cost. Typeform doesn't have signature, Likert scale, password, or GDPR fields. WPForms has all of these fields (and more).
Plus, it lacks useful advanced features like form locations and user registration. Our head-to-head comparison between WPForms and Typeform takes a deeper dive into their differences.
Alternatives: Some decent Typeform alternatives include Wufoo and Jotform, but these are fairly expensive as well.
Pricing: Typeform has a very limited free trial (limit of 10 responses only). Paid plans start at $290 per year. 

Google Forms is the most popular tool for building web forms. It's fairly simple to use and is completely free.
You can create as many forms as you want, ask questions without limits, and collect as many entries as you need. Conducting online surveys is one of the most popular use cases for Google Forms.
Still, Google Forms suffers from many limitations. Firstly, there are only a few types of form fields available and just a handful of templates.
Many of the advanced functionalities of WPForms are also missing in Google Forms. For example, you can't add a rich text field or capture leads from users that abandoned your forms. Surprisingly, Google Forms doesn't even support reCAPTCHA for spam prevention.
You can set up conditional logic in Google Forms, but this too is very restrictive and lacks the flexibility that WPForms offers.
Google Forms is still quite useful for conducting surveys as long as you're OK with its lack of customization options and advanced features. So, you can use it as a WPForms alternative but only if you're not interested in the more powerful capabilities of WPForms.
For more details about options that offer more features than Google Forms, check out our roundup of best Google Forms alternatives.
Pricing: Google Forms is completely free.
Which Alternative to WPForms Is the Best?
The best alternative to WPForms is… WPForms Lite!
After extensive research, we've found that some form builders come close but don't quite offer the same set of features as WPForms Pro.
That said, using the free version is still the best way to give your site a head start.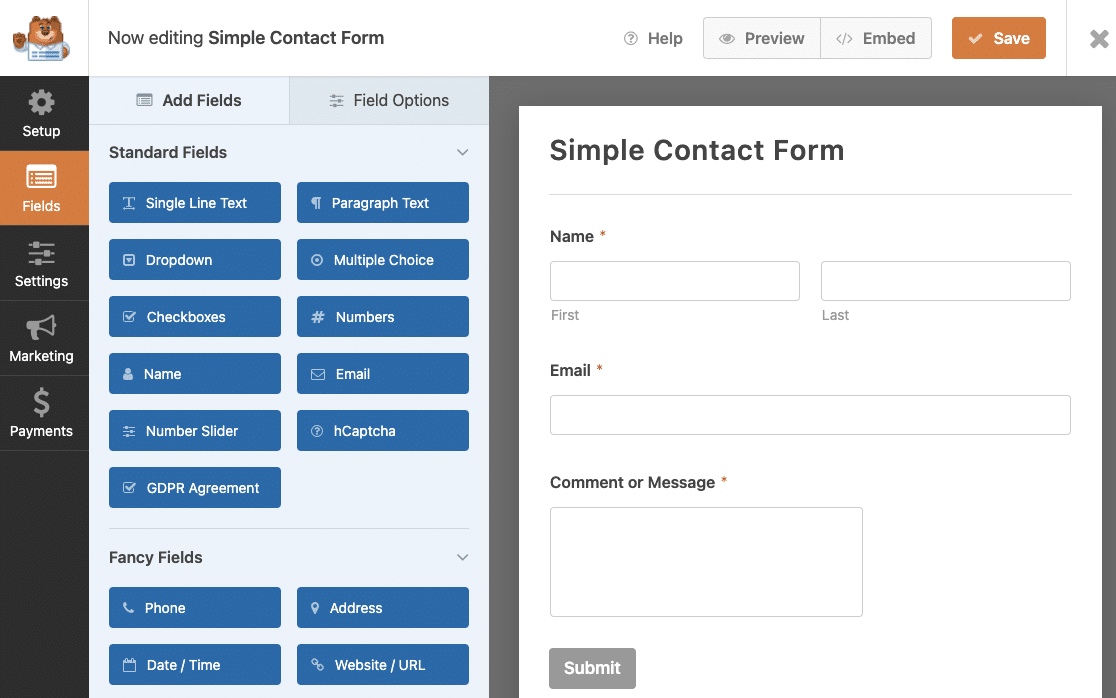 WPForms Lite offers many of the exact same features you get in the Pro version, including:
Easy drag and drop form creation (no HTML coding needed)
All the fields you need to create starter forms
A library of pre-made form templates
Form revisions and trash
Email notifications.
If you start out with WPForms Lite, you can easily upgrade to Pro when you're ready and your forms will still work just fine.
And other users are already starting out with the free version and loving how it works: WPForms Lite has a near-perfect rating of 4.9/5 stars on WordPress.org.

Ready to Upgrade?
You can use WPForms Lite for as long as you need to. When you want to go Pro, here are some of the extra fields you'll get:
Survey Fields (Likert Scale, Net Promoter Score, and more)
Payment fields (Stripe, Square, Paypal, Authorize.Net)
Rich text
File upload
Frontend form submissions
Integration with top marketing services
Here are some other important benefits of moving over from Lite to Pro when the time is right.
Conditional Logic
In many cases, it makes sense to show specific fields to users only if they provide certain responses in previous fields.
Achieving this is really simple in WPForms. Using simple if-else rules, you can easily set up conditional logic to make your forms neater and easier to fill out.
Surveys & Polls
One of the main strengths of WPForms is the ease with which you use it to create advanced survey forms, polls, and even quizzes.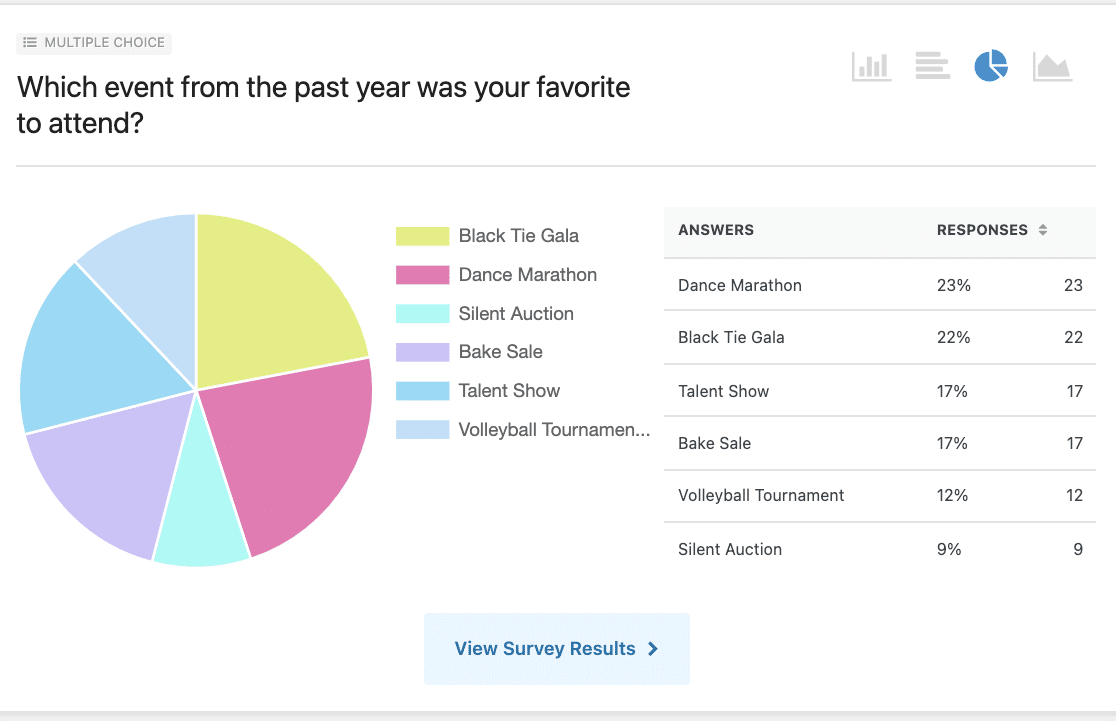 And that's not all. The plugin produces simple and beautiful charts to display the results and responses of the survey. You can create a well-illustrated survey report by exporting these charts right from your WordPress dashboard.
And if you get MonsterInsights (a Google Analytics plugin), you can also measure your form completion rates and right from your WordPress dashboard.
User Journey
Learning how visitors discover your forms allows you to make data-driven decisions to place your forms in the right location.
Besides, the User Journey addon shows you exactly how your visitors reached your form before making form submissions.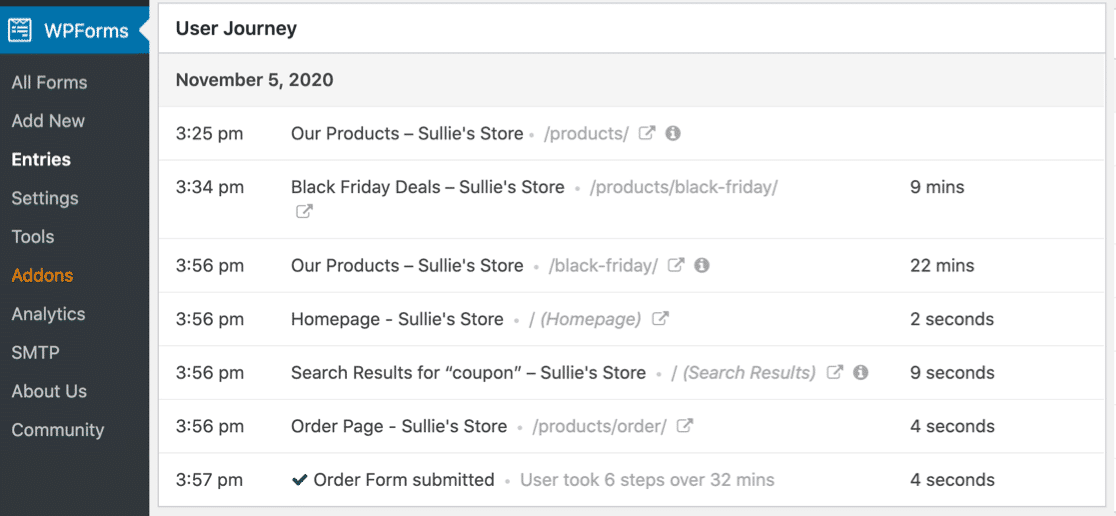 This way, you can identify new opportunities for embedding your forms for maximum discovery and conversions.
Form Abandonment
No matter how well you optimize your online forms, there will always be some users quitting your forms before submission.
To prevent this, WPForms has a unique form abandonment lead capturing feature. When enabled, this feature will capture leads from form entries even if a user fails to press the submit button.
Conversational Forms
Conversational Forms is an online form layout that makes form-filling more fluent and interactive.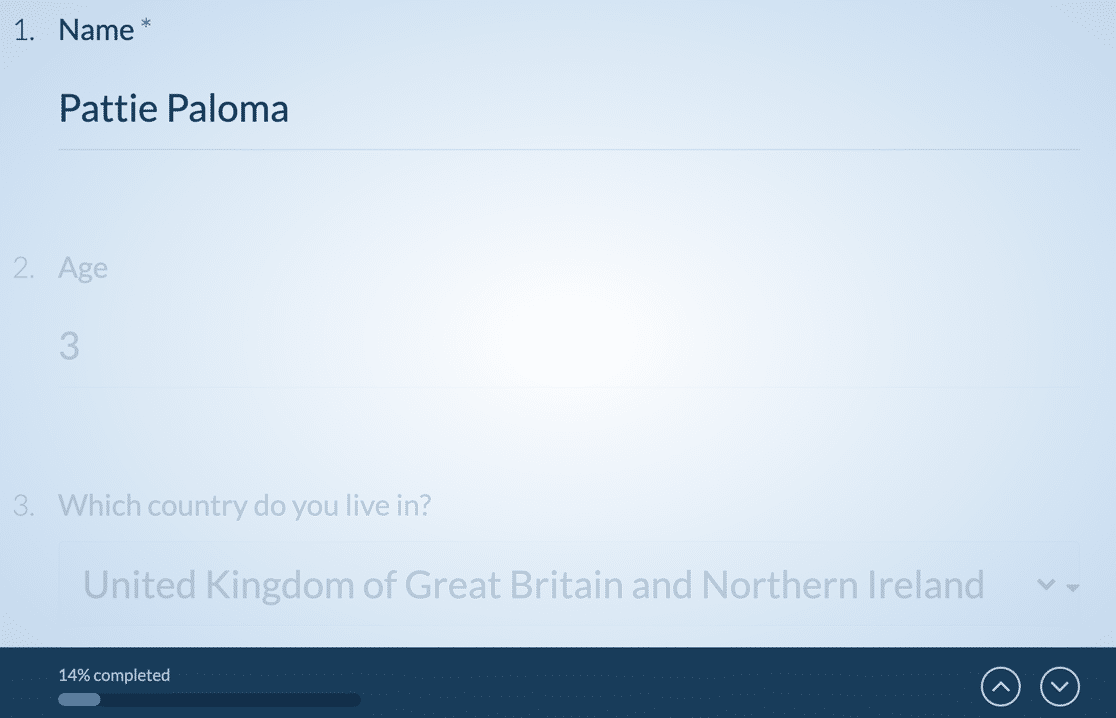 When this mode is enabled, the layout focuses on one question at a time in a distraction-free and engaging environment. It's highly effective for boosting form completion rates.
Multi-Page Forms
A common complaint that respondents of survey forms have is that these tend to be too long. People are more likely to complete your form if it's organized into multiple pages and sections.
As one of the most user-friendly form plugins, WPForms allows you to split your forms into multiple parts to enhance the user experience.
Integrations
WPForms Pro can integrate easily with email marketing tools like MailerLite and Mailchimp as well as CRM platforms like Salesforce and HubSpot. That helps you to get your data to the right place easily, without writing code.
If you can't find a native integration in WPForms, you can use tools like Uncanny Automator. It lets you connect WPForms to ChatGPT to send AI-generated form notifications. There are hundreds of third-party SaaS platforms and apps available in addition.
And there you have it! You now have a better idea about your options when it comes to the best WPForms alternatives and also about the unique features that WPForms has to offer.
Next, Add Emojis to Your Customer Surveys
Out of the many unique capabilities that WPForms offers, the ability to create survey forms with an emoji rating scale is one of the most exciting ones.
Also, if you're looking to upgrade your Instagram bio links page, see our comparison of top Linktree alternatives.
Create Your WordPress Form Now
Ready to build your form? Get started today with the easiest WordPress form builder plugin. WPForms Pro includes lots of free templates and offers a 14-day money-back guarantee.
If this article helped you out, please follow us on Facebook and Twitter for more free WordPress tutorials and guides.