Do you want to add an emoji rating scale to a form or survey?
Adding an emoji rating scale lets customers provide feedback in a fun and user-friendly way.
We'll show you how to create an emoji rating scale on any WordPress form.
Create Your WordPress Form Now
What Is an Emoji Rating Scale?
An emoji rating scale is a ranking system that's comprised of clickable emojis or icons.
By clicking these icons, customers can show how they feel, from negative to neutral to positive.

The emoji rating scale is handy when emotions or feelings are involved, becoming a gauge by which you can determine the levels of customer satisfaction. Emoji ratings are quick and fun for customers, resulting in more feedback submissions and less form abandonment.
How to Create an Emoji Rating Scale in WordPress
This post will show you how to create and add your emoji rating system. We'll use WPForms' Rating field to build your emoji rating scale and eliminate the need for a dedicated plugin.
Let's dive in!
Step 1: Install WPForms + Surveys & Polls Addon
The first thing we'll need to do is install WPForms. You'll need a WPForms Pro license to add an emoji rating scale.
Once WPForms has been installed and your license is verified, you can navigate to the WPForms section of your WordPress dashboard.
From WPForms, click on Addons.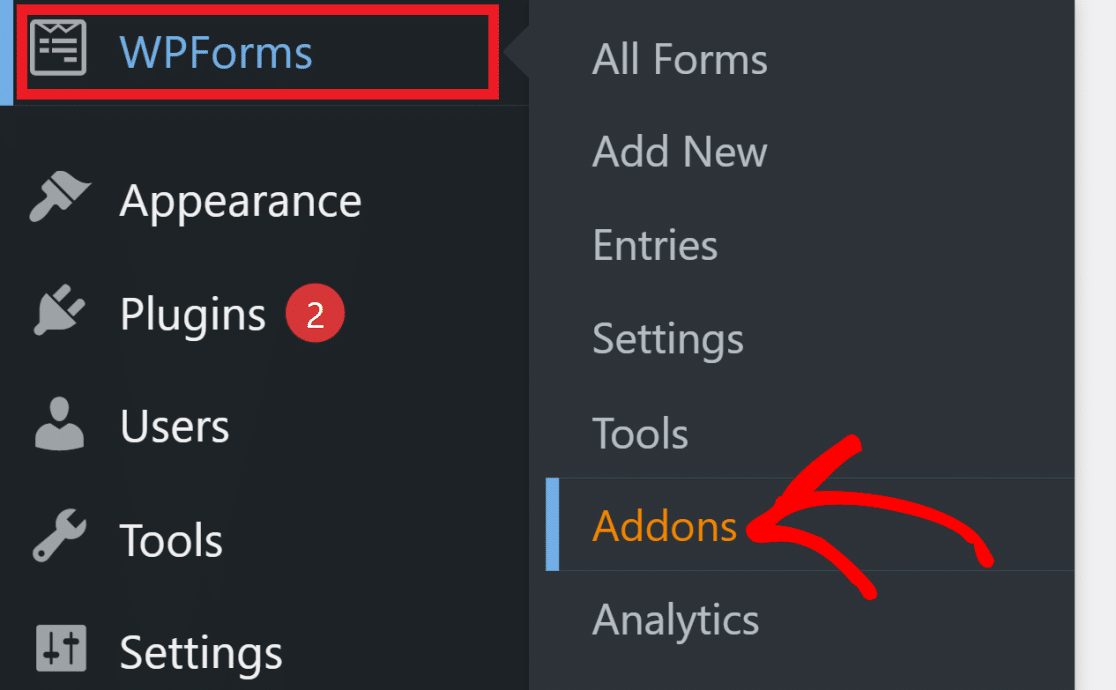 Scroll down to the Surveys and Polls Addon.

Click Install Addon. The Addon should now show as Active.

Now it's time to create a survey.
Step 2: Create a New Survey Form
Now that WPForms is ready and you've activated the Surveys and Polls addon, it's time to create the form with your emoji rating scale.
From your WordPress dashboard, go to WPForms ≫ Forms. Click Add New at the top of the page.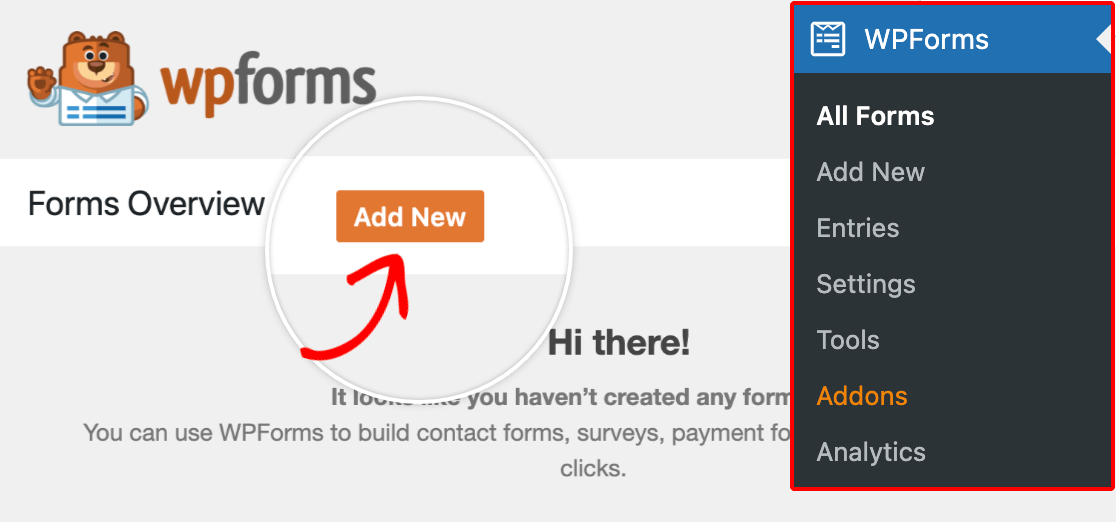 Next, give your form its desired name.
Then, type Survey Form into the search box on the left.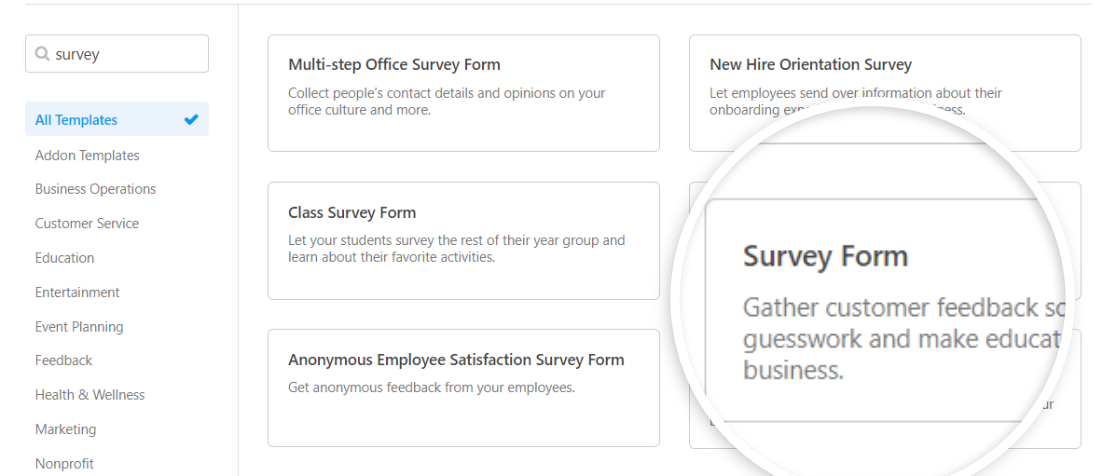 Hover over the Survey Form Template until the orange Use Template button appears and click it.
Your new Survey Form template will look something like this: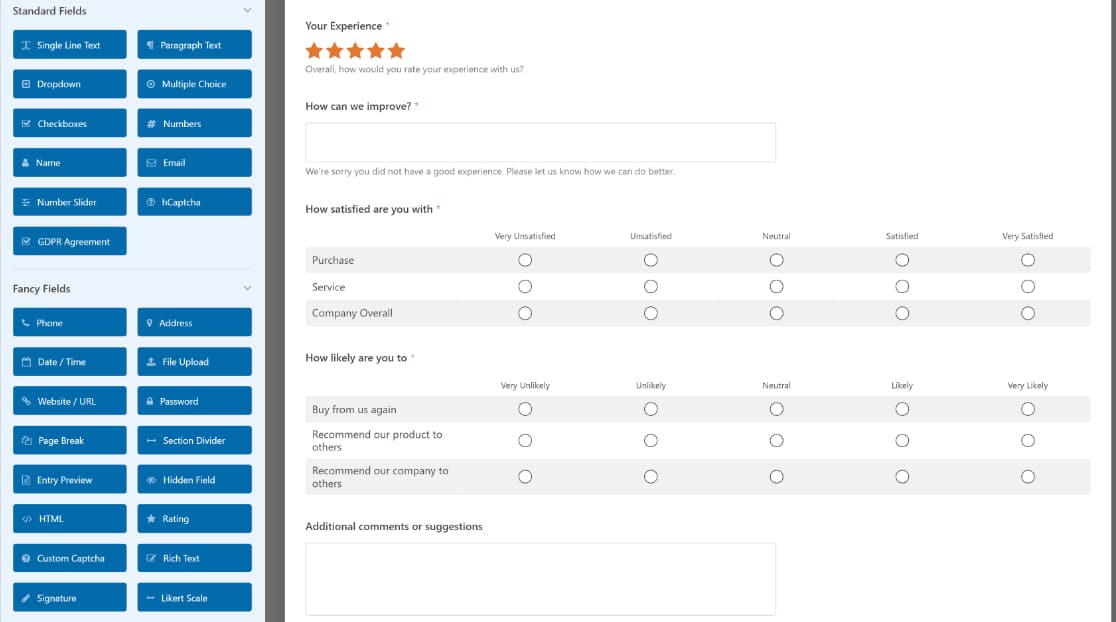 Now we can add a rating field and set up the icons.
Step 3: Add a Rating Field to Your Form
Now you have the survey form template, it's time to edit it!
After opening the form builder, look under the Fancy Fields section for the Rating field. Click the field or drag and drop it into the preview area to add it to your form.
Once you've added the field to your form, click on the Field Options panel in the preview area.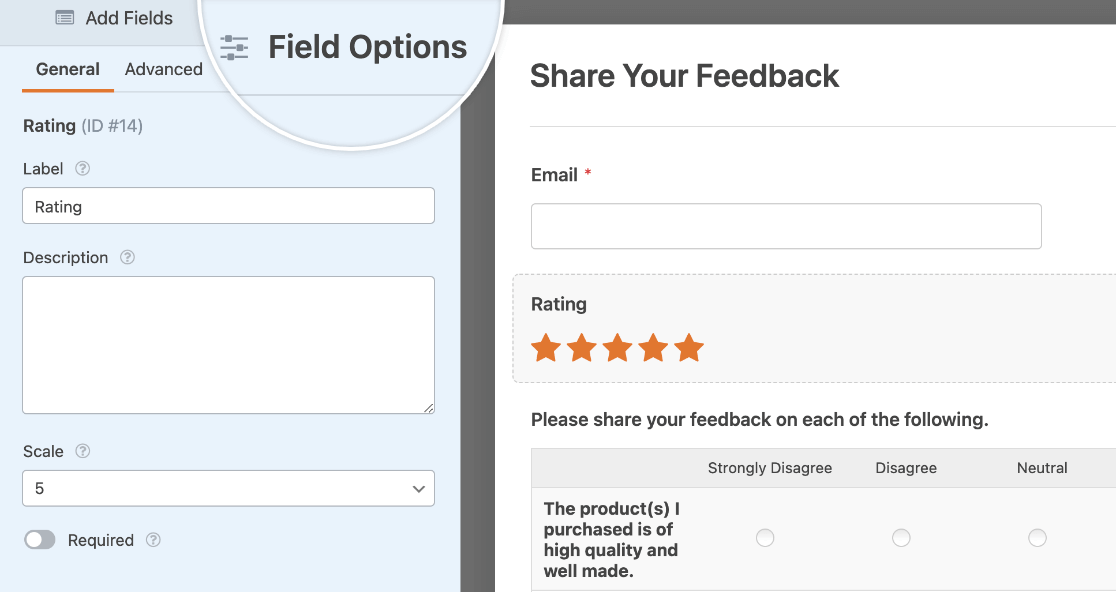 To customize the Rating field's icon symbol, click the Advanced tab in the Field Options panel.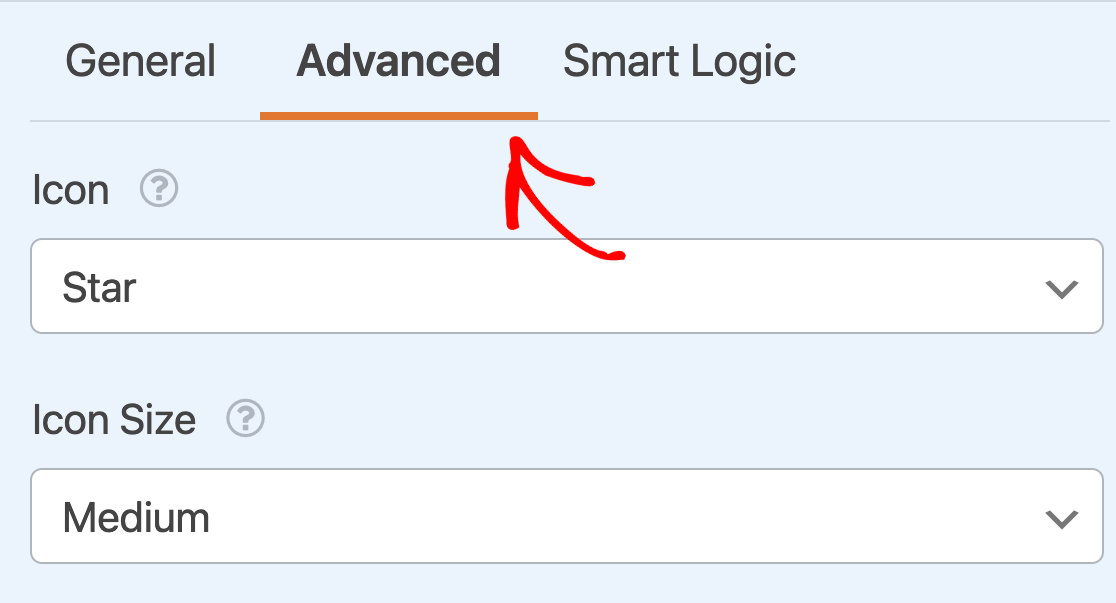 By default, the Rating field will display star icons. However, using the Icon dropdown, you can choose from any of the options listed below: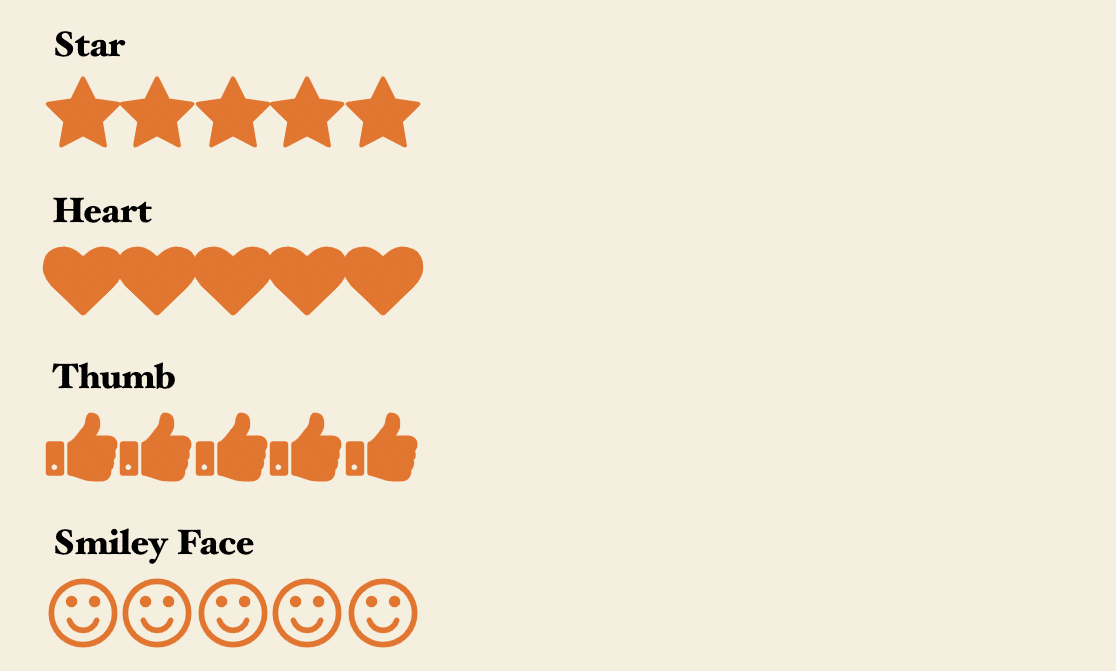 Change the icon to Smiley Face and the form preview will automatically change.

Pro tip: Do you want to use a custom emoji or icon? You can do that if you're willing to add a code snippet to your site. To learn more, check out this developer doc on how to customize the look of the rating icons in WPForms.
Step 4: Additional Customization Options
If you don't want to edit code, you can still control how your emoji rating scale looks.
First, add a label and description to the Rating field in the Field Options panel.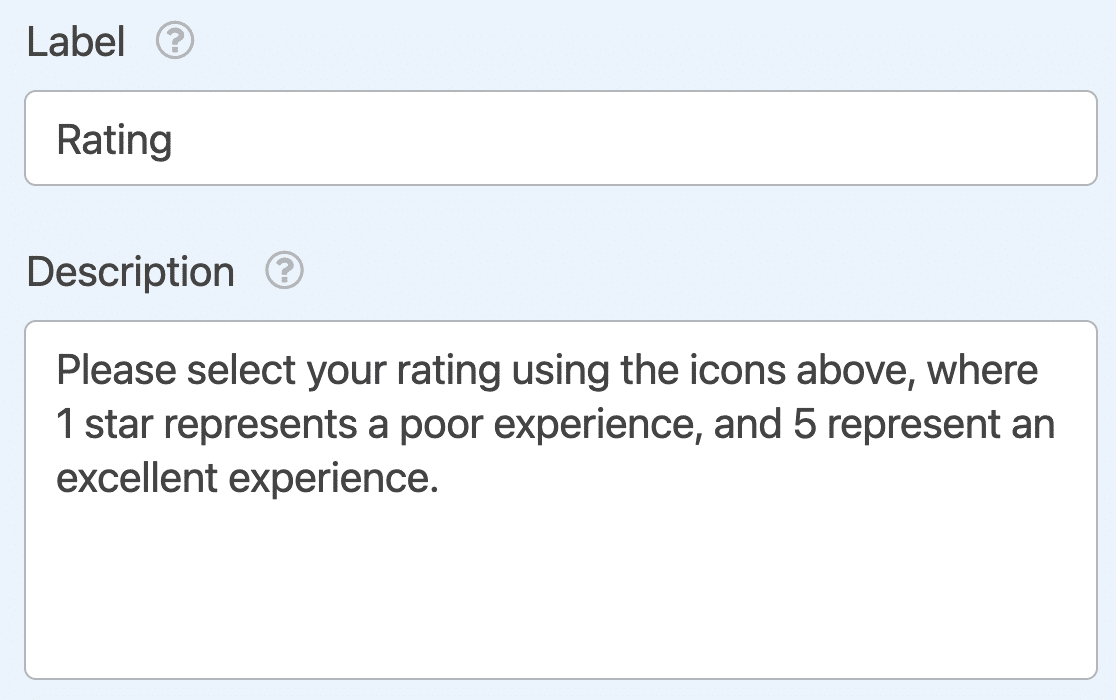 To adjust the maximum rating value, click the Scale dropdown. Here, you can display anywhere from 2 to 10 icons.

You may also choose to toggle on the Required setting to ensure users select a rating before submitting your form.

Customizing Emoji Rating Scale Field Options
Return to the Advanced tab in the Field Options panel to customize the Rating field's icon size and color.
By default, WPForms will set the Icon Size to Medium. You can instead change this to Small or Large if you'd prefer.
Here's how the size options compare on the frontend: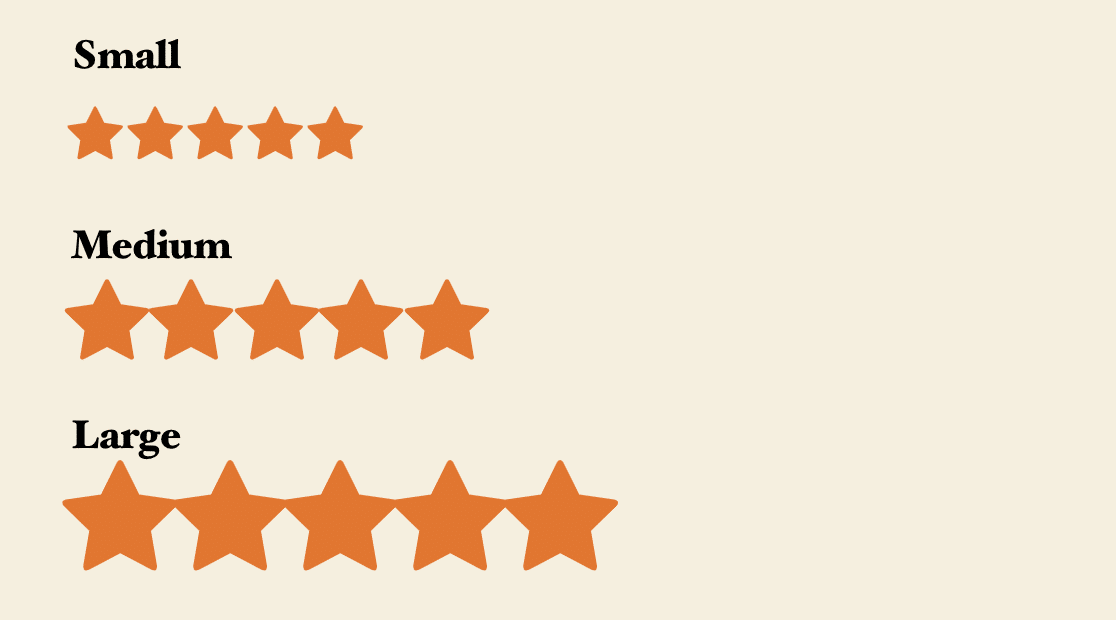 By default, WPForms will set the Icon Color to orange. You can easily customize this by clicking the color box and using the color picker tool.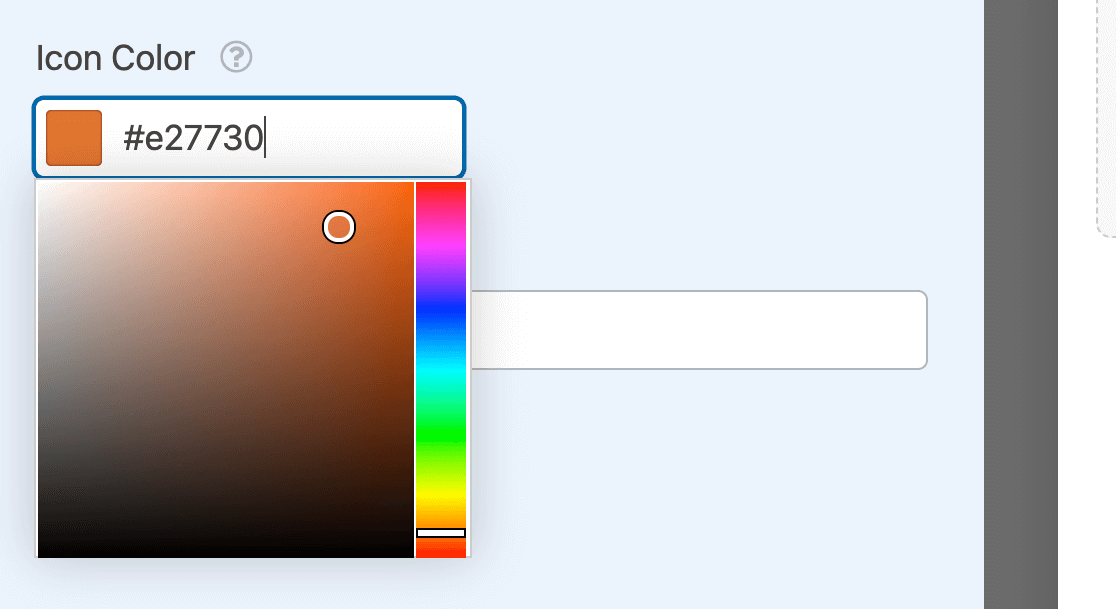 And that's it! Your rating scale is ready.
Step 5: Embed Your Form on a Page
Once you've saved your work, it's time to embed it on your intended page.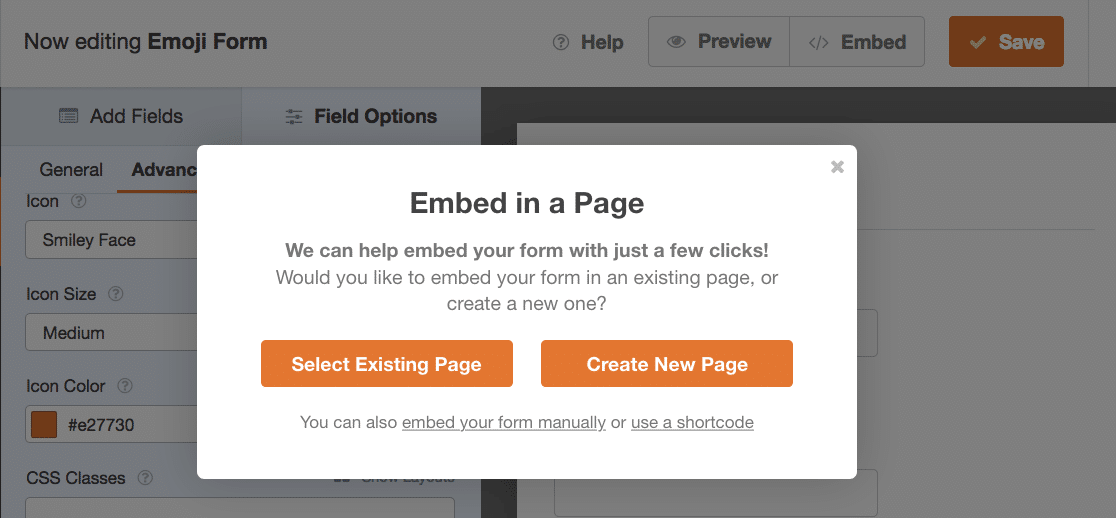 Click the Embed button on the top right of your form. The popup will allow you to choose how you wish to embed the form: Select Existing Page, Create New Page, Embed Your Form Manually, or Use a Shortcode.
Follow the instructions to embed your form. If you need help with this step, check out our guide on how to add a form to a WordPress page.
Step 6: Test Your Emoji Rating Scale
That's all there is to it! Test your form by clicking on the smiley face icons.
Consider using the scale in a survey, poll, or even a multi-page form as an alternative to star ratings to receive your customer feedback.
Next, Customize Your Password Reset Form
Want to get rid of the default password reset page and use something more fun?
WPForms lets you publish your own password reset form with custom fields. Learn how in our tutorial on how to customize the password reset form in WordPress.
We've also got a bunch of other articles to help you choose the best plugins for your site:
Ready to build your form? Get started today with the best WordPress form builder plugin, WPForms Pro. The Pro level subscription includes hundreds of free templates, access to top-level form features, and a 14-day money-back guarantee.
Create Your WordPress Form Now
Please subscribe to our YouTube channel for WordPress video tutorials if you like this article. You can also find us on Twitter and Facebook.