Are you looking for the best Google Forms alternatives out there?
Google Forms is a popular form builder that lacks security, conditional logic, the ability to accept payments, and can look unprofessional. So most website owners need a simple but effective alternative for their forms if they want to make money from their small business online.
So we scoured the web, and in this post we'll chat about our picks for the very best Google Forms alternatives out there.
Here's a table of contents for easy navigation:
What Makes a Good Online Form Builder?
Because the Google form maker is such a basic free solution, there are a lot of alternatives with better features. So to make your search easier on you, here's what to look for in a good online form builder:
Simplicity — Google Forms free works because it's simple. Even though it lacks features, both users and business owners enjoy it because it's easy to use. The #1 thing to look for in an online form builder is ease of use.
Security — Protecting yourself and your users should be a top priority on your forms if you're collecting sensitive data like payment or login details. To keep your forms extra secure, you'll also want to look for an online form builder that lets you enable reCAPTCHA and anti-spam settings to keep spammers out of your forms.
Conditional Logic — Google Forms isn't able to offer Conditional Logic, one of the simplest things that makes online forms smarter. Look for a solution that offers it if you're serious about reducing form abandonment by keeping users engaged and your forms looking professional.
Form Landing Pages — Google Forms is popular because it's a distraction-free way to get info from your visitors. A good online form builder will offer a landing page solution that you can use as a much smarter and higher-converting Google Forms alternative.
Customization — A good online form builder will not only let you customize all your forms, but it'll let you customize your landing pages to match your brand.
Email Notifications — In order to follow up with people who fill out your forms quickly, you'll want to know when someone submits to your form. Look for a form builder that lets you set up multiple, customizable, and automatic email notifications. This way, you and your team can stay on top of your incoming entries.
Integrations — A smart form builder will become a powerful part of your online small business toolkit if it can automatically talk to your email marketing service, CRM, and more.
WordPress Integration — It's super important that your form builder works with your WordPress website. That way, you can host your form page on your webpage and be able to track it with analytics. Since all business owners need a form builder solution for their websites, look for a Google Forms alternative that can do both — landing pages and easy WordPress compatibility.
Support — Your online forms are important. If you have a question about how to do something with Google Forms, you're out of luck as far as talking to someone from Google. You'll want a form solution that offers personalized support that's friendly, helpful, and readily available.
So now that you know what to look for in Google Forms alternatives, let's jump right into our list.
The Best Google Forms Alternatives
If you've decided the issues with Google Forms are something you'd rather not deal with, you're in luck. Especially if you were looking for Google Forms Conditional logic.
However, there's a handful of Google Forms alternatives out there to help you get the data you need just as easily. Here are our picks: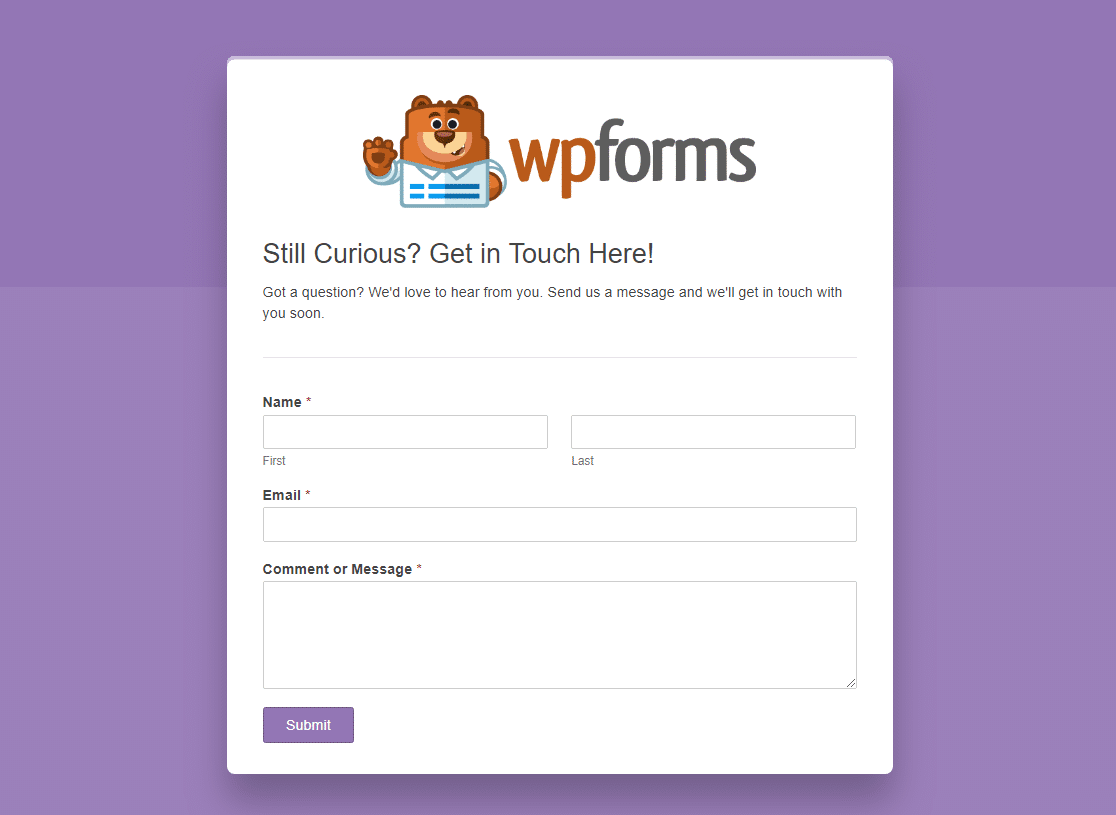 Unlike other feature-packed online form builders that work with WordPress, WPForms is a perfect Google Forms alternative because of the simplicity of the Survey and Polls addon and the Form Pages addon. Instead of using the Google form maker you see out there, you can make your forms look much more professional.
Features:
Landing Form Pages — The wildly popular Form Pages addon is specifically made to help you build a customizable, standalone form.
Ease of Use — Form creation is simple for beginners with a drag and drop visual builder that lets you create forms in real time.
Stellar Support — Knowledgeable and friendly customer service available through a variety of channels, plus extensive documentation.
Surveys and Polls — Customizable online surveys and polls that help you collect data fast, then display it in beautiful graphs for better data visualization.
Spam Prevention — Create trust with your users so they're more likely to complete your form with hCaptcha, reCAPTCHA, anti-spam protection, and custom Captcha.
Multiple Integrations — WPForms has integrations with the most popular email marketing providers, CRMs, Google Drive, QuickBooks, and over 2,000 more with the Zapier addon.
Form Notifications — Get automatic email notifications about your forms activity to yourself or other members of your team.
Conditional Logic — Easily enable Conditional Logic to personalize your questions based on the user's answer.
Mobile Friendly — 100% responsive forms look fantastic on any device.
Form Templates  — WPForms has templates for any kind of form you can think of, including NPS survey forms, Likert survey forms, basic survey forms, and more.
WordPress Compatibility — WPForms is a WordPress plugin, built to work seamlessly with the popular website platform.
Elementor integration — It's easy to use WPForms to make an Elementor contact form inside the Elementor interface.
Cost: Pricing for WPForms Pro starts at $199.50/year.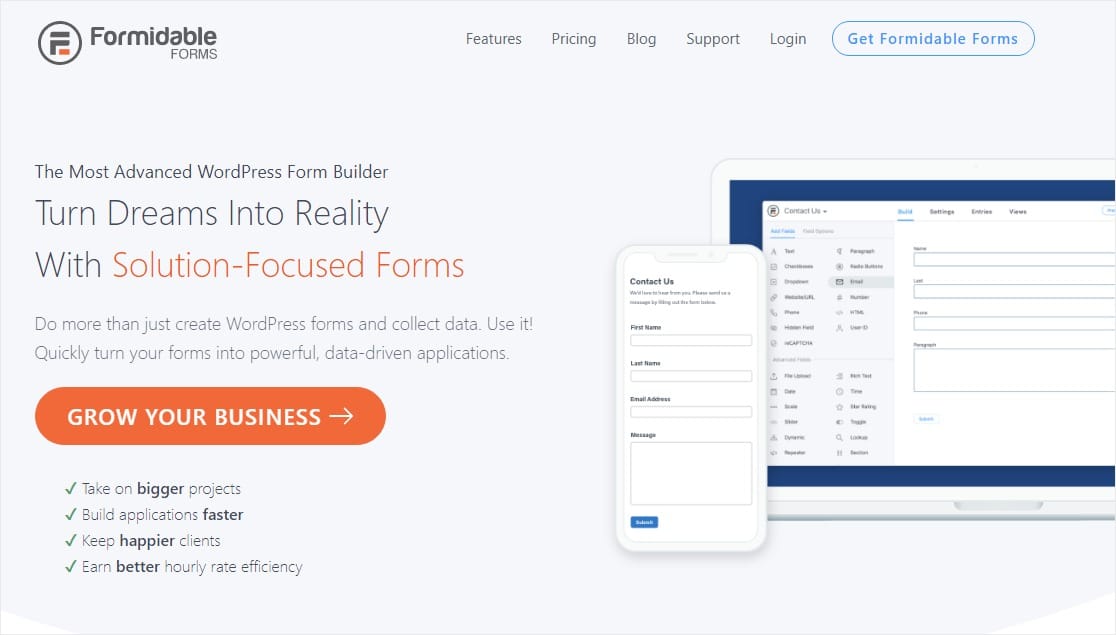 If you're a technical user looking for a Google Forms alternative that lets you do advanced web development with you forms (like calculations), Formidable Forms could be a good choice for you.
Features:
Conditional Logic — Build forms that have personalized fields based on previous answers.
Integrations — Send your form data to popular 3rd parties.
Integrated Views — Take your data and display it in graphs.
Quiz Maker — Create forms with quizzes that display scores based on your custom grading scale.
Form Entry Management — Send unlimited mail notifications and customize other advanced features.
Free Plan — There's a limited free plan offered on the WordPress.org repository, but you'll need the paid version to access all the above features.
Visual Builder — A drag and drop builder helps you create advanced forms in real time so you know what it looks like right away.
Math Calculations — Offer users instant online estimates and calculate advanced product options.
Cost: Pricing for Formidable Forms Business starts at $199/year.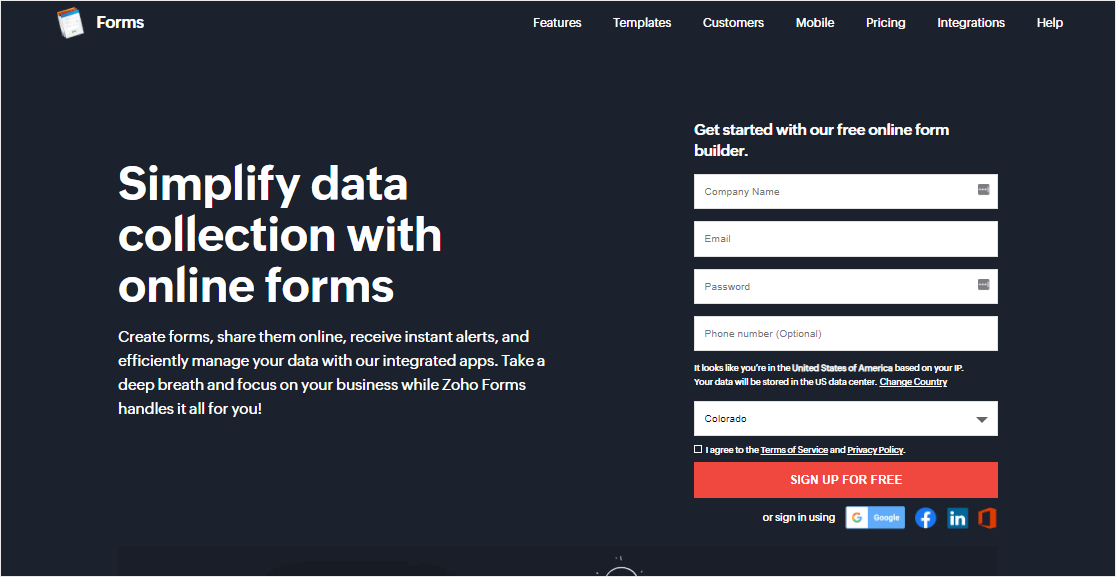 If your business already uses Zoho Apps, you can easily tap into the power of Zoho Forms to use as a Google Forms alternative.
Features:
Zoho CRM Compatible — An easy transition if you or your team is already using Zoho CRM.
Collaborative — Tons of team collaboration tools.
Safety — Built-in security measures for keeping data safe and assigning team roles and different settings.
Zoho Survey — Connect apps within Zoho to take advantage of easy data collection with online surveys.
Form Embedding — Embed your forms on your own website.
Analytics — Keep track of your forms performance and share it with easily exportable statistics and reports.
Customizations — Make your forms look the way you want them to.
Cost: Pricing for Zoho CRM, which includes Zoho Forms, starts at $12/user/month.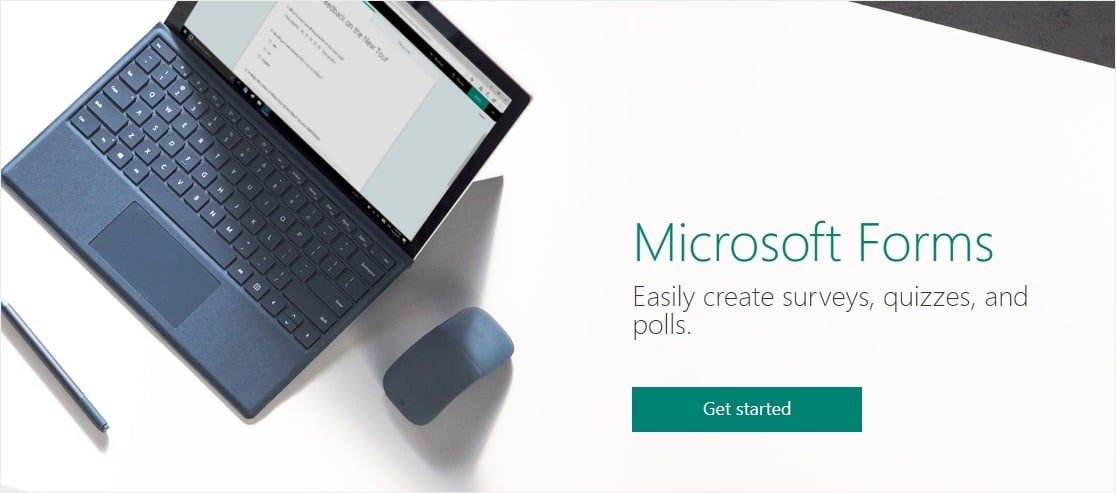 If you're on the hunt for a Google Forms alternative that lets you use Excel over Google Sheets, be sure to check out Microsoft Forms. It's Microsoft's free version of the Google Form maker for online form data collection, but it doesn't allow users to upload files to a form.
Features:
Easy — The visual drag and drop builder lets you set up forms quickly.
Surveys — Includes the ability to use basic Net Promoter Score (NPS) surveys.
Outlook Integration — The Microsoft Office integration lets you do things like send your form to people via email.
Excel — Using the Microsoft Office integration, you can bring your form data over to Excel quite easily to look through it.
Cost: Microsoft Forms is free for anyone who has a Microsoft Office 365 license.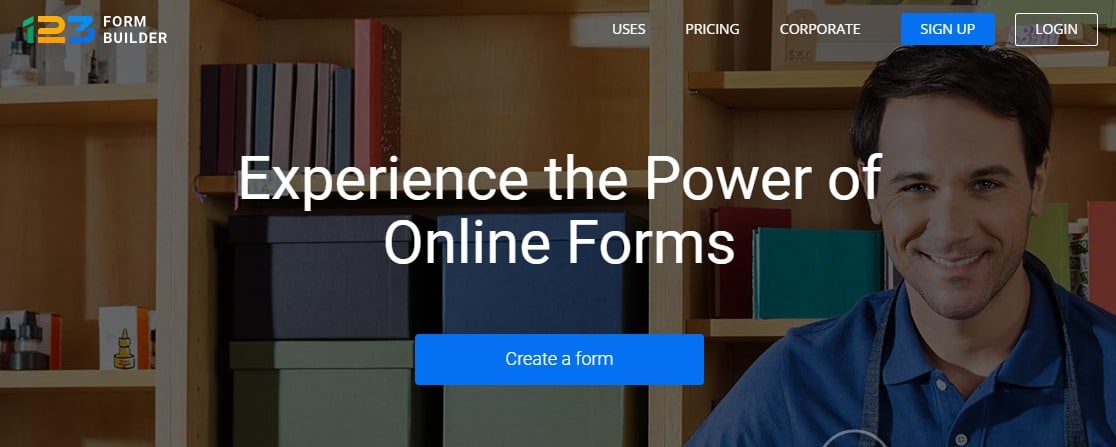 123FormBuilder is a good Google Forms alternative if you're looking to create a free form quickly, and don't mind a very basic design that won't wow anyone.
Features:
Drag and Drop — A visual builder that helps you create forms in real time.
Web Form Templates — Has tons of templates to get your started.
Analytics — Data analytics that includes graphical reports to see some basic performance of your forms.
Cost: The 123FormBuilder Gold plan starts at $24.99/month.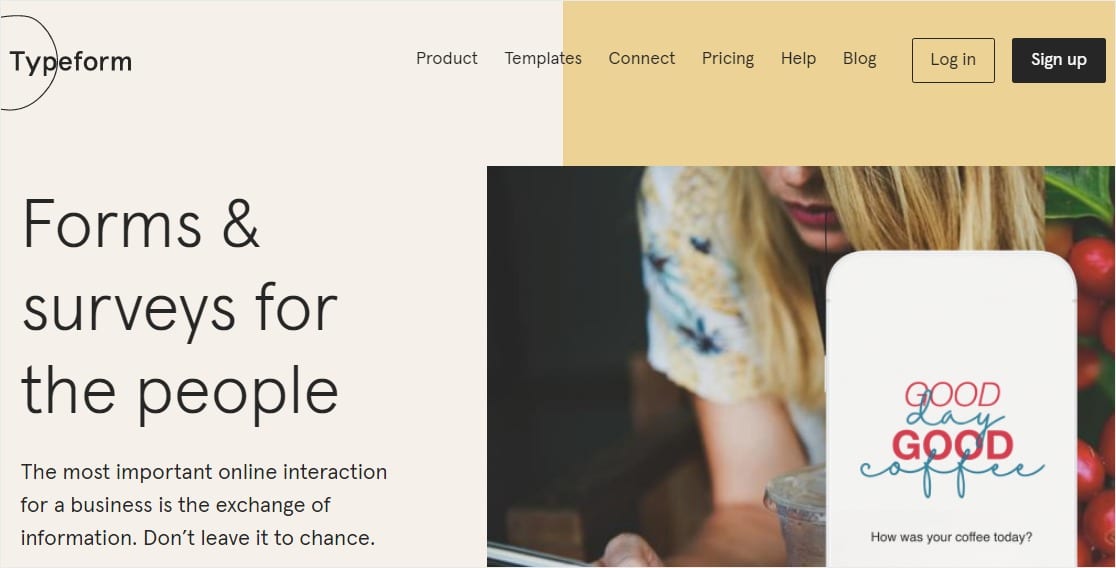 Typeform is a good answer to Google Forms if you're looking to make unique and pretty forms, and you've got intermediate technical skills. It's expensive, so it's best for marketing teams with big budgets.
Features:
Surveys — Typeform's surveys include templates like a customer satisfaction survey, employee satisfaction surveys, etc.
Mobile Friendly — Large CTA button work well on mobile devices.
Conditional Logic — Contact forms built with Typeform can use the Logic Jumps feature.
File Upload Capability — Just like WPForms, Typeform lets you accept file uploads through your forms.
Conversational Marketing — Shows one question at a time to take advantage of conversational marketing.
Cost: Pricing for Typeform Professional starts at $50/month. Be sure to check out the best Typeform alternatives before signing up for a plan.

Cognito Forms works as a Google Forms alternative if you'd like to use Square for accepting payments, but the pricing is quite high for the plan that includes integrated payments.
Features:
Payments — Integrations with Square and PayPal for online order forms.
Conditionals — Lets you add conditional logic to your forms.
Templates — Pre-built forms for you to explore so you can get started building a form right away.
Visual Builder — A drag and drop builder makes it easier to build forms.
Calculations — Forms can do math to help with things like total cost.
Analytics — Integrates with Google Analytics.
Cost: Pricing for Cognito Forms Team (which includes Square and PayPal) starts at $35/month.
What's the Top Google Forms Alternative?
WPForms is far and above the best alternative to Google Forms. Forms built with WPForms are just as easy to make, but are much more professional-looking than Google Forms.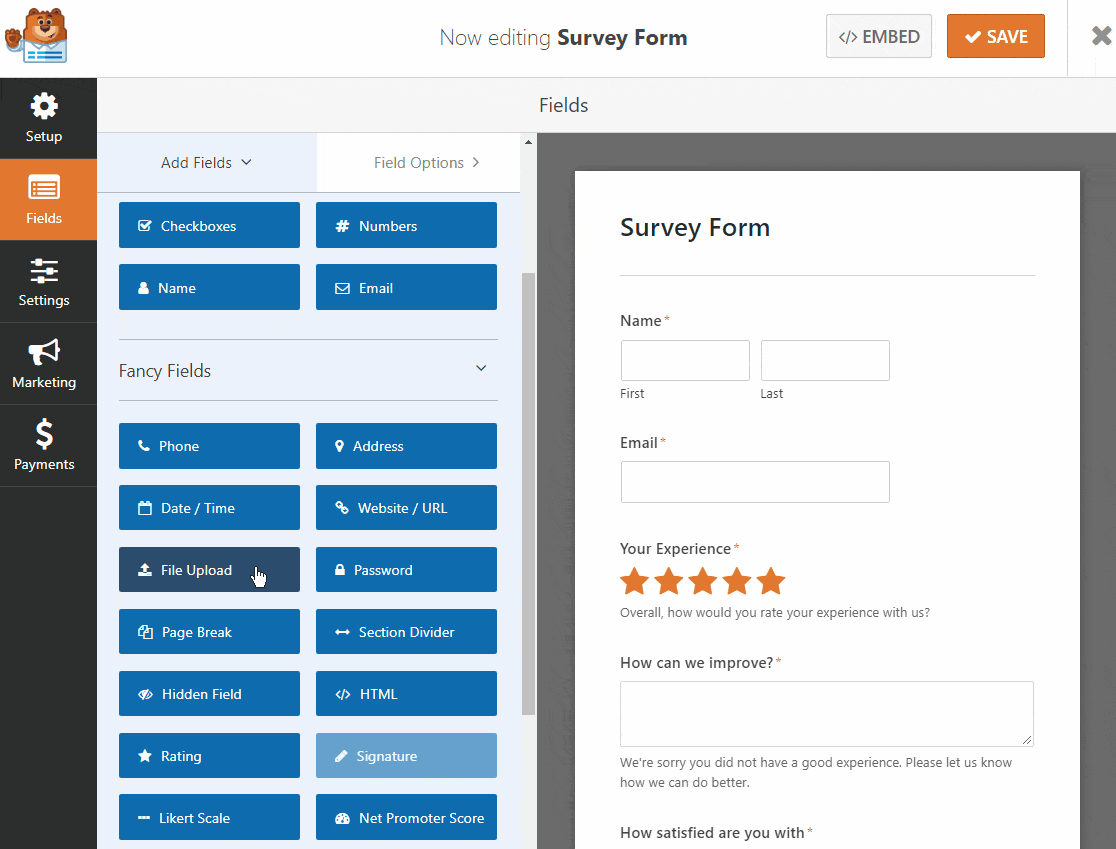 The Form Pages addon makes it insanely easy to create dedicated landing pages.
And with WPForms, you can turn any WordPress form into an online payment and order form using Stripe, Paypal, and Authorize.Net. Be sure to check out how to accept payments with Stripe on your website.
On top of that, WPForms provides superb support that will walk you through any issue or question you have. It's a perfect solution for smart small business owners managing their own WordPress website.
In Conclusion
And there you have it! You now know exactly what the best Google Forms alternatives are. Hopefully, this post helped you find the right solution for your business and website.
If you're already a Formidable Forms user and you're having trouble getting notifications working, check out our guide to fixing Formidable Forms not sending emails.
And if you want to let users register for WordPress on your site themselves, check out our guide on WordPress user registration.
So, what are you waiting for? Get started with the most powerful Google Forms alternative and WordPress forms plugin today. WPForms Pro includes the Form Pages addon so you can start building gorgeous-looking landing forms right away.
And if you like this article, then please follow us on Facebook and Twitter for more updates from our blog.