Are you looking at using Google Forms vs JotForm vs WPForms?
These 3 form builders make it easy to create online forms. But under the hood, the features and support can vary a lot.
In this article, we'll take a deep dive into Google Forms vs JotForm vs WPForms to see which one is the best fit for your project.
Create Your WordPress Form Now
Does Google Forms Have a Limit?
Google Forms does not limit how many responses you can collect in your forms.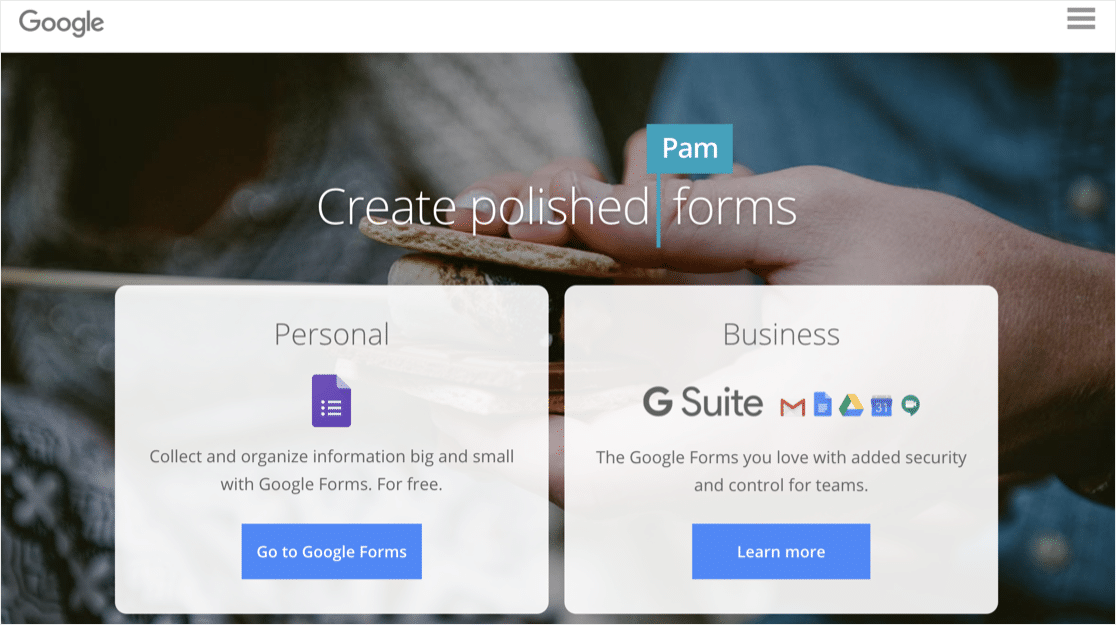 But, Google customers are limited by the disk space for their Google account. There's a 15 GB allowance for free users, but that's shared with other products like Photos and Gmail.
Keep reading to see a detailed breakdown of Google Forms' limits and see how it compares to JotForm and WPForms.
Google Forms vs JotForm vs WPForms: Which Is Best?
How Do Google Forms, JotForm, and WPForms Work?
Google Forms, JotForm, and WPForms are online form builders. They let you build custom forms for any purpose and get responses via email.
All 3 of these form builders have a drag-and-drop interface. They're all very easy to use, even if you don't know how to write code.
The main difference is that Google Forms and JotForm are both hosted form builders. That means your forms and your submissions are stored on either Google or JotForm servers.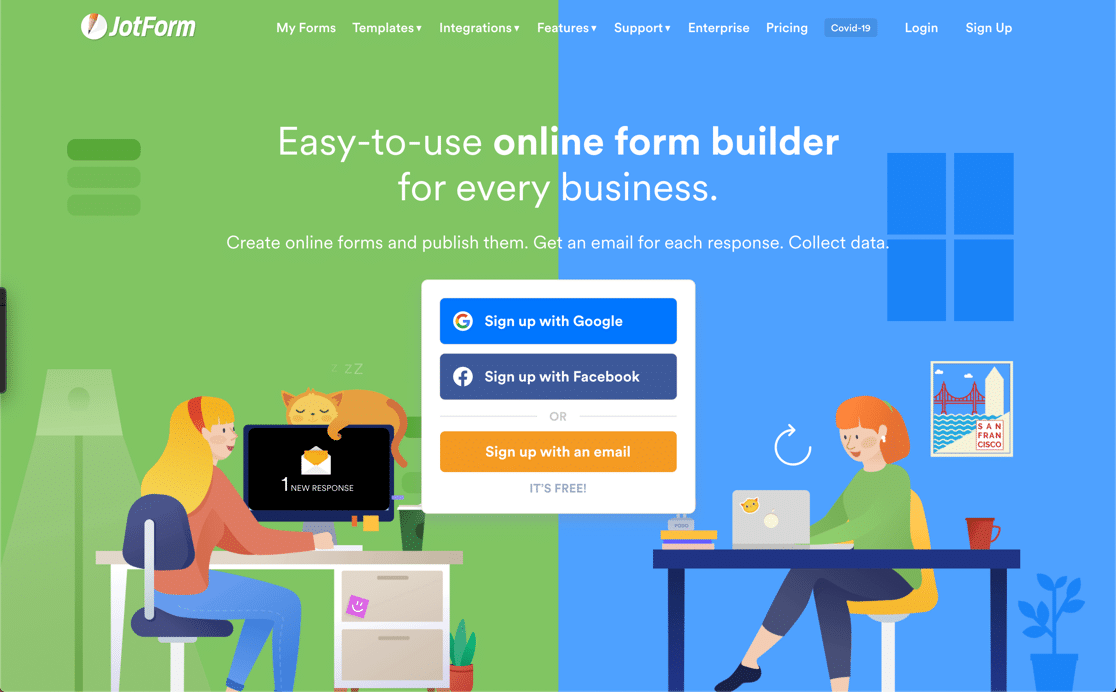 WPForms is a WordPress plugin, so you can choose your own hosting provider.
But here's the big question: which is better?
Hosted Forms vs WordPress Forms
Google Forms or JotForm are aimed at people who don't have a website and want to throw up a form as quickly as possible. But because these forms are hosted by the form provider, you aren't in full control.
For example, customers had issues with JotForm after the switch to daylight savings. This caused some booking forms to take appointments at the wrong times, and JotForm couldn't go back and fix it for them.
With WPForms, all of your form settings are enclosed within WordPress. That means everything is within your control. For example, you don't have to worry about taking bookings in the wrong timezone because you control the timezone yourself.
And to get started, you can use an affordable host like Bluehost. It even installs WordPress for you, so it's super easy to create a site this way.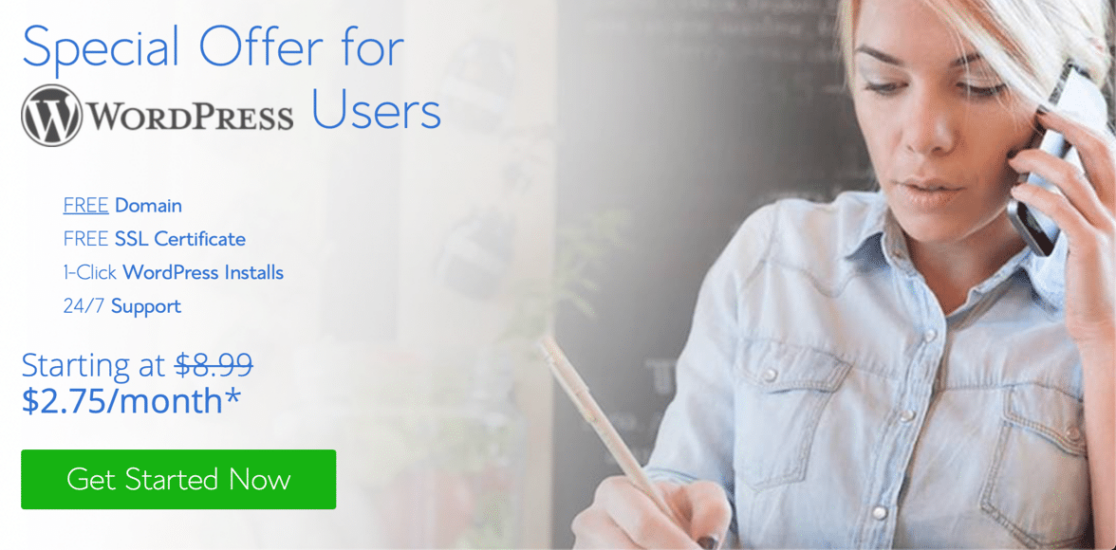 There are tons more advantages to using WordPress with WPForms instead of relying on a hosted platform:
Choose your form hosting features: You can pick a hosting provider that suits your budget and any requirements you have for data storage. For example, if you need to keep your data within the European Union, you can choose a host with EU servers.
Integrate your forms with your site: It's a lot easier to publish forms on your website if you're using the same platform for both. With Google Forms or JotForm, embedding forms in a website is quite basic. With WPForms, you can embed any form on a page using the Embed button, and that page will match the rest of your site.
Control your forms: With WPForms and WordPress, you configure your own security plugins, easily share your form pages on social media, make sure your forms are GDPR compliant. You don't have to worry that your provider will suddenly take your forms offline because you hit a limit you didn't know about.
Control access to forms easily: WPForms uses WordPress user accounts for permissions. This saves having separate logins and permissions for your website and forms.
In addition, WPForms is designed to make any kind of form easy to create and share. You can create a contact form in a couple of minutes and easily publish it on your Contact page. Google Forms and JotForm can function as a contact form, but they don't integrate with WordPress.
Before we look at that in more detail, let's stick with the basics: how to make a form.
Building a Form in Google Forms vs JotForm vs WPForms
Let's look at each form builder in turn to see how easy it is to make simple forms.
Google Forms Features
Google Forms is a visual form builder with a simple interface. You can use a template to start creating your own form, or use a blank page and build it from there.

In the form builder, Google has tried to pack every single feature into one screen, and there isn't much guidance. There's going to be a slight learning curve while you figure out where everything is.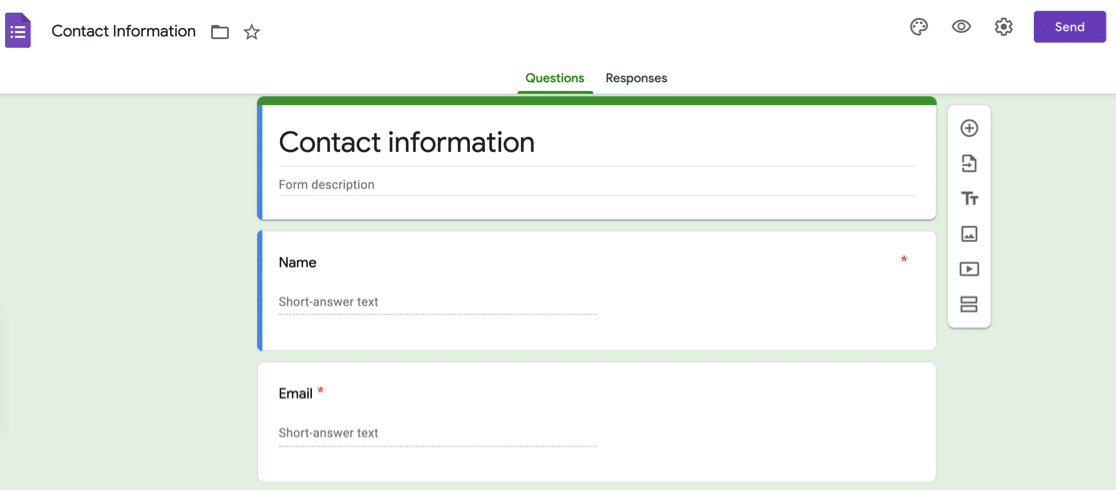 You can choose from a range of form fields, but some basic fields are missing. For example, Google Forms doesn't have a number field, and it doesn't have an easy way to get someone's address in the correct format.
You can use text fields for everything, but it's not a great workaround.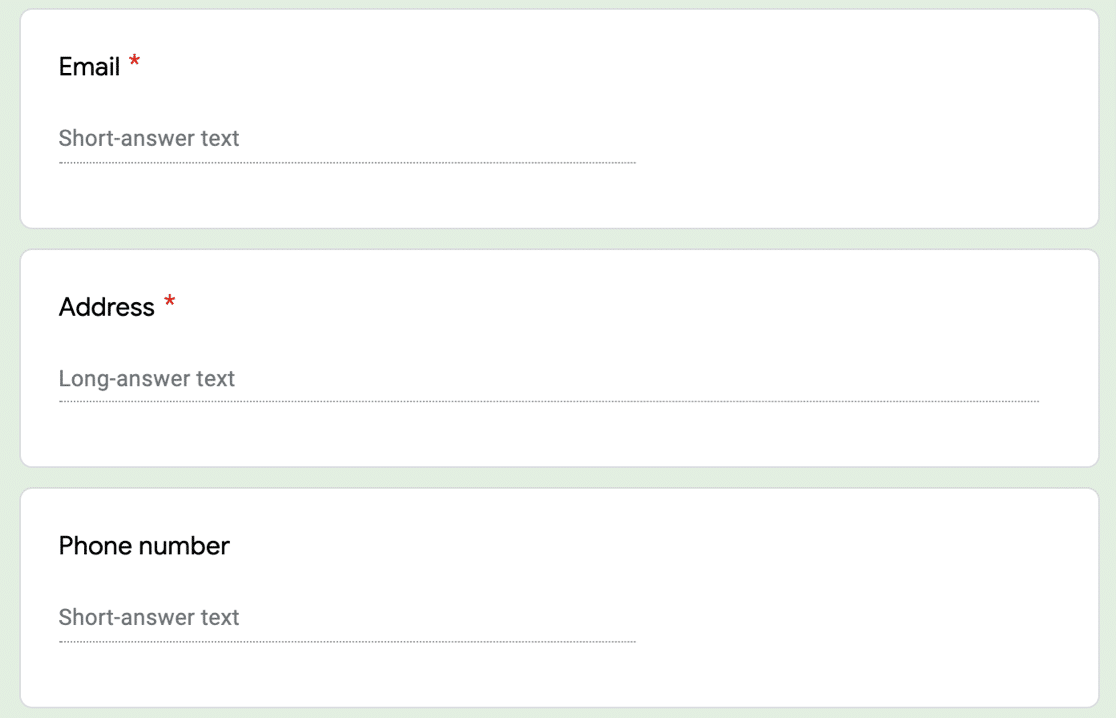 If you want to edit a question on your form, Google Forms makes it easy to switch field types on the fly using the icons on the right.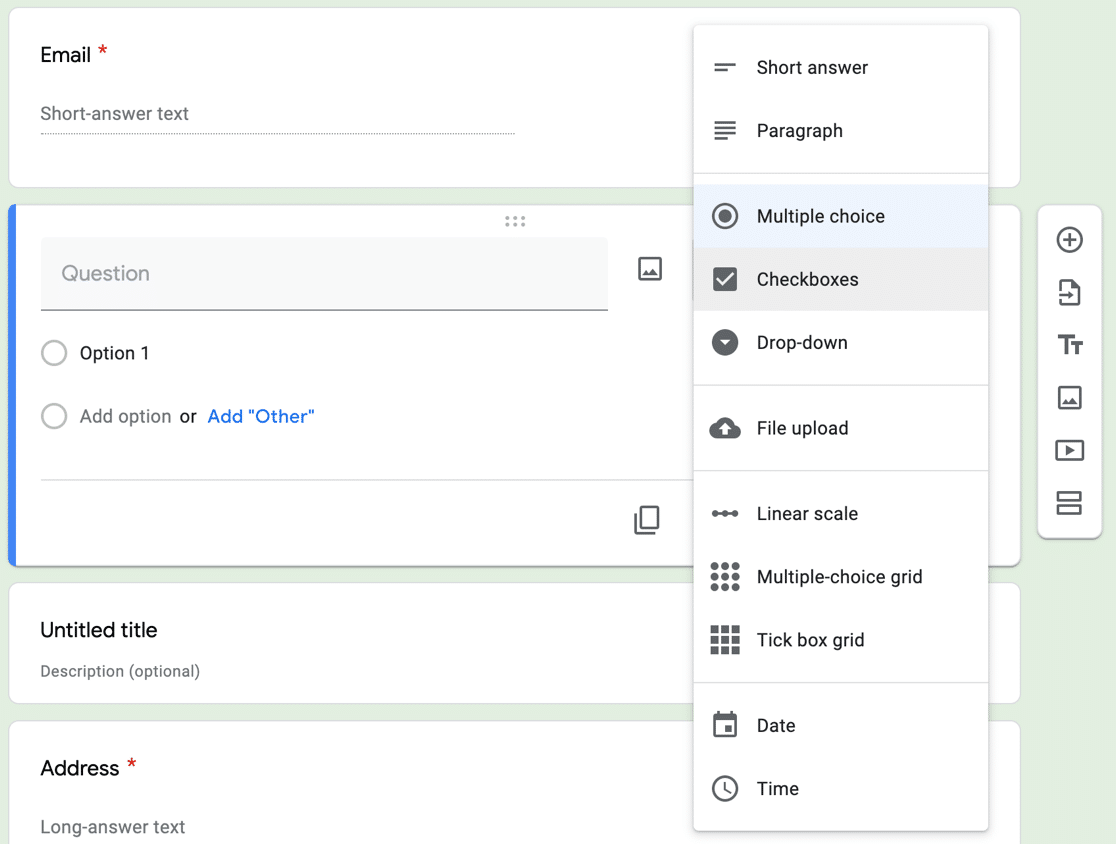 You can also send completed forms via email and collaborate with your team. There is a file upload field, but it has a low limit: just 10 MB per file.
When you get responses, you can review responses in the form builder or in a Google Sheet.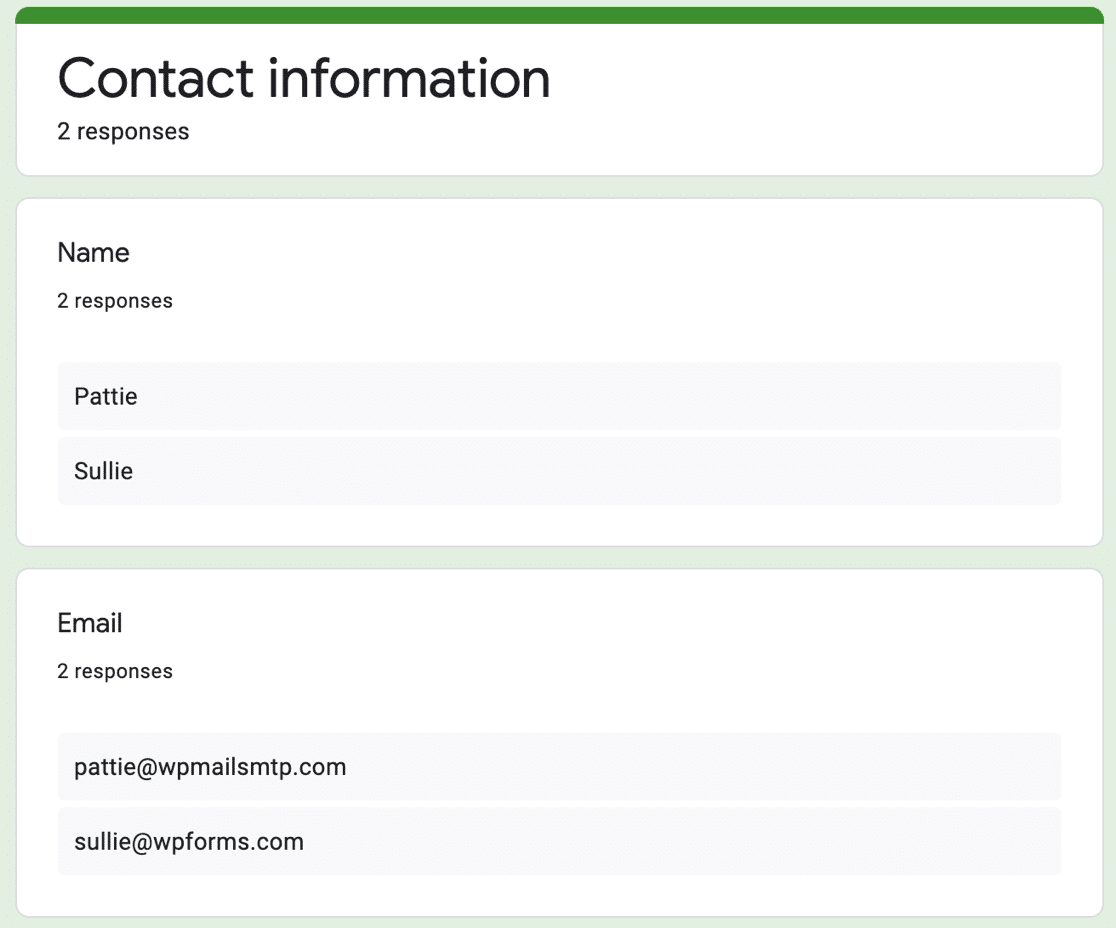 JotForm Features
JotForm lets you create a form from scratch, or from a template. The template library is made up of submissions from other JotForms users, so the quality is a little varied.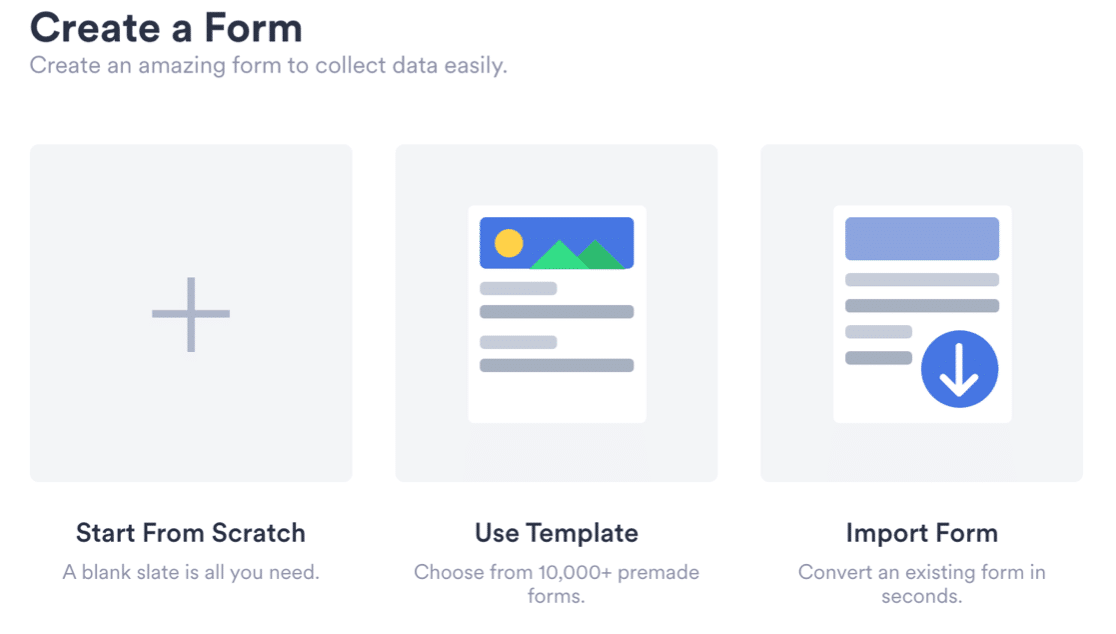 If you've seen our Ninja Forms vs WPForms comparison, you'll know that Ninja Forms requires you to open up the field selection pane every time you want to add a field.
JotForm works in the same way. You add fields by clicking the plus icon at the top left.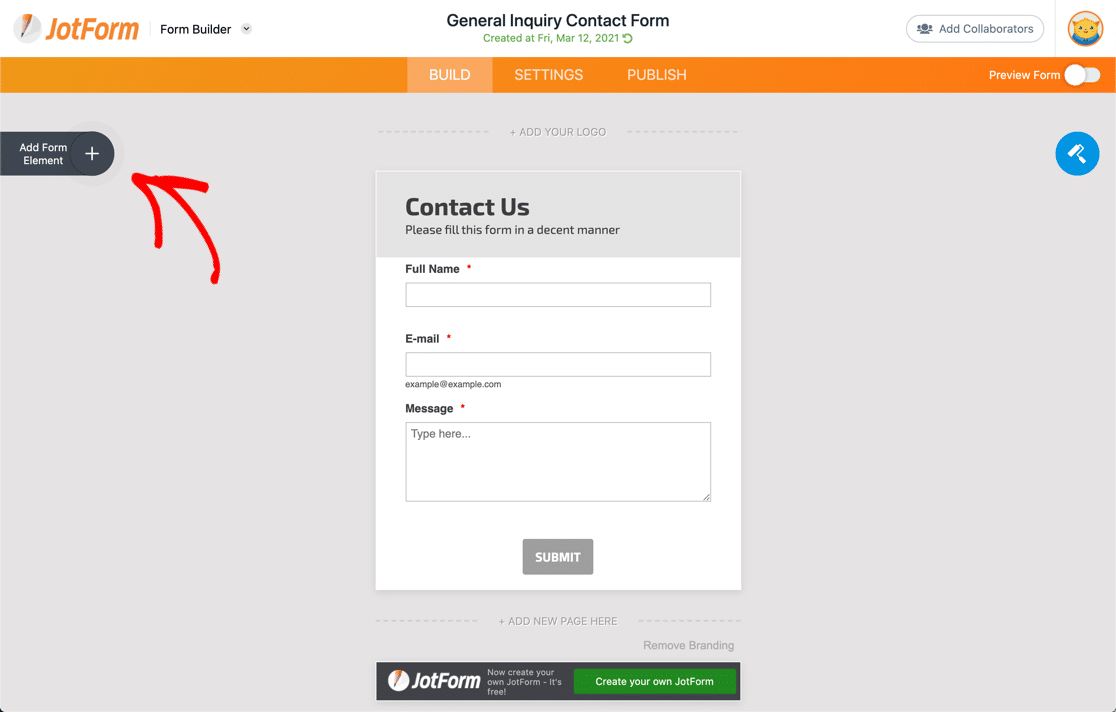 You can click the gear to open the settings for the field on the right.
Each pane here also has 3 tabs you can click to access different integrations and options.
You can see that JotForm is a lot more versatile than Google Forms. There are more settings for each field, and the range of fields is more useful. And JotForm has a library of 100+ integrations for payment processors, CRMs, and digital signatures.
For some users, all of these features and settings will be way more than they need. But business users will enjoy the extra flexibility.
The main problem is that JotForm has very low limits on its plans. So although you can make complicated forms, you're very limited on views and responses for them.
On some plans, there's even a limit on the number of times your form can be viewed, which could be an issue if you want to display it on a busy website.
WPForms Basics
WPForms is the best form builder for WordPress.
It lets you make and publish any kind of form without copying and pasting code.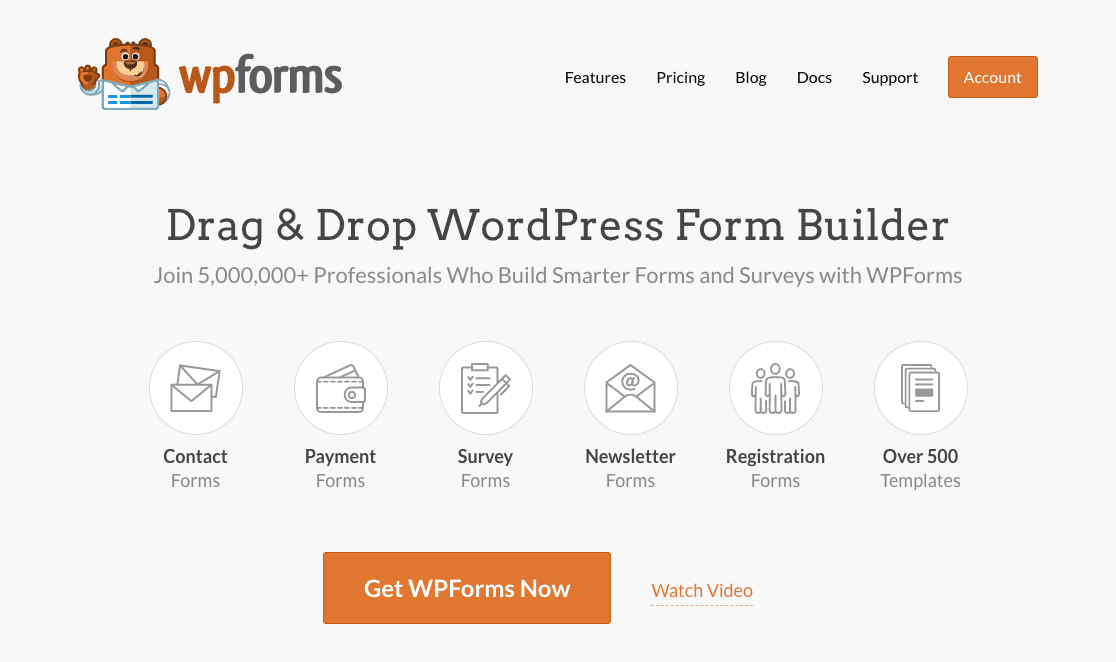 WPForms lets you create a form from scratch, or from a template.
You get 500+ professionally-designed form templates right in the form builder. You can also preview these in our WordPress form templates gallery.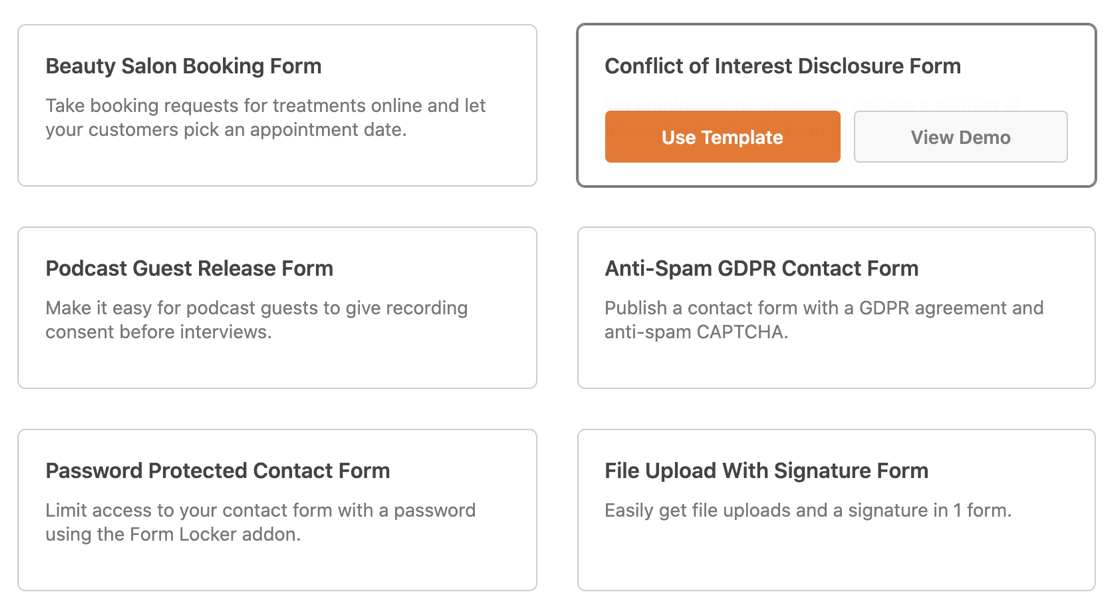 In the drag-and-drop form builder, the form fields are always displayed on the left. The form is always visible on the right-hand side so you can see your changes in real time.
On the left-hand side, you can easily access your settings and integrations.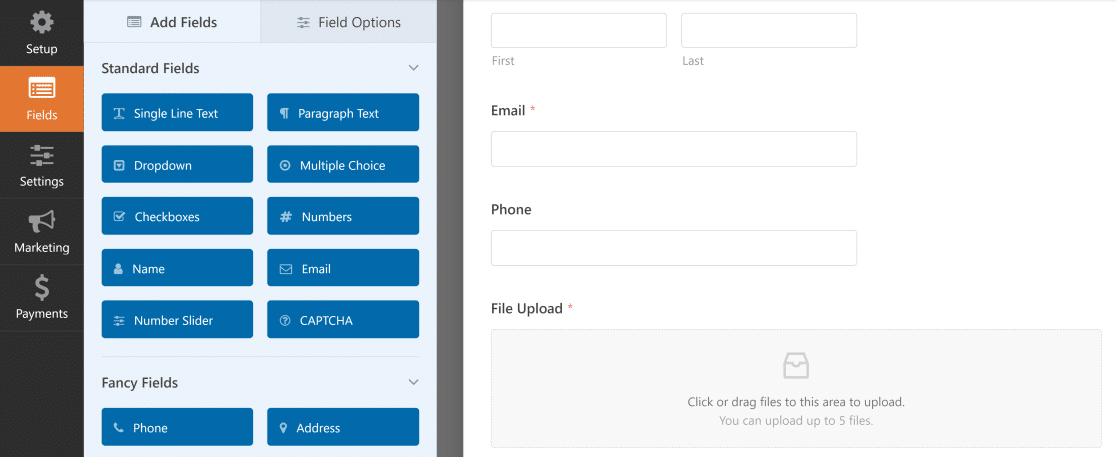 To add a field, you can drag it over from the left-hand side to the right-hand side. Clicking on the form opens up the settings for the field.
This lets you easily see the effect of your changes as you work on your form.

WPForms lets you add unlimited fields and create unlimited forms. Depending on your license, you can use fields like:
Text
Dropdown, Multiple Choice, and Checkboxes
Numbers and Number Slider
Name
Email
Phone
Address
Date / Time
Website / URL
File UPload
Password
Rich Text
Page breaks and sections
Content and HTML
Star ratings
Signature
Likert Scale (matrix questions)
Net Promoter Scores
Credit card fields
And more
Most fields can be controlled with conditional logic. That means you can show or hide fields based on previous answers.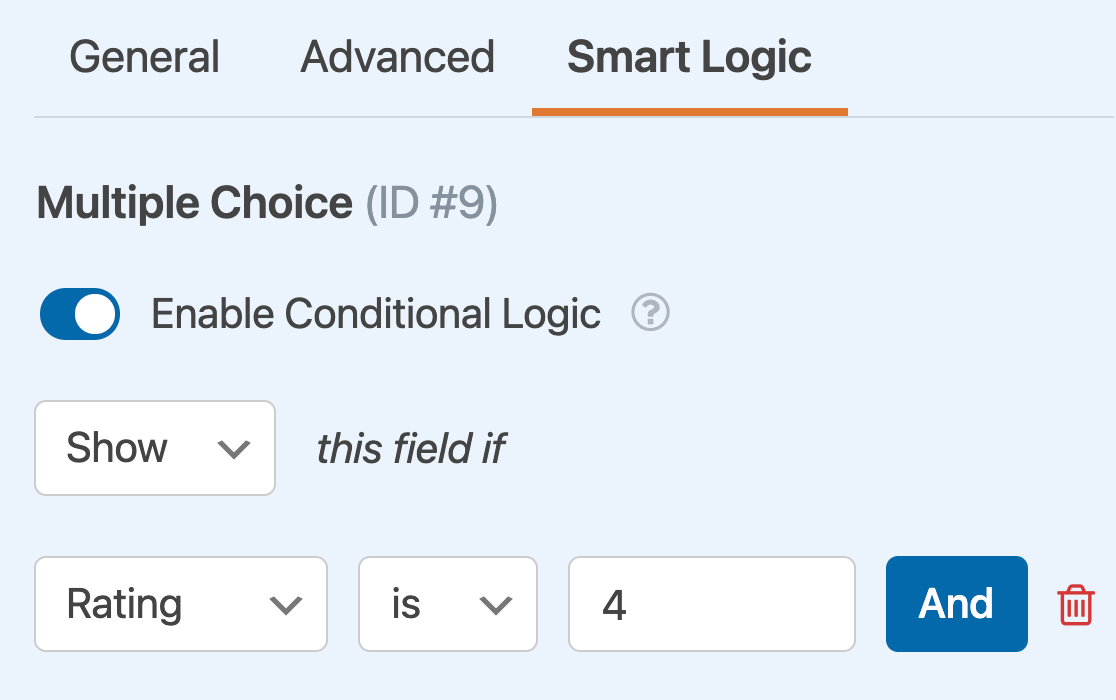 When comparing form builders, take a close look at the way the fields work.
For example, Google Forms doesn't have a phone field, and JotForm only has a basic phone field with 1 format.
But WPForms has an awesome 'smart' phone field. It dynamically adapts the phone number format by detecting your visitor's location.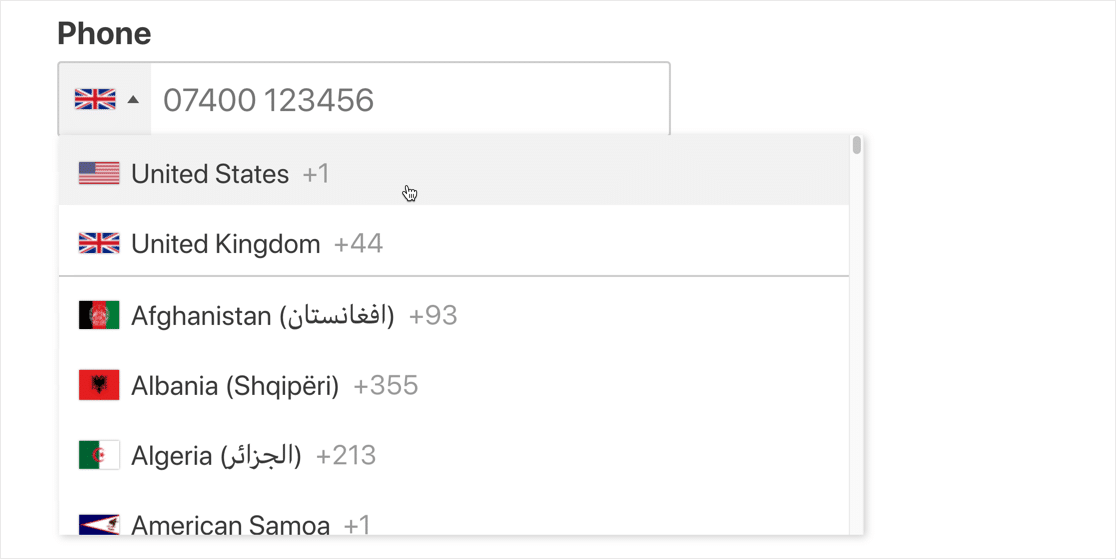 This sounds like a small benefit, but it can be huge for your visitors. You'll always want to make your forms easy to use because it helps to reduce form abandonment.
Notifications and Entry Storage in WPForms
With WPForms Lite, you can easily get email notifications for form entries. Turning on the Lite Connect feature will let you save entries, but you won't be able to view them until you upgrade to the paid version.
With any paid version, the entries will also be stored in the WordPress dashboard. From here, you can export entries, print them to a PDF, or mark them to read later.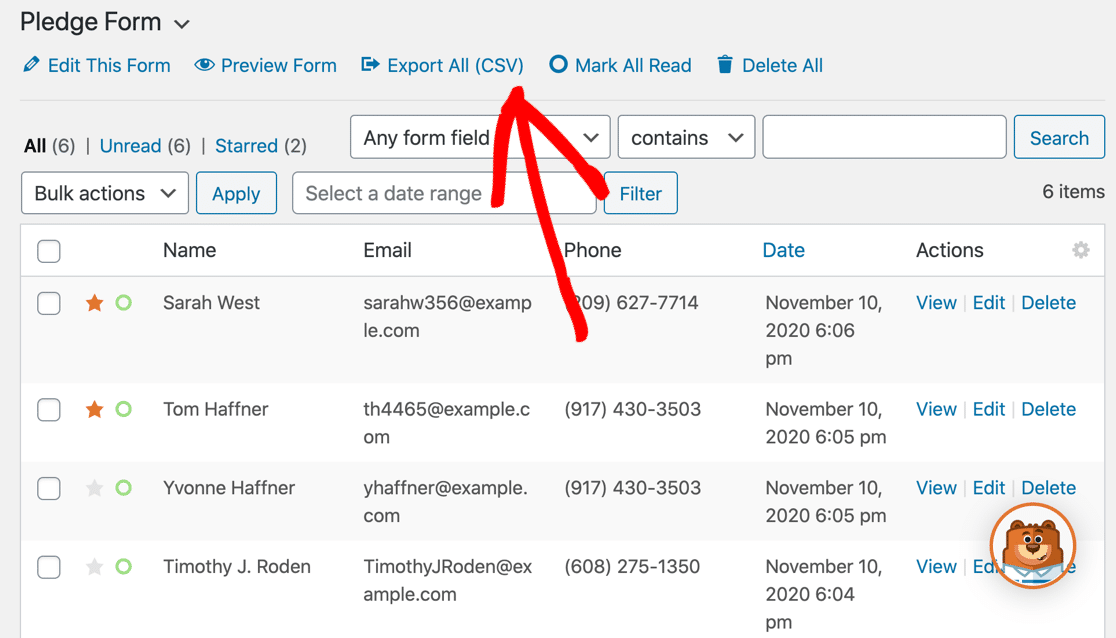 Want to see more differences in the paid version? Read more about WPForms Lite vs Pro.
WPForms has the best entry storage of any form builder plugin. For example, you can also use the Geolocation addon to see your visitor's location on a map.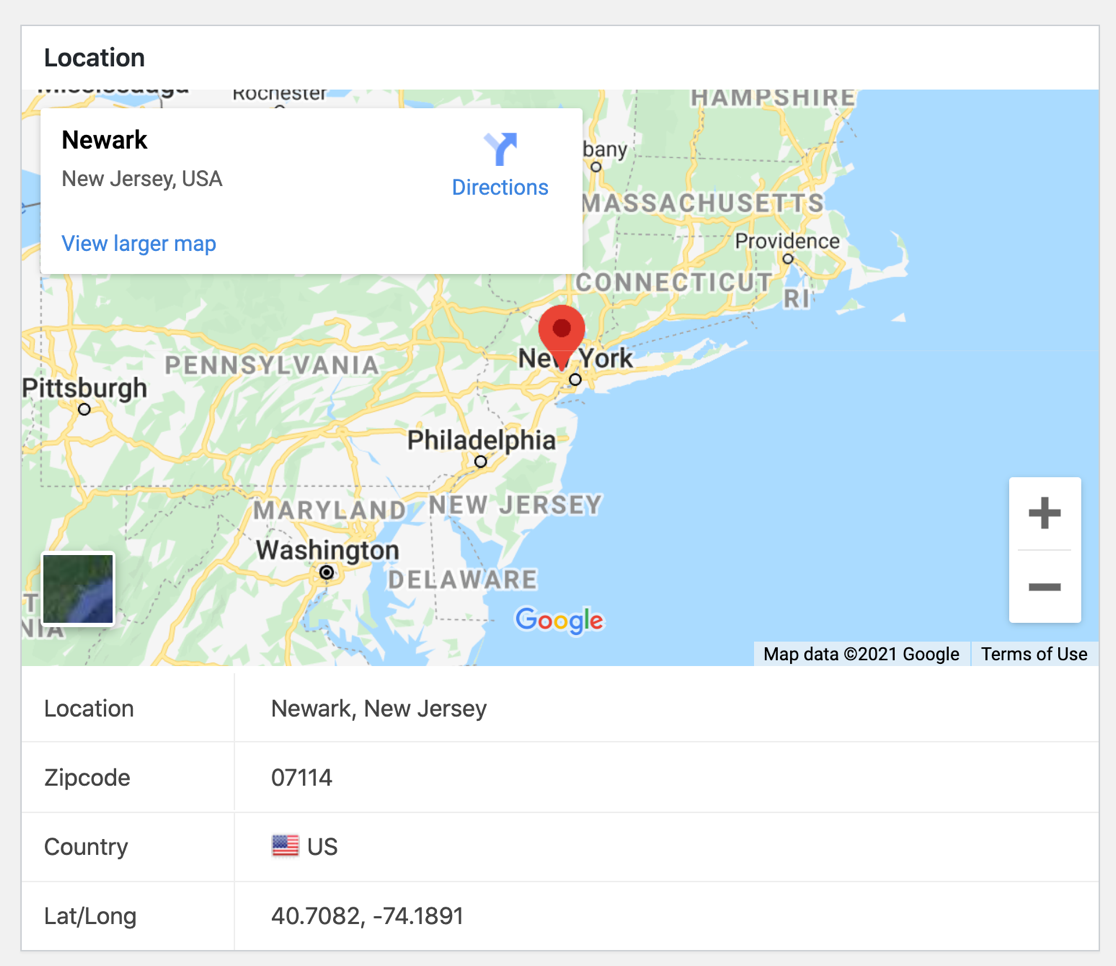 Connecting the Geolocation addon to Google Maps or Mapbox will let you enable address autocomplete for your forms as well.
And you can install the User Journey addon to see exactly which pages your visitor landed on before they submitted your form.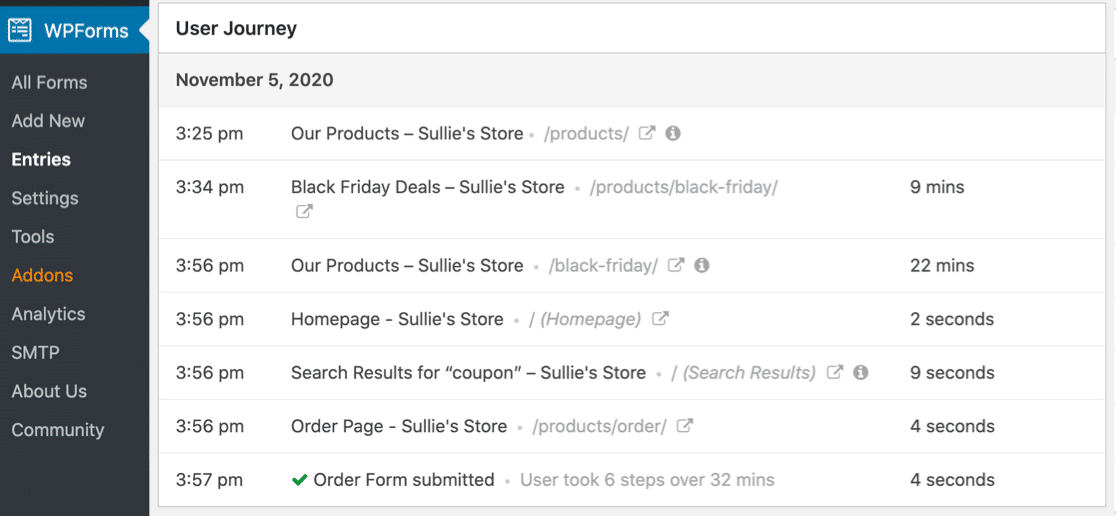 All of this information is available right on the entry page.
In addition, you can also use addons and integrations for:
If you use WPForms to create surveys and polls, the entry storage area turns into a full survey reporting platform.
WPForms automatically generates beautiful charts that you can easily include in reports.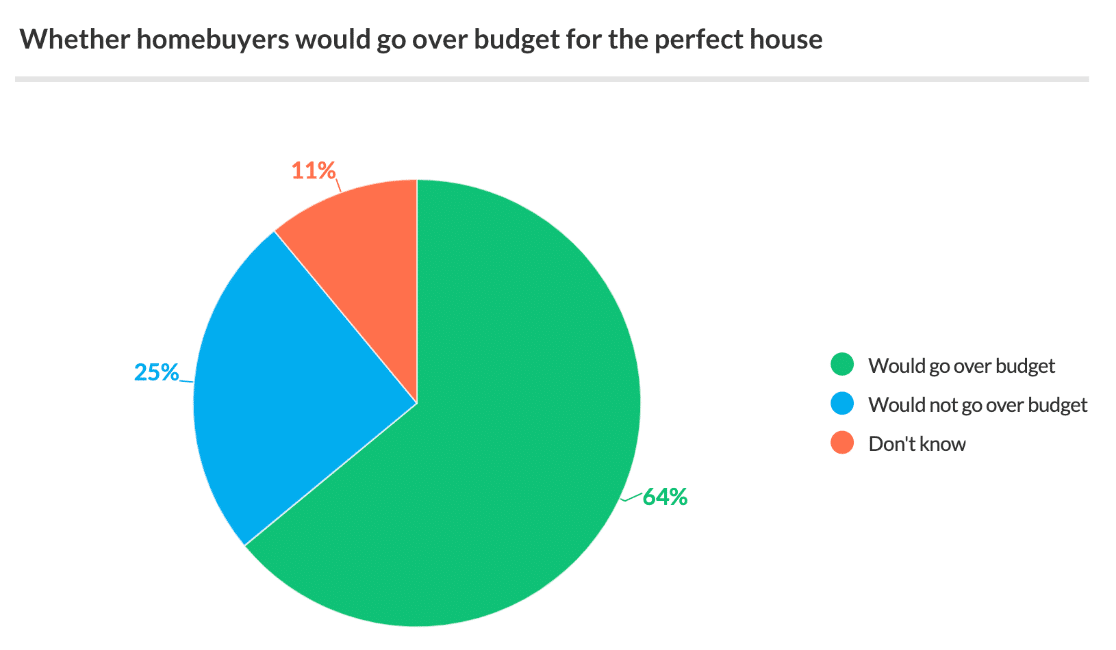 How to Publish Your Forms
All of these form builders let you share your form with a link. If you want to embed your form on a web page, WPForms is miles ahead of its competitors. Let's take a closer look.
Publishing a Form in Google Forms
Google lets you email a link to your form directly from the form builder.

If you want to embed a Google Form in WordPress, you'll need to use code. You can grab the iframe code snippet from the Send popup.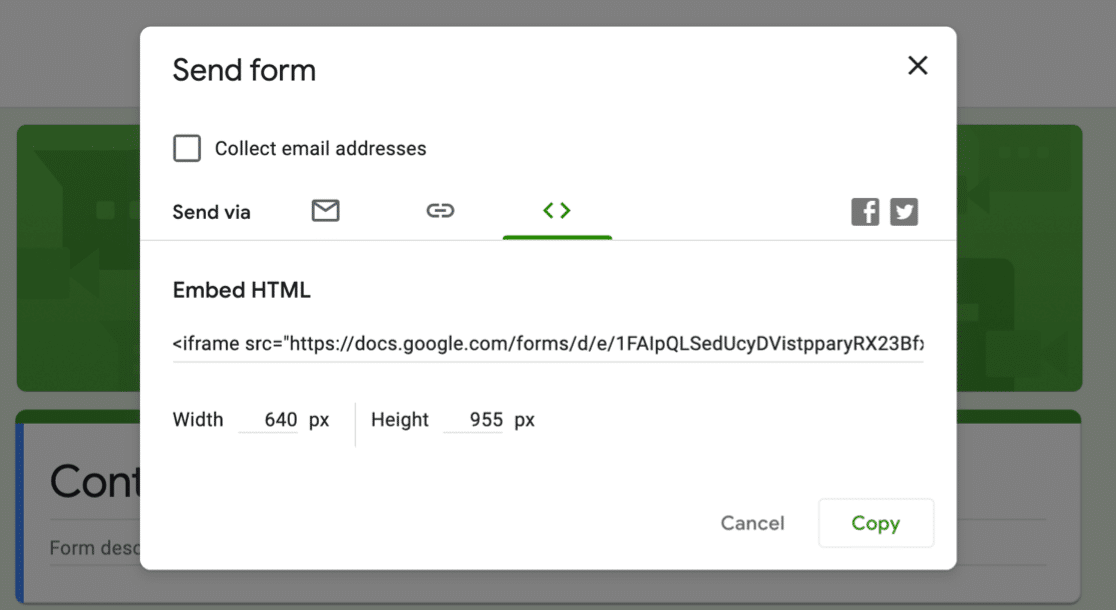 Publishing a Form in JotForm
Like Google Forms, JotForm is a hosted platform, so all of your forms reside on JotForm's servers.
To share a form, you can grab the link from the Quick Share tab on the Publish screen.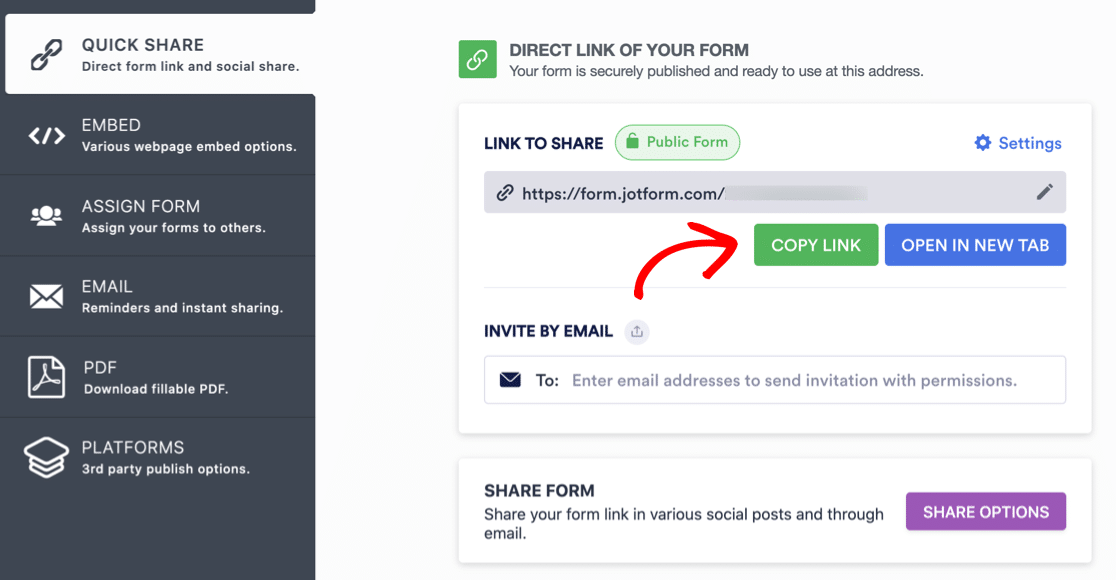 In the Embed tab, you can copy the code to embed your form using either JavaScript or an iframe.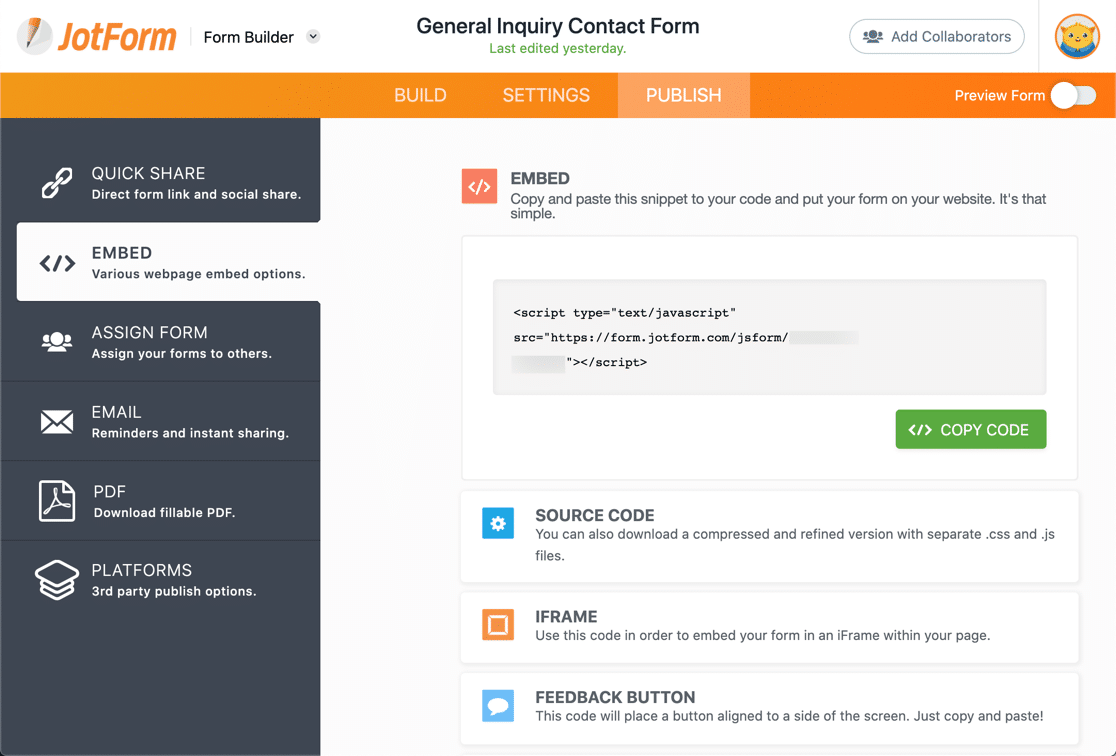 There are 2 WordPress plugins for JotForm. We had to install them on a few different sites before we could get them to work, which suggests they aren't totally reliable.
With the first plugin, you can only embed your form using the classic editor. So if you're using the block editor, you have to first embed a Classic block and pick the form from there.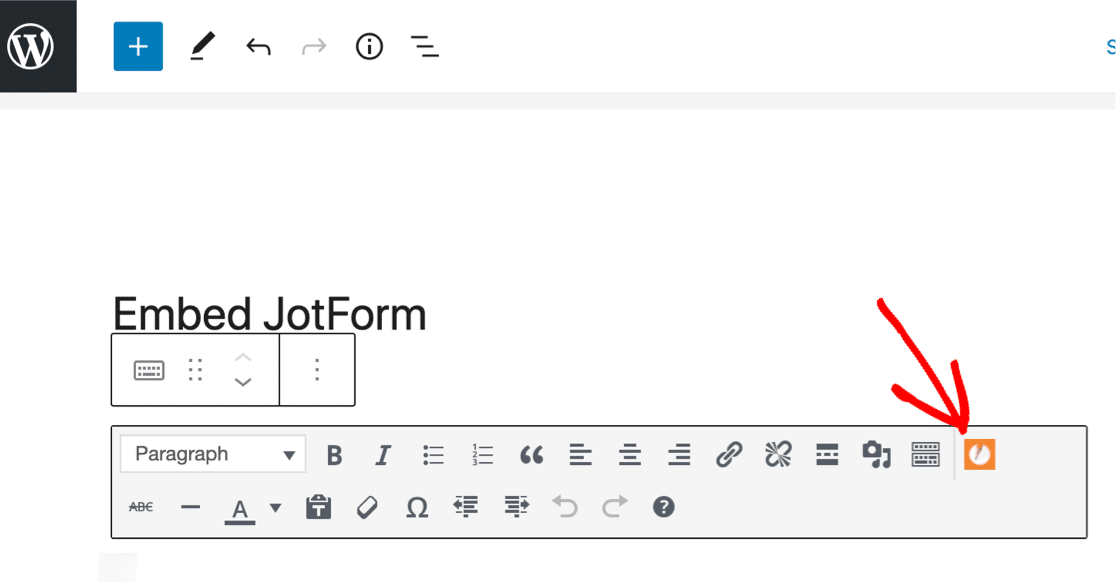 The second JotForm plugin just lets you embed the form by pasting the link into a paragraph block. You can't access any other options or settings, so this is essentially the same as embedding your form in an iframe.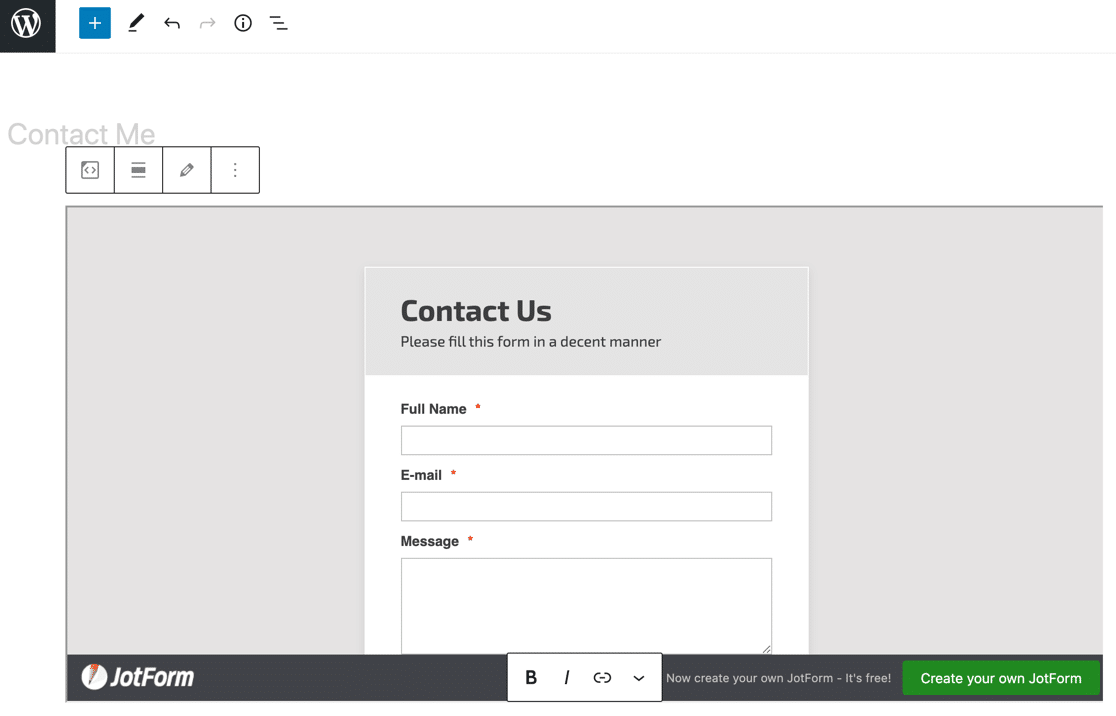 Both of these methods are very basic. Let's look at a better way to do this.
Publishing a Form in WPForms
WPForms makes it easy to publish forms on your website. In fact, it has more ways to embed forms than any other competing form builder or plugin.
First, there's the Embed button.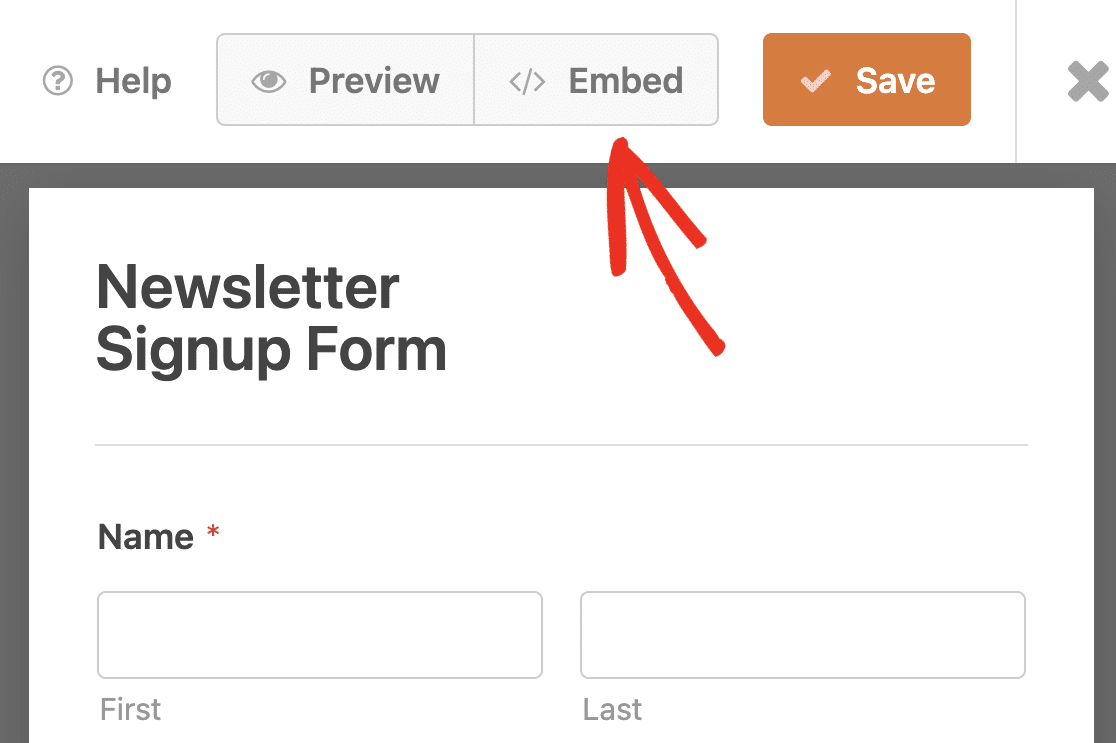 This button opens up a new WordPress page and automatically embeds the form.
After naming your page, all you have to do is hit Publish.

It really is that easy!
If you prefer, you can also grab the shortcode for the form.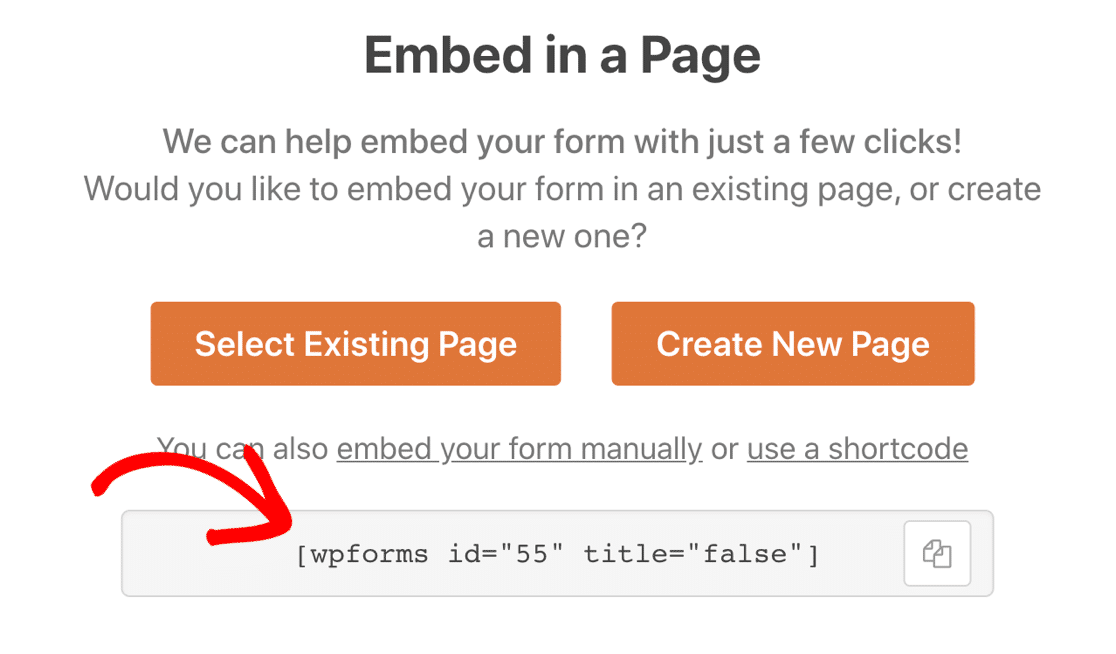 And WPForms also has its own block for the block editor.

These 3 methods make it easy to publish forms anywhere on your site:
To help you keep track of where you've embedded your forms, WPForms will show you all the locations of each form.

If you're using a page builder, WPForms is the perfect match. It has its own Elementor module, so you can easily make a free Elementor contact form using WPForms Lite or WPForms Pro.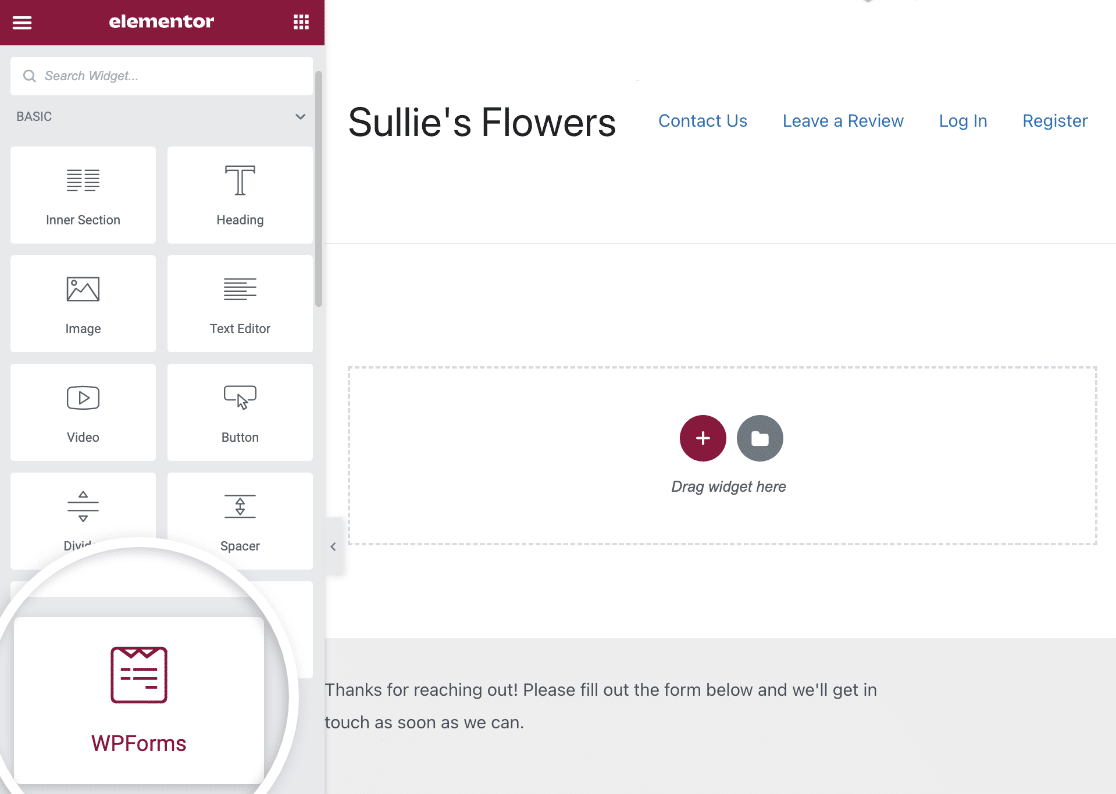 Using Divi? No problem. There's also a module for the Divi builder.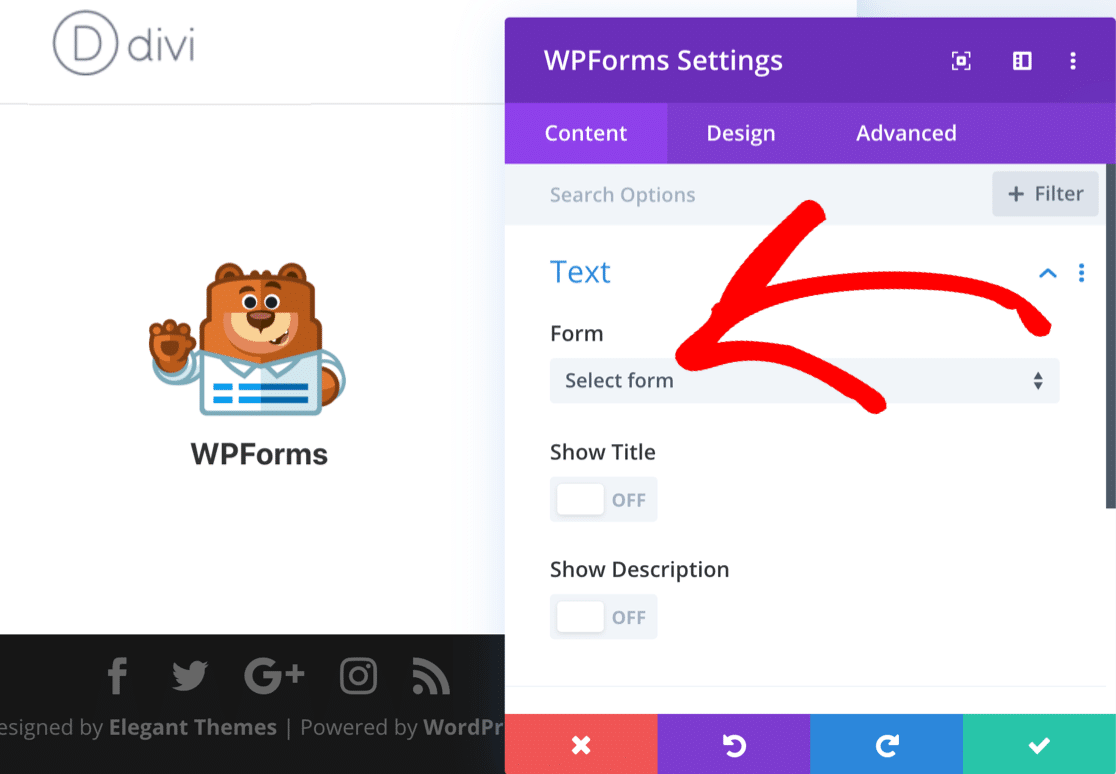 If you're using SeedProd to make landing pages, you can also embed your forms in there too.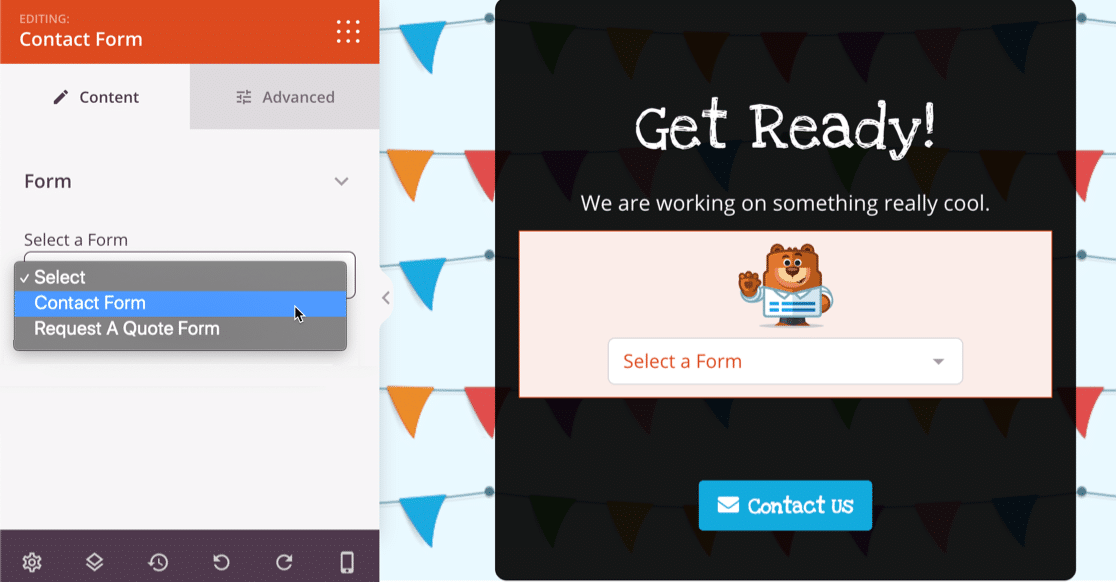 And that's not all!
Did you know that WPForms is also an awesome Typeform alternative?
You can easily turn any form you create into a conversational form with a beautiful, keyboard-friendly layout.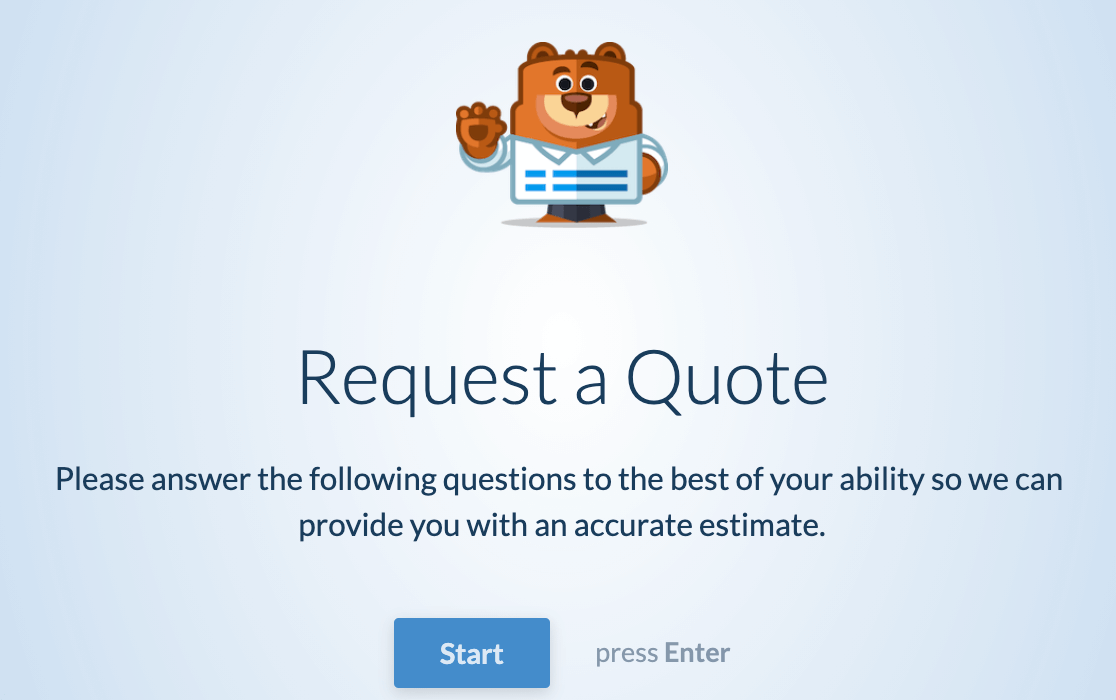 And if you want a similar distraction-free layout, but you don't want the conversational style, you can create form landing pages with 1 click.
As you can see, WPForms is easily the winner when it comes to embedding and publishing forms.
Plans and Pricing Compared
These form providers have different price tiers with various limitations. To keep it simple, let's look at free plans, and then the most popular paid plans.
Free Google Forms vs JotForm vs WPForms Comparison
Google Forms (Free Account)
JotForm Starter
WPForms Lite
Form Limit
Unlimited
5
Unlimited
Disk Space Limit
15 GB (shared with all Google products)
100 MB
Unlimited
Form View Limit
Unlimited
1,000
Unlimited
Email Limit
500 per day
20 per hour
Unlimited
Submission Limit
Unlimited
100 per month
500 total
Not included
Payment Limit
Not included
10 per month
Not included
Provider branding
Yes
Yes
No
WPForms Lite is the only form builder that gives you all of these things for free:
Unlimited forms
Unlimited responses
Unlimited disk space
Unlimited form views
Google Forms has more generous limits than JotForm, although limits for email sending and disk space are shared across all Google products that you use. So if you're using up a ton of storage for files and photos, there won't be a lot left for your forms.
WPForms doesn't impose limits. However, keep in mind that disk space, views, and emails might be limited by other factors that are outside WPForms' control. For example, you might be constrained by the disk space that's available on your hosting plan.
Now let's look at the paid plans.
Paid Plans: Google Forms vs JotForm vs WPForms Comparison
| | Google Forms (G-Suite) | JotForm Gold | WPForms Pro |
| --- | --- | --- | --- |
| Annual Pricing | $72-$144 per user | $948 | $399 |
| Form Limit | Unlimited | Unlimited | Unlimited |
| Disk Space Limit | 30 GB – Unlimited | 1 TB | Unlimited |
| Form View Limit | Unlimited | Unlimited | Unlimited |
| Email Limit | 500-2000 per day | 100 per hour | Unlimited |
| Submission Limit | Unlimited | 100,000 per month | Unlimited |
| Payment Limit | Not included | Unlimited | Unlimited |
| Provider branding | Yes | No | No |
For a small team, Google Forms is the most affordable option. Depending on your Google Workspace subscription, you might run into storage limits, and upgrading your disk space costs extra.
WPForms Pro is more affordable than the top JotForms Gold plan. And there are still limits with JotForm Gold that WPForms Pro doesn't have. For example, if you're using WPForms with an unlimited hosting plan, you essentially won't have any disk space restrictions.
Finally, consider upgrading from Pro to WPForms Elite if you want the most features. It still costs $350 less than JotForm Gold, so you could get every single feature and addon in WPForms and still have change left over to buy an excellent hosting plan.
Support for Google Forms vs JotForm vs WPForms
It's super important to be able to get help fast when you need it. How does support compare for these form builders?
Google Forms Support
Google doesn't offer much support for free plans.
You'll find documentation on its website, and that's helpful if you need to know about a particular feature. For anything more complicated, you'll need to post your question in the Google Doc Editors Community.
Customers who are paying for Google Workspace can access support on their plan. But that support is only available to the Workspace admin. That makes it inconvenient for regular users who are actually making forms.
JotForm Support
JotForm has a public forum for all support inquiries for free and paid customers.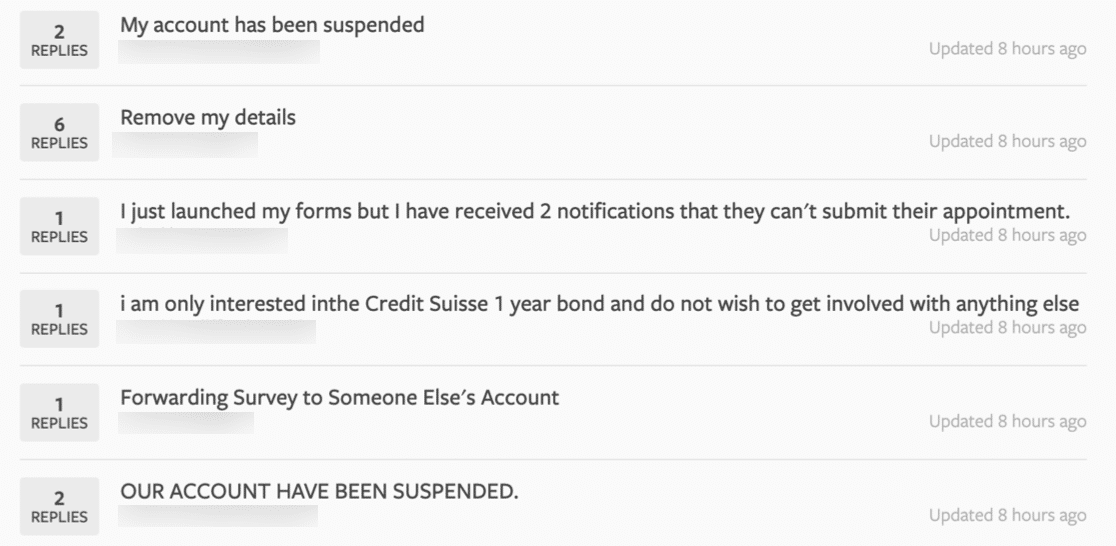 If you have an account issue, you can only get help if you post it on the public forum. This isn't a great way for paying customers to access support. Everyone who visits the forum can see other customers' payment inquiries, account deletion requests, and even complaints.
When we first signed up for JotForm, none of our form links worked. JotForm fixed the issue after 6 hours.
WPForms Support
WPForms has tons of free support resources in different formats.
Free users can get help at the WordPress.org forums for WPForms Lite, and paying customers can file a support ticket in their online account. This is a completely private forum, and most tickets are resolved within 1 working day. Priority is given to Pro and Elite customers.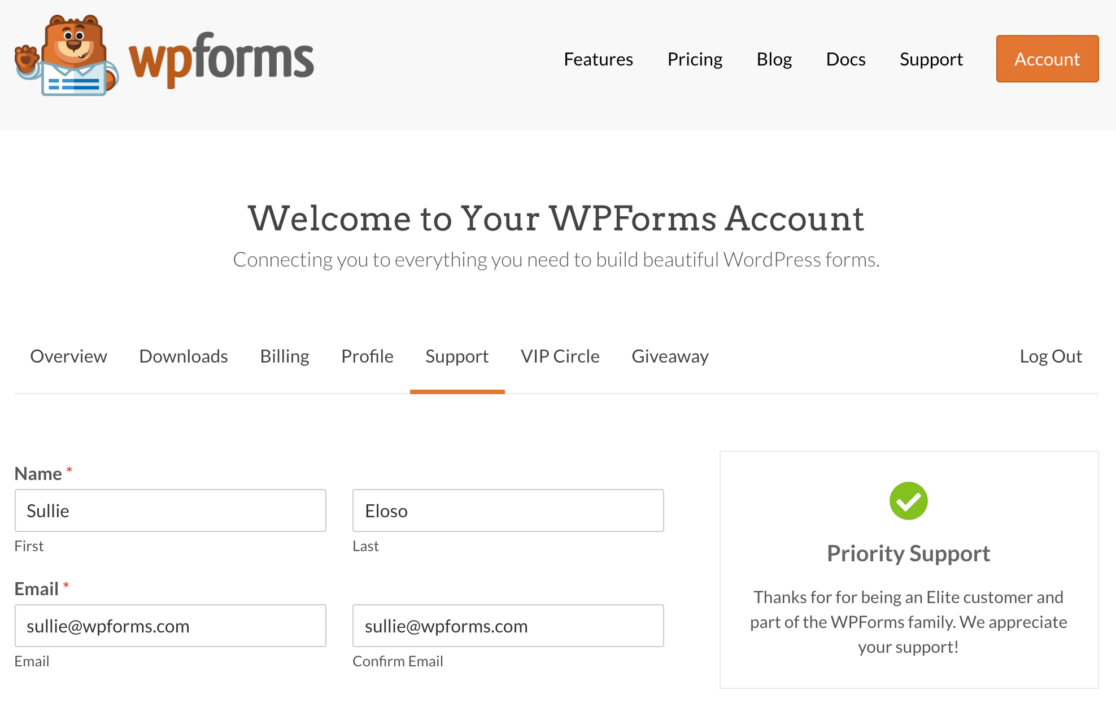 In addition, you can get free help from these resources: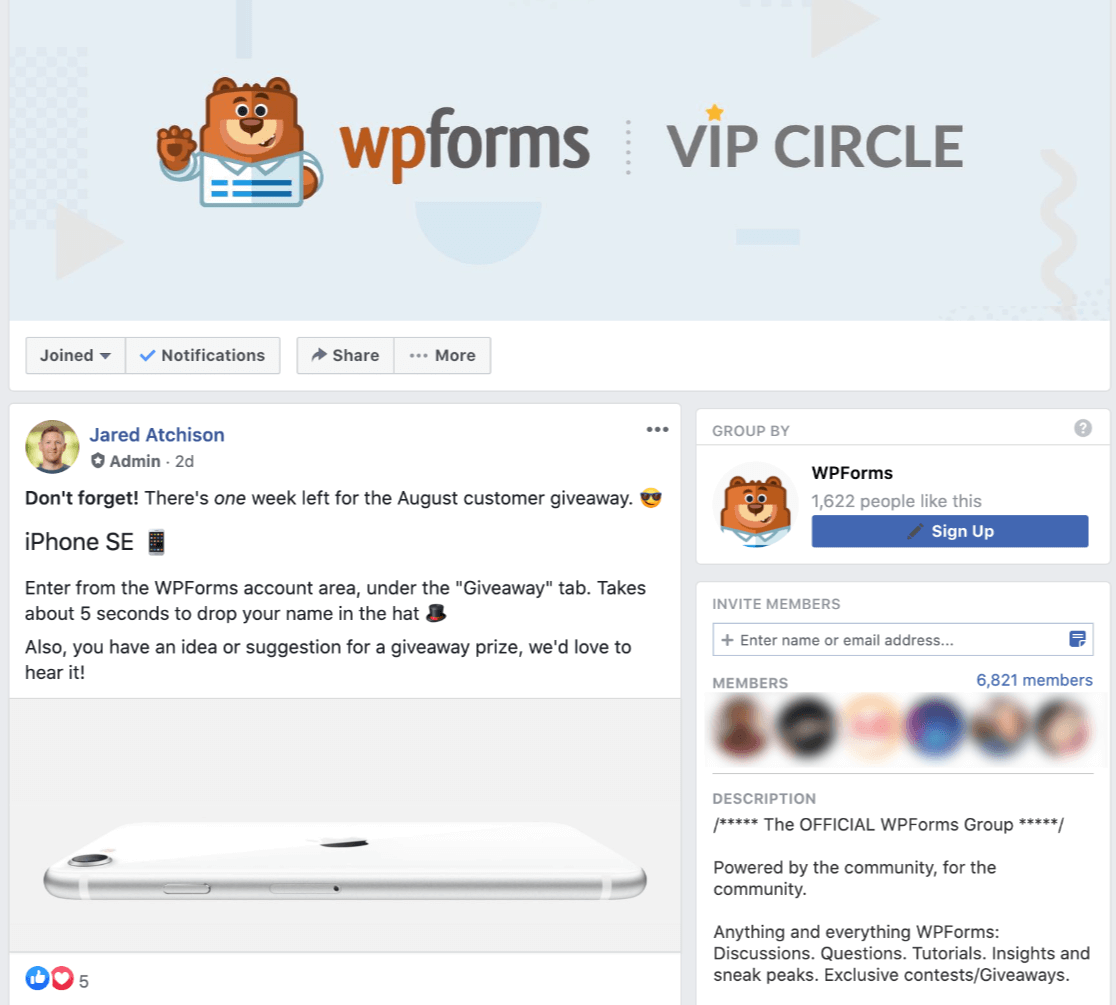 Having all of these different support options makes it easy to get help whenever you need it.
Which Is the Best Form Builder?
We looked at all of these form builders in detail so you can see exactly how much you'll need to spend to get the features you need.
And the winner is… WPForms!
WPForms is definitely the best form builder on the market. The free plan lets you make unlimited forms, get unlimited responses, and display your form as many times as you need to.
And the paid plans offer tons of extra functionality.
| Plan | Sites | Key Features & Addons | Price/ yr |
| --- | --- | --- | --- |
| Basic | 1 | Advanced fields, form entry storage, multi-step forms, file upload fields, Constant Contact, conditional logic, basic templates, +more | $79 |
| Plus | 3 | Mailchimp, AWeber, GetResponse, Campaign Monitor, Sendinblue, Drip, +more | $99 |
| Pro | 5 | PayPal, Stripe, Square, Save and Resume, landing pages, conversational forms, surveys and polls, user journey, form abandonment, geolocation, Zapier, user submitted posts, 100+ extra templates, +more | $399 |
| Elite | Unlimited | All addons and features, including ActiveCampaign, Salesforce, Authorize.net, webhooks, and client management. | $599 |
WPForms has the most advanced entry storage, so it's easy to review your form entries. It lets you display survey charts, take payments, accept files, and track user activity.
And has the best options for embedding and publishing your finished forms and survey!
No matter how you use your forms, WPForms makes it easy to create a form in minutes, from a simple contact form to a professional survey.
If you buy WPForms and later realize it's not right for your project, don't worry. There's a no-questions-asked guarantee, so you can easily get a refund within 14 days of purchase.

Create Your WordPress Form Now
Next, Build Your First Online Form With WPForms
If you want to see how WPForms compares to other plugins, we have tons more form builder reviews for you to check out. Start with these Caldera Forms alternatives.
Ready to build your form? Get started today with the easiest WordPress form builder plugin. WPForms Pro includes lots of free templates and offers a 14-day money-back guarantee.
If this article helped you out, please follow us on Facebook and Twitter for more free WordPress tutorials and guides.