Do you want to connect AWeber with WordPress and add a subscribe form powered by AWeber to your website?
Connecting AWeber to your WordPress forms can help you build a more extensive email list to keep in touch with your followers, promote your business, and build long-lasting relationships that will lead to more sales.
Create Your AWeber WordPress Form Now
In this guide, we'll show you how to create an AWeber subscribe form in WordPress with WPForms to maximize your website's engagement and subscriber count.
Why Should You Create an AWeber Subscribe Form in WordPress?
An email marketing tool like AWeber is crucial for any WordPress website that wants to increase its email subscribers and enjoy other benefits, such as:
Streamlined User Experience: Integrating an AWeber subscribe form into your WordPress site provides visitors a simple and streamlined approach to signing up for your newsletter. They won't have to leave your site, so you can keep their attention longer and provide a more valuable experience.
Automated Emails: You can use AWeber's automation features to create and schedule automated emails. You may save time and work by sending out a single email regularly to all your subscribers, whether a warm welcome message or a weekly newsletter.
Audience Segmentation: Using AWeber's powerful features, you may divide your subscribers into distinct groups according to their likes, dislikes, and other characteristics. This helps you to design more tailored marketing efforts that cater to each segment's particular demands.
Insightful Analytics: AWeber's analytics are particularly insightful because they provide a thorough breakdown of the behavior of your subscribers. You can gauge the success of your campaigns and make any adjustments by monitoring open rates, click-through rates, and subscriber growth.
A subscription form on your website is the first step in building relationships with your audience. Use WPForms with AWeber to maximize the results.
Why Use WPForms for AWeber Subscribe Forms?
WPForms is the best form builder plugin to add AWeber forms to WordPress. It lets you create any type of WordPress form and easily publish it on your site. For instance, you can use WPForms to:
Make a basic newsletter subscriber form or add additional fields to customize your AWeber subscription forms.
Create user registration forms with the drag and drop builder and register users for events while also growing your email list.
Easily add a survey or poll to your forms and collect valuable data that can boost your revenue through survey questions.
Get higher conversions by making an interactive form on your website, helping users provide complete details about themselves.
Get access to a friendly support team that will help answer any questions you have about building your AWeber forms.
Create one-time use coupon forms to maximize your conversions and prompt users to add more products to their cart.
Now you know why you should utilize WPForms to grow your email list instead of AWeber's default opt-in forms. The next step is to connect your AWeber account with WPForms.
How to Create an AWeber Subscribe Form in WordPress
To create an AWeber subscribe form on WordPress, you can rely on WPForms and its AWeber addon. Follow the steps below to get started:
1. Subscribe and Install WPForms Pro
WPForms is a flexible and easy-to-use WordPress plugin for making forms of any kind. This includes AWeber subscription forms.
The plugin includes several different signup form templates and addons to customize your forms further.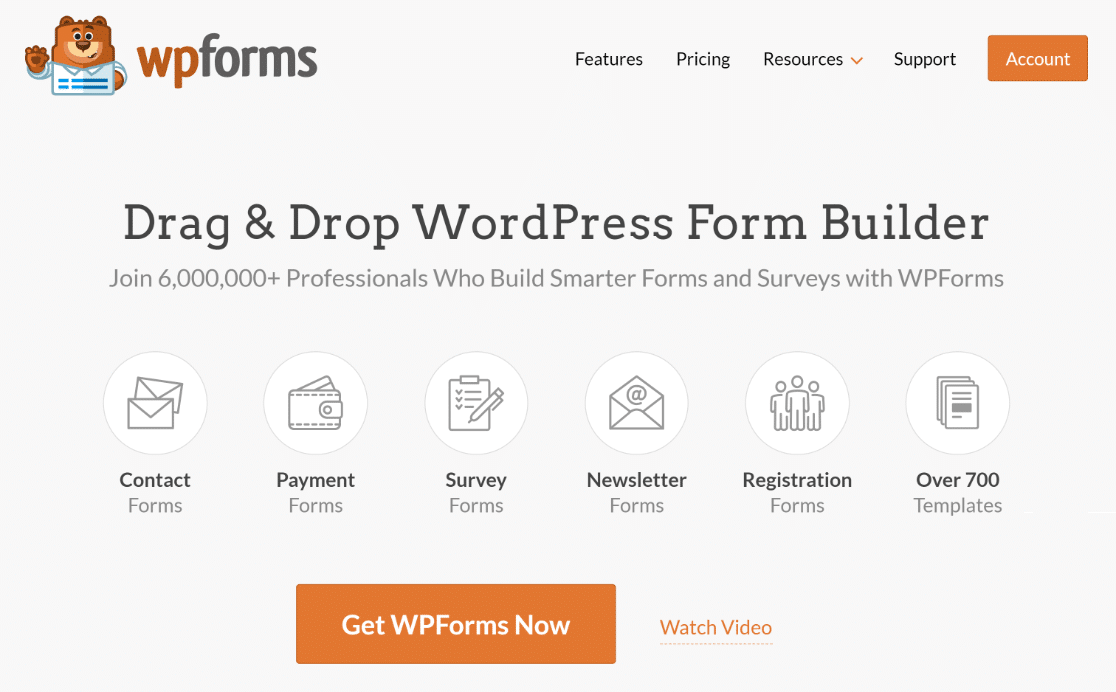 Since we'll use the AWeber addon for this guide, you must subscribe to WPForms Pro to access premium features and addons.
After you've purchased the WPForms Pro subscription, it's time to install and activate the plugin on your WordPress site.
2. Connect Your AWeber Account to WPForms
Great job on installing WPForms! Now, we'll walk you through connecting the plugin with the AWeber addon.
From your WordPress admin dashboard, navigate to WPForms and click on Addons from the list of options.
Now, search for the AWeber Addon by typing its name in the Search Addons field. Next, click on Install Addon.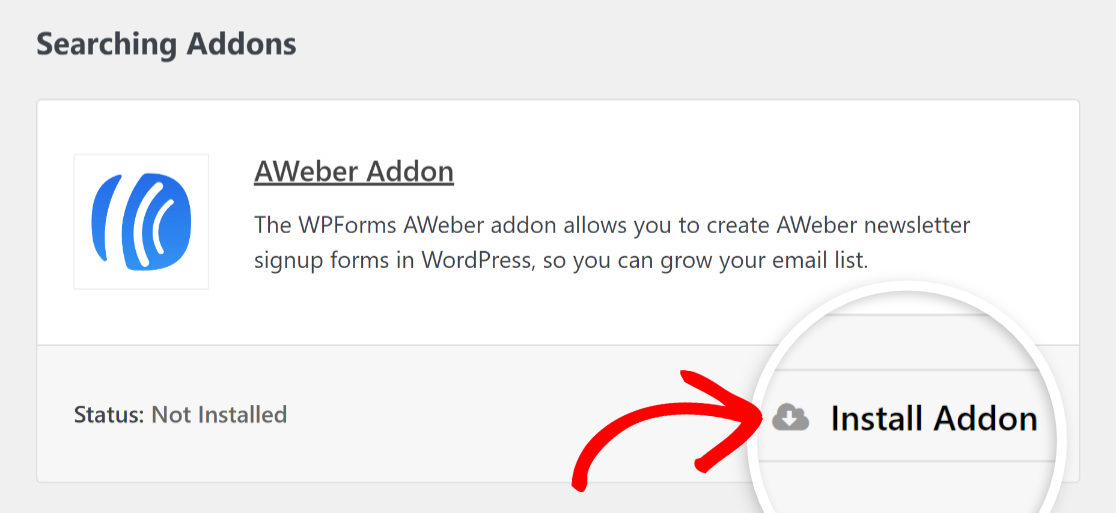 After the addon has been installed successfully, press the same button again to Activate it. You're now ready to integrate AWeber into your forms.
To do this, go to WPForms » Settings in your WordPress admin area and click on the Integrations tab.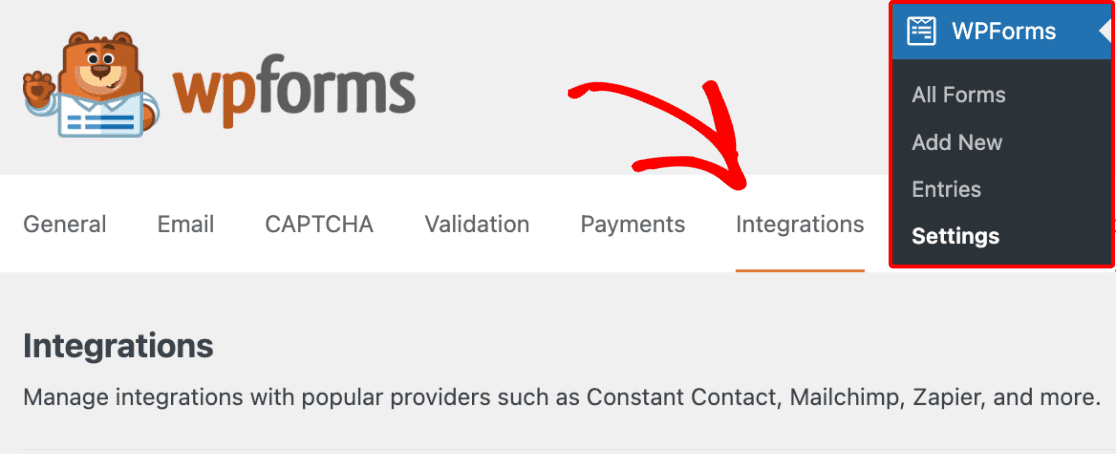 From here, you can click on the AWeber section to expand it. Then click on the + Add New Account button.

Now, you're ready to click on the authorize the connection with Aweber link before adding your new provider account.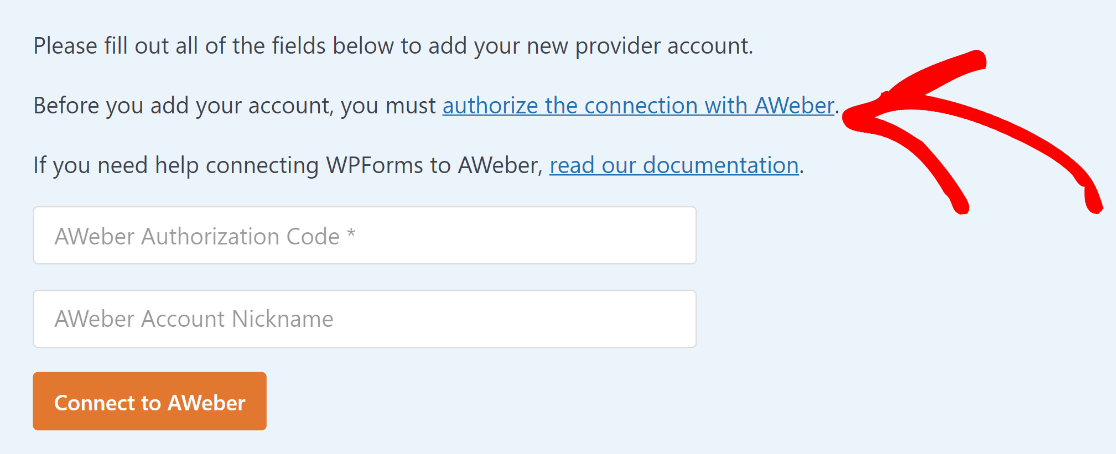 When you click on the link, you'll be redirected to another page to add your AWeber Login Name and Password.
If you don't have an AWeber account, now may be an excellent time to create one. Once done, enter your credentials and click on the Allow Access button.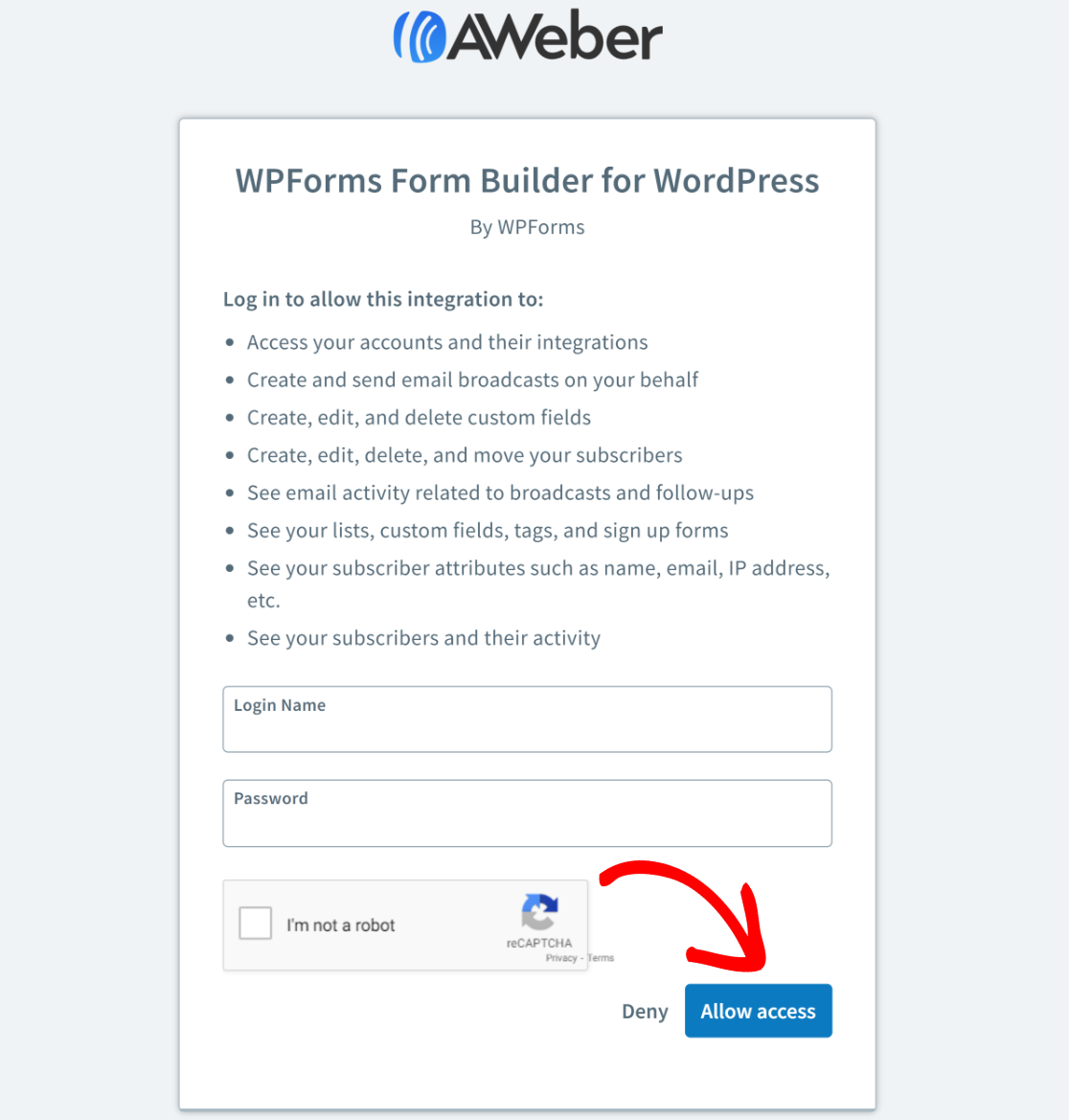 After entering these details, AWeber will then show you an authorization code, which you need to copy and store somewhere safe.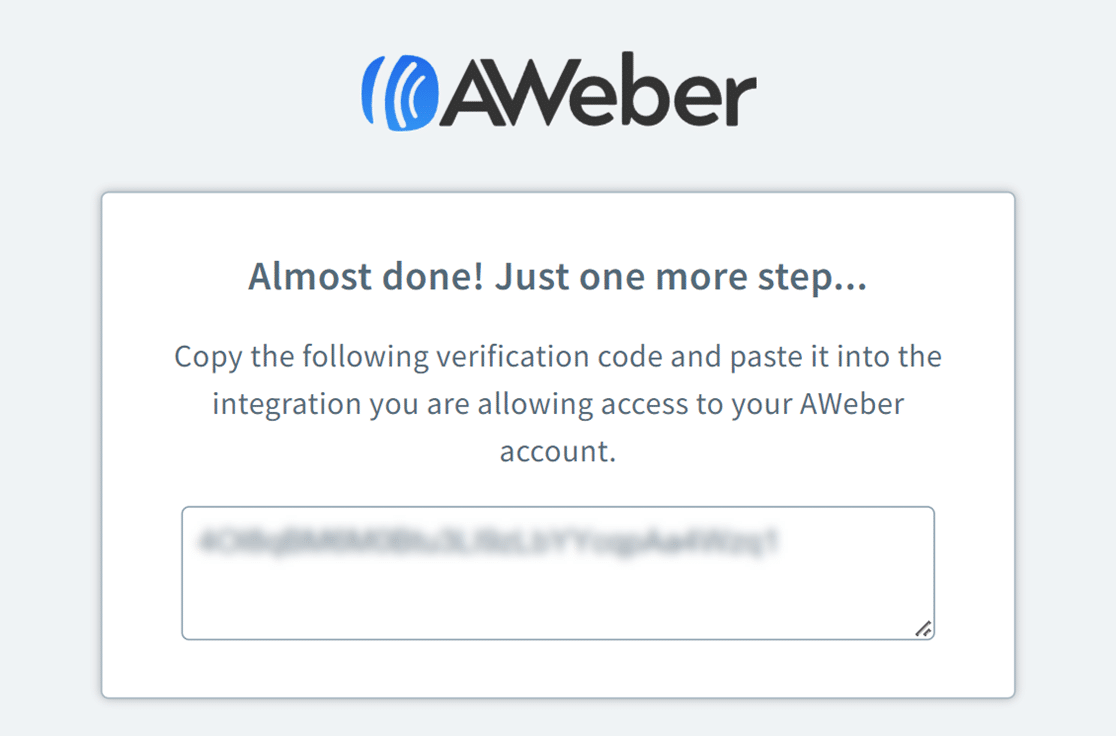 Next, copy and paste the given code into the AWeber Authorization Code field in the WPForms integrations settings.
Then, enter anything you'd like into the AWeber Account Nickname field, and click on the Connect to AWeber button to continue.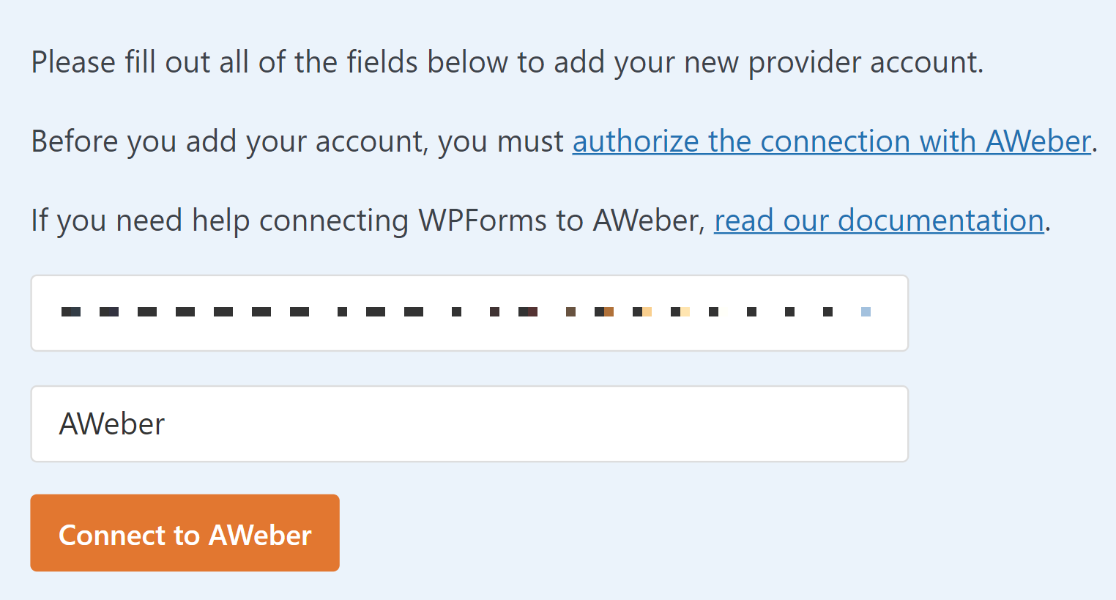 WPForms will now connect your website to your AWeber account. When it's finished, a green Connected status will show next to your AWeber integration.

Great job so far! Now, we'll walk you through the easy steps to create your AWeber Newsletter Signup Form.
3. Create an AWeber Newsletter Signup Form in WordPress
Once the WPForms AWeber addon is active and integration has been completed successfully, navigate to WPForms » Add New to create a new form.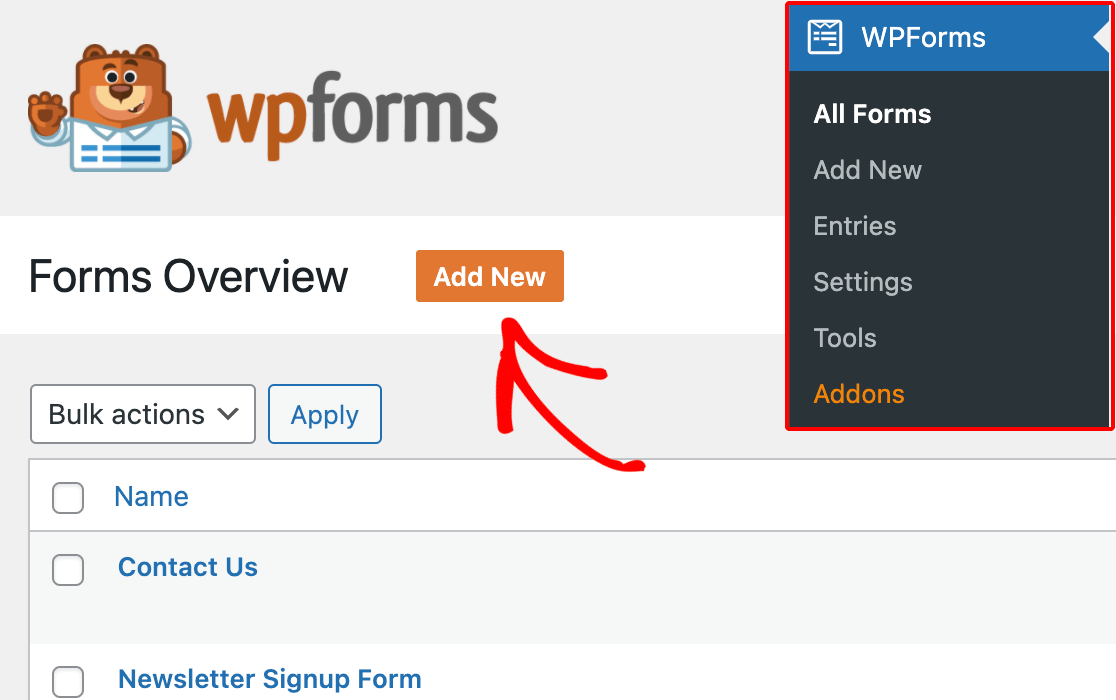 Give your form a name and use the search box to find the AWeber Newsletter Signup Form Template. Once it shows up, click on the Use Template button.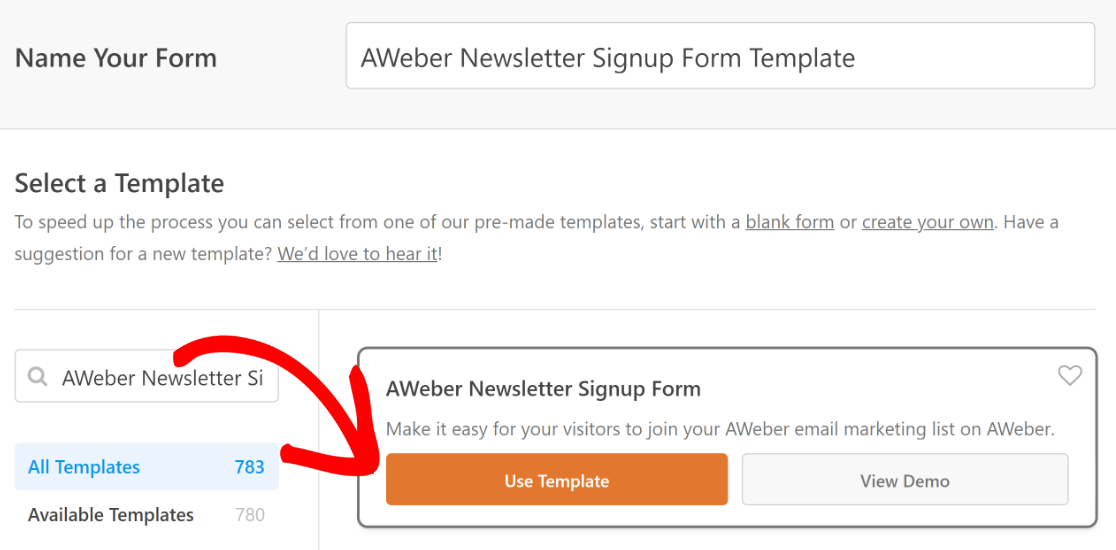 WPForms will now open the form builder interface, where you can preview your form, add additional fields, and then click on any field to make changes.
You can also click on a form field and drag it to rearrange the order on your AWeber WordPress Newsletter Signup Form.
One crucial form field to consider adding to your AWeber sign up form is the GDPR Agreement field.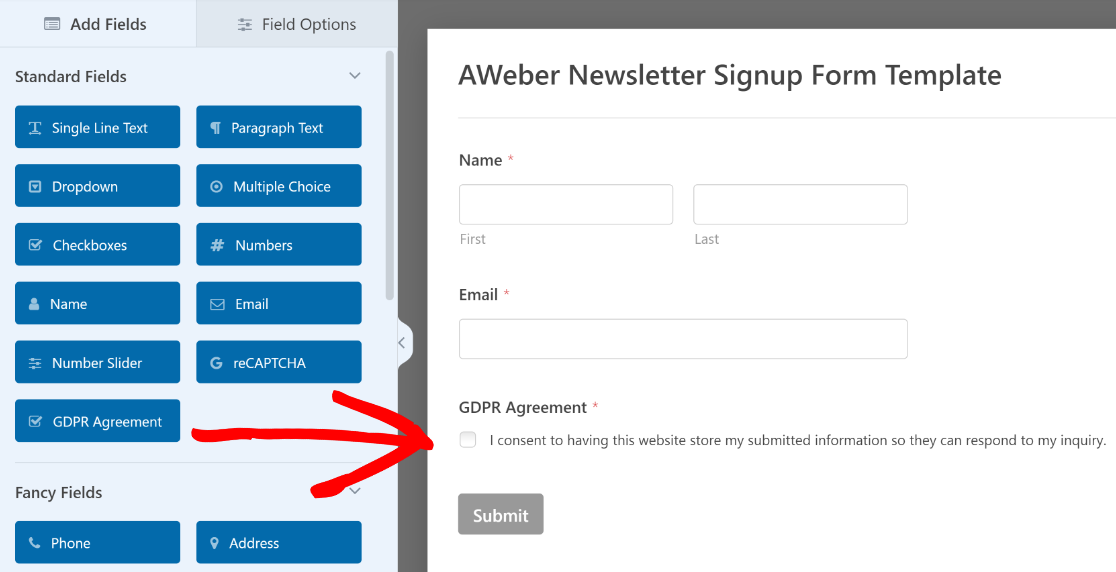 This form field helps you create GDPR-compliant forms by giving your site visitors an explicit way to agree to you storing their personal information.
If you do decide to add the GDPR Agreement field to your form, you'll need to go to WPForms » Settings and click on the GDPR Enhancements checkbox.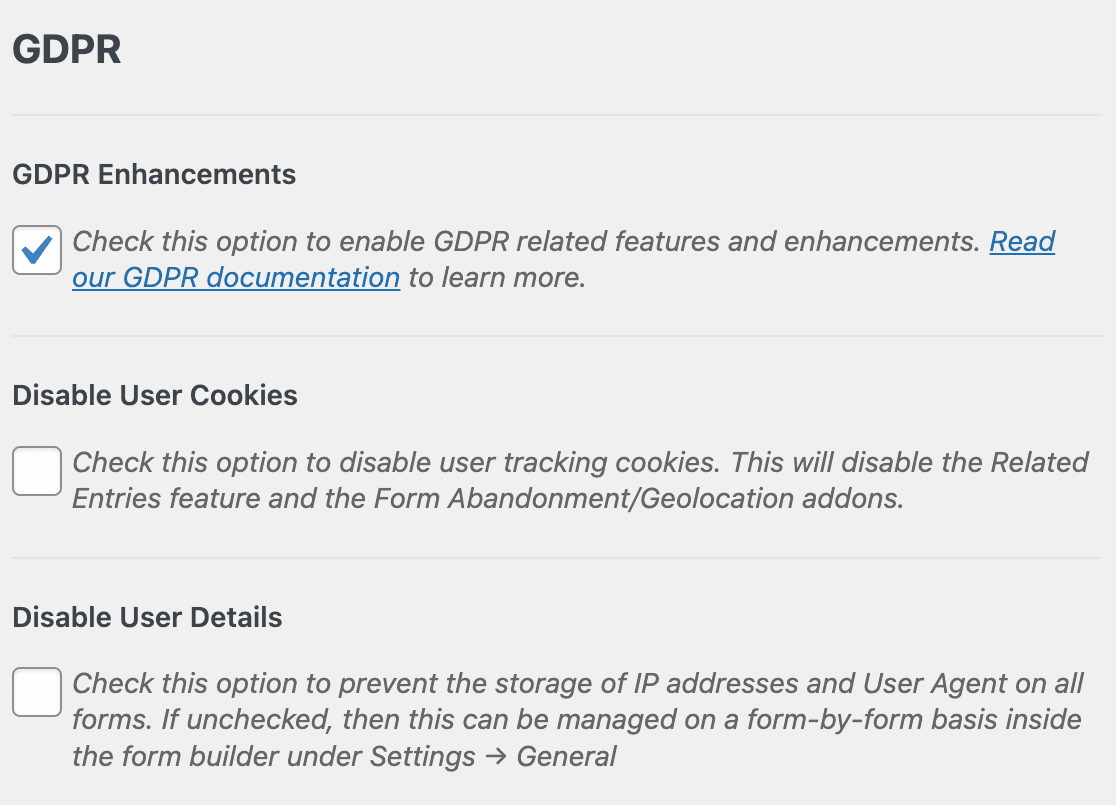 GDPR enhancement features by WPForms will make it easier for you to comply with GDPR on your AWeber WordPress form. You'll be able to:
Disable User Cookies.
Disable User Details (that include IP addresses and User Agent data).
Access the GDPR form field for your WordPress forms.
In the next step, we'll show you how to connect your sign up form to your AWeber service.
4. Connect Your Newsletter Signup Form with AWeber
It's now time to enable the AWeber integration after you're done adding all the necessary fields to your AWeber Newsletter Signup Form.
You can easily do this by going to Marketing » AWeber in your form builder. Then, click on the Add New Connection button.

An overlay will appear where you may Enter a connection nickname. Since this is for internal usage only, please use any nickname you like.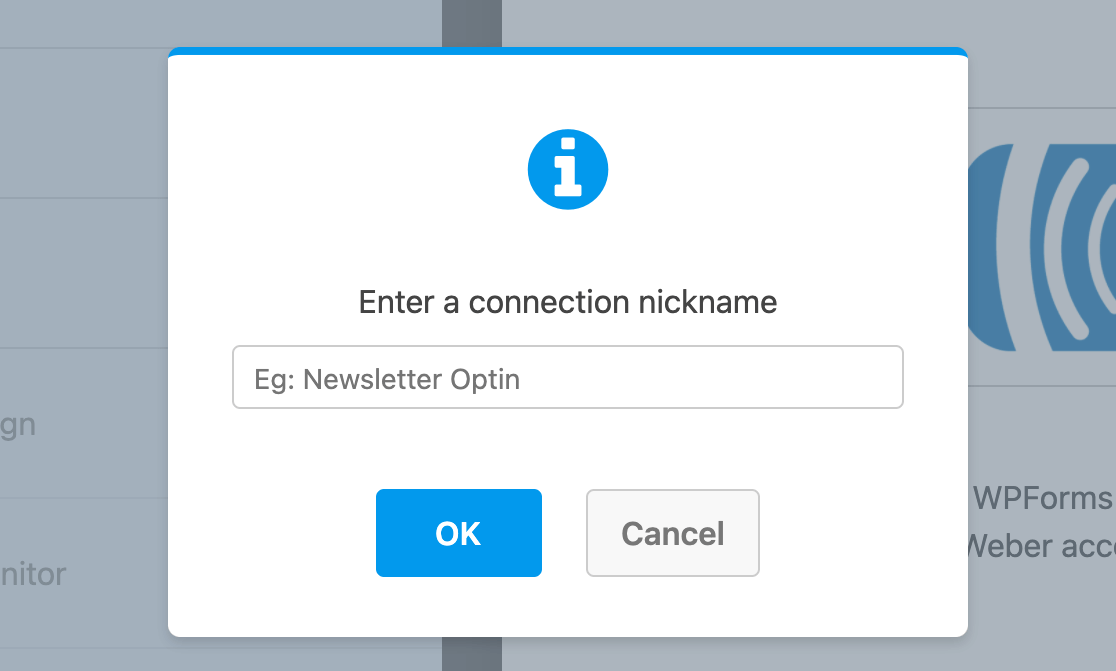 After that, select an account and an AWeber mailing list to utilize from the corresponding Select Account and Select List dropdown menus.
Then, using the form's Action To Perform menu, select the desired interaction with your AWeber mailing list.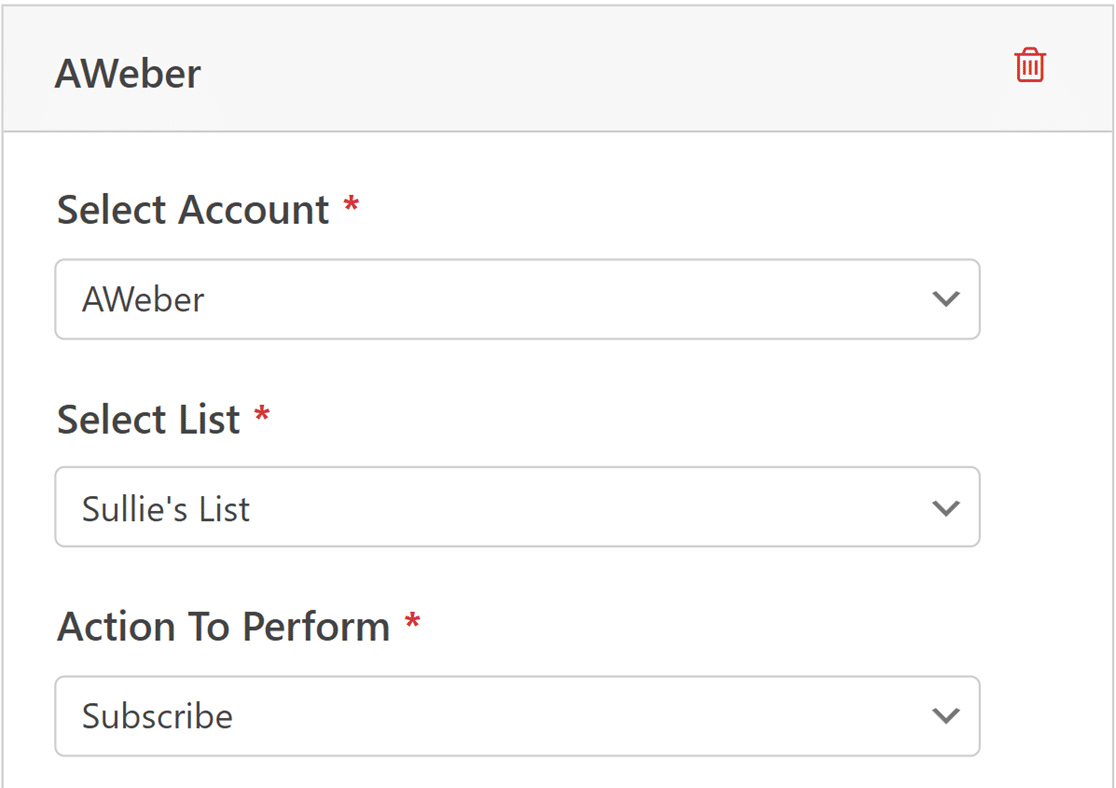 The next step is to set up a correspondence between the fields in your form and those in your AWeber mailing list.
Simply choose the Email field from your form by clicking the dropdown menu that is located next to Subscriber Email.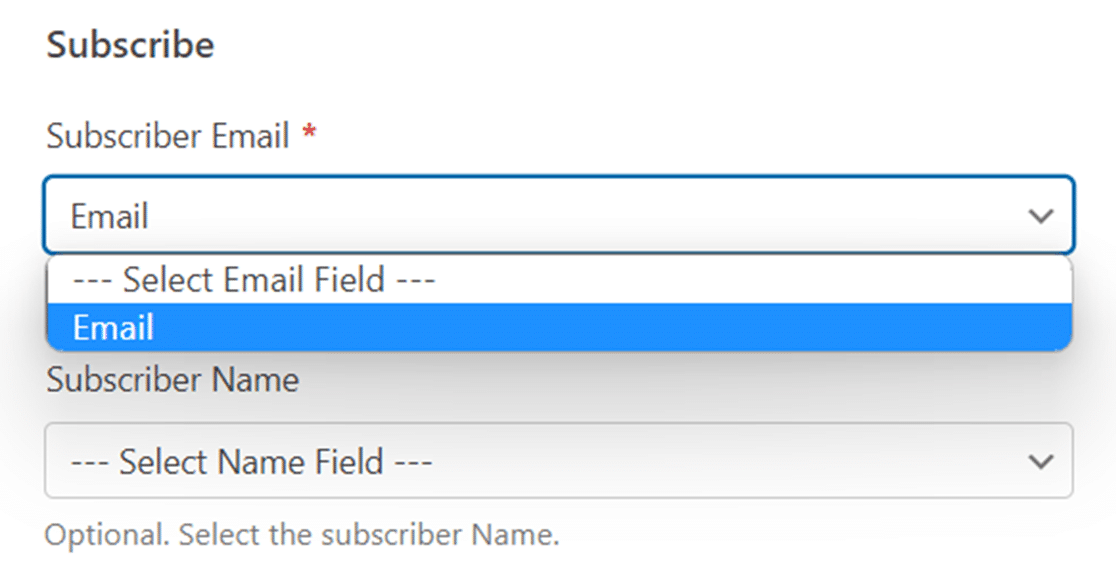 Next, choose the tags you'd like to assign to new AWeber subscribers under the Tags to Add menu. These are the labels that have already been created in your AWeber account.
Additional tags can be added under the New Tags to Add section if desired. Use a comma to separate multiple tags that you want to add.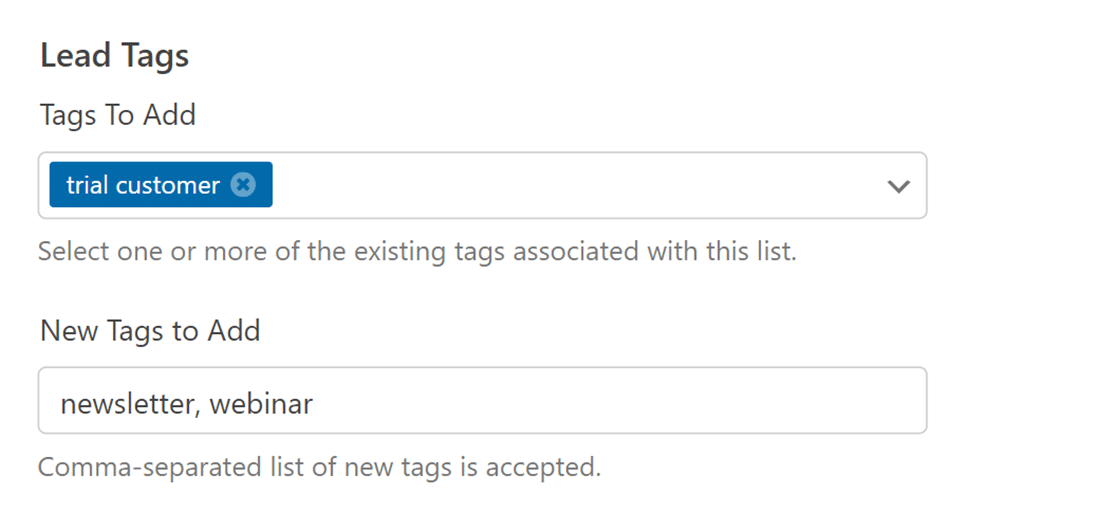 5. Modify Your AWeber Form Notifications
Notifications are a great way to receive emails whenever a form is submitted on your site. To configure them, navigate to Settings and click on Notifications.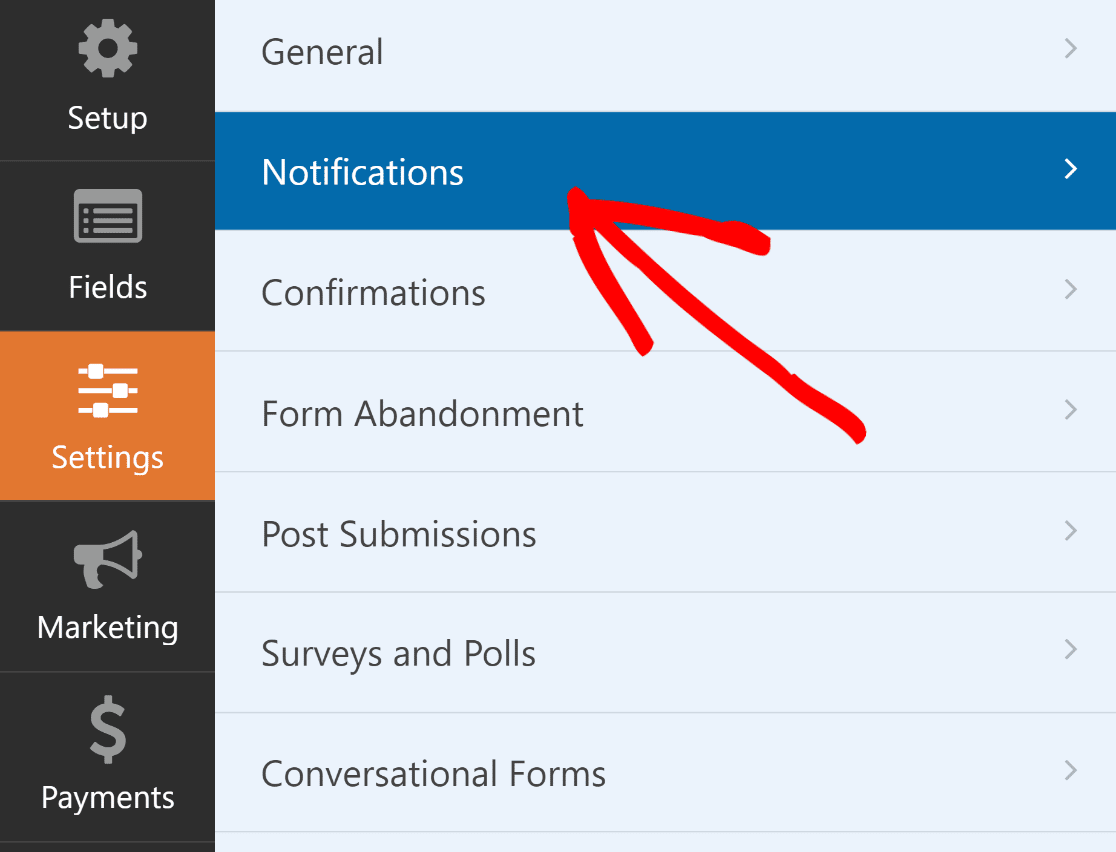 While admin notifications are enabled by default, you can edit the subject, message, and add or change recipient email addresses for these notifications.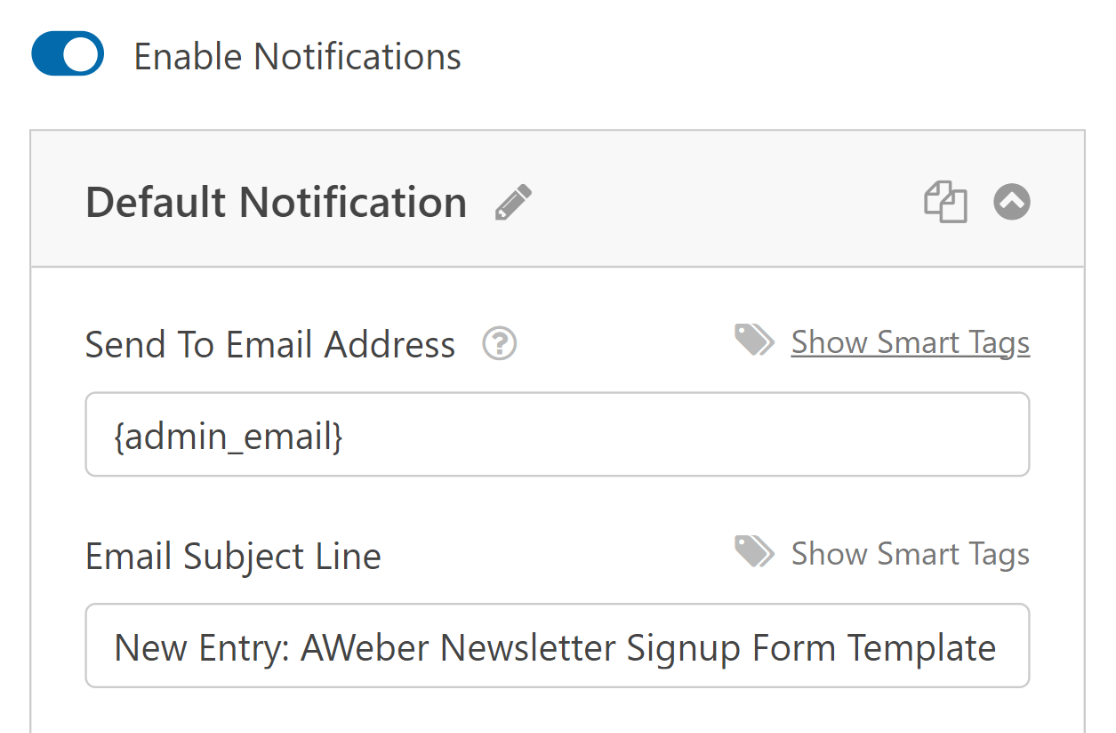 Unless you disable this feature, whenever someone submits a subscribe form on your site, you'll get a notification about the submission.
If you use Smart Tags, you can also notify the user when they subscribe, letting them know you received it and will be in contact shortly.
For help with this step, check out our documentation on how to set up form notifications in WordPress.
Adding to this, if you want to keep branding across your emails consistent, you can check out this guide on adding a custom header to your email template.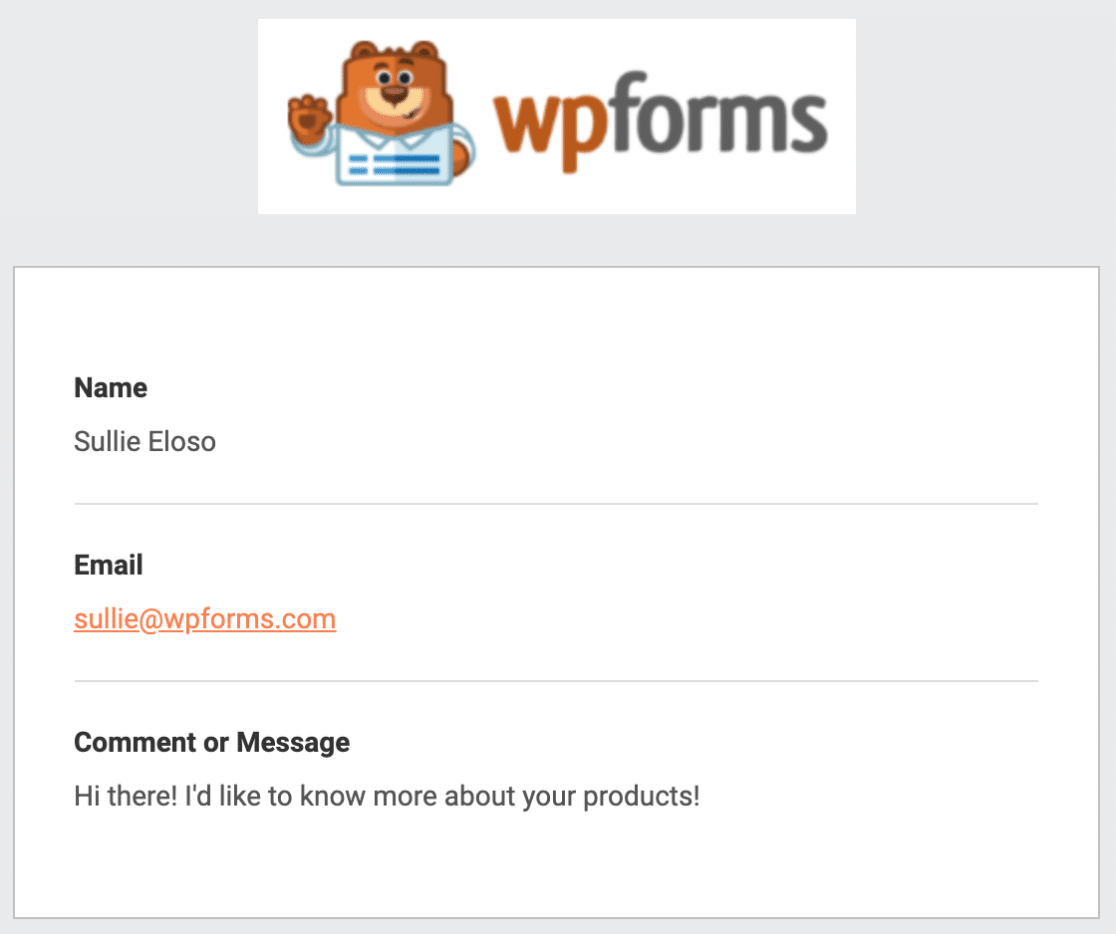 6. Customize Your AWeber Form Confirmations
Form confirmations inform site visitors that their entry to your form has been processed. To configure them, click on Confirmations in the Settings menu.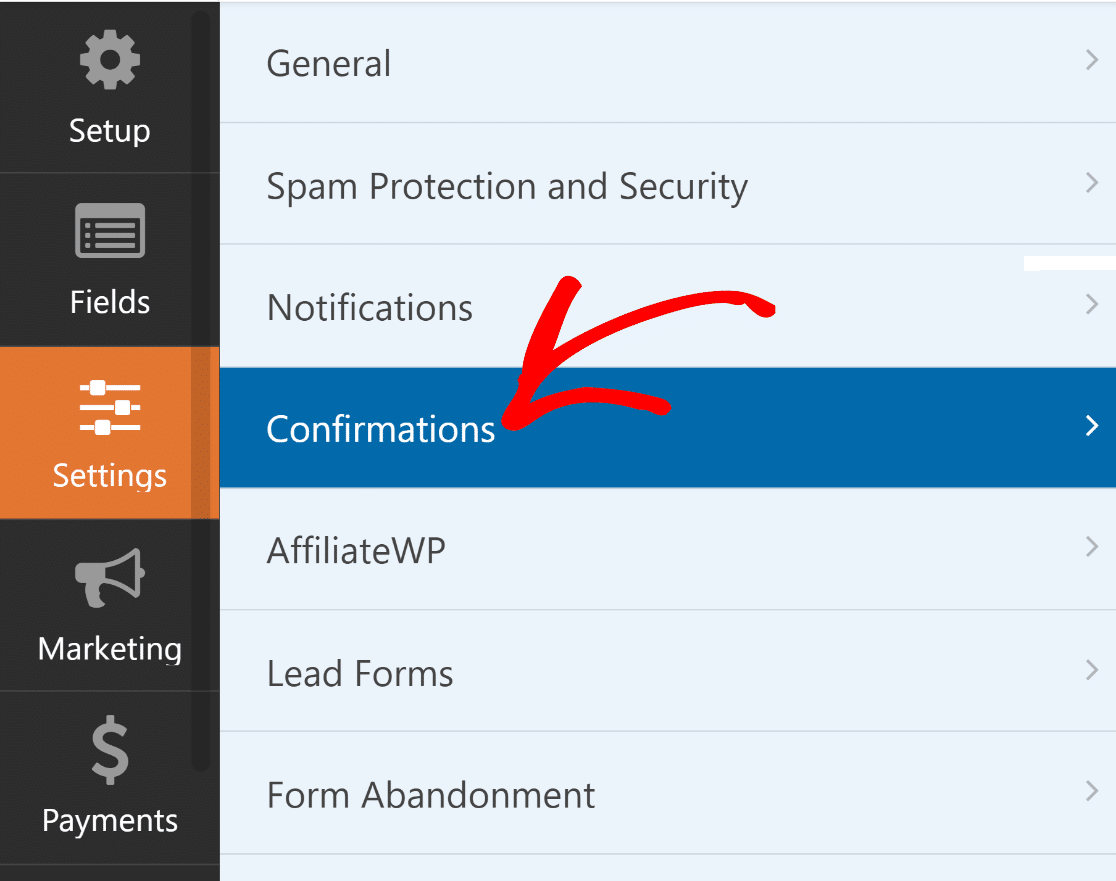 WPForms has three confirmation types to choose from:
Message — This is the default confirmation type in WPForms. When a site visitor subscribes, a simple message will show them that their form was processed. Here are some great success messages to help boost customer happiness.
Show Page — This confirmation type will take site visitors to a specific web page on your site, thanking them for subscribing. For help doing this, check out our tutorial on redirecting customers to a thank you page.
Go to URL (Redirect) — This option is used when you want to send site visitors to a different website.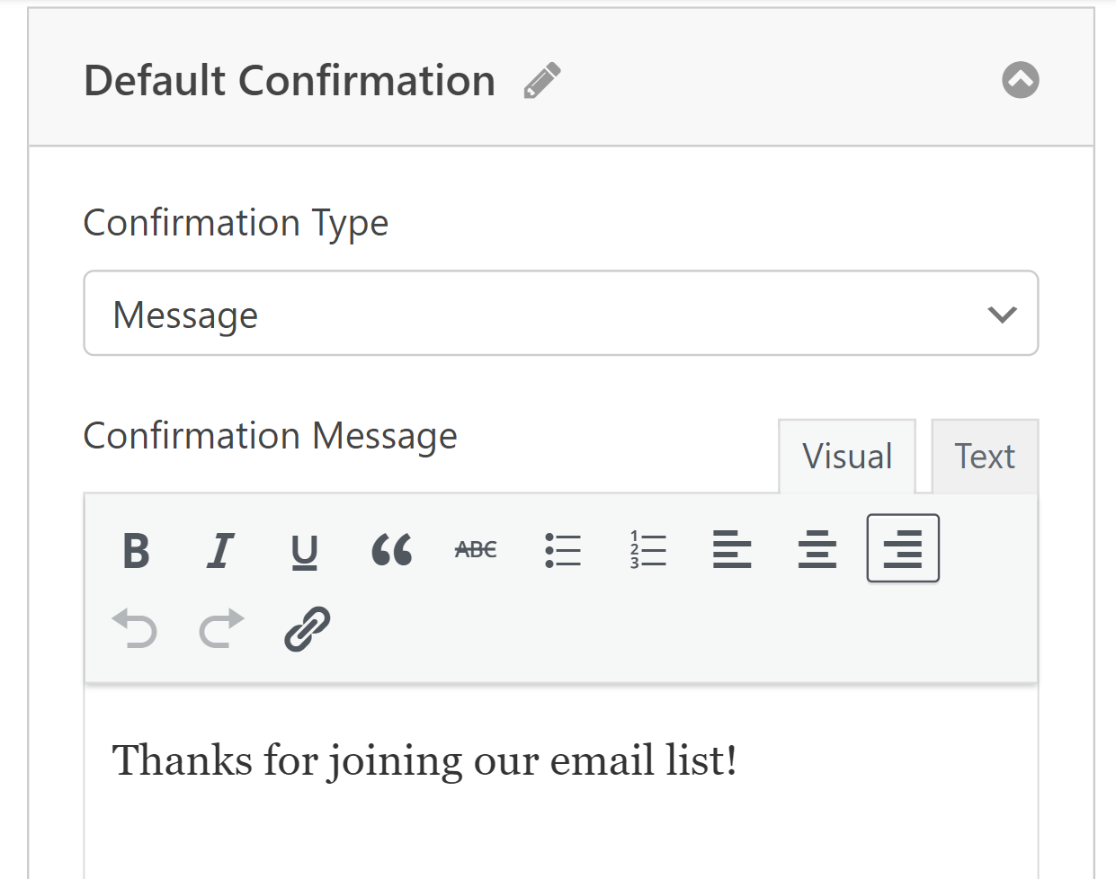 For help with these different confirmation types, see our documentation on setting up form confirmations.
Before moving on, hit the Save button to avoid losing any changes. Now you're ready to add the form to your website.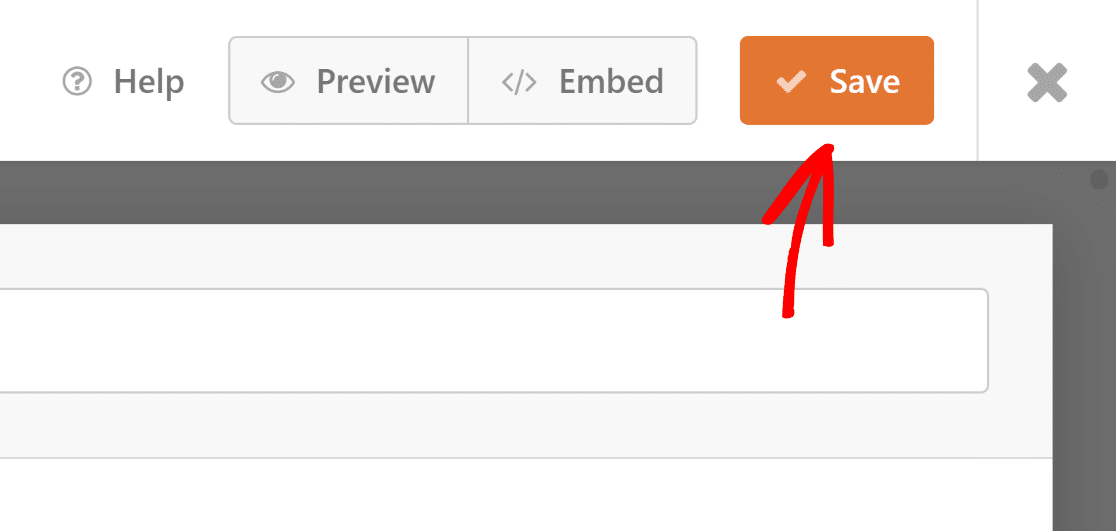 7. Add Your AWeber Subscribe Form to Your Website
After you've created your AWeber subscribe form, you'll need to add it to your WordPress website.
WPForms allows you to add your forms to many locations on your website, including your blog posts, pages, and even sidebar widgets.
To begin, create a new page/post or simply update an existing one. After that, click on the Add Block button and select the WPForms icon.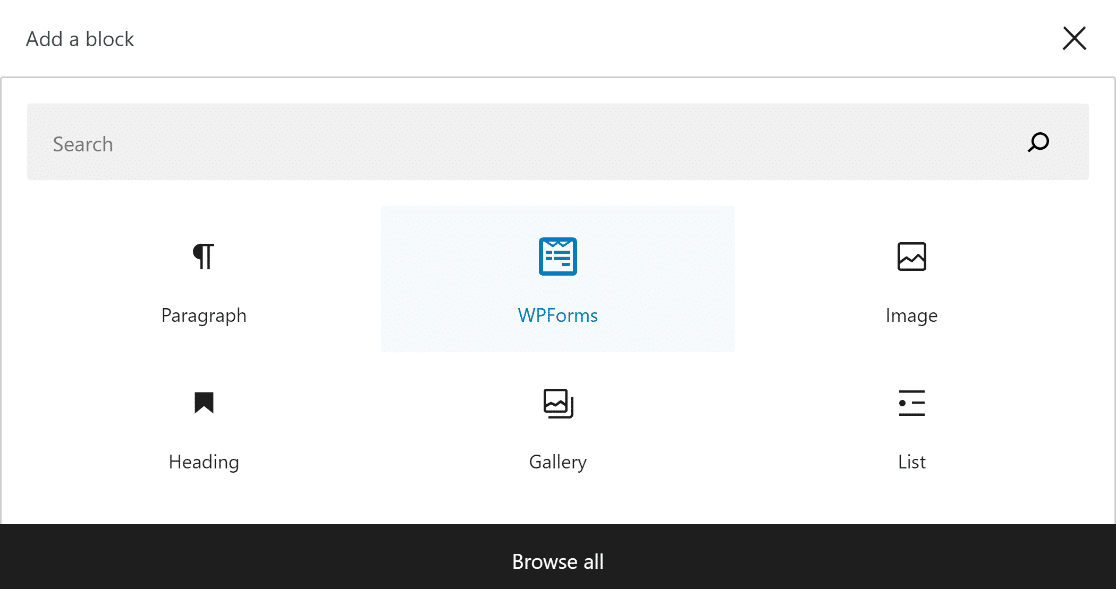 The handy WPForms widget will appear inside your block. Click on the WPForms dropdown and pick the form you've just created.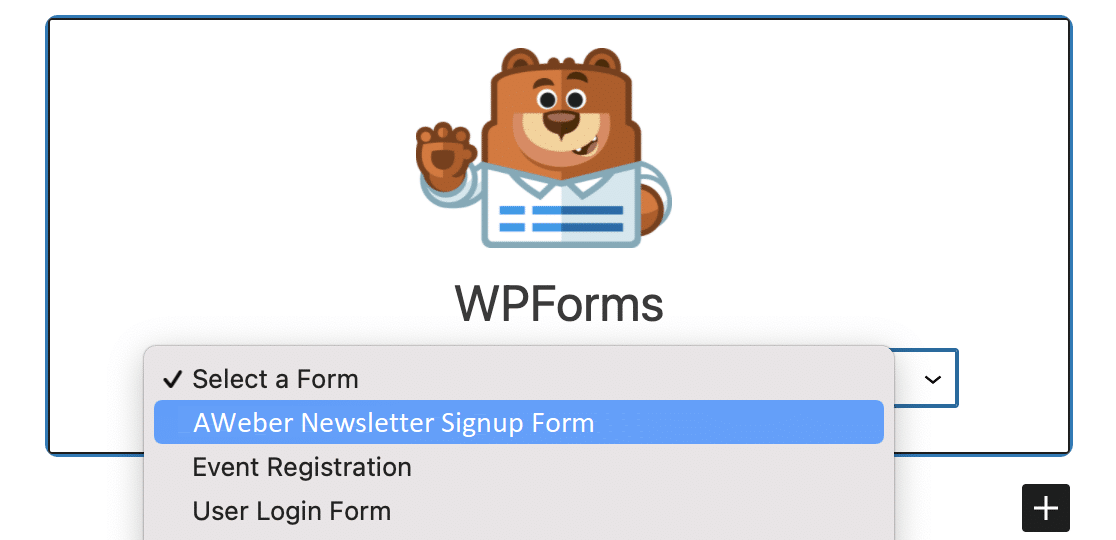 If you're satisfied with how your AWeber WordPress form looks, go ahead and click on Publish, and your form will go live on the Internet.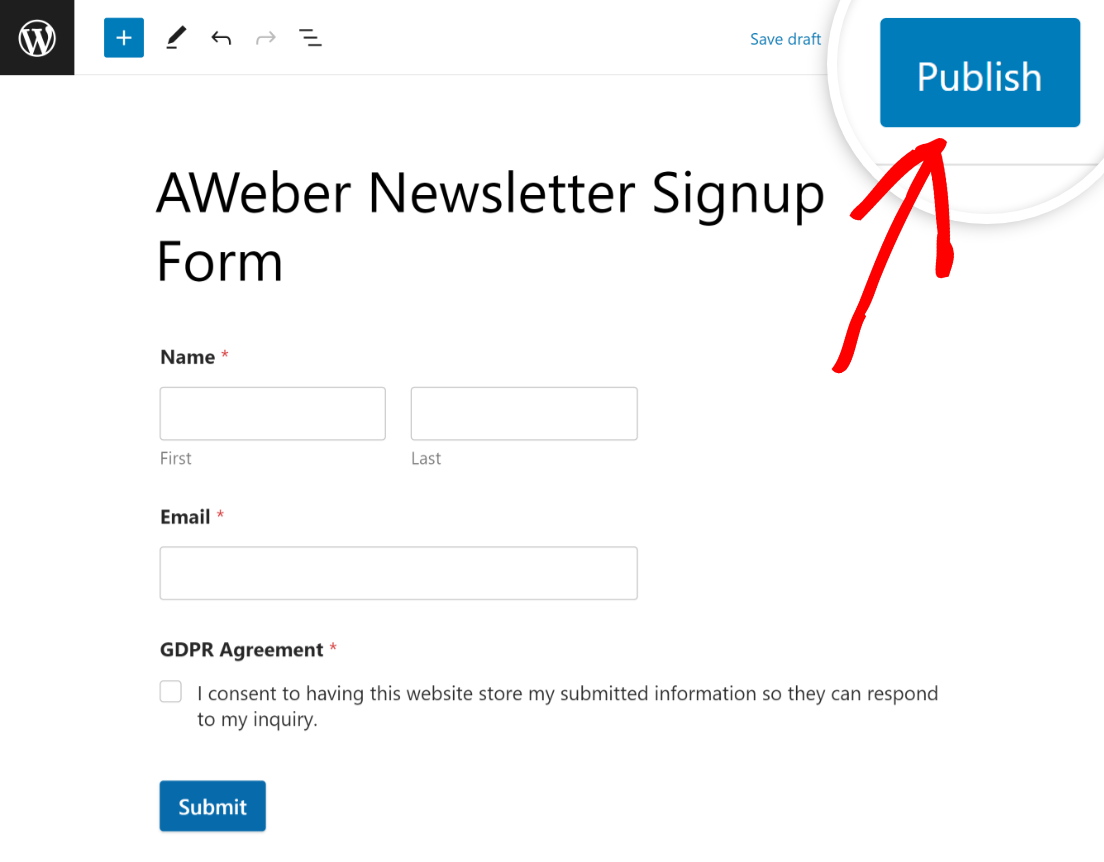 And there you have it! You now know how to create an AWeber subscribe from in WordPress. Begin expanding your email list and perfecting your email marketing tactics!
FAQs
There are a few common questions on Aweber and WordPress that we frequently hear from our readers. Here are some of them:
What is the use of AWeber?
AWeber is an email marketing service. Email marketing and newsletter distribution are two of its best uses. It's a great tool for marketing and promoting subscription services. You can use it to create sign-up forms to expand your subscriber lists.
Does AWeber work with WordPress?
Adding an AWeber integration to your WordPress site couldn't be simpler. All you need are the right instruments. Adding a contact form to your website with WPForms is the quickest and easiest way to get AWeber functioning smoothly.
Can I add an AWeber Checkbox to my contact form?
If you already have a contact form on your website, you can add an AWeber checkbox to your form instead of creating a separate signup form for Aweber. This is a great way to convert users who want to get in touch with you into subscribers.
Next, Explore AWeber Integration Options for Your Website's Success
When it comes to email marketing, AWeber is a top choice. As a result, AWeber and your website can enjoy several integrations. To help you make the most of your email marketing service, we have compiled a list of the top AWeber integrations.
Create Your AWeber WordPress Form Now
Ready to build your form? Get started today with the easiest WordPress form builder plugin. WPForms Pro includes lots of free templates and offers a 14-day money-back guarantee.
If this article helped you out, please follow us on Facebook and Twitter for more free WordPress tutorials and guides.