How to Create a MailChimp Subscribe Form in WordPress
by Courtney Robertson on Mar 18, 2016
Do you want to grow your MailChimp email marketing list? Adding a MailChimp signup form in WordPress is an important step. In this article, we will show you how to create a MailChimp subscribe form in WordPress and how you can connect it with your contact form.
MailChimp for WordPress
First thing you need to do is install and activate the WPForms plugin. For more details, see this step by step guide on how to install a plugin in WordPress.
Once you have installed WPForms, go to WPForms » Addons and find the MailChimp addon.
Install and activate the MailChimp Addon.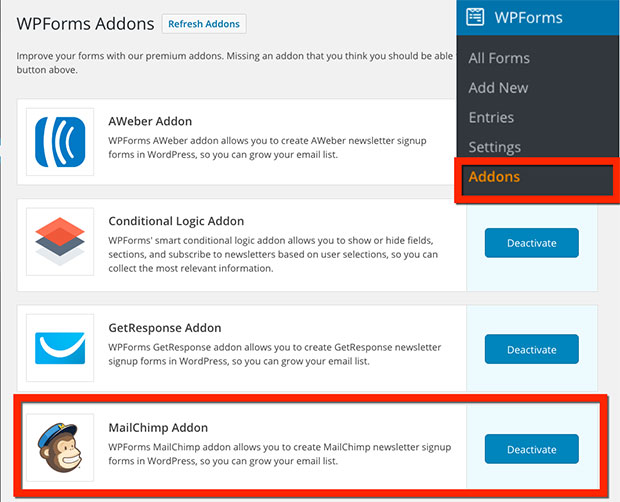 Once your WPForms MailChimp addon is active, you need go to WPForms » Add New to create a new form.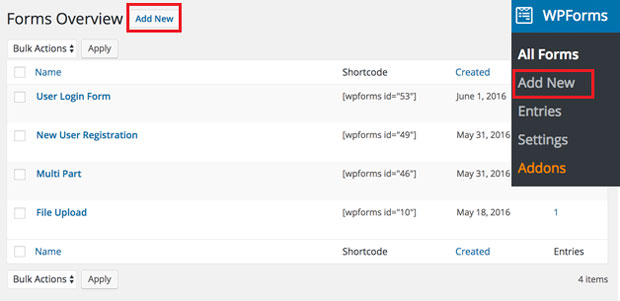 Then, on the setup screen, you need to name your form and select the 'Newsletter Signup Form' template.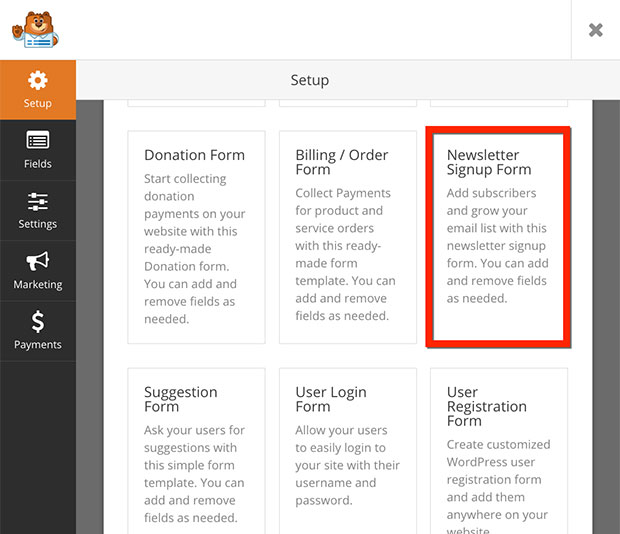 WPForms will create a simple newsletter signup form.
You can add additional fields by dragging them from the left column to the form. You can select the fields on the preview side of the screen to customize them or to rearrange their order.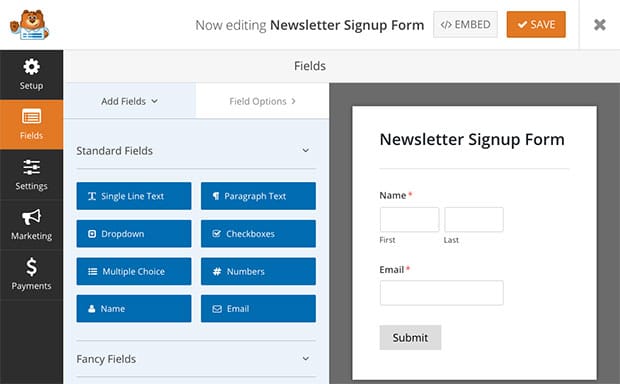 Once you're done, make sure to save your changes.
The next step is to configure the MailChimp settings, so you can connect your signup form to your newsletter service.
Creating a MailChimp Newsletter Signup
To connect your newsletter signup form to MailChimp, go to Marketing » MailChimp.
When you click Add New Connection, a box will pop up asking you to name this connection. Enter any name and click OK.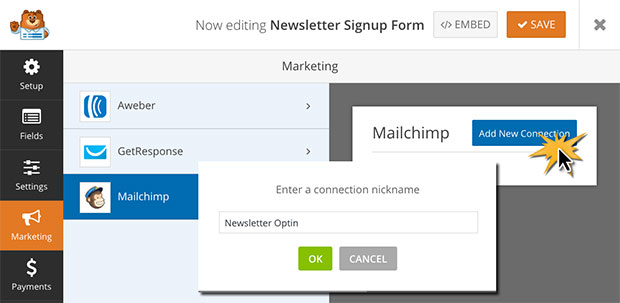 On the next screen, you will be asked for your MailChimp API Key. You can get this by signing in to your MailChimp account and then go to Your Profile » Account » Extras » API Keys.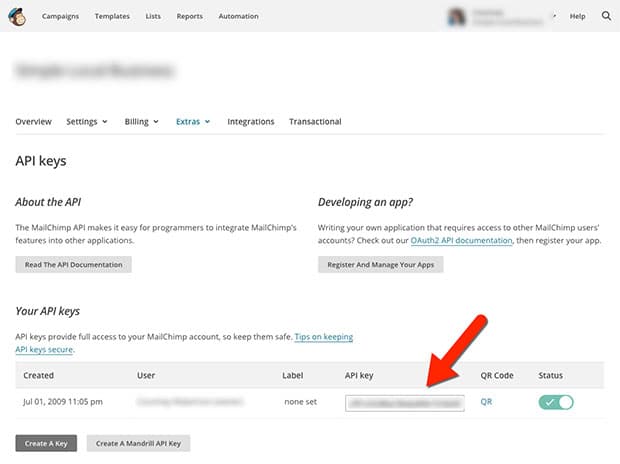 Copy and paste your MailChimp API Key into WPForms.  Then confirm by clicking Add New Connection.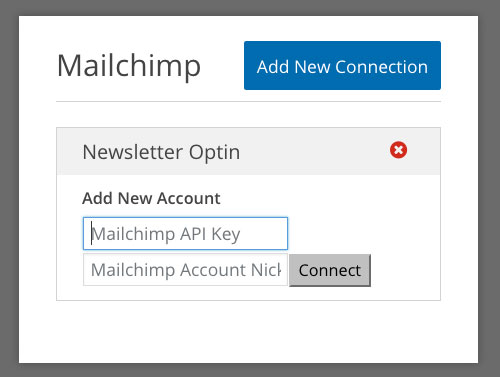 After you have placed your key into WPForms, you will be presented with options to configure this form with your newsletter lists.
Here you can implement MailChimp's Groups settings and match the fields in your form to the fields in the MailChimp list.
After configuring these settings, go ahead and save your form.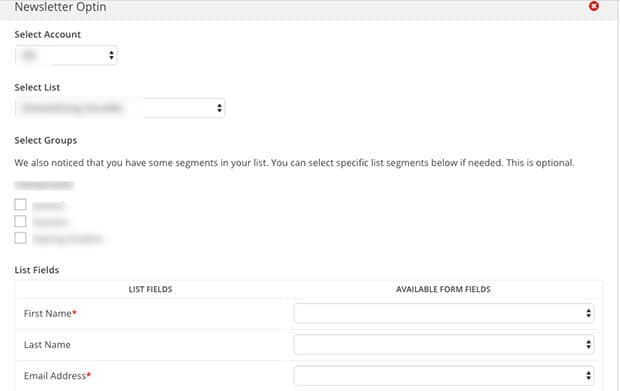 Adding MailChimp Subscribe Form
Now that your form is created, we need to make it visible for your website visitors.
WPForms allows you to add your forms in several locations including your blog posts, pages, and even as a sidebar widget.
First let's take a look at the most common post / page embed option. Start by creating a new post or page in WordPress and then click on the Add Form button there.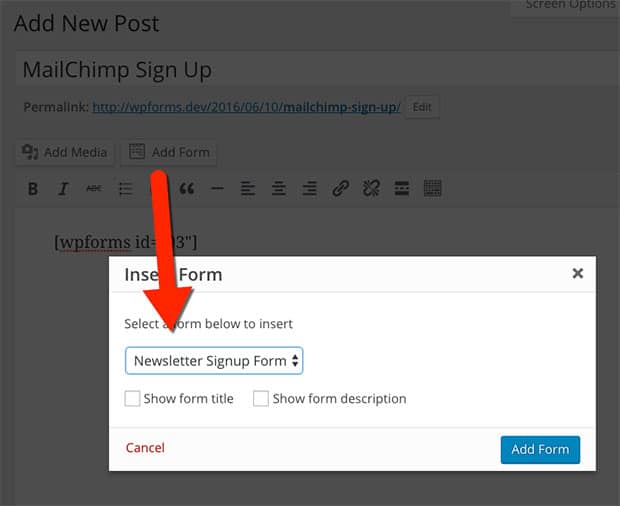 Next, you need to select your newsletter signup form in the modal popup and click Add Form.
After that simply publish your page and view it.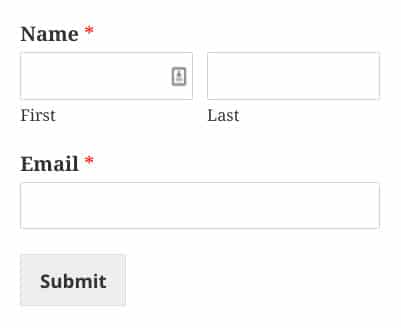 Now you're all set. We hope this article helped you create a MailChimp subscribe form in WordPress.
You may also want to check out our guide on How to Create a File Upload Form in WordPress.
If you like this article, then please follow us on Facebook and Twitter for more free WordPress tutorials.