Are you looking for the best Mailchimp alternatives to run your marketing campaigns?
Email is a time-tested marketing strategy responsible for the explosive growth of many successful organizations today. But it's imperative to choose the right email marketing service that aligns with your particular goals.
In this post, we're going to recommend the best Mailchimp alternatives that work just right for small businesses.
Quick Comparison of Mailchimp Alternatives
Here's how our alternative solutions to Mailchimp compare:
| | Best Feature | Free Plan | Pricing (Starting) |
| --- | --- | --- | --- |
| Constant Contact | 200+ email templates | 30-day free trial | $9.99/month |
| Brevo (formerly Sendinblue) | Advanced automation tools | Free forever | $25/month |
| HubSpot | CRM + email marketing | Free forever | $45/month |
| MailerLite | Cost-effective | Free forever | $9/month |
| Omnisend | Email and SMS campaigns | Free forever | $16/month |
| Moosend | Good targeting & analytics | 30-day free trial | $9/month |
We handpicked these marketing tools based on certain criteria as we explain below.
What to Look for In a Mailchimp Alternative?
When you're searching for Mailchimp alternatives, here are a few qualities that you should look for in an email marketing tool:
Ease of use: It's important for email marketing software to have a user-friendly interface. If it's easy to use, it means you need minimal effort to achieve great marketing results.
Features & capabilities: A good range of features such as subscriber management, audience targeting, and analytics is always helpful in making your campaigns more effective and data-driven over time.
Affordability: Some email marketing tools like Mailchimp are pretty good but they have alternatives that offer the same features at lower price points. Knowing what these options are can help save you save valuable dollars.
Integrations: The ability to connect your email marketing tool with other lead generation and marketing apps can open new opportunities for creating automated workflows.
We've carefully picked some Mailerchimp alternatives that provide great value for your money with some very interesting features.
The Best Mailchimp Alternatives
Although Mailchimp is a very email marketing service, it has become pricier over time. Thankfully, there are some great alternatives offering similar features (sometimes even better) at more reasonable price points.
Let's focus on the key features that make all of these email marketing platforms super useful.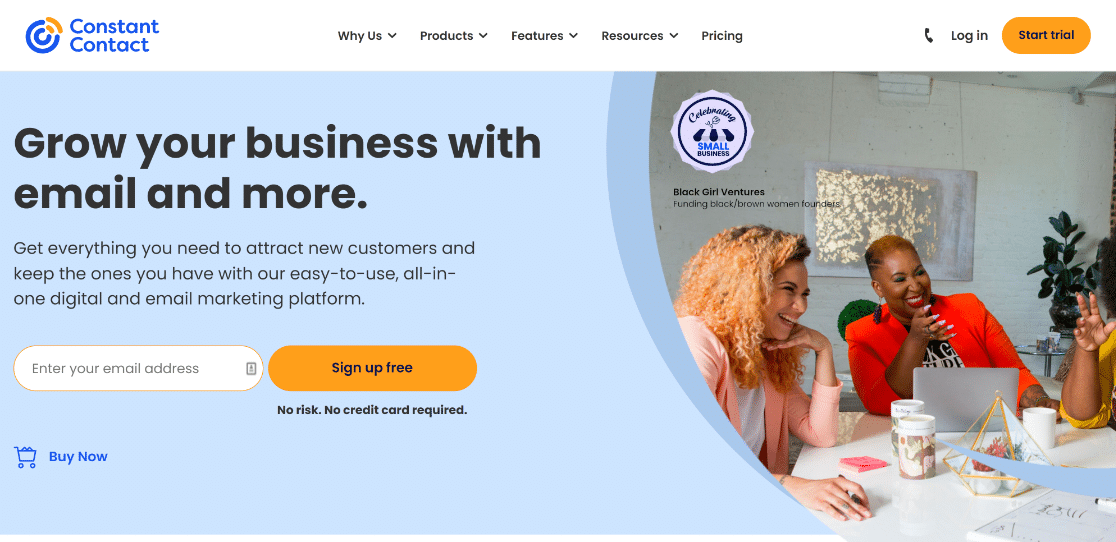 Constant Contact is the best alternative to Mailchimp if ease of use is your top priority.
The tool includes all the important features that you can expect from a top-quality email marketing service. It also has some of the best email deliverability rates in the industry.
The easy drag and drop editor is great for quickly designing your emails and adding different elements like text, images, buttons, and videos. What's more, Constant Contact has a huge library of email templates that let you draft up campaigns super quick!
In addition, Constant Contact offers great list management features and easy-to-understand performance statistics. For each email campaign, you can check the delivery status, open rate, and click rates.
Constant Contact also provides decent automation features. You can set up triggers for sending welcome emails to new subscribers or create an email series that launches based on your subscriber behavior. Plus, Constant Contact is the only marketing service that integrates with WPForms Lite for free.
It includes a simple A/B testing tool as well that's good for experimenting with different subject line variations to optimize your open rates.
One of the best features that Constant Contact is almost universally loved for is its customer support. You can reach Constant Contact support via live chat, phone calls, online community, and email.
The support reps are always helpful and responsive across all channels, so you don't have to wait long before receiving assistance regarding Constant Contact.
Overall, Constant Contact is a simpler alternative to Mailchimp that's better suited for small businesses looking for a user-friendly email marketing service. It even has a risk-free 30-day free trial that lets you test its main features.
Features:
A simple drag and drop builder
200+ pre-designed email templates
Automatically send personalized emails to visitors based on their behavior with autoresponders
Segmentation options based on the user's behavior on your website
High email deliverability rate
Pricing: Constant Contact plans start at $9.99/month.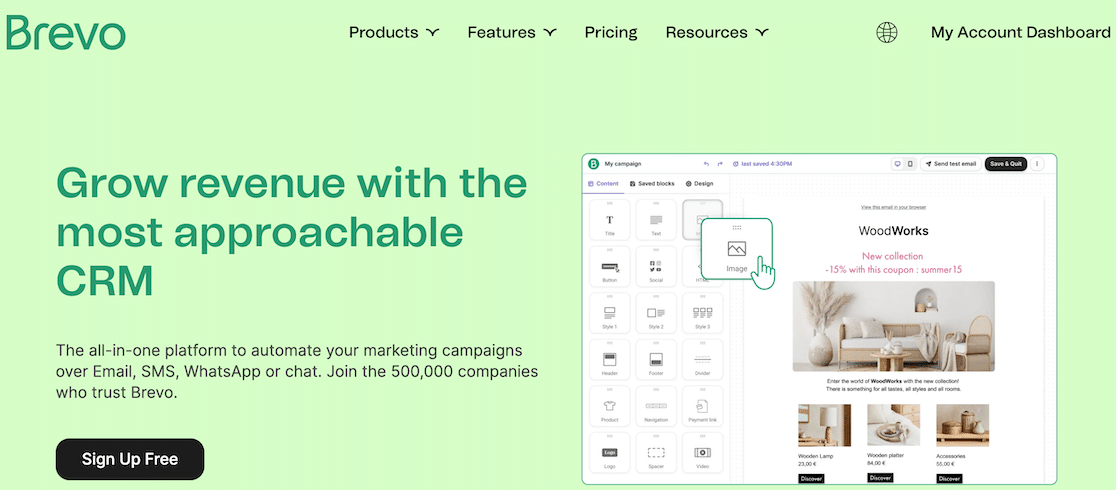 Brevo is a powerful all-in-one digital marketing alternative to Mailchimp.
With Brevo, you can run email marketing campaigns and even SMS marketing from a single platform.
Even though Brevo comes with a lot of advanced features, it's still very easy to use. For instance, Brevo handles subscribers a lot better than Mailchimp. You can filter your contacts based on behavior and information provided by your leads in contact forms, giving you greater control over your email lists.
Brevo also has some of the best campaign automation features. It gives you a lot of options to set up your email triggers based on subscriber information, engagement levels, website activity, and more. You can even use Brevo for transactional emails.
There are some great native integrations available in Brevo. It connects smoothly with WPForms Pro, which allows you to expand your automation capabilities even further by sending new WordPress subscribers to your Brevo email list.
Brevo is one of the few that has a great A/B testing tool for subject lines as well as email content.
For the huge variety of features it offers, Brevo is the best cheap Mailchimp alternative. And it also has a very generous free plan that lets you add unlimited contacts with an email sending limit of 300/day. Overall, it's a great email marketing solution for growing businesses.
Features:
Easy-to-use features
Great A/B testing to research test email variations
SMS marketing
A lead scoring system that ranks your leads so you can focus on the most important leads in your funnel
Option to set up Brevo with WP Mail SMTP for reliable transactional email deliverability.
Alternatives: GetResonse, ConvertKit, and Campaign Monitor are good alternatives if you're looking for advanced email automation features, but they're costlier options.
Pricing: Brevo offers both free and paid plans. Premium plans start at $25/month but offer more features and higher sending limits than Mailchimp and other alternatives for the same price.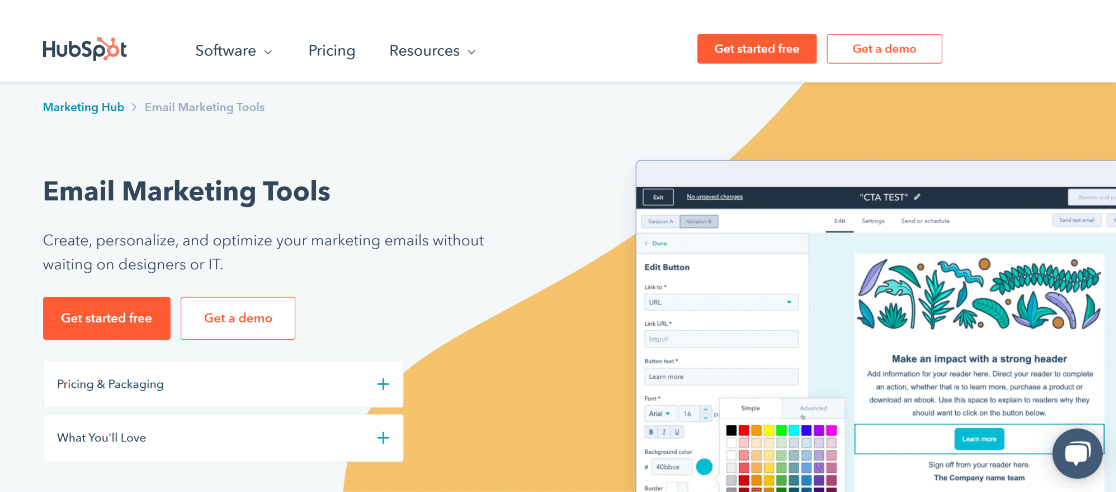 HubSpot is a good option if you're looking for email marketing tools integrated into a broader CRM platform.
This multi-purpose marketing and CRM tool has a great variety of features. You get a convenient drag and drop email editor, remarkably good automation features, and geat list management.
Unlike most other tools, HubSpot lets you create more advanced workflows that go beyond your emails. HubSpot's automation capabilities aren't simply restricted to email triggers. In fact, they also let you control different aspects of CRM, such as assigning leads to certain sales teams based on pre-set conditions.
HubSpot's A/B testing functionality enables you to test different parts of your email with a lot of flexibility. You can create variations of specific parts of the email or test two entirely different versions of the same email to find the best-performing campaign.
Overall, HubSpot is one of the more expensive options but it can be cost-effective if you want a broad CRM software with email marketing features integrated.
Pricing: HubSpot Marketing Hub is free of cost with a limit of 2,000 emails per month. Paid plans start at $45/month and come with plenty of extra features.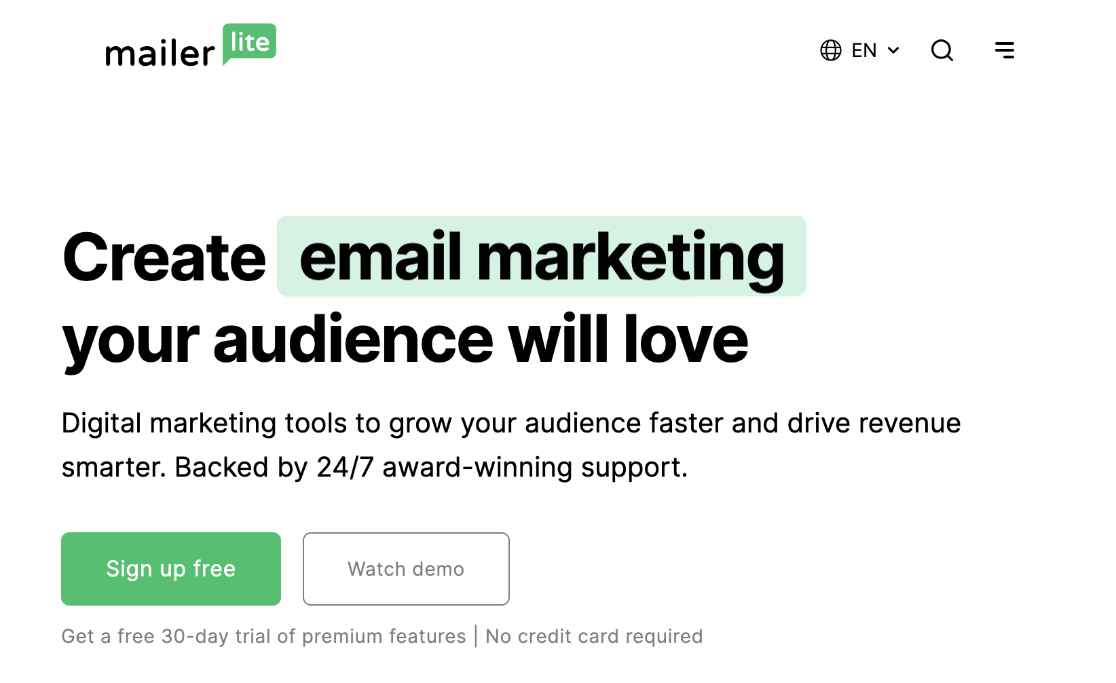 MailerLite is a beginner-friendly email marketing service that's rated at the top for its outstanding email deliverability rates.
But what mainly makes MailerLite a great Mailchimp alternative is that it provides some great advanced features for free.
MailerLite's free plan includes a very flexible email A/B testing tool. It allows you to test your emails by subject lines, sender name, or content to improve open rates or CTRs, depending on your goals.
The drag and drop email editor is very simple to use even if you've never used email marketing software before. Plus, it also offers a useful landing page builder.
MailerLite also supports decent automation options based on common triggers. There's an intuitive flowchart-style workflow builder that enables you to visualize your automation with perfect clarity.
Apart from its excellent free plan, its paid plans are more cost-effective than Mailchimp. In fact, MailerLite even has a 30% discount for nonprofit organizations, making it one of the top Mailchimp alternatives for nonprofits and small businesses.
Features:
Beginner-friendly interface and email editor
Flexible A/B testing tools for free
Easy automation setup
Straightforward list management.
Pricing:  MailerLite free plan allows 12,000 monthly emails and up to 1,000 contacts. Paid plans start at $9/month.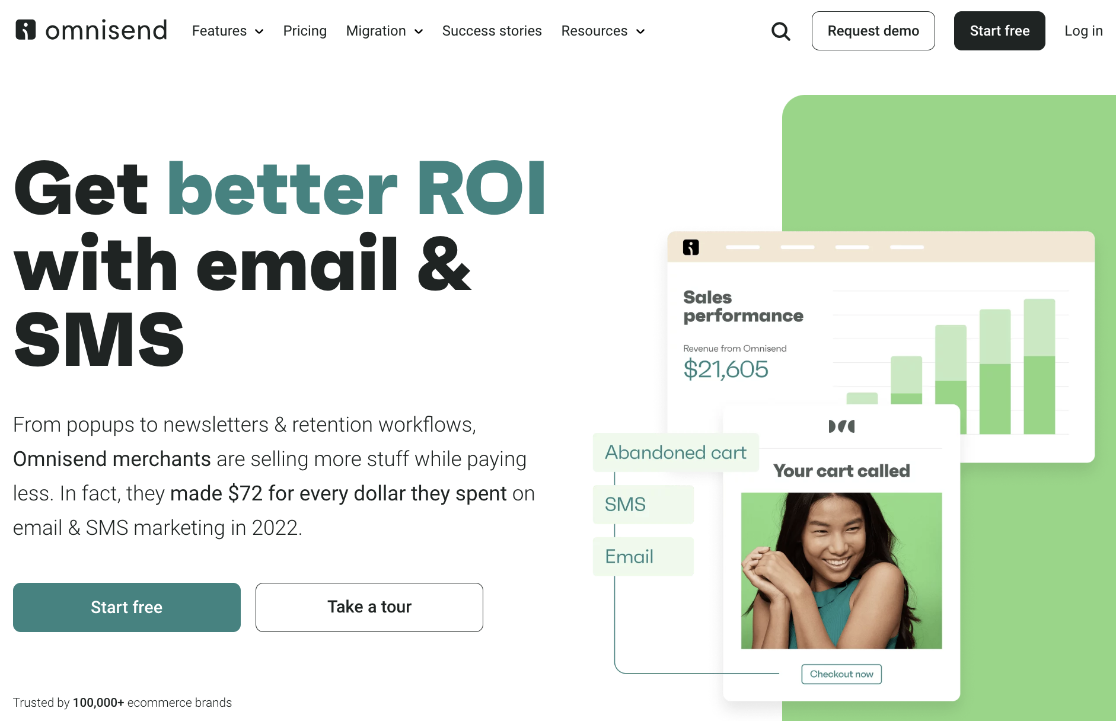 Omnisend is an excellent Mailchimp alternative for eCommerce sites. It offers features to help you build engaging campaigns that boost revenue and help you stay connected to customers.
You can easily create email marketing campaigns using unique, professionally designed templates. Omnisend also lets you build "shoppable" emails that include product pickers, personalized coupon codes, and recommendations to entice customers back to your shop.
Optimizing your email marketing campaigns is simple with built-in tools such as A/B testing.
In addition to its email marketing features, Omnisend enables you to create SMS campaigns, popups, push notifications, and segmented audience lists for a well-rounded marketing strategy.
Features:
Email builder with template library
A/B testing and Campaign Booster tools
SMS campaigns, popup builder, and push notifications
List segmentation
Pricing: Omnisend offers a free plan for up to 500 emails per month or 250 contacts. Once you exceed those limits, you'll need to upgrade to a paid plan starting at $16 per month.
Moosend is an impressive email marketing tool with an appealing, modern-style dashboard that's a pleasure to use.
The main area where Moosend excels is email automation and advanced analytics. The visual automation creator speeds up the process of building triggered campaigns in Moosend.
Besides, it offers awesome targeting features like weather-based targeting. And if you want to analyze user behavior in a more direct way, you can use Moosend's email heatmap analytics.
Moosend's A/B testing features are also very useful. You're free to split test email variations by From name, subject line, and body content (much like MailerLite's A/B test tool).
It also has a decent spam analysis tool that you can use to make sure your emails are free from any elements that are likely to be treated as spam by mail servers.
Overall, Moosend is a pretty good alternative to Mailchimp with some really useful analytics and targeting features.
Alternatives: Aweber and Active Campaign offer more advanced automation features and A/B testing flexibility but they're pricier alternatives.
Pricing: Moosend starts from $9/month.
Which Mailchimp Alternative Is the Best?
There are a lot of great alternatives to Mailchimp. However, if you're a small business and mainly looking for a simple and straightforward email marketing solution, we recommend Constant Contact. 
While it can be tempting to get a marketing tool with the largest set of features, the most advanced software isn't always the best solution for your business goals.
However, if you're particularly interested in creating relatively complex workflow recipes for your email marketing, then Brevo is the most cost-effective Mailchimp alternative. 
And if you want the best balance between features, user experience, and reasonable pricing, then we highly recommend MailerLite. 
All three of these email marketing services have can be natively integrated with WPForms, so you can simplify your workflow by transferring data between your WordPress forms and one of these email marketing tools.
And that wraps it up! You now have a fairly good idea of different Mailchimp alternatives and what kind of features you can expect from these.
Next, Compare WPForms With Mailchimp Form Builder
While Mailchimp is popular for its email marketing service, it also includes extra features like a form builder. You might also want to read our post on WPForms vs Mailchimp form builder if you're trying to get the right form creator for your business.
Also, we have a head-to-head comparison between Constant Contact vs MailerLite that highlights their main similarities and differences.
Create Your WordPress Form Now
So, what are you waiting for? Get started turning site visitors into subscribers with the most powerful WordPress forms plugin today.
And don't forget, if you like this article, then please follow us on Facebook and Twitter.