Do you want to add an ActiveCampaign form to WordPress?
The right form connected with a powerful marketing service like ActiveCampaign can greatly boost your lead capture and conversion capabilities.
With the ActiveCampaign integration for WPForms, you can connect your WordPress forms to ActiveCampaign in seconds and automatically send data from your forms to your ActiveCampaign account and email lists.
So in this post, we'll show you exactly how to connect ActiveCampaign to your WordPress forms.
Why Create an ActiveCampaign Form in WordPress?
ActiveCampaign is a leading email marketing service and marketing automation tool. It's one of the most powerful tools for running successful marketing campaigns.
However, even though ActiveCampaign lets you create forms that you can embed on your WordPress site, these forms aren't ideal for all kinds of scenarios and lack features that you'd get in a full-fledged form builder.
As a result, if you want forms with advanced features and functions that take advantage of WordPress' unique capabilities, it's better to use a contact form plugin that integrates with ActiveCampaign.
How to Create ActiveCampaign Forms in WordPress
Follow this step-by-step guide to get your ActiveCampaign form up and running on your WordPress site.
Step 1: Activate the WPForms ActivateCampaign Addon
Before you can turn on the ActivateCampaign addon, the first thing you need to do is get the WPForms Elite license and install the WPForms plugin. Here's a tutorial on how to install a WordPress plugin.
Next, you'll need to activate the ActiveCampaign addon. Head to WPForms » Addons and locate the ActiveCampaign addon. Click on Install Addon.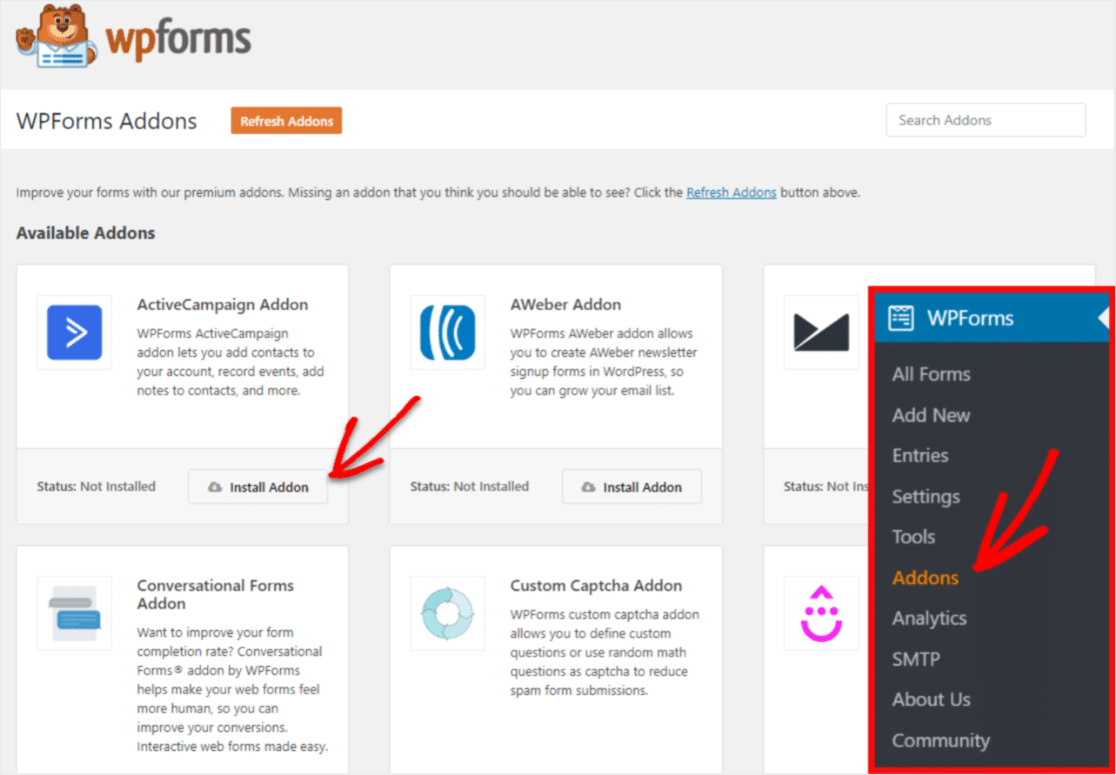 You'll see the status of the addon change to Active once it's activated.

Step 2: Build Your Form
After the installation, you'll want to create a new form by going to WPForms » Add New.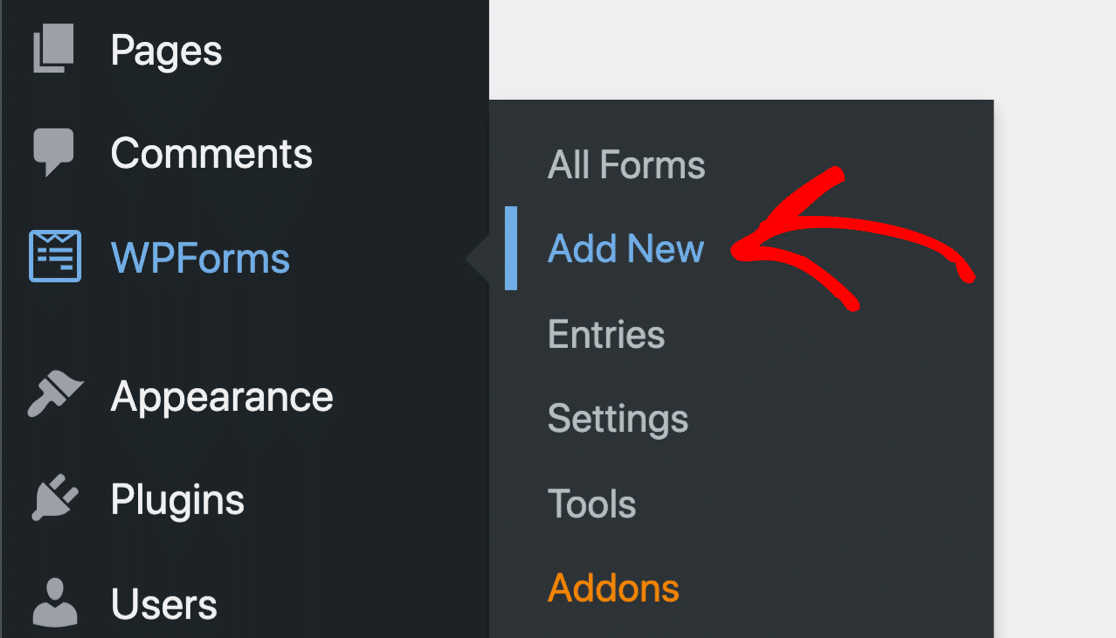 On the setup screen, name your form and select the Newsletter Signup Form template (you're free to choose from any one of the 400+ WPForms templates).
WPForms will create a simple newsletter signup form and take you to the form builder.
Here, you can add additional fields by dragging them from the left-hand panel to the right-hand panel. Then, click on the field to make any changes.
You can also click on a form field and drag it up or down to rearrange the order on your ActiveCampaign subscribe form.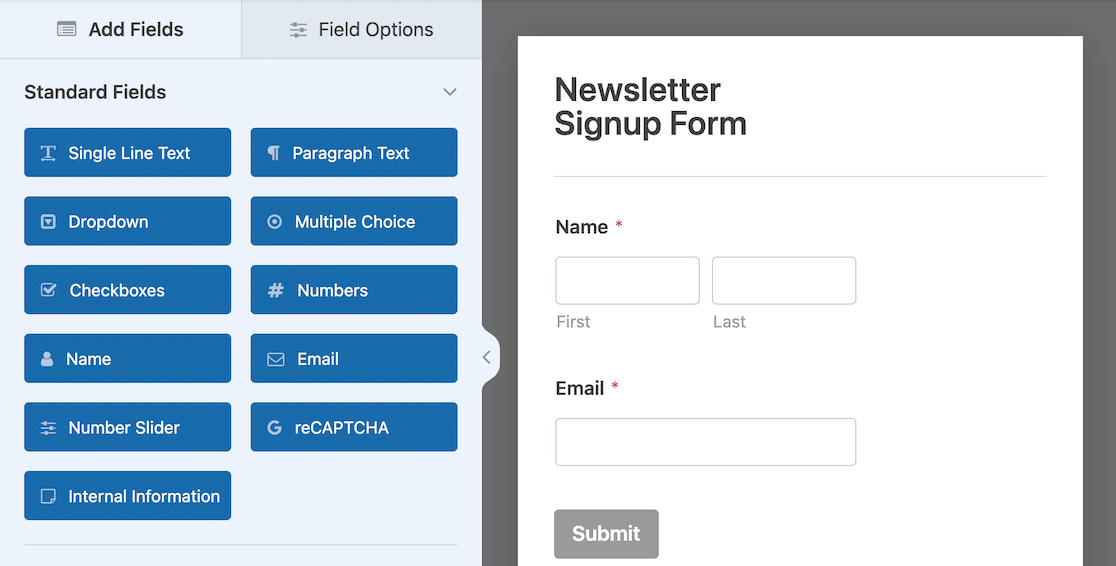 One important form field to consider adding to your ActiveCampaign signup form is the GDPR Agreement field.
This form field helps you create GDPR-compliant forms by giving your site visitors a way to agree to you storing their personal information and sending them marketing emails.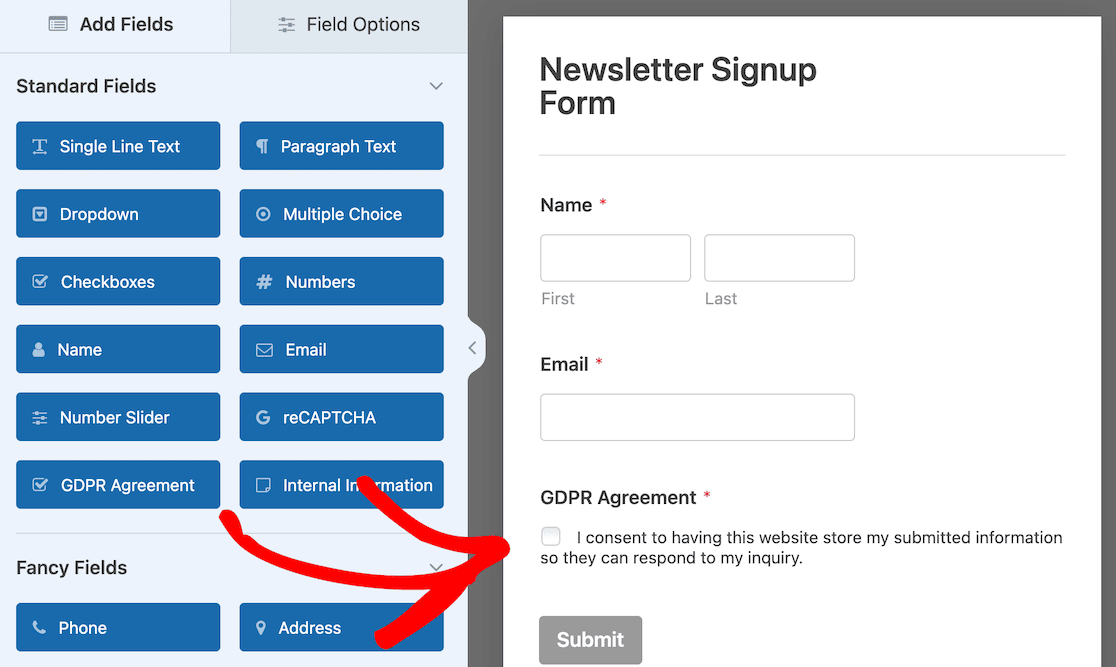 To change the default language of the agreement field, all you have to do is click on the field to make changes.
If you decide to add the GDPR Agreement field to your subscribe form, you'll need to go to WPForms » Settings and click on the GDPR Enhancements checkbox.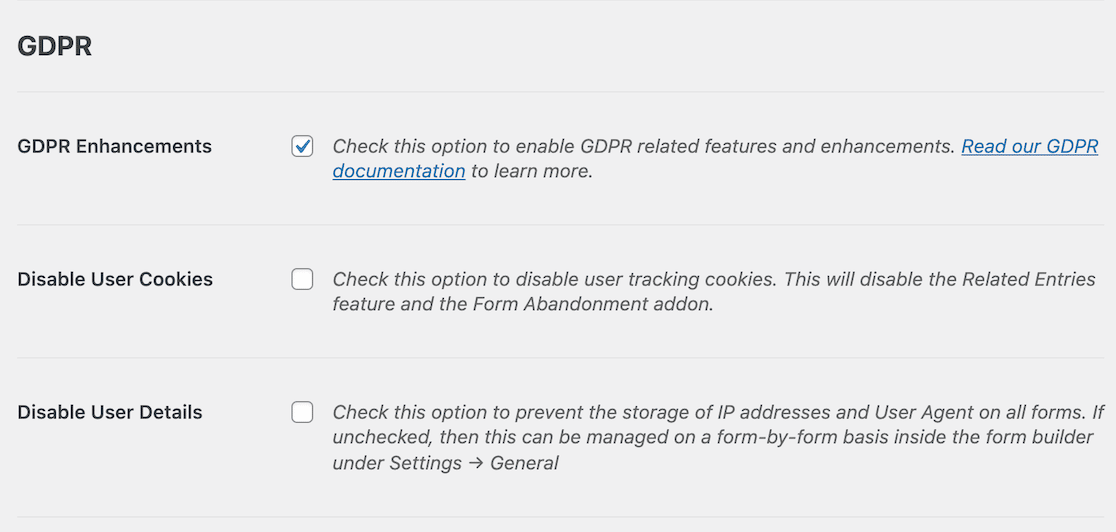 This will enable the GDPR enhancement features WPForms has available for you to make complying with GDPR that much easier.
In fact, you'll be able to:
Disable user cookies
Disable user details, which include IP addresses and User Agent data
Access the GDPR form field for your WordPress forms
Before you finish building your form, don't forget to update the notification settings to make sure you receive the notifications you want.
Once you're done customizing your form, click Save.
Now, we'll take a look at how to connect your ActiveCampaign form in WordPress to your email marketing provider.
Step 3: Connect Your Form to ActiveCampaign
To connect your form to ActiveCampaign, click on the Marketing tab on the left side of the form builder and then click on ActiveCampaign.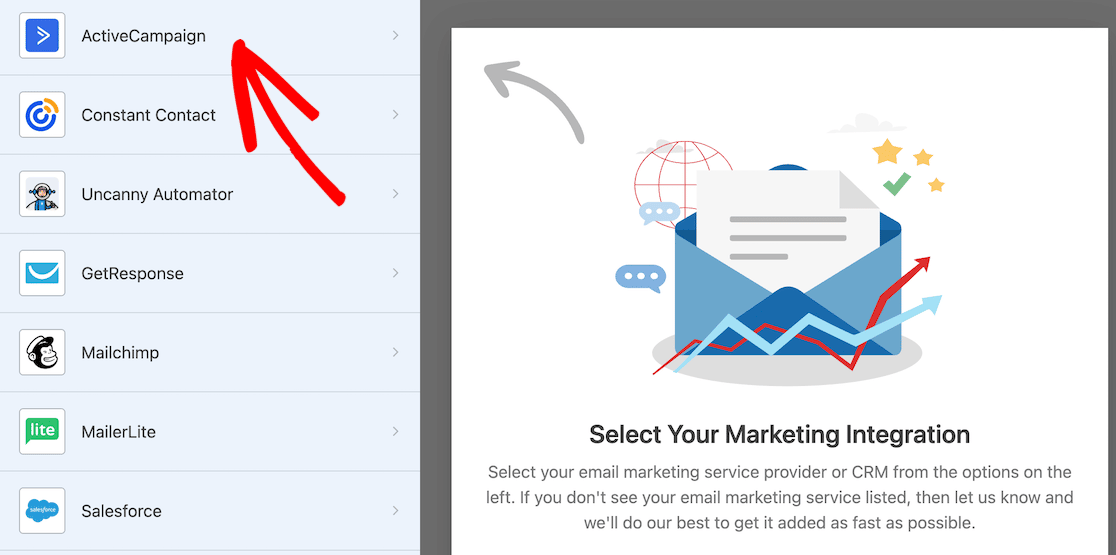 Now, click on Add New Connection.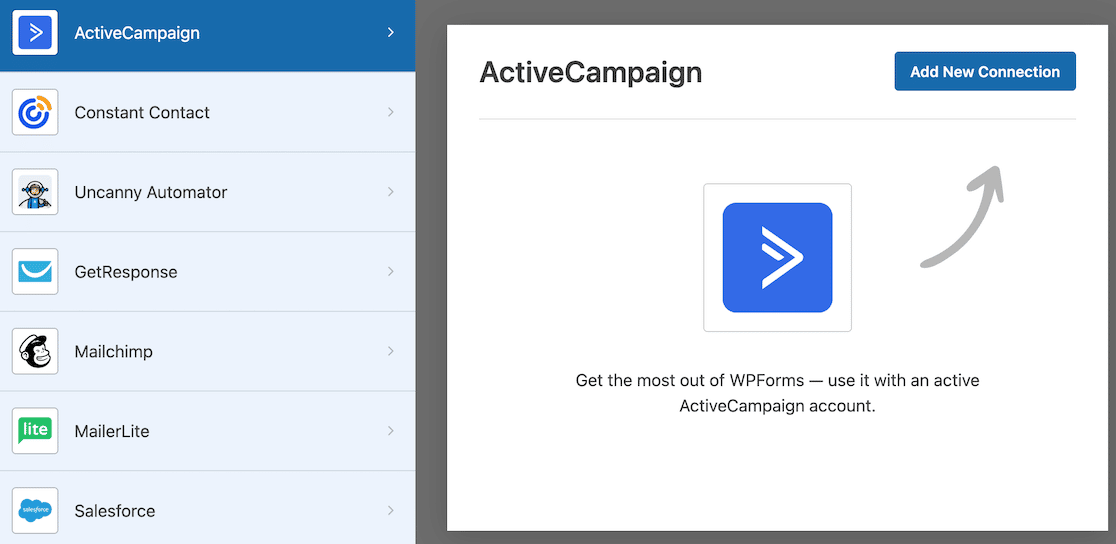 A new window will appear asking for your ActiveCampaign information.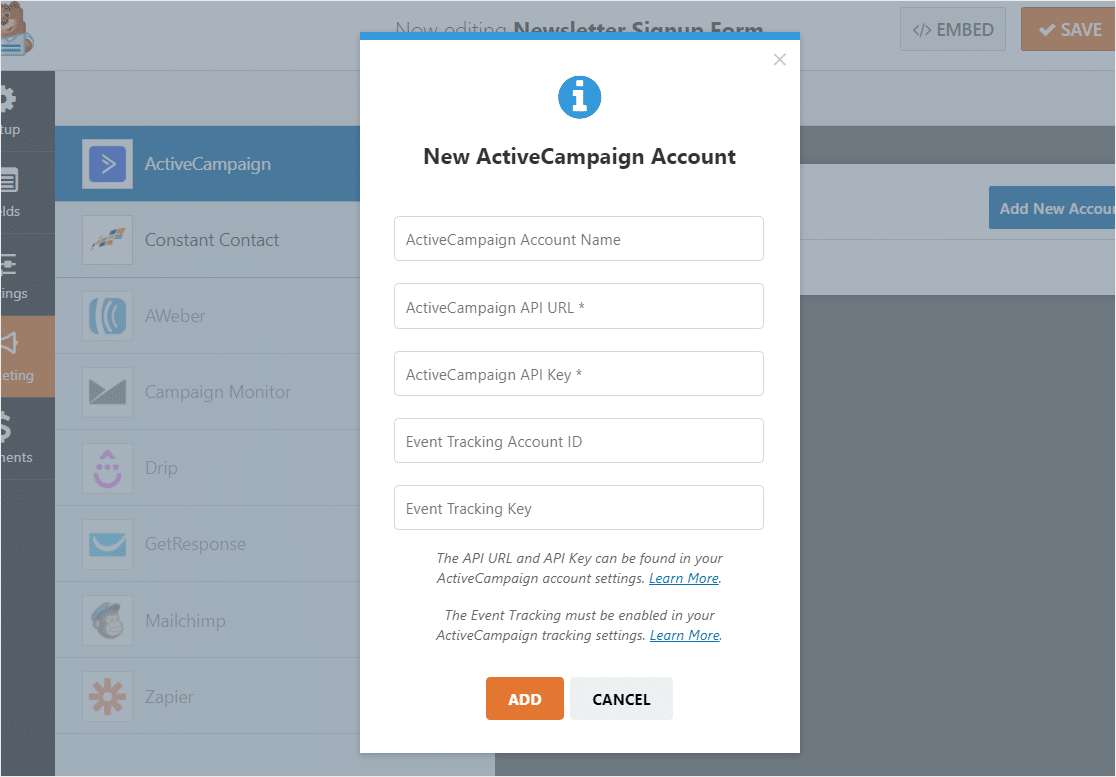 Here's how to complete each field:
ActiveCampaign Account Name
In this field, you can add any name you'd like. This is for your internal use only and will be helpful if you add more than one ActiveCampaign account.
ActiveCampaign API URL and Key
Each ActiveCampaign account will have its own unique API. To find this, you'll first need to log into your ActiveCampaign account.
After logging into your account, click on the Settings option (near the bottom of the left sidebar).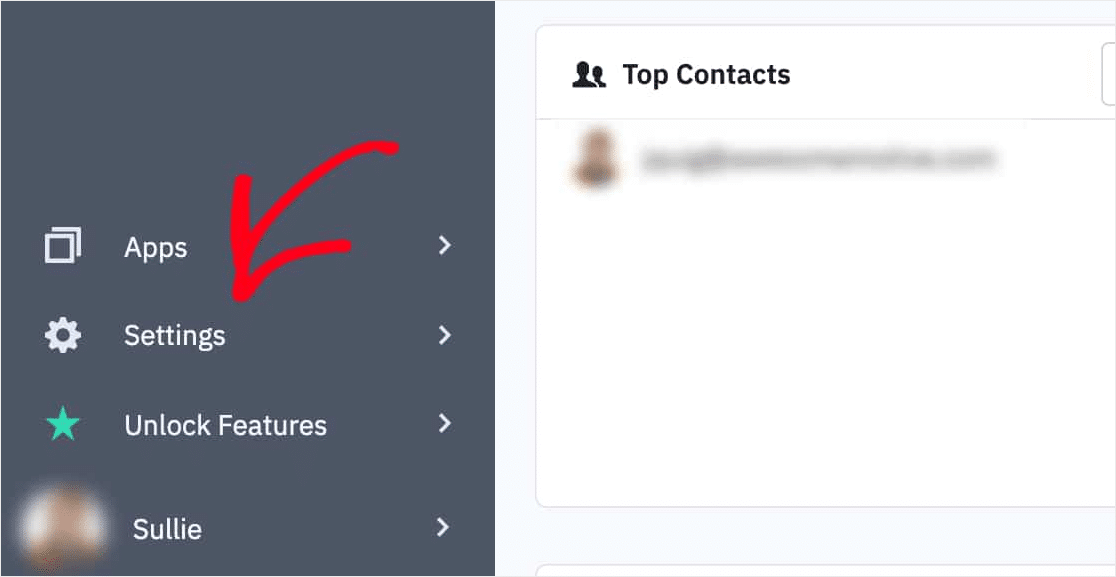 An additional menu should appear in the sidebar. Within this menu, click on Developer.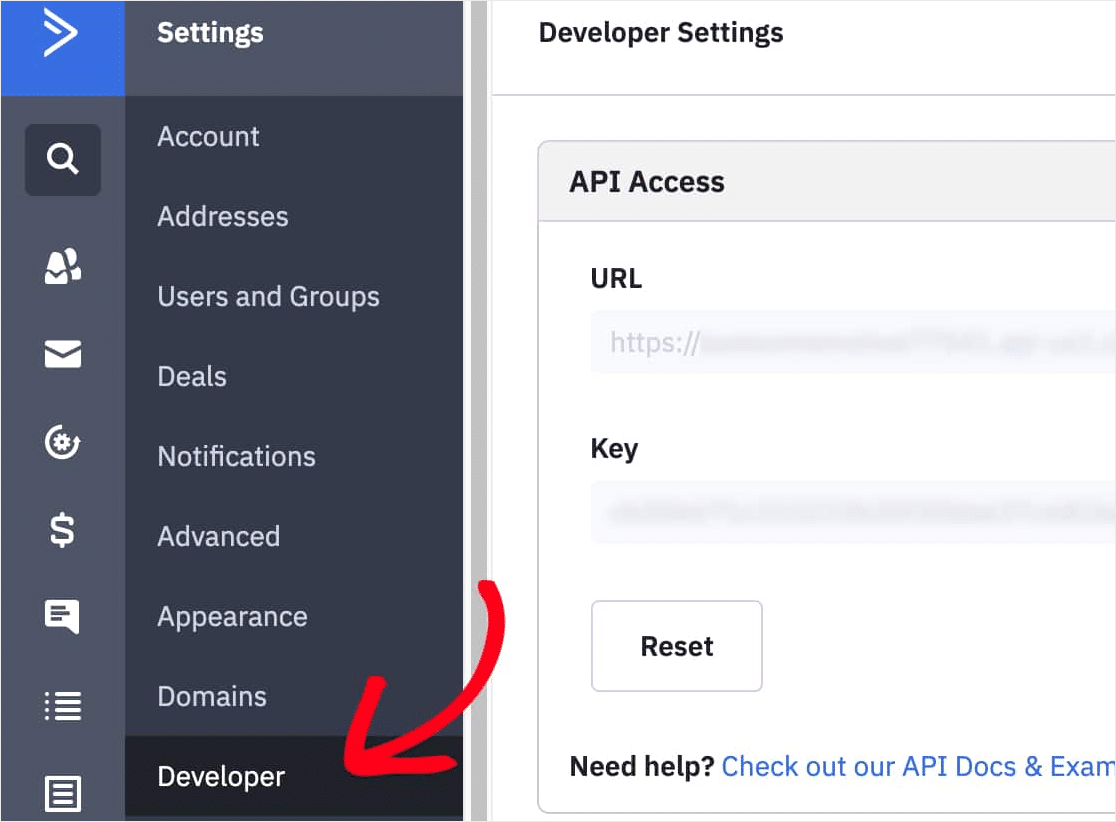 On this screen, you can copy both the URL and the Key into the window on WPForms.
Event Tracking Account ID and Key
Event Tracking is completely optional. For more details on how this feature can be used, check out ActiveCampaign's Event Tracking overview.
Once you have all the fields filled in on the WPForms settings, click on the Add button.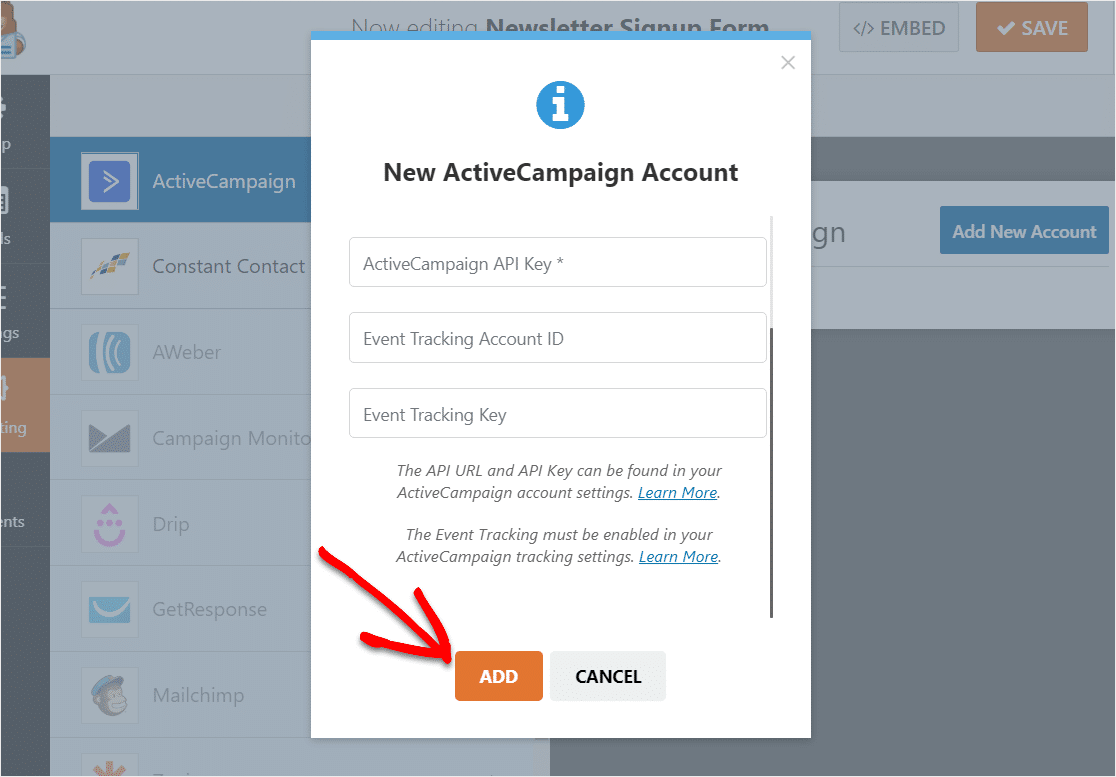 Great job! Your WPForms account is now connected to your ActiveCampaign forms in WordPress. Let's move on to the next step.
Step 4: Set Up Your ActiveCampaign Form
After your account is connected, it's time to set up your ActiveCampaign form. Get started by clicking on the blue Add New Connection button.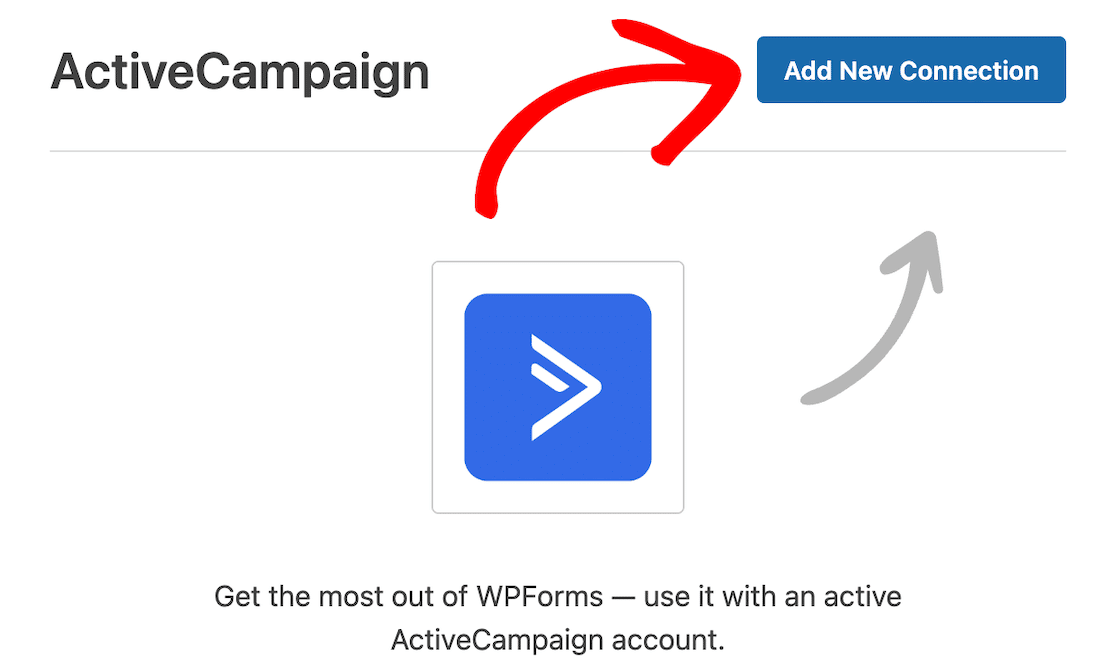 In the popup that appears, enter a nickname for this form (something like Newsletter Signup will work) and click OK. You're the only one who will see this. This nickname will be especially helpful if you want to connect this form to multiple email lists.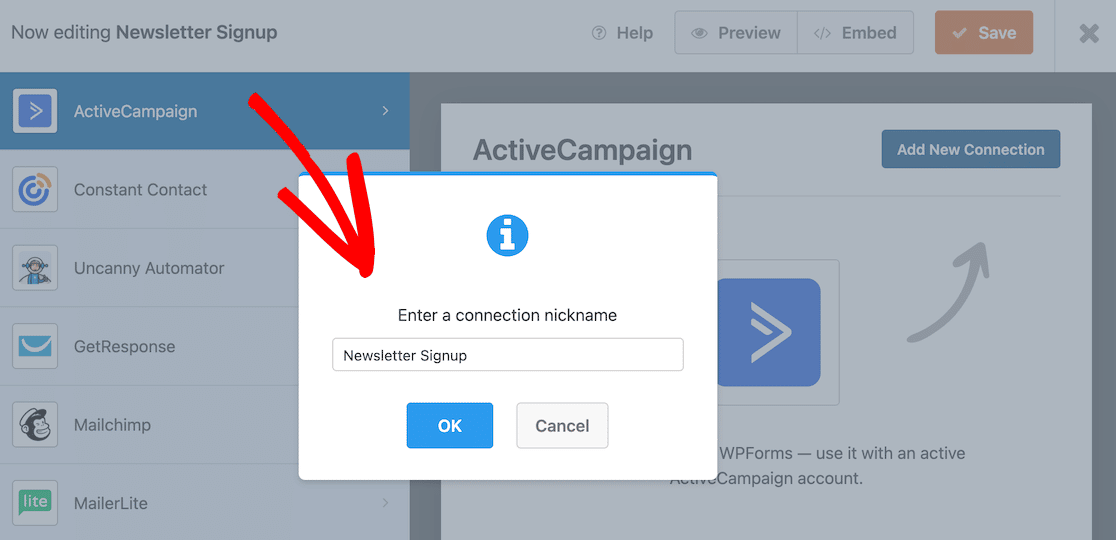 Now, more settings will show up.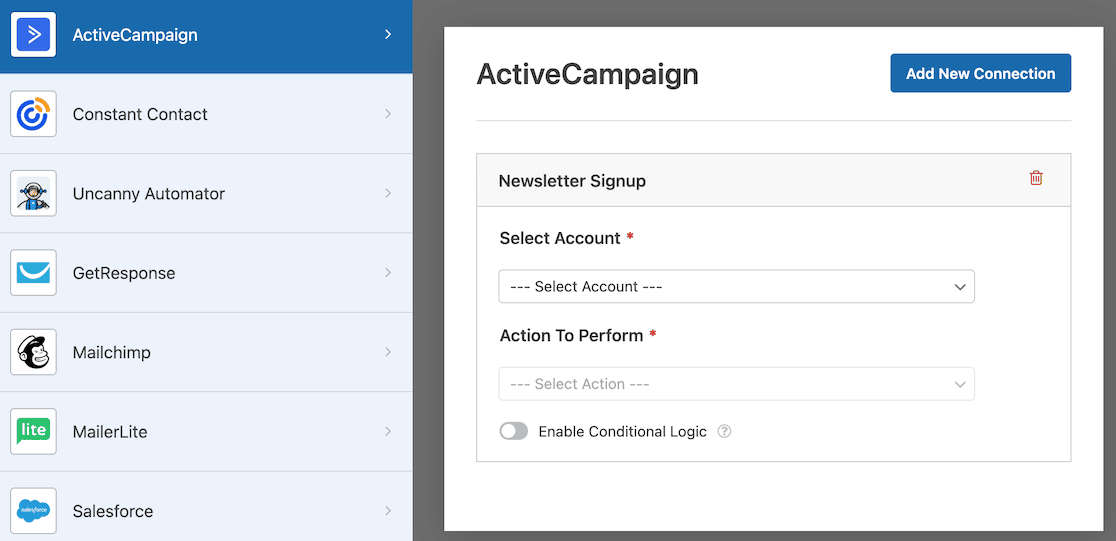 Select Account: Choose from any of the ActiveCampaign accounts you've connected.
Action to Perform: This is where you'll select the action you want to be taken when a user fills out this form. In this example, we'll select the Subscriber: Create or Update action.
Now, complete the rest of the fields that populate.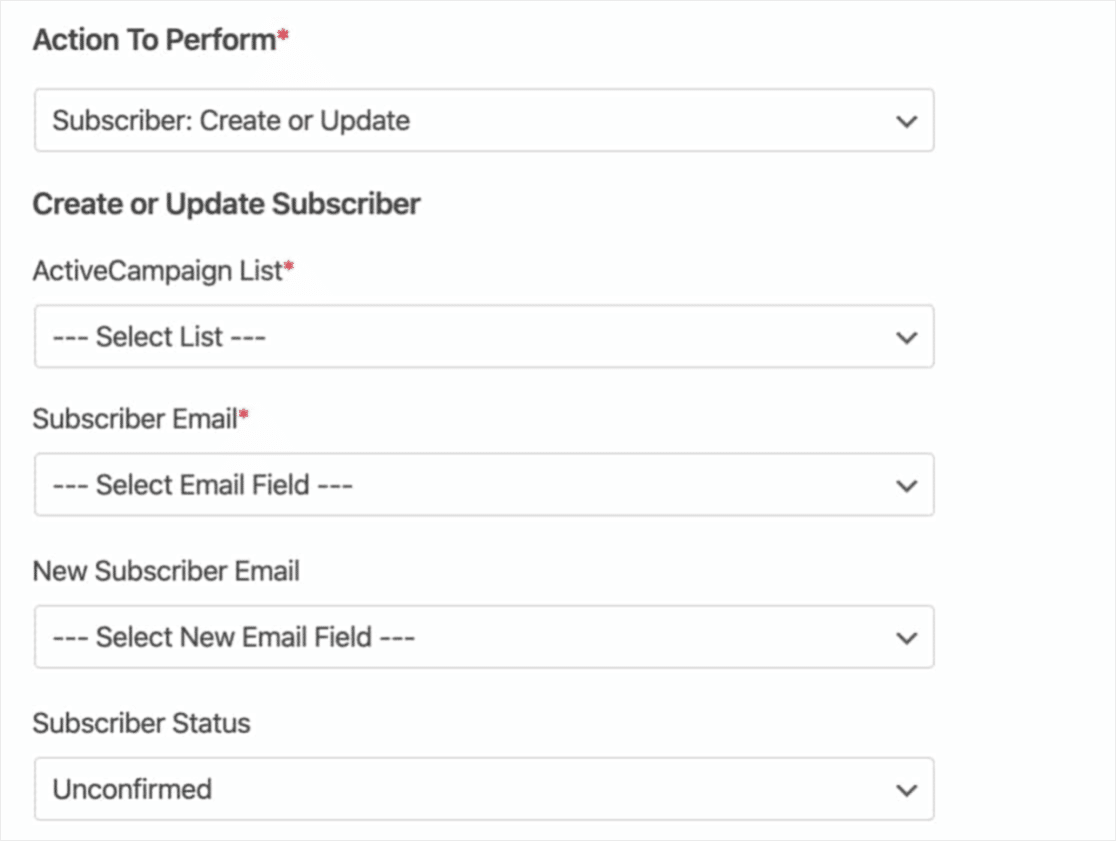 Here are some more details on each field:
ActiveCampaign List: Choose from your available mailing lists. If you don't have a list yet, check out ActiveCampaign's doc on how to create one.
Subscriber Email: Choose an Email field from your form. If you're updating an existing subscriber, then this should be their old email address.
New Subscriber Email: Only use if updating an existing subscriber. Choose the Email field from your form that includes the updated email address.
Subscriber Status: This status will be automatically assigned to all subscribers from this form.
Tags To Add: Add any tag(s) from your ActiveCampaign account to this subscriber.
Tags To Delete: Remove any default tags, or (if updating an existing subscriber), remove specific existing tags.
Note: Automatically add a note to the subscriber.
For more details about these settings, please see our complete documentation on how to install and use the ActiveCampaign addon with WPForms.
When you're ready, click the Save button in the top right corner.

Congrats! Your form has been created. The last step is to add your ActiveCampaign form to your WordPress website.
Step 5: Add Your ActiveCampaign Form to Your WordPress Site
Now that you've created your form and connected it to ActiveCampaign, it's time to embed the form on your website.
To start, just click the Embed button on the top.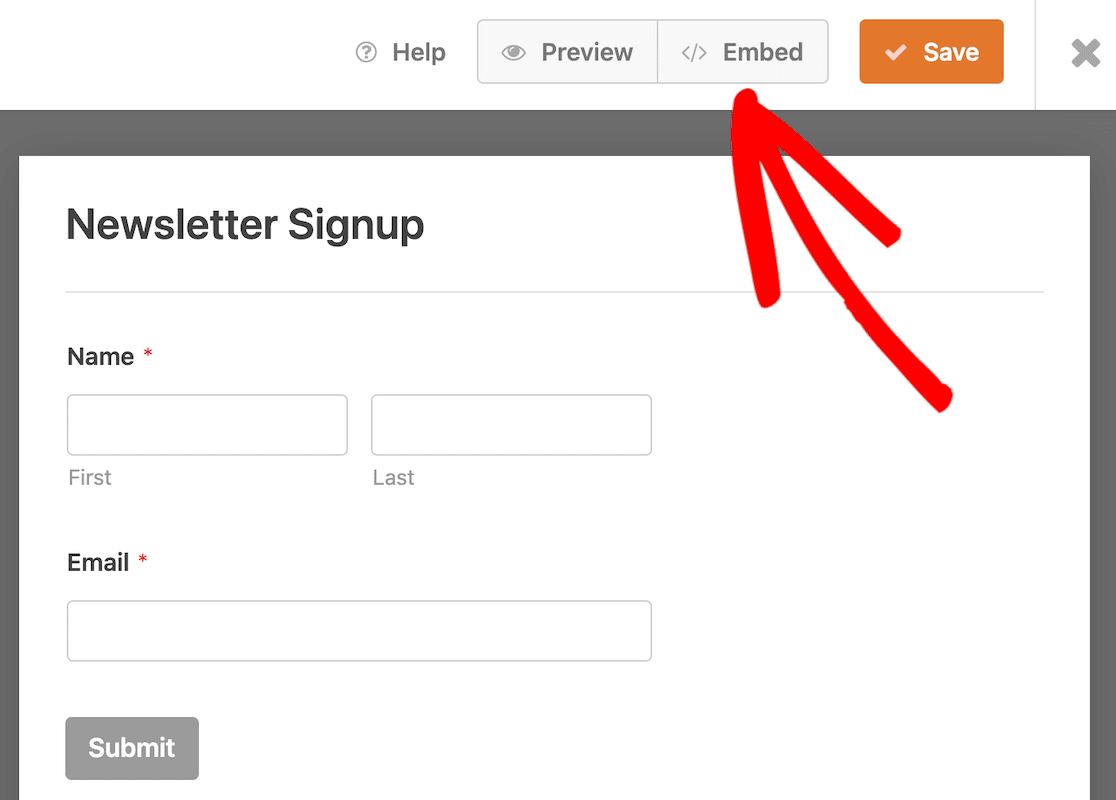 A modal window will open and ask you if you want to embed your form on an existing page or if you want to create a new page.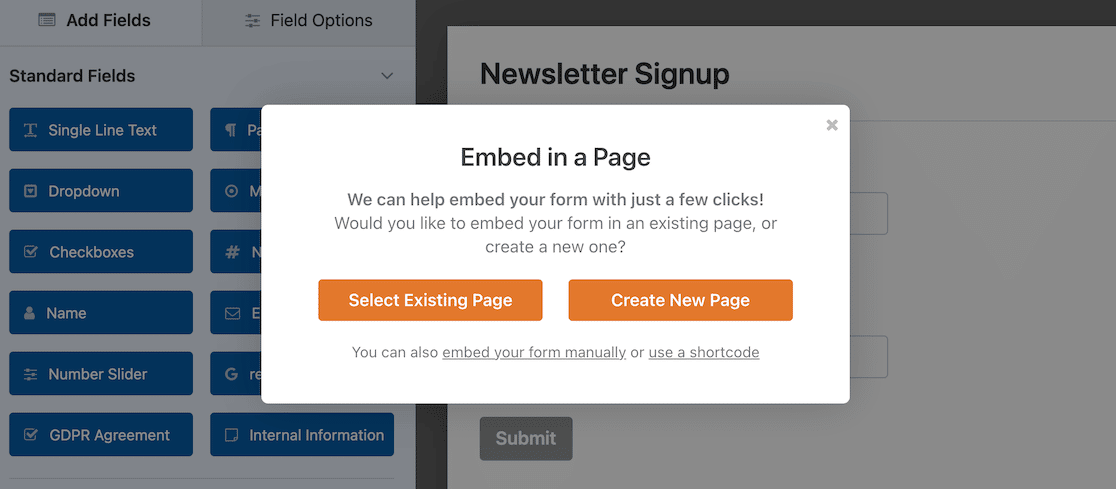 If you select an existing page, you can choose from a dropdown of pages that exist on your site. For our purposes here, we don't have a newsletter signup page set up yet, so we're going to create a new page by clicking on the Create New Page button.
You can also embed forms manually or use a shortcode if you didn't want to embed directly from the form builder. That option is helpful when embedding forms that were created previously.
When you click on the Create New Page button, another modal window will open. You can go ahead and give your page a name.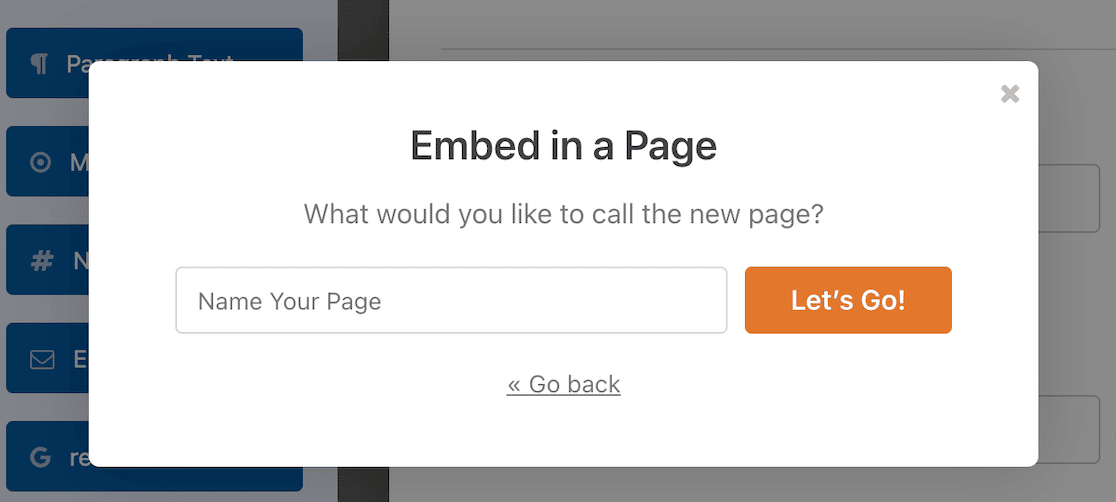 Once you type in the page name and click Let's Go!, the page editor will open with the form embedded.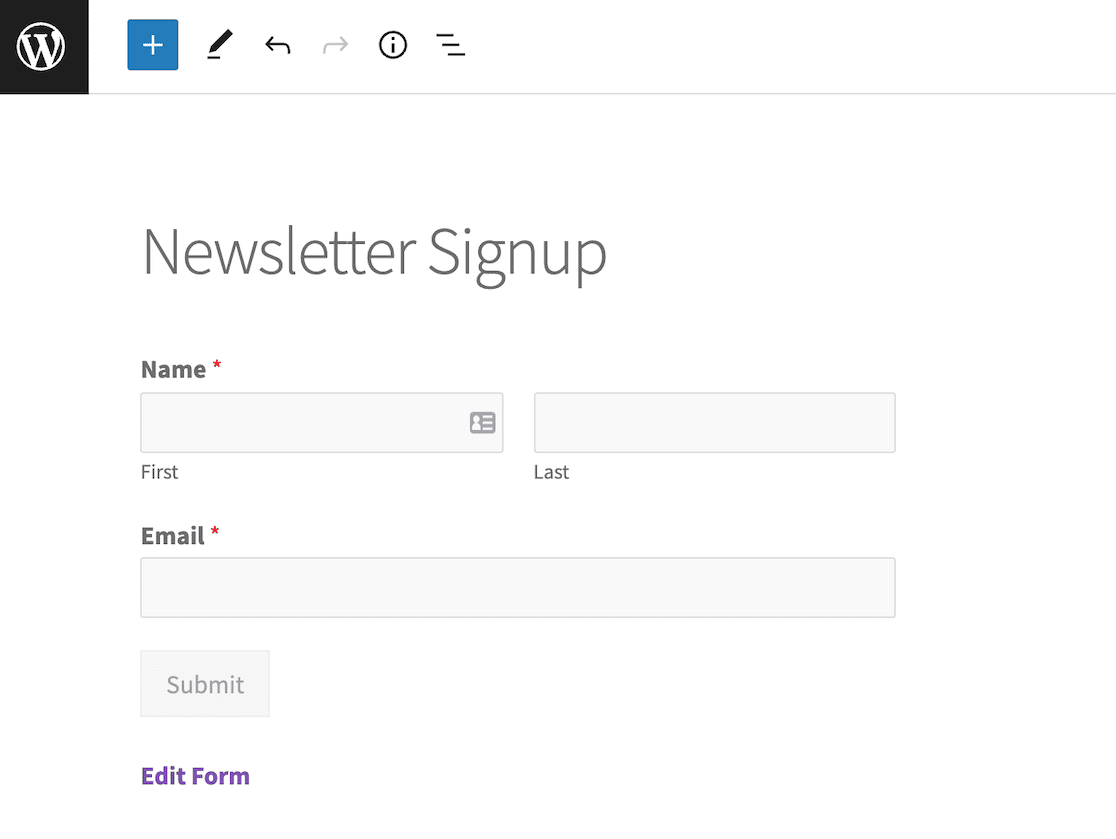 If it looks good to you, you can publish your page or save changes if the page is already live. Now your form is live ready to collect signups!
WPForms will automatically send contacts to your ActiveCampaign list as they sign up using your form.
You can send a test entry and check to make sure you're properly getting contacts to your ActiveCampaign account.
And that's! You can now make customized ActiveCampaign forms in WordPress to build your email list in no time.
Next, Stop Spam From Submissions
Dealing with spambots is a major challenge for every website. With spam submissions, you run the risk of collecting fake entries that can negatively impact your campaigns. Thankfully, WPForms is very effective at preventing bots from sending spam.
Want to get more value from your client forms? Check out these hacks to find hidden customer data with WPForms hidden fields.
So what are you waiting for? Get started with the most powerful WordPress forms plugin today. The WPForms Elite plan includes access to the ActiveCampaign addon.
And if you like this article, then please follow us on Facebook and Twitter for more free WordPress tutorials.