Online forms come in many different shapes and serve various purposes.
When setting up forms for your business, it's very important to think about your goals and the type of form that can get you the best results.
In this post, we'll show you some of the most impactful types of forms that you can use to grow your website in meaningful ways.
Create Customized WordPress Forms
Types of WordPress Forms
Web forms are extremely versatile. While they're usually thought of as a means for site visitors to contact you, forms can be leveraged to accomplish a variety of important business goals.
Of course, not all types of forms are suitable for all businesses. But understanding which types of forms are commonly used by successful businesses can help you pick a few forms that align with your strategic objectives.
1. Contact Forms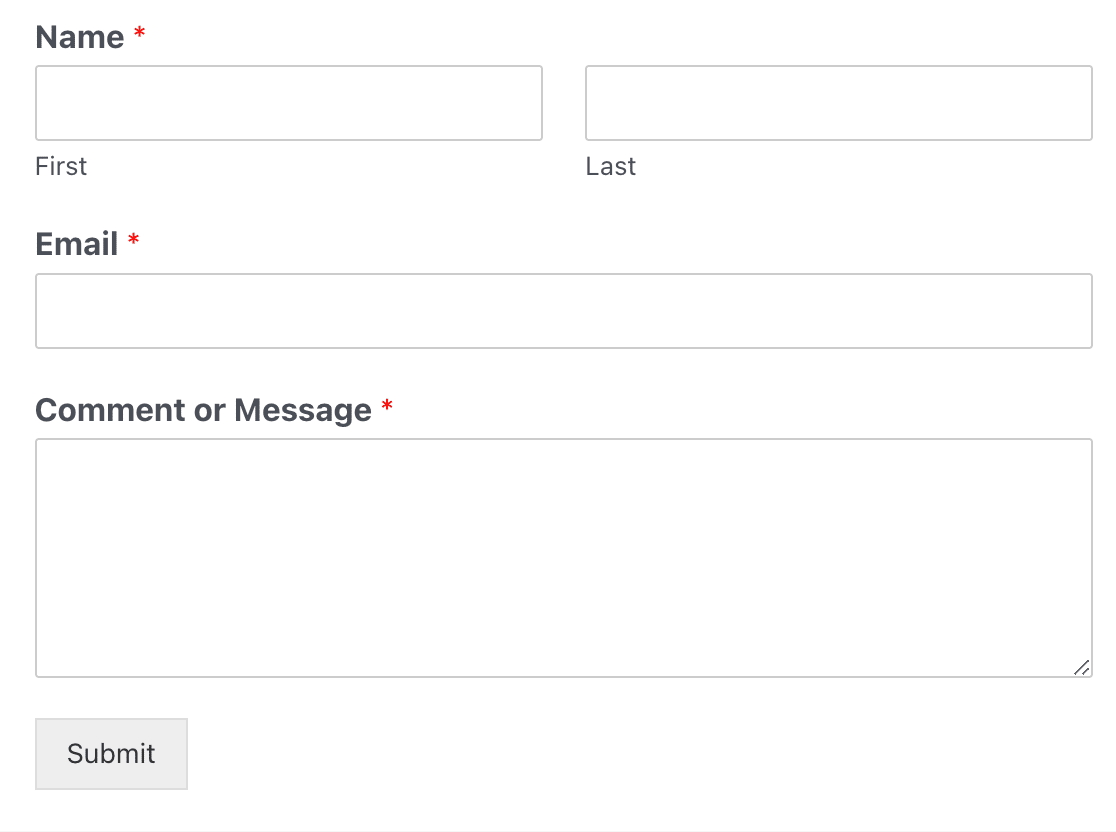 Contact forms are universally used by websites across the web. Whether you're an eCommerce store or a simple blog, you need a Contact Us page to allow visitors to get in touch with you.
In WordPress, it's incredibly easy to create a customized contact form if you have the right form builder plugin such as WPForms.
WPForms lets you build a contact form from scratch or use the very handy Simple Contact Form template available in all versions of the plugin.
And once you have a contact form, you can easily create a request a call back form to make it even easier for customers to contact you.
Check out this comparison of WPForms Lite vs Contact Form 7 to find out which free form builder is best for your site.
2. Lead Generation Forms

It's hard to imagine any successful online business without well-designed lead generation forms. When it comes to lead generation, you typically only have less than 5 seconds to make a good impression and capture the visitor's interest.
While you can get away with using a fairly plain-looking form for contact, successful lead generation often requires a more engaging and distraction-free experience for visitors.
This is where WPForms' Lead Forms addon comes in. When you activate the Lead Forms mode, WPForms will display only one field on a single page and unlock powerful design controls. This gives you the freedom to add a container to your form and customize its appearance by changing the colors of any component of the form.
Using this type of form, you can improve your lead capture capabilities and convert more passing visitors into strong leads.
3. Calculator Forms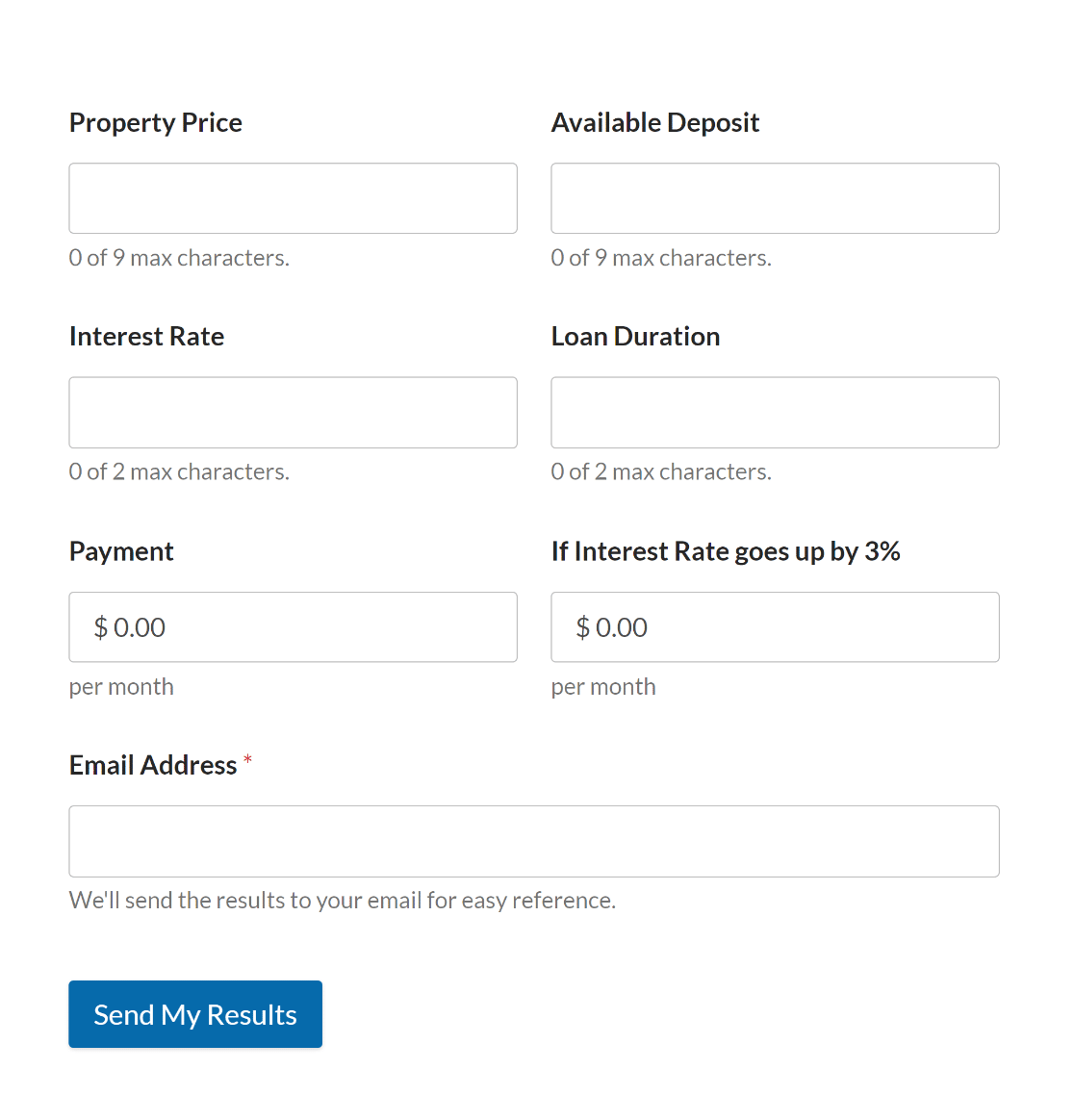 Calculator forms are one of the most powerful types of forms you can add to your website.
These forms allow you to give instant answers to your customer's queries without them having to wait for a manual response from you.
For instance, calculator forms built using WPForms can be used to show quotations for a customer's requested services, calculate mortgage installments based on the user's specific property details, calculate taxes and shipping prices, and so on.
These interactive calculator forms can be a great tool to capture leads and minimize abandonment. Because WPForms' calculators are inherently engaging, users are more likely to stay on your page for a longer time and see how the calculation results change based on their selections.
Plus, automatic calculations mean you don't have to do any number crunching of your own, saving you time to focus on the more important things.
Creating your own custom calculator forms is a straightforward process in WPForms. You can check out our guide on building formulas with the Calculations addon.
4. Survey Forms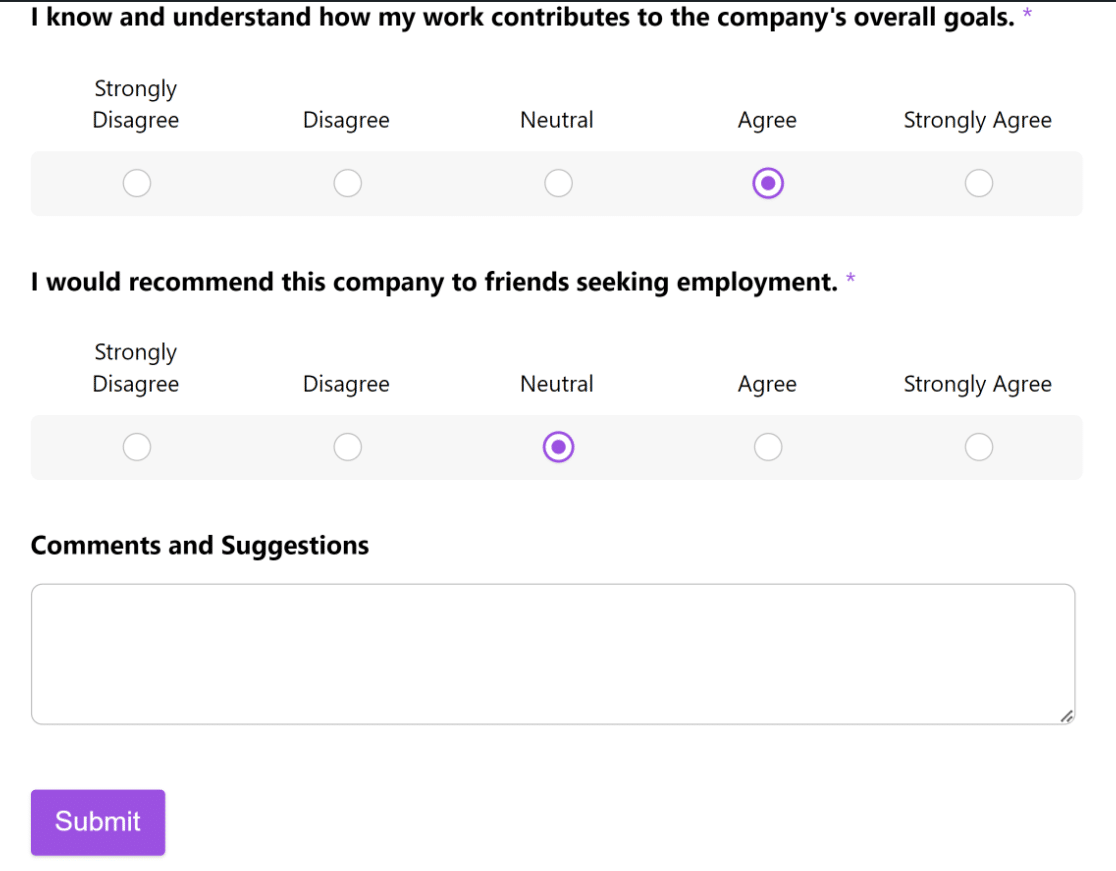 Survey forms are vital for collecting feedback in a variety of settings. Businesses can utilize survey forms to identify their strengths and weaknesses from the perspective of their customers. In the same vein, surveys are a great tool for gauging employee satisfaction levels to make improvements to the workplace environment.
Creating survey forms with WPForms is as easy as it gets. You can include fields like a Likert Scale, NPS, Multiple Choice questions, Star Ratings, along with Paragraph fields to create the perfect survey featuring a mix of close-ended and open-ended questions.
Our form template library also includes many ready-made survey forms designed for different cases such as this In-Store Experience Survey.
Need some inspiration? Check out these examples of customer surveys we like.
5. Payment or Donation Forms
If you need to collect online payments for products, services, subscriptions, or even for a fundraiser, a simple payment form is the easiest way to accomplish your goal.
WPForms supports payment processors like PayPal and Stripe. These are incredibly easy to set up – you just need to connect your Stripe or PayPal account to establish integration and then you can enable payments in any form.
The best part? Stripe is available on ALL license levels, including Lite. That means you can start taking payments with your order forms for free (you'll be charged a nominal processing fee from Stripe for every transaction). And our Pro users aren't charged anything extra for Stripe payments at all.
As well as taking one-time payments, these payment addons also allow you to collect recurring payments. So whether you want to collect payments for orders, or subscription-based services, or even recurring donations, WPForms offers full control.
The template library includes a variety of payment forms that fit different purposes. For instance, you can use our ready-made donation form template or build one from scratch. Check out our tutorial on creating nonprofit donation forms to get started.
Additionally, if you prefer to take pledges, an online pledge form is a great way to raise funds for a sponsored event.
6. Conversational Forms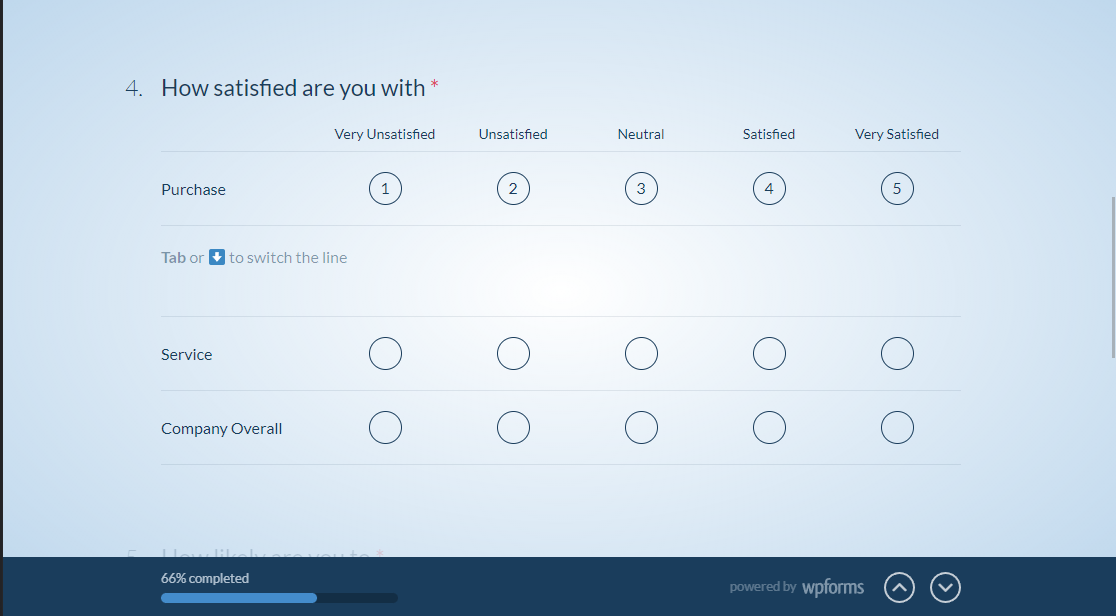 Conversational forms are an improvement over traditionally styled forms because they flow like a conversation. These forms only display one field at a time, leading to greater engagement and a better form-filling experience for respondents.
So if you're looking for a Typeform alternative for WordPress to create visually spectacular Conversational Forms, WPForms is the ideal choice.
7. Booking and Event Registration Forms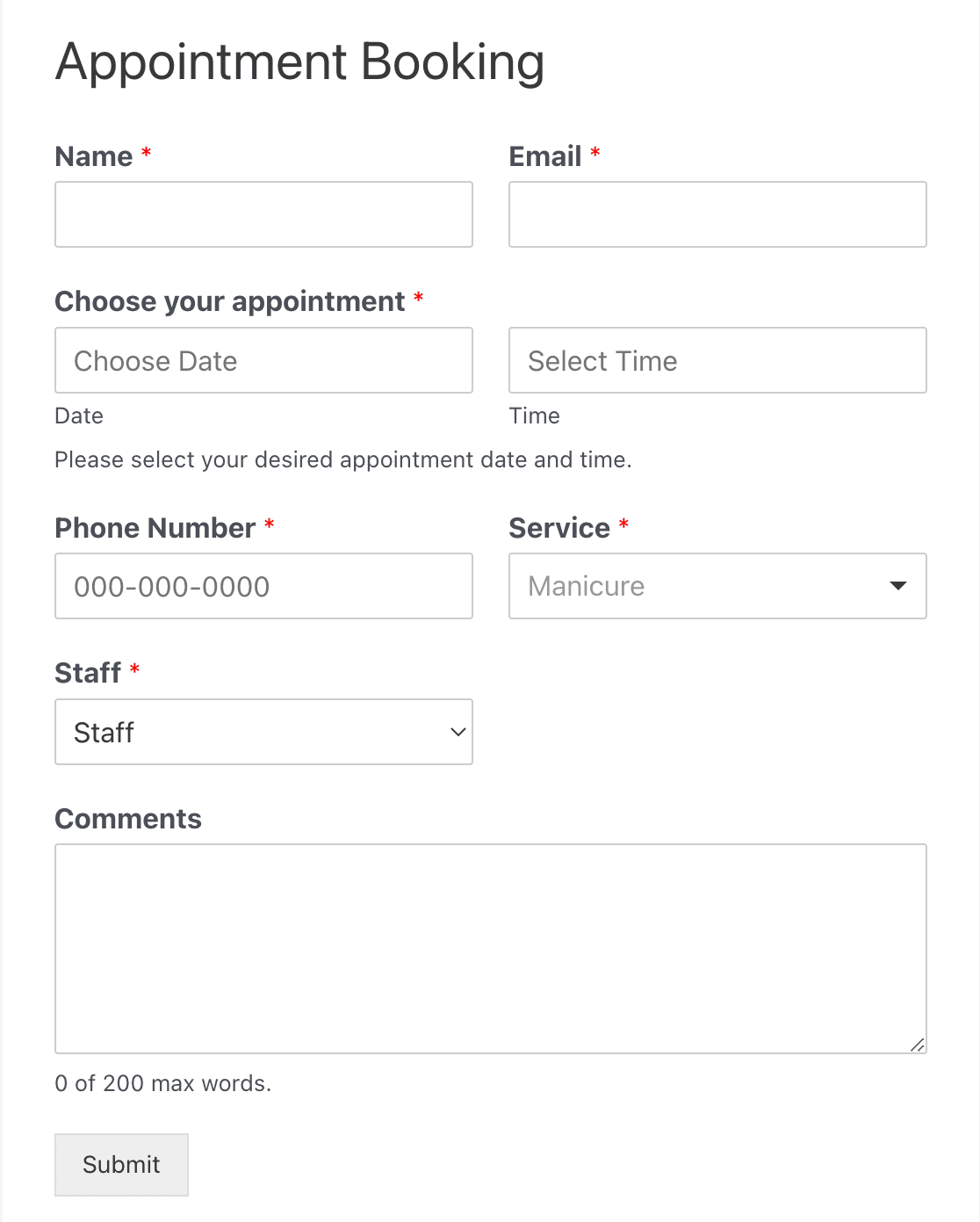 Are you running a service-based business? You can use your website forms for more than just contact forms!
You can create a booking form in WordPress to let clients and leads send you appointment requests right through your WordPress site.
And if you run a community site, you can make a form so users can submit their own events.
Check out this simple guide to making a WordPress form with a datepicker.
8. Job Application forms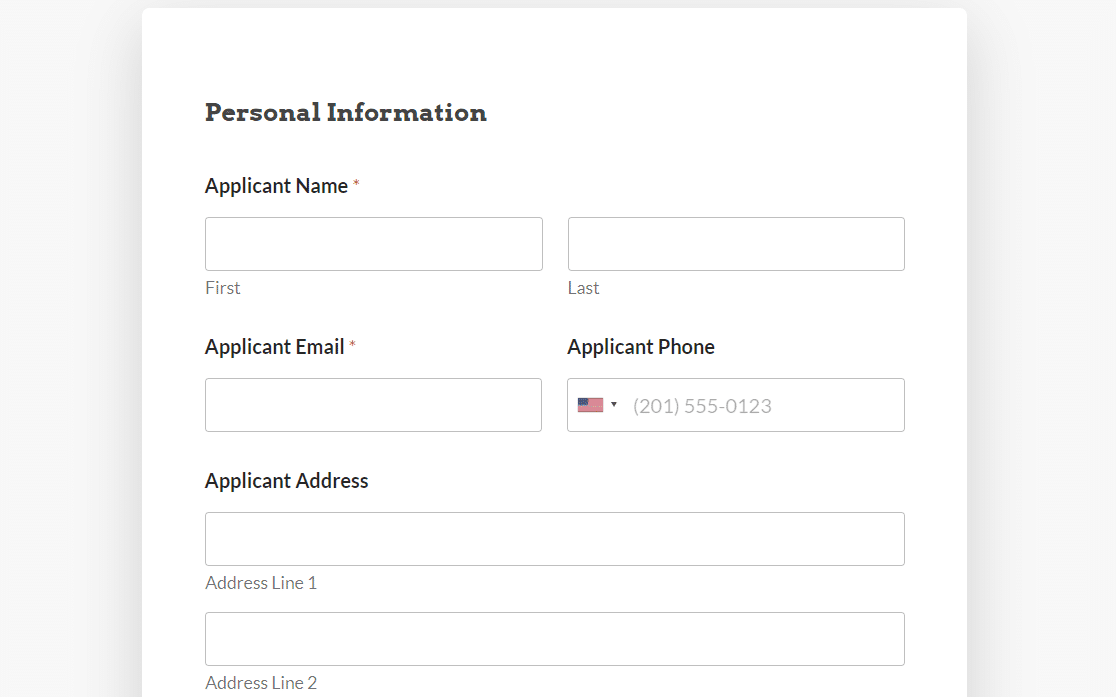 Searching for qualified prospects to fill in a role in your company? Job application forms make the process easy for both you and interested candidates.
With WPForms, you can let candidates submit their resumes, cover letters, and other important documents conveniently with the application form. Once submitted, you can view all entries inside your WordPress dashboard and review the applications without having to leave your website.
So you can gather and organize resumes, references, and other docs before reaching out to candidates. It's a great way to qualify applicants quickly and efficiently.
If an employee decides to leave, you can also create an exit survey to get their feedback on the job. Surveys like this can really help to improve your processes for everyone else.
9. Popup Forms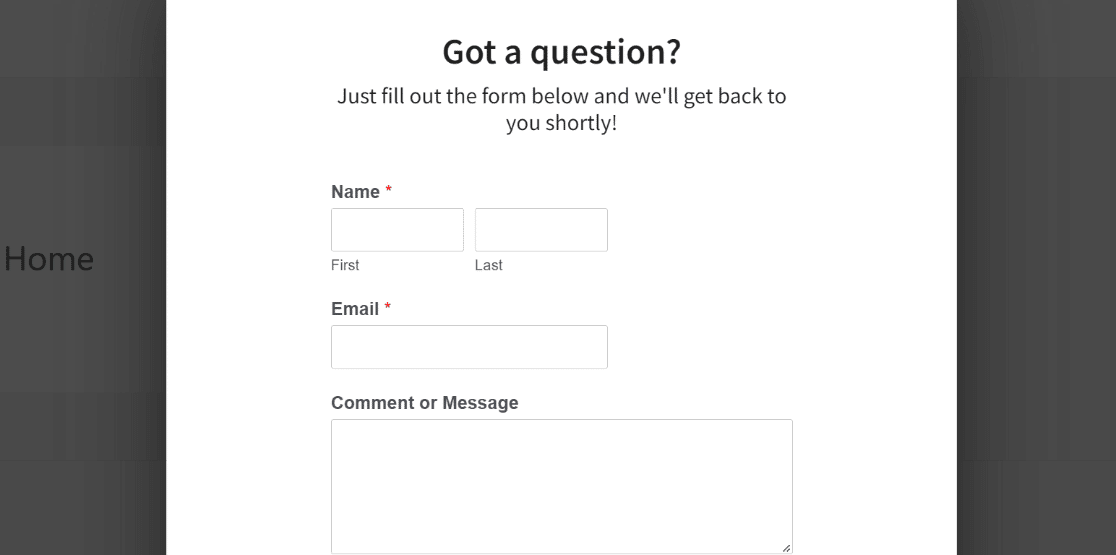 Popup forms are forms that appear on a website automatically or by a triggered action, and they're known for explosive conversion rates.
However, popups are also more intrusive than other types of forms so it's important to set up appropriate triggers to avoid annoying people.
The best way to create popup forms is to use WPForms along with OptinMonster. OptinMonster can be used to turn any form created in WPForms into a popup. For a detailed tutorial, see our guide on creating popup forms in WordPress.
You can use them to call attention to a contact form, an email newsletter optin form, lead magnet, or more.
10. Conditional Logic Forms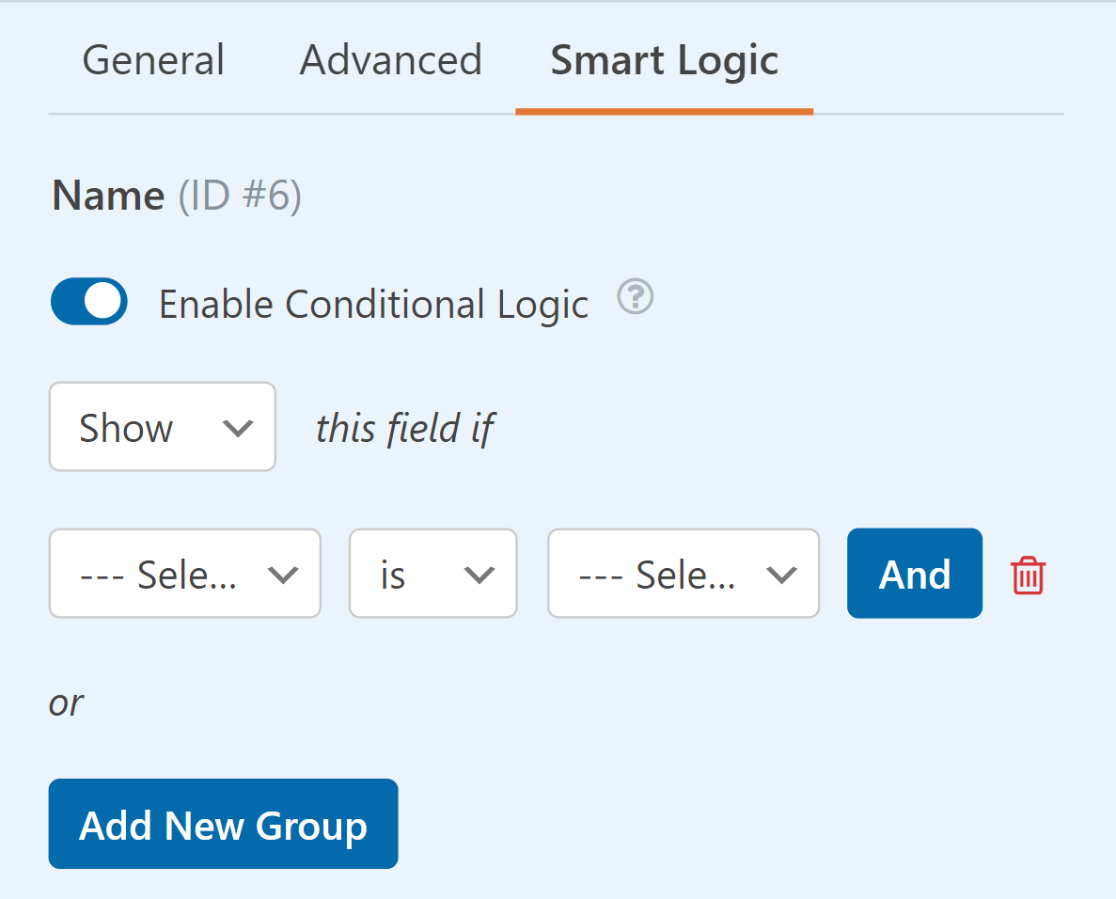 Conditional logic is a powerful tool that helps make your forms more focused and concise. Because not every field in a form is relevant to every respondent, using conditional logic allows you to show or hide specific fields based on answers to previous questions in a form.
Without conditional logic, your visitors have no choice but to go through every field even if it's not relevant to them.
As a result, you run the risk of overwhelming respondents and seeing a higher abandonment rate than you'd see if you incorporated conditional logic strategically.
WPForms supports AND/OR logic for almost every field, giving you a lot of options for designing a form that promises a pleasant experience for respondents.
11. CRM Connected Forms
Collecting information with a form and storing it on your WordPress site is very useful. But nothing beats the convenience of integrating your forms with other CRM platforms.
Using integrations, you can directly send your leads from your forms to your CRM platform and perform other automated events between different tools.
WPForms supports integrations with all popular CRM and marketing platforms including Salesforce, HubSpot, Mailchimp, Drip, Mailer Lite, and more.
12. Save and Resume Forms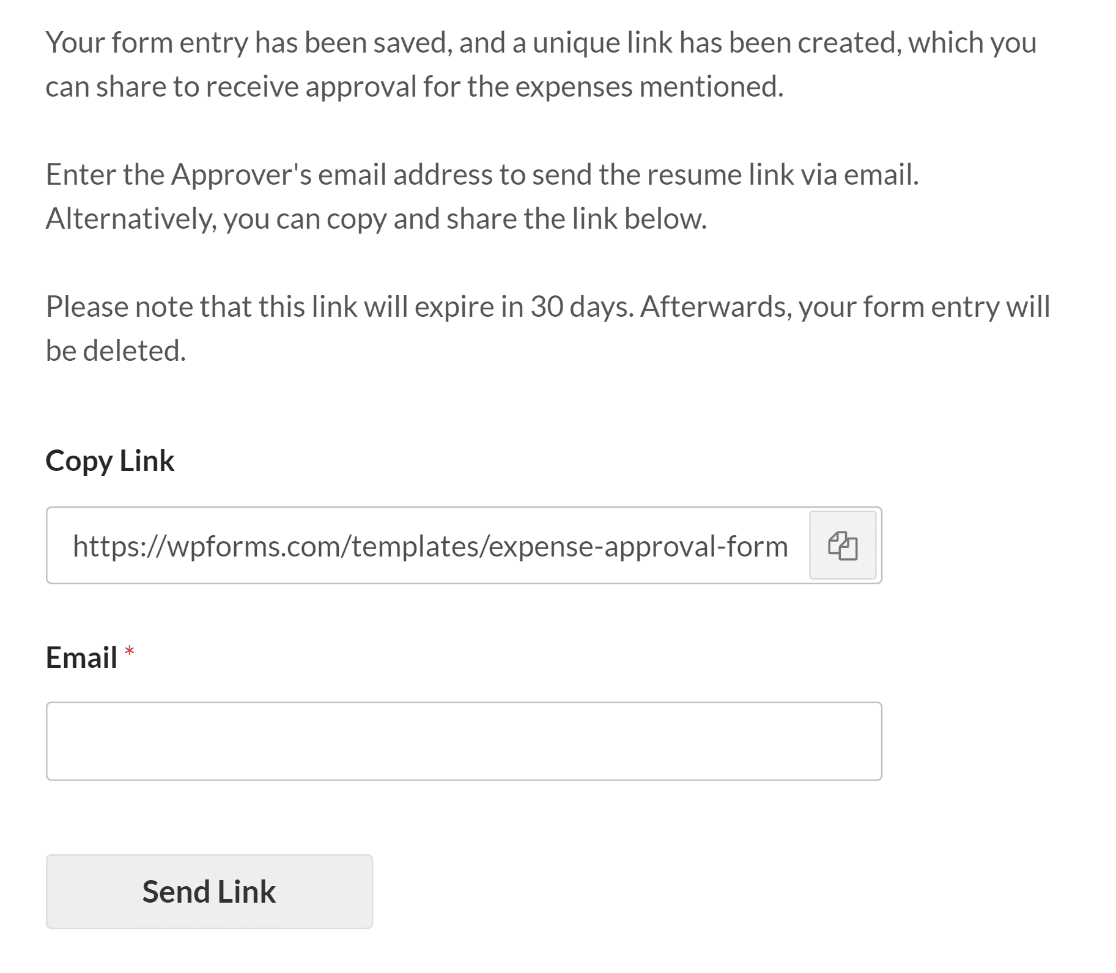 The problem with filling out longer forms like surveys and job applications is that these can be more time-consuming than standard contact forms. That means more people are likely to feel fatigued during submission, so they end up quitting and never returning at all.
The good thing is, there's a very easy workaround to this. It only involves using a save and resume functionality for users. WPForms includes the Save and Resume addon, which enables respondents to save their progress at any point during their entry.
Once saved, WPForms will create a unique link for the visitor that they can use to return to the form later and continue filling the form exactly where they left it previously.
If you have a long form where you anticipate people getting fatigued, we strongly recommend using the Save and Resume feature to minimize abandonment.
13. Image Upload Form
Another type of WordPress form you may not have considered is an image upload form. They use file upload fields on your forms to accept media files.

File upload fields on forms can let users submit images, videos, and even audio recordings to your site. This makes them great to use on a podcast site, or even an eCommerce store that lets people submit custom designs for t-shirts or other products.
WPForms is the best plugin for file uploads. It has tons of options that let you customize the way files are uploaded and stored.
14. Testimonial Forms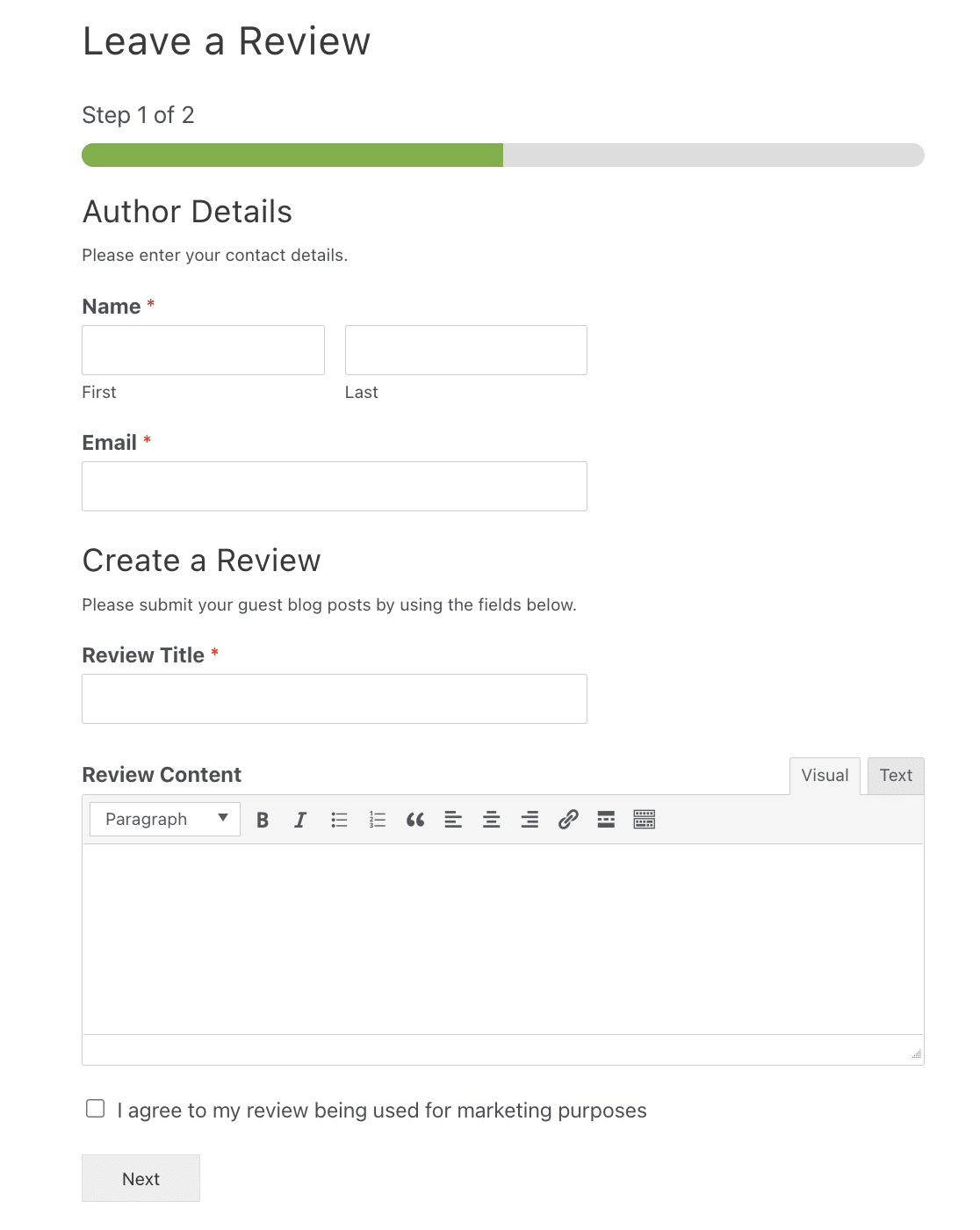 Testimonials go a long way in persuading visitors to become your loyal and paying customers. You can create testimonial forms to gather reviews and feedback from your customers.
Why not display good reviews about your product, service, or website? This lets you tap into social proof.
15. Subscriber Growth Forms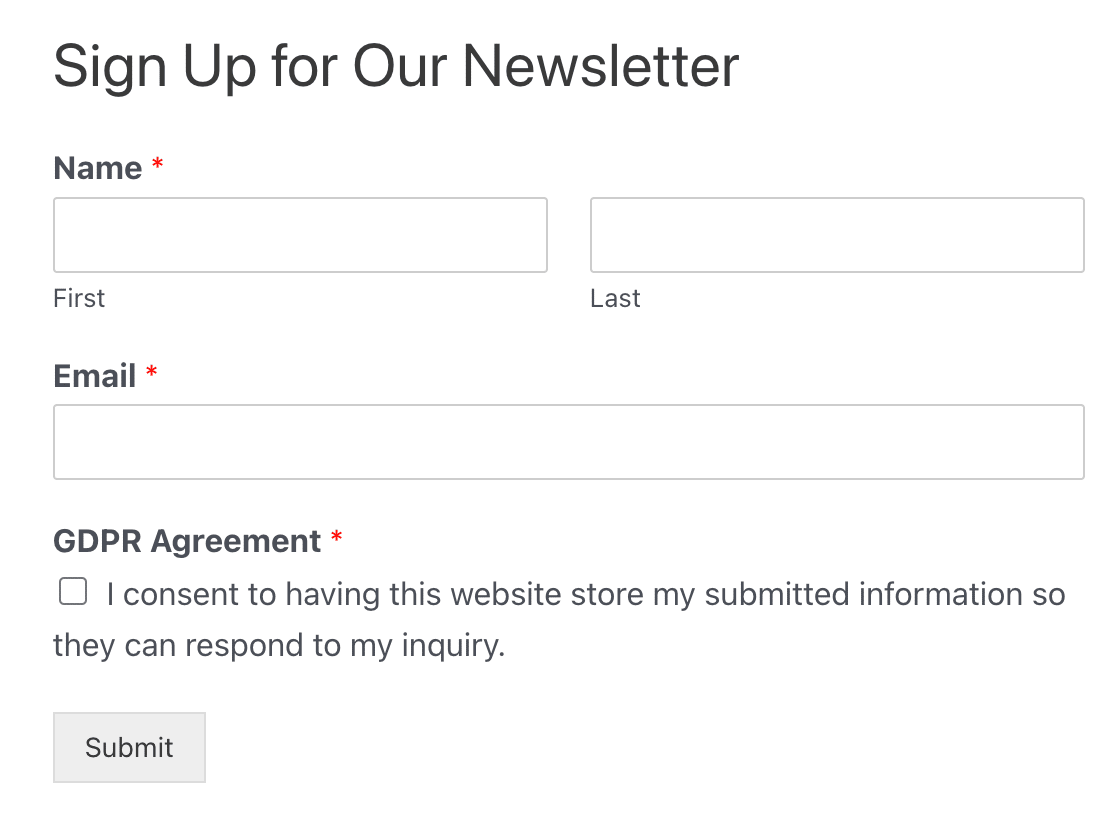 You can grow your subscriber list like crazy when you connect your forms to your email marketing service.
WPForms connects to the most popular email marketing providers including:
16. Post Submission Forms
There are forms out there that let your users post their own content to WordPress on the frontend. This means they can send you content to publish on your blog without having to access your WordPress dashboard.
The WPForms Post Submission addon lets you control the post type, whether you want to review submitted posts before they go live, and more.
You can ask for user bios and then collect the blog post all in the same form. And you can even add your own custom fields.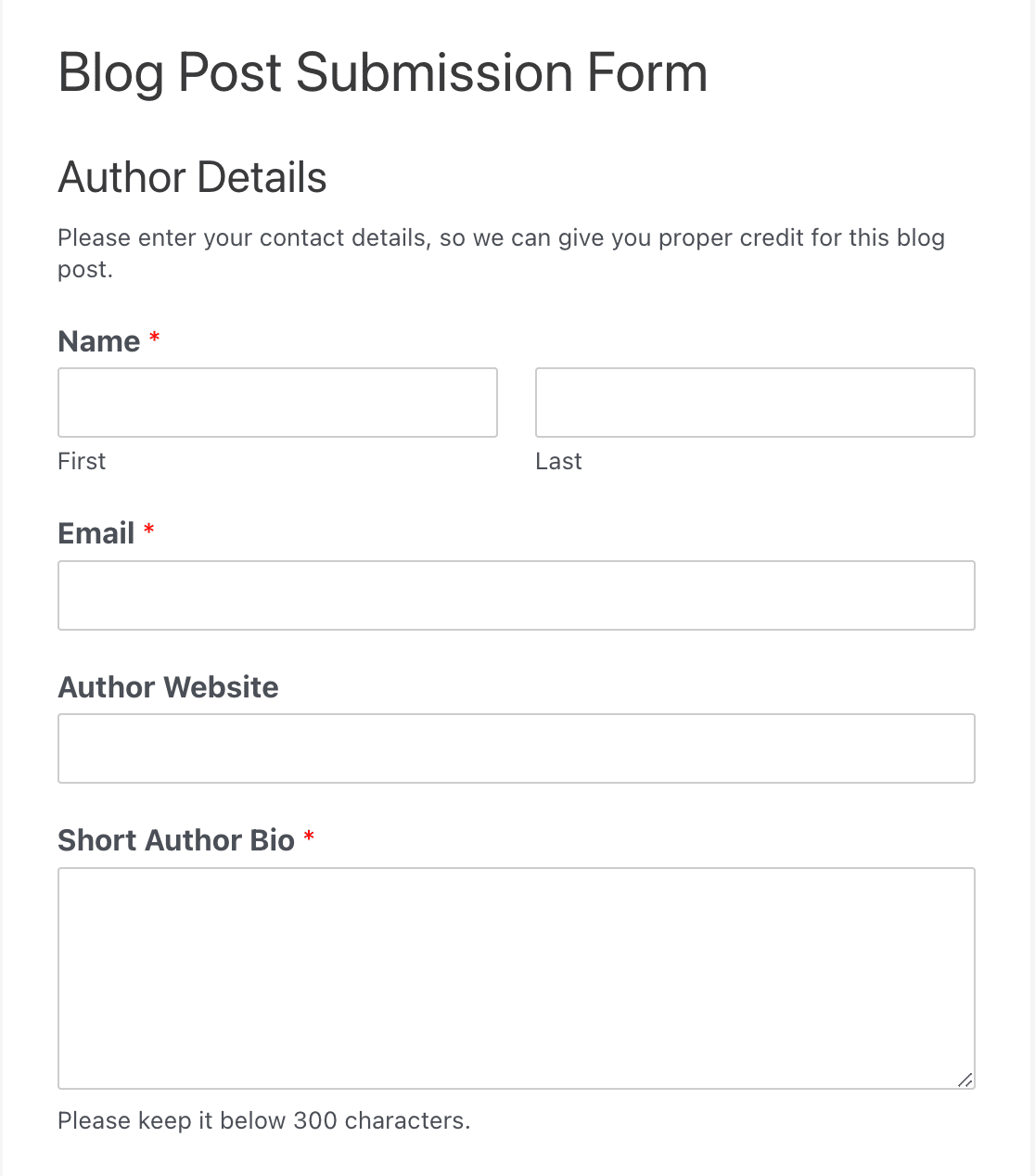 If you use the Rich Text field to collect writers' post content, you can let them style their own text and upload images right in their posts. This will save you a lot of time during the review and publishing process.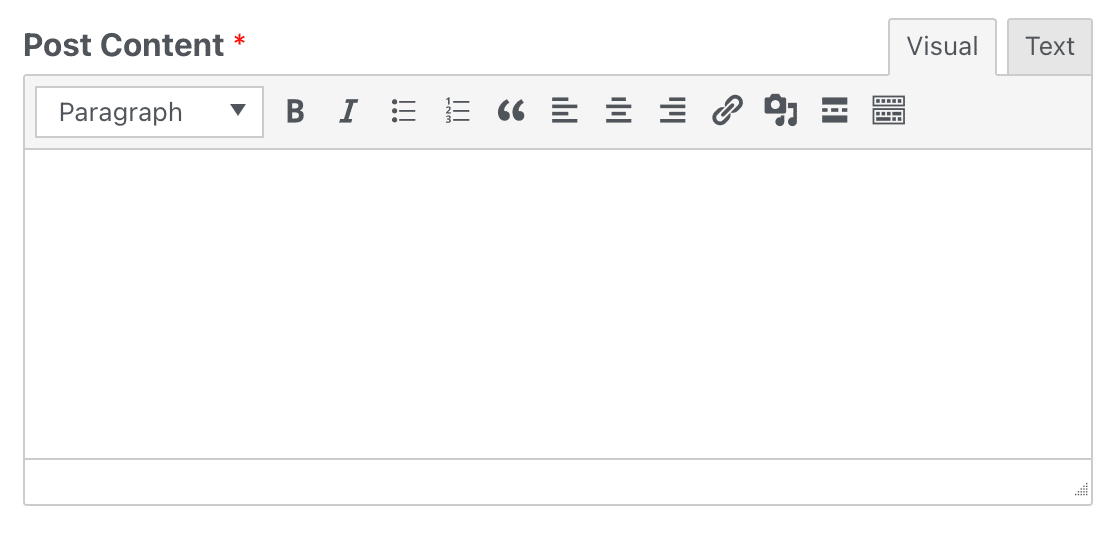 This is a great way to collect user-generated content through your web forms. The more you can get content from others, the more you can work on other important stuff on your website and small business!
17. Multi-Page forms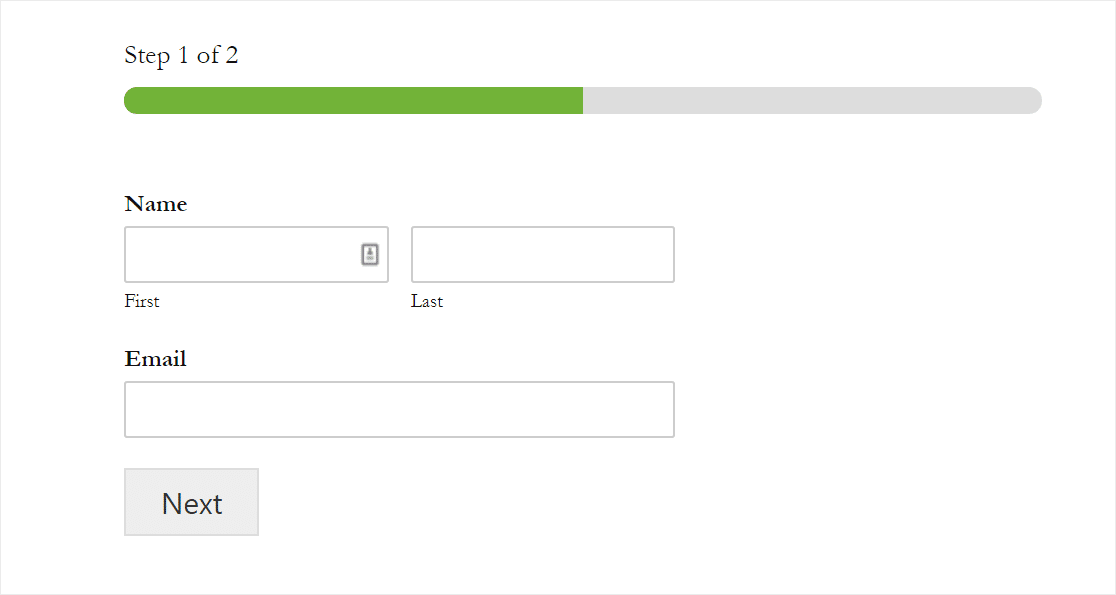 Multi-step forms like the  form example above are simply forms that include more than one 'page.' You can make the type of form like the one above where there are 2 steps. Or, you can customize it and add steps if you'd like.
The progress bar in these forms works wonders to show users there's more to the form, subtly urging them to stick around until they've completed it.
These are great types of WordPress forms because they help keep your conversion rate high and fight form abandonment.
18. Lead Qualifying Forms

You can use lead qualifying forms to segment your audience with conditional logic. Conditional logic can hide or show form fields based on a user's previous answer. This can help keep your forms from getting too long and causing users to abandon them.
Most importantly, conditional logic can also help you qualify leads and send them to the right people. Take the image above for example.
Say you're an apartment leasing agency. If someone filling out the form has a pet, you can send the lead to Susan who finds apartments that are pet-friendly. If they don't, Karen, who works with apartments that don't allow pets, gets the lead.
To get more leads, check out these awesome examples of landing page forms.
19. Offline Forms
You may not know that these super cool types of WordPress forms exist, but you can make your form act as an Offline form.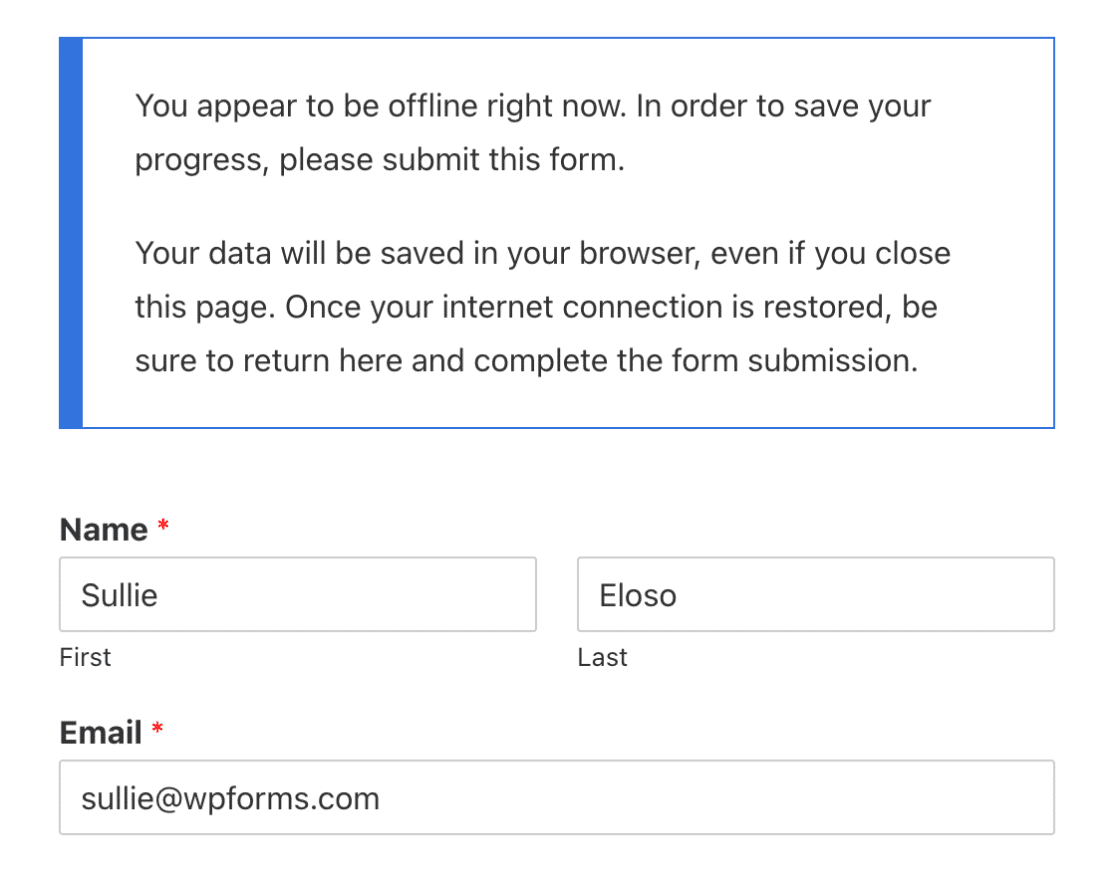 WPForms, one of the best WordPress plugins available, offers an incredible feature that lets you capture offline entries. So if someone is filling out your form and loses internet, it will save it to be sent over once they get back online.
20. Poll Forms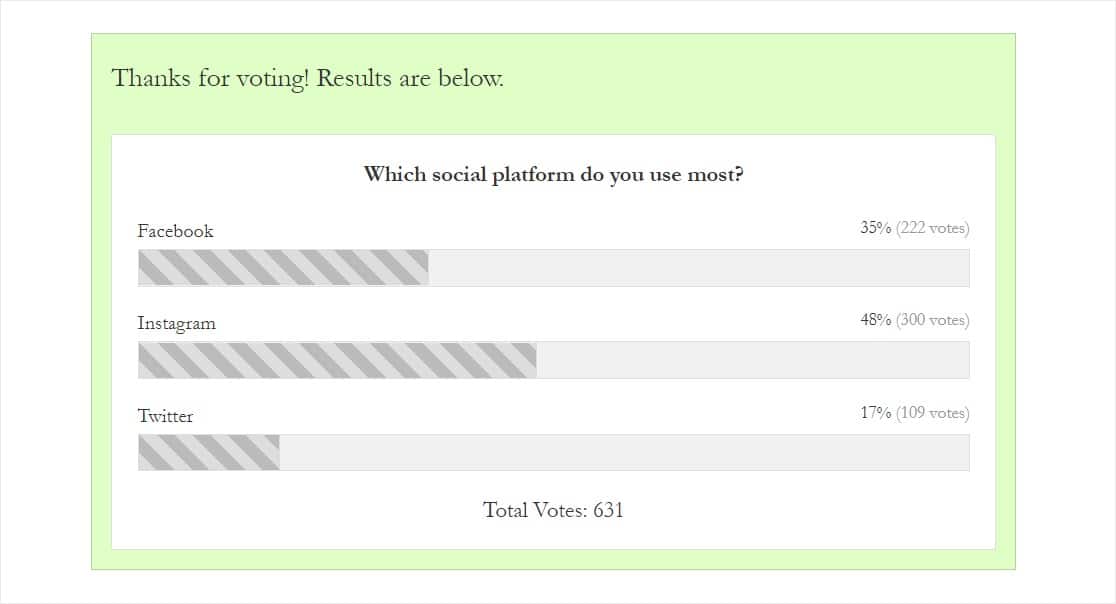 Small business owners sometimes forget that you can simply ask your audience for ideas on what to work on next. Or, for what needs improvement. And a great way to do this is with a poll form.
There are tons of poll questions you can ask to get your audience excited and engaged. Poll questions are a fantastic way to help get your audience involved and interested with your product, services, or site in general.
21. User Registration Forms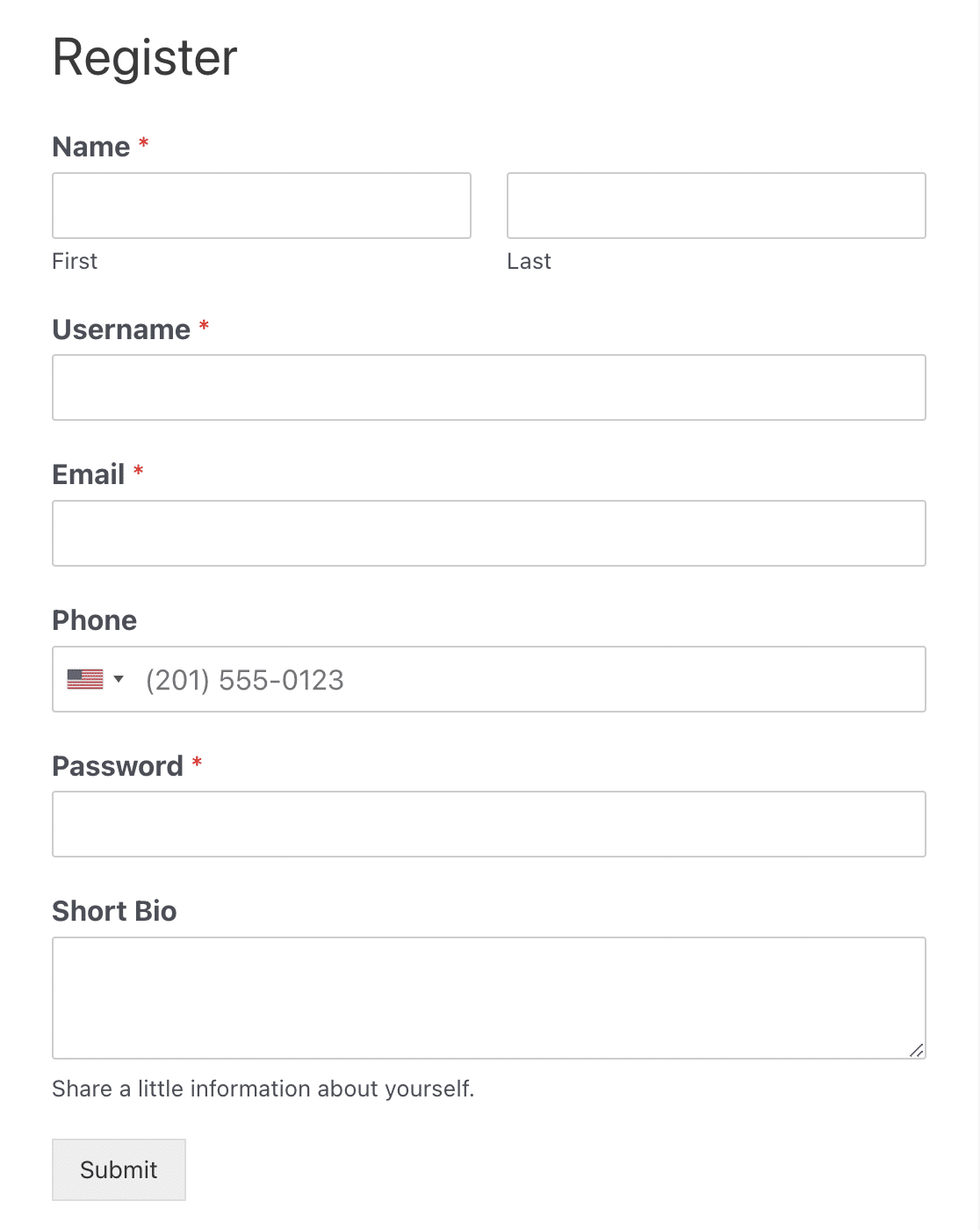 User registration forms can help boost your site engagement in a number of ways. They provide access to private content just for users, as well as things like:
Keep It Secure — Requiring new users to submit a form with activation requirements, and help stop user registration spam.
Stay Organized — Recorded entries of all your registered users' important details so they can access their account.
Make Them Members — You can create a membership site using one of the best WordPress membership and member plugins and require people to register as a member using a registration form.
Customize Things — Control which info you get from users who register by customizing the form.
Plus, user registration forms can improve your branding when you customize your embedded login form to match the rest of your site.
22. Customer Feedback Forms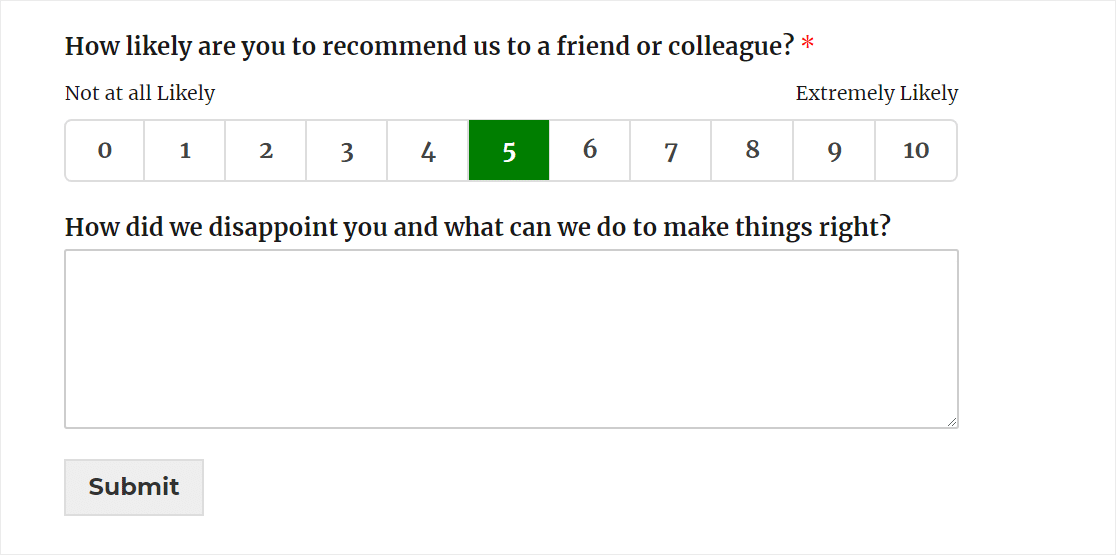 You've probably seen these types of forms around. In fact, you've probably filled one out yourself. You can get customer feedback by using NPS surveys.
NPS Surveys are super cool. You can ask how likely people are to recommend your business to friends. And, use a comment box to get more details based on how high their score was (using Conditional Logic).
Next, Learn Why WPForms Is the Best Form Builder
We hope this list of website form examples helped you get some great ideas. As you can see, there are tons of clever (and effective) uses for your WordPress forms, besides just a simple contact form.
You'll just need the right tool to do it. Check out our post on Gravity Forms vs Ninja Forms vs WPForms and check out our solutions to Gravity Forms not sending email.
PS. Don't forget to avoid the massive security risk of WPForms Pro nulled.
But if you're ready to start using all these amazing features above, get started with the world's best form builder today.
And don't forget to please follow us on Twitter and Facebook to get updates from our blog.