Want to create fresh content for your blog for free with use generated content examples? Creating content consistently for your blog can be time consuming, but your users can help.
User generated content also helps you create a positive perception among your audience and your brand will be perceived as influential in your niche.
If you're looking for inspiration to conduct a user generated content campaign, this article will help you.
User Generated Content Examples
So how do you generate user generated content? Let's check out some great user generated content (UGC) examples from around the web.
1. Accept Guest Posts
Accepting guest post submissions is the easiest way to consistently get fresh content for your blog. This way you can save your time and focus on other tasks in your marketing strategy to grow your business.
The easiest way to accept guest post submissions on your site is by using WPForms' Post Submissions addon. With the addon, you can allow users to submit guest articles directly to your WordPress dashboard using a frontend submission form without having to provide login credentials.
With WPForms, you can also add custom fields to your frontend guest post form. It's super easy to collect all of the information you need from guest bloggers and display it on your site.
World renown blogs like TechCrunch and Mashable accept guest post submissions on their site. Check out this cool user generated content example.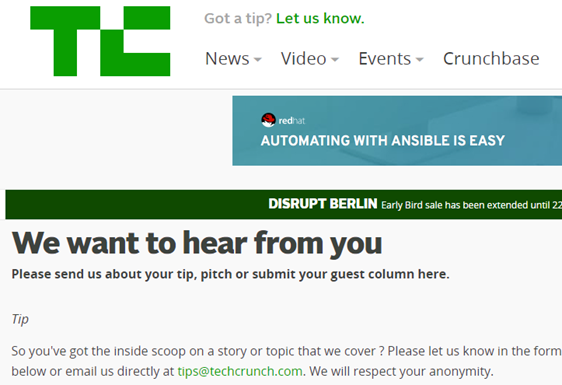 For more details, read how to allow users to submit blog posts in WordPress and how to attract more guest post submissions on your site.
2. Host a Giveaway
A great way to boost your online success while also gathering user generated content is to host a giveaway on your WordPress site.
An easy way to do this is with the submit image option with RafflePress, the best WordPress giveaway plugin available today.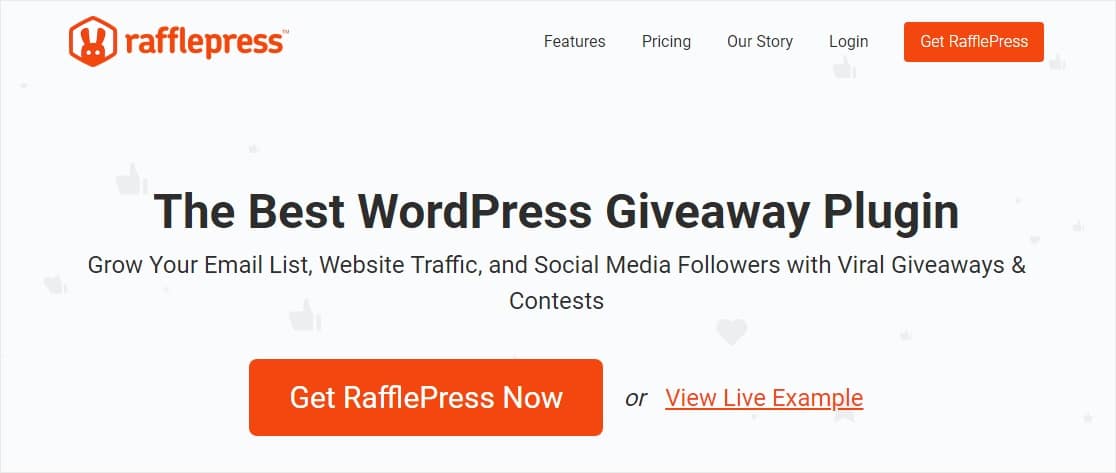 This is an excellent user generated content example. If you run a contest with a great prize that people have a chance to win, you'll watch the images pour in as people enter. It's a great opportunity to ask people to submit pictures of them holding or using your product.
3. Accept Paid Post Submissions
Accepting paid post submission is a common tactic to make money online. It is a win-win tactic for both you and your sponsors. Your sponsors get exposure through your blog, while you can make some extra income by publishing a sponsored post once in a while.
When publishing a sponsored post, explicitly tell your readers that it is a sponsored one, or else it might come off as a little out of sync to your trusting audience.
You may notice even notice some user generated content examples on your favorite websites. Bloggers like JohnChow publishes sponsored reviews on his site. With the Post Submissions addon, you can even require users to pay to submit a blog post.
4. Publish Testimonials
Asking people about sharing their experiences then publishing customer testimonials is a great strategy to add social proof on your website. By adding a social proof, you can foster trust and encourage your prospects to become your paying customer. And this also helps get people to share your content when they see their testimonial on your site.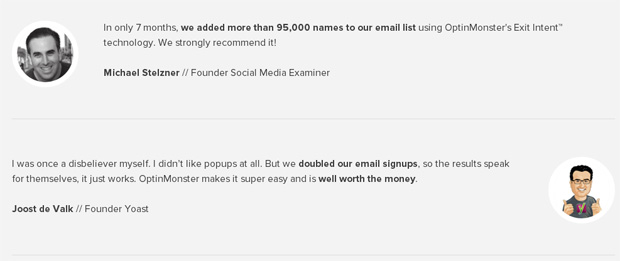 OptinMonster is a great example of publishing testimonials on their site to foster trust. They even have a dedicated testimonials page on their site. To learn more about why we love OptinMonster, check out our post of the best WordPress popup plugins to EXPLODE your email list.
5. Use Social Proof Notifications
FOMO popups are another great strategy to create social proof. Since testimonials can be easily faked, showing real live activity on your website that's verified by a third party like TrustPulse gives you credibility.
Adding these social proof popups to your website is incredibly easy to do, no code needed. You can read our full TrustPulse review to see how it works.
Just click here to get started with TrustPulse and you can create your notifications in under 5 minutes.
6. Add Customer Reviews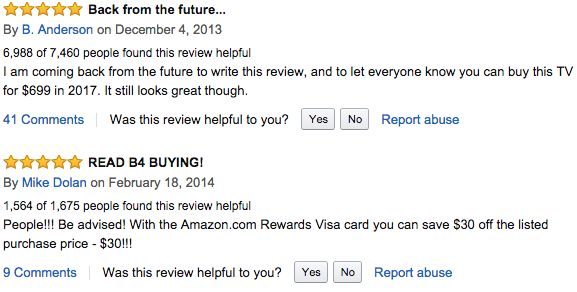 To foster trust, almost every eCommerce website out there publishes customer reviews on their site. If you're an eCommerce merchant, you might want to display customer reviews beside products or services on your site to boost credibility.
Without reviews, your customers may think that you're not trustworthy and will hesitate to make a purchase.
With WPForms, it's easy to create a WordPress form to allow users to leave reviews on your site.
7. Publish Success Stories
Fiverr.com is the world's largest marketplace for small services. Fiverr regularly conducts interview with their successful users and publish it on their blog.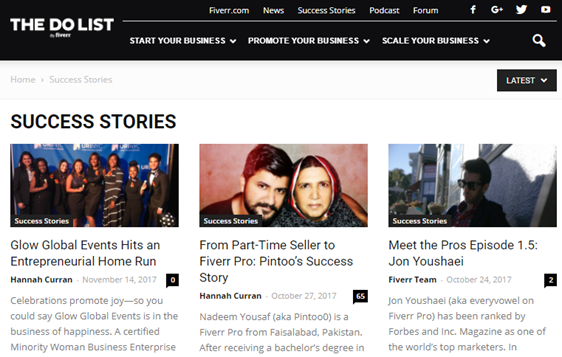 Showcasing your loyal users not only helps you to create fresh content for your blog, but it will also set a successful example for your existing and potential customers to follow.
How can you turn your users into brand advocates?
Identify your loyal customers and ask them how your product makes their lives easier.
Conduct an email interview with them and publish it on your blog.
You can even invite them to write a post on your blog explaining their experience with your product.
8. Connect Shoppers with Past Buyers
Shoppers that ask questions are 30% more likely to buy. You can encourage your past buyers to respond to the questions asked by your potential customers.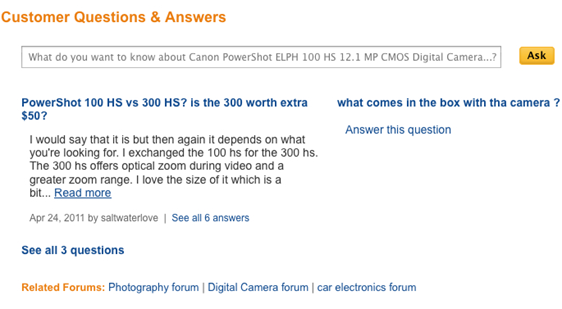 Not only will it help you curate user generated content on your site, but it will persuade your past customers to re-engage with your brand.
9. Engage People on Social Media
Do you want to create brand awareness in social networks with a user generated content campaign (UGC campaign) like images and video? The easy way to do this is by running a social media contest while encouraging your users to use a custom branded hashtag across your social media channels. Sharing photos is a great tactic for your social media strategy.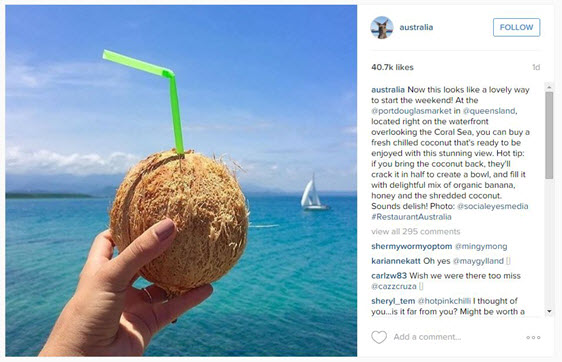 For instance, Tourism Australia encourages users to post photos on social media during their Australian visit with hashtags #SeeAustralia and #RestaurantAustralia. They also pick some of them every week and republish it on their Instagram account.
10. Add Customer Photos to Product Pages
Did you know that shoppers are 137% more likely to buy a product if they see customer photos of it? This is super important to know for content marketing. With a social media contest, you can persuade users to post selfies with your product on social media. This will help you to spread the word out and even encourage their friends to try it out.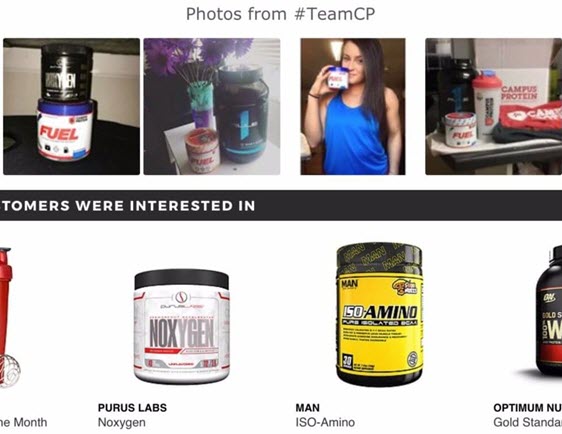 If you want to take a step further, you can add the same customer photos to your product pages as well.
You can combine customer photos in a carousel and show your customers how past buyers enjoyed the product.
11. Add Instagram Galleries
If you grew a raving fan base on Instagram, you might want to add Instagram galleries to your website.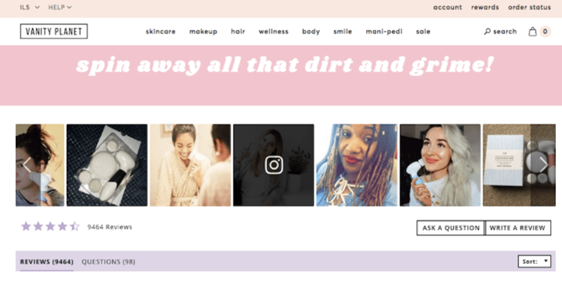 Content creators and anyone using Instagram are a great source to tap into for user generated content examples. Below are a few benefits of adding Instagram galleries to your site:
Provide shoppers an authentic glimpse of your product.
Encourage more users to snap their selfies on Instagram to share content and get them featured on your site.
Help your customers picture themselves enjoying your product.
Showcasing Instagram galleries on your site is easy with the Envira Gallery plugin. Envira Gallery is the best gallery plugin for your WordPress site. With its Instagram addon, you can import your images into WordPress with just a few clicks.
Final Thoughts on User Generated Content Examples
So there it is. We hope this article gives you some cool examples of user generated content so you can run a UGC campaign on your site.
If you're a content creator, you'll also like our guide to creating a WordPress SendFox form so you can easily sign up more people to your email list.
What are you waiting for? Get started with the most powerful WordPress forms plugin today.
If you like this article, then please follow us on Facebook and Twitter for more free WordPress tutorials.