Looking for a way to include a WordPress form in your footer? WPForms makes it easy to embed your forms in your WordPress footer. In this tutorial, we'll show you how to include a contact form to your WordPress footer.
Method 1: Use the "WPForms" Widget
This is the recommended method to add a form to your WordPress footer. This method is only applicable if your WordPress theme supports a widgetized footer area.
Step 1: Create Your WordPress Form
The first thing you need to do is install and activate the WPForms plugin. For more details, see this step by step guide on how to install a plugin in WordPress.
Once you have installed the WPForms plugin, go to WPForms » Add New to create a new form. Then, in your form builder, click on the Simple Contact Form template to create one.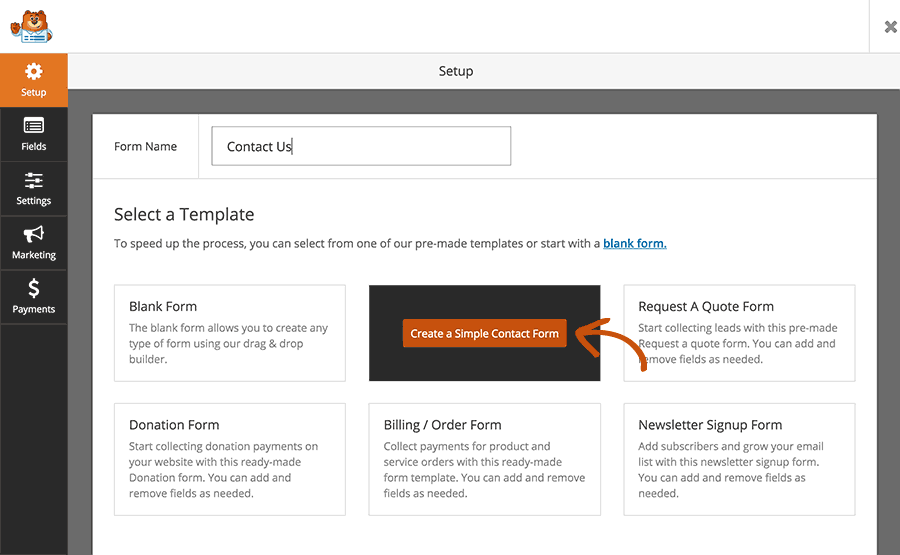 You can easily customize the form fields by the drag and drop feature.
For more details, you can read our article on how to create a simple contact form.
Step 2: Add Your WPForms Widget to Footer
Now you'll need to add the WPForms widget to your footer widget area by going to Appearance » Widgets.

Then, adjust the widget settings as needed, and click on the Save button.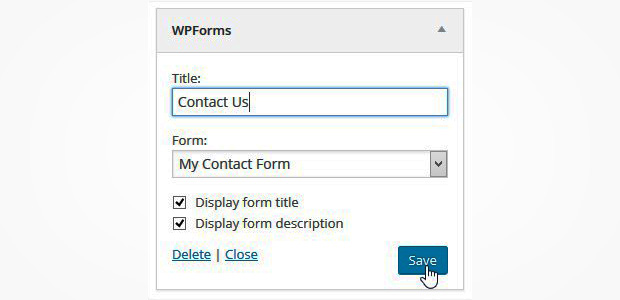 Your WordPress contact form will now appear in the footer on your website.
Method 2: Tweak the Template
If your WordPress theme doesn't support a widgetized footer, you might want to tweak your footer.php template to add a contact form.
Note: This method is not generally recommended, because you'll also have to customize the style of your footer form with CSS or it may look distorted. You can either customize the style by yourself or use a plugin like CSS Hero, which allows you to style your form without writing a single line of code. For more details, you can read our guide on customizing WPForms with CSS Hero.
Step 1: Get the Shortcode of Your WordPress Form
Just like the above method, create a contact form with WPForms. Once it is created, you'll have to get the shortcode.
To find it, click on the Embed button in the top menu.

You'll now see a popup with a shortcode. Copy it.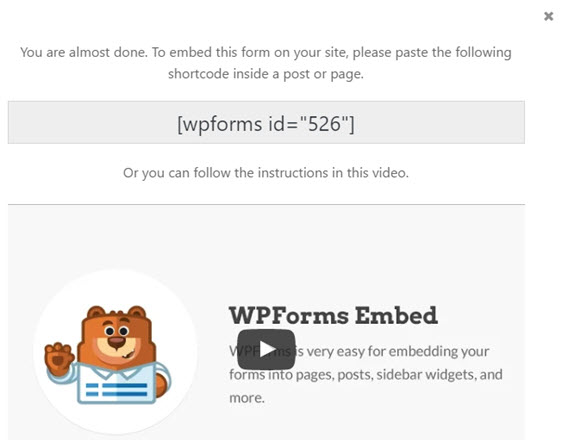 Replace the [example_shortcode] in the below snippet with the copied shortcode.
<?php echo do_shortcode("[example_shortcode]");?>
In our case, the final snippet will look like this:
<?php echo do_shortcode("[wpforms id="526"]");?>
Step 2: Tweak the footer.php File
To add a contact form to your footer, find the footer.php file of your WordPress theme by navigating to Appearance » Editor in your WordPress dashboard.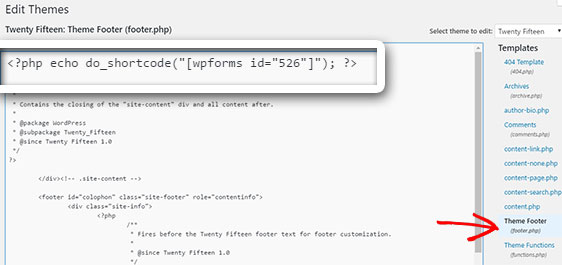 In the right-hand side of your theme editor, look for footer.php file. Click on it, and then paste the above code snippet.
That's it!
You've now successfully added a contact form to your WordPress footer.
You might also want to read how to create a file upload form in WordPress.
What are you waiting for? Get started with the most powerful WordPress forms plugin today.
If you like this article, then please follow us on Facebook and Twitter for more free WordPress tutorials.