How to Create a Simple Contact Form in WordPress
by Christina Harris on May 9, 2016
Do you want to add a contact form in your WordPress site? As a site owner, you need to give your readers an easy way to contact you. With WPForms, we've made it easy to create a contact form in WordPress.
When you're new, you may wonder why should I add a form when I can just add my email on the website?
Creating a form gives you many benefits over just adding your email address to your contact page:
Communication – Contact forms are a great way to allow your readers to quickly communicate with you.
Security – You keep your email safe from spammers. Since the contact form doesn't show your email address spammers can't steal it.
Organization – With a contact form you can create specific subject lines, so you know where the emails are coming from.
Information – You control the information by adding only the fields you want on the form. This cuts down on the back and forth emails between you and a potential client.
Installing the Contact Form on Your Site
The first thing you need to do is get WPForms.
Once you have created your account, go to the Downloads tab in your WPForms dashboard, so you can download the plugin.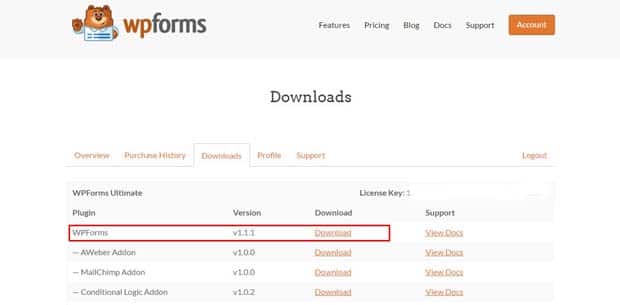 Next, you need to install WPForms on your WordPress site.
Login to your WordPress dashboard and go to Plugins–>Add New. You need to click on the Upload Plugin button then Choose File to find the zipped plugin from your computer. After that click Install Now and Activate it.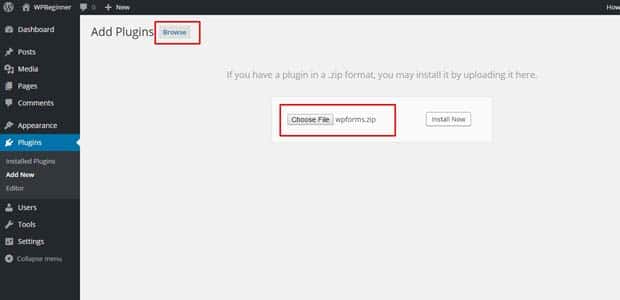 For more details, you can follow this step by step guide on how to install a WordPress plugin.
Once you have installed WPForms, you'll need to copy your license key from your WPForms account and paste it under WPForms » Settings.
After you verify your key, you're all set to create your first form.
Create First Contact Form
Now that you've activated your plugin, go to WPForms » Add New to get started with your first form.
On this screen, you need to name your form first. After that, you can choose from the list of pre-built forms or choose a blank form to start from scratch.
For the sake of this tutorial, we'll create a Simple Contact Form and name it Contact.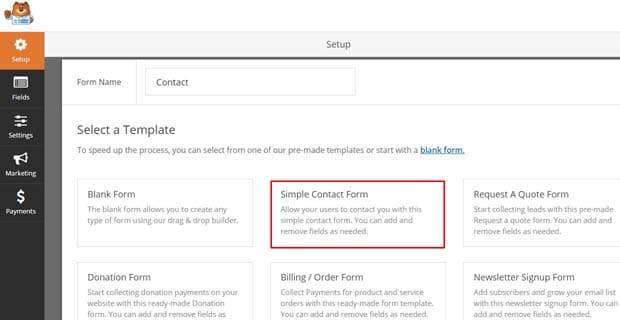 When the pre-built form loads, most of the work is already done with a name field, email field, and message field automatically added to the form.
You can add, remove, and customize the fields. Once done, save your changes. Now you're ready to add your form to your contact page.
Add a Contact Page to WordPress
You can add WPForms to any post or page in WordPress.
Under Pages click Add New to add a Contact Us page for your site.
From the text editor, you'll see a new button called Add Form. Clicking on it will load a popup that will give you the option to choose which form to add to the Contact Us page.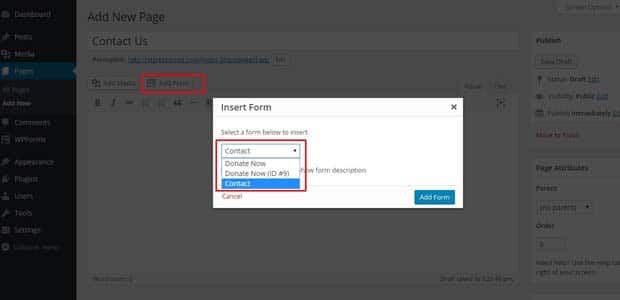 You can also choose to show the Form Title or Form Description from here.
Once you are done, you can publish the page and the form is ready for your site.
Customizing the Contact Form
If you need to customize your form, go to forms section to edit the form you want to work with. From here you can drag the fields up or down to reposition them.
To add a field just click on the field name on the left. This will automatically add it to the form. You can even add payment information to your form.
Under settings, you can choose where the emails will go and what kind of confirmation message to share once a form has been submitted.
Setting Up Email Notifications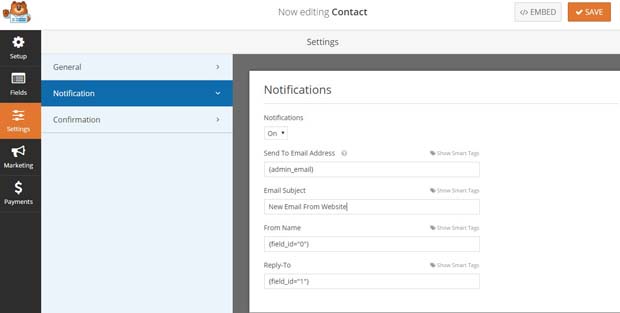 To set up form notifications, click on Settings and go to Notification. Verify that the form will go to the desired email.
You can also customize the subject line here as well.
Setting Up Form Confirmation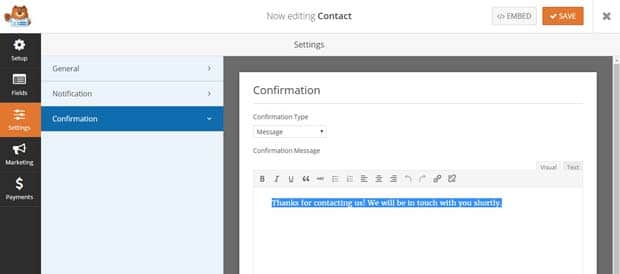 Under Confirmation, you can change the message to thank your visitor for contacting you. You can also redirect them to a special thank you page if you prefer.
Want to get even more information from your contact forms, without scaring away your visitors? Check out these clever web form hacks to unlock hidden customer data.
We hope this article has helped you learn how to create a contact form in WordPress. What are you waiting for? Get started with the most powerful WordPress forms plugin today.
If you like this article, then please follow us on Facebook and Twitter for more free WordPress tutorials.