Every business deserves to grow without barriers.
We know that payment solutions can be difficult to manage. Ecommerce plugins can take time to set up, and creating a store can lead you down a rabbit hole of unexpected costs.
But there's no compromising on security when it comes to payments; you need the very best platform to make sure your customers' data is safe.
That's why we're excited to announce that Stripe payments are now live for everyone!
You can now use ANY version of WPForms to collect credit card payments effortlessly using Stripe.
It's a complete game changer for your WordPress site and your business!
Seamless Stripe Integration for WPForms
Our goal with this update is to give all organizations an equal opportunity to start making money online.
We don't want you to spend valuable time setting up tons of features you don't need, so we've made the Stripe integration as simple as possible.
And, as always, our Stripe integration is 100% no-code.
All you need is to connect your Stripe account with WPForms and that's it. You're ready to create a payment form!

All of our users can now access Payment fields to make it easy to build Stripe forms.
After you've connected your Stripe account, insert the Stripe credit card field into your form using our drag and drop form builder.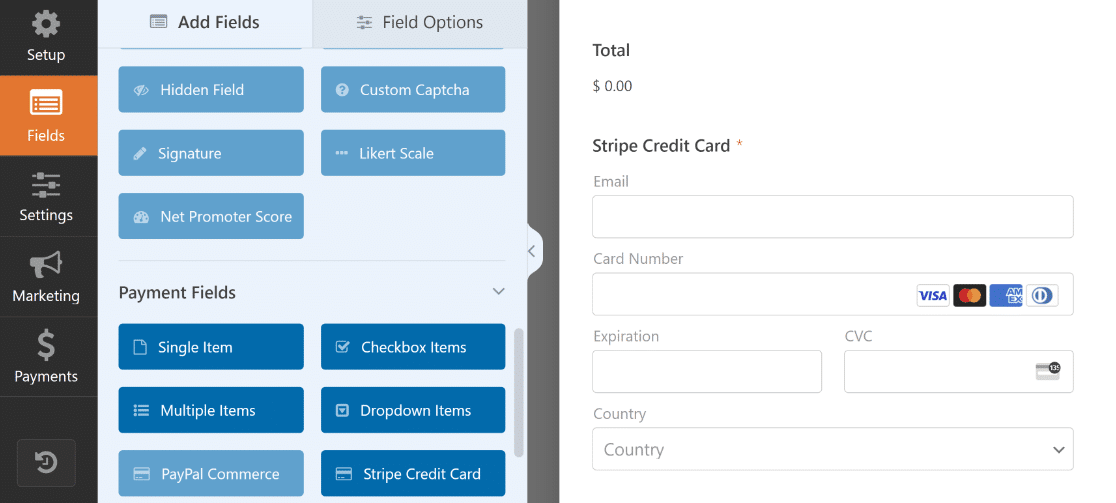 That's not all.
You can also configure your form to process one-time or recurring subscription payments. This gives you the flexibility to take recurring donations, memberships, subscriptions, or individual orders.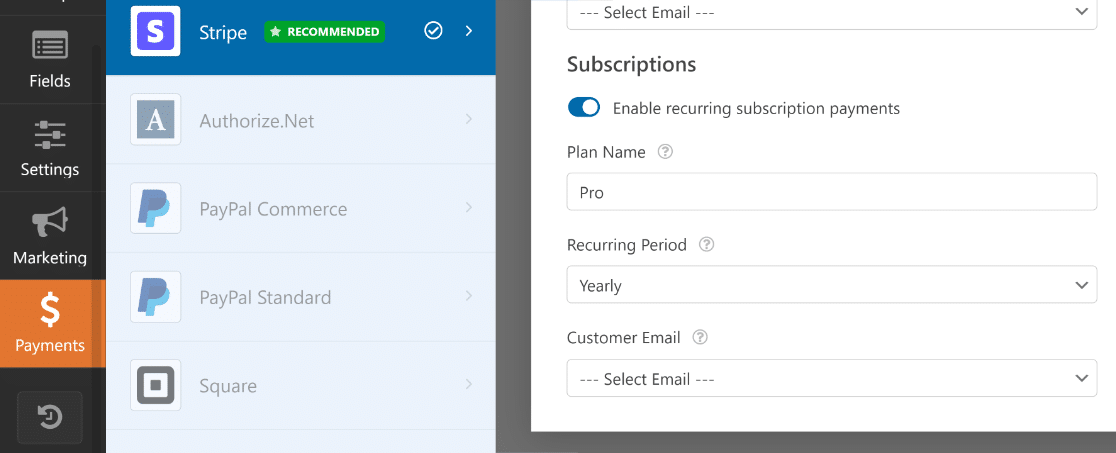 We understand that the high cost of some payment gateways can eat into profits and donations. That's why you'll only pay 3% plus Stripe fees on the payments made through your forms.
If you'd rather not pay a fee, you still have options. The WPForms Pro and Elite license comes with the Stripe Pro addon that removes the 3% fee, so you have the flexibility to choose the best option for you.
(Stripe Pro also unlocks conditional logic, so you can do even more with your forms!)
But hold up; that's definitely not the end of the good news. There's an all-new payment screen available to all of our users from today!
New Payment Screens in WPForms
Having trouble tracking orders? Want to keep a record of donations?
We understand that you can't do this alone.
We've taken the pain out of tracking your payments with a brand new payment overview page in WPForms.
Like Stripe payments, the new Payments Screen is now available to all users.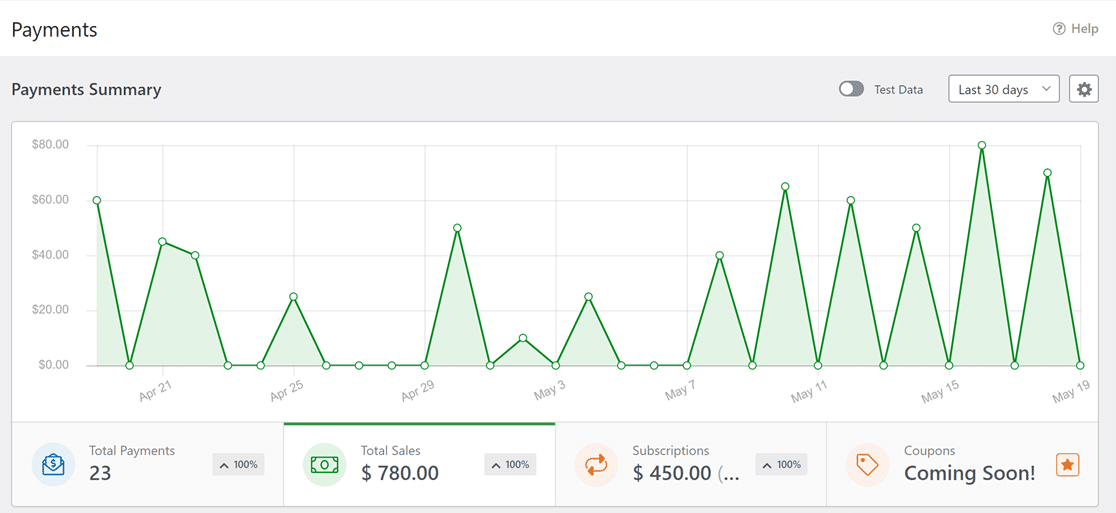 The Payments screen lets you monitor your sales trends and history with an easy-to-read chart. This means you get more data, more insights, and more control than you had before.
Need to track your sales within a specific time period? Use the date picker and take the guesswork out of your payment tracking.
Click on a payment to see everything you need to know in one place. There's also an all-important Refund button — just in case.

Now you don't have to comb through several different platforms to get the payment data you need. It's right there in your WordPress dashboard.
With an easy-to-understand chart and payments summary, you can track your growth and measure the success of your payment forms comprehensively.
Print Form Entries in Bulk
We also wanted to mention a useful change in another area: printing.
You fed back to us that you needed to bulk print entries, or bulk export them to PDFs, because printing individual entries took too long.
We heard you loud and clear.
Now you can print form entries in bulk right from WordPress.

And that wraps it up for this release!
At WPForms, we're committed to helping you succeed, whether you're running a side hustle, a small business, a charity, or any other kind of site.
We hope these improvements make it easier for you to do that!
And Finally… We Passed a HUGE Milestone
Finally, we have something super exciting to share!
If you keep an eye on our Milestones page, you might have noticed this already:
WPForms just passed 150 MILLION downloads!
This incredible milestone would not be possible without you: our customers, our Lite users, and everyone who feeds back to us about what they like and want to see next.
We're so grateful to you all. It's a day to celebrate for so many reasons!
We hope you enjoy our current release and use it to grow and succeed. If you have any questions, please don't hesitate to reach out. Our support team is always happy to help!
Jared